Crunchy, sweet, toffee topped with soft milk chocolate and a layer of toasted almonds.  If there is a ranking of sweet treats, Buttercrunch Toffee should be at the top.  It certainly is in our household and it is definitely one of those holiday items that gets stolen and hidden anytime your bring it somewhere.
After having my first Buttercrunch experience at my first christmas with my husband's family, it was like love at first sight.  I mean with us too, but that candy…oh, I knew my list of favorites was forever changed.  And now, it's certainly not the holidays without making multiple batches of this crunchy toffee treat because for some reason all my tins seem to disappear and then reappear in random "spots" all around the house…hmmm…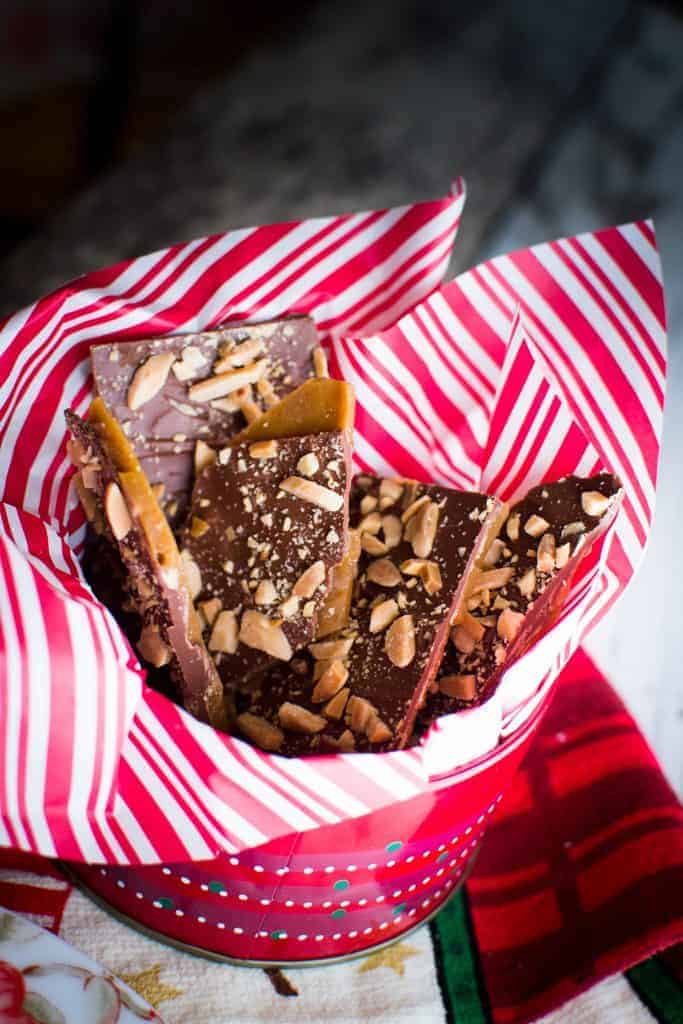 But in all seriousness, if you want people to love you for not showing up empty handed, the only thing better than bringing wine is bringing Buttercrunch.
Buttercrunch Toffee
If you've never experienced this life altering event, all you need is minutes, some ingredients and a candy thermometer.  Working with sugar sometimes can be a tricky thing, but not with Buttercrunch.  Stir all your ingredients while bringing to a boil, cover for 1 minute, then clip on your candy thermometer and watch magic happen on your stove top while it comes to temperature.  Once it reaches 285°F remove from the heat, add your vanilla and baking soda and stir, stir, stir…fast, fast, fast, being cautious not to splash the steamy bubbling hot sugar, then pour it out on your sheet pan.
Can you believe?  The hardest part is done.
Check. Check.
Do you love creamy, milky, chocolate?  The sweetness of the smooth milk chocolate adds the perfect texture balance to the crunchy, maple-y toffee.  The toasted, unsalted almonds offer a balance of natural nutty flavor to balance off the sweetness.  It's all the major food groups you need, right?  Dairy, chocolate, and nuts?
Wait…those are food groups, right??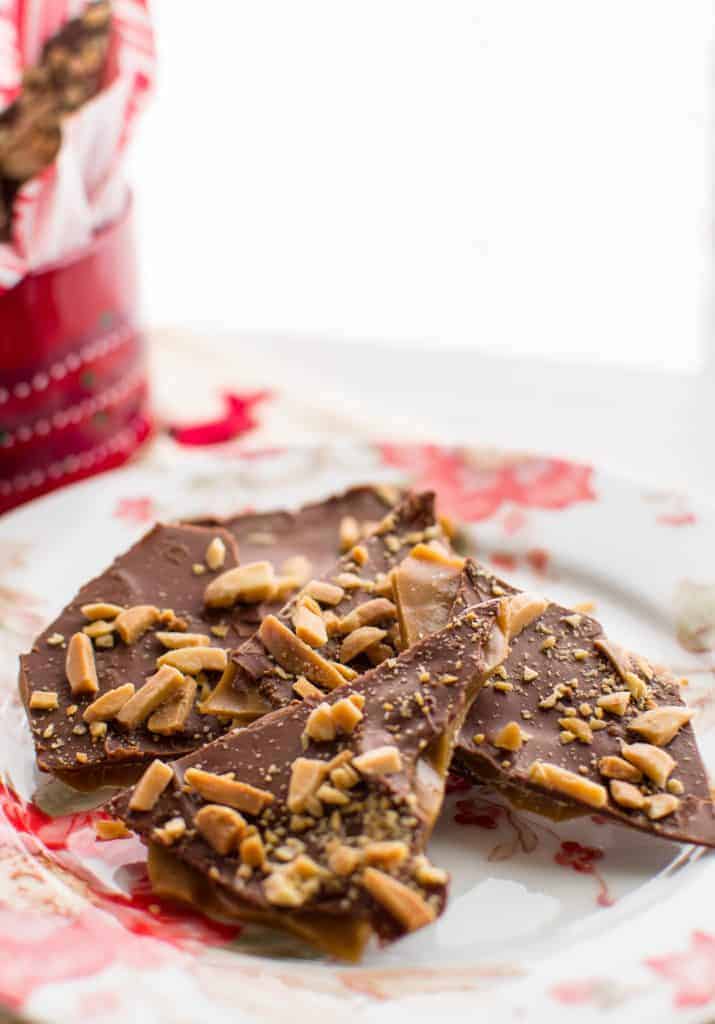 Well, let's just pretend for now, we can go back to the original version when the buttercrunch is gone.
Happy treating everyone!
Print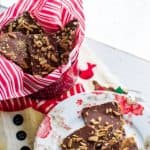 Buttercrunch Toffee
---
Author:

Prep Time:

15 mins

Cook Time:

15 mins

Total Time:

30 minutes

Yield:

1 pound

Category:

Candy
Description
Crunchy, sweet toffee with creamy milk chocolate and toasted almonds makes this a fan favorite holiday treat!
---
Ingredients
1/2 cup sliced almonds, toasted and chopped
1 cup milk chocolate chips
1 1/4 cup light brown sugar, firmly packed
1/2 cup unsalted butter, cut in pieces
1 tablespoon light corn syrup
2 tablespoons water
1 teaspoon pure vanilla extract
1/4 teaspoon baking soda
---
Instructions
Preheat oven to 350. Toast almonds for 5 minutes until fragrant and golden brown. Cool slightly and either transfer to a food processor and pulse 4 to5 times until pieces are broken or transfer to a plastic bag and break up pieces using a mallet. Set aside.
For thin toffee, lightly coat a 10 x 15 lipped cookie sheet or baking pan with cooking spray. For thicker toffee pieces, use a 9 x 13 sheet or pan. Set aside.
In a heavy bottom saucepan, add light brown sugar, unsalted butter, corn syrup and water. Stir to combine over medium-high heat. Bring to a boil and reduce heat to medium-low. Cover with lid for 1 minute to wash any sugar residue off the sides of the pan.
Uncover and clip on candy thermometer. Cook without stirring until temperature reaches 285°F. Remove from heat immediately.
Add vanilla extract and baking soda. Stir vigorously for about 10 turns of the spatula and immediately pour over prepared baking sheet or pan. Using the non-stick spatula, spread the toffee evenly over the surface.
Once toffee is spread, it will start to set. While still warm, sprinkle evenly with milk chocolate chips and allow the heat from the toffee to melt the chips, about 1 to 2 minutes. Spread the melted chocolate evenly over the toffee. Sprinkle with almond pieces while chocolate is still warm.
Place the pan in the refrigerator until buttercrunch is firm. Turn out onto a cutting board, using a sharp knife cut into slightly larger than 'bite-sized' pieces.
Notes
To air on the side of caution select a saucepan on the larger side, sugar mixture will bubble and steam after adding the vanilla and baking soda.
When pouring toffee onto the sheet pan, it make slide around a bit but will stay in place and spread more easily as it starts to cool. Toffee will cool very quickly after adding baking soda.
Recipe Card powered by