Let's start Monday off with some good old comfort food, shall we? And if this version of Tourtiere, or French Meat Pie, is synonymous with the phrase 'comfort food' in this house. Savory ground beef and sautéed onions and creamy Yukon gold potatoes, baked into a flaky buttery pie crust. Now, whether you top that with ketchup or mustard, that's up for debate. But we will get to that in a bit.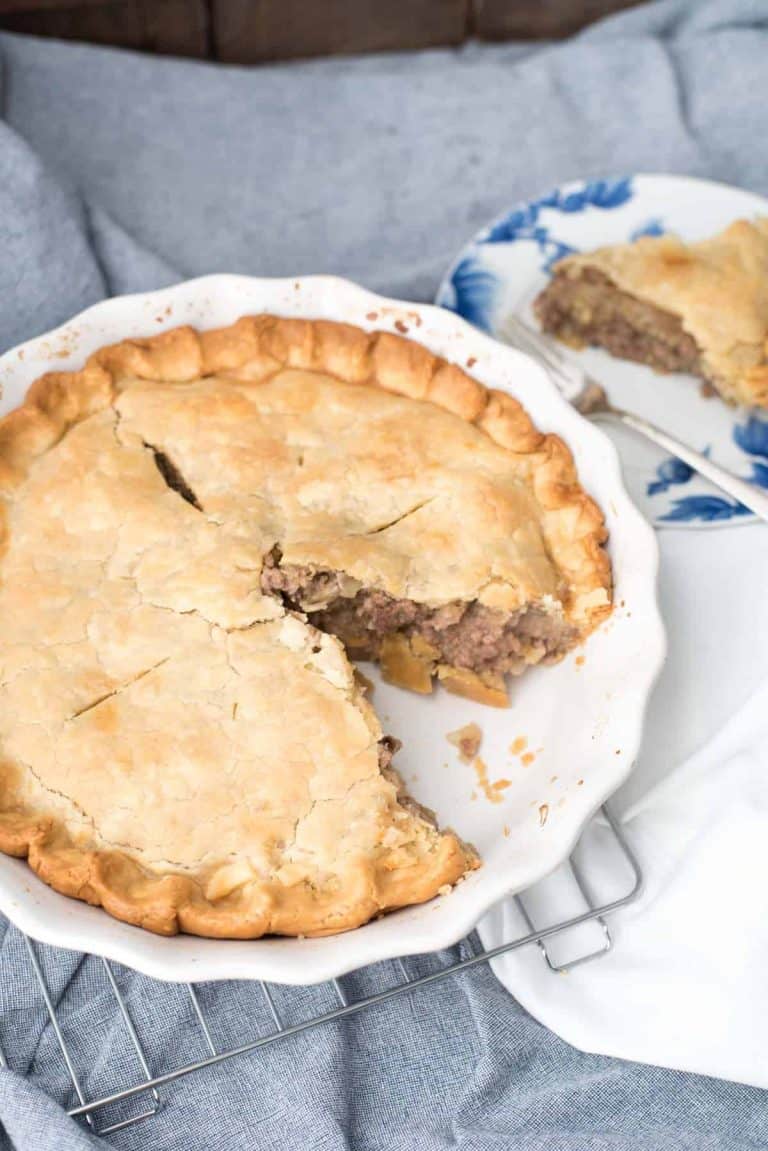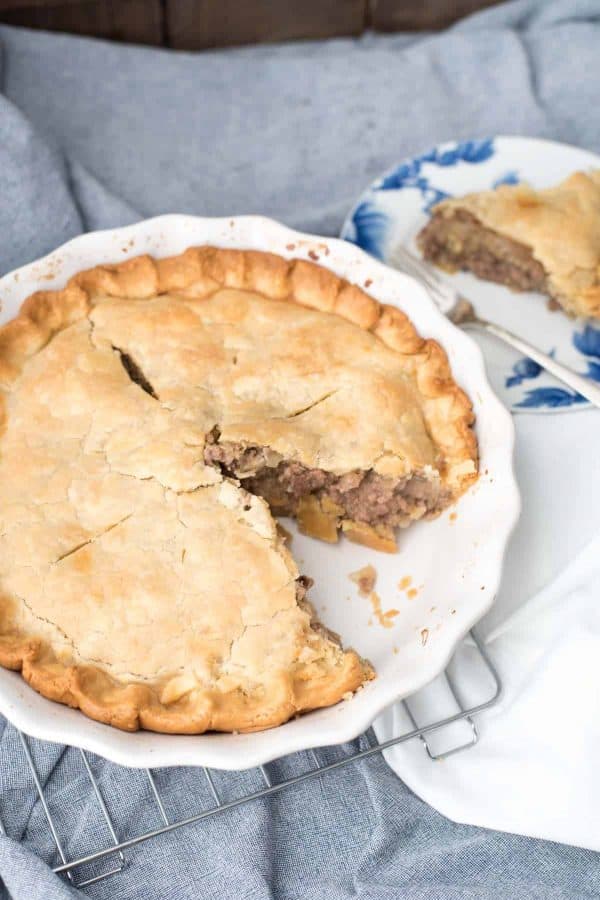 Childhood Comforts
Are there foods from your childhood that just instantly take you back on the first bite? You can close your eyes and almost smell your childhood kitchen? The warmth from the oven or the cold bite of the chilly Thanksgiving Day air. That is one of my favorite things of the power of food. A dish we hold dear can serve as mental vehicle for time traveling. Send us back to an age or memory that brings warmth to our hearts.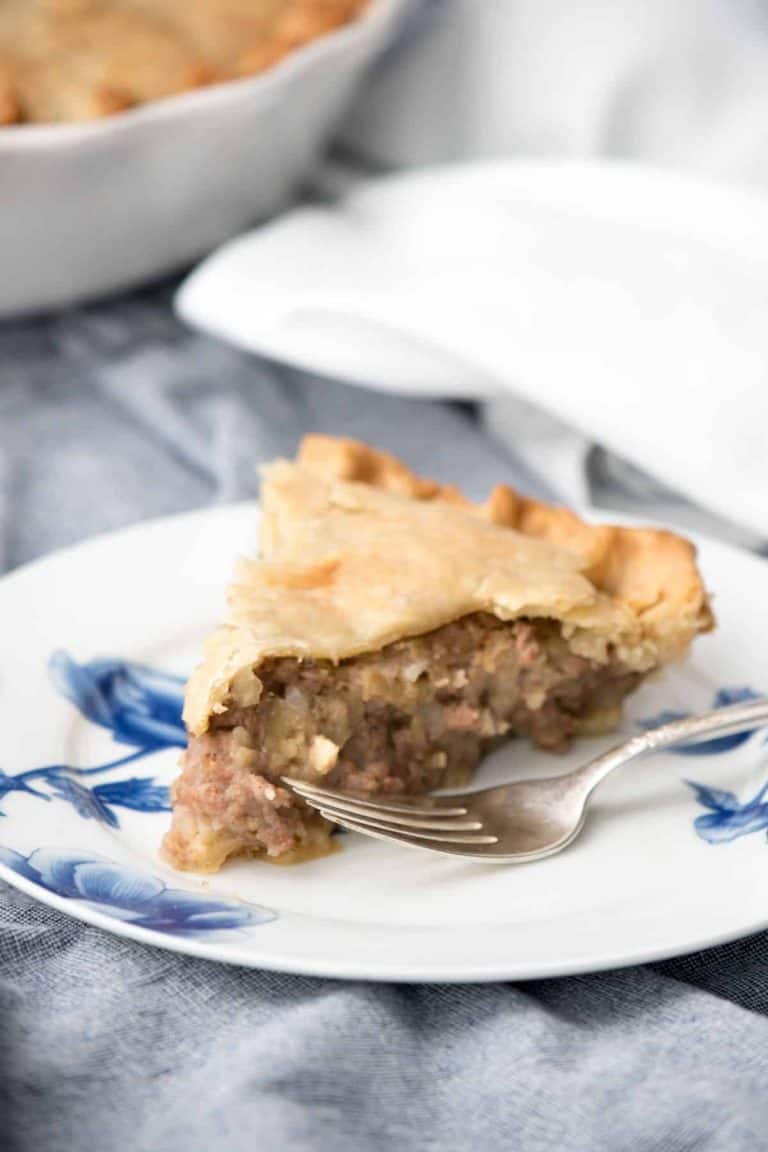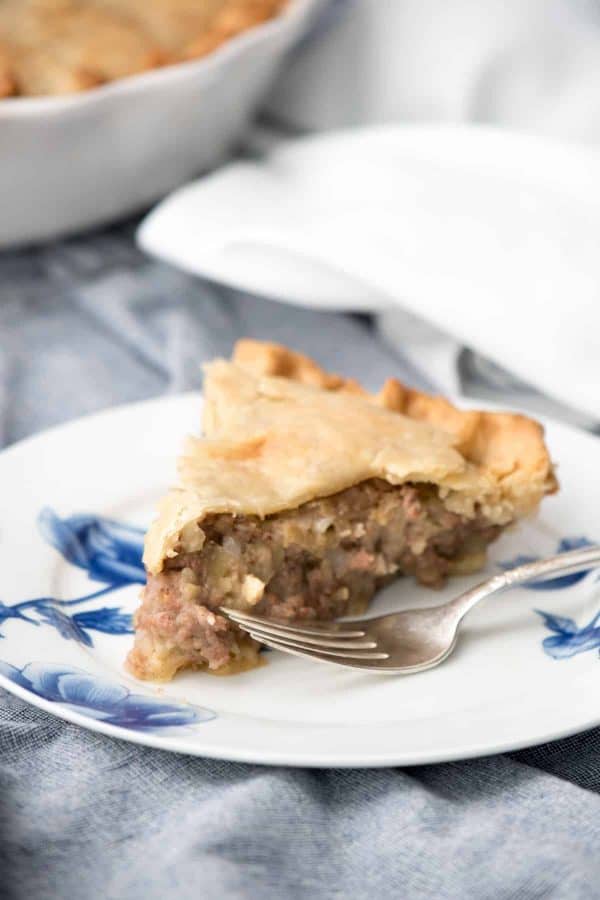 French Meat Pie is my time traveling transportation device. We've been eating French Meat Pie in my family seriously, forever. A dish my grandmother's, grandmother made and we've each been making it different as the generations grow. While this version of French Meat Pie breaks away from the traditional ingredients, this is mine. It is easy to make, full of flavor, moisture and love. And it is pretty much a guarantee for all holiday gatherings (along with these addicting Two Ingredient Kielbasa Bites.)
French Meat Pie
Traditionally Meat Pie is a combination of ground beef and pork with potatoes and spices. Spices usually include a variation of all spice, cinnamon, clove along with salt and pepper. But sometimes we need to break away from tradition to serve a higher purpose - convenience. For me, the convenience of simplicity is the next best thing to flavor in making this French Meat Pie. Beef, onion, potato are the nuts and bolts and with a little salt and pepper we're two pie crusts away from dinner.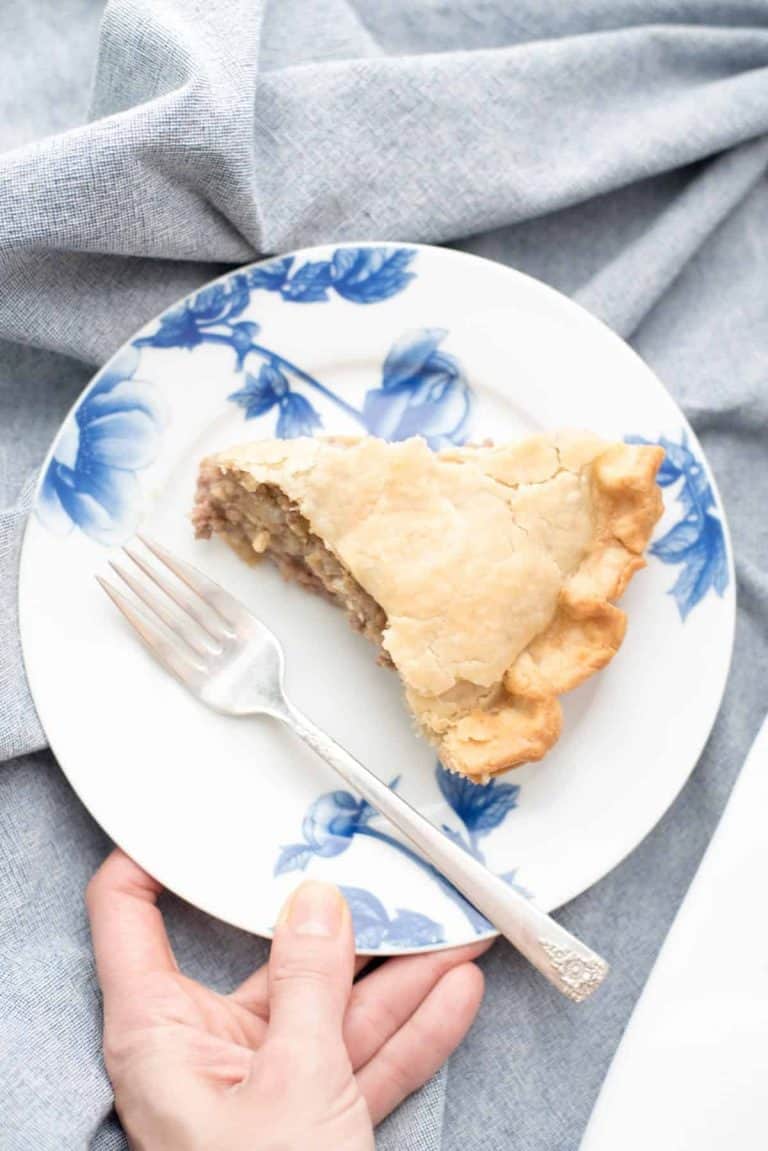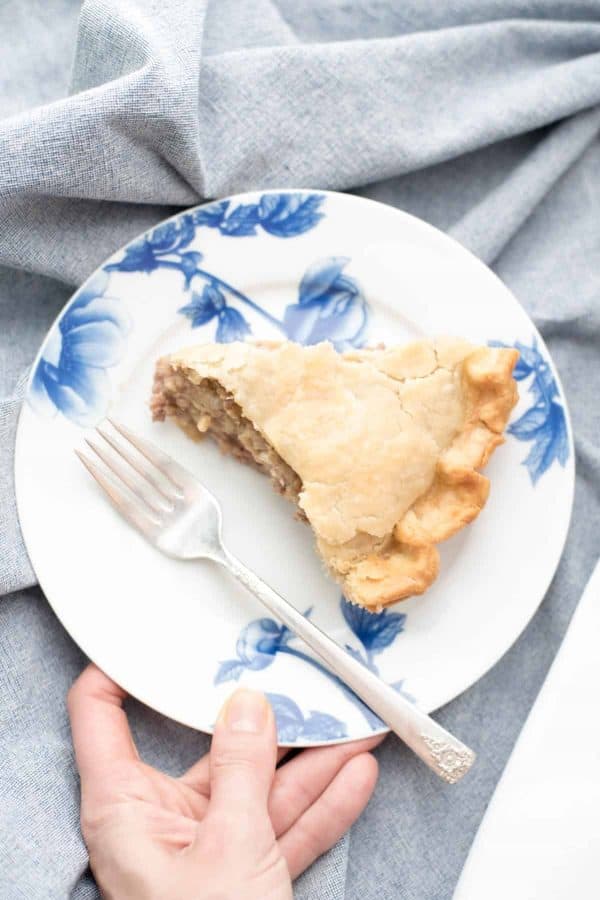 Pie crust...oh, pie crust. Real talk right now. I hate making pie crust. Perhaps it's the mess or the fact that I've just never mastered the delicate balance of too dry or too much moisture. But overall, I think it's just that key factor of simplicity that keeps me going back to the package. Being able to unroll those crusts and toss the rest into the recycling bin, I can seriously get down with that.
If pie crust is your thing, feel free to leave me your pointers. Love meat pie but want more savory pies in your life? My girl Kristen at Feast in Thyme has the answer with these Mini Mixed Mushroom, Pea & Gruyere Picnic Pies. A savory pie you can eat on the go? Don't sign me up because I'm already there.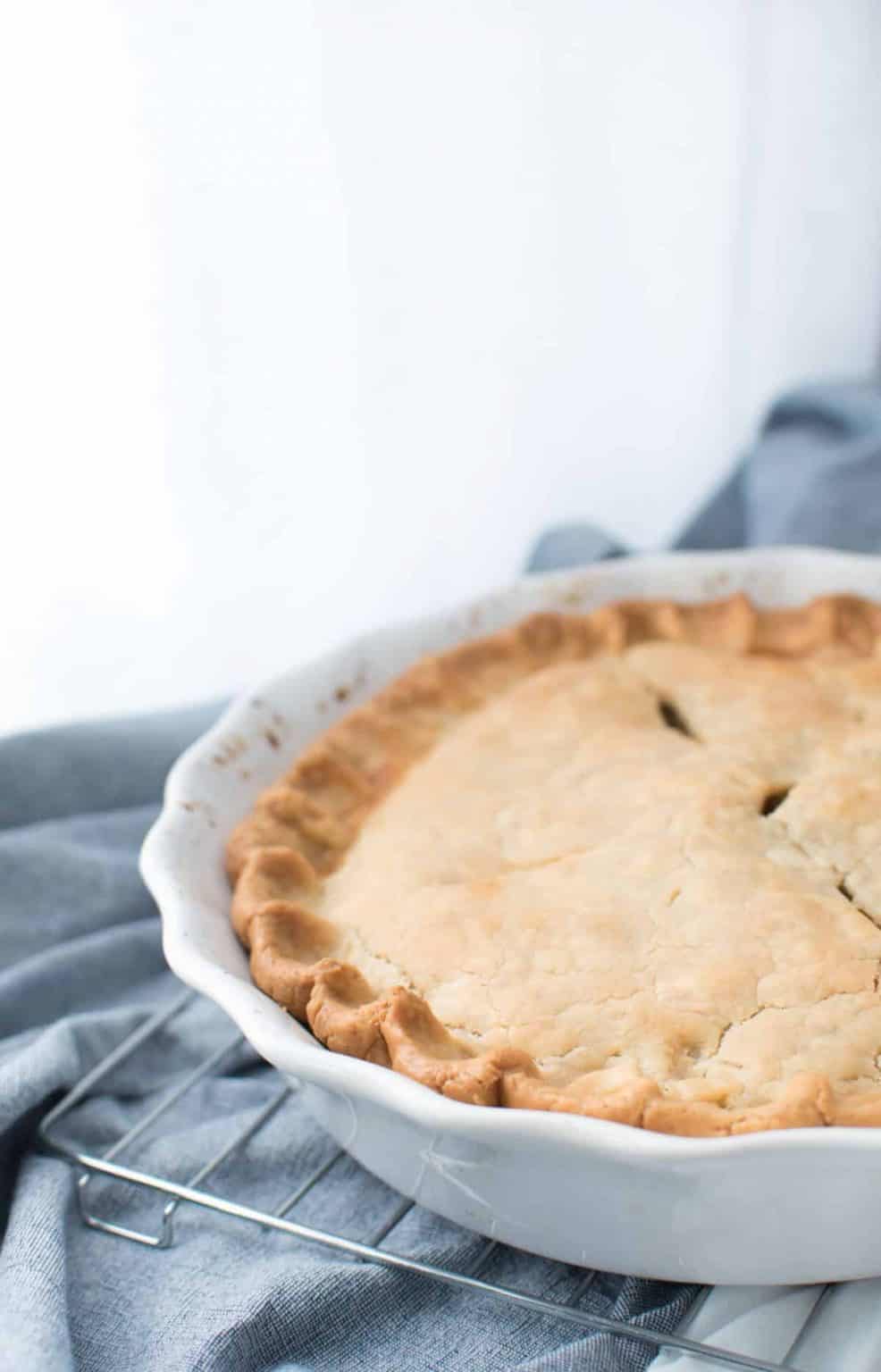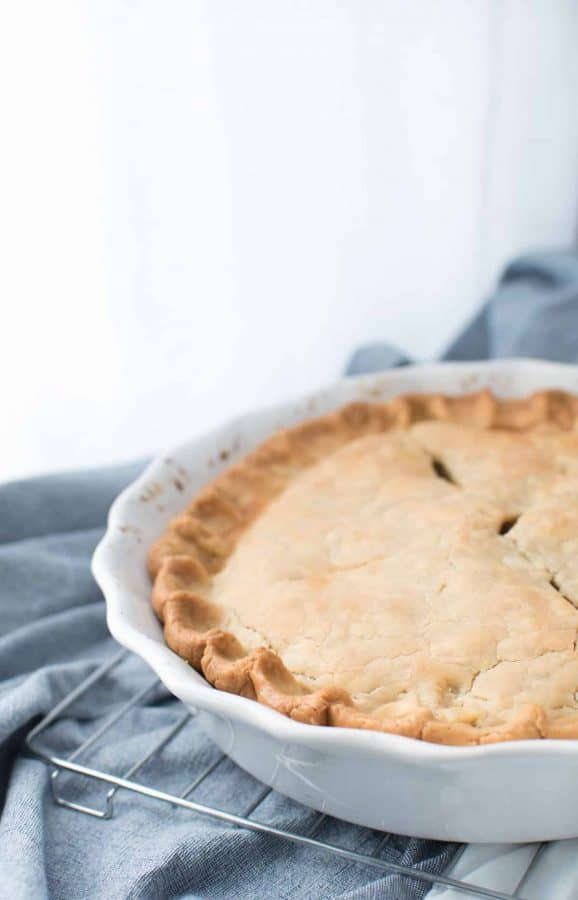 The battle of condiments
I'm not quite sure when it happened, but somewhere in the course of time there was a major riff in the French Canadian bloodlines. As we traveled from up north and settled in mill towns across New England we kept our French Meat Pie recipes with us. As the years passed, something controversial happened.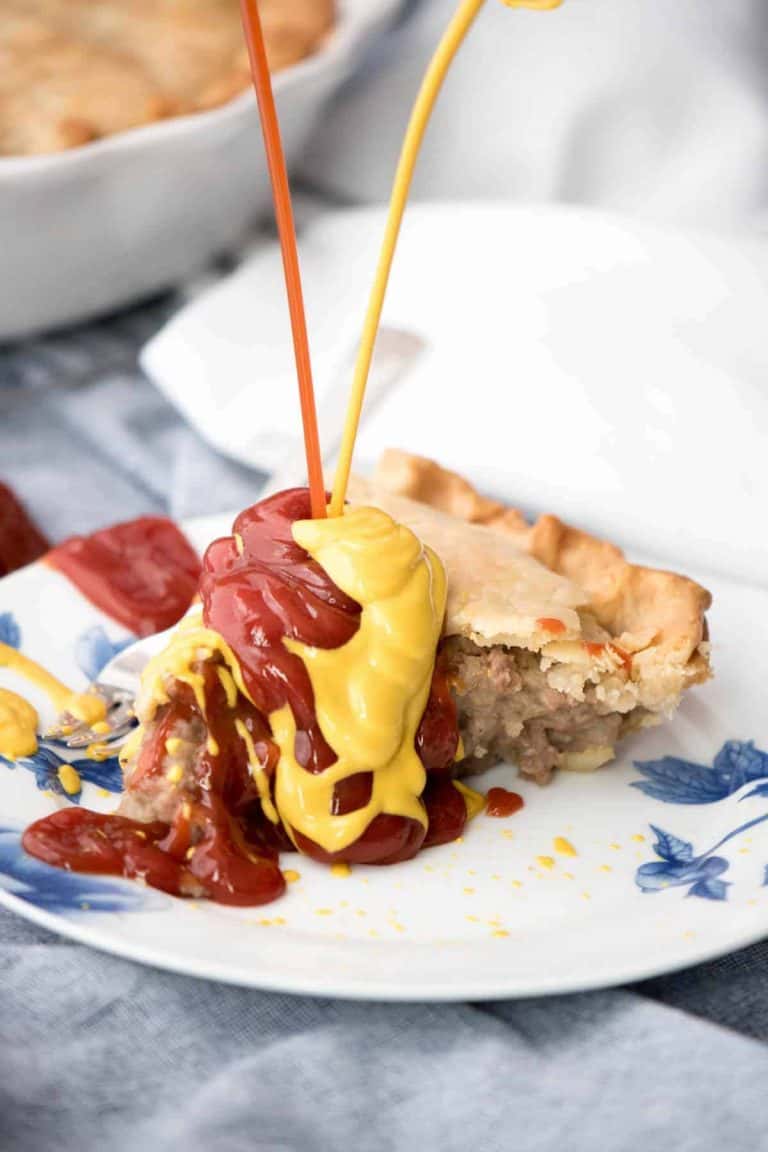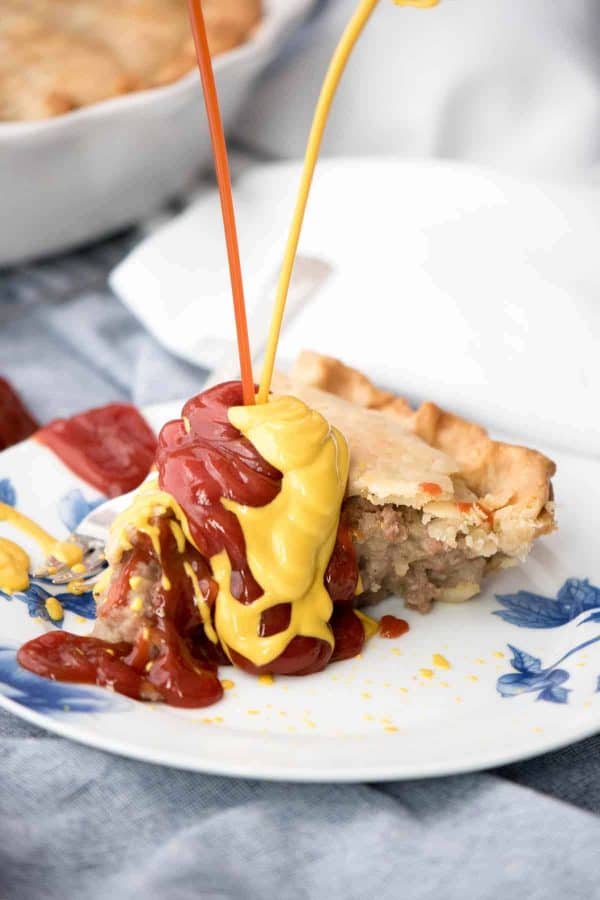 We started putting condiments on our pies and the battle of ketchup vs. mustard began. Let's say I invite you over for Thanksgiving at my Mom and Dad's house. Here we will gladly smother our meat pie in ketchup. You won't even find mustard on the table. Now, if we head over to my equally Frenchie in-laws for Christmas, you can bet all your presents there won't be ketchup. Should you use the taboo condiment at either establishment, be prepared for heckling. But it doesn't matter, because once you bite into that creamy, savory, flaky French meat pie you'll be in a different time and place anyways,
Whether you're Team Ketchup or Team Mustard, we can all agree that Team French Meat Pie is the winning team.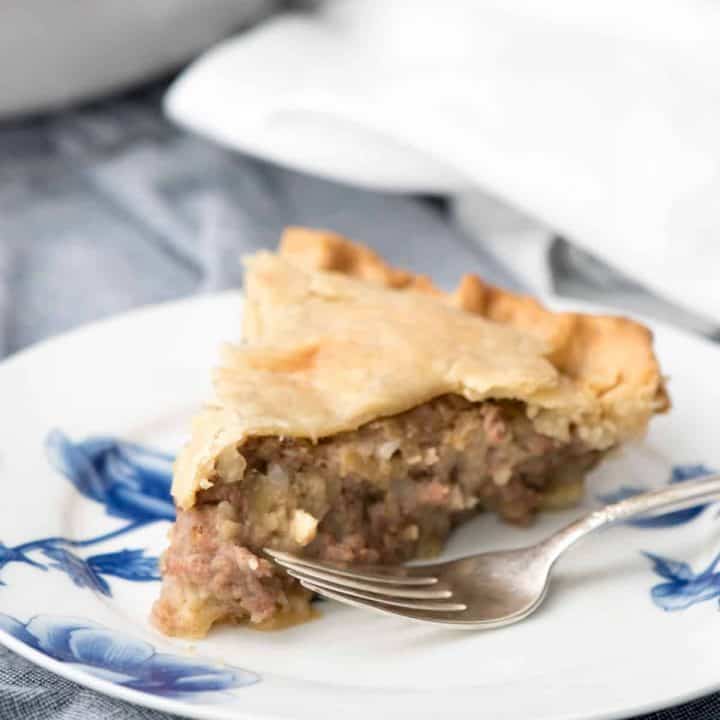 French Meat Pie
Savory flavors and creamy potatoes woven together and baked from the heart in this non-traditional version of a family favorite French Meat Pie (Tourtiere).
Print
Pin
Rate
Ingredients
1

pound

90/10 ground beef

1

yellow onion

(finely diced)

2

large Yukon gold potatoes

(thoroughly washed, ½-inch dice)

1

tablespoon

olive oil

1

tablespoon

unsalted butter

¾

teaspoon

salt

½

teaspoon

pure ground black pepper

2

pie crusts

1

tablespoon

milk
Instructions
Preheat oven to 375°F. In a large sauce pan or small stock pot, boil water and potatoes until very tender, about 15 to 20 minutes. Drain well in a colander, set aside.

In a large sauté pan, heat oil and butter over medium-high heat. Add onions and sauté until translucent, about 3 minutes. Add ground beef and cook, breaking the meat into small pieces with a wooden spatula or spoon. Sprinkle with salt and pepper. Cook beef about 4 to 5 minutes or until beef is ¾ of the way cooked, some of the meat will have trace amounts of pink.² Turn off heat.

Add potatoes to the ground beef. Using a fork, finely mash the cubed potatoes into the mixture, stopping occasionally to stir with spatula.

Once potatoes and ground beef are fully incorporated the mixture will be thick but creamy.

Line a pie pan with a bottom layer pie crust and add meat and potato filling. Top with second pie crust, seal the edges, and crimp with your preferred style. Cut a few slits on the top of the pie crust to vent the steam and brush with milk. Wrap the edges of the pie crust with aluminum foil to prevent over browning.

Bake at 375°F for 1 hour and 20 minutes. After 50 minutes, remove the aluminum foil and cook until pie crust is golden brown.
Notes
¹ If using Yukon gold potatoes there is no need to peel. Just thoroughly was and remove any blemishes.
² The ground beef will cook thorough during the baking process.
Nutrition
Calories:
362
kcal
|
Carbohydrates:
30
g
|
Protein:
15
g
|
Fat:
20
g
|
Saturated Fat:
7
g
|
Trans Fat:
1
g
|
Cholesterol:
41
mg
|
Sodium:
433
mg
|
Potassium:
427
mg
|
Fiber:
2
g
|
Sugar:
1
g
|
Vitamin A:
49
IU
|
Vitamin C:
9
mg
|
Calcium:
26
mg
|
Iron:
3
mg