Happy Friday!!!  Congratulations, you've made it through the week – time to treat yo'self, right???  I don't know about you, but this week has been crazy for us.
::Teaser Alert:: Lots and lots of recipe development in anticipation of National Ravioli Day later this month!  Shea and I whipped up a 1-day Challah bread that made some pretty fantastic grilled cheese and french toast.  Which was welcomed with open arms after several failed macaron attempts – but we won't quit!  The macaron recipe will be perfect so you can avoid f*ck!ng it up as much as I did.
Shea was mostly around for emotional support, singing and dancing with me while we kneaded bread.  I can't wait until she old enough I can put her to work…ehhem, I mean teach her how to cook.
Anyway, back to this tasty liquid heaven in a glass.  This spicy pineapple margarita takes a little patience, but it is 100% worth it.  It takes patience as you will have to let the tequila and pineapple sit for about a week.  Of course, you will find no judgement here if you open the marinating tequila sooner, but a week really lets everything come together.
And if you've had a really bad week, you can eat the pineapple as a snack…but you may get bazooed pretty quickly.  We are a Hornitos loving household, as mentioned in my Strawberry Cucumber Margarita recipe, but you can definitely use your preferred brand of silver tequila.  I used a quart-size mason jar to let everything soak – which will yield 4-5 drinks.  The other great thing about this recipe is you can control the amount of heat because you will be making the jalapeño simple syrup from scratch.
If you want very little heat but jalapeño flavor, cut the seeds out before making the syrup.  You can also add seeds during the cooking process if it's not spicy enough.  I wanted a lot of jalapeño flavor but not a ton of spice, so I added one jalapeño with seeds and one without.  Here's what you'll need to make it:
Print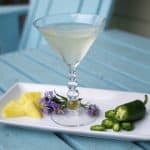 Spicy Pineapple Margarita
---
Author:

Yield:

1 drink
Ingredients
For the tequila:
1 fresh pineapple
750ml silver tequila – you won't use the whole bottle, but you will need more than a 375ml…plus who doesn't want a little extra tequila in the house?
For the jalapeño simple syrup:
2 jalapeños sliced, one with seeds, one without
1 cup water
1 cup granulated sugar
---
Instructions
To make the tequila:
Cut the pineapple into pieces, removing the skin and core.  Add enough to fill the mason jar loosely.  Pour tequila over the pineapple.  Screw on the lid and stick in the refrigerator for 7 days.  Tip: as long as the pineapple is covered with alcohol, it will not go bad.  If you have leftovers after making your first batch of cocktails and want to save for another day, remove enough pineapple from the container so all pineapple is covered with tequila.
To make the simple syrup:
Combine the sugar and water in a saucepan and stir to dissolve.  Add jalapeño.  Simmer over medium-low heat until flavor develops.  Be sure to sample during the simmering process to make sure the flavor and spice are right where you want them.  Strain the simple syrup into an airtight container and refrigerate.
To assemble the drink:
ounces pineapple infused tequila
ounce jalapeño simple syrup
/2 ounce fresh squeezed lime juice
Shake ingredients vigorously with ice and strain into a martini glass.  Garnish with a tequila soaked pineapple slice or float a jalapeño on top!
Recipe Card powered by