Tender seared duck breast with crispy, seasoned fat sliced thin and served over a reduction of sweet dried cherries, savory shallots, bold red wine and creamy butter. Pan-Seared Duck Breast is the perfect, easy date night in dinner that looks and tastes fancy, but is actually simple to prepare.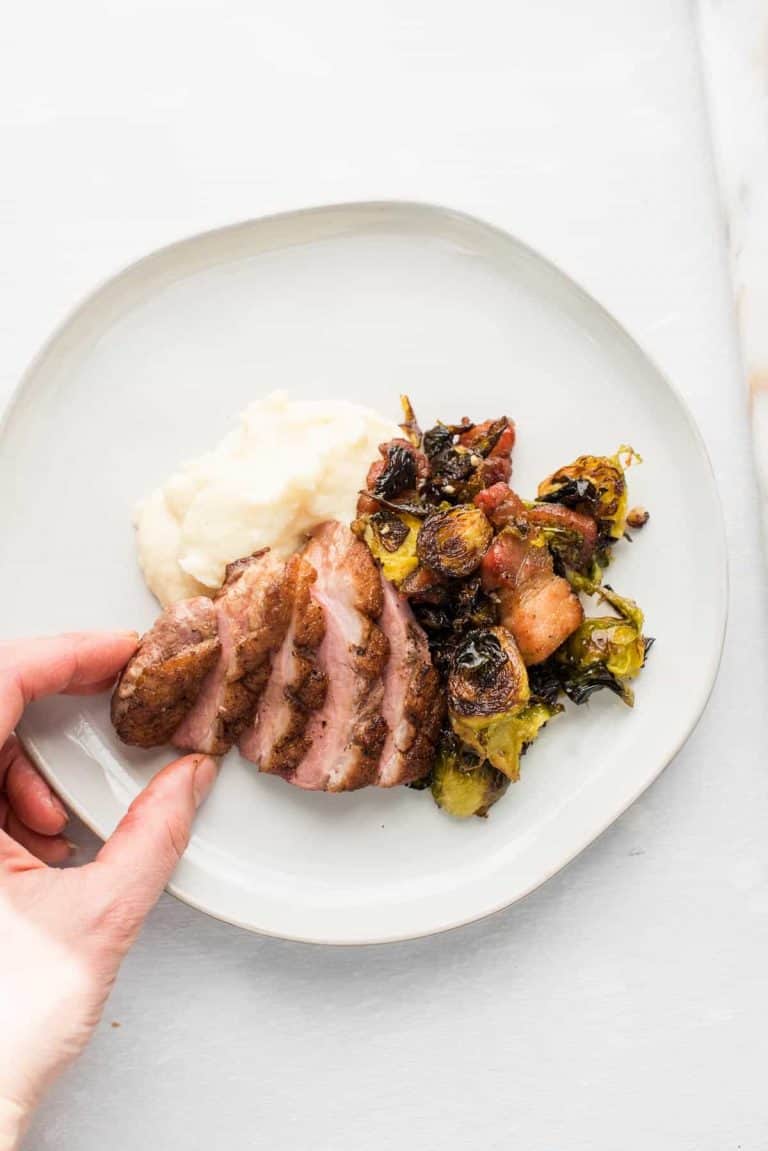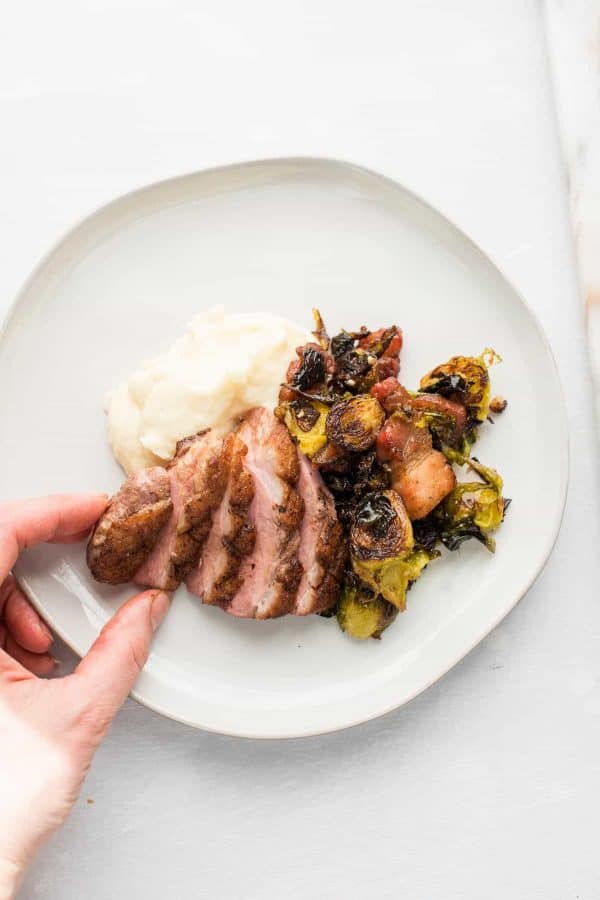 This post contains affiliate links.
Hold on a sec. Yep. Almost done. There we go. Sorry, just had to change into my fancy pants real quick.
Except they're those sneaky fancy pants where they look like high class but are actually really comfortable. That my friends is exactly what this pan-seared duck breast dish is like. Fancy appearance with stunning taste, but in all reality actually very simple.
Valentine's Day is coming up, you know. Maybe now is the time to don your invisible chef hat and whip up a mouth-happy, homemade gift. The best part is that it's kinda a gift for you too, but shhhh, we don't need to bring that point up.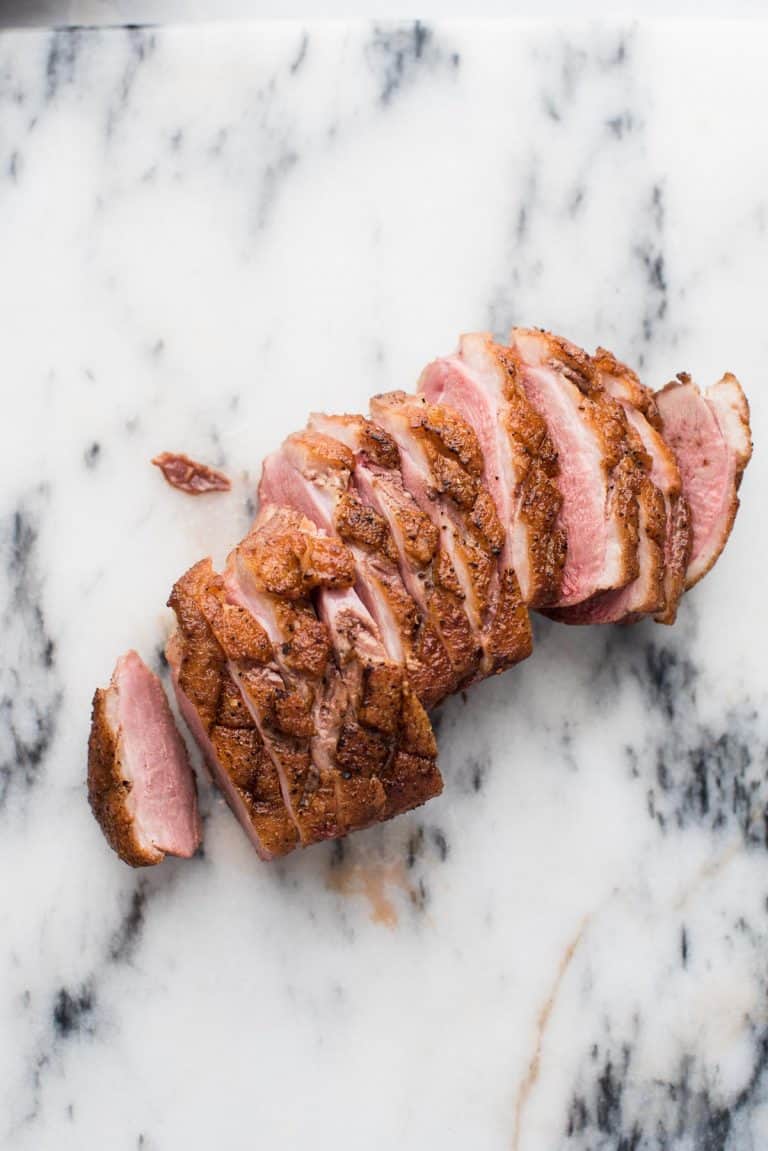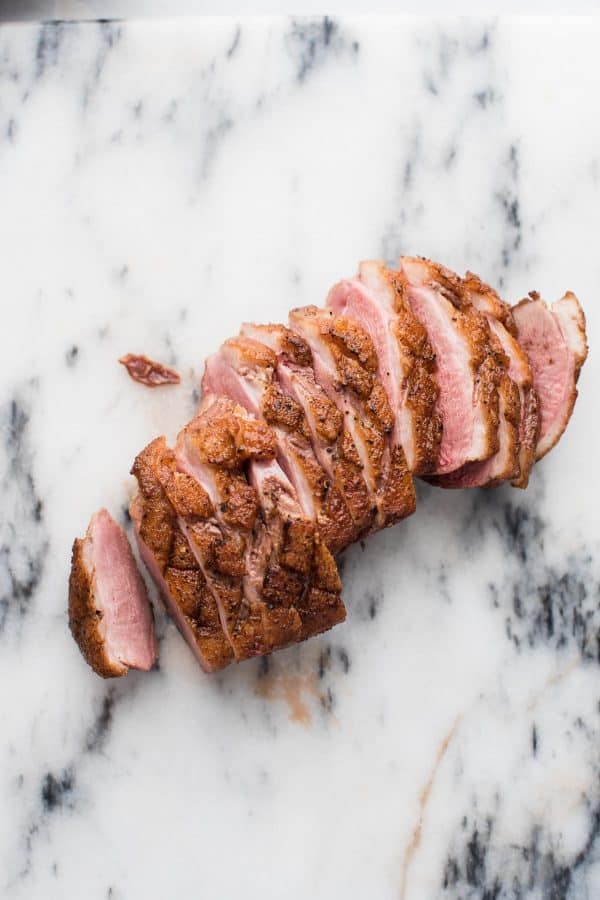 How to Cook Pan-Seared Duck Breast
Duck breast and lamb are my two favorite of the gamier tasting proteins. Lean with good flavor but not so much of that wild game taste that you feel you're dining on the Oregon Trail. And minus the thin fat cap on top - which if we are being honest is the best part - the duck breast is very lean.
So how do you approach this classic French preparation? French cooking is supposed to be hard right? NO. Well, not all of it. I'm still in a fight with croissants. But pan seared duck breast, we totally got this.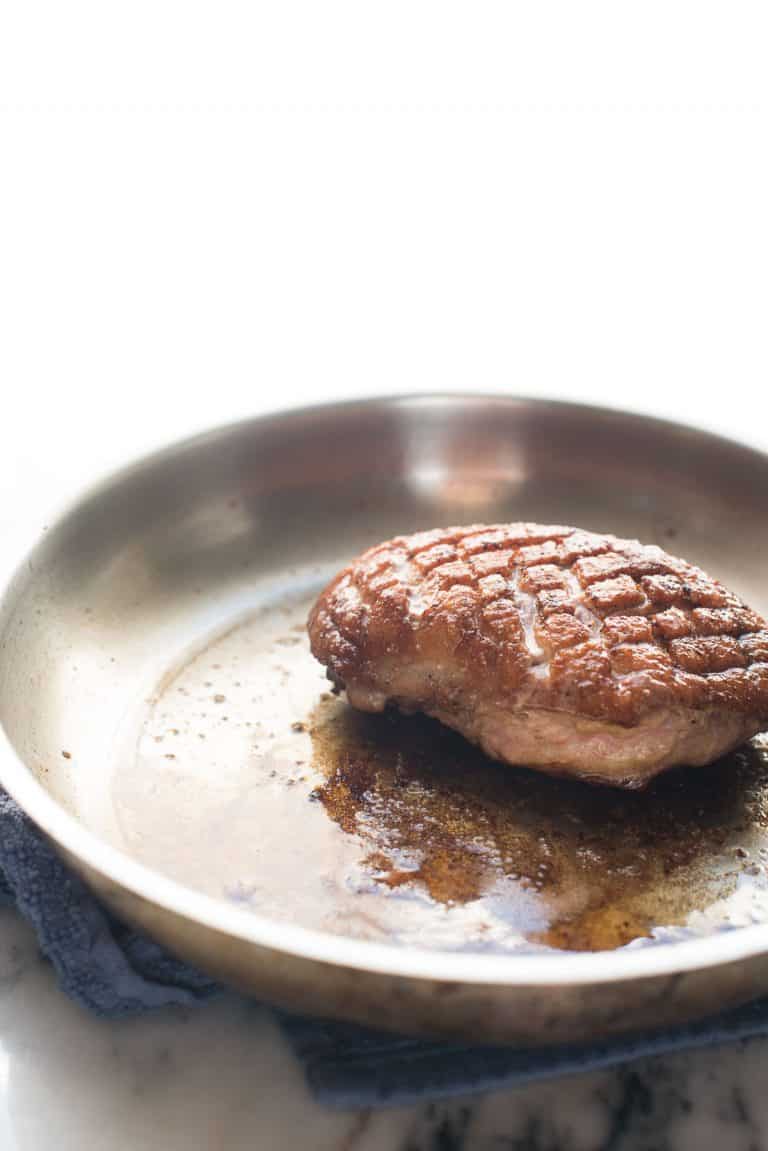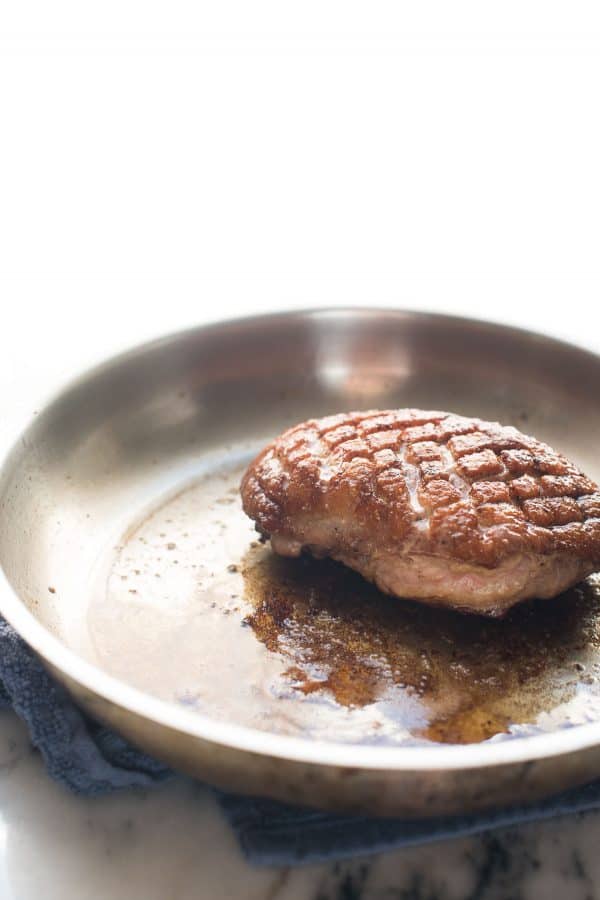 Major tips for perfect searing and juicy meat
Score the fat. You can either score it across one way or do both in a criss cross pattern. You want to cut through the fat without cutting into the flesh of the meat.
Season the fat with salt and pepper.
Make sure your duck breast is room temperature before searing.
Use a heavy bottom skillet. Something without a non-stick coating is best. Something about tephlon just doesn't crisp up the fat the right way. This stainless steel sauté pan is perfect for searing two duck breast in the same pan.
The most surprising tip? Start with a cold pan! Searing fat side down and gradually increasing the temperature.
Once the fat is crisp and brown, turn to sear the flesh side of the breast to lock in the flavor. Turn back to fat side down and slide into the oven to finish cooking.
Let. It. Rest. Giving you time to finish getting your sides ready to get on the plate or to whip up this beautiful dried cherry and shallot wine sauce. Resting the duck breast for 5 to 10 minutes is letting all the juices settle into the meat, rather than running all over the cutting board.
If serving a sauce with it, serve the duck breast over the sauce. You just put all that work in for a beautiful crispy fat cap, don't get it all sad and flabby with sauce.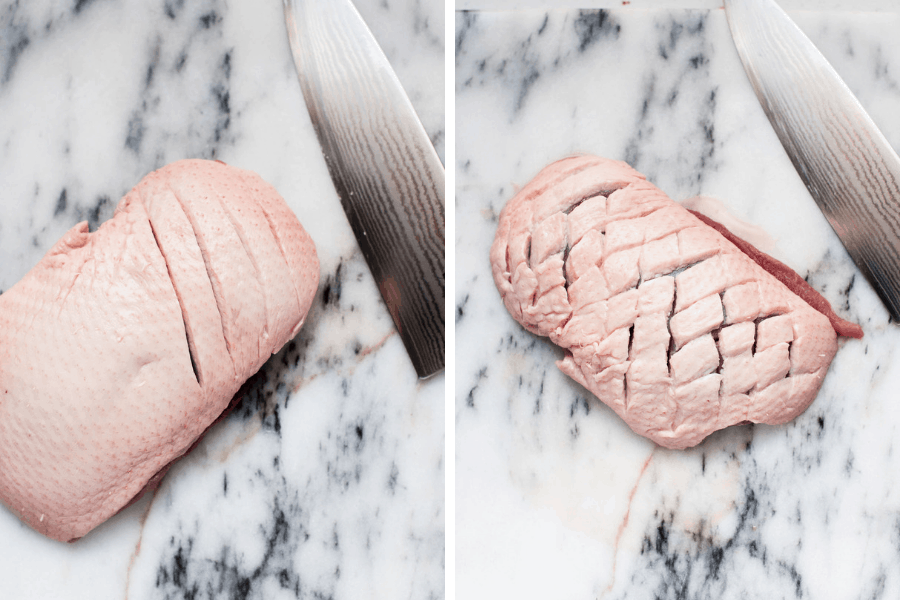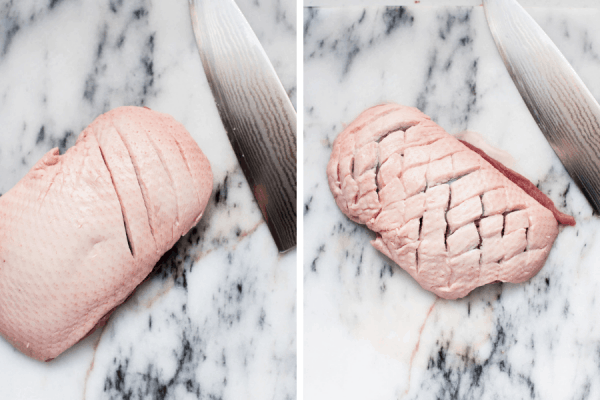 See? That wasn't so hard right? You've totally got this.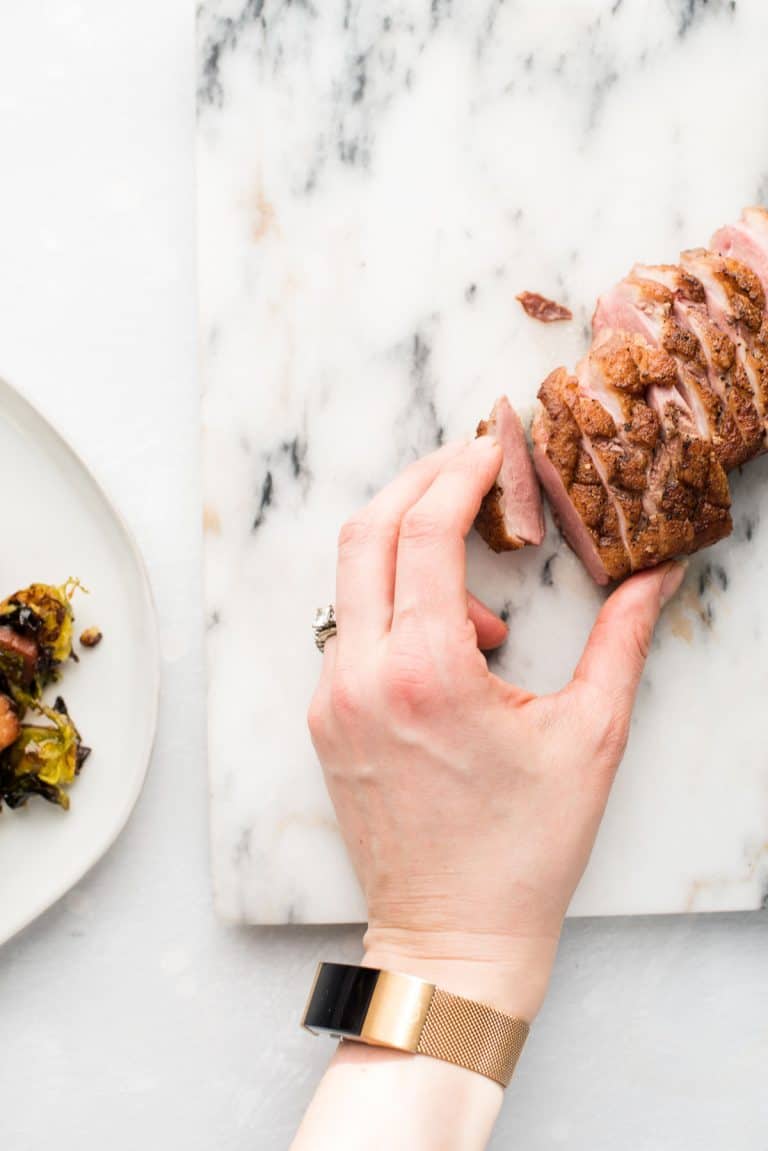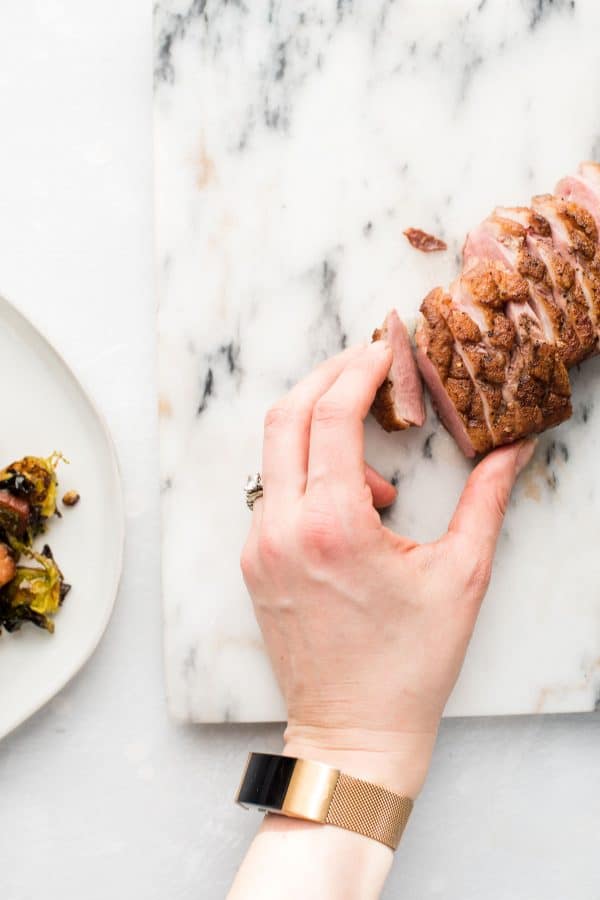 What to serve with it
My favorite part of eating pan-seared duck breast is sopping up a rich, red wine sauce right along with it. This dried cherry and shallot wine sauce is a no-brainer great way to infuse the pan dripping from your sexy duck breast into a velvety, sweet, savory and bold sauce.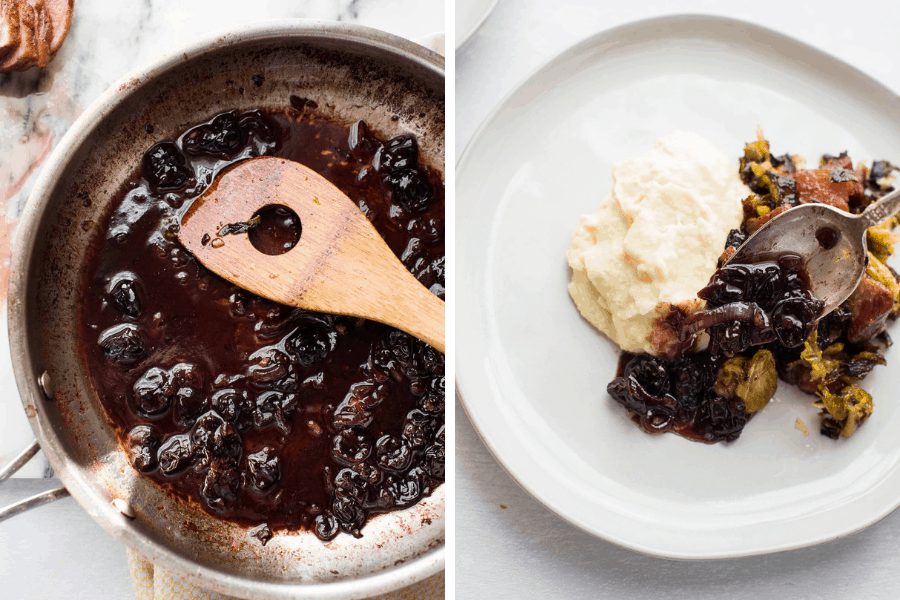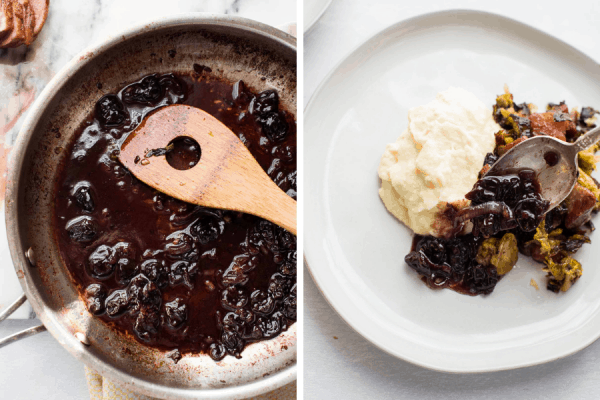 My other favorites are indulging in delicious French things like anything to do with parsnips, cheese, dairy, butter. You know, the food groups.
Creamy puréed parsnips are one of my go to side dishes. They're ridiculously easy, can be made the day before, and are a great way to get a creamy vegetable on the plate without a lot of work. Simply peel and chop the parsnips, simmer with milk and butter until soft, season and blend. SO GOOD.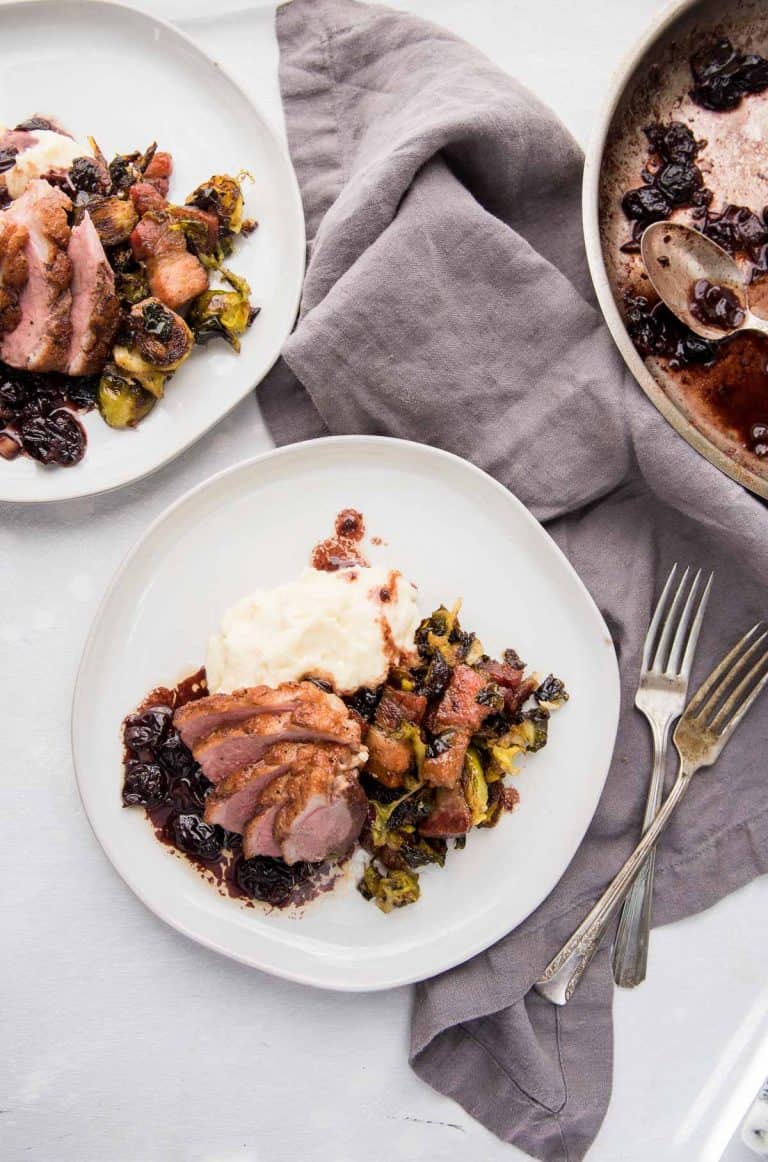 Looking for a little green on the plate? Brussels sprouts, braised kale, or rainbow chard are all a perfect pairing. Especially if your brussels sprouts are served up with pork belly lardons and a healthy drizzle of honey garlic. Just sayin' it doesn't hurt.
If potatoes hold a special place in your heart, don't be shy and go big. Like New England crustacean big. Tender chunks of lobster meat with savory leeks, tender thin sliced potatoes and epic melty cheese. Leek and Lobster Potato Gratin is definitely a major tastebud win.
Or, you know, you can always do what I usually end up doing. Searing duck breast and snacking on it so it accidentally becomes an appetizer. Whatever floats your boat. But this pan seared duck breast thing? You've got it in the bag...erhm, the pan.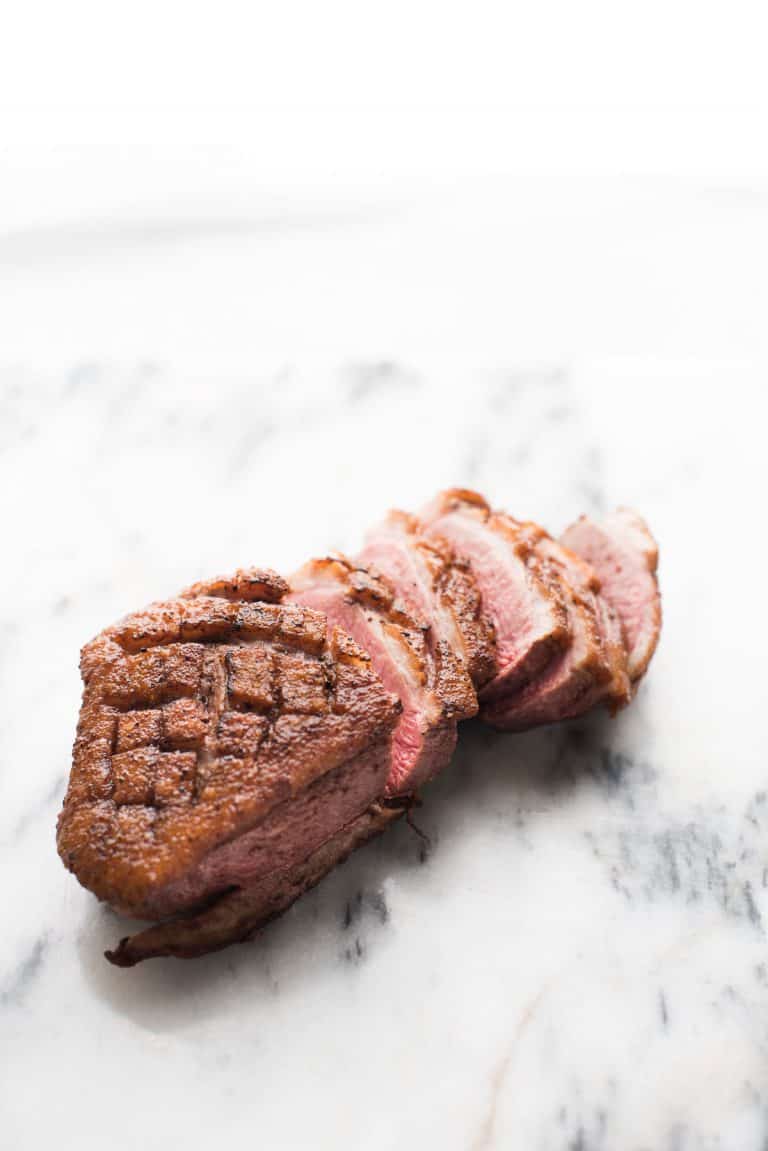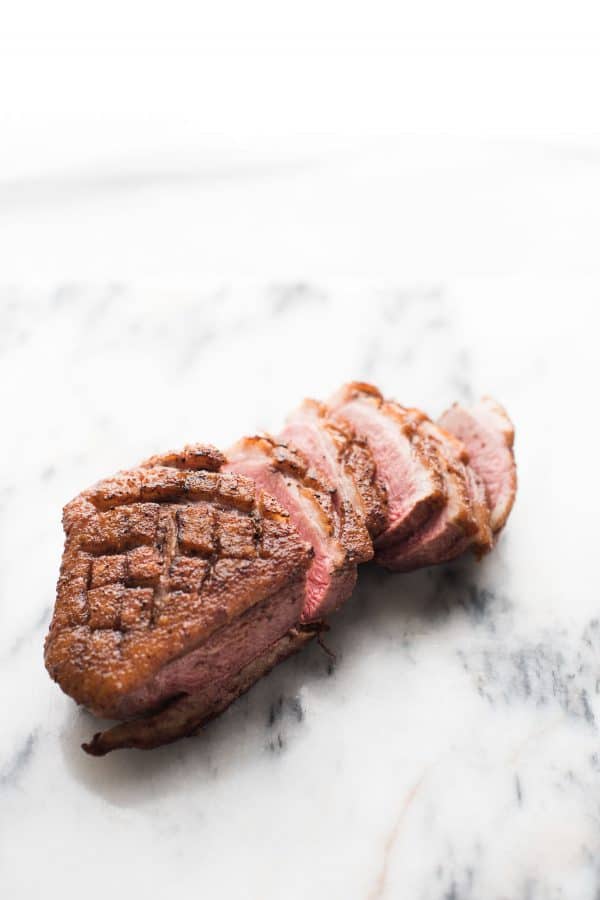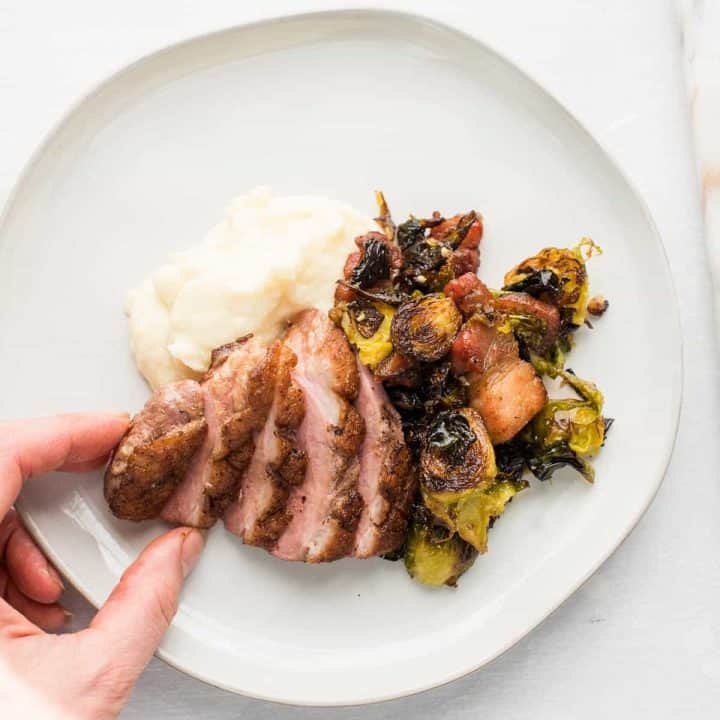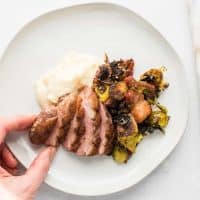 Pan-Seared Duck Breast with Cherry Shallot Wine Sauce
Pan-seared duck breast is so simple and easy but tastes elegant and fancy! Tender, juicy duck breast with crispy savory seared fat over bold and slightly sweet dried cherry, shallot and red wine sauce.
Print
Pin
Rate
Servings:
2
to 4 servings
Ingredients
Pan-Seared Duck Breast
2

duck breasts

(4 to 5 ounces each)

salt and pepper for seasoning
Cherry Shallot Wine Sauce
1

large shallot

(sliced in half moons)

1

clove

garlic

(minced)

½

cup

red wine

(such as merlot)

¼

cup

dried cherries

4

tablespoons

unsalted butter
Instructions
Pan-Seared Duck Breast
Preheat the oven to 400°F. Let the duck breasts sit out at room temperature while the oven preheats. Dry off any moisture and score the fat side in a criss cross pattern. Season the fat generously with salt and a light sprinkle of black pepper.

In a heavy bottom skillet, place the duck breasts fat side down in a cold pan. Place the pan on the burner and gradually increase the heat to medium-high until the skin is very crispy, browned and easily releases from the pan. This should take about 5 minutes of cooking.

Turn the duck breasts over to sear the flesh side. Cook about 2 minutes. Turn again so the fat side is down and place in the oven. If your pan is not oven safe, transfer the duck breasts to a sheet pan that has been kept warm in the oven.

Cook the duck breasts in the oven 6 to 8 minutes. For medium rare, cook for 6 minutes. For medium to medium well cook for the full 8 minutes. After cooking, remove the duck breast to a cutting board to rest.

Drain the excess oil from the pan to a small bowl. Let the duck breast rest for 5 to 10 minutes then slice in ½ inch slices and serve immediately.
Cherry Shallot Wine Sauce
After draining the excess fat (see note) from searing the duck breast, bring the skillet back to the stove top over medium-low heat. Add sliced shallots and garlic to the pan, stirring well.

Once the shallots and garlic become fragrant and the pan is hot, add the red wine stirring well to scrape any bits of duck from the bottom of the pan and incorporate into the sauce.

Reduce the heat to low, add the butter and dried cherries stirring well until the sauce starts to bubble and the butter in well incorporated.

Spoon the sauce onto the plate and top with the freshly sliced pan-seared duck breast.
Notes
If your skillet is not oven safe (the handle is made out of plastic) you can use a baking sheet to finish cooking the duck breast, but keep the sheet pan warm in the oven while searing the breast in the skillet.
Excess fat can be reused to make super delicious roasted potatoes. Trust me.
If using a different the same pan for the sauce, you will not need additional salt. There will be residual salt for searing the duck breast that will incorporate into the sauce. If using a new skillet for the sauce, taste the final sauce and add salt and pepper as needed.
Nutrition
Calories:
589
kcal
|
Carbohydrates:
15
g
|
Protein:
47
g
|
Fat:
32
g
|
Saturated Fat:
17
g
|
Trans Fat:
1
g
|
Cholesterol:
234
mg
|
Sodium:
138
mg
|
Potassium:
736
mg
|
Fiber:
2
g
|
Sugar:
9
g
|
Vitamin A:
1359
IU
|
Vitamin C:
15
mg
|
Calcium:
39
mg
|
Iron:
11
mg