Creamy, rich, savory and just a touch of natural sweet from the shallots. Rainbow Chard & Shallot Gratin is the vegetable dish your family will ask for this holiday season. Bonus: it's got lots of leafy greens.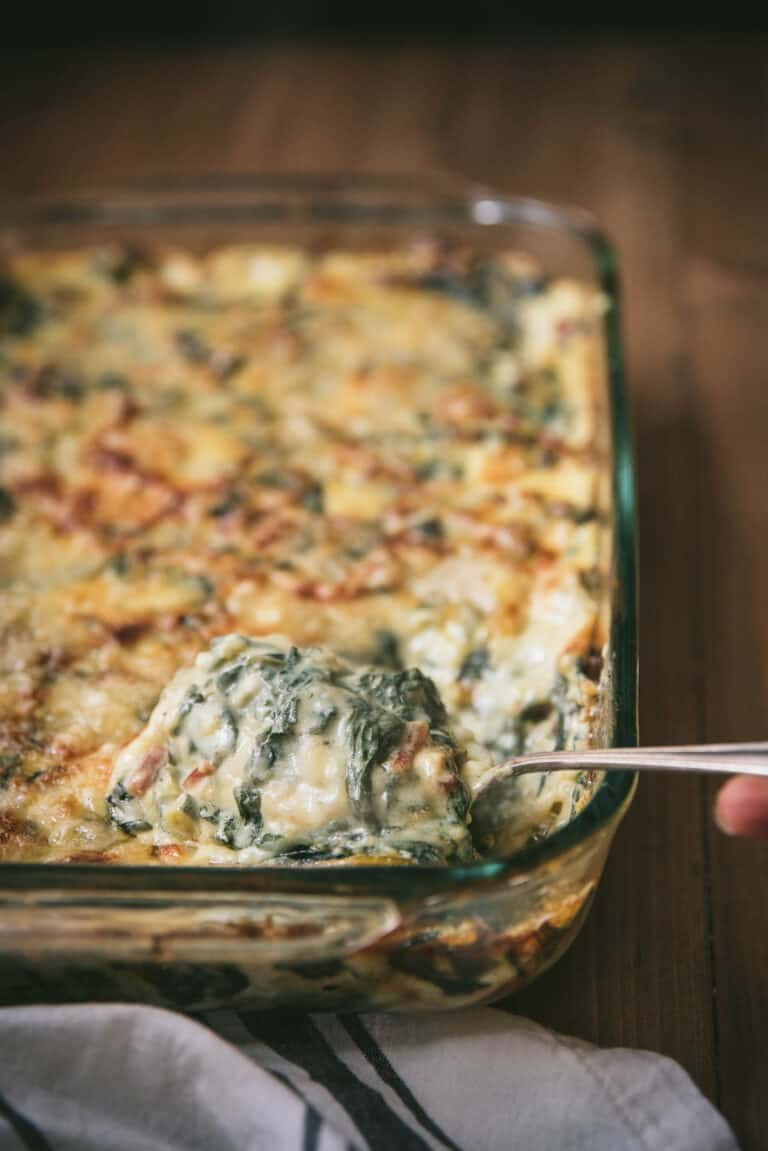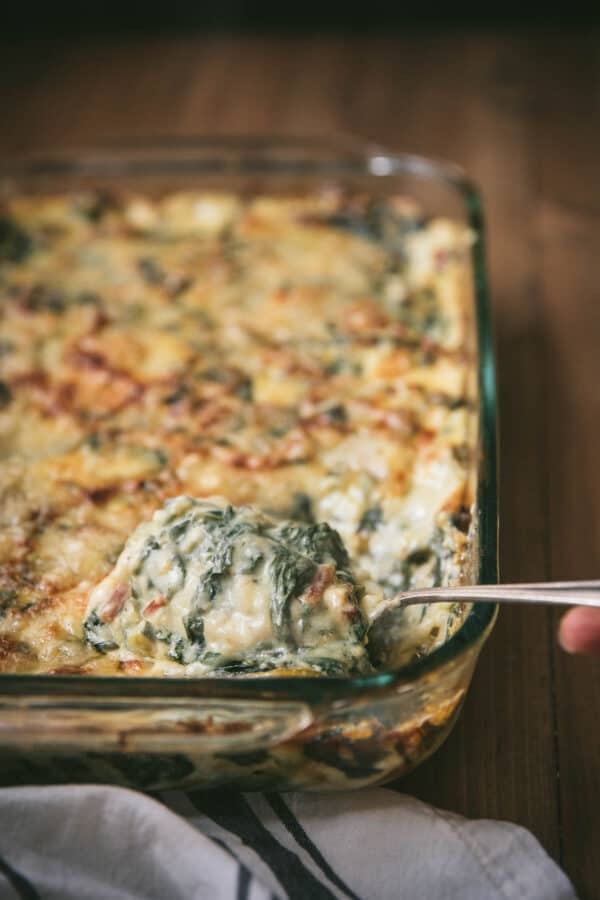 It's big, colorful, leafy greens but done in a way that's ultimate indulgence while also making the perfect complementary side dish to your next holiday or comfort meal.
Truth, this is my go-to holiday side dish next to pureed parsnips. Rainbow chard gratin, I count down the days until you can get in my belly! Please, I urge you to join me in this need.
Here's what you're going to love about rainbow chard and shallot gratin getting cozy in your belly.
big leafy greens
creamy, cheesy sauce
can be made ahead
indulgent, yet lighter than a starchy side
super flavorful for leafy greens and creamy sauce
It's great served up with turkey or roasted chicken with some sort of crunchy-ish vegetable to balance the gooey, cheesy texture. And the make-ahead part really comes in handy if you'd like to serve this dish for Thanksgiving or another holiday dinner.
Bonus points, it travels well too and retains heat nicely so you can bring it if you're contributing a side dish to your festivities!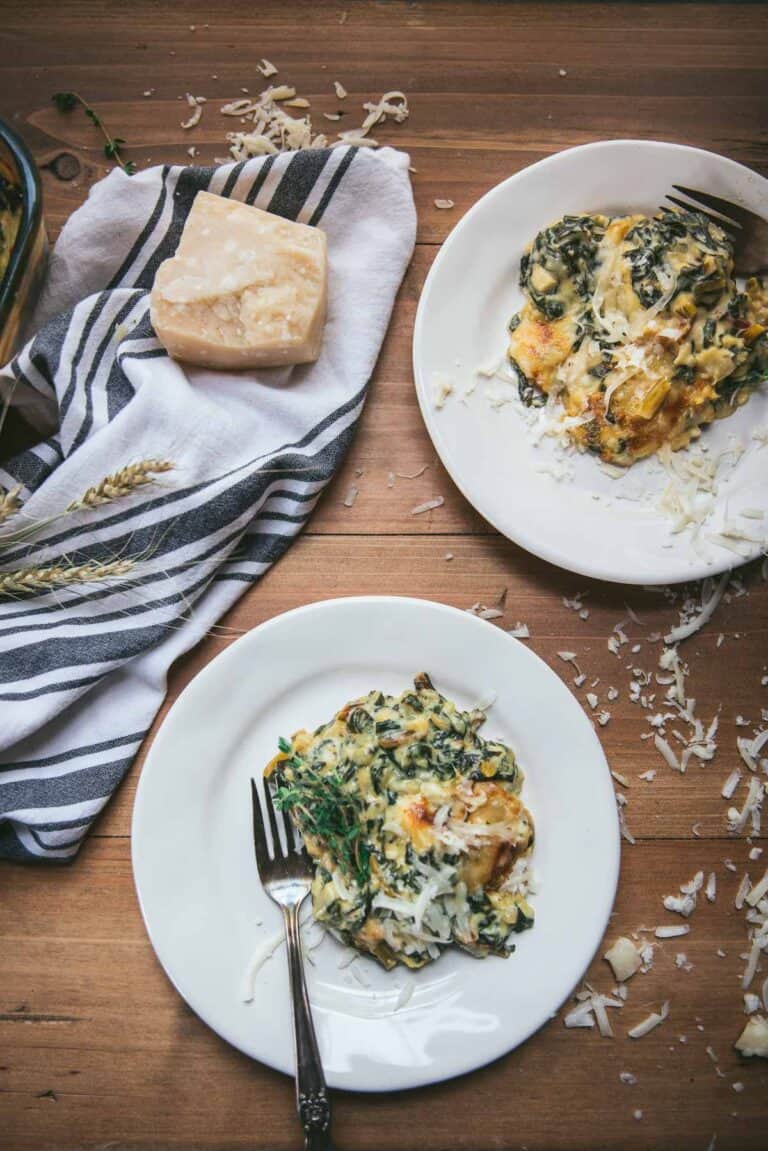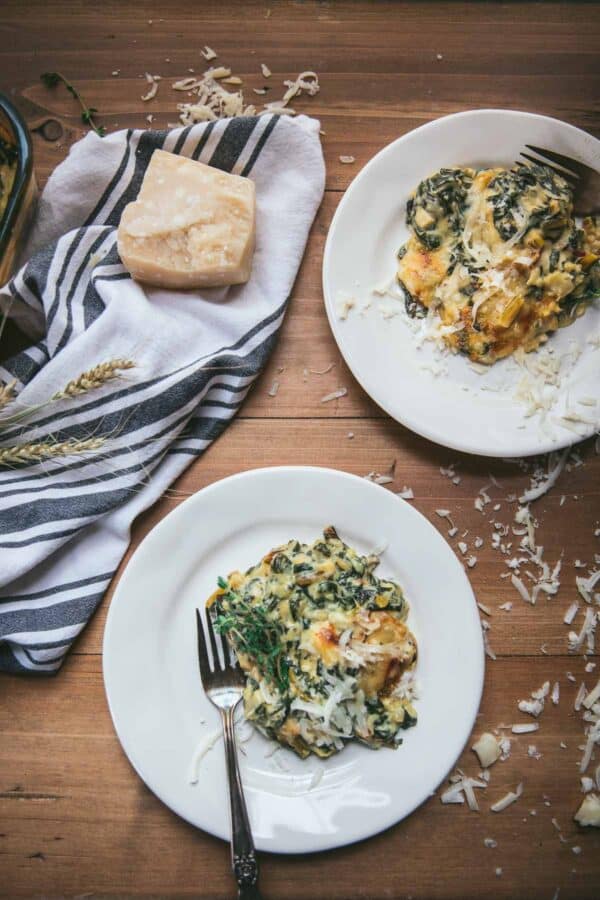 HOW TO MAKE RAINBOW CHARD & SHALLOT GRATIN
Chop. Blanch. Squeeze. Saute. Sauce. Bake.
That's what we're going for here my friends.
The rainbow chard is going to feel like you have roughly 1,000 leaves but once they get wilted in the hot water, blanched, and then squeezed to remove excess water you will be left wondering where all the leaves are. This is another reason this dish is a great make-ahead because 6 pounds of rainbow chard takes up a lot of space in a holiday prepared fridge.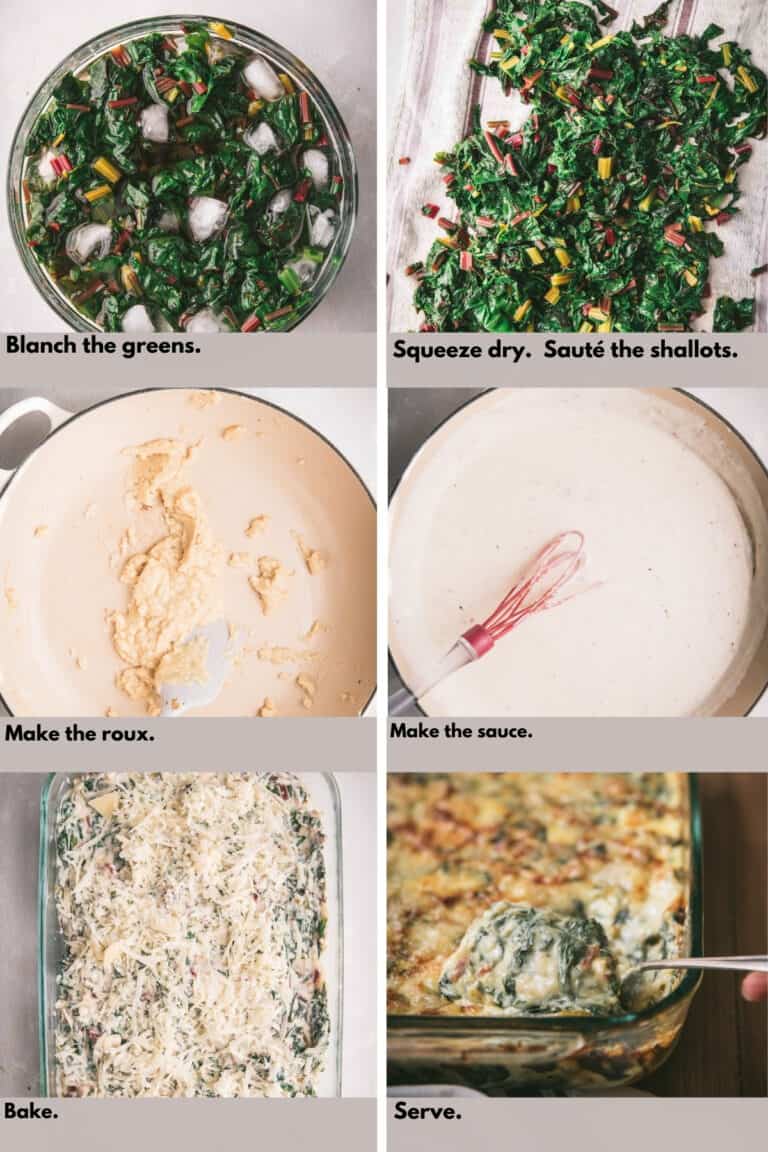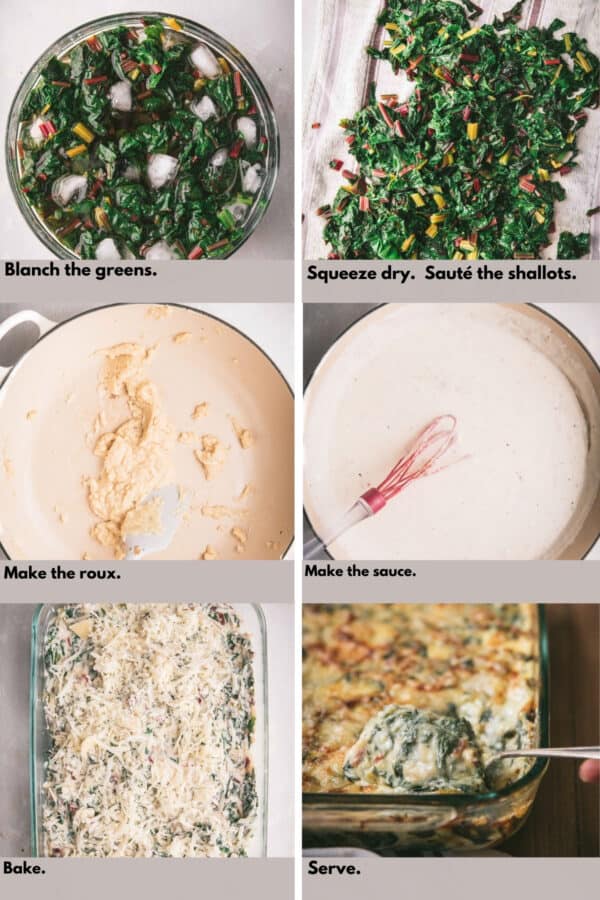 Once the rainbow chard is ready, sauté the shallots and garlic. Once everything is translucent, remove from the heat and start making the sauce.
This is a bechamel style sauce, so we're going to start with a roux. Don't worry, it sounds fancy but it's really simple. Just a little butter and flour stirred together that will help to thicken the sauce as it simmers with the milk. Once the sauce is prepared, you mix in a generous helping of parmesan and gruyere cheese before tossing it all together.
Spoon your beautiful leafy green au gratin into a buttered baking dish and bake!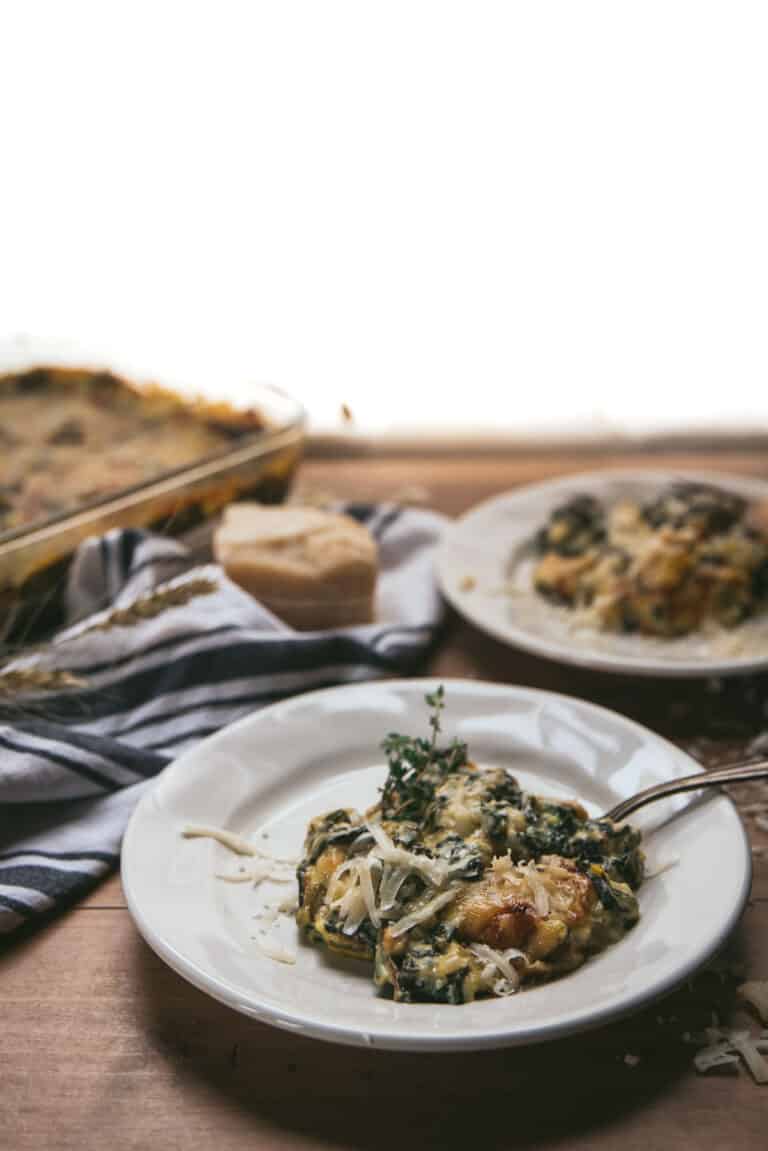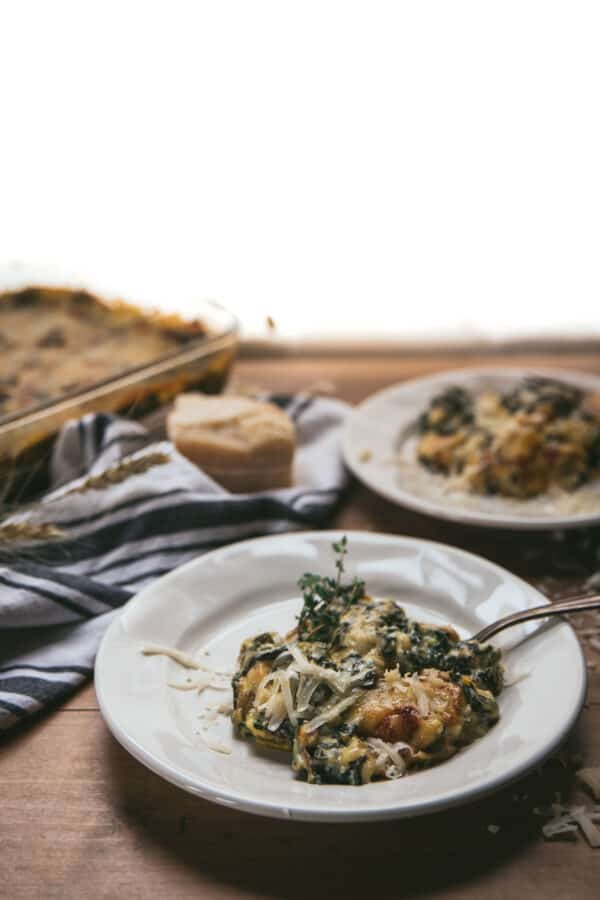 Can you substitute another green?
Absolutely! Swiss chard is an easy switch or even Tuscan kale would make a good replacement.
And if you can't find shallots, you can use leeks or sweet onions for a subtle sweet flavor.
What's gruyere cheese?
It's the same type of cheese that's usually served on top of french onion soup. It's a semi-hard cheese that grates easily, melts well, and is mild yet tangy. A good substitute is Swiss cheese. If substituting Swiss in this recipe, use a block of swiss and not slices from the deli counter.
To make this ahead of time....
If you want to bake it the day you plan to serve it, stop once all the elements are in the baking dish and refrigerate.
If you'd like to bake it and just reheat the day you're serving it, go ahead and bake, then let it cool before covering and refrigerating. Reheat it in a 375°F oven for about 10 minutes. Some of the butter may separate but a quick stir will bring it together.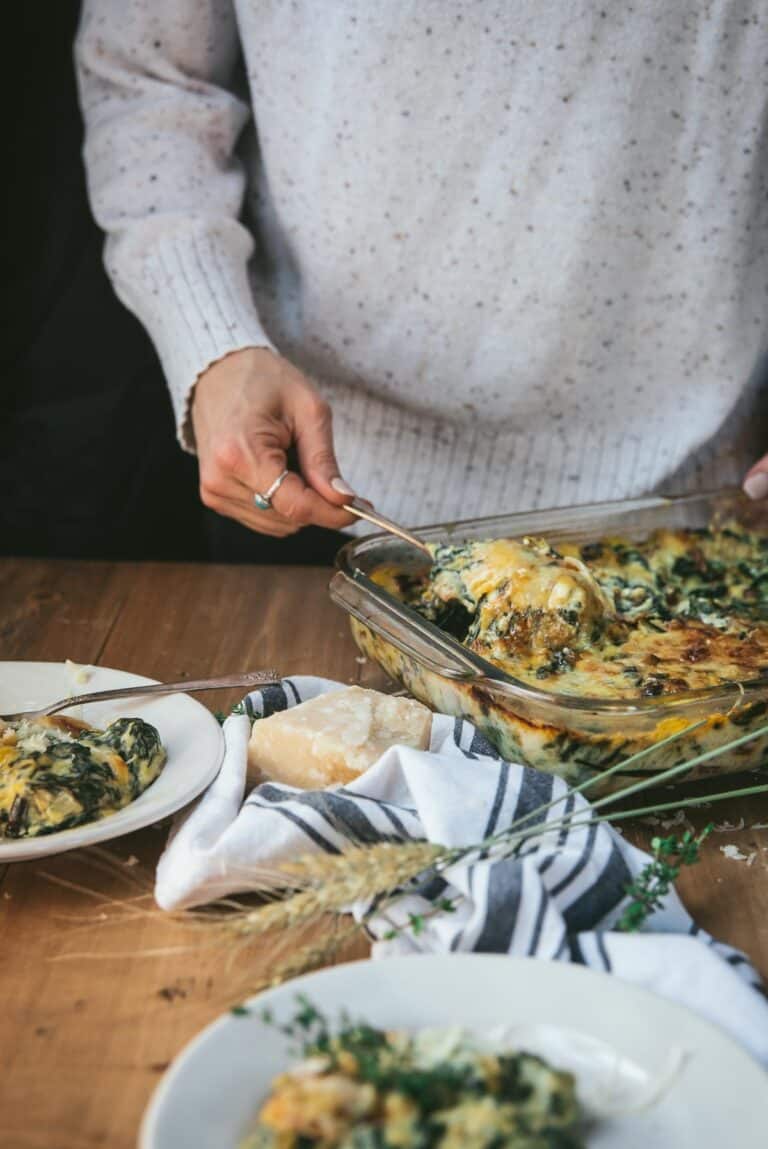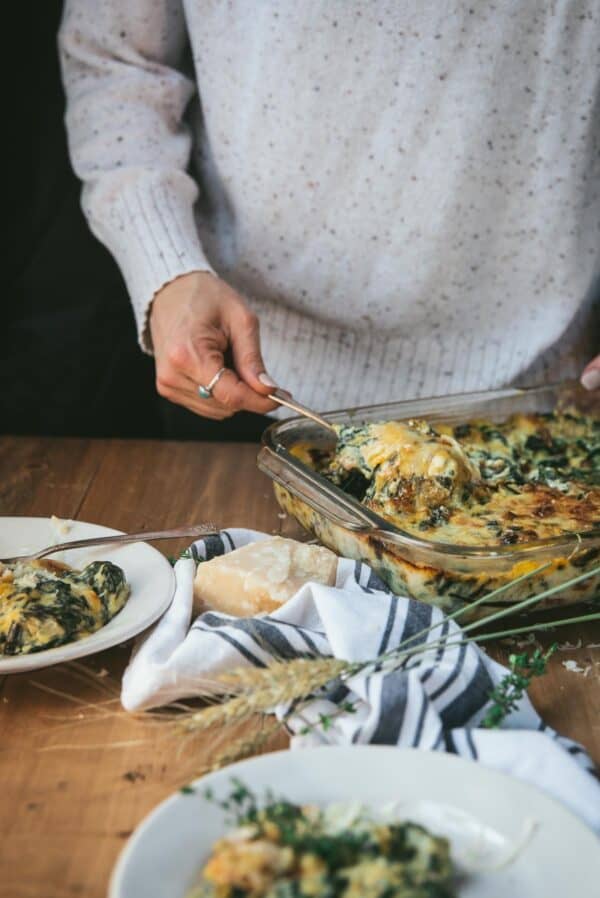 If you made this dish, please leave a comment and rating below! I would love to hear your feedback. Don't forget to share your finished dish with the pin on Pinterest for others to take a peek!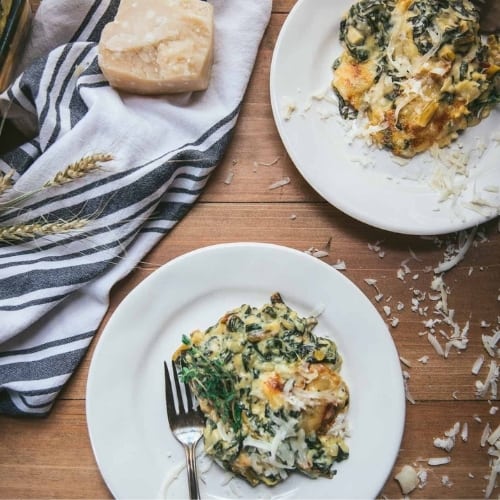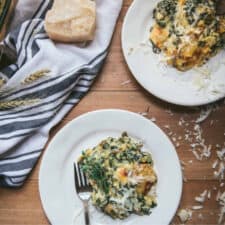 Rainbow Chard & Shallot Gratin
Creamy, cheesy, leafy greens with tender shallots make for the ultimate comfort food side dish! Rainbow chard and shallot gratin is a great side dish to bring to dinner, make-ahead, or just enjoy for date night-in or your next holiday meal.
Print
Pin
Rate
Ingredients
3

pounds

rainbow chard

(about 6 bunches, large stems removed)

8

shallots

(half-moon slices)

3

tablespoons

olive oil

3

garlic clove

(minced)

6

tablespoons

unsalted butter

⅔

cup

all-purpose flour

4

cups

whole milk

1

cup

Gruyere cheese

(freshly grated)

½

cup

Parmesan cheese

(freshly grated)

¼

teaspoon

ground nutmeg

salt

black pepper
Instructions
Chop the greens. Trim most of the stem off the chard and chop the leaves and stems. The greens are the star of the dish, but the stems add a burst of color.

Blanch the greens. In a large pot of boiling water, blanch rainbow chard in batches, cooking until wilted - about 1 minute. Transfer to an ice bath immediately. Continue until all the rainbow chard is blanched. Following the ice bath, squeeze the chard thoroughly in a kitchen towel.

Sauté the vegetables. In a deep-sided saute pan, heat the olive oil on medium-low heat, add the shallots and season with about ¼ teaspoon salt. Cook while occasionally stirring with a wooden spoon or spatula so the shallots do not burn, about 2 minutes. Add in the garlic, cook 1 more minute. Remove from heat, stir in the rainbow chard and then transfer the vegetables to a side dish while you prepare the sauce. Butter a 9x13 inch baking dish and preheat the oven to 425F.

Make the sauce. In a large saucepan, melt the butter over medium heat, then stir in the flour to form the roux. The texture will be like a thick paste. Gradually pour in ⅓ of the milk, whisking constantly to remove any clumps while the mixture thickens. Repeat a second and third time until all the milk is incorporated and the sauce is smooth. Continue whisking until sauce begins to boil. Reduce heat to low and cook about 15 minutes, occasionally stirring. The sauce should be thick and creamy, any flour taste should cook-off at this point.

Make the gratin. Whisk in the parmesan cheese, ½ cup gruyere cheese, and nutmeg. Combine the sauce with the chard and shallots, season with salt and pepper to taste. Transfer the rainbow chard and shallot mixture to the baking dish. Sprinkle with the remaining gruyere cheese.

Bake. Bake in the upper third of the oven for about 25 to 30 minutes, until bubbling and the top is golden brown. Let the dish rest about 8 to 10 minutes before serving to allow the creamy sauce to set.
Notes
Swiss chard can easily be substituted from rainbow chard
If making ahead, stop after step #5. Allow the dish to cool, then cover and refrigerate until you're ready to cook it.
If cooked in advance, the butter may separate a little when reheating but a quick stir will incorporate it back together.
Nutrition
Calories:
251
kcal
|
Carbohydrates:
17
g
|
Protein:
11
g
|
Fat:
17
g
|
Saturated Fat:
8
g
|
Trans Fat:
1
g
|
Cholesterol:
38
mg
|
Sodium:
382
mg
|
Potassium:
615
mg
|
Fiber:
3
g
|
Sugar:
7
g
|
Vitamin A:
7376
IU
|
Vitamin C:
36
mg
|
Calcium:
318
mg
|
Iron:
3
mg