Juicy, flavorful and tender chicken beneath crispy herb-rubbed skin. If you've never made a roast chicken or if you've made thirty roast chickens, this is the perfect place to start. Simple ingredients - butter, garlic and rosemary, lemon and chicken oven-roasted until golden.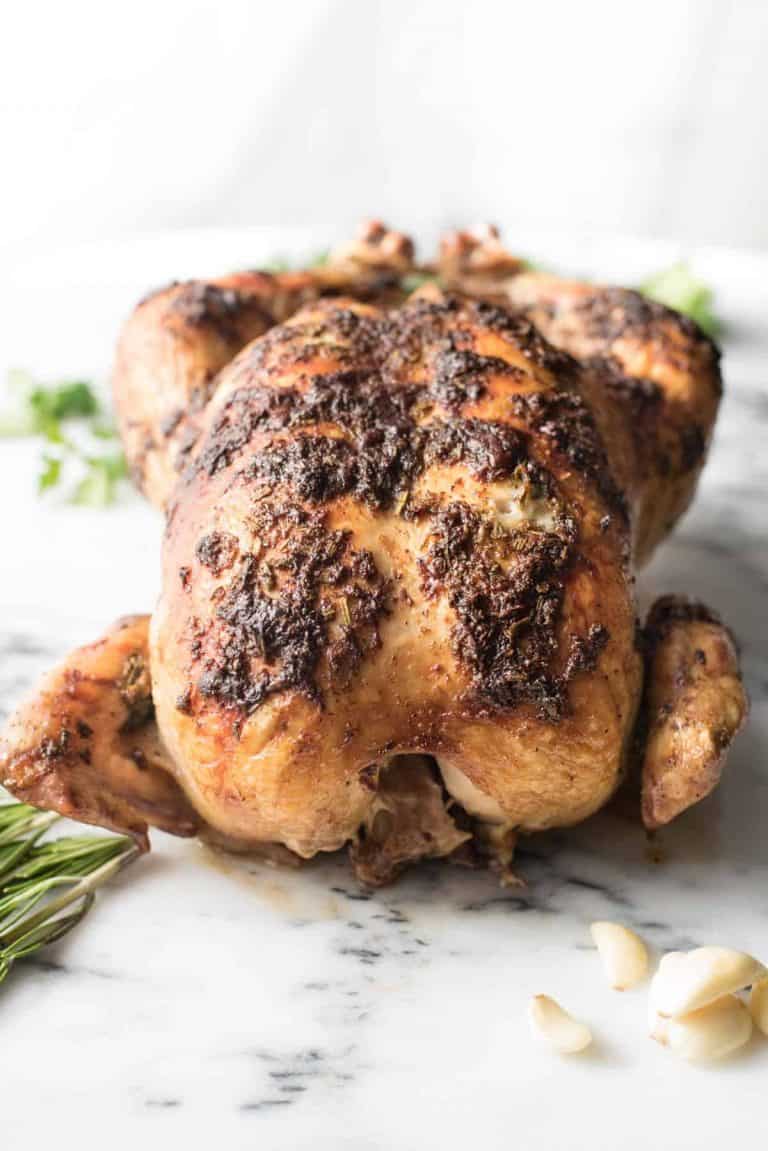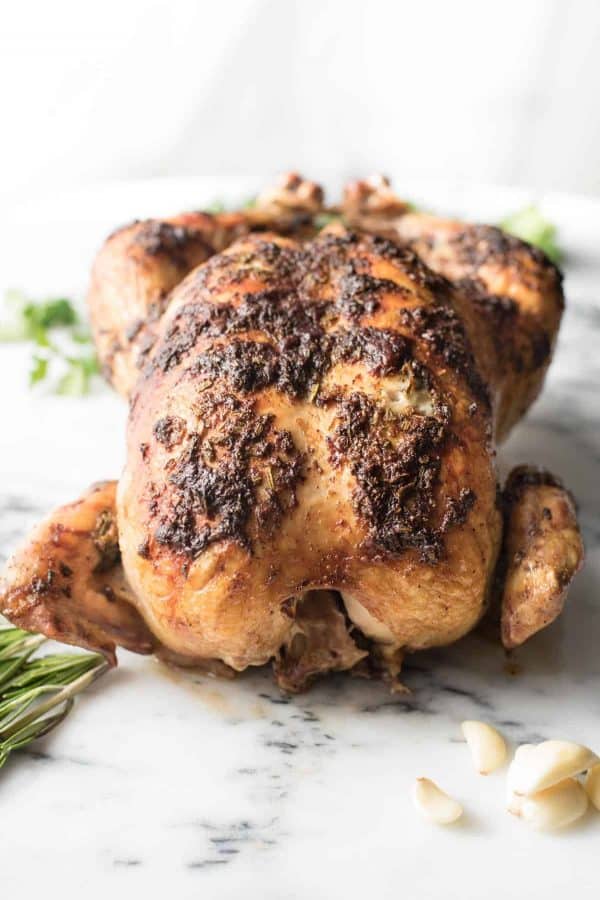 Chicken, chicken, chicken. The Juiciest Garlic Rosemary Roasted Chicken. It's what's for dinner.
For real. It's literally what's for dinner tonight.
We're serving up chicken in this house in all the ways you can. Chicken Pot Pie disappears in a day, meanwhile Shea can do some serious damage to these Cranberry Walnut Chicken Thighs - dead serious, like, "You're a toddler, how can you eat that much chicken?!" - and of course, some soul comforting Chicken + Rice Soup. 'Cause, helllooo, I'm a soup lady.
Above all others...this chicken. This chicken. Tender, juicy Garlic Rosemary Roasted Chicken. The whole bird.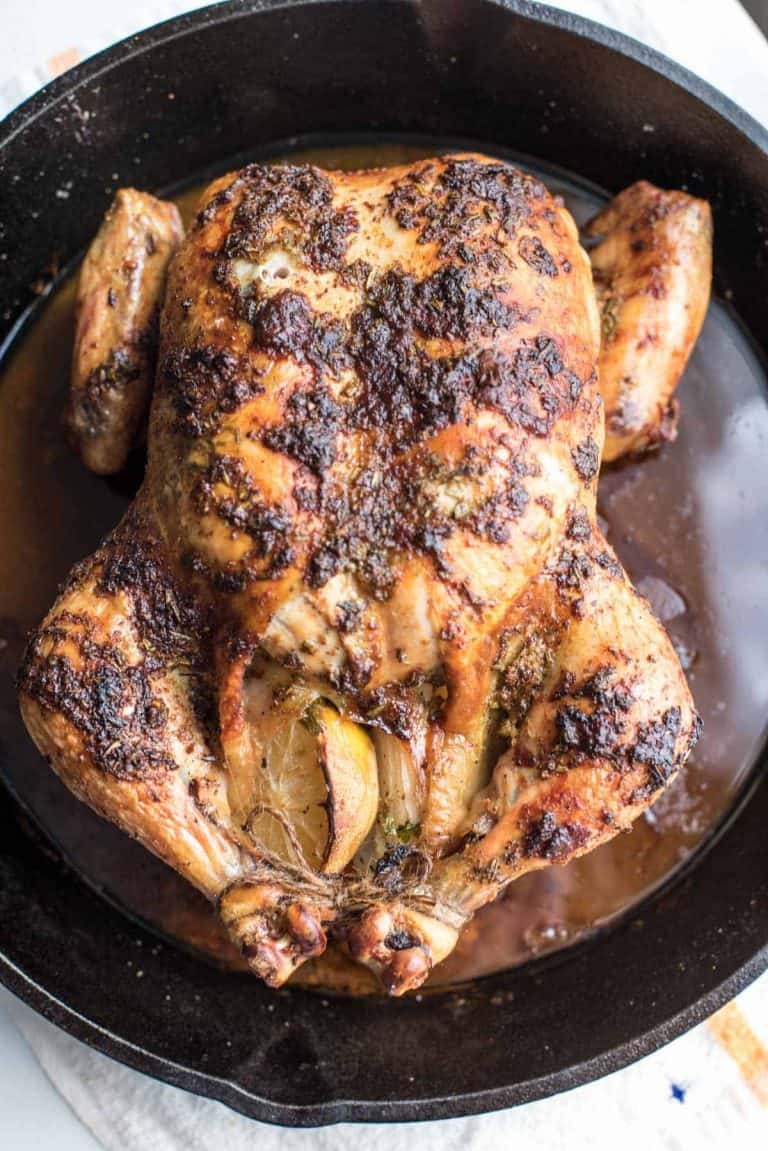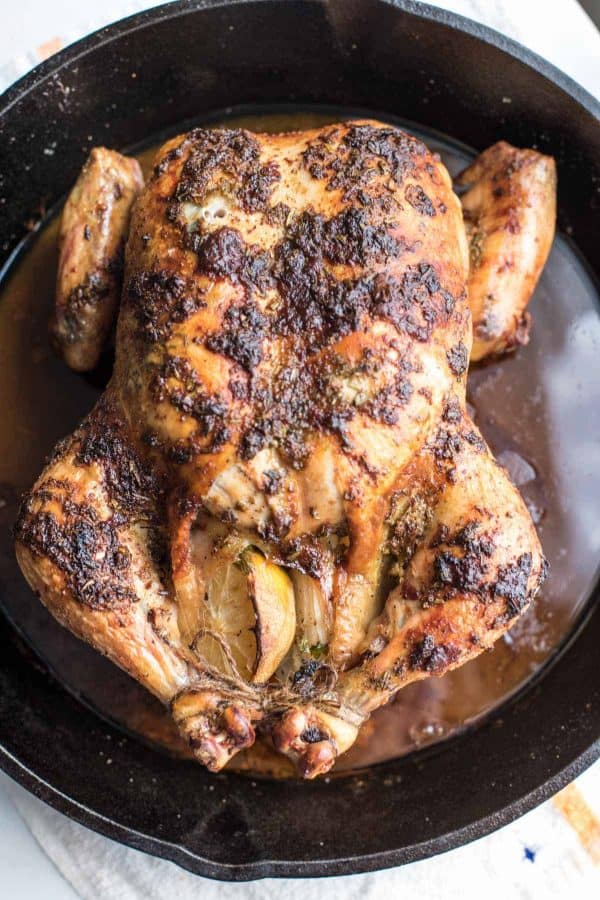 Never cooked a whole chicken before? Come, take my hand and set aside your worries.
Preparing the bird
Time to roll up the sleeves and get a little dirty. Well not too dirty, but hand sanitization is imminent. Remove your bird (and the insides...yes, it's the worst part but we are getting our hands dirty remember?) and pat it down dry with paper or kitchen towels. This will allow the garlic rosemary and butter to stick and the skin to crisp up during cooking.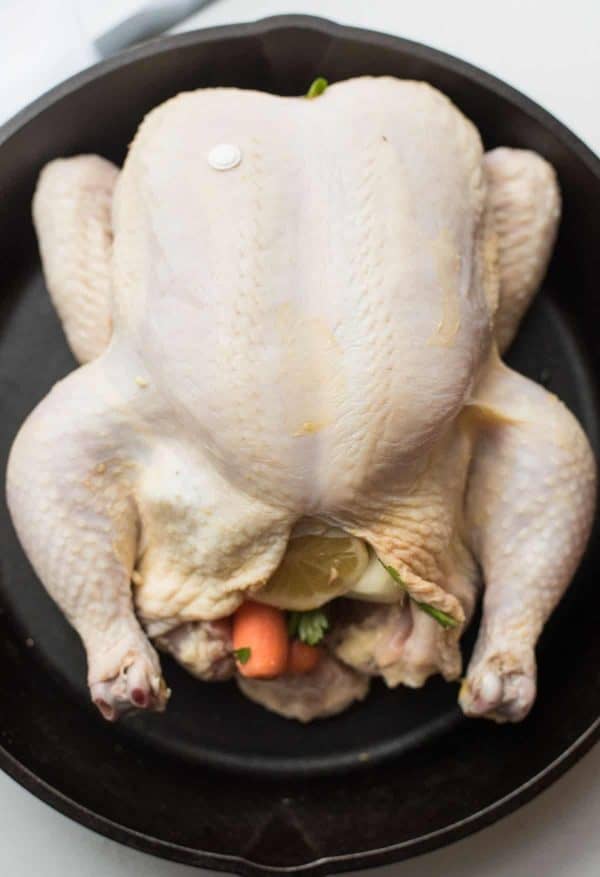 Tuck the tips of the wings under the bird, stuff the center (or 'cavity' if you want to be technical), and tie up the leg bones - aka truss. Kitchen twine works best for this, it's definitely available at your local grocery store. You may even be able to ask your butcher for the bird prepped and ready to go. It certainly can't hurt.
Now things are going to get kinda weird.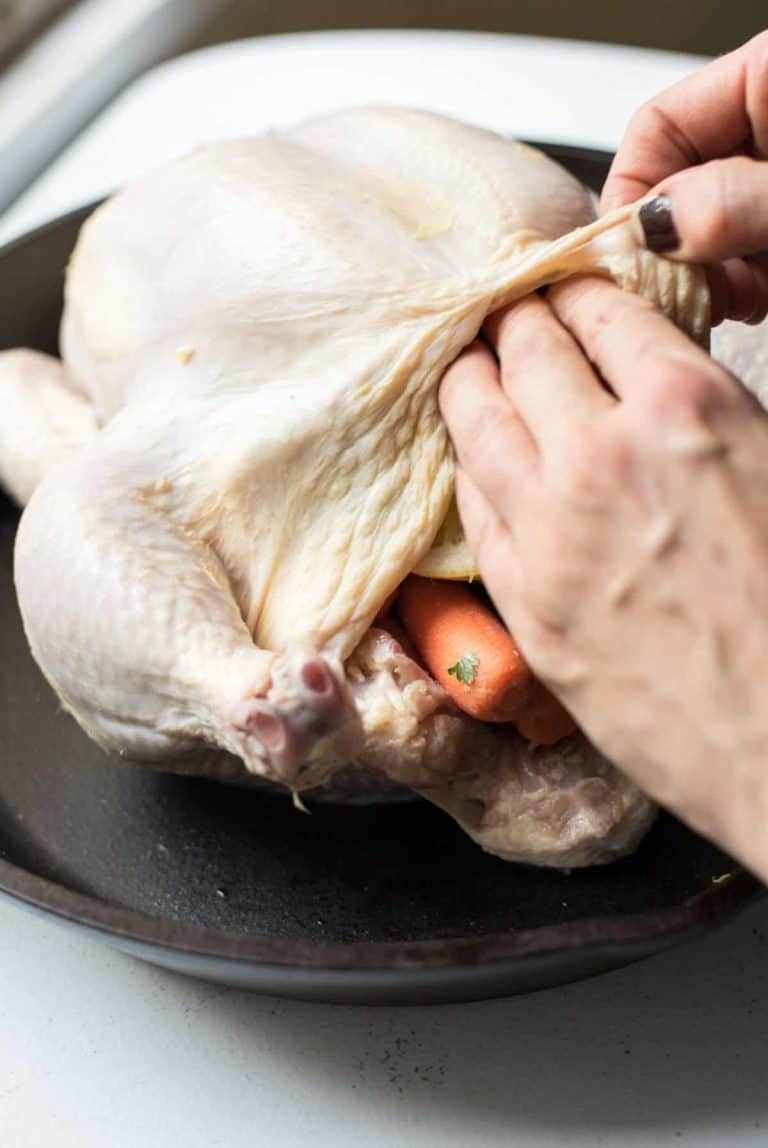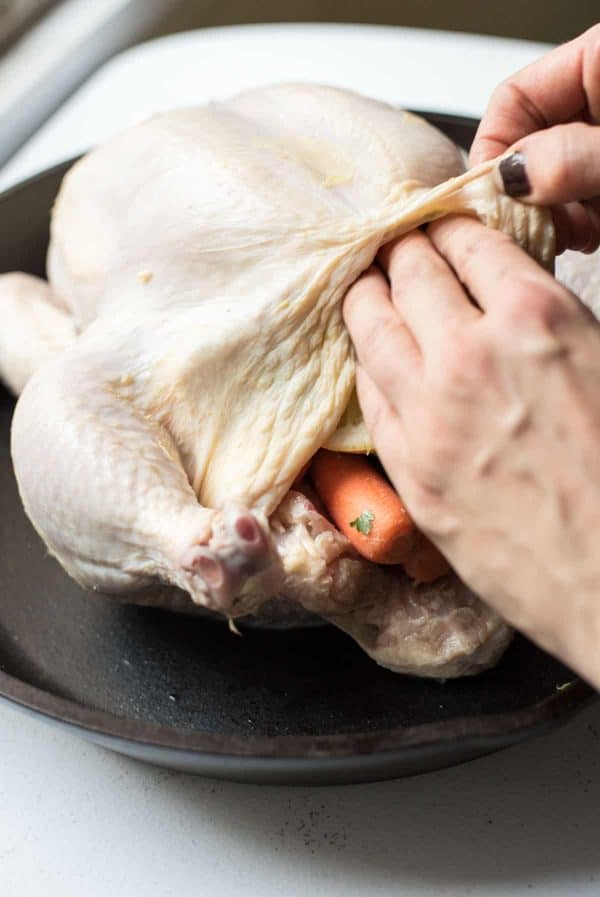 That space between the breast meat and the skin? You'll be sticking your hands up in that space. It's really more of a wiggle, because you don't want to rip the skin. In between that space, slather some of your garlic-rosemary butter to tenderize and add flavor to the meat.
Since the breast meat is most susceptible to drying out, the butter is going to impart loads of moisture to keep this recipe true to it's word of the Juiciest Garlic Rosemary Roasted Chicken.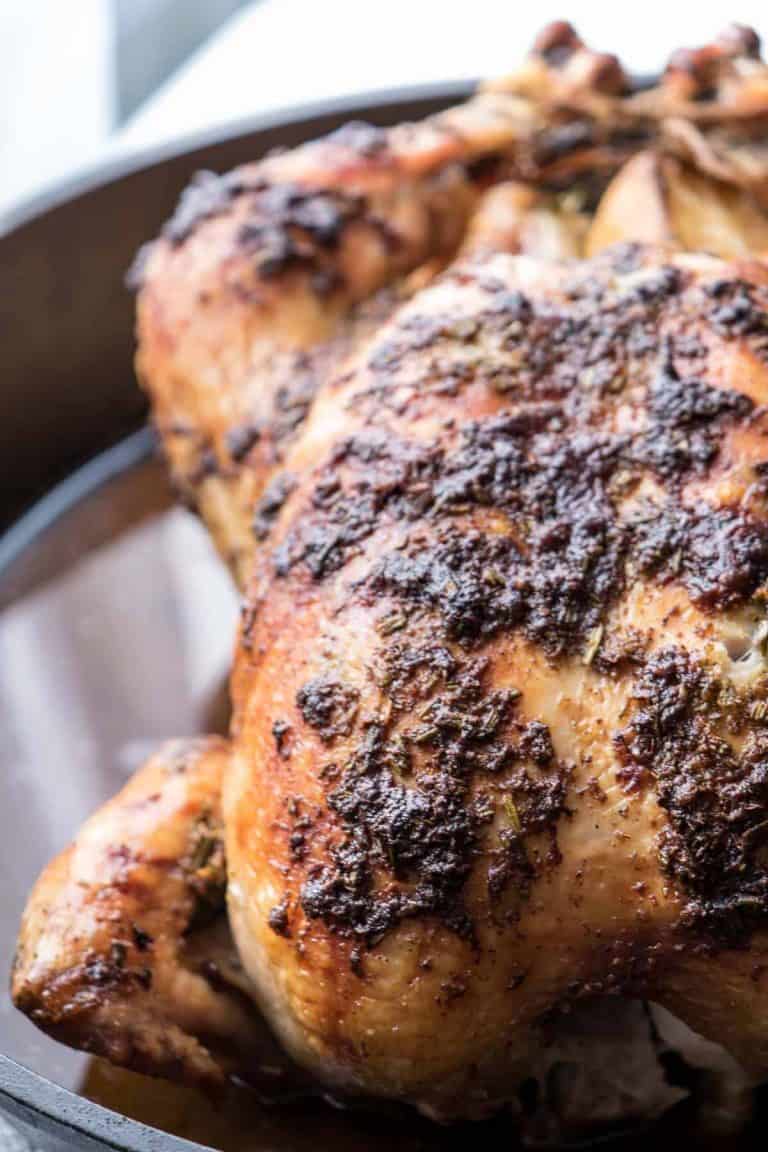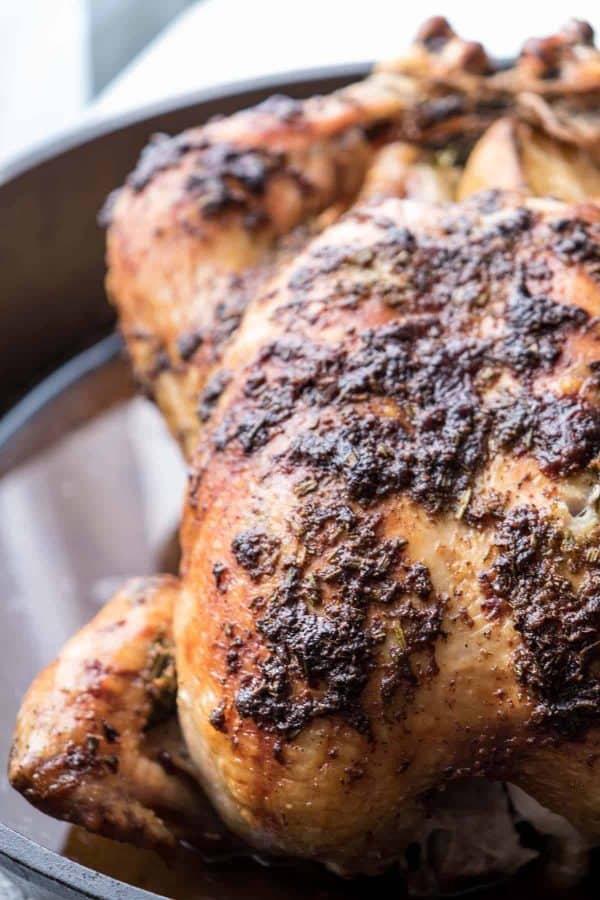 Garlic Rosemary Roasted Chicken
Yum-city. You've got your Garlic Rosemary Roasted Chicken, rested, of course, for prime juice factors. Granted if you snack on a few pieces here and there that's completely understandable. Time to go all Edward Scissorhands.
Carving a chicken isn't really such a feat once you do it a couple of times. It's all about the joints. Finding and separating. That's all there is to it.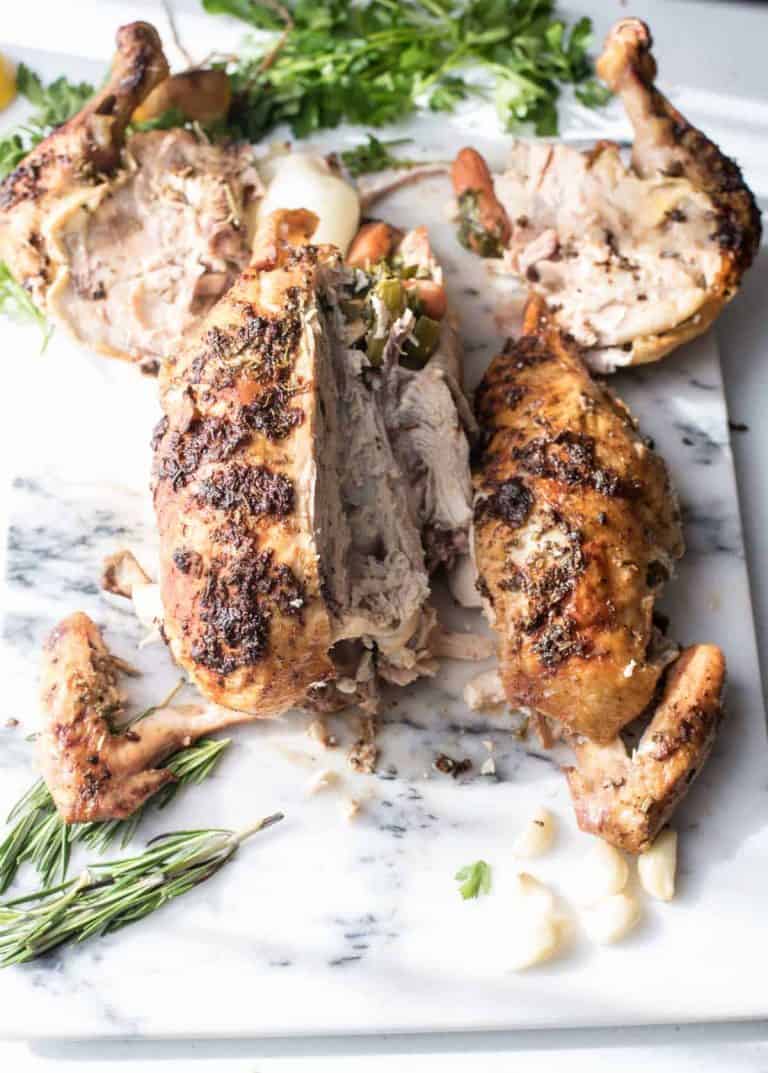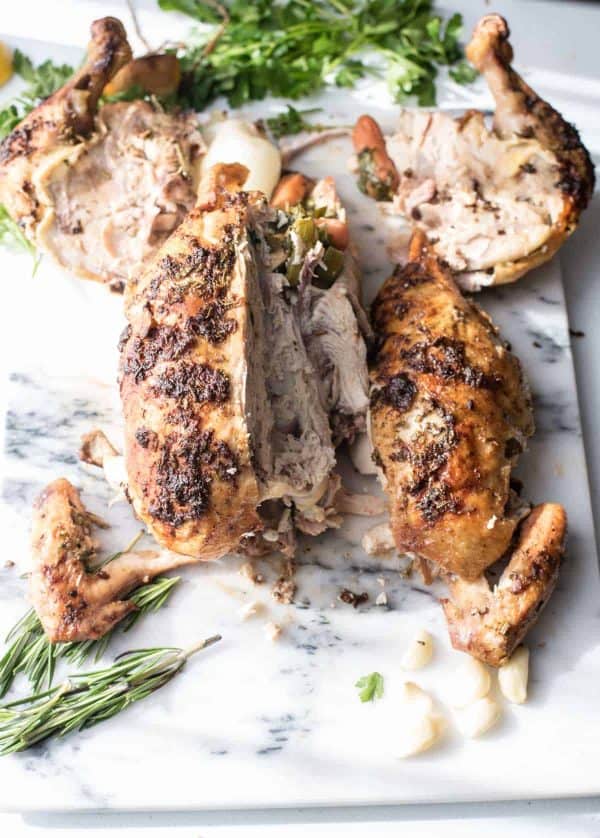 Now for the most important question? Whatcha serving up with this beautiful centerpiece of poultry? Well, that's up to you. But if it were up to me....these Sheet Pan Winter Veggies are my current love affair and since the oven is on anyway, let's put that heat to more good use. Or try your hand at this no-fuss, Easy Oven Baked Pumpkin Risotto. If you're making both, be sure to save me a spot at the table!
See? That wasn't so hard. We can stop holding hands now, you're ready to create the Juiciest Garlic Rosemary Roasted Chicken on your own.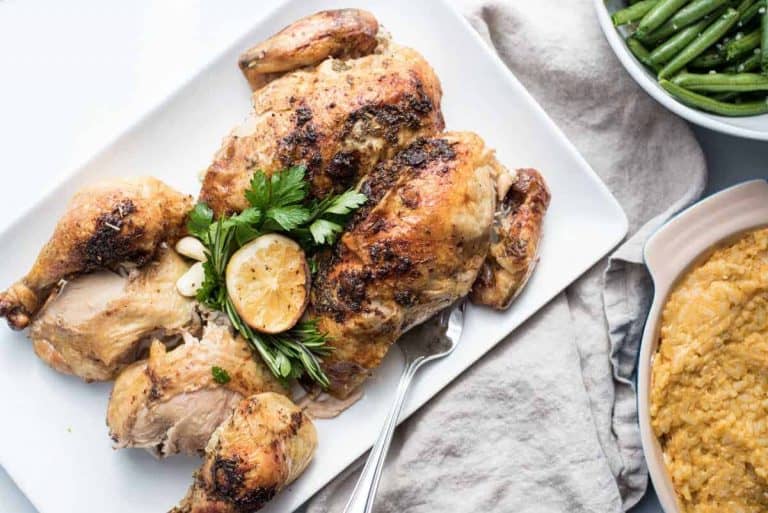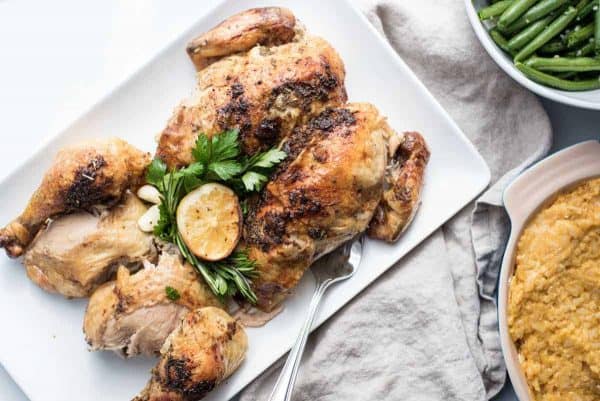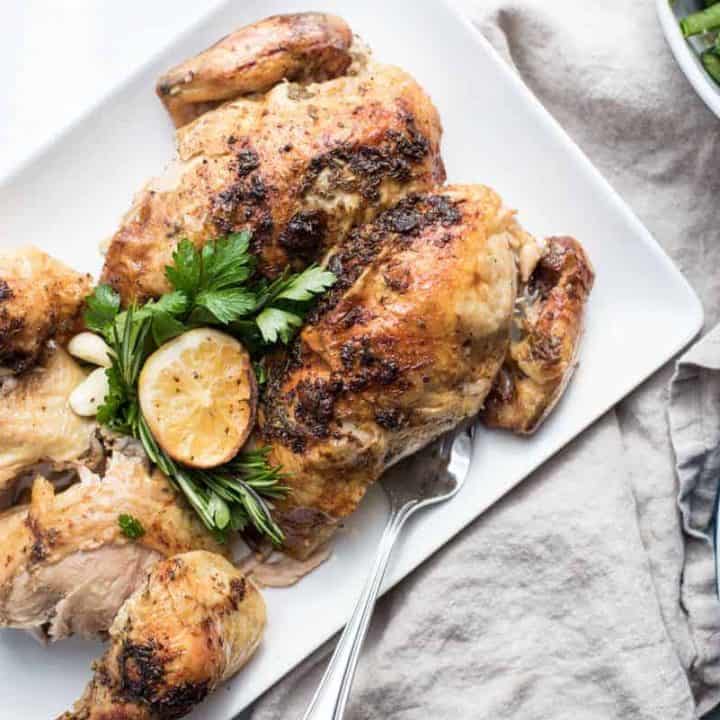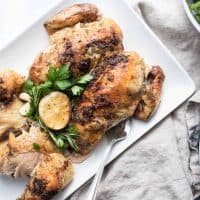 Juiciest Garlic Rosemary Roasted Chicken
Tender, juicy garlic rosemary roasted chicken with robust flavor and crispy skin.
Print
Pin
Rate
Servings:
4
to 6 servings
Ingredients
Garlic Rosemary Butter
½

cup

unsalted butter

(softened)

10

cloves

garlic

6

sprigs rosemary
Garlic Rosemary Roasted Chicken
8

pound

whole chicken

2

teaspoons

kosher salt

1

teaspoons

ground black pepper

1

lemon

(halved)

½

bunch fresh parsley

1

stalk celery

(cut in 3 pieces)

5

baby carrots or one medium carrot

(cut in large pieces)

1

small yellow onion

(peeled and cut in half)
Instructions
Garlic Rosemary Roasted Chicken
Remove the chicken from packaging. Discard bag of inner organs from inside the cavity.¹. Drain any juices from inside the cavity (I usually do this over an empty sink.). Pat the chicken dry all over with paper or kitchen towels. Season the skin with salt and pepper.

Let the chicken sit at room temperature while preparing the garlic rosemary butter. Preheat oven to 450°F.

In a food processor, combine the butter, garlic and rosemary. Be sure to remove the rosemary leaves from the main sprig. Pulse 10 times to break apart the garlic and turn to 'on' for 1 minute to make a paste.

Prepare the chicken: Tuck the tips of the wings behind the bird. Stuff the cavity with lemon, parsley, celery, carrots, and onion. Tie the legs together at the joint with kitchen twine.

Carefully create a small separation of the skin from the breast using your hand. Using ⅓ of the garlic rosemary butter, rub over the chicken breast under the skin. Rub the remaining garlic rosemary butter on the outside of the chicken. Place inside a roasting or cast iron pan. Bake in the oven at 450°F for 15 minutes. Reduce the heat to 375°F and continue to cook for 1 hour and 45 minutes to 2 hours, or until a thermometer reads 165°F. Let rest 20 to 30 minutes before carving.

Carve the chicken: Once the chicken is rested, transfer to a cutting board. Starting with the thighs, slice the skin along the breast and thigh. Pull slightly on the thigh joint. It should separate easily, but if not, cut it with a sharp chefs or butcher knife. Repeat the same process with the joint between the drumstick and thigh. Again, pulling the wing gently from the body give it a twist. If it doesn't release immediately use a little more force or slice with the knife. To remove the breast meat, find the breast bone and slice about ¼ of an inch through the skin. Gently pull the breast from the breast bone. If it doesn't release naturally, use a sharp chefs knife to carve it from the bone. Remove the breast in one pice and slice into ¾ inch slices on the cutting board. Repeat with the remaining breast and transfer meat to a serving platter.
Notes
¹The back of inner organs can be used to make chicken stock (minus the liver) or added to the roasting pan for a robust and rich flavored pan sauce.
²A sauce can be made from the pan drippings. Using a turkey baster remove the fat from the top layer until most of the sheen is gone. In a small bowl, dilute 1 tablespoon corn starch in water - enough to make it liquidity, whisk out any lumps. Over low heat, whisk in the cornstarch liquid and simmer until it starts to thicken.
Nutrition
Calories:
1176
kcal
|
Carbohydrates:
9
g
|
Protein:
82
g
|
Fat:
89
g
|
Saturated Fat:
33
g
|
Trans Fat:
1
g
|
Cholesterol:
388
mg
|
Sodium:
1484
mg
|
Potassium:
978
mg
|
Fiber:
2
g
|
Sugar:
3
g
|
Vitamin A:
3062
IU
|
Vitamin C:
26
mg
|
Calcium:
91
mg
|
Iron:
4
mg