Creamy, cheesy, deliciously pumpkin. The pain staking process of making risotto made roughly 1,000 times simpler yet still resulting in rich, fluffy and wonderfully infused grains of traditional Italian rice. Easy Oven Baked Pumpkin Risotto can be a quick way to bring fall comfort to the weekday dinner table.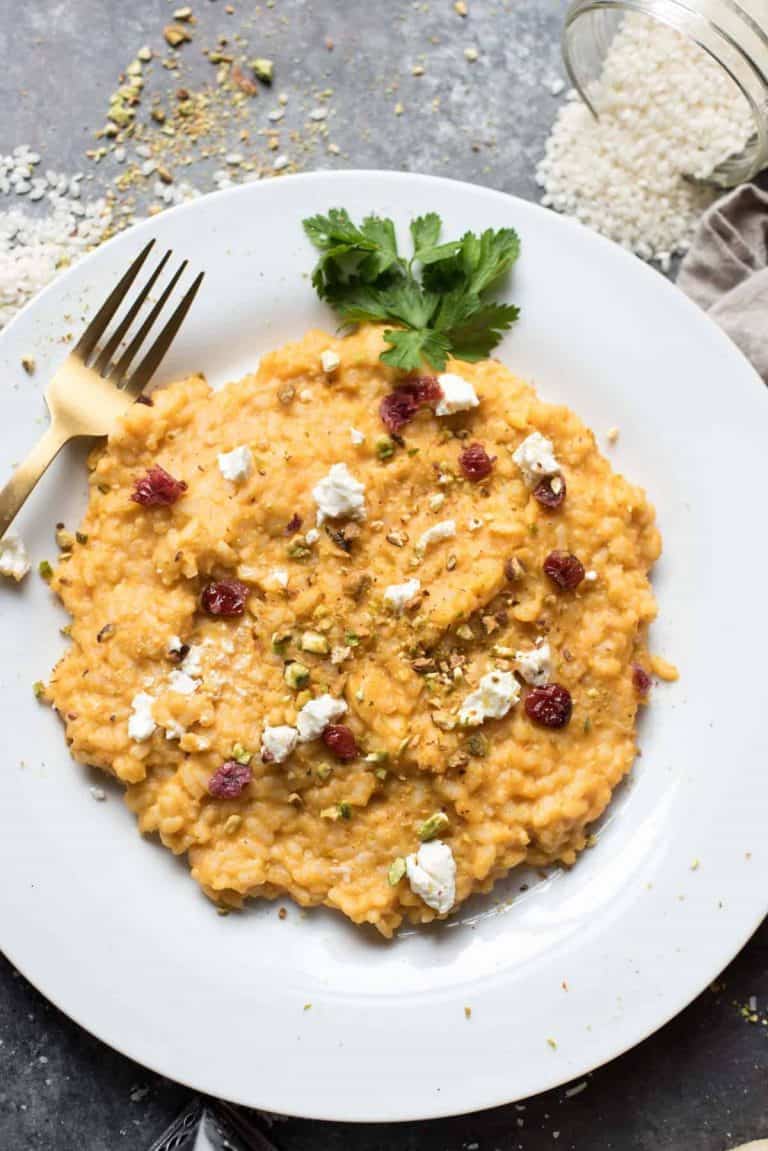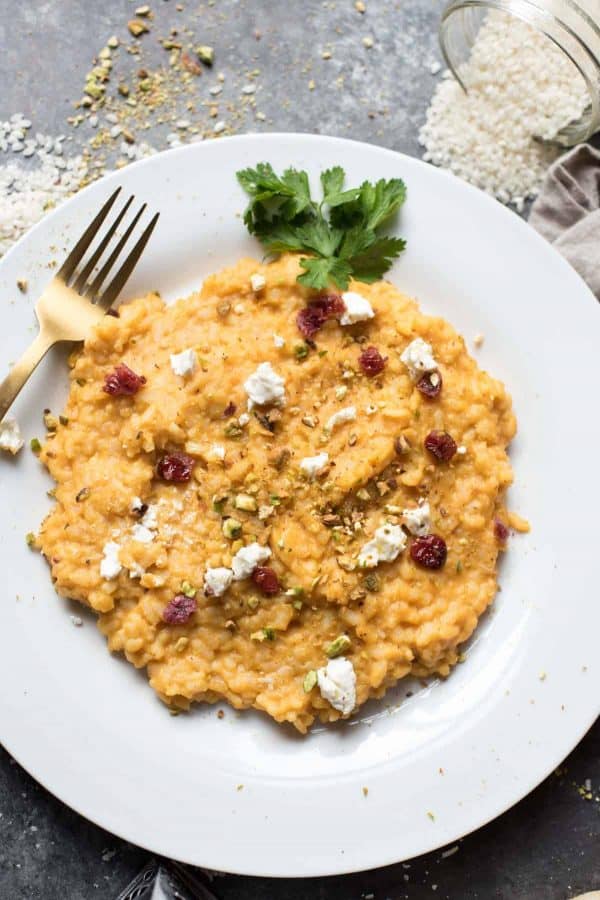 Risotto can seem a little daunting the first time you make it, traditionally speaking. You need to warm the stock, add the wine, and ½ cup at a time stir in. Leaving you tied to the stove for one good hour. If you don't have time for that, great news, here's a simple multi-tasking, time saving tip....bake it in the oven!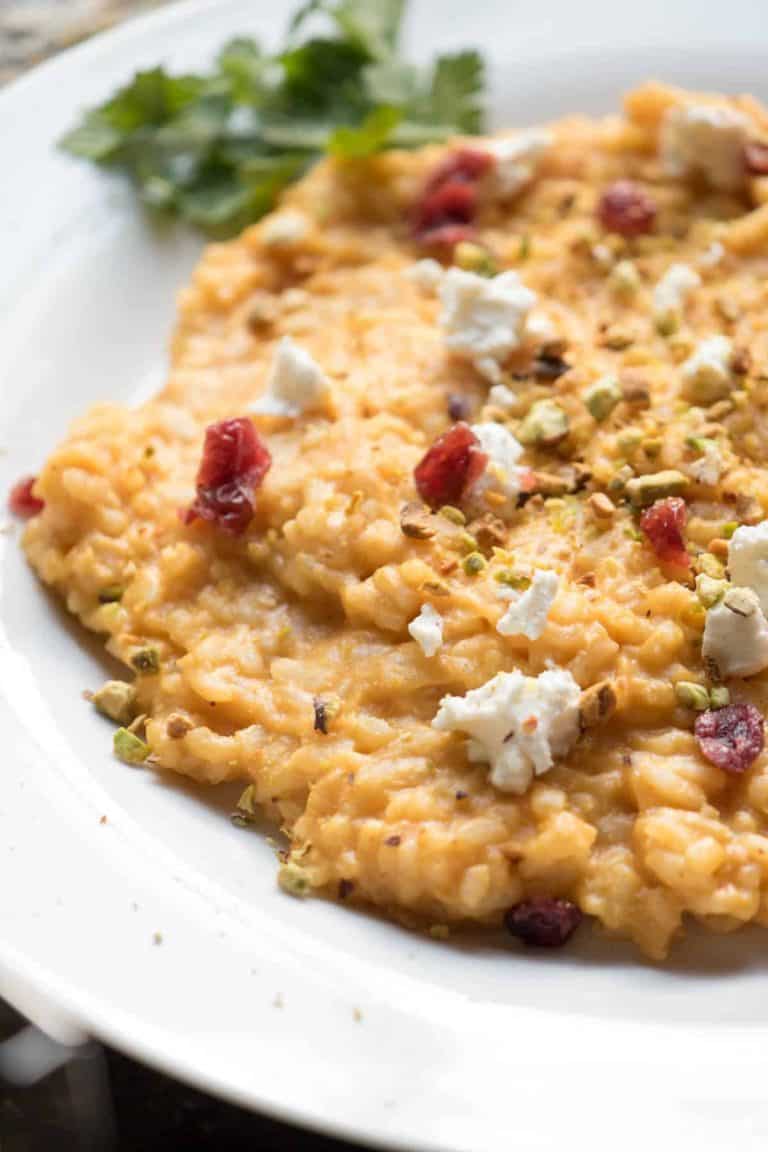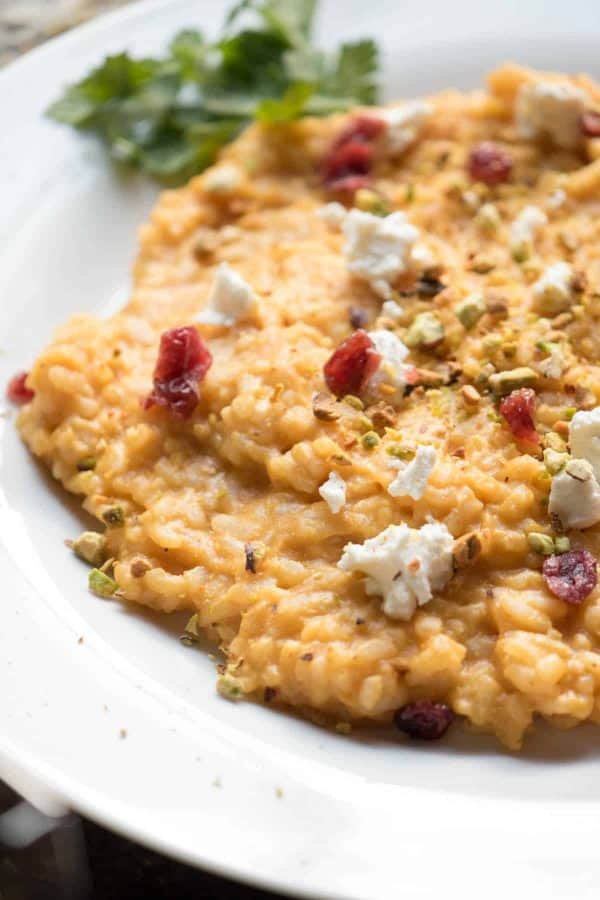 What you need to know about risotto
In my former restaurant life, risotto prep was a daily, cult like experience. Seriously, can't even tell you how many times my arm stirred that vat of rice. Perhaps that's why my arm strength is so lopsided.
There is merit to the madness. The slow addition of chicken stock to the rice develops the starch resulting in a natural creaminess. Thanks to the Dutch oven, you're going to get that same level of creamy texture but without the sore arm muscles.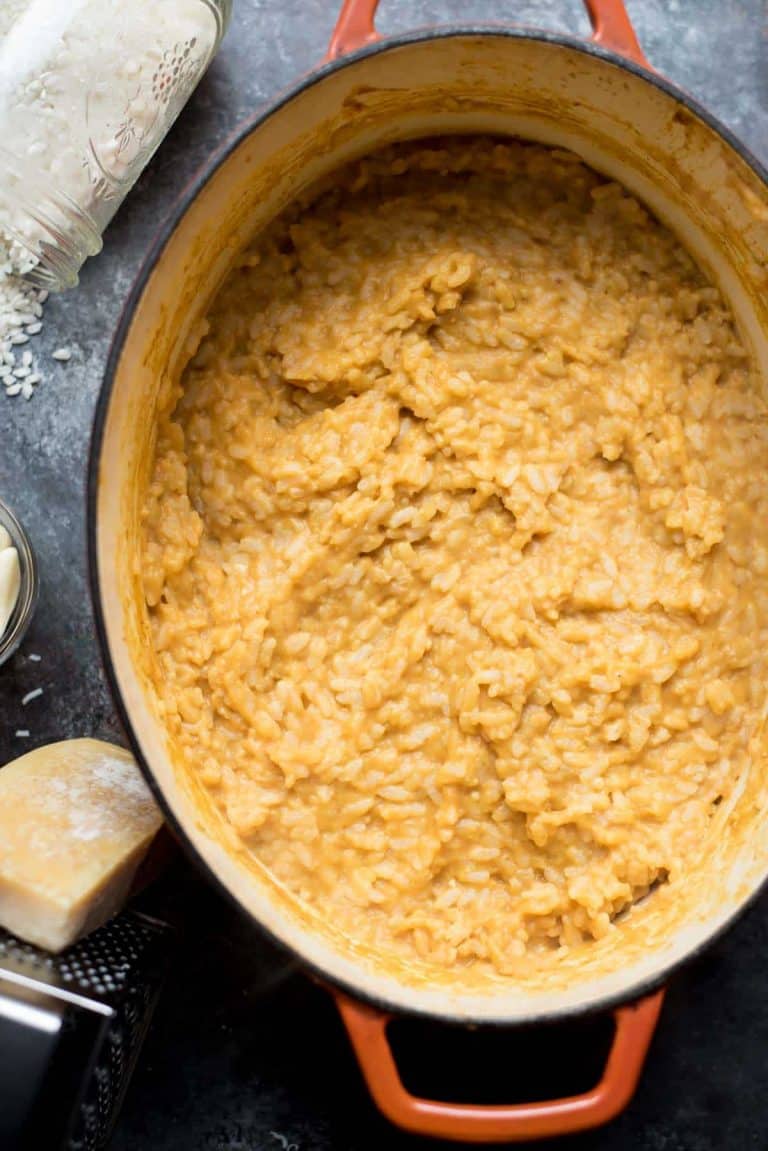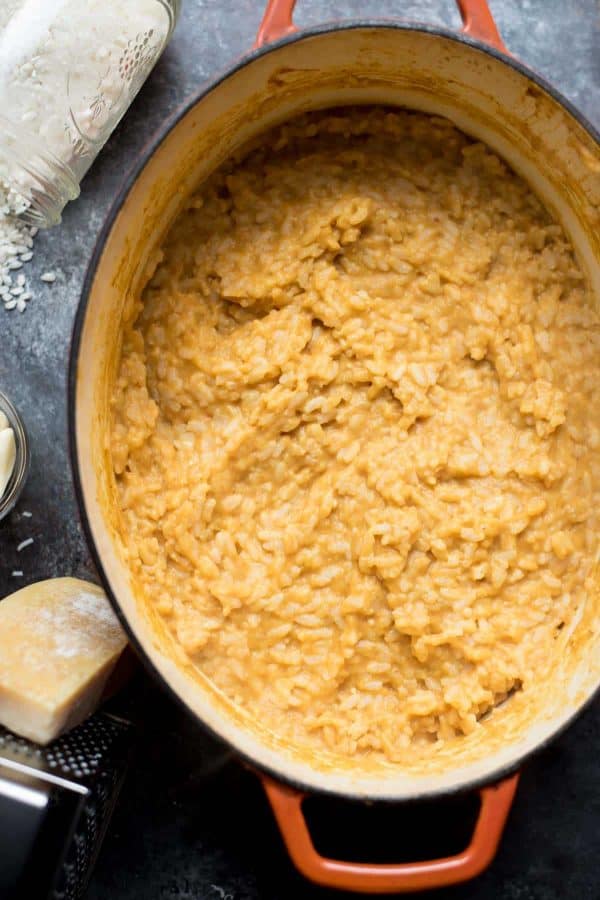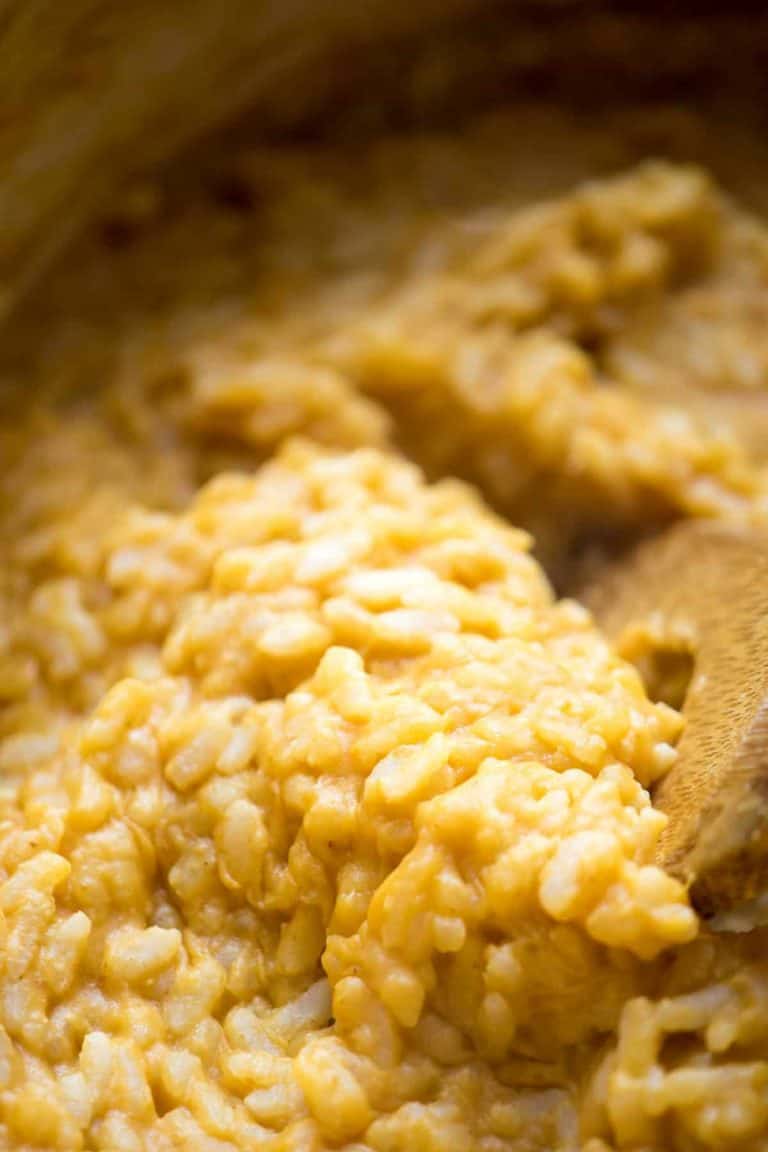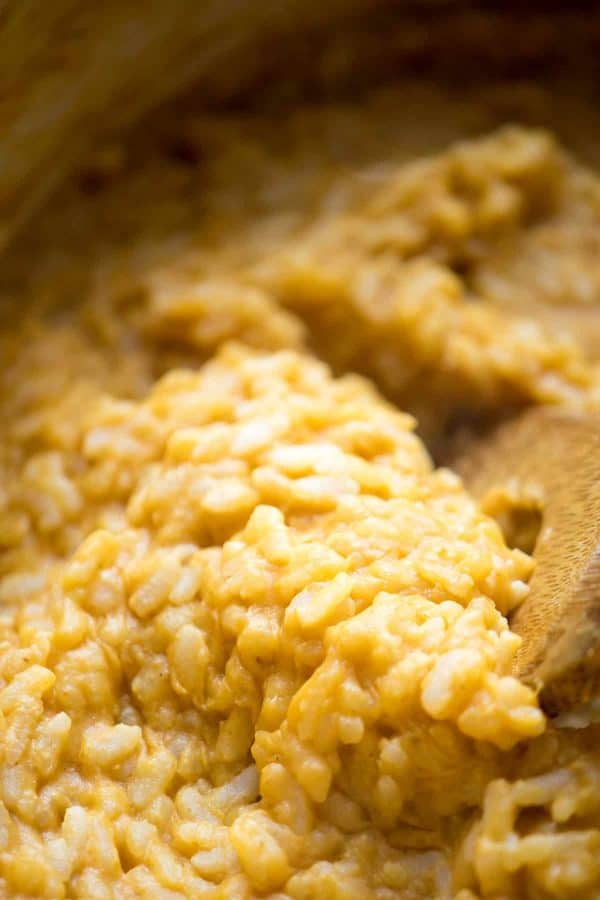 The natural convection happening in the dutch oven while being baked is going to develop that natural, luscious risotto texture. While you are simultaneously getting the 500 other things on your to-do list done. Or, you know, drooling over food photos on Instagram while thinking about the 500 other things you should be doing.
Aborio rice is the go to grain for your easy oven baked pumpkin risotto. Or any risotto for that matter. A short grain rice, the aborio style is known for it's natural ability to develop that sticky starchiness necessary for the most creamy texture risotto.
Oven Baked Pumpkin Risotto
There are so many good things to say about risotto. It's inexpensive. Filling. Crowd Pleasing. Flavorful. And my personal favorite, customizable. All you need is rice, stock, white, cheese, and spices and you can literally may any risotto your heart desires.
Can life be that good? Yes, yes it can.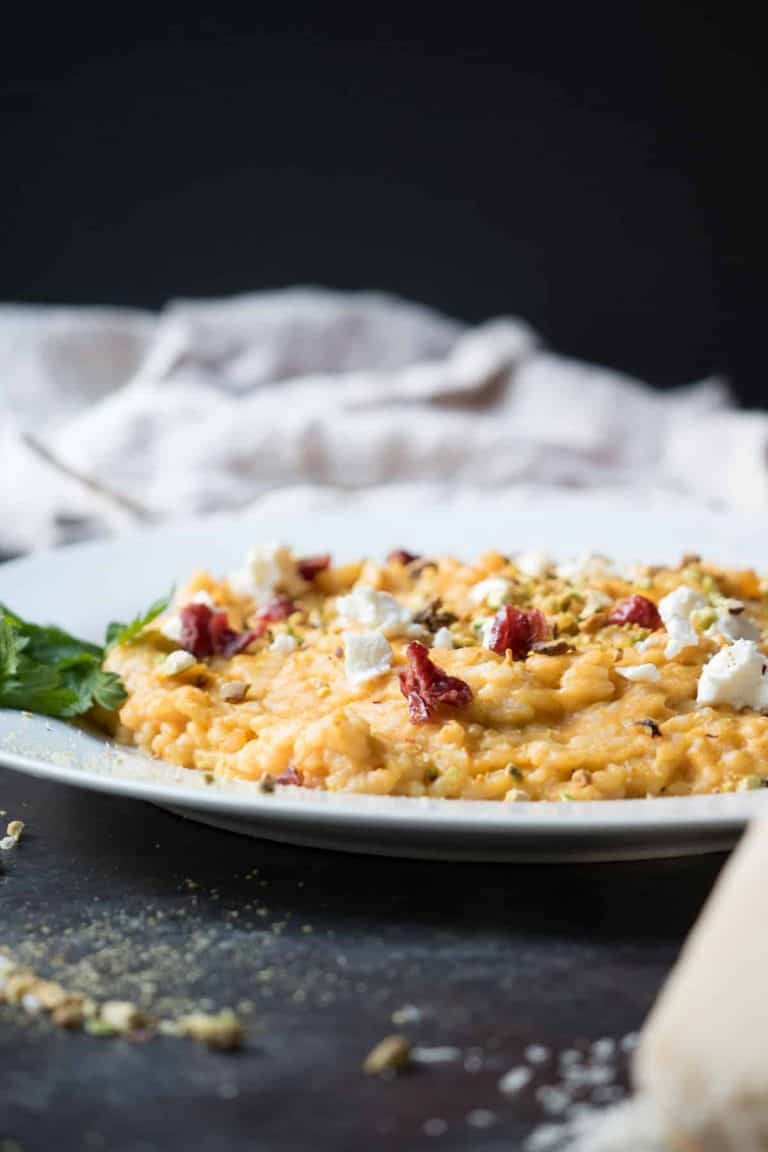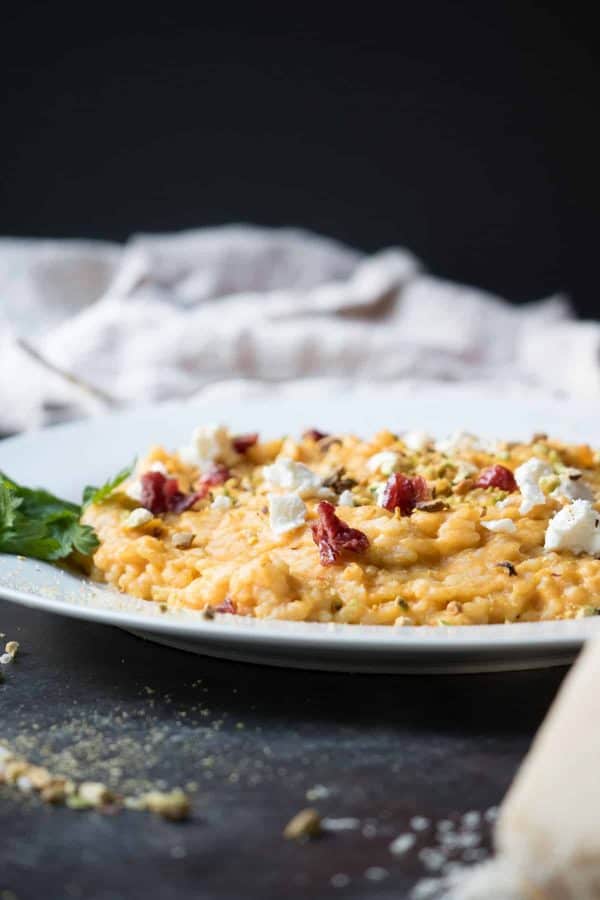 Easily infused, combine any purée with the chicken stock during the simmering process, like this eye popping beet risotto. We're going to combine our pumpkin and chicken stock to easily infuse that pumpkin flavor to the aborio rice.
Homemade chicken stock is always my go to because it's cheap to make and leftover chicken bones and veggie scraps are easy to come by, but store bought chicken stock will work just as well.
After the initial 30 minutes of cooking, when you lift the lid to add more pumpkin infused stock, you'll see the pumpkin puree is fluffy but don't fret. As the cooking and stirring process continues it will continue cooking into this dreamy Italian masterpiece.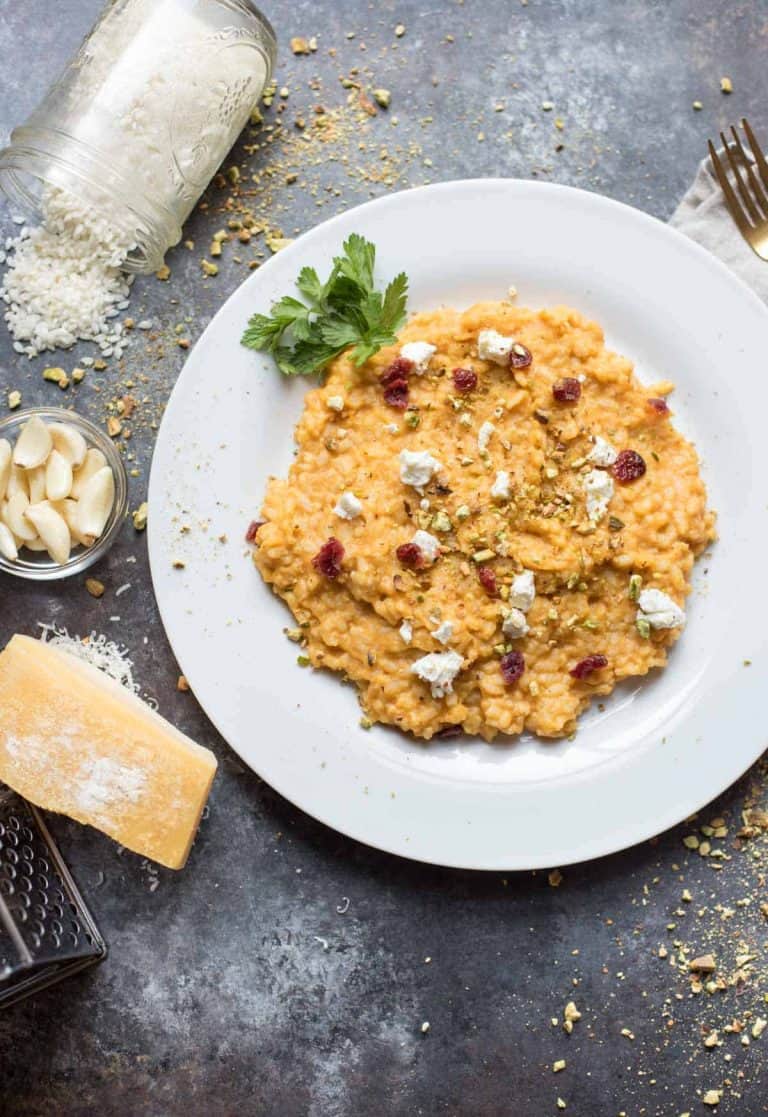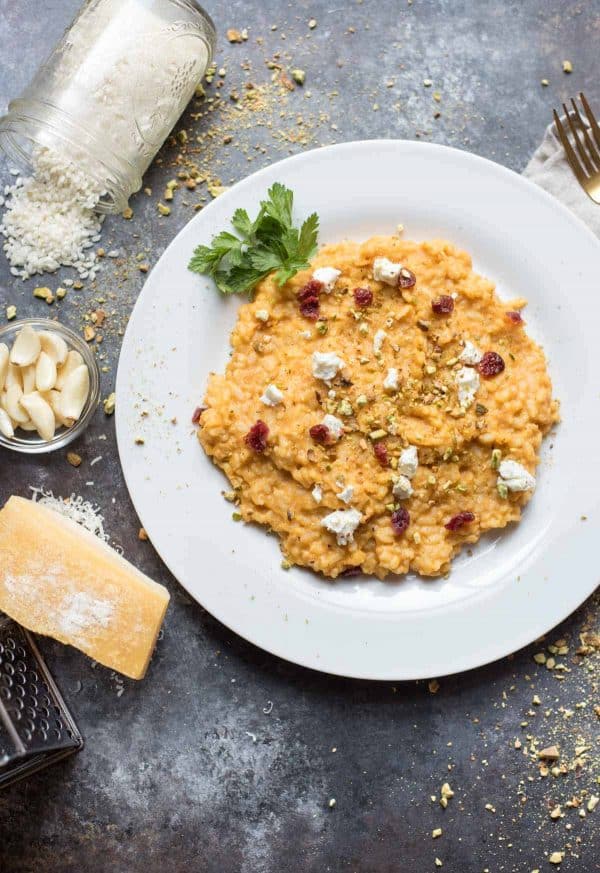 Finishing Touches
Once the pumpkin risotto has had its time in the oven, you'll add the finishing touches - white wine and cheese. Though you won't be adding these over an open flame, the alcohol in the wine will cook off from the heat in the freshly baked risotto leaving you with subtle wine notes to bring complexity to the risotto flavor.
And cheese. Ugh, glorious cheese. This kid gets it.
Risotto without fresh parmesan is like...pasta without a sauce, is like a cupcake without frosting. Let's load up on the fresh grated parmesan and take our oven baked pumpkin risotto to cheesy bliss.
Stir in that beautiful, tangy, Italian cheese and get ready to dish this risotto out. If you're in the market for a pop of color or some additional fall flavors add a little garnish to your dish. Dried cranberries provide a sweet tang of flavor along with smooth goat cheese, and crushed pistachios not just for look but a touch of crunch.
Or keep it simple with a little fresh chopped parsley for a nice clean taste. Hey, you can just eat it out of the pan because you'll receive no judgement on this end.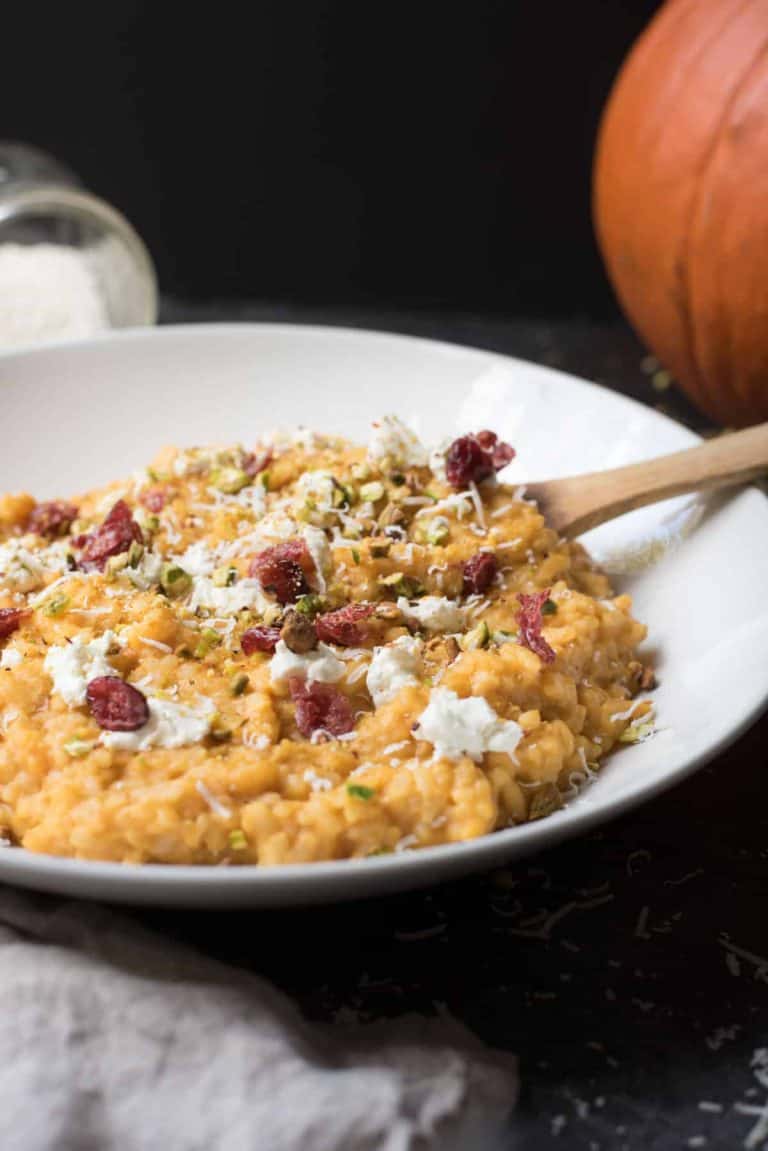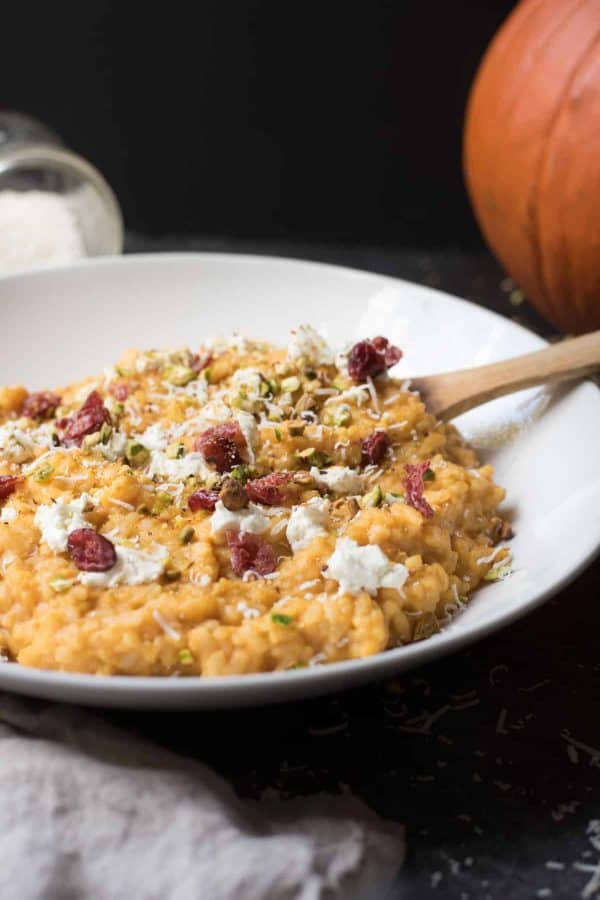 Risotto is a beautiful dish to serve as a main course and this oven baked version comes together with ease. Though equally happy to serve as a dinner companion. Like, alongside these Cranberry Walnut Chicken Thighs. Or toss in a little baby spinach for some greenery.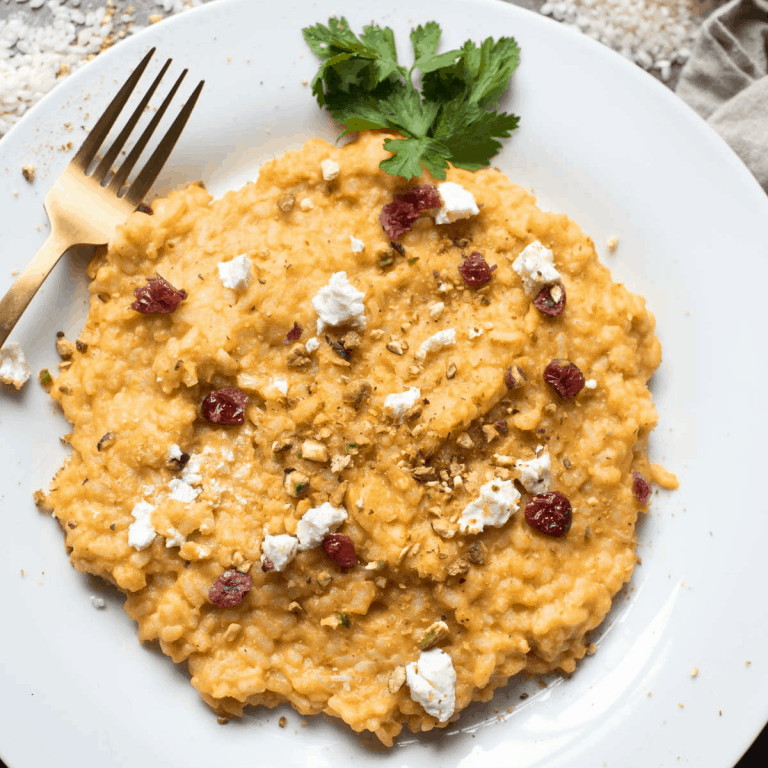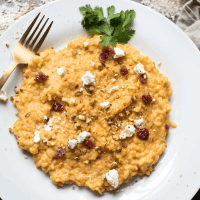 Easy Oven Baked Pumpkin Risotto
Creamy, cheesy with the perfect infusion of fall pumpkin flavor. This traditional Italian dish comes together in the oven for an easy and simple hearty meal.
Print
Pin
Rate
Ingredients
1 ½

cups

aborio rice

5

cups

chicken stock

1

can pumpkin purée

1

teaspoon

minced garlic

1 ½

teaspoons

salt

½

teaspoon

white pepper

½

cup

dry white wine

1

cup

fresh grated parmesan cheese
Optional Garnish:
¼

cup

crumbled goat cheese

¼

cup

dried cranberries

1

tablespoon

crushed pistachios
Instructions
Preheat oven to 350°F.

In a medium size sauce pan, combine the chicken stock and pumpkin purée. Bring mixture to a simmer over medium heat, then turn off the heat and cover.

While stock and pumpkin mixture is heating, prepare the rice. Combine the aborio rice, garlic, salt and white pepper in a dutch oven. Add 4 cups of the pumpkin/chicken stock mixture to the rice and stir to combine. Cover and bake for 30 minutes.

After 30 minutes, stir in an additional 1 cup pumpkin/chicken stock liquid. Cover, return to the oven and cook for 8 more minutes until liquid is absorbed.

Once liquid is absorbed, remove from the oven and add white wine, 1 cup of pumpkin/chicken stock, and parmesan cheese. Stir vigorously until creamy. Serve immediately or cover until ready to serve. (See notes.)

Optional: top with fall garnishes of goat cheese, cranberry and pistachio if desired.
Notes
Risotto is the best when served right away. If planning to serve later, prepare the risotto up until step 5. Once ready to serve, slowly bring back up to heat before adding remaining ingredients.
To make this vegetarian, substitute vegetable stock.
Nutrition
Calories:
406
kcal
|
Carbohydrates:
58
g
|
Protein:
17
g
|
Fat:
10
g
|
Saturated Fat:
5
g
|
Cholesterol:
22
mg
|
Sodium:
1174
mg
|
Potassium:
443
mg
|
Fiber:
4
g
|
Sugar:
9
g
|
Vitamin A:
11269
IU
|
Vitamin C:
4
mg
|
Calcium:
242
mg
|
Iron:
4
mg