Creamy Yukon gold potatoes with savory bites of sautéed onion and beef stuffed inside a slightly sweet roasted sugar pumpkin. Stuffed pumpkin takes the classic flavors of French tourtiere and bakes them inside a brown sugar and bourbon roasted sugar pumpkin for a meal of classic Autumn New England comfort food.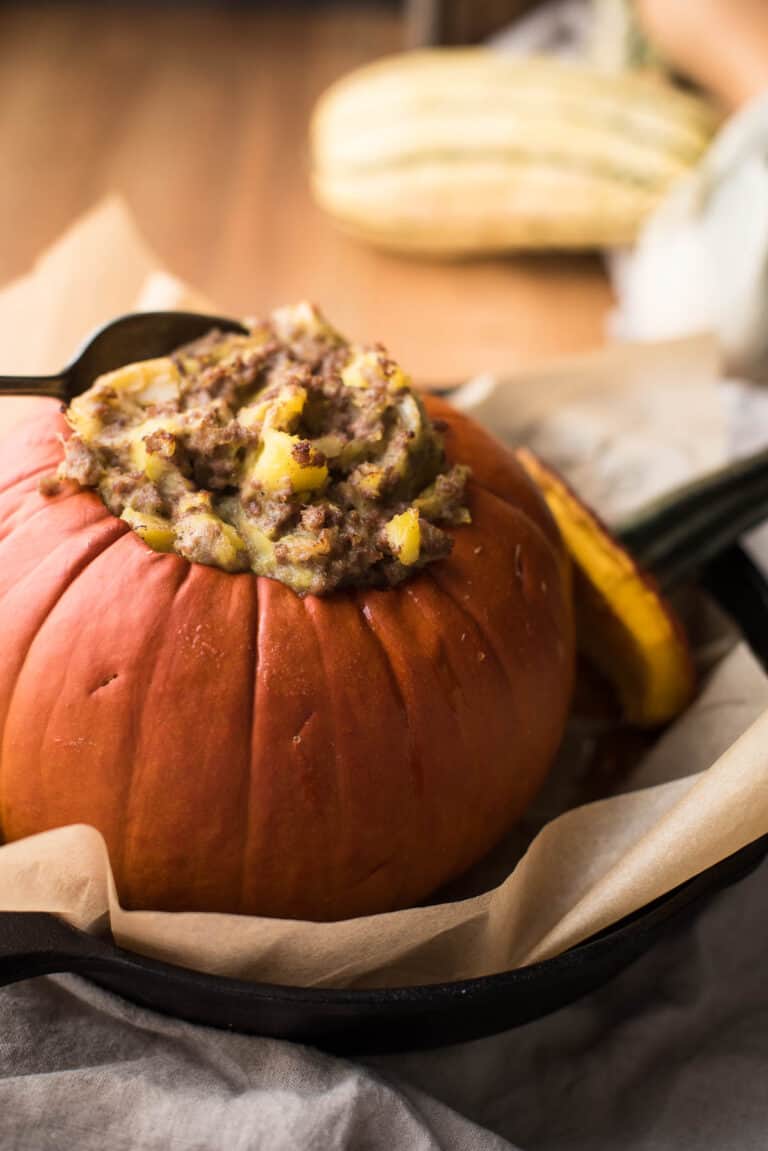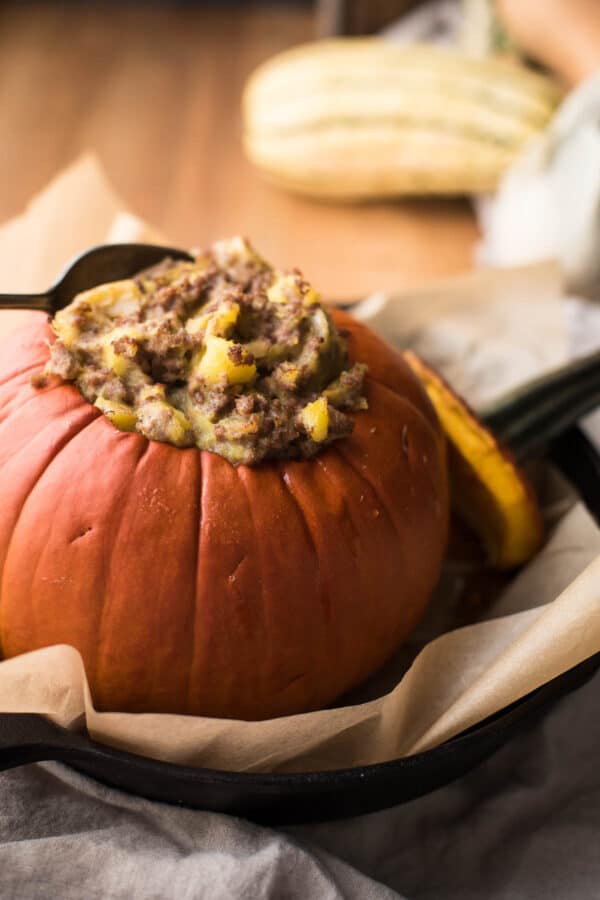 It's not Fall until it's stuffed pumpkin season, ya'll. Never had it? Hear me out. It's the ultimate fall meal of my family and it's the best way to eat pumpkin.
I mean, don't get me wrong, I love me some gooey pumpkin cinnamon rolls or chocolate-coated bundt cake. When it comes to pumpkin done savory, this will fit the bill every time.
Here's what to love about stuffed pumpkin:
savory beef
creamy Yukon gold potatoes
buttery onions
simple to prepare stuffing
hint of sweet and smoky bourbon roasted pumpkin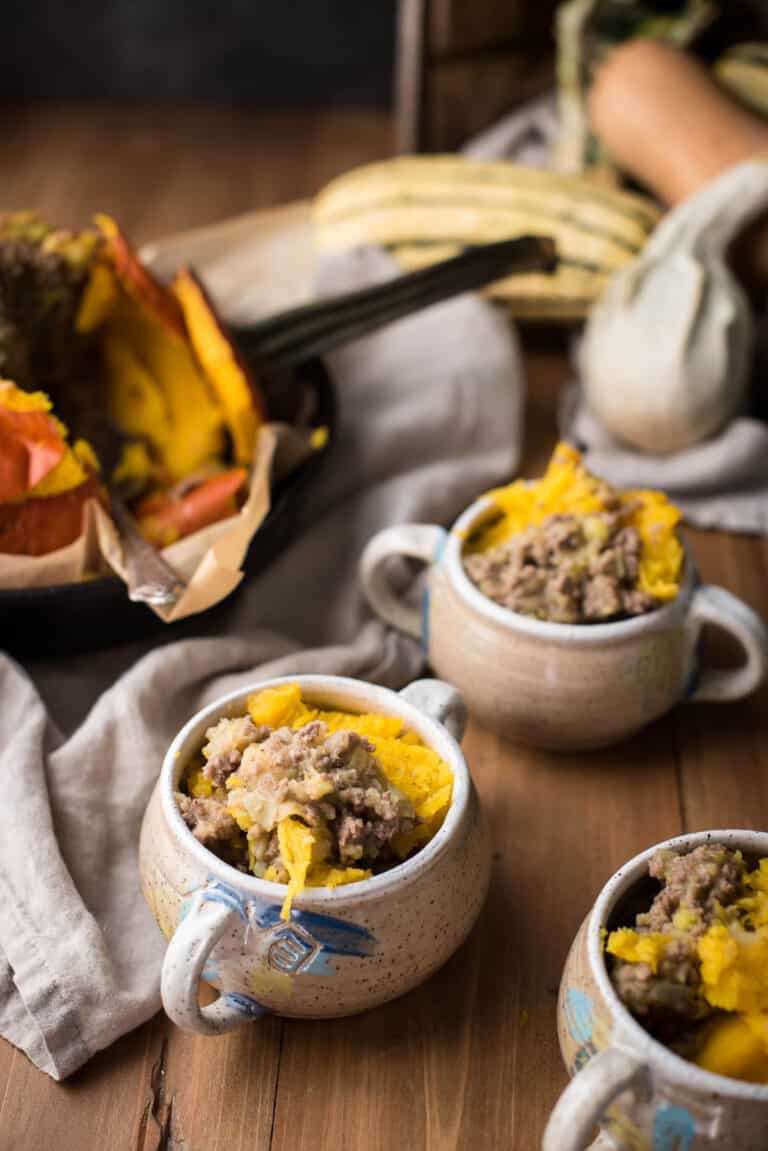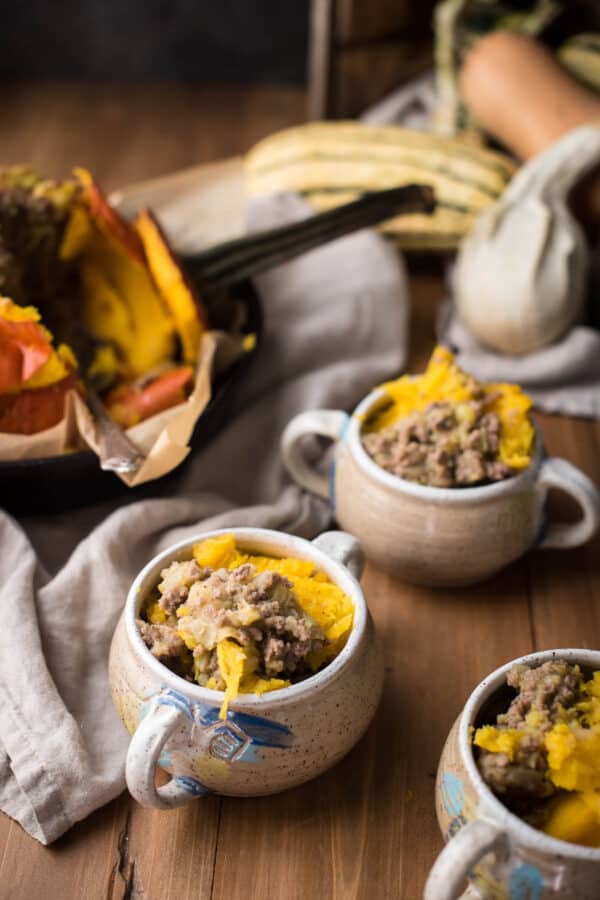 I know what you're thinking. You see brown sugar and ground beef both in the ingredient list and it's making you go, "hmm." But trust me, it's oh oh oh so delicious.
The brown sugar helps to cook and give flavor to the pumpkin before adding the stuffing. The final flavor isn't overly sweet but a perfect complement to the stuffing.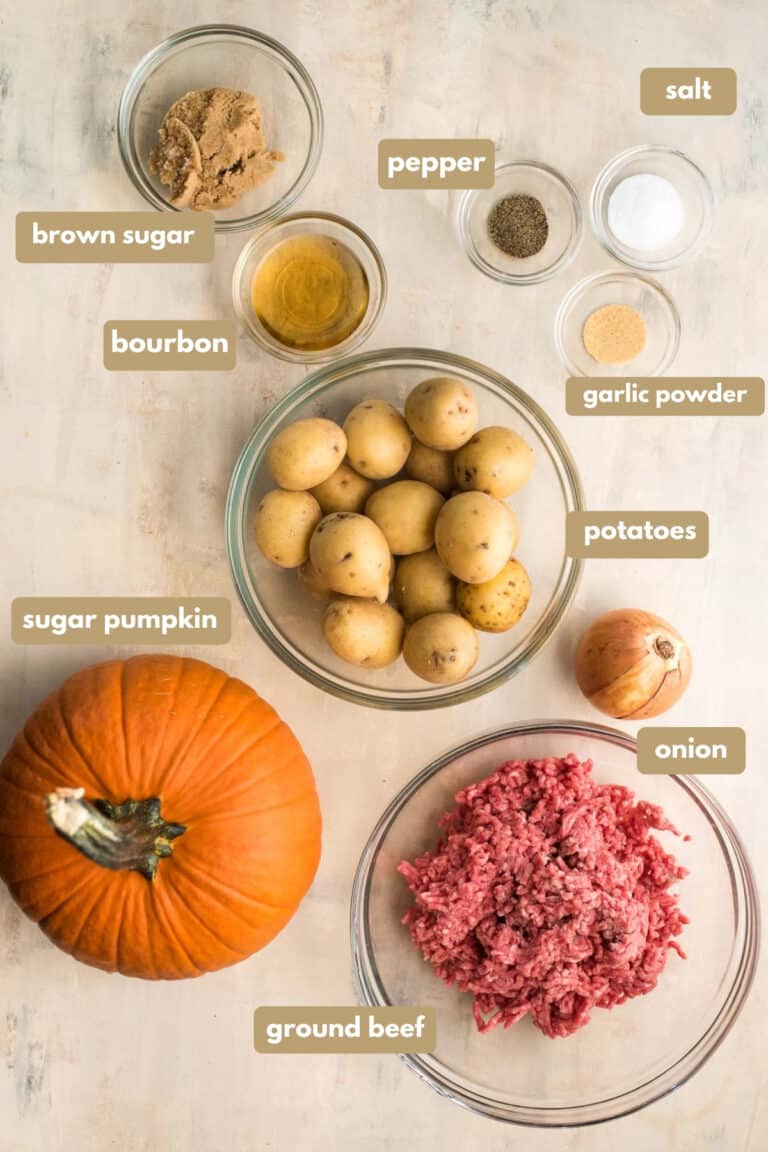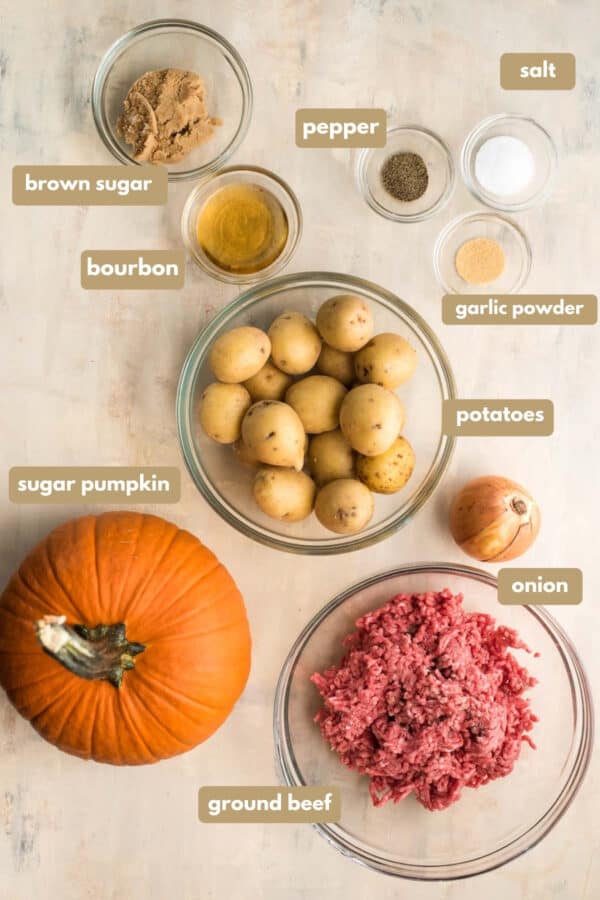 How to make stuffed pumpkin
If you've never tried cooking pumpkin at home, you're missing out! The final texture is heartier than the purée you'd typically find in cans on the shelves in the store and it's about the same level of natural sweetness and pumpkin flavor. That is part of what makes it perfect for pairing with savory ingredients.
To make stuffed pumpkin it's a combination of easy multitasking. After scooping out all the 'guts' of the pumpkin, you'll make the stuffing while it roasts in the oven. The roasting beforehand is a must! Otherwise, your stuffing gets all dried out if you do all the roasting while the pumpkin is stuffed.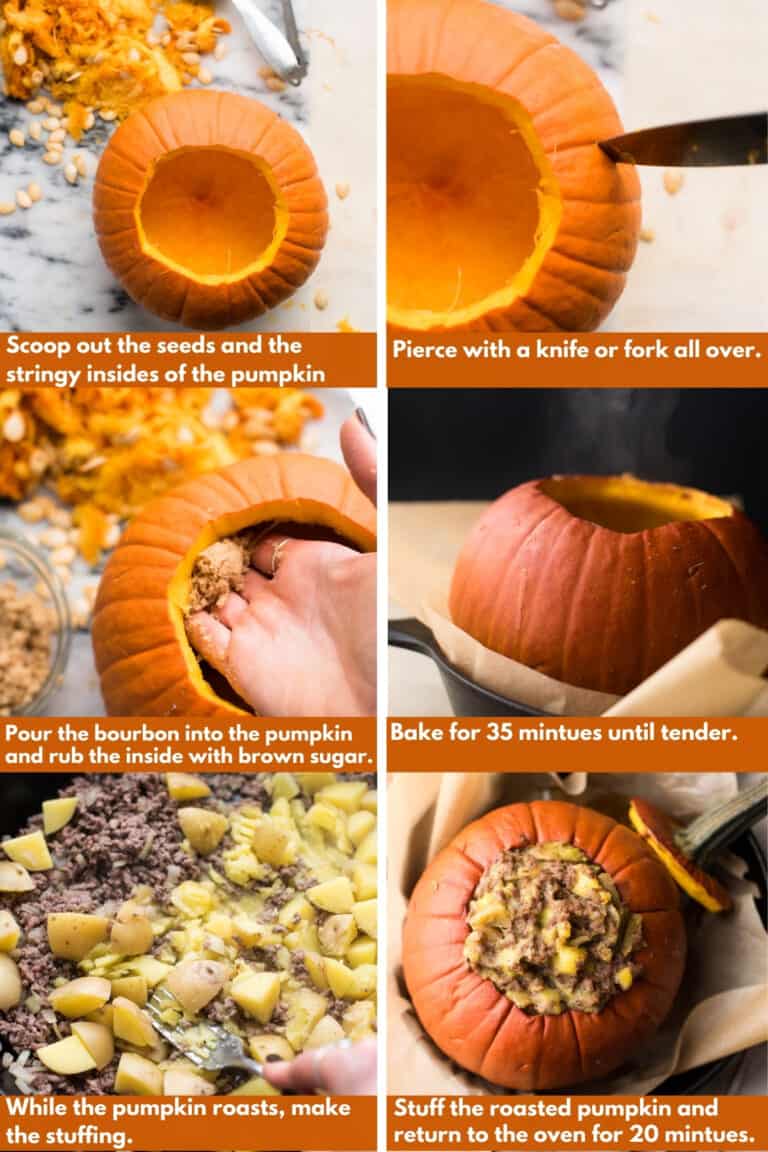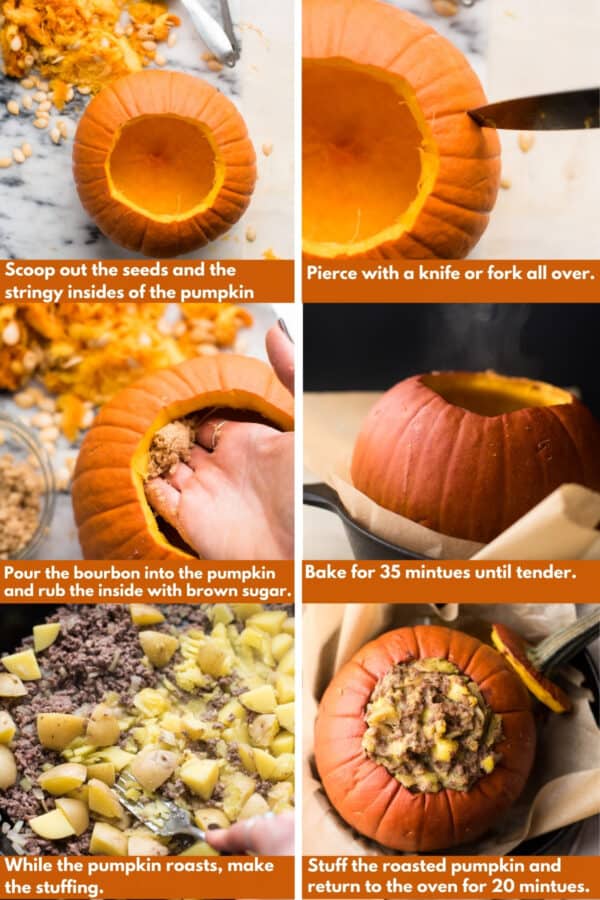 The stuffing itself is so simple and comforting. A combination of sauteed onion, beef, and creamy gold potatoes with simple spices. In fact, it's the same exact stuffing I use inside this meat pie recipe - another family favorite. Kind of like a, "if you know, you know." So you should hop on both the pumpkin and pie the trains and know about it.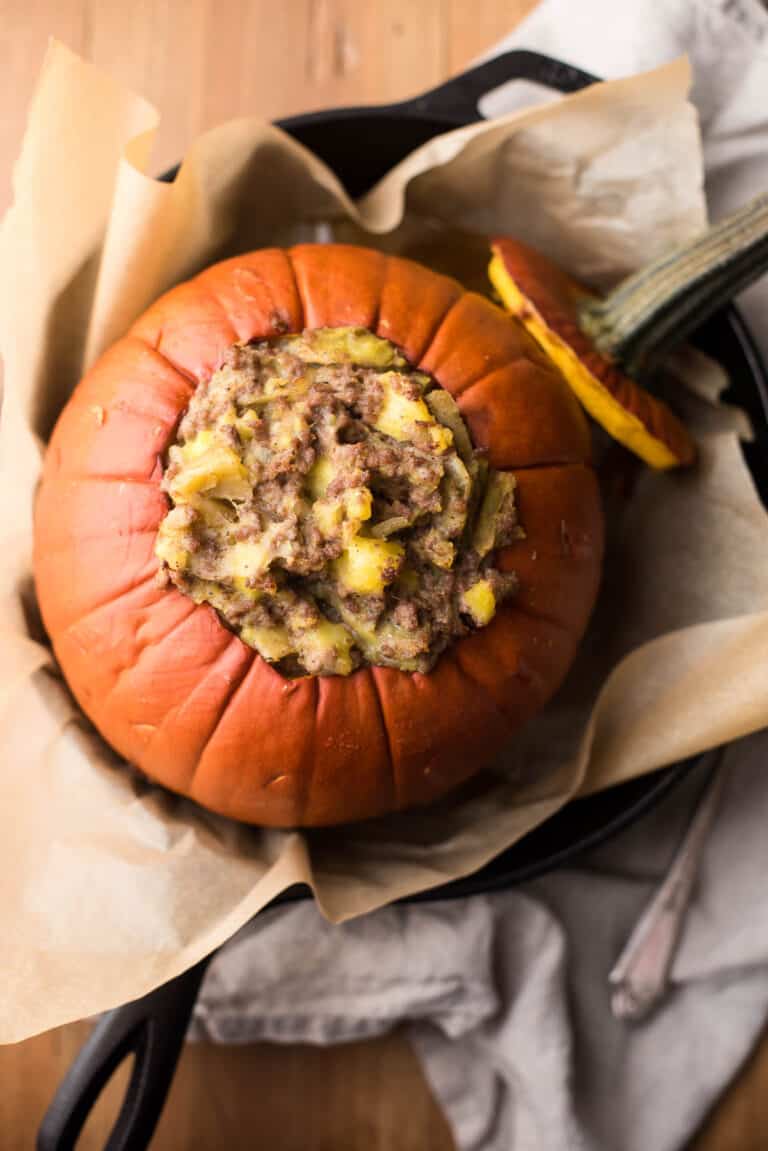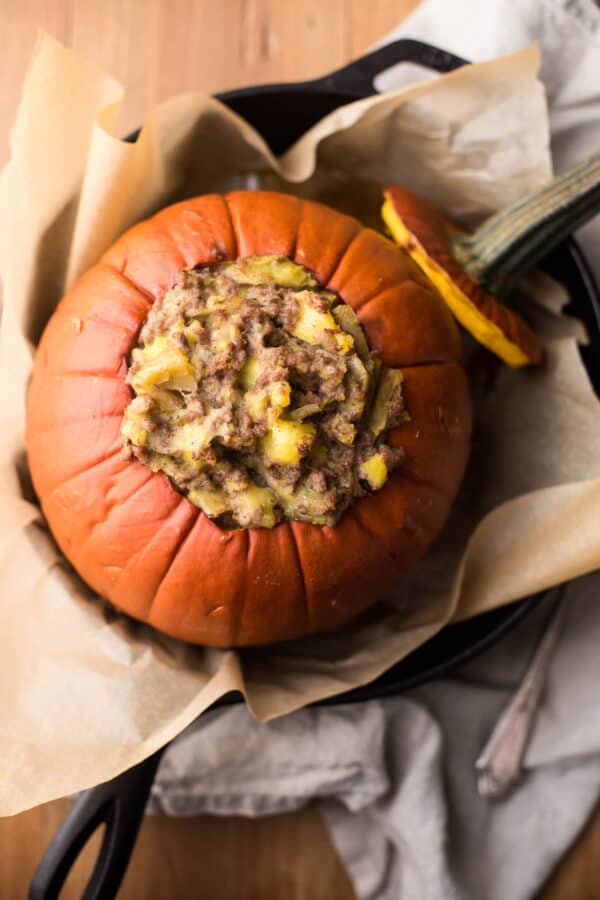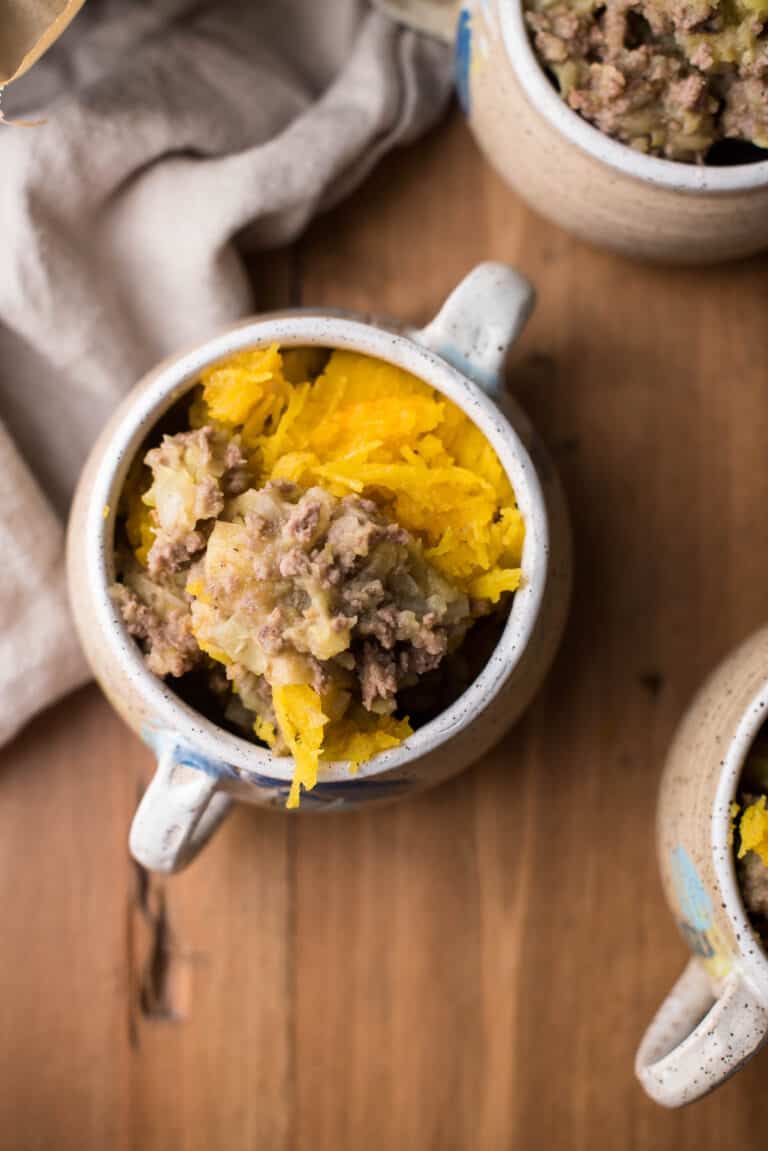 tips for gutting and roasting pumpkin
The sugar pumpkins are a little tougher to scoop out all the 'stuff' so here are my go-to tricks to making it easy:
use a metal serving spoon or measuring cup to scoop and scrape the sides
any scoop with a sharp edge will help
if the inside is still really tough, microwave the pumpkin for 2 minutes to soften
pierce the outside of the pumpkin all over before roasting to speed up the process
if you're crunched for time, you can microwave the gutted pumpkin for 8 to 10 minutes instead of oven roasting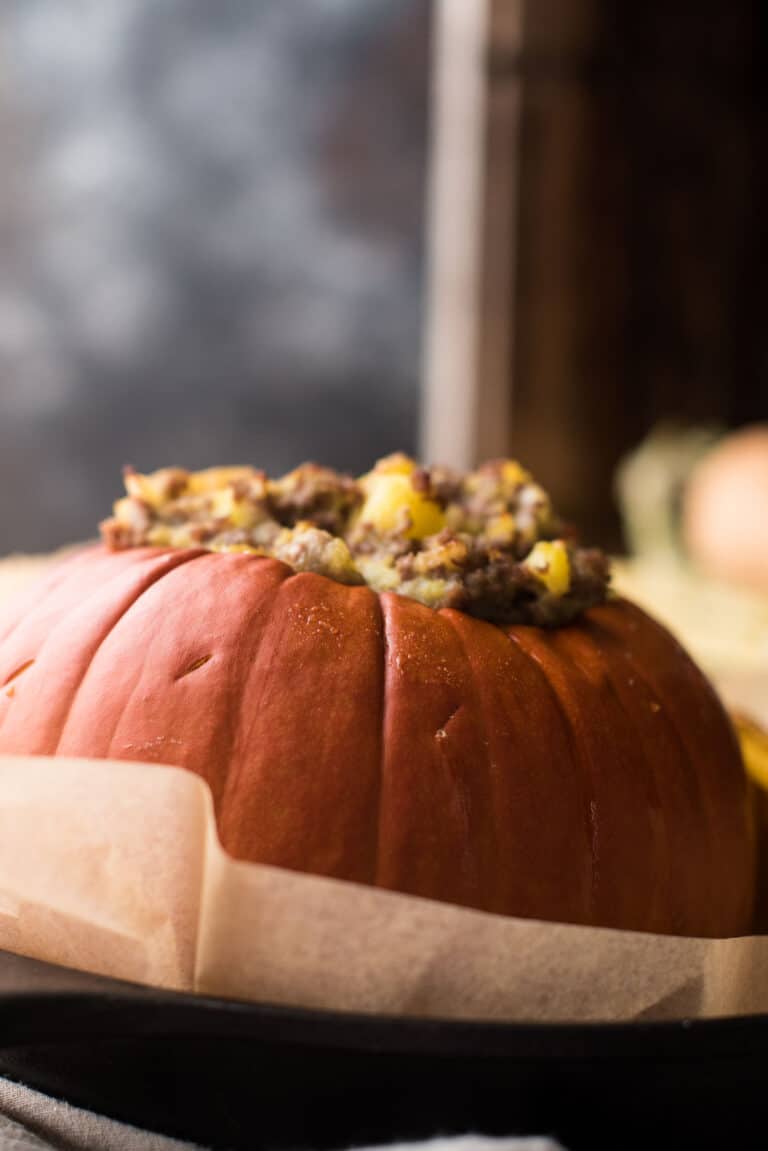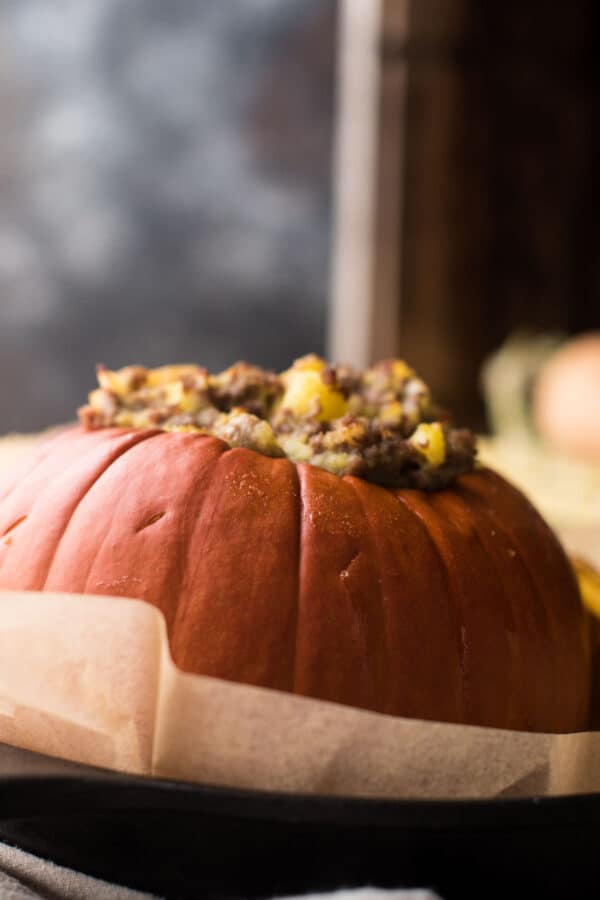 what do you serve with it?
Stuffed pumpkin is meant to be a stand-alone dish, served as the main meal. You've got your protein, veggie, and starch all right there. Now, when it comes to how our families eat it, then it's the option of added condiments. I like to put ketchup on mine - weird, yes, borderline gross? maybe. But, I am who I am and it's also how I eat my meat pie. My husband likes it as is or sometimes with mustard. You? You can do whatever you want of course.
For sides, if you're looking for some extra veggies, I'd recommend something crunchy like roasted carrots or Brussels sprouts, or a crisp and flavor packed salad like this kale, blue cheese, and pomegranate salad.
what do you do with the inside of the pumpkin?
Roast it of course! It also makes great compost. But roasted pumpkin seeds are a much more scrumptious option.
Clean the seeds of any stringy 'guts' from the pumpkin
Dry the seeds
Coat lightly with your preferred oil
Add seasonings...just salt, cinnamon sugar, or spicy combination of paprika and cayenne
Roast at 375°F for about 10 minutes until the seeds around browned, stirring halfway
So much goodness in one little gourd! Sweet pumpkin, hearty beef and potato stuffing, and a simple snacking treat all from a 5 pound pumpkin!
Did you make this recipe? Be sure to leave a comment and a rating below, or post a picture on Pinterest with the pin!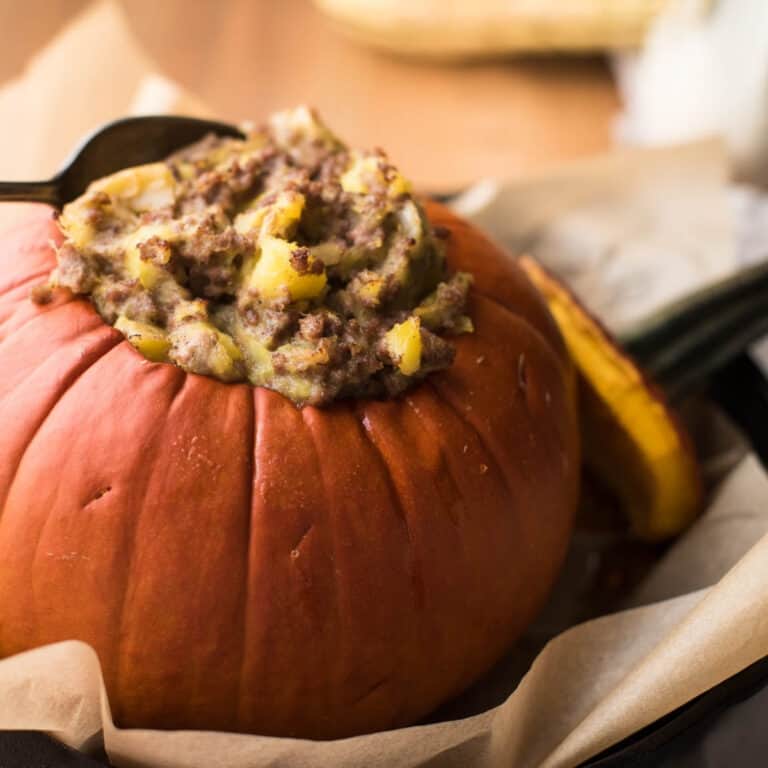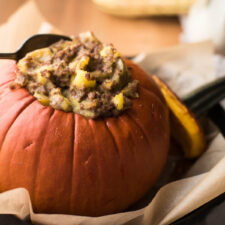 Stuffed Pumpkin
Sweet roasted sugar pumpkin stuffed with savory goodness! Stuffed pumpkin is the ultimate New England fall comfort food.
Print
Pin
Rate
Servings:
6
to 8 servings
Ingredients
1

medium sugar pumpkin

(3 to 5 pounds)

1

medium yellow onion

(diced)

⅓

cup

packed light brown sugar

3

tablespoons

bourbon
For the stuffing:
1

tablespoon

unsalted butter

1 ½

pounds

Yukon Gold potatoes

(diced)

1 to 1 ¼

pounds

ground beef

1

teaspoon

salt

½

teaspoon

black pepper

¼

teaspoon

garlic powder
Instructions
Prep. Preheat oven to 425F and set a large pot of water on the stove to boil.

Prep the pumpkin. Cut a circle in the top of the pumpkin around the stem large enough for your hand to fit through. Remove all seeds and stringy insides of the pumpkin. Using a fork or paring knife, pierce the inside and outside of the pumpkin in several places to allow for faster roasting.

Roast the pumpkin. Add the bourbon to the bottom of the pumpkin if using. Rub the inside walls of the pumpkin with brown sugar. Place in a lipped baking dish, cast iron pan, or pie plate. Bake for 35 to 40 minutes or until the pumpkin is almost cooked through.

Make the stuffing. Dice Yukon gold potatoes, add to boiling water and cook until fork-tender. Drain and set aside. In a large skillet, melt 1 tablespoon of butter. Sauté diced onions until translucent. Add ground beef, season with salt, pepper, and garlic powder. Stir frequently to break up the meat. Using a large dinner fork or wooden spatula, add the potatoes and mash into the beef and onion mixture. Mix the potatoes and ground beef together.

Stuff the pumpkin. Scoop stuffing into the roasted pumpkin. If some of the stuffing fills above the pumpkin, that is fine. Replace the top, return to a 375F oven, and bake for 20 minutes.

Serve. Either cut into slices or scoop out the stuffing and pumpkin. Cutting makes for a more eye appealing presentation, but scooping out the stuffing and roasted pumpkin it is usually served.
Notes
use a metal serving spoon or measuring cup to scoop and scrape the sides or any scoop with a sharp edge will help
if the inside is still really tough, microwave the pumpkin for 2 minutes to soften
pierce the outside of the pumpkin all over before roasting to speed up the process
if you're crunched for time, you can microwave the gutted pumpkin for 8 to 10 minutes instead of oven roasting
Nutrition
Calories:
496
kcal
|
Carbohydrates:
54
g
|
Protein:
22
g
|
Fat:
21
g
|
Saturated Fat:
9
g
|
Trans Fat:
1
g
|
Cholesterol:
72
mg
|
Sodium:
466
mg
|
Potassium:
1818
mg
|
Fiber:
4
g
|
Sugar:
23
g
|
Vitamin A:
25805
IU
|
Vitamin C:
51
mg
|
Calcium:
111
mg
|
Iron:
5
mg