Honey Ginger Roasted Carrots are bringing sweet and spice to beautiful winter root vegetables to help warm you up and fill your belly!!
Oh winter time…it's a serious love-hate relationship.  I seriously hate the cold.
And IT. IS. COLD. today.
After that first pretty snowfall of the year, could you totally live without it?  'Cause I can.
On the Pro side though, Shea is totally into playing in the snow, which is totes adorbs and equally as awesome for expending toddler energy.
And also, food.  Warm, cozy, comfort food.  Like I said, it's complicated.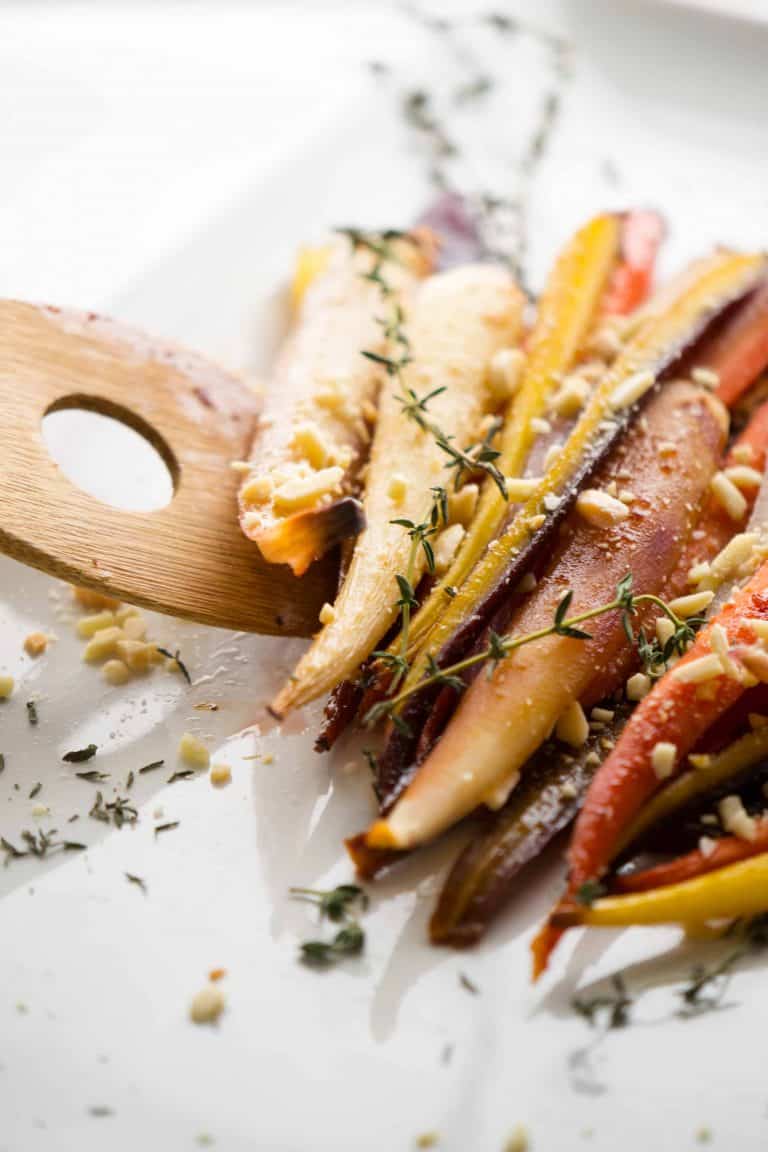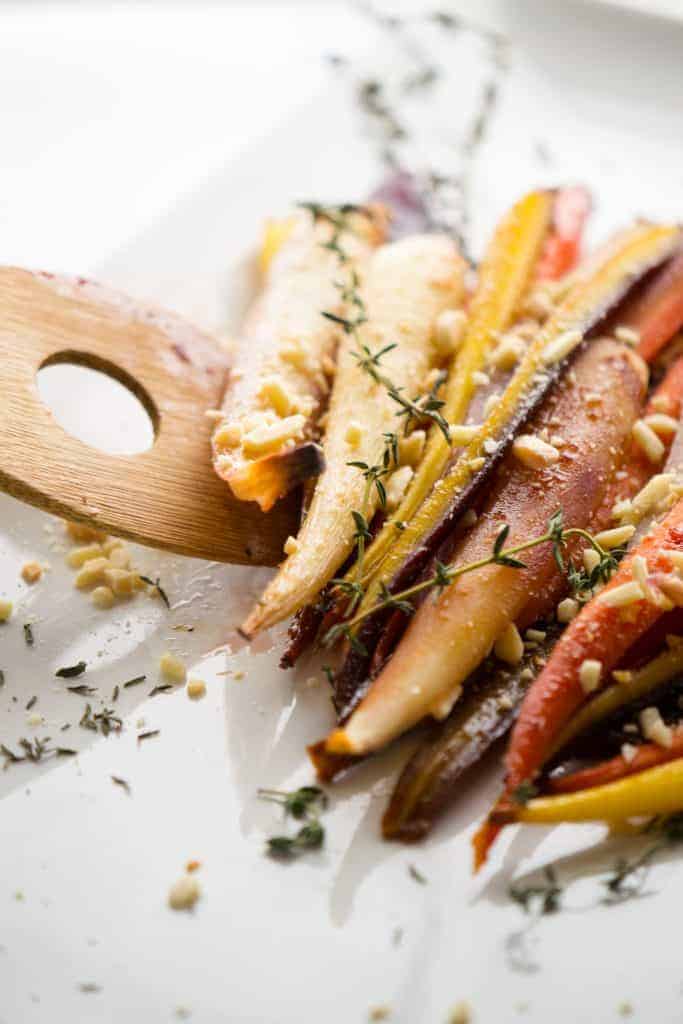 Produce in New England in the winter time is root-vegetable heavy.  Upon first read, that may sound like a bad thing but it's actually super amazing.
Well, unless you don't like root vegetables.  If you don't, you should totally try these honey ginger roasted carrots!  Besides the kaleidoscope of colors to entice your eyeballs, carrots run on the naturally sweeter side of root vegetables.
Making them much more approachable than let's say, beets or celery root – also tasty, but admittedly kind of weird to an outsider.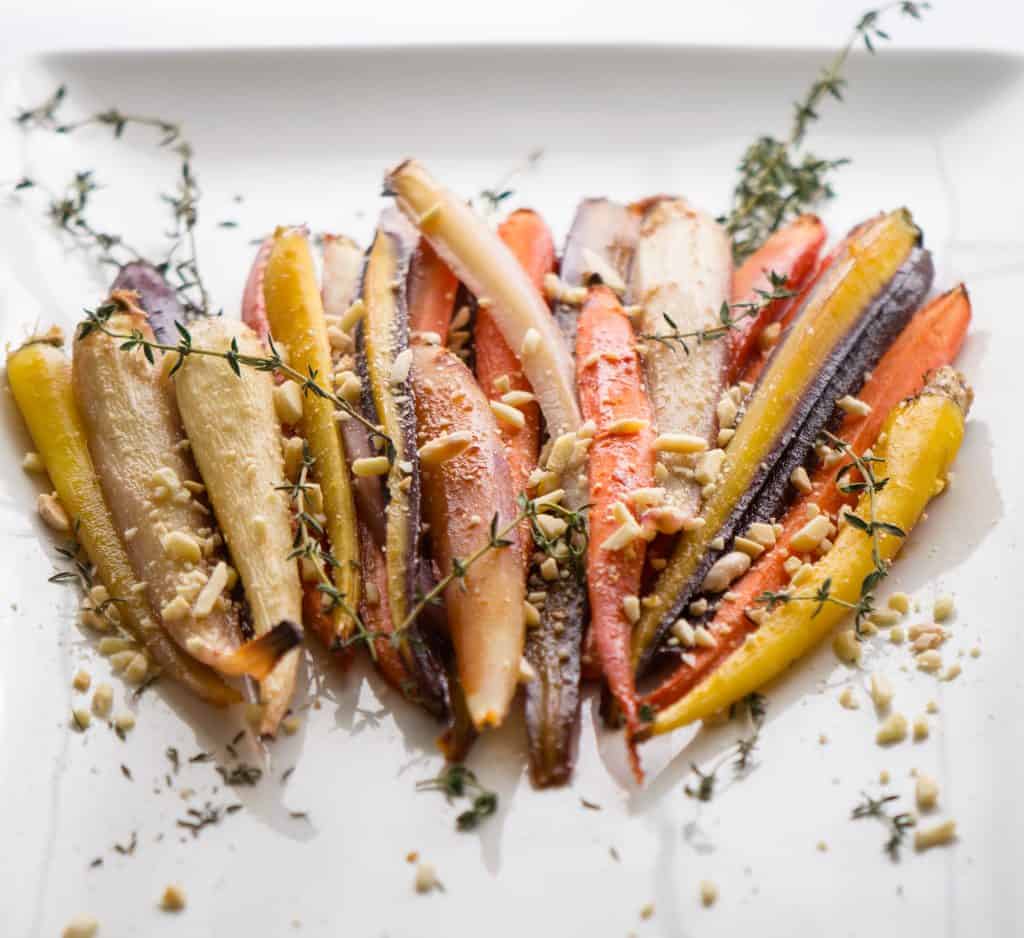 Trying new foods is kind of like making new friends.  It's scary at first, but then after a few conversations you realize how much you enjoy your time together.
And then you get a little obsessed and only want to hang out with your new friend.  Just don't get too obsessed, overdose on your new relationship and never want to hang out with that friend…err, carrot…again.  Also, don't eat your friends.
So what makes these carrots sooooooo amazing?  Let me introduce one of my favorite friends – the honey bee.  Though you definitely don't need to use raw honey as the recipe lists, I'd highly recommend just giving it a whirl.
The differences are subtle, but raw honey retains all the wonderful nutrients, enzymes and antioxidants that are typically killed by the high heat of pasteurization.  As for taste, it's just the smallest amount less sugary sweet and it's consistency makes it much more manageable for scooping and cooking.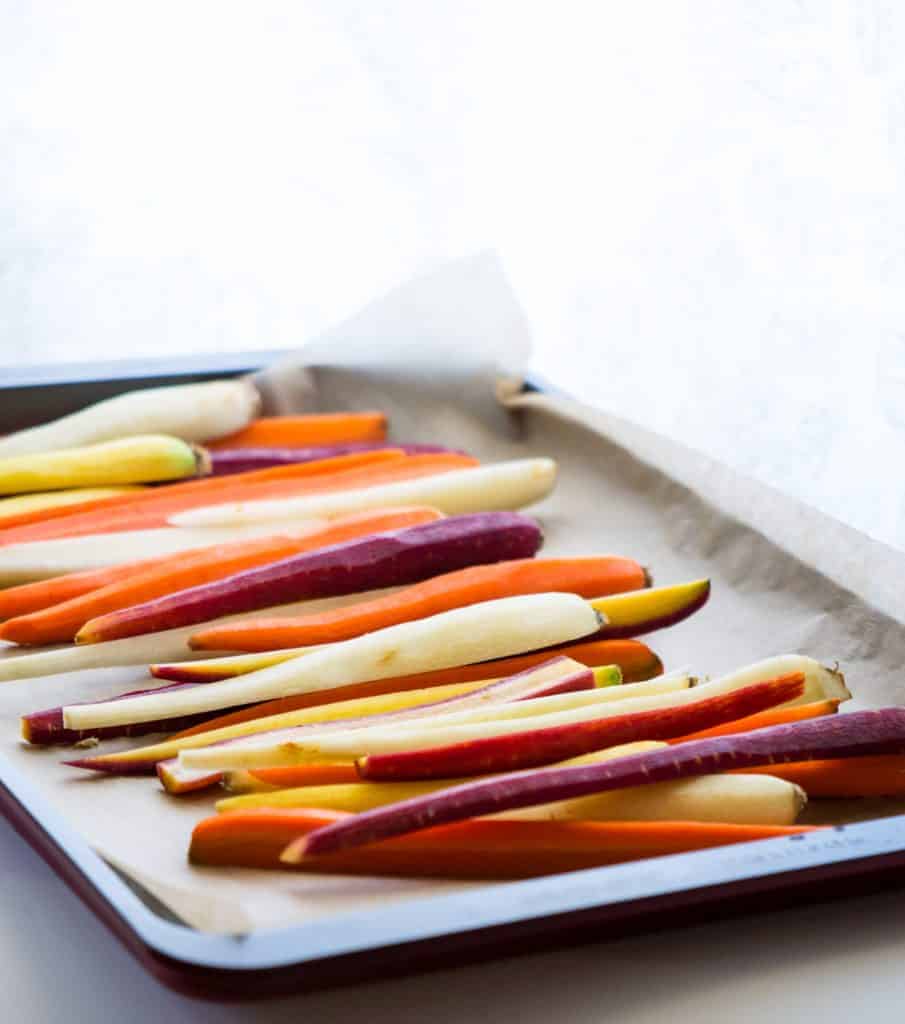 If you're in the mood for super rustic, you really don't even have to peel the carrots, just wash them real real good.  Also, depending on size you're going to want to halve or quarter the carrots so they'll all cook at the same time.
When cooked in the oven, that beautiful sticky, sweet, natural goodness will start to caramelize and invade your crunchy carrots, softening and sweetening – kind of like a good massage.  Well that's how I feel after a good massage.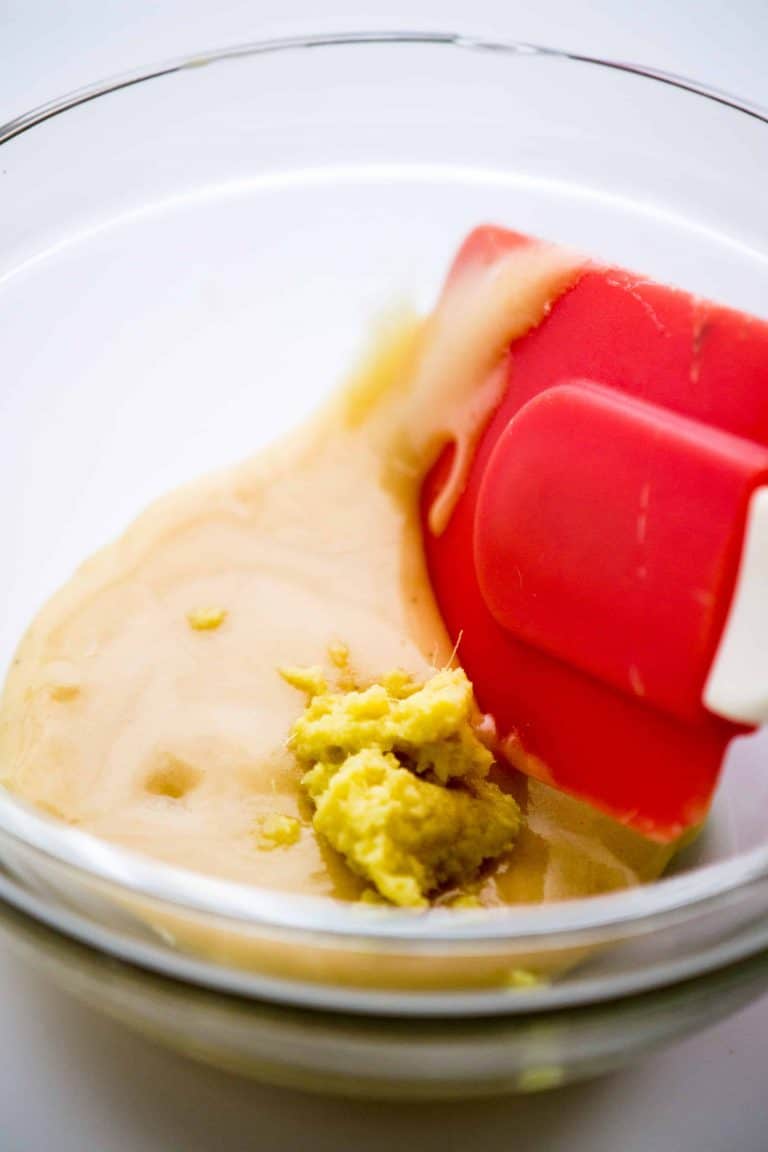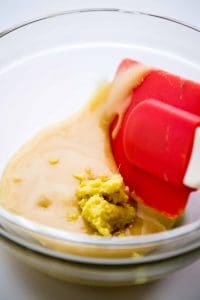 Anyways…to avoid these carrots going in the treacly sweet direction, in steps the fresh grated ginger, duh-dun-dun-dah! (I like to picture the ginger root wearing a cape blowing in the wind while I read that.  Go ahead try it.)  It took a while for me to accept ginger in my life, but my life is in a much broader place now that I have.  If overdone, it brings to mind a pungent reminder of Lysol.  In the appropriate quantities, the result is a subtle spiciness without the heat of peppers.
Fresh grated ginger is totally the way to go for this, but if strapped for time you can definitely find fresh minced ginger in a jar.  To add a subtle crunch, sprinkle the oven fresh carrots with some lightly toasted slivered almonds…or don't, it's totally up to you.  The fresh thyme, well, that's for pinterest.
Literally, that's it.  Honey, ginger, roast.  In 30-ish minutes you'll have a crowd-pleasing, easy, flavor packed and wholesome side dish your family is going to love.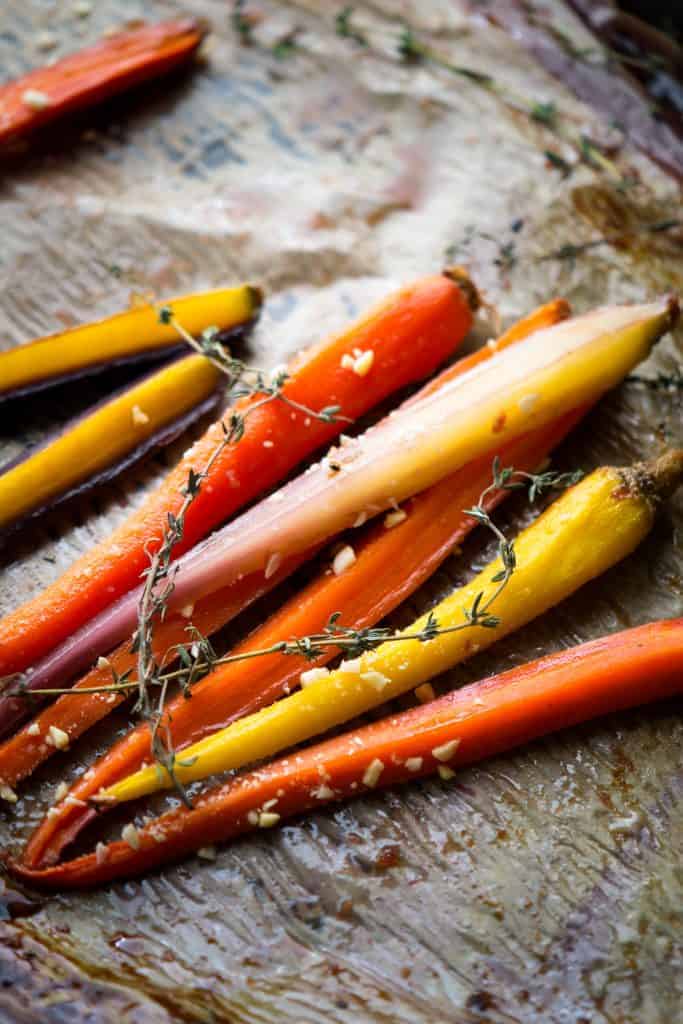 If you don't eat them all of the sheet pan first.
Not that I'm speaking from experience or anything…Hey, some times a girl's got to treat herself and if it's these carrots I am A-OK with that treat.
Print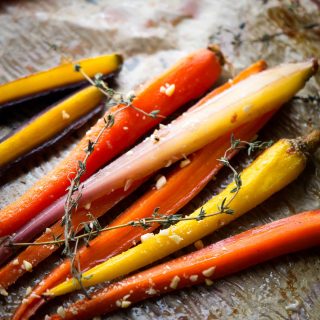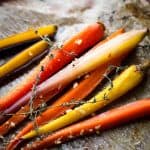 Roasted Honey Ginger Carrots
---
Author:

Prep Time:

10 minutes

Cook Time:

30 minutes

Total Time:

40 minutes

Yield:

4

servings

1

x
Description
Roasted rainbow carrots get a touch of sweet and subtle spice with raw honey and fresh ginger for a super easy, colorful side dish.
---
Scale
Ingredients
2

lbs rainbow carrots

1/4 cup

honey

1 tsp

honey

1/2 tsp

fresh grated ginger

1 tbsp

toasted slivered almonds ((optional))
---
Instructions
Preheat oven to 375F.  Peel carrots, cut larger carrots in halves or quarters.  In a small bowl, combine honey and ginger.
Arrange carrots on a baking sheet lined with parchment paper or sprayed with cooking spray.  Pour the honey-ginger glaze over carrots, mixing thoroughly so all pieces are coated.
Bake for 30 to 35 minutes on the middle rack of the oven.  After baking, brush with remaining 1 teaspoon of honey.
Optional: Sprinkle with toasted, slivered almonds after plating.
---
Notes
Using a baking sheet with an edge is recommended as the carrots will release water and honey mixture will loosen.
Baking time may vary depending on the size of the carrots.
Category:

side dish

Cuisine:

american
Keywords: side dish, roasted carrots, three ingredient side dish, sweet and spicy vegetables
Recipe Card powered by