Honey Ginger Roasted Carrots are a zesty, 3-ingredient spin on the classic sweet roasted carrots, these beautiful rainbow carrots are brightening up your plate and are easily roasted in the oven. Whisk together fresh ginger, honey and toss with rainbow carrots and bake in the oven until fork tender.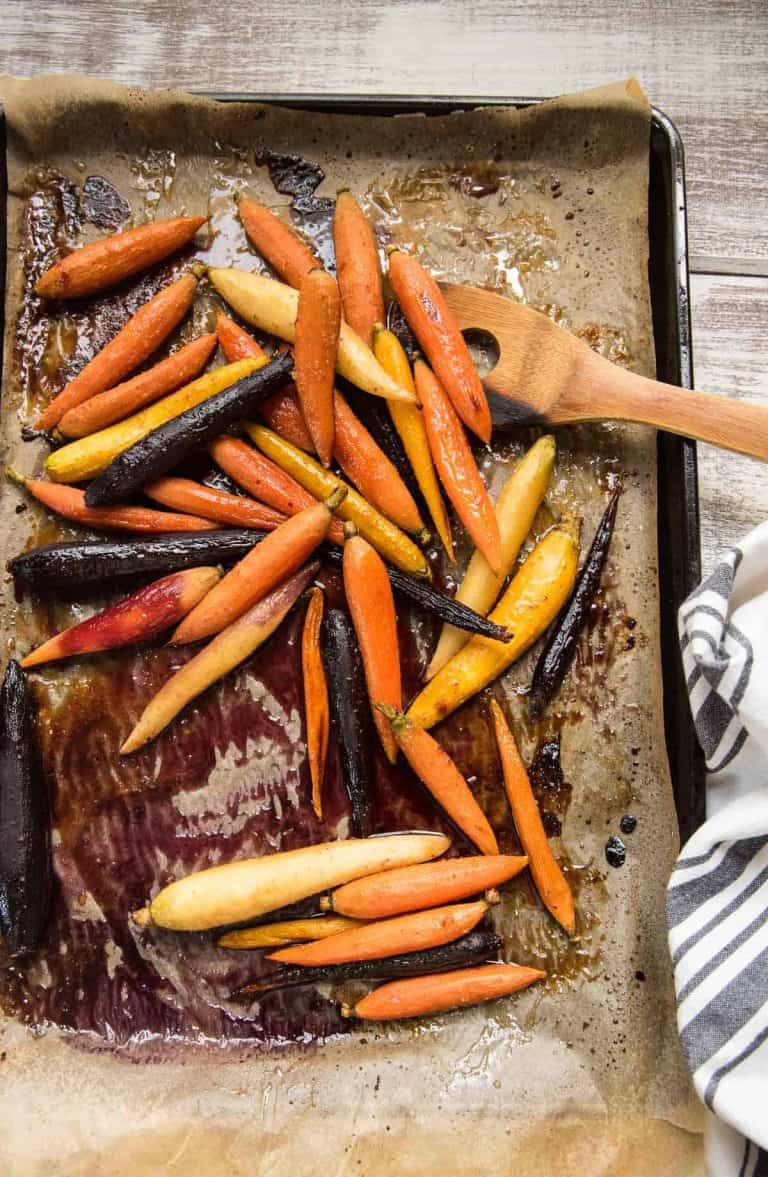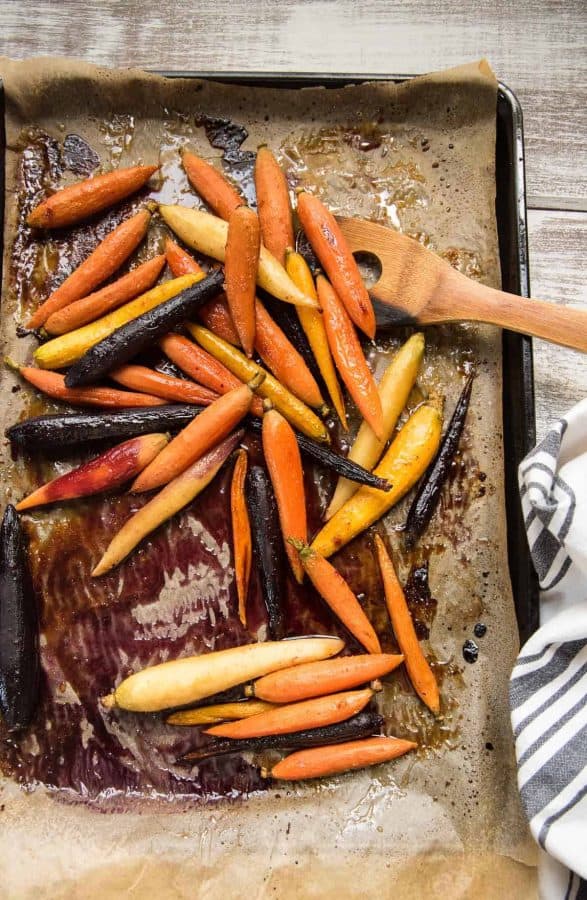 Oh winter time...it's a serious love-hate relationship. I seriously hate the cold. Like that, "it's so cold my face hurts" we can put that on the things I can live without list.
When it's too cold to play outside and everyone is starting to have cabin fever meltdowns, at least we can go in the kitchen and be distracted by baking or cooking up some warm and cozy comfort food. And these sweet and spicy rainbow carrots are a healthy way to cook up a side to your favorite roasted chicken or pot roast.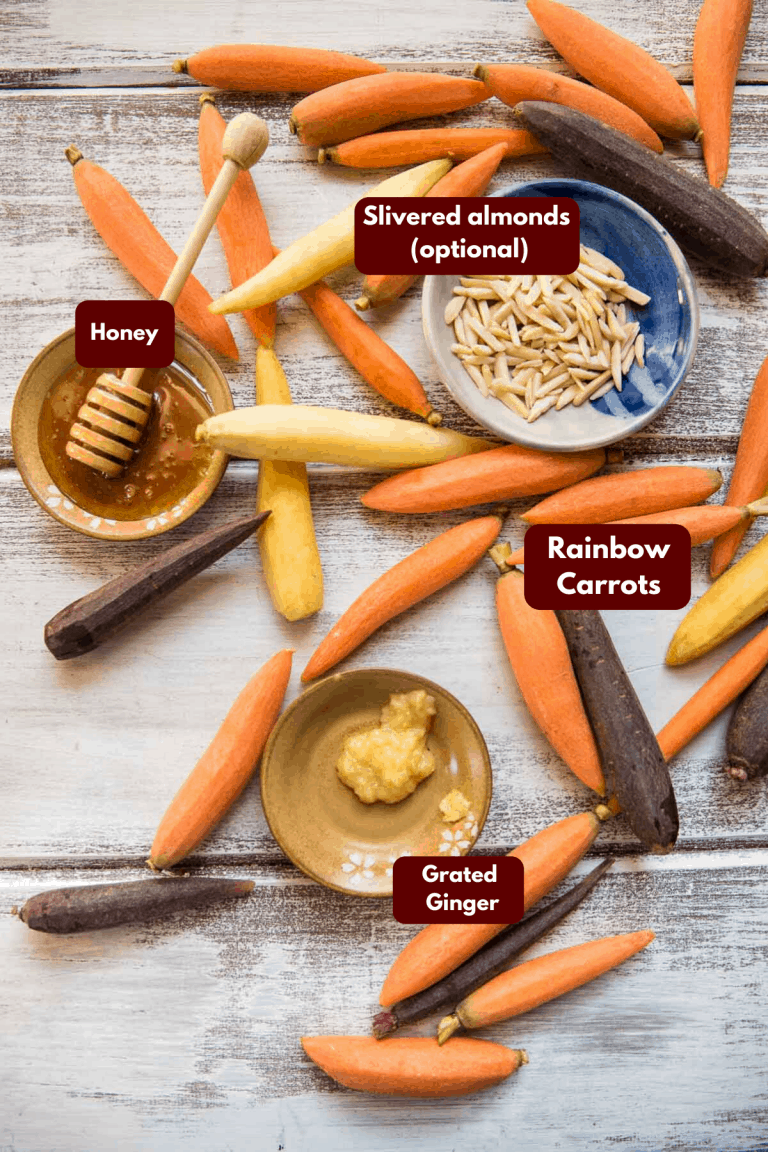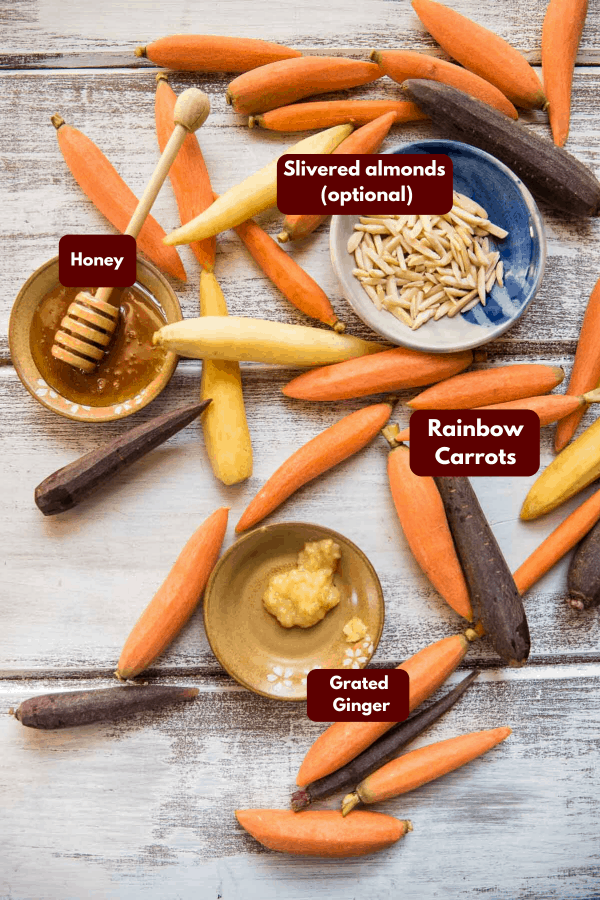 Why honey and ginger roasted carrots are awesome
Produce in New England in the winter time is root-vegetable heavy. Upon first read, that may sound like a bad thing but it's actually super amazing.
Well, unless you don't like root vegetables. If you don't, you should totally try these honey ginger roasted carrots! Besides the kaleidoscope of colors to entice your eyeballs, carrots run on the naturally sweeter side of root vegetables.
The natural sweetness makes them much more approachable than let's say, beets or celery root. Which are also tasty, but admittedly kind of weird to an outsider.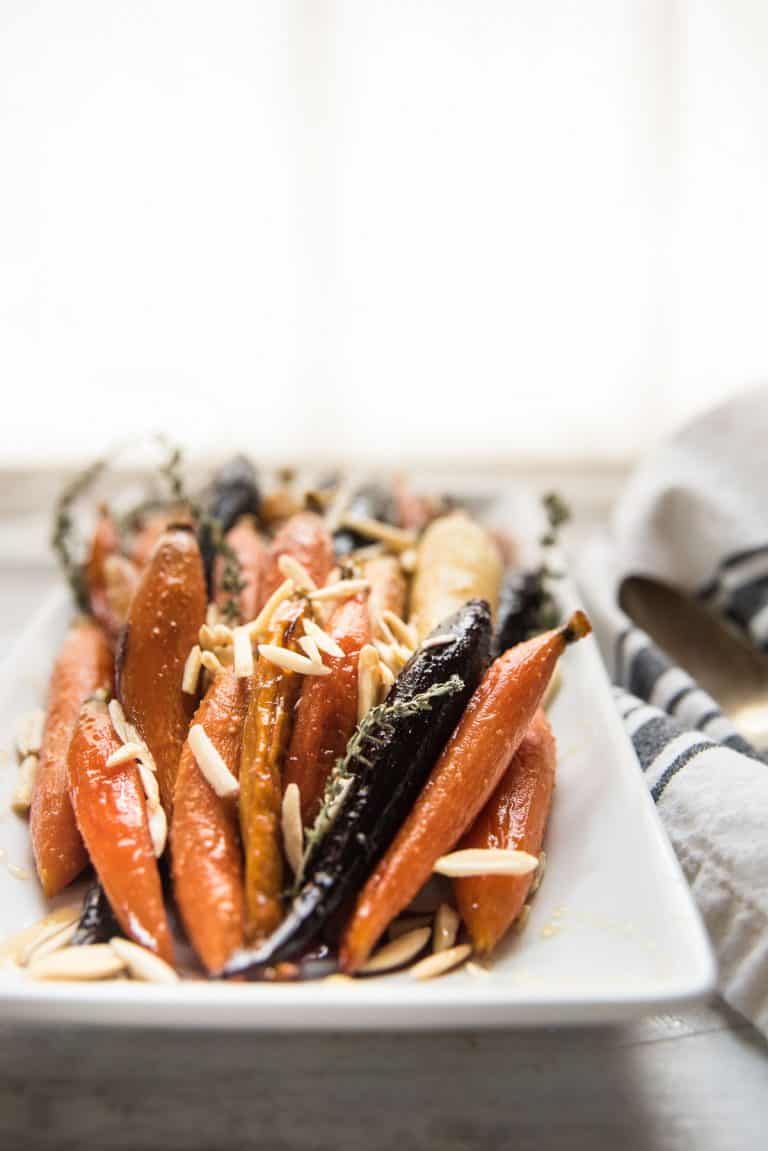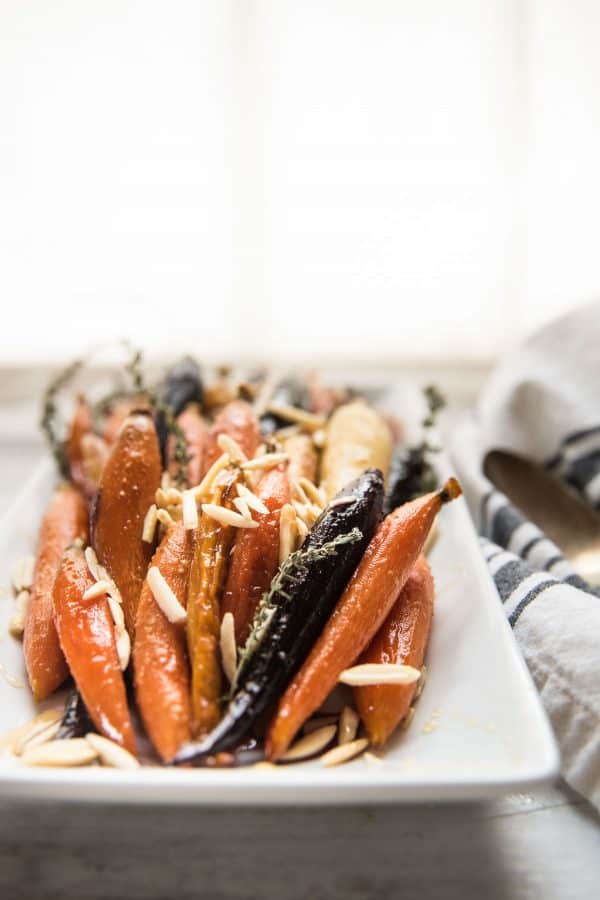 So what makes these carrots sooooooo amazing? The sweet honey and the spicy ginger. Two simple ingredients that add a punch of flavor to naturally sweet roasted rainbow carrots. When it comes to the honey, any honey will definitely get the job done, but my particular favorite right now is raw honey.
The differences are subtle, but raw honey retains all the wonderful nutrients, enzymes and antioxidants that are typically killed by the high heat of pasteurization. As for taste, it's just the smallest amount less sugary sweet and it's consistency makes it much more manageable for scooping and cooking.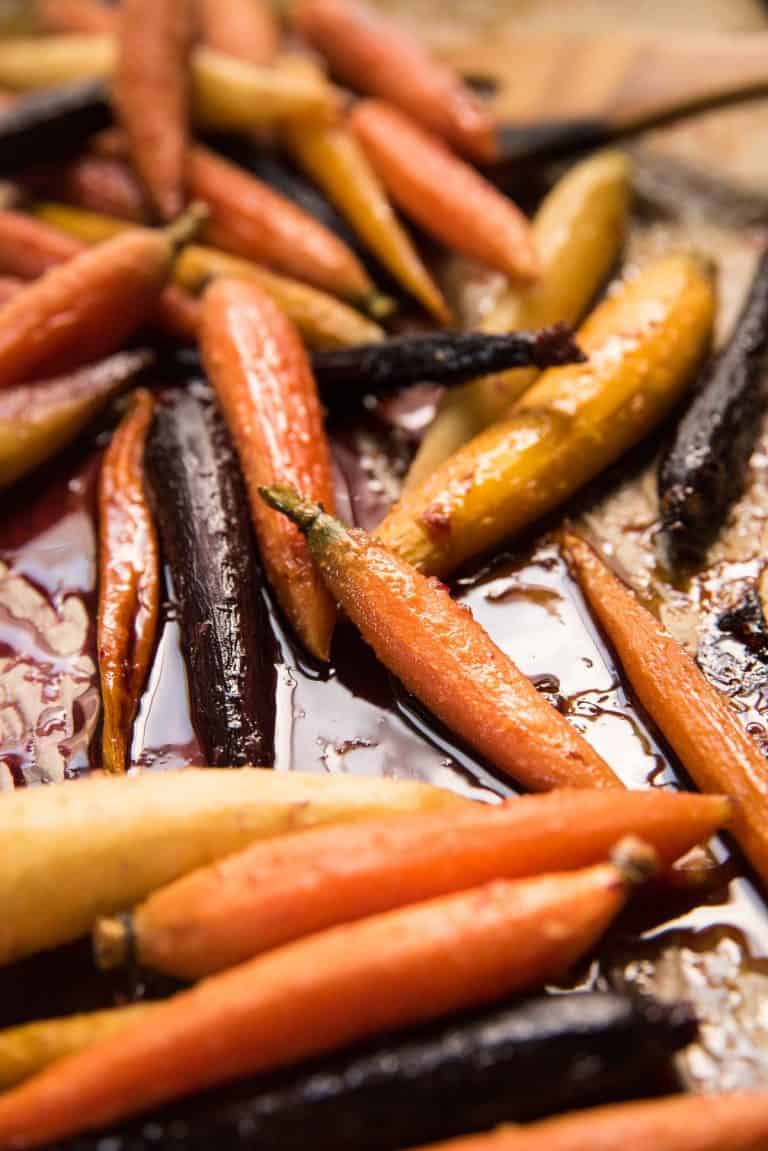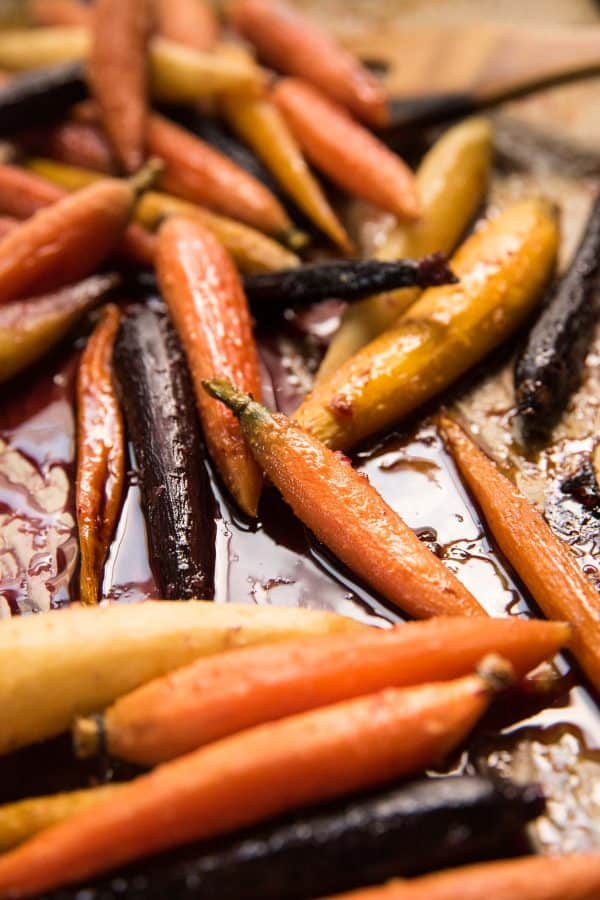 Do you have to peel roasted carrots?
Nope! If you're in the mood for super rustic, you really don't have to peel the carrots, just wash them really good. Also, depending on size you're going to want to halve or quarter the carrots so they'll all cook at the same time.
When cooked in the oven, that beautiful sticky, sweet, natural goodness will start to caramelize and invade your crunchy carrots, softening and sweetening - kind of like a good massage. Well that's how I feel after a good massage.
What's the best way to grate ginger?
Fresh grated ginger is here to keep these roasted carrots going in the treacly sweet direction. It took a while for me to accept ginger in my life, but my life is in a much broader place now that I have. If overdone, it brings to mind a pungent reminder of Lysol. In the appropriate quantities, the result is a subtle spiciness without a pepper kind of heat.
First, peel the ginger. You'll need a little less than an inch. Grate it on the smallest part of a block grate or use a microplane. Te microplane is the easiest option and this tool is also grate for zesting fruits and finely grating block cheeses. If you don't have one it's worth the investment.
Fresh grated ginger is totally the way to go for this, but if strapped for time you can definitely find fresh minced ginger in a jar or use ginger paste. If using ginger paste, double the quantity as that flavor is not as bold. To add a subtle crunch, sprinkle the freshly honey roasted carrots with slivered almonds, but they are still equally delicious without.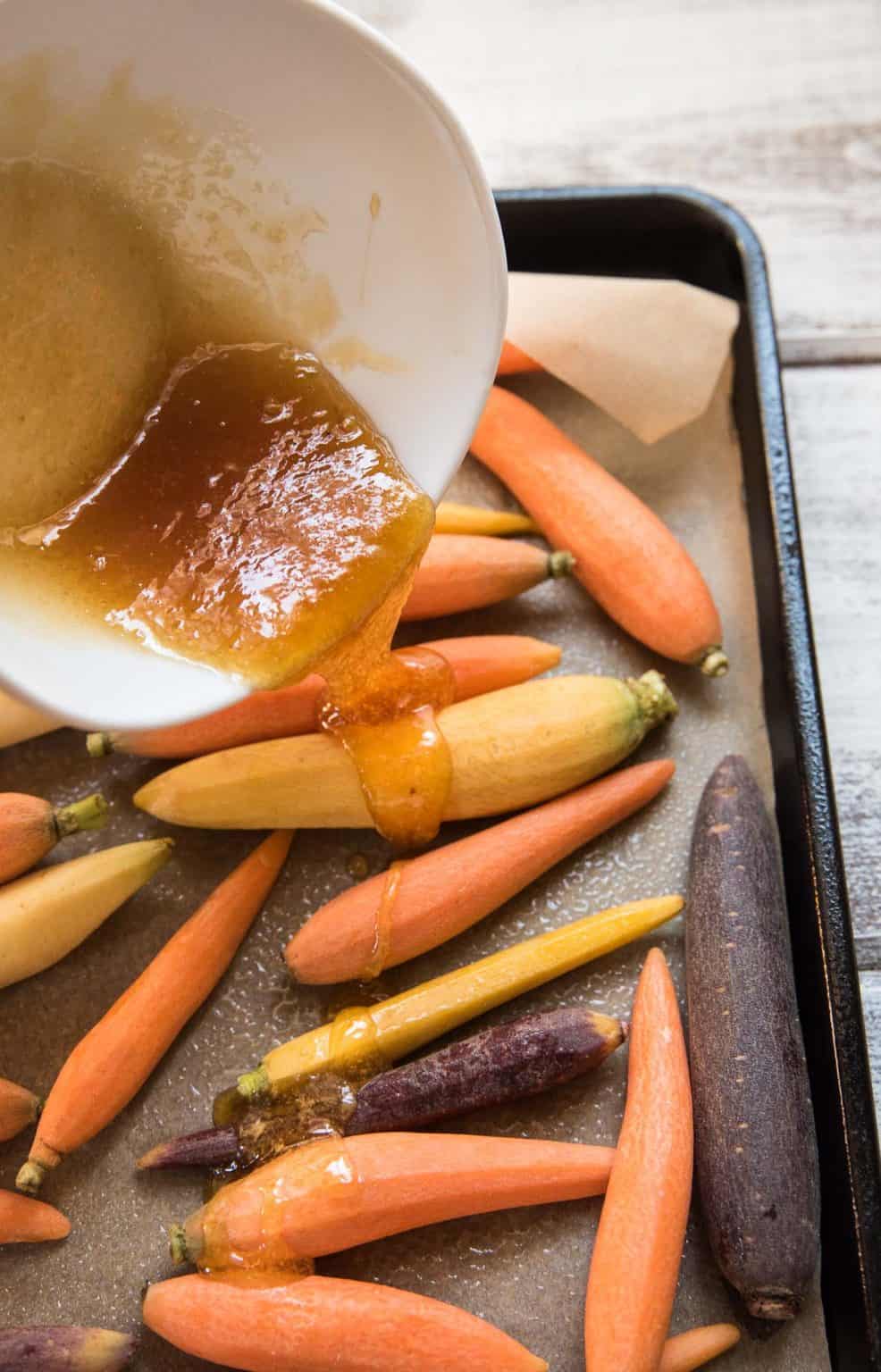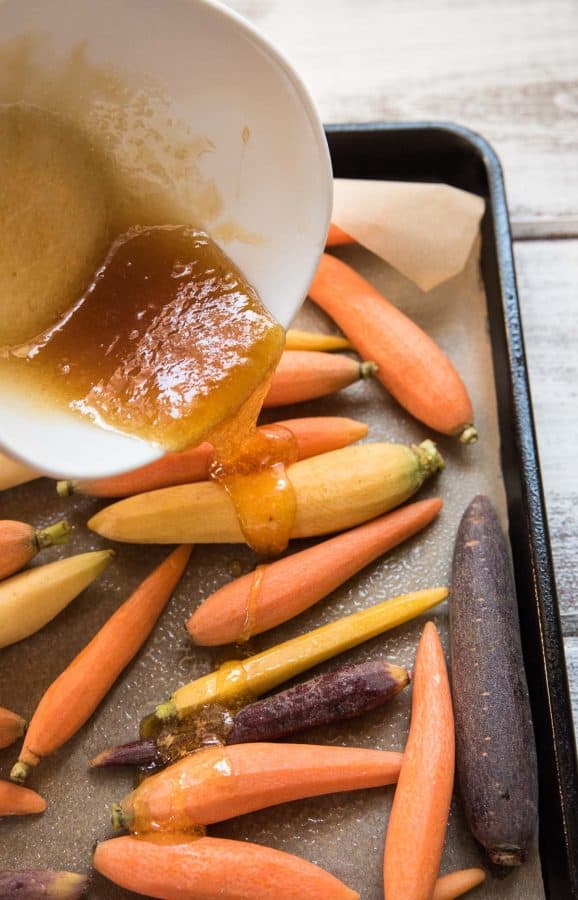 Tips for perfectly roasted carrots
Literally, that's it. Honey, ginger, roast. In 30-ish minutes you'll have a crowd-pleasing, easy, flavor packed and wholesome side dish your family is going to love.
Fresh grated ginger is totally the way to go for this, but if strapped for time you can definitely find fresh minced ginger in a jar. To add a subtle crunch, sprinkle the oven fresh carrots with some lightly toasted slivered almonds...or don't, it's totally up to you. The fresh thyme in the photos, well, that's for pinterest.
My go to temp for roasting any vegetable is 400°F.
If after 30 minutes you want your honey ginger roasted carrots softer, you can cover with foil and roast for another 10 minutes.
The honey on the sides of the baking sheet may darken from the caramelization of the sugar in the honey, but don't stress.
Line the baking sheet with parchment paper for easy clean up.
Use a baking sheet with a lip. The carrots will release a little bit of water while cooking.
If you want your carrots nice and soft, cut larger carrots in half or quarters for faster roasting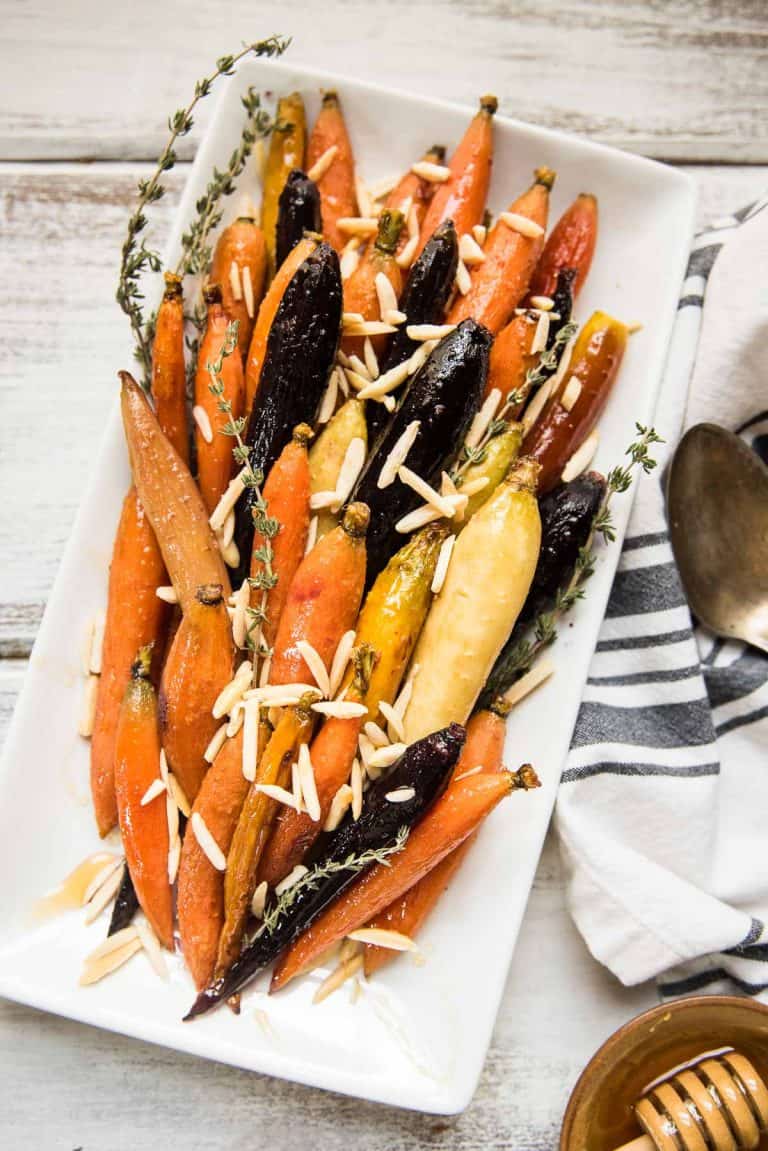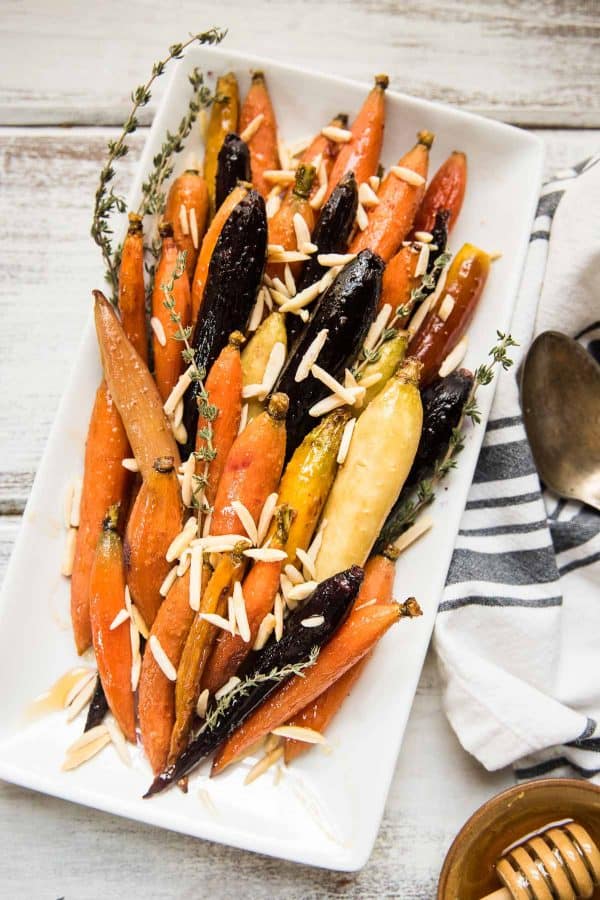 If you love this recipe, try maple roasted butternut squash or for more savory flavor pork belly brussels sprouts are crisp and salty. If you're looking for dinner inspiration, these walnut dijon crusted pork chops cook in the oven at the same temperature and for roughly the same amount of time as honey ginger carrots!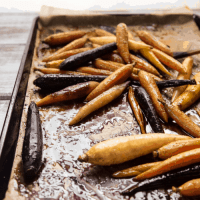 Roasted Honey Ginger Carrots
Roasted rainbow carrots get a touch of sweet and subtle spice with raw honey and fresh ginger for a super easy, 3 ingredient, colorful side dish.
Print
Pin
Rate
Ingredients
2

pounds

rainbow carrots

¼

cup

+ 1 tablespoon honey

½

teaspoon

fresh grated ginger

1

tablespoon

toasted slivered almonds optional
Instructions
Preheat oven to 400°F. Peel carrots, cut larger carrots in halves or quarters. In a small bowl, combine ¼ cup honey and grated ginger.

Arrange carrots on a baking sheet lined with parchment paper. If cooking directly on the sheet tray, spray it lightly with cooking spray or a brush of oil. Pour the honey-ginger glaze over carrots, mixing thoroughly so all pieces are coated.

Roast in the oven for 30 minutes on the middle rack of the oven. If after 30 minutes the carrots need more roasting, cover with foil and roast for 10 more minutes. Brush the finished carrots with remaining 1 teaspoon of honey.

Optional: Sprinkle with slivered almonds after plating.
Notes
Using a baking sheet with an edge is recommended as the carrots will release water and honey mixture will loosen.
Baking time may vary depending on the size of the carrots.
Nutrition
Calories:
172
kcal
|
Carbohydrates:
40
g
|
Protein:
3
g
|
Fat:
2
g
|
Saturated Fat:
1
g
|
Sodium:
157
mg
|
Potassium:
755
mg
|
Fiber:
7
g
|
Sugar:
28
g
|
Vitamin A:
37889
IU
|
Vitamin C:
13
mg
|
Calcium:
83
mg
|
Iron:
1
mg