Comfort food goals on point today☝️ Stick to your ribs, warm you up from the inside out, in a vibrant red and purple color that's sure to make any unicorn jealous. We're dishing up Creamy Beet Risotto.
Visually striking, this creamy beet risotto brings the flavor right alongside it's eye catching color. Al dente rice, creamy in texture with savory garlic and parmesan cheese also has a touch of natural veggie sweetness thanks to beet infused chicken stock. While some may think risotto to be a complex dish to make, we shall not be intimidated by rice!
It's simple to make. However, it does require you to hang out by the stove more than the typical rice dish. That's where the snacks are anyways, so no problem right? If you're interested in a quick, no fuss way to make risotto check out this Easy Oven Baked Pumpkin Risotto - no stove labor required. Or if you can't quite commit to the beets, start with simple but totally satisfying Parmesan Risotto. Otherwise, let's get grooving to the beet of this risotto.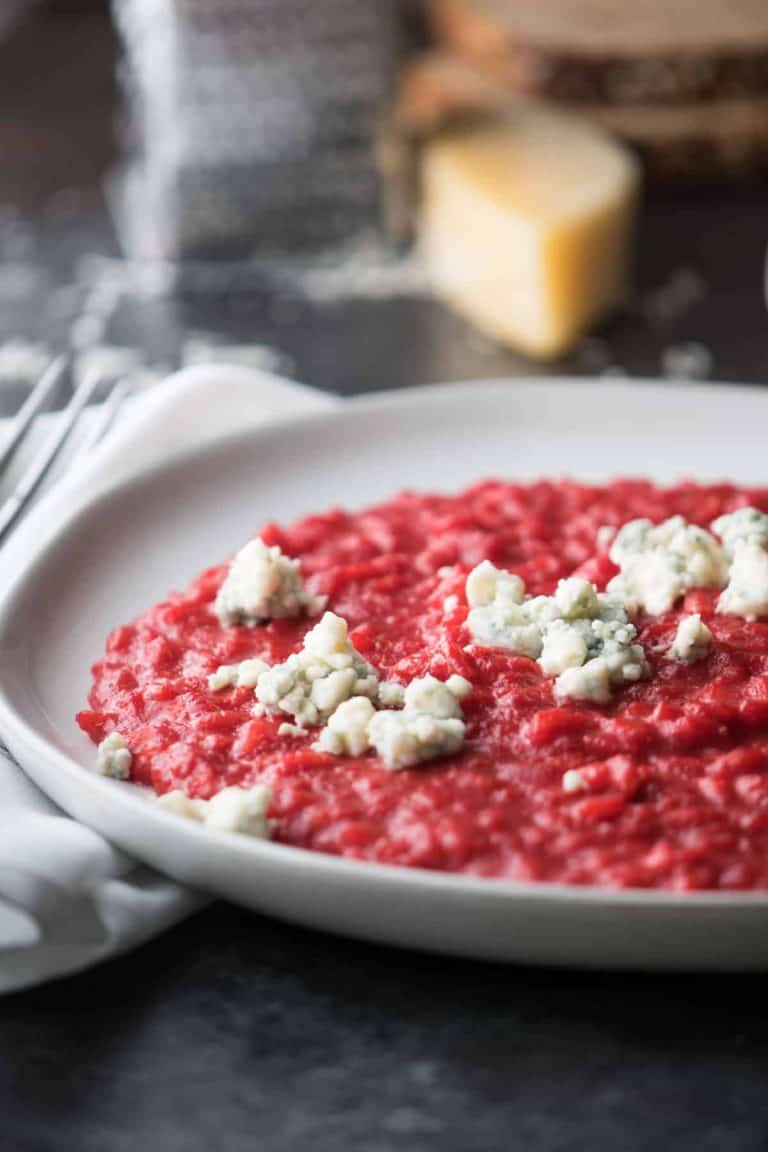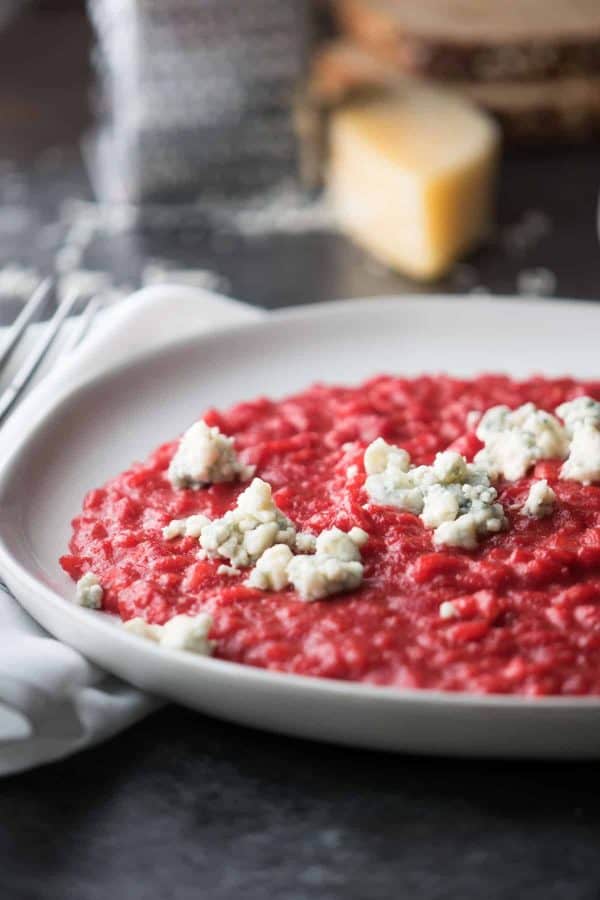 Beets...you can't beat 'em!
Okay, okay, maybe not every single person in the whole world is in love with beets. Just convince them to take a bite of this creamy beet risotto and you may just change their minds. Forward in creamy cheesy flavor, the beets supply mostly color but just a subtle hint of sweet veggie taste.
Plus we're going to top our comfort food goodness with crumbled blue cheese. Beet + Blue Cheese are like the adult equivalent of peanut butter and jelly, spaghetti and meatballs, sprinkles and ice cream. Some things are just better together. And just plain old beets? They're good, but they're great when there's a little stinky blue cheese involved.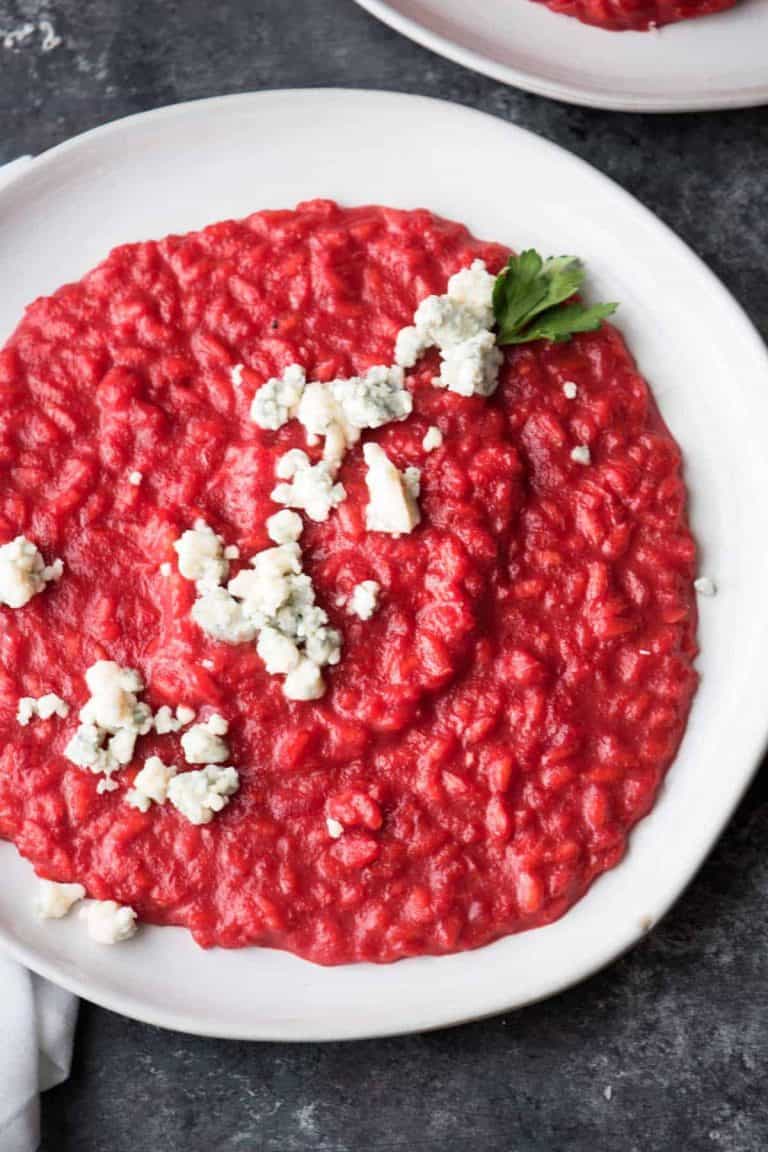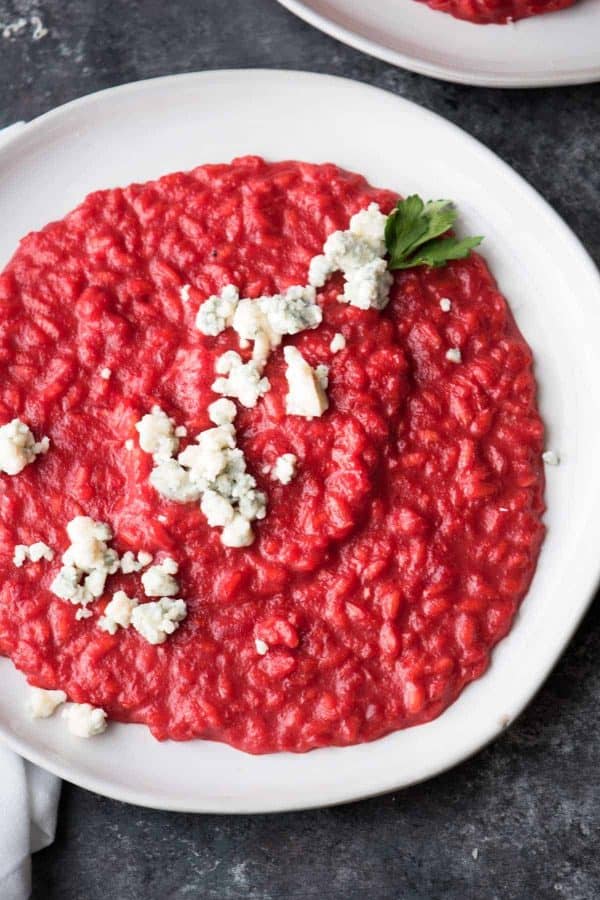 The key to getting this smooth, creamy beet risotto is infusing the chicken stock with beets. Peel and diced two small beets and boil in chicken stock until soft and tender. Then use a hand blender or a countertop blender to purée the two together. From there it's traditional risotto making til the end!
Important Basics of Risotto Making
Yes. Risotto is easy to make. Yes. There are a few things to keep in mind so you don't end up with a Pinterest fail.
Warm chicken stock (or vegetable stock) gets add to the rice
Add the stock one ladle (or cup) at a time. Stir continuously until that ladleful is absorbed before adding more. This helps the rice develop its gluten. That gluten is what makes risotto so creamy without adding any heavy cream or pounds of butter.
Let the rice soak up the oil from sautéing the shallots and garlic before adding the white wine. Whenever adding liquids, always let the rice absorb it fully before adding more.
Serve risotto right away or the glutens will continue to develop and the rice will thicken, become heavier, and loose it's light and creamy texture. If you're interested in prepping the risotto in advance, check out the notes section of the recipe.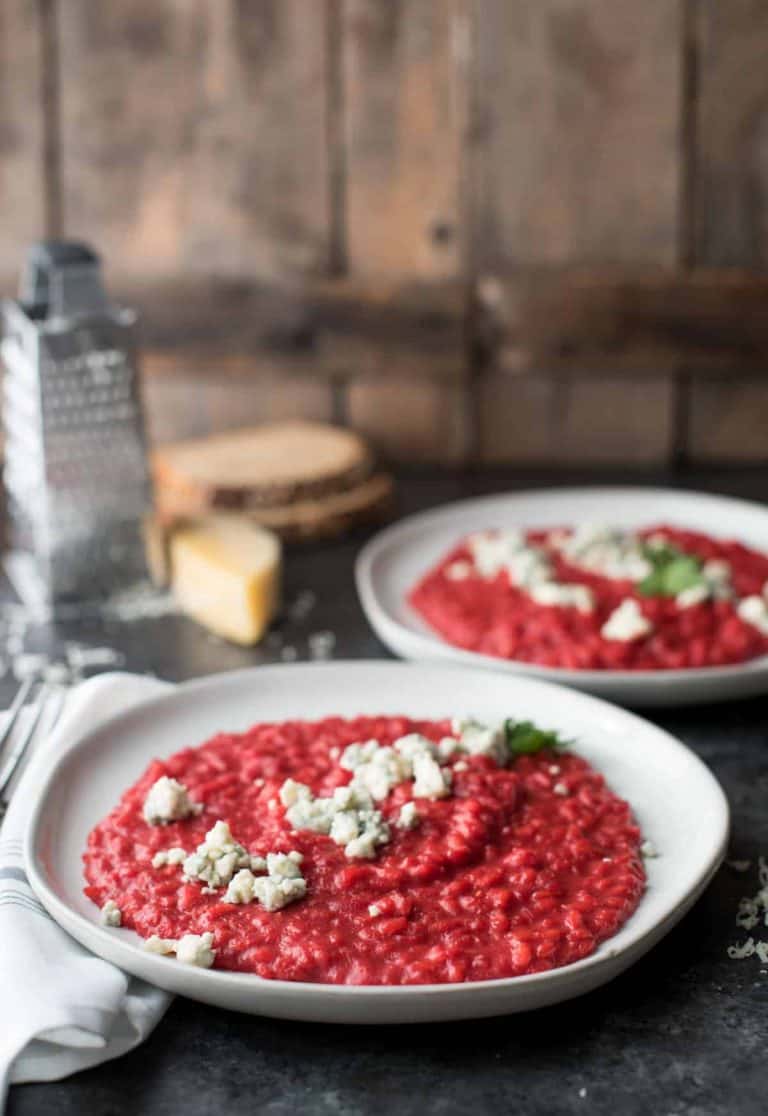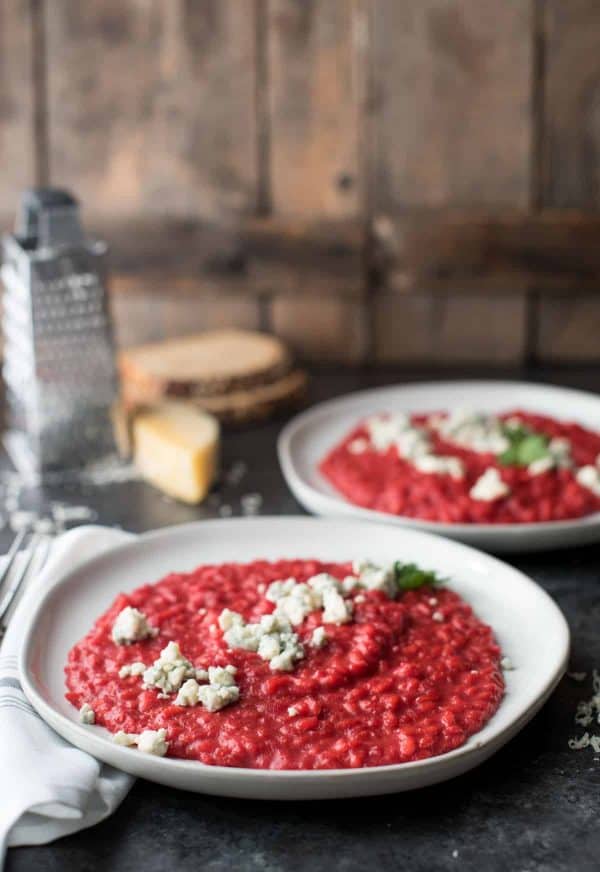 That's not too bad, right? Once you've mastered this creamy beet risotto, you're going to want to try them all! This bright and luscious Lemon Mascarpone Risotto from Platings and Pairings is next on my list, followed by Wanderspice's Wild Mushroom Risotto.
The joy of risotto is you can make it what you want it. Add vegetables or protein, serve it as a side dish or an entree. Creamy Beet Risotto is a crowd pleaser and a show stopper on the table.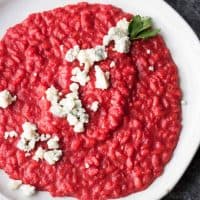 Creamy Beet Risotto with Blue Cheese Crumbles
Creamy beet risotto with Blue Cheese Crumbles is the best of both worlds. Velvety al dente aborio rice slow cooked with subtle veggie-sweet beet infused chicken stock and topped with sharp, creamy blue cheese.
Print
Pin
Rate
Servings:
4
to 6 servings
Ingredients
5 ½

cups

chicken stock

(or vegetable stock for vegetarian version)

2

small beets

(peeled and cut in ½" cubes)

2

tablespoon

extra virgin olive oil

1

large shallot

(minced)

2

garlic cloves

(minced)

1 ½

cup

aborio rice

½

cup

dry white wine

½ to 1

teaspoon

salt

¼

teaspoon

ground white pepper

1

tablespoon

unsalted butter

½

cup

parmesan

(fresh grated)

½

cup

blue cheese crumbles
Instructions
In a medium sauce pan, bring chicken stock and beets to boil, covered. Once boiling reduce heat to medium-high and cook until beets are soft.

Using a hand blender, or by transferring beets and chicken stock to a blender, purée until smooth. Return to the sauce pan, over low heat. Continue to heat the beet-chicken stock mixture over the lowest heat setting while building the risotto.

In a deep sided skillet, heat the olive oil over medium-high heat. Sauté the shallots for 1 minute before adding the garlic. Cook for 1 additional minute, stirring frequently.

Add aborio rice to the pan and stir for 30 to 45 seconds, letting the rice soak up the flavors of the shallot and garlic.

Carefully pour white wine into the pan and continue to stir until all the wine is absorbed.

Lower the heat to medium and add in chicken stock 1 cup at a time. Stirring continuously until completely absorbed before adding the next cup of stock. This is the most important step. The slow addition of the warm chicken stock helps to develop the starches in the rice, which gives risotto it's creaminess.

During the cooking process season the rice with salt and pepper. Adjust the quantity of salt based on taste and chicken stock (typically store bought chicken stock is already salted.)

Risotto should be al dente¹ after the addition of the final chicken stock.

Once the last of the chicken stock has been incorporated and absorbed, turn the heat off. Stir in butter and parmesan cheese. Top with blue cheese crumbles and serve immediately.
Notes
¹Al dente means the rice should have a bite to it, but still be cooked through. If you take a bite and hard pie es of rice get stuck in your teeth, the rice needs more cooking time.
²If you are planning to cook for a crowd later but want to prep in advance, the risotto can be partial cooked and then finished right before service. Cook the risotto, but stop halfway through the addition of the chicken stock. Remove from heat and spread in a single layer on a large sheet pan. Let cool until your ready to finish. Beet infused chicken stock should be warmed again to finish the creamy beet risotto.
Nutrition
Calories:
632
kcal
|
Carbohydrates:
78
g
|
Protein:
22
g
|
Fat:
22
g
|
Saturated Fat:
9
g
|
Trans Fat:
1
g
|
Cholesterol:
39
mg
|
Sodium:
1234
mg
|
Potassium:
641
mg
|
Fiber:
4
g
|
Sugar:
9
g
|
Vitamin A:
338
IU
|
Vitamin C:
4
mg
|
Calcium:
265
mg
|
Iron:
5
mg