Sweet dreams are made of cheese, who am I to disa...queso dip? Wait, queso dip dissing? Never gonna happen. Especially when roasted poblanos and a little bit of jalapeños are involved. Scoopable, creamy, gooey and just a touch of heat, this Roasted Poblano Queso Dip is cheesy snack food goals.
Goals are important, especially if your goal is to make one tasty dish for your upcoming Super Bowl party. Whether you've got a team to cheer for or your just there for the snacks, it's undeniable, Super Bowl eats are delicious, indulgent treats and this roasted poblano queso dip is no exception.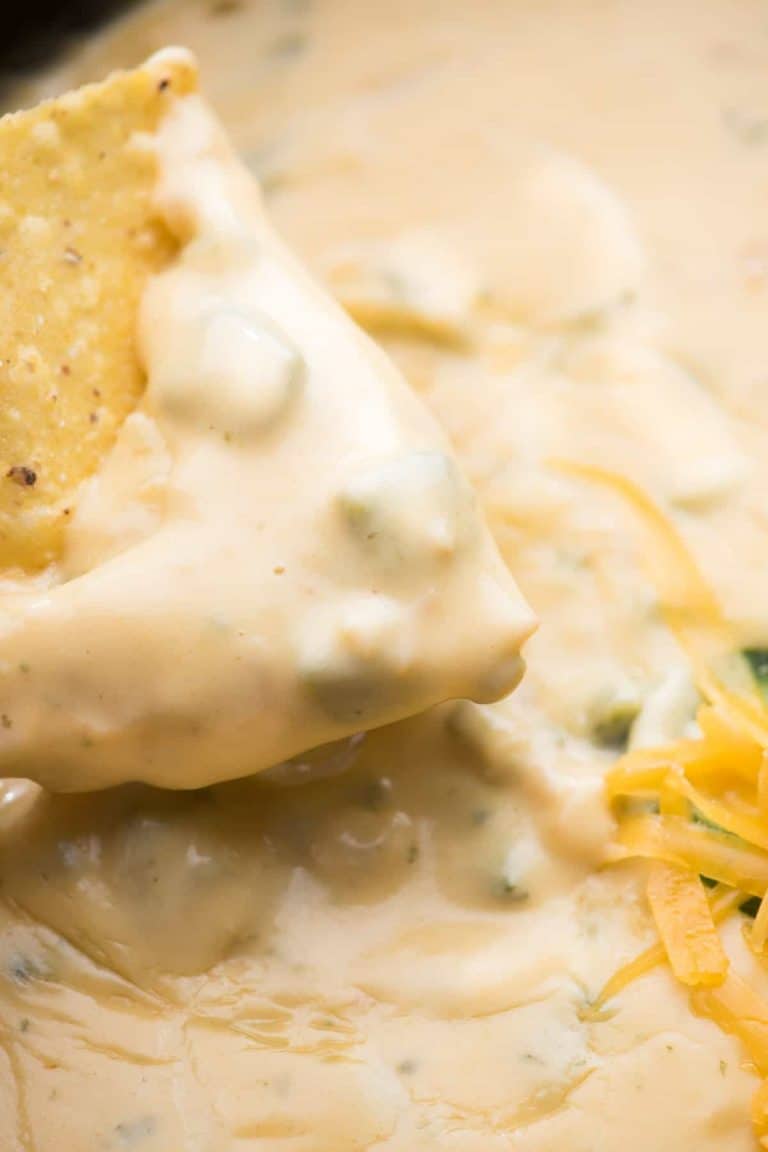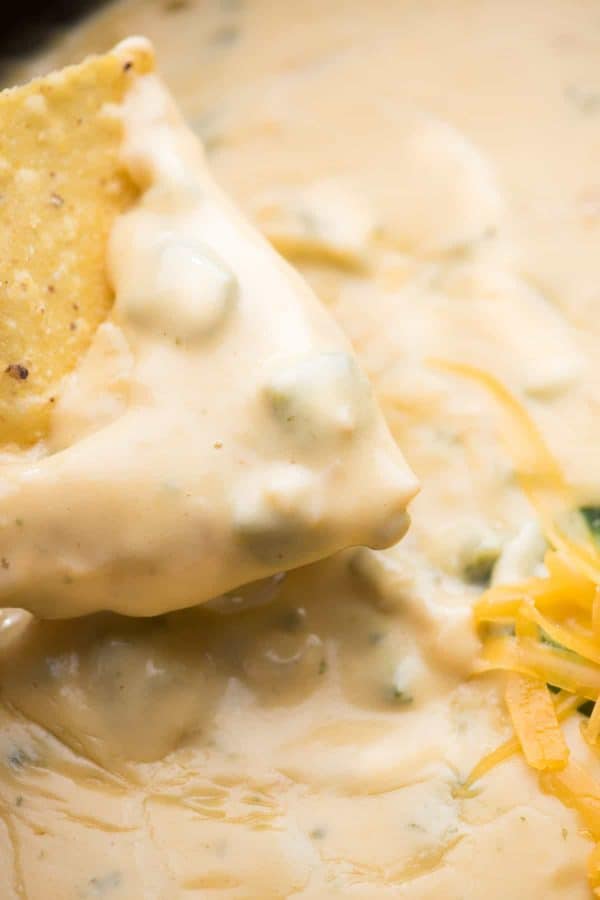 Being a New England girl from my head to my toes, of course I'll be cheering on the Patriots. Full disclosure though, I tend to fall into the "I'm here for the snacks" group more so than the "I want to watch football" group. But every good super bowl party needs a good snack maker. So let's make good snacks shall we!
Needing a few more ideas besides this cheesy masterpiece? Blue Cheese Stuffed Buffalo Chicken Meatballs. All the good things about buffalo chicken dip in bite sized, portable bites. If time is of the essence, Quick + Creamy Cranberry Brie Flatbread FTW (for the touchdown?) every time. And personally, I'll be resurrecting this French Onion Soup Pull Apart Bread from the archives. It's warm and comforting and always disappears in minutes.
Fire Roasted Poblano Queso Dip
Ready to dip into this dish? Put away the processed squishy cheese, we're grating things fresh but still keeping it easy. And the whole roasting peppers business? The only thing that's going to sweat is the skin of those peppers, when you tackle this with a few tricks up your sleeve.
While we live in an apartment in the city, we are blessed to have a gas stove. With the burner on low, I let the gas flames just kiss the skin of the pepper til it chars top to bottom on all sides. If you have an electric stove do not use this method. That's a real good way to burn the house down. Instead, try the instructions for roasting the peppers in the oven or on the grill in the recipe below.
When it comes to roasting peppers, my favorite trick that I've learned from my restaurant life is to let the peppers cool while wrapped with plastic wrap. A. The peppers cool down so they're easier to handle and B. the sweating makes the skins easier to slip right off.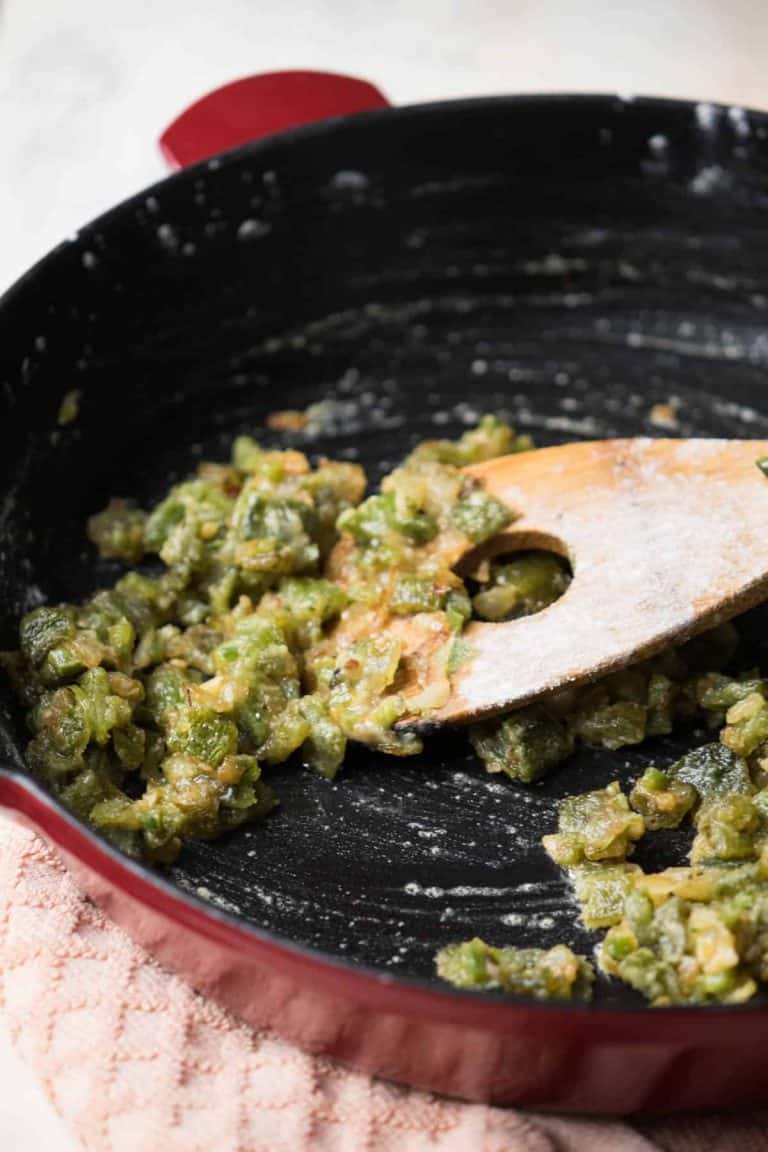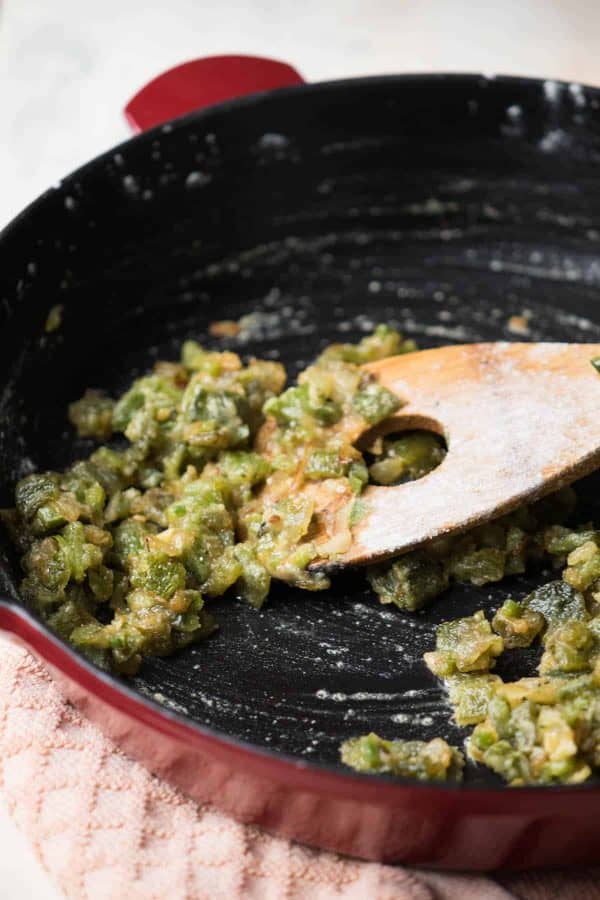 Once your peppers and onions are sautéed together, sprinkle with flour and stir so they're well coated. This will help evenly spread the flour when the milk is added, so you are creating a nice thick roux without any flour clumps. From there the heat comes off and the cheese gets added. Whisk until divine cheesy bliss is achieved.
The crunch of the chips with the flavor of smokey, slightly spicy sharp cheesy flavor. It's what hopes and dreams are made of, right? Maybe we have different hopes and dreams. But for all the cheese lovers out there, dreams come in a skillet and are served with chips.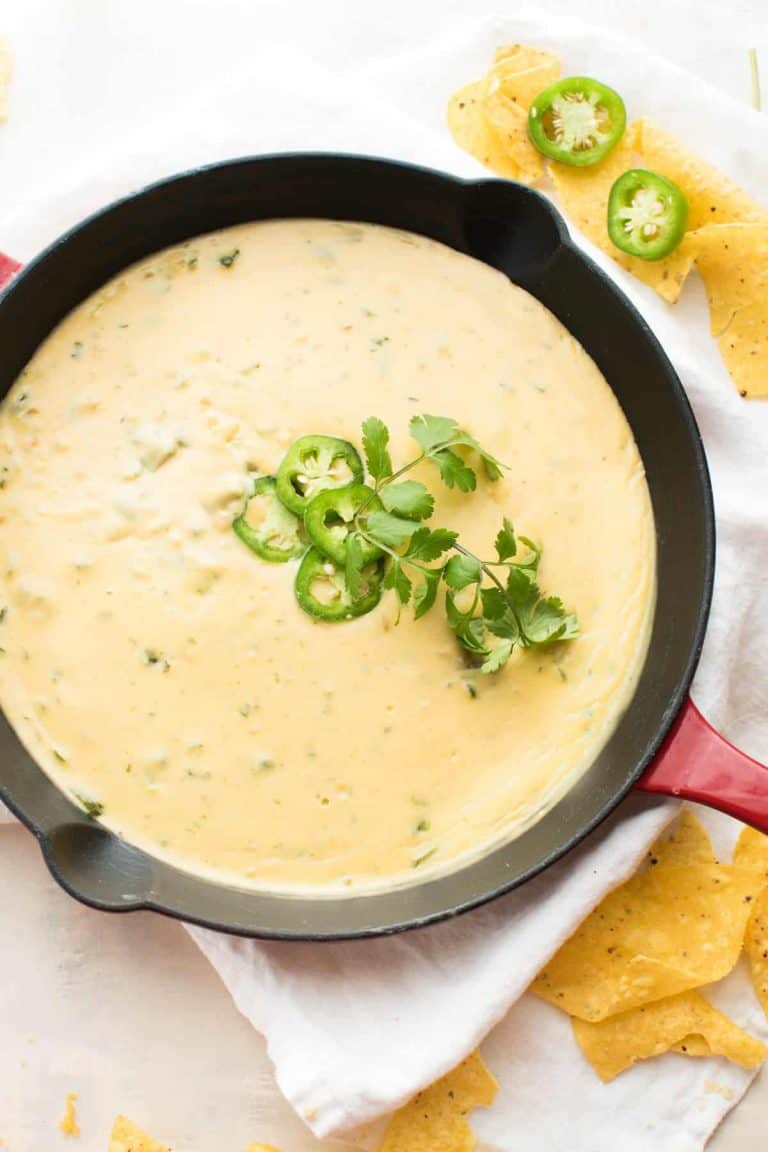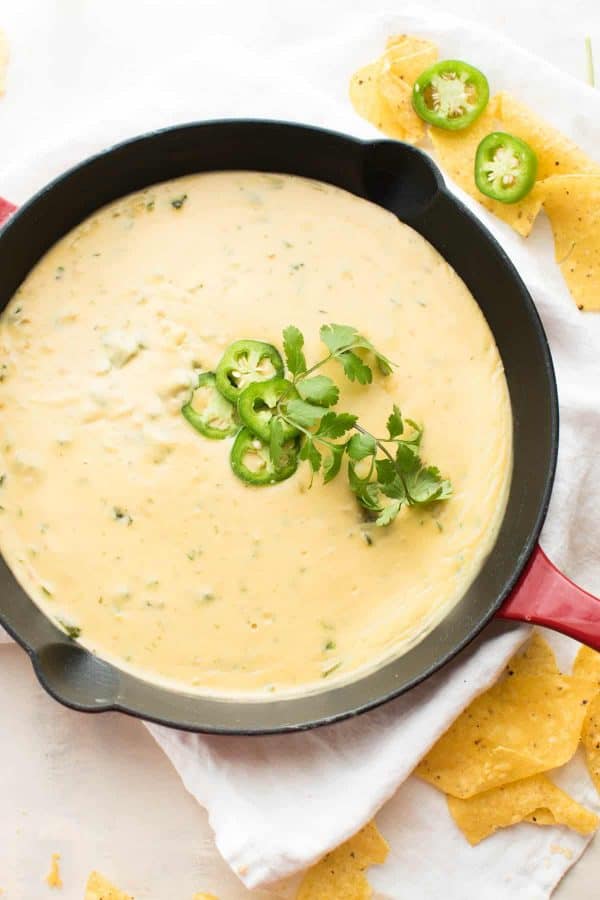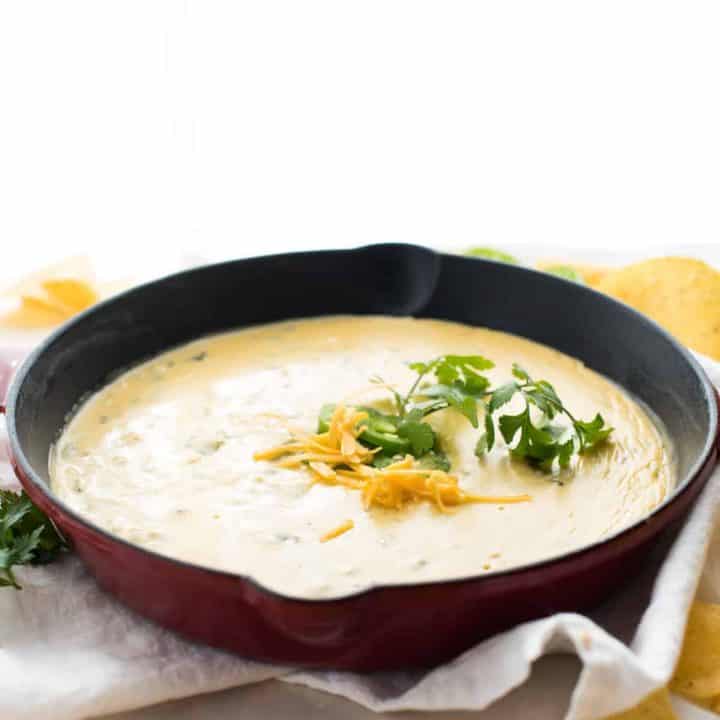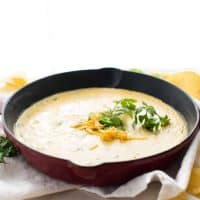 Fire Roasted Poblano Queso Dip
Fire roasted poblanos add subtle smokey flavor to creamy, melty queso with just the right kick of heat.
Print
Pin
Rate
Ingredients
2

poblano peppers

1

jalapeno pepper

½

yellow onion

(diced)

1 ½

teaspoons

minced garlic

2

tablespoons

unsalted butter

1

tablespoon

extra virgin olive oil

3

tablespoons

all purpose flour

(see notes)

1 ¾

cup

milk

4

ounces

colby jack

(see notes)

4

ounces

sharp cheddar
Instructions
Roast the poblano peppers. Gas Stove Top: set the burner on low and roast each side of the pepper top to bottom. The peppers will char. Set on a plate and cover with plastic wrap. Let sit for 15 minutes to cool down. The sweat will help the skin to peel from the pepper. Grill:. Follow the same instructions as the gas stove top. Oven: Preheat oven to 450°F. Rub the peppers with olive oil and roast on a baking sheet for 35 to 40 minutes until skins are wrinkled and charred. Wrap with plastic wrap and cool for 15 minutes then remove the skin.

Remove the tops, seeds and ribs from the poblano peppers. Dice into ¼ to ½ inch pieces and set aside.

Cut the jalapeño pepper in half, removing the top, seeds and ribs. Finely mince.

In a skillet melt the butter and olive oil over medium heat.

Stir in the diced onion and cook until translucent. Add garlic and peppers, cook for 1-2 minutes until fragrant.

Reduce heat to low. Sprinkle flour over the peppers and onion and stir until well coated.

Slowly pour in milk, whisking continuously. Mixture will thicken, whisk until smooth. Turn off heat and whisk in grated cheese until smooth and creamy.

Serve immediately with tortilla chips or crunchy vegetables.
Notes
The texture of the roasted poblano queso dip can be adjusted by changing the amount of milk and flour. More milk, less flour will create a thinner dip.
Feel free to substitute a cheese of your preference. You can use all cheddar or substitute something spicy like Monterey jack. It's just recommended to buy a block and fresh grate whichever cheese you want.
Reheating: This queso dip will thicken as it cools but reheats easily. If still in the skillet just warm it while stirring over medium heat until hot.
Nutrition
Calories:
206
kcal
|
Carbohydrates:
8
g
|
Protein:
9
g
|
Fat:
16
g
|
Saturated Fat:
9
g
|
Trans Fat:
1
g
|
Cholesterol:
41
mg
|
Sodium:
198
mg
|
Potassium:
175
mg
|
Fiber:
1
g
|
Sugar:
4
g
|
Vitamin A:
586
IU
|
Vitamin C:
27
mg
|
Calcium:
267
mg
|
Iron:
1
mg