An army of tiny little morsels. Each grain on it's own appears just to be a close relation to your everyday rice - but oh, oh no. Tender and rich with the flavor of chicken stock and white wine, the deliberate cooking process develops such a creamy texture you'd swear there was loads of heavy cream. Nope. Just love....okay, and a few other ingredients.
There are quite a few different types of risotto rice to choose from. I like to use Aborio rice because it cooks a bit quicker and still maintains it's texture without becoming overly gummy. If you aren't able to use shallots, an onion can certainly be substituted. And of course, homemade chicken stock is a great option, but store bought is perfectly acceptable (and what I used, too - sometimes you just don't have time to make your own stock!)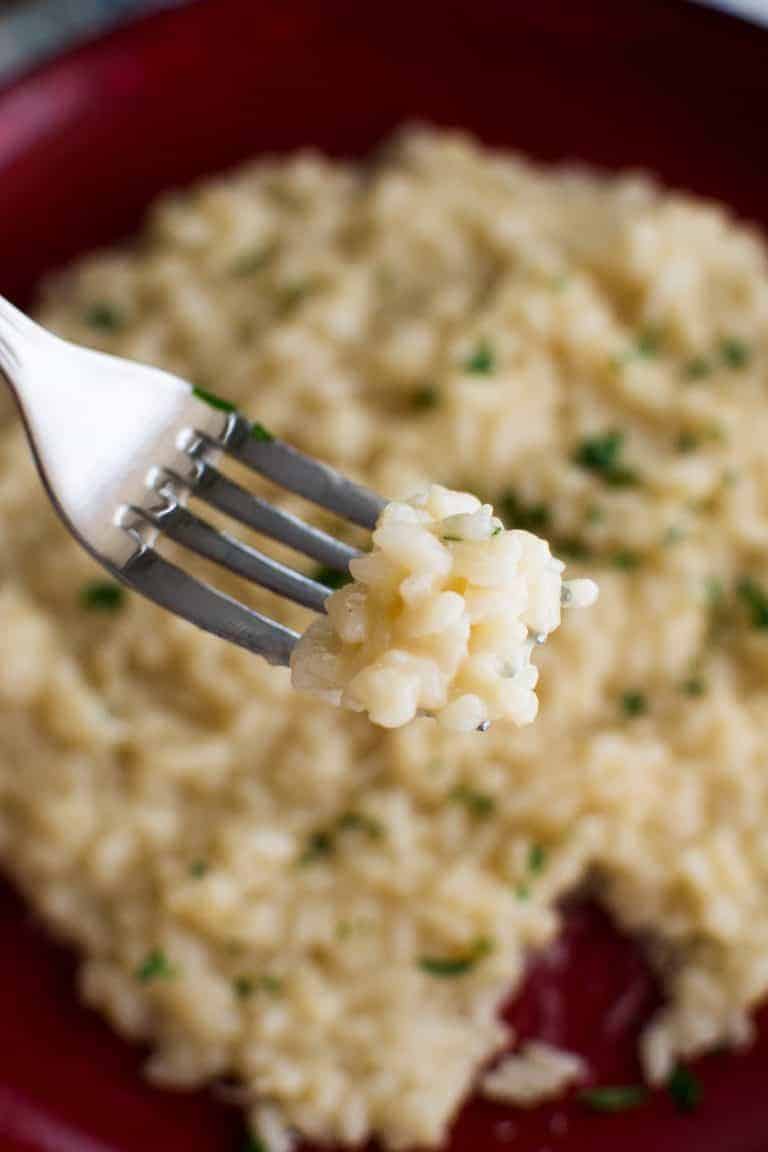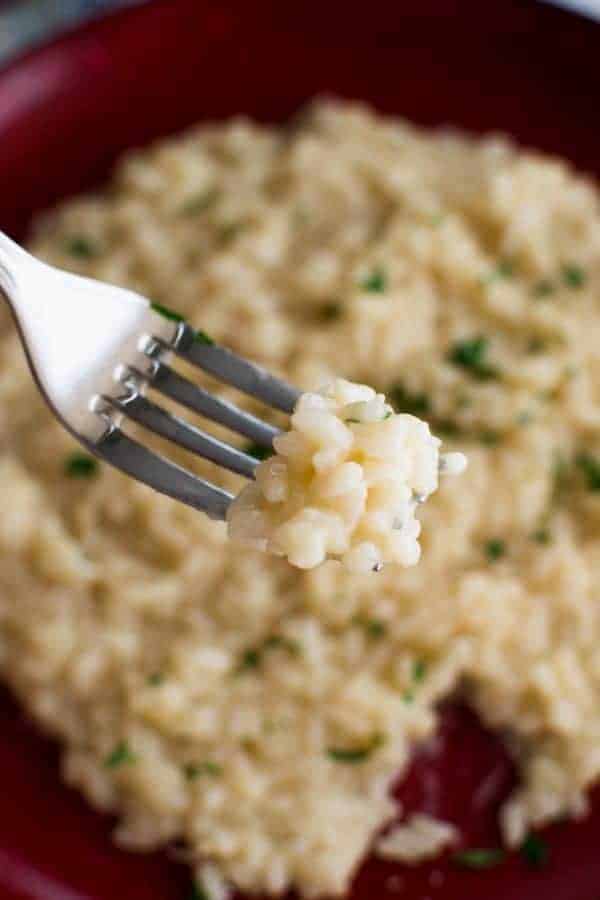 Oh man, I forgot how much I loved risotto. Maybe it was four years of constantly coming home from work smelling like risotto, pomodoro sauce, and focaccia bread that led me away from making this dish more often. But it was also the restaurant company where I met my husband, so making a traditional Italian dish always brings about a sense of nostalgia for the both of us. For me, it's an appreciation for the cooking and flavors and combination of ingredients - using all the five senses to make a simple dish that makes you go, "Mmmm..." For my husband, it usually involves him quizzing me on old recipe specs and giving me a good, figurative poke in the ribs for not just having drank the company kool aid, but diving into the deep end.
Not only is this creamy parmesan risotto delicious, it's simple to make and incredibly versatile. No really, don't be intimidated. The key to making velvety, tender risotto without overcooking is just one trick - you cannot leave the stove while it's cooking.
Ok, maybe like a few steps but no bathroom breaks. The slow addition of that chicken stock, one cup at a time, with the repetitive stirring of ingredients develops the starches and that creamy soft texture. Though they're not perfect food photos, to give a visual idea, these pictures give a 'before and after' of what that chicken stock addition should look like.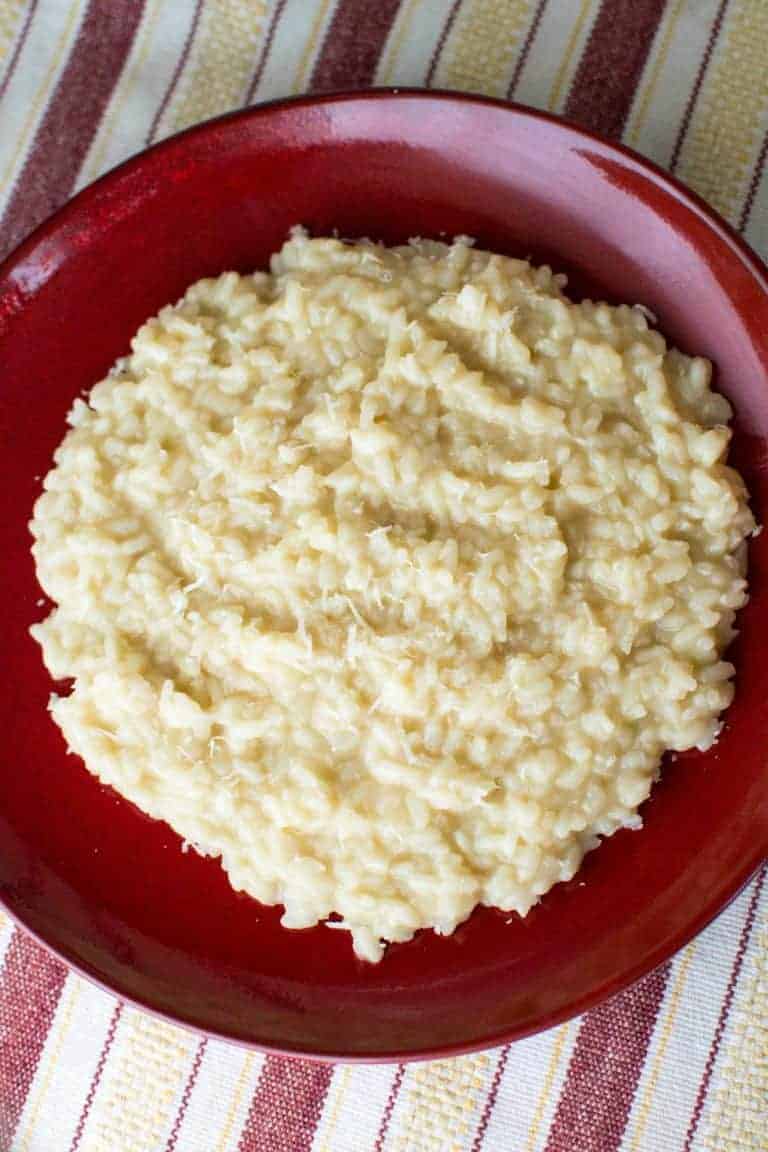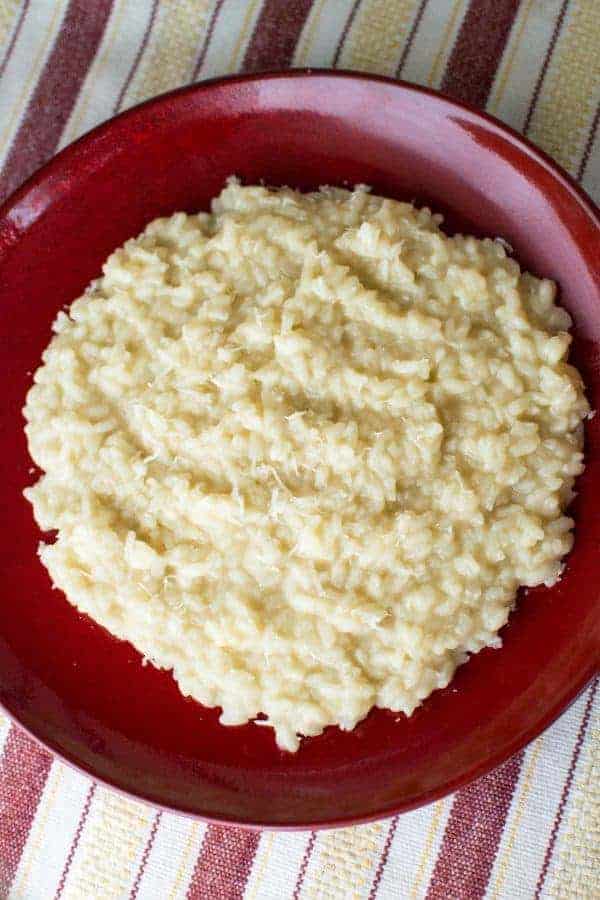 Another great thing about risotto? It can be both a main dish and a side dish! Traditionally, risotto has been served before the main course but I love incorporating additional ingredients and serving it as the star of the show. Some recommendations:
butternut squash
dried cranberry & asparagus
sweet peas & crimini mushrooms
baby spinach & lemon
The list could go on and on....but I'll let that continue going in my head.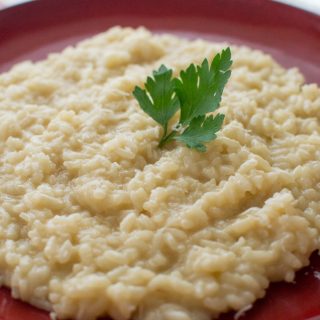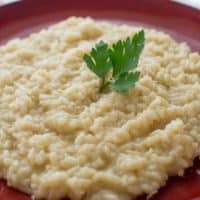 Parmesan Risotto
Creamy in texture and full of flavor - this versatile dish is simple to make and brings so much possibility to the table!
Print
Pin
Rate
Servings:
4
to 6 servings
Ingredients
1 ½

cups

Aborio rice

½

cup

white wine

1

tablespoon

extra virgin olive oil

1

shallot

(finely diced)

2

cloves

garlic

(finely diced)

5

cups

low sodium chicken stock

¼

teaspoon

white pepper

1

teaspoon

kosher salt

2

tablespoons

unsalted butter

1

cup

fresh grated parmesan
Instructions
In a sauce pan, heat 5 cups of chicken stock on low heat until warm.

In a large sauté pan, heat olive oil over medium-high heat. Add shallots and sauté until they start to become translucent. Stir in garlic and cook for 1 minute.

Add rice to the pan and stir to incorporate shallots and garlic. Rice will absorb remaining olive oil. Add white wine to deglaze the pan and reduce heat to medium-low.

When white wine is almost completely absorbed by the rice add 1 cup of chicken stock, salt, and white pepper. Stir continuously until all liquid has been absorbed by the rice. Repeat four more times.

After the last addition of chicken stock, add butter and grated cheese. Risotto should be tender and cooked through and creamy in texture.
Notes
It is best to use warm chicken stock.
After the addition of the fourth cup of chicken stock, taste the rice for texture. It should taste almost cooked. If it is still crunchy, reduce the heat on the stove top to slow the cooking process.
Nutrition
Calories:
527
kcal
|
Carbohydrates:
66
g
|
Protein:
20
g
|
Fat:
18
g
|
Saturated Fat:
9
g
|
Trans Fat:
1
g
|
Cholesterol:
32
mg
|
Sodium:
1074
mg
|
Potassium:
384
mg
|
Fiber:
2
g
|
Sugar:
1
g
|
Vitamin A:
371
IU
|
Vitamin C:
1
mg
|
Calcium:
320
mg
|
Iron:
4
mg