Is anyone else still basking in the gloriousness of this summer? It has been beautiful. AND DELICIOUS. Delicious like platters of grilled vegetables, and fancy bridal shower cakes, and easy grilled pizzas.
Ovens off. Grills on. Get the veggies ready.
Especially the eggplant.
But oh, oh grilled eggplant. You tricky spongey vegetable you. So porous and naturally saturated. It's easy to make bad, tough, wet grilled eggplant. But the good news is making tender, flavorful, rich grilled eggplant is also easy. We just needs four little steps.
Tips for the Best Grilled Eggplant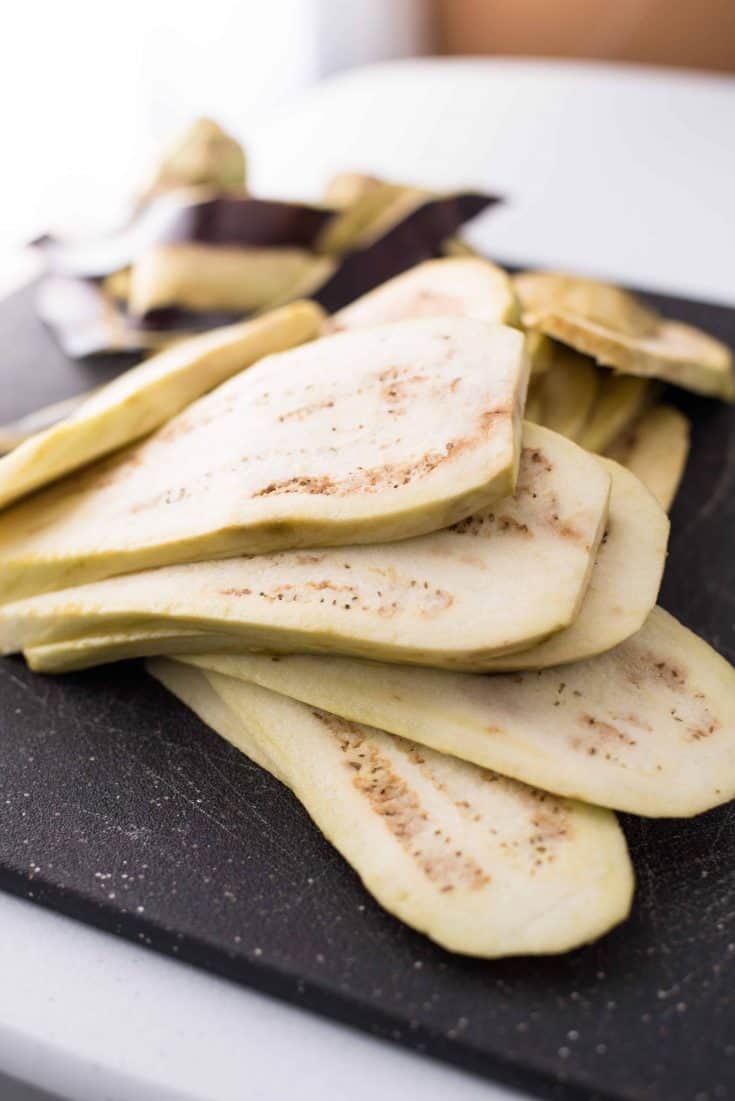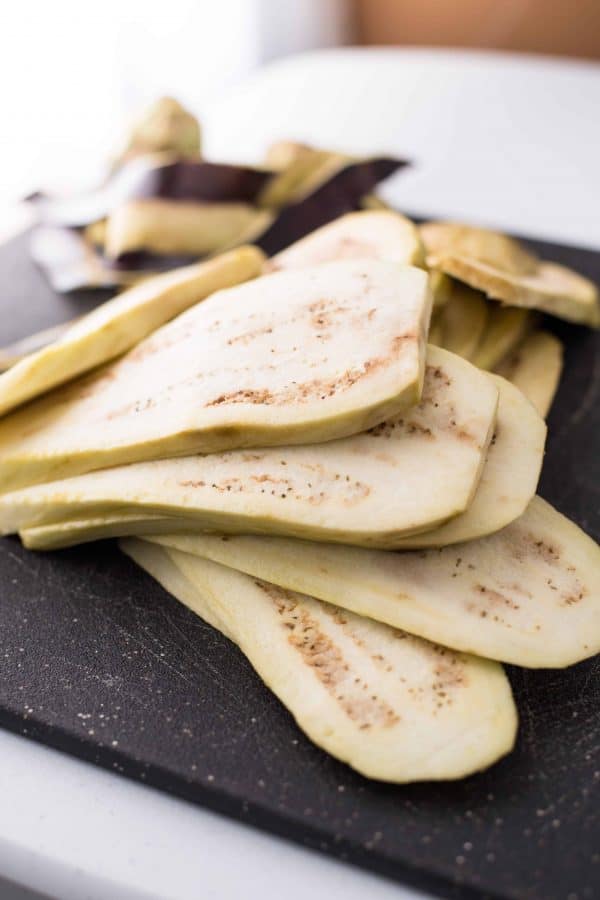 1) Peel it
The skin of eggplant is bitter. Surprised? Me too. But sometimes the truth can be shocking.
A simmered, saucy eggplant parmesan can be delicious with the skin on - like this 'skinny' version from The Kitchen that uses goat cheese instead of mozzarella (so. much. yum!) - but for grilled eggplant toss it out. We don't need to be bitter today, positive eggplant vibes only.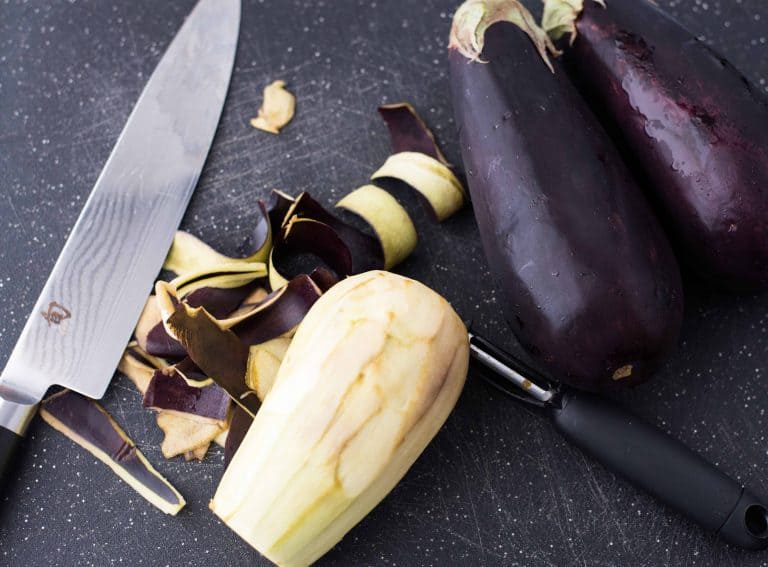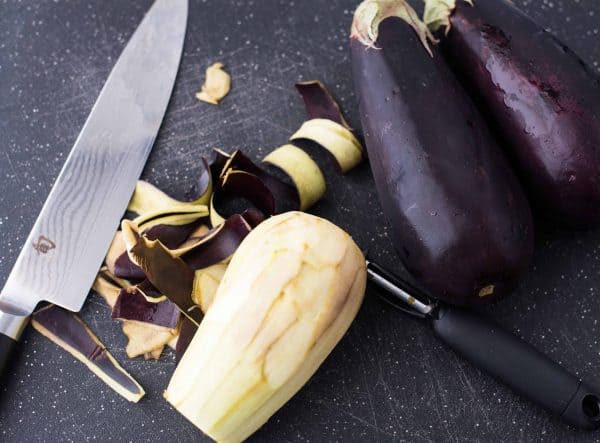 2) Slice it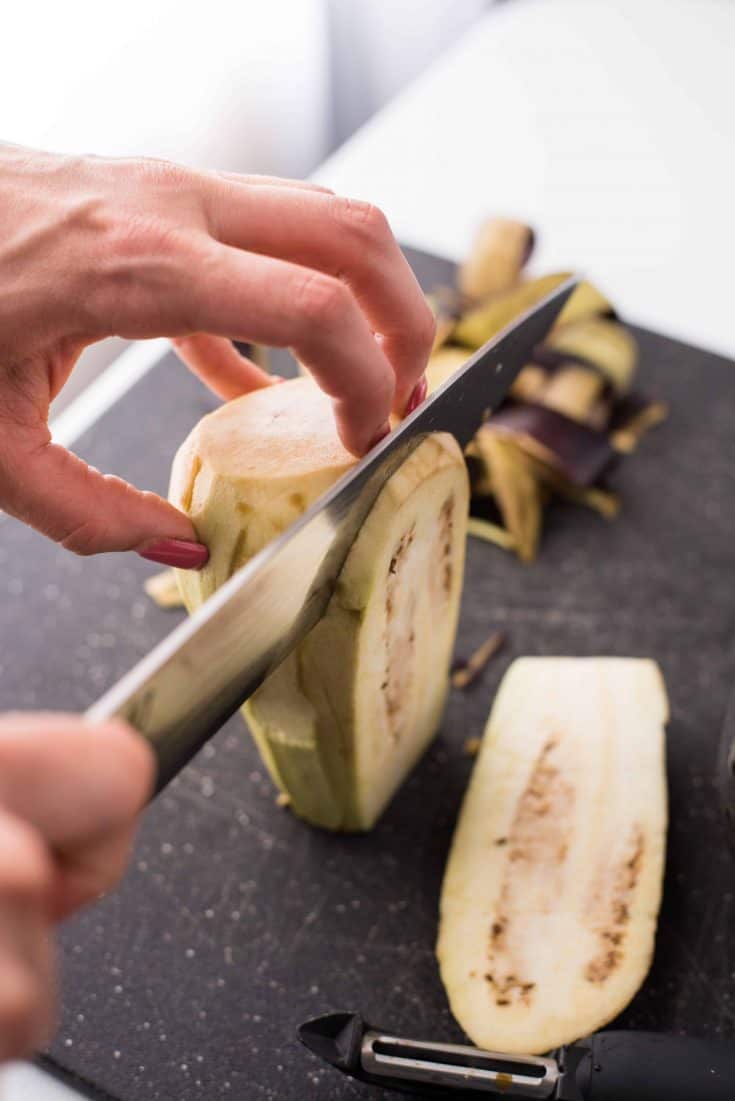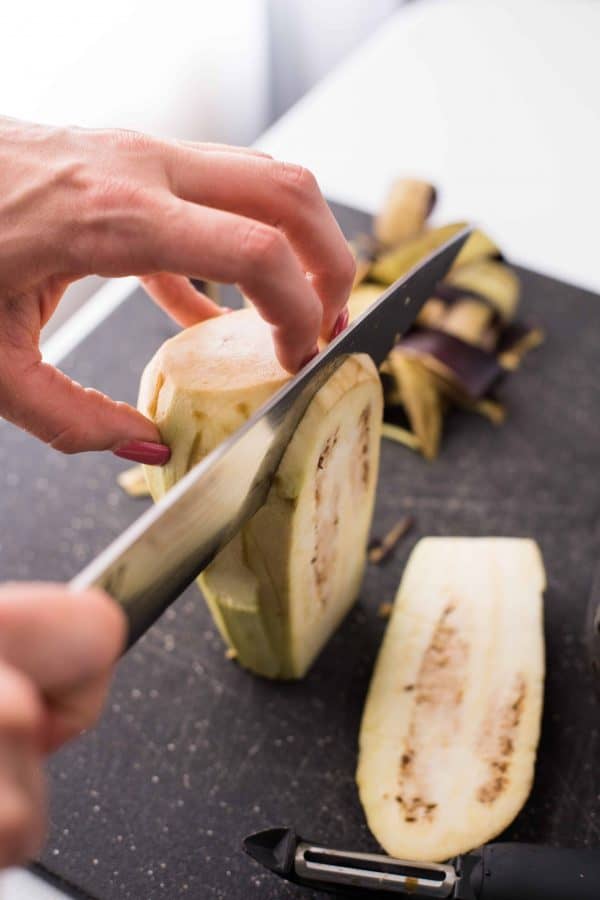 Have you ever been grilling and your veggies slip through the grates into the fiery depths below? It's just the saddest watching things happen in slow motion, but you just can't get your tongs there in time. Our innocent vegetables condemned to a charred end!
To avoid the scary slip into the fire, slice the eggplant lengthwise. About ¼" to ½" in thickness will be perfect for cooking through the grilled eggplant without too much charr overtaking the eggplant flesh.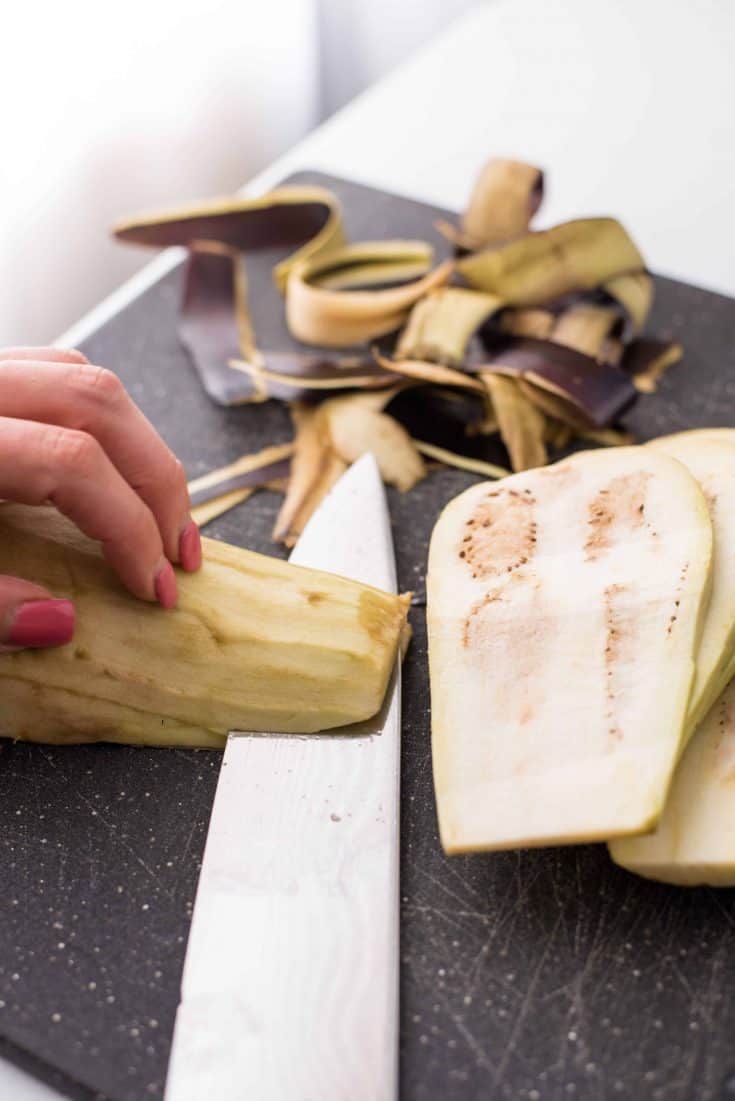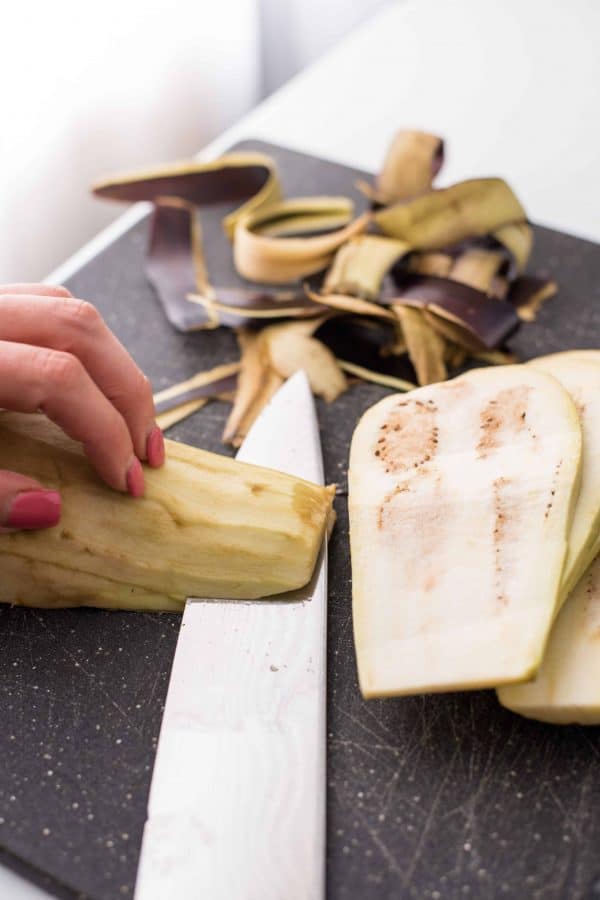 3) Salt it
Yep, salt. A cook's best friend in the kitchen. A generous sprinkle of salt is going to perform miracles to your eggplant. It is going to shock you just how much water is going to come out of the sliced eggplant.
Besides adding the right amount of salty flavor, the extraction of all that excess water will do two things.
Keep the eggplant from falling apart on a hot grill, especially if it's particularly seedy.
Tenderize the heck out of the grilled eggplant, concentrating the flavor.
Eggplant is really a copycat vegetable, taking on the flavor of the sauce or spices used in the cooking process. This salting process will bring forward that slightly sweet, slightly salty, and just a touch of the earthy squash-like flavor in the perfect tender texture. Be sure to line each layer with paper or kitchen towels to absorb the excess water.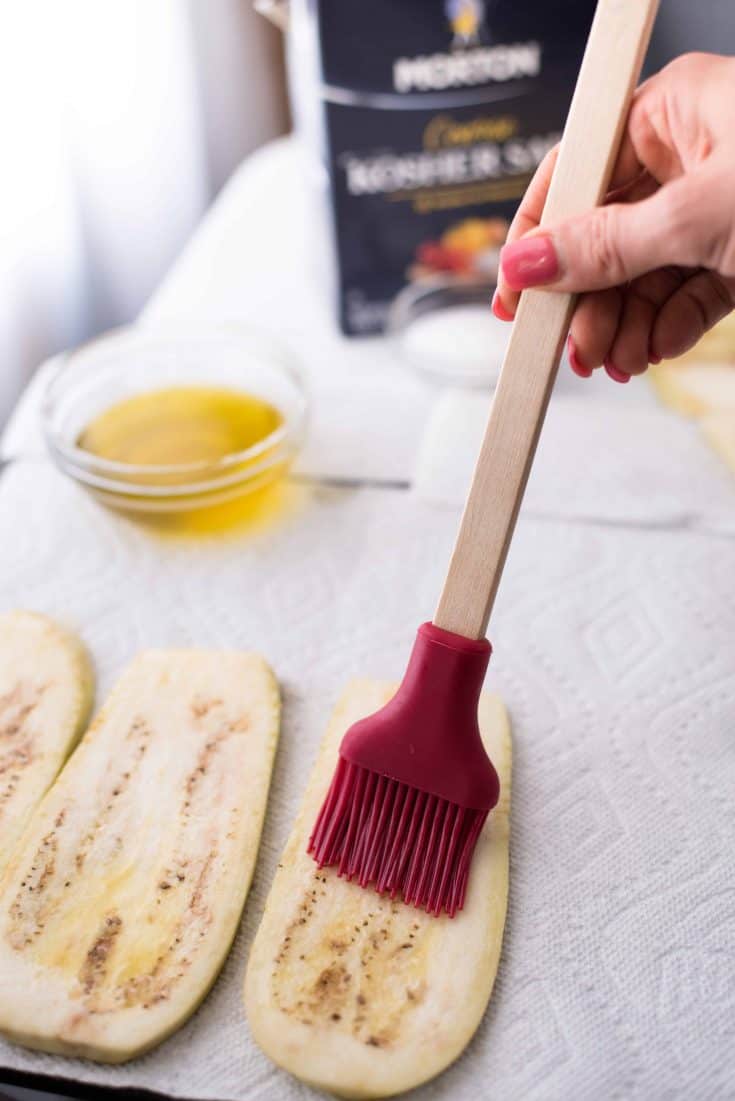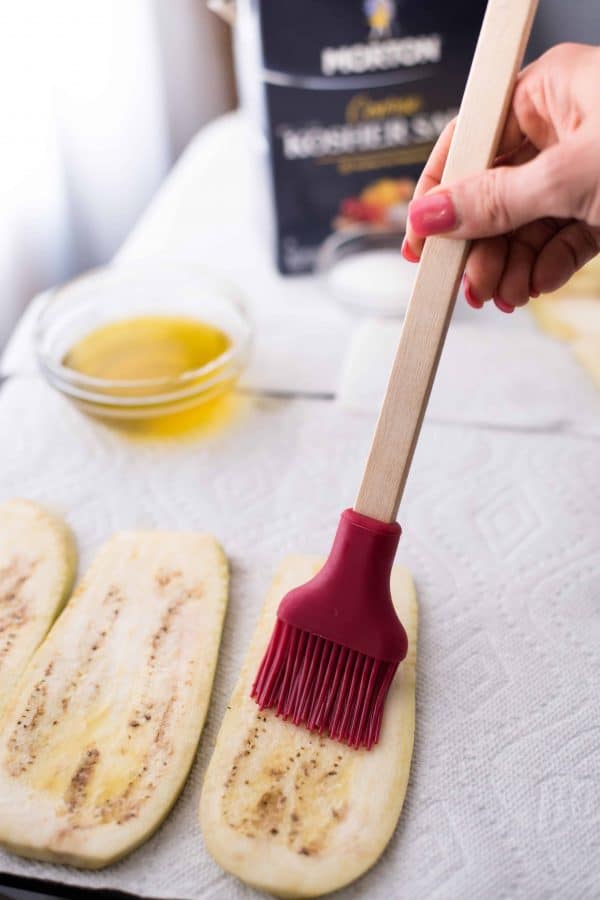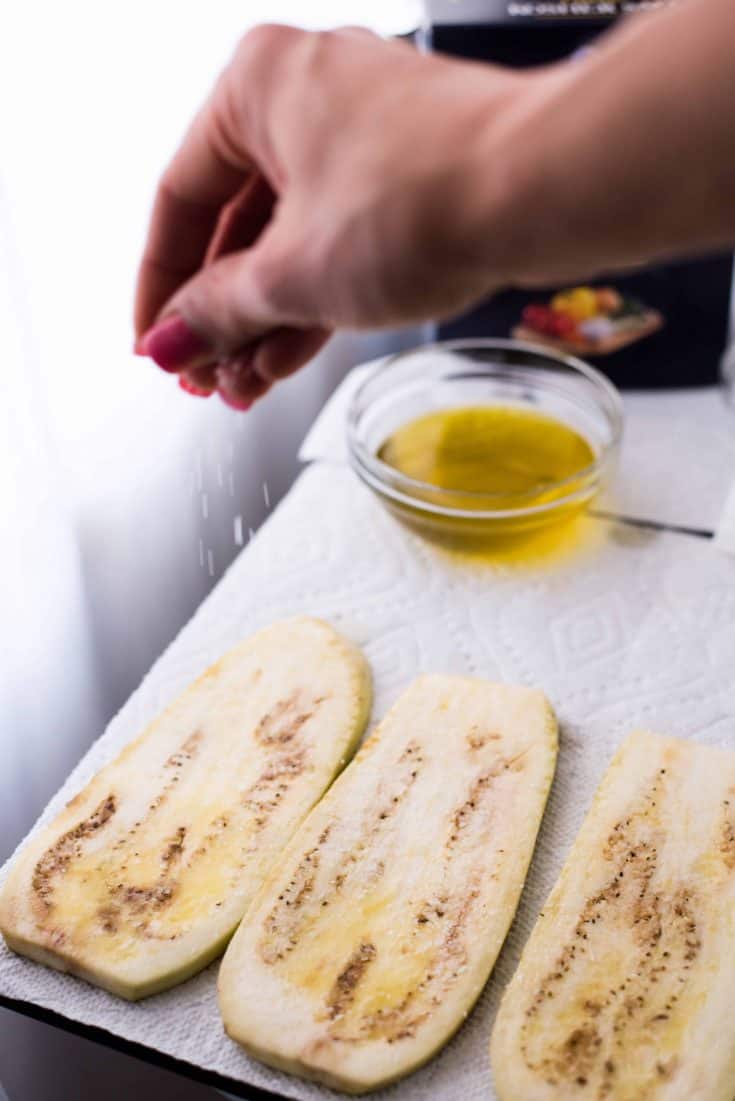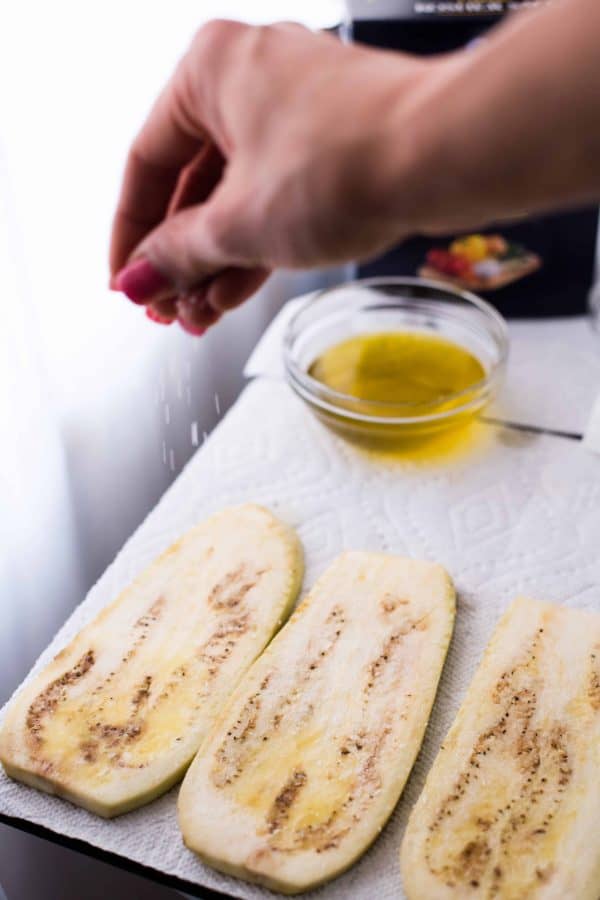 4) Press it
The easiest but most time consuming part of the process. Could you skip it? Sure. But it just expedites the process of extracting the water and tenderizing the eggplant. At very least, let it sit for 30 minutes but at best for 2 hours.
Line each layer with paper towels. Brush with olive oil and sprinkle with kosher salt. Lay something flat , like a cookie sheet over the top layer and stack heavy things on top.
Work out weights, canned goods, maybe a bribed toddler...
After a few hours, your paper towels should be completely wet and your eggplant ready for the grill. What you make with it, is up to you! Personally, I have a bad habit of eating the entire plate of grilled eggplant by myself.
In the event, you have enough self control to prepare a completed dish, these Grilled Vegetables with Spicy Yogurt Sauce were a HUGE hit over here. For the spice lovers out there, check out this Sichuan-Style Eggplant from The Domestic Dietitian. Brynn also has a recipe for Fresh Tomato Salad with grilled eggplant that I will definitely be trying this week. It just screams summer to me!
For a whole lot of goodness in one bowl, try Foodal's Coucous with Eggplant, Zucchini, and Shrimp. While the recipe calls for cubed eggplant, try substituting your grilled eggplant for a smokey summer flavor. Or try leaving out the shrimp for a vegan option!
What will you make with your best ever grilled eggplant?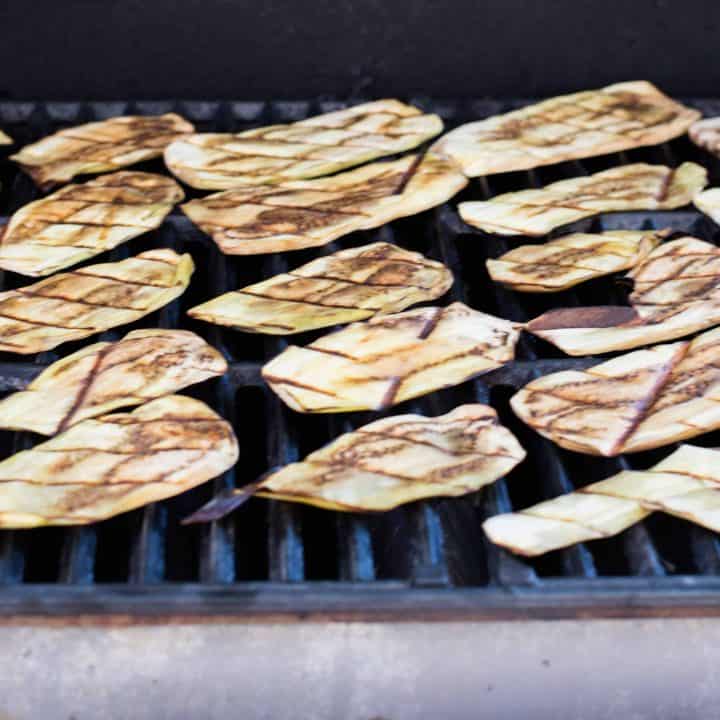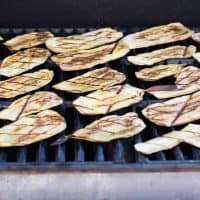 Tips for the Best Grilled Eggplant
Tender, flavor bursting grilled eggplant is easy make with just a little bit of love.
Print
Pin
Rate
Ingredients
3

small or 2 medium size

eggplants

⅓

cup

extra virgin olive oil

kosher salt
Instructions
Remove each end of the eggplant. Remove the skin with a vegetable peeler.

Slice the eggplant lengthwise in ¼" to ½" slices.

Line a large cutting board or cookie sheet with paper or kitchen towels. Arrange eggplant so they are not overlapping. Brush with olive oil and sprinkle with a kosher salt. Turn over and repeat.

Add another layer of paper towels and repeat the oil and salt process. Repeat this step again if there is additional eggplant. Top the final layer of eggplant with a layer of towels.

Place another cutting board or cookie sheet on top of the last layer and weigh it down using weights or heavy cans. Let sit for 30 minutes minimum to 2 hours.

Heat the grill on medium heat (about 300°F). Grill eggplant slices 5 to 7 minutes each side.
Nutrition
Calories:
245
kcal
|
Carbohydrates:
20
g
|
Protein:
3
g
|
Fat:
19
g
|
Saturated Fat:
3
g
|
Sodium:
7
mg
|
Potassium:
787
mg
|
Fiber:
10
g
|
Sugar:
12
g
|
Vitamin A:
79
IU
|
Vitamin C:
8
mg
|
Calcium:
31
mg
|
Iron:
1
mg