Slightly crisp edges with a subtle smokey flavor and tender, juicy bites of hearty eggplant - if you've never enjoyed this vegetable prepared on the grill, let me show you my favorite method for how to grill eggplant!
Is anyone else still basking in the gloriousness of this summer? It has been beautiful (and tasty!) filled with strawberry cheesecake, blueberry french toast, easy one skillet chicken and of course, grilled eggplant.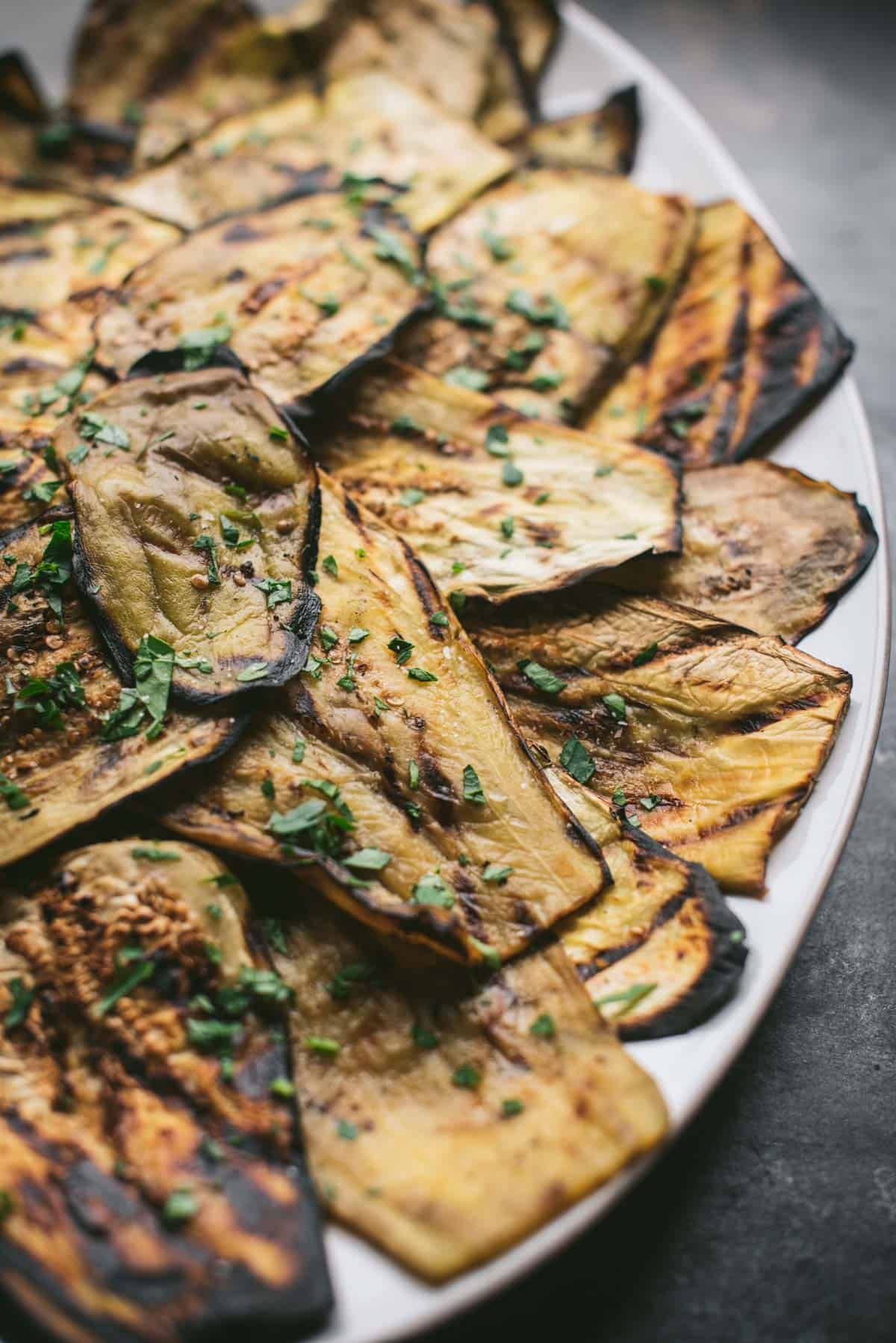 This summer has been hot, so we love a recipe that doesn't involve turning on the oven with an added bonus of adding veggies to our plates!
Eggplant is a hearty vegetable that makes for a great side dish or to star as the main ingredient in a vegetarian meal.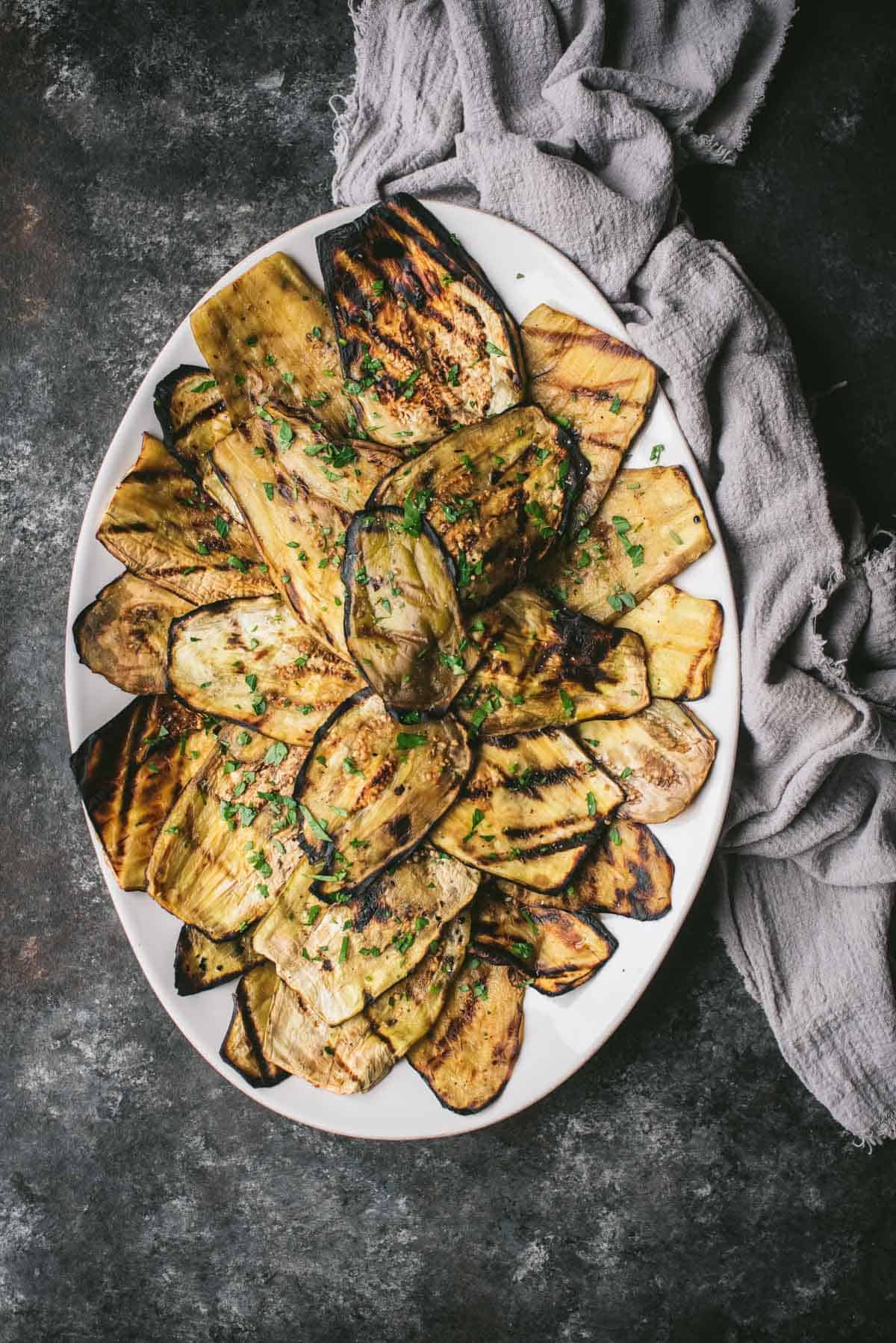 It's easy to make bad, tough, wet grilled eggplant. The good news is making tender, flavorful, rich grilled eggplant is also easy. We just need four little steps.
Tips for the Best Grilled Eggplant
1) Peel it
The skin of eggplant can be bitter. Surprised? Me too.
A sauted diced eggplant can be delicious with the skin on - like this smokey sautéed eggplant pasta - but for grilled eggplant toss it out. We don't need to be bitter today, positive eggplant vibes only.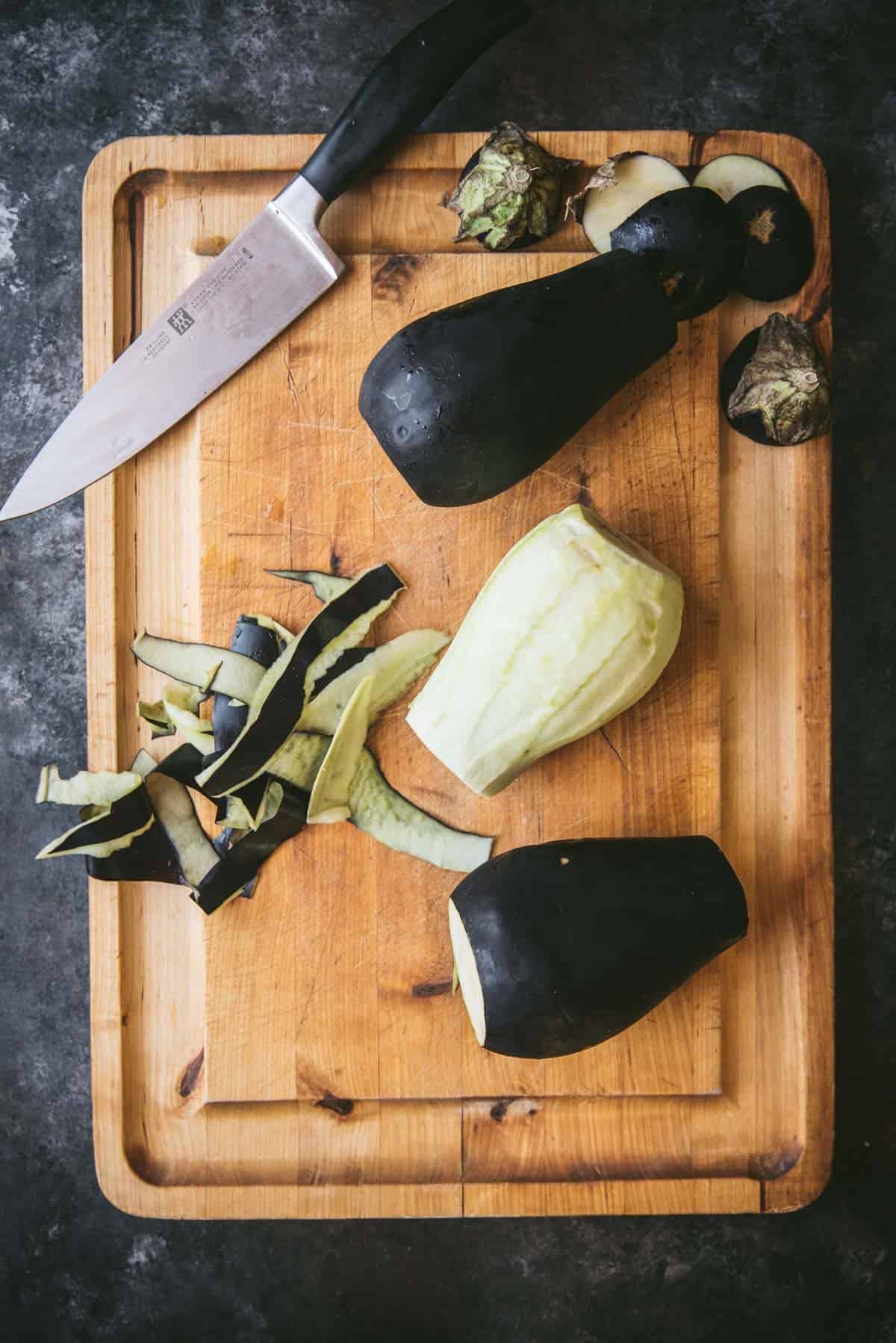 2) Slice it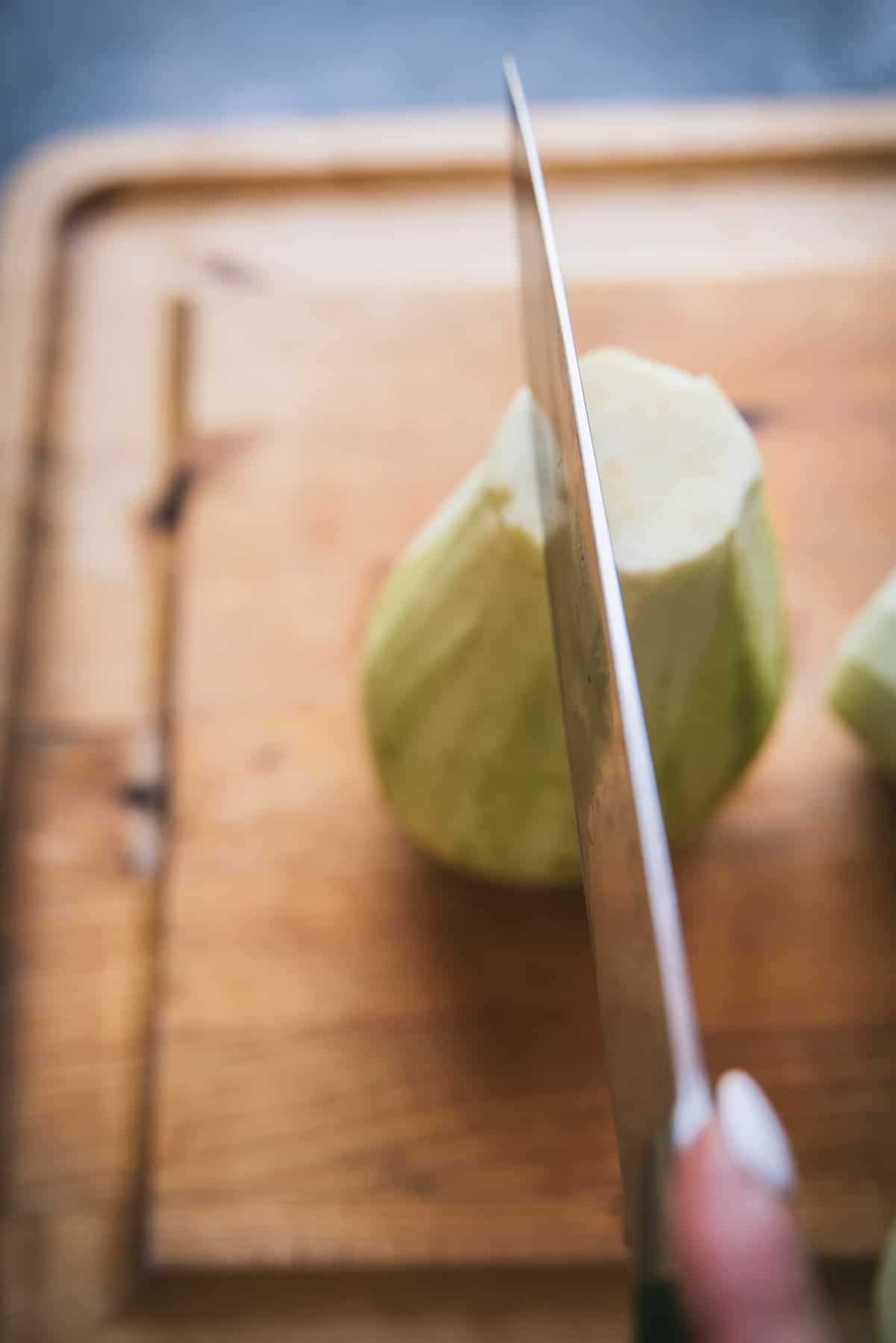 Have you ever been grilling and your veggies slip through the grates into the fiery depths below? It's just the saddest watching things happen in slow motion, but you just can't get your tongs there in time.
To avoid the scary slip into the fire, slice the eggplant lengthwise into planks. About ¼" to ½" in thickness will be perfect for cooking through the grilled eggplant without too much char overtaking the eggplant flesh.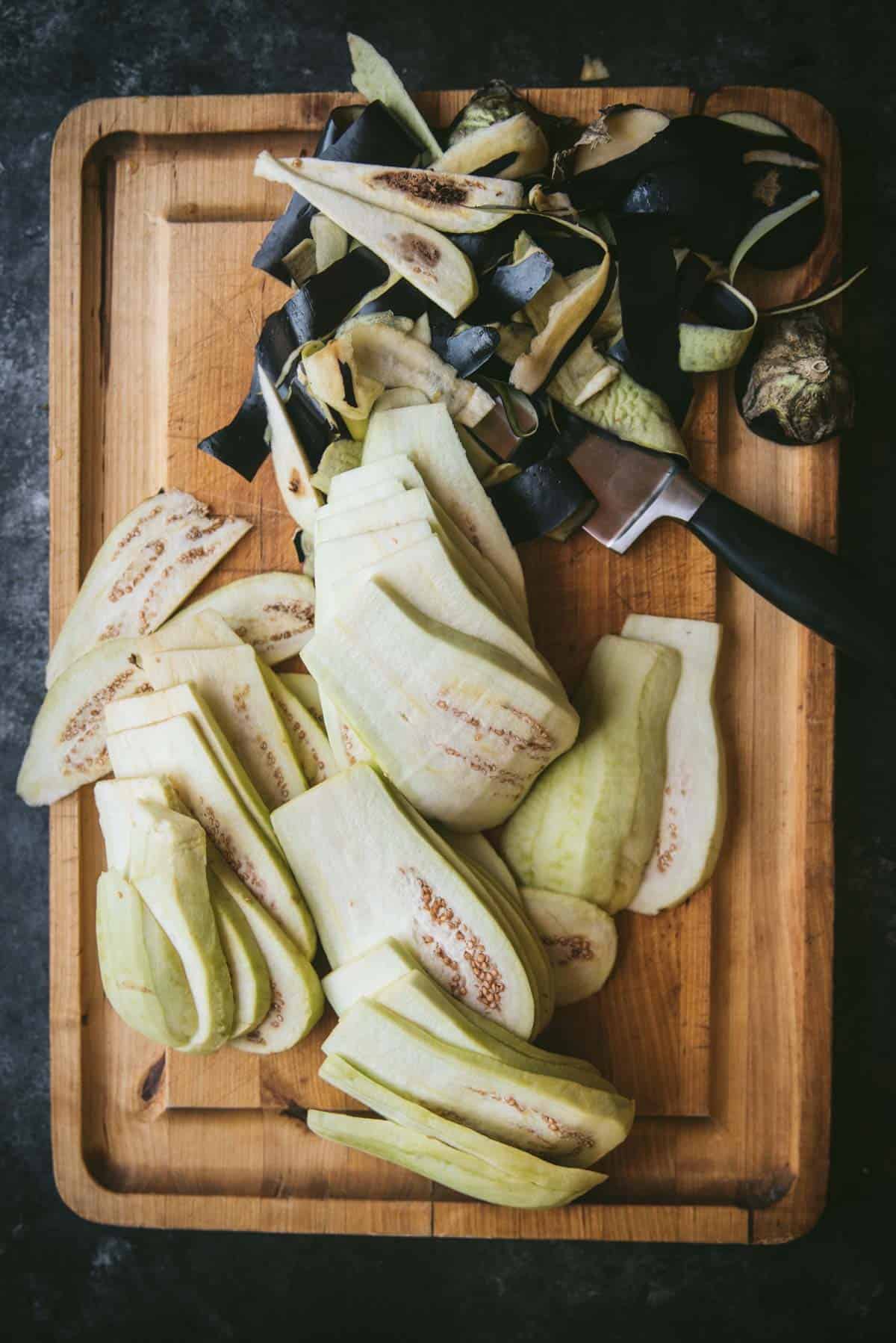 3) Salt it
Yep, salt. A cook's best friend in the kitchen.
A generous sprinkle of salt is going to perform miracles on your eggplant. It will shock you just how much water will come out of the sliced eggplant.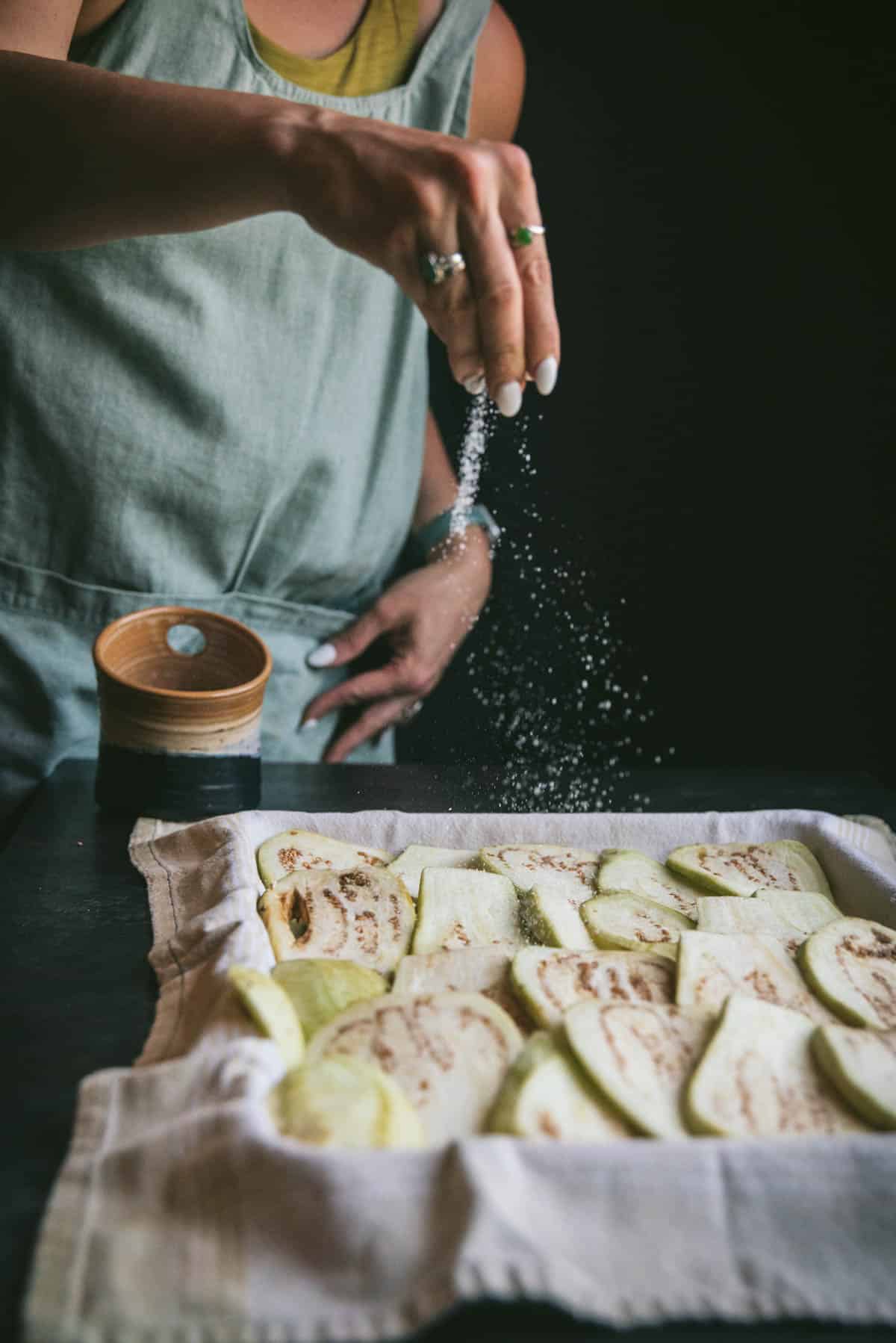 Besides adding the right amount of salty flavor, the extraction of all that excess water will do two things.
Keep the eggplant from falling apart on a hot grill, especially if it's particularly seedy.
Tenderize the heck out of the grilled eggplant, concentrating the flavor.
Eggplant is really a copycat vegetable, taking on the flavor of the sauce or spices used in the cooking process. This salting process will bring that slightly sweet, slightly salty, and just a touch of the earthy squash-like flavor in the perfect tender texture.
Be sure to line each layer with paper or kitchen towels to absorb the excess water.
4) Press it
The easiest but most time-consuming part of the process.
Could you skip it? Sure, but pressing expedites the process of extracting the water and tenderizing the eggplant. At the very least, let it sit for 30 minutes, at best for 2 hours or even overnight.
Line each layer with paper towels or clean kitchen towels. Top with another clean kitchen towel or paper towels then lay something flat, like a cookie sheet over the top layer and stack heavy things on top.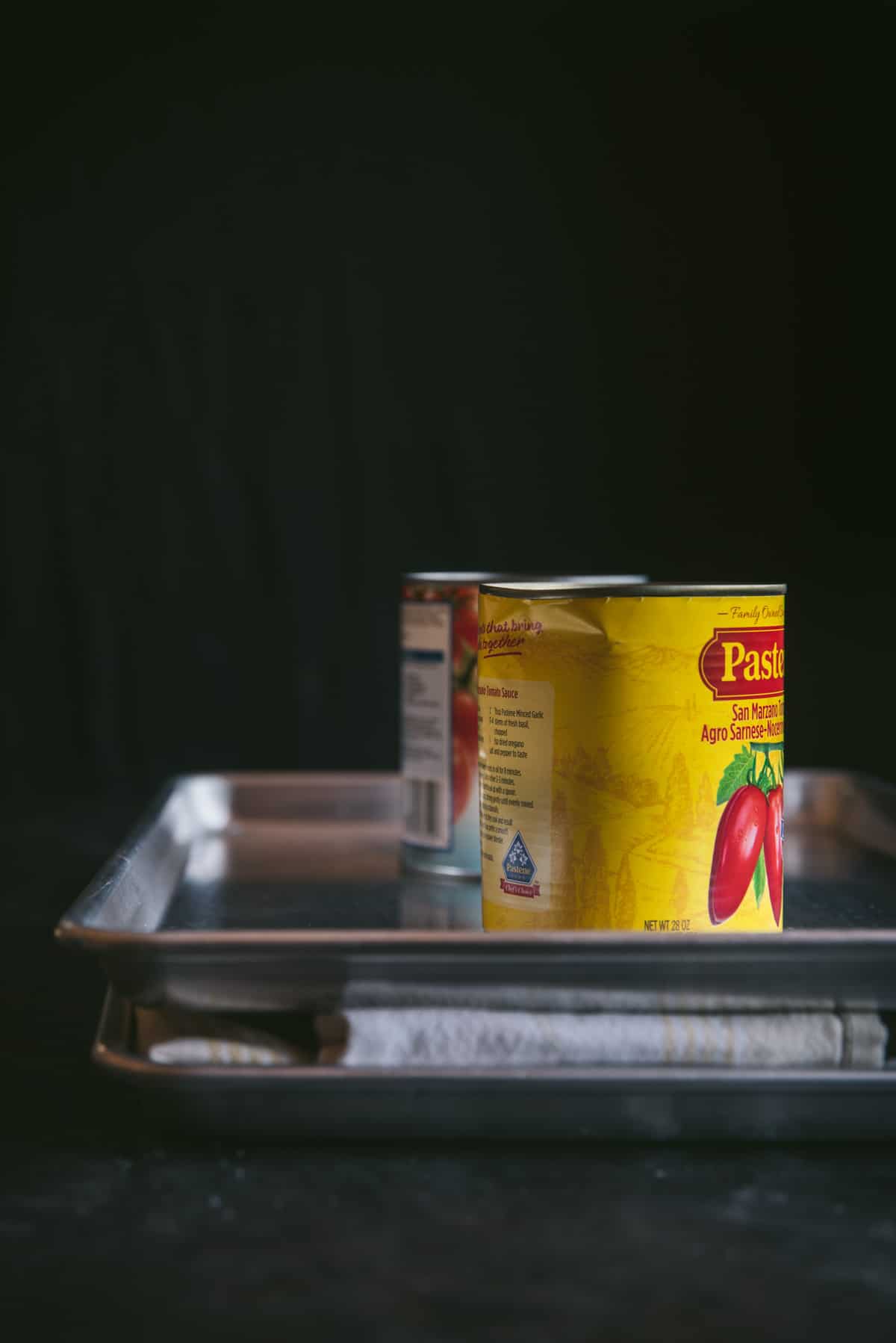 Work out weights, canned goods, maybe a bribed toddler...
After a few hours, your towels should be completely wet and your eggplant ready for the grill.
Personally, I have a terrible habit of eating the entire plate of grilled eggplant by myself, but on the rare occasion I don't I love layering it with sauce and cheese for grilled eggplant parmesan!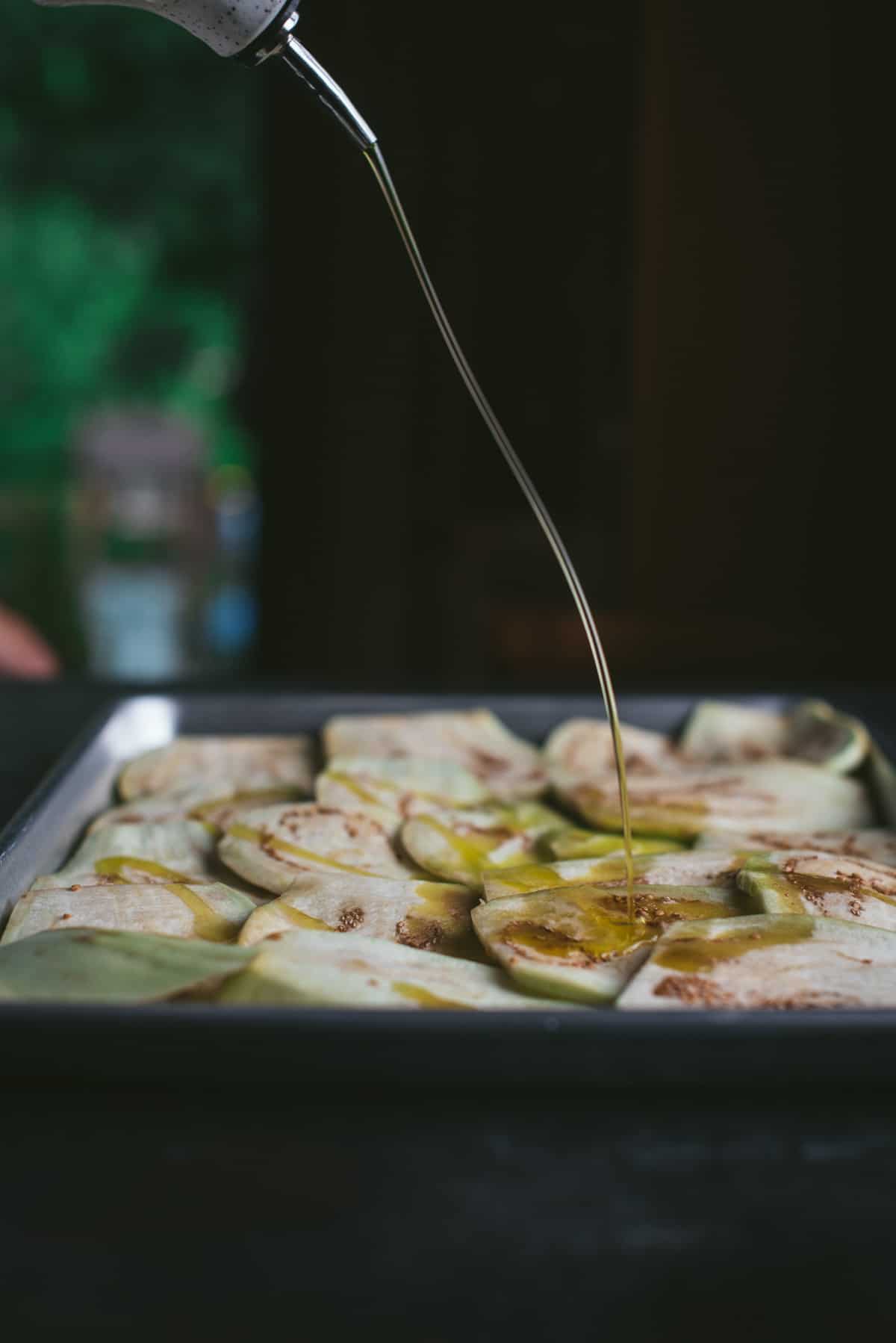 3) Grill It
When it's time to grill up your eggplant, heat your grill to a medium heat, about 400°F-ish.
If your grill grates need to be oiled, you can easily do this by adding a tablespoon or two of oil to a clean paper towel and using tongs to run the oiled towel over the grates.
Drizzle the slices of eggplant generously with olive oil. Season to your preference - I like just some fresh cracked pepper!
Grill about 5 to 7 minutes per side. The grill marks will be visible across the slices of eggplant and perhaps on the outer edges.
What you make with it, is up to you!
FAQs
Is grilled eggplant healthy?
Eggplant is a nutrient-rich, low-calorie meal with a high fiber content that has a number of possible health advantages. Eggplants are an easy and delicious addition to any healthy diet, helping with everything from blood sugar control and weight loss to lowering the risk of heart disease.
How do I know once the eggplant is cooked?
It's super important that you don't under cook the eggplant or it may become bitter. It usually takes about 5 - 7 minutes grilling on both sides, but a great way to tell is that when you pierce it with a fork, it should be tender rather than spongy. Both sides should also have grill marks on.
Can I save the leftovers for later? How do I store it?
Yes you can...if there's any left that is! Simply pop it into a airtight container and into the fridge. It should last 3 - 4 days.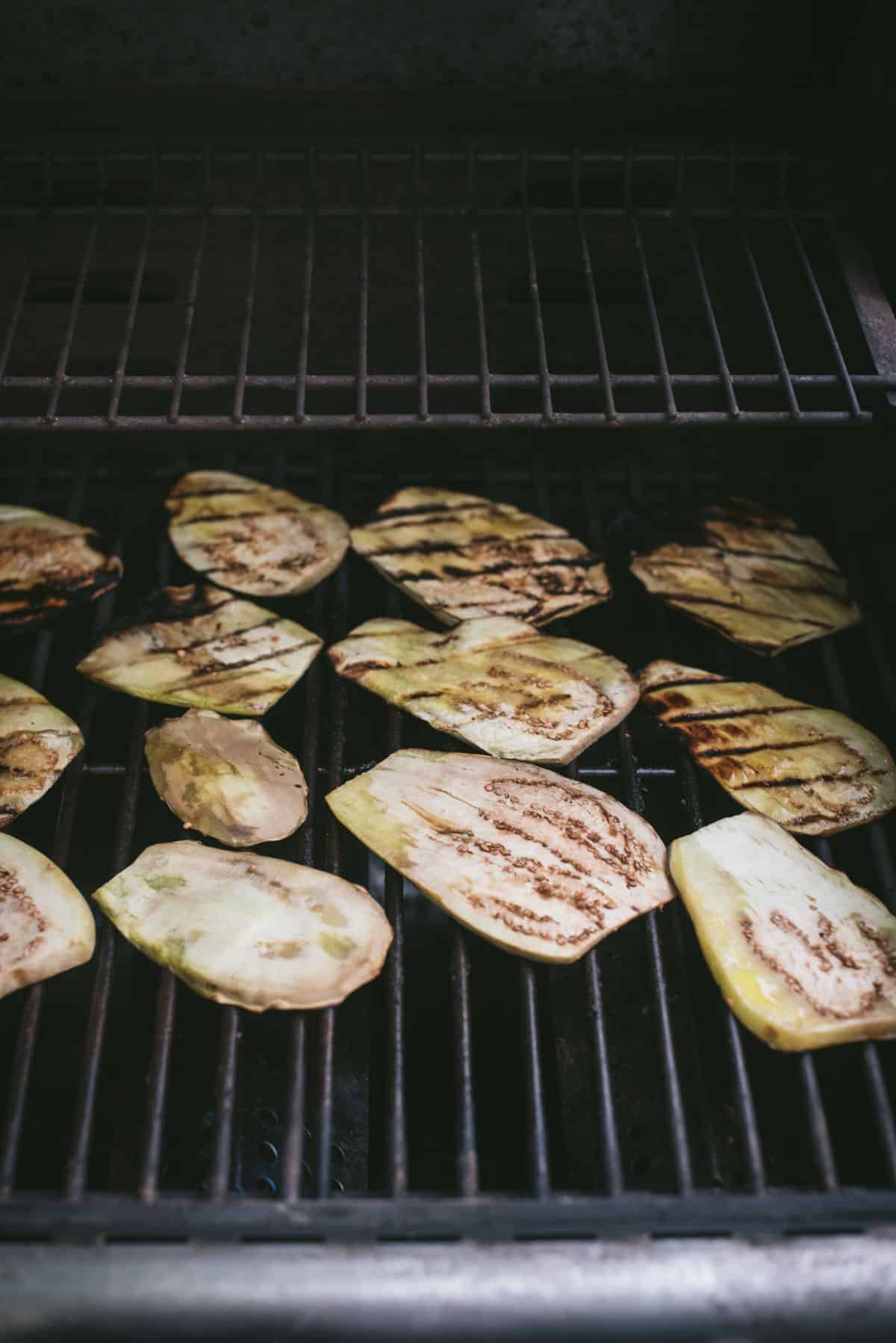 What to Serve with Grilled Eggplant
In the event, you have enough self-control to prepare a complete dish, crispy Korean fried tofu would be perfect with grilled eggplant for a vegetarian meal. Or check out this Sichuan-style eggplant from The Domestic Dietitian or another spicy option.
For a whole lot of goodness in one bowl, try this couscous with eggplant, zucchini, and shrimp. While the recipe calls for cubed eggplant, try substituting your grilled eggplant for a smokey summer flavor. Or try leaving out the shrimp for a vegan option!
While the grill is already fired up, throw some cilantro lime marinated chicken on or for falafel turkey burgers.
Sometimes I like to simply sprinkle some feta cheese on the eggplant while it is still warm and dive in!
What will you make with your best-ever grilled eggplant?
Don't forget to leave a comment below if you loved these tips on grilled eggplant, or share it with me on Instagram or Facebook. I would love to know what you paired your eggplant with!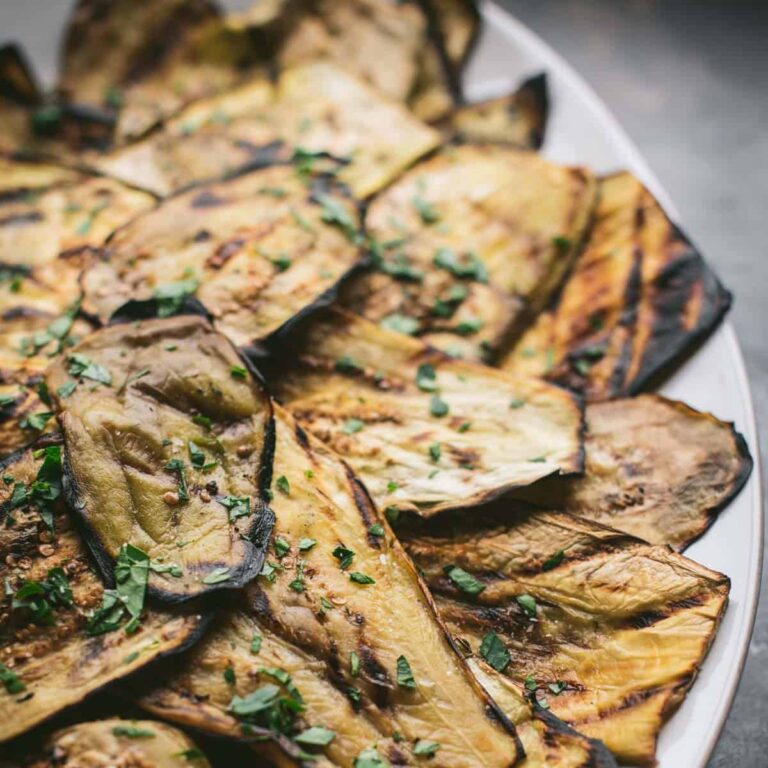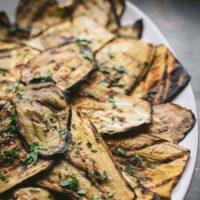 How to Grill Eggplant
Tender, flavor bursting grilled eggplant is easy make with just a little bit of love.
Print
Pin
Rate
Ingredients
3

small or 2 medium size

eggplants

⅓

cup

extra virgin olive oil

kosher salt
Instructions
Remove each end of the eggplant. Remove the skin with a vegetable peeler.

Slice the eggplant lengthwise in ¼" to ½" slices.

Line a large cutting board or cookie sheet with paper or kitchen towels. Arrange eggplant in a single layer and sprinkle with salt.

Add another layer of paper or linen towels and repeat the process. Repeat this step again if there is additional eggplant. Top the final layer of eggplant with another towel.

Place another cutting board or cookie sheet on top of the last layer and weigh it down using weights or heavy cans. Let sit for 30 minutes minimum to 2 hours or even overnight.

Heat the grill on medium heat (about 300-400°F). Drizzle the eggplant with olive oil and season with cracked pepper or any seasoning you desire. Grill eggplant slices 5 to 7 minutes each side.
Notes
Because the eggplant has already been salted and is thinly sliced, it does not need to be salted again before grilling. However, you can use any seasoning blend you prefer if you want to give the eggplant a specific pop of flavor.
You can slice the eggplant in circles if that's your preference! I've found slicing the long way is the easiest and tastiest method for me!
Nutrition
Calories:
159
kcal
|
Carbohydrates:
1
g
|
Protein:
1
g
|
Fat:
18
g
|
Saturated Fat:
2
g
|
Polyunsaturated Fat:
2
g
|
Monounsaturated Fat:
13
g
|
Sodium:
1
mg
|
Potassium:
2
mg
|
Fiber:
1
g
|
Sugar:
1
g
|
Vitamin A:
1
IU
|
Vitamin C:
1
mg
|
Calcium:
1
mg
|
Iron:
1
mg