Tender bites of eggplant and al dente pasta surrounded by smokey, gooey cheese with a garlicky fresh tomato sauce are going to be your new favorite vegetarian pasta! This sautéed eggplant pasta with smoked mozzarella cheese has so much flavor using uncomplicated ingredients, you'll want to make this over and over again.
Get ready to have this one on repeat!
The eggplant is SO good and the cheese is gooey and smoky, which is a wowza experience for your tastebuds.
Then you get hit with the sauce and bites of garlic and juicy tomatoes, a little white wine and fresh basil.
So dang tasty.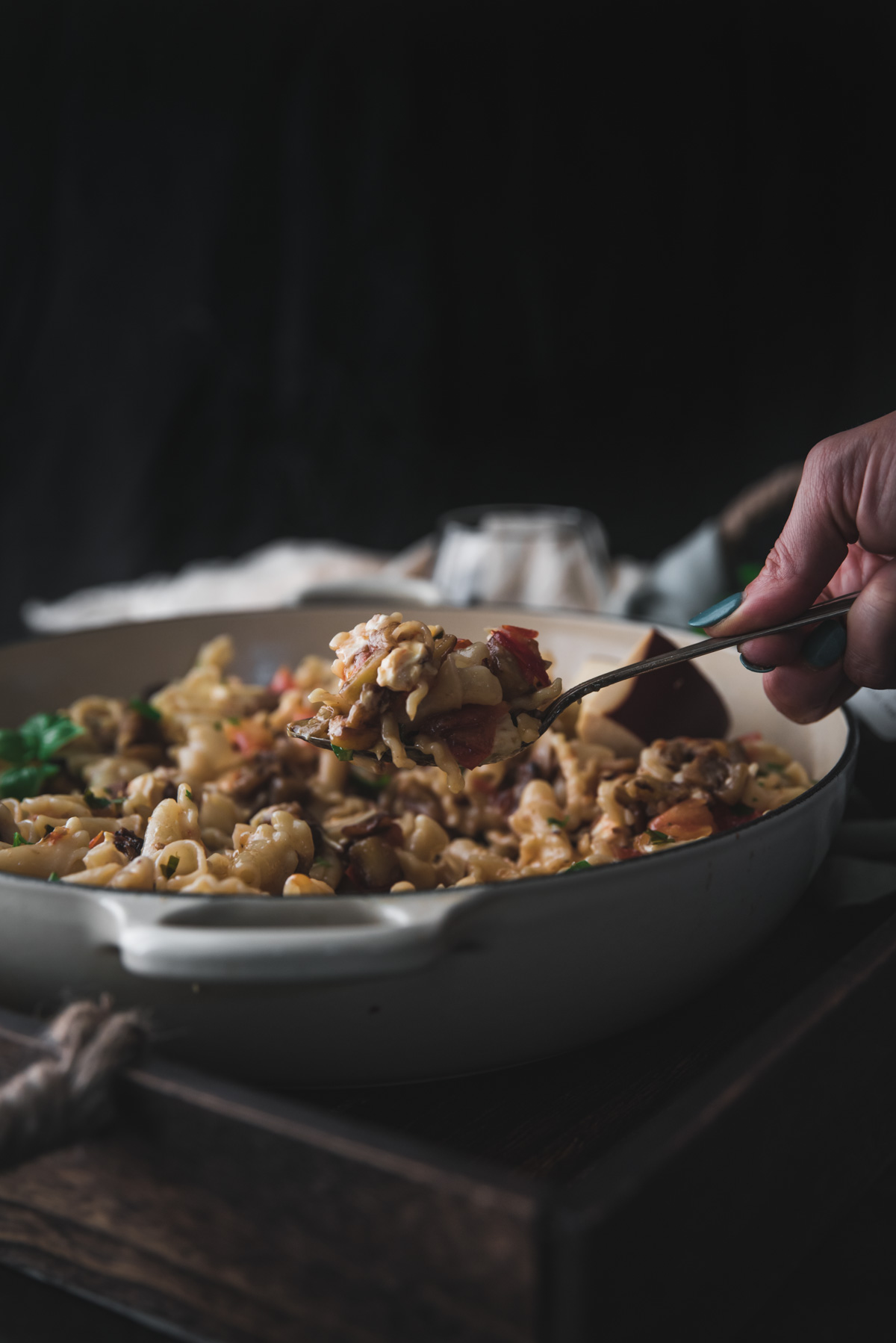 To really get the best flavor and texture we have to prep it a little by pressing the eggplant with a little sprinkle of salt.
If you don't have time or forget to do it, it's not the end of the world. It just helps the eggplant lose some of the moisture so it's not watery and gives the tomatoes time to soak up the flavors in the sauce.
This eggplant pasta is inspired by my favorite thing to eat post-shift at one of the first restaurants I managed. I've adapted it for easy at-home prep and it's just as delicious as it was years ago!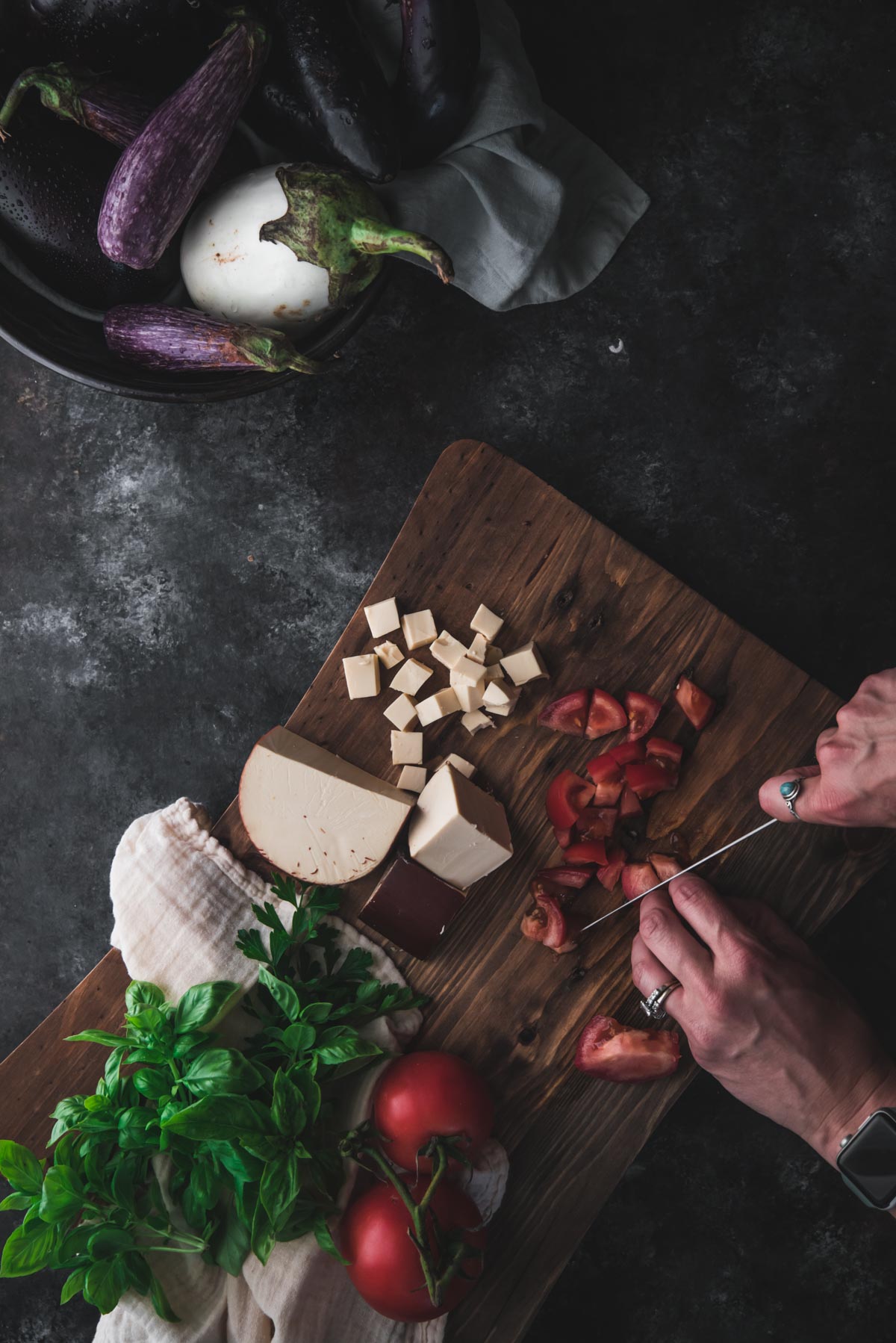 How to prep diced eggplant
The big mystery to delicious eggplant isn't really much of a mystery - we're going to press it!
Listen, some will argue that you don't need to do this extra step, and while, yes, you can skip this step and still have a tasty meal....I'm sticking to my guns that this easy preparation yields the best cooked eggplant.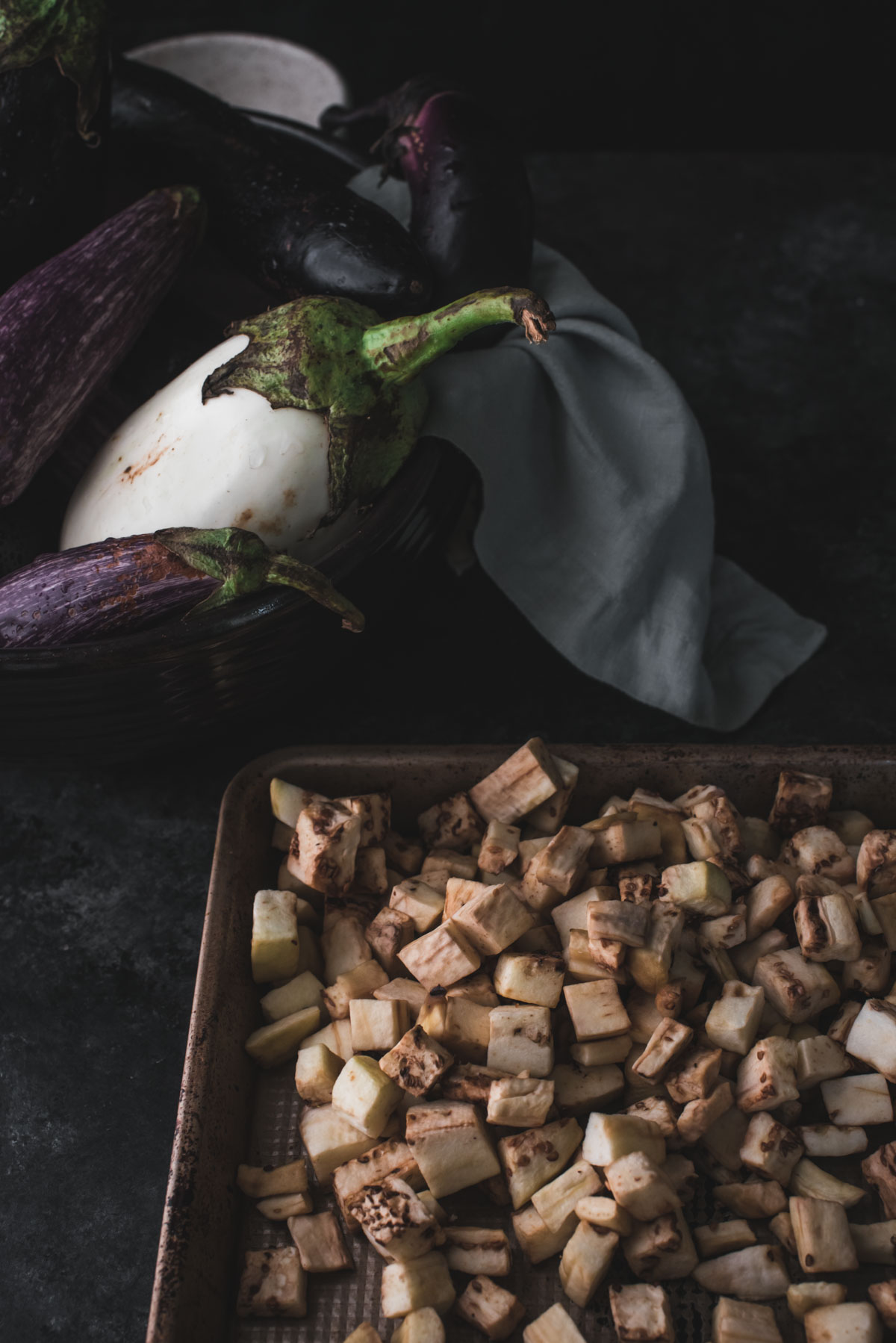 It's the same steps I'm preaching in these grilled eggplant tips, but we dice the eggplant instead of slicing it the long way. Here are the super simple steps:
Peel the skin from the eggplant
Dice into ½ inch to 1 inch cubes depending on your preference, for this pasta I would do ½ inch
Line a baking sheet with a clean kitchen towel or paper towels and spread the eggplant on top
Salt very generously
Cover with another clean kitchen towel or paper towels and a baking sheet
Place in the fridge with some heavy items on top (like cans) overnight up to 2 days
Easy peasy!
Do you have to peel eggplant?
No. However, I recommend peeling the eggplant because sometimes the skin is tough and can be bitter.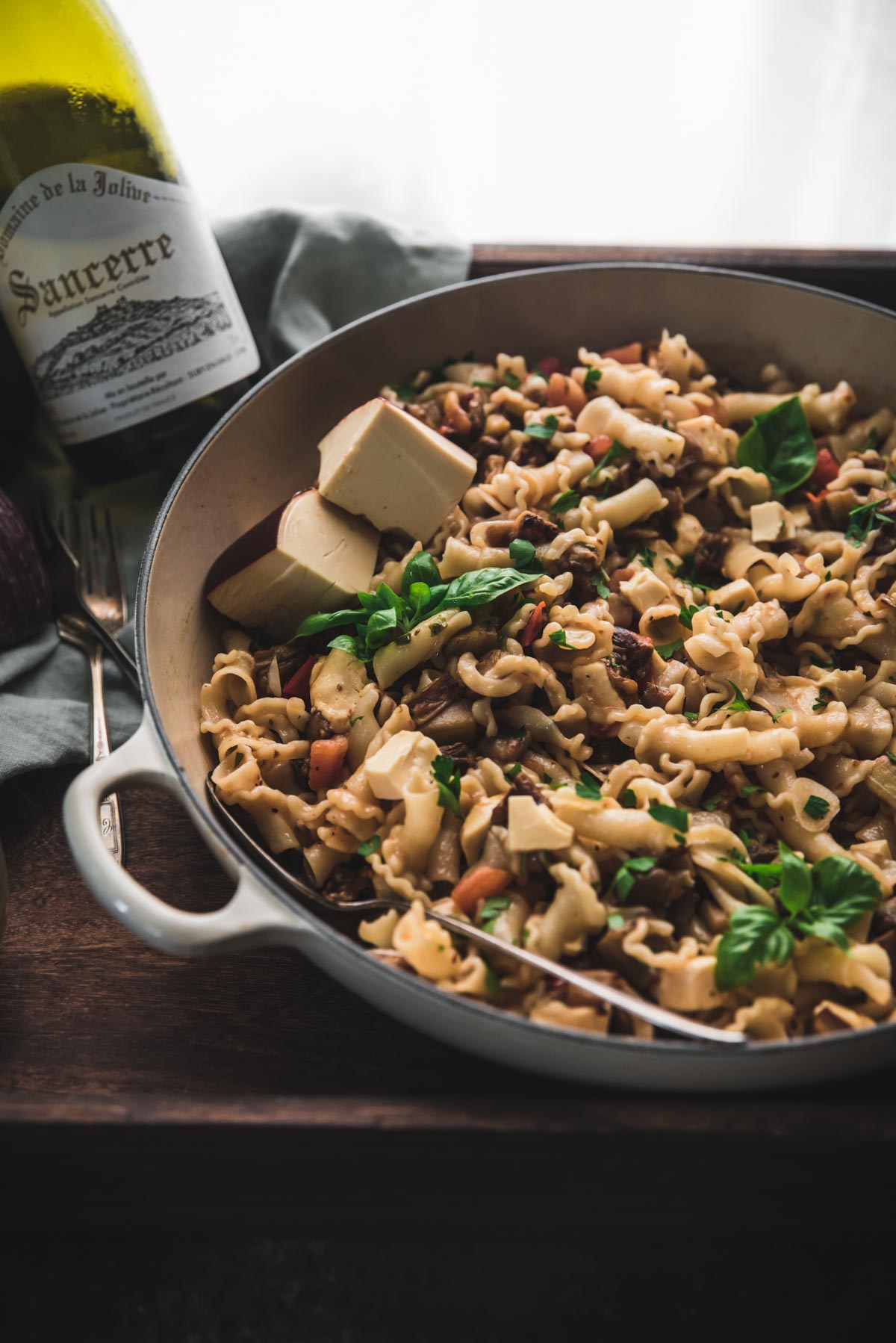 What does pressing eggplant do?
Eggplant naturally has a lot of moisture. Salting and pressing the eggplant extracts a lot of that moisture. Added bonus is that the eggplant absorbs less oil when it's sauteed. The result is a tender yet sturdy eggplant to cook with.
What type of cheese should you use?
Any smoked cheese will get the job done, but smoked mozzarella is the best! It's really melted and the smoky flavor isnt too overpowering.
Smoked gouda is another great option. Also melty, rich, and just the right amount of salty.
How to make eggplant pasta with smoked mozzarella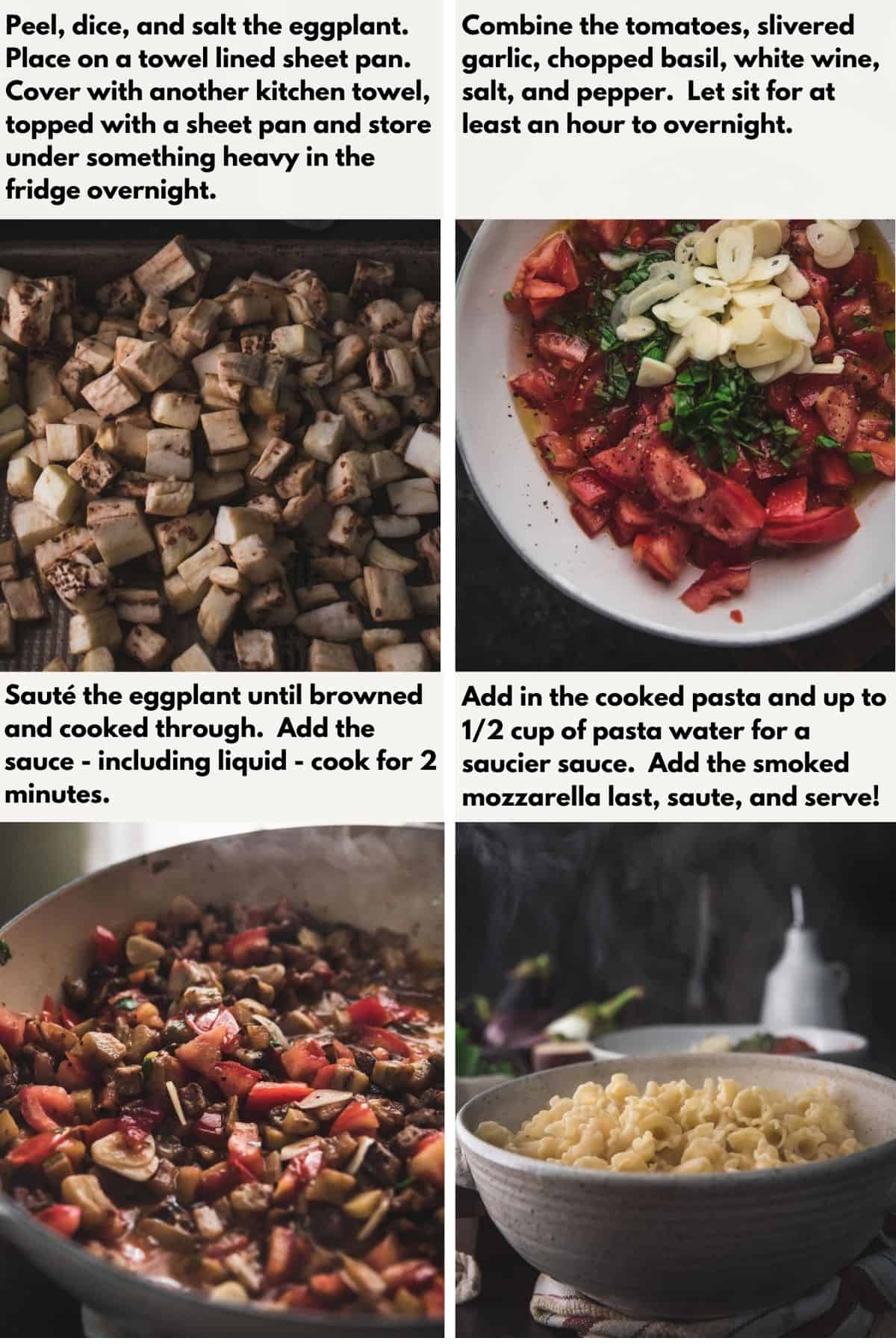 When it comes down to it, all the work is in the prep. The actual cooking process of this vegetarian pasta dish is super fast.
Tips & Tricks
Prep the sauce and the eggplant at the same time.
Marinating the tomatoes with the garlic and basil gives it a much better flavor!
Slice the garlic as thin as possible - or just used chopped garlic - as the sauce cooks really fast.
Make sure your pan is nice and hot before sauteeing the eggplant.
Be generous when salting the eggplant for pressing!
Save about ½ cup of starchy pasta water to finish your dish.
If the rind on your cheese is really thick, cut it off - this is more applicable to smoked gouda than mozzarella in my experience but it can vary depending on the brand
The eggplant can also be roasted in the oven at 375°F for about 15 to 20 minutes, stirring occasionally.
If you're firing up the stovetop for smoky eggplant pasta, a simple arugula caprese salad or crusty bread will make a great pairing!
Did you make this recipe? Please leave a star rating on the recipe card! I'd love to hear about it in the comments below too! Thank you so much for your support!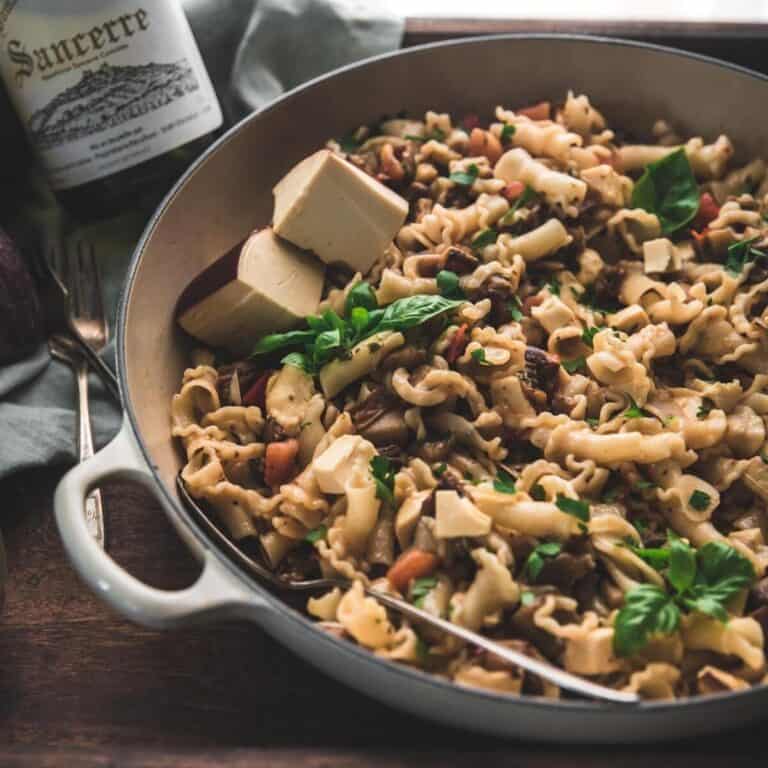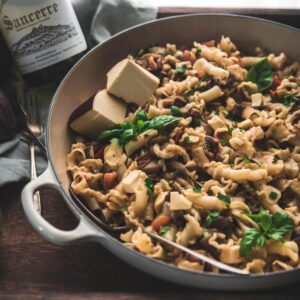 Sautéed Eggplant Pasta with Smoked Mozzarella
Smokey, gooey cheese sautéed with tender eggplant and garlic and basil laced diced tomato sauce for a hearty vegetarian pasta dish that everyone will love.
Print
Pin
Rate
Ingredients
Roasted Eggplant
2

medium

eggplants

(peeled, ½" cubes)

⅓

cup

olive oil

salt
Smoky Eggplant Pasta
3

medium

tomatoes

(about 2 cups diced)

¼

cup

olive oil

¼

cup

white wine

1

teaspoon

salt

½

teaspoon

black pepper

2

tablespoons

chopped basil

4

cloves

garlic

(very thinly sliced)

1

pound

short pasta

½

cup

pasta water

8

ounces

smoked mozzarella or gouda

parmesan cheese

(for garnish)
Instructions
Prep the eggplant. Peel the eggplants and dice in ½ inch cubes. Spread the eggplant over a sheet tray lined with a clean kitchen towel or paper towels. Very generously salt the eggplant and cover with another clean kitchen towel or paper towels. Cover with another sheet tray and place in the fridge with heavy items on top of it overnight or to 48 hours.

Prep the sauce. In a large bowl or container, combine the diced tomatoes, olive oil, white wine, salt, pepper, garlic, and basil. Cover and let it sit at least an hour or overnight for the best flavor.

Cook the pasta. Set a large pot of water to boil. Season generously with salt. Cook the pasta according to the package directions or until al dente. Reserve ½ cup pasta water before draining.

Sauté the eggplant. In a large skillet, heat ⅓ cup olive oil over medium high heat until it shimmers. Add the eggplant and season with a pinch of salt and pepper. Cook for 8 to 10 minutes until browned, stirring every 2 minutes or so.

Make the sauce. Add the fresh diced tomato sauce to the pan and let it simmer for about 2 minutes to cook off the alcohol in the wine. Stir in the cooked pasta, smoked cheese, and ¼ to ½ cup of the reserved pasta water depending on how much liquid you would like your sauce to have. Sauté all the ingredients together, remove from heat, and serve immediately.
Notes
If you don't have time to press the eggplant or marinate the tomatoes overnight, let them sit for an hour before cooking to pull some of the moisture and develop flavor.
The eggplant can also be roasted in the oven at 375°F for about 15 to 20 minutes, stirring occasionally.
Slice the garlic as thin as possible - or use chopped garlic if having the knife so close to your fingers makes you nervous! The sauce cooks very quickly so any thick pieces of garlic will not have time to cook through completely.
You can absolutely cook the eggplant in advance and just through everything together when ready.
Nutrition
Calories:
662
kcal
|
Carbohydrates:
70
g
|
Protein:
21
g
|
Fat:
33
g
|
Saturated Fat:
10
g
|
Polyunsaturated Fat:
3
g
|
Monounsaturated Fat:
18
g
|
Cholesterol:
43
mg
|
Sodium:
710
mg
|
Potassium:
727
mg
|
Fiber:
8
g
|
Sugar:
10
g
|
Vitamin A:
761
IU
|
Vitamin C:
12
mg
|
Calcium:
307
mg
|
Iron:
2
mg