Tender, thinly sliced chicken breast with crunchy breadcrumb and parmesan coating served over spicy baby arugula salad with grilled Meyer lemon. We love that this is a meal the whole family will eat that is simple and delicious!
Chicken Milanese is like chicken nuggets for adults, the same juicy chicken with crunchy breading but you eat it with a side of veggies - like grilled lemon and arugula salad!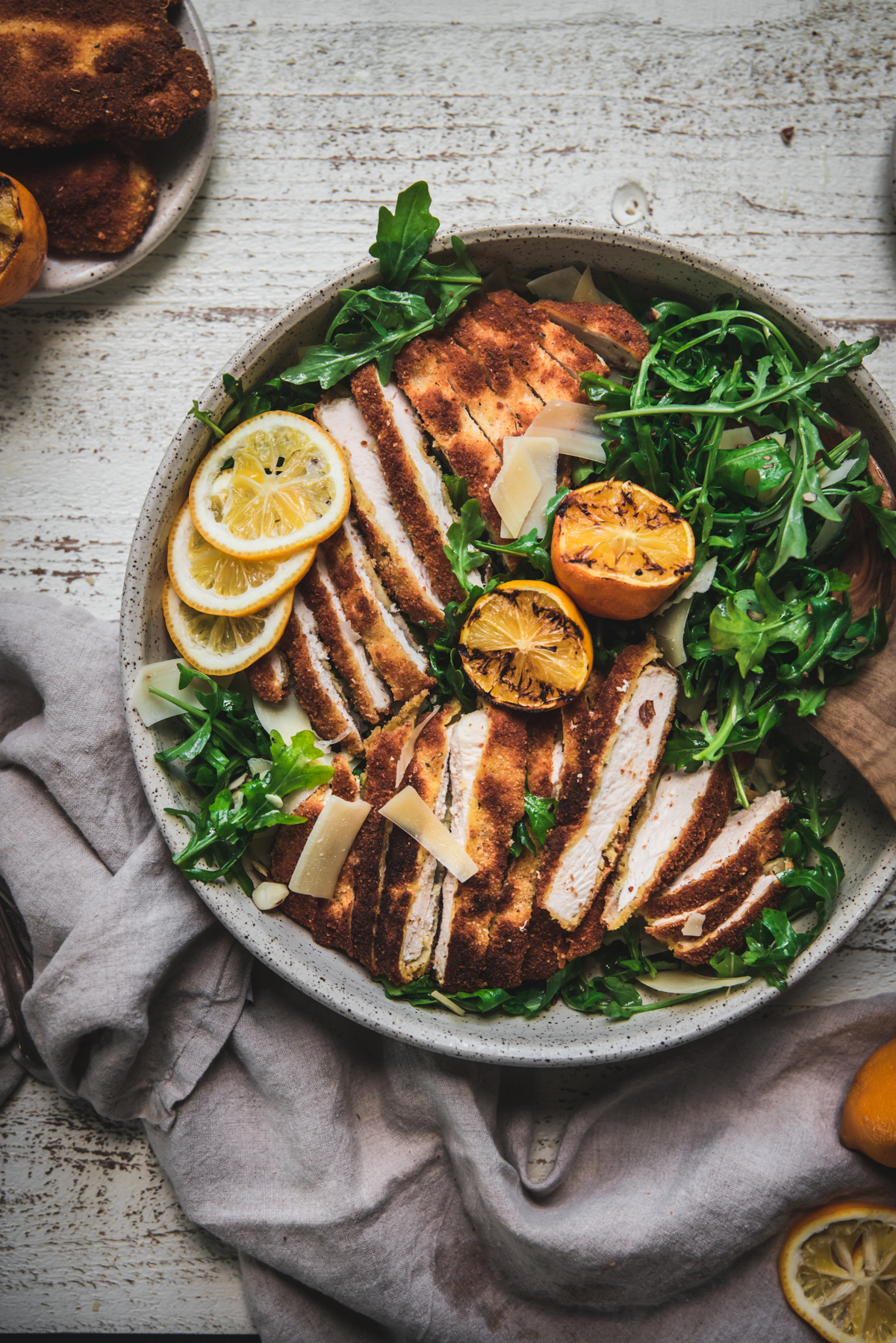 Say hello to my back pocket, go to, adult and child pleasing meal. Chicken Milanese deserves a raise because it doesn't take a lot of effort to make and it is a winner every time.
Plus it's the building block for other amazing meals! If you can make Milanese, then Chicken Parmesan is a breeze!
Don't miss out on the grilled lemon and arugula salad either, she's a real dream. You can make it in just minutes and the combination of tart lemon, salty parmesan, velvety olive oil, crunchy almonds, and spicy arugula tastes like some sort of fine dining creation.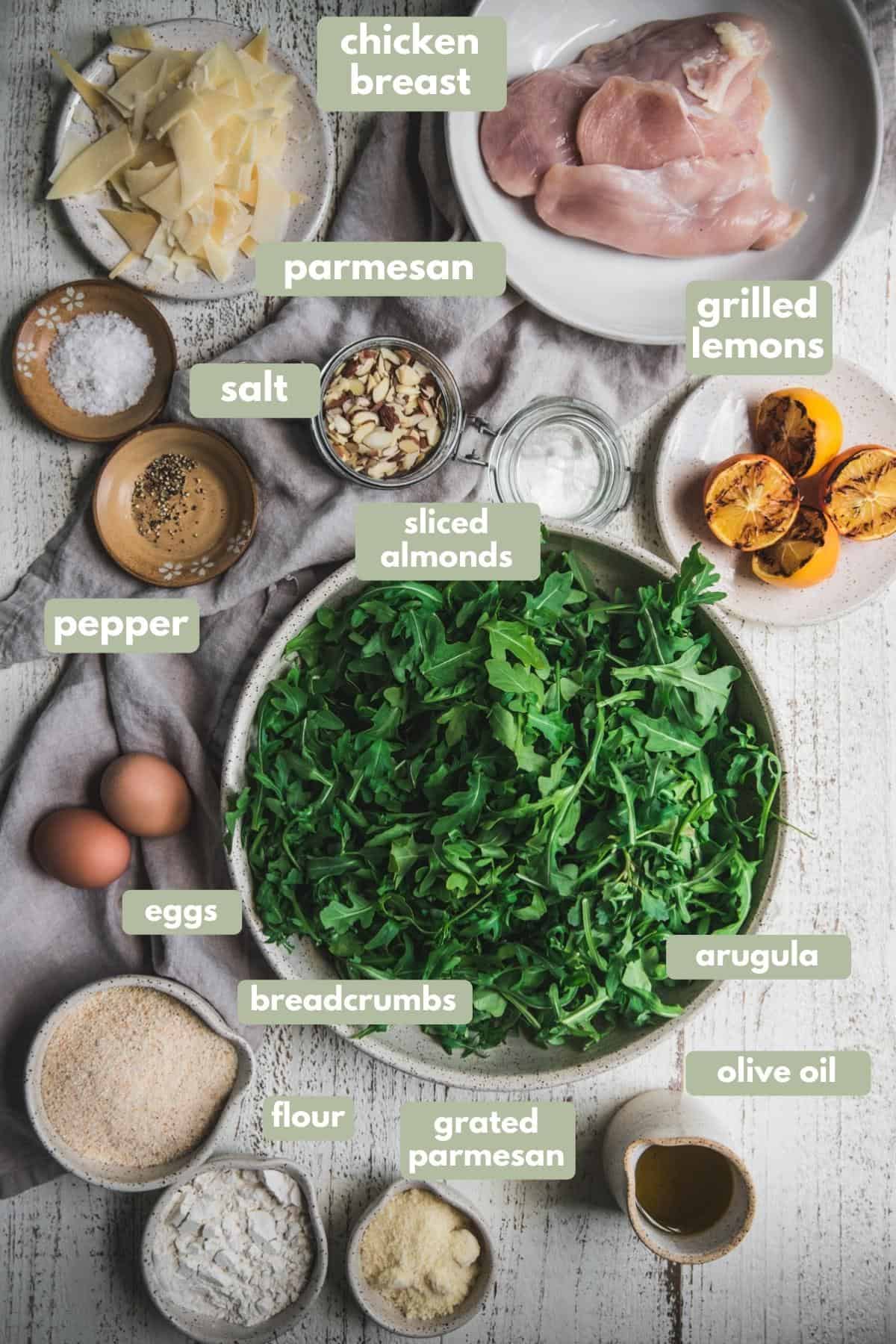 In our house, the chicken milanese with arugula will serve the adults and I'll sub in some really easy sides like steamed veggies and rice for the kids.

What does Milanese style mean?
The difference between Milanese style and your standard chicken cutlet is that there is parmesan in the breadcrumb coating for Milanese. The chicken should also be sliced thin and is sometimes pounded thinner with a mallet before dredging.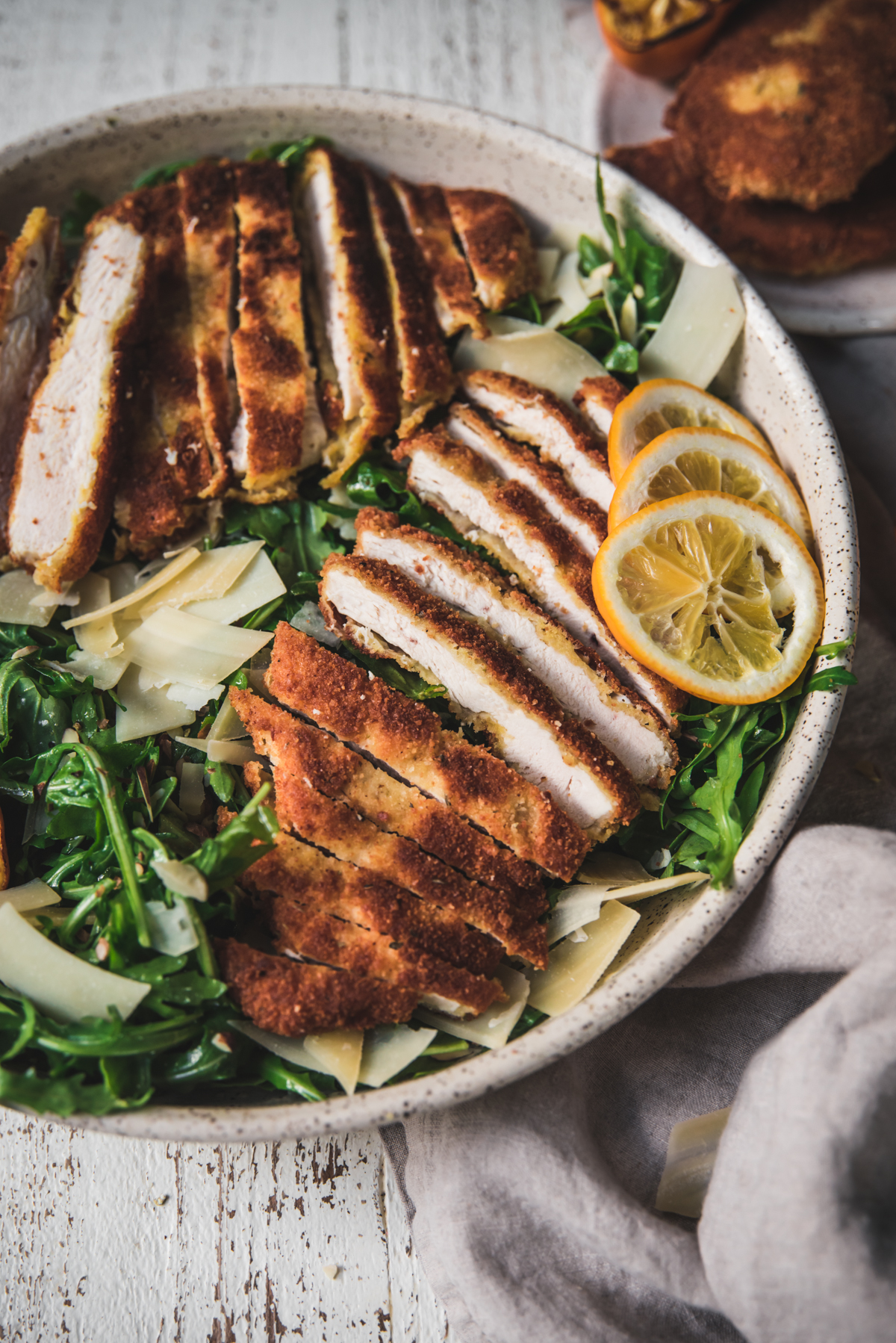 What is dredging?
Dredging is a very simple, yet super important cooking technique! It is the process where a piece of meat or vegetable is dusted with flour, dipped in well-beaten eggs, then coated in a breadcrumb mixture before being cooked.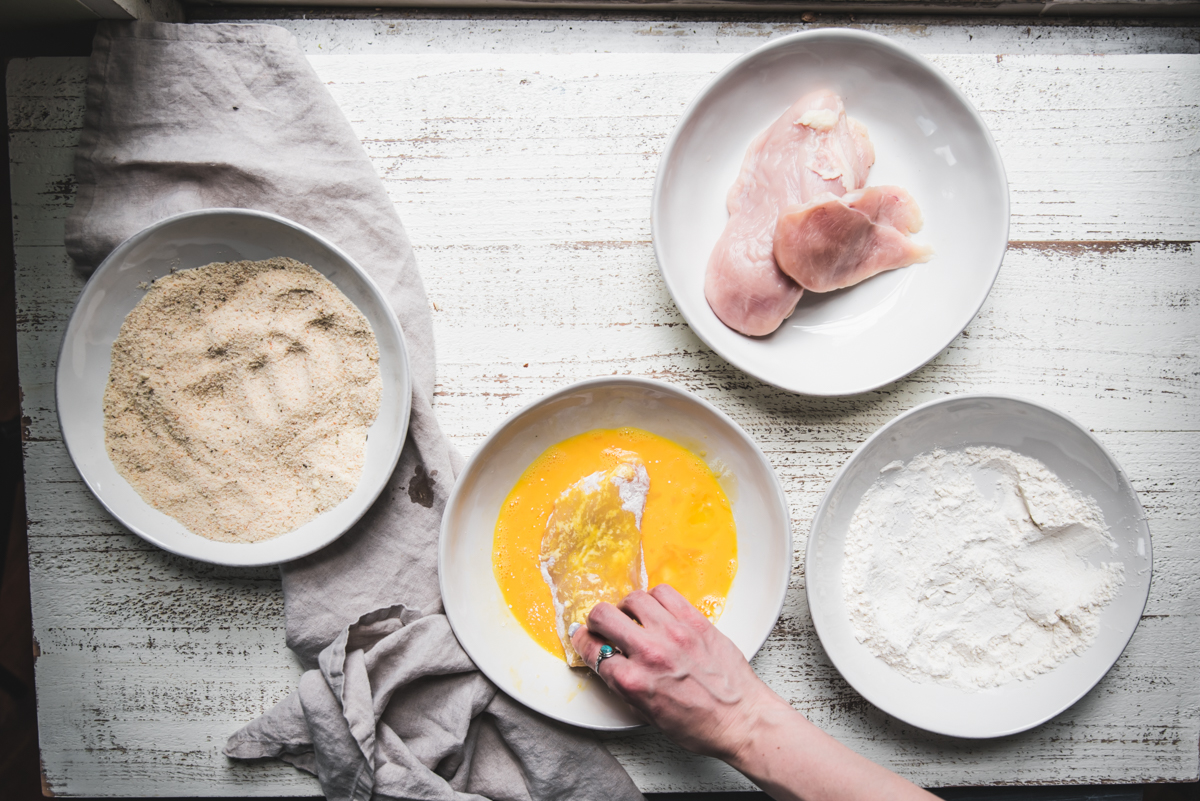 Dredging is most commonly used when something is fried or air-fried for a crispy breaded exterior.
Tips for perfectly dredging chicken
While the steps to dredge any protein are really uncomplicated, there are a few tips and tricks for perfect, even coating. This can also be done with veggies (think eggplant parm or crispy zucchini fries).
Don't skip the flour step! This one is essential to getting a coating that sticks! The flour gives the egg wash something to bind to and is especially important if using vegetables or anything that's not particularly moist.
Make sure the entire protein/vegetable is completely covered with flour before moving to the egg step.
Let some of the egg wash drip off before coating with breadcrumbs.
When transferring the egg coated protein/vegetable to the breadcrumbs, make sure there is an even layer of breadcrumbs. Lightly cover the top and gently press the protein into the breadcrumbs before flipping over to do the other side.
For an extra crispy, crunchy coating, repeat the egg and breadcrumbs step on the same protein/vegetable.
How to make Chicken Milanese
Slice the chicken breast into thin cutlets. For extra thin chicken, pound the pieces with a meat mallet.
Set up your dredging station with flour, beaten eggs, breadcrumb mixture.
Coat chicken with flour, shake off the excess then cover with egg wash. Let the excess egg wash drip off before coating with breadcrumb mixture, pressing the chicken gently into the breadcrumbs.
Cook the chicken in a hot pan with a hot neutral oil (like canola, vegetable, or avocado oil). Don't overcrowd the pan! The chicken should be cooked through and golden brown on both sides when cooked for 4 to 6 minutes per side.
Slice the chicken or serve whole over a simple salad or your favorite sides!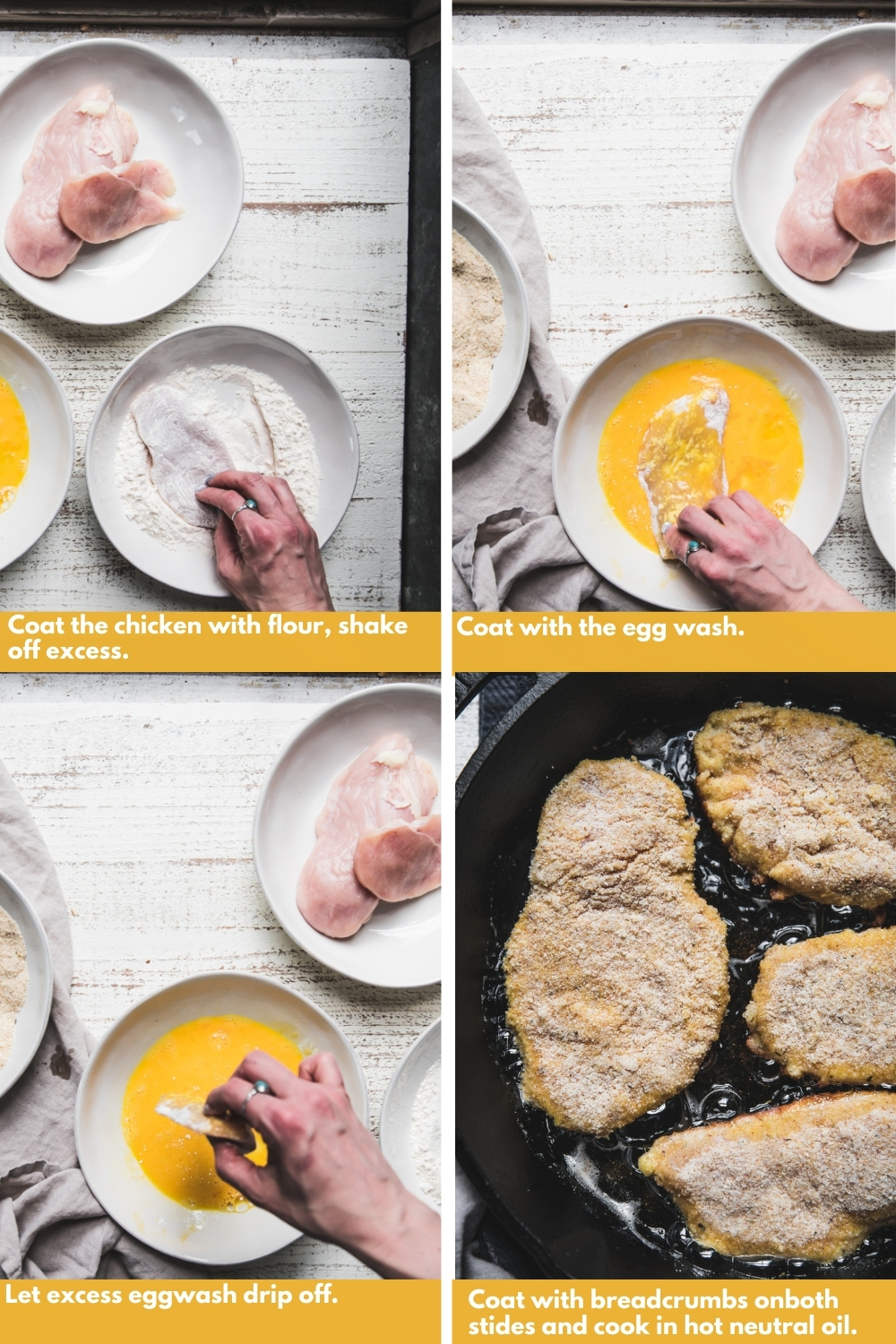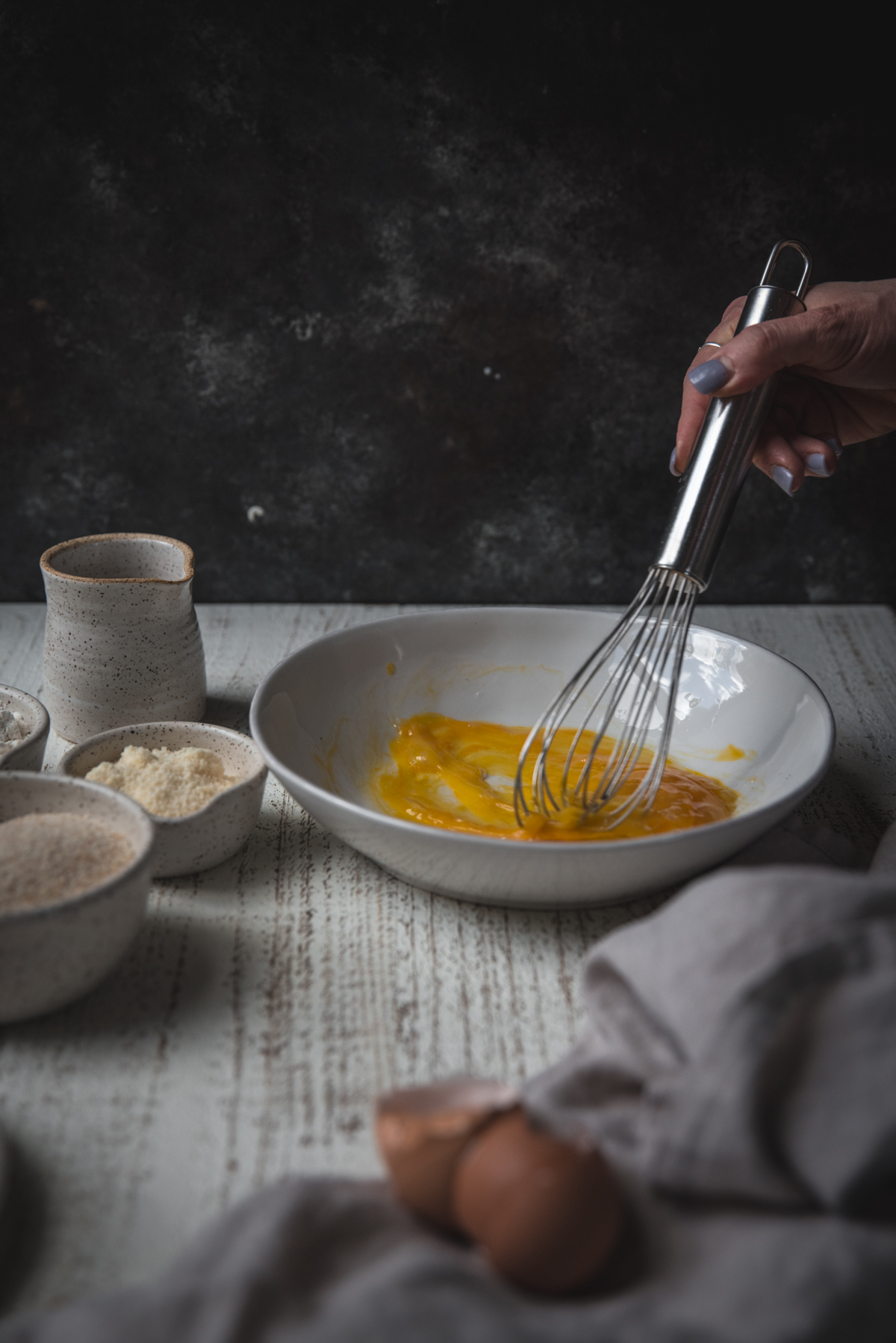 Can you make Chicken Milanese in an air fryer?
Yes! I have recently joined team air fryer and it's a pretty great team to be on. Cooking times may vary depending on the thickness of your chicken, but I'd recommend cooking the Chicken Milanese in the air fryer for 10 minutes at 400°F and flipping half way.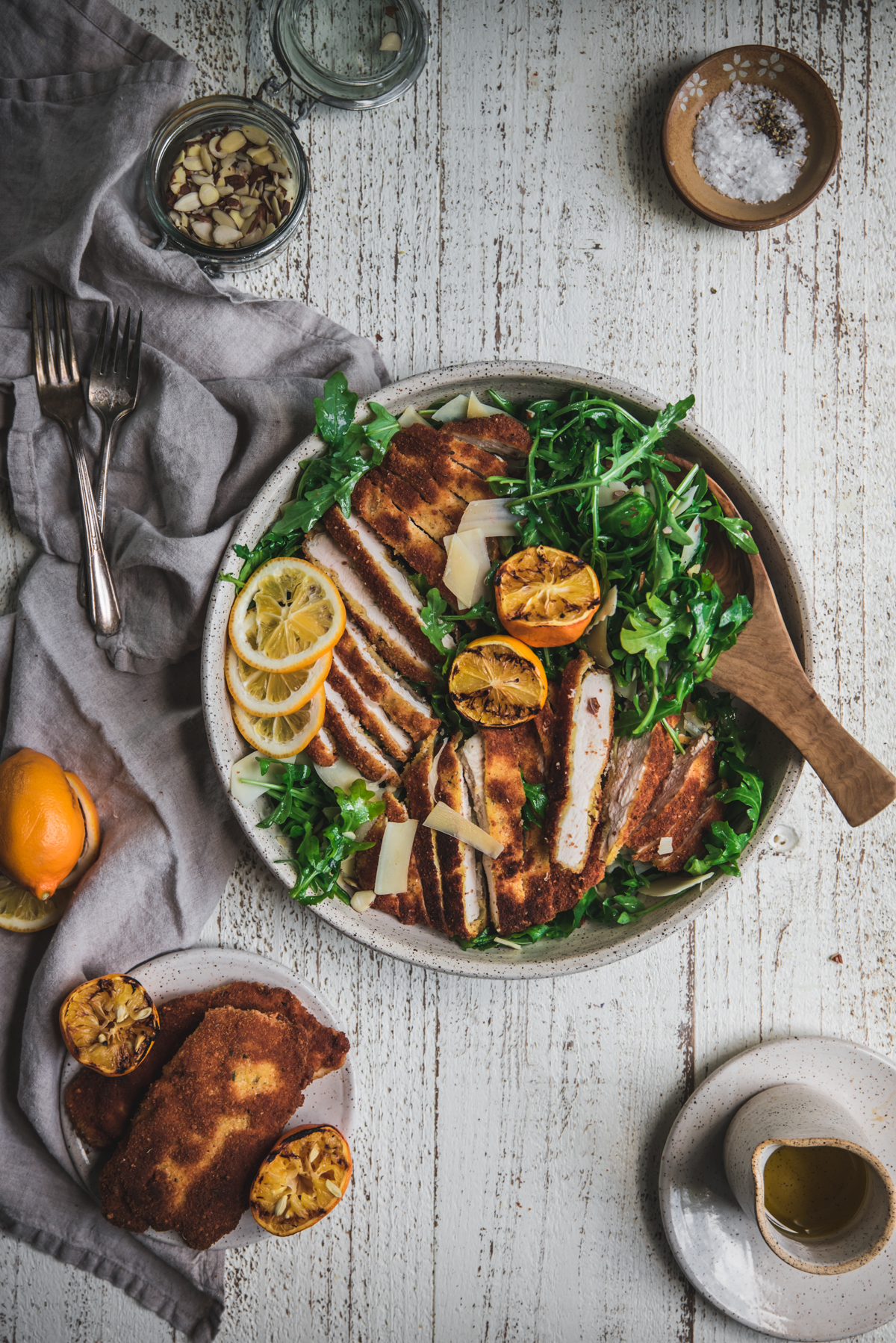 Other inspirational sides to enjoy with Chicken Milanese:
If you made this recipe, I would love to know! Please leave a star rating below and give me a holler in the comment section. Thank you so much for bringing my recipes into your kitchen!!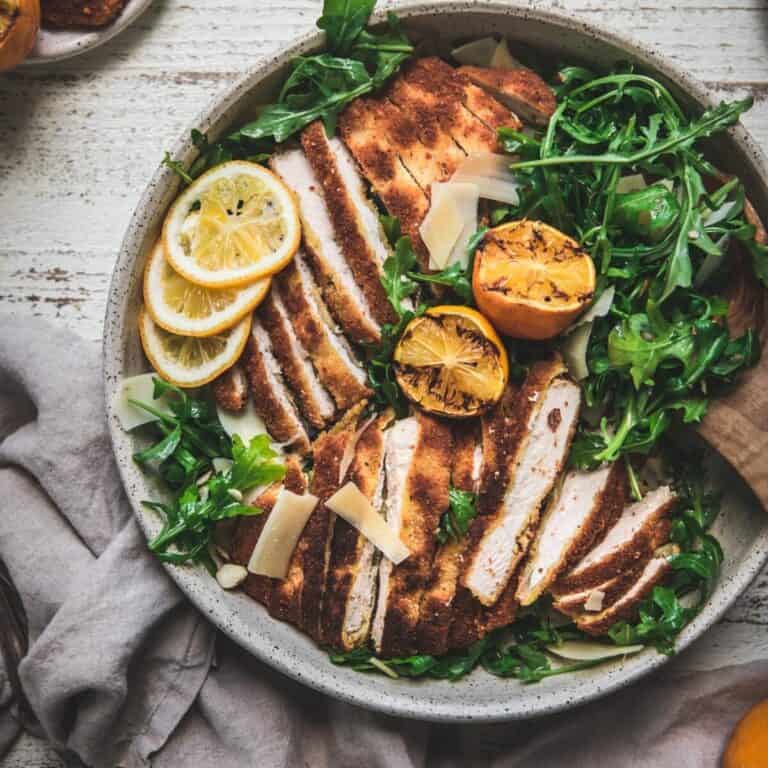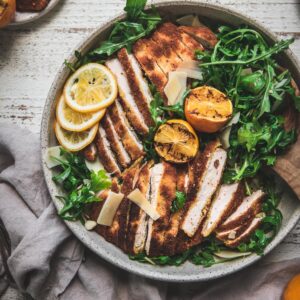 Chicken Milanese with Grilled Lemon and Arugula
Keep this recipe for when you don't know what to make! Crispy, thin pieces of chicken milanese are a crowd pleaser in our house and the arugula salad comes together in just minutes!
Print
Pin
Rate
Ingredients
Chicken Milanese
1

pound

chicken breast

(sliced into 4 cutlets)

½

cup

all purpose flour

1

cup

plain breadcrumbs

¼

cup

parmesan cheese

(grated)

1

teaspoon

italian seasoning

½

teaspoon

garlic powder

2

large

eggs

½

cup

oil for pan frying

(canola, avocado, or vegetable oil)

salt and pepper

(for seasoning)
Grilled Lemon and Arugula Salad
5

ounces

baby arugula

2

tablespoons

extra virgin olive oil

2

meyer lemons

(grilled)

2

ounces

shaved parmesan cheese

(about ½ cup)

3

tablespoons

sliced almonds

salt and pepper

(for seasoning)
Instructions
Chicken Milanese
Slice the chicken into thin cutlets.

Set up your dredging station with plates or low bowls. Fill one with all purpose flour, another with well-beaten eggs, and in the third combine the breadcrumbs, parmesan cheese, italian seasoning, and garlic powder.

Working one piece of chicken at a time, coat with flour (shake off excess), then egg wash (letting excess drip off), and then coat with breadcrumbs while pressing gently into the breadcrumb mixture.

Heat your neutral oil over medium high heat in a large skillet until the oil shimmers. Working in batches if needed, cook the chicken pieces 4 to 6 minutes each side until golden brown and cooked through. Transfer cooked pieces to a paper towel lined plate until all the pieces of chicken are cooked.

Season the cooked chicken with a sprinkle of salt and black pepper. Slice and serve alongside grilled lemon and arugula salad.
Grilled Lemon and Arugula Salad
Heat a seasoned grill pan over high heat - or use an outdoor grill and brush the grill grates lightly with oil. Slice the lemons in half and grill over high heat for about 4 to 5 minutes until the fruit starts to caramelize where the grill marks are.

Spread the arugula in a large bowl or on a large platter. Remove any visible seeds from the lemons and squeeze over the arugula. Drizzle with extra virgin olive oil. Season with salt and pepper and top with shaved parmesan cheese and almond slices.
Notes
Chicken milanese cutlets can be cooked in the air-fryer instead of pan fried. Cook at 400°F for 10 minutes, flipping half way.
Chicken pieces can be served whole or sliced.
Regular lemons can be substituted for Meyer lemons if they're unavailable.
Nutrition
Calories:
793
kcal
|
Carbohydrates:
37
g
|
Protein:
43
g
|
Fat:
53
g
|
Saturated Fat:
9
g
|
Polyunsaturated Fat:
12
g
|
Monounsaturated Fat:
30
g
|
Trans Fat:
1
g
|
Cholesterol:
179
mg
|
Sodium:
702
mg
|
Potassium:
763
mg
|
Fiber:
4
g
|
Sugar:
3
g
|
Vitamin A:
1178
IU
|
Vitamin C:
7
mg
|
Calcium:
408
mg
|
Iron:
4
mg