Lemon and basil soaked, hand-torn sourdough bread tossed with crisp greens, sweet strawberries and creamy fresh mozzarella. Summer sourdough panzanella salad is paying tribute to the traditional recipe with summery vibes thrown in the mix.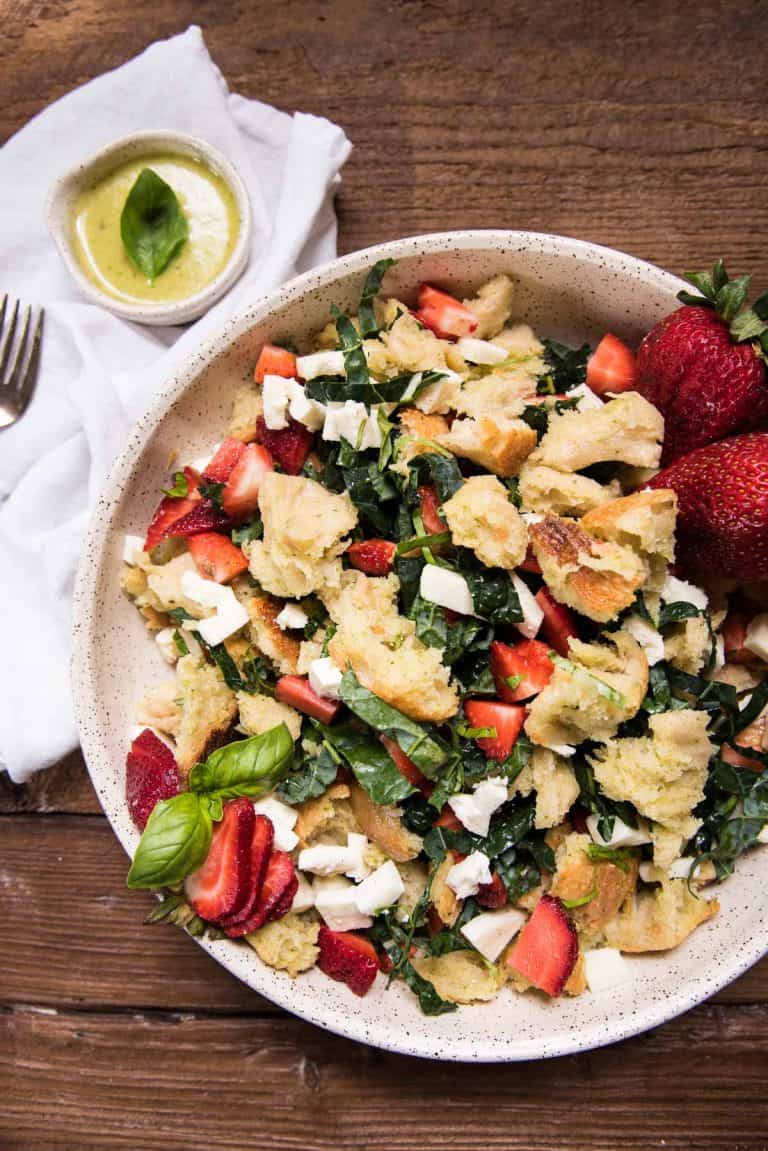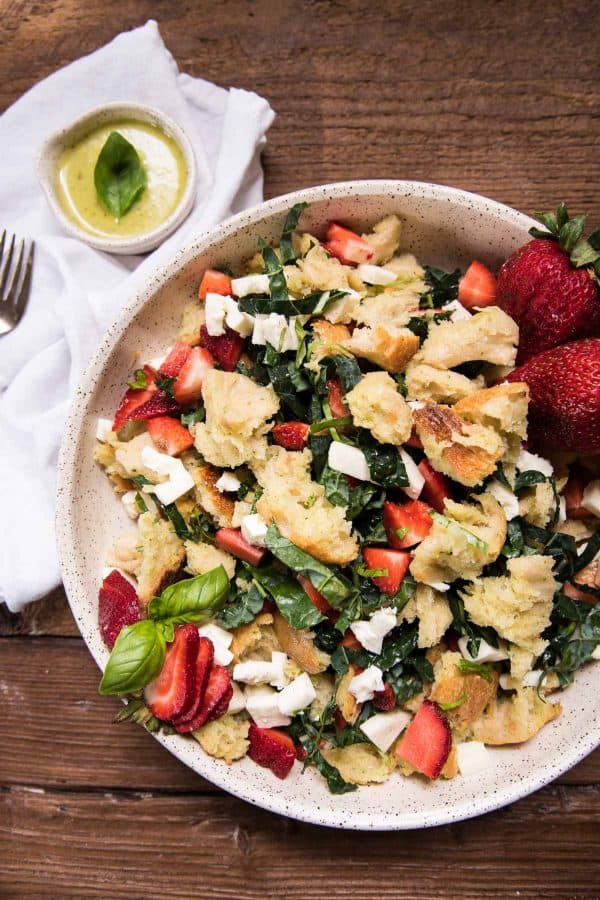 Anyone else swimming in sourdough? Listen, you and I both know everyone in their mother is stress baking right now because hello, it's 2020 and the world is like someone is picking plot lines out of a hat. If you're not swimming in sourdough starter - failed, mature, or in between - someone you know is. So let's make bread and then turn that bread into salad.
This sourdough panzanella salad is bringing all the good summery things about salad.
hearty, tangy bites of sourdough bread
crisp and crunchy kale (or other greens of your choice)
sweet summer strawberries
creamy fresh mozzarella
homemade lemon basil and honey vinaigrette
It's going to be such a wonderful experience of using extra bread and fresh summer fruits and veggies!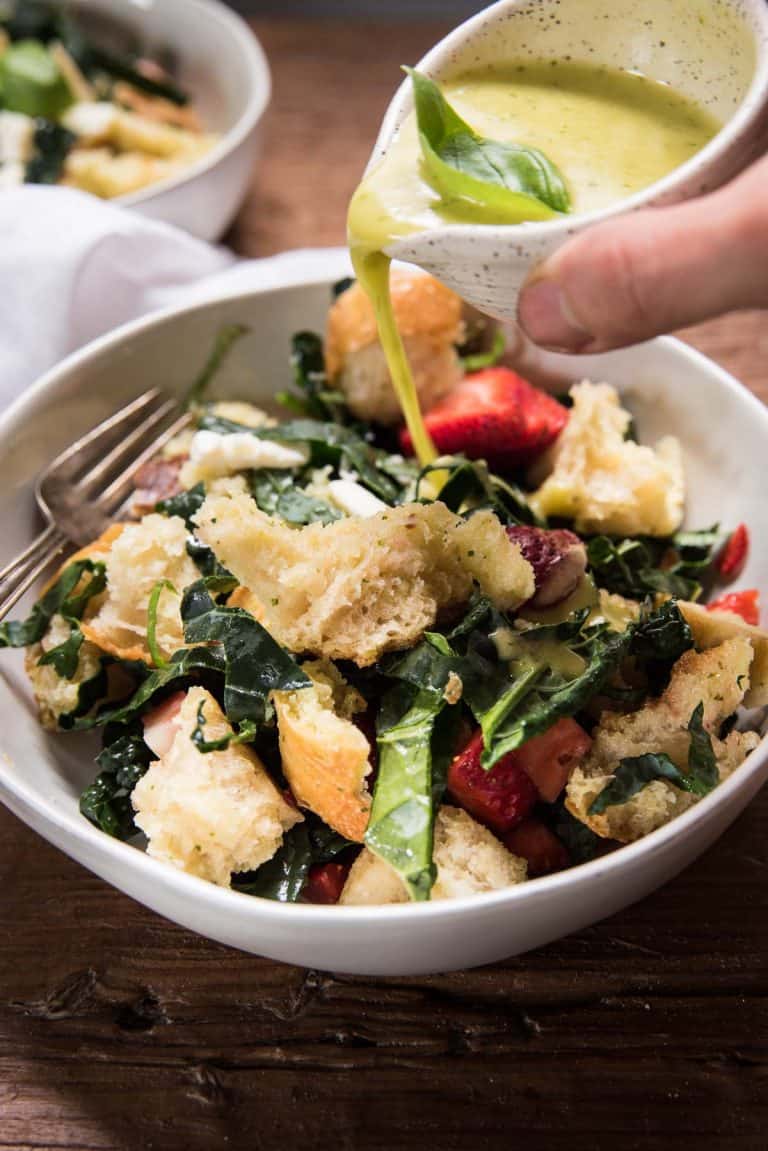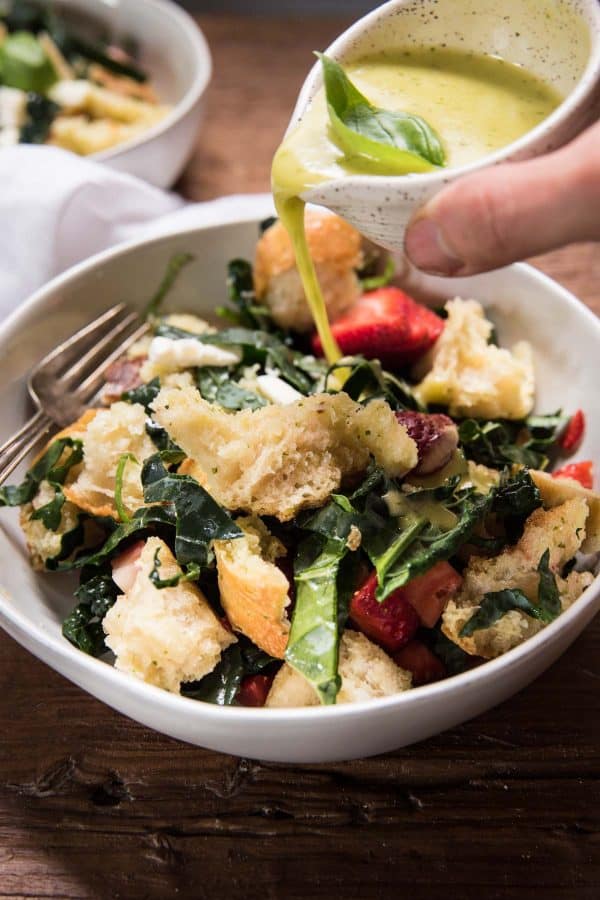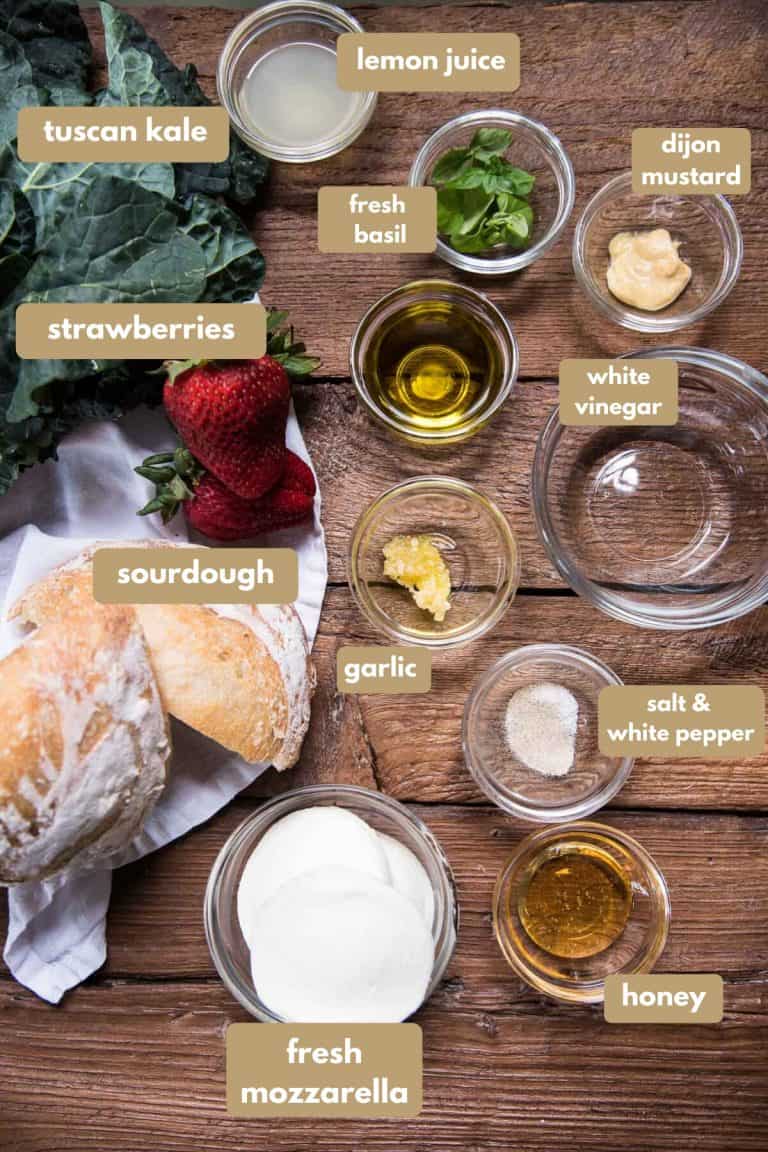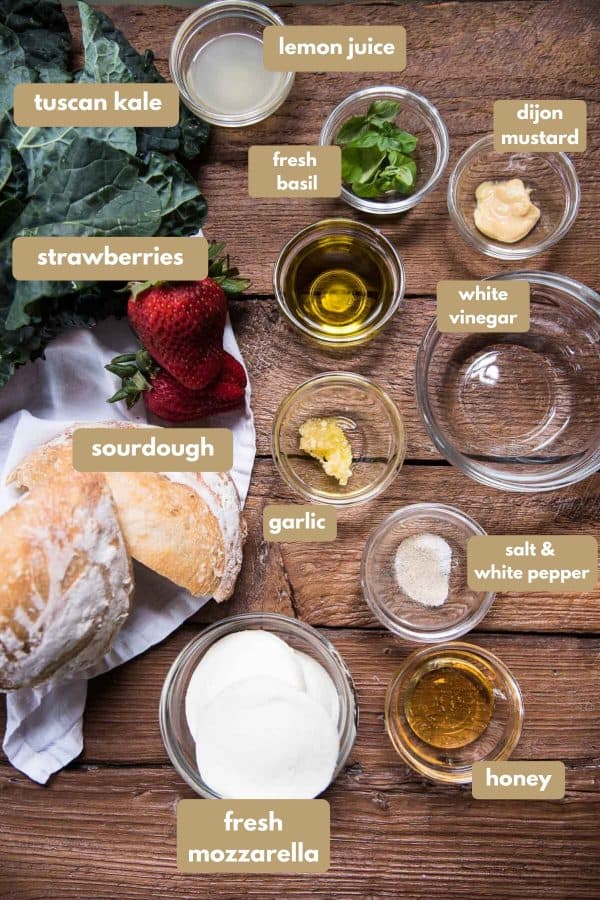 What is a panzanella salad?
Bless Italy. Tuscany if we want to get real specific. Where they took stale old bread, soaked it in dressing and called it salad. This is probably where I should be living. But I don't so instead, let's pour a large glass of sangiovese and tuck into summery bread salad bliss.
Traditionally, a panzanella salad uses stale old bread, tomatoes, cucumbers tossed with olive oil and vinegar. For ours, we're giving it a sweet and cheesy spin.
Do you have to use sourdough?
Nope, any hearty bread will do. Preferably stale, especially the softer the bread. You want tender bites of vinaigrette infused bread, not mushy. Sourdough, ciabatta, focaccia - all of these are really good choices!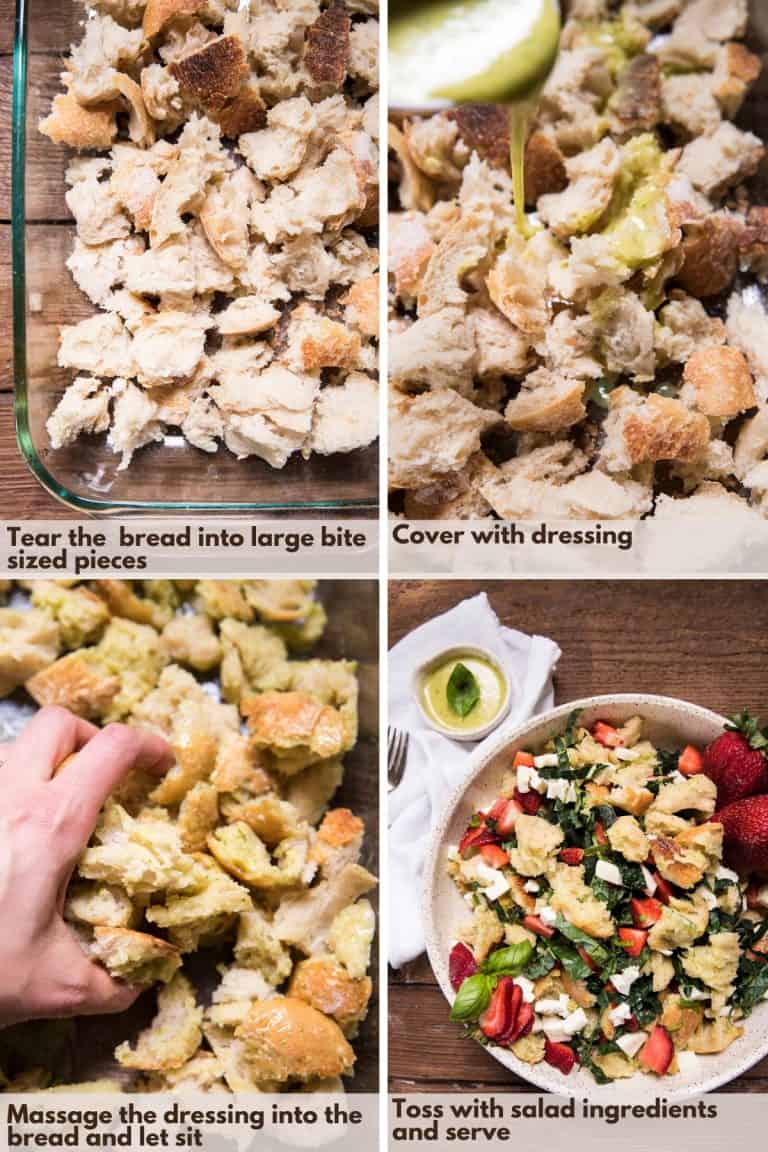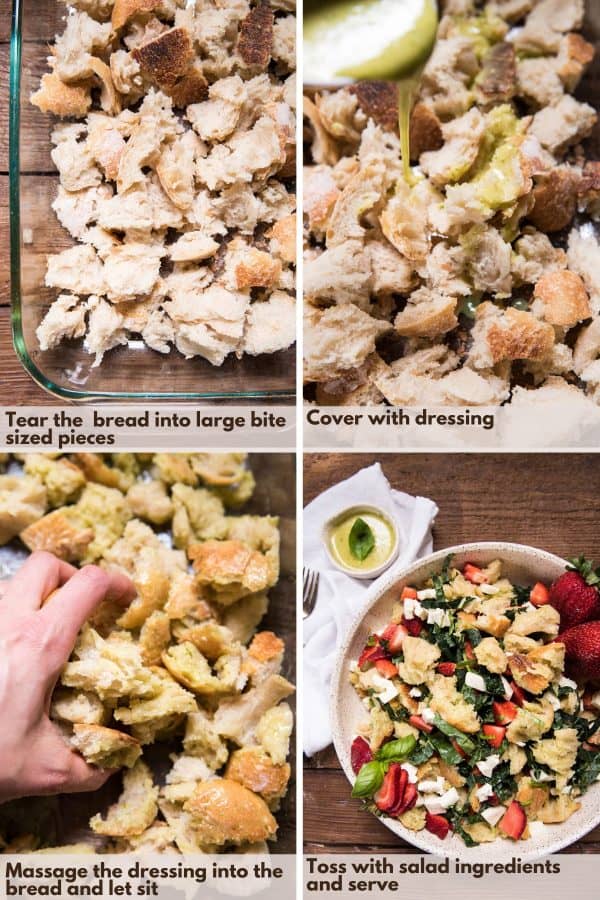 Tips for making perfect sourdough panzanella salad
The best part about this salad is it's super customizable - use what you have! Sub blackberries for strawberries or feta for mozzarella. As long as there are some sort of fruit and cheese elements, it's going to go great with the subtly sweet lemon basil dressing.
A few tips to making panzenella:
Leave the bread out overnight to get stale or use a loaf that's a few days old
Hand tear the bread for rustic, uneven pieces
Keep the pieces bite sized but on the larger side - you want the bread to be the star!
Lemon Basil Dressing
Where bread is the most important ingredient in sourdough panzanella salad, the next is the dressing. It needs to be well balanced and super flavorful that your craving the next bite and this lemon basil dressing is bringing all that love.
It's packing all the flavor and hitting all our favorite taste zones:
zippy lemon
fresh basil
sweet honey
and the vinaigrette basics: olive oil, vinegar, dijon, garlic, salt and pepper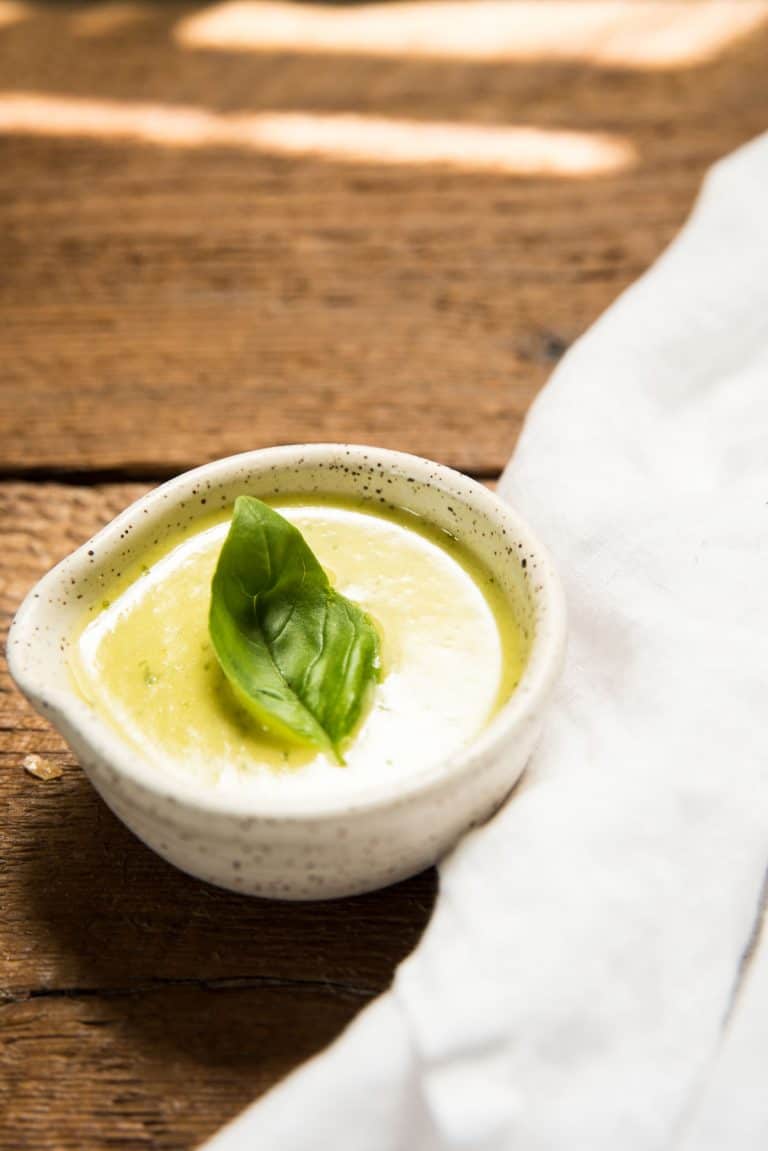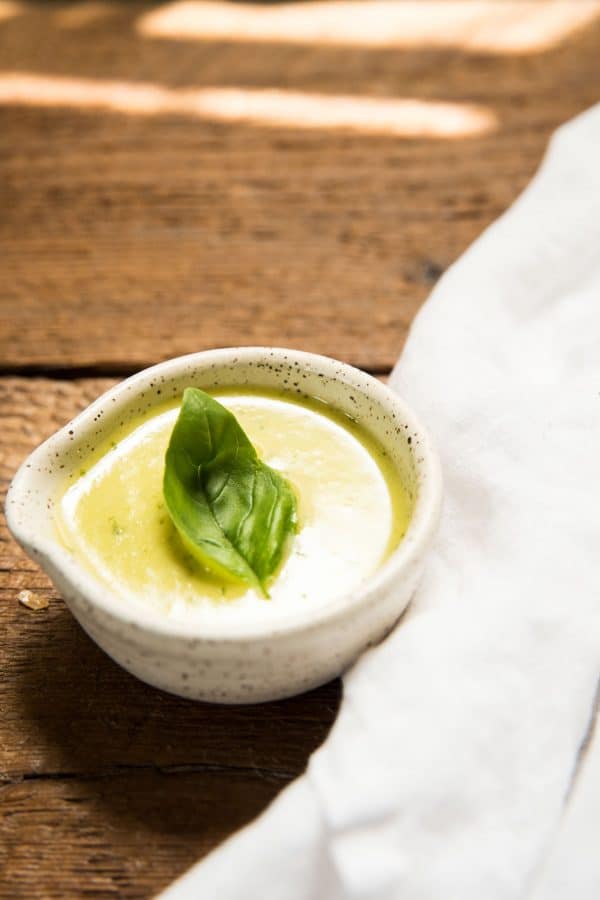 Drizzle it over your Caprese salad or summery, no mayo pasta salads! Or you know, alongside that fresh sourdough you're finally perfecting.
If you loved this salad, I'd love for you to tell us about it! Leave a rating and comment below and don't forget to hashtag #hungerthirstplay with your social media snaps. Stay safe out there friends!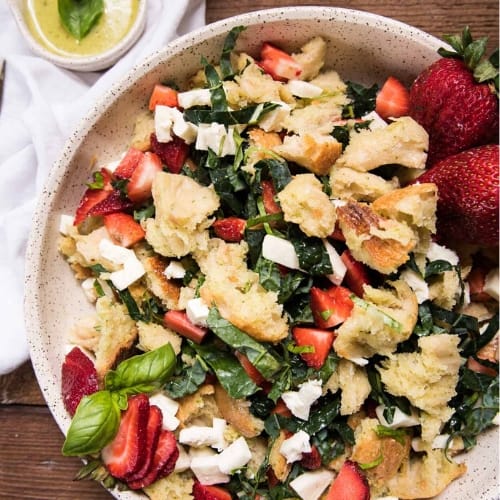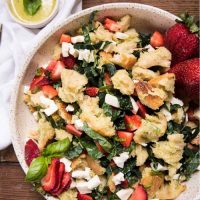 Summer Sourdough Panzanella Salad
The classic recipe gets a summery twist! Sourdough panzanella is perfect for leftover or stale bread matched up with fresh, summer produce and creamy fresh mozzarella cheese.
Print
Pin
Rate
Servings:
4
to 6 servings
Ingredients
Summer Sourdough Panzanella Salad
1

small loaf stale sourdough

(about 4 cups)

1

small head Tuscan kale

(about 4 cups)

1 ½

cups

strawberries

(quartered)

4

ounces

fresh mozzarella

(diced)

3

basil leaves

(thinly sliced)

¾

cup

lemon basil dressing
Lemon Basil Dressing
⅓

cup

extra virgin olive oil

¼

cup

white vinegar

1

teaspoon

dijon mustard

1

clove

garlic

(minced)

1

tablespoon

honey

2

teaspoons

lemon juice

1

tablespoon

fresh basil

(roughly chopped)

¼

teaspoon

salt

⅛

teaspoon

white pepper
Instructions
Tear the bread. Using your hands, tear the sourdough loaf into large bite-sized pieces. If using a fresh loaf of bread, leave out overnight to get a little stale if possible. Set aside.

Make the dressing. Whisk together the ⅓ cup olive oil, ¼ cup white vinegar, 1 tablespoon mustard, 1 clove garlic, 1 tablespoon honey, 2 teaspoons lemon juice, 1 tablespoon basil, ¼ teaspoon salt and ⅛ teaspoon white pepper. If available, blend the ingredients in a food processor or using a hand blender to emulsify the oil and vinegar into a smooth dressing that doesn't separate.

Soak the bread. Pour ½ cup of the lemon basil dressing over the torn sourdough. Using your hands, massage it into the bread, covering every piece.

Make the salad. In a large bowl toss the 4 cups kale with the remaining ¼ cup lemon basil dressing and mix in the soaked sourdough pieces. Spread the strawberries, mozzarella, and thinly sliced (chiffonade) basil over the top of the greens. Serve right away or refrigerate and serve later.
Notes
Leave the bread out overnight to get stale or use a loaf that's a few days old
Hand tear the bread for rustic, uneven pieces
Keep the pieces bite-sized but on the larger side - you want the bread to be the star!
Nutrition
Calories:
612
kcal
|
Carbohydrates:
74
g
|
Protein:
20
g
|
Fat:
27
g
|
Saturated Fat:
7
g
|
Cholesterol:
22
mg
|
Sodium:
921
mg
|
Potassium:
276
mg
|
Fiber:
4
g
|
Sugar:
10
g
|
Vitamin A:
516
IU
|
Vitamin C:
37
mg
|
Calcium:
211
mg
|
Iron:
5
mg