It's not summer until there are stuffies and chowder! Baked stuffed clams are a New England - and specifically Rhode Island - favorite with fresh chopped quahog clams, buttery crackers, sauteed vegetables, and just a touch of briny sea flavor!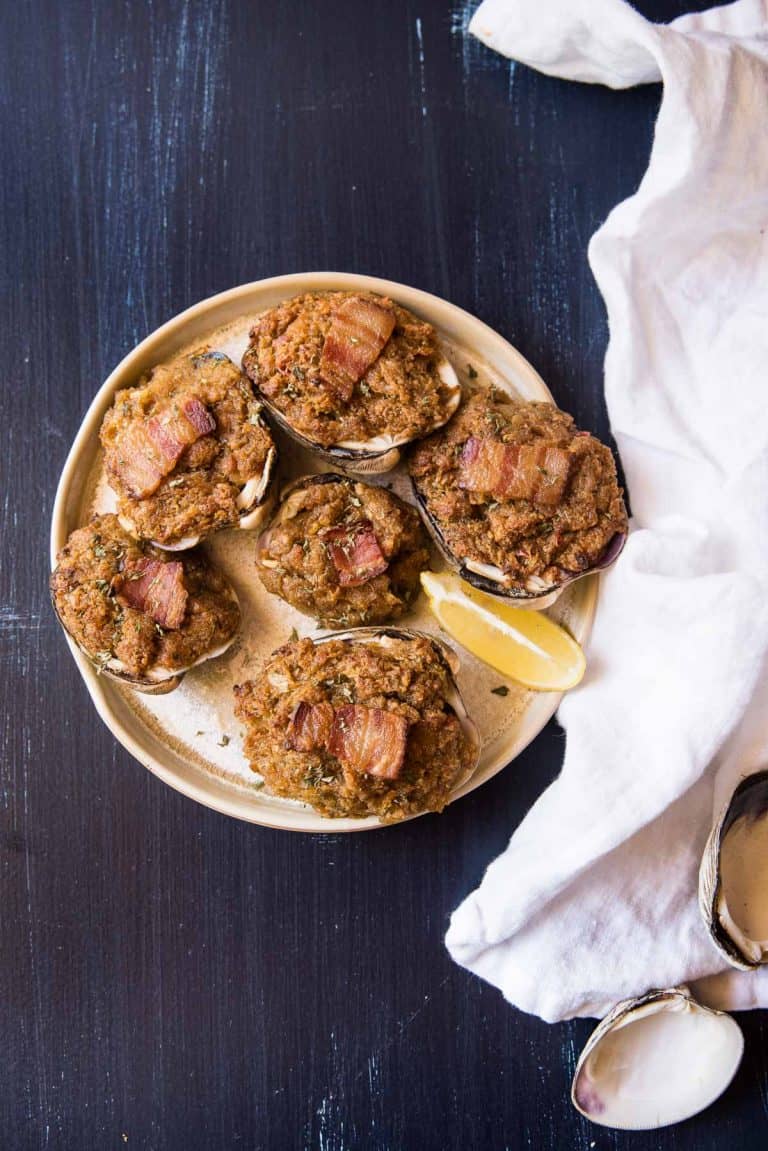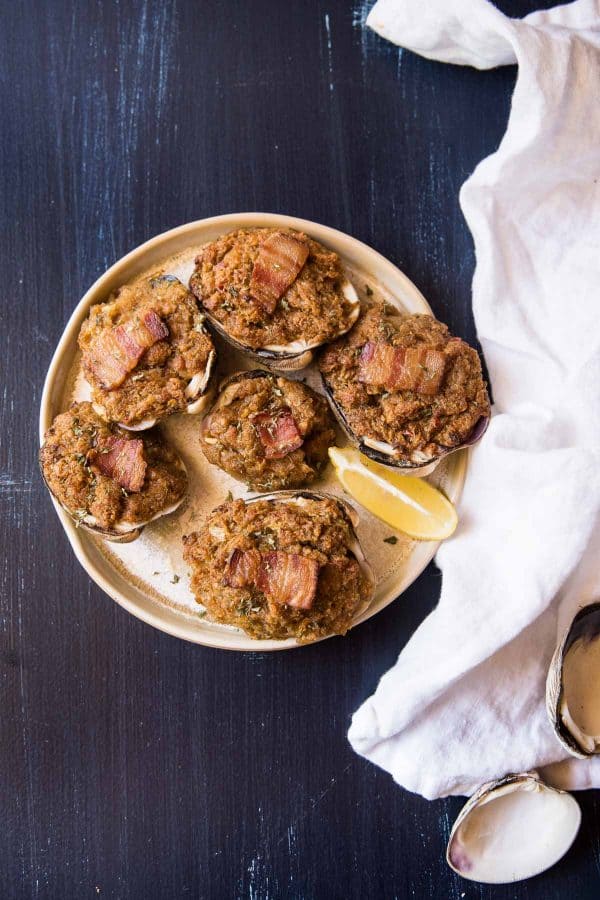 If you know, you know. And if you don't know, you're about to find out what you've been missing your whole life when it comes to summertime New England seafood eats.
I mean it, PUT DOWN THE STORE BOUGHT STUFFIES DARLING. While, sure, they'll do in a pinch, but nothing compares to homemade. You'll fall in love with these baked stuffed clams for a few reasons but mostly these.
loaded with fresh chopped clams
aromatic veggies
butter cracker stuffing
just a hint of briny clam flavor
crispy bacon topping optional
Break out the food processor (affiliate link), roll up your sleeves and let's dig into classic New England seafood prep!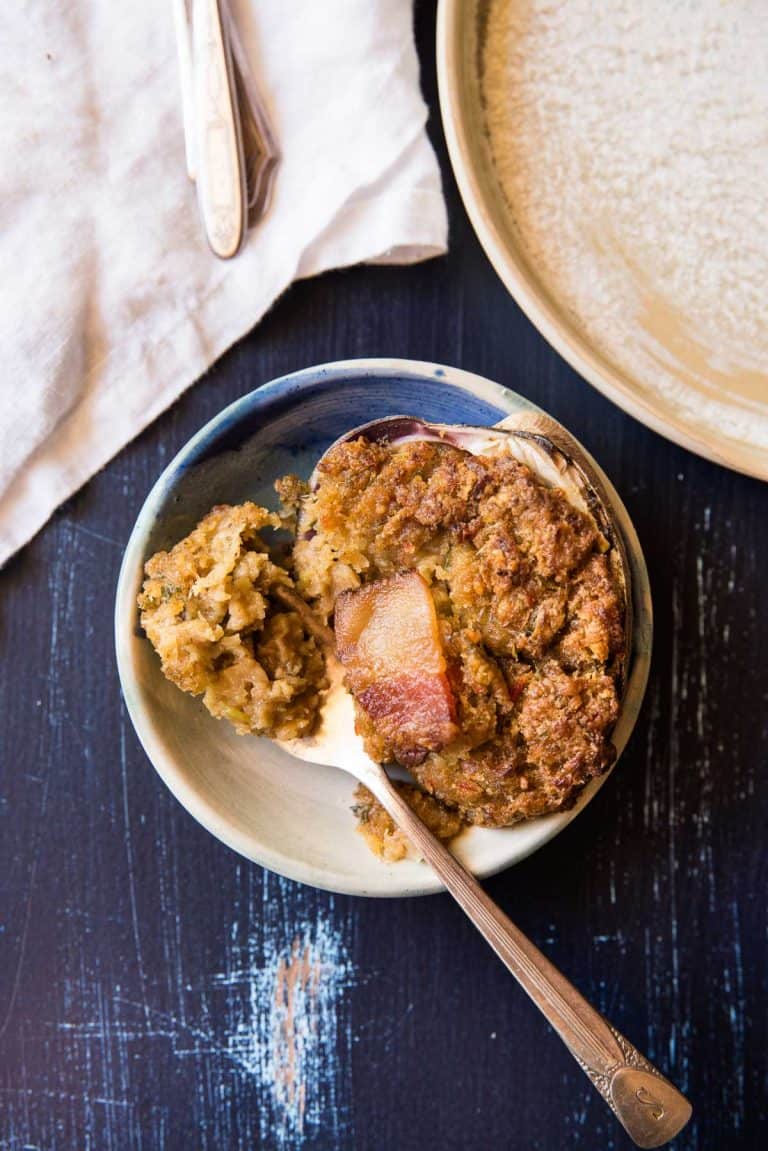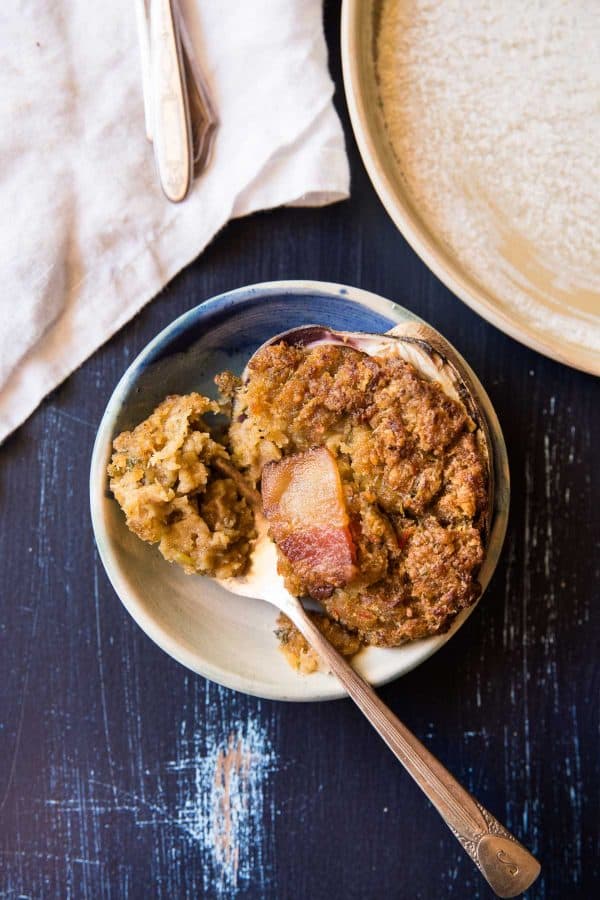 What are "stuffies?"
You know how different parts of the country call the same thing different names? In some parts it's "soda" or "cola" or "pop." Well, cross the border into the smallest state in our nation and baked stuffed clams are stuffies. It's as simple as that.
What type of clam should you use?
Traditional stuffies are made using a quahog clam. The clam itself is bigger and meatier, as well as the shell. Bigger shell, more baked stuffed clam stuffing.
While you can definitely make baked stuffed clams using cherrystones or smaller hard shell clams, the quahog is going to give you the most clam per shuck.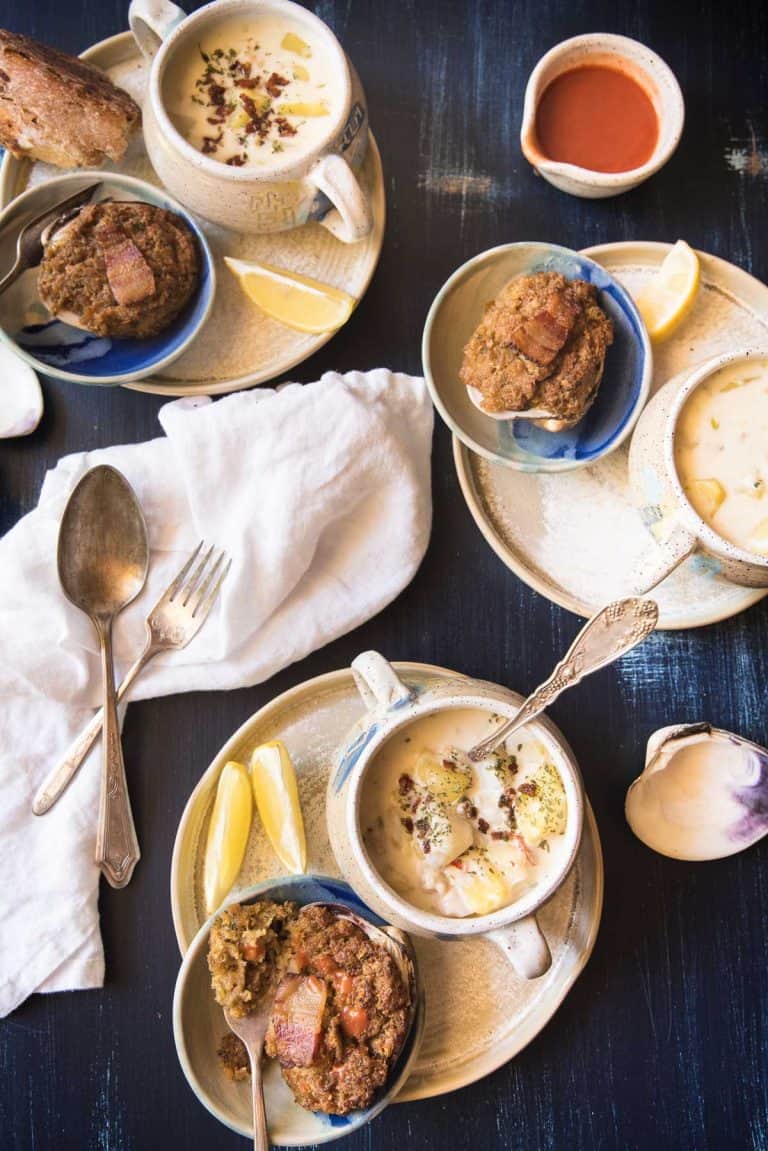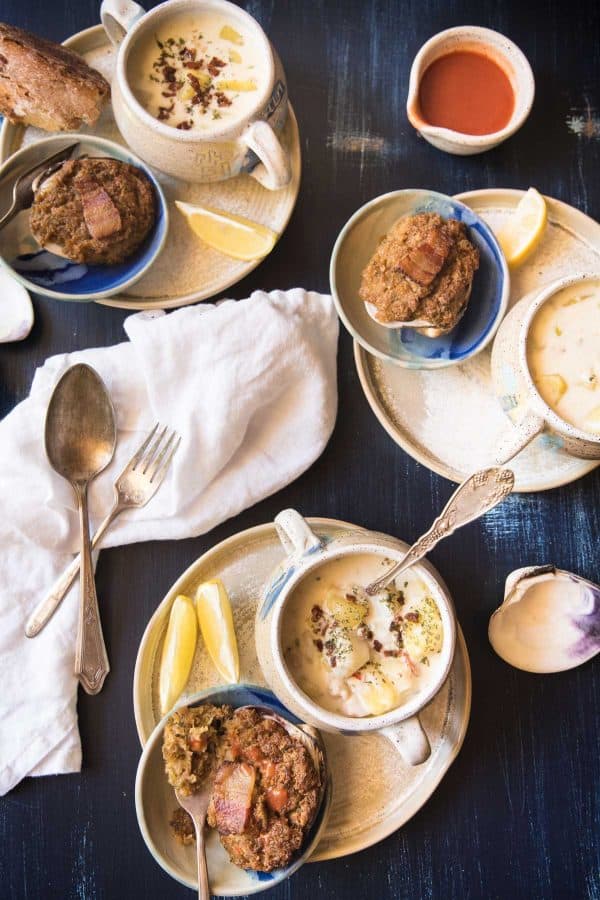 Prepping the quahogs
The first and most important step is cleaning the quahogs! You want to make sure the shells, especially if freshly dug, are cleaned really well on the outside. What a bummer it would be to put in all this effort only to end up with gritty bites of sand here and there. But then, well, if you're used to eating meals at the beach maybe it won't bother you too much.
Once the clams are scrubbed on the outside using a brush or clean sponge and cold water, you'll need to cook them. Fill a large pot halfway with water and aromatics like onion, bay leaf, and peppercorn - or you can use just water, it's a personal choice. Once the water gets to just a boil, add the cleaned clams and cook just until the clams have opened about 6 to 10 minutes. Remove the clams from the water, reserving 2 to 4 cups of broth to be used in the stuffing.
Important clam safety tips
As a reminder from my favorite movie ever, the wise Amber Atkins once said, "Mom always says, "Don't ever eat nothin' that can carry its house around with it. Who knows the last time it's been cleaned."
While it's not going to stop me from enjoying seafood, we do need to keep a few seafood prep tips in mind.
Fresh seafood should be cooked the day it's purchased. If you can't cook it that day, store on ice overnight. For lobsters, keep them on a bed of wet newspapers and some seaweed if it's available.
You can cook the quahogs and freeze the meat if you can't make the stuffies right away. The baked stuffed clams will still be delicious as using just cooked clams but may require a few extra cracker crumbs to absorb excess water from freezing.
In-shell seafood should be well rinsed before cooking. Be sure to wash hands with soap and water after handling raw seafood to avoid cross-contaminating.
Clams and mussels should be tightly closed before cooking, any that are wide open or with gaping shells should be thrown out.
After cooking all the shells will open. If you have to force it open, don't eat it.
Clams and mussels should cook for about 3 to 5 minutes and the body of the clam will turn opaque when cooked.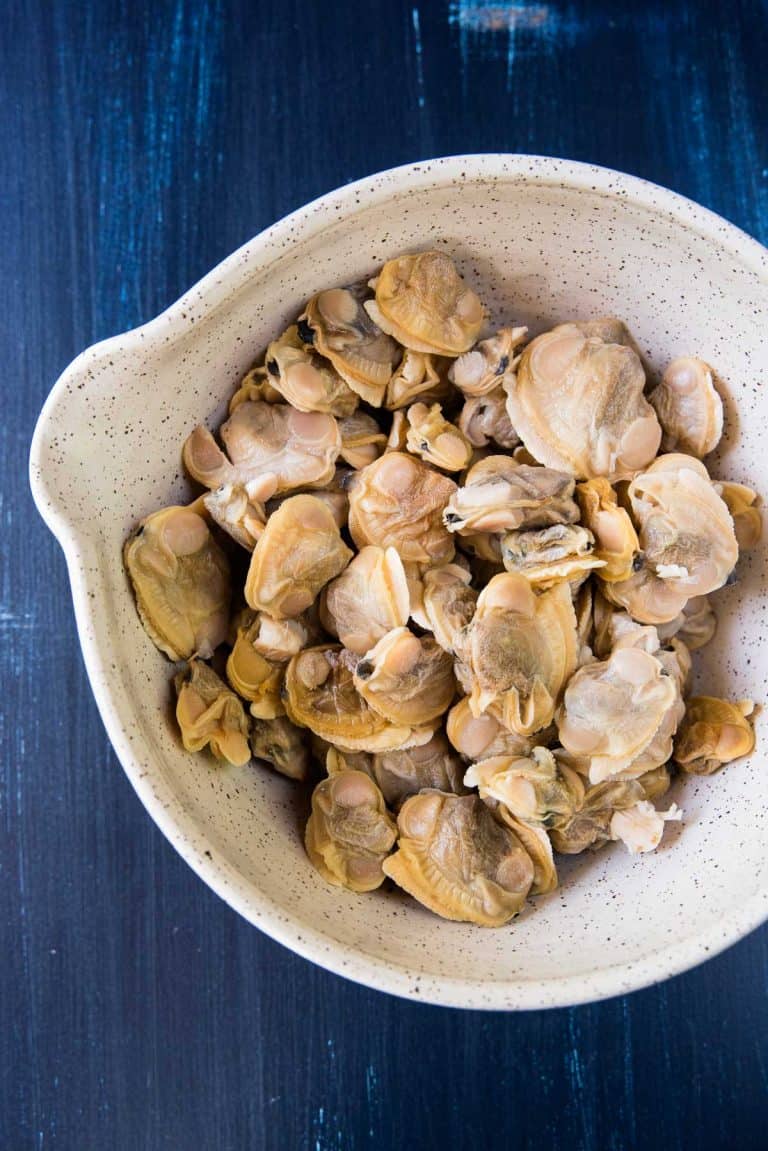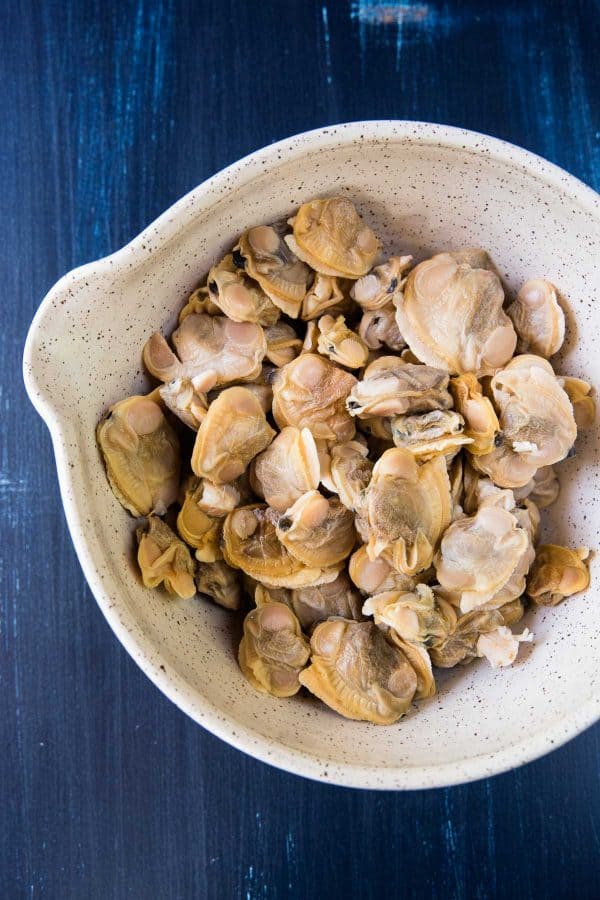 Okay, on to the baked stuffed clams.
Really, once the clams are cooked and shucked the rest is so easy because the food processor is doing all the work. Pulse the clams and set aside. Pulse the veggies, give em a cook. Pulse the crackers and melt the butter. Then in a large bowl combine the veggies, clams, spices, and crackers then slowly add the clam broth and melted butter to the stuffing mixture until it's thick, wet stuffing.
If you've ever made Stove Top stuffing, you want it a little wetter than that...kind of like thick paté. Then you scoop all that seafood goodness into the clamshells pressing firmly into the shell. This particular job used to be my opening sidework at one of the first restaurants I ever worked at, so I'd like to call myself a bit of an expert at stuffie stuffing. ::insert hair flip::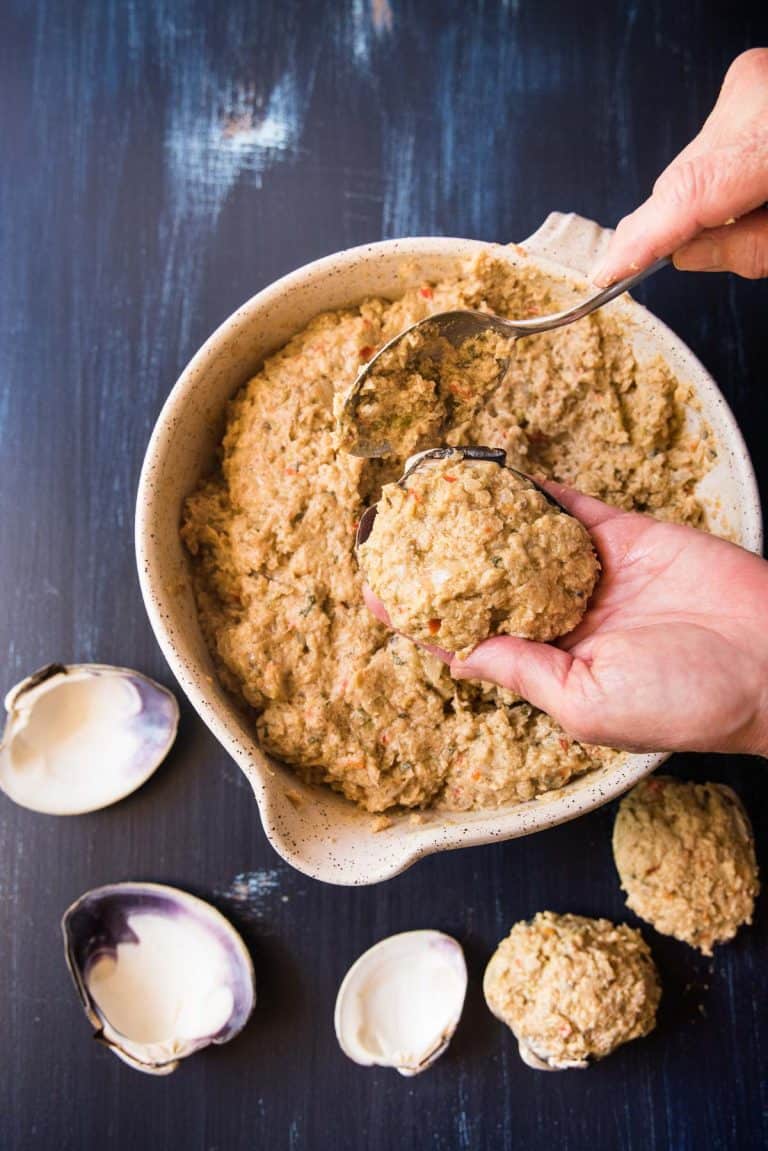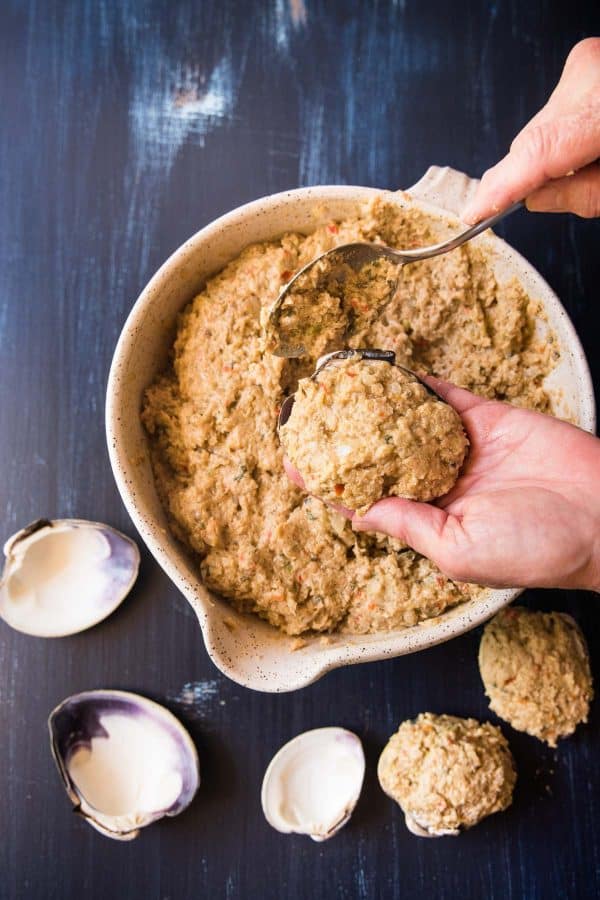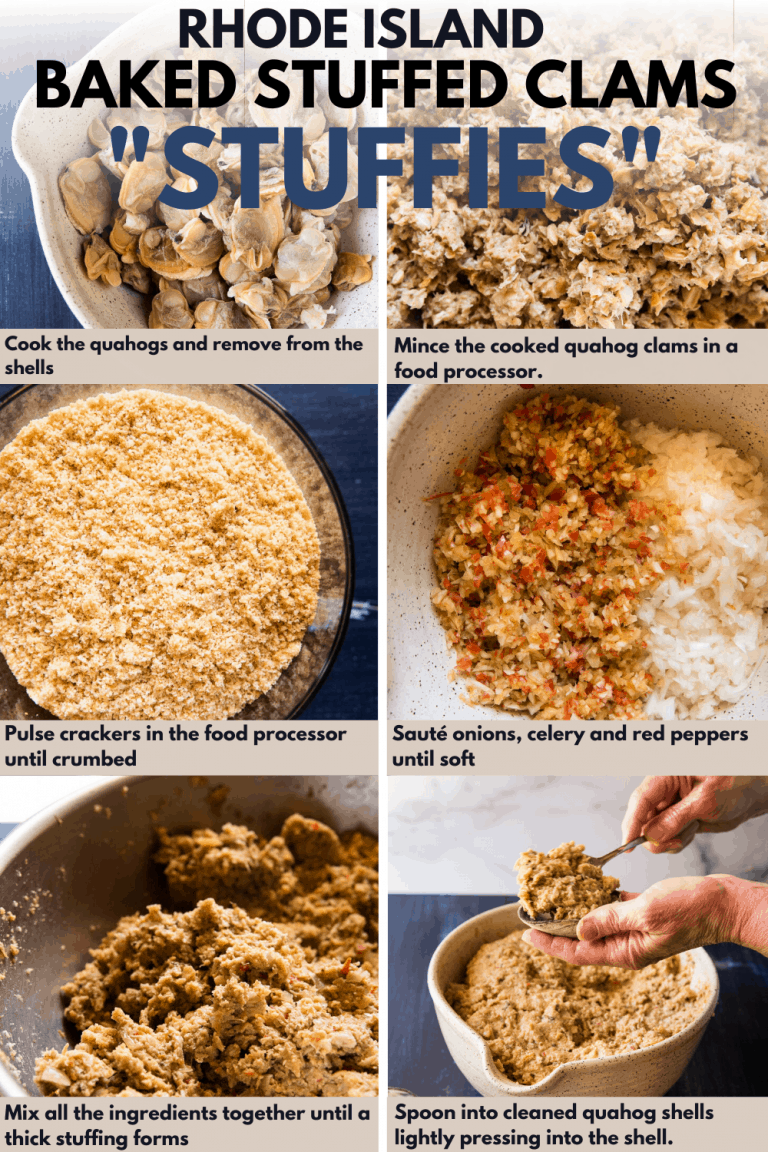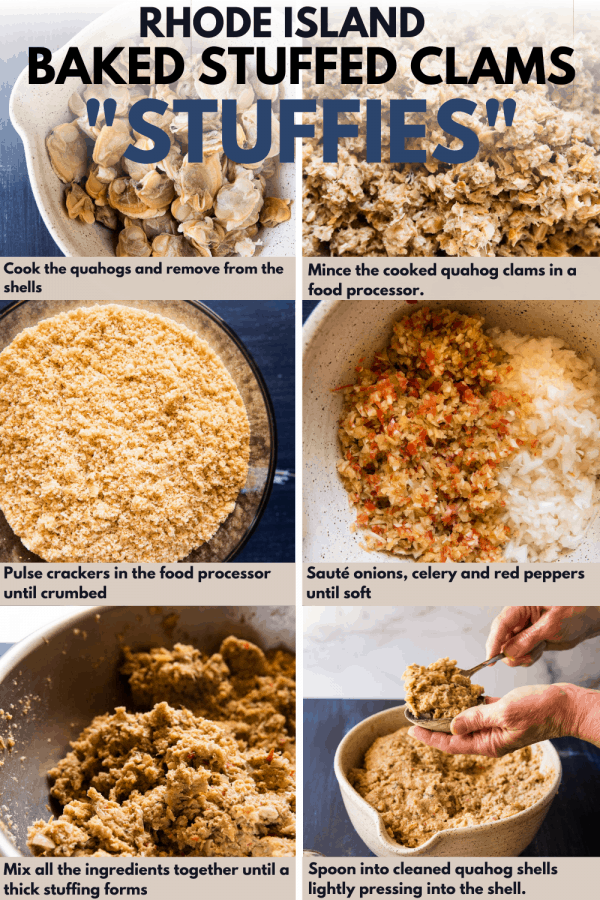 After stuffing, you have an important choice to make. You can either top each stuffed clam with a piece of bacon for added richness and a little smoky flavor or bake without! Both options are great.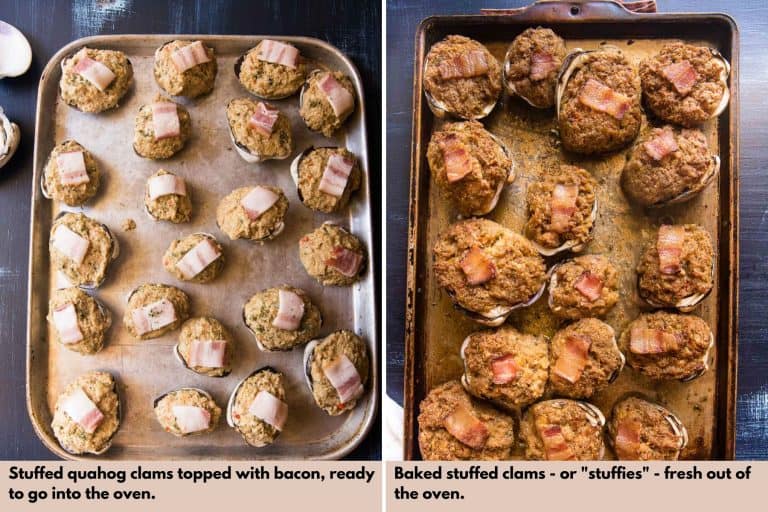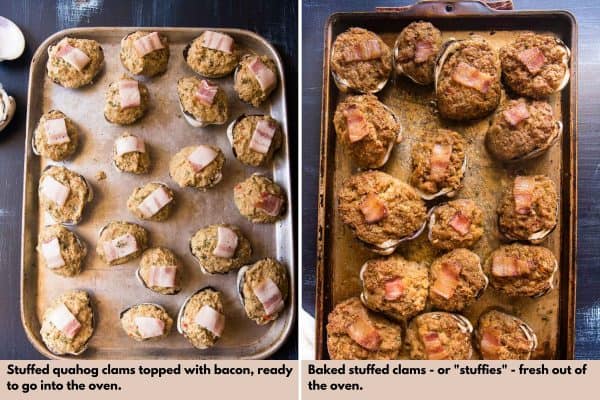 Also, if you're a fan of spice, don't forget a few drops of Frank's red hot or tabasco on top!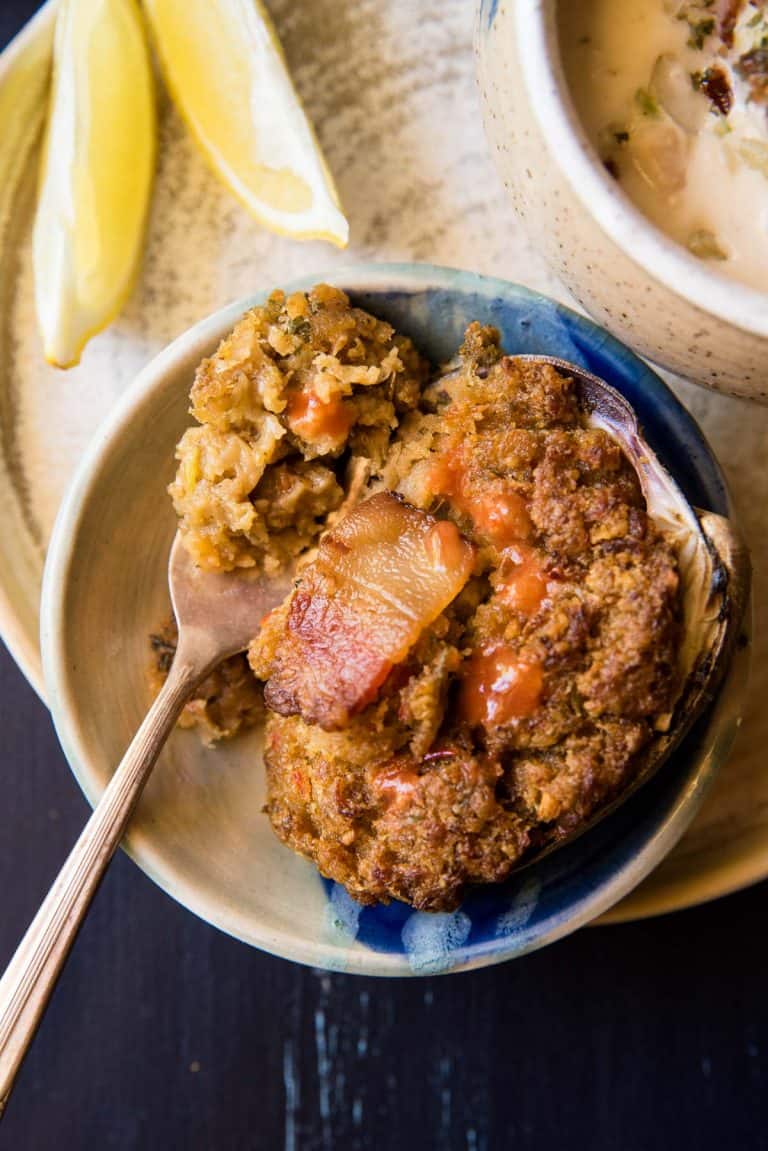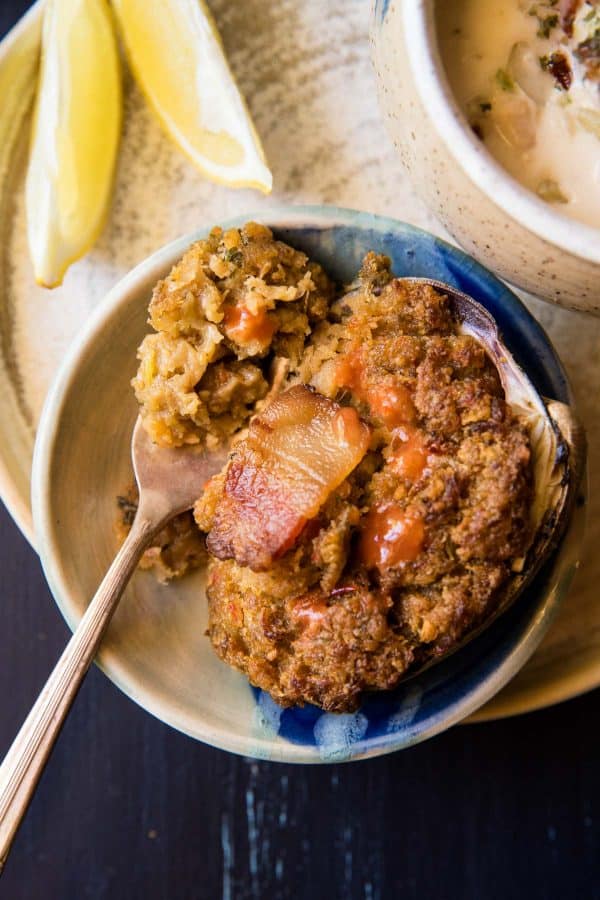 What to serve with baked stuffed clams
Any sort of seafood dish is a great pairing for baked stuffed clams! Truly, these stuffies are the best alongside New England Chowder or as an appetizer before steamed lobster or fish entree. I like to just pop 'em in the toaster oven whenever I get a craving for summertime or seafood.
Can you freeze them?
Yup! You betcha. This recipe makes a fair amount so these are great for summertime barbecues and get-togethers. The recipe can easily be cut in half or you can freeze the prepared stuffies - unbaked or baked - and just cook them from frozen when the craving arrives.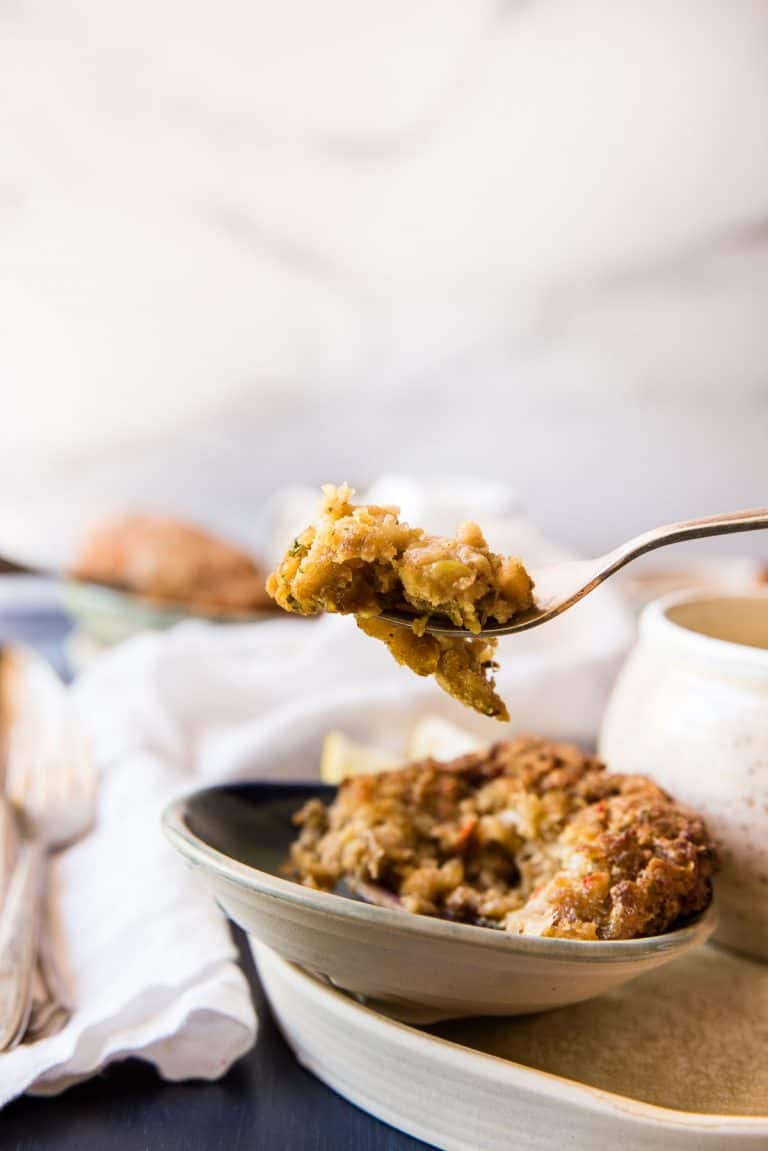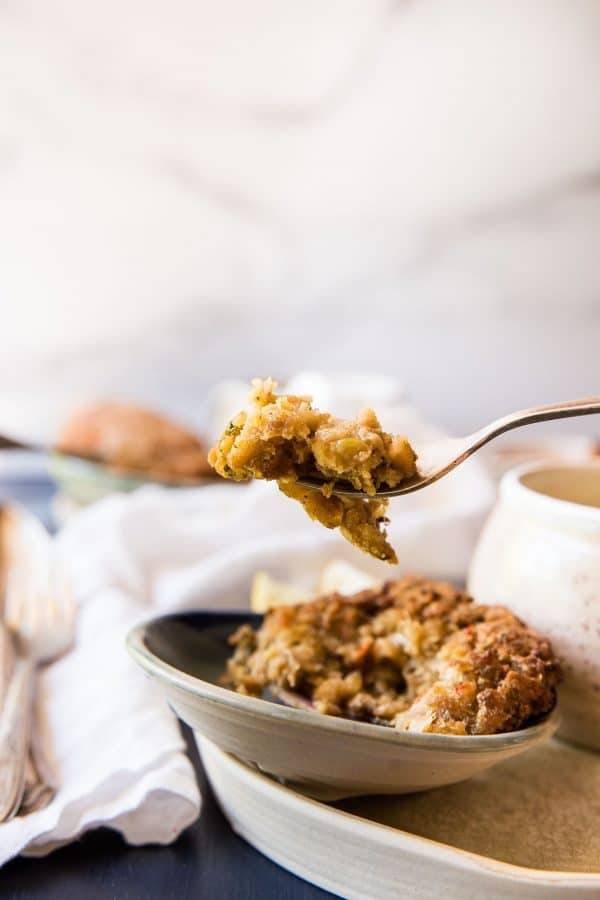 If you loved this recipe, let us know if the comments and leave a rating! What do you eat with your stuffies? Be sure to let us know and show us your tasty creations tagging #hungerthirstplay on social media.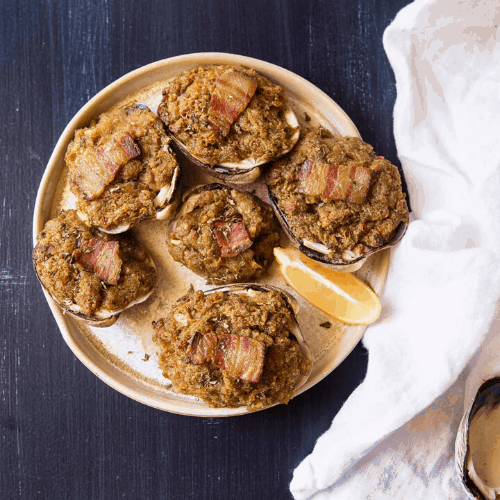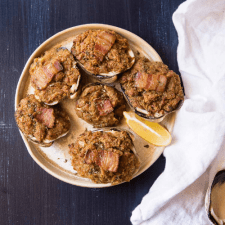 Baked Stuffed Clams "Stuffies"
Baked stuffed clams - or "stuffies" as we grew up calling them - are a classic New England seafood dish loaded with fresh chopped clam, buttery cracker crumb stuffed and aromatic sauteed veggies baked into a quahog clamshell. It's not summer without them!
Print
Pin
Rate
Servings:
20
stuffed clams
Ingredients
To Cook the Clams:
10

pounds

quahog clams

(about 1 pound clam meat)

1

bay leaf

(optional)

1

small yellow onion

(quartered, optional)

3

peppercorn

(optional)

reserve 1 cup clam broth for stuffing
Baked Stuffed Clams:
1

large yellow onion

1

large red pepper

3

celery ribs

3 to 4

sleeves Ritz crackers

(about 30 crackers per sleeve)

¾

stick + 1 tablespoon unsalted butter

¾

cup

to 1 cup clam broth

2

tablespoons

Worcestershire sauce

3

teaspoons

lemon juice

1

tablespoon

minced garlic

1

tablespoon

fresh chopped parsley

salt and pepper

(for seasoning)

2

slices

bacon optional
Instructions
Cook the clams. Scrub the shells of the clams under cool water. Discard any clams that are opened or with gaping shells. Fill a large pot of water ½ of the way with water - enough water to almost cover the clams completely so they all open at the same time. Add a small quartered onion, bay leaf, and peppercorn to the water or you can just cook the clams in plain water. Bring to a boil and add the clams. Cover and cook for 6 to 10 minutes, until the clams have opened and the meat has turned opaque. Remove the clams from the water, strain the broth and reserve up to 1 ½ cups broth. Let the clams cool for 10 to 15 minutes, remove the clam meat from the shells, and set aside. Separate the clamshells into two pieces, clean off any broken pieces or remaining residue. Reserve about 18-20 of the best shells.

Prepare the stuffing ingredients. In a food processor, pulse the crackers into a fine crumb. Set aside. Wipe out the food processor and repeat with the onion, celery, and red pepper. Pulse until the vegetables are minced but not puréed, set aside. Wipe out the food processor and repeat with the clams. Pulse the clams in the food processor just until the clams are chopped into small to medium pieces, set aside.

Make the stuffing. In a large skillet, melt the butter over medium-high heat. Add the onions, celery, and pepper, season with a sprinkle of salt and black pepper. Cook the vegetables until translucent, about 3 minutes, then remove from the heat. In a large bowl, combine the sauteed vegetables, chopped clams, and cracker crumbs (see notes.) Melt the remaining butter and pour over the mixture. Add the Worcestershire, lemon juice, garlic, ¼ teaspoon salt, ⅛ teaspoon pepper, and fresh parsley. Mix the clam broth into the stuffing a little at a time, until the stuffing mix is thick but a little wet. It should be similar to a thick paté.

Stuff the shells. Preheat the oven to 375°F. Stuff the clean shells with the mix, lightly pressing the stuffing into the clamshell. The stuffing should be slightly round on top. Set each stuffed shell on a lipped baking sheet. Optional: Top each stuffed clam with a 1-inch slice of bacon before cooking.

Bake the stuffed clams. Bake the clams for 45 to 50 minutes or until the top of the stuffed clams is rich brown in color, slightly crunchy and if using the bacon, the bacon should be crispy. Serve right away, plain, with lemon, or hot sauce.
Notes
Breadcrumbs can be substituted for crackers, but the buttery and salted flavor of Ritz crackers (as well as the traditional association with New England seafood) makes it the preferred ingredient. Using regular breadcrumbs may affect the overall amount of liquid needed.
Depending on the amount of liquid in the clams, you may need more or less crackers crumbs. When mixing the stuffing mix, add all of the cracker crumbs except for about 1 ½ cups. Once the butter and clam broth is mixed in, you can judge looking at the texture of the crumb if it needs more cracker crumbs. This is also very helpful if using frozen clams, which tend to retain more water.
The stuffed clams can be frozen before or after baking and reheated or baked at a later date.
Nutrition
Calories:
151
kcal
|
Carbohydrates:
17
g
|
Protein:
7
g
|
Fat:
6
g
|
Saturated Fat:
2
g
|
Trans Fat:
1
g
|
Cholesterol:
12
mg
|
Sodium:
458
mg
|
Potassium:
92
mg
|
Fiber:
1
g
|
Sugar:
3
g
|
Vitamin A:
330
IU
|
Vitamin C:
9
mg
|
Calcium:
52
mg
|
Iron:
2
mg