Creamy, savory sauce good for all the fry dipping, sandwich slathering, and roasted veggie drizzlin'. Homemade truffle aioli takes simple ingredients and blends them in the food processor for a perfectly truffle flavored mayo that's great for so many uses!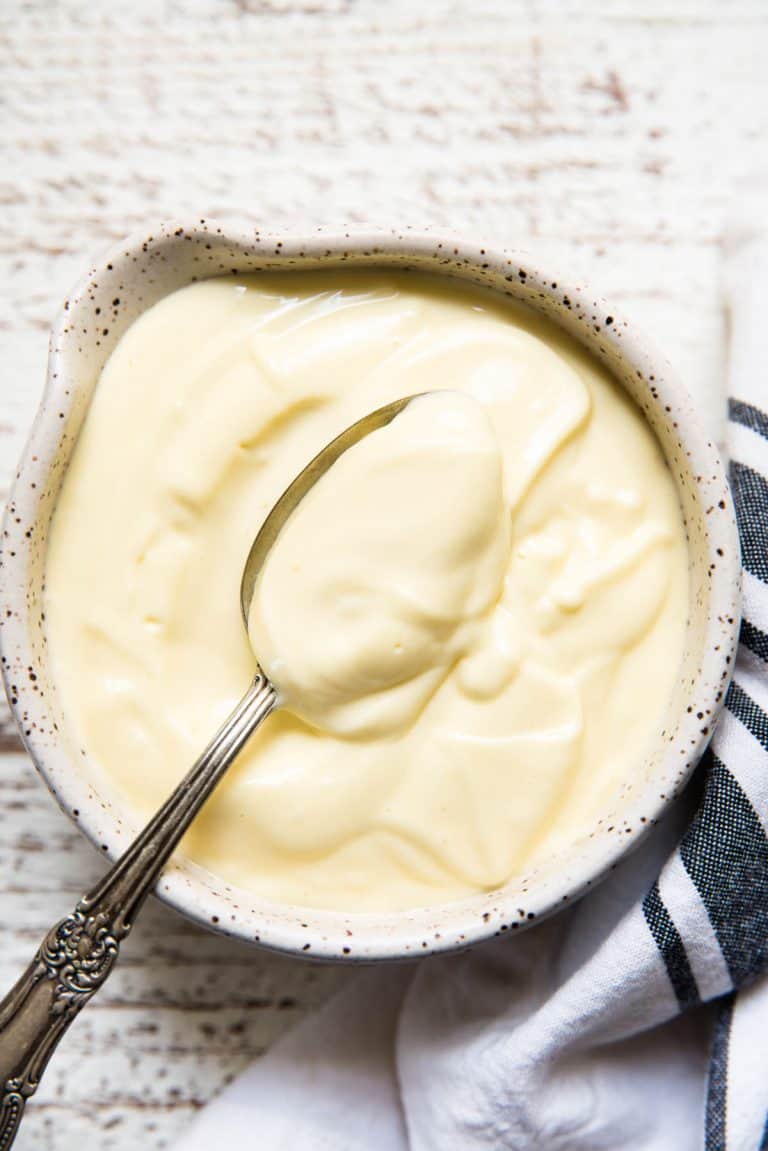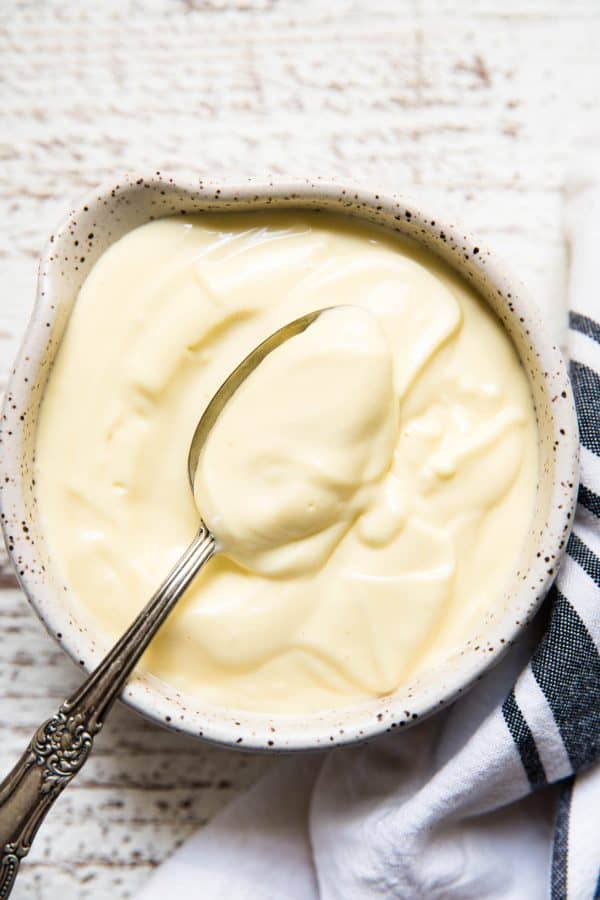 Placing a call to all the dippers and sauce lovers out there, because this one right here is a sauce you're going to want to slather this whenever possible. We're loving it for all the simple reasons that make it addictingly delicious:
Creamy, rich and savory
Strong but not overpowering truffle flavor
Easy to make in the food processor
Common grocery store ingredients
Aioli? Mayo? Are they the same? Does it really, actually matter when the result is creamy, savory, truffle filled flavor? Not one bit because it's totally delicious.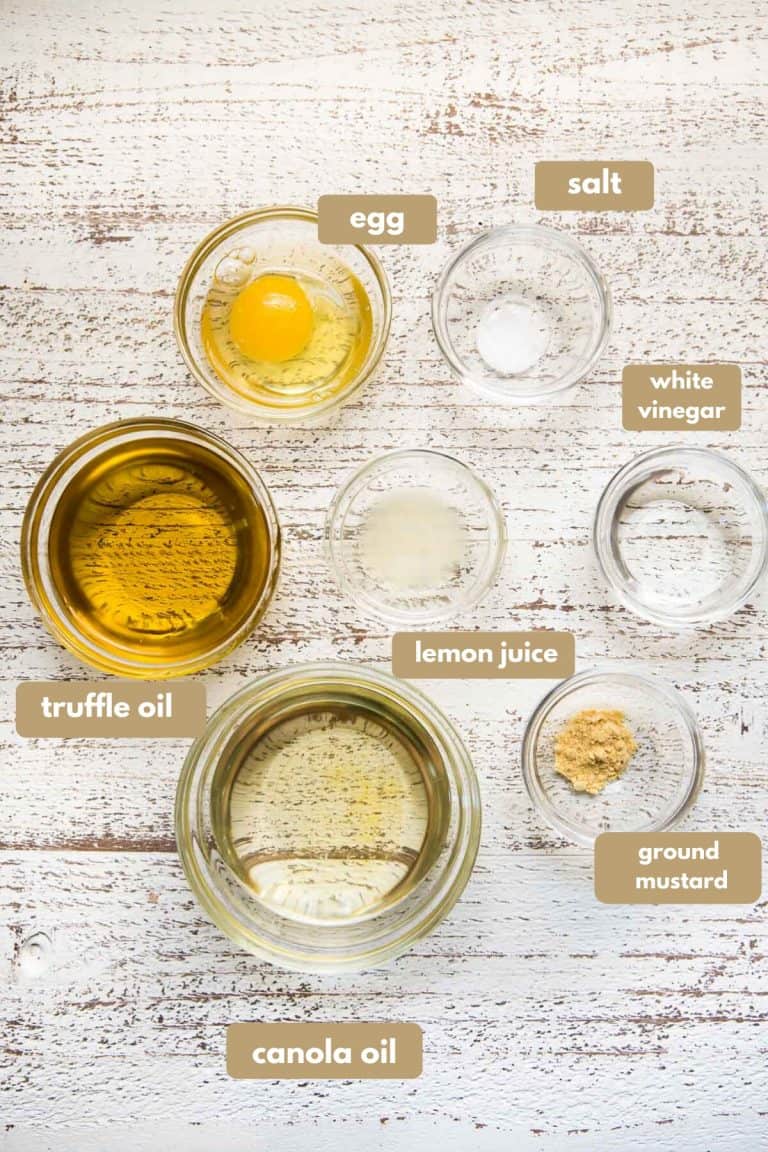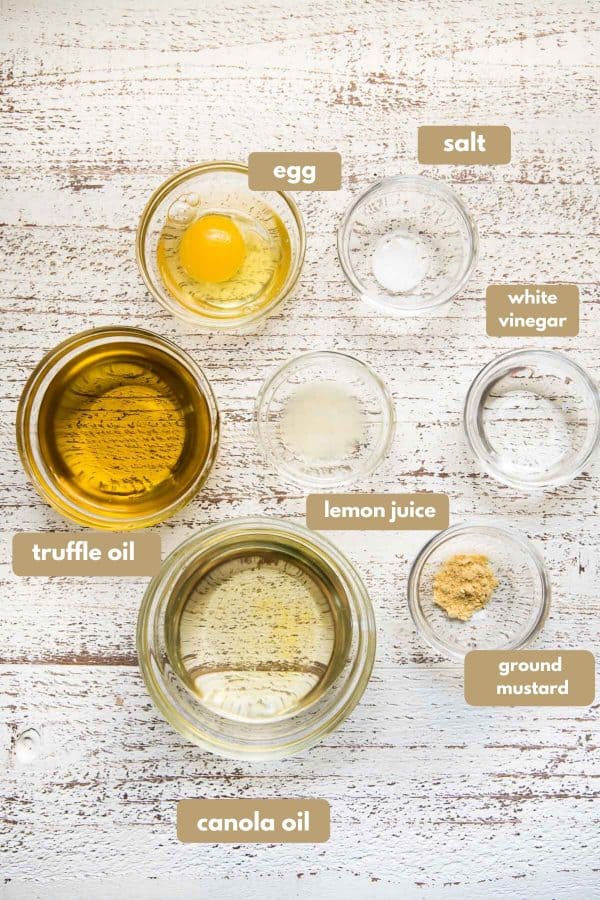 What is aioli?
Ok, but what actually is aioli? Mayo and aioli are in fact not the same thing, nowadays aioli is synonymous with "fancy mayo." Traditional aioli is built on the building blocks of garlic and oil where mayo doesn't use garlic, but if you fire up the google machine most aioli results will also include mayo.
So, we do what we do best, adapt, and grow into a world where aioli and mayo are interchangeable. At the end of the day, does it really matter as long as there's a heavenly smooth, delectable sauce to go around?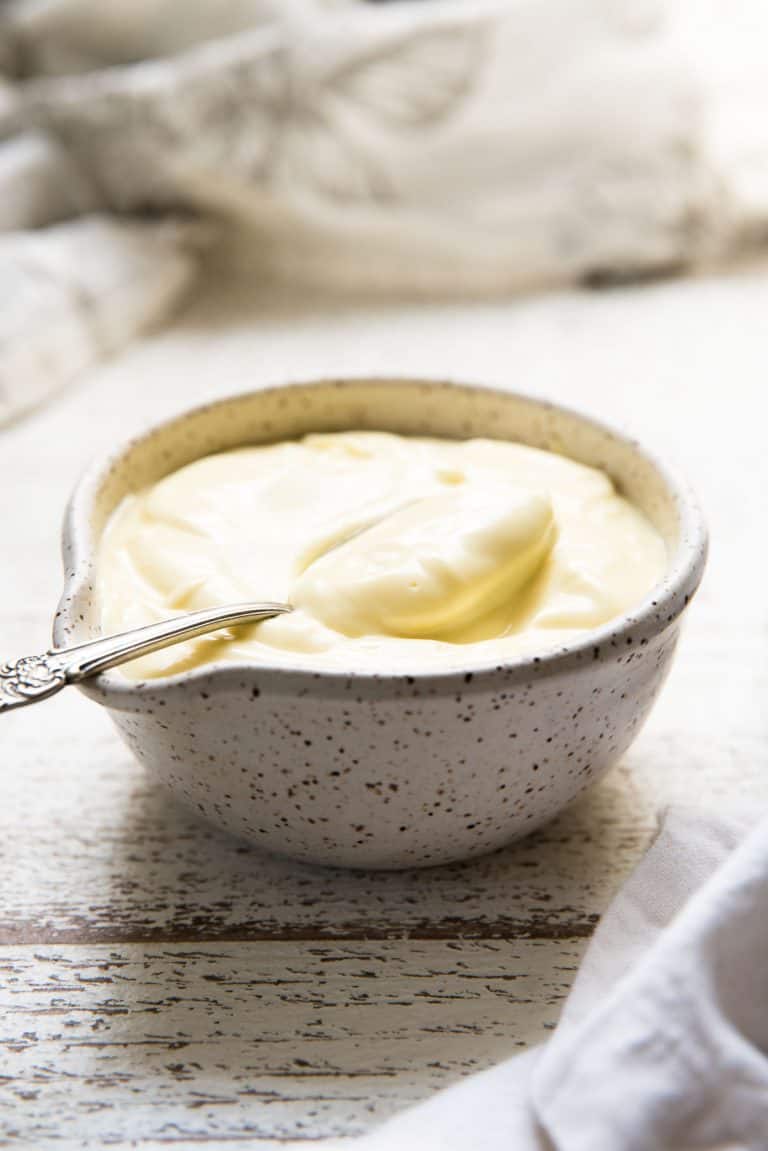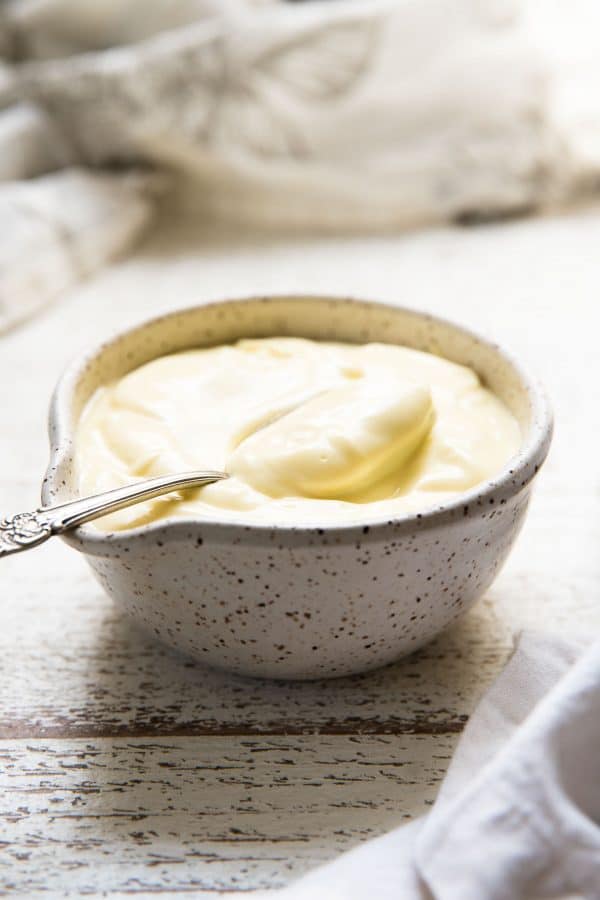 How to make homemade truffle aioli
Ready for the hard part? Just go find the food processor and go to the grocery store. That's it.
The rest of it? Well, that's just a matter of measuring ingredients and letting the egg sit at room temperature.
WHY DOES THE EGG NEED TO BE ROOM TEMPERATURE?
Cold eggs lead to separation or mayo that doesn't thicken. Using a room temp egg will blend easier and faster. I mean, you only want to make this once right? Right. Use the room temp egg.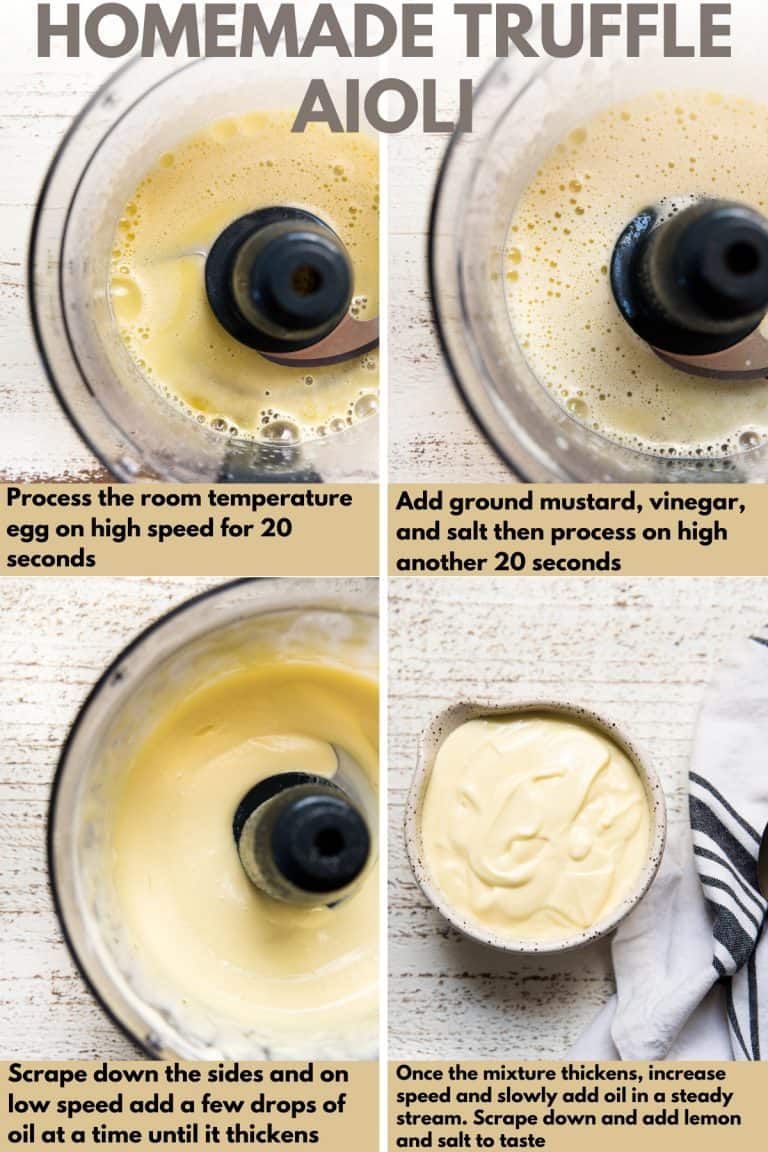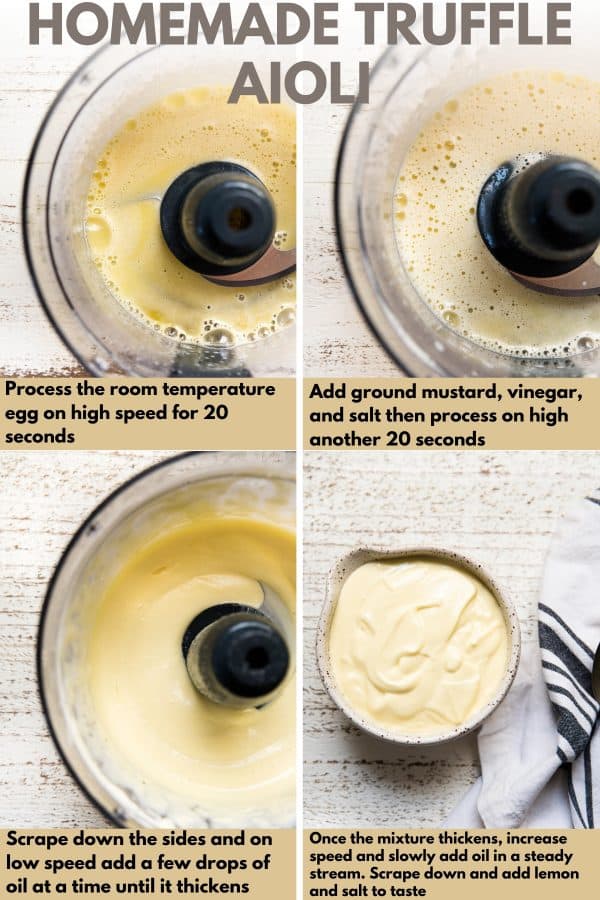 Where are the truffles?
Here's the secret....lean in close. We're keeping this recipe both cost-effective and easy by using truffle-infused oil from the store. It doesn't actually contain fresh truffles and that's why it doesn't cost 5 million dollars to make. Ok, ok, it wouldn't cost quite that much but white truffles aren't cheap.
Because truffle-infused oil is usually a blend of olive oil, we use half truffle oil, half canola oil for this recipe. The canola oil is a neutral-tasting oil so the truffle flavor isn't overpowered by the olive oil taste or aioli overpowered by truffle flavor.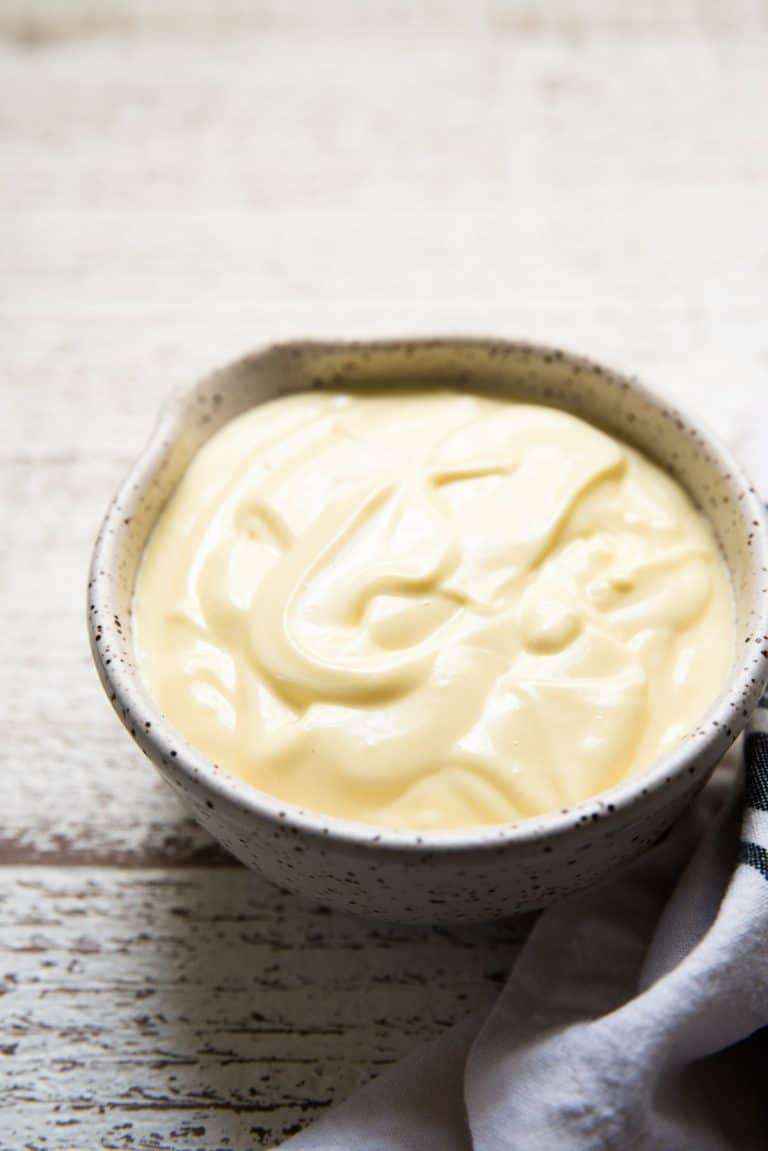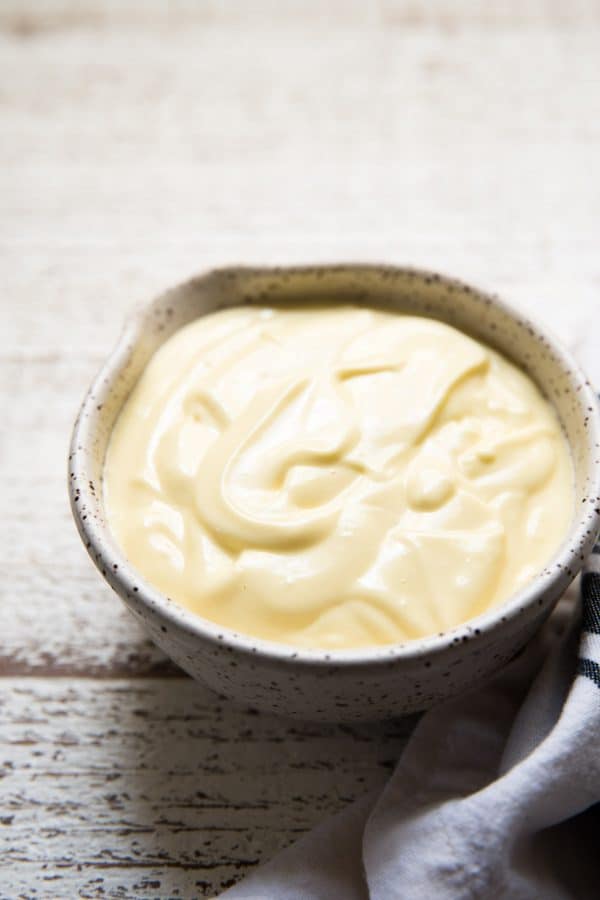 How long does it last?
Once your truffle aioli is made, if you don't use it all, store it in an airtight container in the fridge. It will keep for up to two weeks store in the refrigerator.
How to use truffle aioli?
Is 'whenever possible' an acceptable answer? Maybe it's because of the French Canadian blood running through my veins, but french fries are the first thing that comes to mind. Up the truffle ante with Easy Parmesan Truffle Fries, you'll feel like you're at a brasserie! Sub out the lemon aioli in these Braised Brussels Sprouts with your fresh truffle version, slather it on your next grilling of sausage and peppers sandwiches.
Ok, one last unconventional recommendation...make your next grilled cheese fancy and instead of butter, toast the bread in the pan with a slather of truffle mayo. You won't be sorry!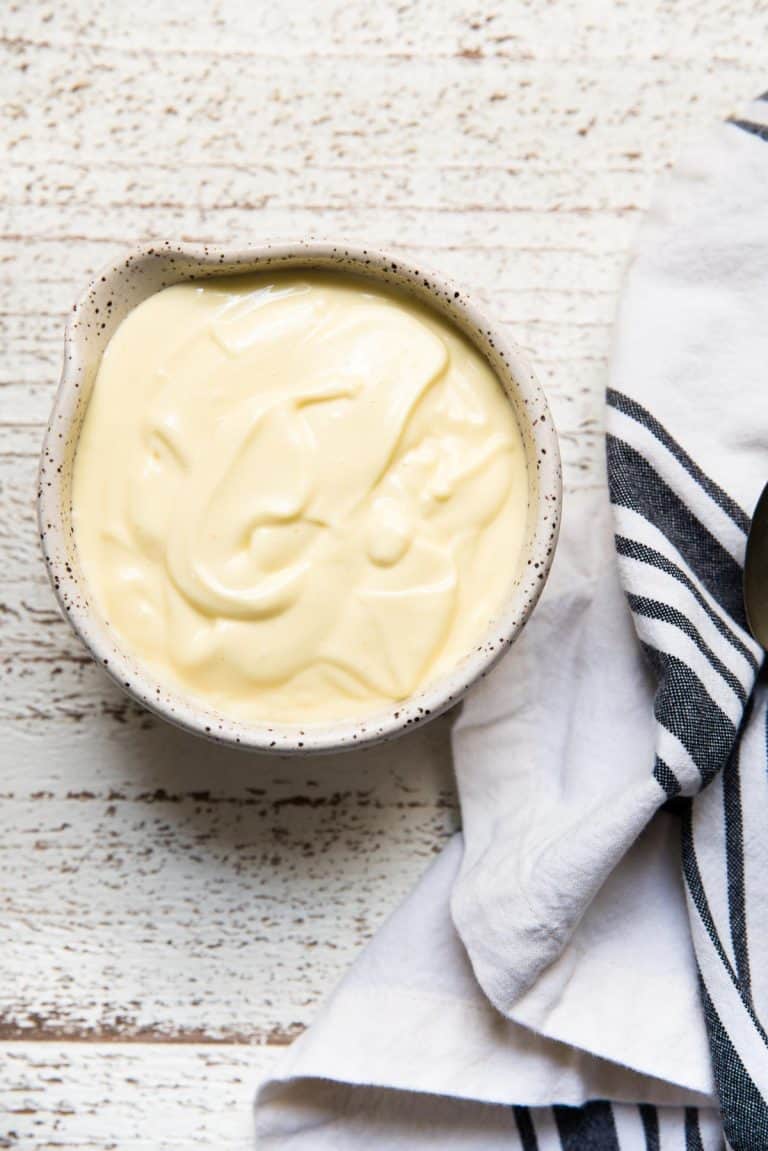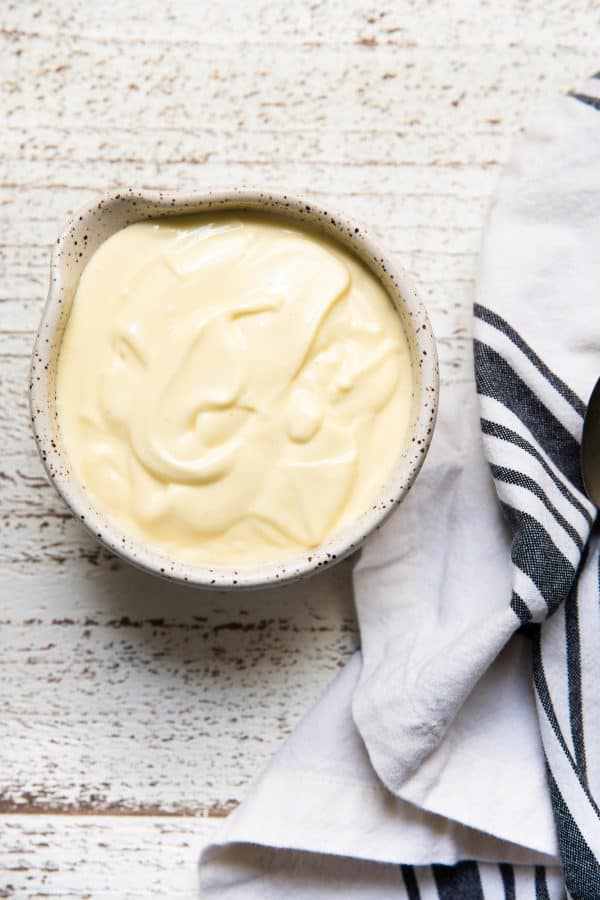 Love this recipe? Leave a comment in a rating below! Don't forget to tag #hungerthirstplay on social media so we can see all your tasty creations!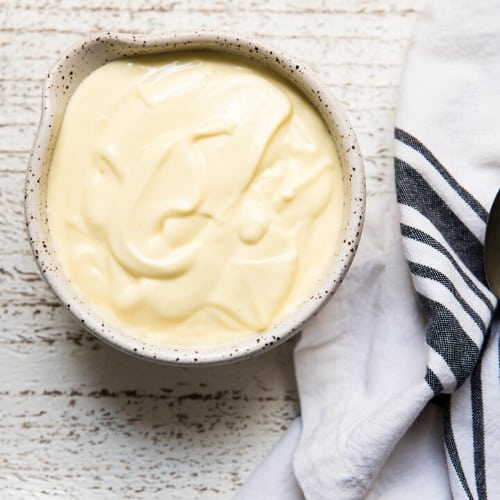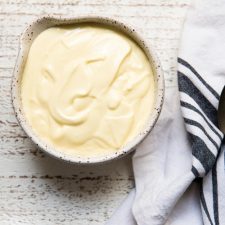 Homemade Truffle Aioli
Creamy, rich sauce with just the right savory truffle and mayo flavor that's easy to make. Get ready to dip, slather and drizzle homemade truffle aioli on all the things!
Print
Pin
Rate
Ingredients
1

large egg

(room temperature)

½

teaspoon

ground mustard

1

tablespoon

white vinegar

¼

teaspoon

salt

(plus more to taste)

½

cup

canola oil

(or any other neutral-tasting oil)

½

cup

truffle oil

1

teaspoon

lemon juice
Instructions
Blend. In a food processor, blend the egg on high for 20 seconds. Add the ground mustard, vinegar, and salt. Cover and blend on high speed for another 20 seconds.

Slowly add oil. Scrape down the sides of the food processor. On low speed, add a few drops of oil at a time until the mixture thickens. Increase the speed to high and add the oil in a very slow, steady stream.

Season to taste. Scrape down the sides of the food processor again. Add lemon juice and salt to state and blend on high speed for 5 to 10 seconds to incorporate. Store in an airtight container in the refrigerator for up to two weeks.
Notes
For best results and thick creamy aioli, use room temperature ingredients especially the egg.
The addition of lemon juice and extra salt is up to you.
Store in the fridge for up to two weeks.
Nutrition
Calories:
2017
kcal
|
Carbohydrates:
1
g
|
Protein:
6
g
|
Fat:
225
g
|
Saturated Fat:
25
g
|
Trans Fat:
1
g
|
Cholesterol:
164
mg
|
Sodium:
647
mg
|
Potassium:
75
mg
|
Fiber:
1
g
|
Sugar:
1
g
|
Vitamin A:
238
IU
|
Vitamin C:
2
mg
|
Calcium:
30
mg
|
Iron:
1
mg