The secret is all in the breading! You can easily make the most delicious, restaurant-quality crispy chicken parmesan without ever having to leave the house by swapping your traditional breadcrumbs for crunchy grissini breadcrumbs and a few flavorful ingredients. This chicken parm will be the best you'll ever have!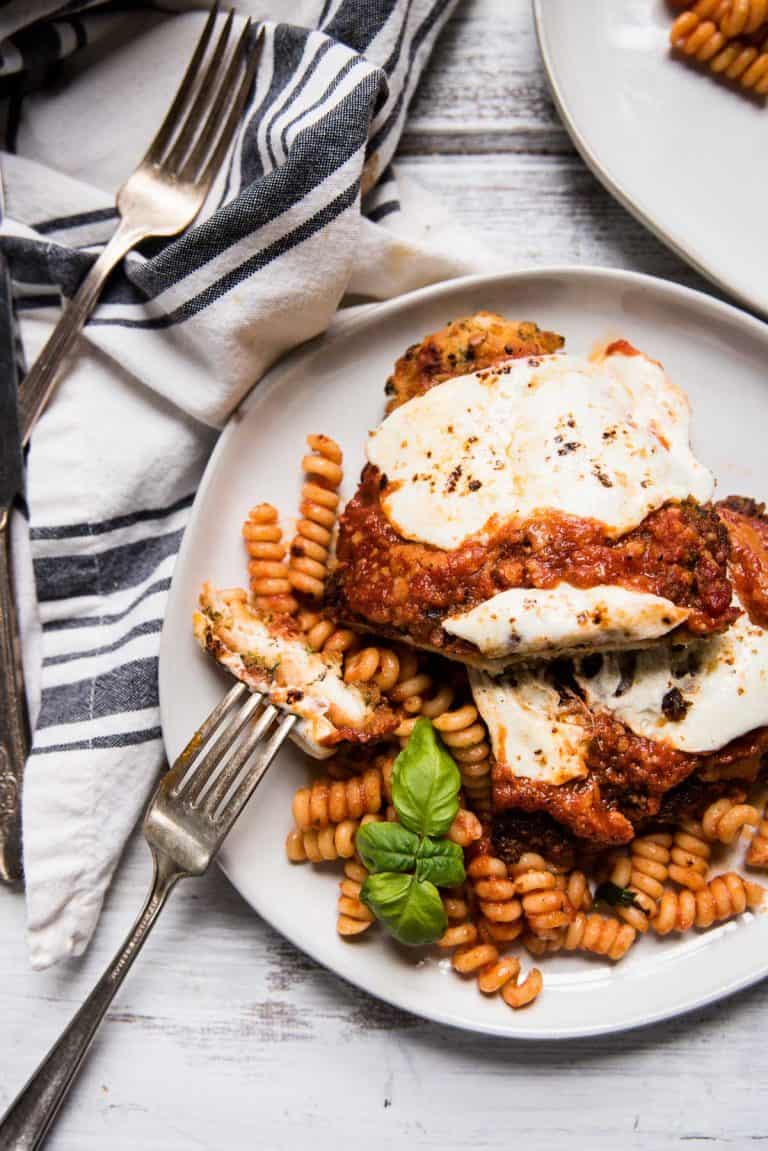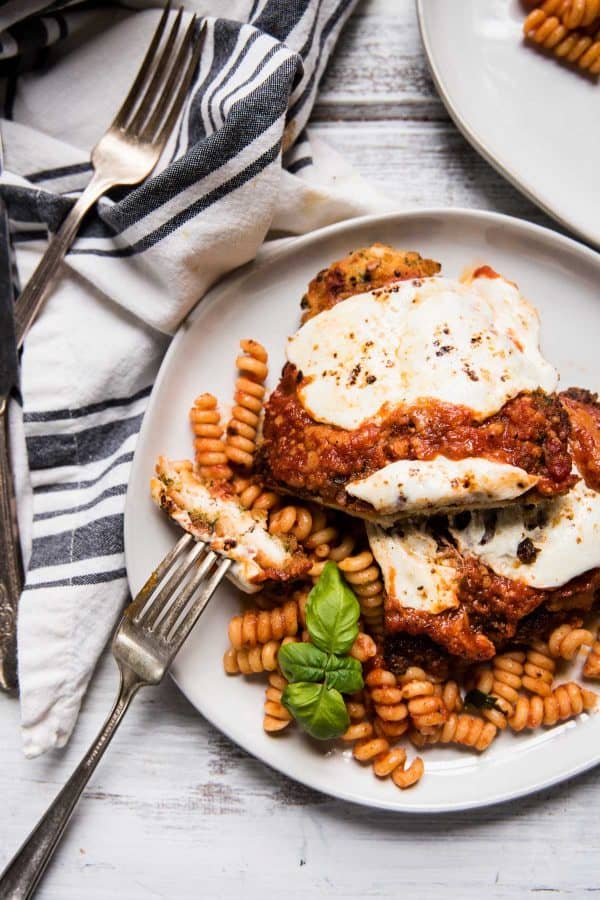 Hello, heaven on a plate!! Comfort food meets family dinner meets date night meets whatever you need it to be because chicken parmesan is an all-around classic meal.
With rough 5 shmillion chicken parmesan recipes out there, what makes this one stand out? It's all in the breadcrumbs friend! This crispy chicken parmesan is breaded using ground-up grissini breadsticks. Have you ever had them before? They're long, skinny breadsticks with almost a cracker-like quality and they make the best breadcrumbs.
Here's why you're going to love this chicken parmesan:
Crispy, crunchy breading that won't sog in the oven
perfectly seasoned and flavored breadcrumbs
restaurant-quality meal at home
robust sauce and gooey cheese topping
Also, we're tossing our breadstick crumbs with fresh parmesan, parsley, salt, and pepper so each bite of breading is full of flavor. All you have to add to finish it off is your favorite tomato sauce and creamy mozzarella cheese.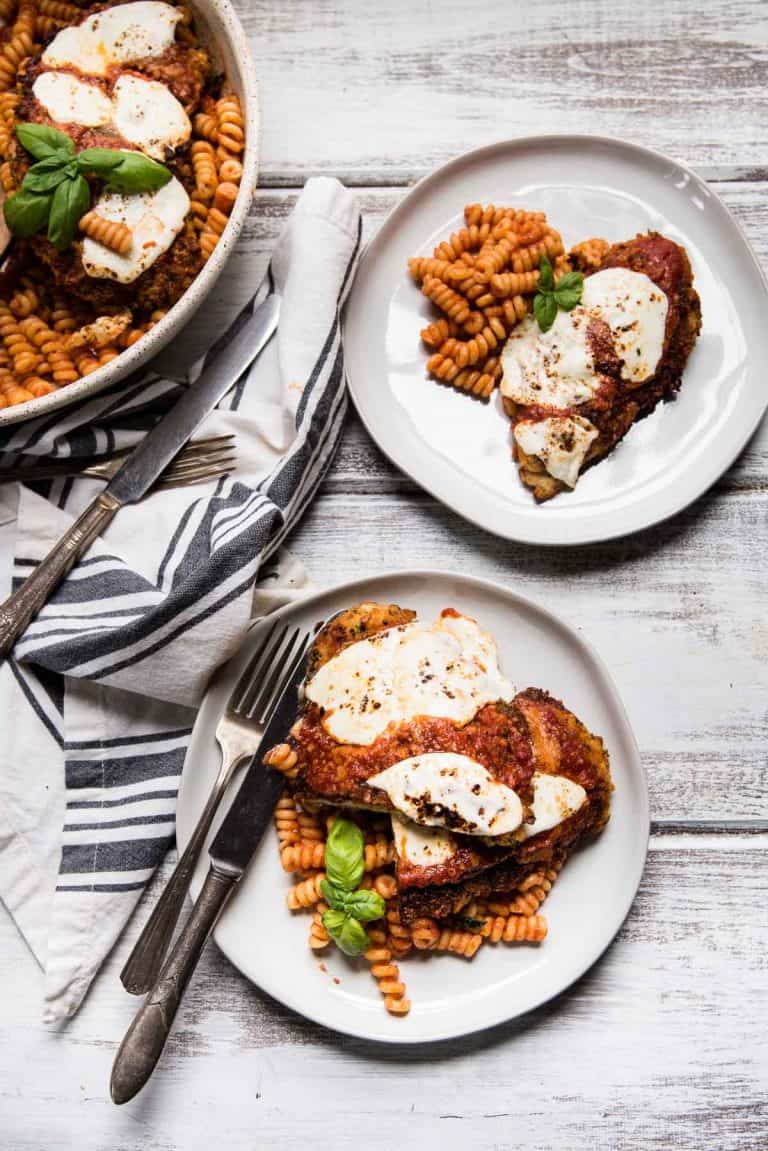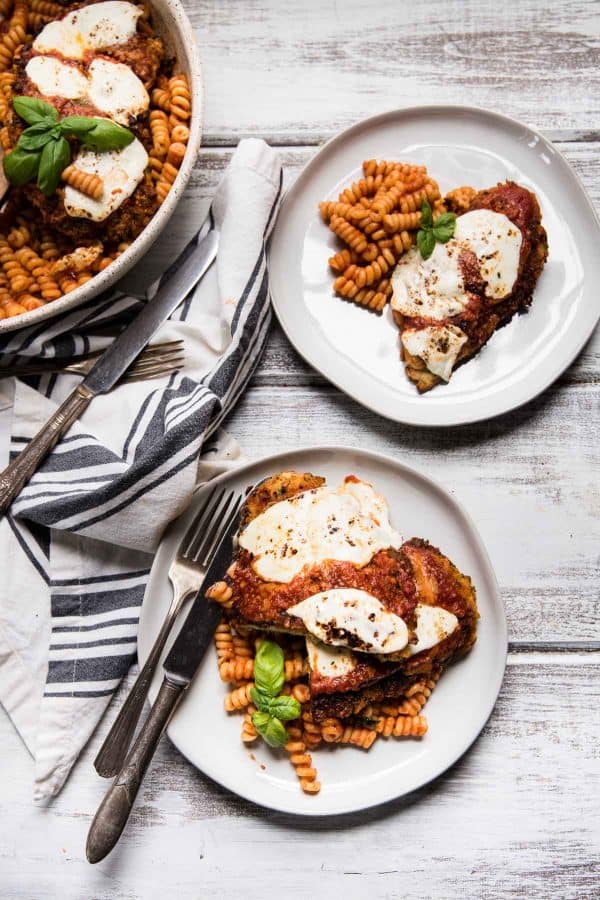 How to make crispy chicken parmesan
Simple prep makes for crazy delicious chicken. This parmesan uses the classic dredging system of flour, egg, breadcrumb, just like these pickle chicken tenders.
Before you coat, you'll want to get out your frustrations on that chicken and pound it thin.
tips for pounding chicken breast
To prep the chicken, cut each breast in 2 to 3 slices horizontally so each piece is long and thin. On a cutting board, using a meat mallet or rolling pin (or a bottle of wine if you have to get creative) pound the chicken breast until it's about ½-inch thick.
Placing the chicken breast between two pieces of plastic wrap is super helpful to get a nice evenly pounded fillet that doesn't look like it just went 10 rounds in the boxing ring.
making the grissini breadcrumbs
If you have access to a food processor, you'll definitely want to use that. Work in batches, pulsing the breadsticks so you end up with mostly evenly sized crumbs. I've found it helps to break the sticks up a little bit if your food processor is on the small side.
To make these without a food processor, place the grissini in a plastic bag and roll over them with a rolling pin until they're the right size.
You want the crumbs to be smaller than a pea, but not fine dust. Some well ground pieces are fine, but the crispy part of this chicken comes from the pieces of grissini in the breading.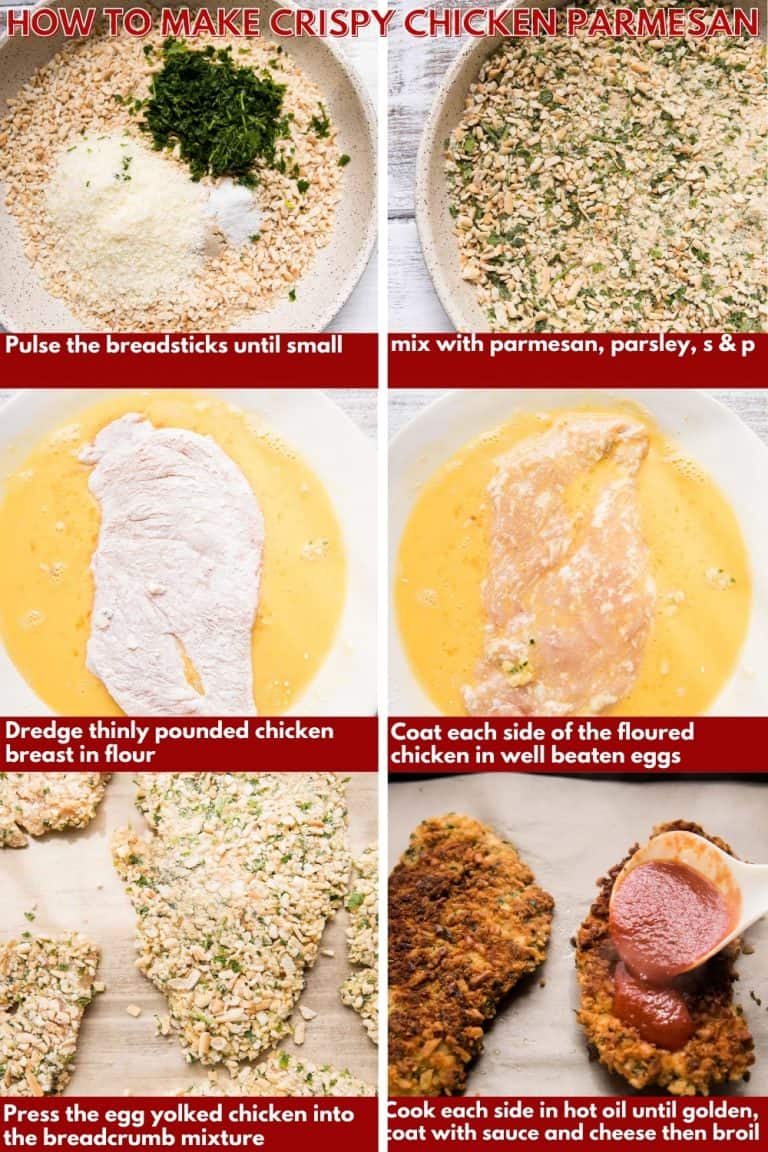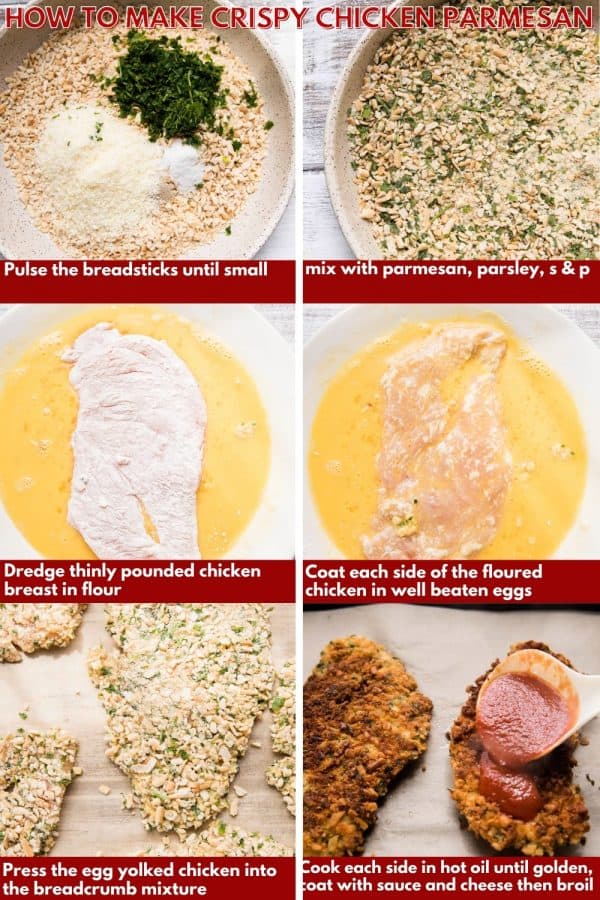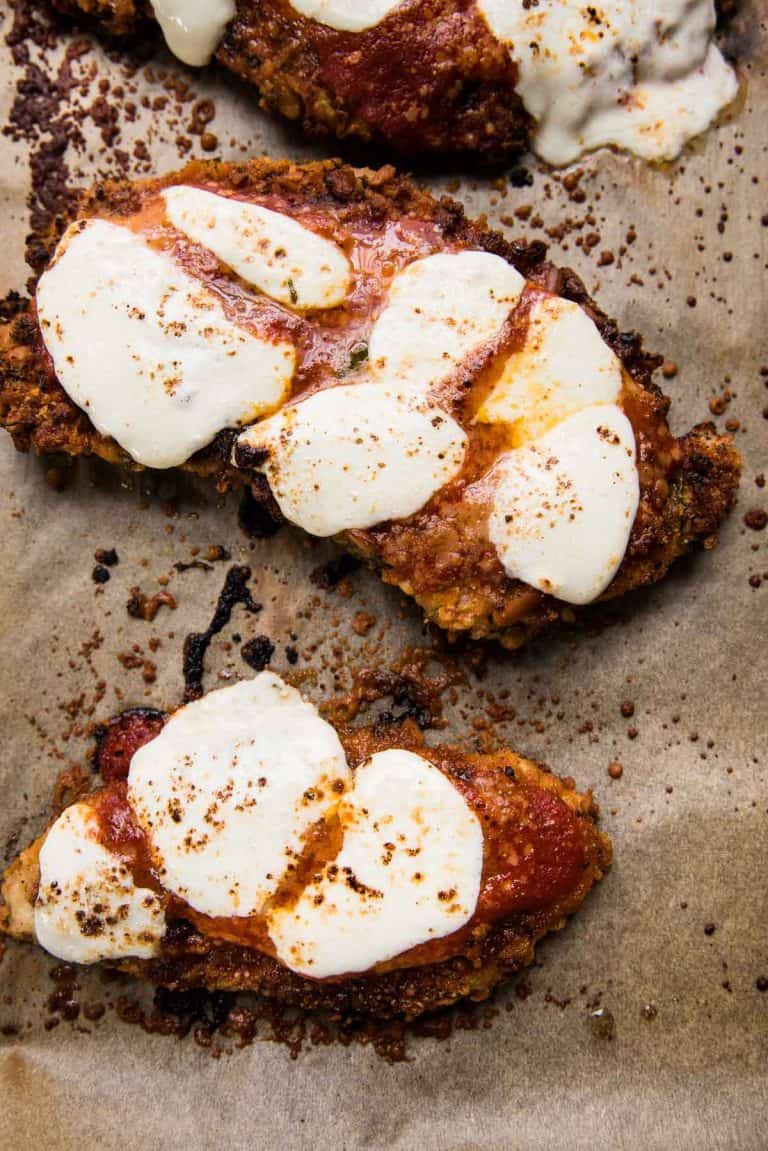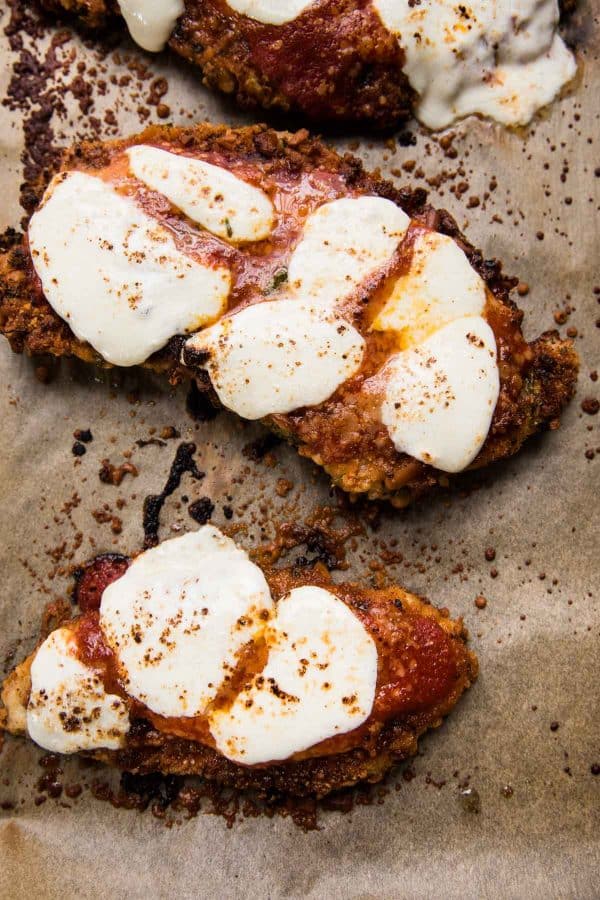 the dredded dredging station
Ok, ok, it's not that bad. It can be a little messy, but I've got some tips to help with that.
Try using a large plate or a shallow surface with a lipped edge for the flour, egg, and breadcrumbs. This way when you coat each chicken breast, whatever displaced doesn't end up all over the counter.
When coating the chicken with the egg, be sure to let excess egg drain off the chicken before moving it to the breadcrumbs. When coating with the breadcrumbs, press the chicken into the crumbs and make sure everything is well coated.
Fry til golden brown then broil
Want to know how restaurants get that perfectly melted cheese on top? The chicken parmesan usually goes from the hot frying pan straight under a SUPER SUPER hot salamander (aka industrial broiler).
For perfectly golden brown chicken, don't over crowd the pan and work in batches if you need to. This might mean you'll have to add oil in between batches. Be sure to let the oil heat up before adding the chicken.
As soon as the chicken is done, transfer it to a baking sheet. Once all the chicken is cooked, add a layer of warm tomato sauce and mozzarella cheese to each piece. Broil it on high for 5 to 8 minutes until melty!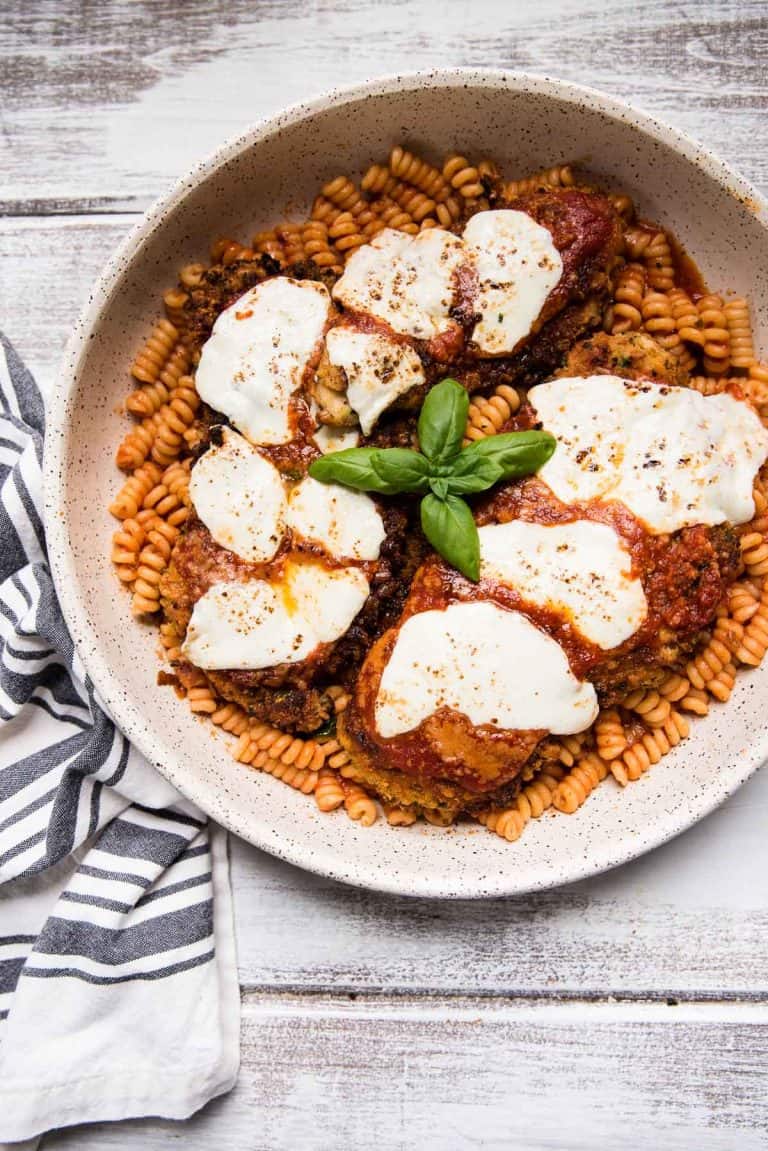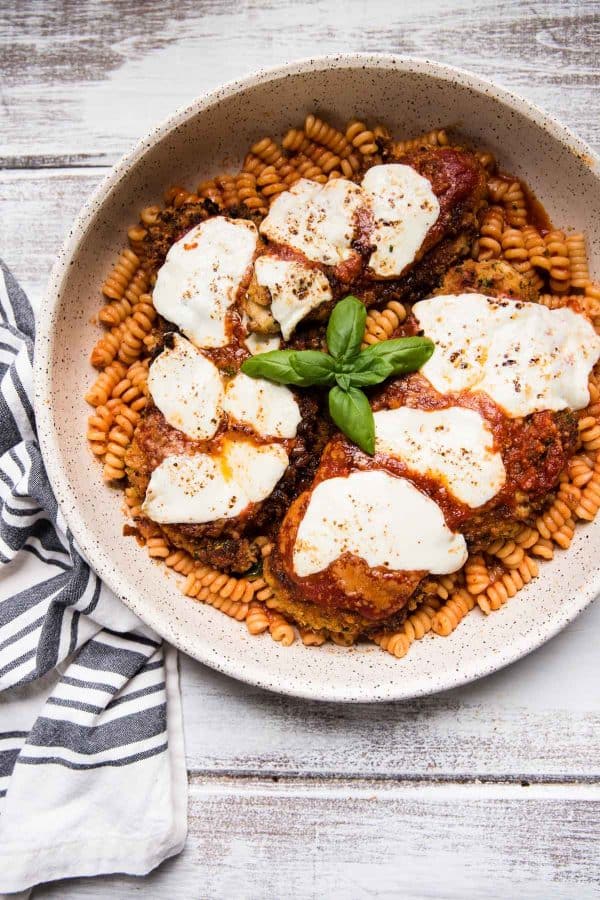 Can you make it ahead of time?
Parts of it, yes! You can do the breadcrumb coating the morning of cooking, however, it's at its most delicious if done right before so there's no opportunity for the grissini crumbs to get soggy.
You could also give the breaded chicken a quick fry on each side, cool, and then when you're ready to cook place them on a wire rack on a sheet pan in a 400°F oven until hot.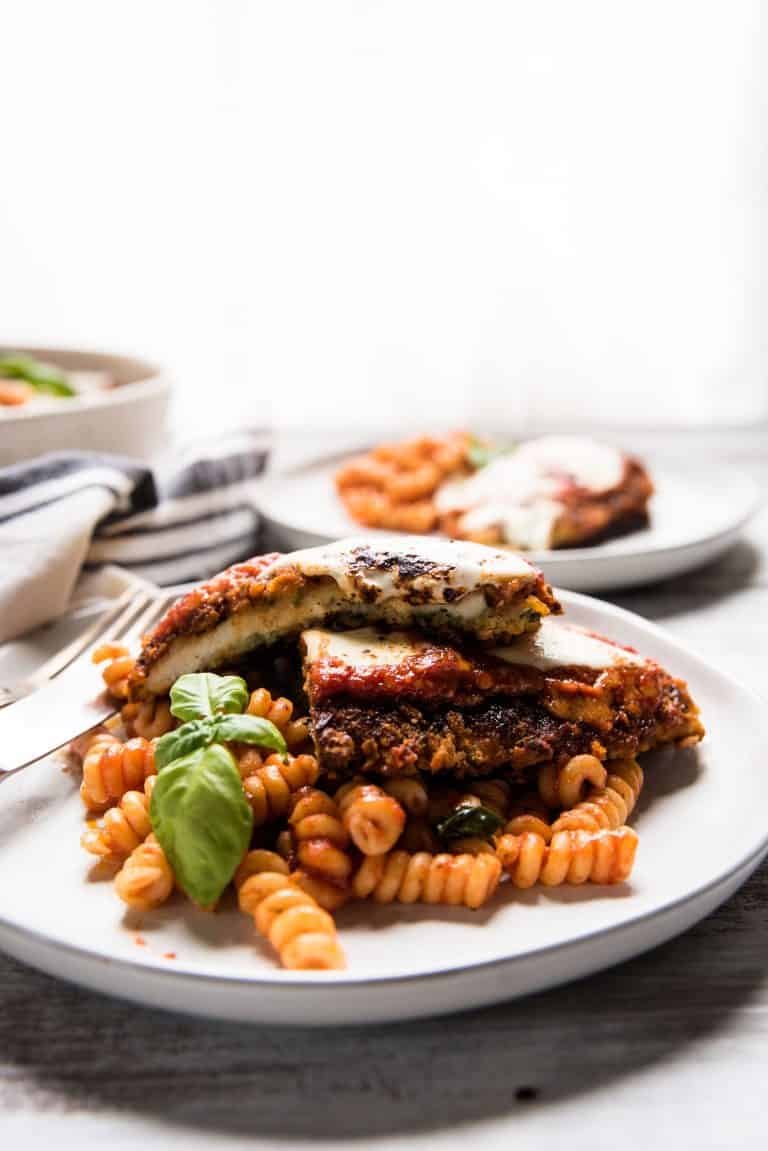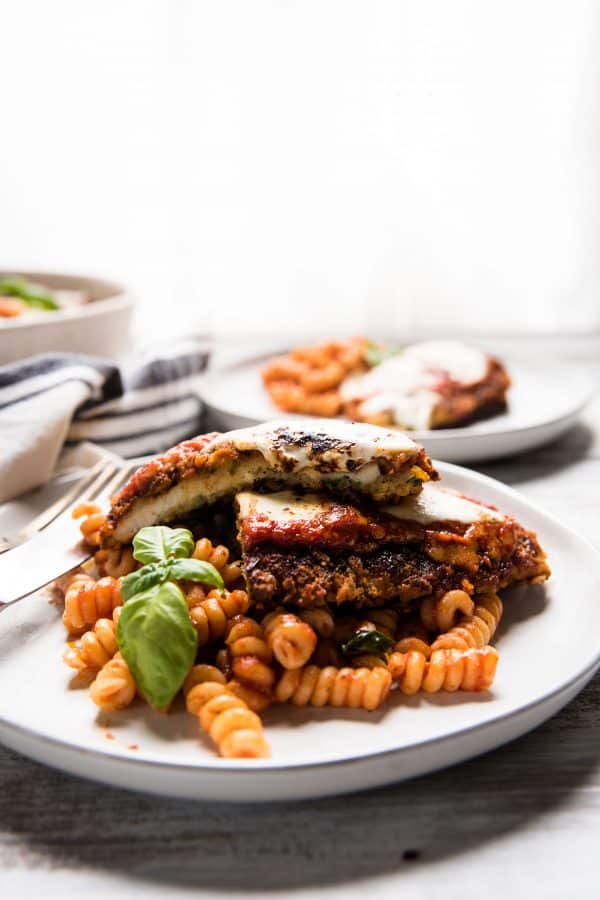 Can you freeze it?
Absolutely! We hate, hate wasting food in this family so if it's not going to get eaten as leftovers in a few days, I'll pop it in the freezer for later on. To reheat, follow the same step as above but for longer if cooking the chicken from frozen. You may need to tent it with foil to keep the cheese from overcooking.
Another option would be just to prep the chicken breasts and freeze without sauce and cheese.
What do you serve with chicken parmesan?
Besides the obvious answer of anything, my go-to is a simple pasta with Pomodoro sauce! If you really want to impress, go all out with classic bolognese, or this short rib bolognese if you're feeling extra fancy. A greens salad is a great way to lighten up a comfort food meal and this arugula caprese salad takes seconds to throw together.
And if we're having this at my house, you can guarantee there's going to be a glass of red wine to go with it!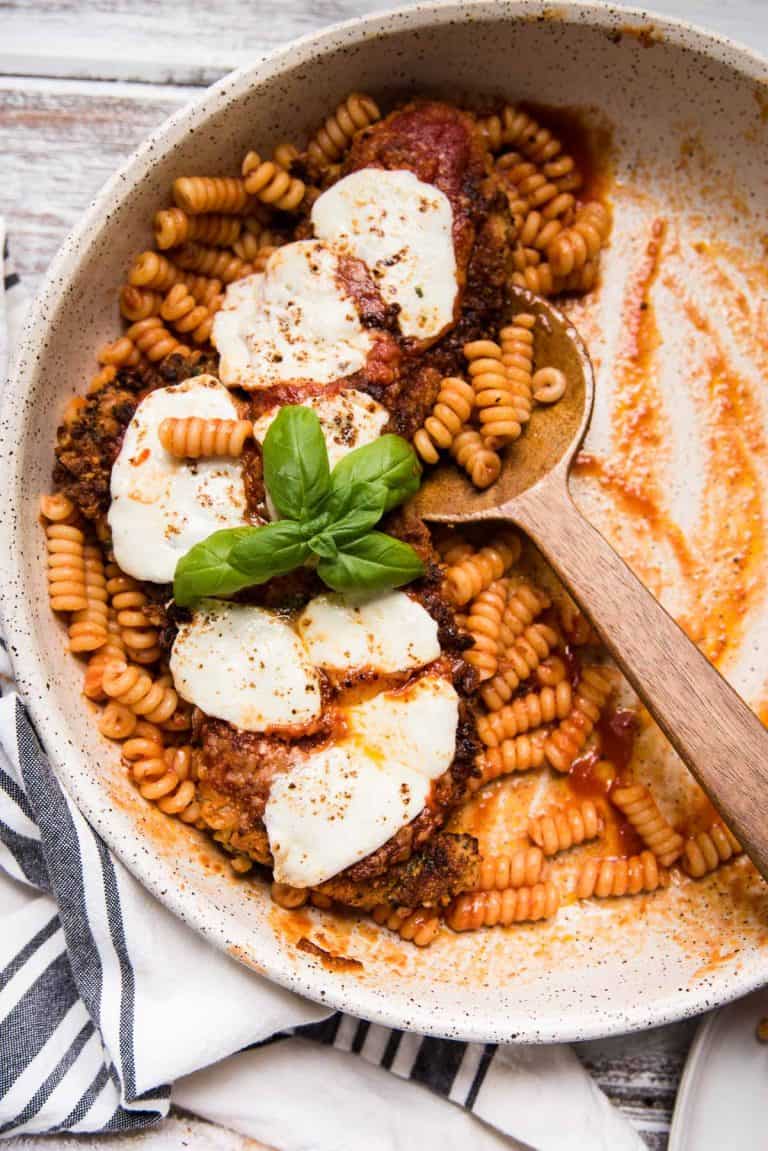 Did you make this recipe? Leave a rating and a comment below and don't forget to tag it on social media so we can see you drool-worthy eats!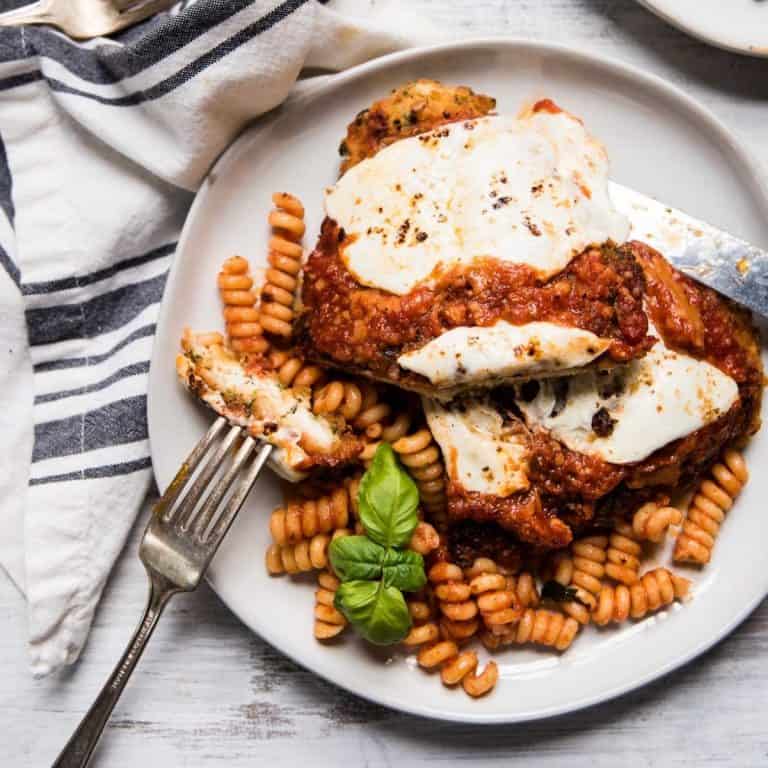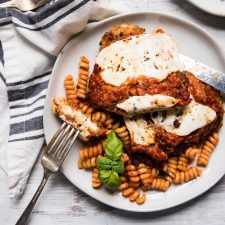 Crispy Chicken Parmesan
The secret is all in the breading! Crunchy grissini breadcrumbs bring classic chicken parmesan up to restaurant quality in this easy to prepare, homemade version.
Print
Pin
Rate
Ingredients
3

chicken breast

(sliced in half and pounded thin)

6

ounces

grissini breadsticks

(2 boxes)

¼

cup

parsley

(finely chopped )

½

cup

parmesan cheese

(fresh grated )

1

teaspoon

salt

½

teaspoon

white pepper

1 ½

cup

all-purpose flour

4

eggs

(well beaten)

½

cup

vegetable oil

1 ½

cups

warm tomato sauce

8

ounces

fresh mozzarella
Instructions
Prep the chicken. Slice each chicken breast in half. Using a meat mallet pound the chicken until about ½ inch thick all over. Optional tip: Place the chicken breast between two pieces of plastic wrap to pound the meat more easily.

Make the breadcrumbs. Working in batches, grind the grissini breadsticks in a food processor into small pieces (think smaller than a pea but not fine dust.) In a large bowl or shallow platter, combine the grissini crumbs, parsley, parmesan cheese, salt, and white pepper.

Bread the chicken. On a large dinner plate, spread out the flour. In a shallow dish, add the well beaten eggs. Set up your 'breading station' flour, eggs, breadcrumbs. Working one at a time, dredge each side of the chicken breast in the flour, shaking off the excess. Place each side of the chicken breast in the egg mixture, letting the excess drain off before placing in the breadcrumbs. Press the flour/egg dredge chicken breast into the breadcrumbs on each side, making sure all parts of the chicken breast are well coated. Repeat with every chicken breast.

Cook the chicken. In a large skillet, heat the oil until shimmering over medium-high heat. Cook the chicken breast 3 to 4 minutes on each side until golden brown and cooked through. For an even golden brown cook, don't overcrowd the pan and work in batches. Transfer cooked chicken to a sheet pan.

Broil the cheese. Preheat the oven to broil on high. Top each piece of crispy chicken with a layer of tomato sauce and top with slices of fresh mozzarella cheese. Broil on high for 5 to 7 minutes until cheese is melted and serve.
Notes
Depending on the size of your pan you may need to cook the chicken in 1 to 3 batches and need a little more oil for the next batch. Be sure to let any newly added oil heat up before cooking the next batch of chicken.
If the broil option is not available on your oven, preheat to 450-500°F.
If you don't have a food processor, place the breadsticks in a plastic bag and using a rolling pin or meat mallet to crush into small pieces.
Technically, you can substitute regular breadcrumbs for the grissini crumbs. If substituting, try adding a little bit of panko crumbs to traditional breadcrumbs for added crunch.
Nutrition
Calories:
703
kcal
|
Carbohydrates:
52
g
|
Protein:
43
g
|
Fat:
36
g
|
Saturated Fat:
23
g
|
Trans Fat:
1
g
|
Cholesterol:
217
mg
|
Sodium:
1489
mg
|
Potassium:
745
mg
|
Fiber:
4
g
|
Sugar:
4
g
|
Vitamin A:
989
IU
|
Vitamin C:
9
mg
|
Calcium:
328
mg
|
Iron:
5
mg