PICKLE. Yep. Pickle Marinated Chicken Tenders. Crunchy, panko breading, juicy chicken inside, and subtle awesome briny pickle flavor. Childhood chicken has been taken next level.
Truth: sometimes a microwaved breaded chicken tender needs to come to the rescue because life just gets so....life-y. Ya know? From one hangry girl raising a 2.5 year old hangry girl, sometimes you just gotta concede to convenience. BUT, when you don't? Make your own chicken tenders and let the light shine down on you.
Homemade chicken tenders are nostalgic (for me) and roughly 50,000 times better than anything you buy at a store or a drive through. Plus, if we're anything alike, there's about to be a 5 condiment dipping station you can set up on your kitchen table without judgement.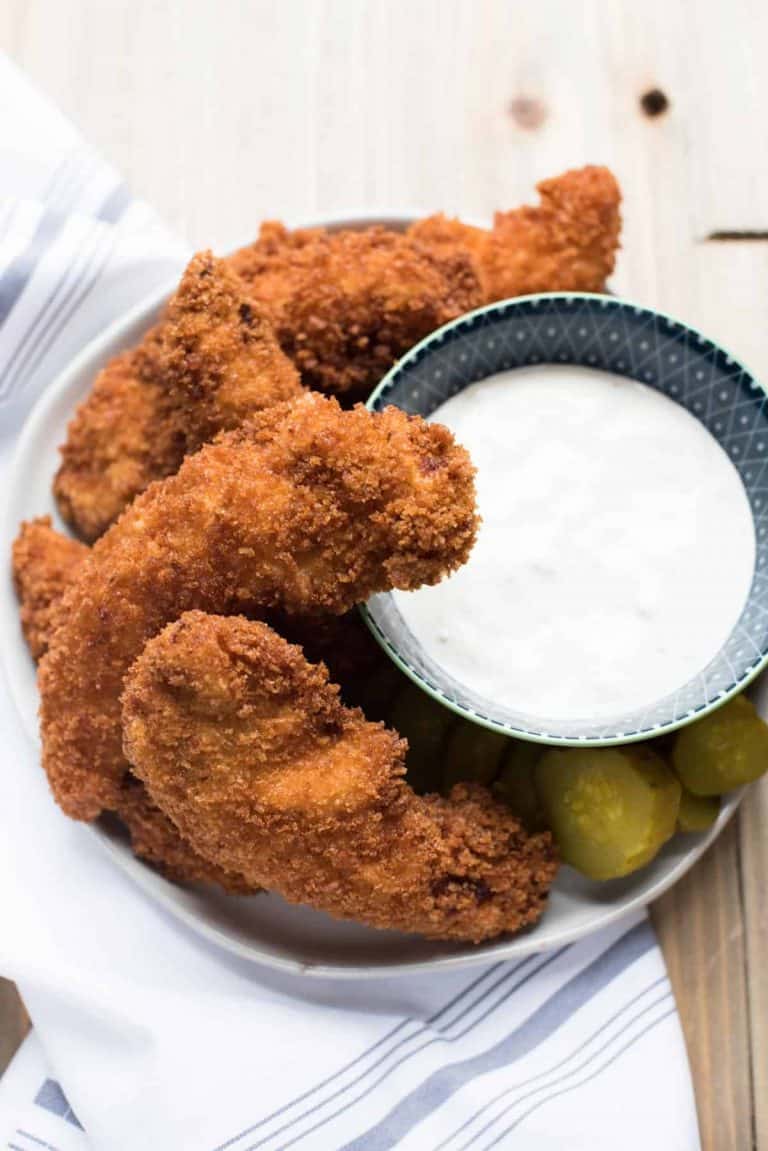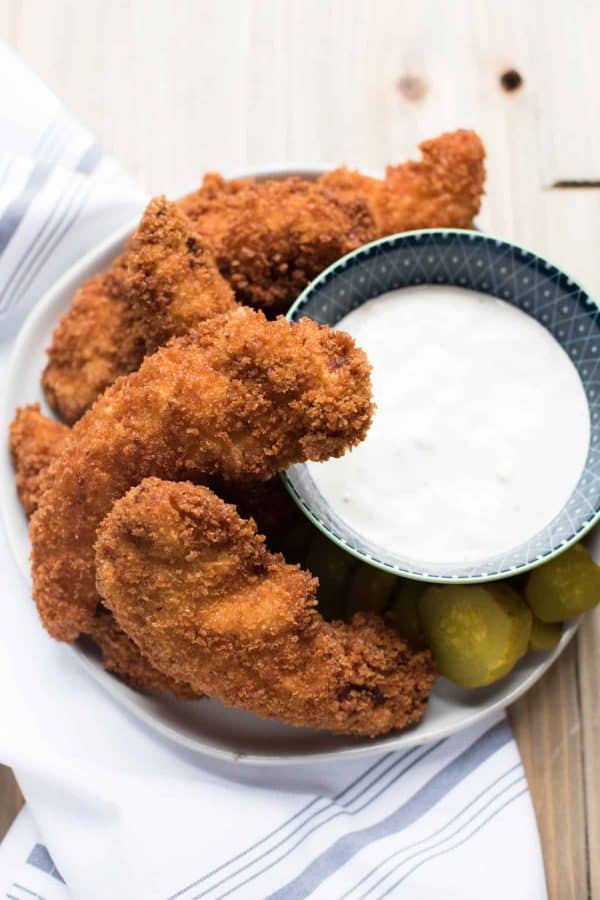 Why Pickle Though?
Okay, so I heard this rumor that one of the lightly fast food chains marinates their chicken nuggets in pickle juice. Personally, we know of a few restaurants that marinate their chicken tenders in pineapple juice and they are A-mazing. So same concept, but brinier right?
Love pickles. Love chicken. And as much as I wish I didn't, I do love crispy, crunchy fried food. Sounds like a match made in heaven.
Not only a heavenly match, Pickle Marinated Chicken Tenders are ridiculously easy.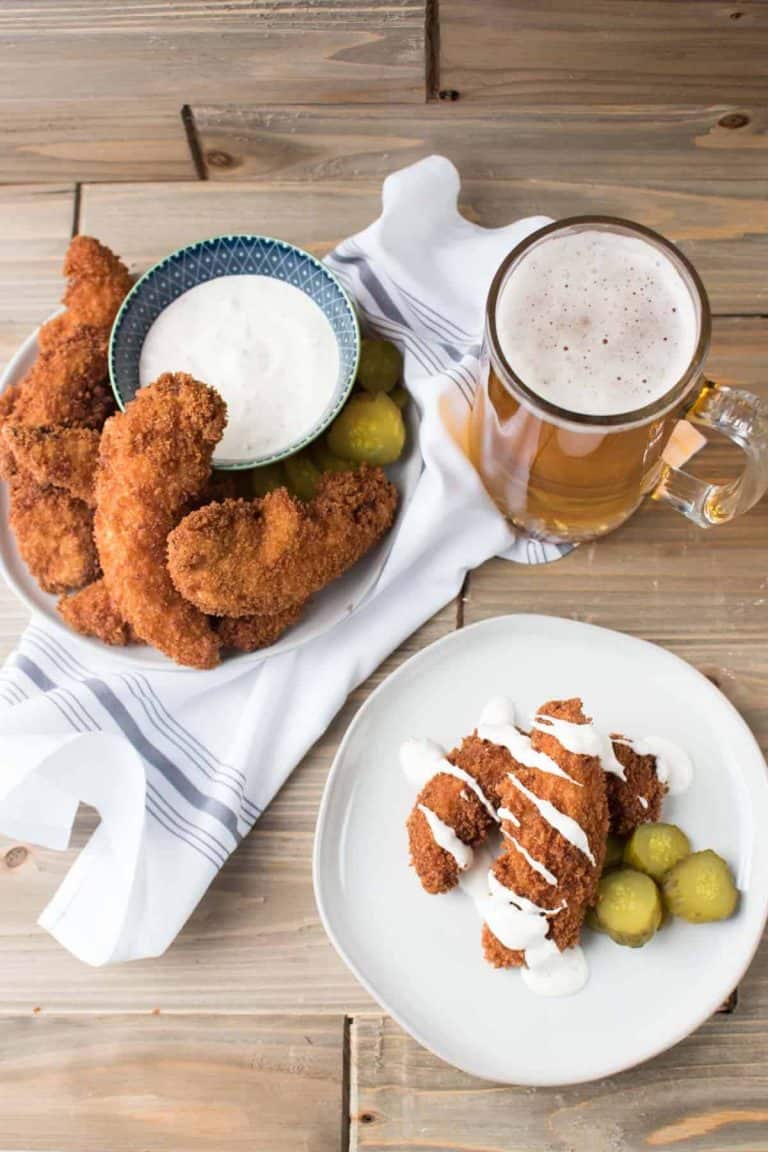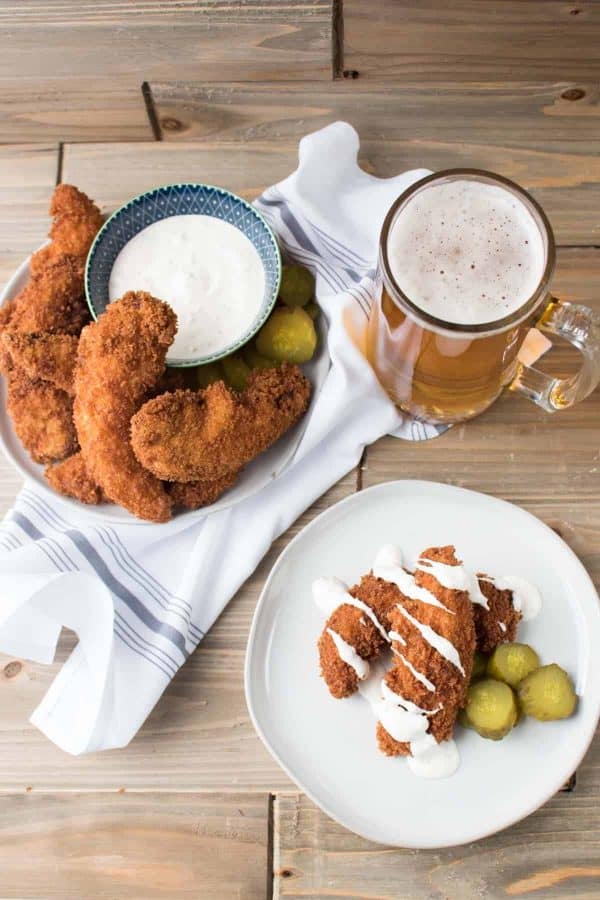 Drain and save 1 ½ cups pickle juice for every pound of chicken breast tenders. Place in your favorite marinating device (plastic bag, Tupperware container, etc.) and marinate overnight up to 24 hours. Then use the leftover pickles however your heart desires!
Some thoughts for you to ponder...Cuban sandwiches, homemade relish, chop them up to use in chicken or tuna salad (personal favorite ????????). Or try out this recipe from Dinner, then Dessert for Fried Pickles. Since we have the fry oil going anyway, it only makes sense right?
After your chicken is pickle infused, then just flour, egg, panko and fry. Let's Do This.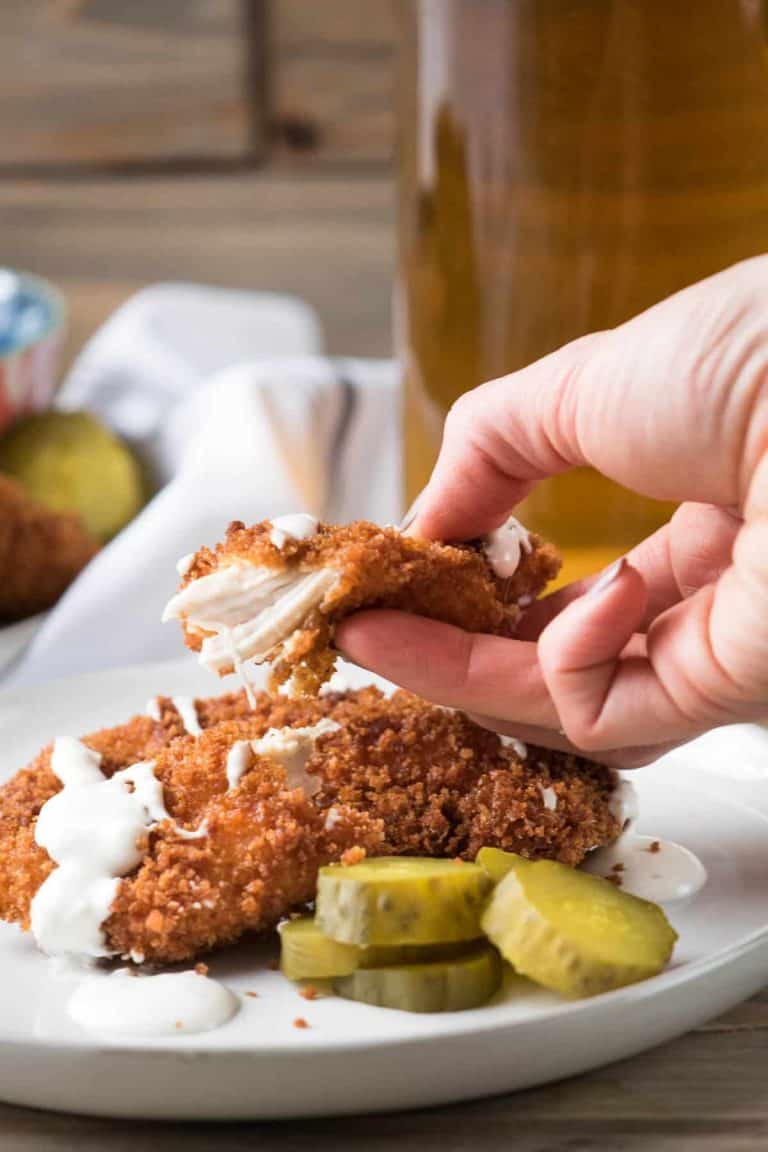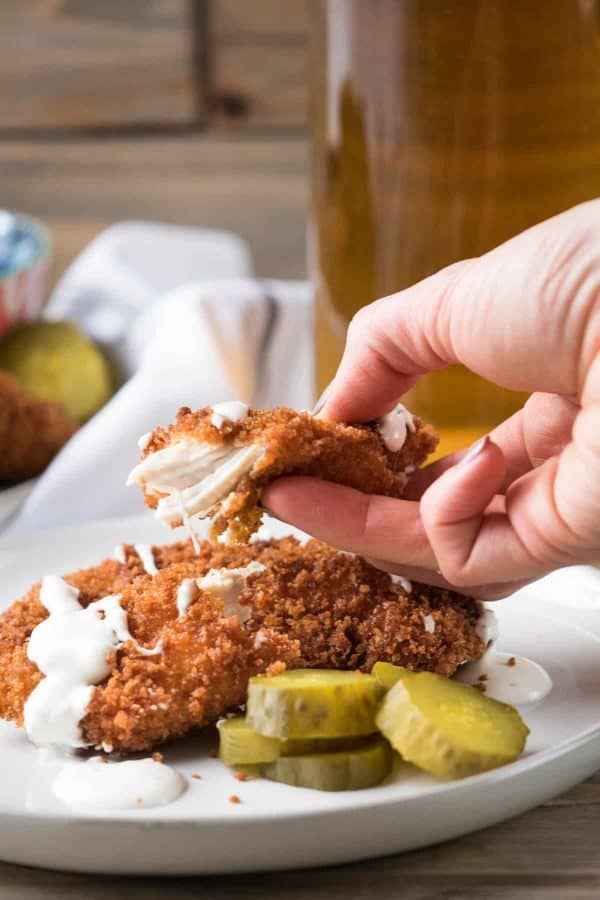 Tips for Frying
P.S. This section contains affiliate links. The price you pay at check doesn't change, but I make a commission from the sale.
If you're new to frying, it can be a little scary at first. I don't fry very often, but it's definitely not something you should haphazardly do. Here are some tips and tricks to tuck up your sleeves:
Use a heavy bottom pot. My favorite is my cast iron dutch oven. The sides are deep and the walls are thick. Perfect for retaining heat and making sure hot oil doesn't splash out of the pan. This one from Cuisinart is similar.
Don't be too stingy with the oil. You want about 2 to 3 inches of oil in the pan. Remember, it will bubble quite a bit when it really gets going so you want to make sure you account for that in your pan selection.
Use a thermometer to temp your oil. Like this Fry and Candy Thermometer. It's under $10 and just a great tool if you're wanting to up your kitchen game.
When in doubt, go with your gut. Nervous about dropping the chicken tenders in by hand? Use a pair of tongs or a Strainer Skimmer.
After the frying is done, now what? You can strain the oil through a coffee filter to use for frying in the future or for the next time you sauté. I wouldn't recommend using it in baking, but why waste one time oil?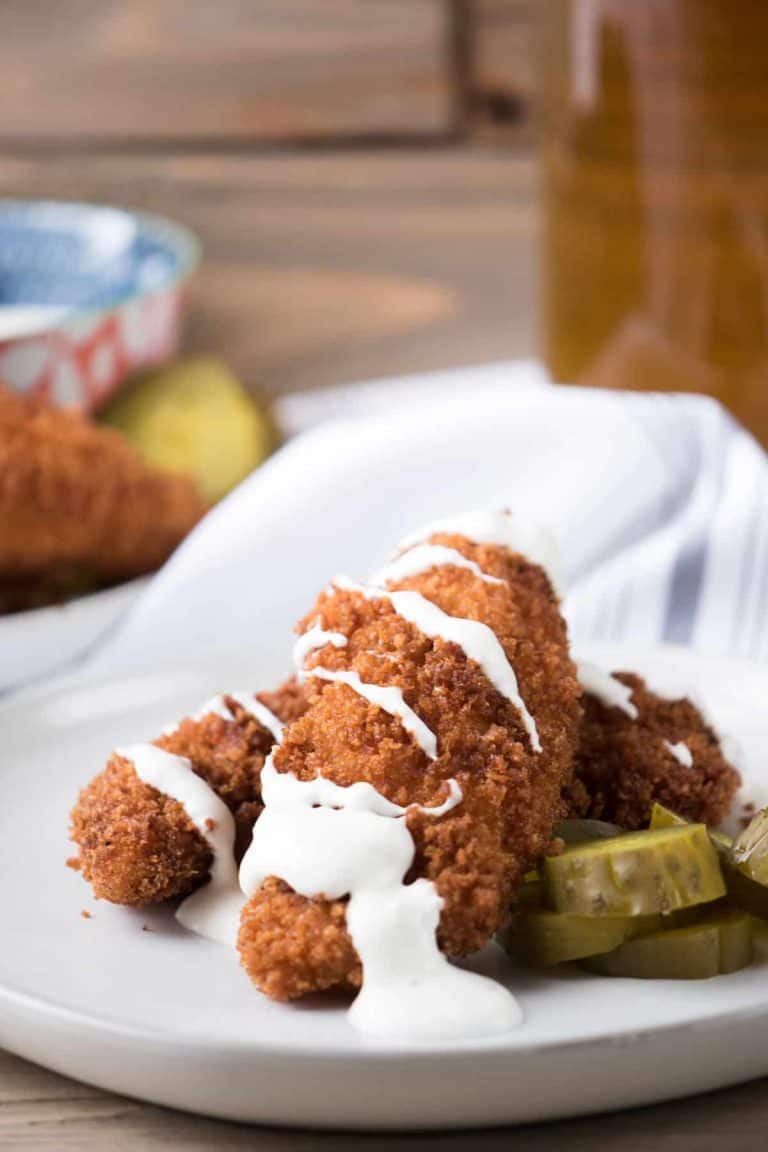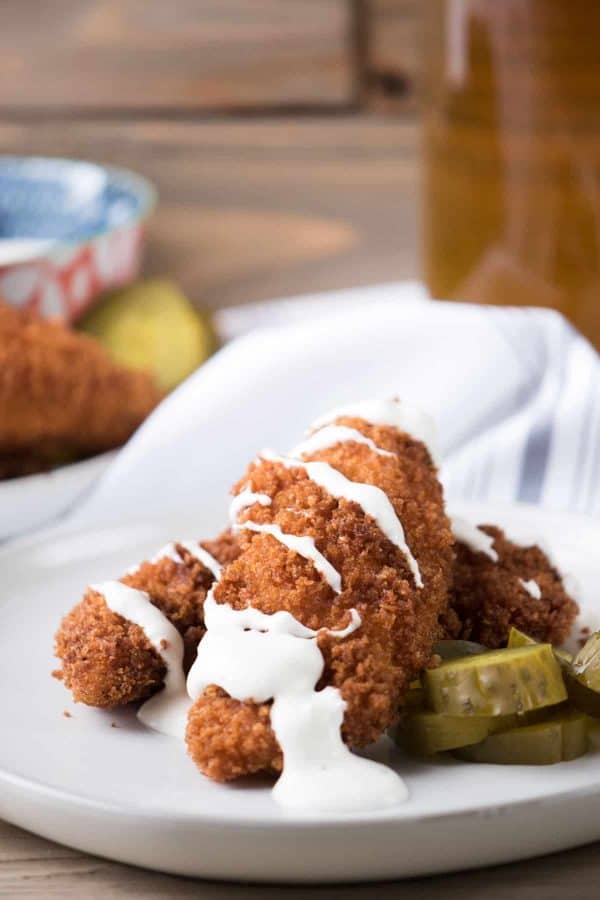 Tips and tools in hand, we are ready for the best Pickle Marinated Chicken Tenders you've ever had. How you dish them up, well that's up to you. Since we're already committed to the fry, might as well double down with these Easy Parmesan Truffle Fries.
Are you a condiment queen (or king)? ???? I'm a blue cheese girl til the day I die, but ranch, bbq, or honey mustard all have a home in my heart. Goes crazy or eat them as is to let that subtle pickle flavor really shine. Sit back and watch as they disappear, but not before hiding a few for yourself first!
Did you make this recipe? Let me know in the comments!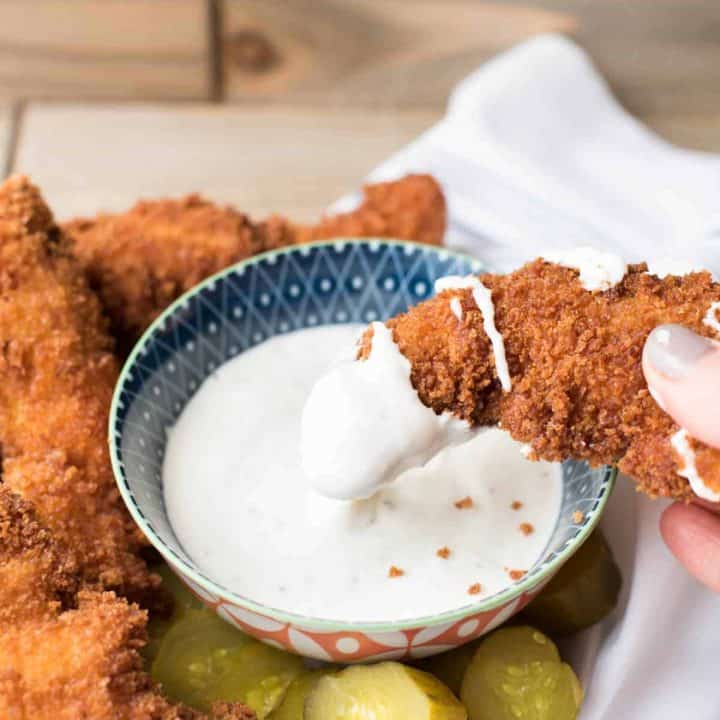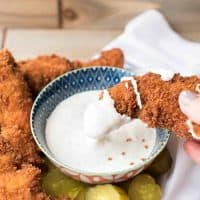 Pickle Marinated Chicken Tenders
Crunchy, panko breading, juicy chicken inside, and subtle awesome briny pickle flavor. These pickle marinated chicken tenders are going to become a family favorite in no time.
Print
Pin
Rate
Servings:
8
chicken tenders
Ingredients
1

pound

chicken breast tenders

1 ½

cups

pickle juice

2

cups

flour

4

eggs

(well beaten)

2

cups

panko bread crumbs

½

teaspoon

salt

½

teaspoon

ground black pepper

vegetable oil for frying¹

recommended: kitchen thermometer with clip
Instructions
In a plastic zip bag or a flat airtight container, add raw chicken breast tenders. Cover with pickle juice. Marinated overnight and up to 24 hours.

Drain well and set up your dredging station.

Add flour, eggs and panko to separate bowls. Mix the salt and pepper into the bowl with panko crumbs.

Coat each chicken tender in the flour, then the well beaten eggs, lightly shaking off the excess after each. Then coat with the panko crumbs, lightly pressing on each side to ensure the chicken tender is well coated. Set off to the side on a paper towel lined plate while you prepare the remaining chicken.

Pour the oil into a deep sided pot or dutch oven, heat to 365°F to 375°F. Using a clip on thermometer is the best way to measure your oil temperature throughout the cooking process.

Once the oil is hot, carefully place the first round of chicken in the oil one chicken strip at a time. Use tongs if you are new to frying. Do not drop the chicken in because you might splash and burn yourself. Work in batches and do not overcrowd the fryer. For a 5 quart dutch oven, about 4 to 6 chicken tenders per batch.

Cook for 5 to 8 minutes until golden brown and cooked through, flipping half way during the frying. Let the excess oil drain from each chicken tender before transferring to a paper towel lined or sheet pan.

Enjoy with your favorite dipping sauce or as is!
Notes
¹The amount of oil you need will vary depending on the pot you choose to use. My favorite for frying is my cast iron, enamel coated 5-quart dutch oven. It's thick, retains the heat well and has deep sides so I don't have to worry about the oil jumping out of the pan and burning anyone. You'll want the oil to be about 2 inches deep, so I buy a 48 fl oz container of vegetable oil with the plan to have some left over.
Note: Pickle Marinated Chicken Tenders can be stored in the fridge and reheated in the oven as well. Store in an air tight container with a paper towel to absorb moisture for up to 3 days.
Nutrition
Calories:
282
kcal
|
Carbohydrates:
38
g
|
Protein:
20
g
|
Fat:
5
g
|
Saturated Fat:
1
g
|
Trans Fat:
1
g
|
Cholesterol:
118
mg
|
Sodium:
1018
mg
|
Potassium:
305
mg
|
Fiber:
2
g
|
Sugar:
1
g
|
Vitamin A:
136
IU
|
Vitamin C:
1
mg
|
Calcium:
48
mg
|
Iron:
3
mg