Do you want to really tell someone you love them this Valentine's Day? While I can't speak for everyone, but if a Valentine's Day Red Velvet Cheesecake was delivered to my door instead of flowers....well, that is something I can 100% get down with.
Hold onto your hats and maybe unbutton those pants because things are about to get rich. The creamiest, fluffiest, most luscious New York Style Cheesecake sandwich between two perfectly cocoa, moist red velvet layers. Yes. Yes. Yes!
But, wait....there's more. Take that triple layer masterpiece and coat it in sweet cream cheese frosting and what the heck, throw on a chocolate ganache drip. It's Valentine's Day and we're throwing around all the cake love that we can.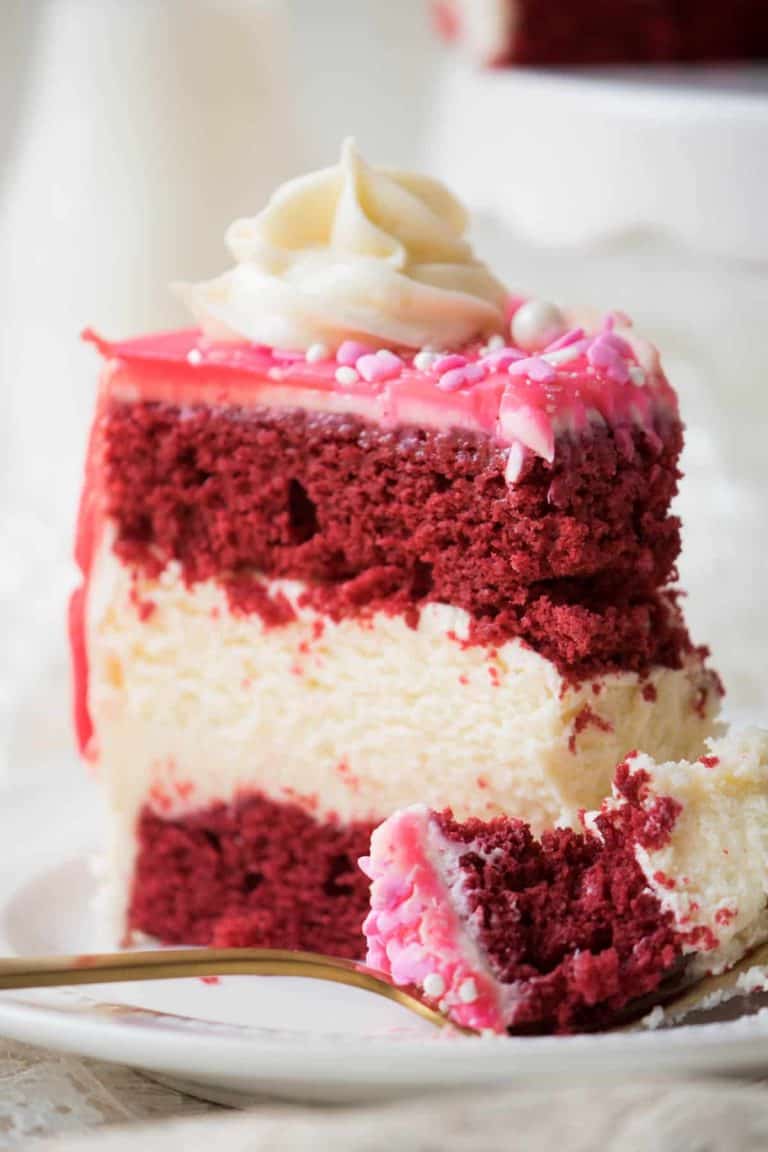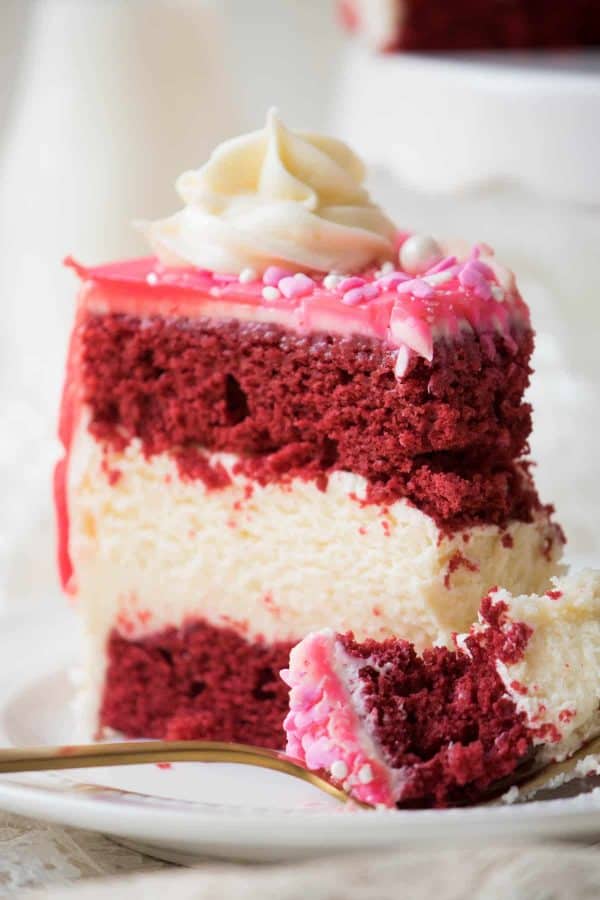 Red Velvet Cheesecake
Dear Red Velvet, I love you.
You're pretty, tender, with just the right amount of tasty cocoa appeal. Like the allure of a single red rose on a crisp white linen table, it calls to me. And cheesecake?! Oh man, cheesecake you sweet, tangy devil you. New York Style. Like bites of soft creamy clouds, whispering terms of endearment with each forkful. Strong enough to hold up a layer of cake, but soft enough to melt the hardest of hearts.
This cake is a love letter. And I'm writing it to you. So if you don't have a Valentine this February, sign me up. I'm bringing cake.
Valentine's Day or Not
Are you a V-day believer? Do you spend time planning romantic surprises for your beloved or best friends? Can you send me your tips?
Real talk. I'm kind of the worst at Valentine's Day. My poor husband. It's a good thing he loves me so much. Truly, this Red Velvet Cheesecake makes up for a lot of my shortcomings.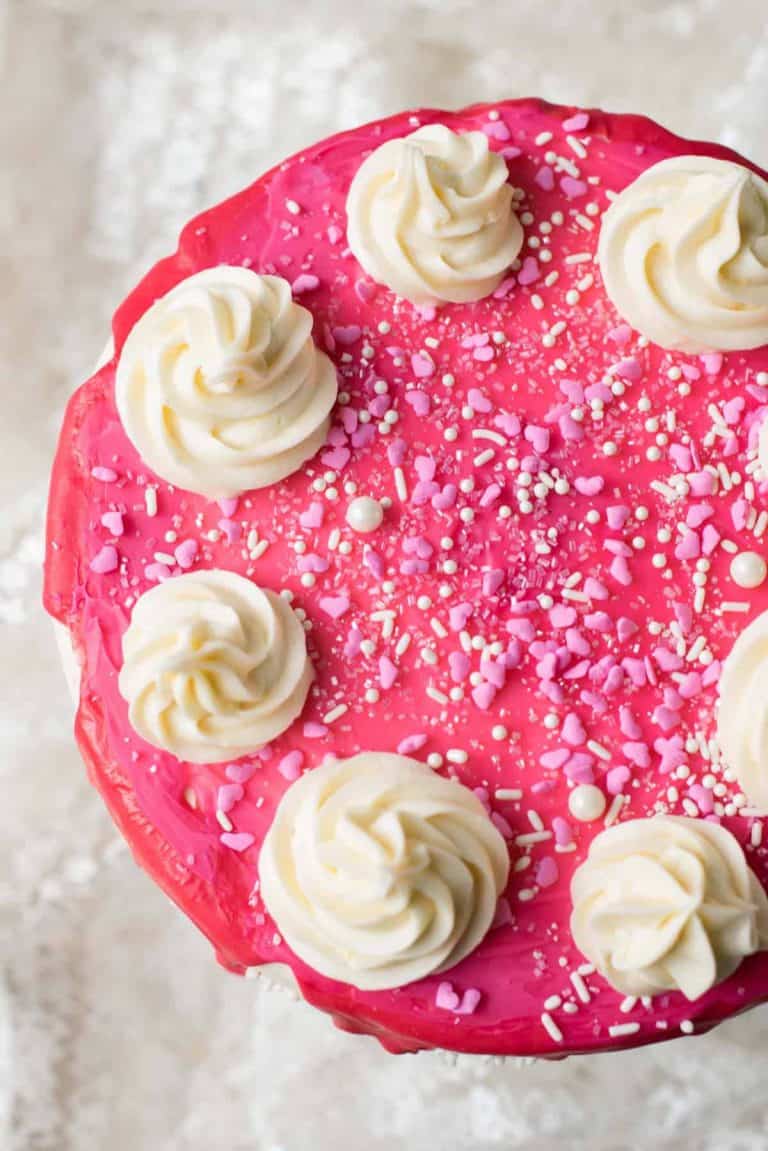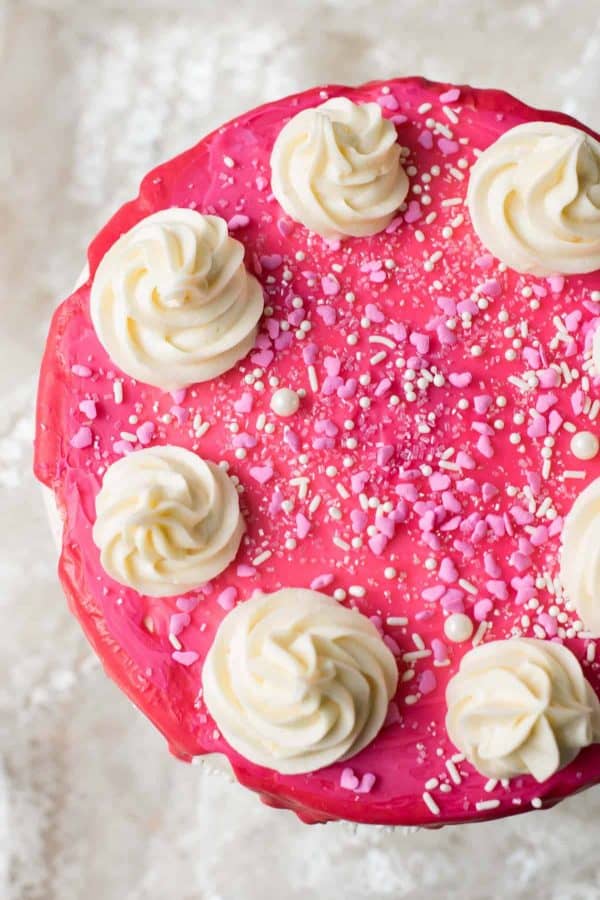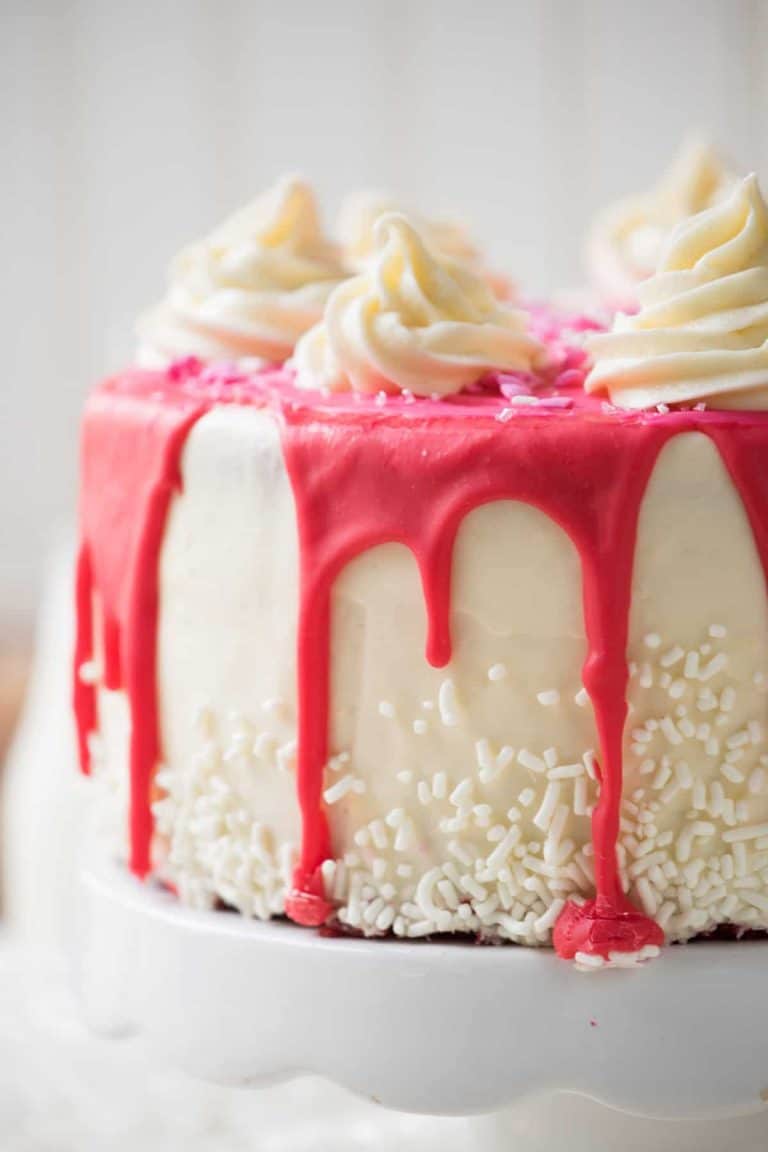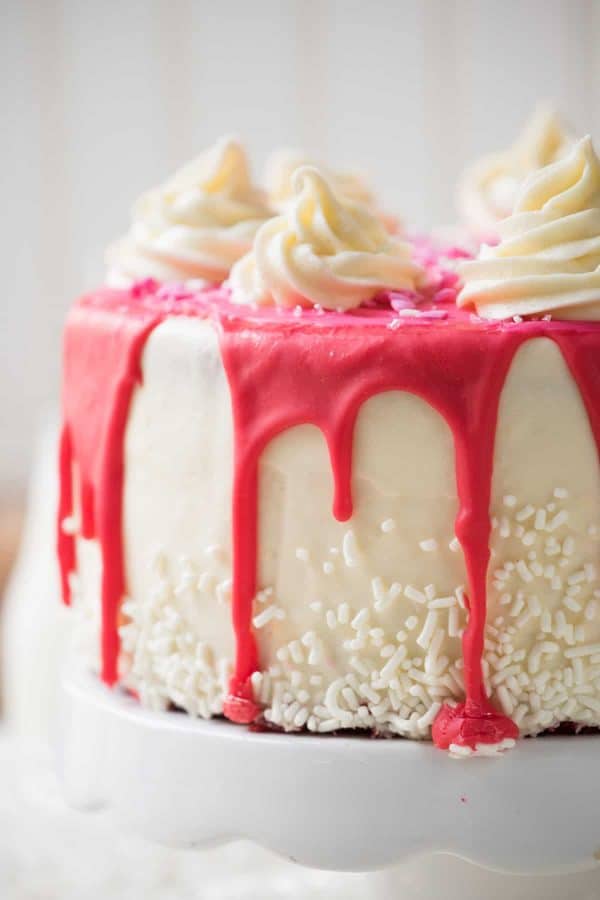 I couldn't tell you if it's the constant working of Valentine's Day in the restaurant industry that's jaded me or the stereotypical response of 'hating a hallmark holiday.' I'm just bad at it. Funnily enough, one of my favorite memories of meeting my husband takes place on Valentine's Day.
Its a long story, but it involves matching attire, being in charge of him with my 3 months of manager experience and totally crushing it on a busy Valentine's Day.
Anyways, my point is that...whether you live and die for Valentine's Day or you'd rather forget the day existed all together, BOTH reasons are a perfect reason for cake. Red Velvet Cheesecake.
Loved this recipe? Tell me about it in the comments! Love red velvet but making two cakes sounds daunting? Try my favorite recipe for the literally. the. best. Red Velvet Cupcakes!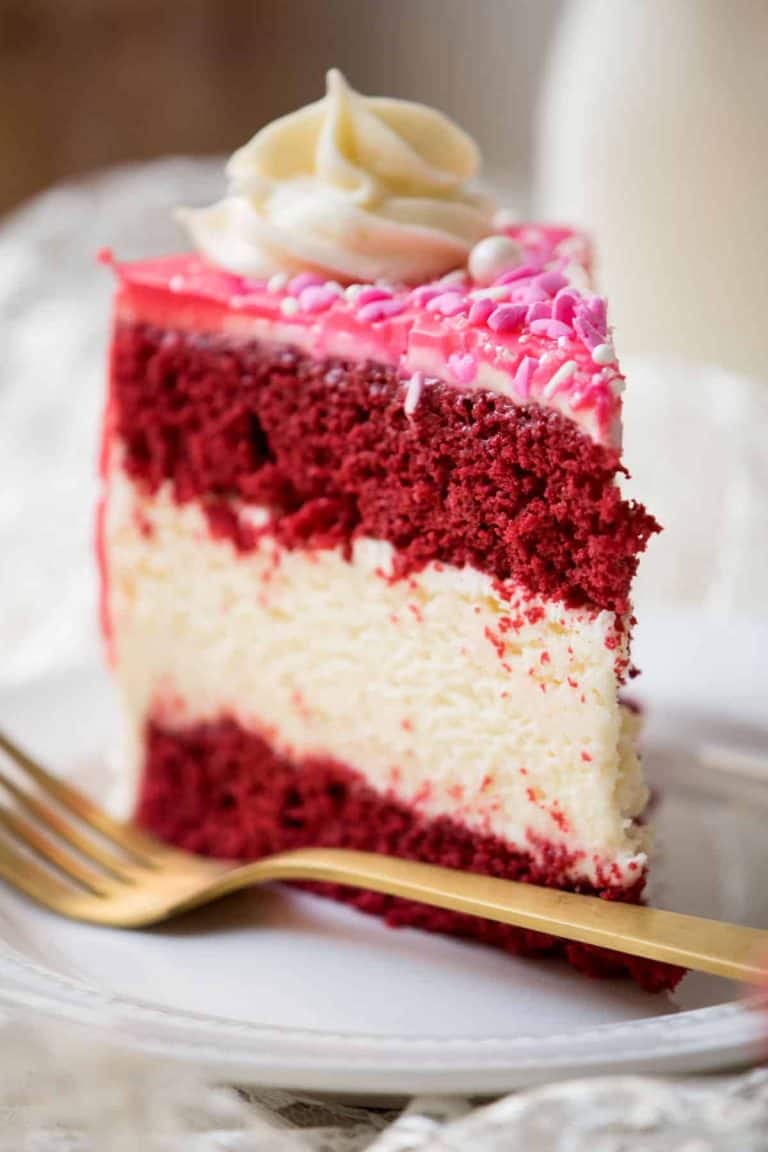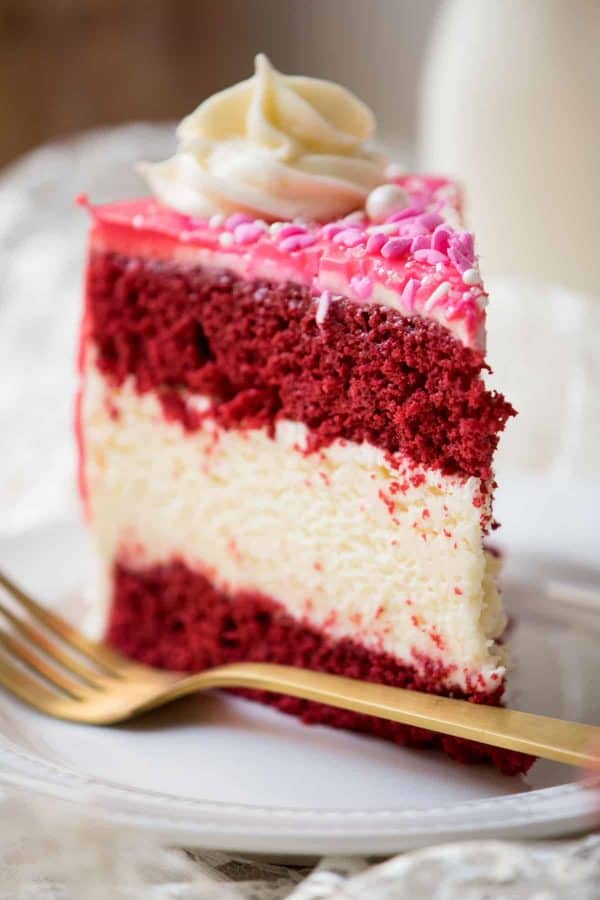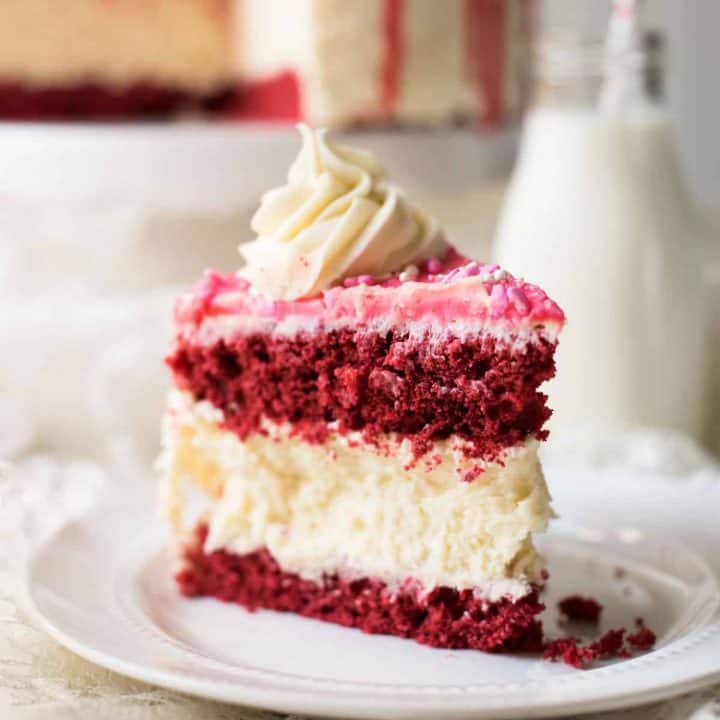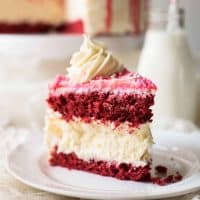 Valentine's Red Velvet Cheesecake
The ultimate Valentine's Day dessert. Creamy New York style cheesecake sandwiched between rich, red velvet cake bathed in sweet cream cheese frosting.
Print
Pin
Rate
Ingredients
Red Velvet Cake
½

cup

unsalted butter

(room temperature - plus more for cake pans¹)

1 ½

cup

sugar

2

eggs

2

teaspoons

pure vanilla extract

3

tablespoons

unsweetened cocoa powder

1

1-ounce bottle

red food coloring

1

teaspoon

salt

1

teaspoons

baking soda

2 ½

cup

all purpose flour

(spooned and leveled)

1

cup

full fat buttermilk

1

tablespoon

white vinegar
Crustless New York Cheesecake
4

8-ounce packages

cream cheese

(softened)

1 ⅔

cup

granulated sugar

¼

cup

cornstarch

1

tablespoon

pure vanilla extract

2

large eggs

¾

cup

heavy cream

small amount of butter to grease the pan
Cream Cheese Frosting
2

8-ounce packages cream cheese, cold

½

cup

unsalted butter

(softened but still cool)

1

teaspoon

pure vanilla extract

3

cups

confectioner's sugar
Optional Chocolate Ganache Drip
1

cup

chocolate chips

½

cup

heavy cream

red and/or pink food gel colors
Instructions
Red Velvet Cake
Preheat oven to 350°F. Grease and flour two 9-inch cake pans and set aside.

In a standing mixer, or using a hand mixer, beat together butter and sugar. Add the eggs one at a time, beating on medium speed for 20 seconds after each addition. Incorporate the vanilla.

In a small bowl, whisk together cocoa powder and red food coloring until a thick liquid forms. Blend into the butter, sugar, and eggs.

Combine the dry ingredients in a medium bowl, mixing well. Add half the dry ingredients to the butter mixture, followed by half the buttermilk. Mix in the vinegar before repeating with remaining ingredients. Mix on medium speed for 1 minutes, scraping down the sides and bottom of the bowl.

Divide the cake batter evenly between the two pans. Bake for 18 to 22 minutes until a toothpick comes out clean. Let cool completely.
New York Cheesecake
Grease the bottom of a 9-inch springform pan and line with parchment paper. Pre heat the oven to 350°F. Set aside an additional pan for a water bath.

In a large bowl, beat 1 package of cream cheese, ⅓ cup granulated sugar and all the cornstarch on low speed until combined - about 3-4 minutes. Scrape down the sides and bottom of the bowl and add the next package of cream cheese. Beat on medium-low until smooth and creamy, scrape down the sides and repeat until all the cream cheese is incorporated.

On medium speed, add the remaining sugar and vanilla extract. Add the eggs one at a time. Scrape down the sides of the bowl again and beat for 30 to 45 seconds on medium speed until mixture appears light and airy, but don't over mix.

Pour batter in the spring form pan over the parchment paper liner. Place the spring form pan in a shallow pan and fill the outside pan half way up the springform pan with hot water. Bake the cheesecake until golden brown, about 45 minutes to 1 hour, until the center just barely giggles and the outside springs to the touch.

Carefully remove the cheesecake from the water bath and transfer to a wire rack to cool (still in the springform pan). Once cool completely, refrigerate overnight in the springform pan.

To remove from the pan, run a hot knife along the outside. Carefully unlatch the springform pan and remove the sides. Don't forget to peel off the parchment paper while building the cake.
Cream Cheese Frosting
Beat the butter until pale yellow on medium speed. Add one package of cream cheese and beat on medium speed for 1 full minute. Scrape down the sides and bottom of the bowl before adding the final package of cream cheese. Beat until mixture is smooth and creamy.

Mix in the vanilla. Add in confectioner's sugar 1 cup at a time, stopping the mixer to add it in and then gradually building up to medium speed until incorporated. Frosting will be thick, but not as stiff as a traditional buttercream frosting.
Assembling the Cake
Trim the red velvet cake layers so they are even. Lightly spread a thin layer of cream cheese frosting over the bottom tier of red velvet. This is more to keep the two layers together when serving the cake than for taste or aesthetics.

Carefully layer the cheesecake on top of the bottom red velvet layer. Repeat the thin layer of cream cheese frosting followed by the final layer of red velvet cake. (Don't forget to peel the parchment paper off the cheesecake!)

Frost the cake using the remaining cream cheese frosting. If your red velvet cake is giving off a lot of crumbs as you frost, you can use a small amount of frosting for a thin 'crumb coat,' refrigerate, then finish with the remaining frosting. This will trap any red velvet crumbs in the crumb coat so they don't appear in the final coat of frosting. You should have a small amount of frosting left for a few pipped garnished on top of the cake.

Optional Chocolate Ganache Drip: Refrigerate the frosted cake while you prepare the ganache.

Set aside chocolate in a heat proof bowl and bring cream to a simmer in a small saucepan. Pour the hot cream over the chocolate and let sit 3-5 minutes. Stir until combined. Add in red or pink food color, or divide between two bowls for both colors.

Let chocolate ganache cool for 10-15 minutes before dripping over the cake. The easiest way to do this is to transfer the ganache to a plastic piping bag and cut a small tip. Gently pour puddles of ganache near the edge, letting them cascade down the sides. Fill in the top of the cake with the remaining ganache. Top with your favorite sprinkles or serve as is.
Notes
¹My favorite for greasing and flouring cake pans is baking goop - equal parts vegetable oil, shortening and flour whisked together until smooth then brushed onto the pans.
Nutrition
Calories:
1013
kcal
|
Carbohydrates:
112
g
|
Protein:
12
g
|
Fat:
59
g
|
Saturated Fat:
35
g
|
Trans Fat:
1
g
|
Cholesterol:
235
mg
|
Sodium:
644
mg
|
Potassium:
253
mg
|
Fiber:
1
g
|
Sugar:
86
g
|
Vitamin A:
2218
IU
|
Vitamin C:
1
mg
|
Calcium:
151
mg
|
Iron:
2
mg