What time is it? Pasta time. Pomodoro sauce pasta time, if we're being technical.
The best gosh darn time of the day.
Whether your noodles are homemade, store bought, gluten free or veggie spirals, they're going to be a bowl full of boring if they don't have sauce. Pasta sauce...it's like your noodles are taking a bath in a condiment. And for this condiment queen, well, isn't that just a dream come true?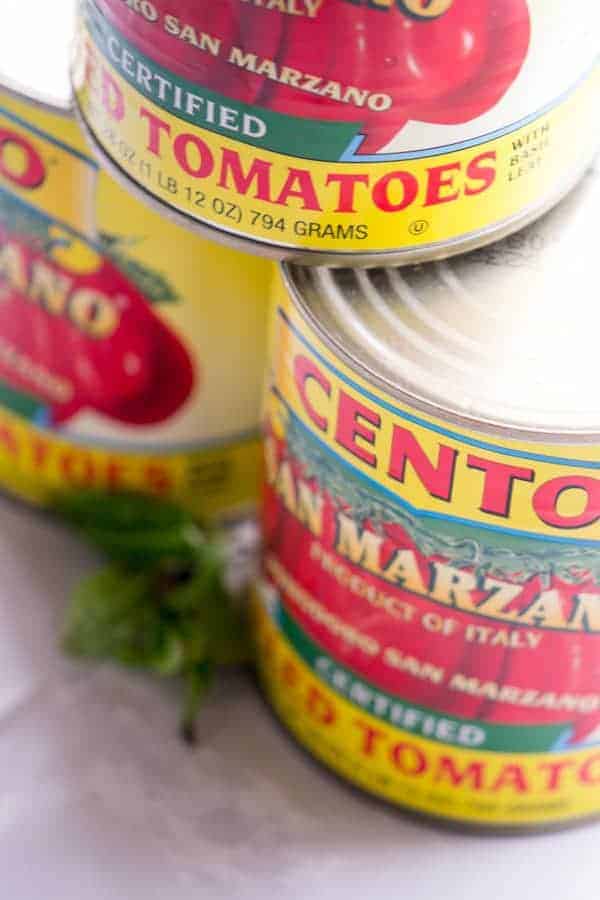 It's Saturday night right now. My husband is out on the town with an out of town friend. The baby is asleep. It's just me, my new charcoal face mask, and a $30 bottle of Pinot. Treat yo'self, right?
I just stuffed my face full of a new (healthy) recipe I've been working on and writing up this little nugget. If there was a contest for best Saturday night at home, I'd say I'm doing pretty good. Now if I can only find myself in bed by 10pm, then we are looking at a hands down win.
I shall call you squishy
"..he shall be mine and he shall be my Squishy..." Quick! Name that movie. No prizes, just bonus points. It's the first thing that comes to mind while making this staple pasta sauce. If only everyone knew about the healing power of hand crushing tomatoes stress balls would have never happened.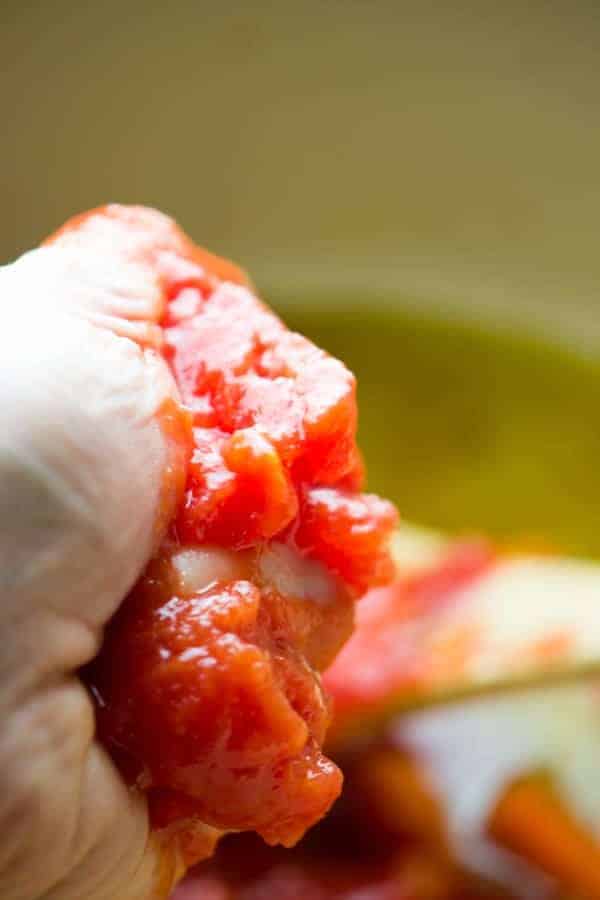 Love for onions, tomatoes, and a balance of fresh basil...if that's your jam this sauce is going to be music to your ears mouth. There are so many things to love about this sauce.
Okay, but what are San Marzano tomatoes? A fan favorite among restaurant chefs for the attention to detail, these plum beauties are a major export from Naples, Italy. Hand picked at the top of ripeness and enhanced from the rich volcanic soil of Mount Vesuvius, they come peeled and bathing in fresh tomato juice.
Getting Saucy
Hand crushing the whole, peeled tomato releases natural juices while creating small Dexter vibes. But that classic rustic presence once those tomatoes hit your tongue after simmering to reduce water is going to pack some serious tomato flavor.
Naturally acidic the tomatoes are put in check with a slight natural sweetness added by the slow simmered carrots. You will want to remove the carrot pieces before serving the sauce. The garlic? Sliced thin. Perhaps not 'Goodfellas' slice it with a razor blade paper thin, but slender enough so no bite has an over-bearing presence of garlic. Fresh basil is the silent star of this dish adding it's natural sweet herb flavor while simmering.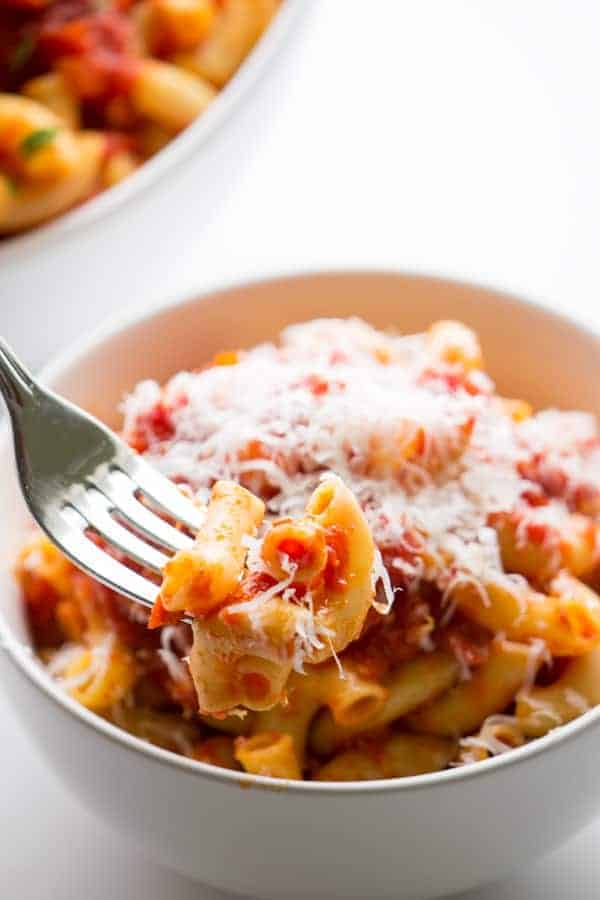 One great thing about having a toddler is that pasta in red sauce is always a guaranteed success for dinner. The child eats well for dinner and Mama has frequent excuses to indulge in carbo-loading goodness. Though the go-to pasta here is typically an elbow or rotini, any style of pasta will do well with Pomodoro Sauce.
Whichever way you prefer to noodle, make your noodles happy. Cover them in hand-crushed red gold and devour them.
Paper towel bib optional.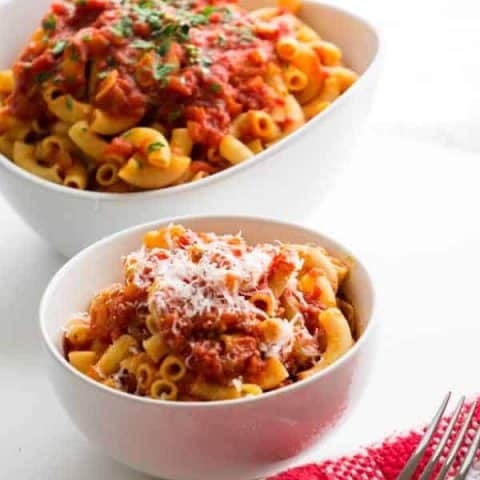 Hand-Crushed Pomodoro Sauce
Balance of texture and sweet, slightly acidic tomatoes. This sauce is a staple base for all your Italian food dreams!
Print
Pin
Rate
Ingredients
⅓

cup

extra virgin olive oil

1

medium yellow onion

(small dice)

5

cloves

garlic

(thinly sliced)

1

large

carrot

(peeled and quartered)

6

leaves

fresh basil

3

28-ounce cans

San Marzano whole peeled tomatoes

1

cup

white wine

salt and pepper
Instructions
In a separate bowl, hand squeeze each tomato breaking it apart. Run your fingers through to ensure tomatoes have been broken into smaller pieces. Set aside.

In a heavy-bottom sauce pan, heat olive oil over medium high heat. Sauté onions until they begin to sweat, about 5 minutes.

Add garlic and carrots, sauté an additional 3 minutes.

Deglaze the pan with white wine and cook 1 minute longer. Add tomatoes, basil, salt and pepper. Stir to combine.

Bring to a boil over medium high heat, stirring frequently. Once sauce comes to a boil, reduce heat to low and simmer for 45 minutes until sauce has thickened.

Remove carrots, let cool and store.
Nutrition
Calories:
667
kcal
|
Carbohydrates:
62
g
|
Protein:
11
g
|
Fat:
38
g
|
Saturated Fat:
5
g
|
Sodium:
1738
mg
|
Potassium:
2554
mg
|
Fiber:
14
g
|
Sugar:
34
g
|
Vitamin A:
7488
IU
|
Vitamin C:
120
mg
|
Calcium:
421
mg
|
Iron:
12
mg