Rich, hearty bolognese sauce with bold red wine and perfectly cooked pasta that's perfect for date night in or just a warm and cozy comfort food meal.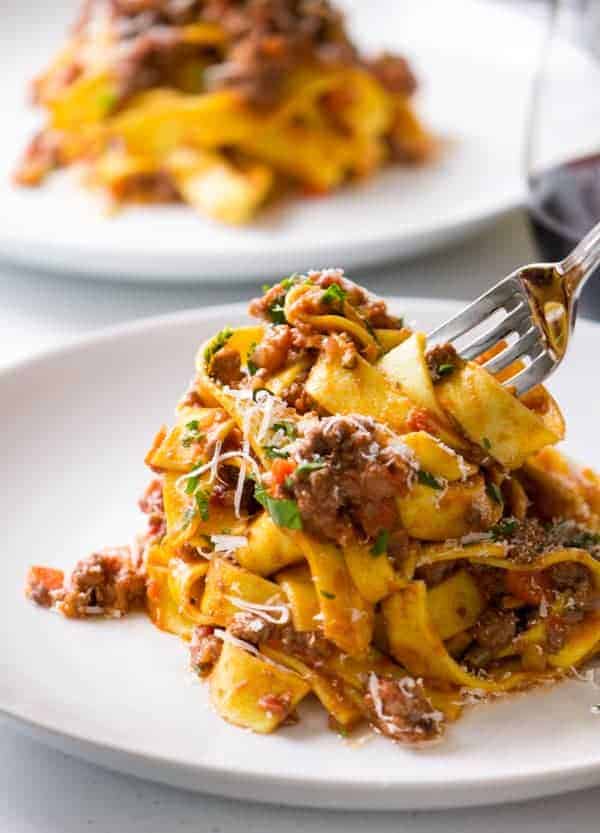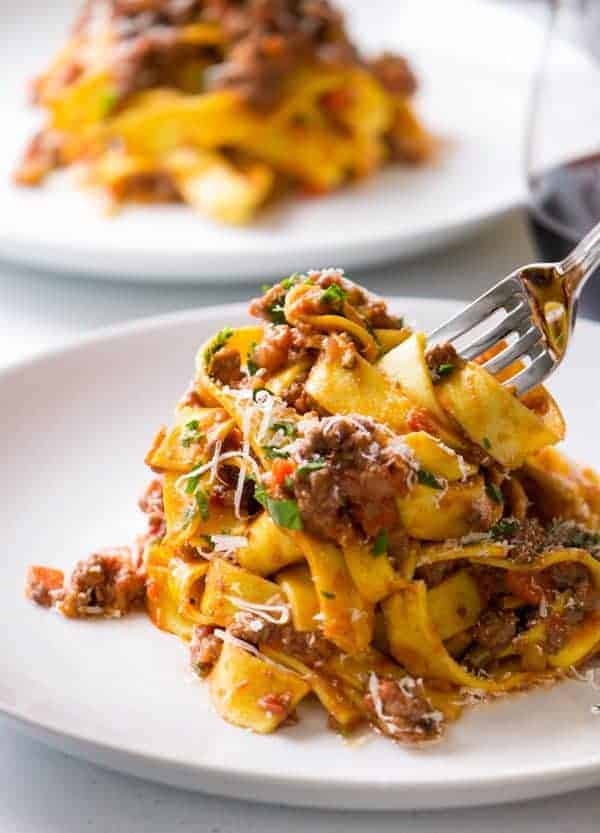 We almost made it. Almost. It's mid February. I don't know what I was thinking. I let my guard down, began to dream of fresh spring salad recipes. Mother Nature chuckled to herself.
"Silly child," she said with the left side of her lip in a wry grin, "I have merely just begun."
And like a scene out of Game of Thrones, winter came harshly upon us several feet over. So I say, "Whatevs Ma Nature...snow days are for bolognese."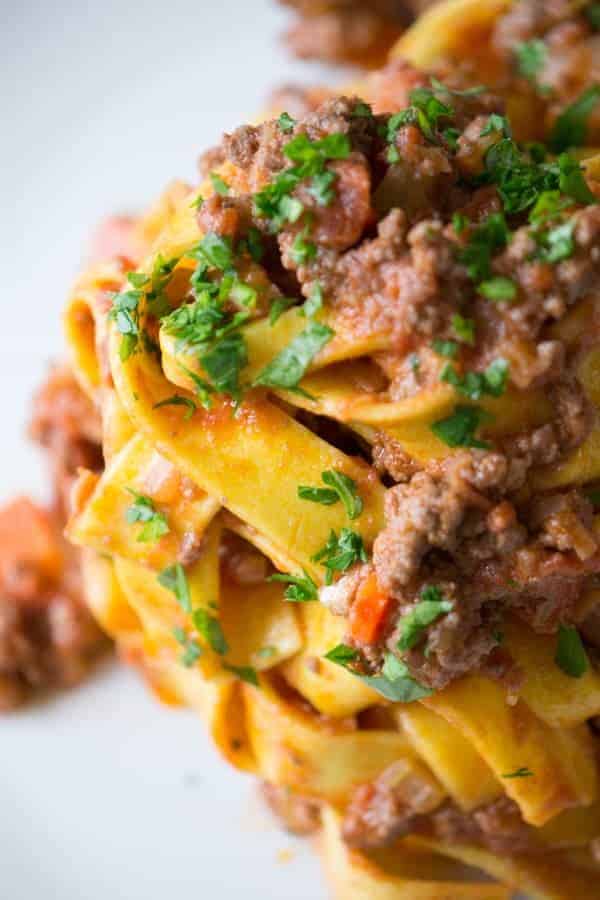 The Basics of bolognese sauce
Traditional bolognese is a slow simmered labor of love, but love doesn't have to be that difficult. With a red tomato sauce prepared, whether homemade or store-bought, you can tuck in to a soul comforting bowl of goodness in no time. Unless of course, you have to shovel first.
To begin building this traditional Italian meat sauce, you start with the vegetables! Not only are they going to add depth of flavor, you can be relieved you're getting a few vegetables in while indulging in a big plate of noodles. Sautéed until soft, then we add the meat and as that starts to brown it will soak up all the flavors the vegetables have released. Drooling yet?
Before the sauce and cream, add just a bit of red wine. In the hot saute pan, the wine sizzles and steams while simultaneously incorporating all the the drippings of the meat and vegetables. Really, bolognese sauce is just a big pan of self-love. I could use a little of that, couldn't you? Mmmm....almost there.
When it comes time to sauce, head over to the pantry to grab your Hand-Crushed Pomodoro Sauce. But don't fret if you haven't gotten to that recipe yet, any tomato sauce will definitely get the job done. Just try to stay away from any 'marinara' style sauces since they tend to be on the sweeter side, and perhaps opt for a chunkier tomato sauce.
Pasta Decisions
IMO, pasta shape is a very personal decision. For example, I love long pasta but not spaghetti. Really not sure why, just don't care for the texture. But if you choose a long pasta, for the love of red sauce...
PUT THE KNIFE DOWN.
And pick up a spoon! Twirling is fun, makes for the perfect bite with all the ingredients, and ensures your don't shovel down all that pasta in record timing. If you really must cut your long pasta, we can still be friends. No hard feelings, promise. Best of all, you don't have to slave away for the perfect fresh pasta. Check out your local grocery or google around for a local shop that offers fresh pasta. I picked up my package at Tuscan Market in Salem, NH. Like a small Eataly without the sales tax.
If a short pasta is the carb that you crave, penne or rigatoni is a perfect companion for the meaty, velvety red sauce. Really, any short pasta with ridges. Something to give the sauce an edge to hang on to. Everyone loves a good cliffhanger, even bolognese.
From pan to plate, the perfect bite
Post preparation means pasta and sauce have been joined in holy, pasta matrimony. It's time to dish up this beautiful meal. A little chopped parsley will add just the right amount of cleansing freshness to each bite. Parmesan cheese? The more the merrier in my book. If you are the person wishing the waiter would leave the cheese block at the table so you don't have to feel guilty about the arm workout your cheese requirement is giving her. Just know that you are not alone.
Twirled up on the tines of your dinner fork, the first bite will bring tender 'al dente' pasta to your lips. The sauce is a perfect blend of rich ground beef, salty pancetta, with the soft texture of vegetables coated in tangy red sauce. The acidic tomatoes will be mellowed out by the vegetables with robust red wine undertones, and turned just the perfect amount of luscious richness from the cream.
One big bowl of self love. Ingredients that love each other. Go get yourself some love in a bowl.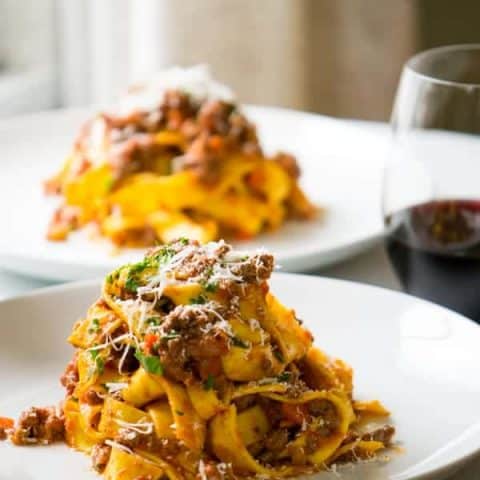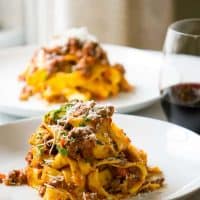 Bolognese Sauce with Tagliatelle
Ground beef, pancetta, and finely chopped vegetables are married in a robust and flavor bursting bolognese sauce that doesn't require an all day simmer.
Print
Pin
Rate
Ingredients
1

pound

fresh made tagliatelle

¼

cup

olive oil

(extra virgin)

2

medium carrots

(peeled, small dice)

2

celery stalk

(small dice)

1

large yellow onion

(small dice)

4

cloves

garlic

(finely chopped)

1

pound

ground beef

(90/10)

4

ounces

pancetta

(chopped, about ½")

½

cup

dry red wine

2

cup

Hand-Crushed Pomodoro Sauce

(see notes)

1

tablespoon

tomato paste

¼

cup

heavy cream

Salt & Black Pepper

(to taste)

1

tablespoon

italian parsley

(chopped)
Instructions
Set a large pot of salted water to boil. You won't need it until the sauce is almost near finished. Prior to the 'heavy cream' step in the instructions below, add fresh pasta to the rapid boiling water and cook according to package instructions, typically about 3 to 4 minutes.

In a large sauté pan, heat olive oil over medium high heat. Add carrots, celery, onion and garlic. Sauté for about 5 minutes, stirring frequently, until vegetables are translucent.

Add chopped pancetta and cook for two minutes. Add ground beef to the pan, using a wooden spoon or spatula to break apart into very small pieces. Cook until almost all of the pink is removed from the ground beef, about 4 to 5 minutes.

Pour red wine over pan ingredients. Stir to incorporate, scraping the bottom of the pan. Allow wine to reduce slightly, cooking about 1 minute before adding pomodoro sauce.

Stir well to incorporate

pomodoro sauce

and tomato paste. Season with a pinch of kosher salt and ground black pepper. Reduce heat to low, simmer for 3 minutes to reduce.

Add heavy cream, stirring well to incorporate. Simmer for an additional 5 minutes before adding pasta.

Drain pasta well, do not rinse with water. Add pasta to sauce and stir or sauté until noodles are well coated with sauce. Optional: Garnish with fresh chopped parsley and parmesan cheese.
Notes
Learn how to make homemade pasta - tagliatelle is one of my favorite shapes! Or you can buy fresh pasta in the cold section of your grocery store.
If using boxed pasta instead of fresh pasta, begin cooking the pasta earlier as it will take more time.
Get the Hand-Crushed Pomodoro Sauce here. If you're not in the mood to make your own, a plain jar of marinara sauce would make a great substitution. The Rao's brand is my favorite.
Nutrition
Calories:
990
kcal
|
Carbohydrates:
78
g
|
Protein:
39
g
|
Fat:
56
g
|
Saturated Fat:
18
g
|
Trans Fat:
1
g
|
Cholesterol:
202
mg
|
Sodium:
997
mg
|
Potassium:
1183
mg
|
Fiber:
3
g
|
Sugar:
8
g
|
Vitamin A:
6063
IU
|
Vitamin C:
16
mg
|
Calcium:
90
mg
|
Iron:
8
mg