Eye-catching white asparagus cooked tender yet crisp, tossed with velvety lemon piccata sauce. It's rich but also just the right amount of tart with a salty savory pop of capers. Simple and simply delicious!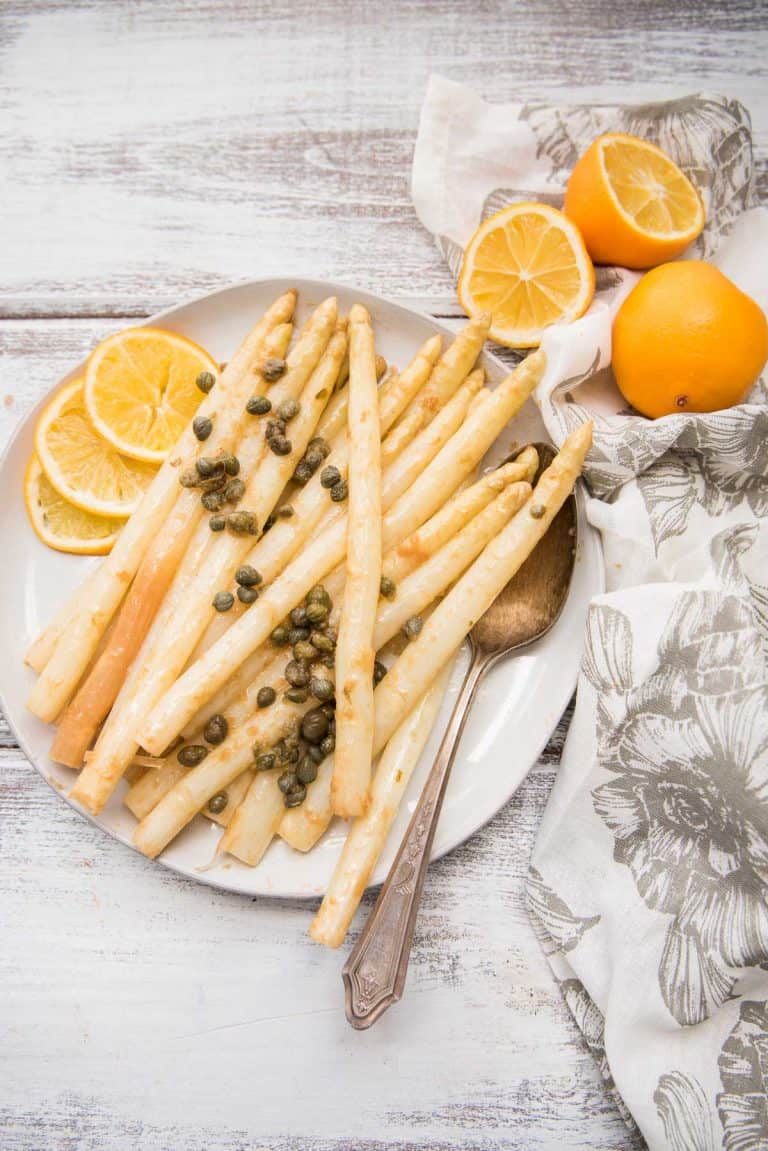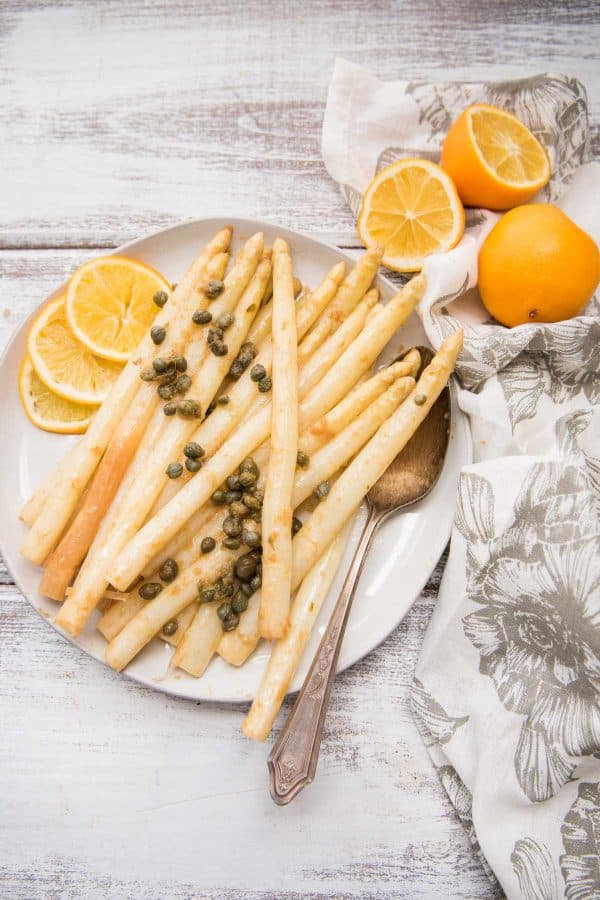 The pucker of lemon, salt of the capers and tender yet crisp stalks of white asparagus. It's time to switch up your usual version of asparagus. Let's do it piccata style.
Piccata will always be an obsession sauce. It's bright and buttery, velvety on the tongue. Then you get that burst of briny capers with a pleasurable pop in each bite. Who can argue with that?
While chicken reigns king of piccata sauce pairings, you haven't truly sauced it up until you've had it on asparagus.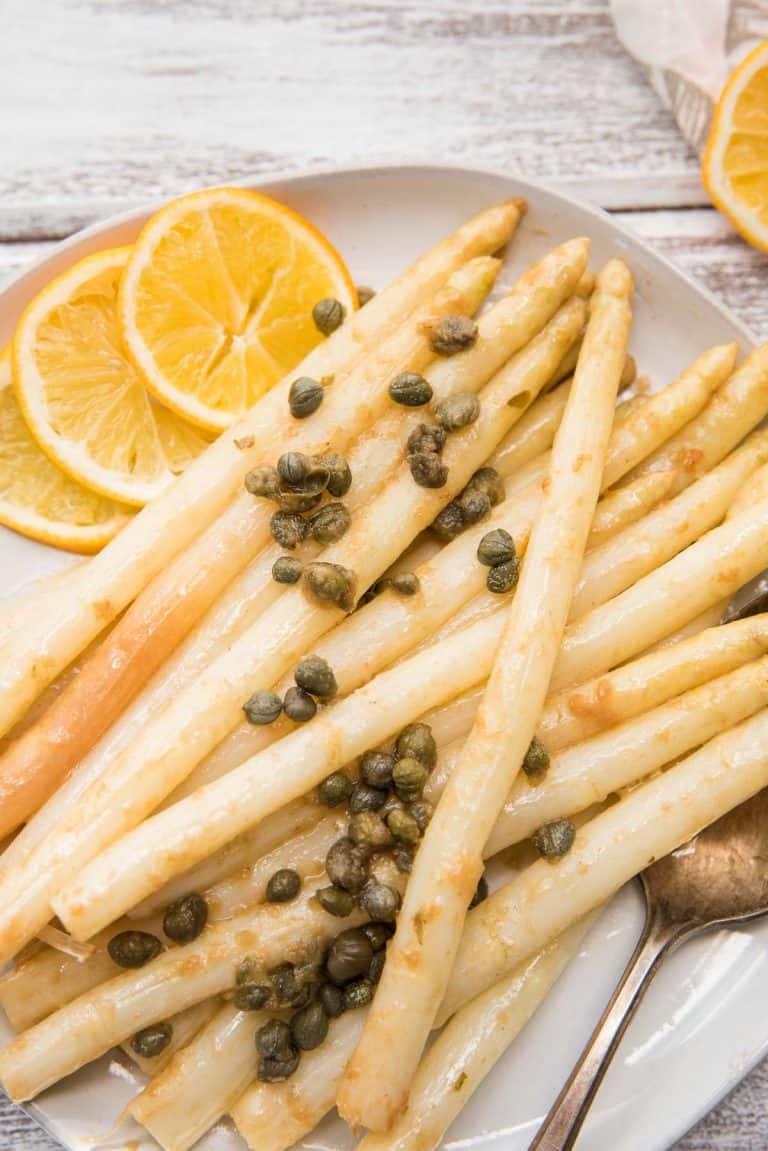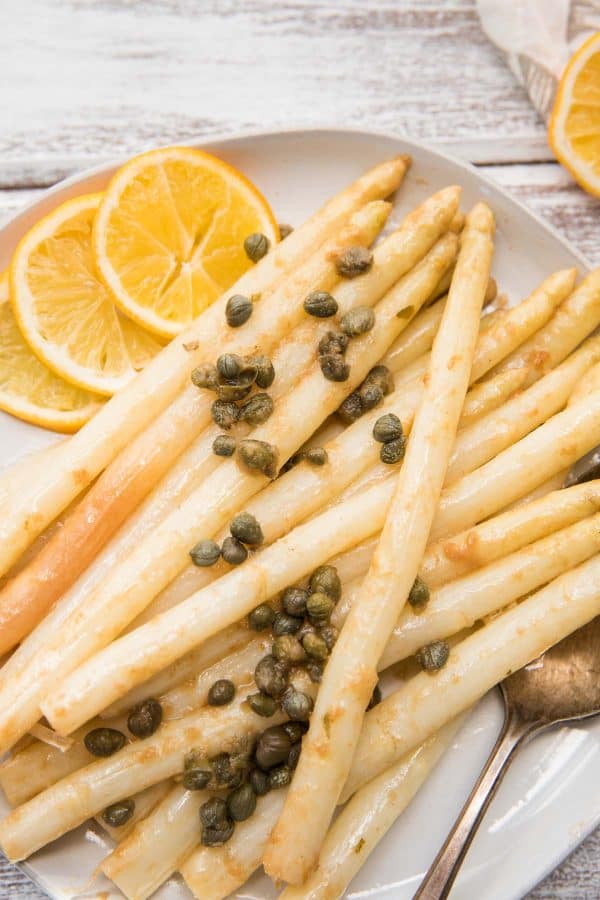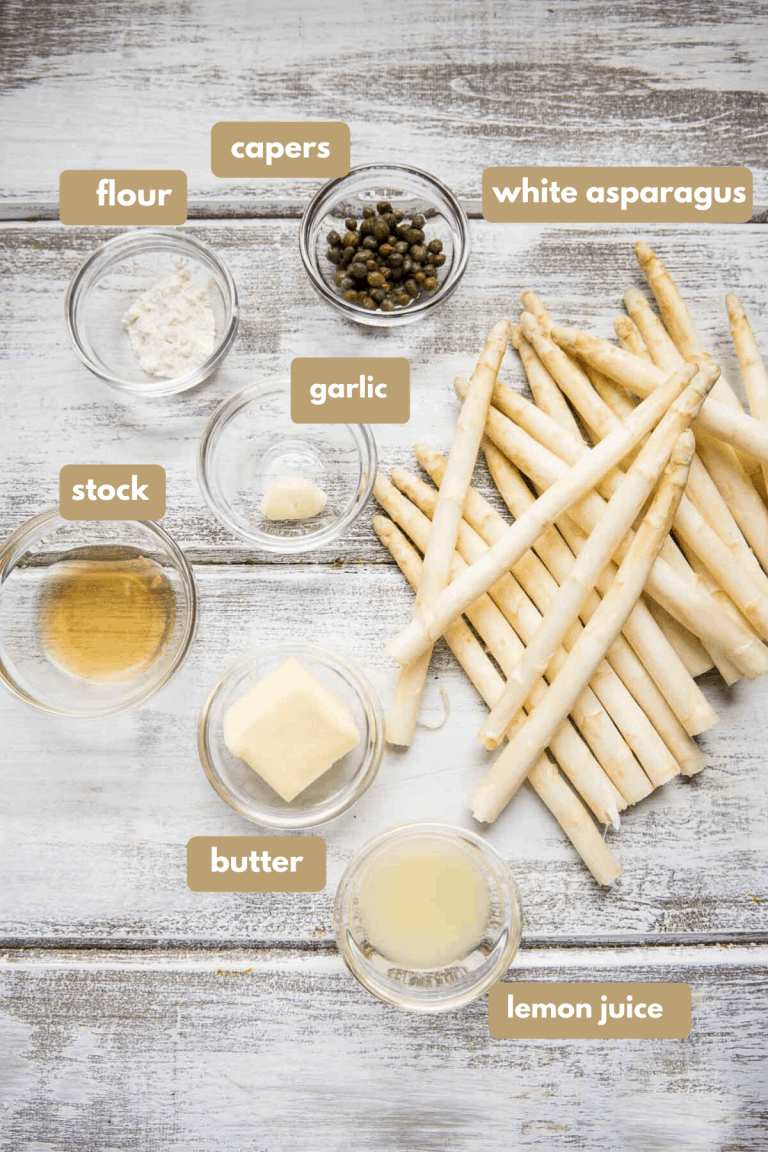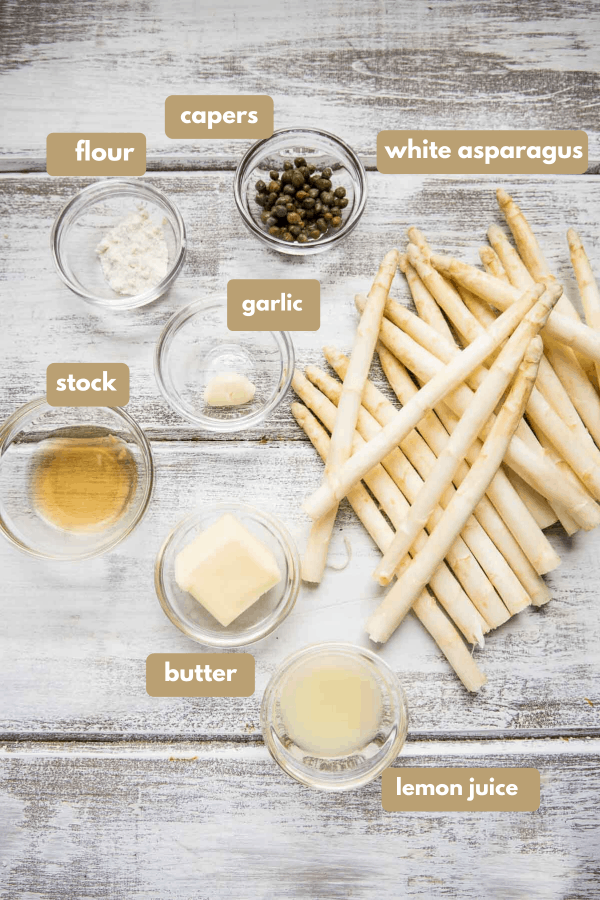 I mean, I wouldn't be upset if a big bowl of linguine came smothered in the stuff, but right now we're giving these stalky vegetables their time in the limelight.
what is white asparagus?
White asparagus gets its eye-catching color - or really, lack of - because it's grown underground. Without the sunlight exposure, the chlorophyll doesn't develop resulting in the bright white color. (Does that make anyone else think of Billy Madison?)
White asparagus tends to have a bit more umph to texture-wise, so it's a good idea to peel the bottom ½ to ⅔ of the stalk. It has a more gentle flavor than green asparagus making it a great pairing for piccata!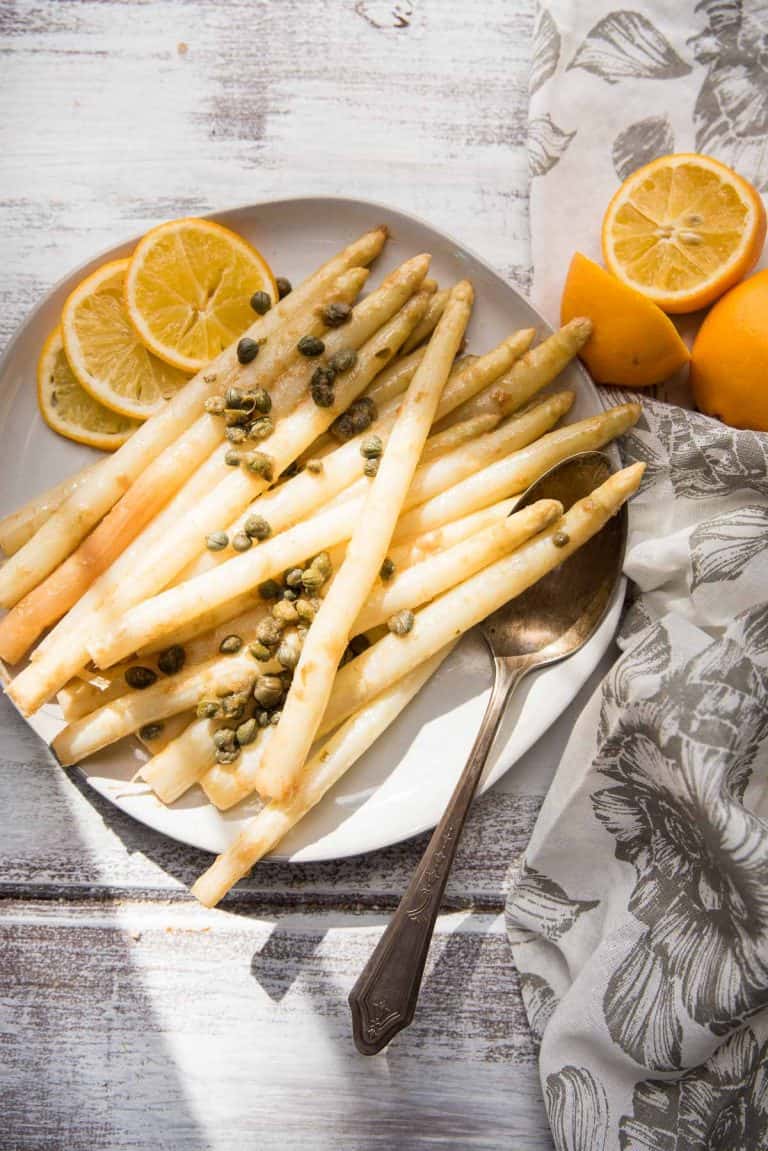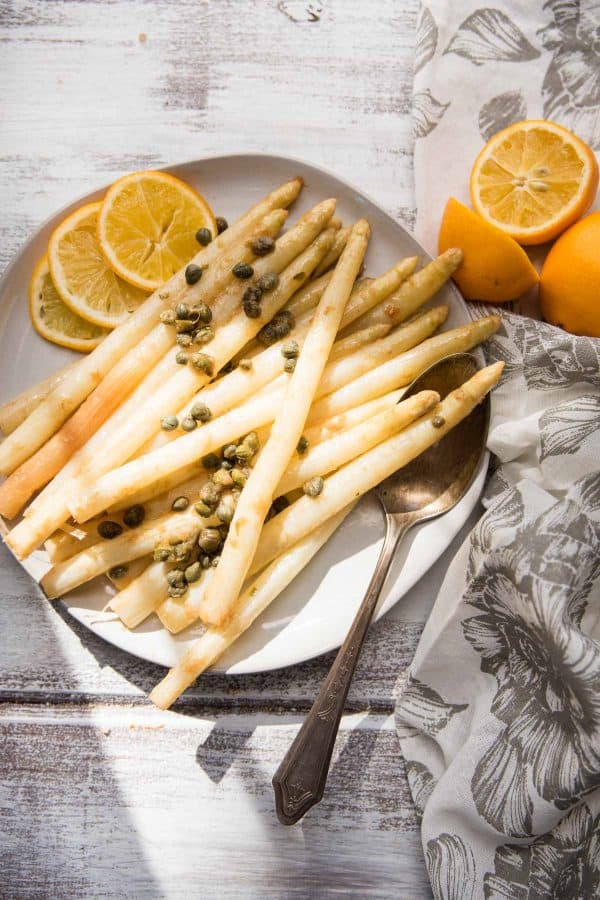 lemony inspiration
In my opinion, the jury is still out on whether its the lemon, the butter or the capers that make piccata sauce the perfection that it is. Perhaps its the power of all three combined.
This recipe is inspired by a delicious meal with fellow food blogger/photographer queens at an amazing photography workshop in Minneapolis. The experience as a whole was A++ Mayzing.
Upon arriving home, the need for rich and bright piccata coated veggies consumed me, so here we are. Snacking on sauce asparagus, on repeat. Or served with super easy buttermilk roasted chicken.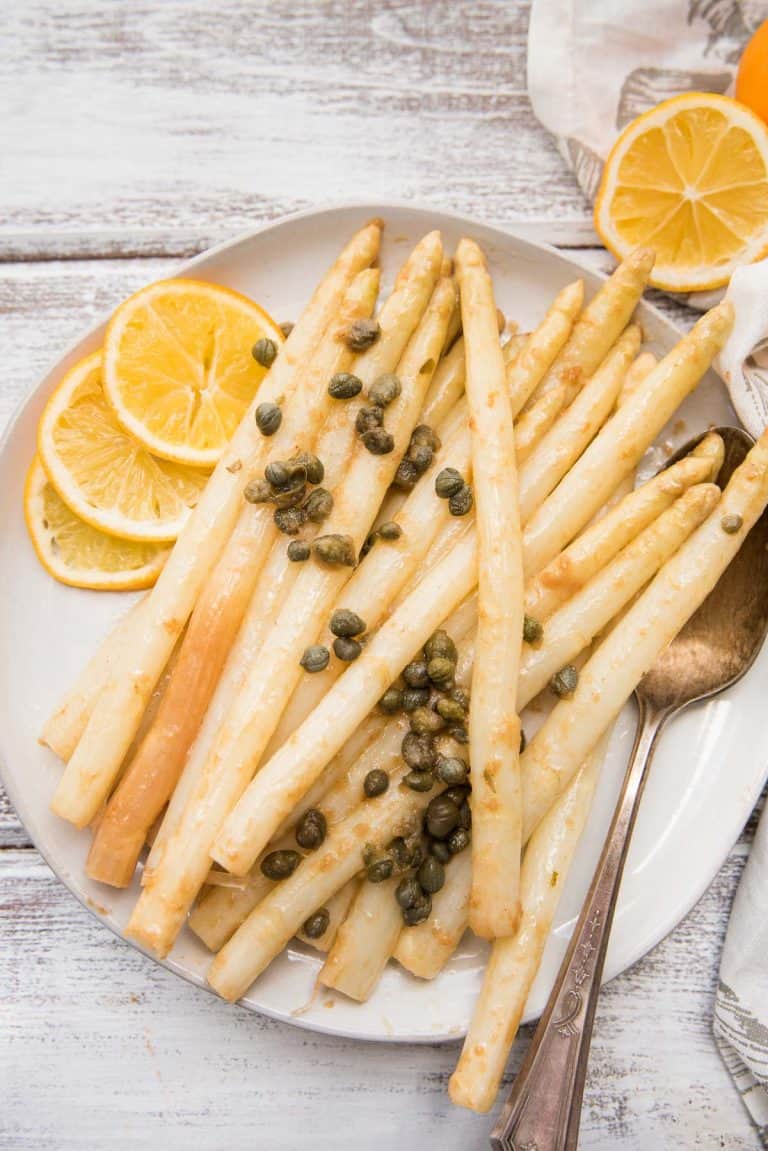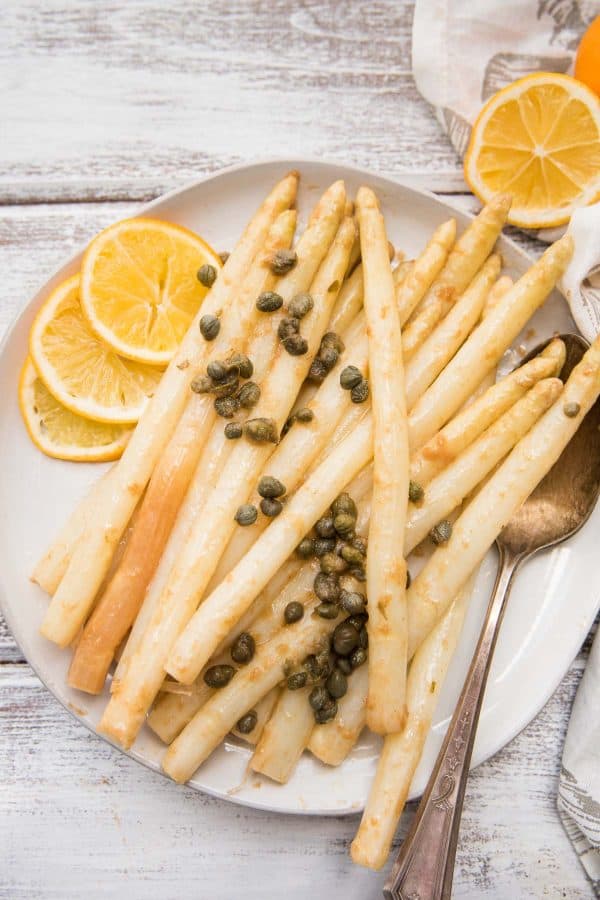 tips for perfect piccata and tender veggies
A skillet and a handful of ingredients will have you on your way. This velvety sauce starts with our very good friend - butter.
Butter and minced garlic simmered on low heat. Gosh, why isn't that a candle scent? You'll add a touch of flour as a thickening agent for the sauce. Substitute cornstarch for a gluten-free version.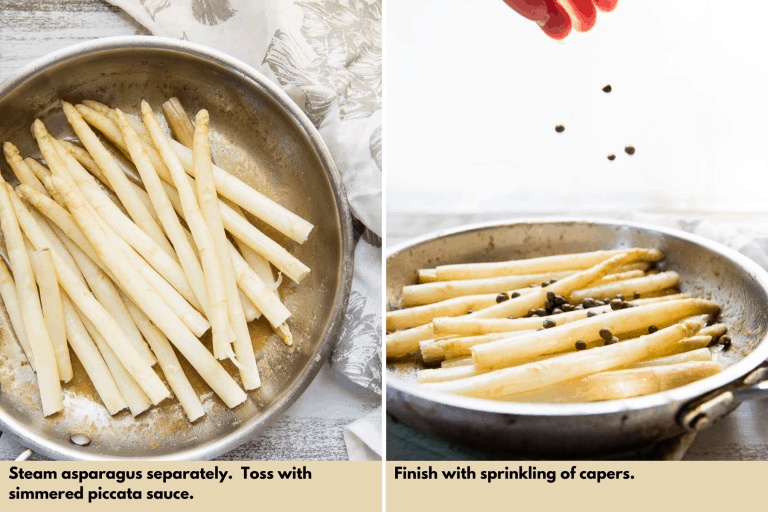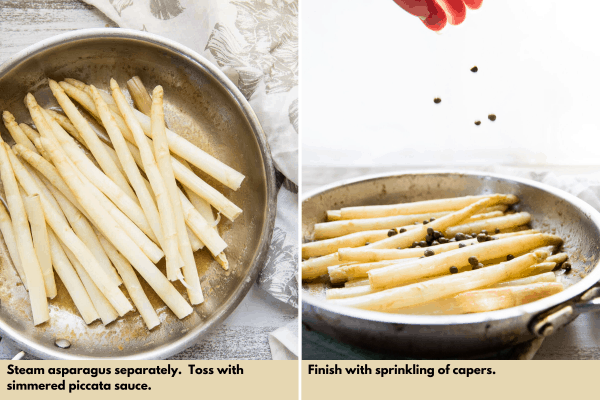 A simmering of white wine, vegetable or chicken stock, and lemon juice add the "guts" to this sauce. As the white wine cooks off and reduces the sauce will thicken. But the best part in my humble opinion is the final sprinkle of capers. Bites of salty bliss to balance the buttery richness.
Asparagus like your family has never had before, dished out in no time
If you air on the side of flair, try a sprinkle of thin, shredded parmesan cheese. Or bust out the microplane and zest fresh lemon with all your best zesting skills. Bam, veggies so good you'll eat them first because you want to, not because you have to.
This recipe first appeared on Hunger Thirst Play on October 17, 2018. It's been updated with more detailed information and photos, but with the same delicious recipe! If you made this recipe, please leave a rating and comment below!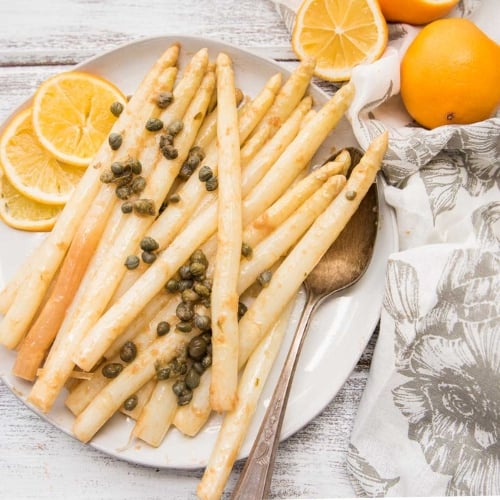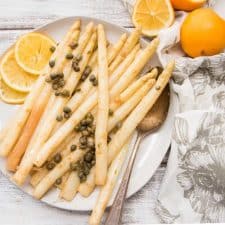 Lemony White Asparagus Piccata
Tender yet crisp eye-popping white asparagus coated in bright lemon acidity, velvet butteriness, and tangy briny capers. A veggie side dish that's anything but boring!
Print
Pin
Rate
Ingredients
1

bunch white asparagus

(steamed)

3

tablespoons

unsalted butter

(divided)

1

clove

garlic

(minced)

½

teaspoon

all-purpose flour

(substitute cornstarch for a gluten-free version)

2

tablespoons

white wine

1

tablespoon

lemon juice

1

tablespoon

vegetable stock

⅛

teaspoon

salt

1

tablespoon

capers

(drained)
Instructions
Prep the asparagus.

Trim the bottom ends off the asparagus stalks. Using a vegetable peeler, peel about ½ way to ⅔ of each stalk. Steam until just cooked, about 5 to 8 minutes. Asparagus should still have a bit of crunch.

Make the piccata sauce. In a large sauté pan, melt 2 tablespoons of butter over low heat. Add garlic and cook for 2 minutes. Whisk in flour, continuing to stir for 1 minute. Stir in white wine, lemon juice, stock, and salt. Cook for 3 to 4 minutes, stirring frequently, until the wine reduces and sauce thickens. Finish with remaining tablespoon of butter, melting and continually stirring until incorporated into the sauce.

Add the asparagus to the pan and sauté to coat the asparagus evenly. Simmer on low for 1 to 2 minutes until asparagus is tender and easily pierced with a fork. Sprinkle with capers just before asparagus is done cooking with the sauce. Transfer to a plate for serving.
Notes
Sauce should be thick enough to coat the back of a spoon, but still be runny.
Nutrition
Calories:
108
kcal
|
Carbohydrates:
5
g
|
Protein:
3
g
|
Fat:
9
g
|
Saturated Fat:
5
g
|
Trans Fat:
1
g
|
Cholesterol:
23
mg
|
Sodium:
147
mg
|
Potassium:
245
mg
|
Fiber:
2
g
|
Sugar:
2
g
|
Vitamin A:
1131
IU
|
Vitamin C:
8
mg
|
Calcium:
33
mg
|
Iron:
3
mg