Juicy and tender roast pork stuffed with savory and smoky with sweet cranberry flavor. We love this cranberry gouda stuffed pork roast for entertaining or weekend family dinner. Ingredients are easy to find, inexpensive and the taste is restaurant-quality!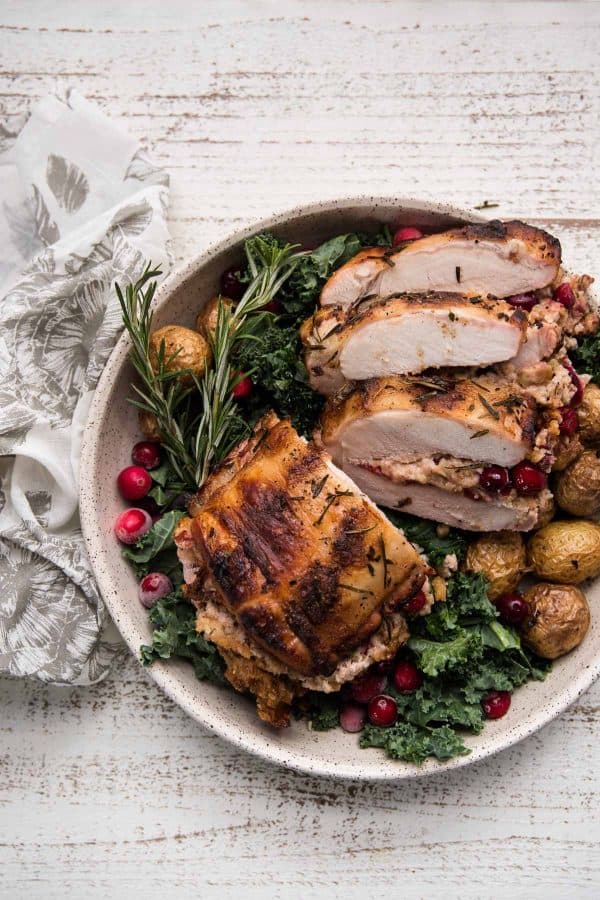 This post is sponsored by Cape Cod Select Cranberries. We love their ready to use frozen cranberries that bring classic New England flavors to any dish all year round and hope that you do too!
Let's gather 'round the table fam, it's time to dig into a seriously good eats. Pork roast is such an under-appreciated main dish that's finally getting its well-deserved glory as a family meal or entertaining centerpiece.
Common pitfalls of a pork roast include boring, flavorless and dry. ALL of which we're avoiding for these reasons:
overnight simple brine of the pork roast – adds both flavor and tenderizes
butterflying to layer pork and stuffing flavors
rich, cheesy and tart sweet flavors in the stuffing
addition of stock to the roasting pan adds moisture and flavor
Never stuffed a pork roast before? Don't you worry, you're going to nail it!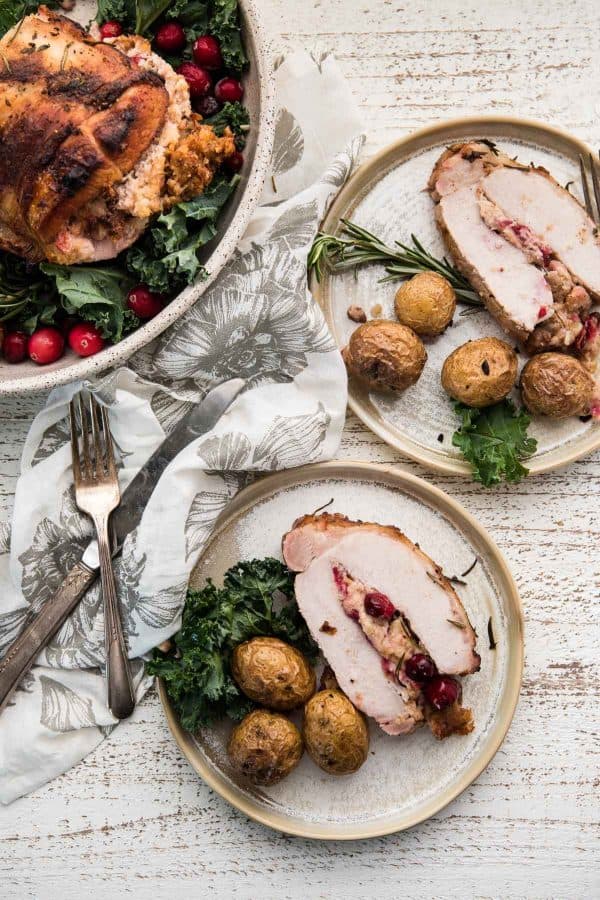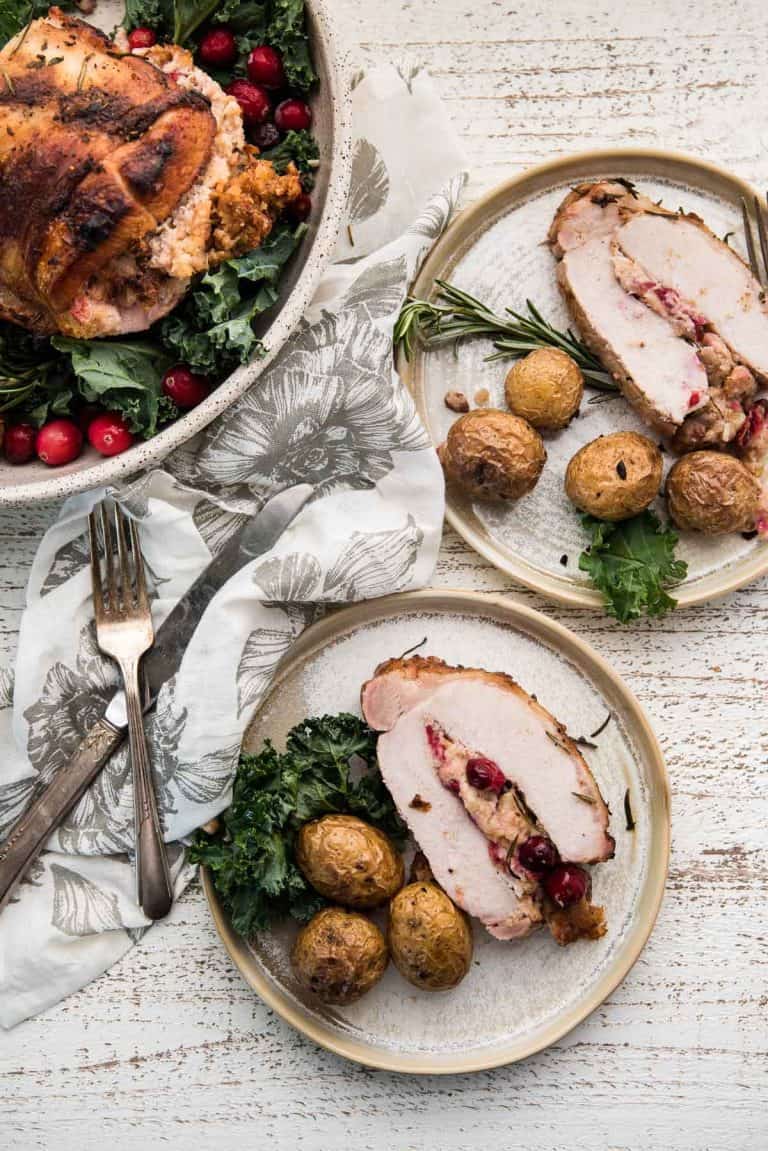 Brining your roast
The first step to deliciousness! What is brining? Simply, it's soaking meat in a solution of salted water/liquid. The meat absorbs extra liquid – and any flavoring added to it – which both tenderizes and adds moisture.
The shorter the brining period the more salt you'll see in a brining recipe, other factors to consider are the size of the cut of meat and how much liquid there is. The easiest way to brine is overnight in the fridge.
Tips for a tasty brine
use hot water to dissolve the salt but let it cool completely before adding the meat
"toast" the herbs in a pan before adding other ingredients for an added boost of flavor
add herbs and spices to any brine to add flavor
fruit juices like apple cider or apple juice are great and easy brining liquids
after brining, wash the meat off and pat dry with paper towels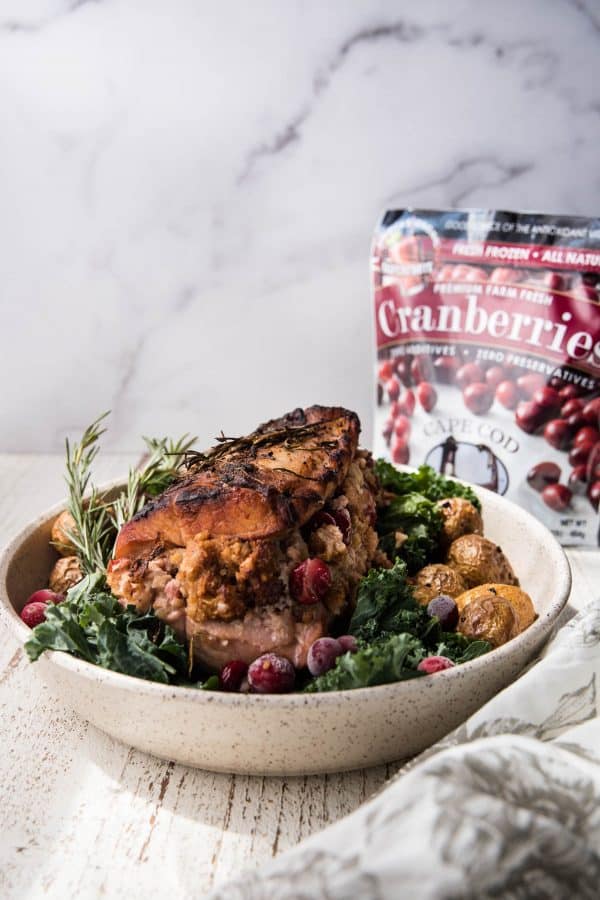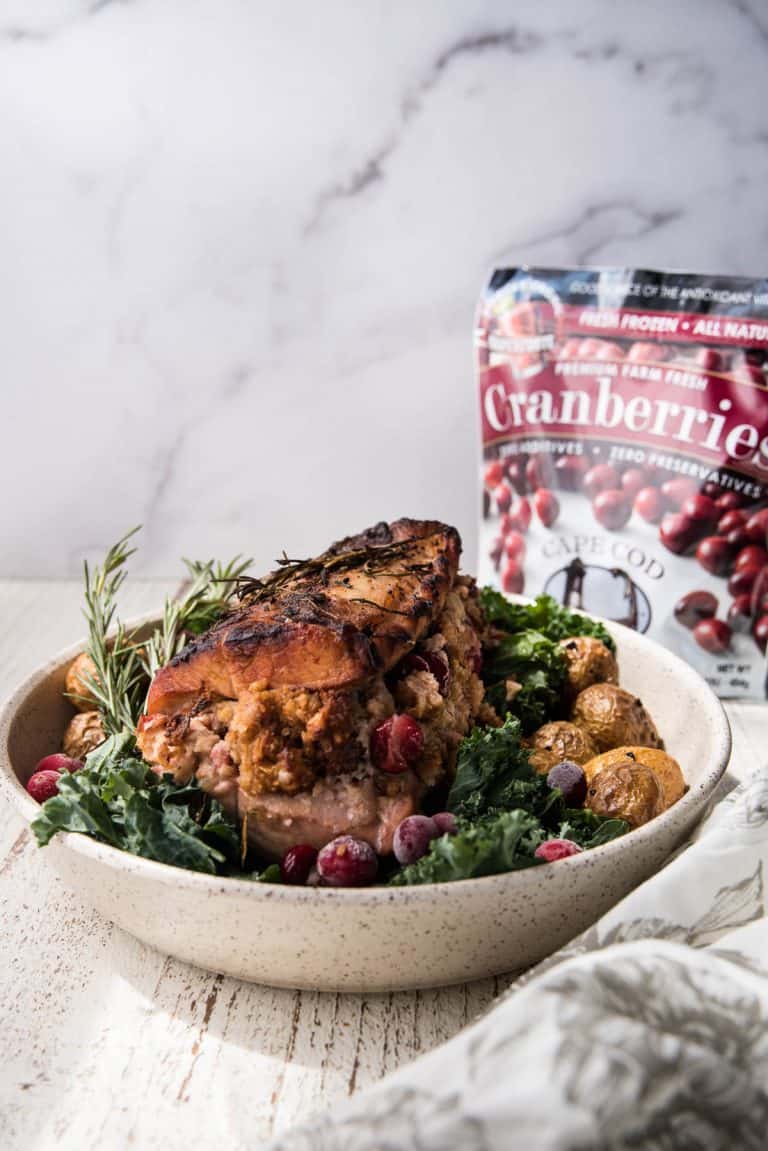 How to make a cranberry stuffed pork roast
There's string involved, a meat mallet, stuffing….it sounds like it could be complicated but it's truly not! After your meat is brined, washed, and pat dry leave it out at room temperature while you work on building that tart and cheesy cranberry laced stuffing.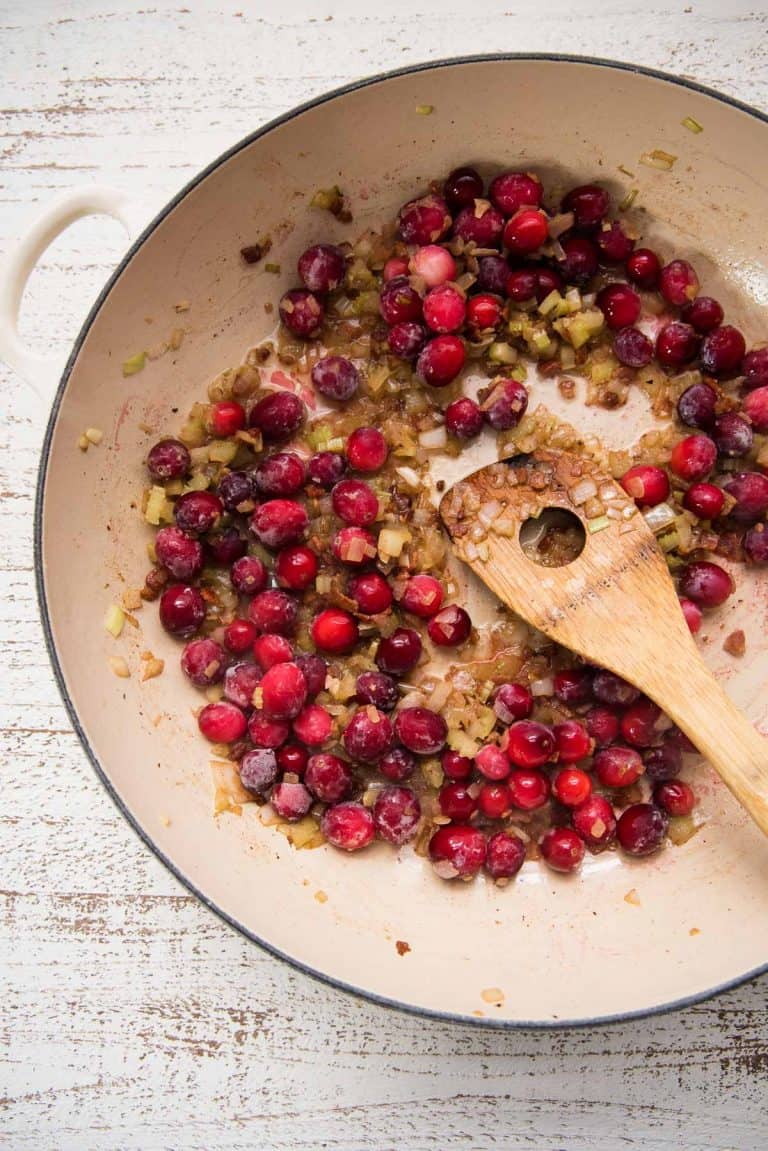 If you want bites of whole cranberries in the stuffing, add them to the pan frozen. If you'd like them to cook down into the stuffing, let the cranberries come to room temperature first. The rest is just a matter of sautéing your aromatic veggies, adding wine, and letting the bread soak up all the liquid and cheese for an easier to handle stuffing.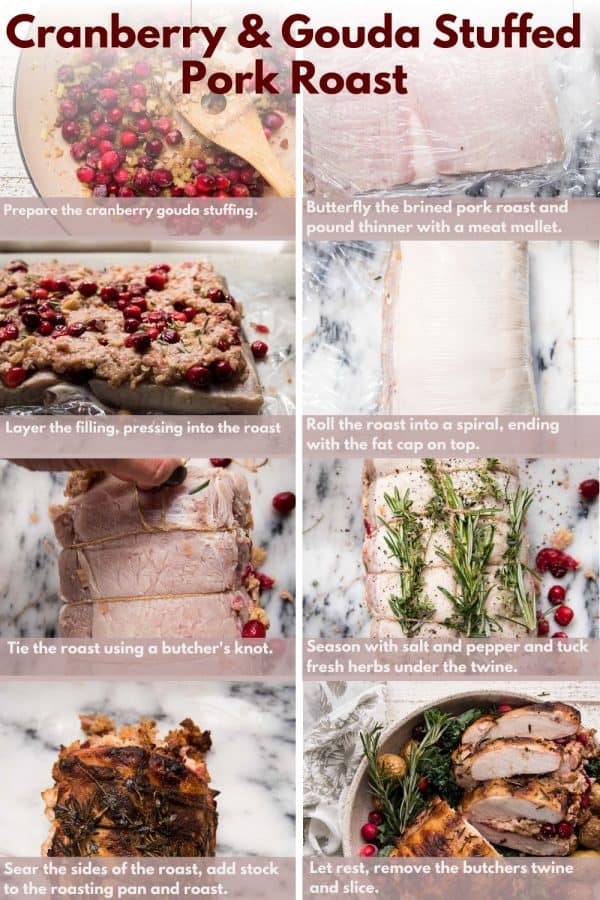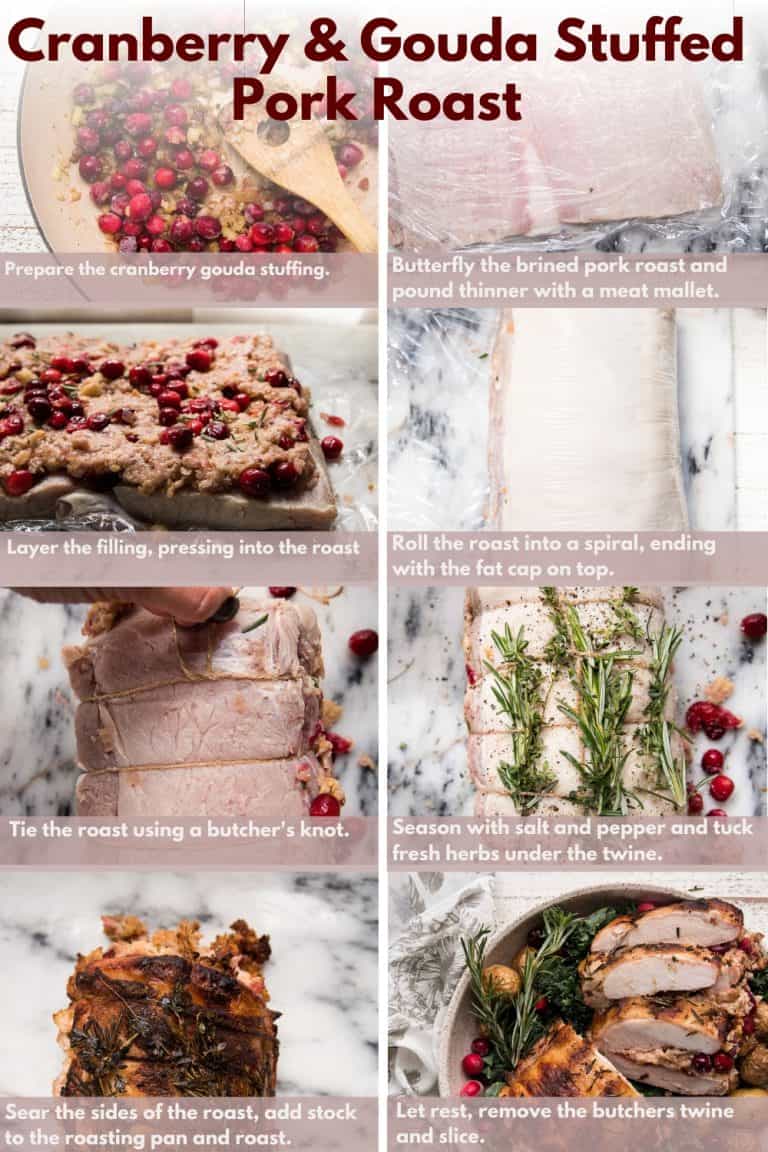 Tips and troubleshooting a perfect pork roast
slice the roast cold then let it come to room temperature
place a piece of plastic wrap over the roast to it spread when pounding with the mallet
if a butcher's knot is too complicated, just tie the roast with 6 separate strings
tie the roast tightly as the meat will expand if it cooks
for a thinner, pinwheel style roast use a pork loin rather than a pork roast
stuffed pork roast can be prepped and refrigerated the day before cooking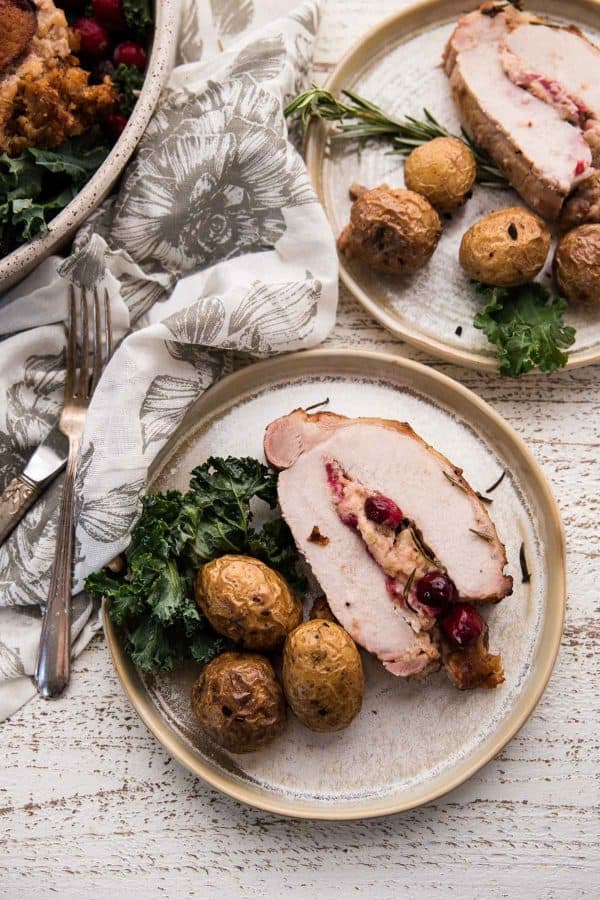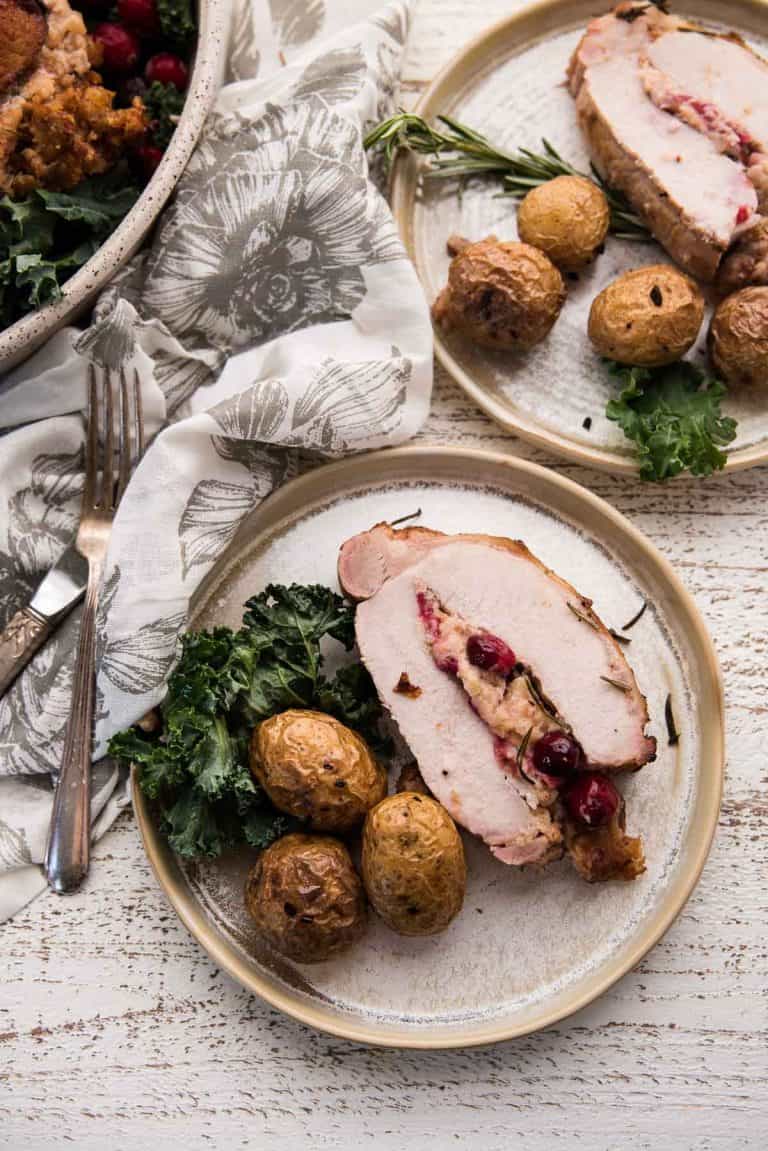 Your family and guests are going to love this meal! Not sure what to serve alongside? Try some honey-ginger roasted carrots, Brussels sprouts, easy creamy parsnips, or braised kale!
Are you addicted to cranberries like we are? For more cran-tastic recipe ideas, follow Cape Cod Select Cranberries, on Facebook, Instagram, Twitter, and Pinterest. Find out where you can pick up your own bag of cranberries right here!
If you made this recipe, please leave a comment and rating below! Don't forget to snap a pic of your creation and post it with the pin for others to see!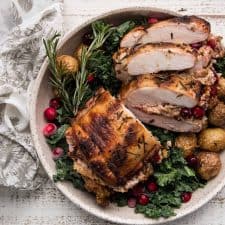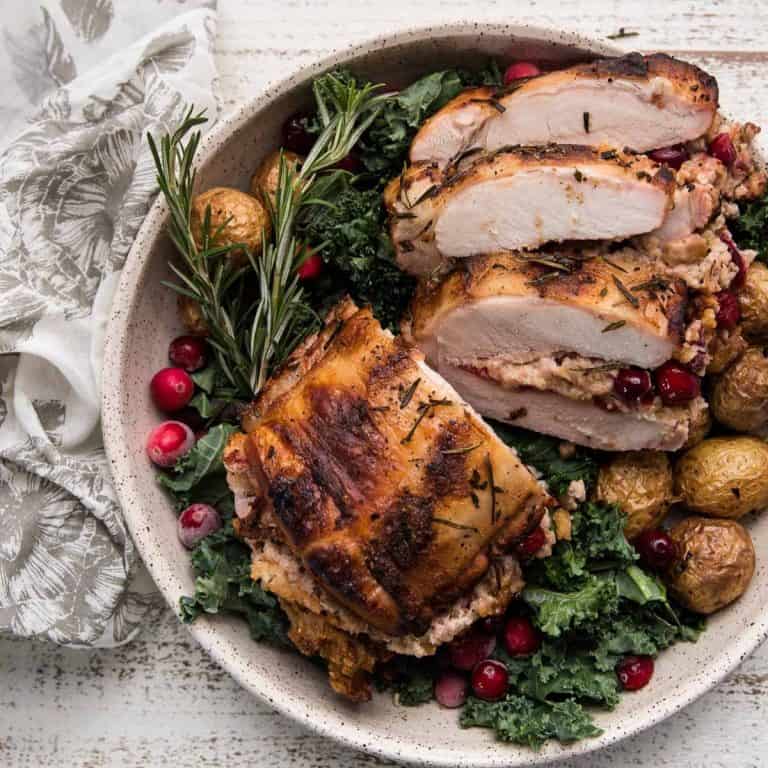 Cranberry Gouda Stuffed Pork Roast
Delicious roasted pork! Cranberry gouda stuffed pork roast is super tender and full of rich flavors that make it the perfect weekend family dinner or entertaining roast.
Print
Pin
Rate
Ingredients
Cranberry Gouda Stuffed Pork Roast
3

lb

pork roast

1

tablespoon

butter

2

slices

thick-cut bacon

chopped

1

small yellow onion

diced

1

rib celery

diced

1 ½

cups

Cape Cod Select Cranberries

1

clove

garlic

minced

8

ounces

gouda

shredded

3

tablespoons

sherry or cooking wine

2

sliced white bread

chopped

2

tablespoon

brown sugar

4

rosemary sprigs

divided

2

tablespoons

canola oil

½

cup

white wine

1 ½

cups

chicken stock

salt and pepper for seasoning
For the brine:
2

cups

water

¼

cup

kosher salt

2

cups

apple juice

chilled

3

garlic cloves

crushed

2

tablespoons

pickling spices
Instructions
Brine the roast: In a saucepan, heat the pickling spices over low heat for 30 to 60 seconds until fragrant. Add the water and salt, stirring until the salt dissolves. Remove from heat, stir in the apple juice, and garlic. Let cool completely. In an airtight container or plastic zip bag, cover the roast with the cooled brining liquid. The meat should be completely submerged. Store overnight or 8 to 10 hours in the refrigerator.

Prepare the roast: Remove the roast from the brining solution. Rinse it well with water and pat dry with paper towels. Slice the roast along the center to butterfly it while the meat is still cold. Let it come to room temperature while you prepare the stuffing, before pounding thinner with a meat mallet.

Make the stuffing: In a large sauté pan, cook the bacon over medium-high heat until it starts to brown, about 2 to 3 minutes. Melt the butter in the pan with the bacon and add the onion, celery, and garlic. Sauté until the vegetables are soft, about 2 minutes. Stir in the brown sugar, sherry, and cranberries, reduce the heat to low, cook for 4 to 5 minutes until the cranberries are soft. Remove the pan from heat and stir in 1 minced spring of rosemary, bread, and cheese. Let cool slightly while you pound the pork roast. Preheat the oven to 375°F.

Stuff the pork roast: Layer a piece of plastic wrap over the pork roast and pound the cut thinner with a meat mallet. Place the roast with the fat cap on the cutting board side and the inside of the roast facing up. Layer the stuffing onto the roast, slightly pressing into the roast. Tightly roll the pork roast so that the fat cap ends up on the top of the roast. Tie with a butchers knot or with 6 separate pieces of butchers twine. Once the roast is tied, season generously with salt and pepper and tuck 3 springs of rosemary on top.

Sear and roast: Heat the oil in a stovetop and oven-safe roasting pan. Sear the roast for 3 minutes on the top and bottom and 1 minute on each side. Remove the pan from the heat, carefully transfer the roast fat side up to a roasting rack and place inside the roasting pan. Add the wine and chicken stock to the bottom of the roasting pan. Roast in a 375°F oven for 45 to 60 minutes, until the center of the pork reaches 145°F.

Rest and serve: Transfer the roast to a cutting board and let rest 10 to 15 minutes. Remove the butcher's twine and slice into 1 to 1/2 inch pieces. Serve with your favorite sides.
Notes
for a thinner, pinwheel style stuffed roast use a pork loin, checking the internal temperature at 35 minutes.
the stuffed roast can be prepared the day before and kept in the refrigerator until you're ready to cook
if you can't find sherry, use any cooking wine or chicken stock
for softer, more incorporated cranberries, let the cranberries come to room temperature first before adding to the pan
Nutrition
Calories:
505
kcal
|
Carbohydrates:
21
g
|
Protein:
49
g
|
Fat:
23
g
|
Saturated Fat:
9
g
|
Trans Fat:
1
g
|
Cholesterol:
147
mg
|
Sodium:
4019
mg
|
Potassium:
889
mg
|
Fiber:
2
g
|
Sugar:
12
g
|
Vitamin A:
190
IU
|
Vitamin C:
5
mg
|
Calcium:
258
mg
|
Iron:
2
mg