Creamy puréed parsnips are the so simple to make and so delicious! Similar to a carrot but a little nutty and more root vegetable flavor. Simmered in milk, blended until smooth and drizzled with rosemary infused oil they're the side dish you didn't know you were missing!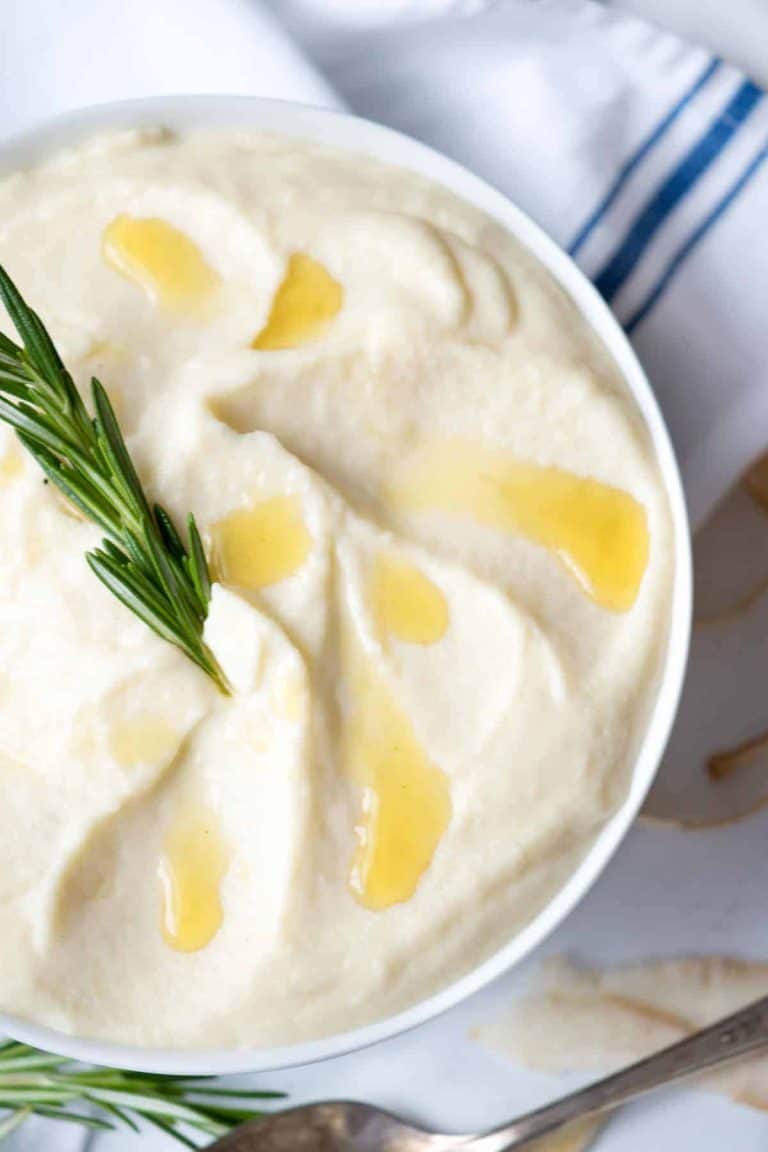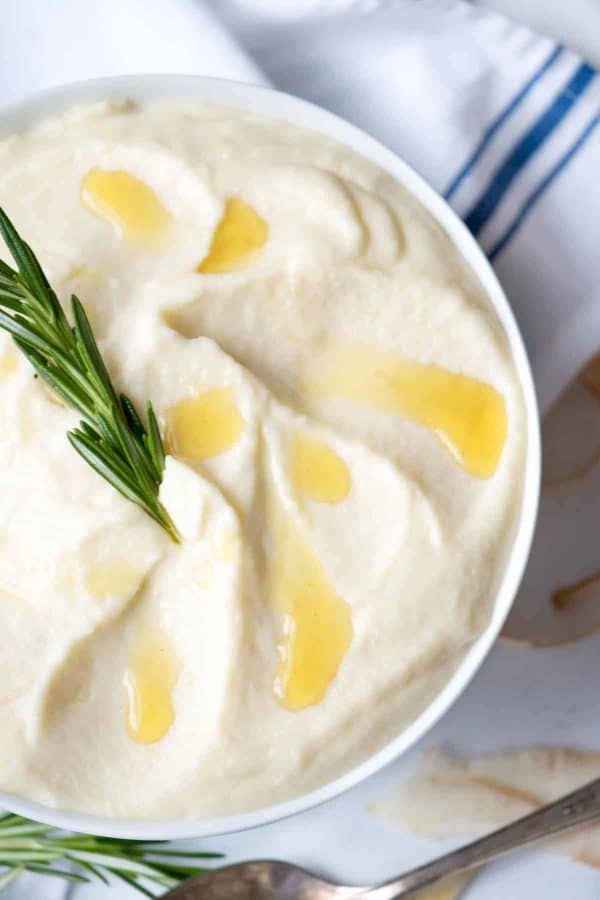 They kind of look like carrots. No, too stringy at the end. They're certainly not the vibrant orange of a carrot, nor could they be white carrots.
Hiding behind this cream colored hue, don't let the carrot impersonating root vegetable fool you. It's a parsnip and parsnips are delicious. Especially when served up in Creamy Puréed Parsnips with Rosemary Oil.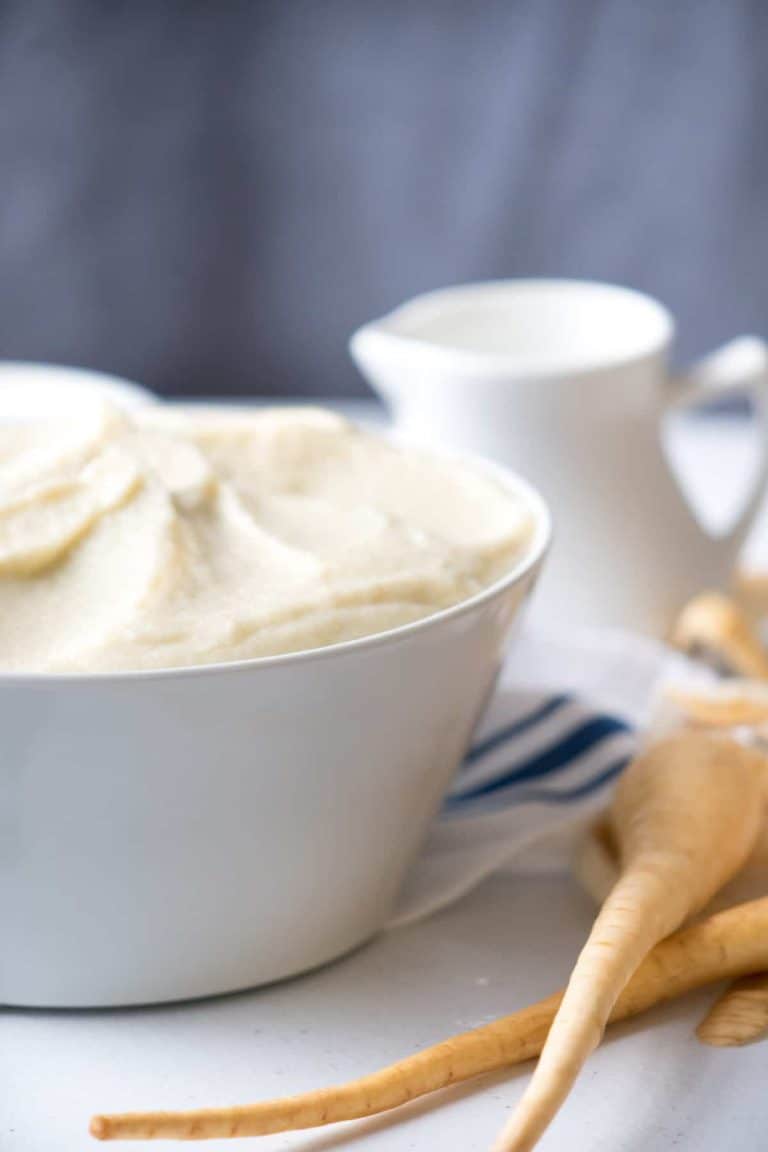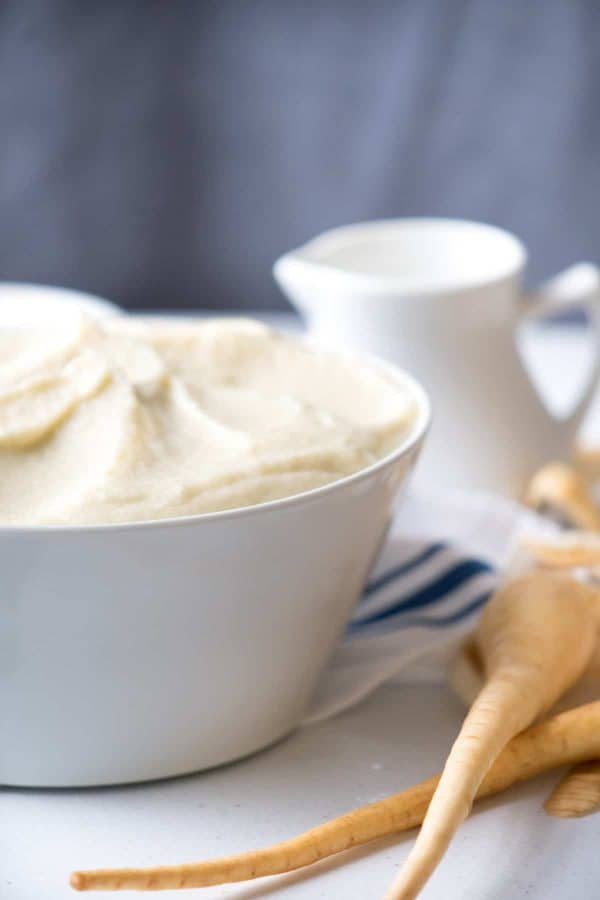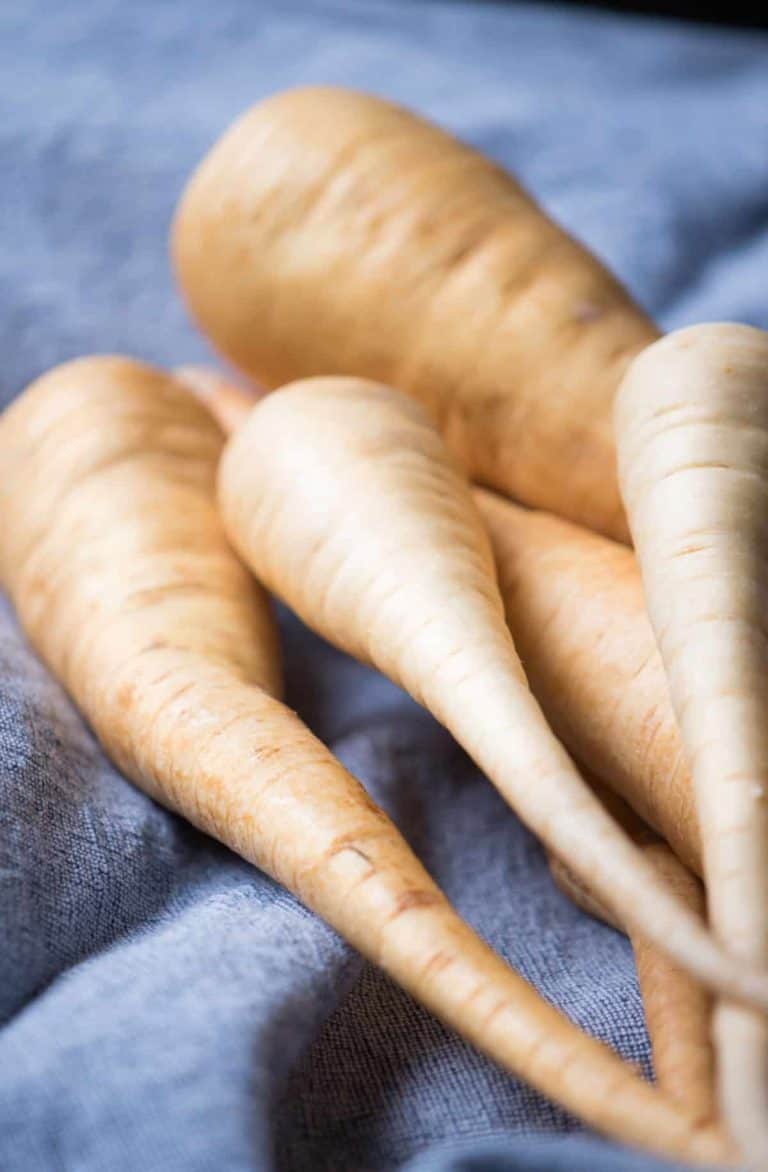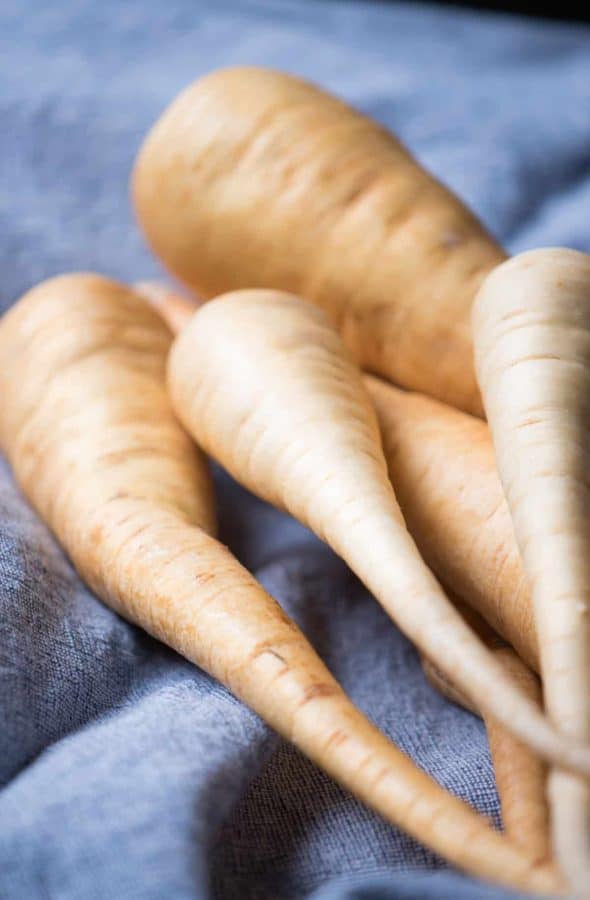 So what is a Parsnip exactly? Besides becoming far more popular over the last few years, it's a root vegetable in the carrot family with close ties to parsley. Enticing sweet flavor like that of it's orange cousin, parsnips carry a starchier texture with pleasant earthy flavor.
Simmer in milk, add a touch of butter and spice and you'll have a creamy, dreamy side dish in no time.

Creamy Puréed Parsnips
Everyone loves an underdog story, right? How about an underdog vegetable? Enter Parsnips.
Even though the popularity of parsnips has increased significantly over the last three years or so, I don't know, I still feel like they haven't had their hay day yet. By no means am I expecting a kale-style take over, but today you can't walk into a restaurant without seeing brussels sprout on the menu. So c'mon people, let's give a little love to our earthy kind-of-a-carrot friend.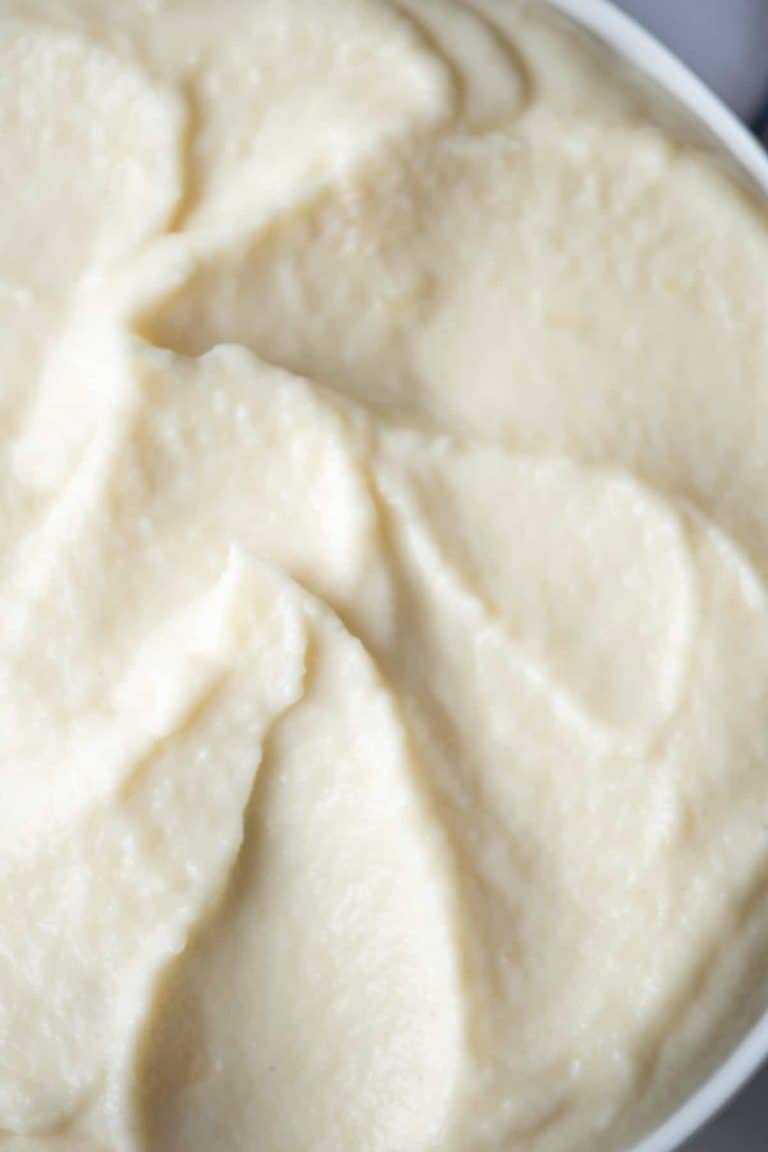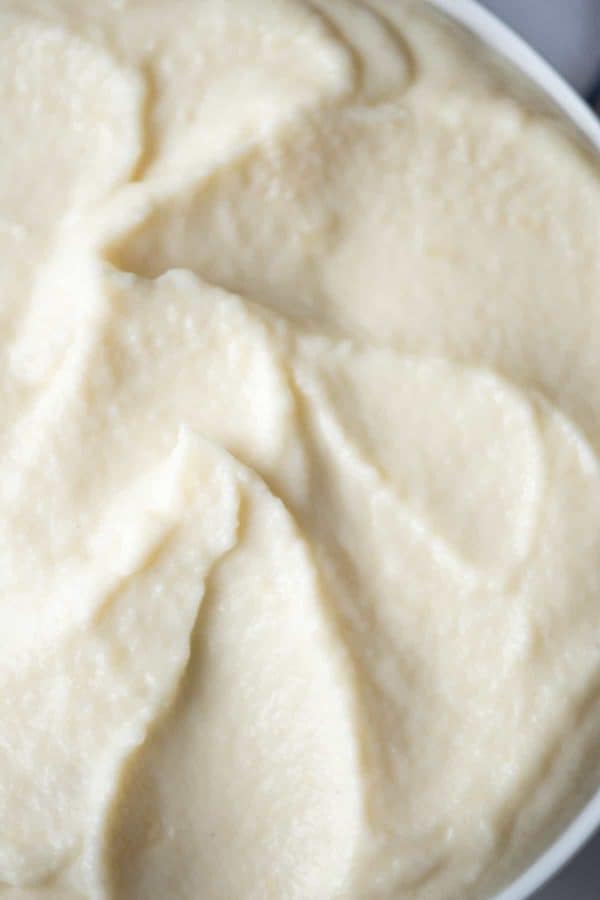 Who knew a close up of parsnips could be so beautiful? Well I did, but I'm the self appointed President of the Parsnip Fan Club. Roasted, added to soups, steamed - there are many different ways to praise the parsnip. Simmered in milk, well that's just going to take the cake right now. Pureed parsnips are a little bit of vegetable silk to wrap your mouth in.
Peel the skin, chop into slightly smaller pieces and simmer with milk. Using milk to soften the parsnips is going to lighten up the starchy texture with pillow like softness, while adding creamy flavor without masking the natural sweet earthiness.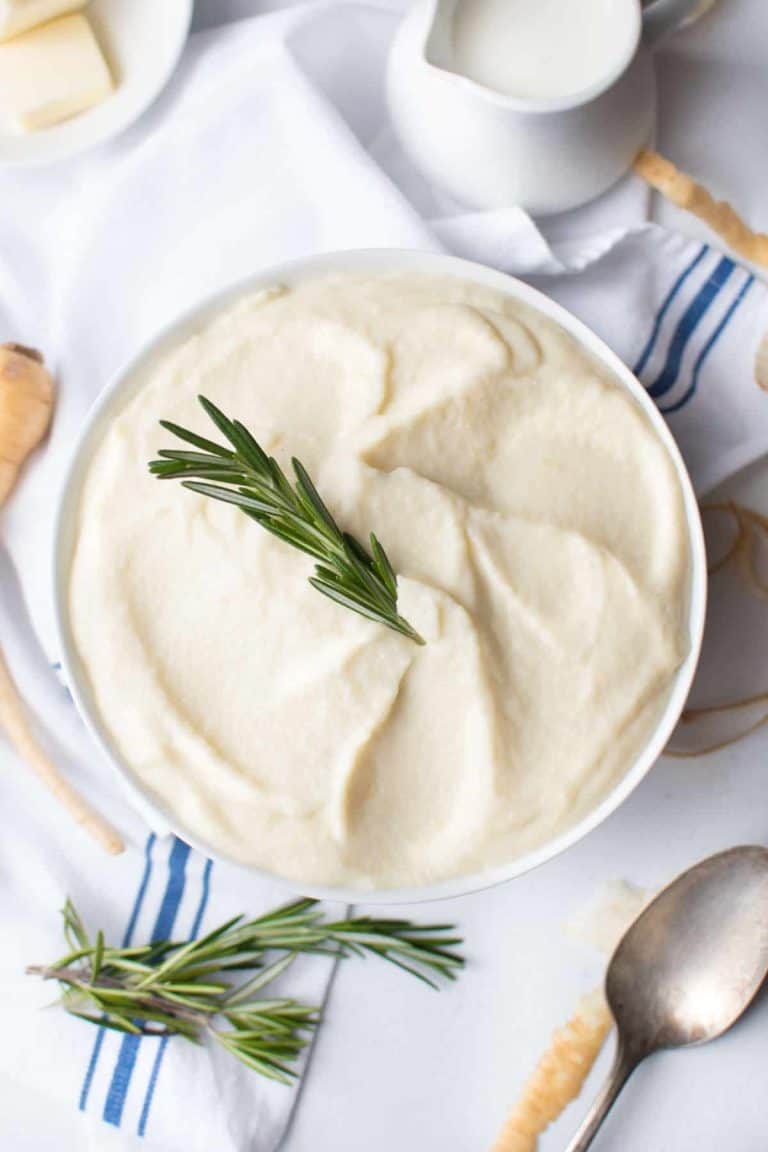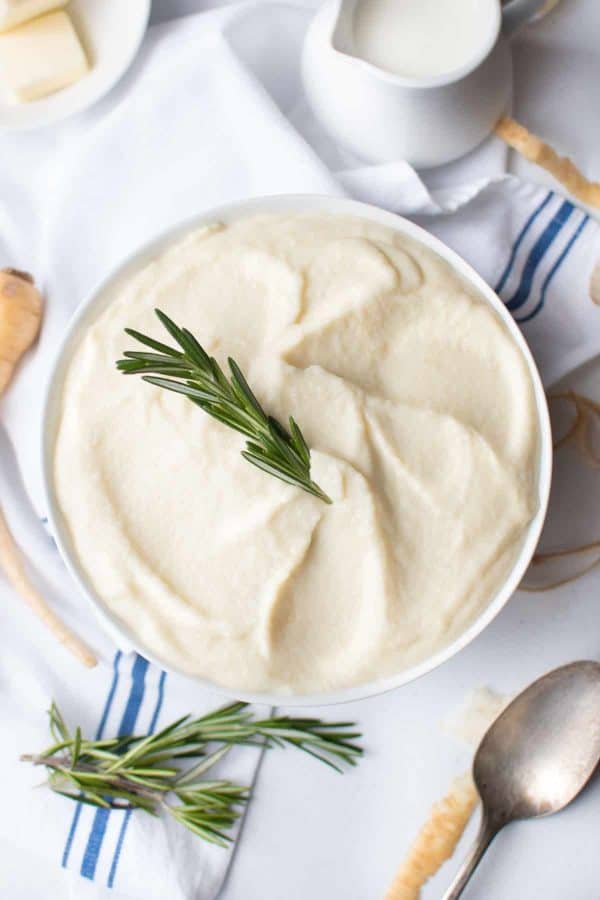 Rosemary Oil
For a pop of herbaceous flavor, we're whipping up a quick rosemary oil to to drizzle over our parsnips. Totally optional. Your creamy puréed parsnips are going to be lit without the herb infused oil, but we're currently in the holiday season so the addition of rosemary is welcome.
Fresh rosemary sprigs simmered in extra virgin olive oil on low heat for 5 minutes. That's all it takes for a piney pop to your sweet, creamy puréed parsnips.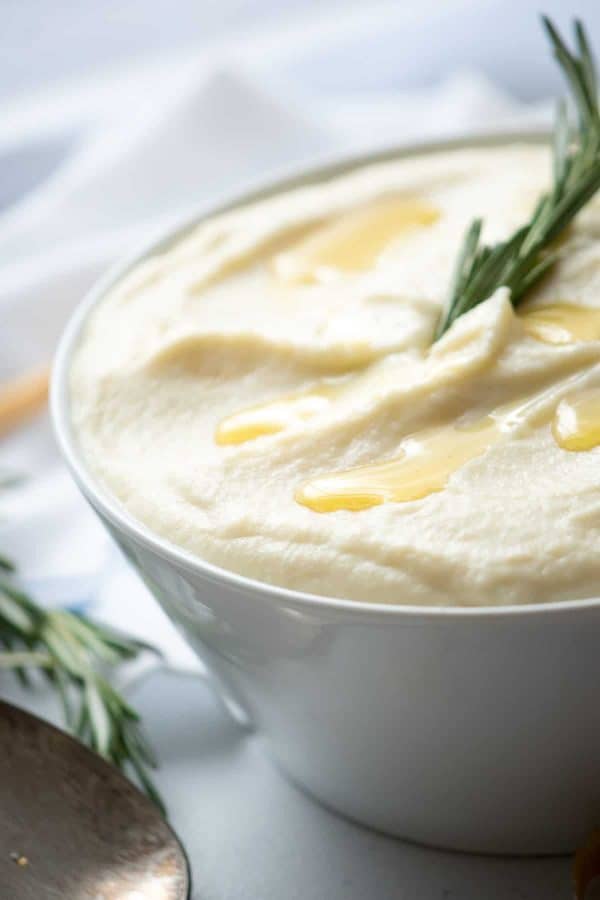 We like to eat them best on Thanksgiving Day served alongside the turkey, but they're also great with fall and winter comfort food mains like pork roast, chicken thighs, or fancy date-night in duck.
No matter how you're dishing up these creamy puréed parsnips, you'll love the silky smooth texture of the slightly sweet root vegetables!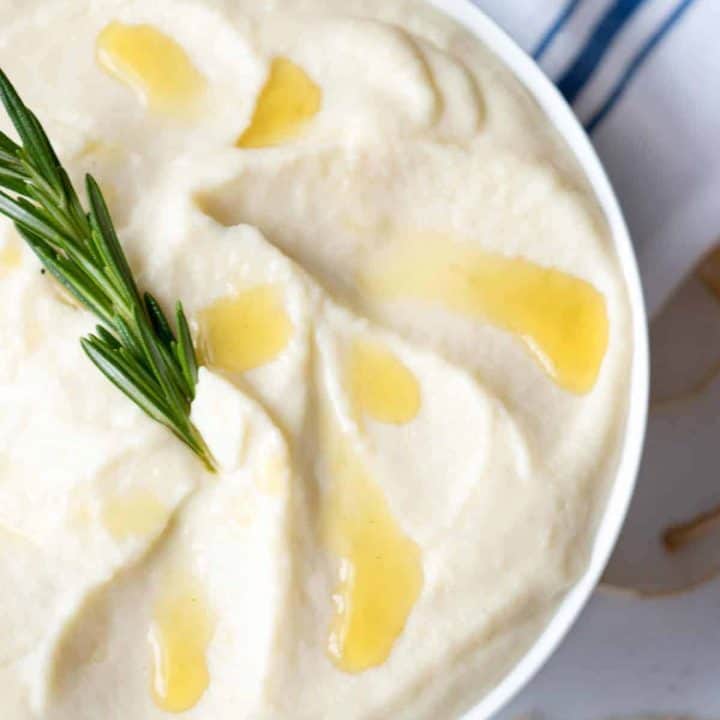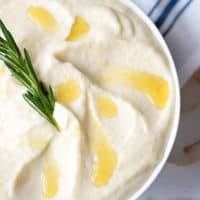 Dreamy Creamy Puréed Parsnips | Rosemary Oil
Creamy Puréed Parsnips bring silky smooth texture to this naturally sweet, earthy root vegetable with rosemary infused oil for a pop of piney herbaceous flavor.
Print
Pin
Rate
Ingredients
Creamy Puréed Parsnips
1

pound

parsnips

peeled and quartered¹

1 ¾

cup

milk

1 ½

tablespoons

unsalted butter

½

teaspoon

salt

⅛

teaspoon

white pepper
Rosemary Oil
¼

cup

extra virgin olive oil

2

sprigs fresh rosemary
Instructions
Creamy Puréed Parsnips
In a medium saucepan, add parsnips, milk, butter, salt and pepper. Bring to a boil over medium-high heat.

Once a boil is achieved, reduce heat to low. Simmer, covered, for 10 minutes until parsnips are soft and easily pierced with a fork.

Removed from heat. Using a handheld immersion blender, purée the milk and parsnip mixture until creamy and smooth, about 2 to 3 minutes.

Optional: garnish with fresh rosemary oil.
Rosemary Oil
Add oil and rosemary to a small sauté pan or sauce pan. Simmer over low heat for 5 to 8 minutes until fragrant.

Let cool 10 minutes before using.
Notes
¹If some of the parsnips are large, cut into similar sizes to smaller pieces for even cooking.
Nutrition
Calories:
307
kcal
|
Carbohydrates:
26
g
|
Protein:
5
g
|
Fat:
22
g
|
Saturated Fat:
7
g
|
Trans Fat:
1
g
|
Cholesterol:
22
mg
|
Sodium:
349
mg
|
Potassium:
568
mg
|
Fiber:
6
g
|
Sugar:
11
g
|
Vitamin A:
304
IU
|
Vitamin C:
19
mg
|
Calcium:
163
mg
|
Iron:
1
mg