Golden brown skin, pleasantly crispy, a hint of salt with fresh herbs scattered throughout, giving way to steaming, tender chicken infused with flavors of red wine, tart cranberries and bright balsamic acidity with the richness of chicken stock and a touch of butter to even it out. These cranberry walnut chicken thighs are a cold weather meal that will make your mouth very happy.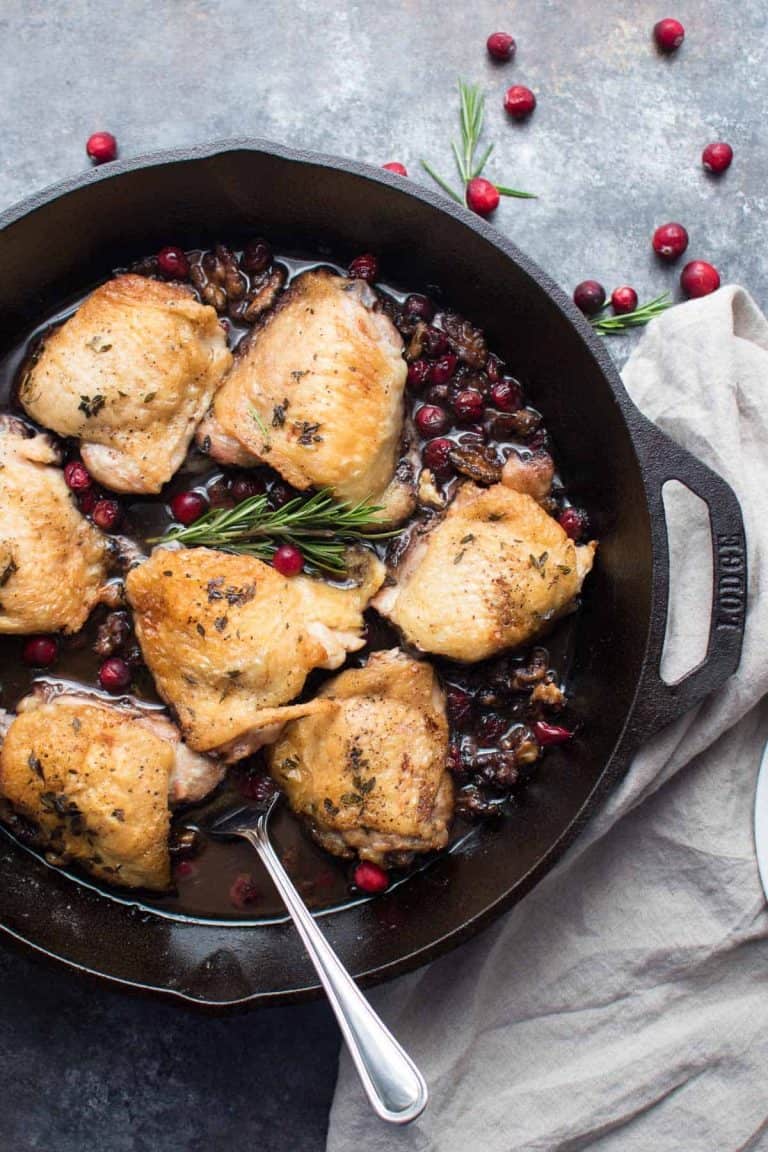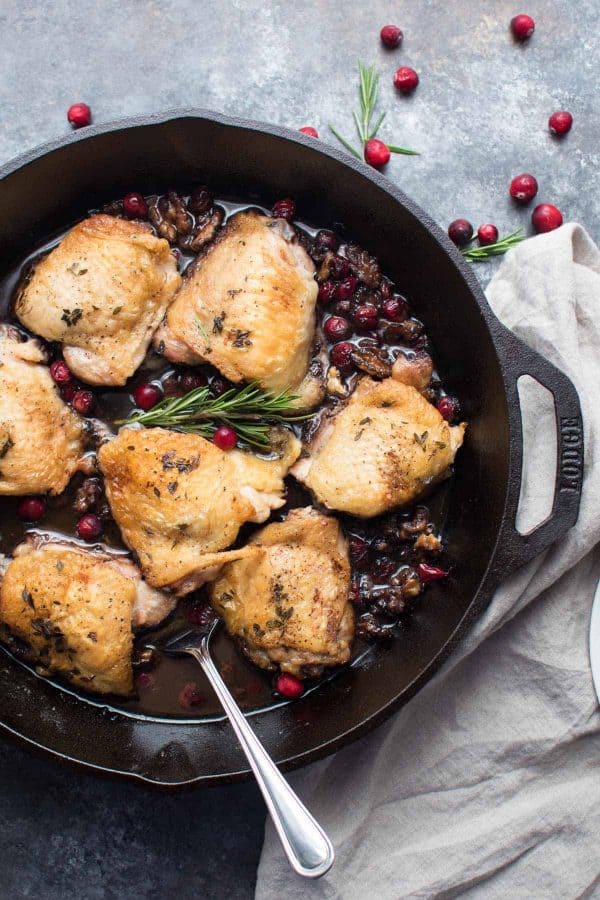 For me, I know it's time to break out the fall weather cooking and baking recipes when one thing in particular happens. Naturally, the changing of the season helps with the leaves turning brilliant colors of red, yellow and orange, and the crisp fall air makes the world smell of autumn. But no, that's not what I'm talking about.
It's officially time to put on your fall flavor thinking cap when you walk into the market and the product that echoes, "Hey! It's fall!" is right there staring you in the face. Bright red and maroon round spheres stacked at the front of the produce department. Crisp, tart and tangy.
Cranberry season in New England is here. Let's not disappoint our small, snappy and rotund Cape Cod fruits and make all the things with them.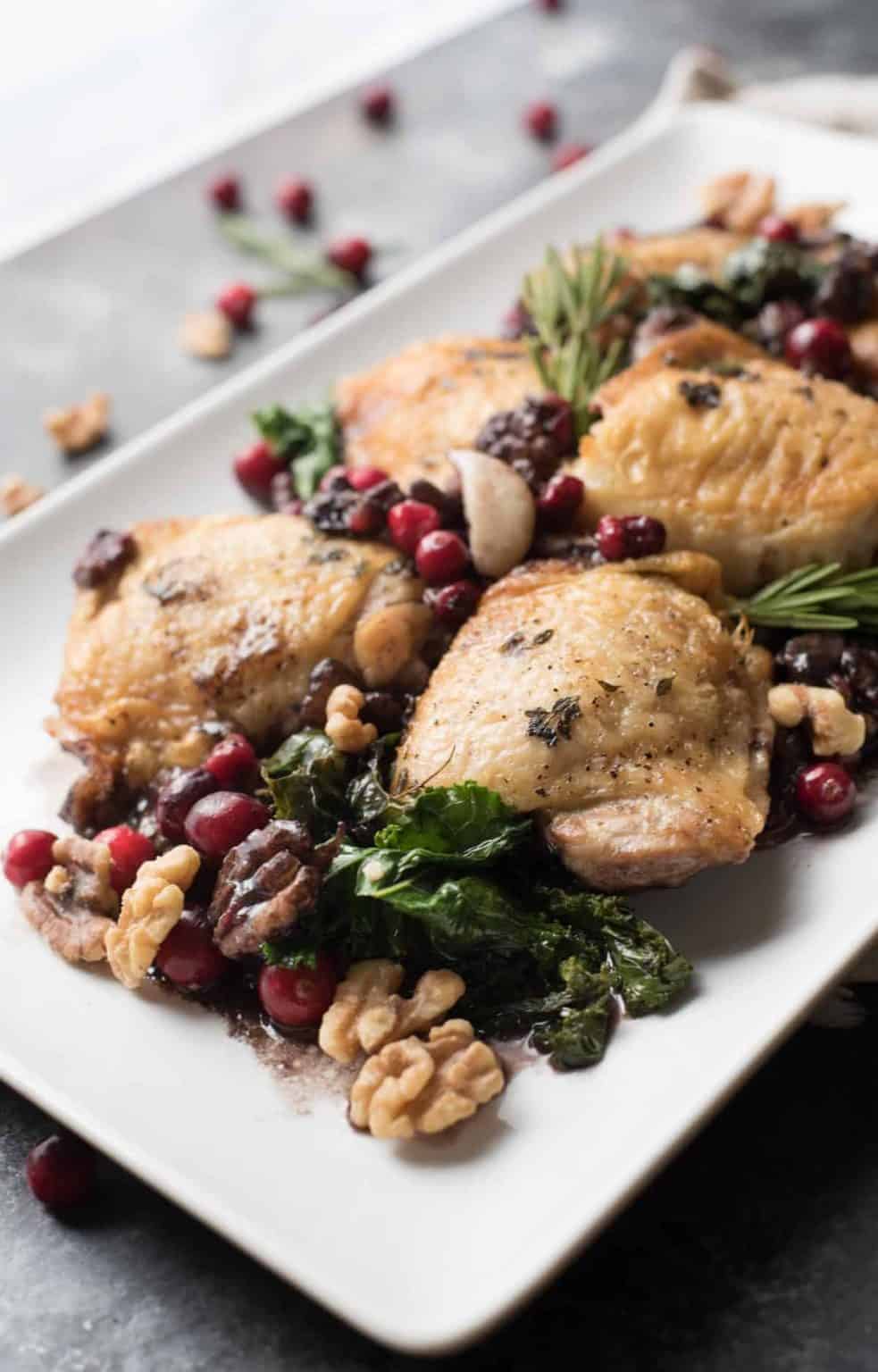 Braising Chicken Thighs
Apologies in advance for repetition, but being from and living in New England is one of my favorite things. Historical places are literally around every corner, not to mention the beautiful scenery...but really, the food is where it's at. When it comes to fall weather foods, New England does it right.
Cranberries that are grown just an hour drive from the city center. So let's grab some of these fresh New England berries and simmer them in a rich, red wine sauce to serve up in these with one of the most underrated cuts of chicken.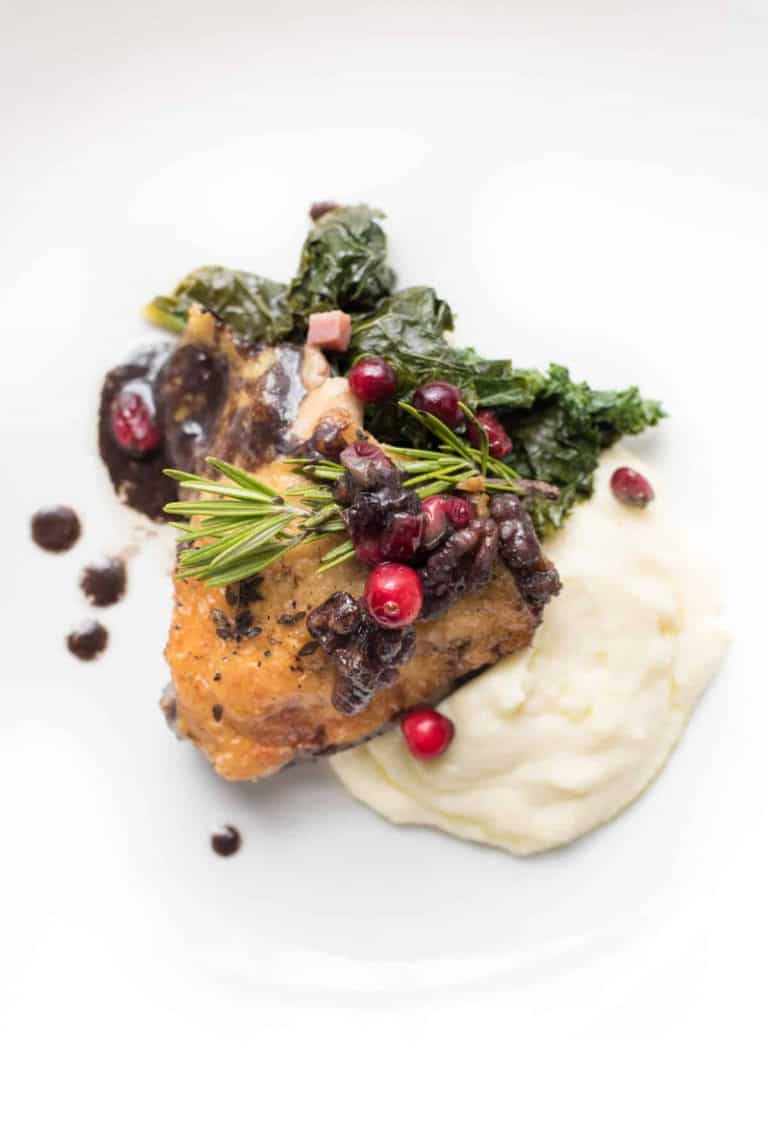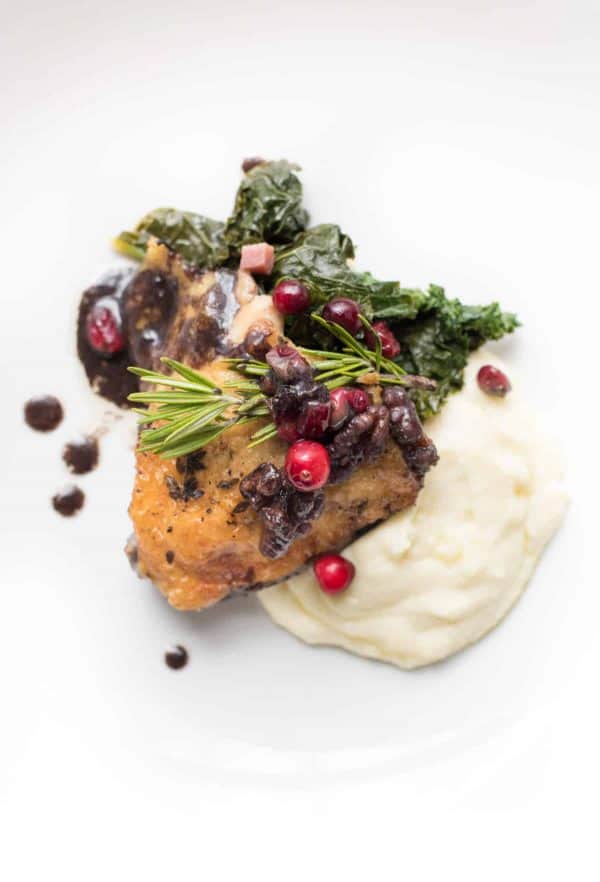 Chicken thighs are typically inexpensive and easy to find. For this chicken thigh recipe, you'll want the bone-in and skin-on. In my opinion, I find them to be the most looked over cut of the chicken.
Perhaps it's the skin or that the bone requires just a touch longer for cooking. For the cost, these chicken thighs when cooked with cranberries and walnuts have the perfect tang and rich flavors.
They're also a great alternative for anyone whose not a big turkey fan or if you're having a smaller style Thanksgiving Dinner, this dish is far easier than roasting a whole turkey and packs all sorts of tantalizing tastes.
Very forgiving, because there is additional fat from the bone and the skin, as well as the additional liquid from the sauce, if you do cook these chicken thighs a touch too long, they will still end up moist, tender with delightfully crispy skin. A win for the chef and a win for the guests!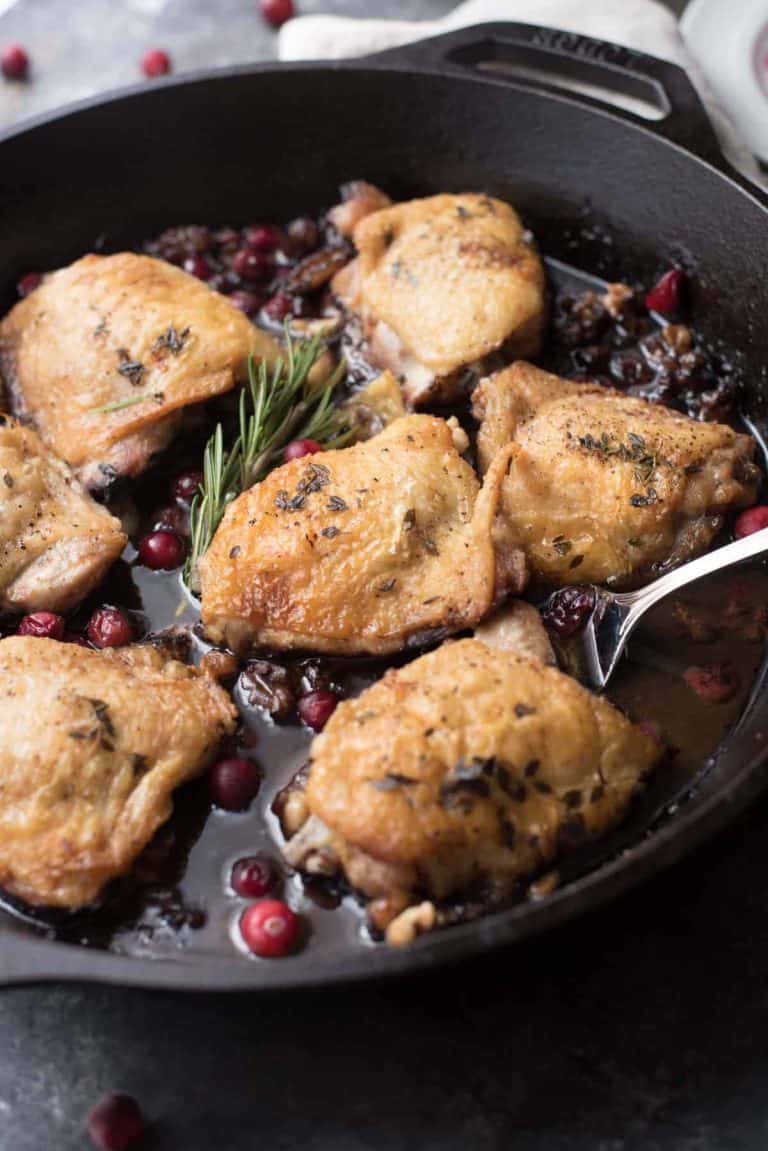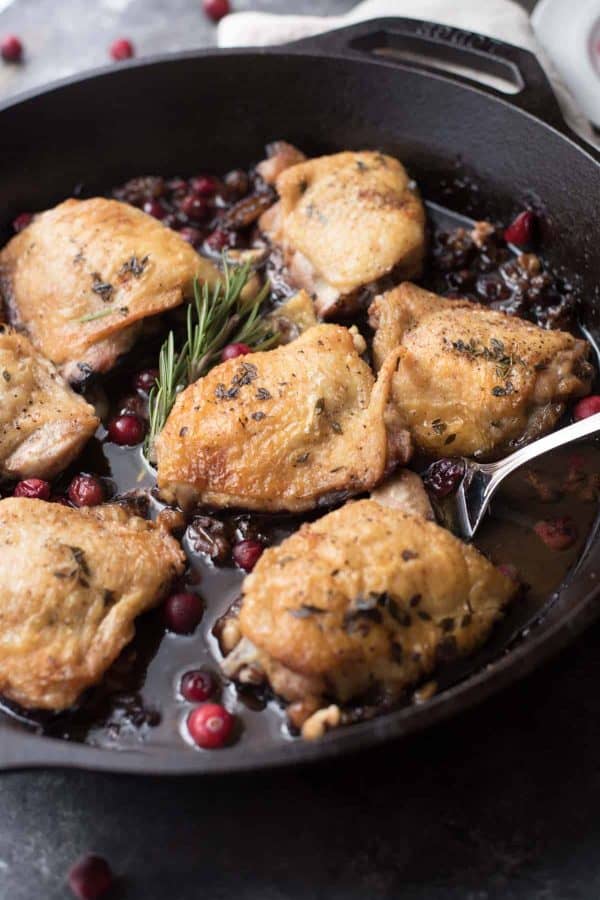 Tips for braising chicken thighs:
Be sure to pat the chicken thighs dry

If you can, leave them at room temperature for 30 minutes to 1 hour

Season liberally with salt, pepper and herbs

Heat your pan, then add oil

Match your braising liquid to your meats (chicken dishes get chicken stock, beef dishes get beef stock).
Once these first few steps are down, you'll just need a few more ingredients to throw into the pan and we can call it a day. Might as well pour a glass of wine and start relaxing now, right?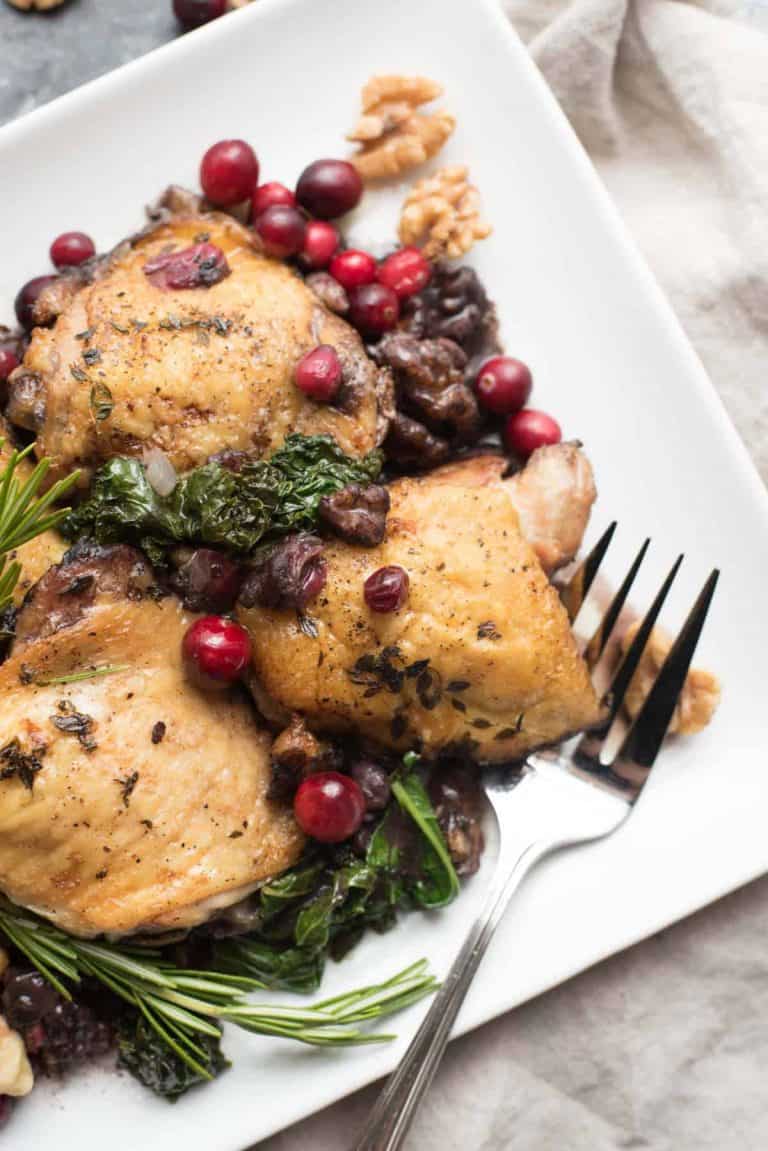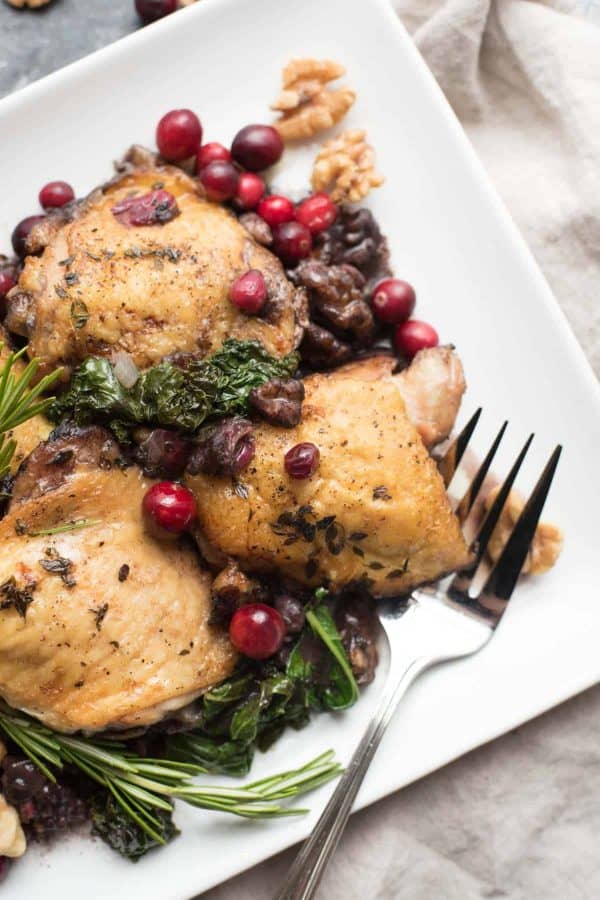 Cranberry Walnut Sauce and Chicken Thighs
Favorite things about this sauce, hmmm.
cranberries, but we already discussed that

all the ingredients are pretty common fridge and pantry staples.

the balance of tart, acidic and fat
The number one favorite thing about this sauce? Throwing ingredients in a pan and letting it come together on its own while the chicken bakes away adding additional flavor. Yep, that's it, that's the one.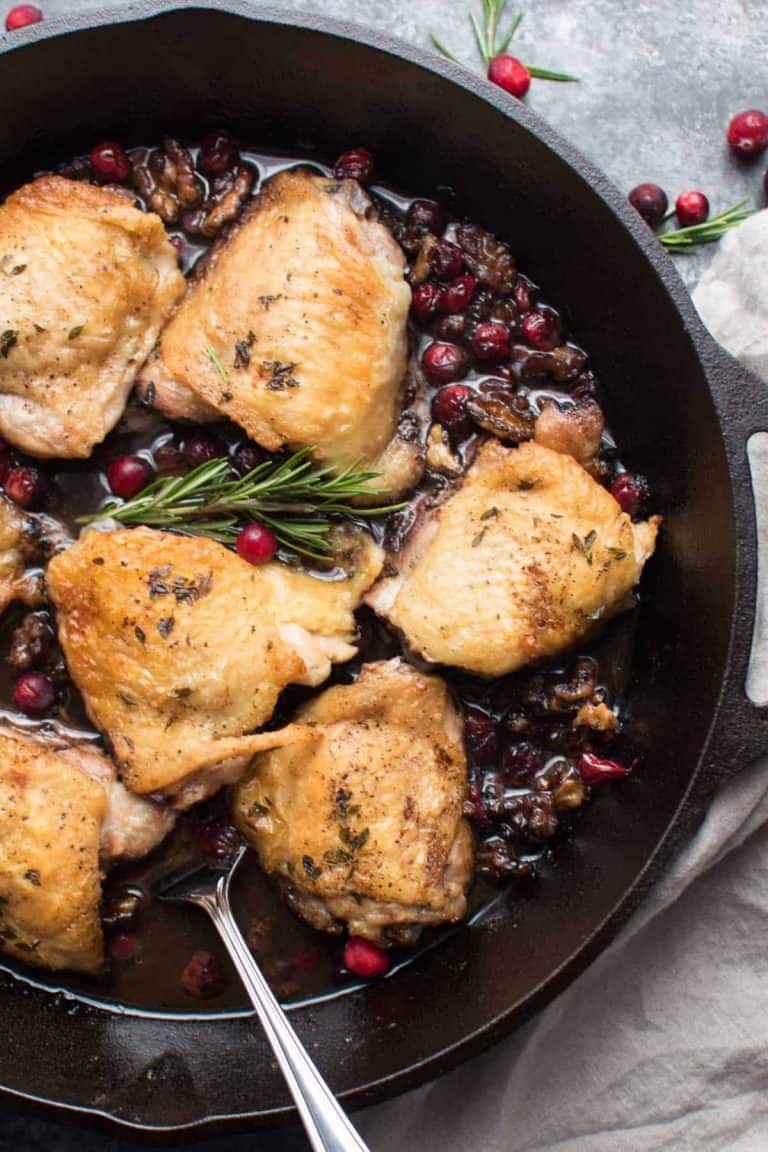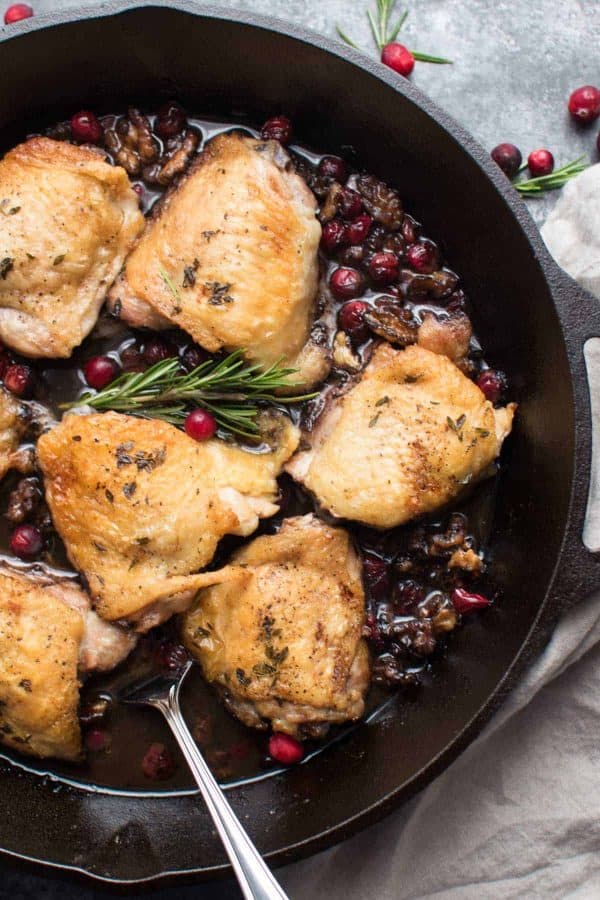 After braising the chicken thighs, you'll want to carefully remove about most of the fat from the pan. Remove the seared chicken thighs to a plate and drain the fat into a bowl, letting it cool down before discarding it.
From there, begin building your sauce over medium high heat before sliding the chicken thighs and any juices back into the pan. The red wine will simmer, deglazing the pan - which is really just a fancy way of saying it's going to get all the good fatty protein deliciousness that stuck to the bottom of the pan and incorporate it into the sauce. Let's put these bad Larry's in the oven and think about more important things, like sides, dessert and what wine we will pair with it.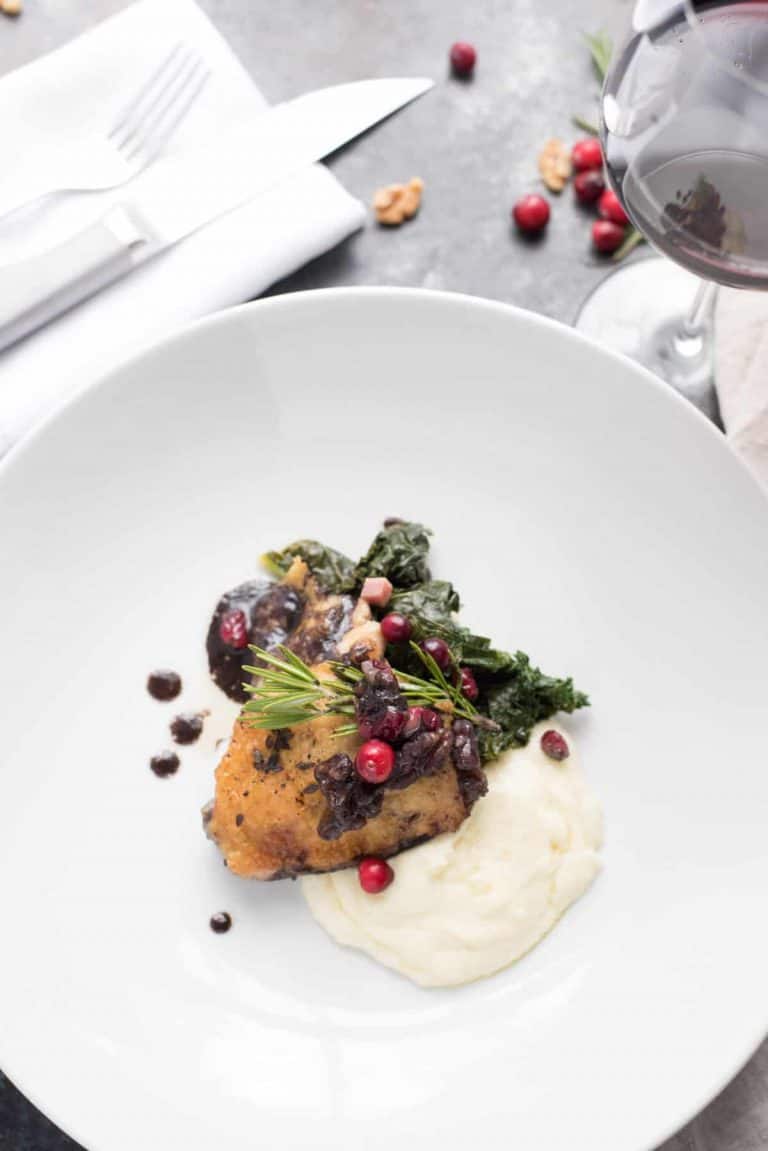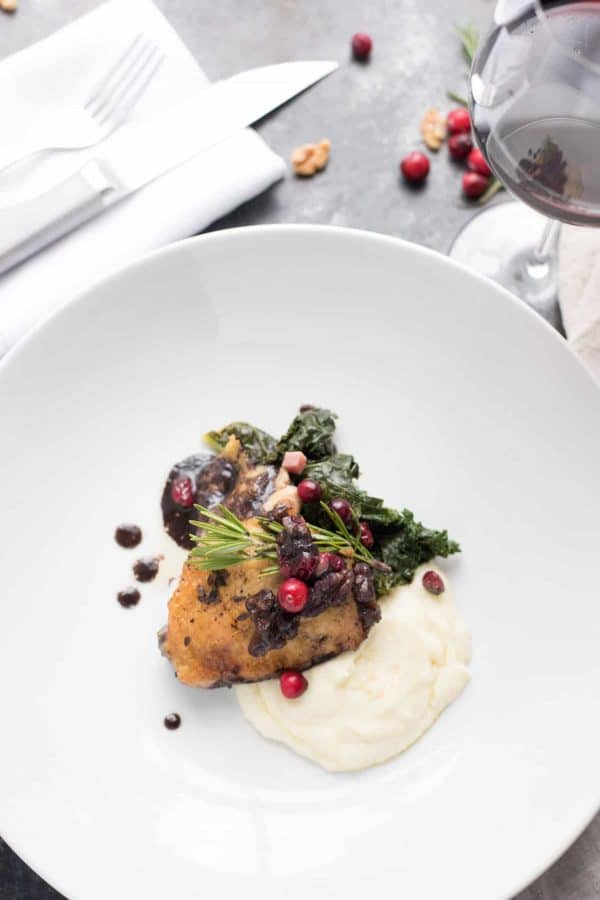 Dishing it out
Side dishes are an important piece to the main event. These puréed parsnips are one of my favorite things to serve up with any seared chicken dish. Creamy, slightly starchy and subtle sweetness of this cold weather root vegetable is in perfect contrast to the tart, crispy chicken. Besides, it's real easy to make so that's always a no brainer decision. Other favorites include my absolute favorite way to have kale.
Pair your Cranberry Walnut Chicken Thighs with whatever makes you stress free and happy. Tuck in and enjoy this New England inspired, fancy looking, easy to accomplish dinner!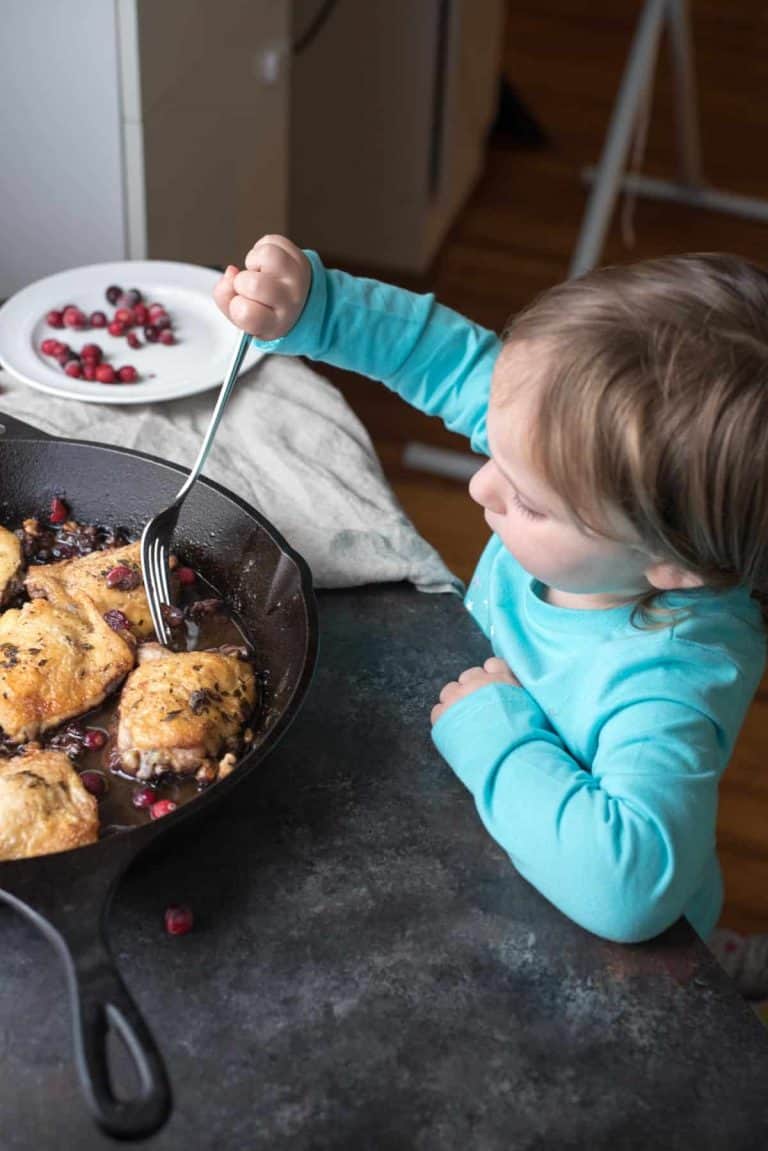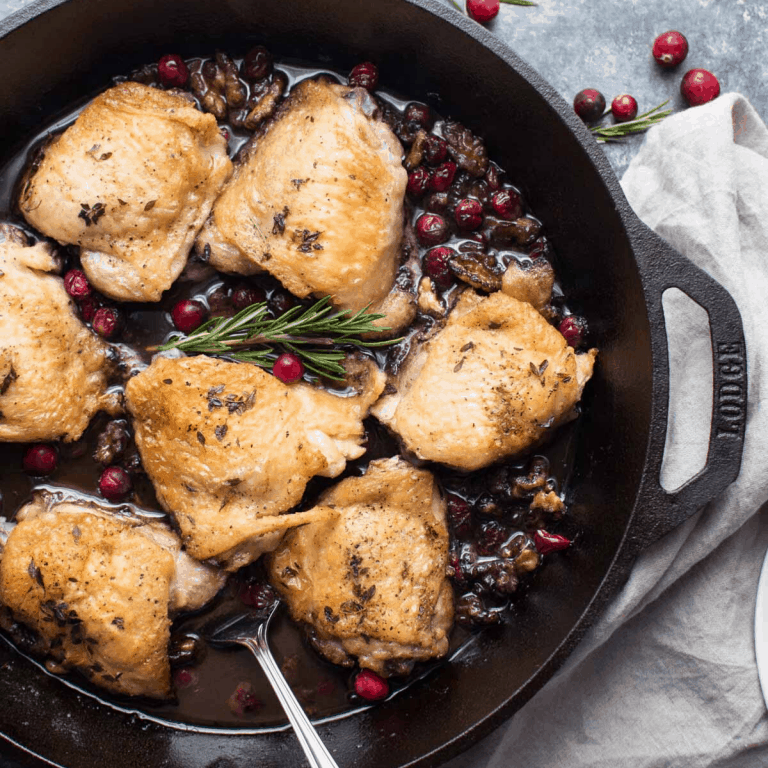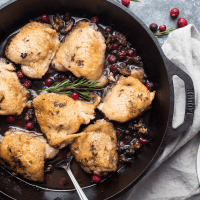 Cranberry Walnut Chicken Thighs
Tender juicy chicken thighs braised with herbs and spices for delightfully crispy skin and simmered with red wine, walnuts, fresh cranberries and herbs for a rich, tart sauce perfect for the holidays.
Print
Pin
Rate
Ingredients
4

pounds

chicken thighs bone-in, skin-on

(about 6 to 7 pieces)

1

teaspoon

salt

½

teaspoon

black pepper

4

sprigs fresh thyme

2

tablespoons

extra virgin olive oil

½

cup

dry red wine

2

tablespoons

balsamic vinegar

2

tablespoon

unsalted butter

¼

cup

chicken stock

⅓

cup

walnuts

(whole, raw)

½

cup

fresh cranberries

3

cloves

garlic
Instructions
Preheat oven to 375°F. Remove the chicken thighs from package and pat dry with paper towels.

Season both sides of the chicken with salt and pepper, resting on the plate skin side up. Sprinkle with fresh thyme leaves.

Heat a large, oven safe sauté pan or cast iron skillet over high heat. Add the olive oil and heat until it is shiny and hot. Braise the chicken thighs skin side down until the skin is golden brown and crispy, about 8 to 10 minutes. Turn thighs over and let braise on the other side for 2 minutes.

Remove the pan from heat. Transfer chicken thighs to a plate. Carefully remove almost all of the grease from the pan to a heat proof bowl.

Return the pan to medium high heat and deglaze the pan with red wine. Cook for 1 minutes then stir in the balsamic vinegar, chicken stock, unsalted butter to the sauce. Sprinkle walnuts, cranberries, and garlic around the pan between the chicken thighs.

Slide the chicken thighs and any juices back to the pan. Place the pan in the oven and finish cooking at 375°F for 20 to 25 minutes.
Notes
If you prefer a thicker, gravy style sauce: stir 2 teaspoons of corn starch into 1 to 1 ½ tablespoons water. With the sauce simmering on low heat, slowly stir in the cornstarch mixture and whisk together for 1 to 2 minutes until it begins to thicken.
Nutrition
Calories:
1068
kcal
|
Carbohydrates:
8
g
|
Protein:
65
g
|
Fat:
83
g
|
Saturated Fat:
22
g
|
Trans Fat:
1
g
|
Cholesterol:
393
mg
|
Sodium:
903
mg
|
Potassium:
889
mg
|
Fiber:
1
g
|
Sugar:
2
g
|
Vitamin A:
535
IU
|
Vitamin C:
4
mg
|
Calcium:
55
mg
|
Iron:
3
mg