I am sorry. I truly am. Deep down from the bottom of my heart. I'm sorry if you've never had my recipe for Salted Caramel Brownies in your life.
Also sorry you will have an entire pan of these irresistibly gooey, decadent, mind-blowing brownies in front of you. Ok, let's be real. Not even the slightest bit sorry about that part.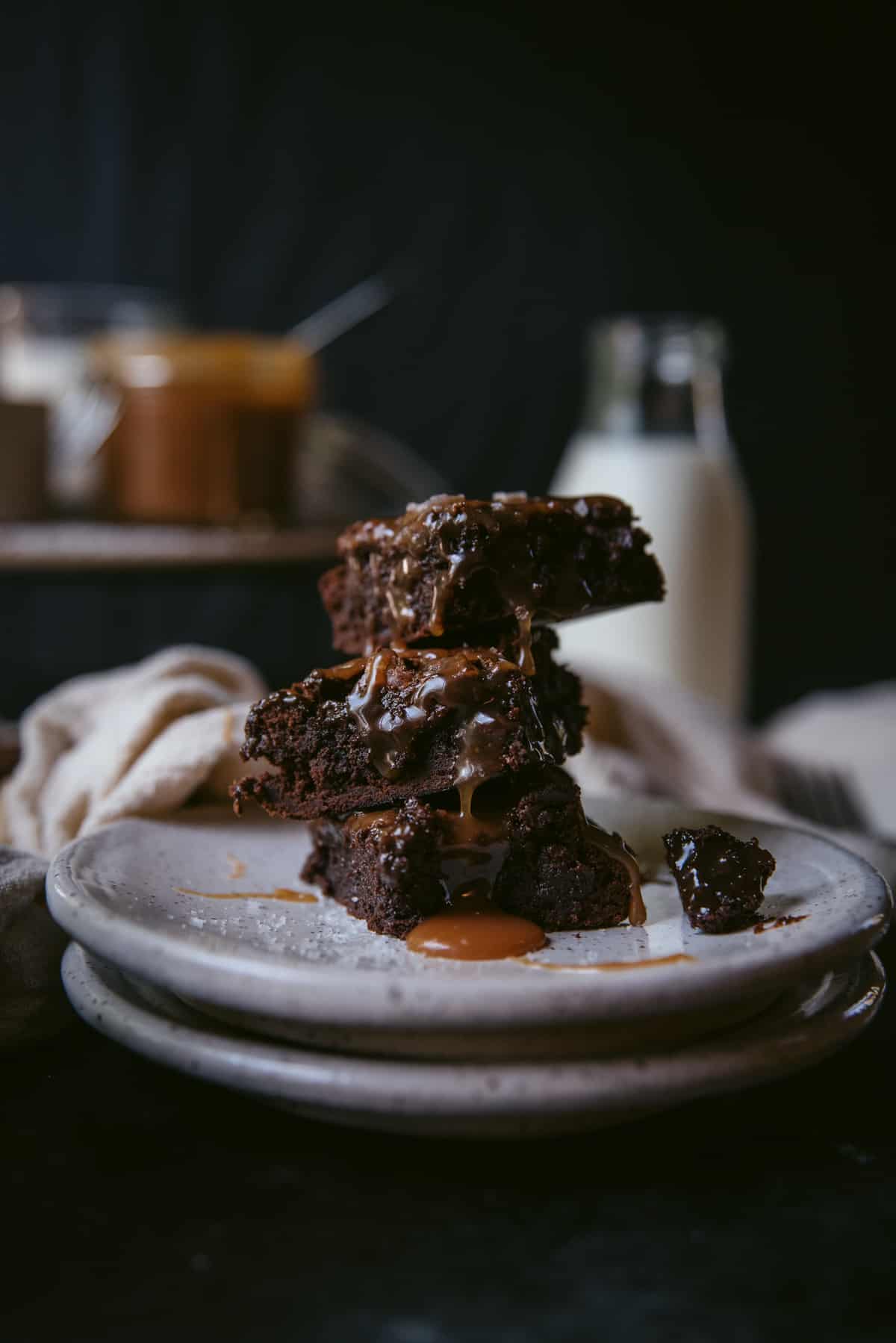 Just know there is no judgement here for however many you eat. Ice cold milk recommended.
Lets talk Brownies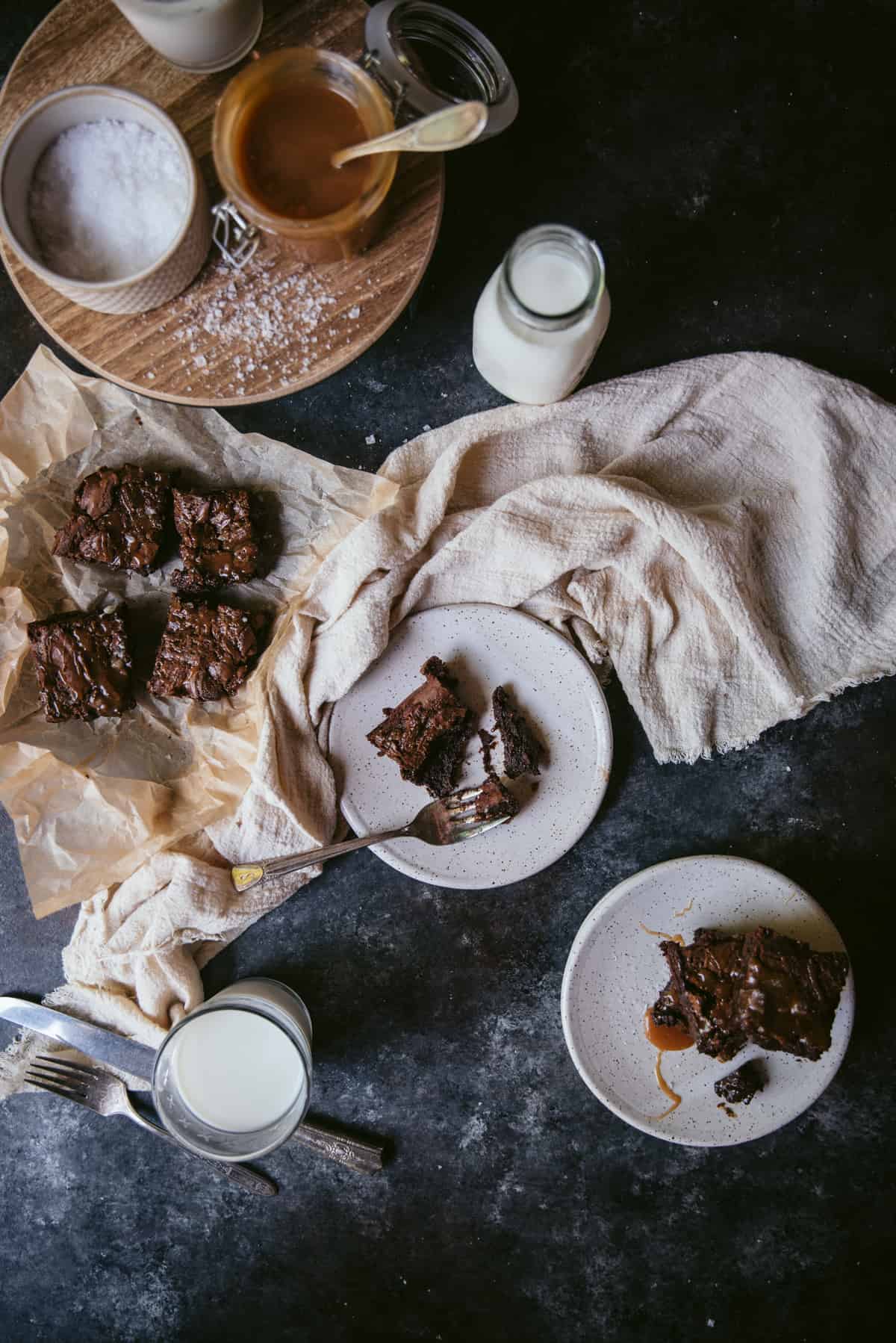 There are a few schools of thought on brownies. Some people prefer the more cake-like brownies, light and crumbly and tasty. Or there are fudgy brownies, rich and dense with melt-in-your-mouth chocolate flavors. And chewy brownies marrying both of those worlds. There are brownies with nuts, brownies with frosting, brownies with peanut butter...well, you get my drift.
So many ways to bake a brownie - even out of a box! After this recipe, you'll never want to go back to the box again and though there are just a few additional steps than the boxed mix, it truly is very simple.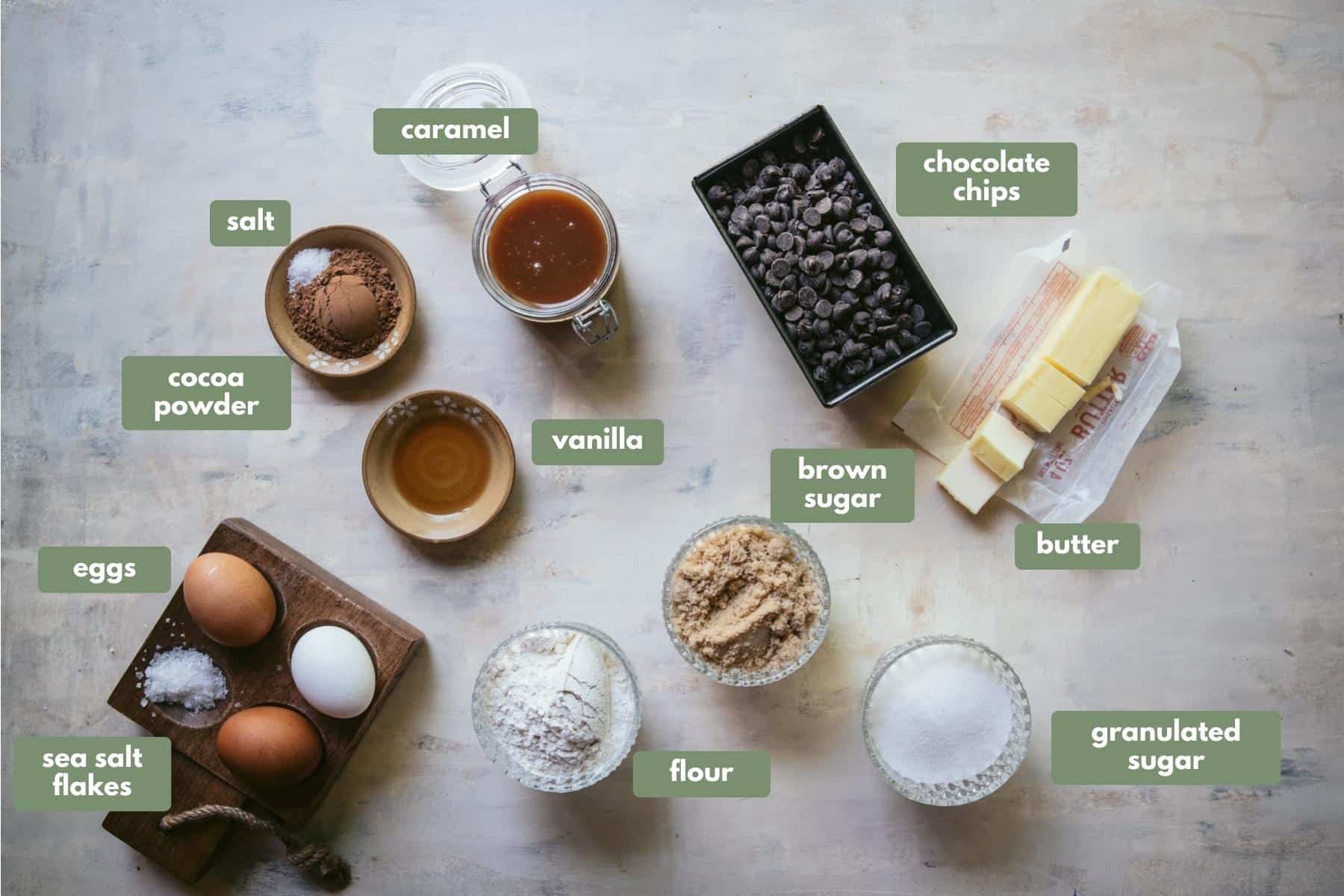 Salted Caramel is Life
Before we get into the nitty gritty we need to discuss salted caramel. If I had a spirit food (as opposed to a spirit animal) it would be caramel. I have always loved caramel, pretty much since birth, and that love has never wavered. There may have been a few engagements with chocolate sauce or apple butter over the years, but caramel is still my favorite topping.
AND THEN THEY MADE IT SALTED AND I DIED.
Whaaaat?? The ultimate of delicious savory sweetness in a gooey, drippy, golden food lava. So if my math is correct, Brownies + Salted Caramel = Heaven?
I'm already convinced but you can be the judge.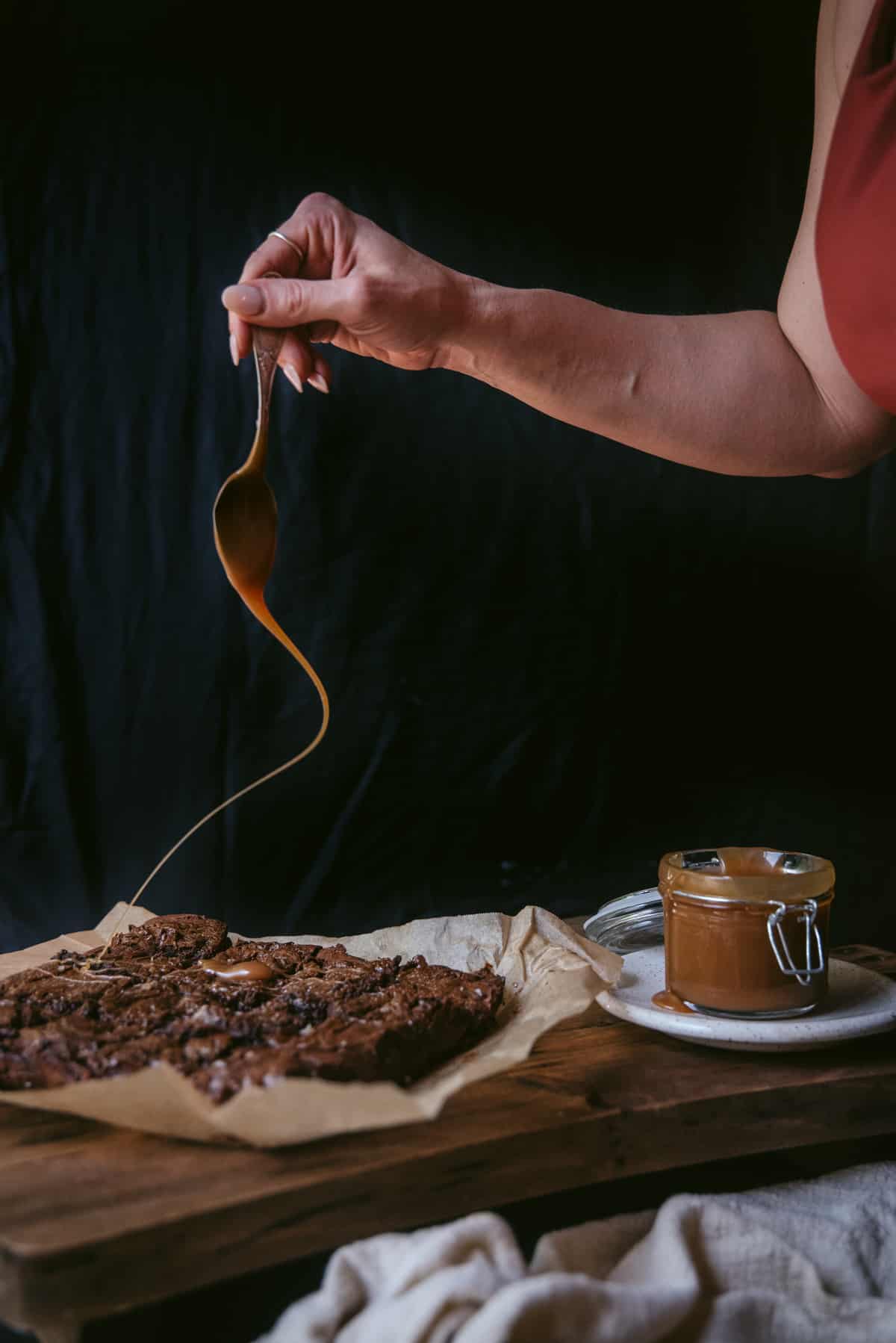 Substitutions
OK, so this is my favorite recipe for Salted Caramel Brownies, and I don't waiver much from it. However, there are a few substitutions you can make sure these gooey fudge-like brownies fit into your own lifestyle.
Swap the heavy cream in the salted caramel for milk
Swap the semi-sweet chocolate for dark chocolate chips
If you are gluten intolerant this recipe also works great with gluten free flour
You don't HAVE to make your own Salted Caramel from scratch, this recipe also tastes amazing with your favorite store bought caramel.
How to make them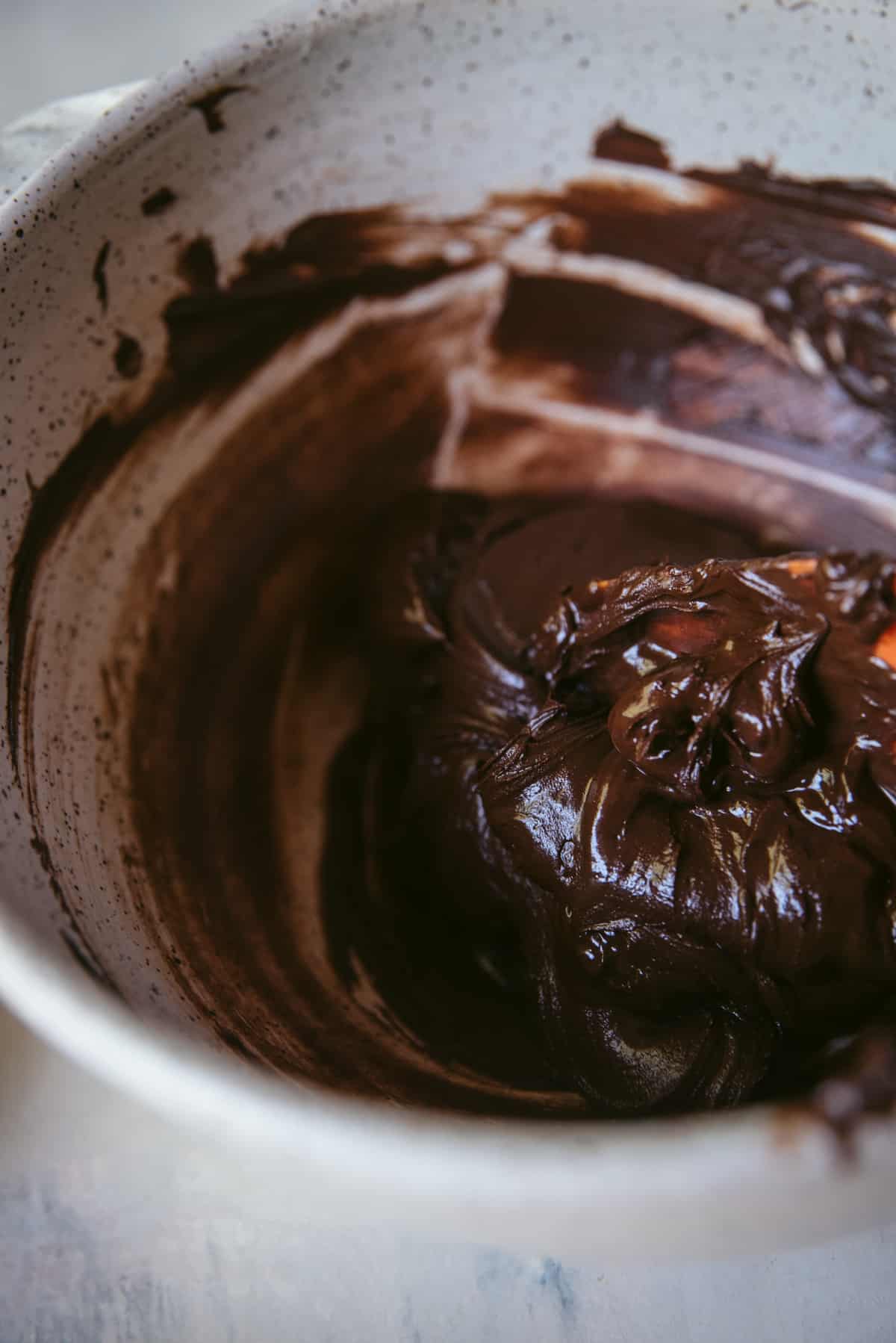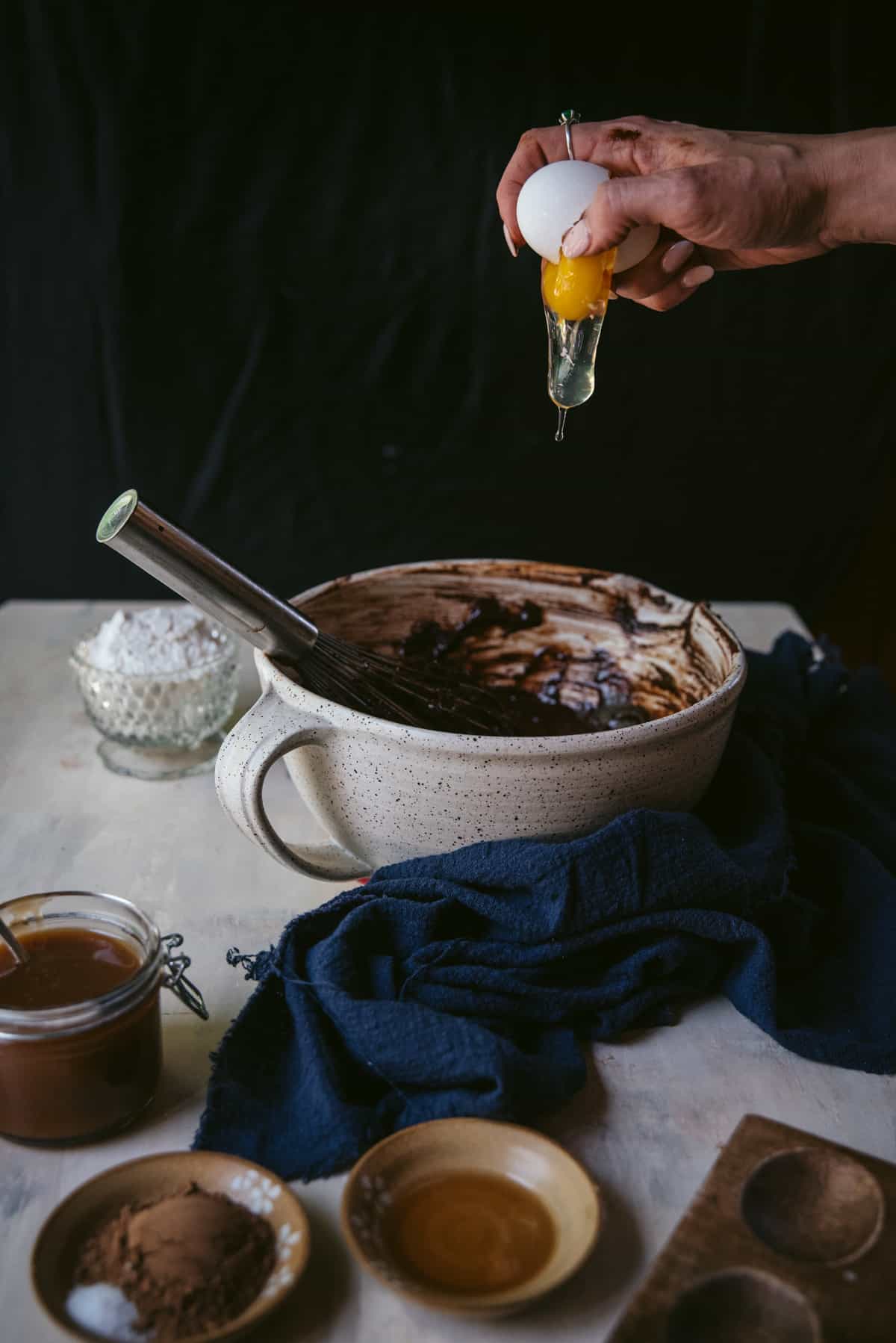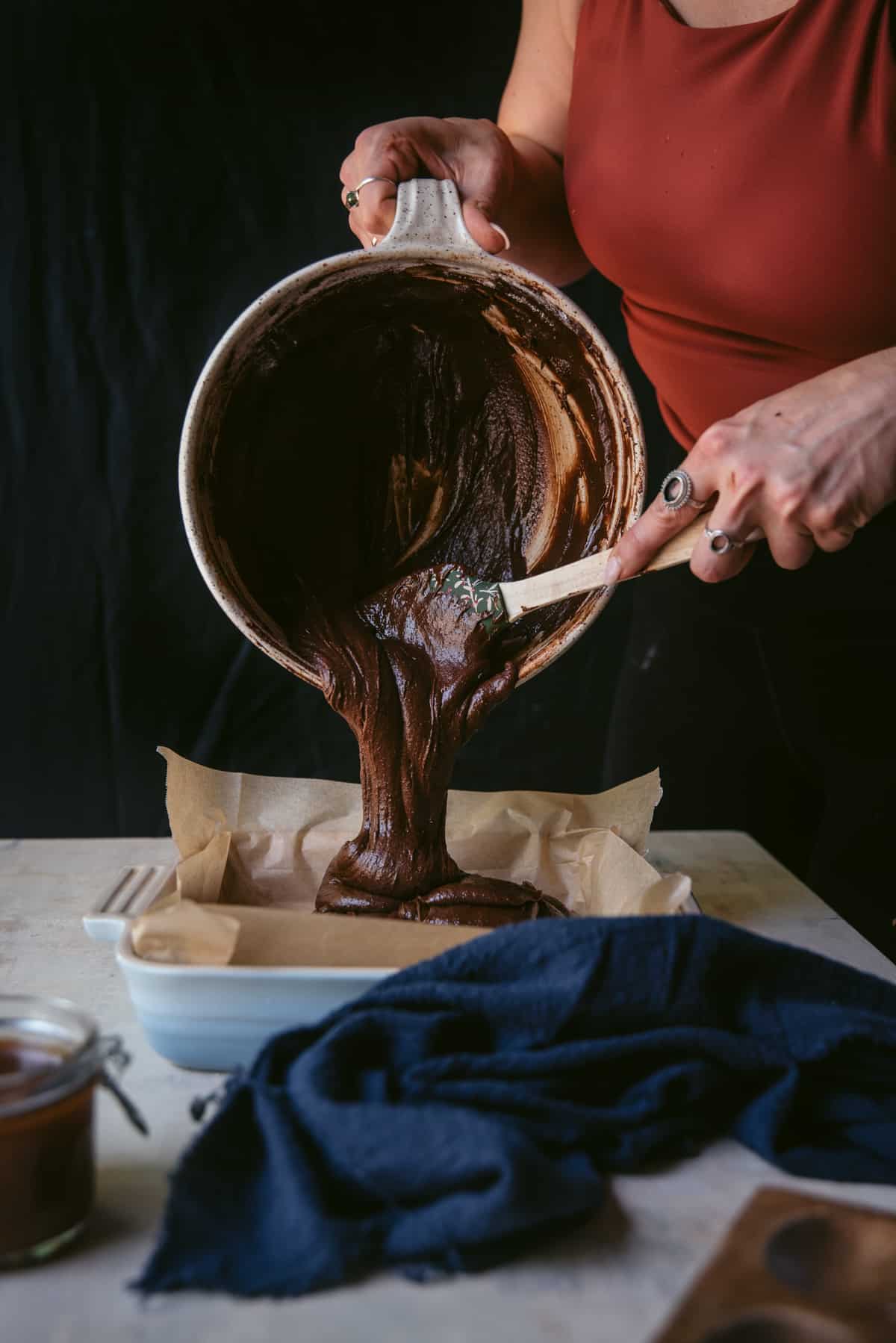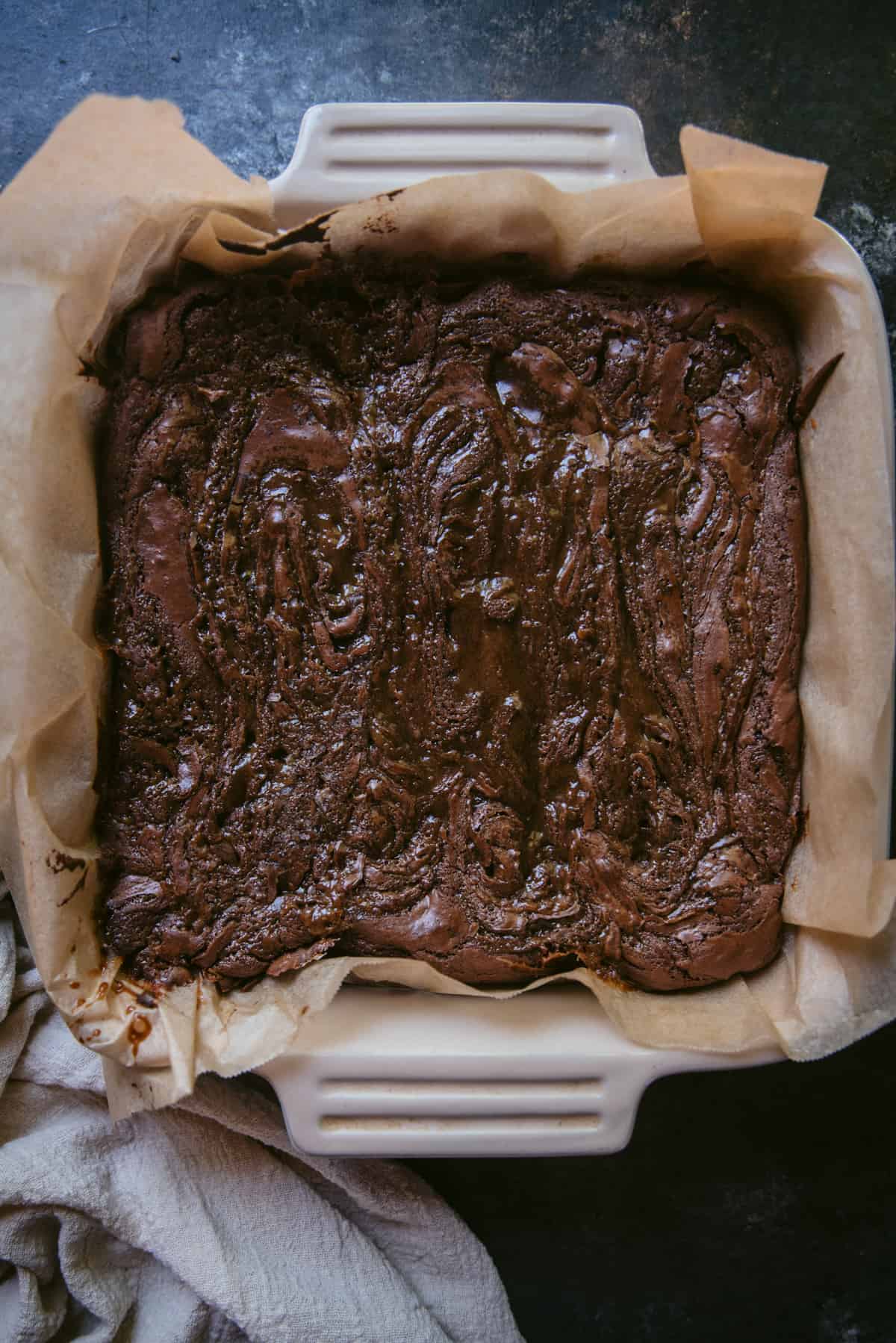 FAQS
How long will these Salted Caramel Brownies stay fresh?
To store these brownies properly, first let them cool to room temperature and pop them in an airtight container; you can leave them at room temperature for 1 - 2 days, or you can store them in the fridge so they stay fresh for up to a week - but I doubt they'll last that long.
Can I freeze these brownies?
YES - absolutely, just make sure you defrost it all the way when you are ready to eat it, or pop it in the microwave or oven to warm it up a little!
Can I make ahead the brownie batter?
YES - you can make the batter up to 3 days in advance and leave it to chill in the fridge.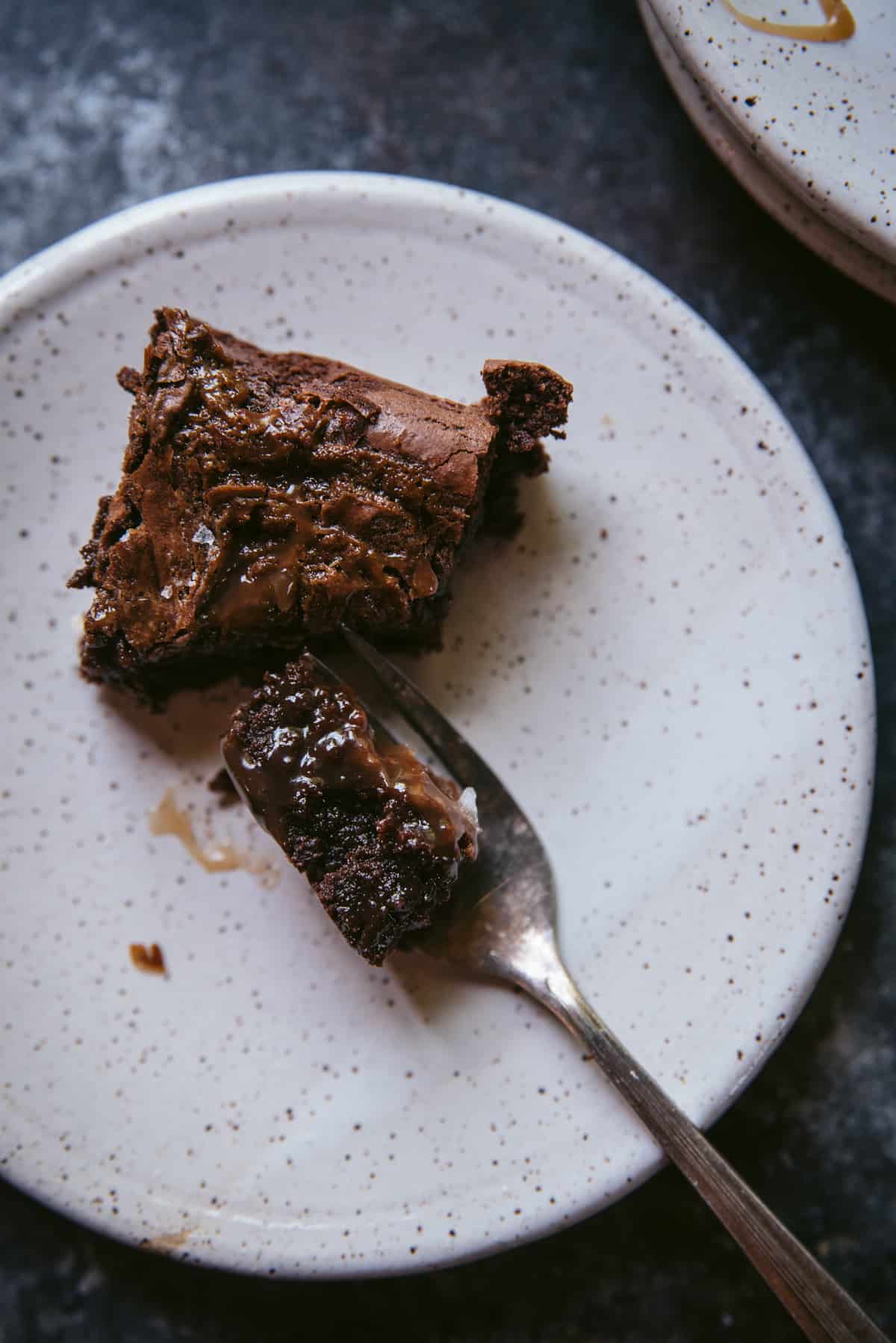 Craving more?
Love this Salted Caramel as much as me? It's so versatile, I use it in so many recipes like my salted caramel cookies.
Trying to show off? Why don't you check out my pretzel cake, which is also covered in this delicious golden nectar.
Or maybe you fancy trying something with a caramel apple combo? Try my recipe for apple cider cake with salted caramel buttercream, it's full of warming Fall flavors, and of course, my delicious salted caramel sauce!
If you made my best ever Salted Caramel Brownies, let me know in the comments below or tag me in your pictures on Instagram and Facebook! I love seeing you recreate my work and share it with your loved ones.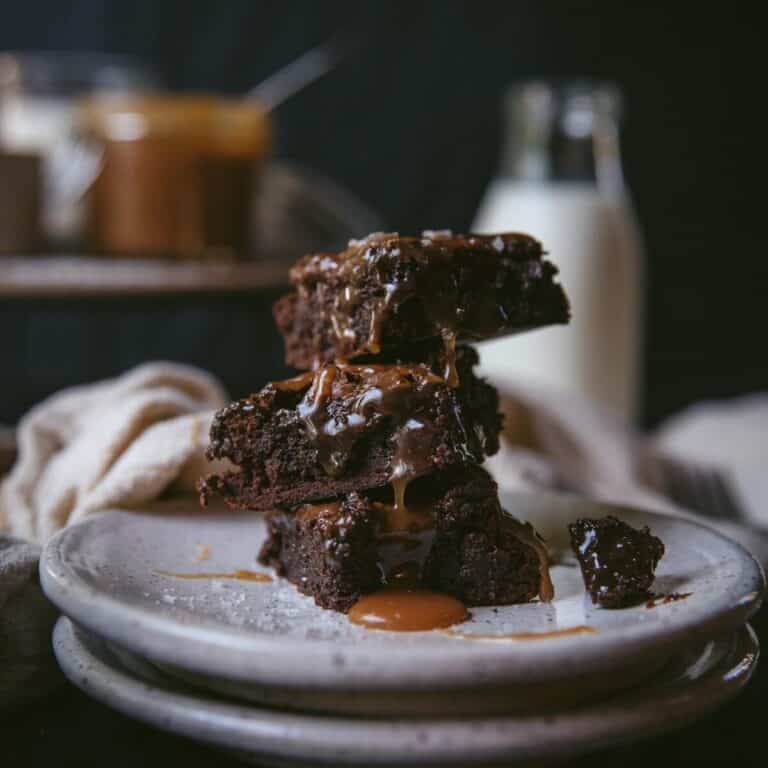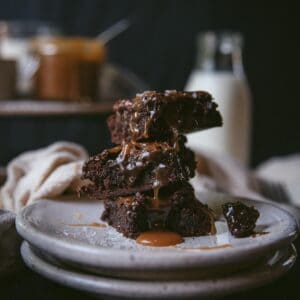 Salted Caramel Brownies
Fudgy, sweet & just a tad salty these brownies are sure to please all your tastebuds!
Print
Pin
Rate
Ingredients
For the brownies:
1

12-ounce bag

semi-sweet chocolate

4

tablespoons

unsalted butter

¾

cup

granulated sugar

¼

cup

brown sugar

3

eggs

1

teaspoon

vanilla extract

¾

cup

all-purpose flour

2

tablespoons

cocoa powder

¼

teaspoon

salt

½

cup

salted caramel

¼

teaspoon

coarse sea salt
For the Salted Caramel - Yields 1 ¼ cups
1

cup

granulated sugar

6

tablespoons

unsalted butter

(cut in cubes)

1

cup

heavy cream

½

teaspoon

salt
Instructions
For the caramel:
In a heavy bottom saucepan over low-medium heat, add the sugar. Continually stir the sugar with a spatula until completely melted. Sugar will clump, but eventually will melt completely.

Once sugar is melted, continue to stir until the liquid reaches a medium-amber color. If using a candy thermometer, the temp should be between 245°F and 250°F.

Working quickly before the liquid turns to a dark amber color, add the heavy cream. Be careful - The mixture will bubble!

Remove from heat and stir in salt. Stir in the butter, one piece at a time, stirring until each piece is almost completely incorporated before adding the next.

Allow to cool at least 20 minutes before using in the brownie recipe.
For the brownies:
Line the bottom and sides of a 9x9 baking pan with parchment paper or aluminum foil. Preheat your oven to 350°F.

Melt the chocolate and the butter using a double boiler method by setting a heatproof bowl over a saucepan filled with about 1 inch of simmering water. Stir frequently to incorporate. Once the chocolate is melted let it cool slightly, about 3 or 4 minutes, enough time to get the remaining ingredients ready.

Whisk in ¾ cup granulated sugar, ¼ cup brown sugar, and 1 teaspoon vanilla extract to the melted chocolate. Add the 3 eggs, whisking in one at a time.

In a small bowl combine the ¾ cup flour, 2 tablespoons cocoa powder, and ¼teaspoon salt. Using a spatula, fold the dry ingredients into the wet ingredients.

Pour the batter into the 9x9 pan. Drizzle ½ cup caramel over batter in rows. Drag a knife or toothpick across the rows, swirling the caramel.

Bake at 350°F for 35-37 minutes until a toothpick inserted in the center comes out clean. Garnish with sea salt flakes.
Notes
Store-bought caramel will work just as well as homemade!
These brownies can be made in a standing mixer or easily by hand with a whisk and spatula.
If using a microwave to melt the chocolate, use a heatproof bowl and microwave at intervals of 10 seconds until melted.
Garnish with an extra drizzle of caramel for sticky gooey deliciousness!
Brownies will stay fresh for up to 5 days if stored in an air tight container.
Nutrition
Calories:
248
kcal
|
Carbohydrates:
33
g
|
Protein:
3
g
|
Fat:
12
g
|
Saturated Fat:
7
g
|
Polyunsaturated Fat:
1
g
|
Monounsaturated Fat:
4
g
|
Trans Fat:
1
g
|
Cholesterol:
39
mg
|
Sodium:
112
mg
|
Potassium:
158
mg
|
Fiber:
2
g
|
Sugar:
25
g
|
Vitamin A:
149
IU
|
Vitamin C:
1
mg
|
Calcium:
27
mg
|
Iron:
2
mg