Fresh, juicy strawberry muddled with spicy jalapeño and shaken with silver tequila and classic fresh margarita ingredients. Strawberry jalapeno margaritas are simple to make, pleasantly spicy without overpowering the sweet strawberry flavor!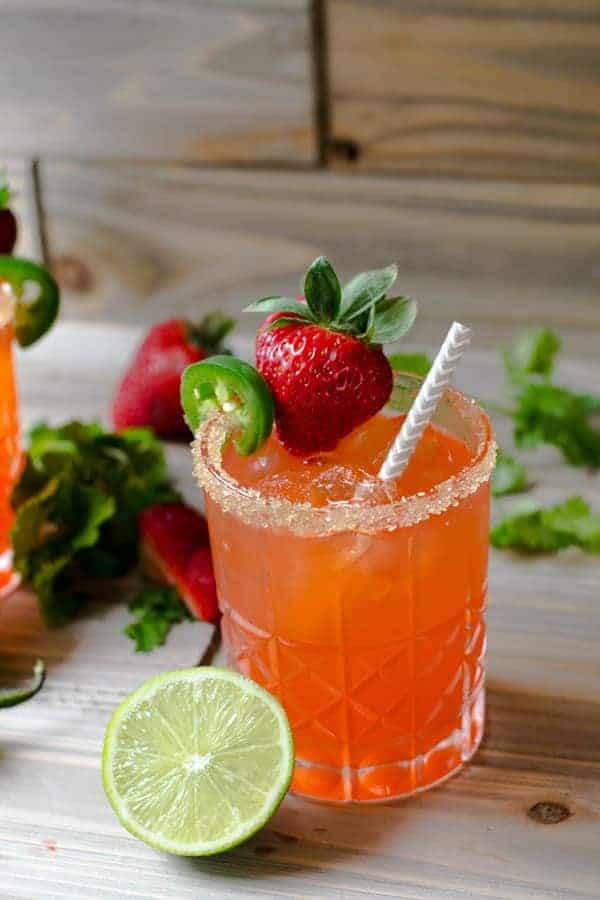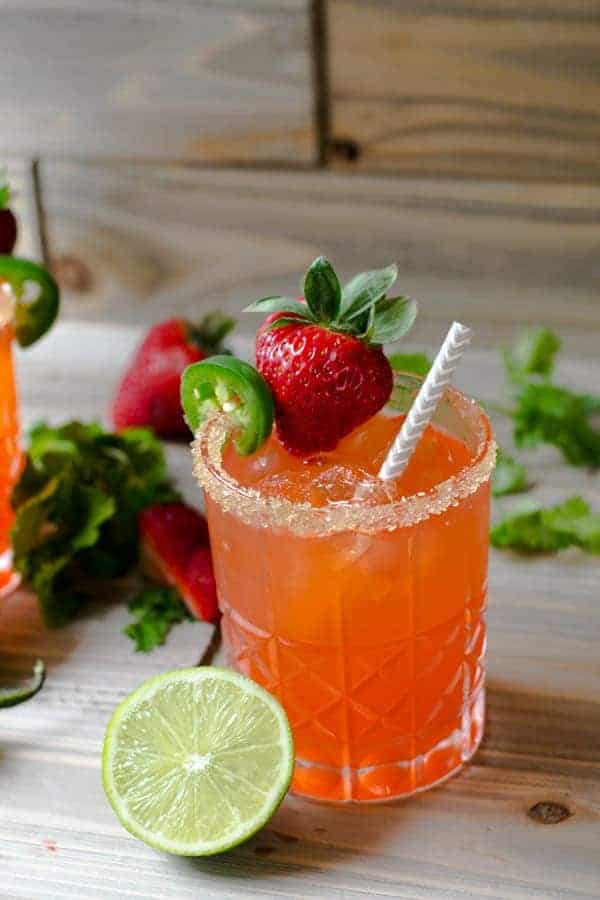 You know that famous Oprah reference where everyone gets a car? "You get a car! And you get a car!" etc. etc. Welp, that's pretty much me during the week leading up to Cinco de Mayo but with margaritas. Margaritas for everybody! Ah, what a wonderful world to live in. And this Strawberry Jalapeño Margarita is going to make your world a bit sweeter and just a touch spicier.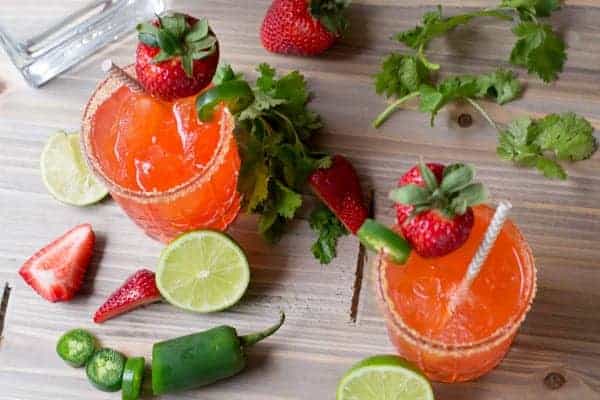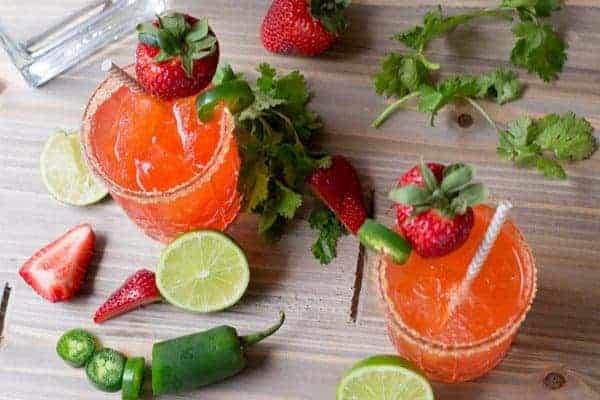 It's fun working in bar with other professionals trying to come up with new drink ideas. It mostly is a lot of, "Oh ya! That sounds awesome. What about this with that? OR add a little this to it. Ya, definitely. Serve it in this glass. Crushed ice. No regular ice." And so on and so forth. Either way it leads to a bountiful repertoire of creative cocktails that I am all to happy to share with you.
Strawberry Meet Jalapeño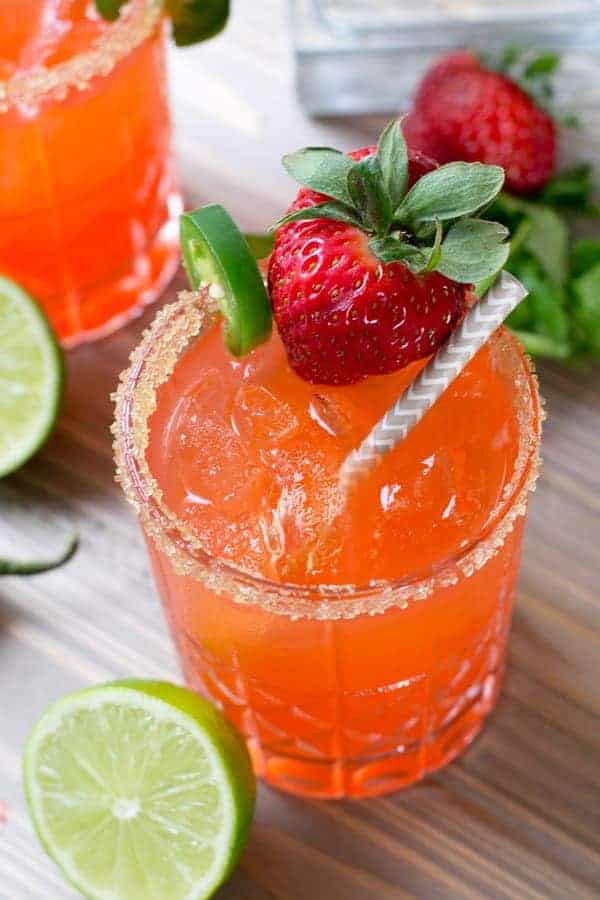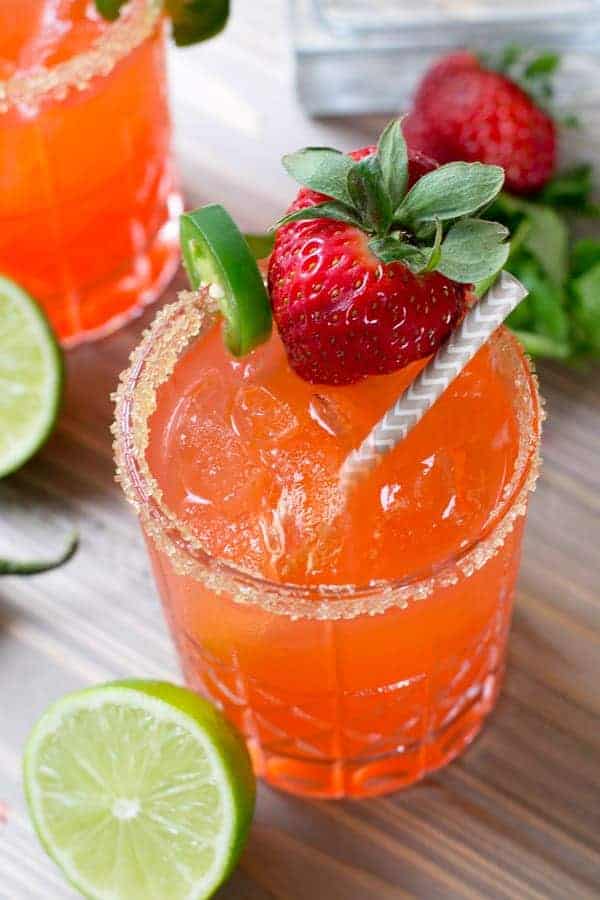 Let our souls rejoice, it is strawberry season in Massachusetts! Positively my favorite of all the fruits. I mean apples are good, very transportable snack. But strawberry literally takes the cake for fruits to use in food and drinks. So much natural sweetness and flavor in that vibrant red and seed covered berry.
So here we have sweet, friendly strawberry making new friends with spicy, crispy jalapeño. There's bound to be an adventure waiting. The combination of the two reminds me a lot of my daughter Shea (2 yo) and her best pal Ev (who is 3 yo). We know there are troublesome adventures in the future that will look a lot like this:
Ev: Hey, I have this idea that might be really fun. But nah, we shouldn't do it. We'll probably get in trouble.
Shea: Let's go. We're doing it.
With what I'm sure will be a friendship of joyful troublemaking afoot, we will be needing these Strawberry Jalapeño Margaritas at the ready.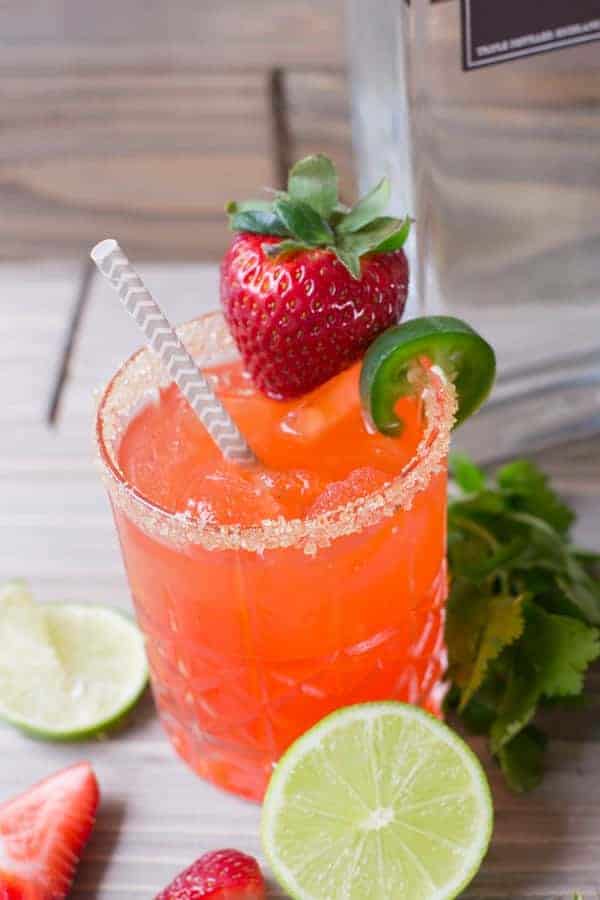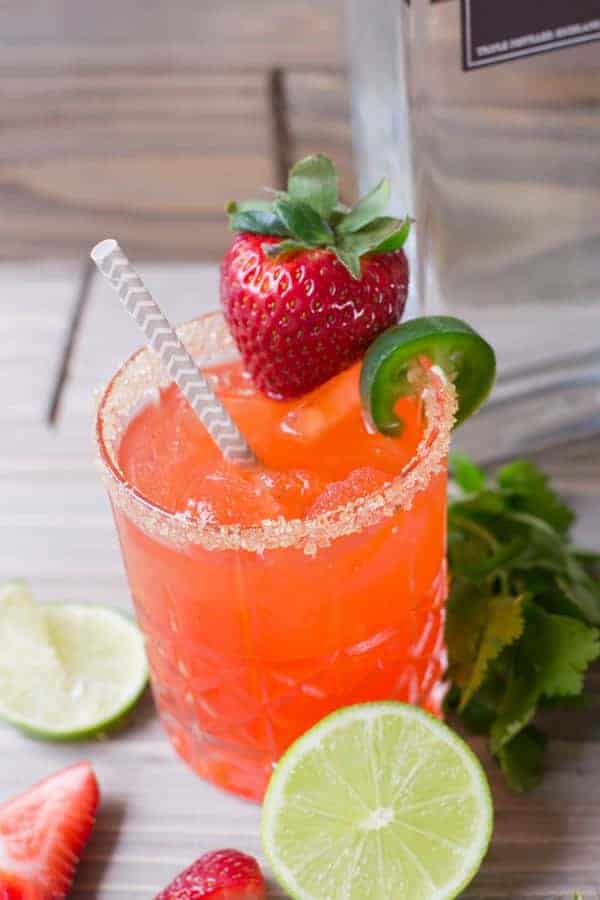 The Work Reaps Tasty Rewards
To assemble our sweet and spicy liquid libation, you'll need a few tools. Nothing crazy, but typical items we use behind the bar. You'll definitely need a muddler. This stainless steel muddler
from Amazon is less than $6 and will definitely get the job done. If you plan to muddle in a glass, I'd recommend getting a wooden muddler
so you don't end up with broken glass, no cocktail and a trip to the ER.
If you don't have a martini shaker than I would definitely put that in your cart while you're doing your Amazon Prime binge. This set here
is really awesome for $15. It's a standard 'Boston shaker', muddler, jigger and strainer. In addition to the regular strainer, if you love love fresh muddled fruit drinks then definitely purchase a cocktail tea strainer
. I mean...I've definitely used a full size kitchen colander before, but for $7 it's worth avoiding the awkwardness of that.
Here are those links again: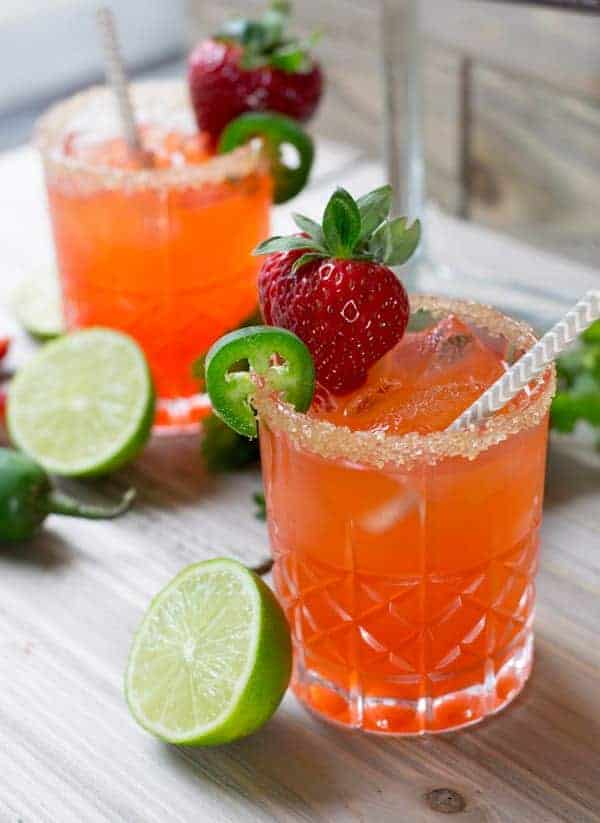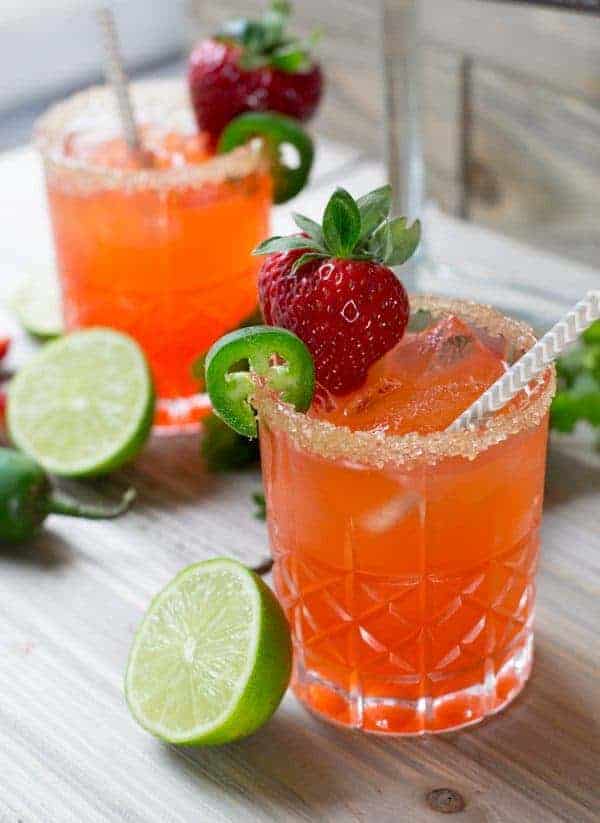 Building the Cocktail
In your martini shaker, add the strawberries and jalapeños. If you have a death wish, add the seeds too. Otherwise to avoid heartburn for days add just the jalapeño without the seeds. Here's a secret bar tip: add a few cubes of ice before muddling. The ice helps break down the elements in the glass.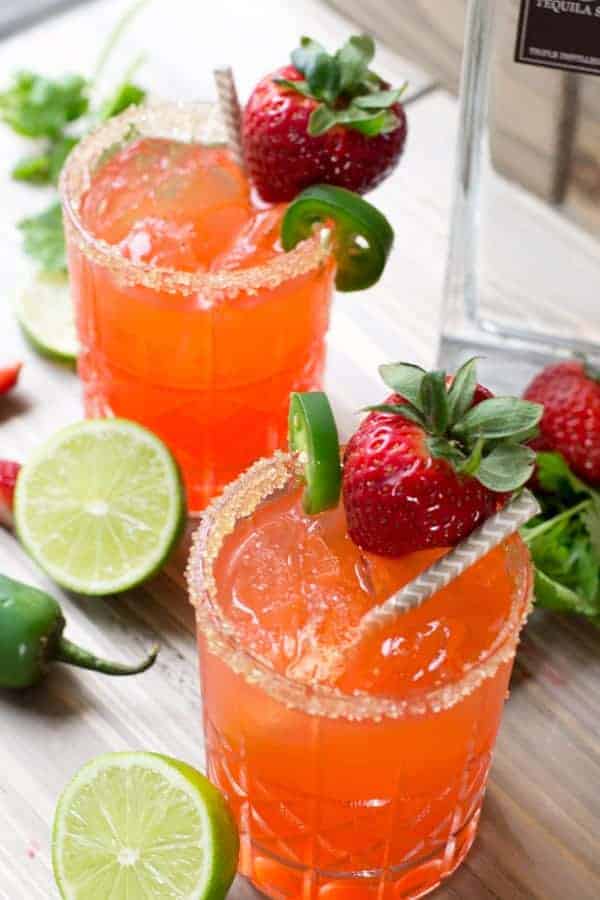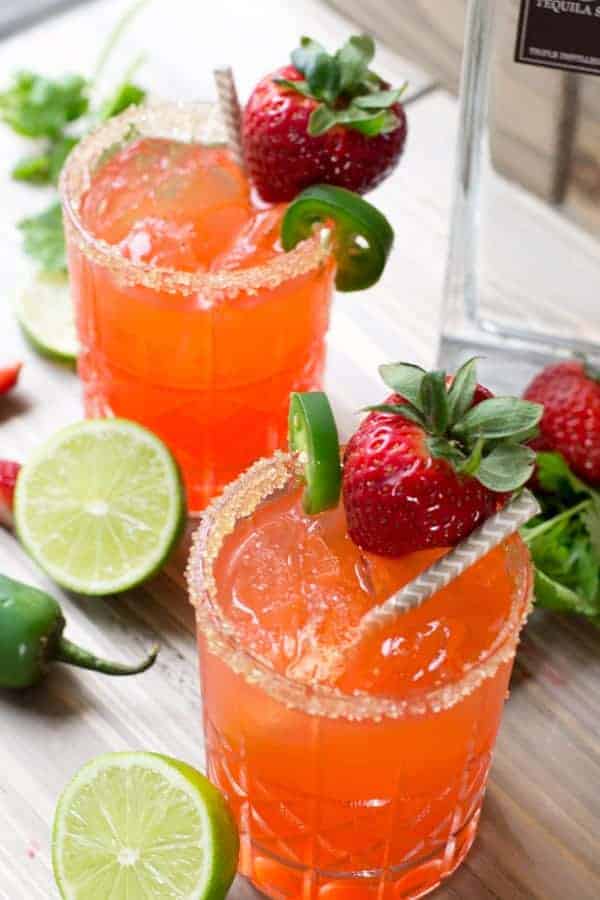 A quick point of clarification for the nerds out there, such as myself. Typically, a standard muddle is to 'bruise' the elements in the cocktail. For example, in a Mint Julep you don't want to end up choking on pieces of mint with every sip. So a gentle muddle of the mint where you press and twist without tearing is the goal.
However, with our Strawberry Jalapeño Margaritas the goal is to macerate the fruit. So add your ice and get your frustrations out on those strawberries like they wronged you.
Another important note: unfortunately you cannot use a blender and get the same effect. Trust me. Be there, done that. Ended with no margaritas. Everyone I was sad.
Add the remaining ingredients, top with more ice, cover and shake. Shake with gusto. Shake so you can feel that embarrassing reminder that you need to do more tricep work at the gym (happens to me every. day. at work).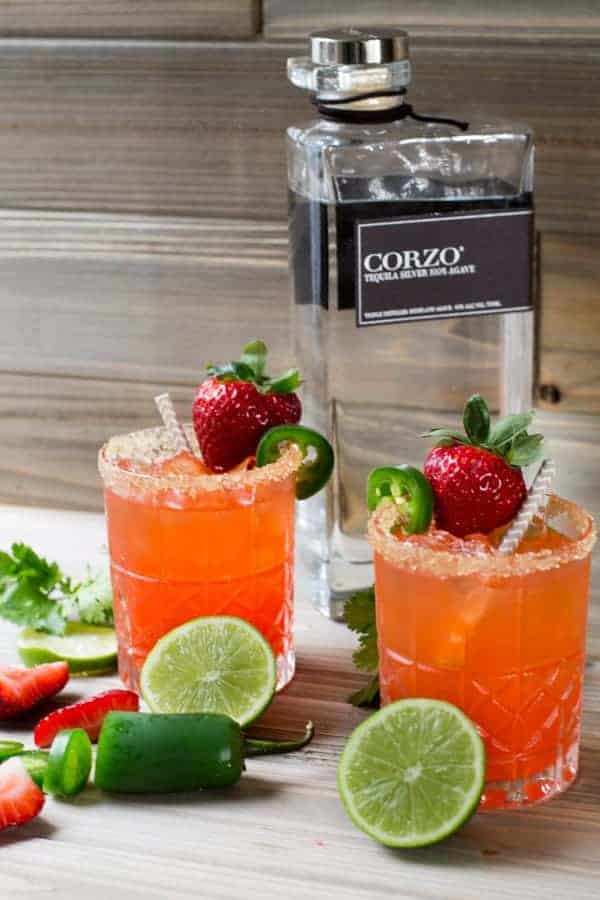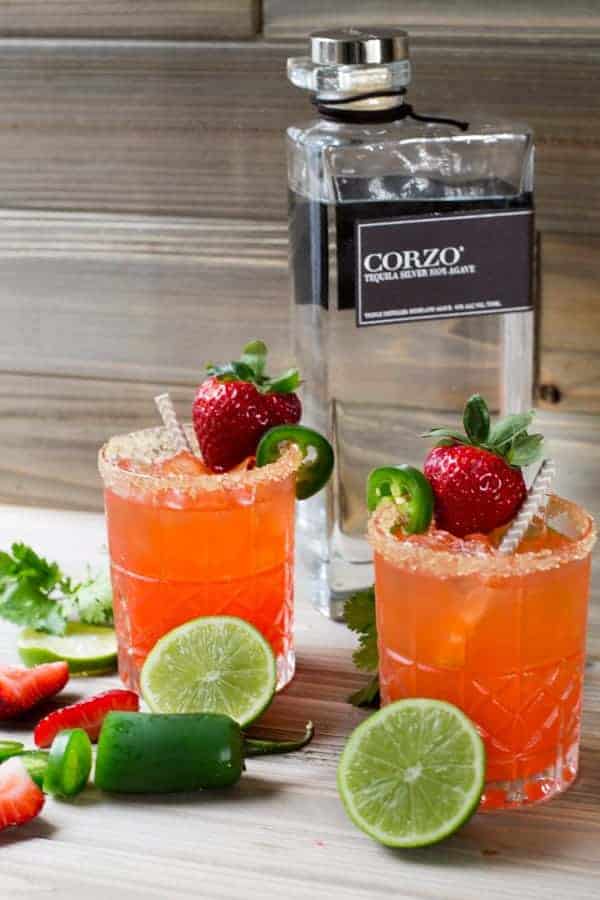 If you enjoy a tasty sweet or salty rim around the glass, run a lime wedge around the rim and then dip into whichever is your preference. Pictured here is a Sugar in the Raw rim. I love the crunchy sugar texture with the sweet and spicy strawberry flavors of this Strawberry Jalapeño Margarita. Strain through the cocktail tea strainer into your glass so you have just the strawberry-jalapeño margarita liquid and the fruit pulp stays in the strainer. Top with fresh ice.
Sip. Relax. Soak up the Cinco de Mayo excuses for more margarita consumption.
Cheers to strawberry season my friend.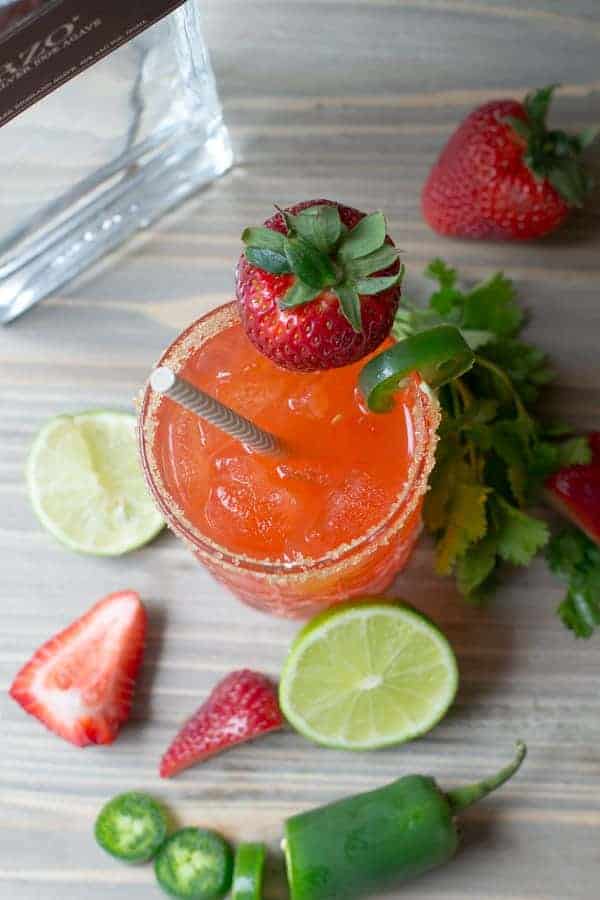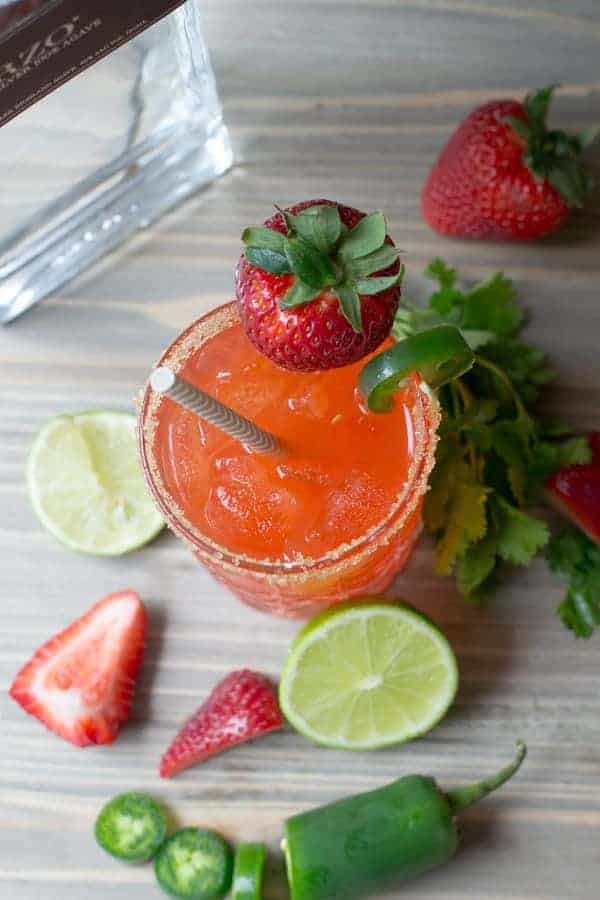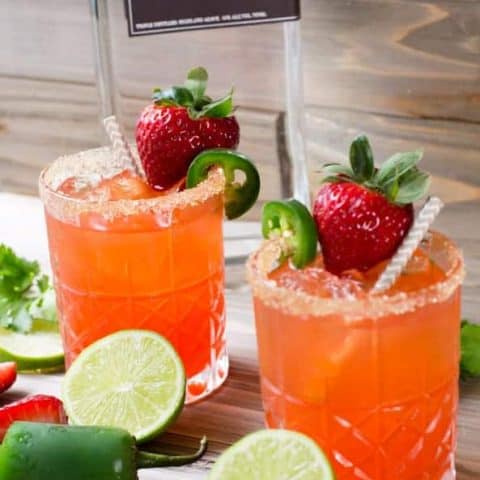 Strawberry Jalapeño Margarita
Sweet, fresh strawberry and slightly spicy, crispy jalapeño come together for a hand crafted cocktail sure to impress your tastebuds and your friends. Sharing not required.
Print
Pin
Rate
Ingredients
½

cup

diced strawberries

( about 3 large strawberries)

¼

jalapeño

(seeds and stem removed)

¾

ounce

agave nectar

1 ½

ounces

silver tequila

1

ounce

triple sec

1

ounce

fresh lime juice

3

tablespoon

turbinado sugar for rim optional
Instructions
In a shaker, add strawberries, jalapeño and a few small cubes of ice. Muddle vigorously until strawberries and jalapeños are well macerated.

Add tequila, agave nectar, triple sec, and fresh lime juice to the shaker. Top with more ice and shake well, about 10 to 15 seconds.

Double strainer (using the standard strainer and cocktail tea strainer) into desired glass. Top with fresh ice.

Optional: For a sugar rim, rub the edge of the glass with a lime wedge prior to straining the cocktail into the glass. Dip the glass into turbinado sugar on a flat plate.
Nutrition
Calories:
283
kcal
|
Carbohydrates:
34
g
|
Protein:
1
g
|
Fat:
1
g
|
Saturated Fat:
1
g
|
Sodium:
5
mg
|
Potassium:
162
mg
|
Fiber:
2
g
|
Sugar:
28
g
|
Vitamin A:
61
IU
|
Vitamin C:
55
mg
|
Calcium:
16
mg
|
Iron:
1
mg