It's that time of year again…pretty pastel dresses, ostentatious hats with feathers and bows, and horses.  On the first Saturday in May, twenty horses will line up to race in the longest running sporting event in U.S. history.  On the first Saturday in May, I will be drinking Mint Juleps.  (I will also be attending a wedding of two very dear friends – they have been warned of the hat possibilities.)  I love a good nuptial celebration, particularly these friends, but there is also much love for the Kentucky Derby.  Though I've never stepped foot in Churchill Downs, I just find the thrill of the festivities completely intoxicating.  If you love an excuse to get all gussied up, wear pretty clothes and a hat you probably would never don on any other day, I highly recommend you find, or have, your Derby party.
Essential to your Derby party is the Mint Julep.  There is a lot to love about a mint julep, even if you're not a huge bourbon enthusiast.  Regardless of festivities, on a hot, humid day this thirst-quenching, palate cooling cocktail will certainly ease you into a more refreshed state of mind.  Traditionally, a mint julep involves, bourbon, mint, sugar and water (or simple syrup) and crushed ice.  This Maple Mint Julep involves two twists to the classic recipe.  One of the two twists here is that instead of using simple syrup, you substitute with real Maple Syrup.  It's my personal way of melding the southern flavor of bourbon with the northern flavor of maple syrup without inciting a civil war of the taste buds.  The other twist is the addition of club soda and pouring the drink over regular ice.  If you live for traditions, keep your serving glass in the freezer so your crushed ice won't melt so fast when it comes time to sip your beverage.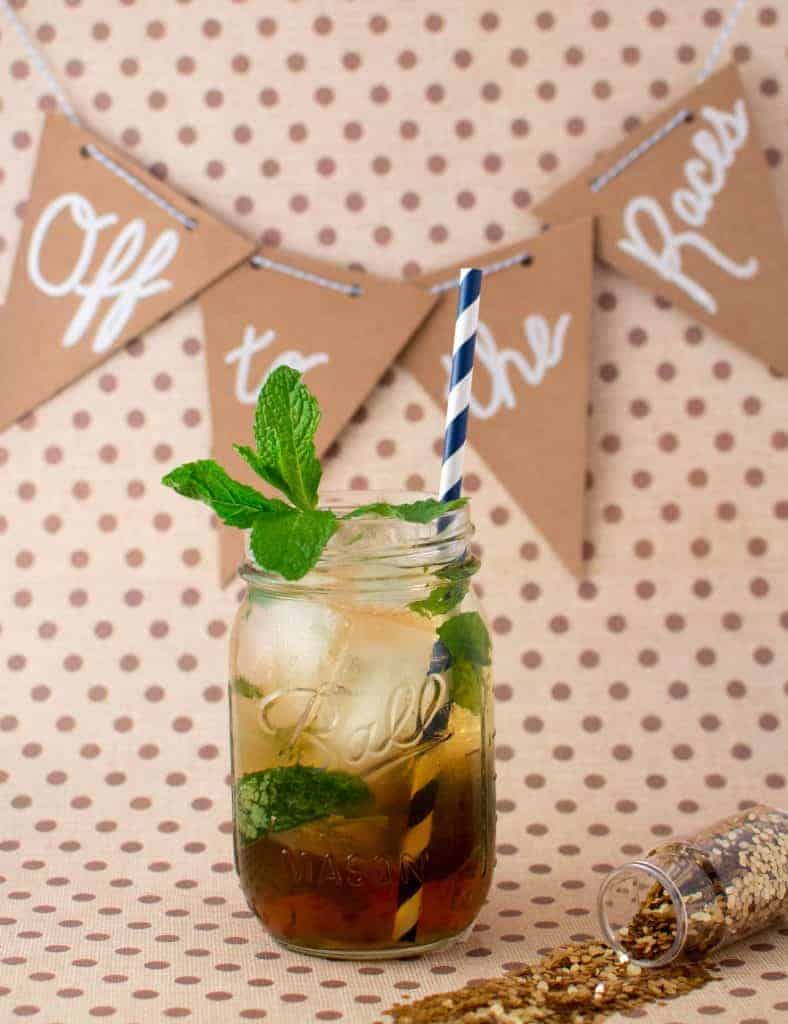 The building process does take a little bit of forethought if you don't typically keep your refrigerator stocked with mint and club soda – this is assuming you already keep your pantry stocked with bourbon…that's normal right??  Ok, well if you don't, you should…it's also delicious for cooking.  A side note on mint – we recently completed our spring gardening and planted so many delicious herbs!  Though I am currently growing some basil from seedlings, everything else was bought already started.  For the cost of a small package of herbs at the grocery store, this is already a cost effective venture.  I will have more details in a future post, but for those of you thinking about doing the same, you should definitely give it a go!  You don't have to have a big yard to grown (some) of your own – seriously, ours is 9×12 and half in the shade!
Anyway…I digress…back to the bourbon.  It's the blend of flavors and textures in this drink that really do it for me.  The bourbon with it's classic smokey caramel and vanilla flavors slightly sweetened by the maple syrup and a punch of refreshing tang from the muddled mint topped off with the fizzy club soda, it's enough to bring a little fizz to the drink without over carbonating the palate and keeps the drink from too much sweetness.   So put on your floppiest hat, kick back and sip on this satisfying cocktail in the spirit of the Kentucky Derby!
Print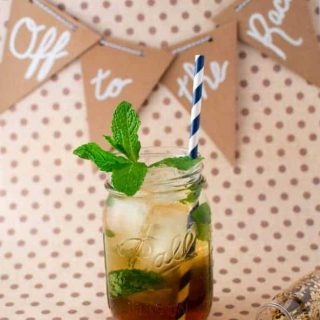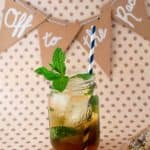 Maple Mint Julep
---
Author:

Prep Time:

3 mins

Total Time:

3 mins
Scale
Ingredients
5

Fresh Mint Leaves

1.5 ounce

s Grade A Maple Syrup

2 ounce

s Bourbon (I used Bulleit)

3 ounce

s Club Soda
---
Instructions
Muddle mint leaves and maple syrup together. Using the muddler, press onto the mint leaves and twist. The desired effect is not to smash the mint into little pieces, but to squeeze out the oils from the leaves.
Add bourbon and ice.
Roll the drink from one glass to another to incorporate the syrup and the bourbon.
Add additional ice cubes to the glass to fill, if necessary.
Top with club soda.
---
Category:

Cocktail

Cuisine:

Cocktail
Recipe Card powered by