Looking for your next go to cocktail? Easy to make and super super smooth, pineapple infused tequila is the best way to add natural sweetness and pineapple flavor to silver tequila that's perfect for making cocktails or sipping on ice.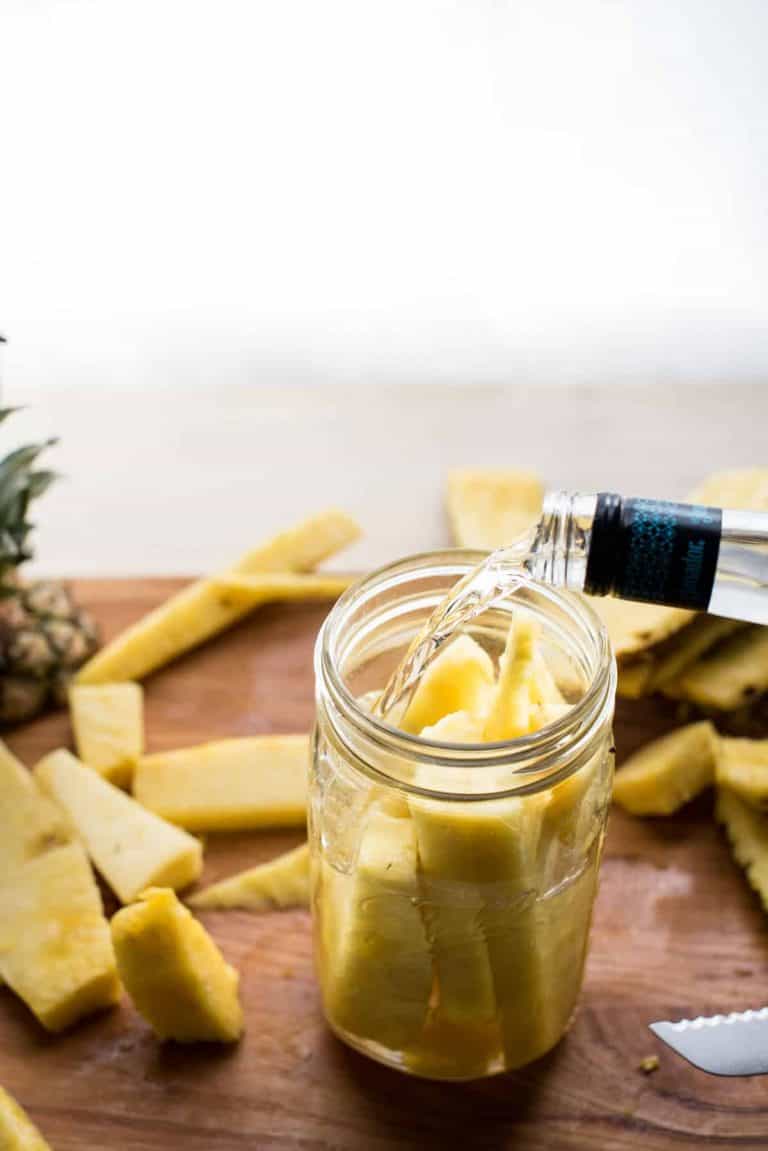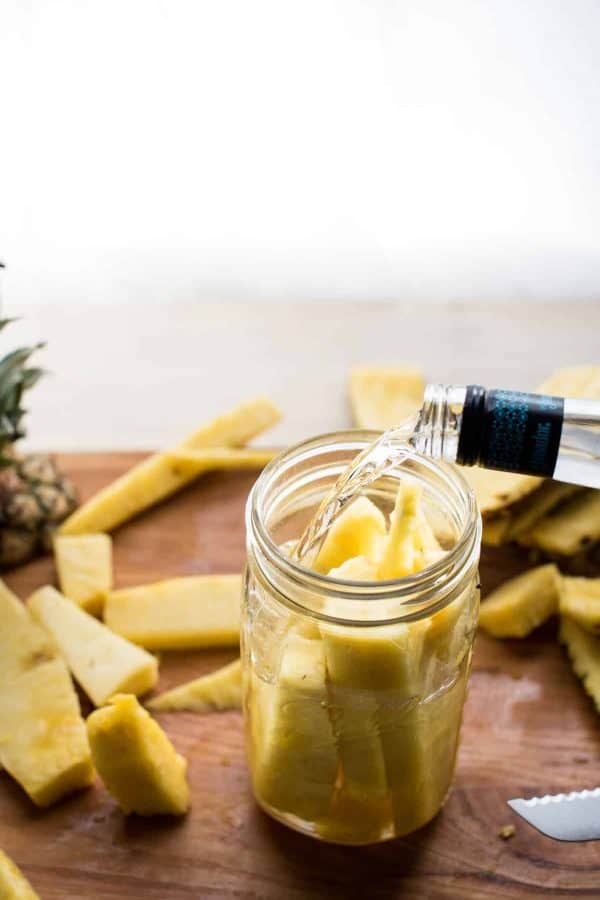 Congrats friends, we made it to Friday and you deserve a cocktail. Granted, not everyone lives the typical weekend life of Saturday and Sunday #restaurantlife, but even if you don't, you probably still deserve a cocktail.
Today, we're swooning over this pineapple infused tequila for so many good reasons.
so incredibly simple
real pineapple flavor
naturally sweet
I like to shake mine up into a margarita with a spicy simple syrup and a splash of lime, but it's equally good just over ice. If you've ever been to a Capital Grille, their signature drink is a Stoli Doli - this is similar in concept.
Vodka and beautifully arranged pineapple sit in a large glass dispenser ready to be poured over ice. Except this time with tequila. And maybe not so artfully arranged because we're at home making this in our pajamas. Ok, maybe it's just me in my pajamas, but you get the point, no need to be fancy but you can if you want.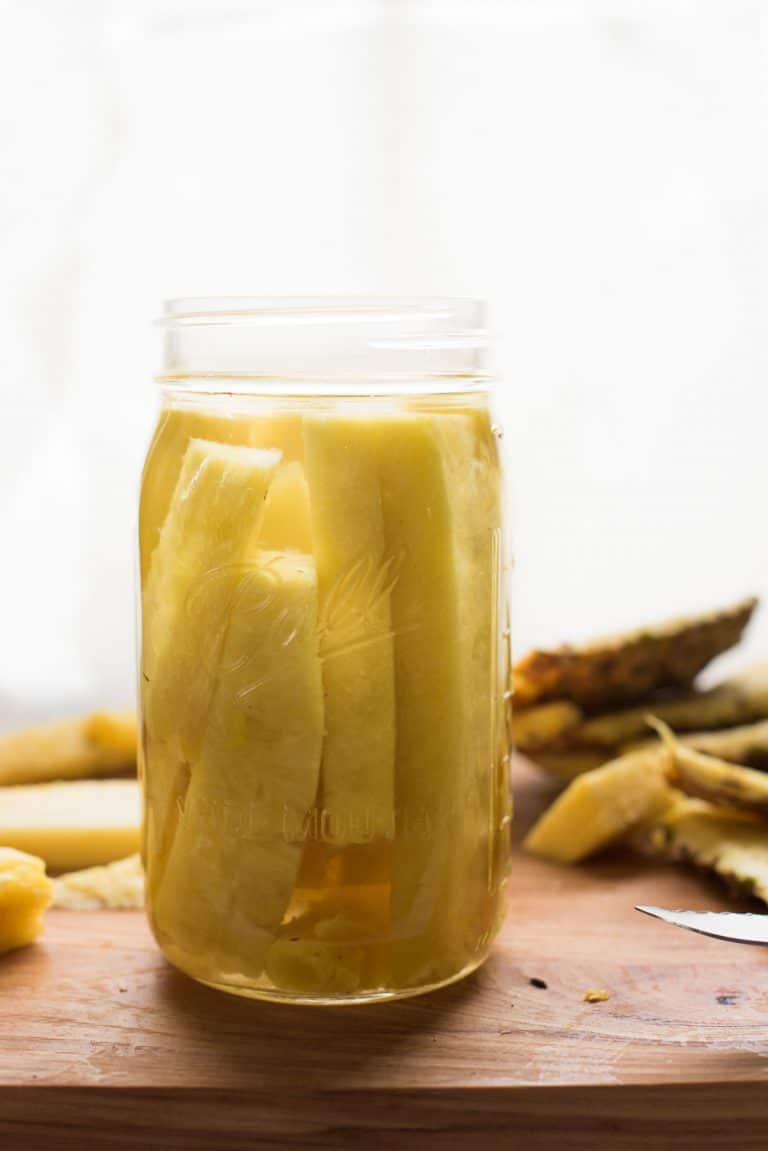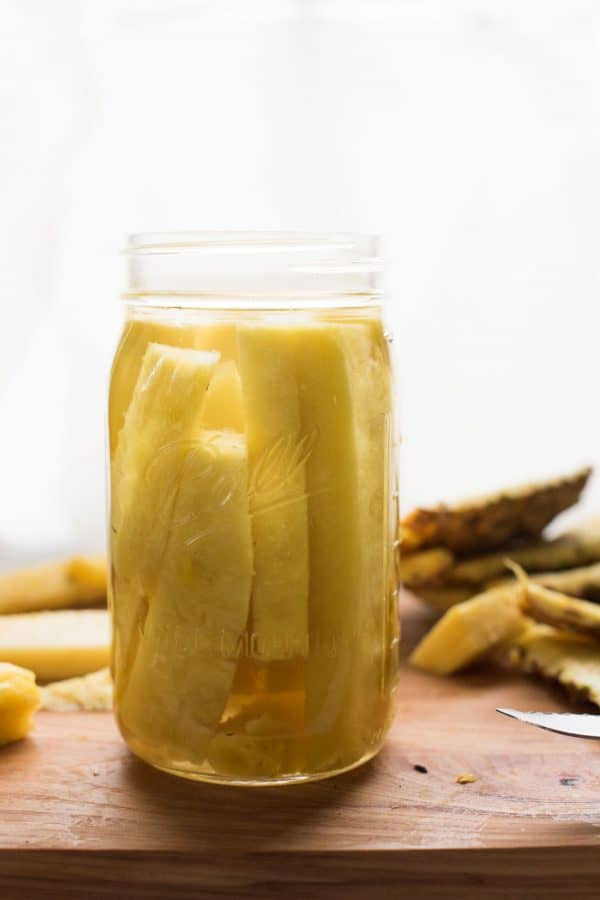 Tips for how to make pineapple infused Tequila
You'll need very few ingredients to get this done. The hardest part is just waiting for it to infuse, so if you want to make this for a special event you'll need to prep it about a week before.
What you'll need:
quart-sized air tight container
ripe, fresh pineapple
silver tequila
That looks like a nice, small manageable list right?!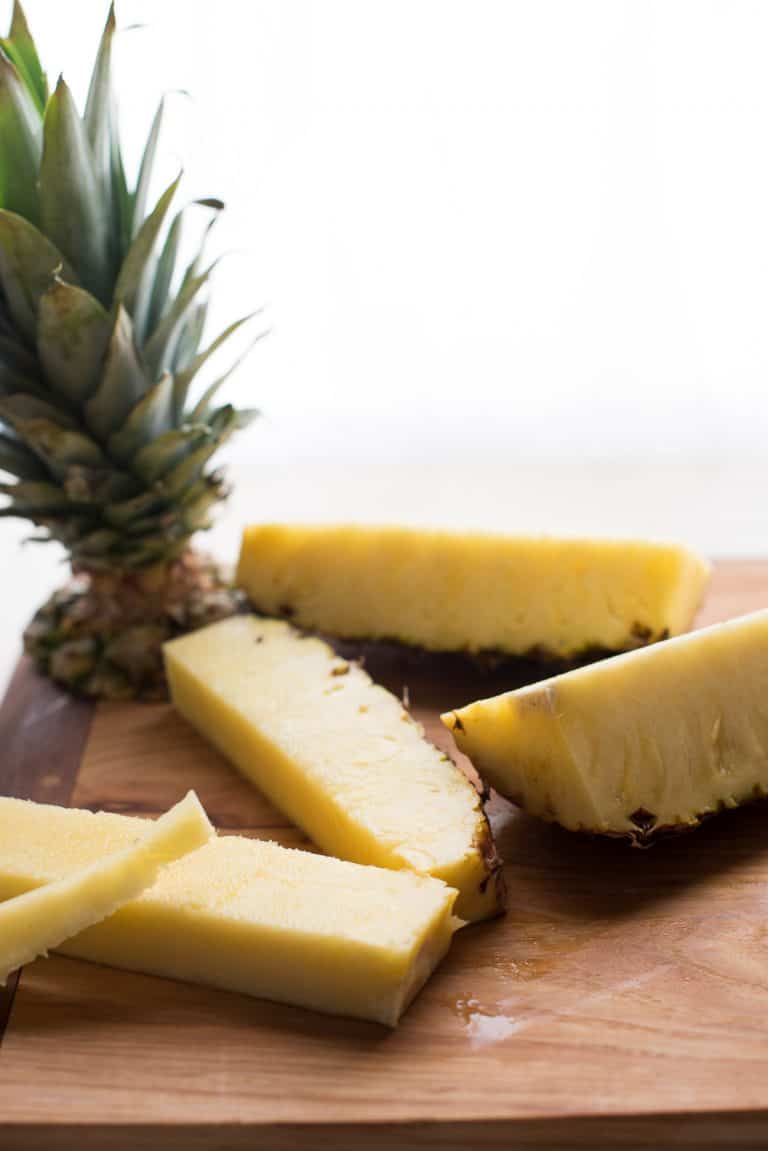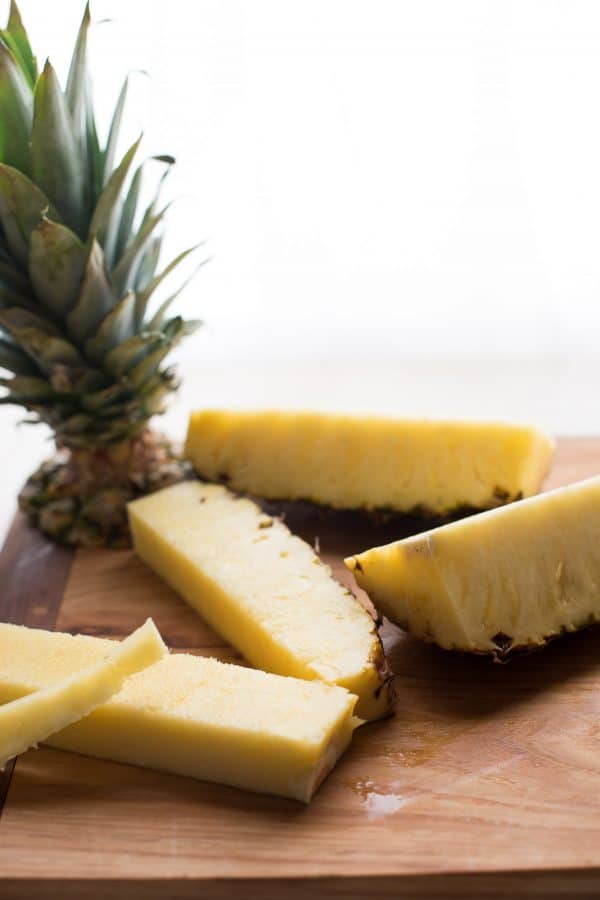 To make pineapple infused tequila you want to cut the fresh pineapple into pieces, the size depending on the container you are using. I like to use a wide mouth mason jar, so I cut mine in small spears.
Fill the jar with the pineapple first, then pour the tequila over the pineapple. As long as the pineapple is completely covered by the tequila, you don't have to worry about the pineapple going bad and then spoiling.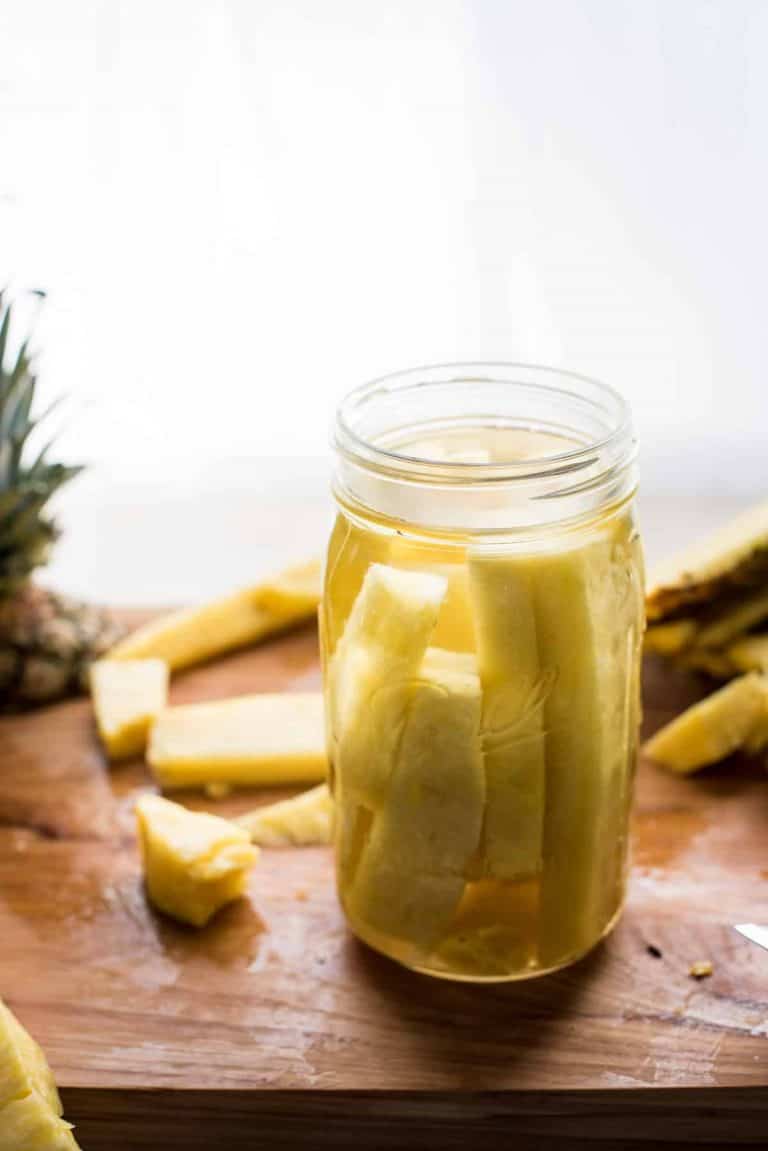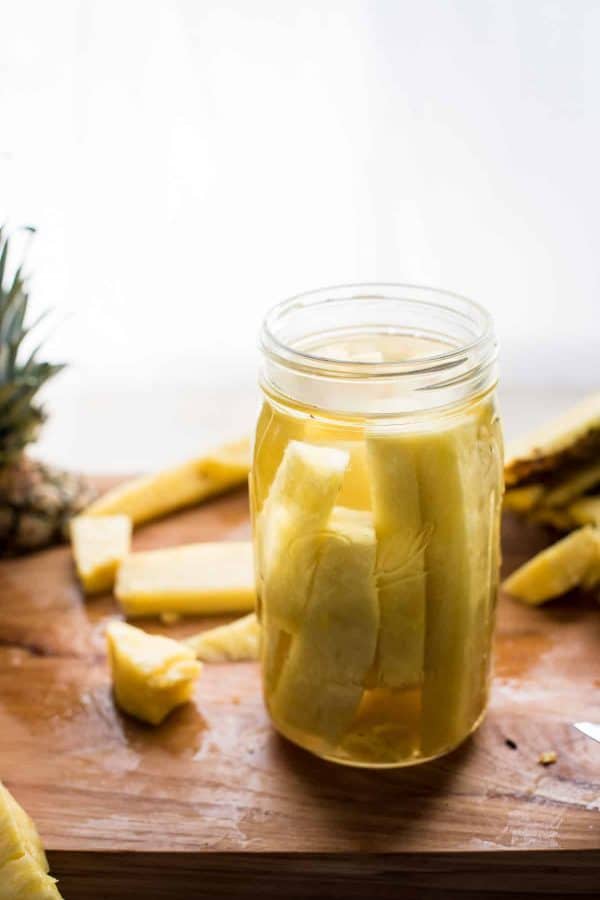 Refrigerate and let the tequila infuse for 4 to 7 days. The longer it sits, the better the flavor.
The pineapple that was in the tequila will be SUPER boozy, so I'd personally not recommend eating it unless you are looking to get bazooed, but the taste isn't going to be all that great. When you are ready to enjoy, just strain out the tequila and whip up the drink of your choice! Be sure to have lots of good snacks to go with it. My personal favorites, are black bean salsa and these cilantro lime steak tacos! You can check out all our taco ideas here or get some tequila cocktail inspiration here.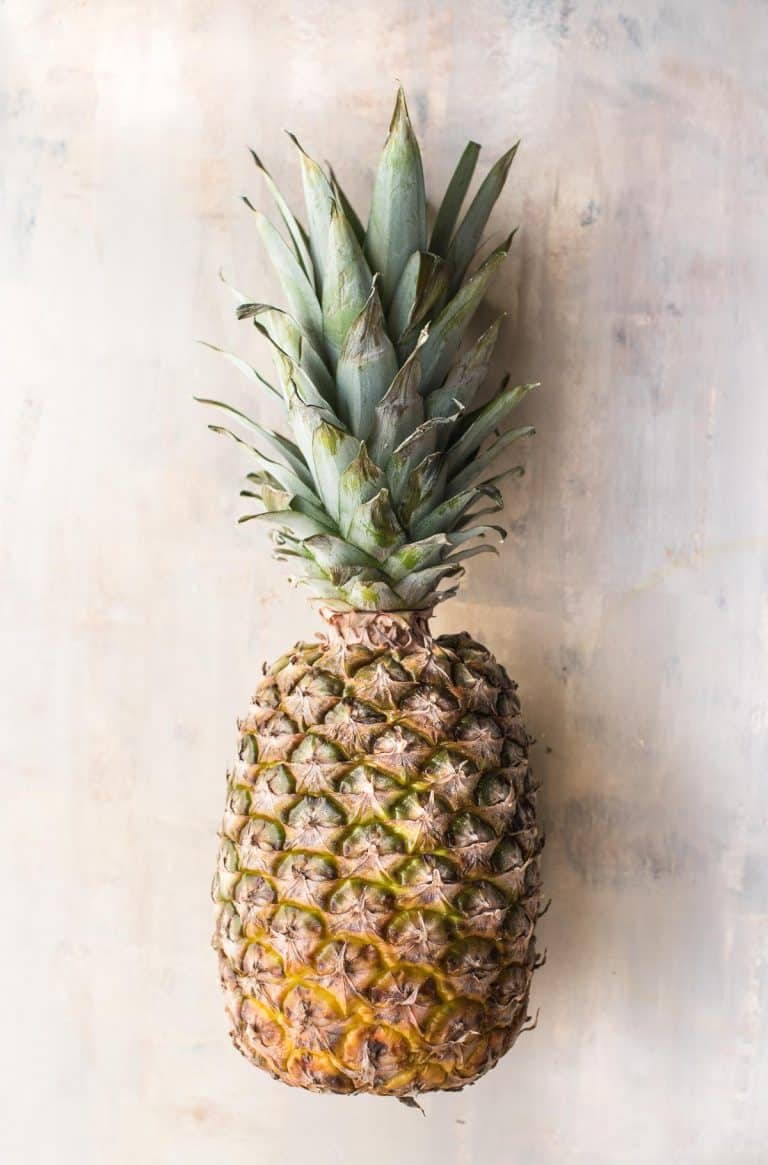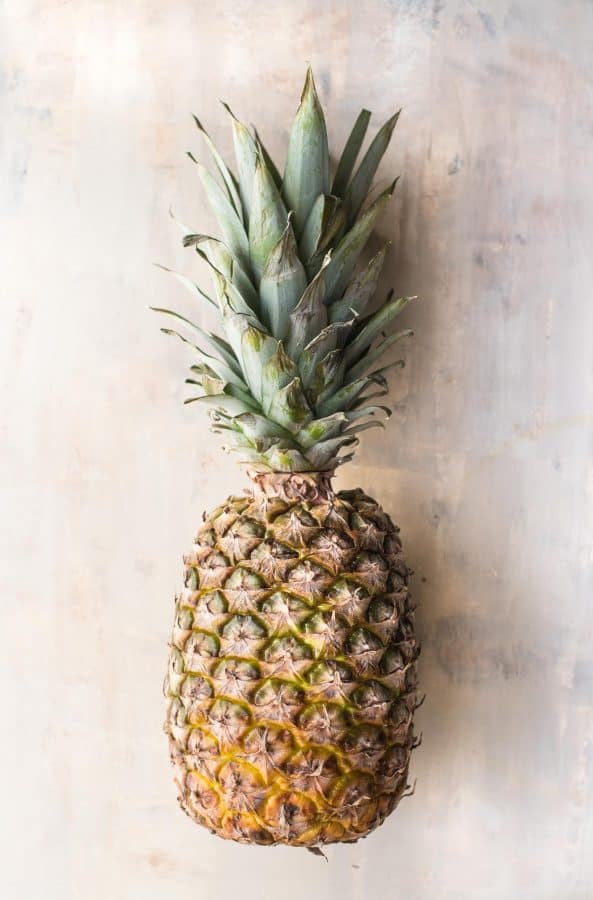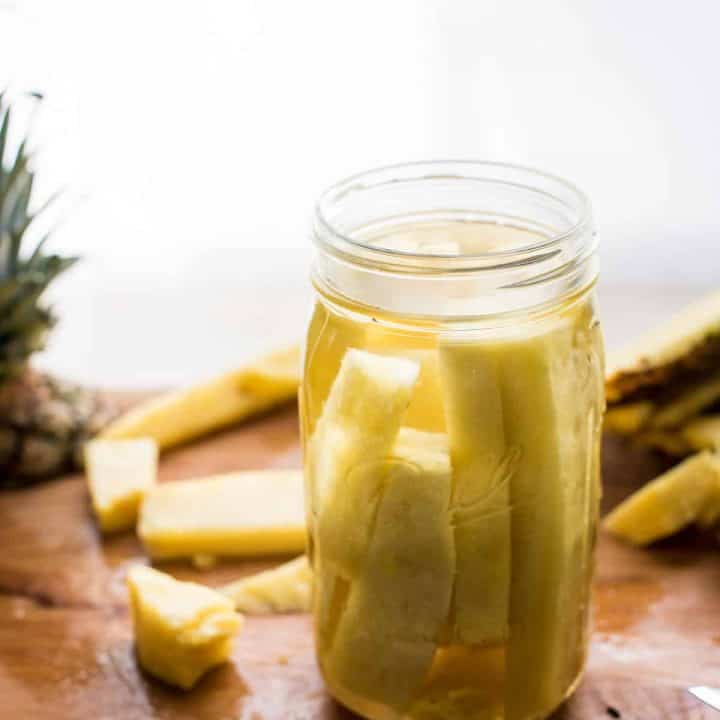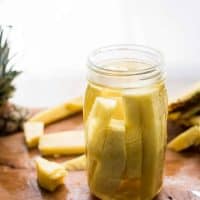 How to Make Pineapple Infused Tequila
The easiest way to make delicious, naturally sweetened pineapple tequila at home! Fresh pineapple and silver tequila infused together is perfect for a refreshing cocktail or to sip on crushed ice.
Print
Pin
Rate
Ingredients
1

ripe

(fresh pineapple)

½

bottle silver tequila

(about 2 cups)

air tight container

(I like to use a wide mouth mason jar)
Instructions
Remove the skin and core of the pineapple and cut into thin spears.

Arrange the spears in the mason jar, filling it until it's about ¾ full. You want as much pineapple as you can, but still leaving room for tequila.

Pour the tequila into the jar until it covers the pineapple. Seal the container and refrigerate for 4 to 7 days allowing the tequila to infuse with the fresh pineapple.

When ready to use, strain the tequila from the pineapple, discard the pineapple and use in your favorite margarita recipe or just sip over crushed ice.
Nutrition
Calories:
486
kcal
|
Carbohydrates:
13
g
|
Protein:
1
g
|
Fat:
1
g
|
Saturated Fat:
1
g
|
Sodium:
2
mg
|
Potassium:
215
mg
|
Fiber:
2
g
|
Sugar:
7
g
|
Vitamin A:
38
IU
|
Vitamin C:
5
mg
|
Calcium:
3
mg
|
Iron:
1
mg