Welcome everybody.  Welcome to the world of easy one pan chicken dinners that are ridiculously delicious.
Is that bold of me to say?  Mmm, I'm siding with the reason that I don't care because I want you to get the satisfaction this dish gives me.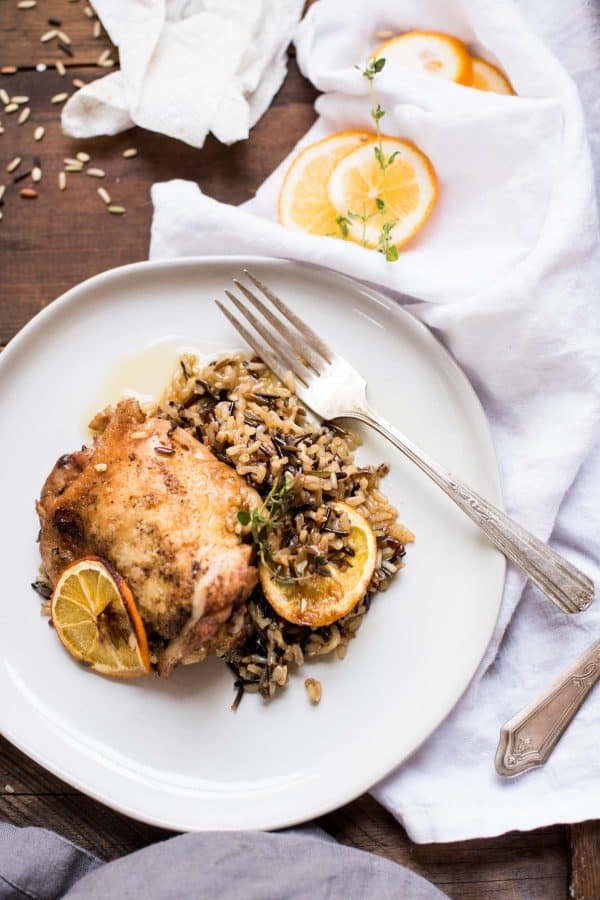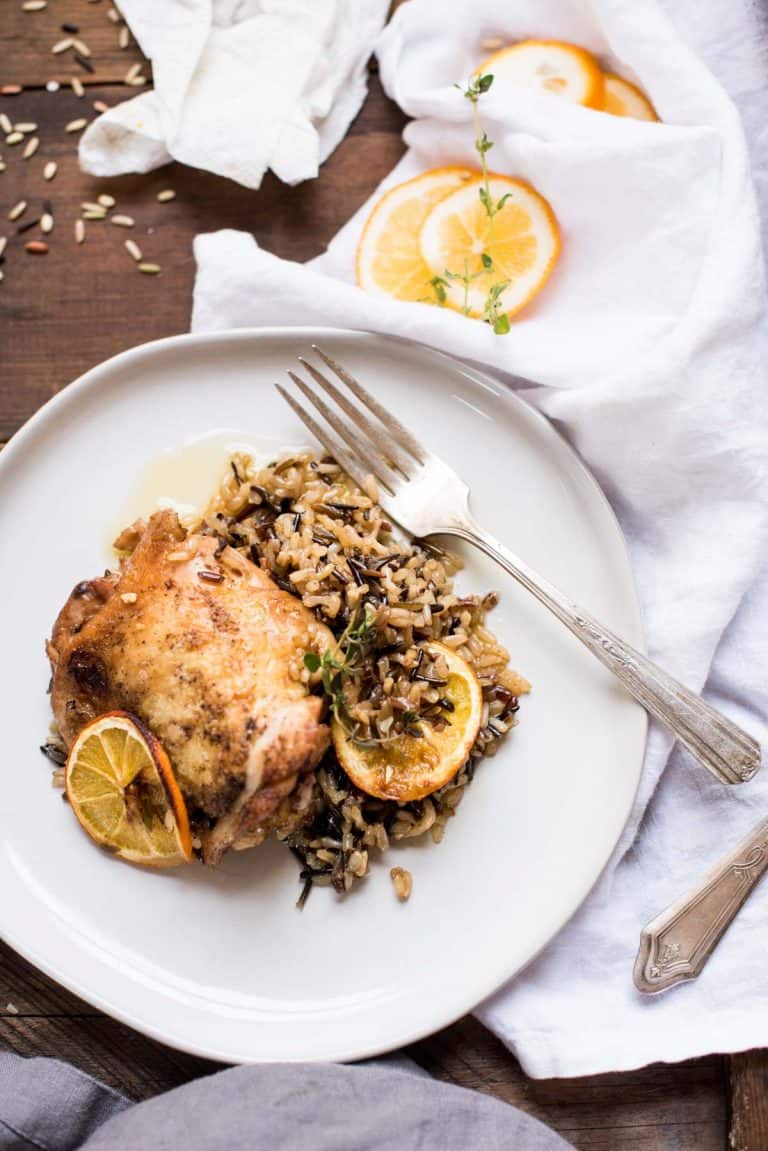 These one pan chicken thighs has all sorts of things going on that you should know about:
ONE PAN.  Ok, and a plate.  But guys, one pan to wash – it's food blogger, busy mom/person, dish washing hater nirvana.
Cheap Eats.  Chicken thighs are one of my favorite go to's because they are always tender and one of the cheaper cuts available.  Which general means I can splurge for the organic stuff.
Super flavorful.  Trust me, the bold and italics are necessary.  The rice is cooked with herbs and stock and a touch of wine and butter.  The chicken skin is crispy but also has sweet and citrus-y lemon flavor.
Simple, yet fancy.  Simple enough for weeknight 'what the heck are we going to have' dinner, or – speaking from personal experience – an 'I just had a baby but need to cook something' dinner.  But it's also fancy enough you could serve this for a crowd.
Did I mention it's a one pan dinner?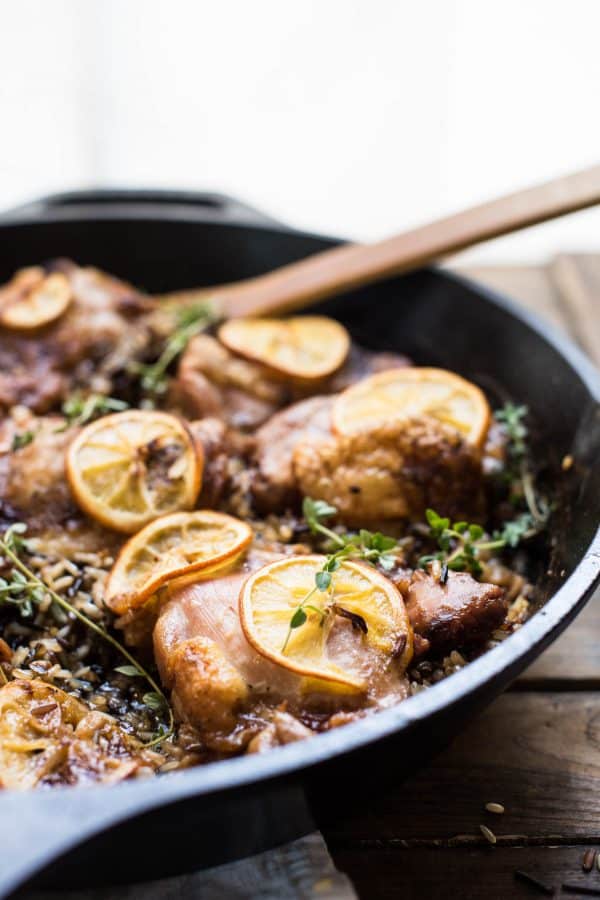 One Pan (and a Plate) Start to Finish
We are currently having ourselves a little heat wave in Boston, just at the end of August.  So while I'd like to be on to leggings, sweaters, PSLs and fall flavored dinners like Cranberry Walnut Chicken Thighs and Easy Baked Pumpkin Risotto, making the switch just doesn't feel right.  So let's bask in all the Meyer lemon and fresh herb flavors we can, right?
Truth.  You don't have to use Meyer lemons.  Only if you're totally obsessed with them like I am. Like here and here.  Meyer lemons are sweeter and less acidic so you could go ahead and gobble them right up with the skin.  But if standard lemons are what you are reaching for, go for it.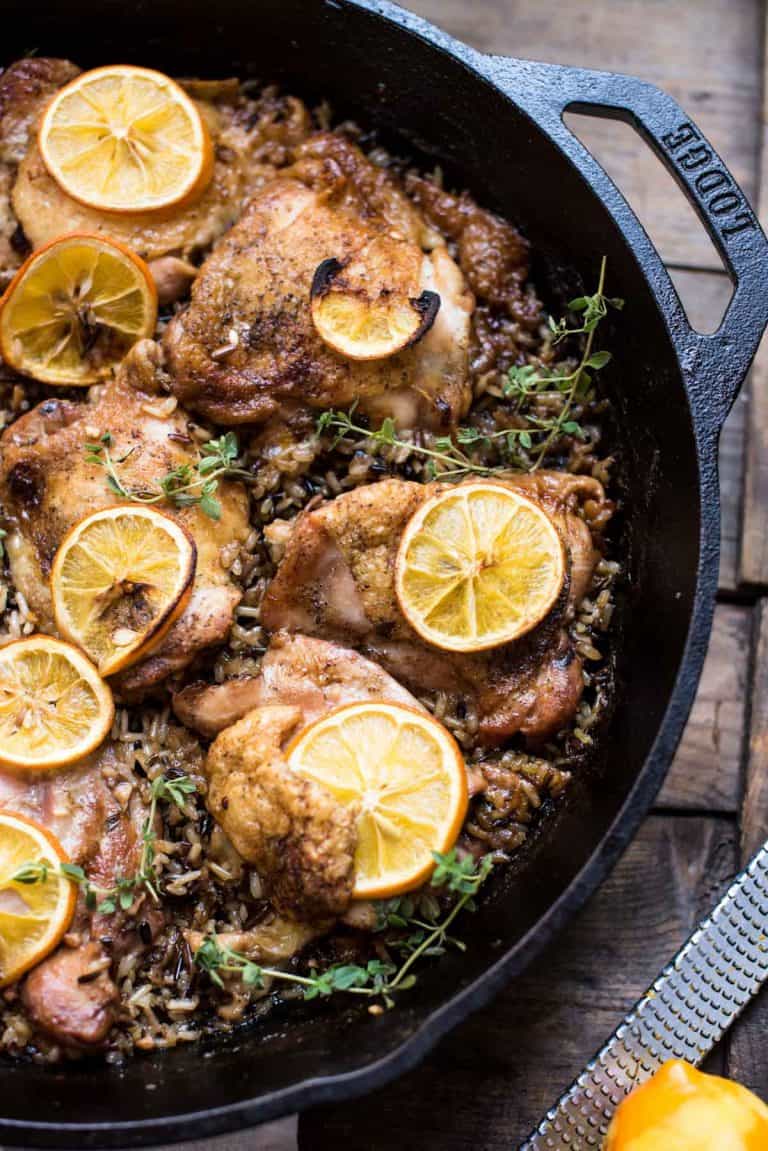 Other truth.  Your one pan chicken does not have to be cooked in a cast iron.  Chicken thighs can be made just as tasty in a regular stainless steel pan.  Our kitchen just happens to be stocked with a giant, 13-inch Lodge cast iron so we use it every chance we can.
Okay, real quick.  Last thing, then we can move onto one pan chicken meal perfection.  You need to know about this rice.  It's WILD.  Wild, like your standard blend of 'wild rice' but also wild as in 'this rice is creamy and rich and tastes like flavorful things and not just boiled starch.'
Your flavorful rice things being a smidge of butter for that creaminess, a touch of white wine to scrape all those seared chicken bits off the pan, garlic, fresh thyme, rich chicken stock, and more Meyer lemon.  Because I told you, #obsessed.
Did you make this dish?  Are you #obsessed now too?!  I want to hear about it.  Leave a comment or be sure to tag @hungerthirstplay on instagram.
Print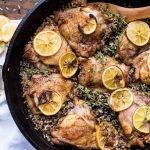 One Pan Lemon Chicken Thighs and Wild Rice
---
Author:

Prep Time:

10 minutes

Cook Time:

35 minutes

Total Time:

45 minutes

Yield:

4 to 6 servings

Category:

Dinner

Cuisine:

American
Description
Easy, weeknight dinner with only one pan to wash.  One pan lemon chicken thighs are crisp and juicy with rich, flavorful wild rice.
---
Ingredients
3 tablespoons extra virgin olive oil
4 pounds bone-in, skin on chicken thighs (about 8 thighs)
8 to 10 springs of thyme
2 Meyer lemons, thinly sliced
1 Meyer lemon, zested and juiced
2 cloves garlic, minced
1 1/2 cups wild rice
1/4 cup dry white wine
2 1/2 cups chicken stock
2 tablespoons unsalted butter
---
Instructions
Season + Sear:  Preheat oven to 400°F.  Pat chicken thighs dry with paper towel and season skin side with salt and pepper.  On the stove top, heat olive oil in a large cast iron skillet over high heat.  Sear the chicken thighs skin side down for 5 minutes.  Turn chicken thighs and cook an additional 3 minutes.
Start the Rice:  Reduce heat to medium.  Transfer the chicken to a plate, and melt the butter.  Add the garlic and thyme – watch out for splatter if your thyme is wet.  Stir and cook for 30 seconds to perfume the thyme then add the rice, stirring until liquid is absorbed.
Finish + Combine:  Deglaze the pan with white wine, scraping the bottom of the pan with a wooden spoon or spatula.  Cook until almost all the wine is soaked up – about 2 minutes.  Add chicken stock, zest and juice of 1 Meyer lemon.  Stir to combine.  Slide the chicken thighs and any juices from the plate over the rice.  Top chicken with lemon slices.
Bake + Broil:  Bake for 20 minutes in a 400°F oven.  Broil on high for 5-10 minutes before serving to crisp skin and slightly char lemons.
Notes
If you don't have a cast iron, a large, deep sided skillet or dutch oven will work.  Just make sure the pan is both stove top and oven safe.
Meyer lemons are recommended for their sweeter taste but standard lemons can definitely be substituted.
Keywords: one pan dinners, chicken thigh recipes, Meyer lemons, easy dinner recipes
Recipe Card powered by