Blueberry lemon lactation pancakes are jam packed with super good goodness, bright lemon flavor with a pop of sweet, fresh blueberries all nestled into tender pancakes.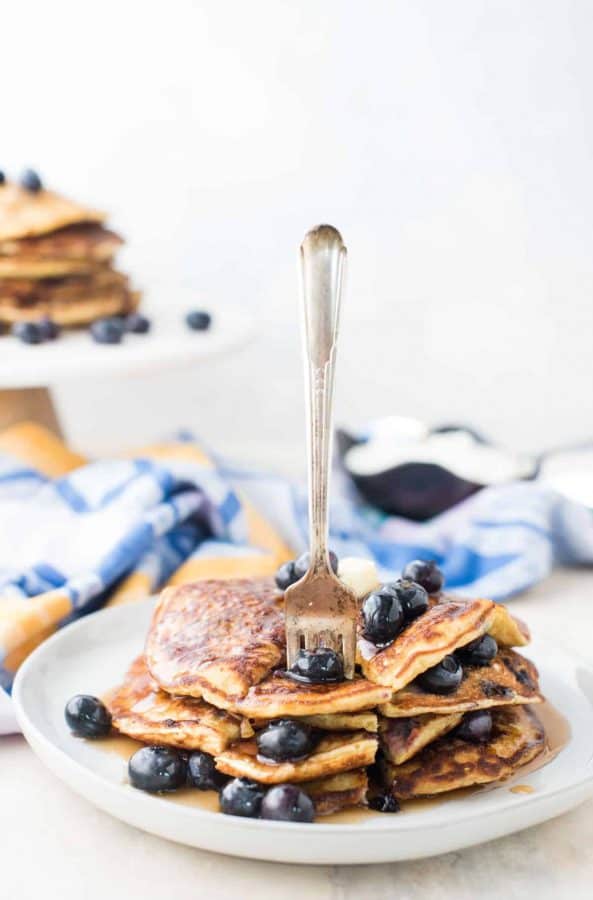 Disclaimer: you do not have to be breastfeeding to enjoy these pancakes.
Phew. Glad we got that out of the way. Blueberry lemon pancakes are like little clouds of breakfast heaven. Breakfast heaven that be can frozen and popped in the toaster or toaster oven for super quick, delicious morning eats.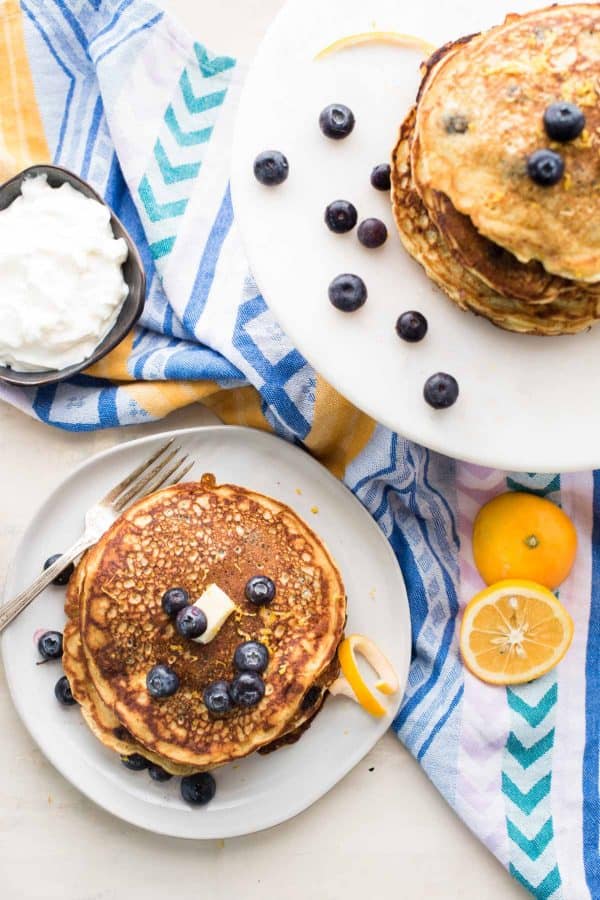 Now blueberry lemon lactation pancakes...well those are the same delicious bites of breakfast bliss but with some superfood extras to help out the new mamas. Totally optional and 100% delicious.
Lactation Eats
When Shea was born I'd make lactation cookies and definitely not tell people - such as my husband - it was perfectly fine for him to eat them too....because why share your cookies if you don't have to? Is that wrong of me?
While this girl loves a sweet treat cookie as much as the next (especially these lactation cookies from The Gingered Whisk) with a toddler to feed in the morning as well as myself I wanted less treats and more eats easily available. Hellooooo Blueberry Lemon Lactation Pancakes.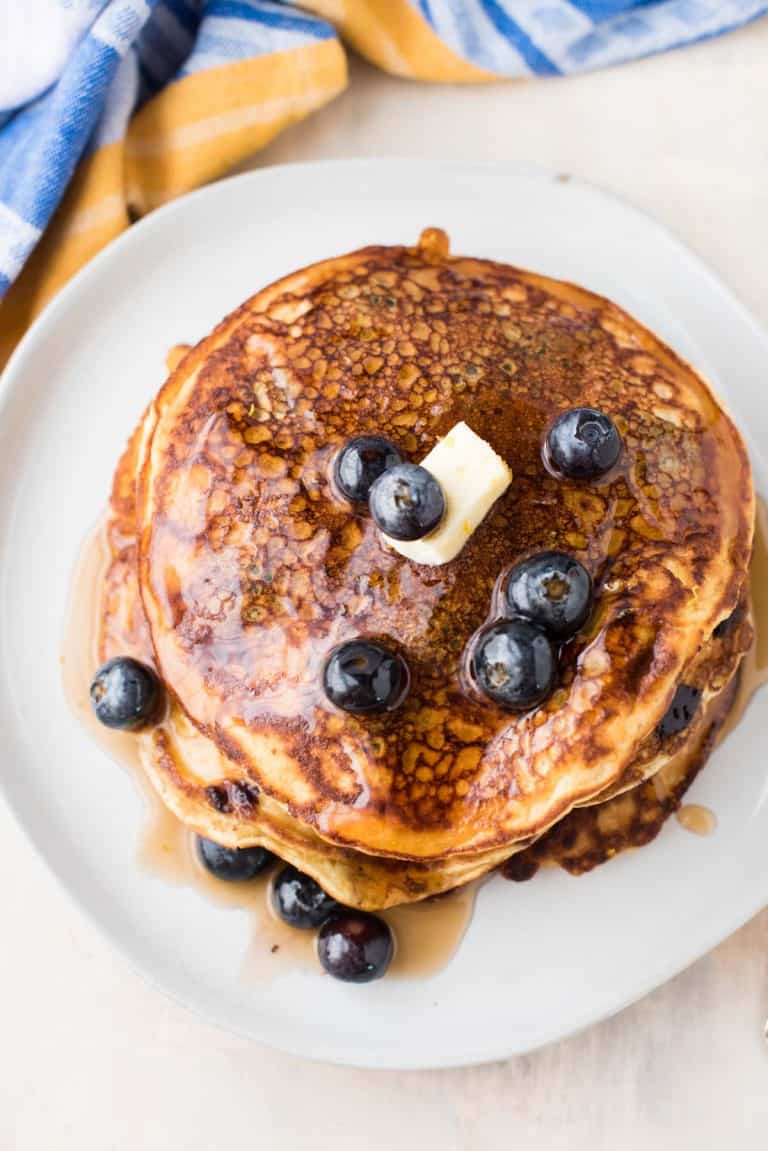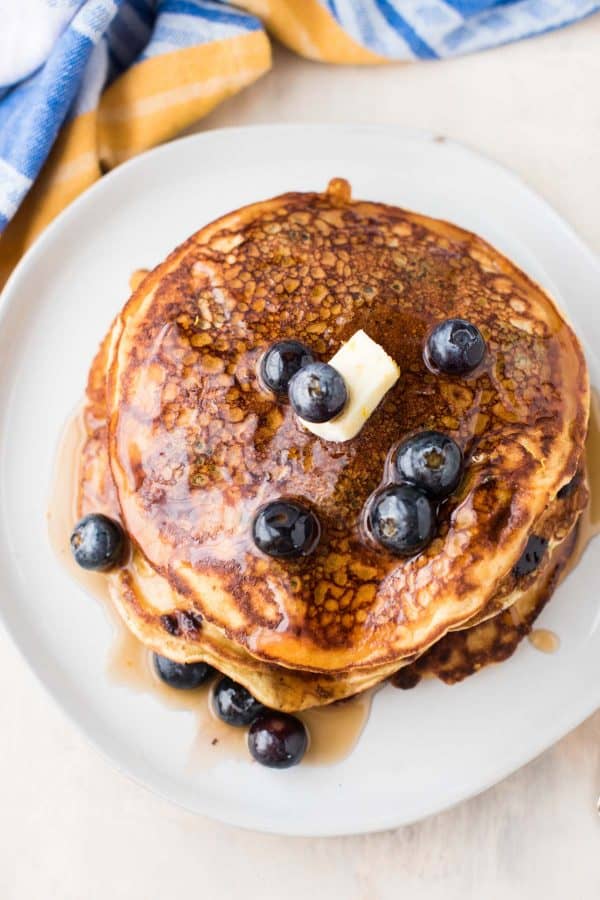 If you're a new mama or maybe you know a new mama that's breastfeeding, and you want to make her some deliciousness it's really easy to add lactation boosting goodness to just about anything. (Please keep in mind I am not a nutritionist or dietitian, this is what I have learned in my own time as a breastfeeding mama and in talking with my doctor.)
We can enjoy that these are just natural ingredients. You don't have to be a breastfeeding mama to eat lactation pancakes, but if you don't want to share you can totally keep that fact to yourself.
Blueberry Lemon Lactation Pancakes
Juicy, giant bluebs and sweet Meyer lemon in a fluffy, light pancake batter - that's a train we can all board right?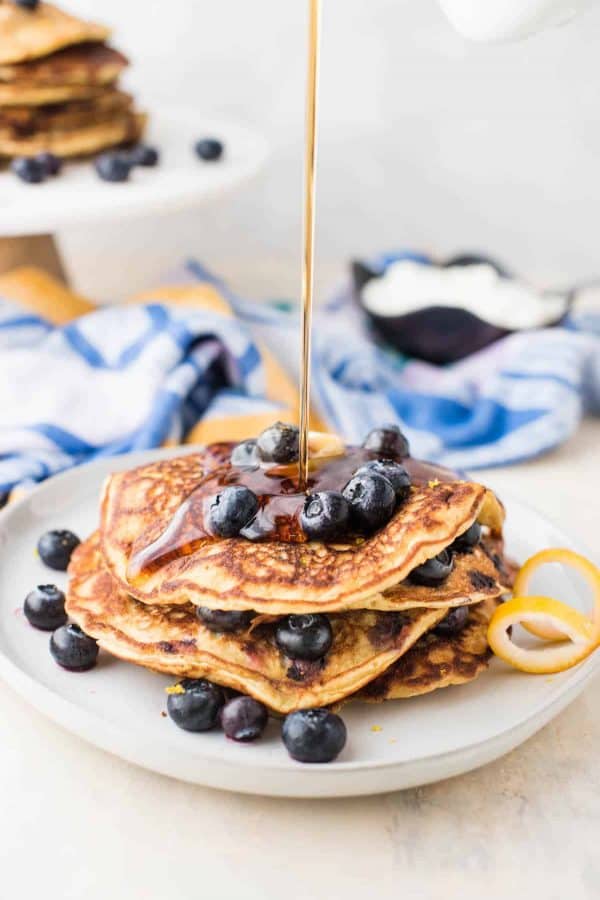 Personal preferences for making these pancakes include using up all my fresh picked (then frozen) blueberries, but you can use any blueberry that pleases you - fresh or frozen. Add the blueberries into the batter or on top of the pancake before you flip.
Meyer lemons have been my current obsession (we're putting this Meyer lemon pesto on everything.) They're sweeter than regular lemons and have such a perfect balance of natural acidity, citrus and sweet. If you can't find Meyer lemons, you can definitely substitute regular lemons, just see the note in the recipe about adjustments.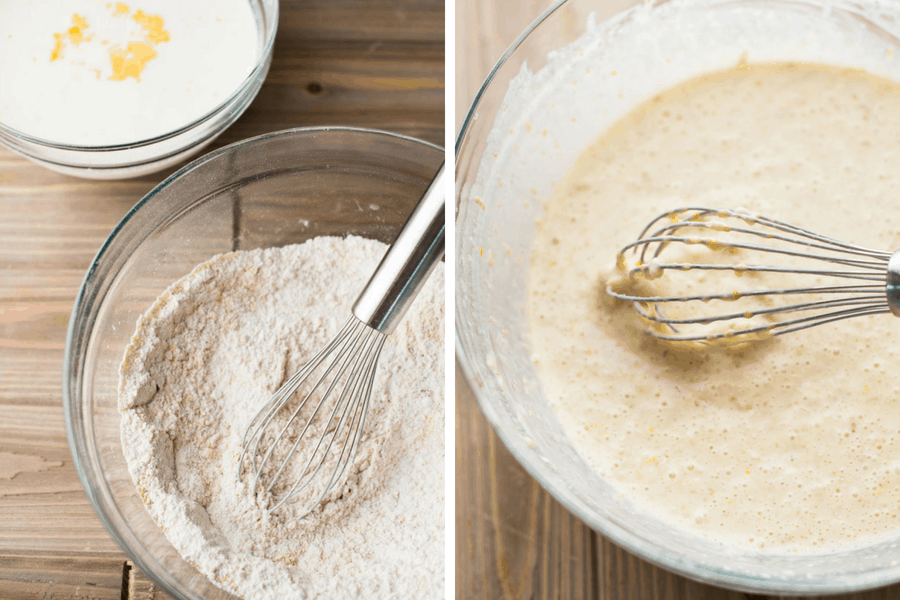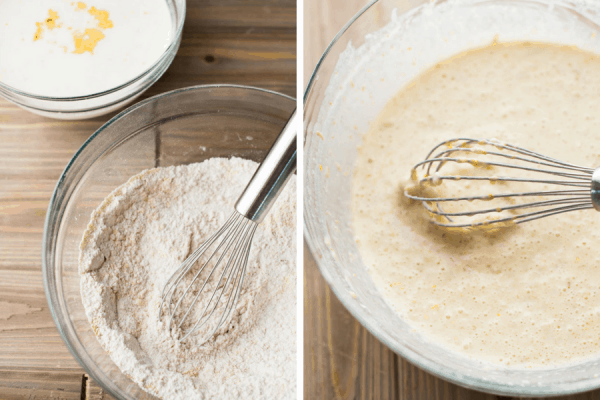 When you're whisking up a batch of these breakfast delights, start with two bowls so you can combine wet in one and dry in the other. While I truly love to live the 'one bowl life' by combining the lemon juice and milk first and letting it sit, you're essentially making cheaters buttermilk. Which is the best because then you don't have a mostly full container of buttermilk staring you in the face for 3 weeks until it goes bad and you throw it out without feeling guilty.
The batter should be lumpy. A thin batter equals dense pancakes and it also means more whisking, so do yourself a favor and do less work.
Then, how you enjoy your Blueberry Lemon Lactation Pancakes is totally up to you. Enjoy them on the spot with syrup. I like mine with a big dollop of yogurt when I'm not feeling syrup-y. Or make them ahead, stack them with pieces of parchment paper in between and freeze in a plastic storage bag for later!
Did you make this recipe? Be sure to tag me on instagram (@hungerthirstplay)! Share your favorite lactation recipes with me in the comments!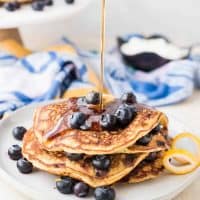 Blueberry Lemon Lactation Pancakes
Perfect for breakfast whether you're breastfeeding or not! These blueberry lemon lactation pancakes can be made ahead and frozen for a quick breakfast.
Print
Pin
Rate
Servings:
10
to 12 pancakes
Ingredients
2

cup

whole milk

(480ml)

4

tablespoons

fresh squeezed Meyer lemon juice (about 2 lemons)

(60ml )

2 ¼

cup

all purpose flour

(270g )

¼

cup

ground flaxseed

(28g )

2

tablespoons

brewers yeast

2

teaspoons

fenugreek

(optional)

1

teaspoon

baking soda

½

teaspoon

kosher salt

3

tablespoons

sugar

2

large

eggs

(lightly beaten)

zest of 2 Meyer lemons

4

tablespoons

unsalted butter

(57g, melted (plus more for griddle))

2

cups

fresh or frozen blueberries
Instructions
Zest + Juice: zest the Meyer lemons and set aside. In a medium bowl, combine the milk and Meyer lemon juice and let sit.

Dry Ingredients: In a large bowl, combine all the dry ingredients - flour, flaxseed, brewers yeast, fenugreek (if using), baking soda, salt, and sugar. Whisk together.

Wet Ingredients: Add the reserved lemon zest and lightly beaten eggs to the milk and lemon juice mixture. Whisk in melted (but not hot) unsalted butter.

Combine wet and dry:

Pour the wet ingredients into the bowl of dry ingredients. Whisk until just combined, the batter should still be lumpy. Let sit for 3 to 5 minutes before making the pancakes. If using frozen blueberries, you can add them to the batter now or top each pancake before flipping.

Heat + flip: Heat an electric griddle to 375°F or a cast iron or non-stick pan and brush with butter. Pour about ⅓ to ½ cup of batter onto the cook surface for a 6-inch pancake. Cook about 2 ½ minutes, or until you see bubbles start to form and the edges are cooked. Flip and cook another 60 to 90 seconds.

To freeze:

Stack the pancakes no more than 6 in a stack, with a small piece of parchment or wax paper between each. Carefully place into a plastic storage bag and press out as much air as possible without squishing the pancakes. Freeze for up to 3 weeks. To reheat, just pop into the toaster or toaster oven.
Notes
Regular lemons can be substituted for Meyer lemons but be sure to measure the lemon juice since the size may differ. Regular lemons are a bit more tart, so only use the zest of 1 lemon.
For more whole grains, try substituting half the all purpose flour with whole wheat flour.
Nutrition
Calories:
253
kcal
|
Carbohydrates:
35
g
|
Protein:
8
g
|
Fat:
9
g
|
Saturated Fat:
4
g
|
Trans Fat:
1
g
|
Cholesterol:
54
mg
|
Sodium:
271
mg
|
Potassium:
255
mg
|
Fiber:
3
g
|
Sugar:
9
g
|
Vitamin A:
287
IU
|
Vitamin C:
5
mg
|
Calcium:
81
mg
|
Iron:
3
mg