Have you ever just needed a hug from your food? A bite of something rich and hearty that gives you one of those good bear hugs but from the inside out. That's what we are doing here today. We're giving food hugs. And the source of the hug giver is this Fresh Herb Lasagna Bolognese.
Serious comfort food. There's something about lasagna that...I don't know...I just think about it and I want to put on sweatpants, pour a glass of wine and snuggle under a blanket on the couch. Granted that's usually how I feel about everything everyday, but especially lasagna.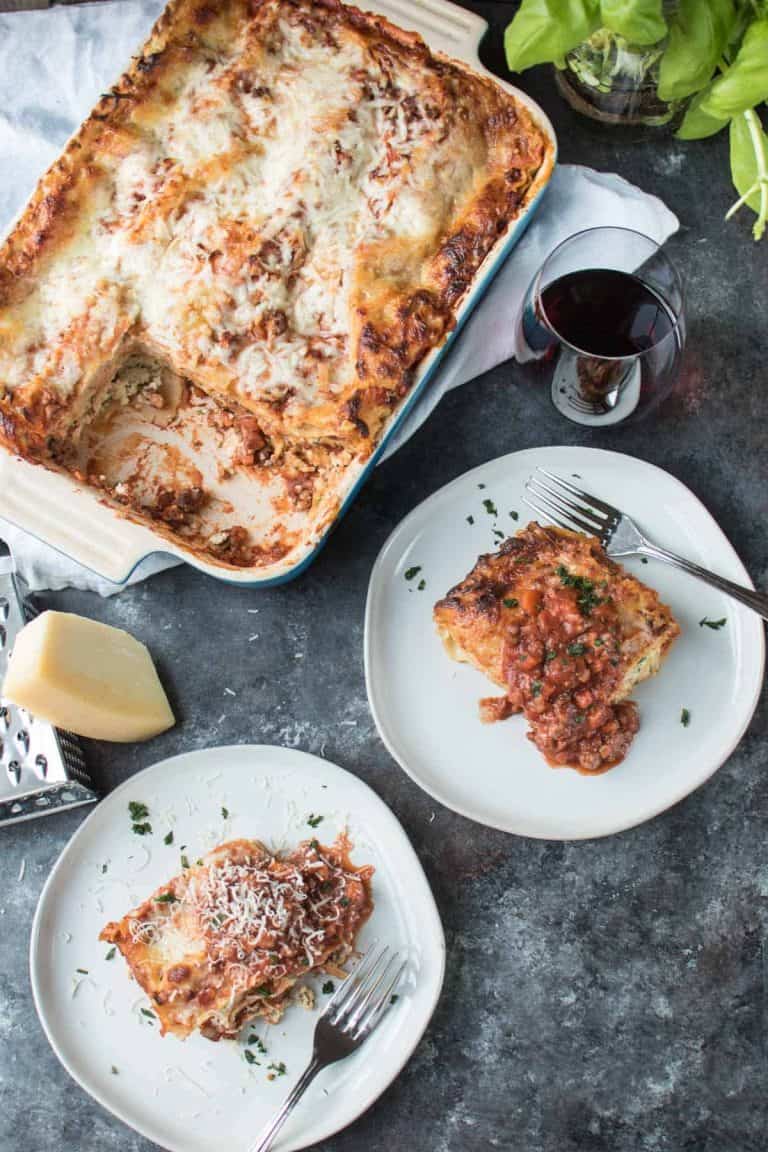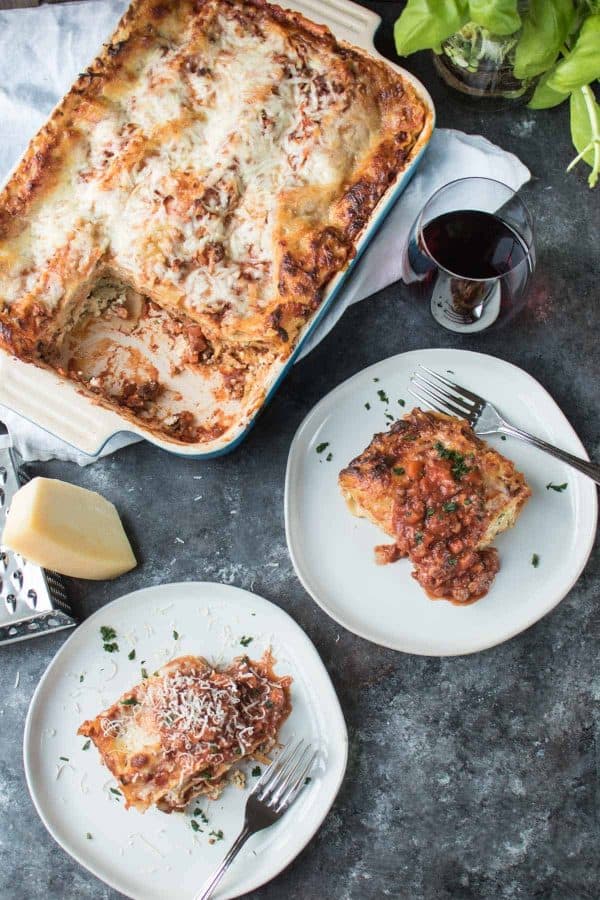 Part of the love of cooking lasagna is where the house is all warm from the preheating oven and the steam from the boiling water. The sauce can be smelled just as you're walking in the door. The richness of the meat, the aroma of the garlic and vegetables all sautéing in the pan. It's the build up to something really good that's about to go down. Down into your belly.
But we need to talk about something real quick. Lasagna is pretty standard. Noodles, ricotta, sauce. Right? WRONG. Besides upping the ante with lasagna bolognese, we're going to close the cabinet hiding the dried Italian seasoning and step our lasagna bolognese game up.
How? ????
Fresh. Herbs.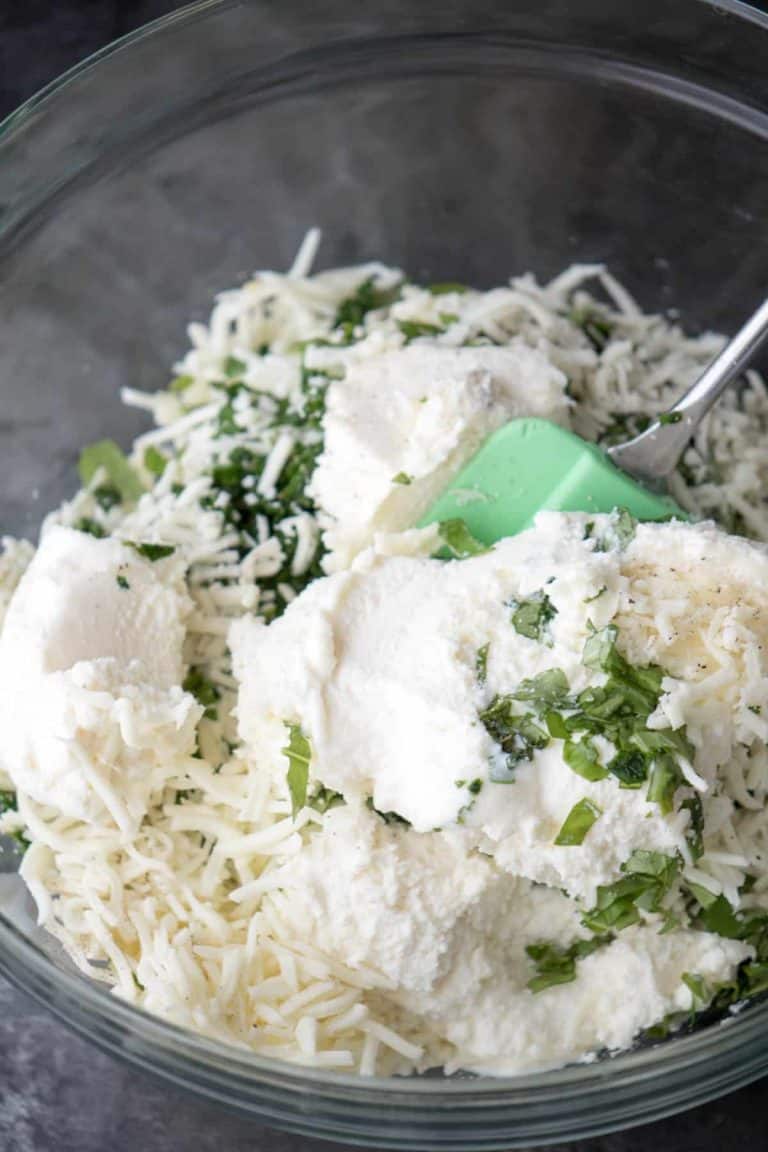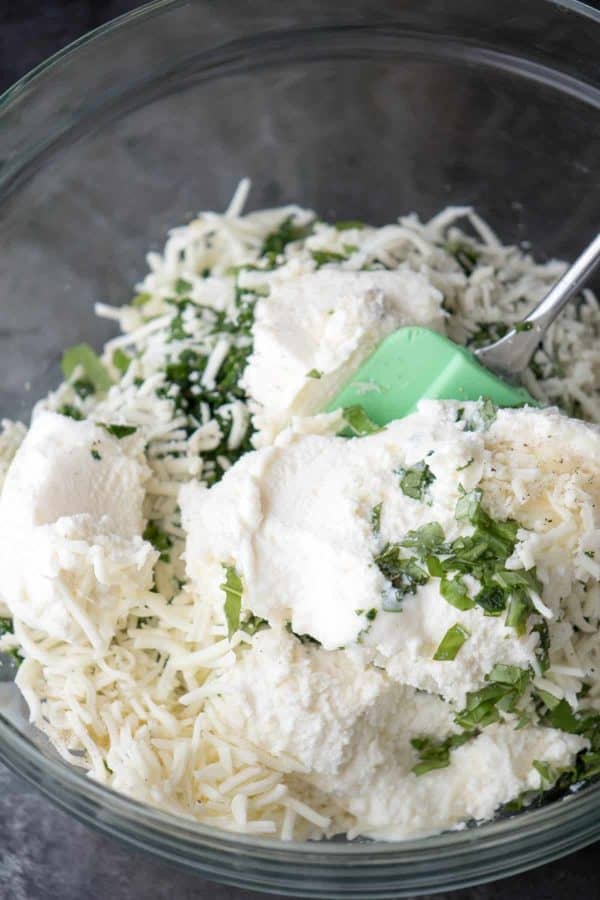 I know, I know...chopping fresh parsley...it's kind of the worst. It gets everywhere. It feels like your chopping forever. You either chop too much or not enough. But that's what makes this lasagna bolognese a step above. So get out your knives and pretend you're on an episode of Chopped and just get it done.
While fresh parsley is going to bring bright, clean flavors to the ricotta, we will rely on thinly julienned fresh basil to pack that sweet and fragrant herb taste for a contrast of flavor that also pairs well.
Lasagna Bolognese
You know how everyone has those few certain items in their pantry/fridge/freezer. Welp, you got me, I always have stuff for bolognese sauce. Pancetta. Always pancetta in the freezer. Pancetta is a salty cured pork that adds so much flavor to soups, vegetables and sauces. Tip: Keep it in the freezer and (carefully!) slice off ¼" pieces to chop when you need it.
Then you just need a little onion, carrot and celery, garlic, ground beef and sauce. That's normal to always have at the ready....right? Even if its not, you should pick it up and make this Fresh Herbed Lasagna Bolognese.
Love the idea of bolognese but just can't commit to the time for lasagna? Get the quick version with this Snow Day Bolognese with Tagliatelle Pasta. Same sauce, less cheese, faster eats. All for the same levels of comfort.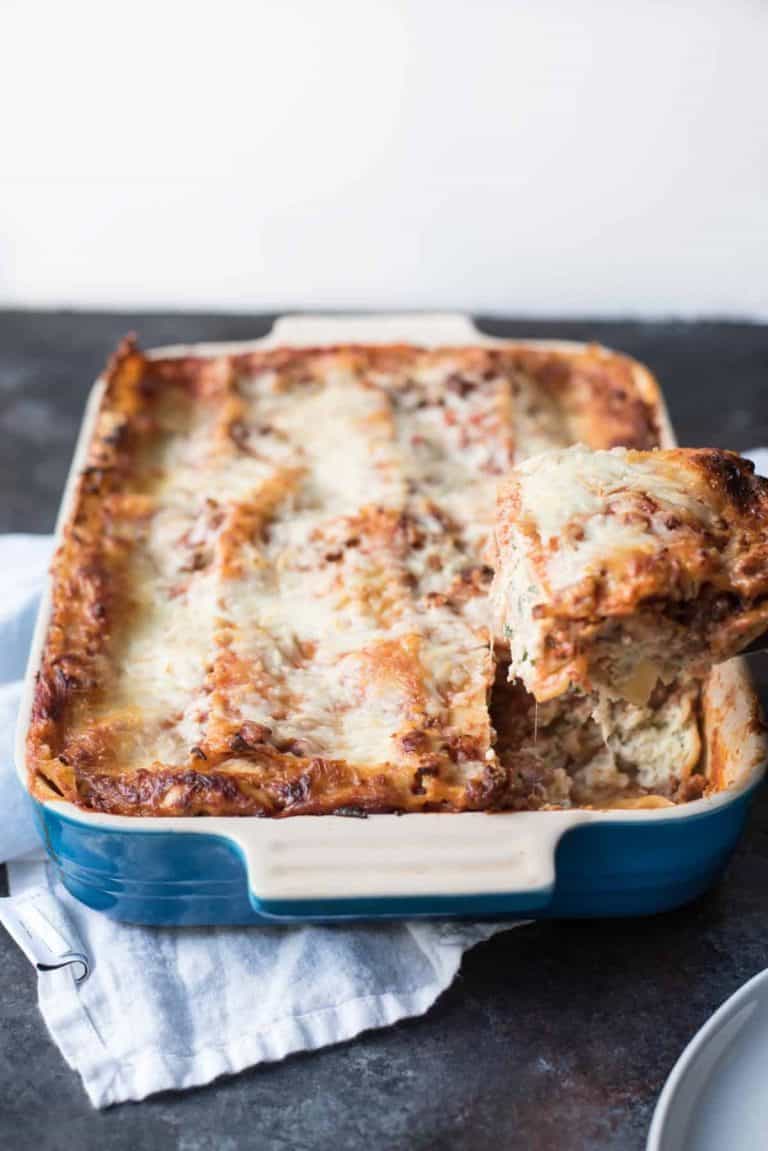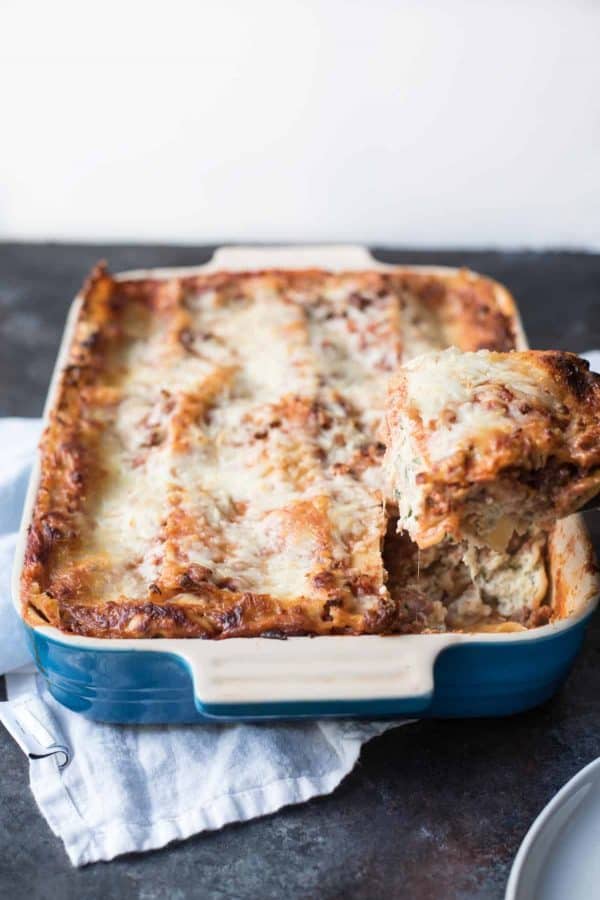 Multitasking your way to Lasagna happiness
Let's not lie to ourselves. There's a lot going on when you're making lasagna. It's not complicated, but you've got sauce to make, pasta to cook and ricotta filling to mix together. Here are a few tips for making Lasagna Bolognese life a little less complicated:
Start boiling your pasta water first. ADD SALT.
Chop up all your veggies first and set aside. As those are sautéing you can chop up the pancetta. Or do that in advance if you're worried about forgetting to stir your veggies.
Open your sauce cans in advance so you can add them right away.
If your lasagna noodles are done cooking before you are ready for them. Drain from the water and lay them flat on plastic wrap or parchment paper. This will make them easier to pull apart without tearing.
Divide your ricotta mixture into 4 equal amounts so you know exactly how much you'll need for each layer.
Buy pre shredded cheese, because life is busy and we want lasagna bolognese asap. But for a smooth cheesy layer on top, you'll want to grate that yourself. So the choice is yours.
To evenly spread the ricotta, add dollops over the noodles, then spread.
And the last and final tip...save any leftover sauce to top your hot and ready Fresh Herb Lasagna Bolognese for maximum flavor points. Dibs on the corner piece.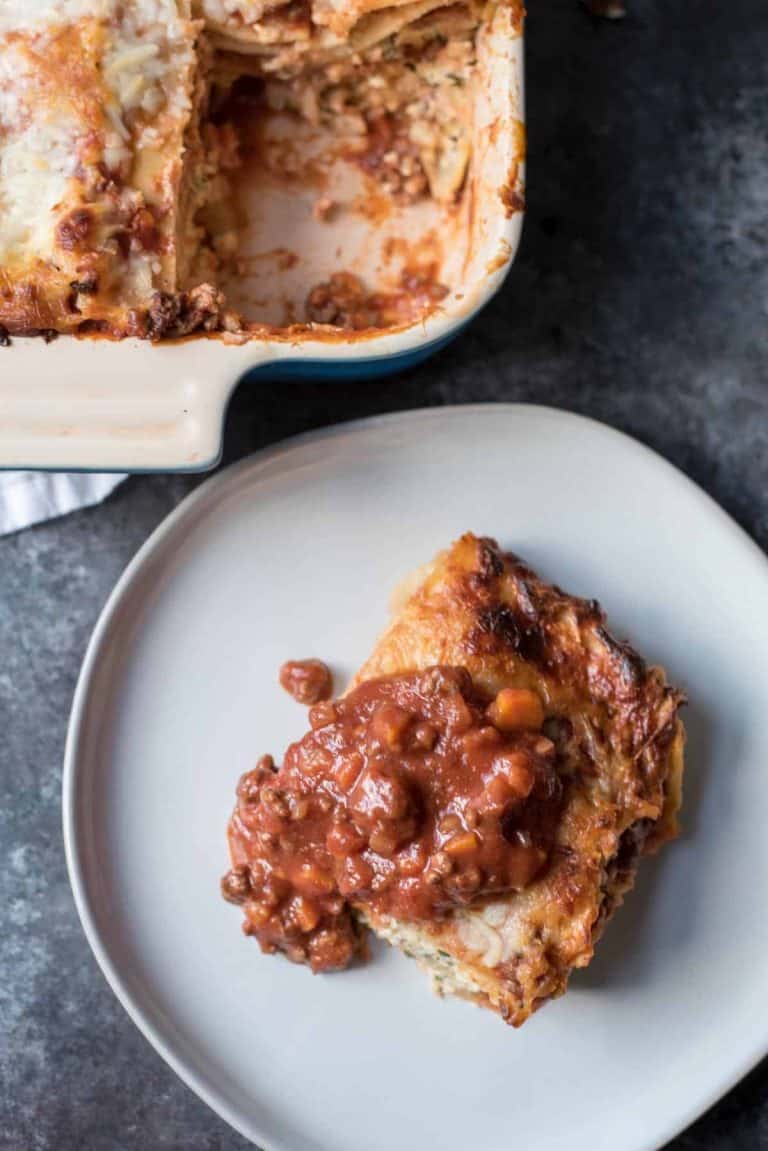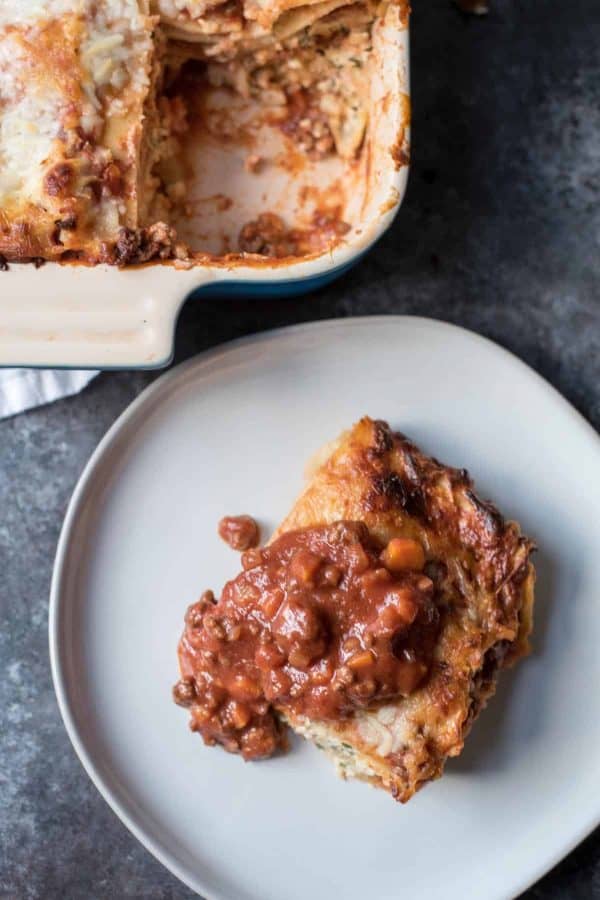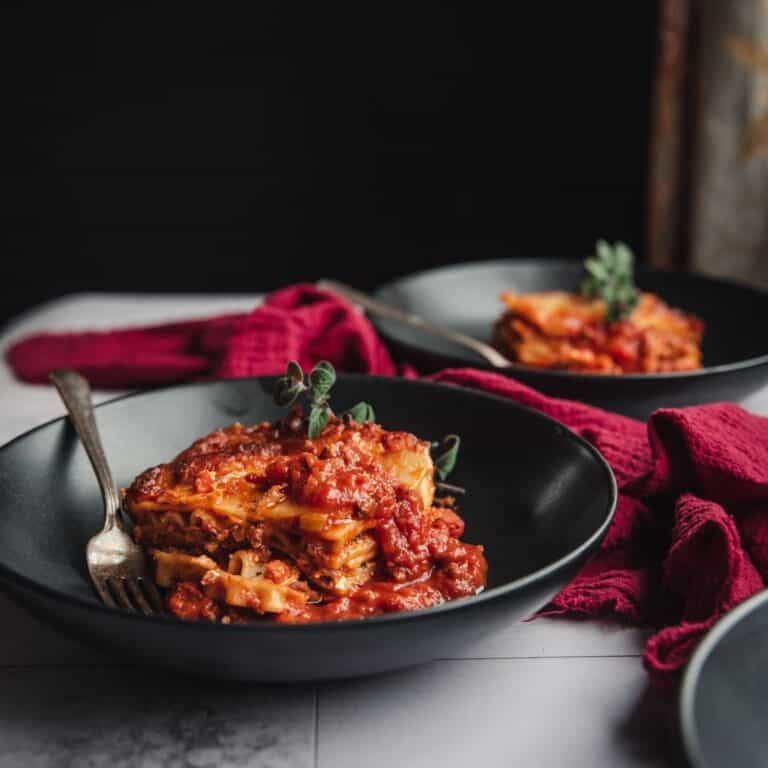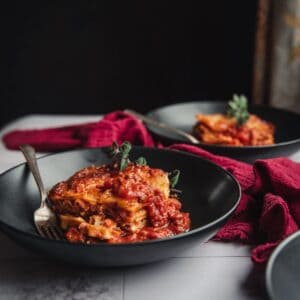 Lasagna Bolognese
Lasagna Bolognese that's rich, hearty and packed with fresh herbs and layered with cheesy ricotta between bites of tender pasta.
Print
Pin
Rate
Servings:
12
to 15 servings
Ingredients
Bolognese Sauce
1

yellow onion

(finely diced)

1

medium carrot

(peeled and finely diced)

1

celery stalk

(finely diced)

3

cloves

garlic

(minced)

3

tablespoons

neutral oil

2

ounces

pancetta

(diced)

1

pound

ground beef

⅓

cup

red wine

4½

cups

marinara sauce

(about 1½ jars)

2

tablespoons

tomato paste

1

teaspoon

salt

½

teaspoon

ground black pepper
Fresh Herb Lasagna Bolognese
1

pound

lasagna noodles

1

32-ounce container

whole milk ricotta cheese

2

tablespoons

fresh chopped parsley

2

tablespoons

fresh julienned basil

½

teaspoon

salt

¼

teaspoon

ground black pepper

1

cup

parmesan

(divided)

3

cup

whole milk mozzarella

(grated, divided)

2

large eggs
Instructions
Prepare the bolognese sauce:

In a deep sided skillet, heat oil over high heat. Add onion, carrots, and celery and sauté over high heat for 3 minutes. Incorporate the garlic to the pan and continue to cook for 1 minute, stirring frequently.

1 yellow onion,

1 medium carrot,

1 celery stalk,

3 tablespoons neutral oil,

3 cloves garlic

Cook the pancetta with the sautéed vegetables for 2 minutes before adding the ground beef. Using a wooden spoon or spatula, break apart the ground beef as it cooks and season with salt and pepper.

2 ounces pancetta,

1 pound ground beef,

1 teaspoon salt,

½ teaspoon ground black pepper

When beef is about 90% cooked through (about 3 minutes), deglaze the pan with red wine. This will take about 1 minute for the wine to start reducing.

Reduce heat to medium and add the marinara sauce, tomato paste, salt, and pepper to the pan. Stir well to combine.

4½ cups marinara sauce,

2 tablespoons tomato paste

Reduce the heat again to low and simmer for 5 minutes. After the 5 minutes of simmering, remove from heat and set aside until you're ready to build the lasagna. The sauce can also be made in advance.

Prepping the pasta: Bring a large stock pot of water with a generous amount of salt (about 2 to 3 teaspoons) to a bowl over high heat. When the water boils, cook pasta until al dente - every brand is different, follow the package recommendations. While the pasta cooks line a sheet pan with clean kitchen towels plus have a few extra on hand. Drain the cooked pasta and layer on the clean kitchen towels in single layers.

Make the ricotta filling: In a large bowl, combine the whole milk ricotta, parsley, basil, salt and pepper. Add half the parmesan, and half the shredded whole milk mozzarella, and eggs to the bowl. Mix well with a spatula to combine.

1 32-ounce container whole milk ricotta cheese,

2 tablespoons fresh chopped parsley,

2 tablespoons fresh julienned basil,

½ teaspoon salt,

¼ teaspoon ground black pepper,

1 cup parmesan,

3 cup whole milk mozzarella,

2 large eggs

Assemble: Preheat oven to 375°F. In a 9x13 deep sided baking dish, lightly coat the bottom with a thin layer of bolognese sauce. Layer three lasagna noodles side by side and one noodle perpendicular on the top (noodle may need to be cut or you can press it up the side.) Carefully spread your first layer of ricotta filling by taking small spoonfuls of your reserved amount and making dollops over the noodles. Then use a spatula or the back of a large spoon to spread it as evenly as possible. Top with 1 to 1 ½ cup bolognese sauce and lightly spread over the cheese mixture. Top with lasagna noodles and repeat the ricotta and sauce layers 3 more times.

For the last layer of noodles, top lightly with bolognese sauce. Sprinkle with remaining parmesan and mozzarella. Any leftover bolognese sauce should be served with cooked pieces lasagna bolognese.

Cook: Cover with aluminum foil and bake for 25 minutes in a 375°F oven. Remove foil and bake for an additional 25 minutes. After baking, let rest for 5 to 10 minutes to let the cheese mixture set up for easier slicing. Top each slice with reserved bolognese sauce.
Notes
Neutral oil - this can be canola, vegetable, avocado, or coconut oil. You can also use olive oil if that's what you have on hand. A neutral oil is most common for high-heat sauteing of vegetables, but don't overthink it, use what's easily available to you.
Deglazing with wine just means adding the wine to the hot skillet and using your spatula or spoon to scrape the bottom of the pan. Any flavors from the rendered meat that was stuck to the pan will come off and cook into the sauce as the wine reduces.
Highly recommend going for whole milk mozzarella and grating by hand so the top layer melts evenly without the pre-shredded lines.
Sauce and lasagna can both be made in advance. Follow the instructions to just before the cooking stage. Cover tightly and store in the fridge or freezer. Let thaw completely before baking.
Nutrition
Calories:
452
kcal
|
Carbohydrates:
37
g
|
Protein:
24
g
|
Fat:
23
g
|
Saturated Fat:
9
g
|
Polyunsaturated Fat:
2
g
|
Monounsaturated Fat:
9
g
|
Trans Fat:
0.5
g
|
Cholesterol:
85
mg
|
Sodium:
1131
mg
|
Potassium:
583
mg
|
Fiber:
3
g
|
Sugar:
6
g
|
Vitamin A:
1660
IU
|
Vitamin C:
9
mg
|
Calcium:
281
mg
|
Iron:
3
mg