Creamy, rich cheese and herb-filled shell pasta baked in a hearty and robust meat sauce. Ricotta Stuffed Shells with sausage marinara is a simple comfort food meal that wows and can feed a crowd.
If you're a lover of lasagna or any other ricotta-style pasta this is a must-try! With savory sausage, tender shell pasta, and plenty of cheese, these stuffed shells are a home run recipe.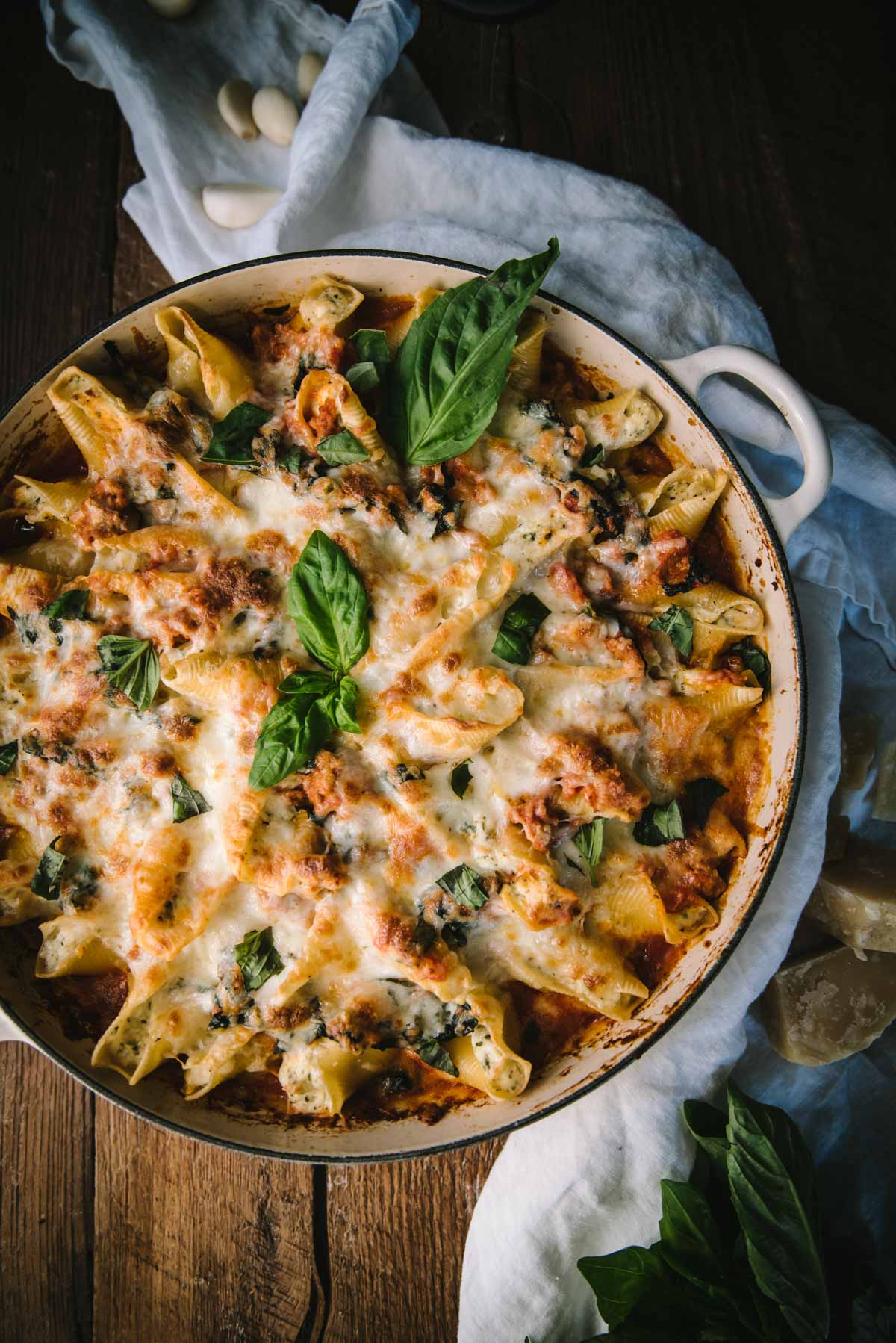 Why I Love Easy Stuffed Shells with Ricotta
Is it just me or do we not truly appreciate ricotta until we get older?
It was never a go-to on my list of soft and creamy cheese, but thank goodness my taste buds worked themselves out and came to their senses because ricotta is delicious!
Mild and creamy, it can be the star of the show or just an added boost of richness. You can add it to your pancakes, slather it on toast, boost up your pesto pasta, use it in pastries, layer it in lasagna…..you get the point.
Ricotta is versatile and oh, so tasty. Just like these Ricotta Stuffed Shells!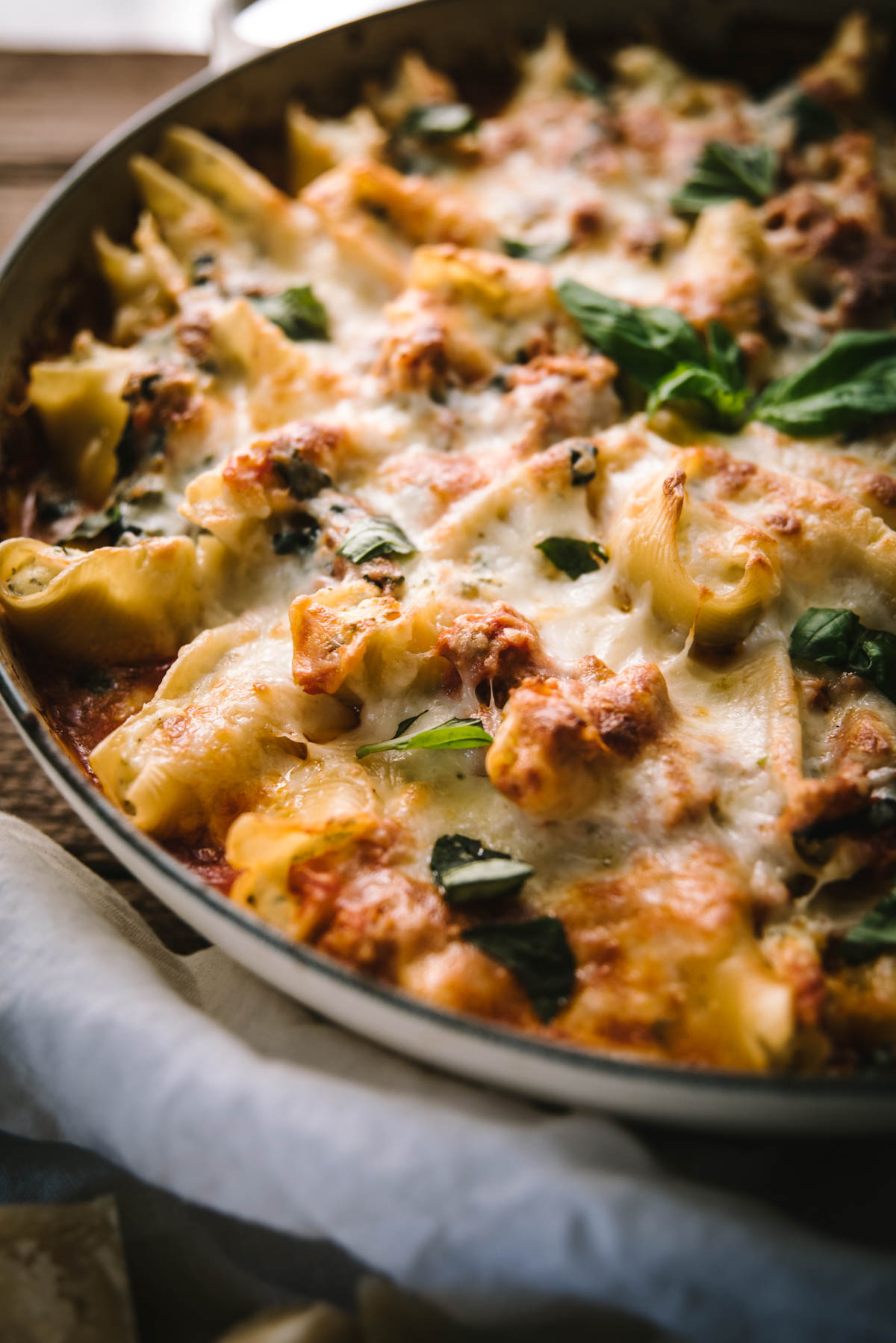 Authentic Italian Stuffed Shells
These Ricotta Stuffed Shells are so easy to make and today, ricotta is going to be the star of the show along with some supporting cheeses - looking at you parmesan and mozzarella. Then stuffed into perfectly cooked jumbo shell pasta.
Next to the deliciousness of the stuffed shells is the flavors of this simple meat sauce!
Lots of perfectly spiced sausage and sautéed greens so there's perfect texture and taste in each bite.
Ingredients and Substitutions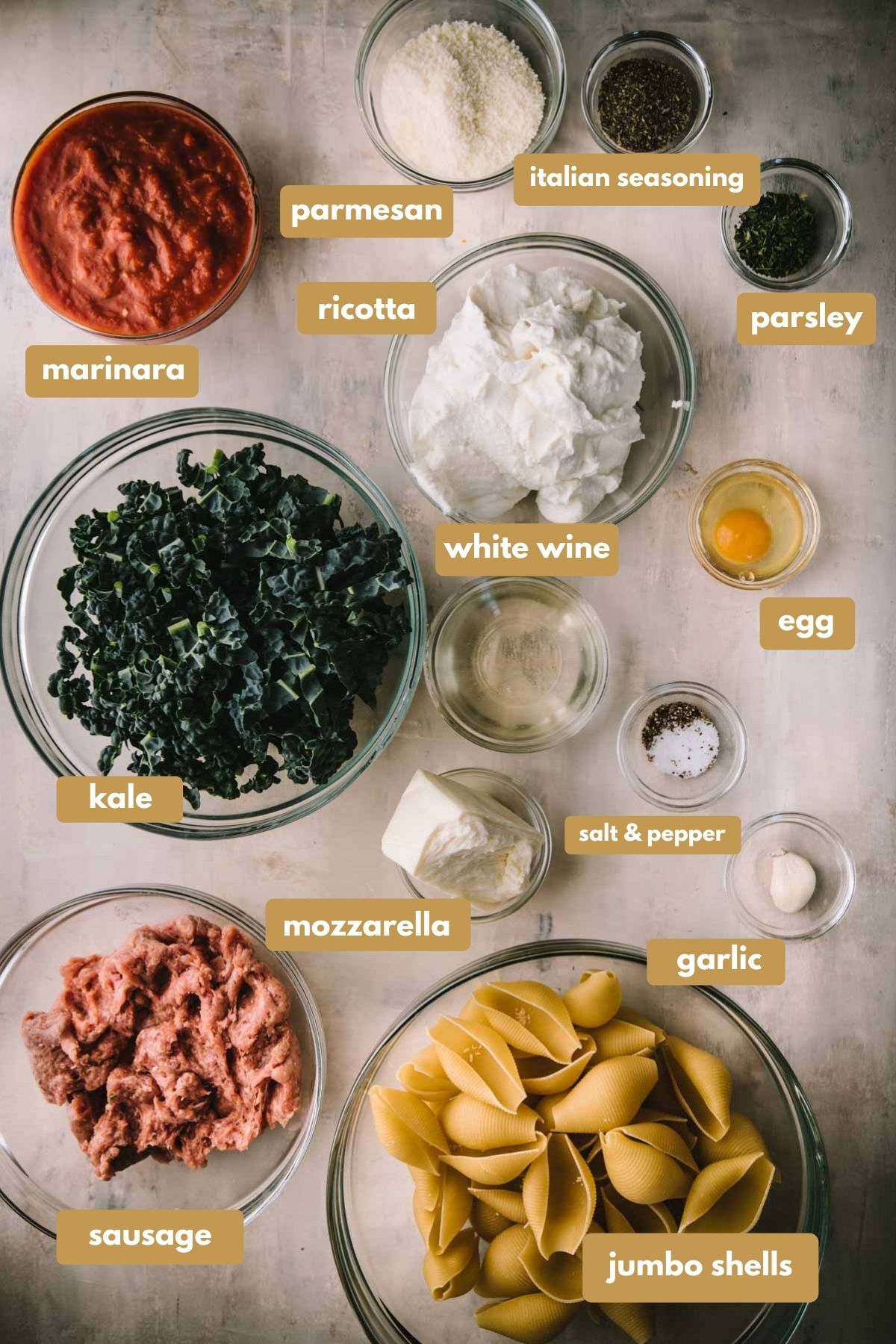 This dish doesn't require any fancy tools or techniques, or even special ingredients. Once it's built you can simply enjoy it.
As always, I have included as many substitutes as possible to make sure these Ricotta Stuffed Shells can be enjoyed by everyone!
Ricotta cheese is a delicious star in this recipe! It's simple, and creamy and lends itself so nicely to the sausage meat sauce.
I love the whole milk ricotta as it's extra rich in flavor, but you can use part-skim or even dairy-free ricotta! Any hard cheese will work in place of the Parmesan, like Romano.
Whole milk mozzarella is the cheesiest option, but pre-shredded mozzarella or a blend of shredded Italian cheese works too
If kale isn't your thing, don't worry, spinach makes a great substitute. Use bagged savoy spinach instead of baby spinach since it's a little heartier.
You can skip the sausage and kale and just use some jarred sauce (Rao's is my favorite) to make this vegetarian and super fast.
You can also swap the pork sausage meat for chicken or turkey sausage if you prefer. Or, of course, you can completely leave the sausage meat out if you are vegetarian or use a meat-free sausage.
How Do You Make Stuffed Shells?
While there are a few steps to complete until you can taste your stuffed Italian pasta masterpiece, everything you need to do is very simple.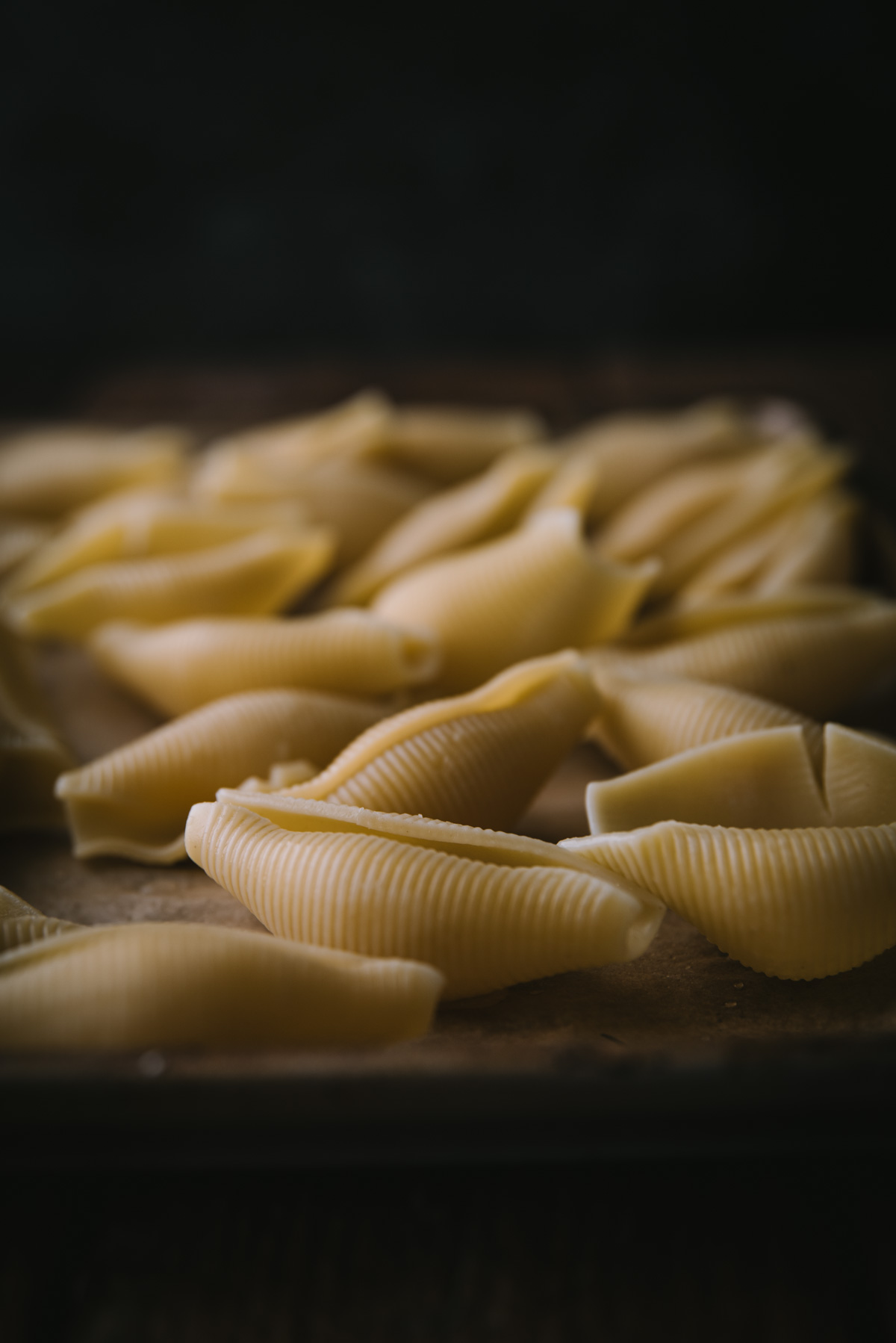 Cook the pasta to just al dente - even a little under is ok, just don't overcook! Let them cool on parchment-lined sheet trays.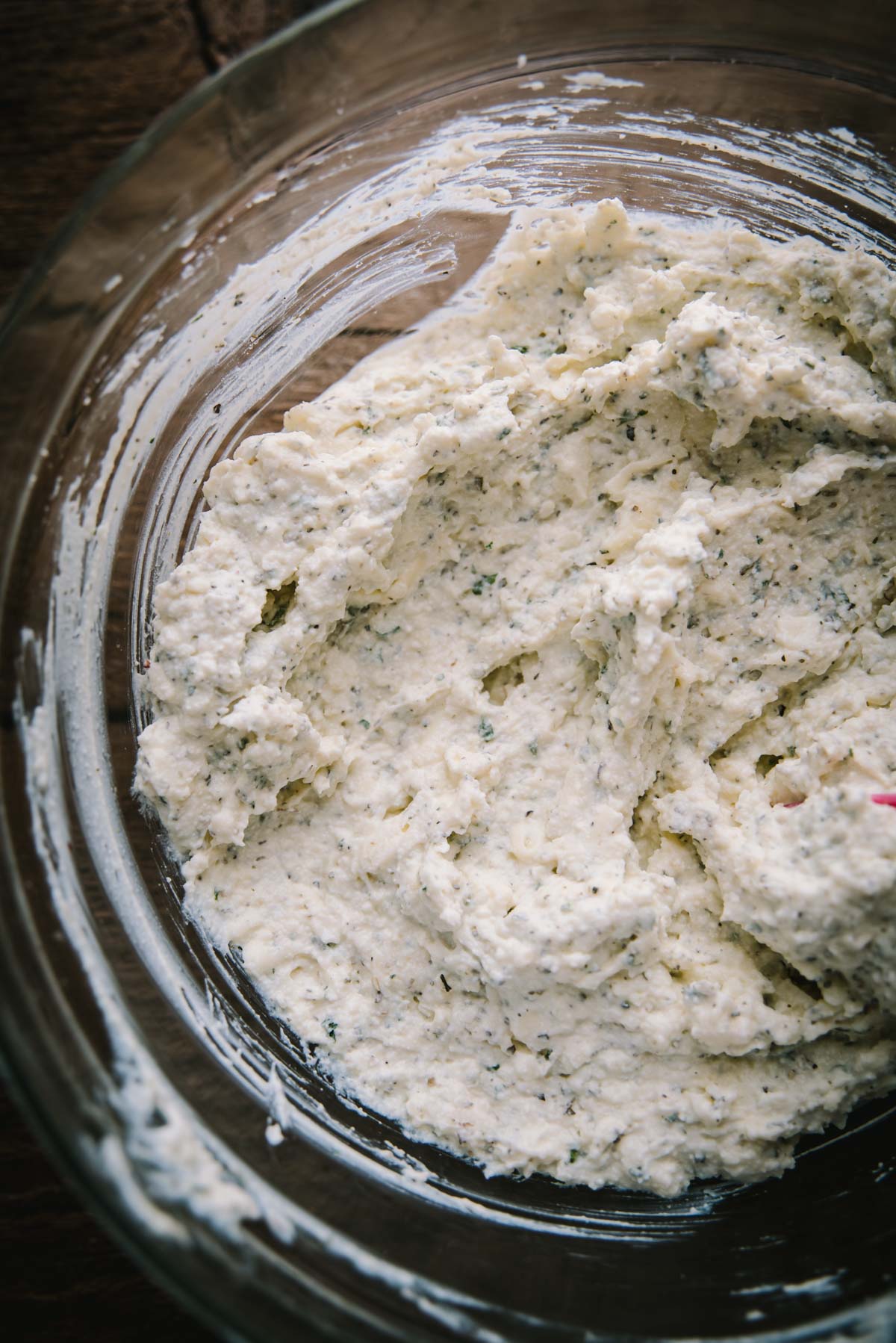 Mix the cheeses, seasoning, and egg to make the ricotta and cheese stuffing.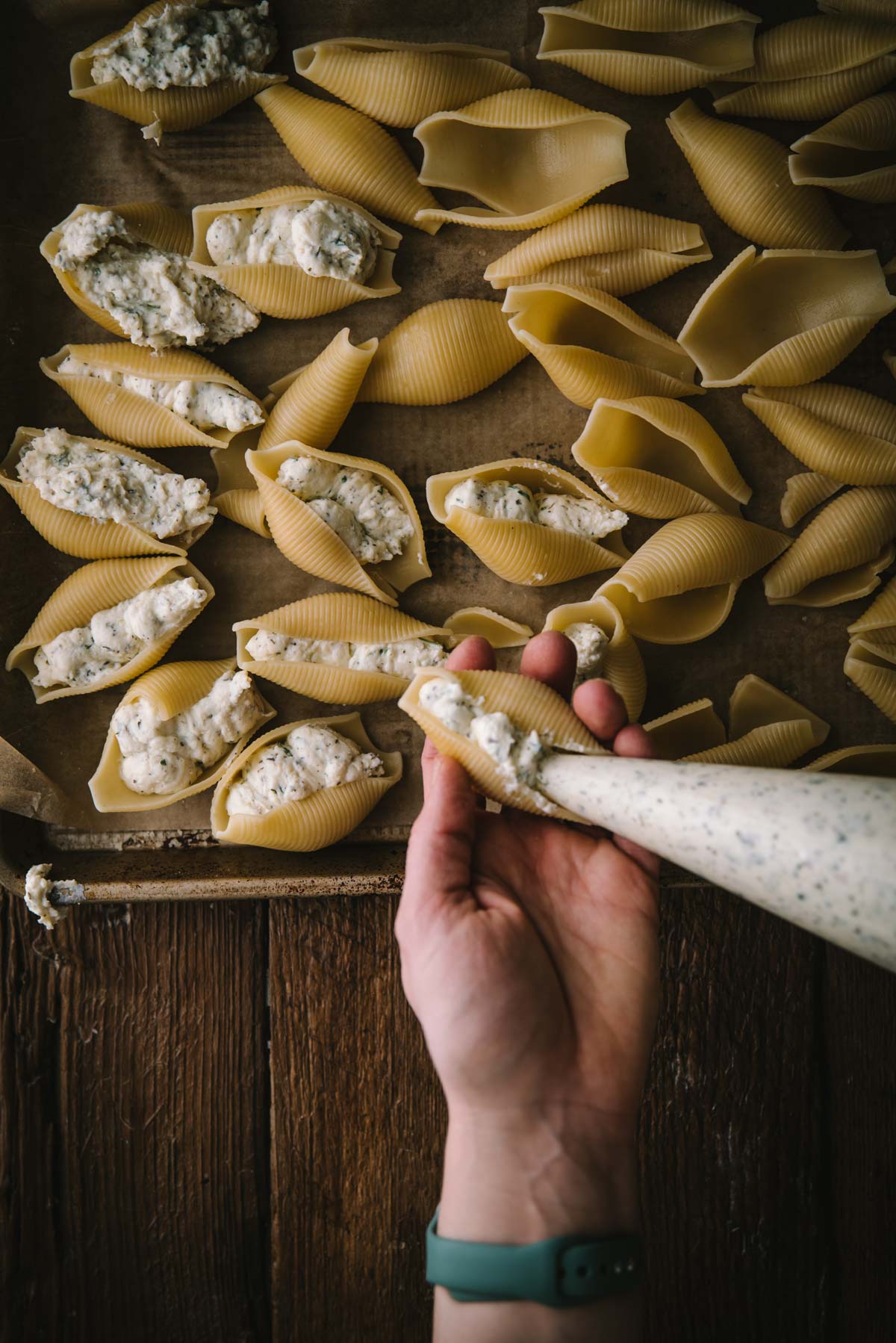 Stuff the shells. A piping bag - or plastic bag with the end cut off - works great for this!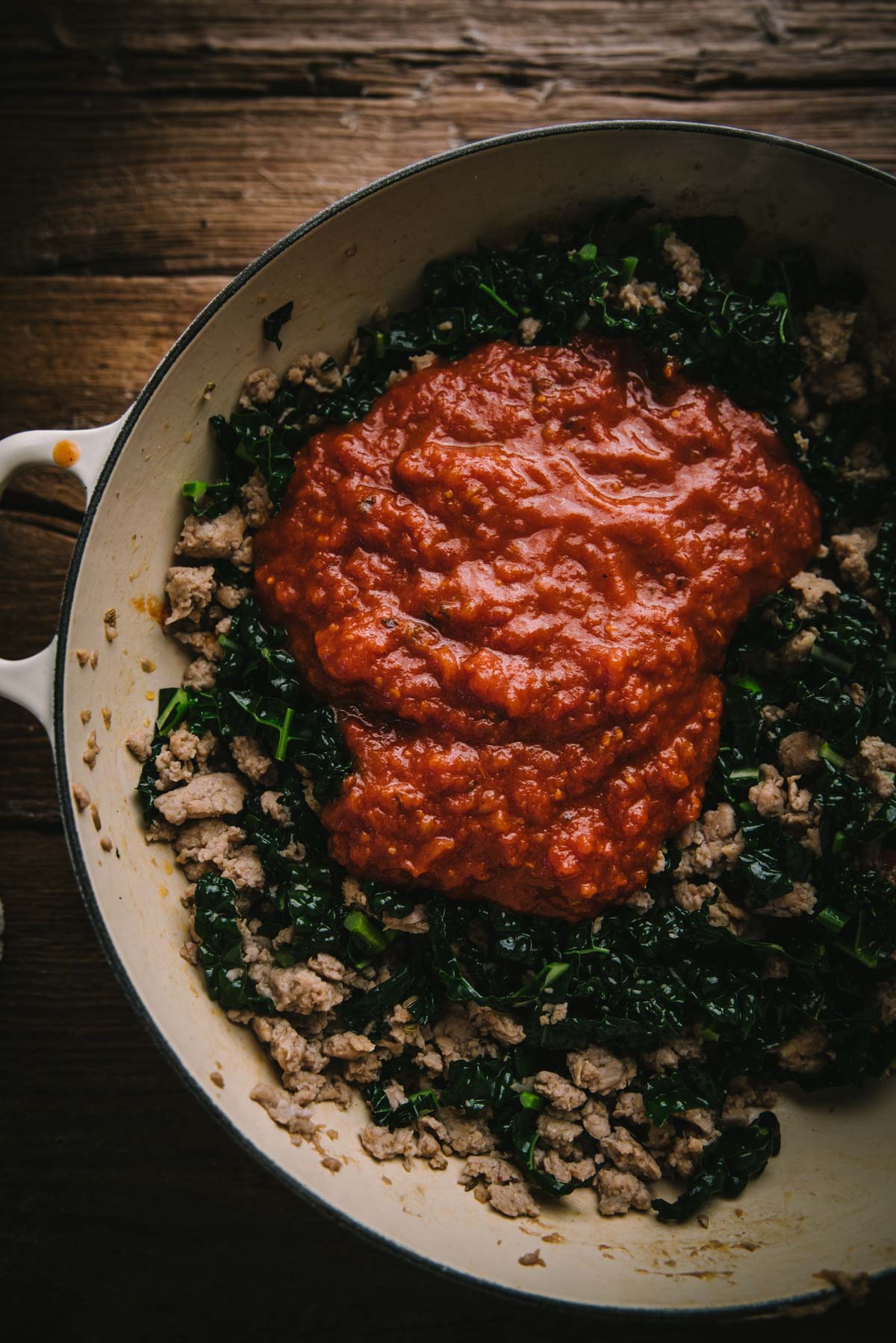 Make the sauce in an oven-safe pan. Reserve 1 cup of the sauce.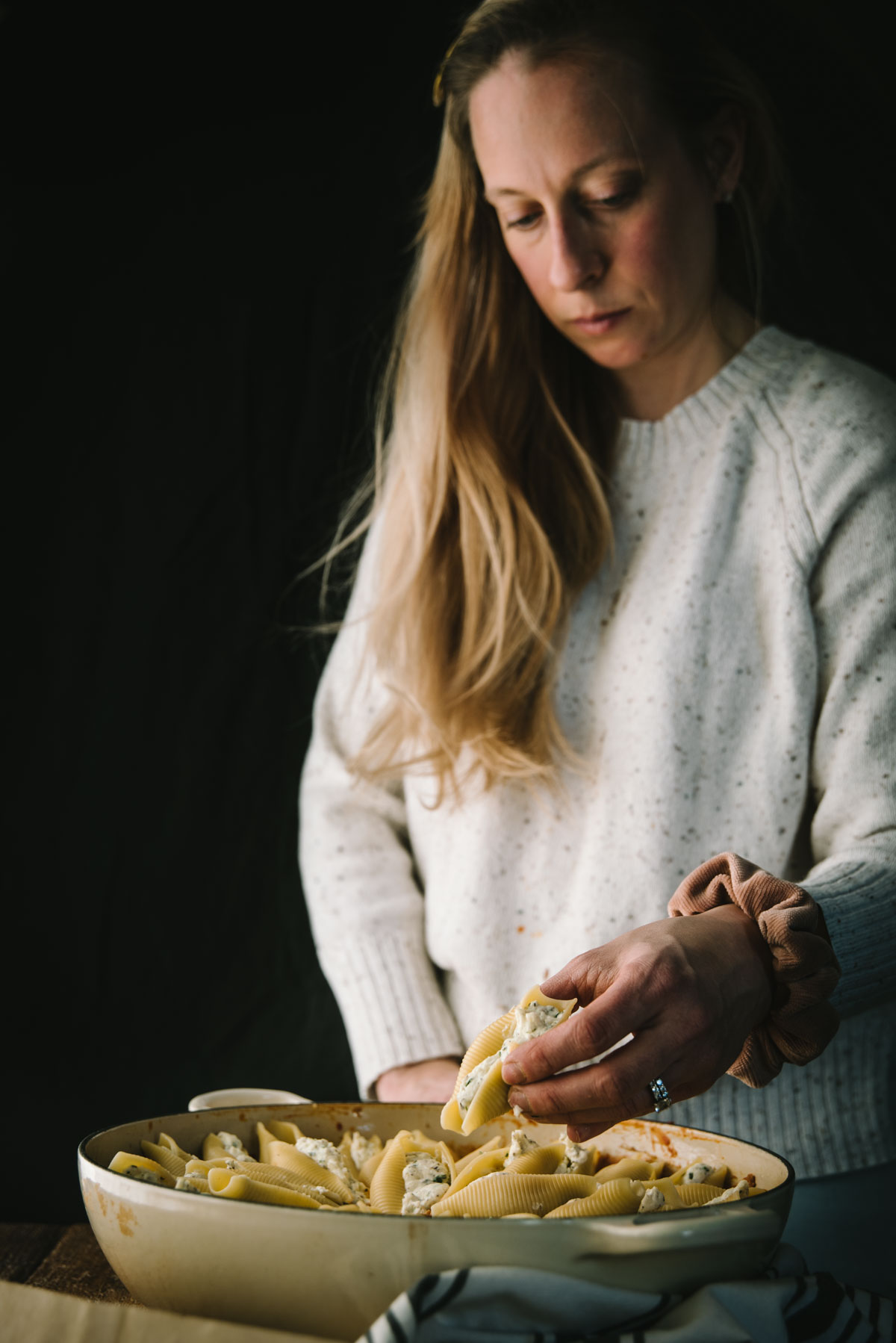 Layer it all together in an oven-safe pan. Sauce, shells, sauce.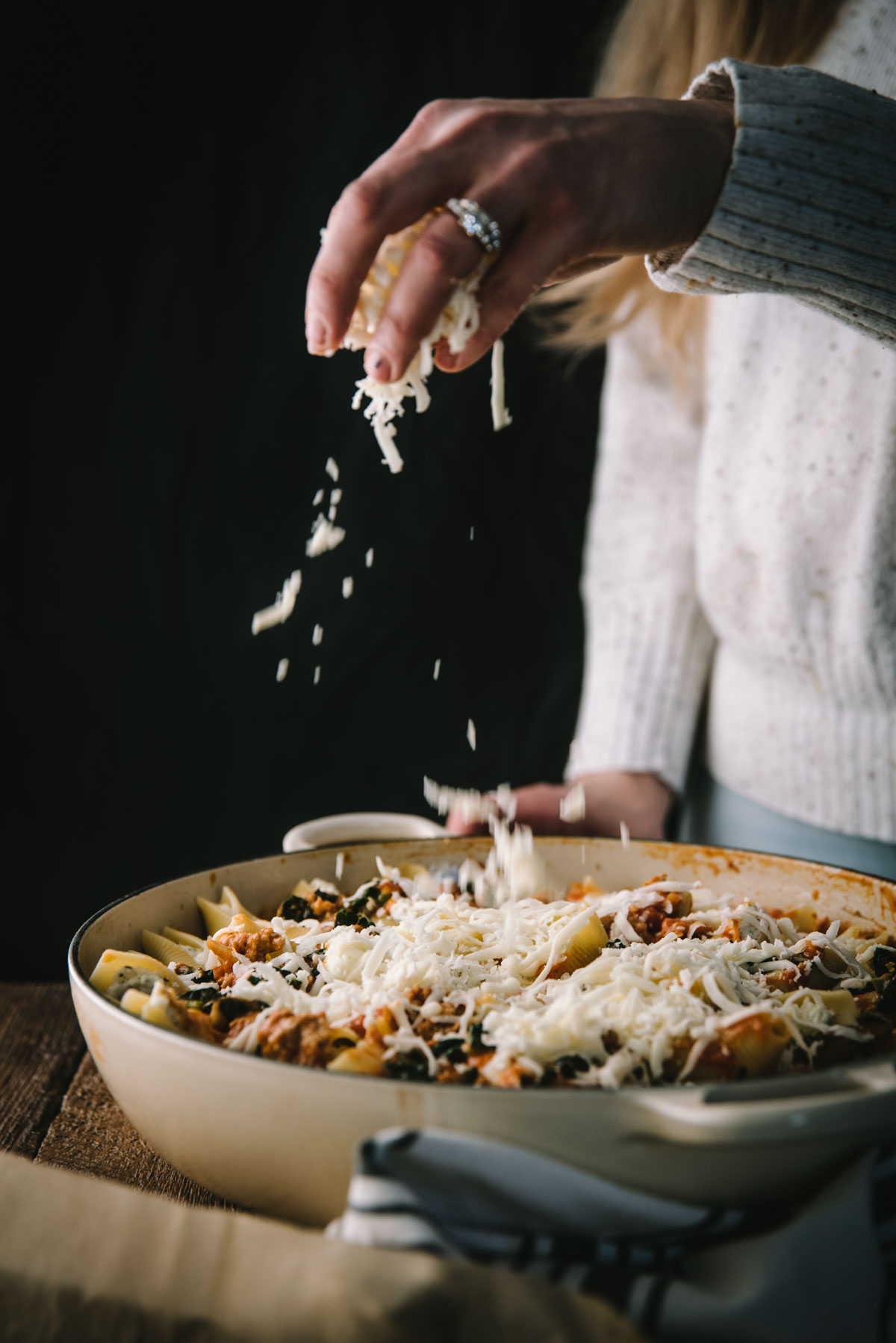 Sprinkle the top with extra cheese and bake it for maximum deliciousness.
Not bad right?
Tips and Tricks
Don't overcook the pasta!
In fact, you can even undercook it a minute or two by what the package instructions recommend. The pasta will still be baking in the oven so it'll be perfectly al dente with the extra baking time.
Use your biggest pot to boil the water or cook the shells in two batches so they don't stick together during cooking.
Spread the cooked shells onto a parchment-lined sheet tray to cool before stuffing. This will make them easier to handle, but also prevent them from sticking and overcooking.
Season the pasta water with salt.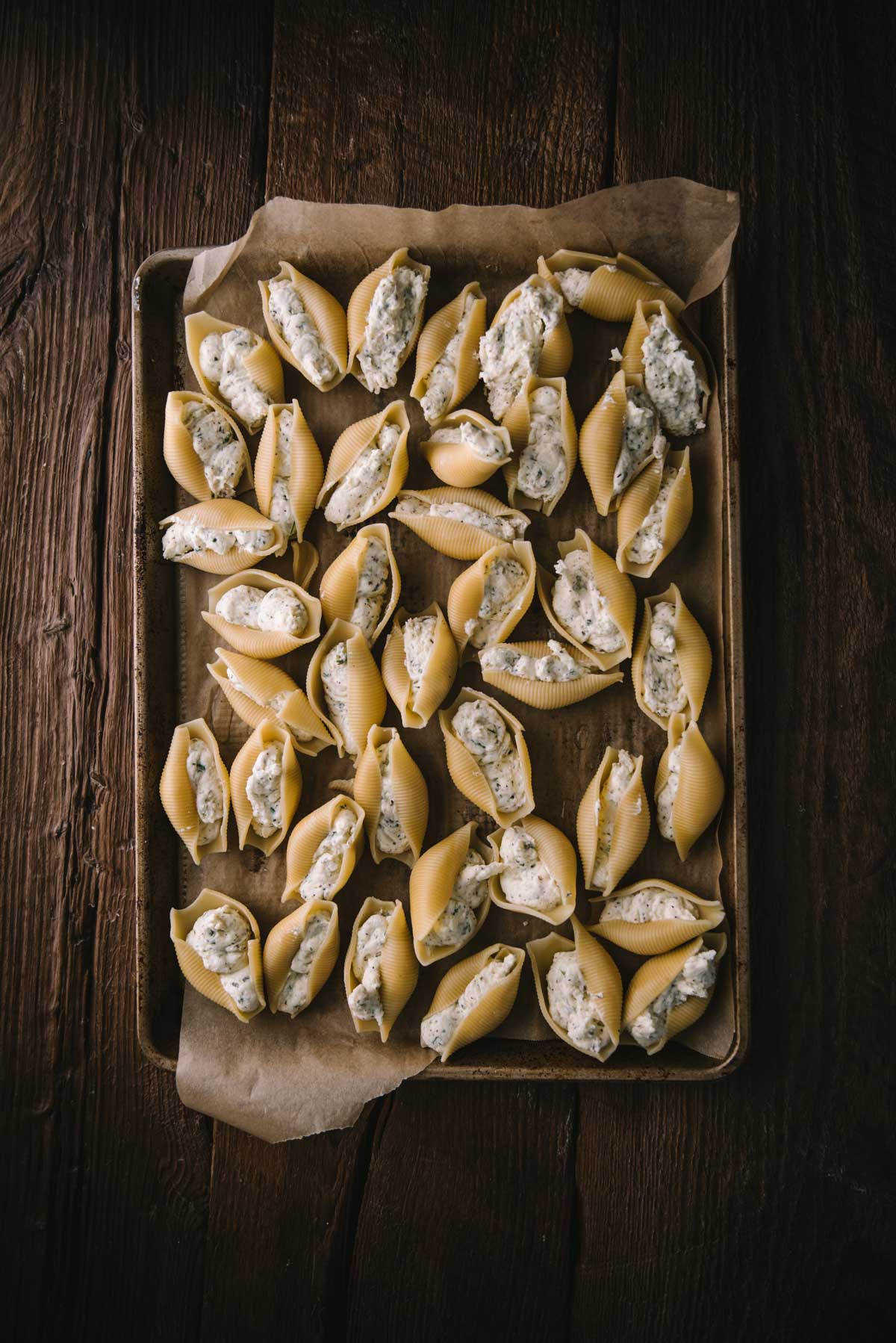 Use quality, whole milk ricotta cheese. There will be less water and you'll avoid the risk of runny cheese stuffing.
Transfer the filling to a piping bag or plastic bag to easily fill the shells.
FAQs
Can you freeze this dish?
Yes! This hearty pasta entree can definitely be frozen.
Follow the steps of assembling the ricotta stuffed shells in your pan without baking. Cover tightly and freeze for 1-3 months before thawing and baking!
Can I save leftovers?
Yes of course! Any pasta leftover can be put in an airtight container and stored in the fridge for 3-4 days. Make sure it's nice and hot before eating it again, I normally just stick it in the microwave for a minute or two.
How do I make the ricotta stuffing smooth?
If your cheese is particularly cold it is going to be harder to beat it. I'd recommend taking it out of the fridge to warm it to room temperature before using it and that will help you break it up a lot. Or you can use your food processor for speed and help to break up all those cheese curds!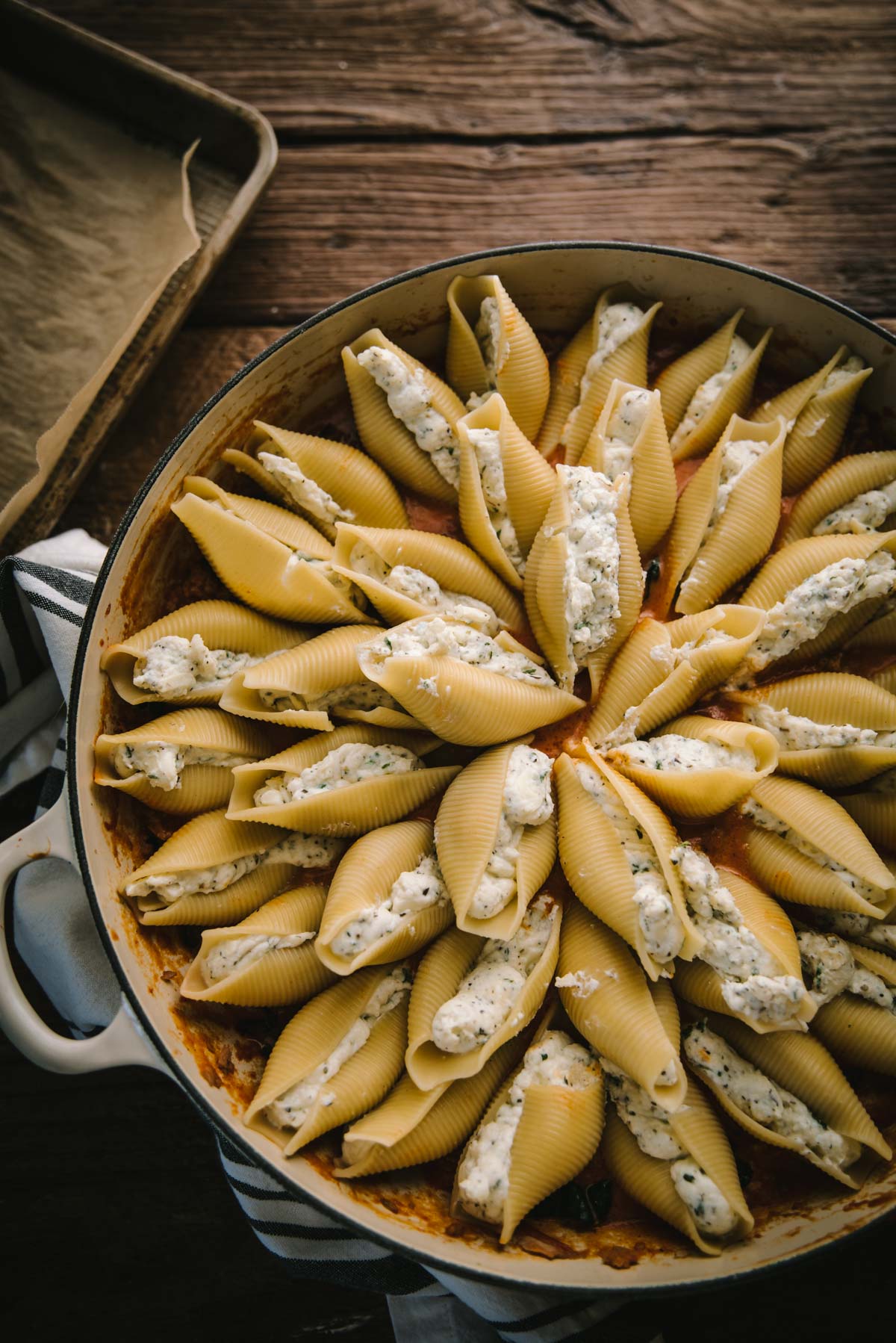 Make in Advance
Make them ahead! These ricotta stuffed shells reheat easily without losing any flavor or texture.
You can either complete all the steps and just reheat OR assemble to the step before baking and refrigerate if making a day or two ahead.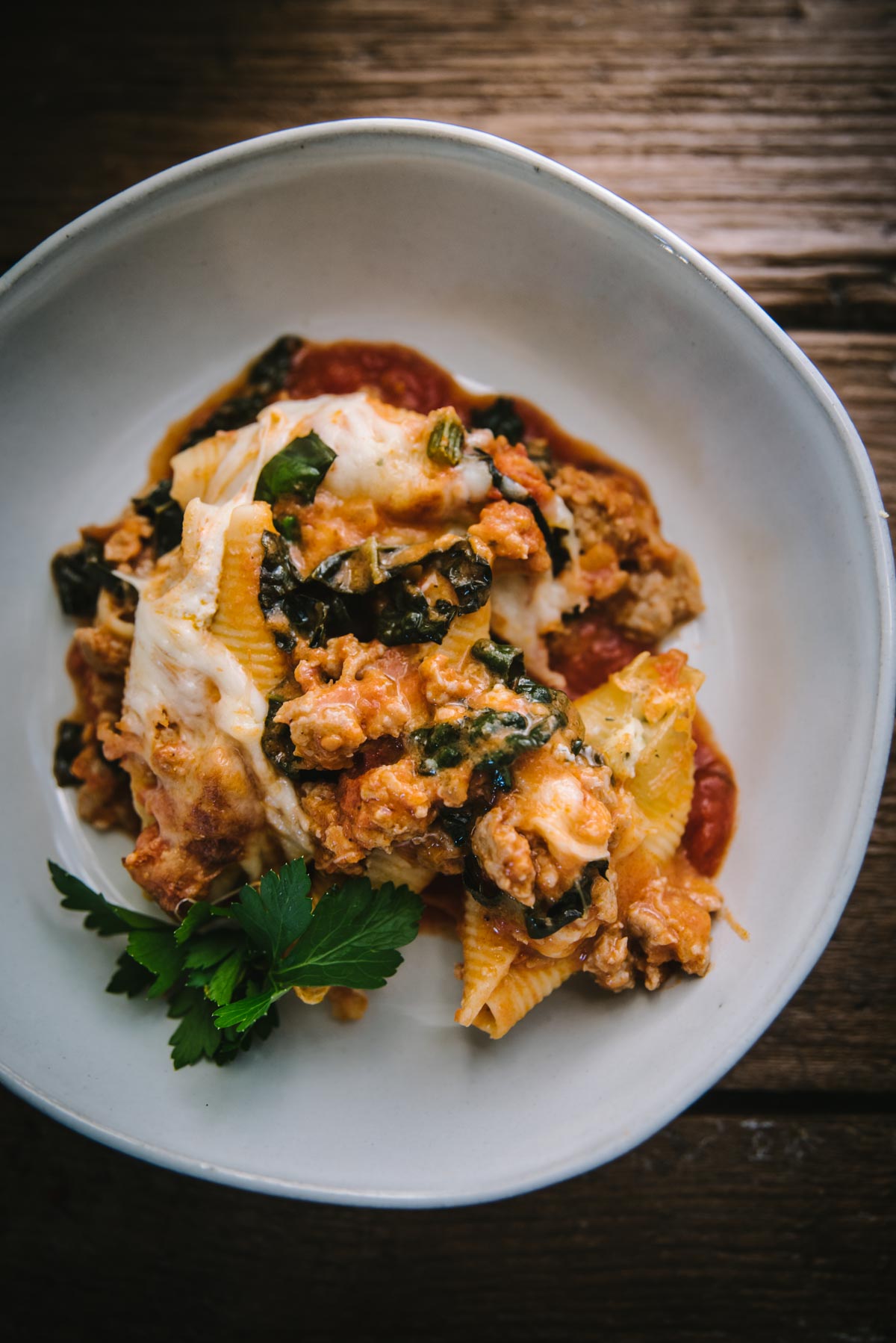 Hungry For More Italian Dishes?
In the mood for more Italian meals? Try some of these family favorites!
My friend Lauren's favorite dish of mine is Cheesy Sausage and Peppers Pasta Bake. It's an easy cheesy bowl of comfort!

Or try my restaurant quality Marsala Cream Sauce with Butternut Ravioli. It's so rich and velvety, you won't be able to believe you made it yourself at home!

One of the top recipes on the blog is this Instant Pot Lamb Ragu. It's a beautiful pappardelle pasta filled with bright and bold flavors.

If you love your veggies, try my Trader Joe's Kale Gnocchi with Arrabbiata. Complete with green veggie gnocchi and my all-time favorite pasta sauce!
Enjoy!
If you made these Ricotta Stuffed Shells I'd love to know in the comments and please leave a star rating on the recipe card. You can also tag me, @hungerthirstplay, on all your Facebook and Instagram posts!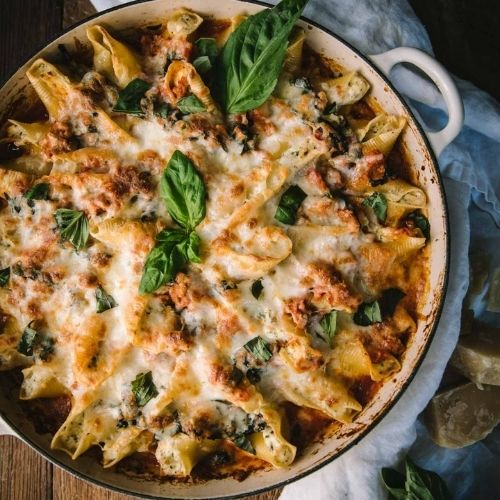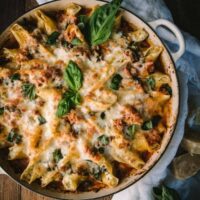 Ricotta Stuffed Shells
Rich and creamy, easy stuffed shells with sausage marinara are the perfect combination of pantry staples and fresh ingredients to feed a crowd.
Print
Pin
Rate
Ingredients
Stuffed Shells
12

ounces

jumbo shells

(about 42 shells)

3

cups

whole milk ricotta cheese

(30 ounces)

½

cup

parmesan cheese

(grated)

2

cups

whole milk mozzarella

(grated)

1

egg

1

clove

garlic

(minced)

1

tablespoon

italian seasoning

1

tablespoon

parsley flakes

(fresh or dried)

½

teaspoon

salt

¼

teaspoon

black pepper
Sausage Marinara
1

tablespoon

olive oil

1

pound

sweet Italian sausage

(loose, without the casings)

4

cups

tuscan kale or savoy spinach

(chopped)

¼

cup

white wine

1

jar

marinara sauce

(24 ounces)

2

cups

whole milk mozzarella

(grated)

¼

cup

heavy cream

(optional)

1

tablespoon

unsalted butter

(optional)
Instructions
Cook the pasta. Bring a large pot of water to a boil. Season the water generously with salt. Cook the shells 1 to 2 minutes under the recommended cooking time so the shells are just slightly more than al dente. Drain and transfer to a parchment lined sheet tray. Let cool.

Make the stuffing. In a medium bowl, combine the ricotta, parmesan, mozzarella, egg, garlic, and seasoning. Preheat the oven to 350°F.

Stuff the shells. Using a piping bag or spoon, fill the shells with the ricotta mixture. A piping bag or plastic bag is highly recommended. Just cut the tip off the bag and squeeze into each shell.

Make the sauce. Heat a large skillet over medium-high heat, add the olive oil and let it get hot. Brown the sausage in the hot oil, breaking it up into small pieces as it cooks. Add the chopped kale or spinach and cook, stirring frequently. Once the greens have started to wilt, pour in the white wine, scraping any cooked on meat from the bottom of the pan. Stir the jar of marinara sauce into the pan. If opting for a creamier red sauce, add in the heavy cream and butter, stirring until melted and incorporated.

Bake the shells. Remove about ¾ cup to 1 full cup of the sausage marinara. If the skillet is large enough and oven safe, arrange the shells over the remaining sauce or transfer the sauce to a 9x13 baking dish before covering with the stuffed shells. Top with reserved saice and mozzarella. Bake at 350°F for 25 to 30 minutes until the ricotta is thick and creamy (but not runny) and the cheese is melted. Serve right away or cover and reheat before serving.
Notes
Use a large pot for cooking the shells so they're not overcrowded or cook them in two separate batches. The more crowded the pan is, the more likely your shells are to stick together.
Don't overcook the shells! You're better off undercooking them by 1 or 2 minutes.
Cool the shells on a parchment-lined tray. The shells won't stick to the parchment and this will make them easier to handle.
Use high-quality ricotta so it is thick and not watery. If your ricotta appears watery, you can squeeze it gently in a clean kitchen towel before using it.
These stuffed shells are super forgiving so you can make them from start to finish and reheat or fully assemble them and bake right before serving. If freezing, stop before baking, cover, and freeze for up to 3 months.
Nutrition
Calories:
815
kcal
|
Carbohydrates:
45
g
|
Protein:
42
g
|
Fat:
51
g
|
Saturated Fat:
26
g
|
Trans Fat:
1
g
|
Cholesterol:
173
mg
|
Sodium:
1562
mg
|
Potassium:
865
mg
|
Fiber:
3
g
|
Sugar:
6
g
|
Vitamin A:
4751
IU
|
Vitamin C:
48
mg
|
Calcium:
651
mg
|
Iron:
4
mg