Walking into the New Year with cheesy sausage and peppers pasta bake like, "resolutions, who?"
Or hey, maybe your resolution is to have better, less complicated, totally comforting food on the table with no stress. Well that resolution is right here for you. Right here in its sausage and pepper, cheesy pasta glory.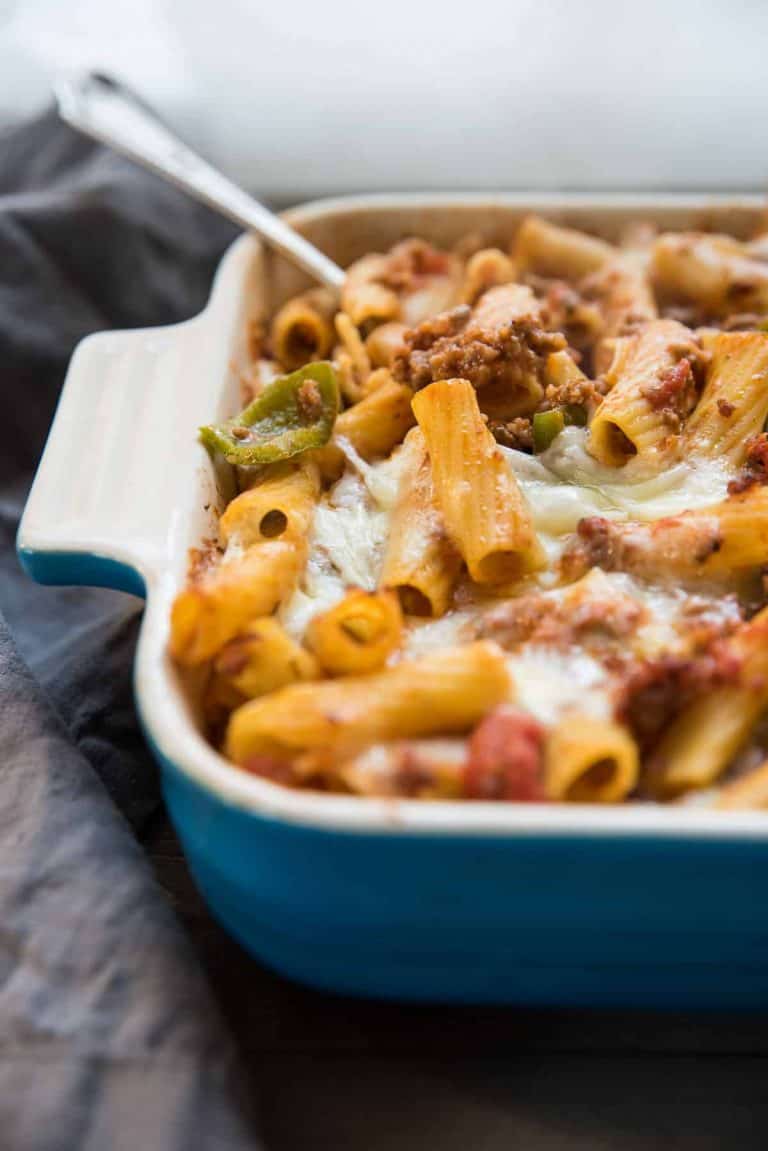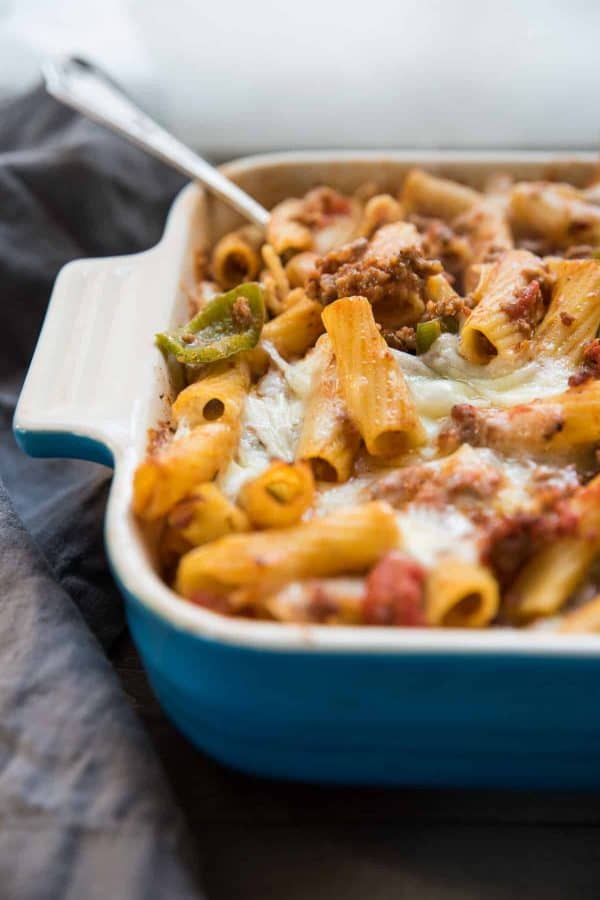 Pasta Bake or Baked Pasta?
I'm not really sure which one it's supposed to be called. The term is interchangeable to me. Google seems to favor 'pasta bake' so here we are. All that really matters is saucy pasta goes in the oven and comes out melty delicious right? Right?!
Pasta is and will always be one of the best food groups. So even when you lighten it up with zoodles or black bean pasta, it's just so comforting no matter the season.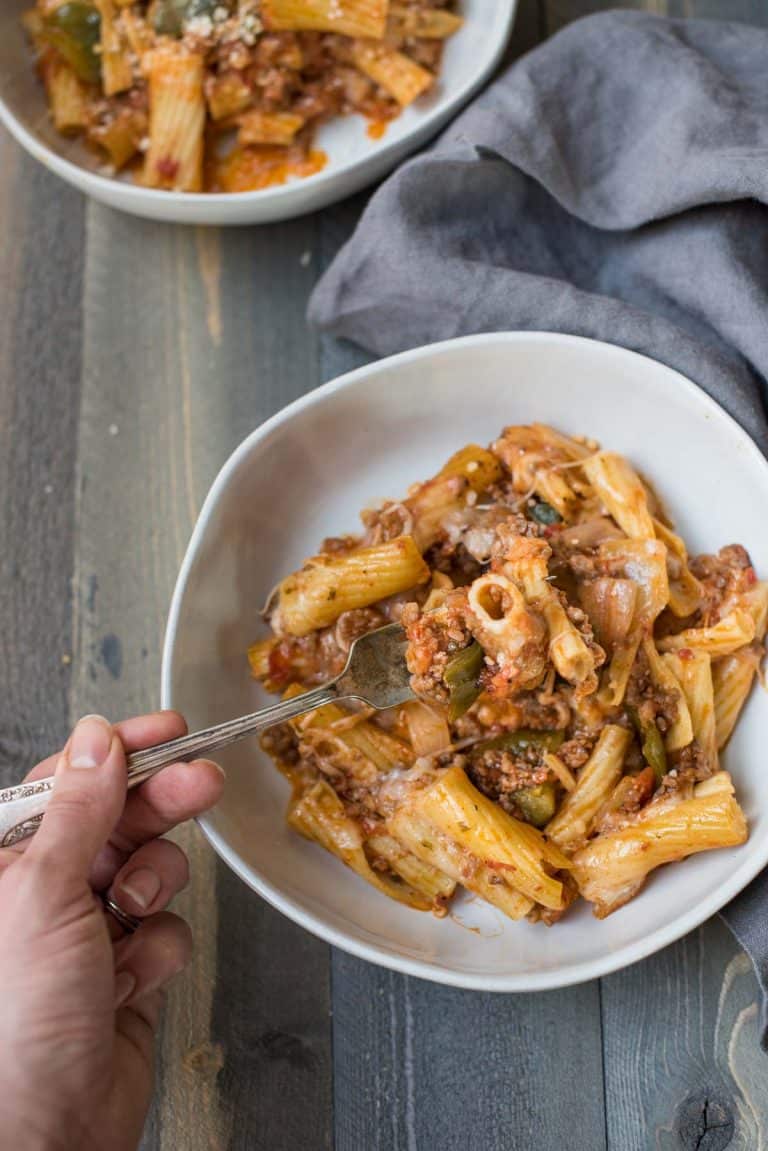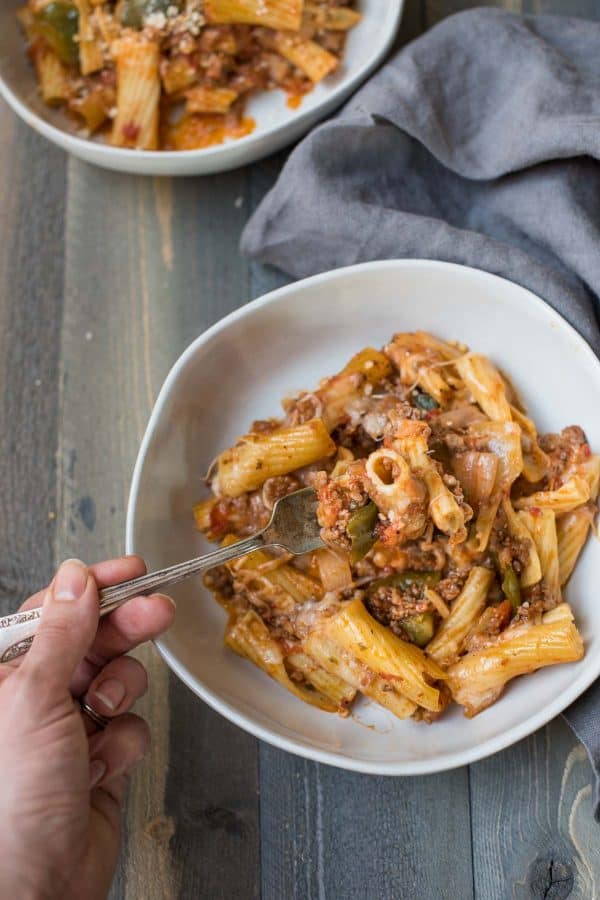 For all my Mama's in the crowd, this baby right here is going to save dinnertime. Or maybe it's potluck time. Girls get together time. Whatever time that you need something tasty in a pinch, this cheesy sausage and peppers pasta bake is here to be your knight in shining armor.
Cheesy Sausage and Peppers Pasta Bake
Here's what you have to look forward to:
Easy to prep veggies (yay for veggies!)
Uses your favorite jarred (or homemade!) pasta sauce for low maintenance bonus points
Sweet Italian sausage adds richness and cooks up quick
Everything minus the 'bake' part can be done before hand, even refrigerated overnight and baked to melty goodness when needed
There's a pound of whole milk mozzarella in there. Need I say more?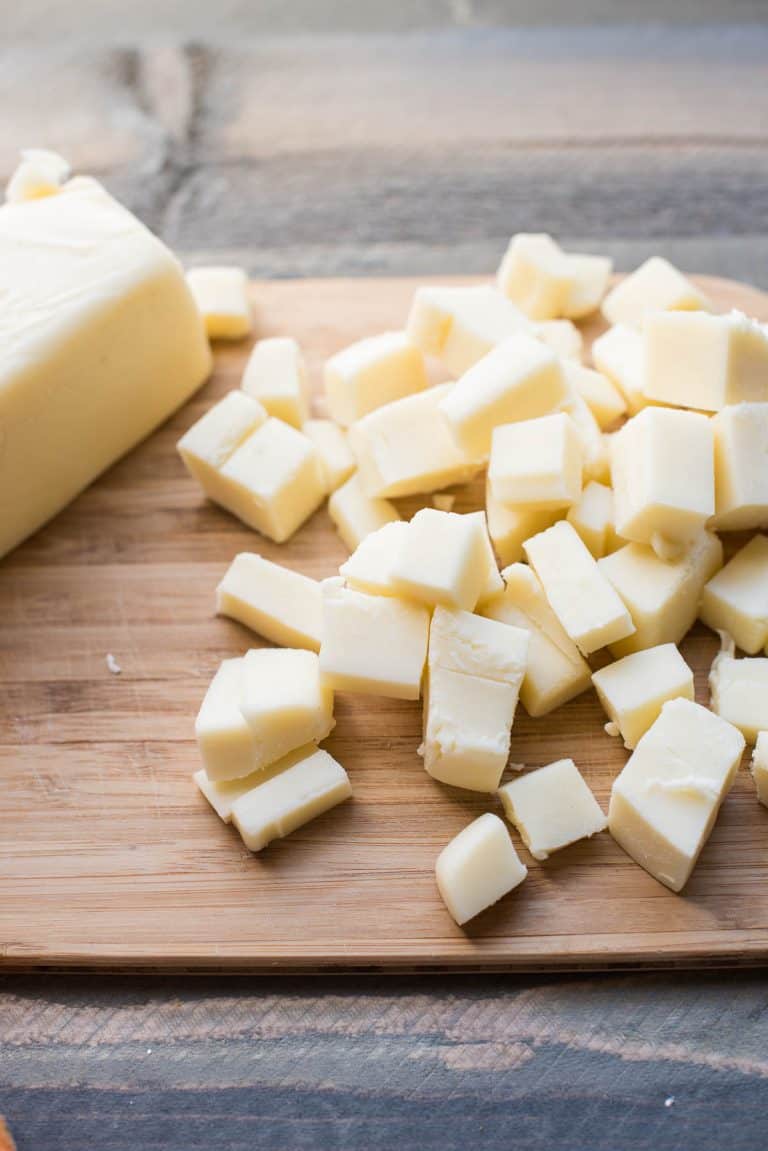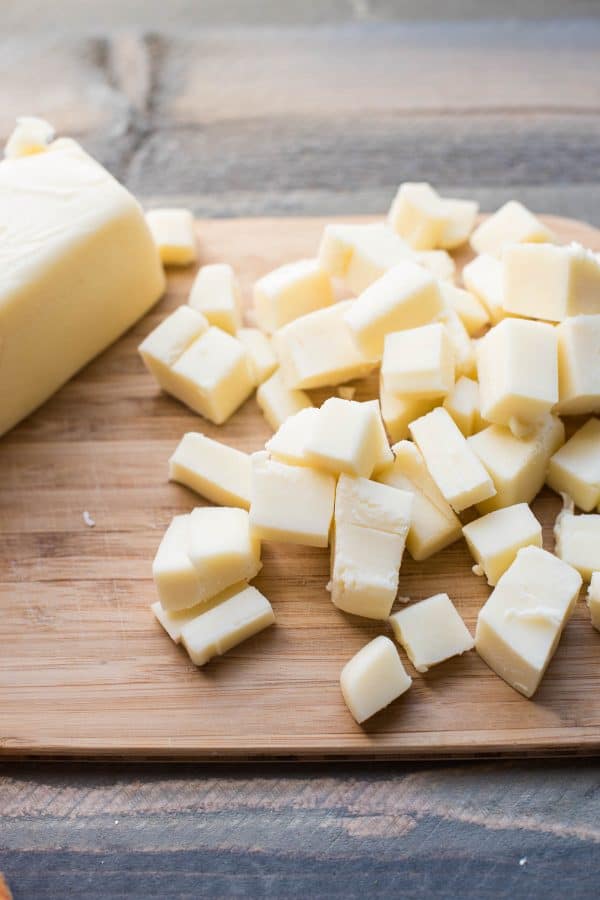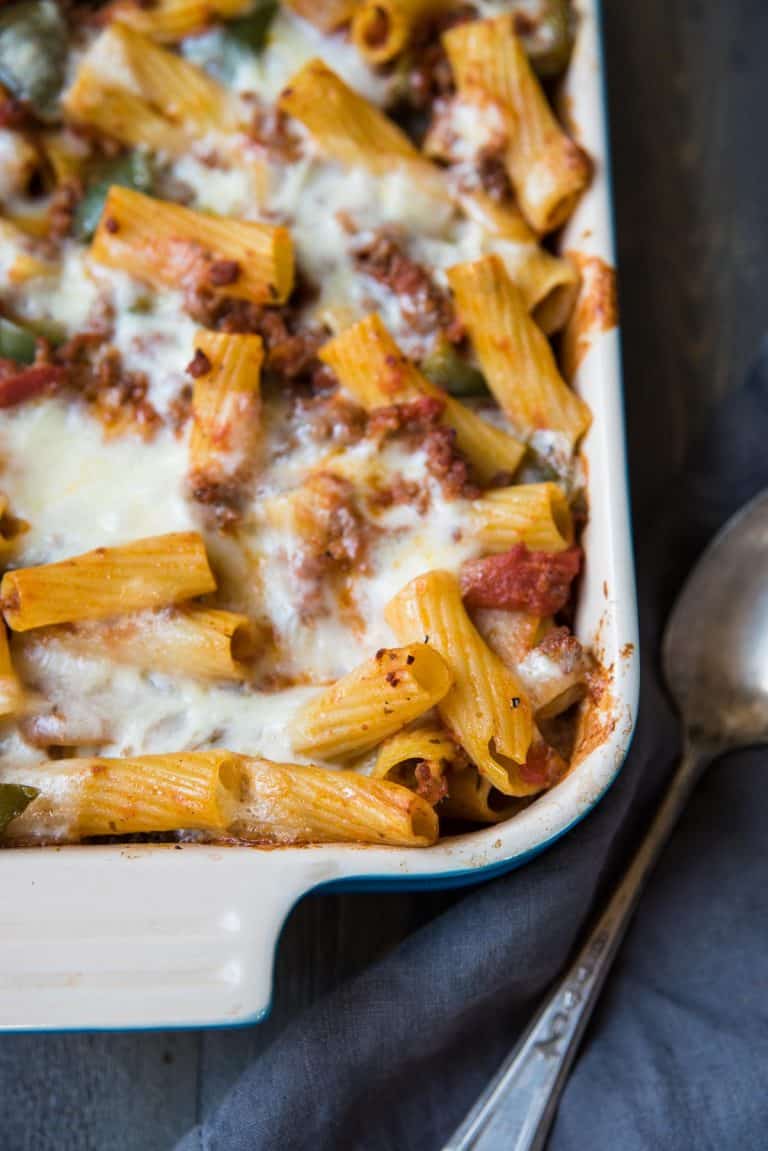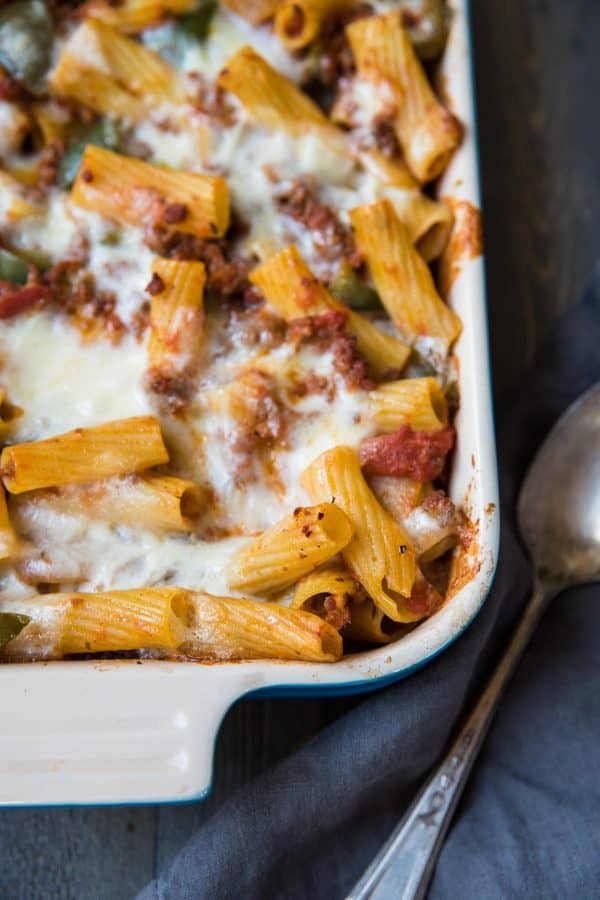 Also, on a side note where are my pasta-with-lines on it lovers? Sorry to sound like pasta snobs, but give us that penne, rigatoni, cavatappi, what have you. We want that red sauce goodness hanging on to those pasta ridges.
Okay okay let's be real, we wouldn't turn down a scoop of this goodness no matter the pasta shape.
An easy cooking tip, when it comes time to add the sausage go for already out of the casing, just plain loose sweet Italian sausage. Once it starts cooking, you can use a potato masher to help break apart the sausage into small pieces so each bite of rigatoni is accompanied by sausage and creamy mozzarella.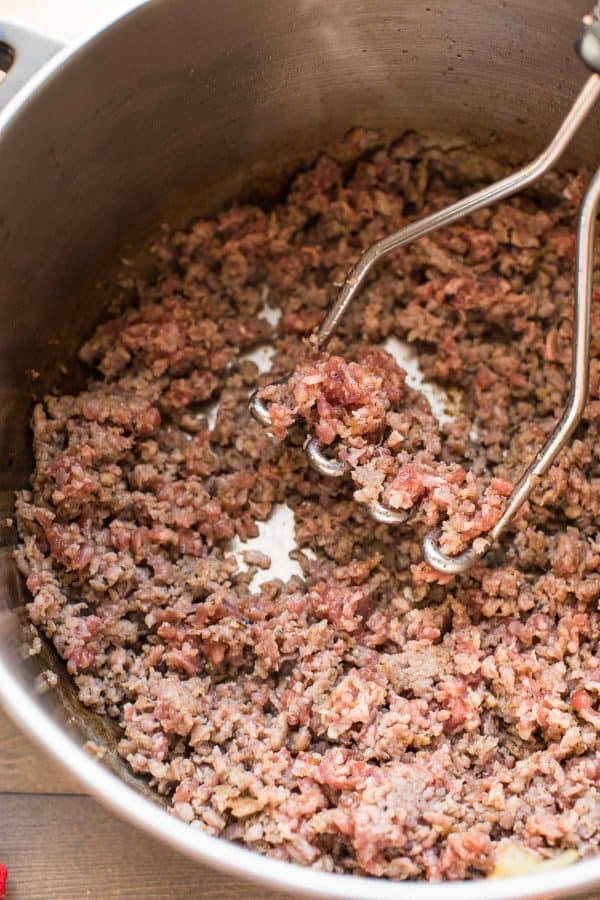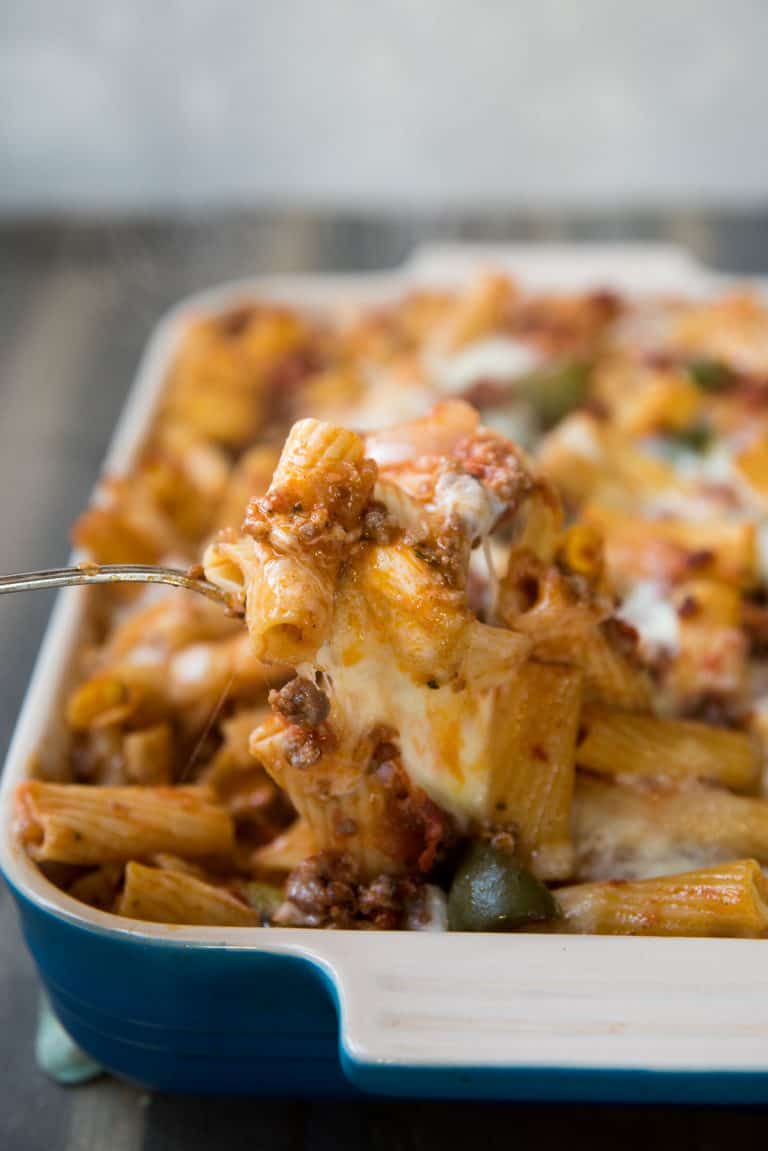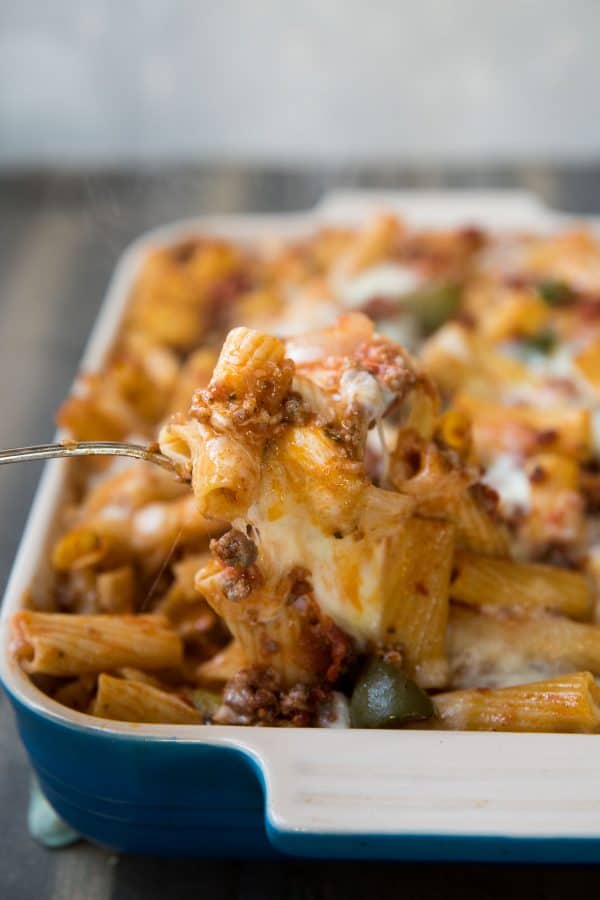 Just trust me, it makes a difference.
If you're ready, let's fire up the stove top and pre heat the oven and get ready to dish out some easy eats.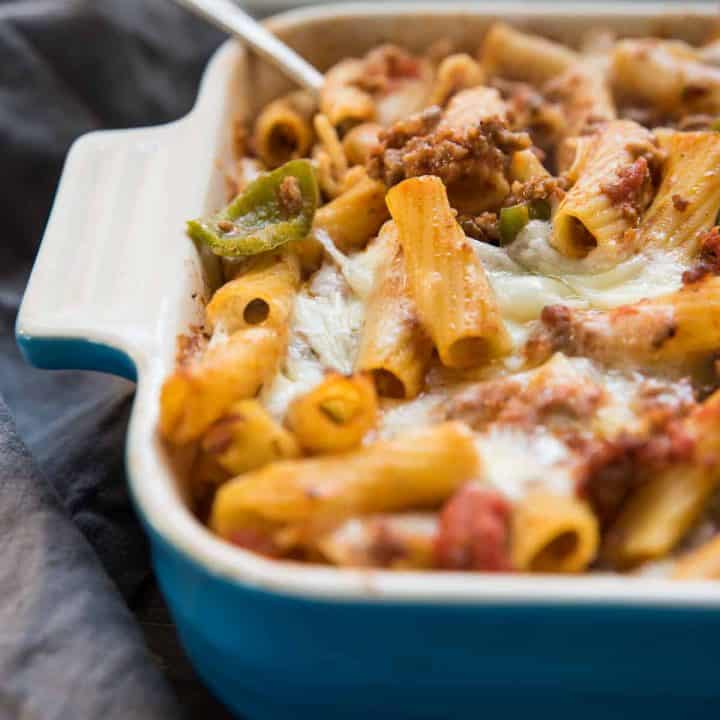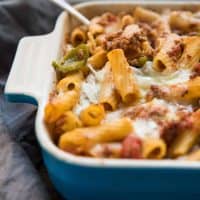 Cheesy Sausage and Peppers Pasta Bake
Simple, quick and delicious. This Cheesy Sausage and Pepper Pasta Bake is perfect for quick dinners, can be made ahead and bakes in 20 minutes.
Print
Pin
Rate
Servings:
6
to 8 servings
Ingredients
2

tablespoons

extra virgin olive oil

2

large

green peppers

(large dice (about 1" x 1"))

1

yellow onion

(diced)

1

pound

sweet Italian sausage

(loose)

⅓

cup

dry white wine

1

24-ounce jar

pasta sauce

1

pound

whole milk mozzarella

(cut in small cubes)

1

box

rigatoni pasta

salt and pepper to taste

(plus extra salt for pasta water)

optional: ¼ teaspoon red pepper flakes
Instructions
Set a large pot of water to boil, Be sure to salt the water, about ½ tablespoon of salt. While the water comes to a boil, prepare the sauce.

In a large sauce pan, heat olive oil over high heat until shimmering. Season with salt and pepper, then sauté the peppers and onions until softened but not mushy, 4 to 5 minutes. Once cooked, transfer the peppers and onions to a separate bowl then add the loose Italian sausage to the sauté pan.

Cook the Italian sausage over medium-high heat, breaking it into small pieces. (Using a potato masher is my favorite way to do this). Once the sausage is browned, add the peppers and onions back to the pan.

Deglaze the pan with half the amount of white wine, scraping the bottom of the pan for any browned bits of sausage. Stir in the pasta sauce. Add the remaining white wine to the jar of pasta sauce, cover and shake, then stir in the liquid to the sauce. Turn off heat on the sauce and preheat the oven to 375°F while waiting for the pasta to cook.

Once the pasta water reaches a roiling boil, add the pasta. Stir so the pasta doesn't clump. Cook until just al dente according the box directions. Drain and stir the pasta into the sauce.

Add half the mozzarella into the sauce, stirring to evenly distribute.

Transfer the pasta into a buttered 9x13 baking dish and top with the remaining mozzarella pieces. Bake for 20 minutes until the cheese is bubbling. Serve right away or reheat later and enjoy!
Notes
If making ahead, prepare all the steps except for baking the pasta.
This dish reheats well and is great as leftovers.
The red pepper adds a little spice, but can be omitted without loosing much flavor.
Nutrition
Calories:
837
kcal
|
Carbohydrates:
63
g
|
Protein:
38
g
|
Fat:
46
g
|
Saturated Fat:
19
g
|
Cholesterol:
117
mg
|
Sodium:
1035
mg
|
Potassium:
548
mg
|
Fiber:
4
g
|
Sugar:
5
g
|
Vitamin A:
714
IU
|
Vitamin C:
47
mg
|
Calcium:
422
mg
|
Iron:
2
mg