Sweet and smokey with underlying hints of clove, anise and vanilla, this Easy Boneless Bourbon Brown Sugar Ham is super simple and perfect for a holiday gathering or weeknight meal!
It's the hammiest time of the year you guys. Easter is literally around the corner and for us, easter = ham. Occasionally lamb too but the ham is definitely a constant.
And this time, I did a thing. Typically, we go bone in spiral for our hams. This year, the hubs picked up a boneless spiral ham and I'm never going back.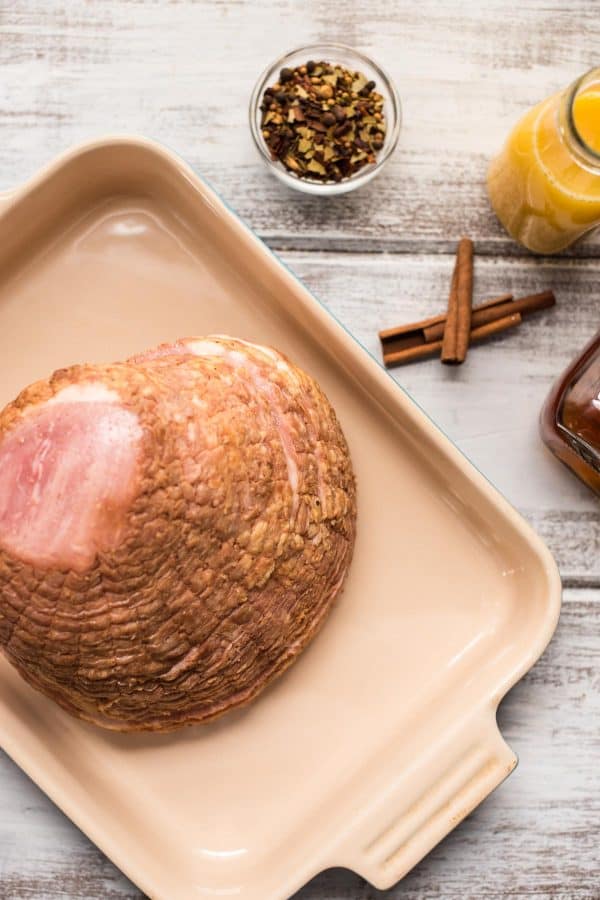 If you're a family that enjoys split pea soup (which literally sounds like the stuff of my nightmares, anyone else?) and use the ham bone for that or to make stock, or if you have a large family to serve then by all means go for the bone. If you're a small family like the four of us - one of whom can barely keep food in her mouth - then I urge you to give boneless a try.
Imagine...no carving. No cleaning. Just serve. 👏 it. 👏 up. 👏
How to set your boneless ham apart from the rest? Dress it up with this Bourbon Brown Sugar Glaze, of course.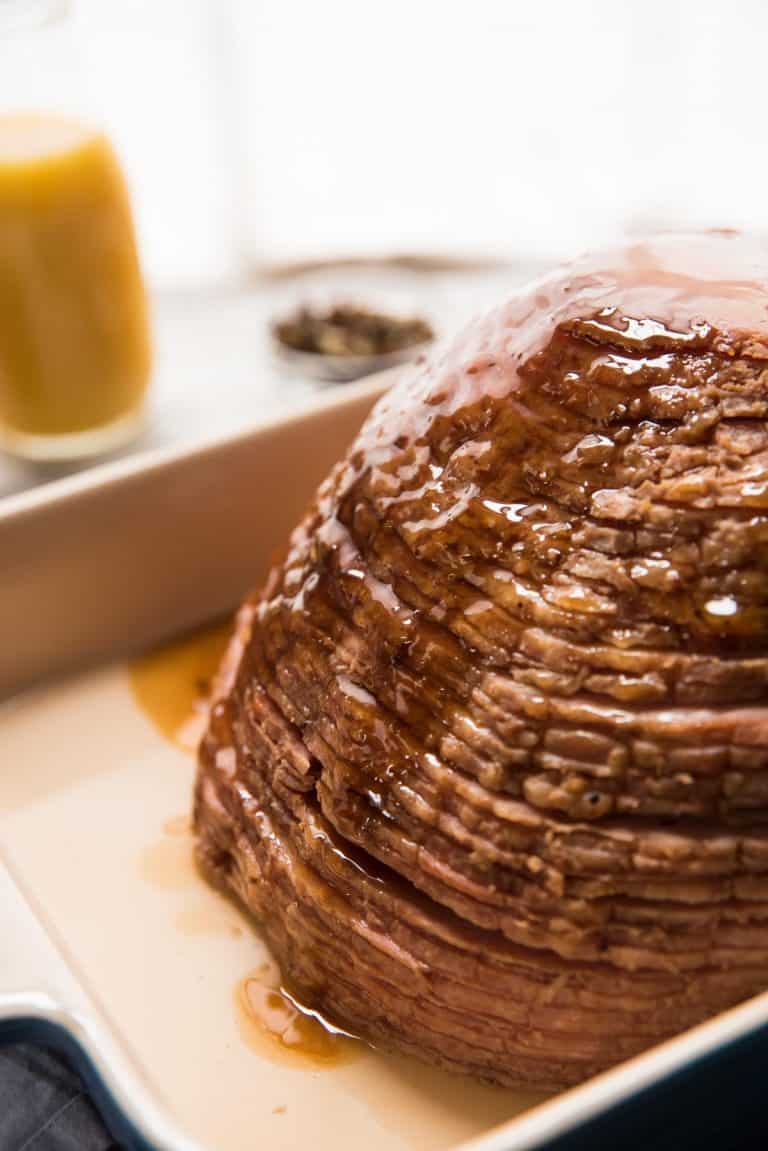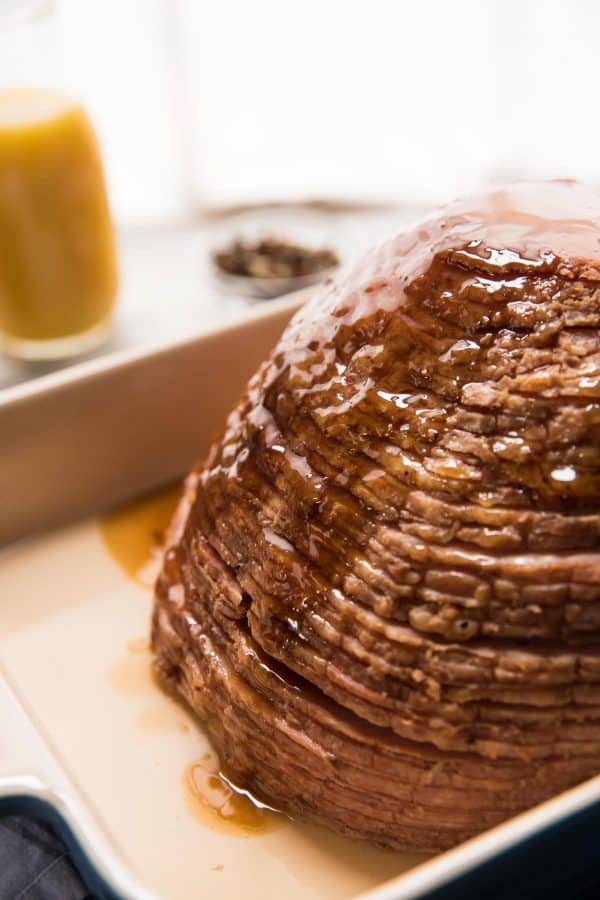 How to make Bourbon Brown Sugar Ham
What's so special about a ham? You put it in the oven, cook it, and pour the pre-packaged glaze on top. Well, you can or you can make this delicious and easy and bourbon glaze. A little bourbon can make a lot of things better.
Like tea and chocolate or salad dressing and even pie, but most of all this sticky sweet and broiled a touch crunchy glaze.
Real life truth, I cook a lot, one thing I always do is follow the package instructions for cooking my ham. So that's what I'll tell you. Check this recipe and compare to your package instructions. The most important part is that you remove the ham about 10 minutes before it's done, jack up the heat and finish with the glaze on top.
While the oven preheats, put together your glaze. You'll simmer the orange juice with the spices to perfume them before adding the bourbon. Once everything is simmered you incorporate the brown sugar and let everything simmer for 10 minutes.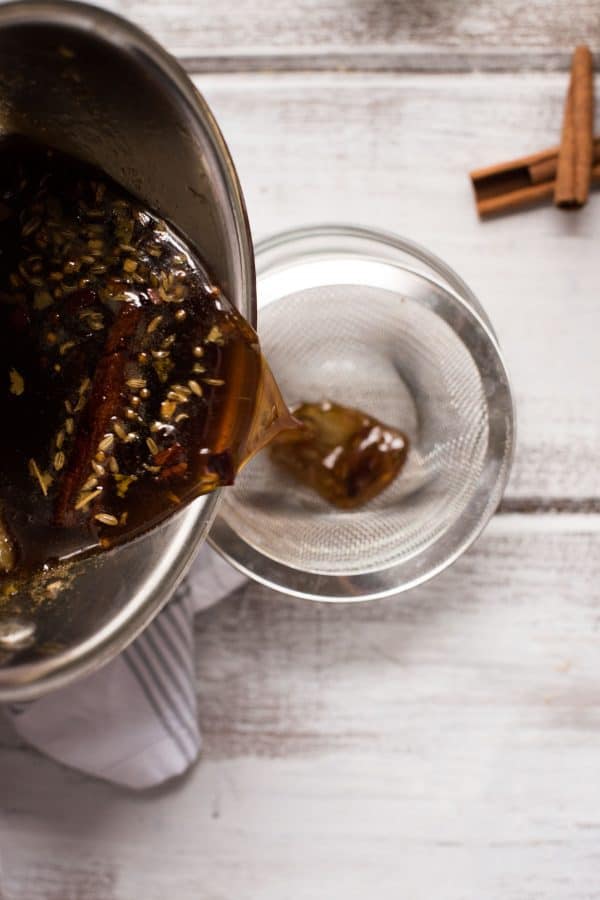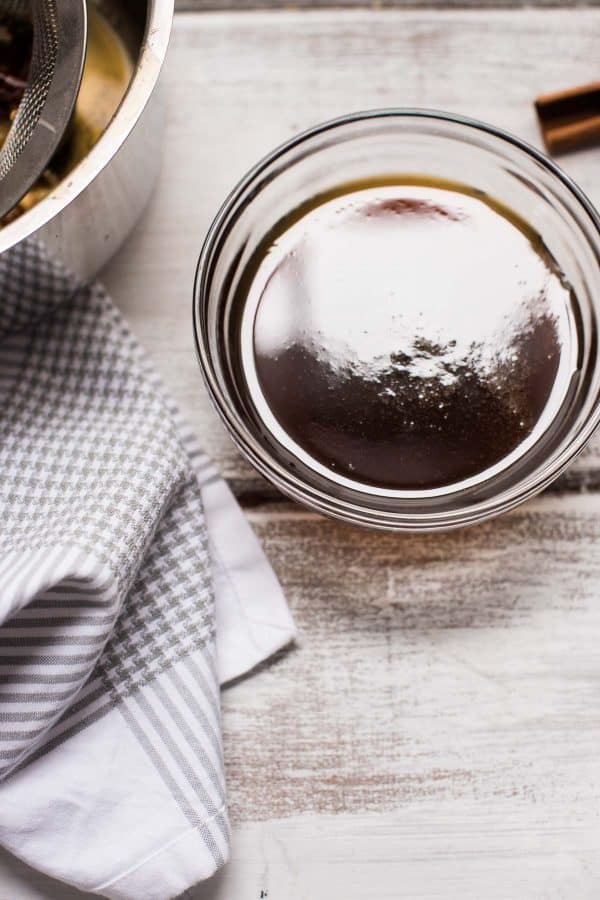 Why do you need to simmer? This will let the bourbon reduce and the sugar to thicken. While it won't look terrible thick after you first take it off the heat, once it's time to use the glaze it will be the perfect thickness to pour over your ham.
Tip: once the glaze is done simmering, strain it right away. The spices have already done their job of adding flavor and straining while the liquid is still hot will be much easier than once it cools.
Once your ham is covered in the glaze return it to a high heat oven for a final 10 minutes. The sugars in the glaze will crystal a smidge for a perfect, slightly crunchy, sweet and smokey finish. You're done! That's it! Let's eat ham!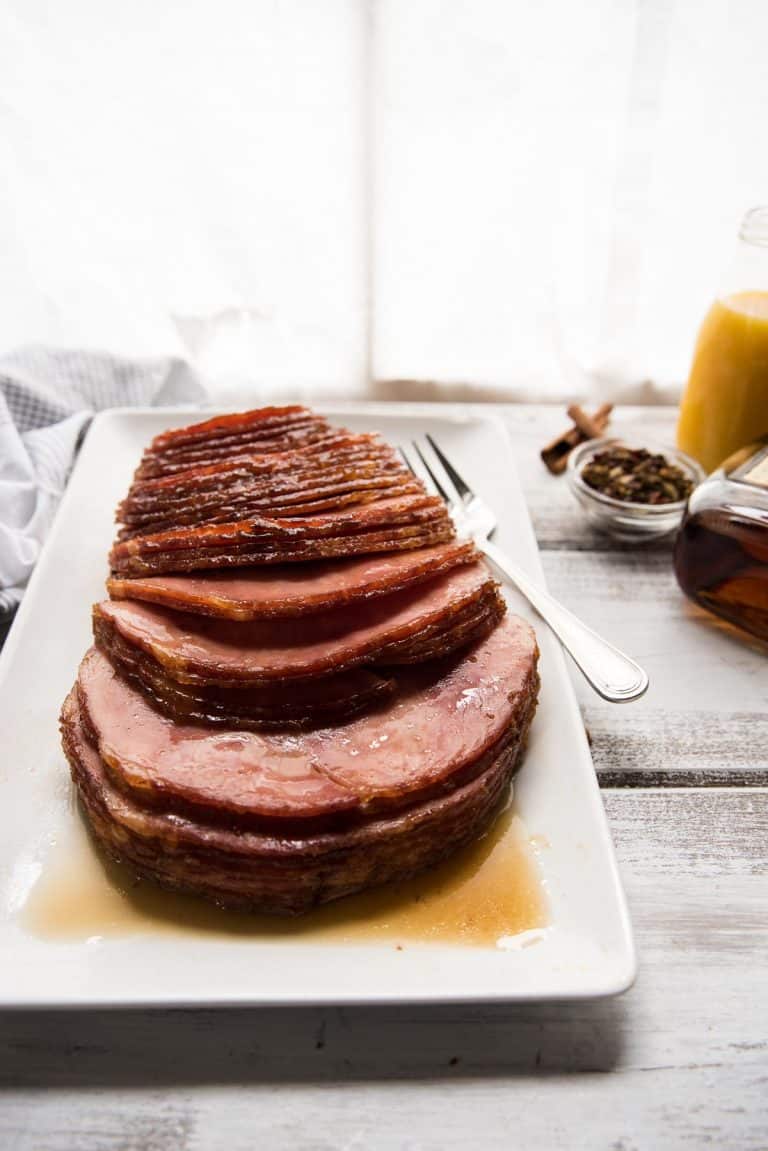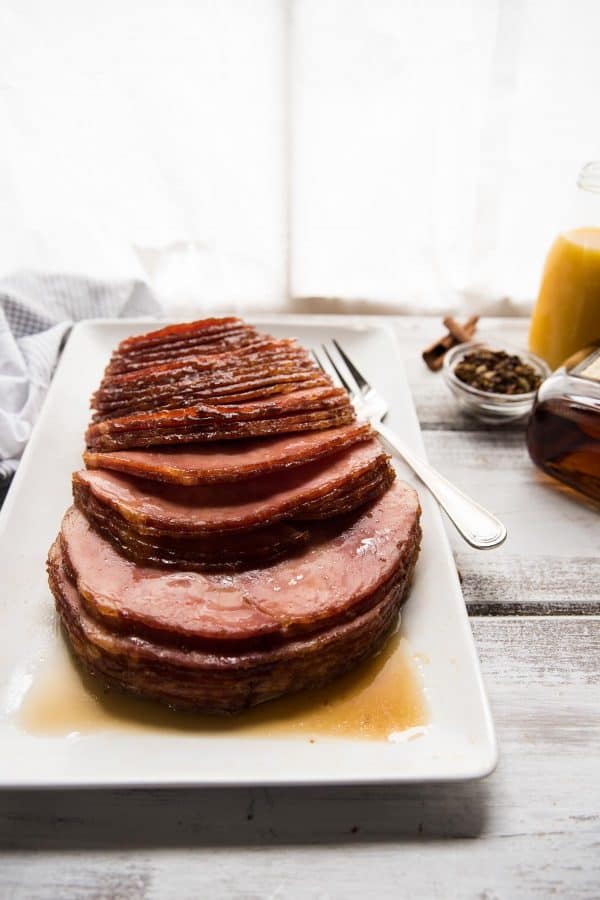 What to serve with your Bourbon Brown Sugar Ham
Whether your serving up this delicious dish for a weeknight meal or a special occasion, try these seriously amazing sides to join the plate:
So many delicious options, so little time - what will you choose? What are your go to sides for Easter dinner or for serving with ham in general? Tell me about your traditions and go tos in the comments!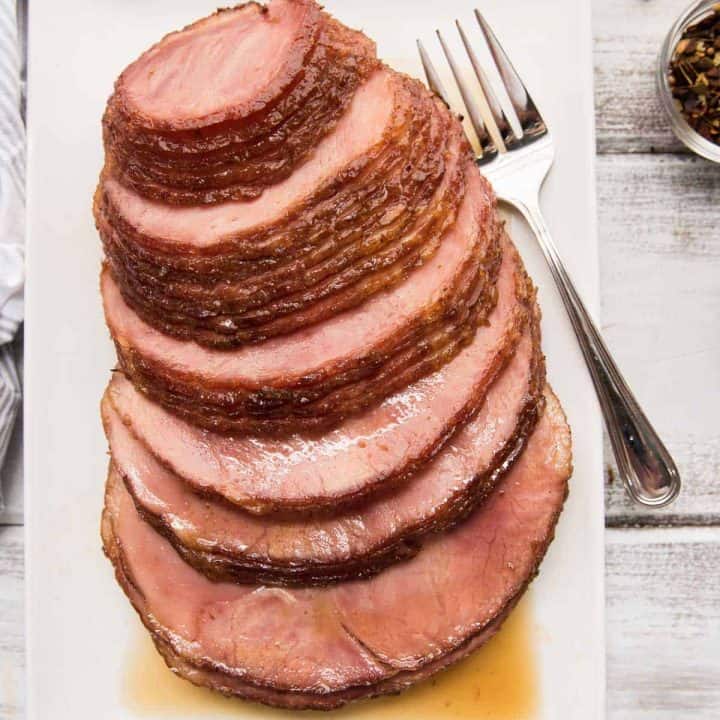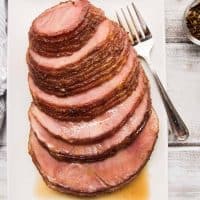 Easy Boneless Bourbon Brown Sugar Ham
Sweet and smokey with underlying hints of clove, anise and vanilla, this Easy Boneless Bourbon Brown Sugar Ham is super simple and perfect for a holiday gathering or weeknight meal!
Print
Pin
Rate
Ingredients
1

boneless spiral cut ham

(5 to 7 pounds)

3

tablespoons

orange juice

½

teaspoon

ground ginger

½

teaspoon

fennel seeds

1

teaspoon

pickling spice

1

cinnamon stick

½

cup

bourbon

pinch

of salt

1

cup

light brown sugar
Instructions
Preheat the oven to 300°F. Remove the ham from its packaging. Place flat side down in a baking dish and fill the dish with ½ inch of water. Cover the ham and baking dish with aluminum foil and set aside.

In a medium saucepan, combine the orange juice, ginger, fennel seeds, pickling spice and cinnamon stick. Stir over medium high heat, simmering for 2 minutes until fragrant.

Carefully add the bourbon and a pinch of salt and simmer for 1 minute. Reduce the heat to low, stirring in the brown sugar until melted. Let the glaze simmer for 10 minutes, stirring occasionally.

After simmering, strain the spices from the glaze and set aside. At this point your oven should be preheated. Place the foil covered baking dish on the second to lowest rack in your oven and bake for 15 minutes per pound.

When there are 10 minutes left to baking increase the oven temperature to 425°F. Remove the ham from the oven. Discard the foil and drain almost all the liquid from the bottom of the pan. Pour or brush the glaze over the ham and return to the oven for the final 10 minutes of baking.

Serve and enjoy!
Nutrition
Calories:
779
kcal
|
Carbohydrates:
24
g
|
Protein:
59
g
|
Fat:
46
g
|
Saturated Fat:
16
g
|
Cholesterol:
169
mg
|
Sodium:
3238
mg
|
Potassium:
840
mg
|
Fiber:
1
g
|
Sugar:
23
g
|
Vitamin A:
12
IU
|
Vitamin C:
3
mg
|
Calcium:
45
mg
|
Iron:
3
mg