Sweet and smokey with underlying hints of clove, anise and vanilla, this Brown Sugar and Bourbon Glazed Ham is super simple, uses easy-to-find ingredients, and perfect for a holiday gathering or weeknight meal!
This spiral ham recipe is easy peasy, and great for first-timer entertainers or seasoned cooks.
The crunchy bourbon and brown sugar ham glaze is perfect! Just the right amount of sweetness and spice. PLUS, this brown sugar ham is great for either a bone-in or boneless spiral ham - just pick your favorite!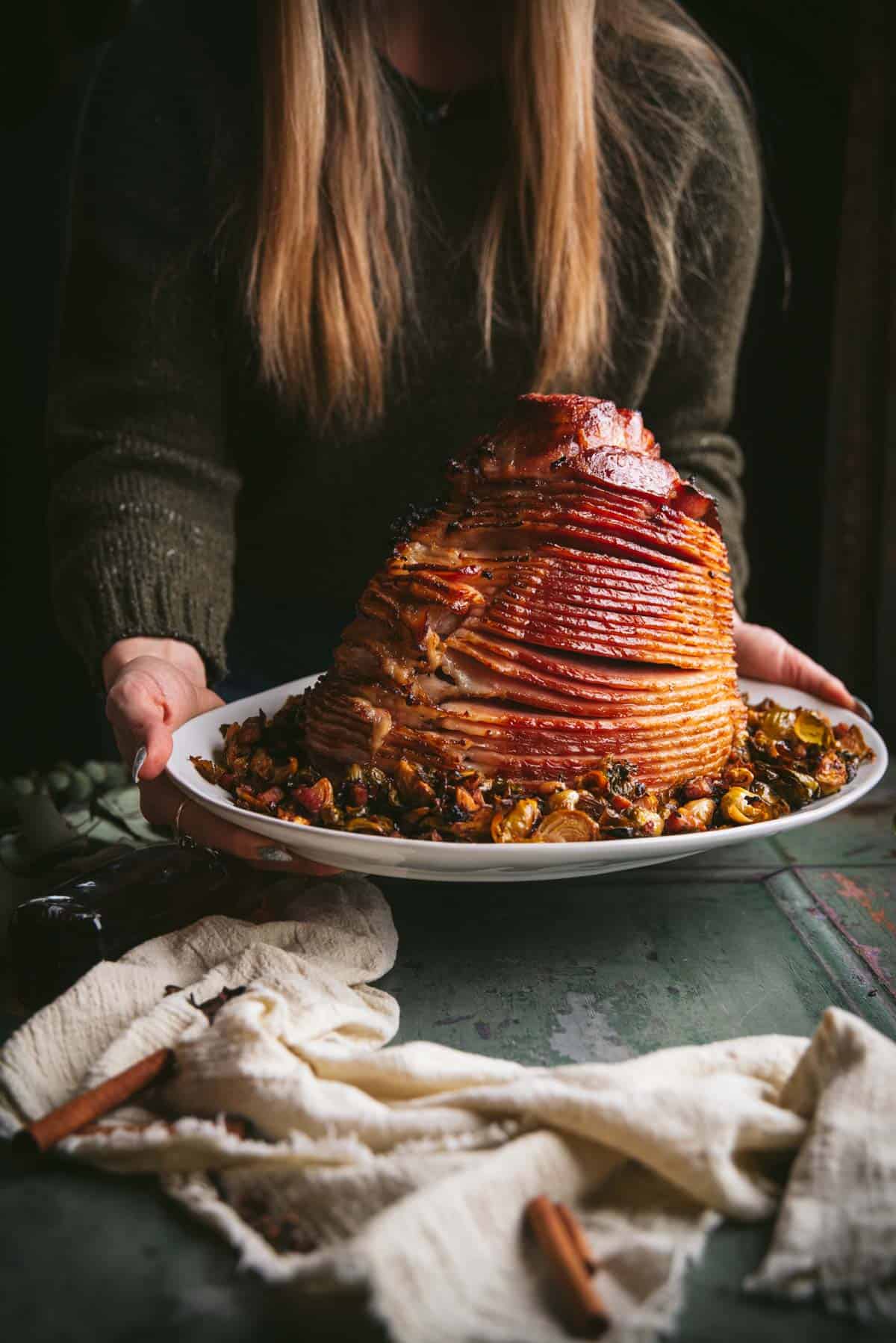 Why You'll Love This Bourbon Glazed Ham
It's the hammiest time of the year. Easter is literally around the corner and for us, easter = ham. Occasionally lamb too, but the ham is definitely a constant.
But whether you're celebrating a holiday or not, this should be your go-to for your next ham.
You can choose between a bone-in or boneless spiral ham, flavorwise they're pretty similar.
If you want to use the ham bone for flavored stocks that's a great way to repurpose the bone!
I love a boneless sprial ham because its effortless. No cleaning. Just serve. 👏 it. 👏 up. 👏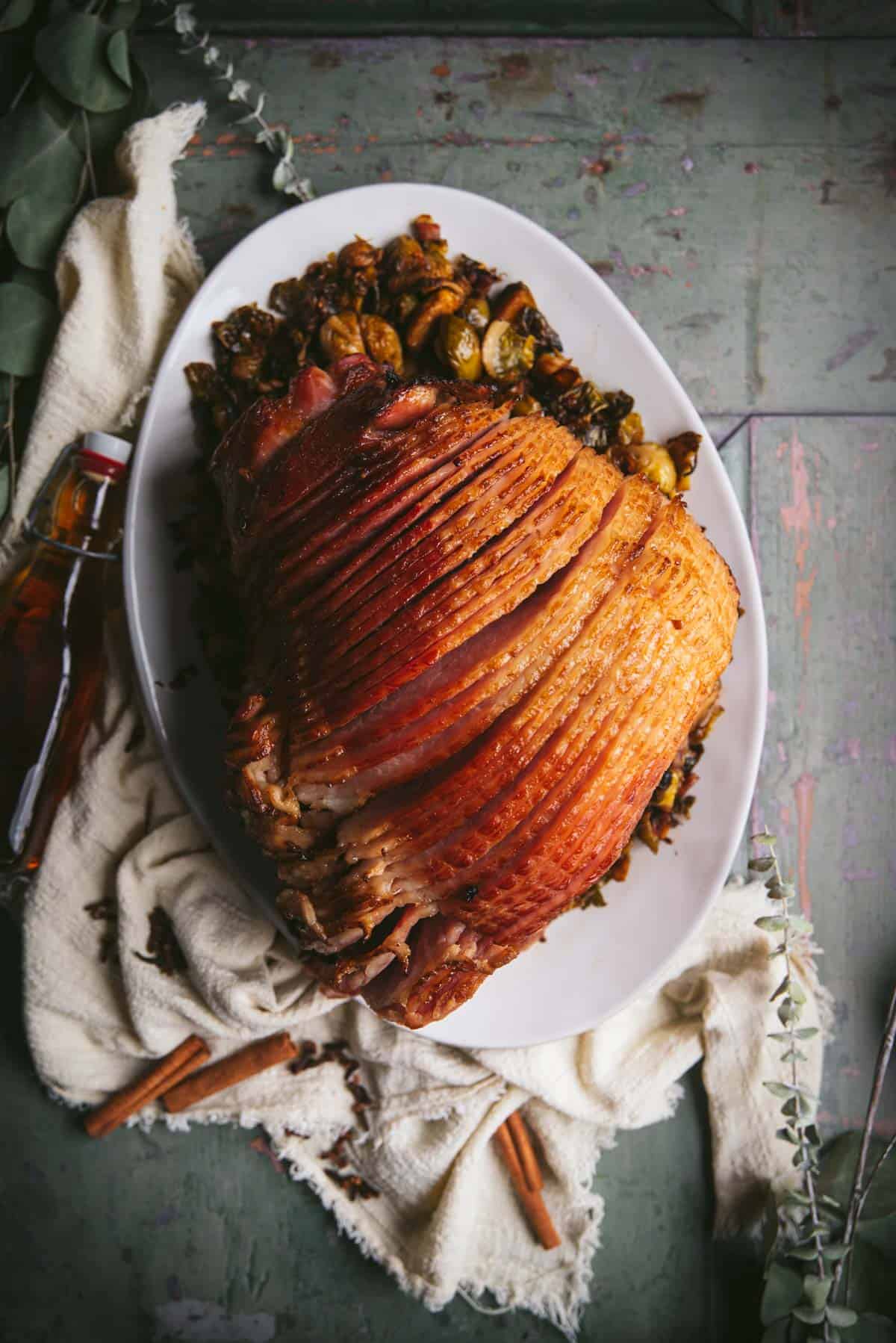 Why should you love this particular bourbon ham recipe? The bourbon in the glaze is reduced for maximum flavor without thinning out the brown sugar. Combined with the spices and the orange juice you'll have a delectable balance of acid, spice, and sweet.
This Bourbon Brown Sugar Glaze is thick enough in texture to have the traditional glaze that typically comes with the ham but with way more flavor.
Ingredients and Substitutions
What you need to make a bourbon glazed ham:
bourbon (duh) - doesn't have to be fancy, use something inexpensive
brown sugar - you can substitute the brown sugar with maple syrup if you want a natural sweetener, maple bourbon glazed ham is equally delicious!
orange juice - fresh squeeze or store bought
cinnamon stick
fennel seed
ground ginger
clove
salt
black peppercorns
boneless or bone-in spiral cut ham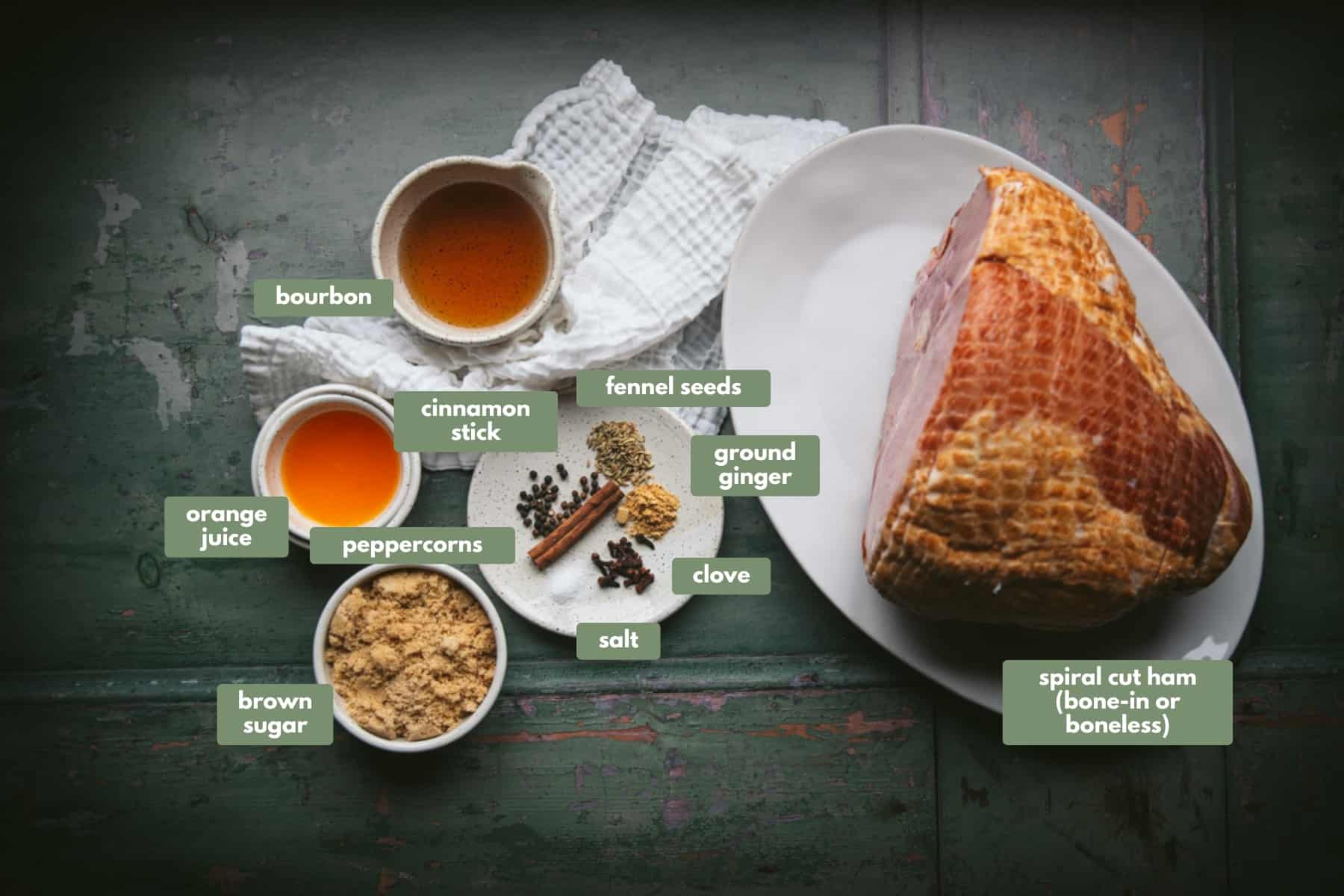 The brown sugar brings the sweet, the bourbon ads smoke, vanilla, and toasty flavors, and the spices have just the right amount of heat to pep it up!
How to make Bourbon Brown Sugar Ham
What's so special about a ham? You put it in the oven, cook it, and pour the pre-packaged glaze on top. Well, you can do that or you can make this delicious and easy bourbon glaze.
A little bourbon can make a lot of things better.
Like tea and chocolate or salad dressing and even pie, but most of all this gooey and a touch crunchy glaze.
Cooking a spiral cut ham
Read the package instructions - I know its so lame, but if you've never made a ham before its foolproof! They will literally tell you the exact best way to cook your ham, what temperature, and how many minutes per pound.
You can find the spiral ham cooking instructions under the label on the foil wrapping.
Place the ham flat side down onto the pan.
Put water in the pan.
Cover with foil for the majority of the cooking.
And just know...the ham is already cooked, you're just reheating it, don't overthink it. A little water + foil covering makes for a nice steamy environment to retain moisture while it's in the oven.
Making the brown sugar ham glaze
While the oven preheats, put together your glaze. This will take about 15 to 20 minutes, the majority of the prep time is just waiting for the bourbon and orange juice to reduce.
Combine all the spices in a medium saucepan and toast for 1 to 2 minutes until fragrant.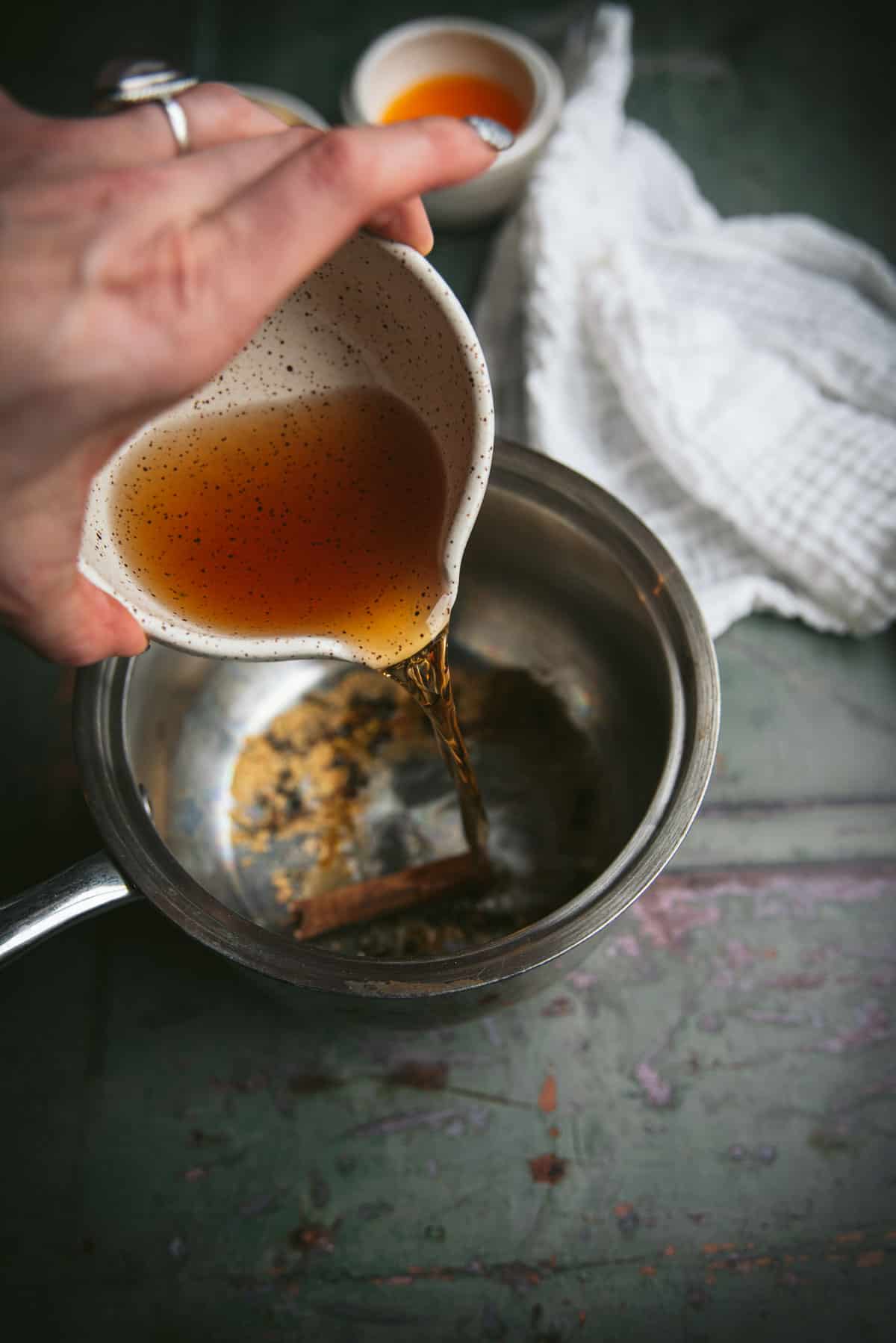 Carefully add the bourbon and orange juice. Bring to just a boil, then reduce the heat to medium and simmer until the liquid is reduced by almost half.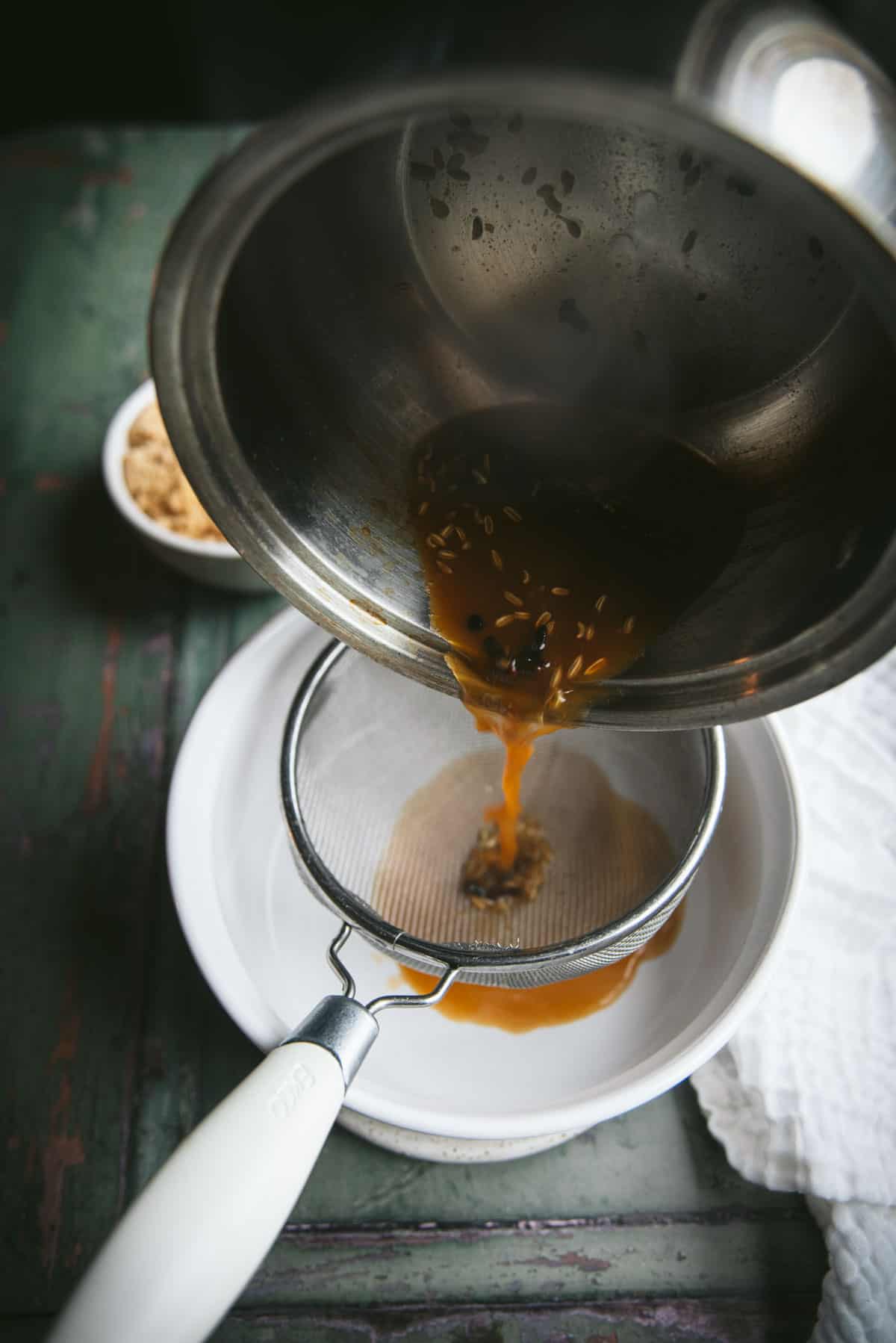 Strain the spices from the glaze.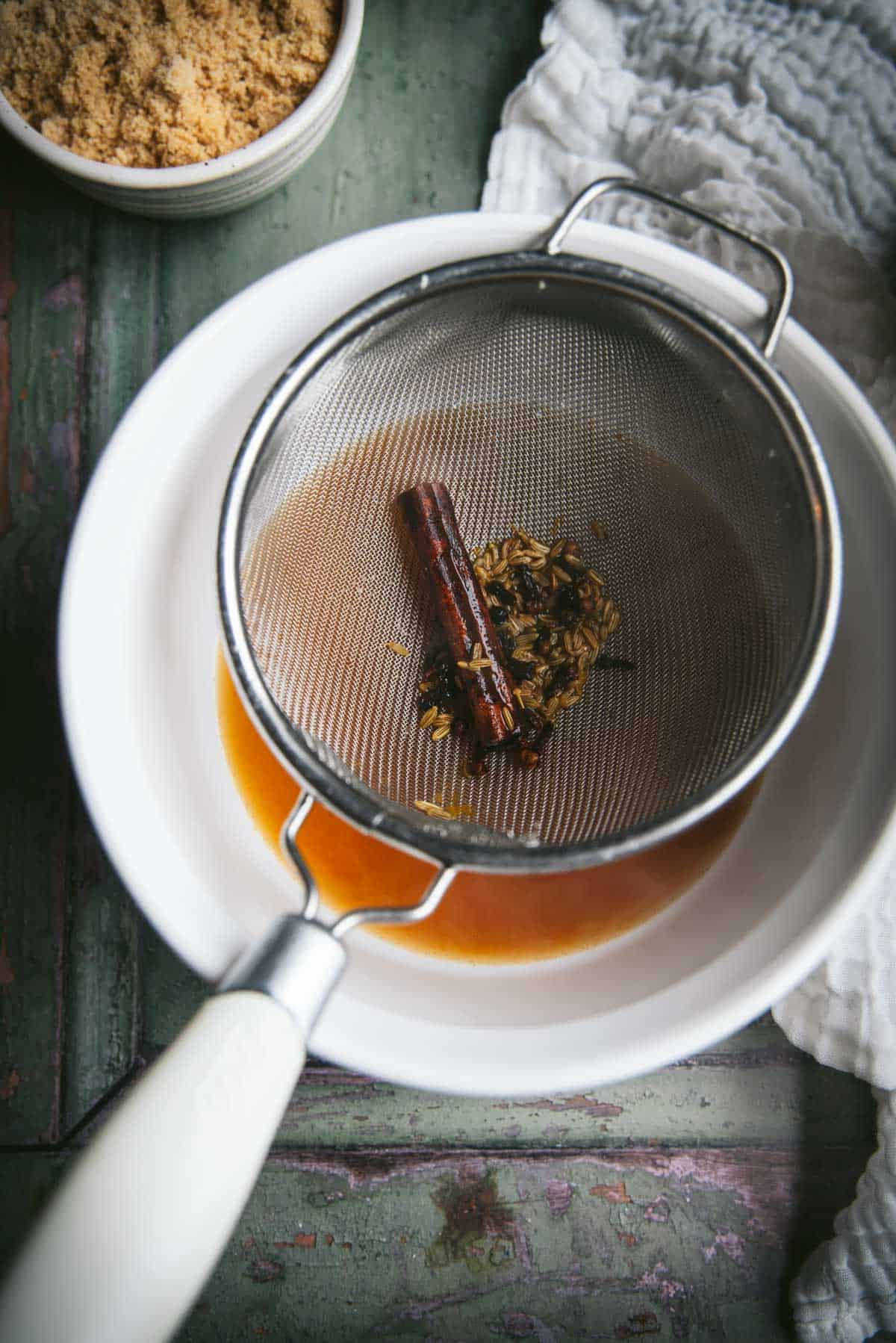 Discard the spices, we only need the liquid gold we collected.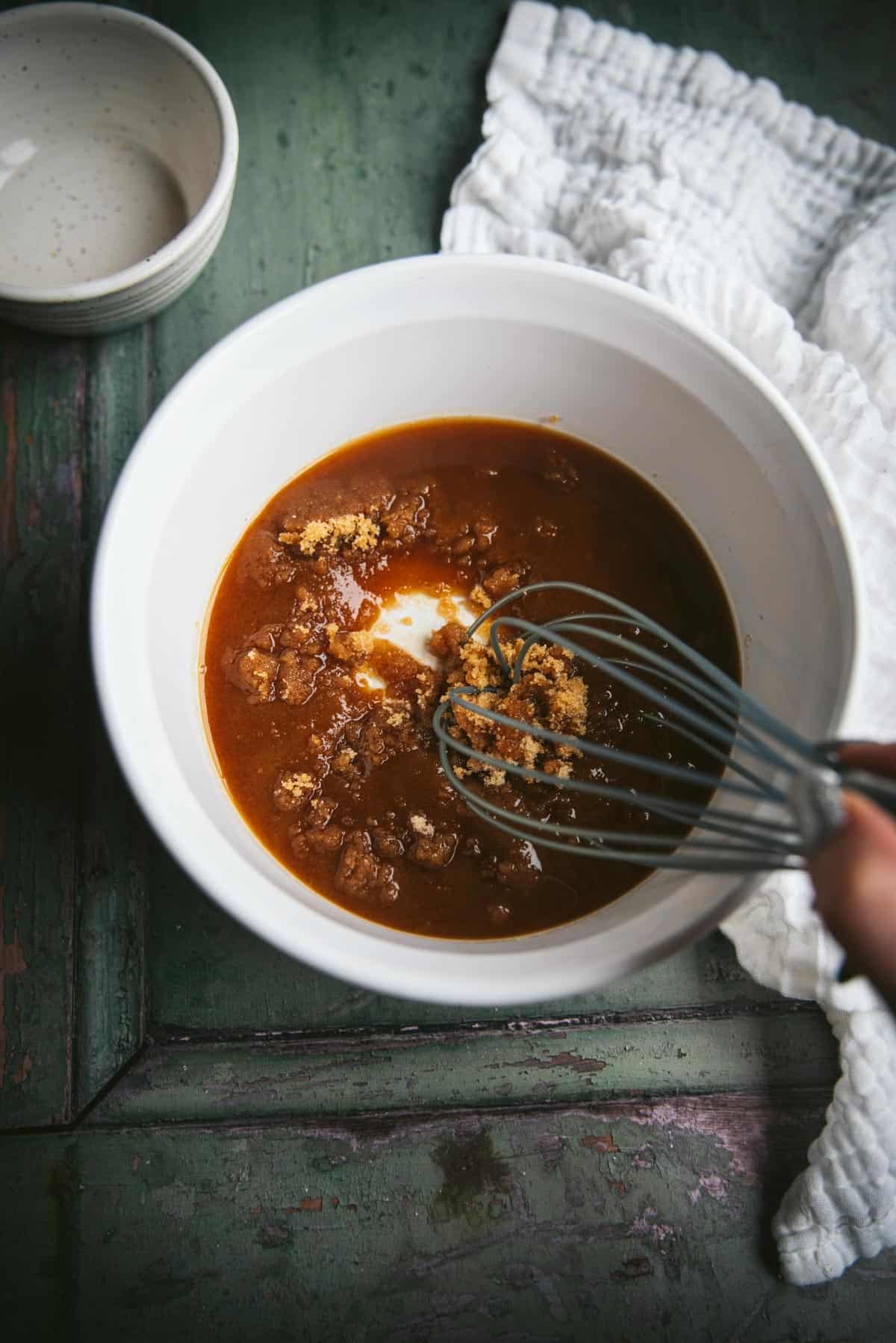 Whisk in the brown sugar until it has melted.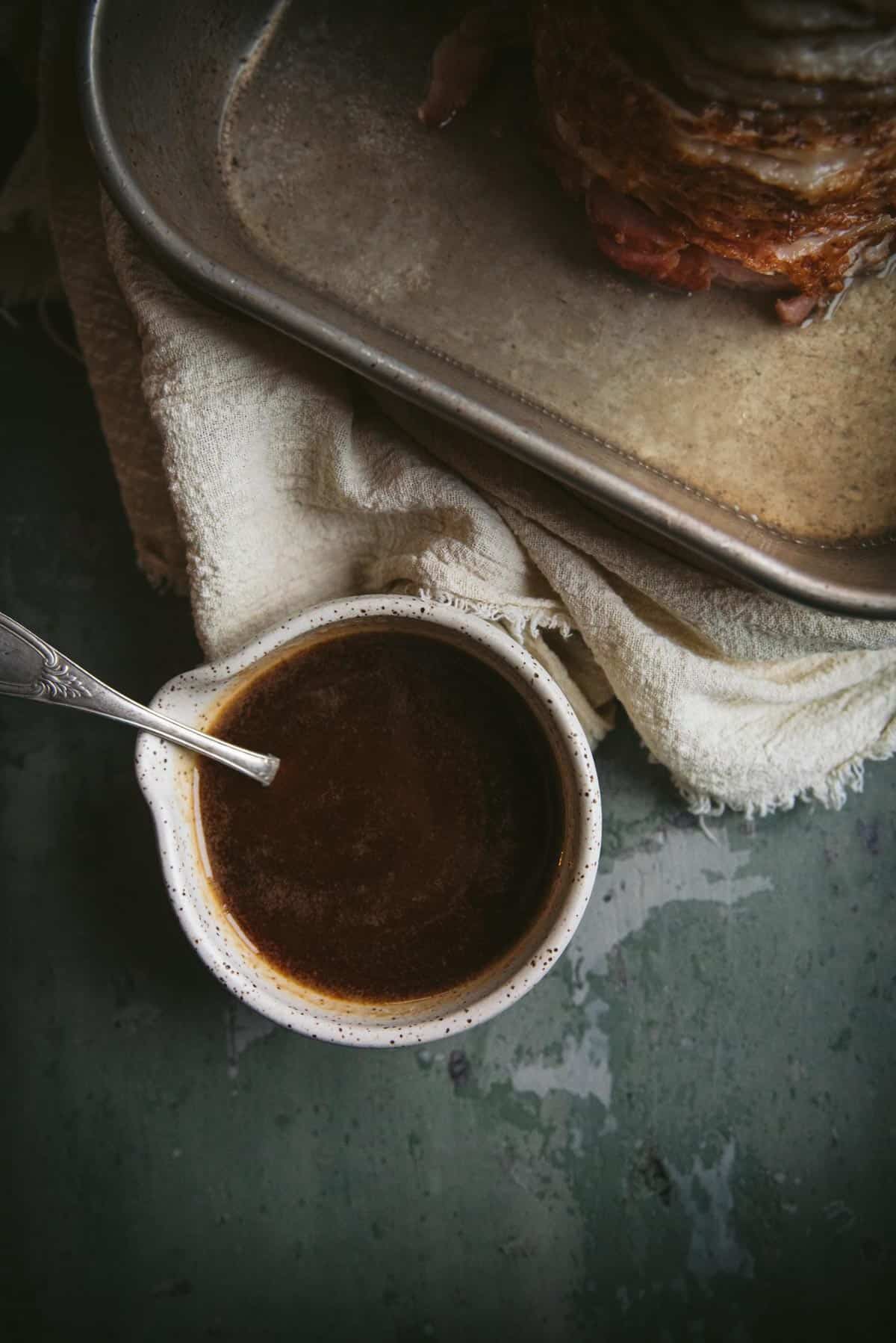 Place in a dish and leave to the side until you are ready to glaze your ham.
Top Tips for the Best Glazed Ham
Toast the spices. This releases their fragrances.
Reduce the liquids with the spices. This will increase the sugar to liquid ratio so you still get that thick glaze texture without adding things like corn syrup. The spices will also infuse with the concentrated liquids - win win.
While it won't look terribly thick after you first take it off the heat, once it's time to use the glaze it will be the perfect thickness to pour over your ham.
Don't forget to strain the liquids before mixing in the sugar. No one wants to crack a tooth on a peppercorn during family dinner.
Spoon the glaze over the top of the ham. Allow it to drip down the sides. Use the back of the spoon to spread over the sides. The glaze will thin a little as it hits the oven for a final high heat cooking.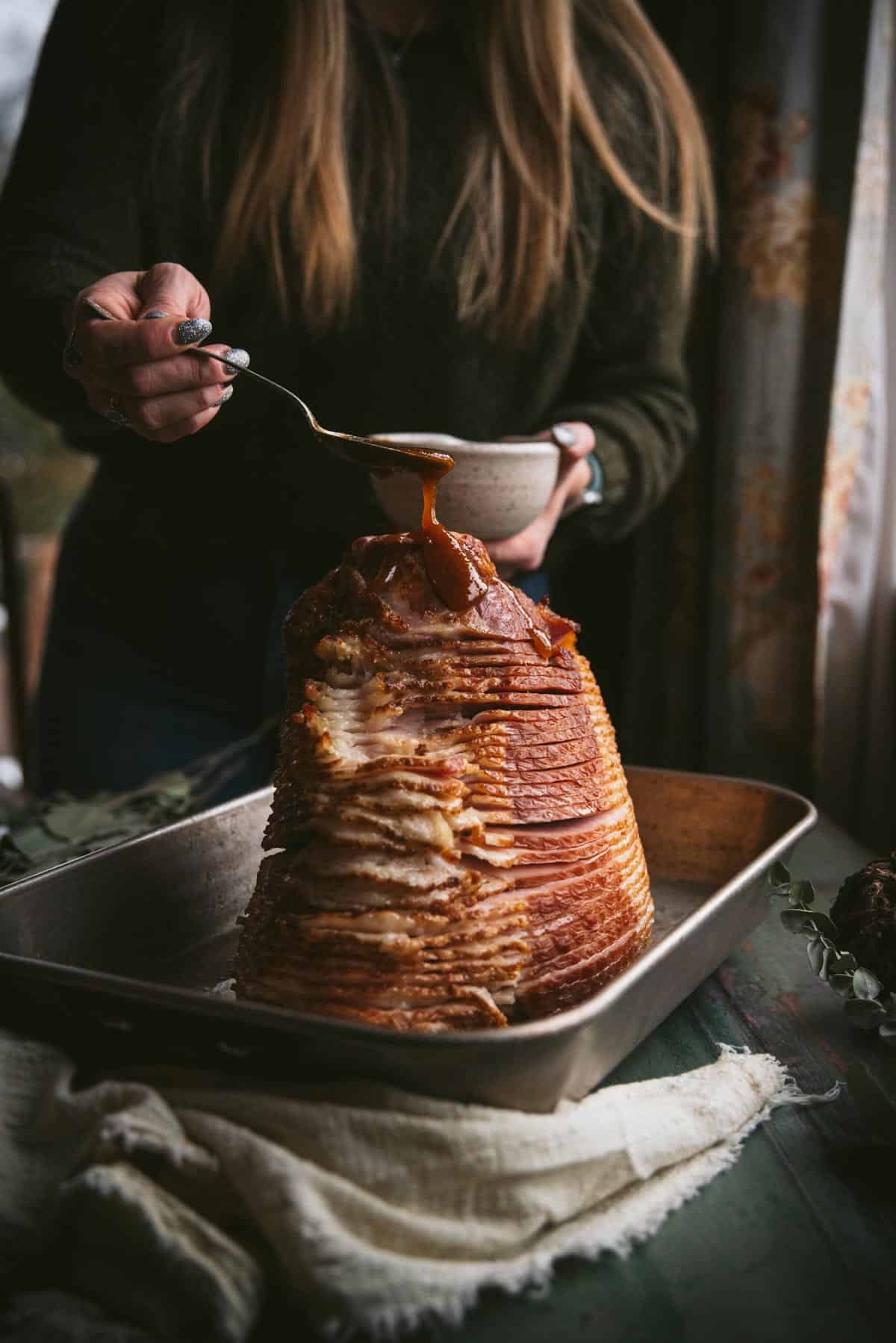 Broil or high heat cook with the glaze on. After covering ham in the bourbon glaze, return it to a high-heat oven for a final 10 minutes. The sugars in the glaze will crystalize just enough for a perfect, slightly crunchy, sweet and smokey finish.
You're done! That's it! Let's eat ham!
FAQs
What is the best bourbon to use for the glaze?
I think Jim Beam Bourbon or something that has classic bourbon flavors and is relatively inexpensive is probably the most popular bourbon for this recipe.
What if I put the glaze on the ham early?
Do not do this! There is a lot of sugar in the glaze and this means it cooks fast. If you glaze your ham before it's ready, the sugar will probably burn - and so will the skin of the ham.

Wait until there are about 10 minutes left of cooking before glazing.
How can I store leftover ham?
Once the ham is completely cool, loosely wrap it with foil or plastic wrap. Place it in the fridge and it will last up to one week!!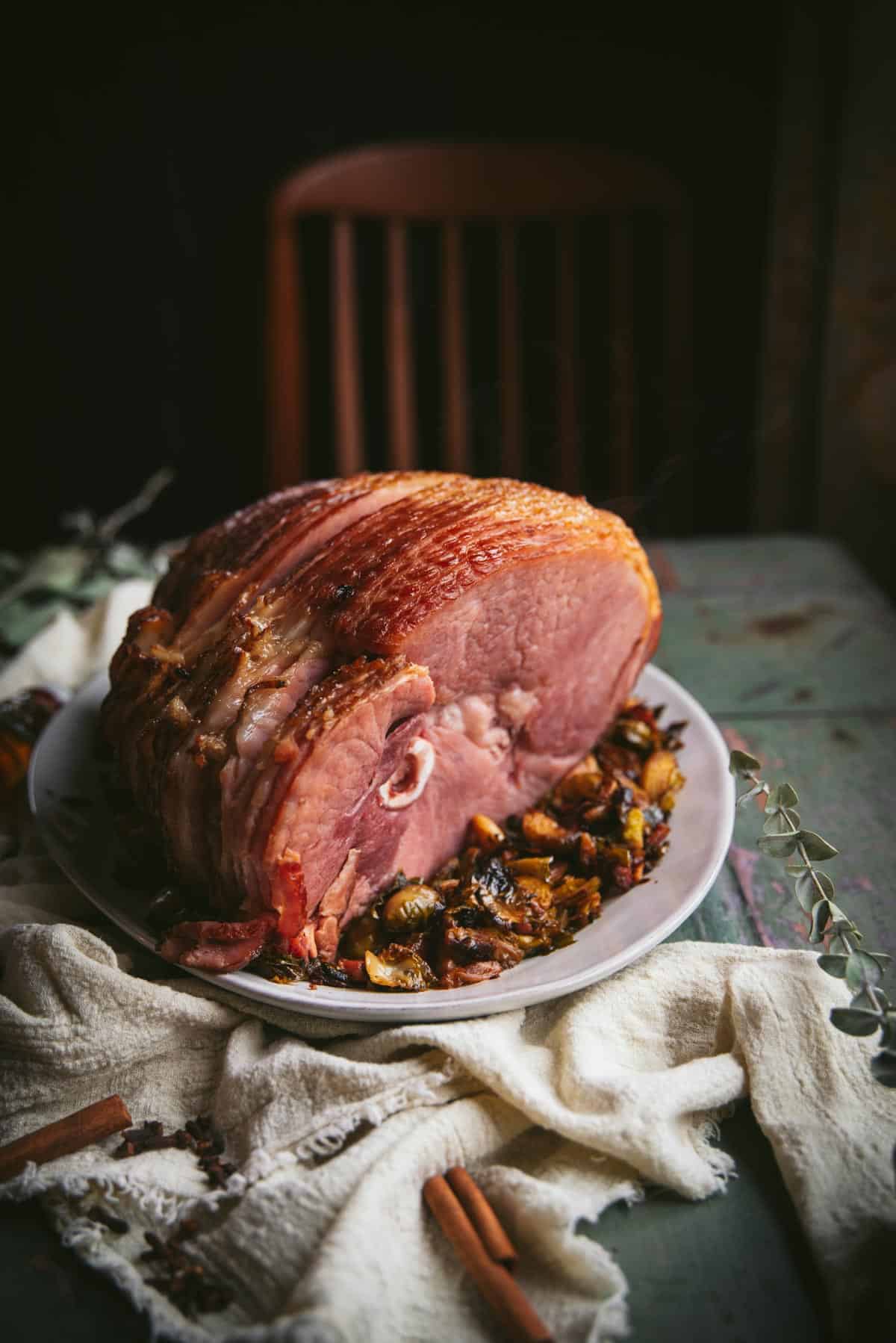 What to Serve with Your Bourbon Brown Sugar Ham
Whether you're serving up this delicious bourbon glazed ham for a weeknight meal or a special occasion, try these seriously amazing sides to join the plate.
My dreamy creamy puréed parsnips are velvety and so delicious spread on top of a forkful of this sticky bourbon ham.
Or maybe this cheesy leek and lobster gratin is more your thing? This recipe actually won me a trip to Spain, not that I'm bragging but yes - it's THAT good! It's a one-pan, sauté-layer-bake that hits all the right flavors, and trust me, you will not be disappointed.
If you like classic veg but you want to elevate it, then my crispy brussels sprouts with pancetta are for you. Sweet, salty and so, SO crispy. The right amount of crunch to add to your bourbon and brown sugar glaze.
More Easter Side Dish Inspo...
If you're in the market for crowd pleasing but also unique side dishes, try this cheesy and creamy rainbow chard and shallot gratin or this extra special honey and ginger roasted carrots.
For the pork lovers out there - I'm with you - check out this decadent honey garlic pork belly brussels sprouts and my squash addicts need to enjoy my maple roasted butternut squash or this quick and easy 20-minute maple soy roasted squash.
So many delicious options, so little time - what will you choose? What are your go-to sides for Easter dinner or for serving with ham in general? Tell me about your traditions and go-tos in the comments!
If you loved this Brown Sugar and Bourbon Glazed Ham, please consider leaving a star rating! Don't forget to tag @hungerthirstplay when you post on Instagram and Facebook so I can see all your hard work!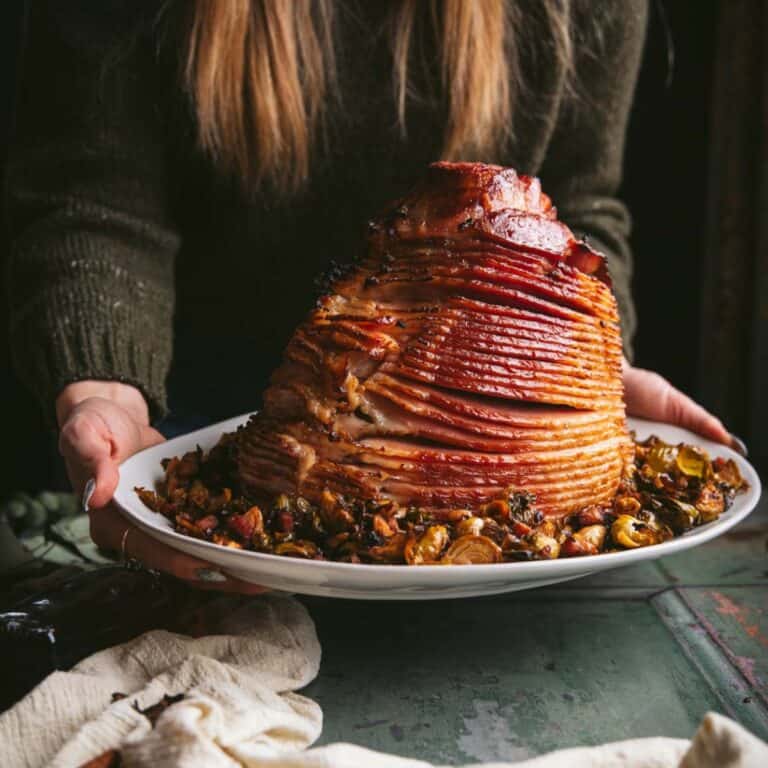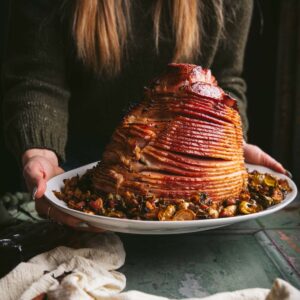 Brown Sugar and Bourbon Glazed Ham
The perfect combo of sweet, smokey, and just a touch of spices - this Brown Sugar and Bourbon Glazed Ham is great for first time holiday cooks or seasoned pros!
Print
Pin
Rate
Ingredients
1

spiral cut ham

(5 to 7 pounds boneless, 8 to 10 pounds bone-in)

½

teaspoon

ground ginger

½

teaspoon

fennel seeds

½

teaspoon

black peppercorns

1

cinnamon stick

¼

teaspoon

salt

3

tablespoons

orange juice

⅓

cup

bourbon

1

cup

light brown sugar
Instructions
Combine the spices in a saucepan over medium-high heat. Toast until fragrant, stirring occasionally, about 1 to 2 minutes.

½ teaspoon ground ginger,

½ teaspoon fennel seeds,

½ teaspoon black peppercorns,

1 cinnamon stick,

¼ teaspoon salt

Add the orange juice and bourbon to the pan. Bring to just a boil and reduce the heat to medium-low. Simmer until reduced by just about ½.

3 tablespoons orange juice,

⅓ cup bourbon

Remove from the heat and strain the liquid in a medium size bowl. Add the brown sugar and whisk until combined. Set aside.

Preheat the oven to 300°F. Remove the ham from its packaging. Place flat side down in a baking dish and fill the dish with ½ inch of water. Cover the ham and baking dish with aluminum foil.

Place the foil covered pan on the second to lowest rack in your oven and bake for 15 minutes per pound.

When there are 10 minutes left to baking increase the oven temperature to 425°F. Remove the ham from the oven. Discard the foil and drain almost all the liquid from the bottom of the pan. Pour or brush the glaze over the ham and return to the oven for the final 10 minutes of baking. Serve immediately.
Notes
Use this glaze on boneless or bone-in ham. It can be whole or spiral cut.
Be sure to drain almost all the water from the pan before adding the glaze.
For an extra crunchy glaze, you can broil the ham for about 5 minutes in addition to the high heat cook after applying the glaze.
Nutrition
Calories:
880
kcal
|
Carbohydrates:
24
g
|
Protein:
69
g
|
Fat:
53
g
|
Saturated Fat:
19
g
|
Polyunsaturated Fat:
6
g
|
Monounsaturated Fat:
25
g
|
Cholesterol:
197
mg
|
Sodium:
3834
mg
|
Potassium:
965
mg
|
Fiber:
0.3
g
|
Sugar:
23
g
|
Vitamin A:
13
IU
|
Vitamin C:
3
mg
|
Calcium:
48
mg
|
Iron:
3
mg