Creamy white chocolate center with warming bourbon flavors and a crunchy chocolate shell. Bourbon white chocolate truffles are the perfect surprise treat for the adults or a tasty food gift to give.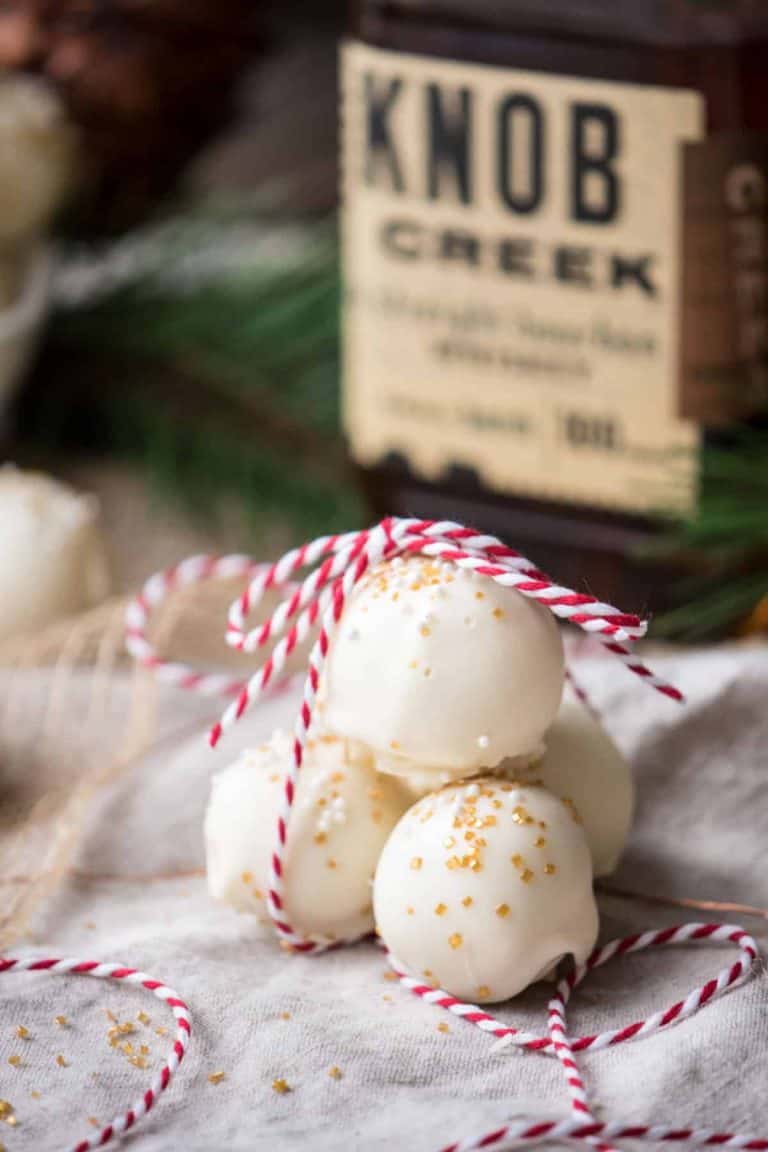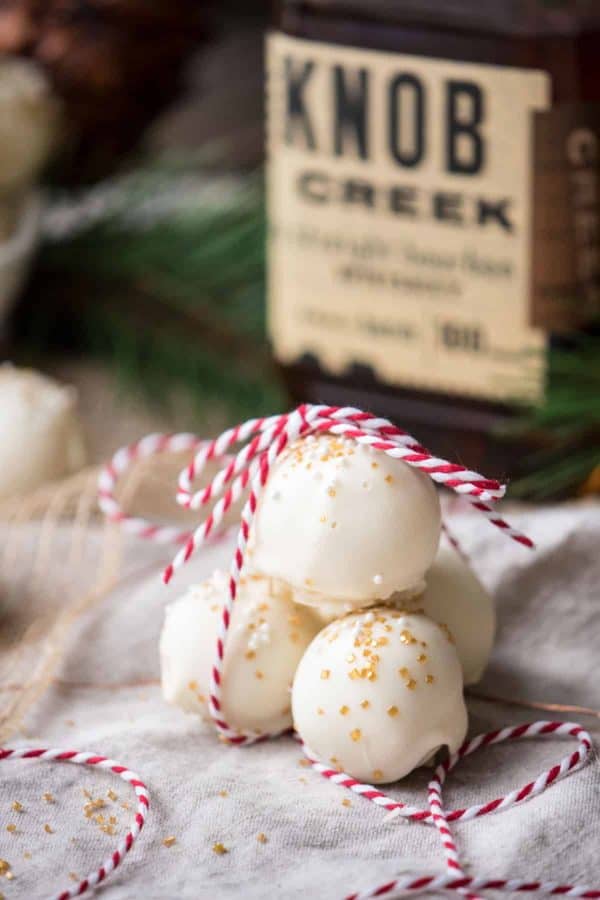 Oh boy, things are about to get real tasty. Boozy tasty. Like, "Mmmm creamy chocolate, oh wait! There's bourbon in my truffles!" Yup. Let's talk about these boozy truffles real quick because they're about to become the dessert you never knew you needed.
All my life I've been living a half life it turns out. Only indulging in one of those name brand chocolate truffles when I craved that creamy chocolate center with a crunchy chocolate shell. While that's a blissful life, guys its seriously only half of it's potential.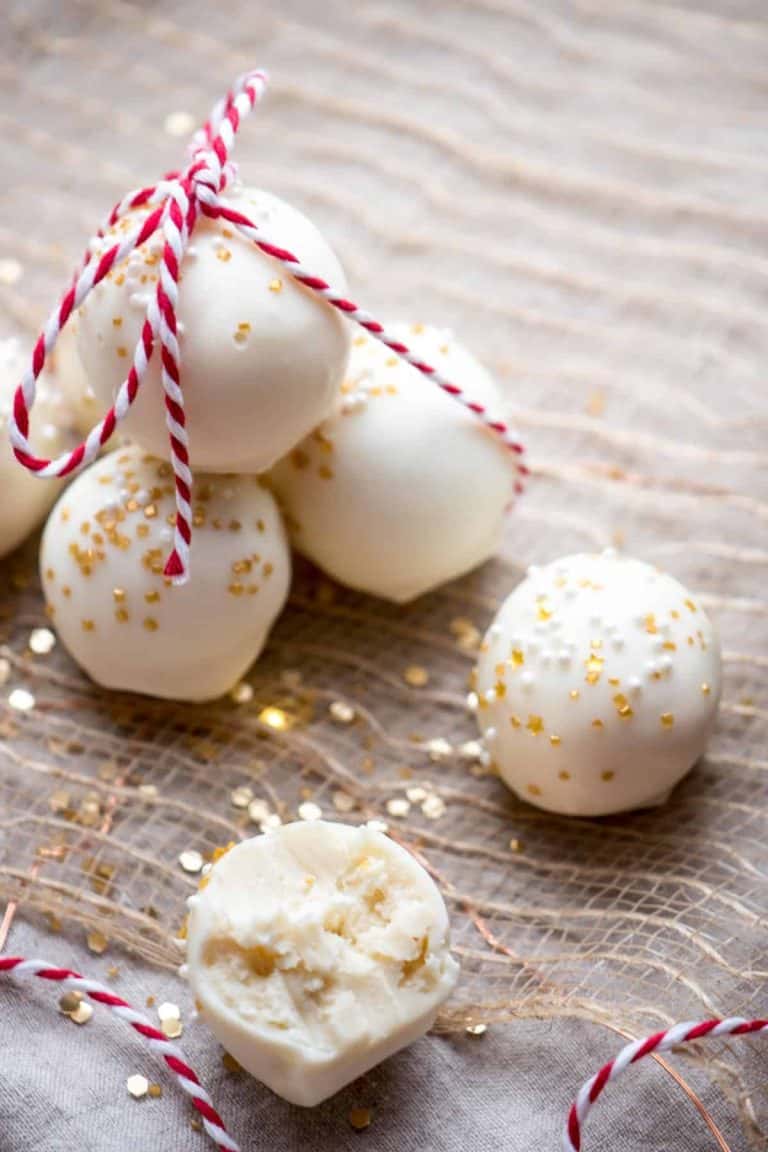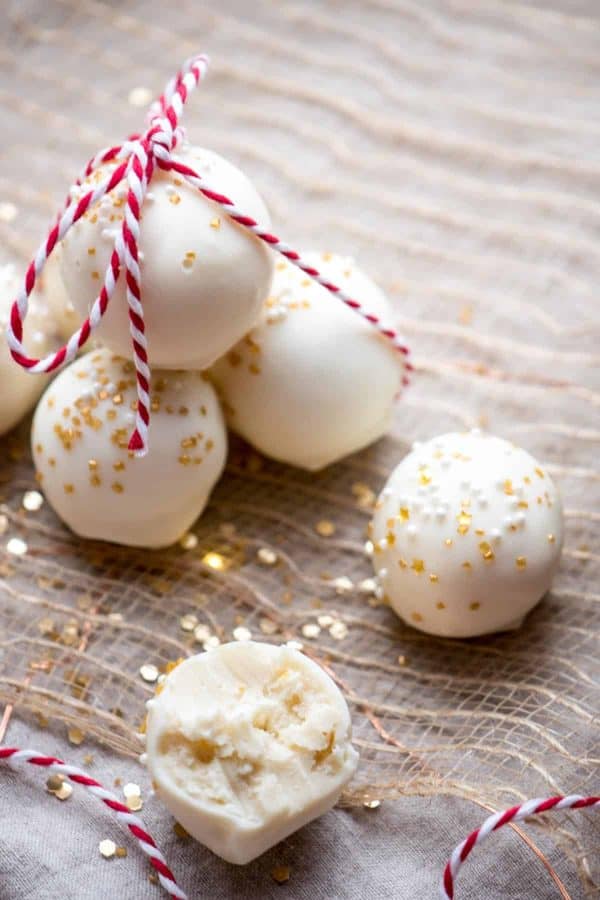 The difference? I started making truffles at home and now my life has been completely changed in so many ways for the better. Why?
Homemade truffles = waaaaay less expensive than store bought ones
The possibilities are endless! With booze, without booze, add flavors and different types of chocolate...
They are ridiculously easy to make.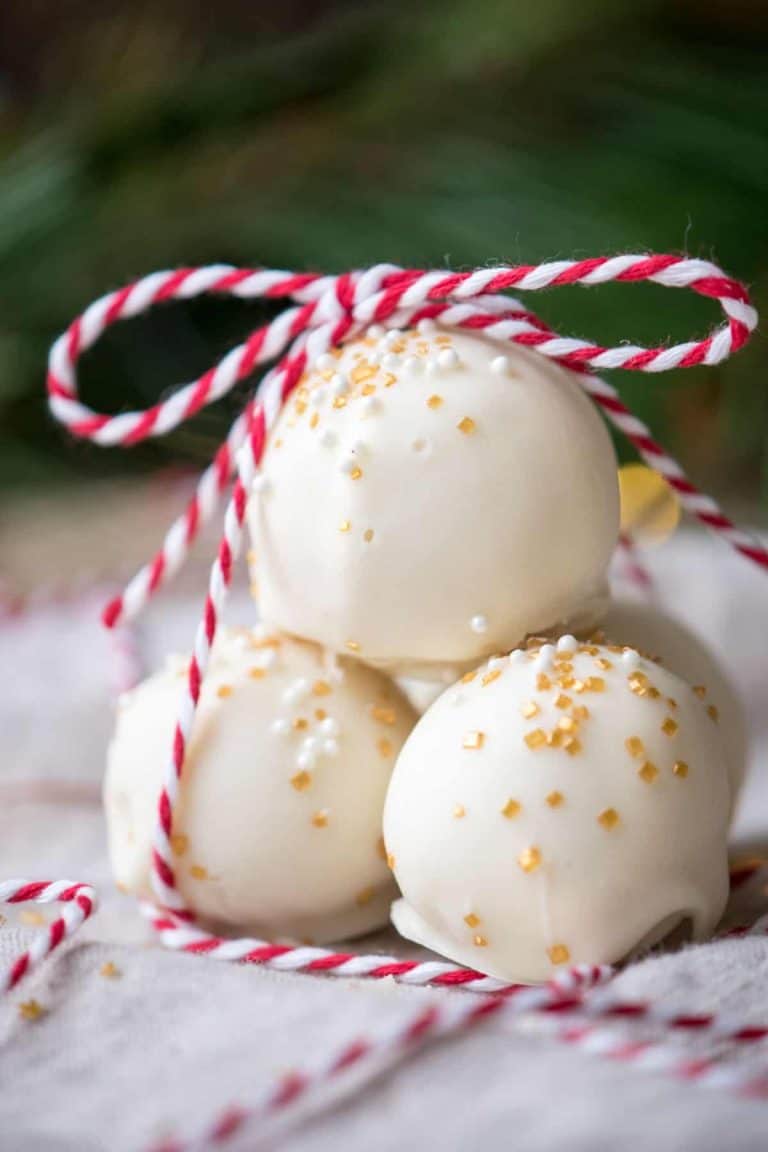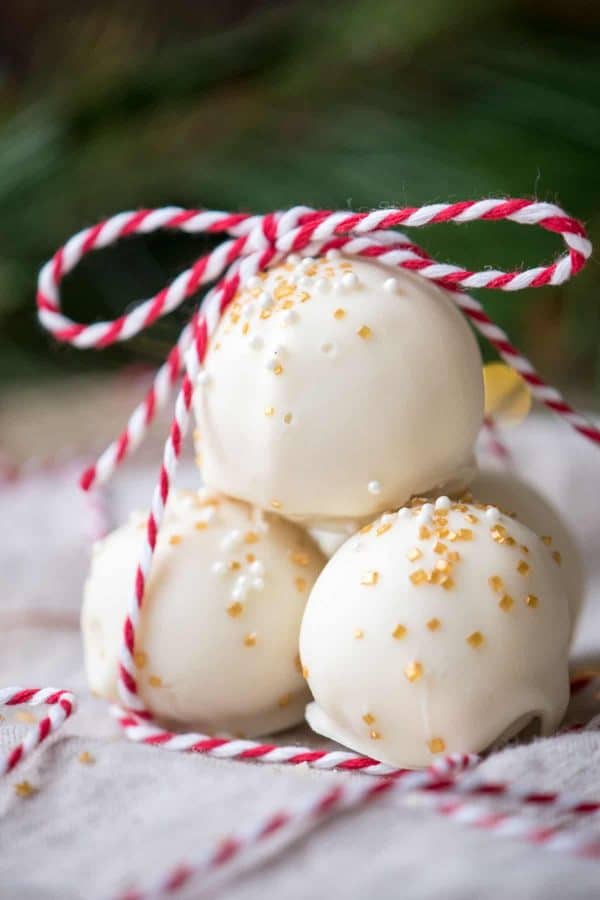 Tips for Bourbon White Chocolate Truffles
How do you melt your chocolate? Are you a risk taker and throw those chips in the microwave? Oh man, that makes me anxious just thinking about it. For our Bourbon White Chocolate Truffles, we're going to break out the double boiler method for melting chocolate. No fancy equipment needed, just a sauce pan with water and a heat proof bowl.
I use a medium size saucepan and a glass bowl that I hold with a pot holder (aka the sleeve of my sweater) while stirring the chocolate. The key is to have the water simmering and not have the bowl touch it, so about 2 to 3 inches. Think of it kind of like a sauna for your chocolate. Doesn't that sound nice?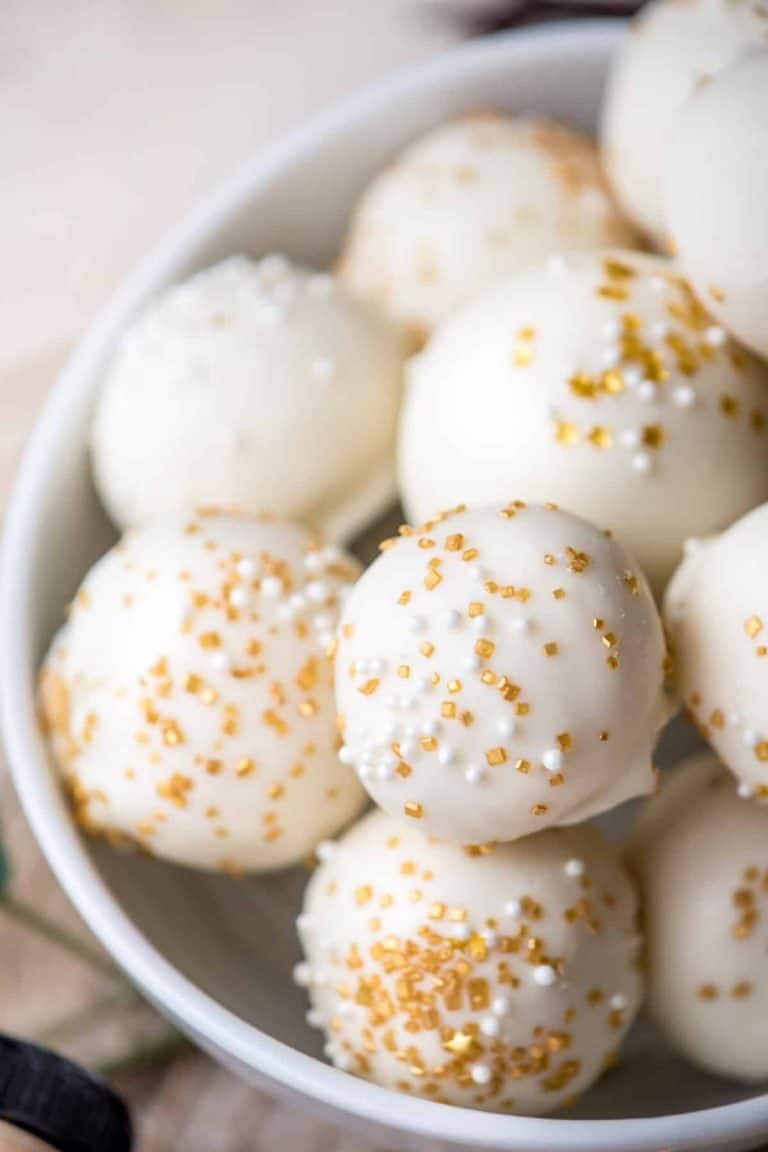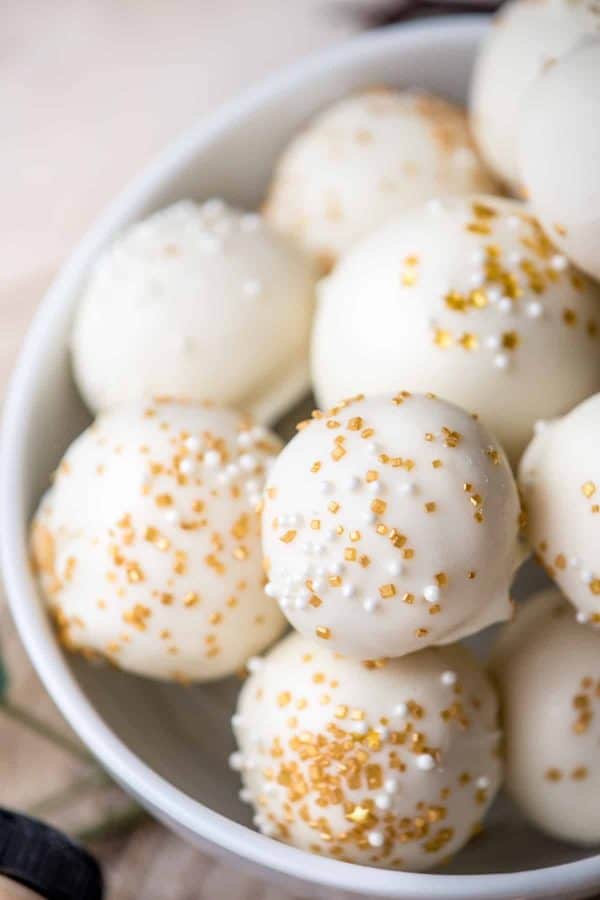 The tricky part is that when you combine the heavy cream and chocolate chips in the bowl, when the chocolate melts the liquid ratio is going to be off because you still need to add the bourbon. Don't fret though. Your chocolate might look broken (when the chocolate and fat separate and it becomes this weird texture) but once you incorporate more liquid (aka delicious bourbon) to the mix all will be right in the world again.
A little refrigerating, rolling and dipping and you are on your way to truffle nirvana.
Endless possibilities
White chocolate + bourbon are two flavors that were meant to be together. While not much of a bourbon drinker, I dabble in it occasionally. This little Bourbon White Chocolate Truffle thing going on here? We will be dabbling often.
Typically, bourbon is aged in oak barrels. Before the barrels are used for aging, they go through a charring process on the inside to impart flavors into the spirit. The end result is often a strong spirit laced with flavors of smoke, vanilla, and caramel. I mean, if that doesn't shout pair me with chocolate, we might we speaking different languages.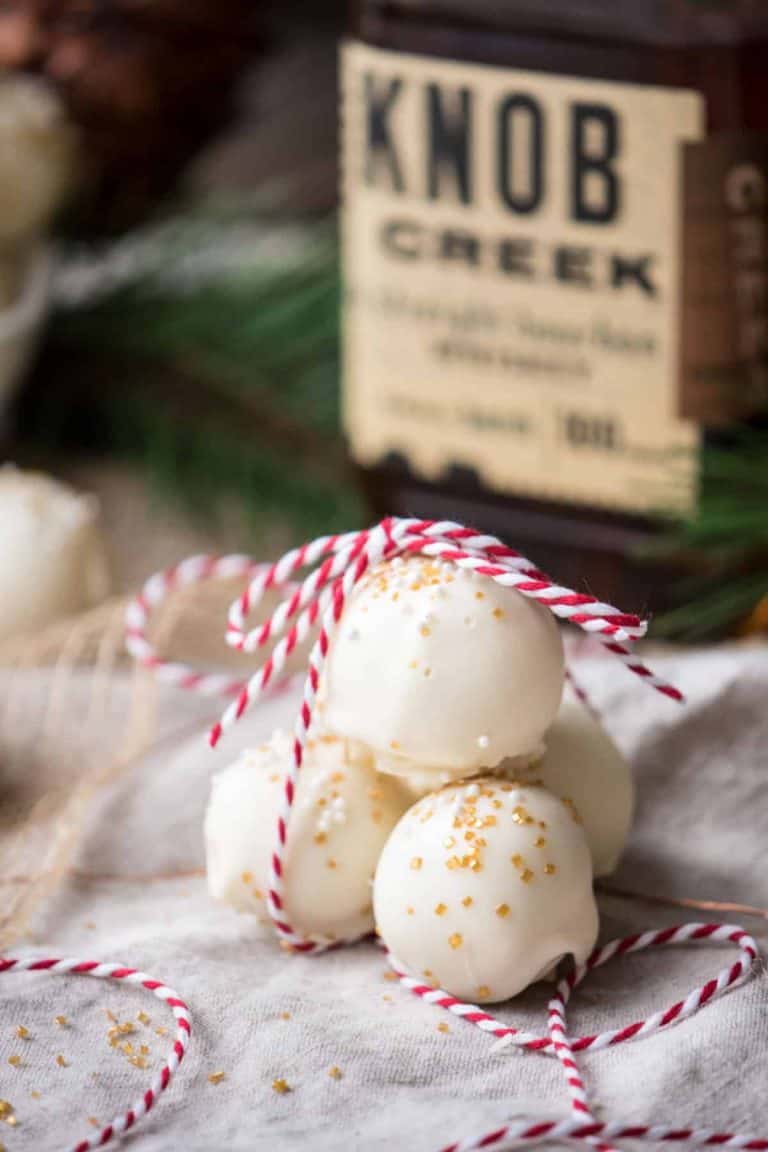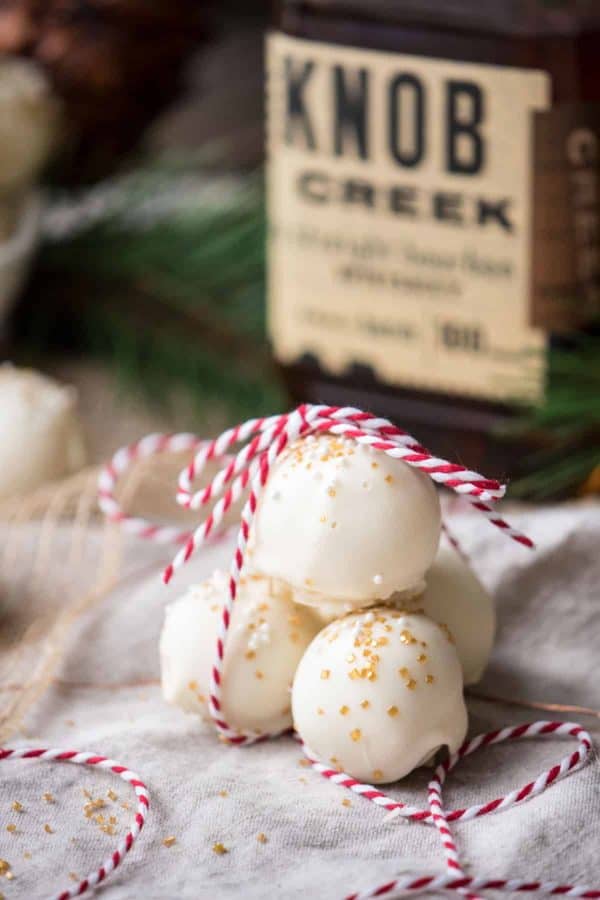 For truffles, because the bourbon is pretty forward in flavor, choose a higher quality bourbon. Maybe not something quite as expensive as the bourbon used in these whiskey smash cocktails drinks. I found Knob Creek to be right in line with what worked for me, picking up a fifth rather than a 750ml because it will probably spend a decent amount of time in the cabinet.
But here is the best part. We don't have to stop at beautiful bourbon chocolate treats. We can mix and match and create chocolate bliss however the heck we can dream up! Red wine and dark chocolate? Yup. That is definitely on the list. Mint chocolate chip? Heck ya. Oh, I could go on all day. But rather than that, here are some truffle ideas from some of my favorite people on the Internet:
Peppermint Hot Chocolate Truffle Bombs | Stress Baking
Peanut Butter Honey Dark Chocolate Truffles | Vintage Kitty
White Chocolate Pumpkin Truffles | The Fitchen
Dark Chocolate Hazelnut Truffles | Foodal
And that's just a start! Hopefully your life feels less empty too now that your mind has been expanded with all the truffle possibilities. Or are you already there?? You're on the other end of the Internet like, "Lauren. Girl. It's about time." In which case, thank you for bringing me into this wonderful truffle club.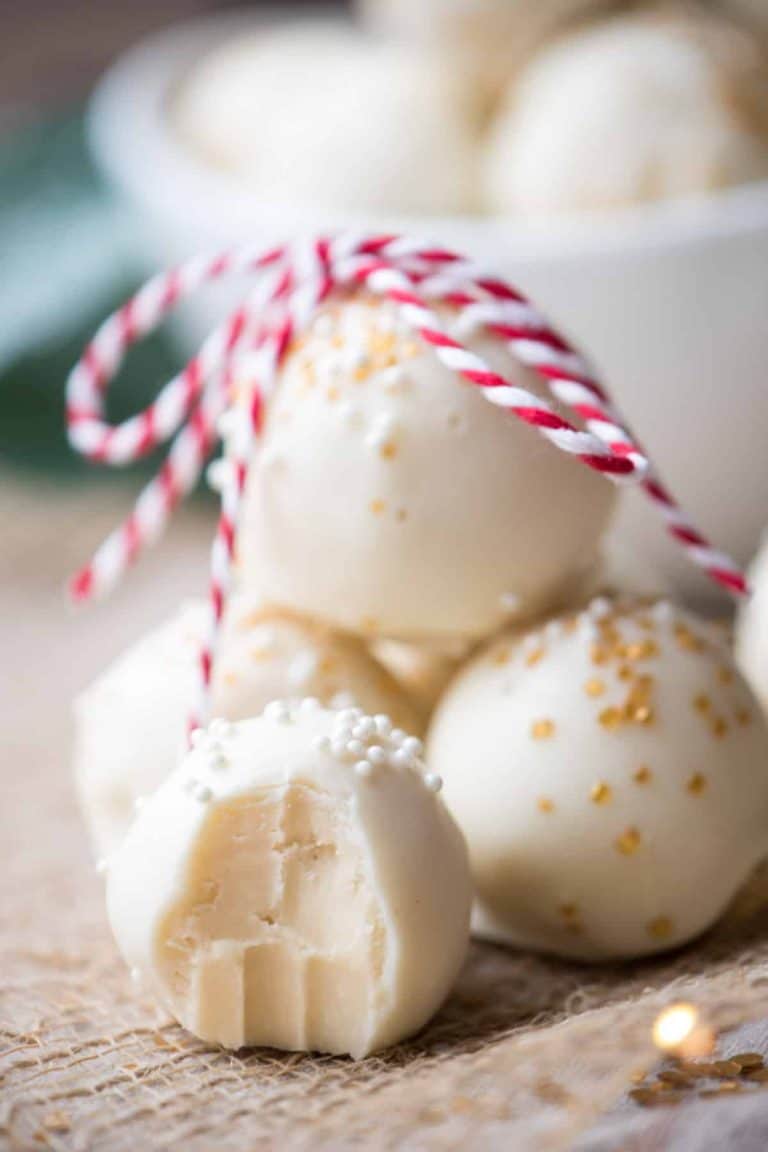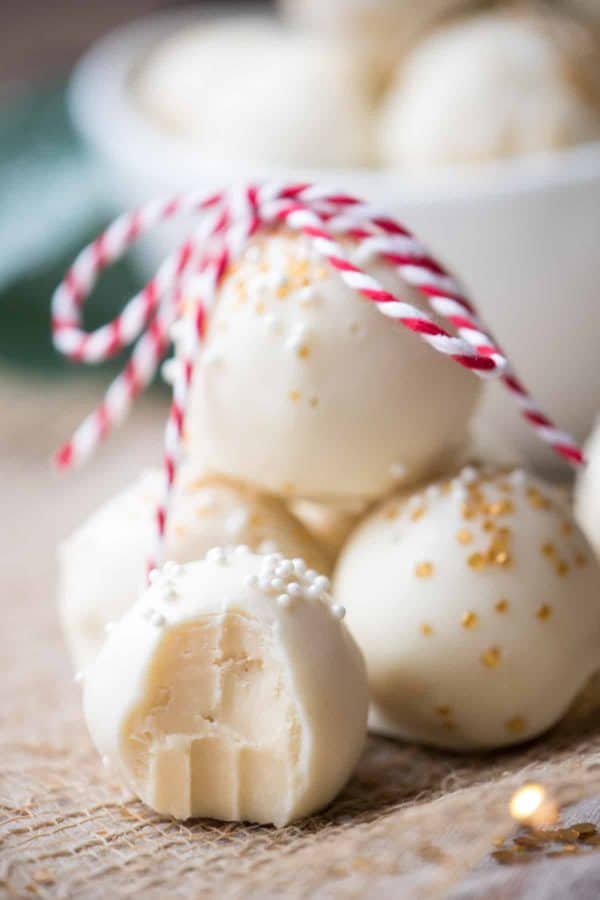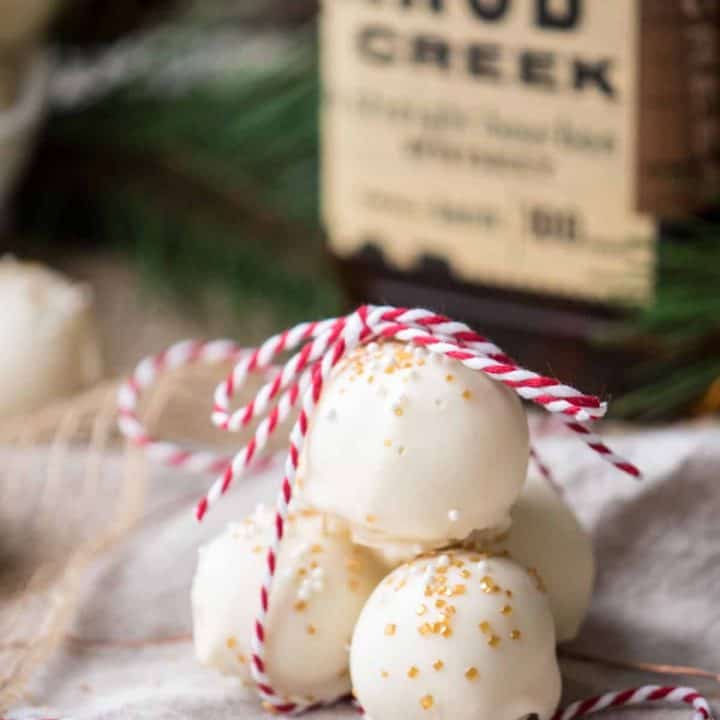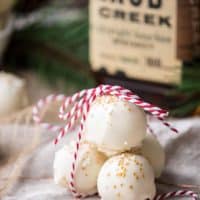 Bourbon White Chocolate Truffles
Bourbon White Chocolate Truffles, two flavors born to be together. Creamy white chocolate center with a smokey, vanilla bourbon kick lightly coated in a white chocolate shell.
Print
Pin
Rate
Ingredients
4

cups

white chocolate

(divided¹)

2

tablespoons

heavy cream

¼

cup

bourbon

Optional: gold sprinkles and white nonpareils for garnish.
Instructions
Set up a double boiler system on the stovetop - a medium size sauce pan with about 2 to 3 inches of simmering water and a heat proof bowl over the sauce pan. The bowl should not touch the water.

Add 2 cups white chocolate and heavy cream to the bowl. Stir to combine as the chocolate melts. The mixture will be very thick and appear as though the chocolate has broken, but it will thin out to the right consistency once the bourbon is added.

Once chocolate is fully melted and mixed with heavy cream, remove from the heat and add the bourbon. Mix well to combine, the constituency should be the same as melted chocolate.

Refrigerate until the chocolate is firm, about 1 hour. Roll into bite sized balls and place on a sheet of parchment paper. Refrigerate while preparing the dipping chocolate.

Set up a double boiler system again and melt the remaining white chocolate - choose a shallow bowl so the truffles will be easier to dip. Remove from the heat and retrieve the bourbon white chocolate truffles from the refrigerator. Using a fork roll each truffle in the melted chocolate then lightly tapping while on the fork to remove excess chocolate. Transfer back to the parchment paper and garnish with whichever sprinkles make you happy.²

Let sit at room temperature or in the refrigerator for 10 to 15 minutes to let the chocolate shell set.
Notes
¹You will only need 2 cups of white chocolate to make the truffles, the remaining 2 cups is to be melted and to dip the chocolate for a hard white chocolate shell. An alternative option is to roll the truffles in sanding sugar or sprinkles if you don't want a white chocolate shell. The shell is recommended if the truffles will be in a warm environment, it will keep them from getting to mushy while on display.
²There will most likely be remaining chocolate after all the Bourbon White Chocolate Truffles are dipped. You can transfer this to an ice cube tray, or any silicon mold, let set and then pop out and store to be reused at a later time!
Nutrition
Calories:
155
kcal
|
Carbohydrates:
16
g
|
Protein:
2
g
|
Fat:
9
g
|
Saturated Fat:
5
g
|
Cholesterol:
8
mg
|
Sodium:
25
mg
|
Potassium:
80
mg
|
Fiber:
1
g
|
Sugar:
16
g
|
Vitamin A:
30
IU
|
Vitamin C:
1
mg
|
Calcium:
54
mg
|
Iron:
1
mg