Tender cake laced with warming spices of cinnamon, clove, and ginger, coated in fluffy eggnog buttercream and white chocolate ganache drip. Christmas Spice Cake with Eggnog Buttercream is a delicious and beautiful cake to serve this holiday!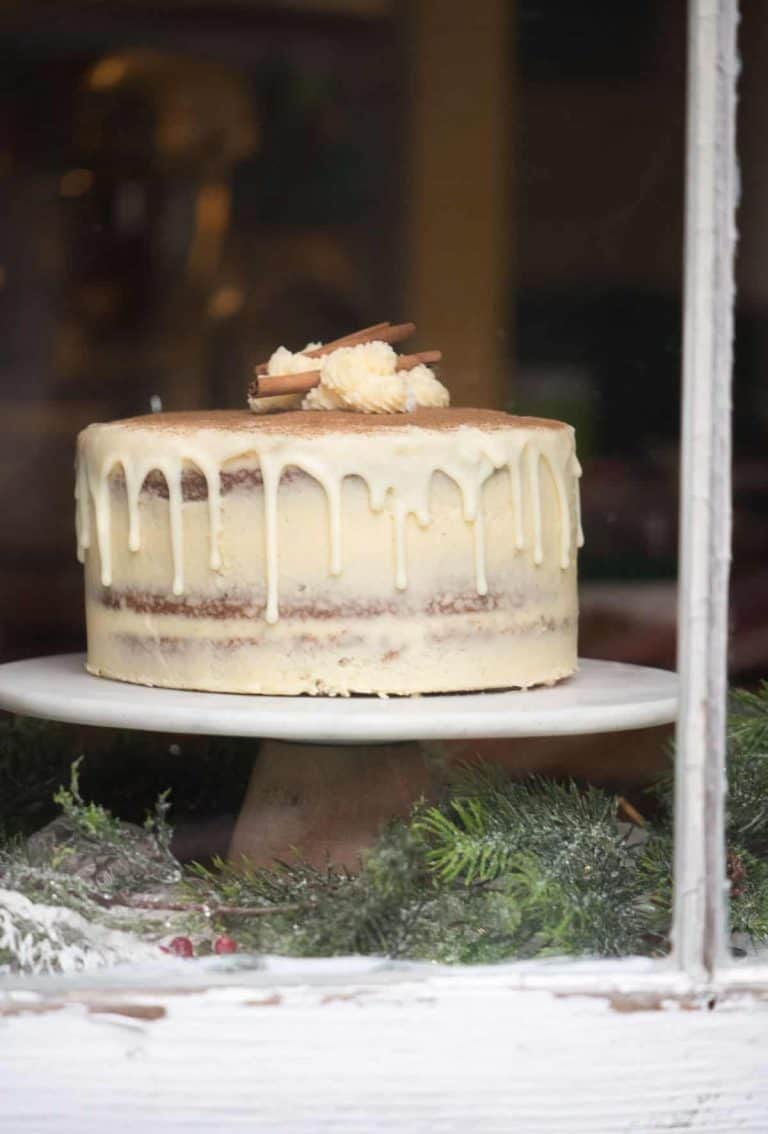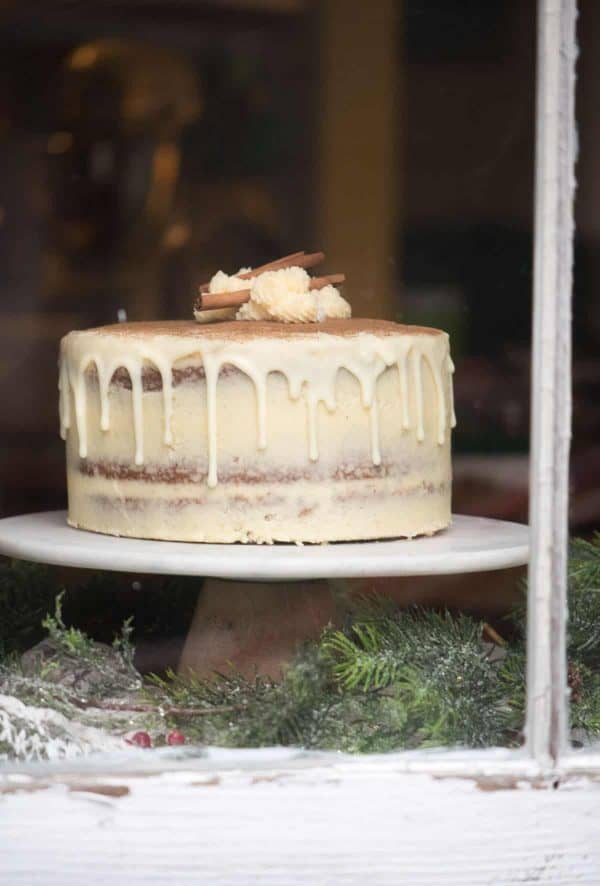 Well, it's here. Ready or not. The big guy in the red suit is checking his list, loading up his sleigh and getting ready for a busy ride around the world. Meanwhile, we're over here in Boston checking our shopping lists, twice, because facing that crowd twice is not on anyone's nice list.
What's on my shopping list? Ingredients for christmas spice cake and creamy eggnog frosting. The happy to my holidays.
I've made this spice cake, hmmm, roughly 5 times this month. Trust me, my pants aren't happy about it, but my mouth is doing just spectacularly. Luckily my coworkers are very willing to test the samples. Aren't they just the best?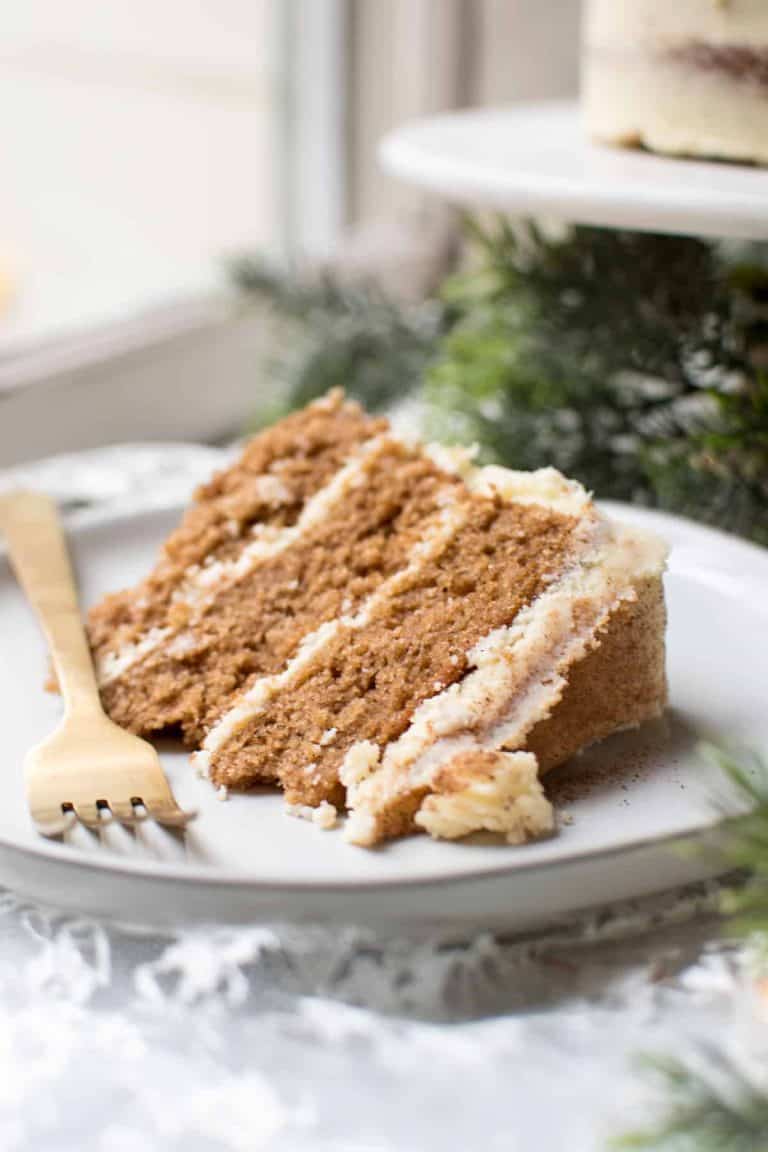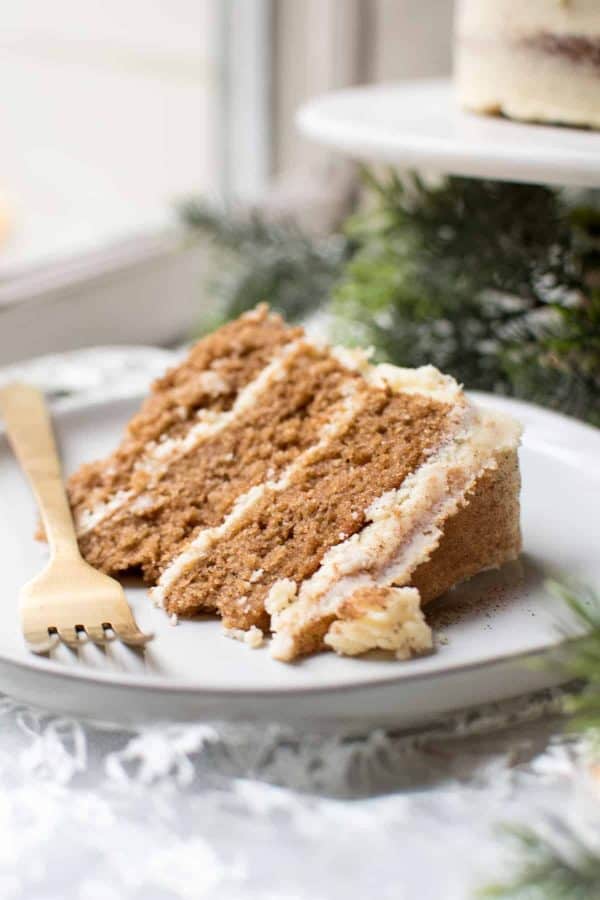 Let's talk about the Christmas Spice Cake
There are a few cake that my hands always just seem to make. My very favorite chocolate cake in salted caramel pretzel cake or pumpkin buttercream cake. And then this summer these red velvet cupcakes got added to the list. But now, you guys, we have a third cake that's a must make for the holidays. Christmas Spice Cake.
We're calling it christmas spice cake because it's got all those warming spices that make us think of cozy slippers and falling snow, but really it can be whenever-you-want spice cake. Let's be honest, whenever cakes are always the best cakes.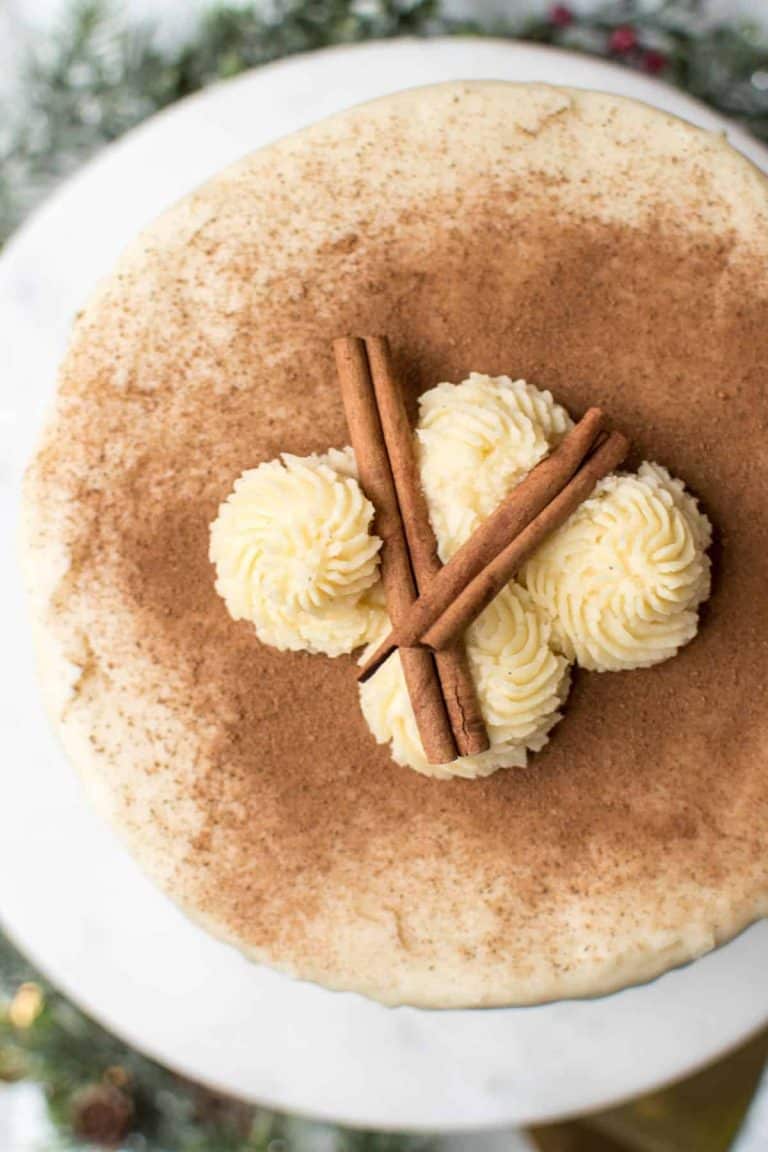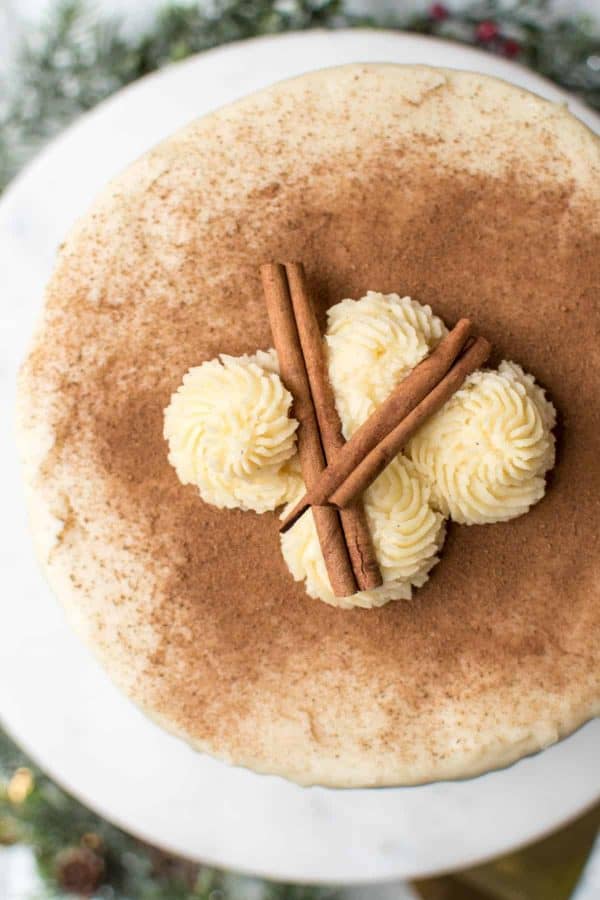 The tricky awesome part about spice cake is the wonderful combination of spices that perk up your tongue. When you read the ingredients, your eyebrows will raise at the black pepper.
But trust me. It provides just the subtlest kick of warm heat without even giving off that there is black pepper in the cake. All you're tasting is sweet cinnamon, spicy ginger, roasty clove and fluffy, moist cake. All the wins.
But just waaaait....a present's not a present until it's wrapped right? Well, here's the most festive wrapping evah.
Fluffy Eggnog Buttercream
If you've been tuning in on the Instastories, you'll know the first attempt at this did not go so well. Second attempt, we did things much different. Results? Creamy, dreamy eggnog buttercream.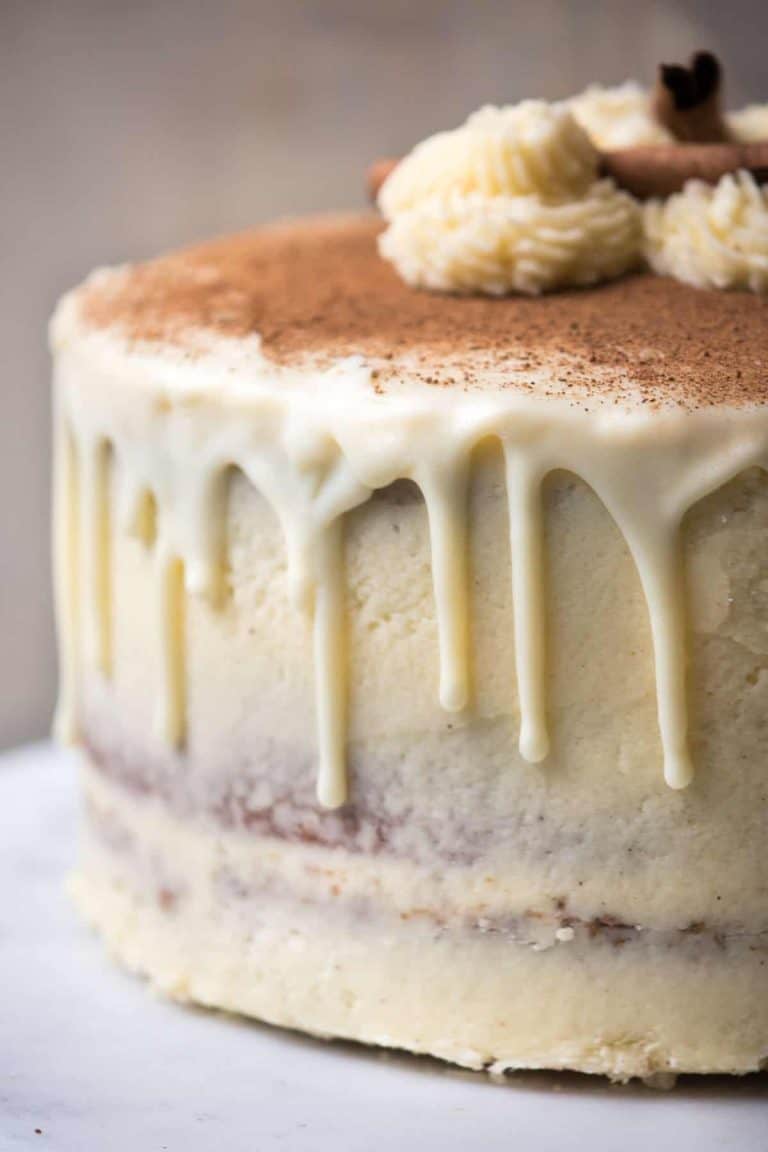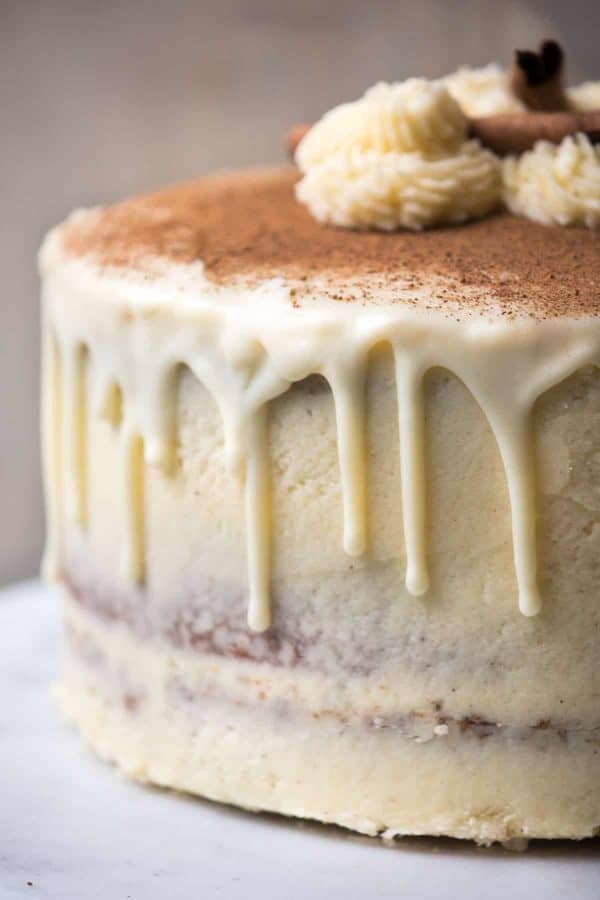 TIPS FOR MAKING EGGNOG BUTTERCREAM
whip the buttercream until pale and fluffy
incorporate the confectioners sugar
add the eggnog one tablespoon at a time
adjust the texture with heavy cream
Be sure to refrigerate this cake if you're not serving it right away. You can take it out of the fridge - or if you're in cold climates and you store holiday food in the garage. It's a thing we do, it's odd but useful when the fridge is full.
After refrigeration, the cake will need about 45 minutes to an hour at room temp before serving.
And then if you're extra, like me (I'm totally aware and unafraid) you add a white chocolate ganache drip to the top. Hey, it's Christmas. Calories don't count on Christmas. Or Christmas Spice Cake for that matter.
From Henry, Shea, Charley Brown and myself we wish you the happiest of holidays. Whether you celebrate Christmas or another holiday, embrace religion or just for the love of it. We hope your holidays are magical.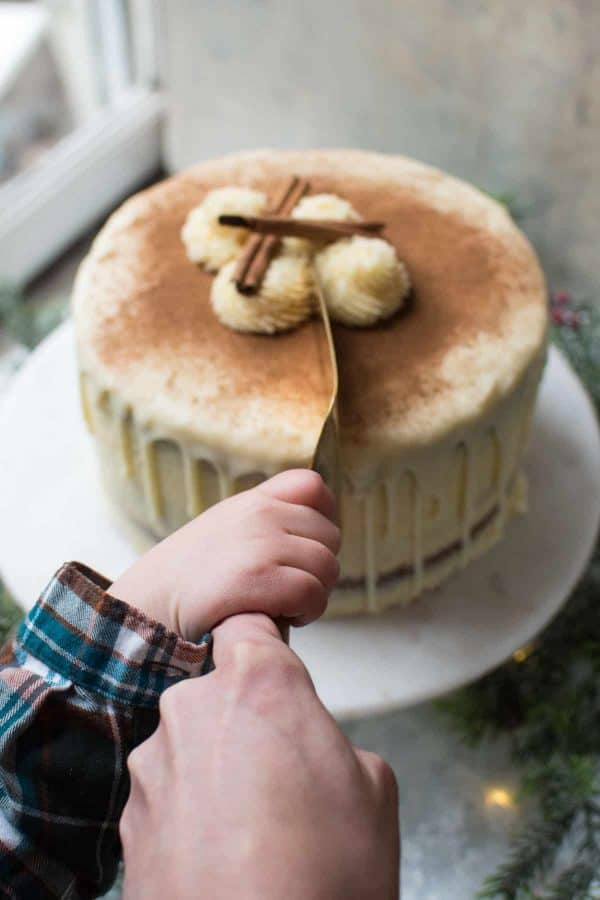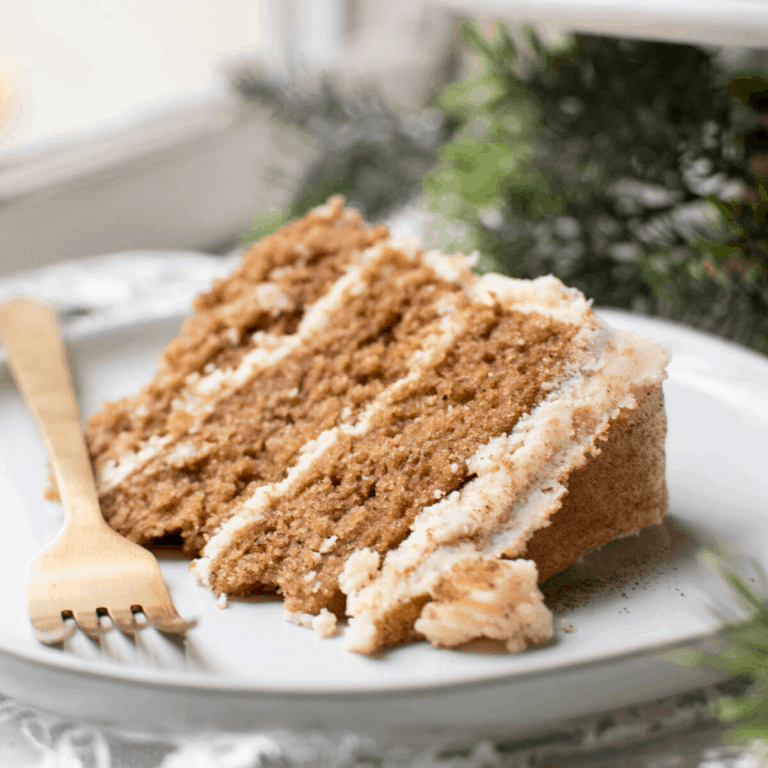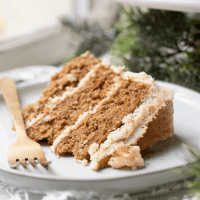 Christmas Spice Cake with Eggnog Buttercream
Three layers of ultra moist cake with cinnamon, ginger, nutmeg and more surrounded by creamy, sweet eggnog frosting.
Print
Pin
Rate
Servings:
10
to 12 servings
Ingredients
Christmas Spice Cake
2 ½

cups

all purpose flour

2

teaspoon

baking powder

2

teaspoon

baking soda

½

teaspoon

salt

1 ½

teaspoons

ground cinnamon

1

teaspoon

ground ginger

½

teaspoon

ground nutmeg

½

teaspoon

ground clove

¼

teaspoon

pure ground black pepper

1

tablespoon

unsulphered molasses

1

cup

vegetable oil

1 ¾

cup

light brown sugar

1 ½

cup

unsweetened apple sauce

4

large eggs

2

teaspoons

pure vanilla
Eggnog Buttercream
1 ½

cups

3 sticks unsalted butter

4 ½

cups

confectioner's sugar

7

tablespoons

eggnog

½

teaspoon

ground nutmeg

¼

cup

heavy cream
White Chocolate Ganache
1

cup

white chocolate chips

½

cup

heavy cream
Instructions
Christmas Spice Cake
Preheat oven to 350°F. Grease and flour 3 8-inch cake pans, set aside.

In a medium size bowl, combine flour, baking powder, baking soda, salt and spices (cinnamon through black pepper). Whisk together and set aside.

In the bowl of a standing mixer, or using a large bowl with a hand held mixer, add light brown sugar, vegetable oil, molasses and apple sauce. Cream together on medium speed, making sure there are no lumps left from the brown sugar. Add eggs and vanilla, mix on low speed 1 to 2 minutes until incorporated.

Working in three batches, add the dry ingredients to the wet ingredients on low speed. Mix to combine ingredients, scraping down the sides of the bowl when necessary.

Divide the cake batter evenly between the three pans. Bake at 350°F for 25 to 30 minutes until a toothpick comes out clean.

Let cake cool and prepare the frosting. Once cake is completely cool, frost each layer and top and sides of the cake. Once frosted, lightly drip the cooled ganache over the sides of the cake. Pour ganache over the top and lightly smooth. Optional: Once ganache has set, lightly sprinkle top with spices.
Eggnog Buttercream
Cream the butter on medium-high speed until pale and fluffy. Reduce speed to low, slowly adding confectioners sugar one cup at a time.

Add eggnog one tablespoon at a time, raising speed to medium. Add ground nutmeg and beat for 2 minutes to incorporate. Reduce speed to add heavy cream without splashing, slowly increase speed medium-high to whip the cream into the frosting. Beat for 1 to 2 minutes until frosting is light and fluffy.
White Chocolate Ganache
In a small saucepan, bring heavy cream to a simmer. Pour hot cream over white chocolate chips in a heat proof bowl. Stir with a spatula until smooth. Let sit for 10-20 minutes until cool but still liquid. The warmer the chocolate ganache is, the longer your drips will be. How long you cool it is a matter of preference and patience.
Nutrition
Calories:
1122
kcal
|
Carbohydrates:
134
g
|
Protein:
8
g
|
Fat:
64
g
|
Saturated Fat:
44
g
|
Trans Fat:
1
g
|
Cholesterol:
173
mg
|
Sodium:
492
mg
|
Potassium:
264
mg
|
Fiber:
2
g
|
Sugar:
107
g
|
Vitamin A:
1247
IU
|
Vitamin C:
1
mg
|
Calcium:
173
mg
|
Iron:
2
mg