Three incredibly tender layers of rich cocoa cake sandwiched between light, fluffy pumpkin buttercream. Then topped with creamy chocolate ganache and crunchy chopped walnuts. When you have an opportunity to drip chocolate ganache over Three Layer Pumpkin Buttercream Cake you take it, right?
Bam. Look at all that melty ganache action going on. It's the perfect sweet treat to a fluffy, but a mildly sweet pumpkin buttercream. And this orange whipped delight? Legit, cloud like softness going on.
Pumpkin Buttercream
This is a safe space right? I like to think that it is. You guys are supportive. Well, I have a confession to make. A tough one with Thanksgiving just a few days away. Welp, the truth of it is...I just don't like pumpkin pie. Last year, I finally came to terms with pecan pie. This pie to be exact.
There's no pin pointing why the anti-pumpkin pie stance. It's part texture...kind of like eating a pie full of grainy yogurt. And I like yogurt, but just not a whole slice of pie textured like it. But everything else pumpkin you can sign me riiiight up.
This Three Layer Pumpkin Buttercream Cake? Signed up. First one on the list. But I'll let you backsy cut. Even brought an extra plate for you.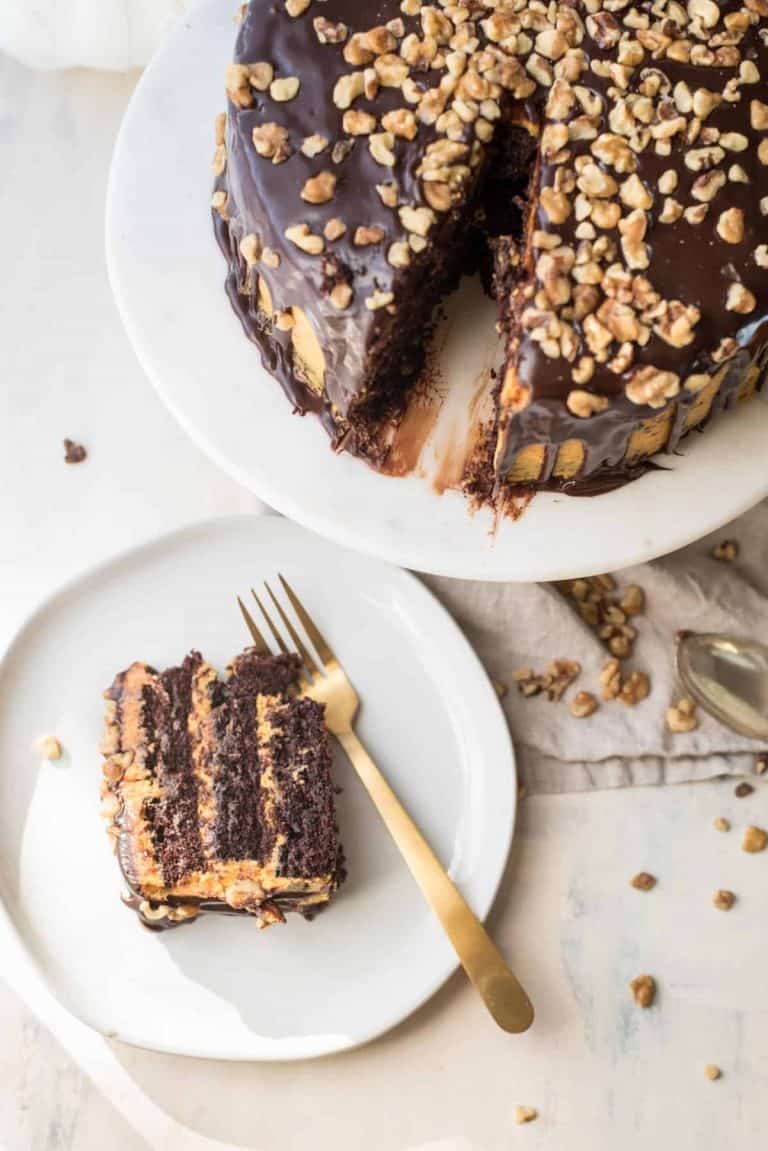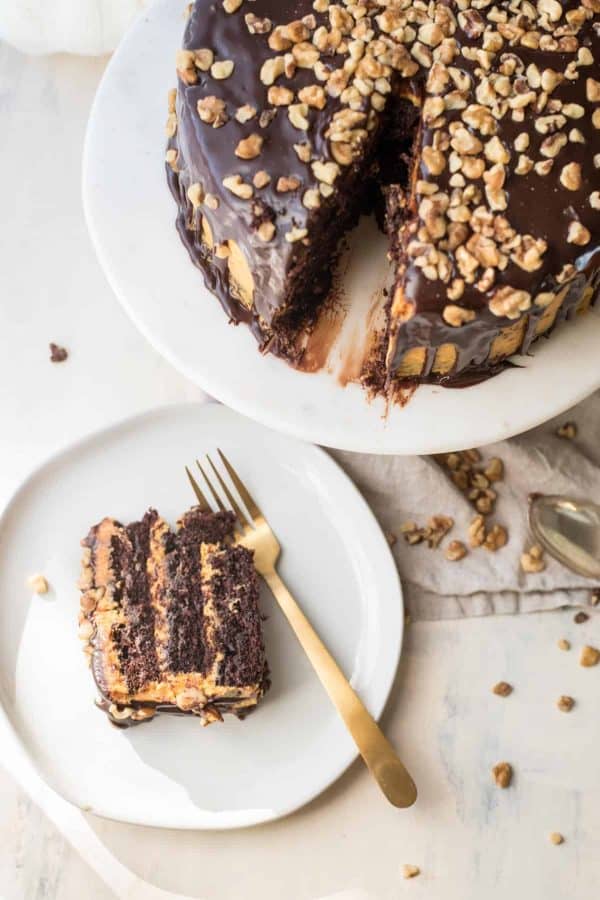 The pumpkin infused buttercream frosting is a combination of softened unsalted butter, pumpkin purée, heavy cream and some confectioner's sugar. While the butter and pumpkin might start to look curdled during mixing, don't stress, it will come together after a little more time.
After beating the ingredients together, the end result is light and creamy but not overly sweet which makes a drizzle of chocolate ganache perfect!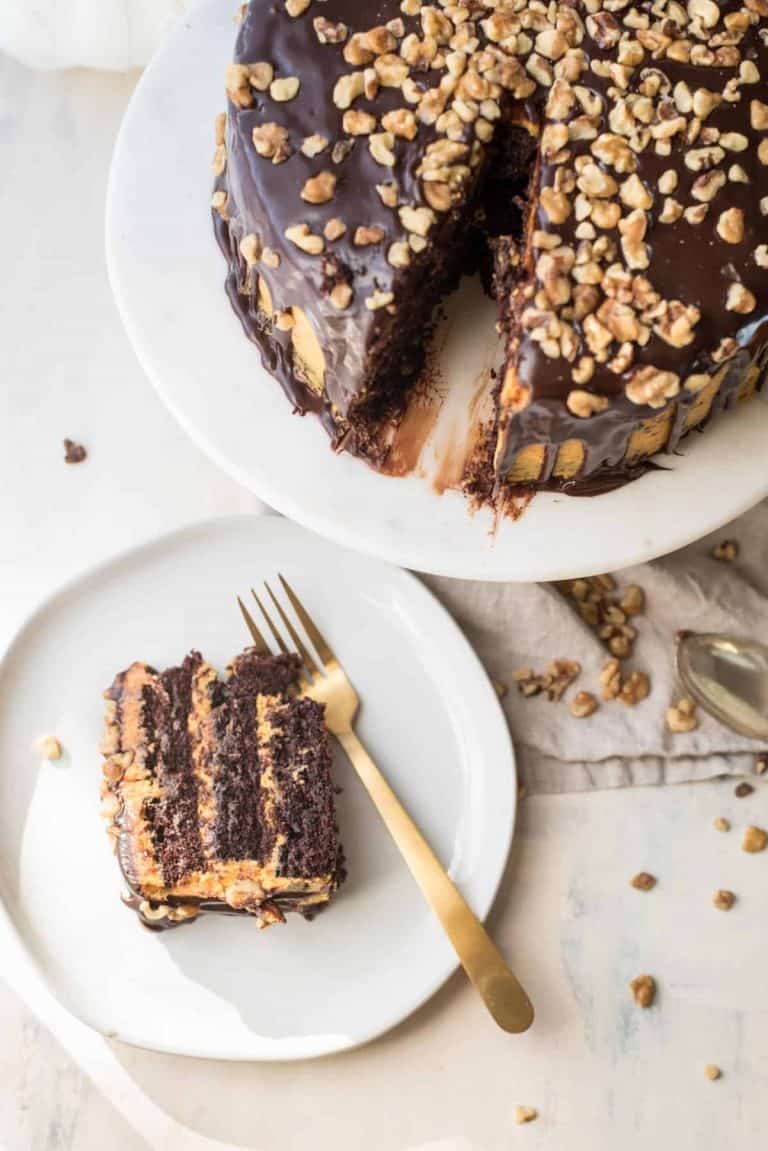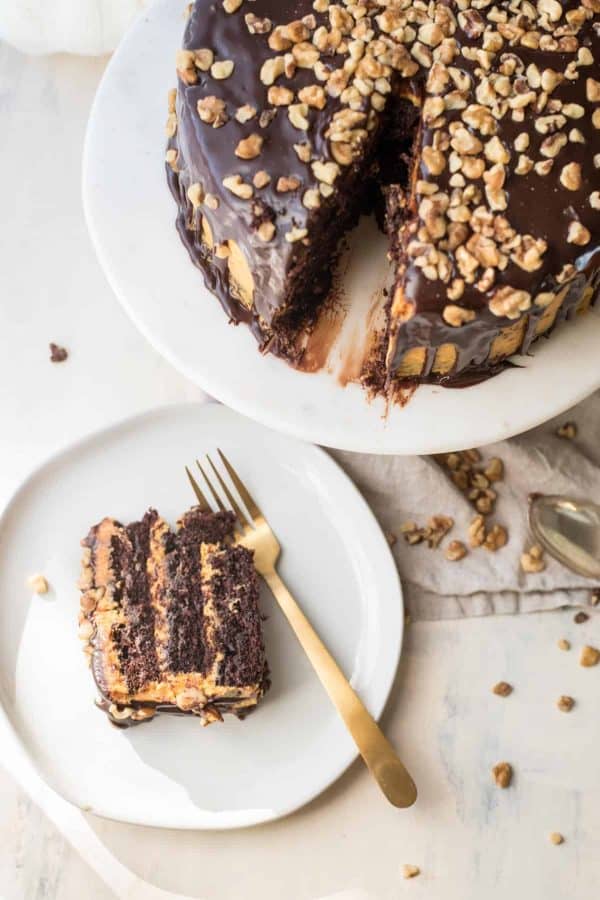 How to Make Three Layer Pumpkin Buttercream Cake
Chocolate cake base in three thin layers are the bones for this cake. This is the go to chocolate cake recipe. A 'mud cake' recipe that is super forgiving, not too sweet, and loaded with deep chocolate flavor.
The addition of hot water at the end makes this cake ridiculously fudgy. You can find other versions of this chocolate cake base in this Salted Caramel Pretzel Cake and Three Layer Chocolate Oreo Cake.
It's tried and true, like a favorite pair of fall boots - goes with everything, easy to match and you always feel good wearing them. Except you'll be baking this cake, hopefully not wearing it.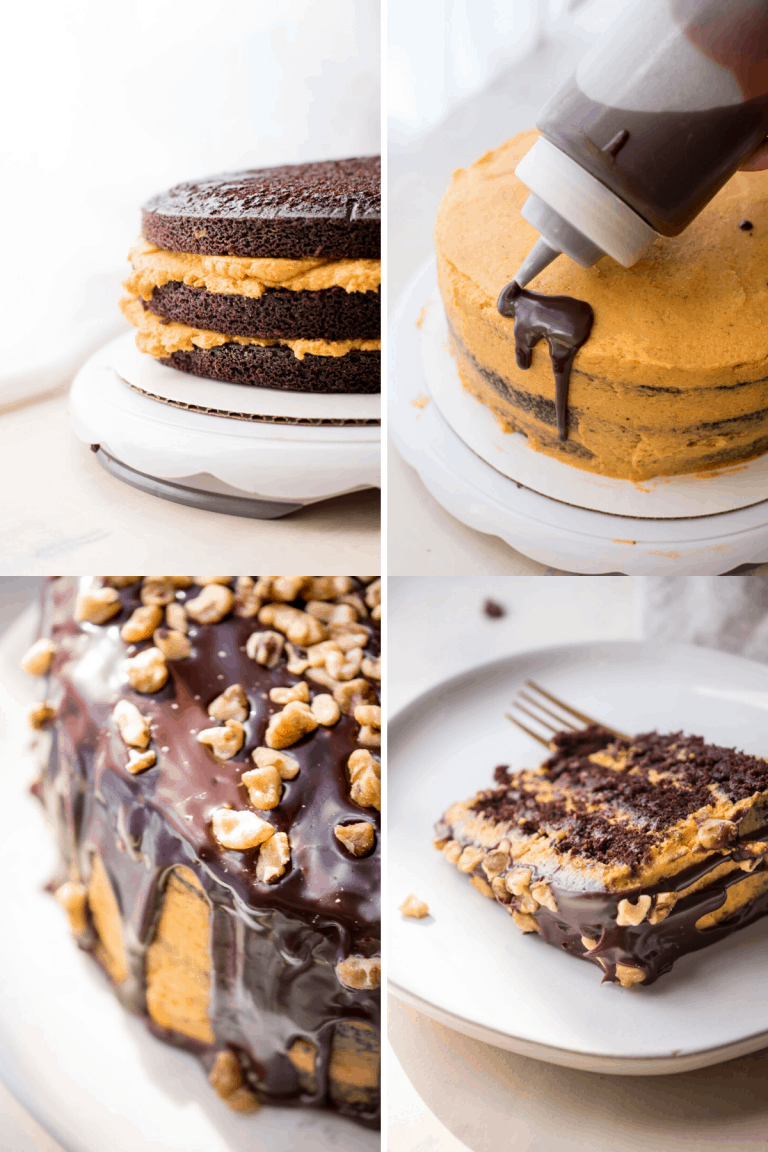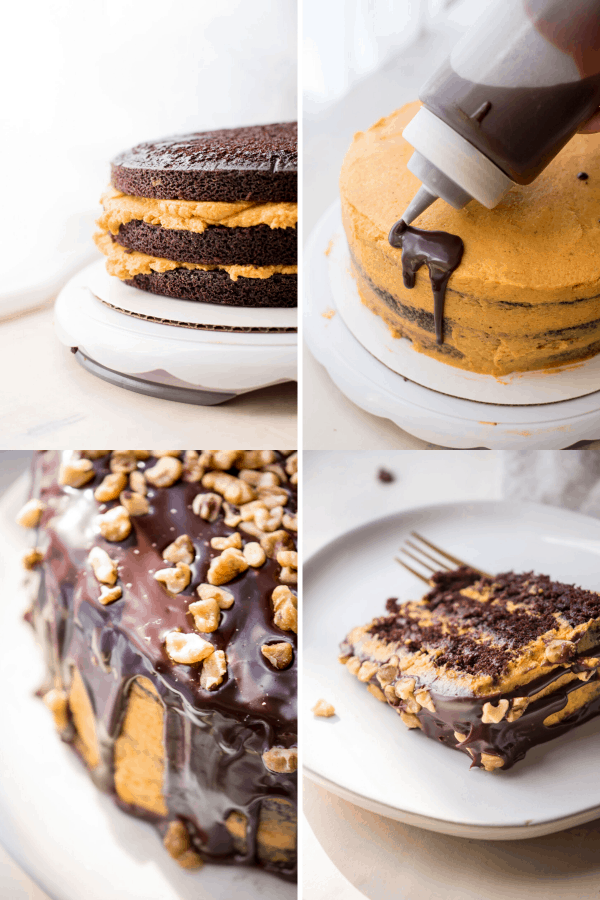 So we've got our chocolate layers and then we drape them in fluffy pumpkin buttercream. We're not stressing about perfectly smooth edges because chocolate ganache is knocking on the door ready to come to the party. The perfect chocolate ganache for this drip is a 2:1 ratio of chocolate to heavy cream. Simmer the heavy cream in a sauce pan and pour over the chocolate in a heat proof mixing bowl. Let sit for a minute or two then stir until creamy chocolate bliss is achieved.
A squeeze bottle is the easiest way to drip over the cake, but a spoon can work just as well. For a less runny texture, let the ganache cool down a bit before using - about 15 minutes. But if you're trying to frost a cake, drip ganache and take photos before a two year old realizes there's cake available, then we get drippy with the ganache.
Chopped walnuts are the perfect crunch on top because sometimes you need a little variation in texture. If nuts are an issue, try roasted pumpkin seeds!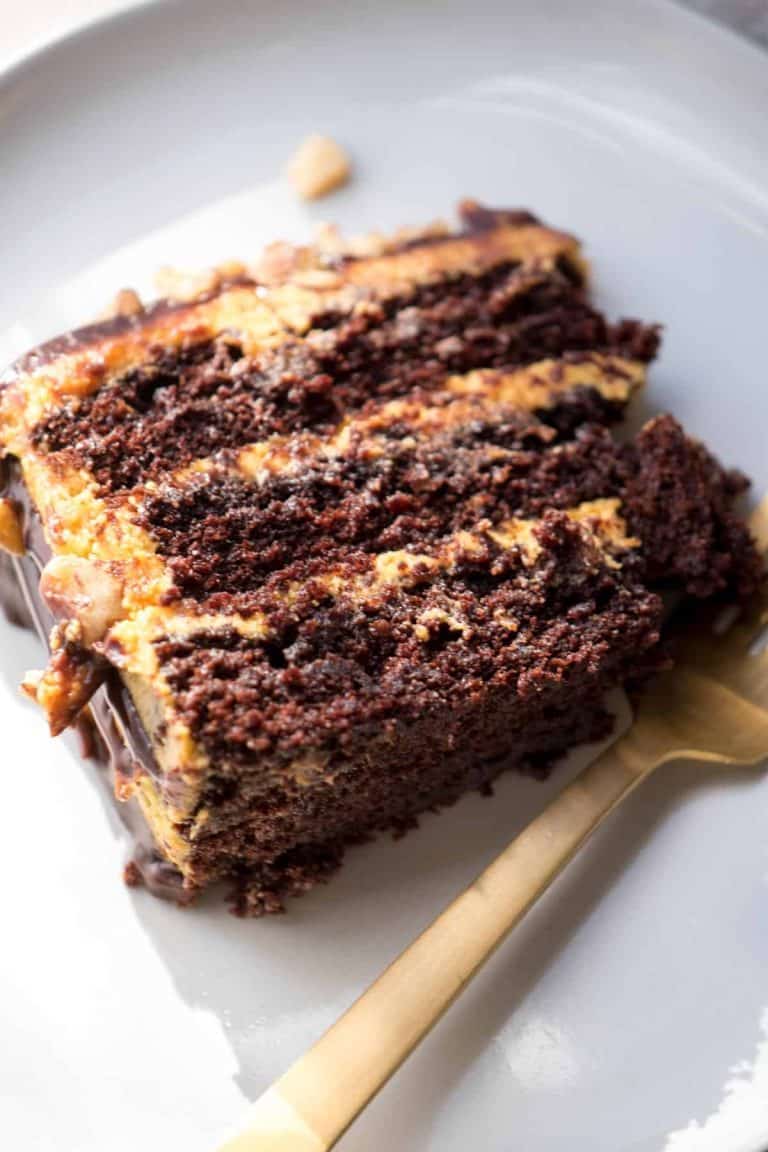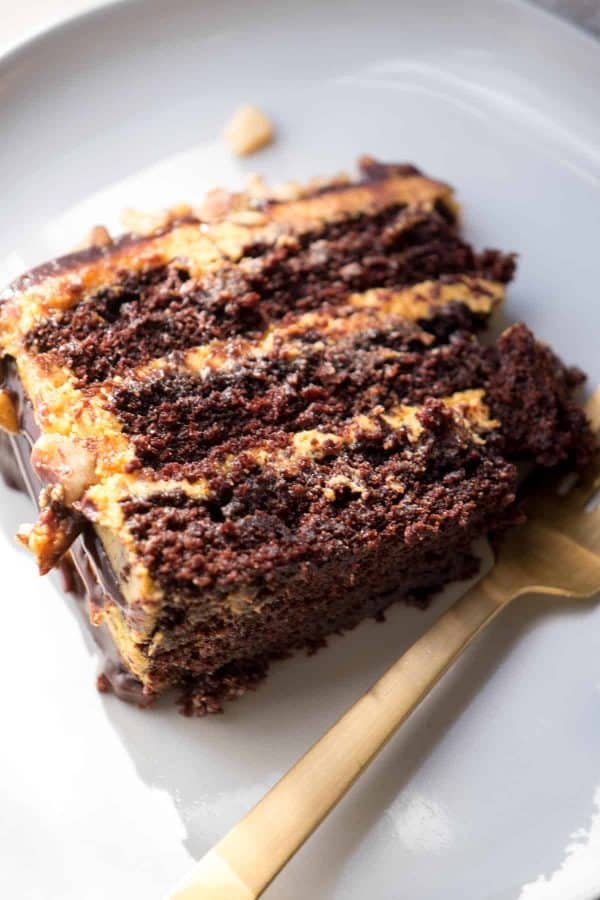 If you're still thinking about a pumpkin dessert this Thanksgiving, step outside the pie and bake up a cake. Especially after a full day - or week - or preparing for a big event like Thanksgiving, it's nice to have a pretty looking, easy to throw together in advance cake that can sit in the fridge (or the cold New England garage - be honest, you've done this).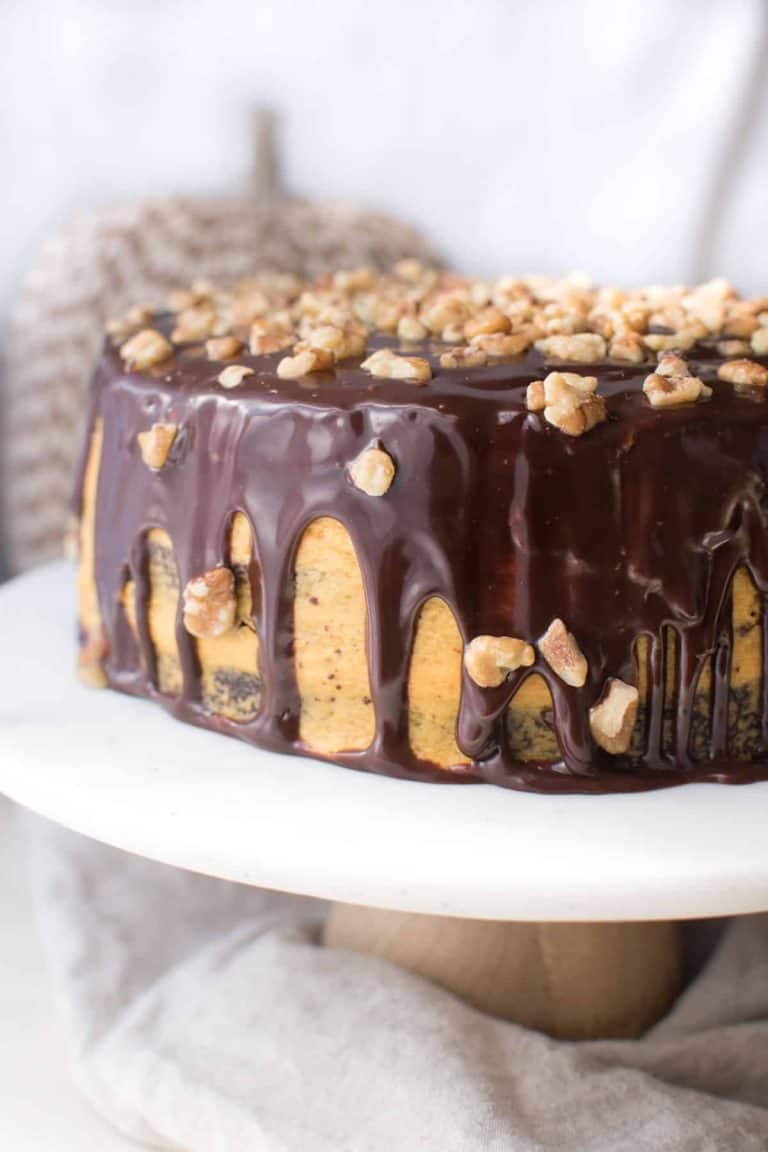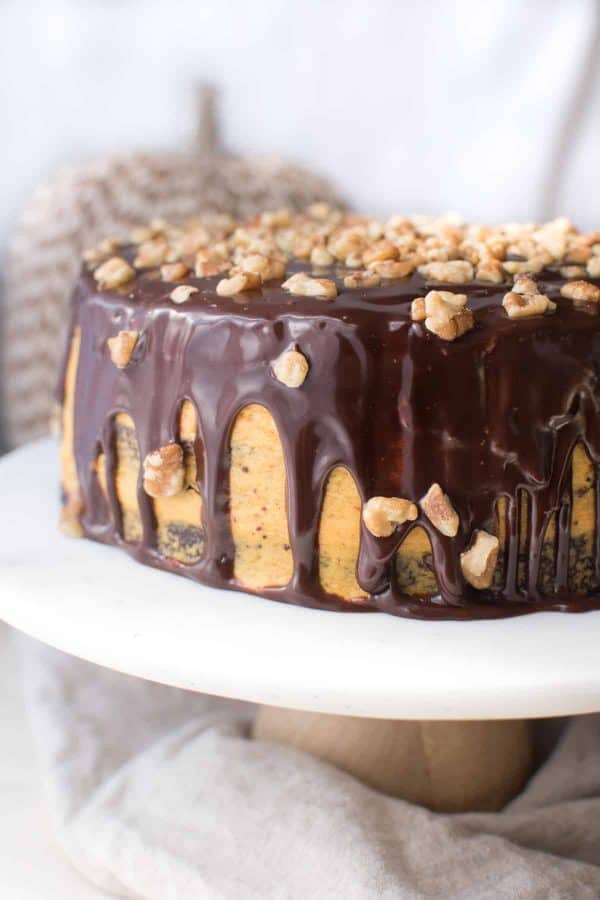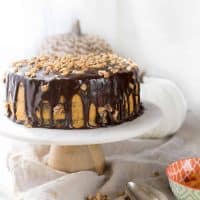 Three Layer Pumpkin Buttercream Cake
Three rich, moist chocolate layers sandwiched between fluffy pumpkin buttercream and cloaked in sweet, gooey chocolate ganache. A sprinkle of chopped walnuts provides the perfect crunch to top this Three Layer Pumpkin Buttercream Cake!
Print
Pin
Rate
Servings:
10
to 12 servings
Ingredients
Three Layer Chocolate Cake
1 ¾

cup

all purpose flour

2

cup

granulated sugar

¾

cup

cocoa powder

1 ½

teaspoon

baking powder

1 ½

teaspoon

baking soda

2

large eggs

½

cup

vegetable oil

1

cup

whole milk

2

teaspoon

vanilla extract

1 ½

teaspoon

espresso powder

1

cup

boiling water
Pumpkin Buttercream
3

sticks

unsalted butter

(softened)

1

cup

pumpkin purée

3

cups

confectioner's sugar

1

teaspoon

pure vanilla extract

2

tablespoons

heavy cream
Chocolate Ganache
1

cup

milk or semi sweet chocolate chips

½

cup

heavy cream

½

cup

chopped walnuts

(garnish)
Instructions
Three Layer Chocolate Cake
Grease and flour (3) 9-inch baking rounds. Preheat the oven to 350°F.

In a mixing bowl add flour, sugar, cocoa powder, baking powder and baking soda. Mix until combined.

On low speed add eggs, oil, milk, vanilla and espresso powder. Mix on medium speed for 1 to 2 minutes until the wet ingredients are fully incorporated.

Carefully add the boiling water and mix on low speed for 1 minute, scraping down the sides and bottom of the bowl.

Divide the batter evenly between the three pans. Bake for 20 to 22 minutes, rotating the pans halfway if you are using more than one shelf in your oven. Let cool completely before assembling.
Pumpkin Buttercream
In a mixing bowl, beat the unsalted butter until pale and fluffy. Add pumpkin purée and beat on medium-high speed for 4 to 5 minutes until combined.¹

Incorporate confectioners sugar to the mixing bowl in two batches, mixing on medium speed for 1 minute in between.

Add heavy cream and beat on high speed for 1 to 2 minutes until creamy and fluffy.
Chocolate Ganache
In a medium sauce pan, bring heavy cream to a simmer over low heat. While bringing to a simmer, measure out chocolate and add to a heat proof mixing bowl.

Once heavy cream comes to a full simmer, remove from heat and pour over chocolate chips. Let sit for two minutes and mix until smooth.

Let cool 10 to 15 minutes before dripping over the cake.

Once ganache is dripped over the cake, sprinkle with chopped walnuts.
Notes
¹Purée and butter may appeared curdled at first but will smooth once incorporated.
Nutrition
Calories:
999
kcal
|
Carbohydrates:
111
g
|
Protein:
9
g
|
Fat:
61
g
|
Saturated Fat:
36
g
|
Trans Fat:
1
g
|
Cholesterol:
129
mg
|
Sodium:
267
mg
|
Potassium:
398
mg
|
Fiber:
6
g
|
Sugar:
84
g
|
Vitamin A:
4976
IU
|
Vitamin C:
1
mg
|
Calcium:
127
mg
|
Iron:
4
mg