Fall is here, the holidays are upon us and all the taste bud tantalizing flavors are showing up bringing nothing but A-game. A beautiful, long lasting summer followed by epic fall foliage. If there was a better time to live in New England I'm really not sure when that would be, especially now that Autumn Glory Apples are available on the East Coast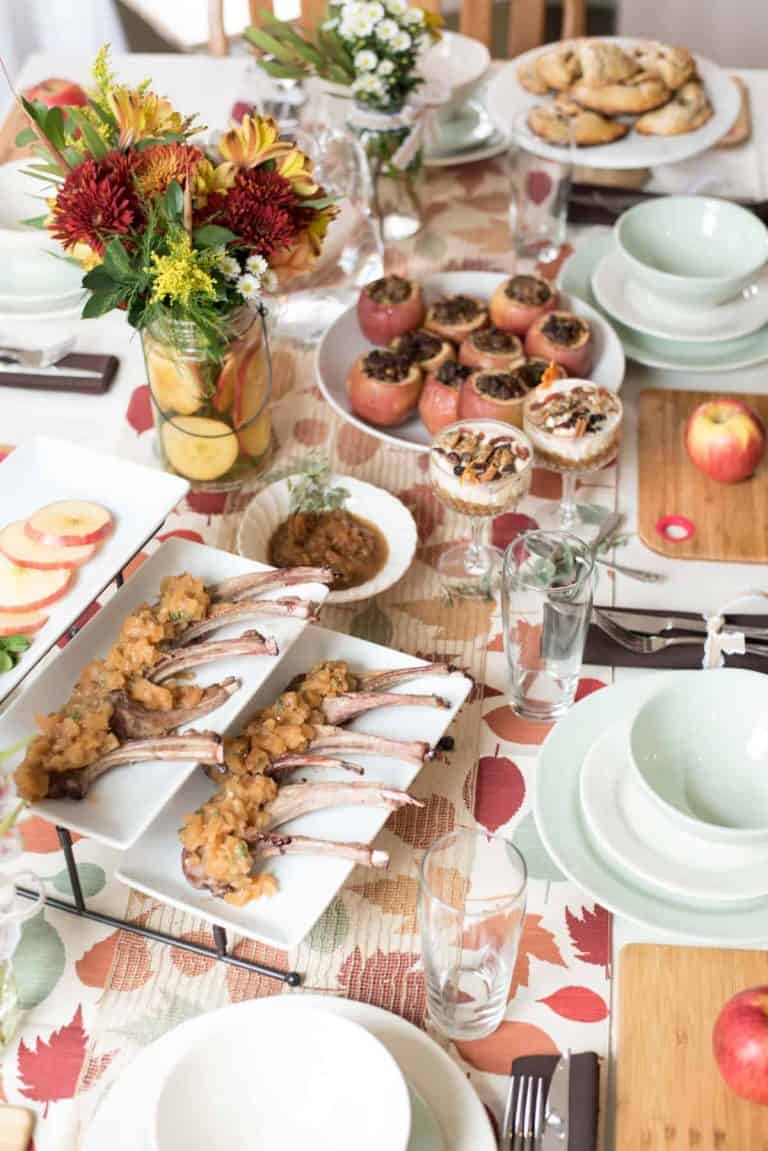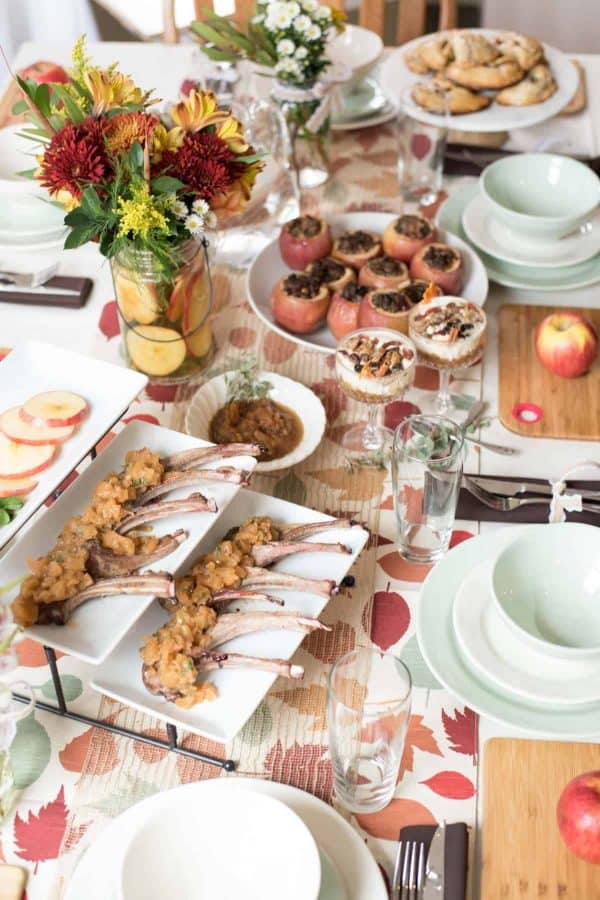 This post and potluck event is sponsored by Autumn Glory Apples.
Real vibes, these apples are really delicious. When you grow up with apple orchards in your backyard you tend to get a little snobby about the crisp, sweet, tart produce.
Well, I'm sorry to break the news New England...the Pacific Northwest is here with Autumn Glory Apples and they're getting a front and center spot on our fall inspired pot luck table.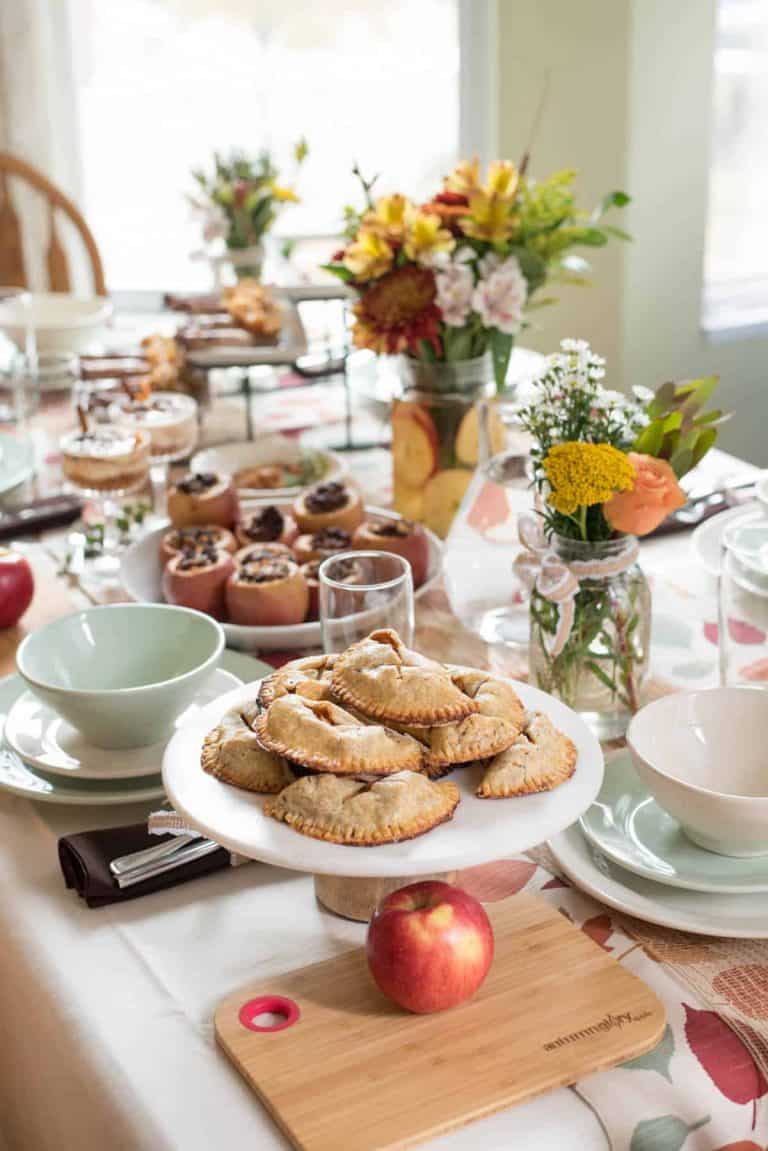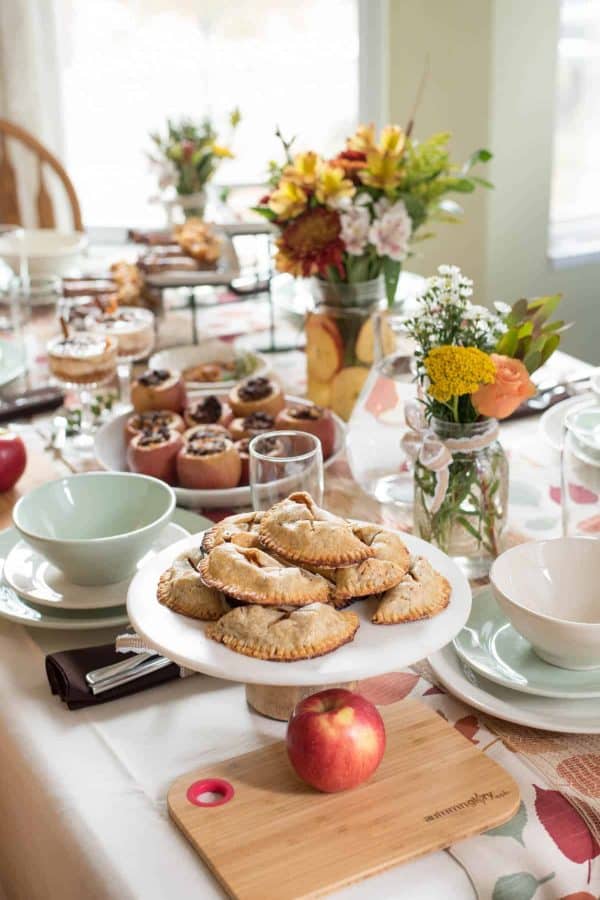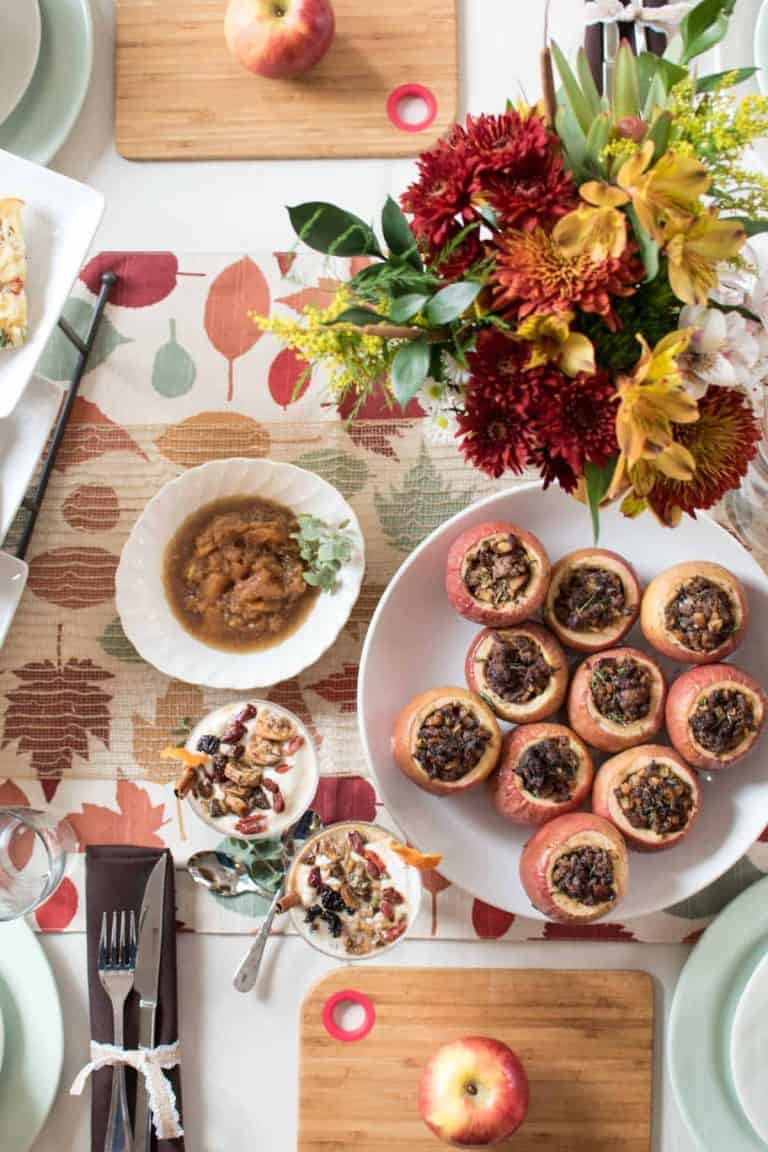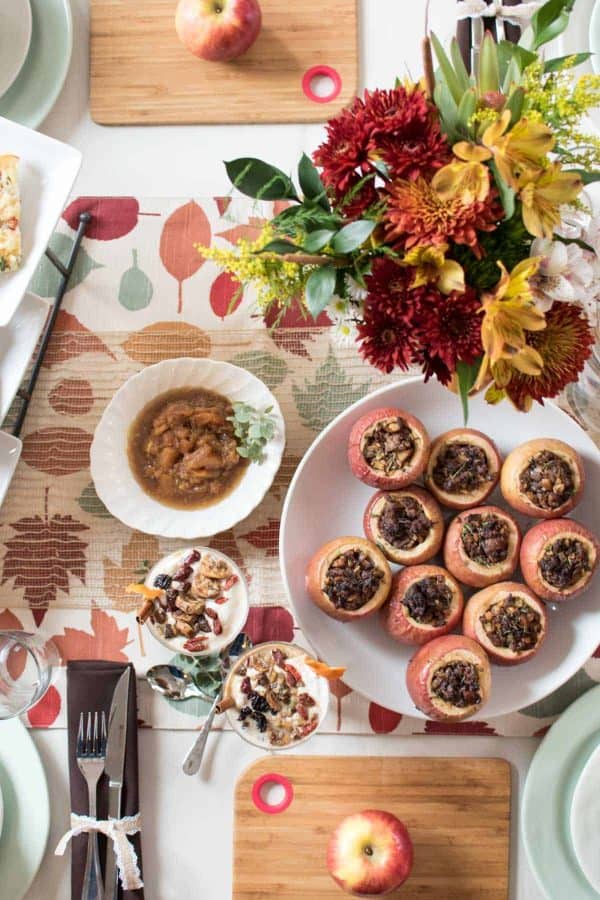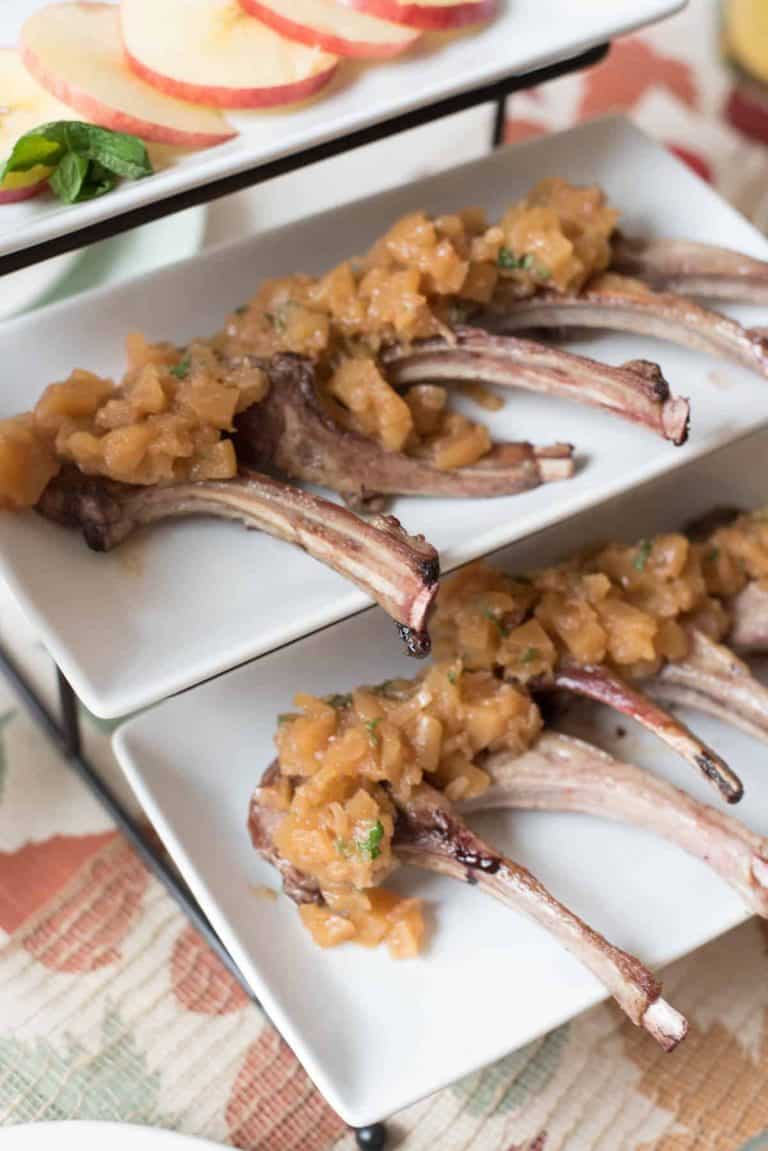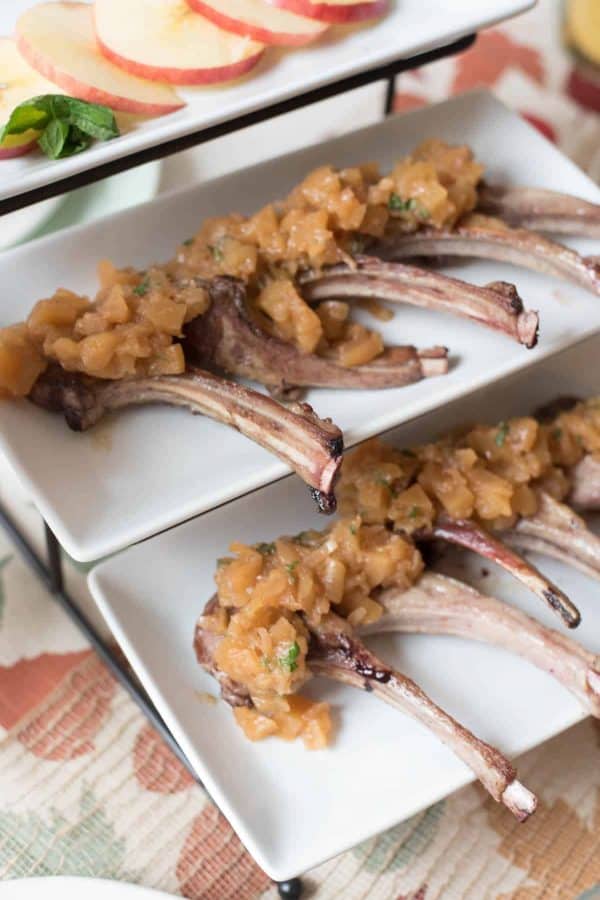 Autumn Glory Apples
Grown in the Pacific Northwest, these organic beauts are just becoming available in Boston. Firm texture, skin that snaps, and a noisy-in-a-good-way bite is a solid start to winning over New England apple lovers. But the smell and the taste, oh man you guys, pull up a chair and break out your scratch and sniff screens.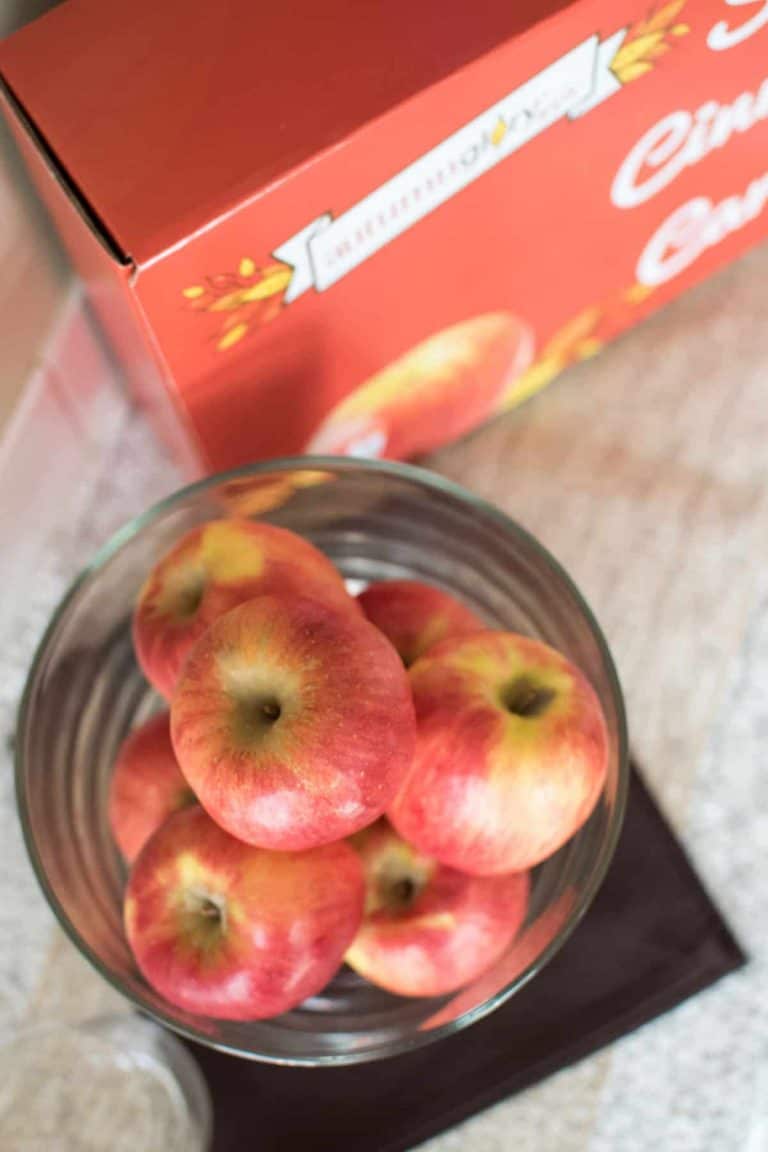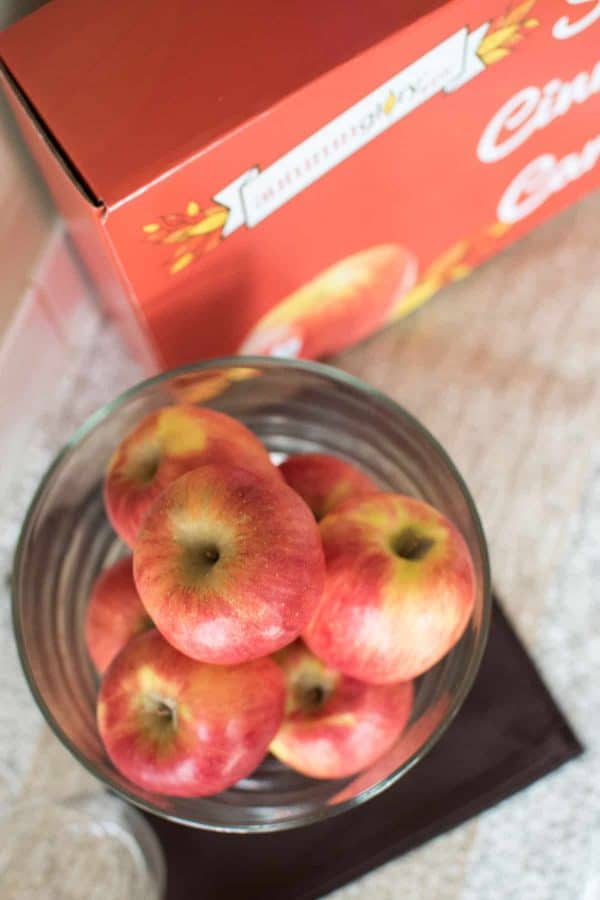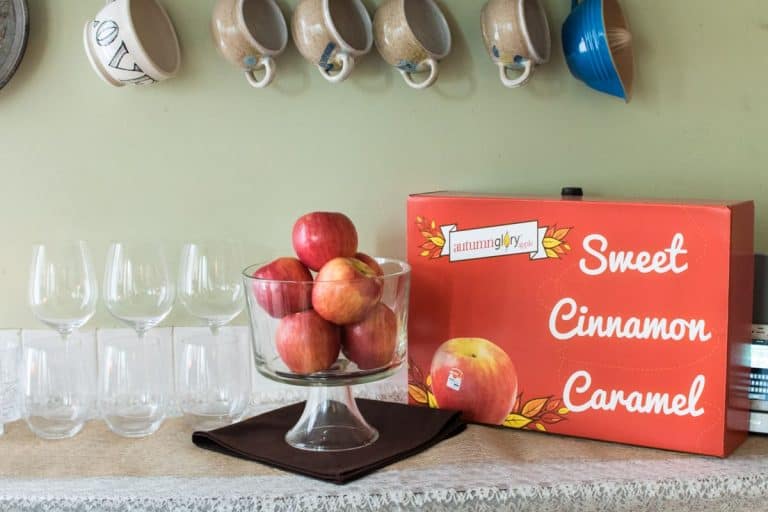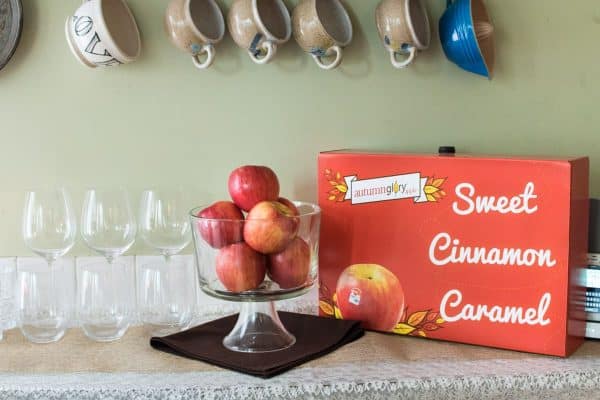 When the apples first arrived on my door step, the sweet caramel smell is so present it wafted through the air at the initial open of the box. Cinnamon is woven through the caramel scent that goes beyond smells and carries through to the taste. A bite of an Autumn Glory Apple is naturally sweet with juicy firm texture. Literally all the things personally desired in an apple. Mulling over the first bite, my shoulders came down just a touch - this partnership is a match made in heaven.
Host a Fall Inspired Pot Luck
Chilly, overcast November skies and Autumn Glory Apples brought six of us to the table in my cozy city apartment. A great excuse not just to make delicious treats, but carve out designated time to meet new people and reconnect with others we've met before on our journey. And we're telling you to do the same! A fall inspired pot luck is an easy way to entertain a few guests or a full house. Everyone bringing a dish that reflects their favorite flavors. By choosing one singular ingredient you can see - and taste - a rainbow of flavors!
The spread of fall inspired apple dishes laid out on the table ranged from sweet to savory, baked to braised. Everyone left completely stuffed armed with leftovers to take home. The decorations were simple to style and can be used for the whole fall season. Check out these beautiful dishes!
SAVORY BAKED APPLES - SWEET & MASALA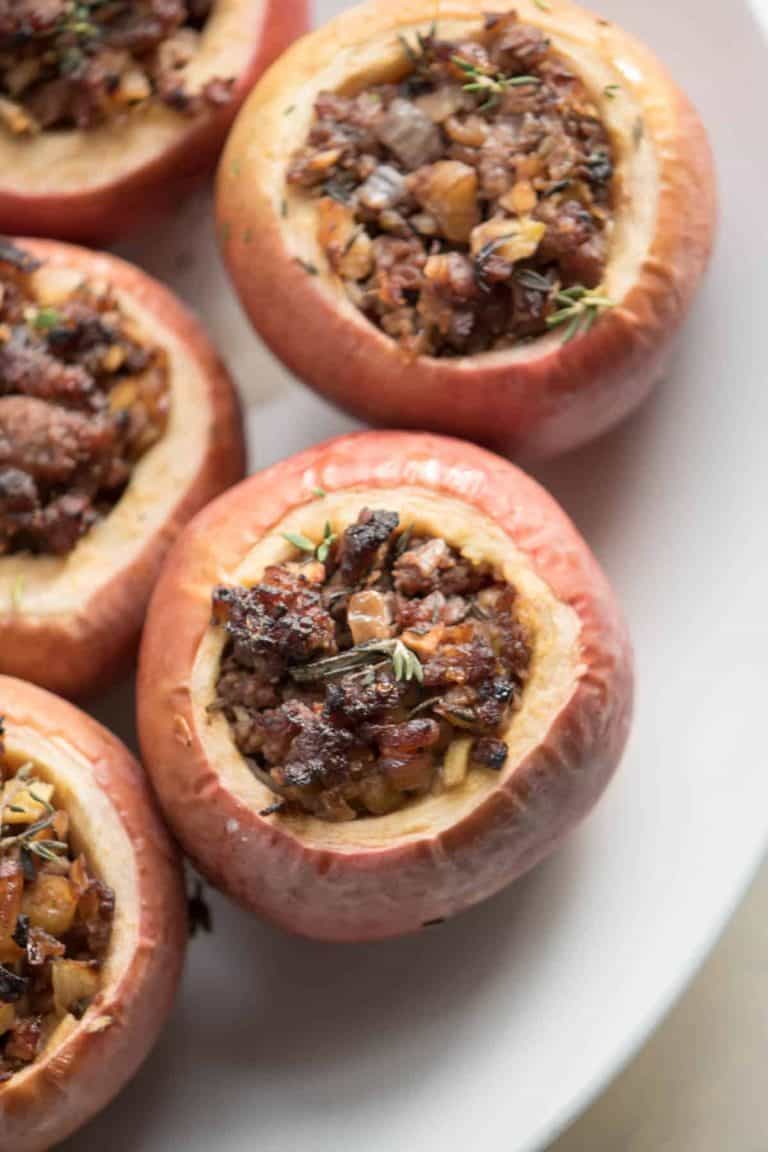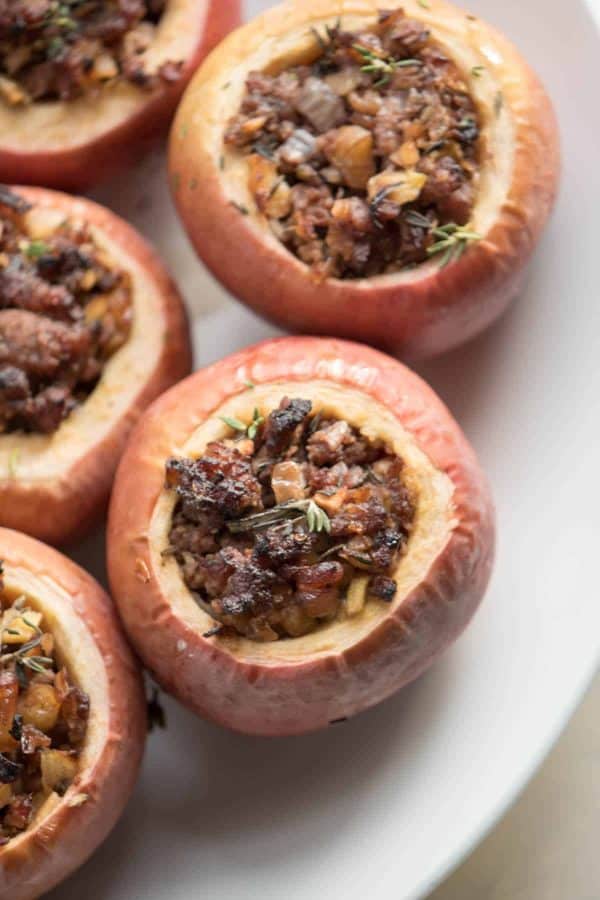 The natural caramel in these apples really shined after being baked! Not to mention the beautiful color. Sanae from Where the Blue Boots Go described it perfectly - like the multi colored rose where the color morphs from red to pink to yellow. SO pretty (and delicious.)
SPICED APPLE GREEK YOGURT PARFAIT - WHERE THE BLUE BOOTS GO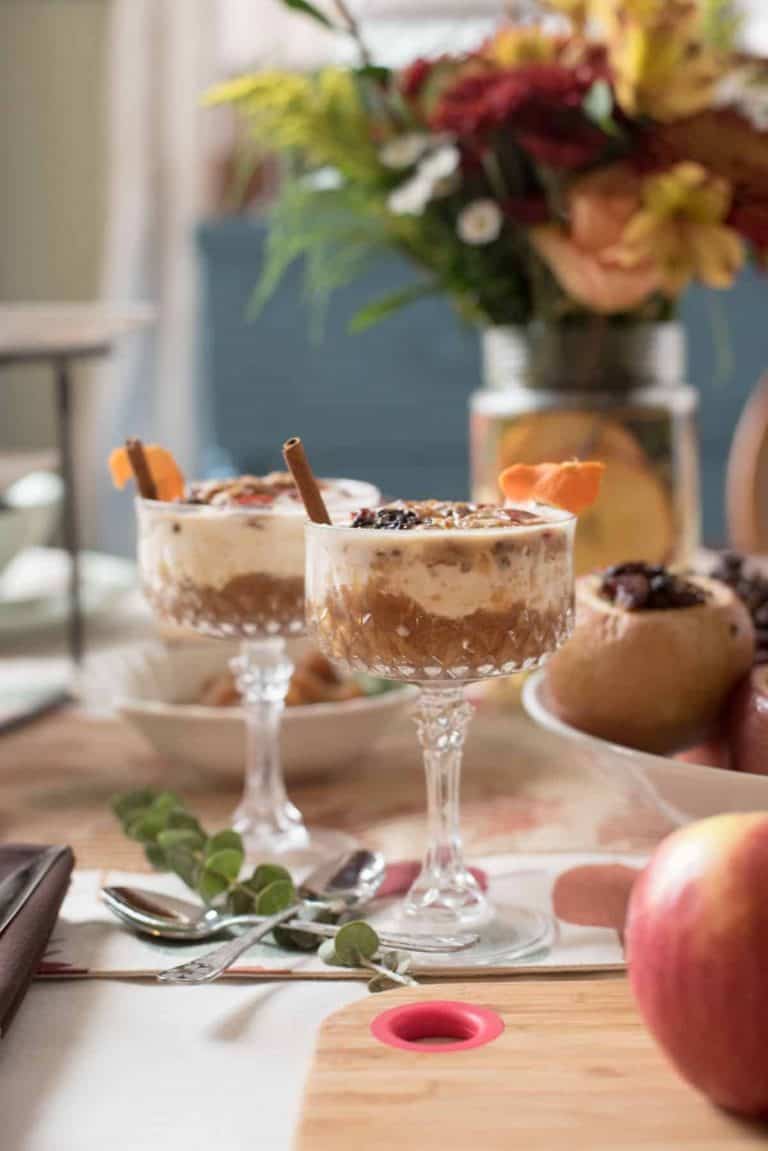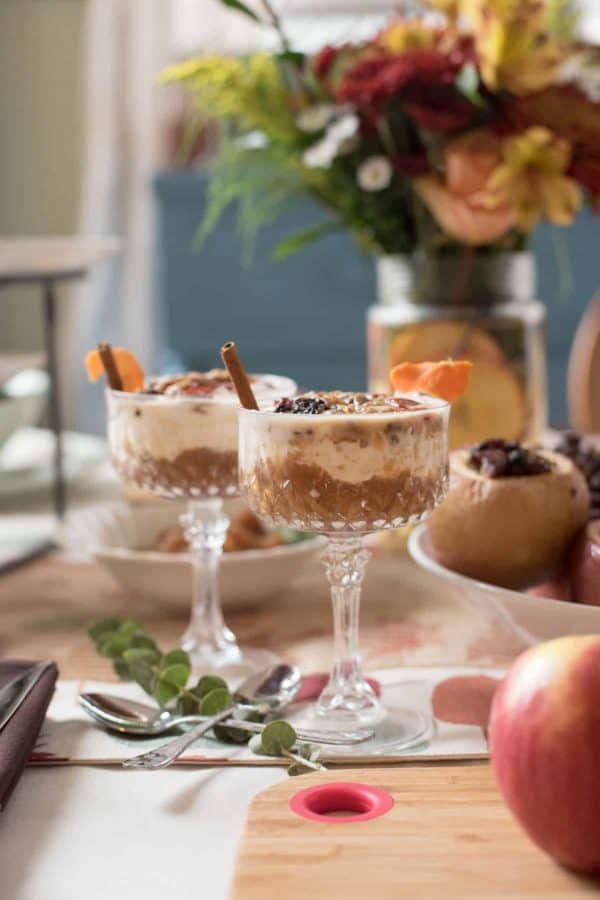 Umm...can we talk about these beautiful goblets Sanae brought from home for her parfait? They belong in a magazine. A family heirloom of course, because they're gorgeous. The parfait inside was just as beautiful with spiced apple compote, turmeric, goji berries and greek yogurt.
APPLE HAND PIES - STRESS BAKING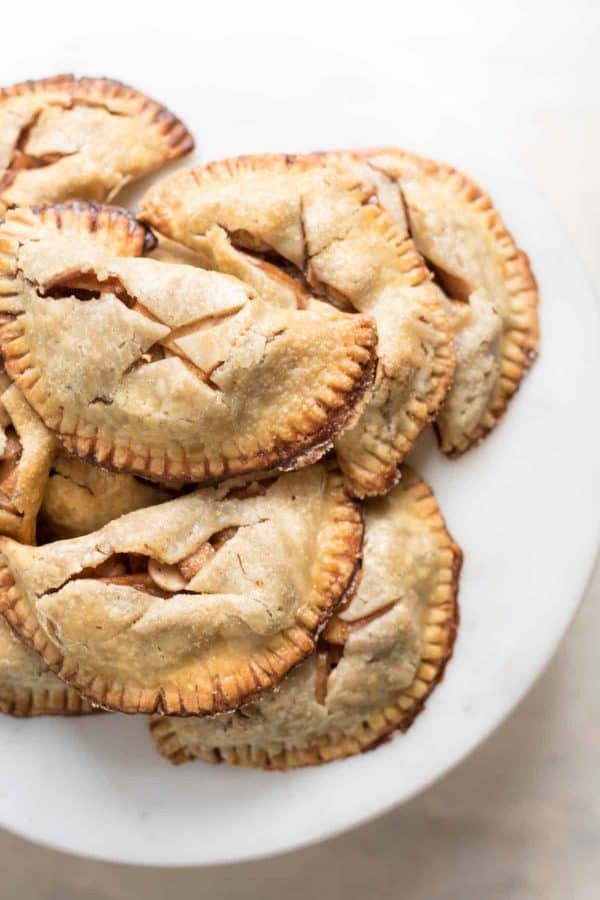 About half way through totally drool-eating one of these hand pies, Leslie drops it on us that this crust is gluten free. Would have never known. Zero idea. Flaky, buttery and the inside of the hand pie filled with crisp apples and a pop of caramel from caramel chips.
ROSEMARY, APPLE + GRUYERE FLATBREAD - PRIM AND PROPAH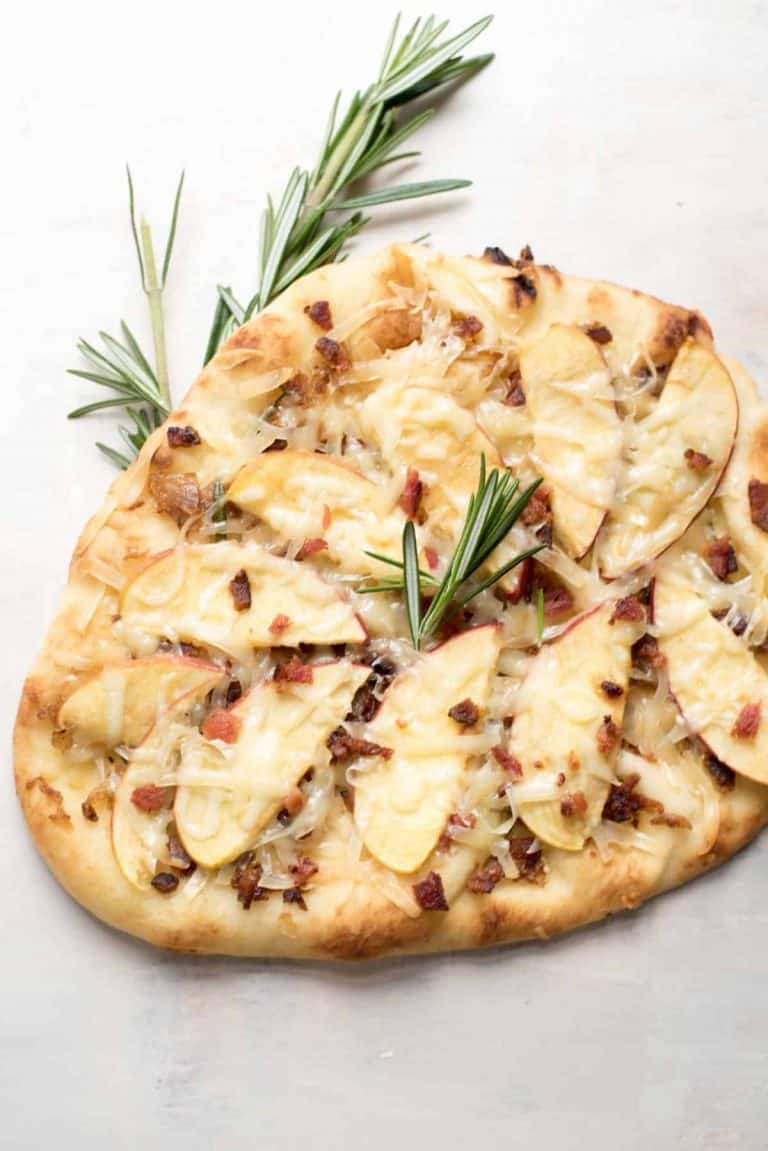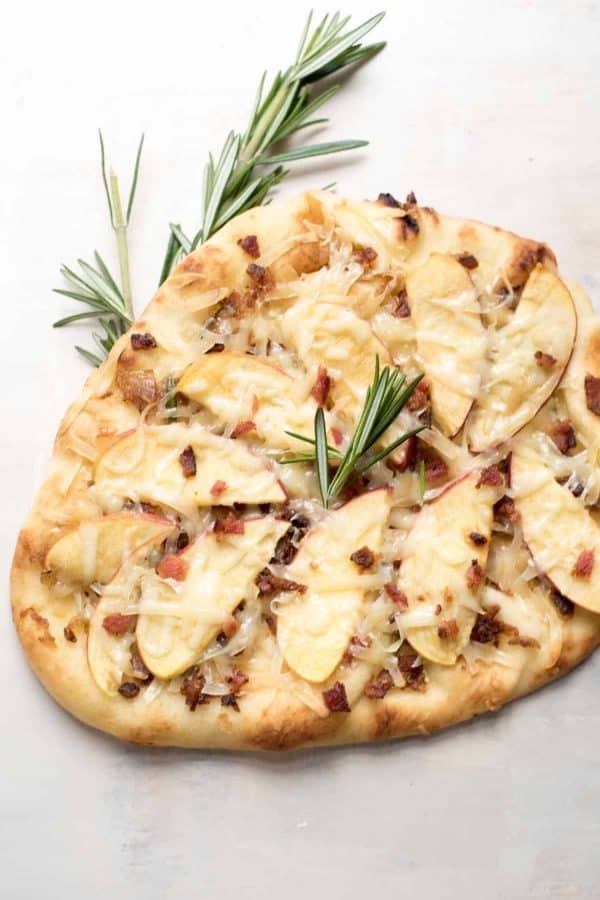 Everyone kind of low keyed flipped for this flatbread. It was the perfect balance of crunch and soft chewy bread with sweet, savory and sharp herb flavor. The leftovers literally vanished into thin air my refrigerator.
APPLE PUMPKIN BARS - LIFE AS A MAVEN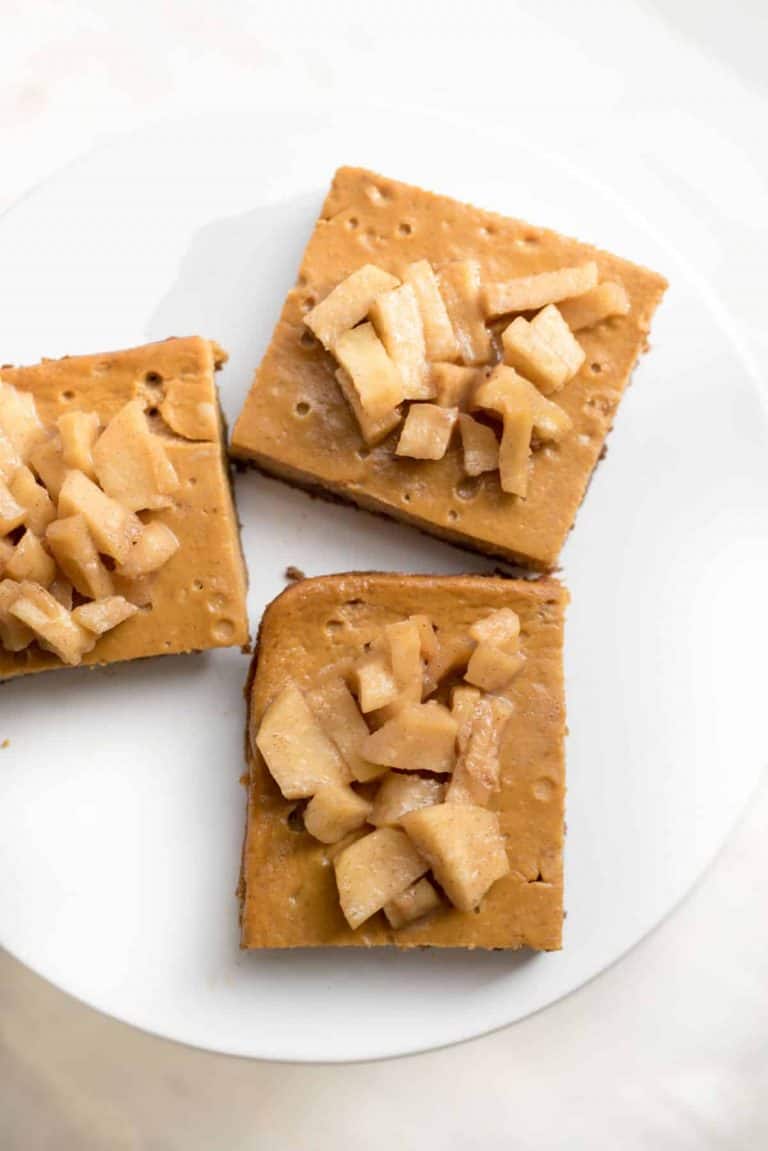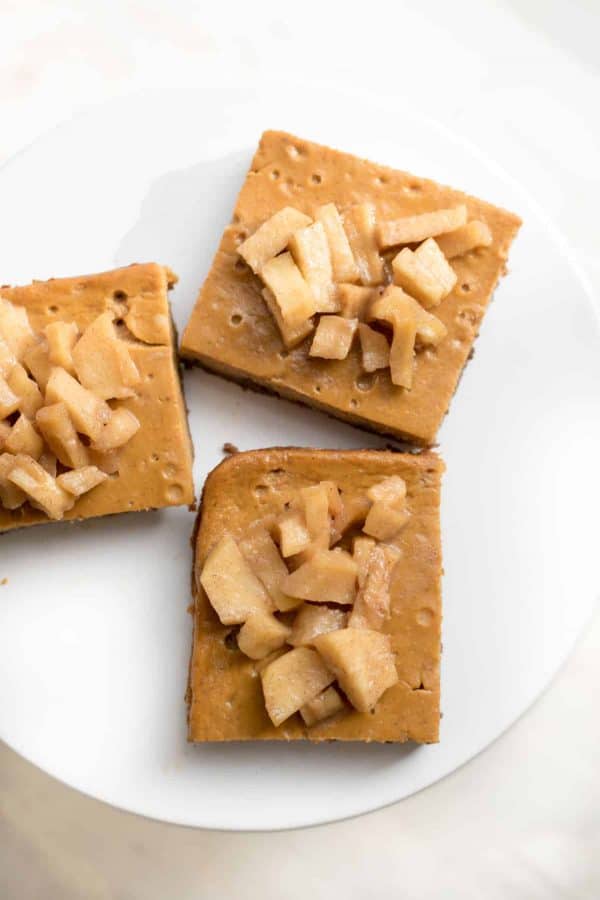 Pumpkin pie meets epic apple collaboration. A gingerbread cookie base builds the foundation for these ultra moist, perfectly pumpkin bars. Not to be outdone, they're topped with caramelized apples for a luscious and crunchy treat.
LOLLIPOP LAMB CHOPS WITH AUTUMN GLORY APPLE + MINT CHUTNEY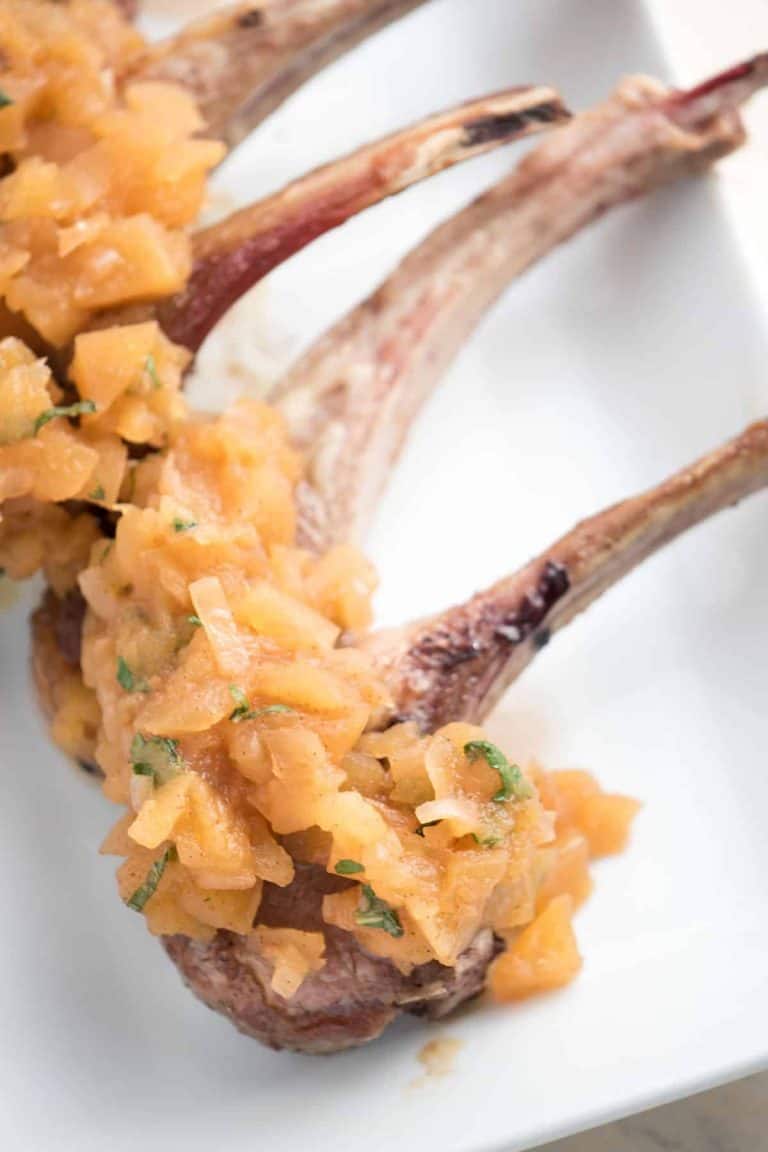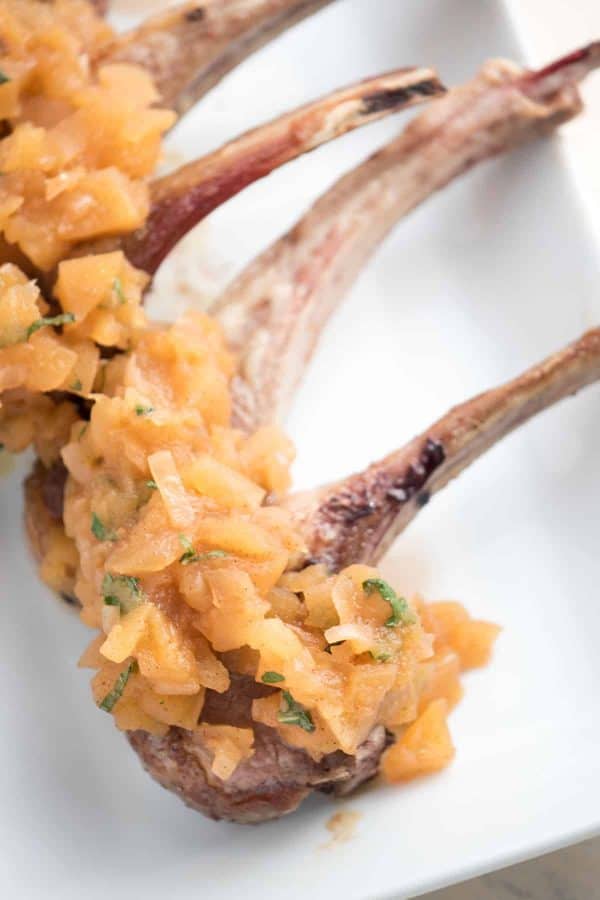 From yours truly, with lots of love...and lamb. These satisfying lollipop lamb chops are a breeze to make and the perfect well-balanced, rich appetizer to serve alongside savory and sweet apple + mint chutney.
The Autumn Glory Apples are the perfect texture for this chutney. They keep shape during the cooking process and get just soft enough. Not too sweet, and a touch savory from the shallots and vinegar, followed with a subtle burst of fresh mint. A crowd pleaser that looks impressive, but comes together with no stress. The full recipe for these Lollipop Lamb Chops with Autumn Glory Apple + Mint Chutney is available at the bottom of this post!
The table settings for our fall inspired pot luck embraced the theme with cutting boards & Autumn Glory Apples, burlap, lace, and rich fall tones. Table runner, marble wood cake stand, and plateware are available at Target. Burlap, chalkboard frame, and lace napkin rings were purchased from local craft stores. Wild flowers from Nellie's Wild Flowers were set in mason jars with sliced apples to tie the tablescape together. A little rustic country, a bit of city, and a sprinkle of New England with a touch of Pacific Northwest sweetness.
The best of it all? With pot luck style eats and easy to display decorations this event was a no stress, all fun event.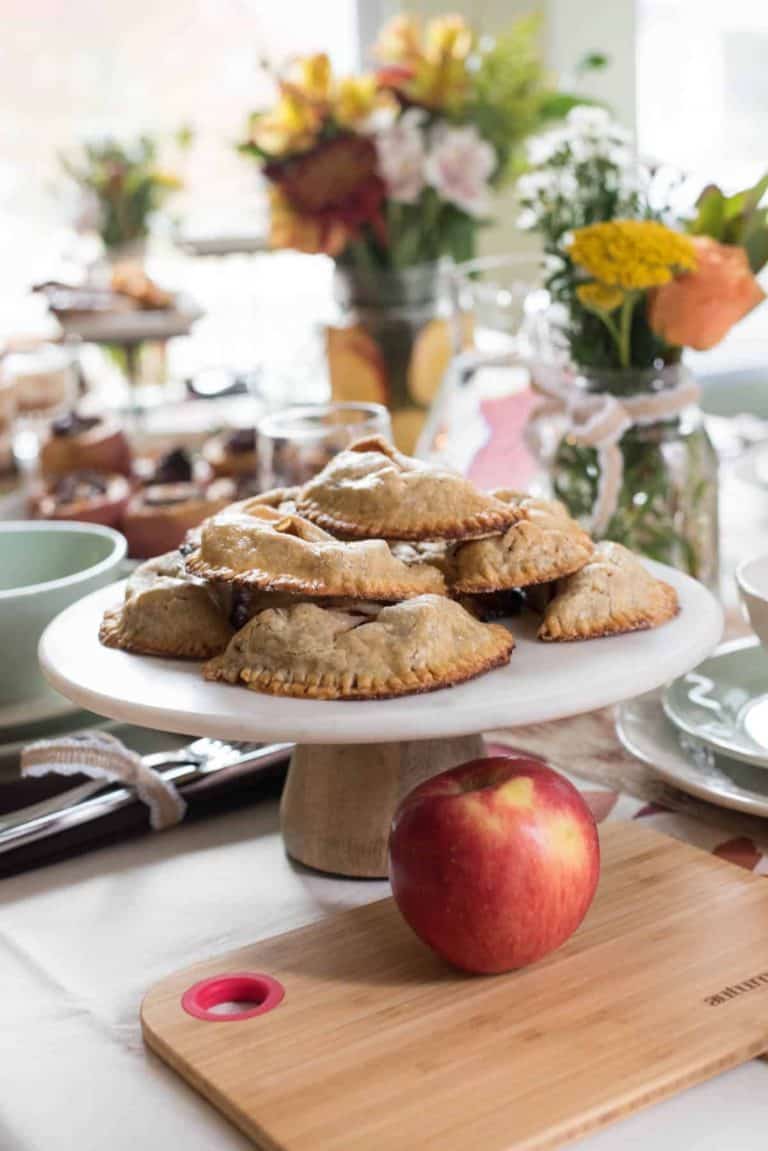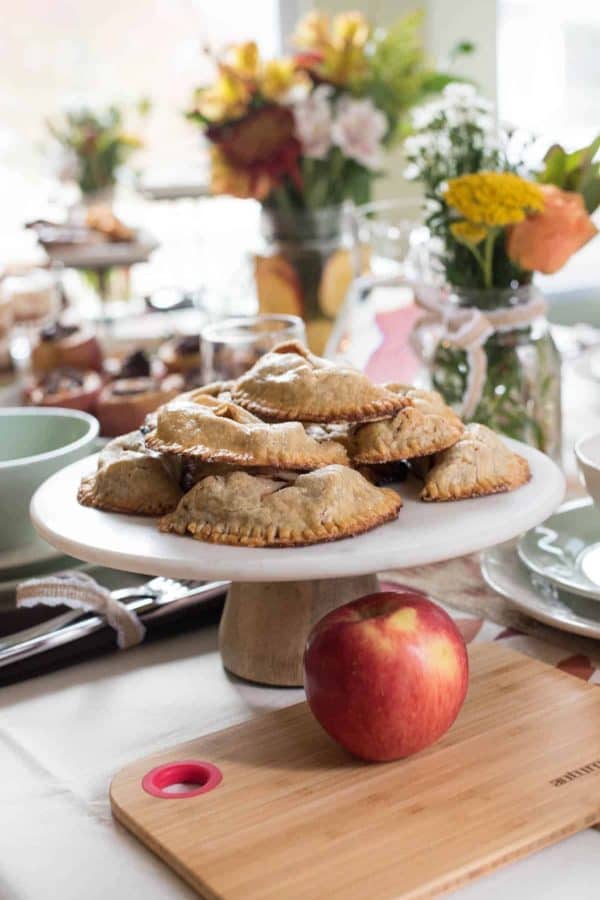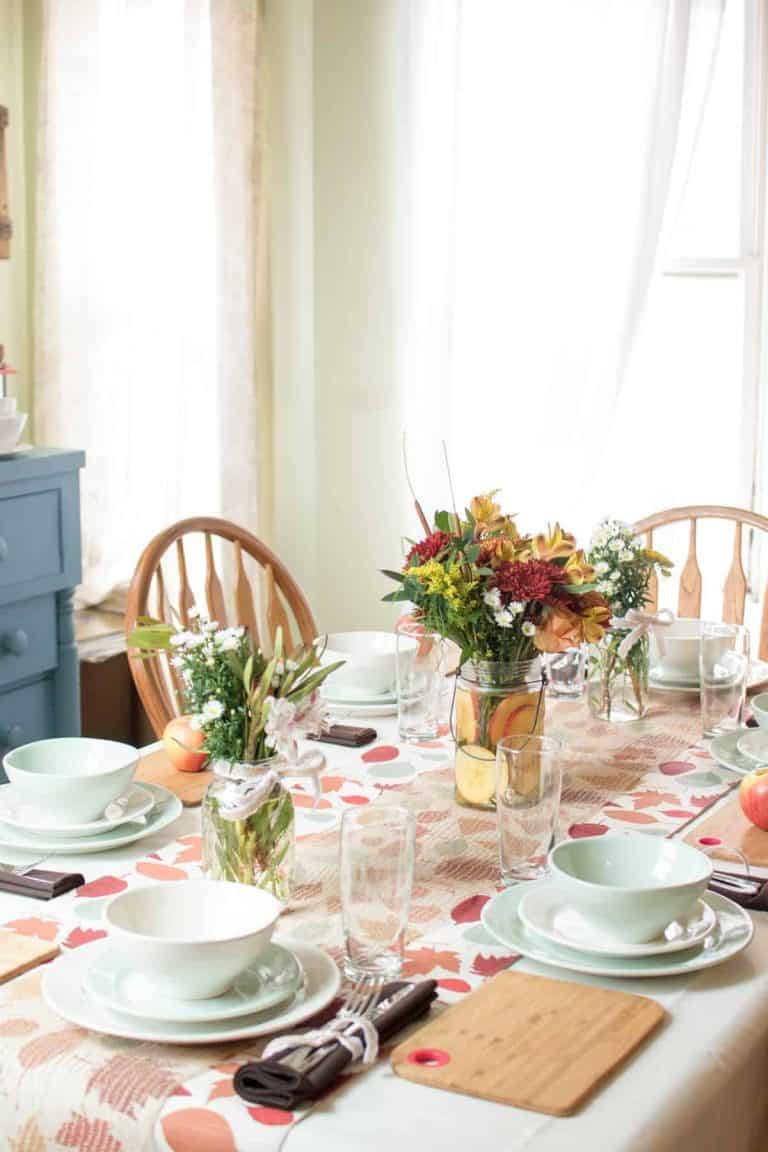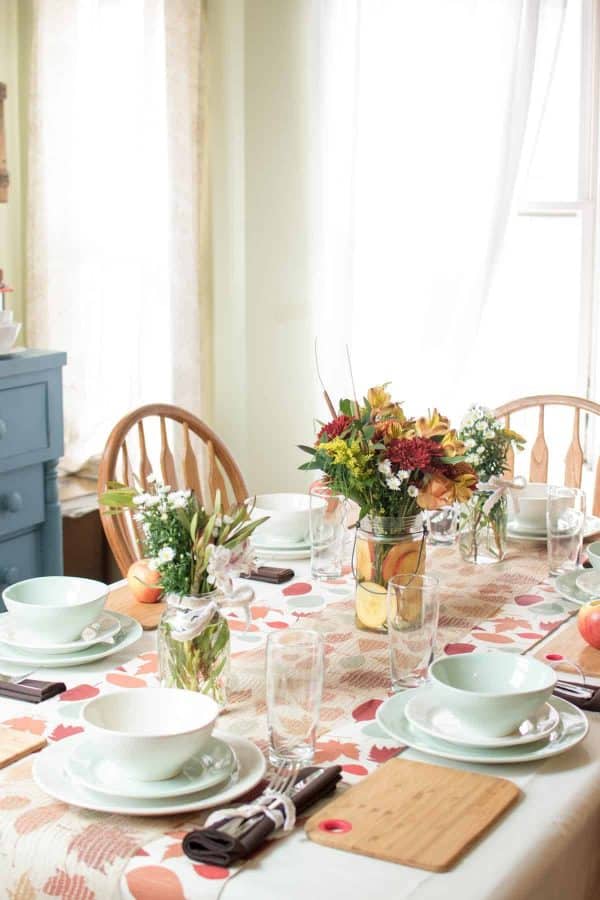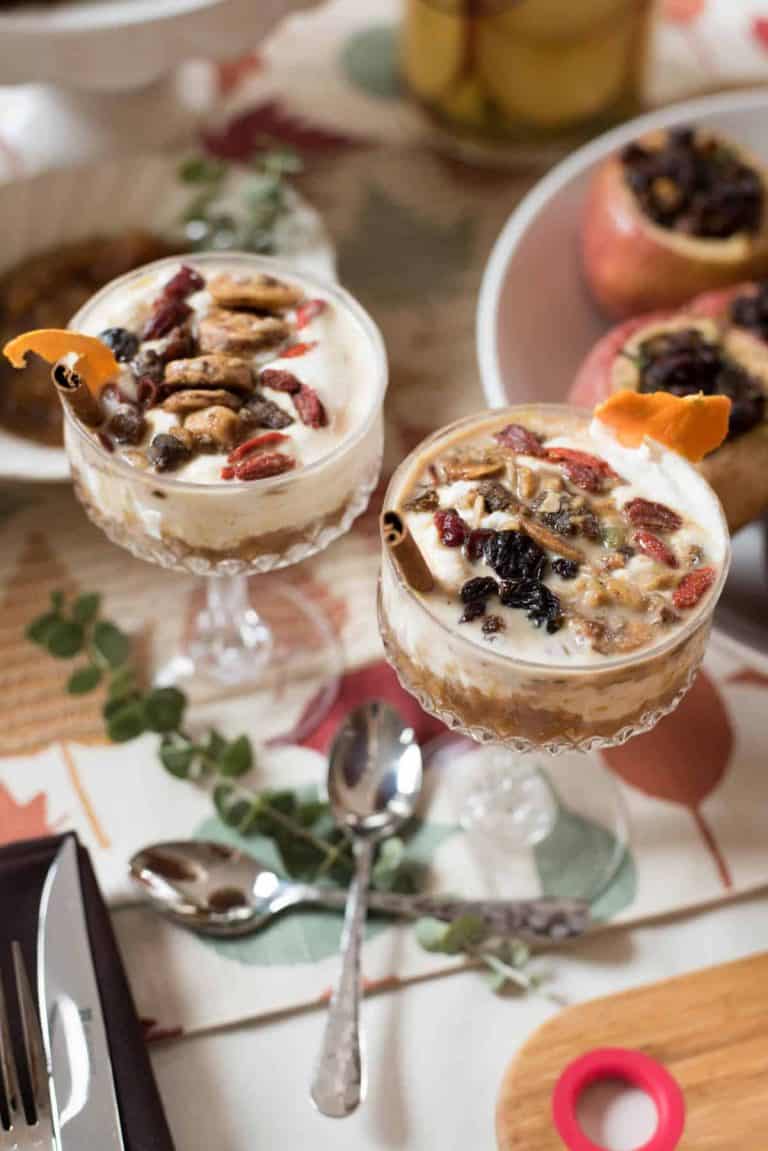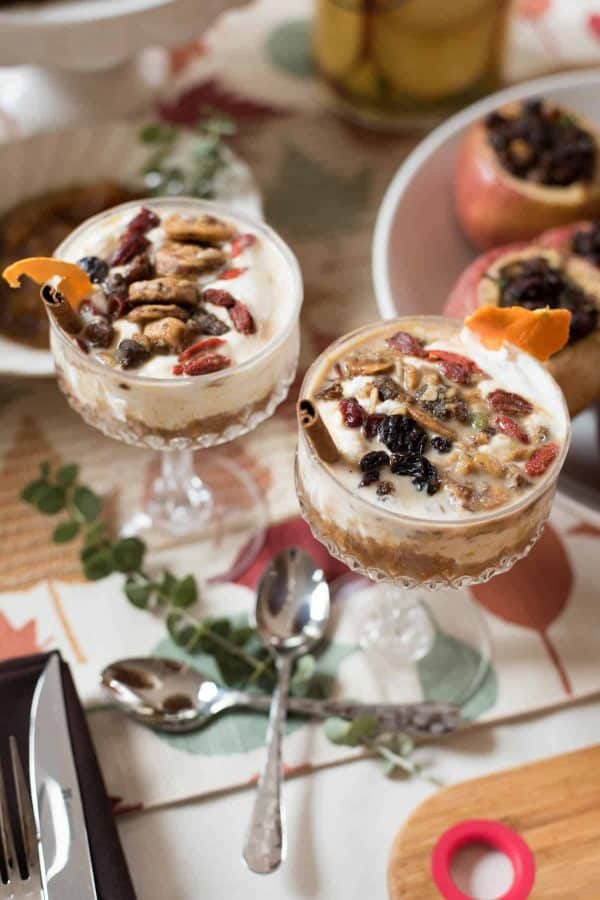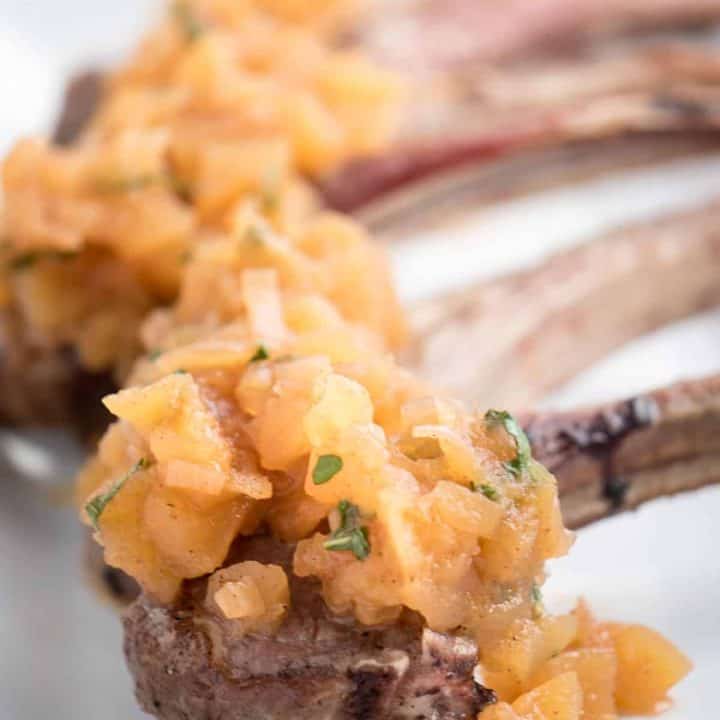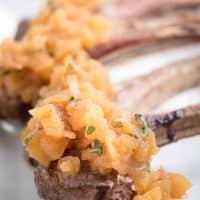 Lollipop Lamb Chops with Autumn Glory Apple + Mint Chutney
Tender, juicy, bite sized lamb chops meets sweet and savory apple chutney with a burst of fresh mint. Laced with natural flavors of caramel and cinnamon, organic Autumn Glory Apples bring fall flavors to the table year round.
Print
Pin
Rate
Ingredients
2

dozen

lollipop lamb chops

(or 2 racks Frenched rack of lamb cut into chops)

2

tablespoons

extra virgin olive oil

4

Autumn Glory Apples

(peeled and diced ½ to ¼ inch)

2

shallots

(diced)

1

tablespoon

ginger paste

½

cup

orange juice

½

cup

apple cider vinegar

⅓

cup

brown sugar

(packed)

½

teaspoon

ground mustard

½

teaspoon

ground cinnamon

1 ½

teaspoon

salt

1 ½

tablespoon

fresh mint

(finely chopped)
Instructions
Autumn Glory Apple + Mint Chutney
In a large sauce pan, combine all ingredients - excluding lamb, olive oil and mint - over high heat for five minutes.

Once mixture comes to a full boil, reduce heat to low and simmer 40 minutes covered.

Remove cover and increase heat to medium. Continue to cook an additional 15 minutes until remaining liquid cooks off.

Let cool completely, about 20-30 minutes. Stir in fresh chopped mint.
To prepare the lamb chops:
Preheat oven to 375°F with a large cast iron skillet inside.¹

While oven is preheating, pat lamb chops dry, lightly rub with olive oil, and season both sides with kosher salt and black pepper.²

Once oven is heated, remove the cast iron skillet and set on stove top over high heat. Sear the lamb chops on each side for 3 to 4 minutes. Once seared, return the cast iron skillet to the oven. Let bake for 5 minutes.

Remove the skillet from the oven and transfer lollipop lamb chops to a cutting board to rest for 5 minutes.

Transfer lamb chops to a serving dish and top rustically with Autumn Glory Apple + Mint Chutney.
Notes
¹Braising can be done without a cast iron pan using a non stick skillet in it's place. No need to preheat non-stick skillet in the oven, but heat pan on high heat before searing lamb. If using a cast iron pan, preheating in the oven will help to maintain an even heat throughout the bottom of the pan when braising the lamb chops on the stove top.
²Remove lollipop lamb chops from the refrigerator 1 hour before braising. Let sit, uncovered at room temperature. Patting the meat dry with a paper towel will help form the perfect sear when braising the meat.
³Recipe includes 1 hour 20 minutes inactive time. If individual lollipop lamb chops are not available, you can ask your butcher to separate a Frenched rack of lamb, or slice them at home.
Nutrition
Calories:
469
kcal
|
Carbohydrates:
16
g
|
Protein:
46
g
|
Fat:
23
g
|
Saturated Fat:
8
g
|
Cholesterol:
149
mg
|
Sodium:
458
mg
|
Potassium:
718
mg
|
Fiber:
2
g
|
Sugar:
13
g
|
Vitamin A:
80
IU
|
Vitamin C:
8
mg
|
Calcium:
42
mg
|
Iron:
4
mg