Rich chocolate pie crust filled with gooey sweet and crunchy pecan pie filling with a subtle touch of warming bourbon. Bourbon pecan pie with a chocolate crust is a delicious spin on the classic Thanksgiving pie!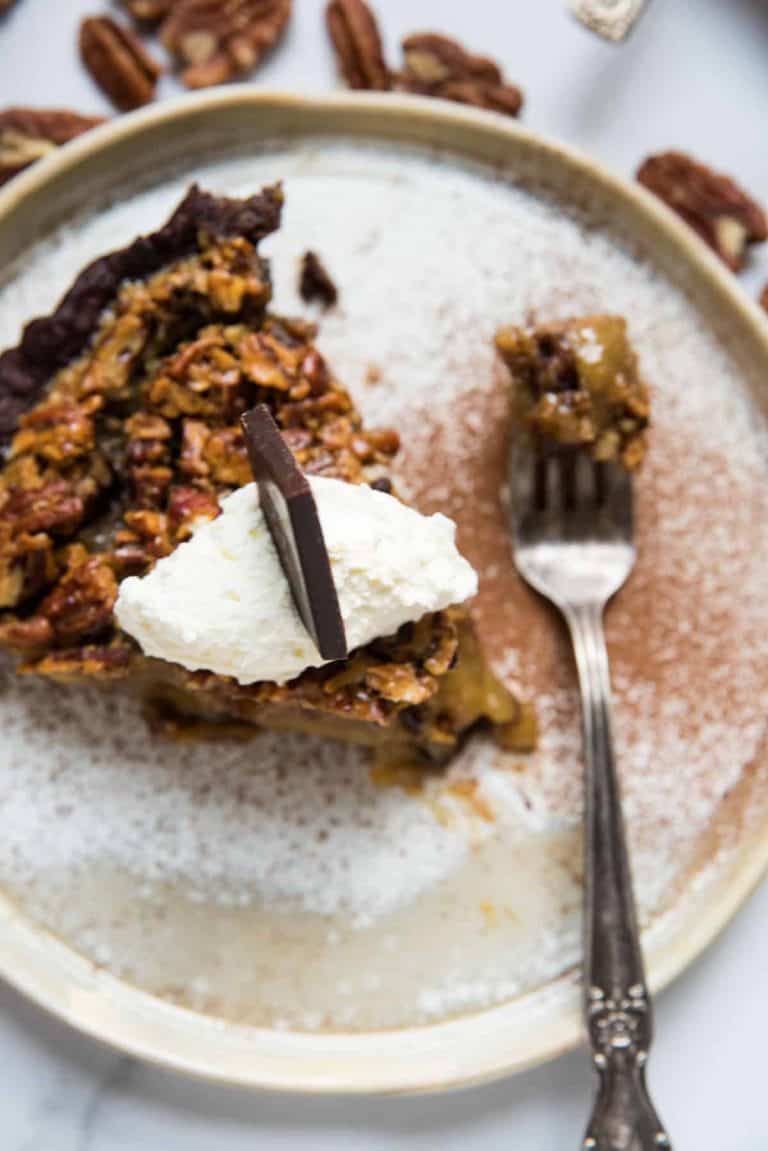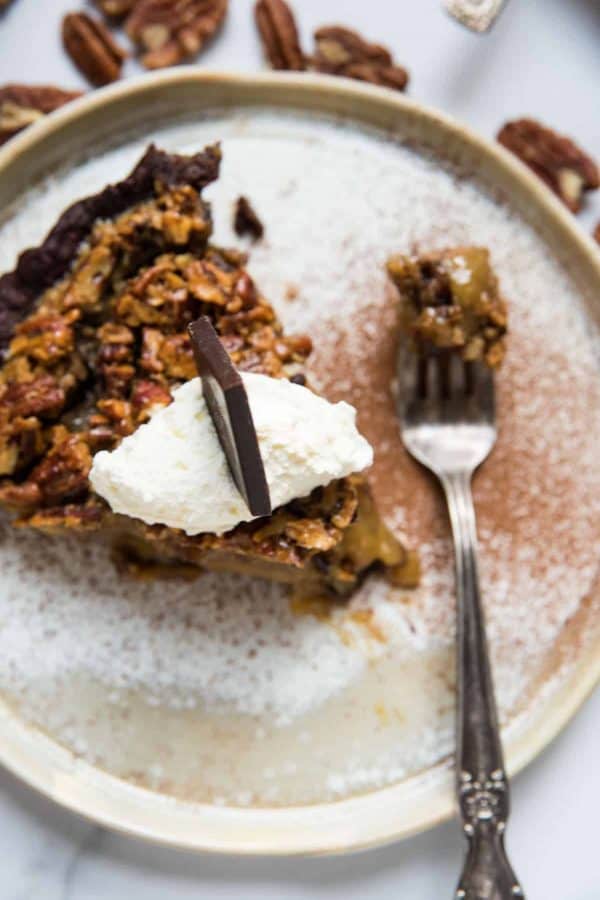 This post originally appeared on hungerthirstplay.com November 2016. It's been updated with more drool worthy photos and better baking tips!
I'm not sure exactly when it happened, but sometime in the last five years I became a fan of pecan pie. What a great life choice that was. Maybe not for my waistline, but in all other aspects it's been a pretty solid decision. You know what else is always a solid decision?
Chocolate.
So we're delivering this gooey, sweet and crunchy deliciousness baked in a tender flaky pie crust because this Thanksgiving we're achieving all our #piegoals.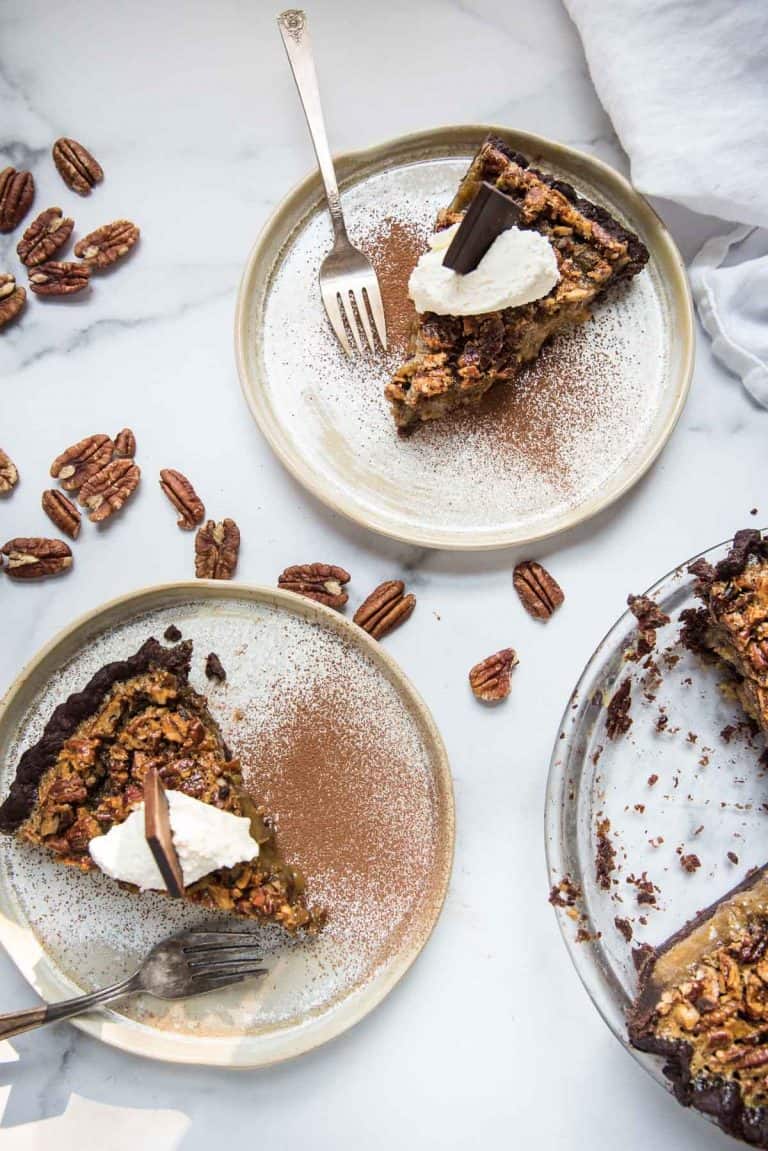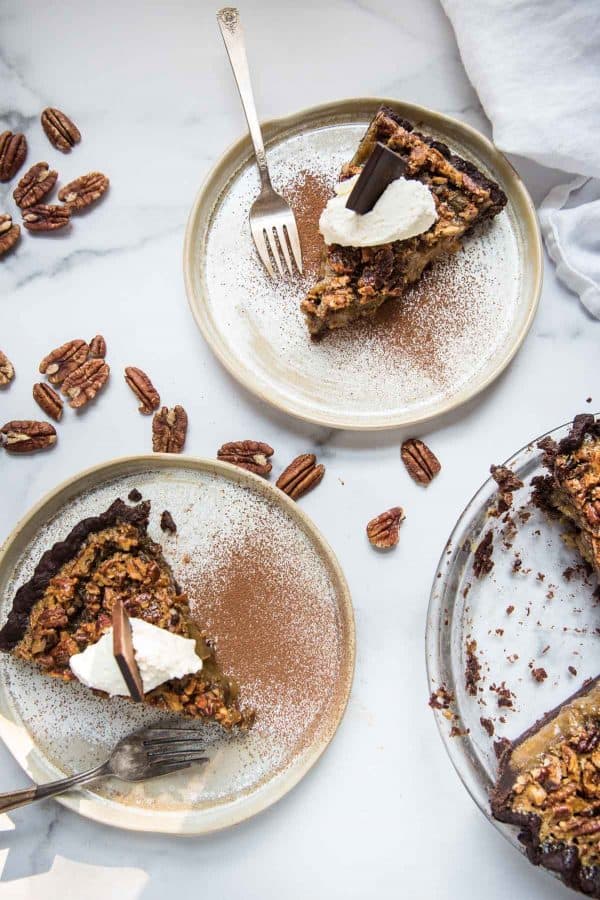 How to Make Chocolate Pie Crust
Anyone hate making pie crust? Trust me, no one gets that more than me. Until I conquered the crust thanks to tips from my good pal Tara. So when I'm saying you can make this chocolate pie crust, I mean it, because if I can conquer my pie crust crutch so can you.
Here are my favorite tips for making this crust:
Refrigerate all your ingredients, including the dry
Use super cold water
Dust your flat surface and rolling pin with cocoa powder instead of flour
If the dough gets too dry you can mist it with a spray bottle of water.
Work/kneed the dough just until it comes together. The more you work it, the tougher the dough gets.
Chill the dough before baking! (super important)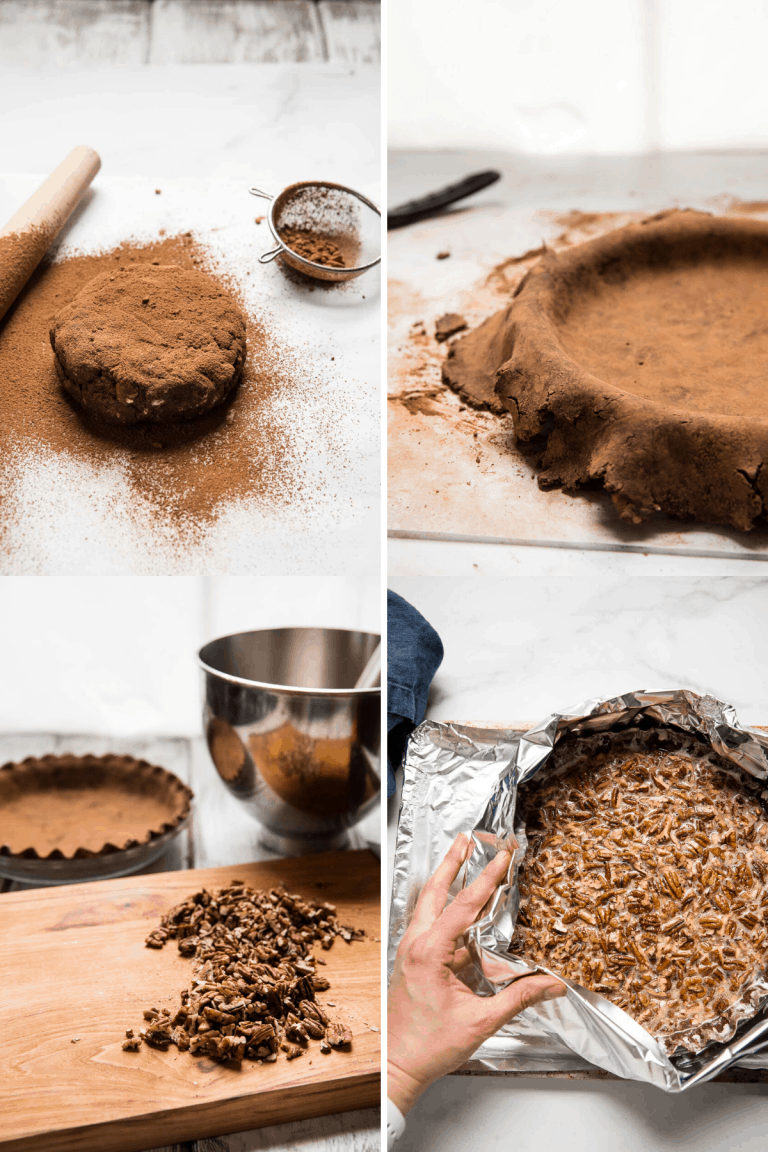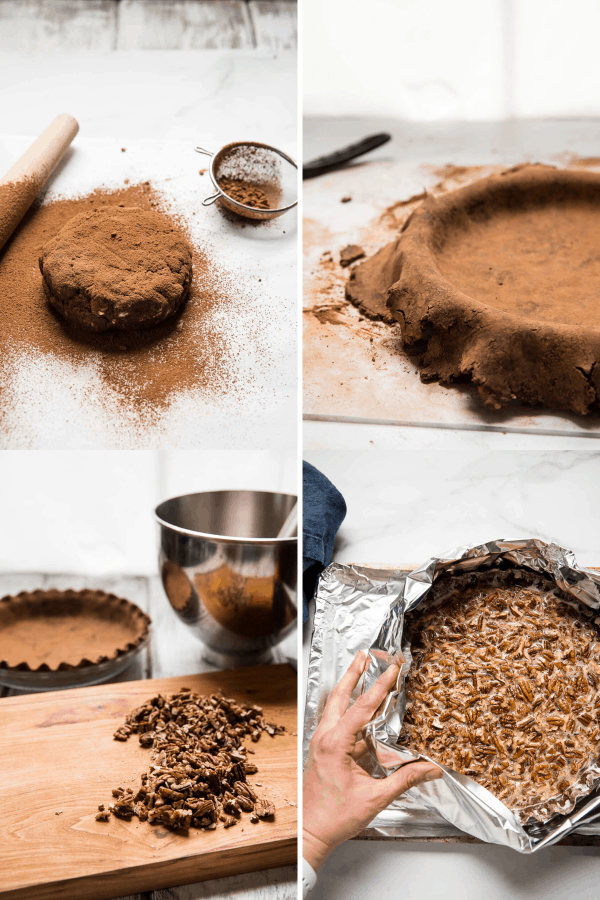 You can make this chocolate pie crust in the food processor or the standing mixer, which is wonderful for convenience. When the dough is just wet enough that it sticks together turn it onto the cocoa dusted flat surface and fold it over on itself until it starts to smooth out a little. You should see pieces of the cold butter in the dough, these butter pieces are going to turn into air pockets during the baking.
Then before we start working on whats going in our crust (hint: awesomely bourbon laced pecan goodness) we need to blind bake the crust so it's nice and flaky after the final bake. You can bake your bourbon pecan pie without blind baking the crust but the bottom of the crust will be wet. Still tasty, just not flaky.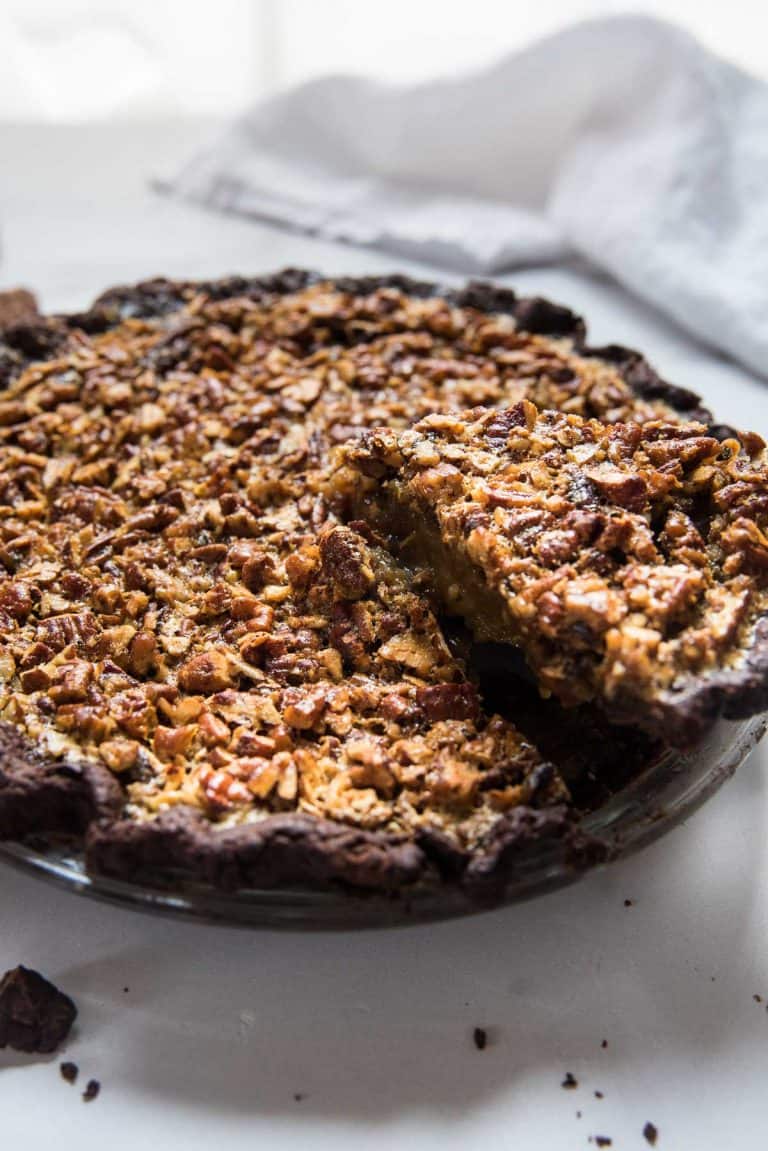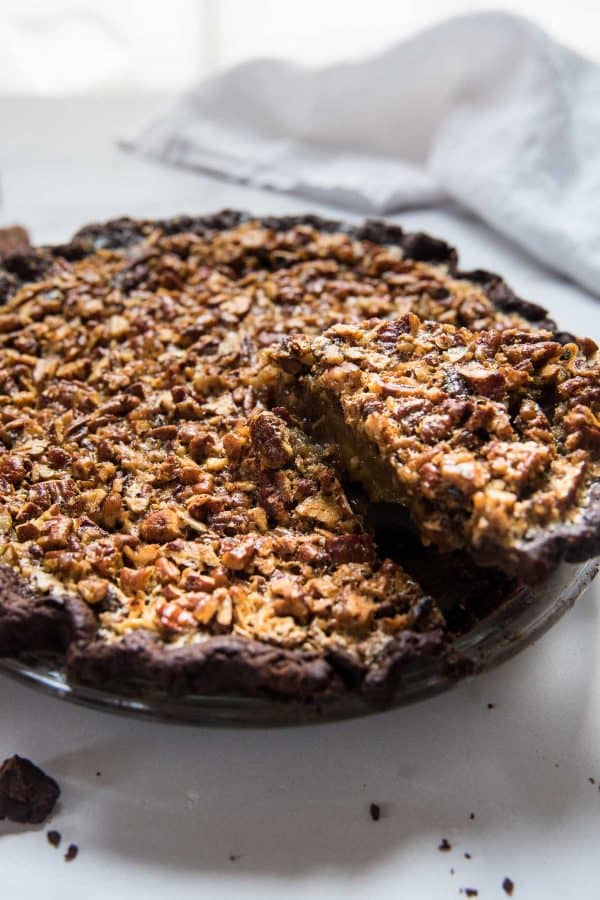 It's Pecahn, not Peecan.
Many summers ago when my best friend and I were waiting tables at this little seafood dive in our hometown, she was listing the homemade pies available for dessert. Upon pronouncing 'Pee-can' pie, her elderly guest corrected with the following statement, "Honey, a pee-can is something you use to go to the bathroom. I will have a slice of pah-cahn pie."
After laughing, and contemplating this advice, I made the mental conversion in my pronounciation of pecan pie. But how you say it doesn't matter, just the getting of a slice on your plate does.
Now, there is some debate amongst pecan pie lovers over chopped versus halved pecans. I like a little combo of both. The chopped pecans provide a better texture and a lighter pie, but personally, the pecan halves create a more esthetically pleasing pie. Answer? Give the nuts a rough chop so you get mostly chopped pecans, but some larger pieces as well for eye-appeal.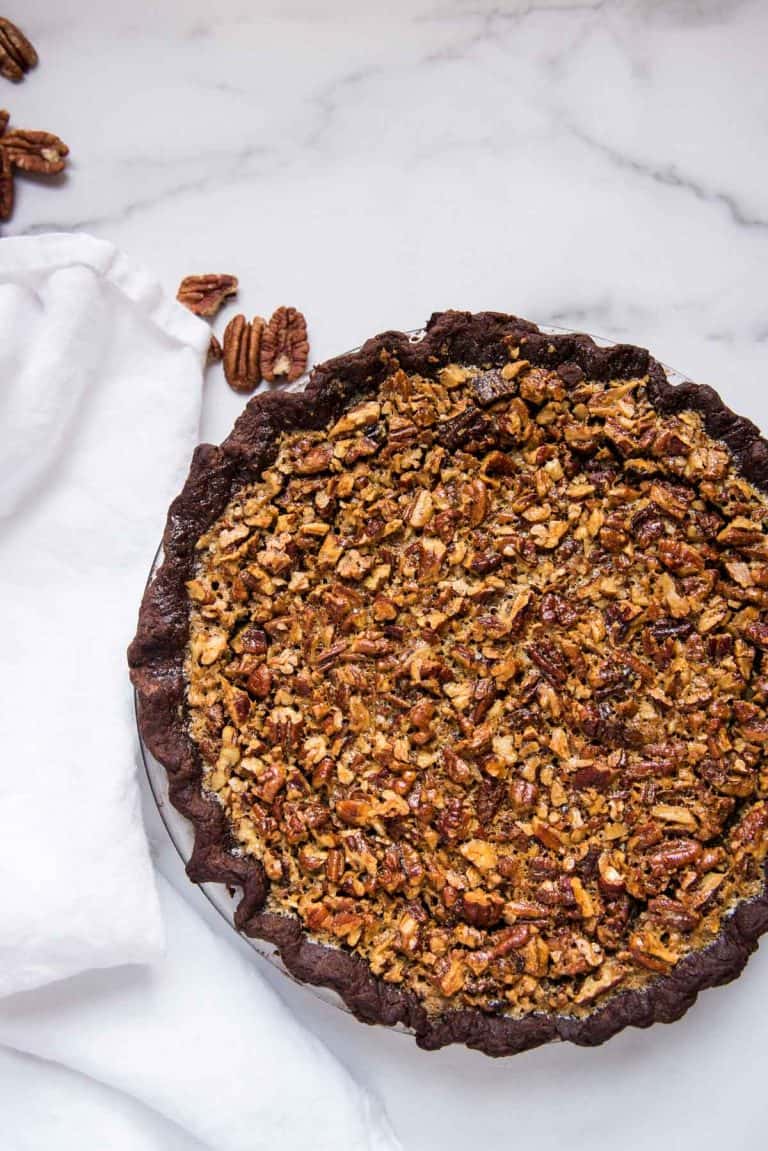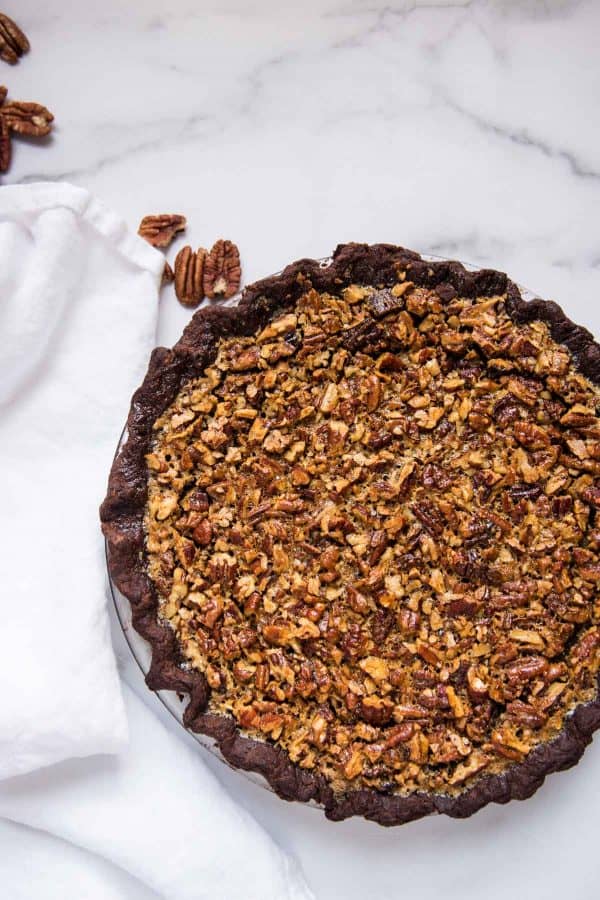 How to make bourbon pecan pie
Are you sitting down? Well you could be because that's about how simple making this pecan pie is. Just blend you ingredients together in a standing mixer or in a large bowl with a whisk, fold in your chopped pecans and pour it into the pie crust. There's nothing special you need to do when adding the bourbon, unless you want to make yourself a cocktail, you can mix it in with the other ingredients.
Tips for baking the pie:
Cover the edges of the pie crust with aluminum foil during baking so they don't over cook.
The middle of the pie will still be a touch wiggly at the end of baking but will set as it cools. The majority of the pie will have set.
Let cool for at least 4 hours before serving, but overnight is best.
Then it's just a matter of grabbing your favorite fork, pretending you don't have a favorite fork, and digging into a slice. This bourbon spin on the classic pecan pie travels great so if you're not hosting the holidays, this will be an easy item to bring with you for dessert!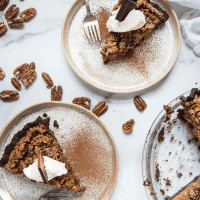 Bourbon Pecan Pie with Chocolate Crust
Traditional Pecan Pie goes to the next level with the addition of smoky and sweet bourbon and rich cocoa crust! Bourbon pecan pie is perfect for Thanksgiving dessert whether you're hosting or traveling!
Print
Pin
Rate
Ingredients
Chocolate Pie Crust
1 ¼

cups

all purpose flour

½

cup

unsweetened cocoa powder

½

teaspoon

salt

½

cup

confectioners sugar

10

tablespoons

cold butter

(cut into thin pieces)

5 to 8

tablespoons

ice cold water
Bourbon Pecan Pie
¼

cup

packed light brown sugar

½

cup

granulated sugar

2

teaspoons

all purpose flour

4

large eggs

1 ½

cups

dark corn syrup

2

tablespoons

bourbon

1 ½

tablespoons

unsalted butter

(melted)

1 ½

teaspoons

pure vanilla extract

8

ounces

unsalted pecan halves

(coarsely chopped)
Instructions
Chocolate Pie Crust
Whisk together the flour, cocoa powder, confectioners sugar and salt. Set in the fridge to chill for about 10 minutes.

Either using a pastry blender, fork, standing mixer, or your fingers work the butter into the dry ingredients. If using a standing mixer use the paddle attachment on the lowest speed. Mix until the butter is in pea size lumps.

Add the ice cold water 1 tablespoon at a time while mixing, then add just enough water to form the dough.If you squeeze it in your hand it will stick together but not stick to your hand. Transfer the dough to a piece of wax or parchment paper, fold the dough over on itself 3 to 4 times and form into a ¾ inch disk. If you find the dough is sticking to the paper, lightly dust with cocoa powder.

Roll the edge of the disk to smooth it out, wrap with plastic wrap and let it rest in the fridge for 30 minutes.

Preheat the oven to 400°F. Lightly grease a 9-inch pie pan.

After the dough is rested, sprinkle a flat surface with cocoa powder and roll the dough out to roughly 13-inch circle. Transfer it to the prepared pie pan and trim the edges to a 1-inch overhang over the side of the pie pan. Tuck the edges up and under and crimp them using your fingers. Transfer the prepared pie pan to the fridge to chill for 10 minutes.

Line the prepared crust with foil and fill with pie weights or dried beans, moving more beans towards the sides of the pan to keep them from 'slipping' while baking.

Bake the crust for 10 minutes. Move it to a cooling rack and remove the foil with the pie weights/beans. Reduce the oven temperature to 350°F.
Bourbon Pecan Pie
Preheat the oven to 350F. On a cutting board with a sharp knife for chopping, coarsely chop pecan halves.

In a bowl, whisk together the brown sugar, granulated sugar, flour and eggs until smooth. Add in the corn syrup and mix until incorporated, scraping the bottom of the bowl if needed.

Mix in the bourbon, vanilla, melted butter and salt. Fold in the chopped pecans.

Pour the batter into the prepared pie crust. Cover the edges with aluminum foil and bake for 1 hour. After 1 hour of baking, remove the foil and bake for 10 more minutes or until the very middle is some what loose but the rest of the filling has set.

Let cool for at least 4-hours before serving.
Notes
For best pie crust results, chill all of your ingredients - including the dry!
Dust the pie crust with cocoa powder instead of flour.
Let the pie dough rest in the refrigerator before rolling - this allows the gluten to develop and makes for a better crust!
Roll out your dough onto a piece of cocoa dusted parchment paper for easier transfer and quick clean up.
Nutrition
Calories:
755
kcal
|
Carbohydrates:
99
g
|
Protein:
9
g
|
Fat:
40
g
|
Saturated Fat:
13
g
|
Trans Fat:
1
g
|
Cholesterol:
125
mg
|
Sodium:
405
mg
|
Potassium:
298
mg
|
Fiber:
5
g
|
Sugar:
78
g
|
Vitamin A:
638
IU
|
Vitamin C:
1
mg
|
Calcium:
65
mg
|
Iron:
3
mg