Tender roasted sweet potatoes, savory and lean ground lamb, sweet honeycrisp apples and fresh herbs are making this the best, tastiest, and healthy eats to dish up for breakfast or brunch.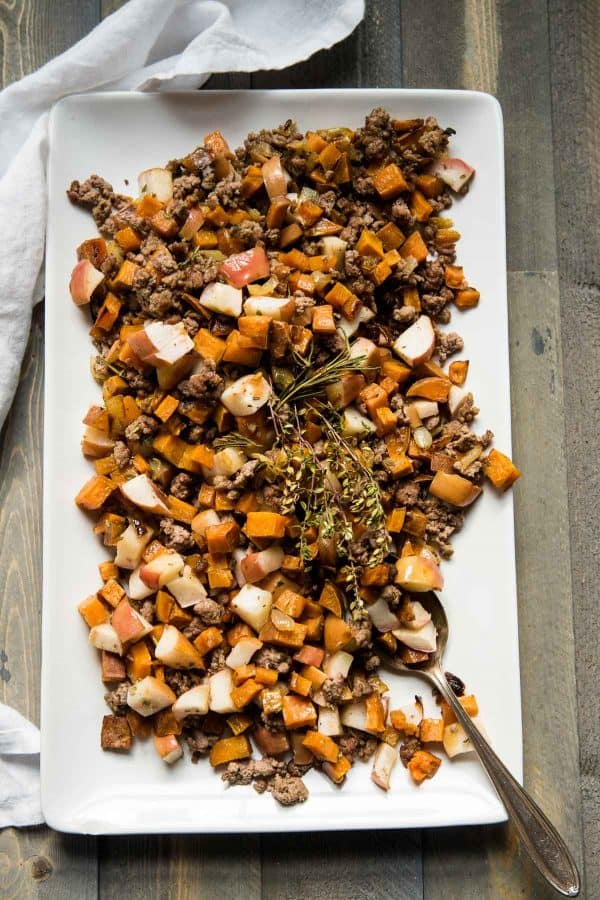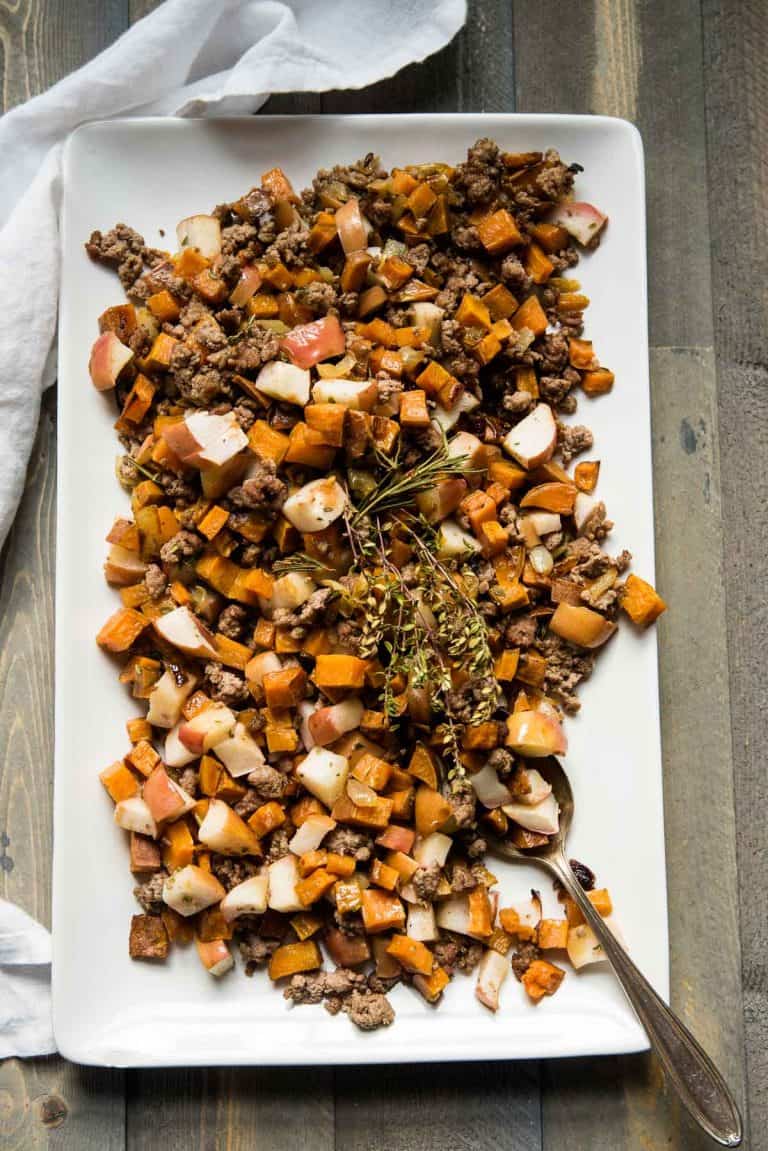 The ground lamb used for this recipe post was provided at no cost to me by American Lamb Board. All thoughts and opinions are my own, I hope you love this delicious brunch recipe as much as we do!
Calling all savory brunch lovers! Sweet potato hash with lamb and apples is here to make those brunch plans something to look forward to! You know....the plans you kind of wish you hadn't made because your bed is nice and cozy. BUT if there's a big plate of this hash waiting for us at the end of that 'getting ready for the day' struggle, it's going to be totally worth it.
Granted, for me at least, gone are the days of lazily laying bed cozily tucked under the blankets while the cold November morning chill is still skulking.
My fellow parents out there know what's up, because the minute one minute ray of sunshine hits my darling angel's window sill, the cereal must be served up or at the very least, entertainment provided. Shea does help me make my coffee though and it's terribly sweet so our early morning grievances are forgiven.
Also, getting up a little earlier helps me to get recipes like this sweet potato hash out into the world! I am positively obsessed with this hash for so many reasons but the big ones can be boiled down to:
simple and easy
healthy, wholesome ingredients
mostly savory with a touch of sweet
lean ground lamb
great for brunch or breakfast
serve it as a side or the main event
People say there are a lot of ways to fry an egg, but I'm pretty sure there's more ways to make breakfast hash so maybe we should start saying that instead. The same goes for sweet potato hash and this particular recipe we are going to use the oven and the stove top. The steps are super simple and yield super tasty results.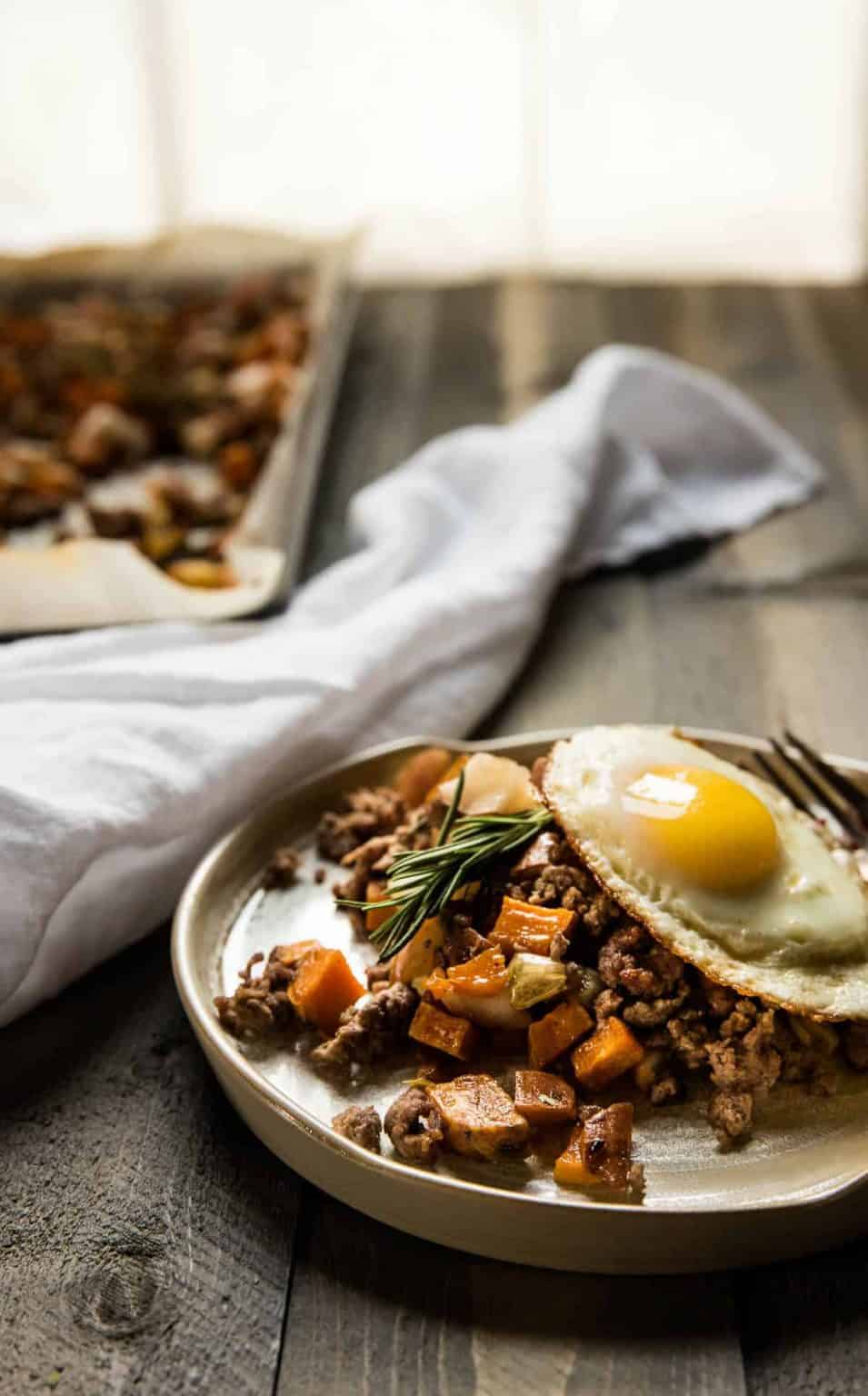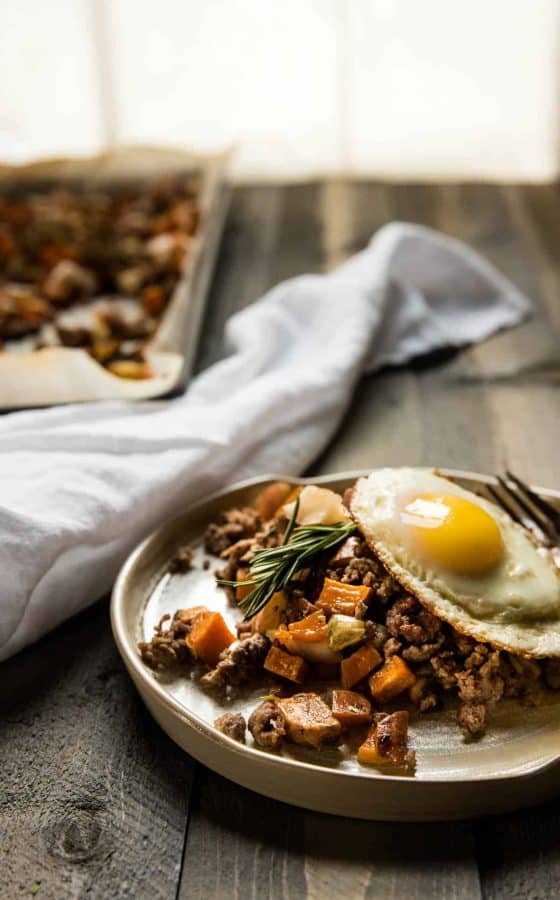 Oven roasted sweet potato hash with lamb and apples
The last time I dished this out was for our lamb jam! The American Lamb Board sent me some awesome lamb products and so my friends and I could have brunch. The result? Deliciousness, apple cakes, mimosas and lots of laughs. SO good.
The simple oven roasted sweet potato hash was hands down my favorite thing on the table, and you betcha I was super happy to have leftovers for breakfast in the days following.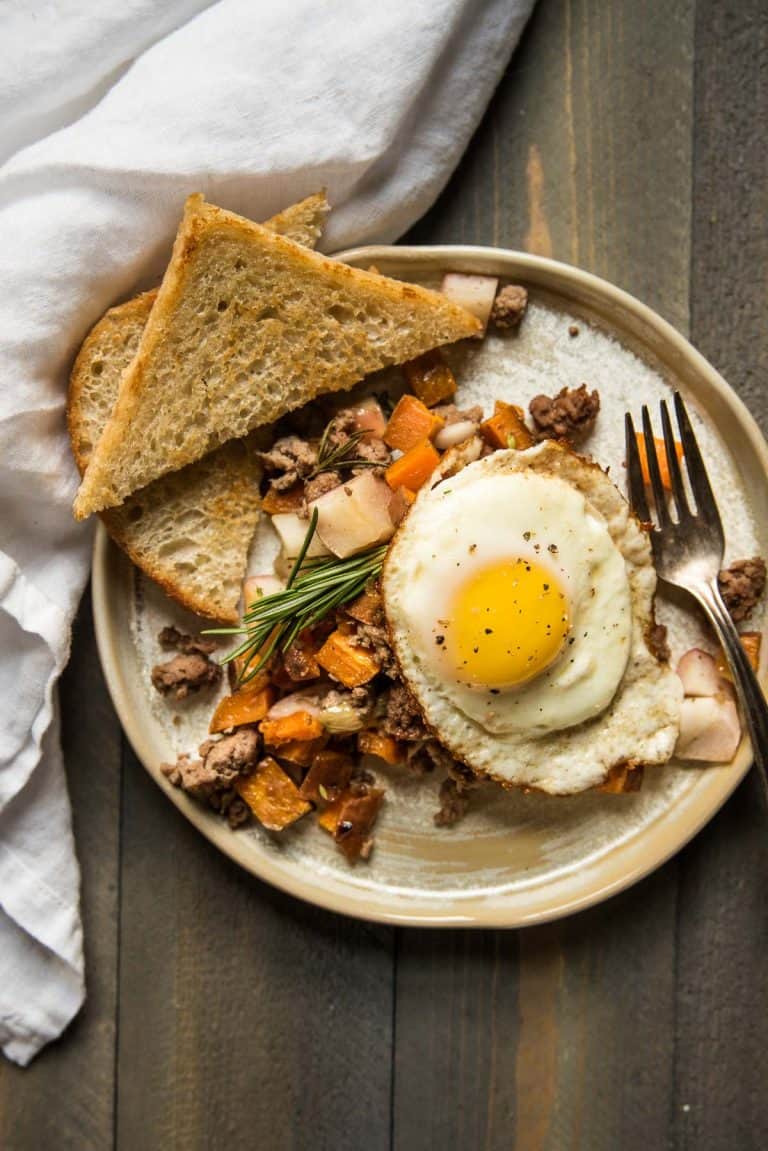 The very best part is that the prep is so simple! On a day where there's loads of cooking happening, this recipe is a breeze to make and holds well in the oven without loosing flavor or overcooking while other things finish cooking. Heading into the holiday season I give this hash a five star stamp of approval for holiday get togethers, brunches with friends, or meal prep breakfast to heat up through out the week.
The simple prep includes giving the sweet potatoes a good scrub - you can peel them if you prefer! - before dicing. The skin has all the best nutrients and I like the texture they give so they stick around in my house. Dice them into bite sized pieces, along with an onion. Toss them together with olive oil, salt and pepper either in a bowl or just on top of the sheet pan and roast them at 400°F (this is my magic number for roasting vegetables, it just works so well.)
We jump over to the stove top to scramble the lamb. Ground lamb is very lean so you'll want to add just a little oil to coat the pan once it's hot. Also important: the lamb doesn't have to be 100% done. You want it mostly cooked, but if there are a few pink bits here and there that's okay. It's going to take longer for the sweet potatoes to roast than the lamb will take to scramble so it will continue to cook even after you remove it from the heat.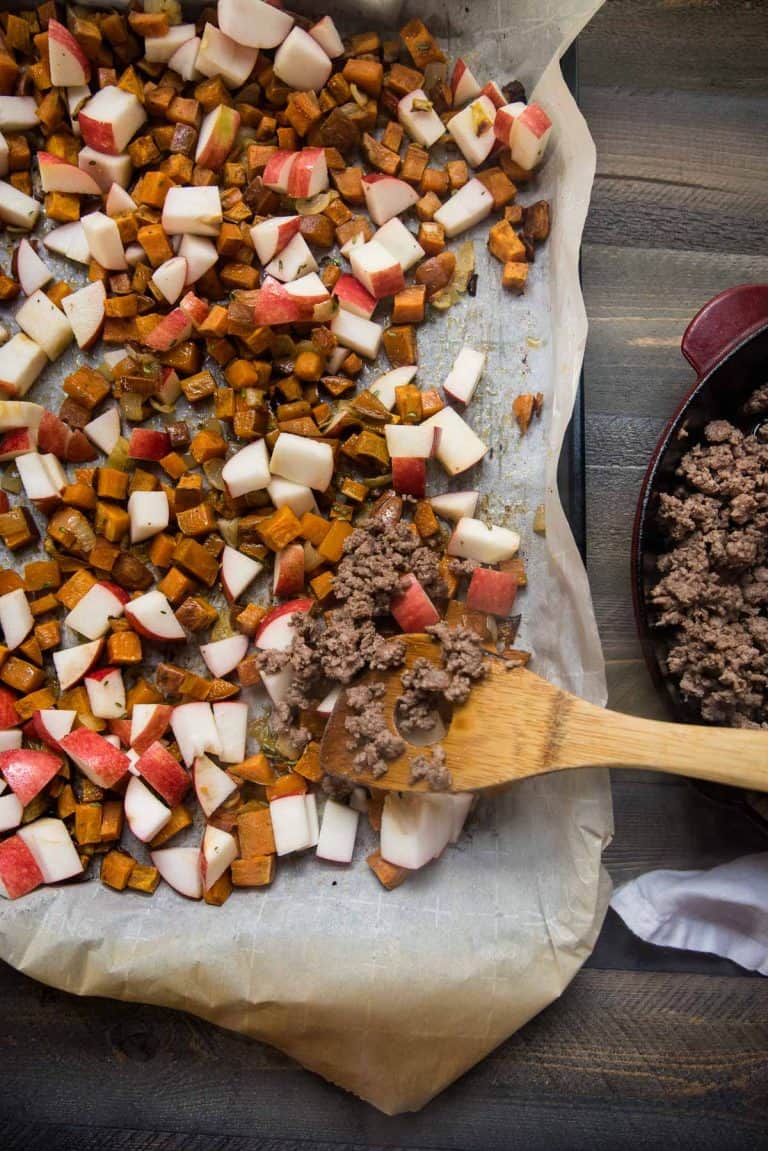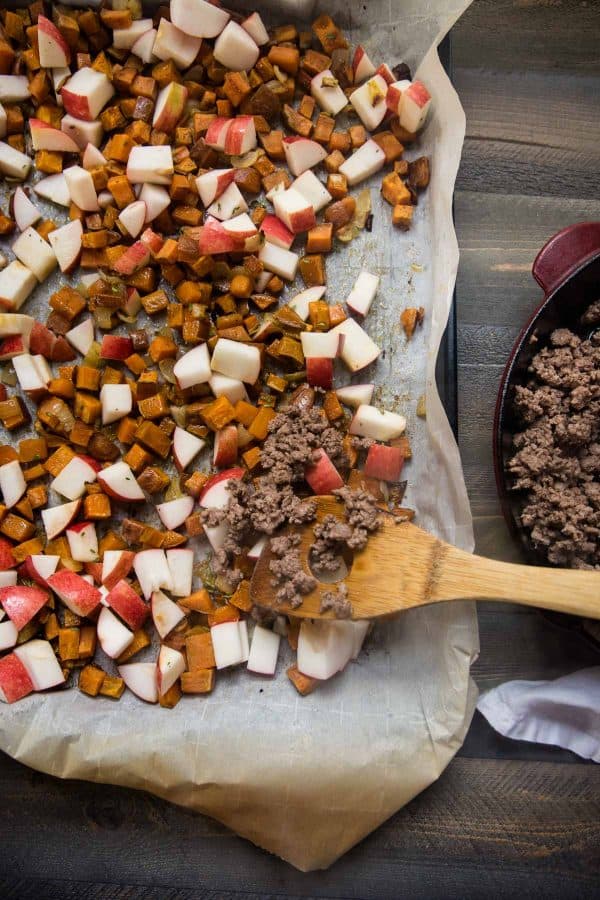 Once the sweets and onion are done their first roasting, we add all the ingredients to the sheet pan party and return it to the oven to blend the flavors and roast them apples.
How to serve sweet potato hash
The next best thing about this brunch all star is that it can be served as a side dish or as a main plate. If you're going the route of main plate, I'd recommend serving eggs and toast to complete the meal!
The eggs can be over easy, fried, poached, scrambled, whatever is your favorite way. Either over easy or fried are my personal favorites because that warm jammy yolk is so good running all over sweet potato hash!
That's it! Brunch is done. Someone get this cook a mimosa!!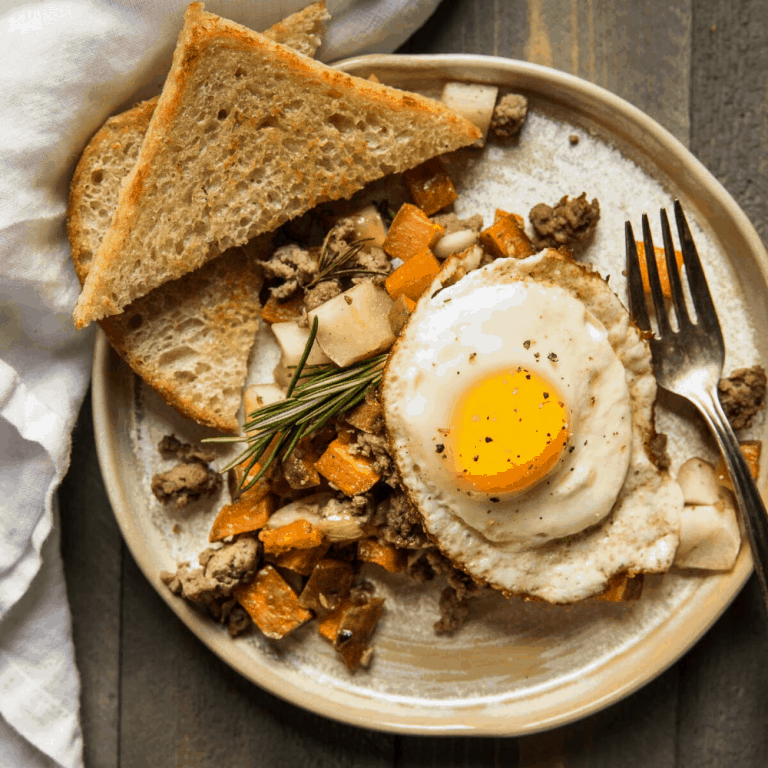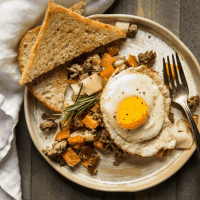 Sweet Potato Hash with Lamb and Apples
Tender, roasted sweet potatoes with sweet apples, savory lamb and fresh herbs. Sweet potato hash is the perfect side dish to add to brunch or serve with eggs for the main meal!
Print
Pin
Rate
Ingredients
1

pound

ground lamb

3

large

sweet potatoes

(½" dice (about 5 cups))

1

large

yellow onion

(½" diced)

1

honeycrisp apple

(½" dice)

¼

cup

+ 2 teaspoons olive oil

(divided)

2

springs thyme

2

spring fresh rosemary

salt and pepper for seasoning
Instructions
Preheat the oven to 400°F. In a large bowl, toss the sweet potatoes and onions with olive oil and season with salt and pepper. Spread onto a single layer on a sheet pan. Bake for 45 minutes, stirring half way through.

Heat a skillet over medium high heat and add the remaining 2 teaspoons of olive oil. When the oil shimmers, add the ground lamb and break apart using a wooden or rubber spatula (you can also use a potato masher to get the meat well scrambled.) Season with salt and pepper while it cooks. When the lamb is almost all the way cooked, stir in the herbs and remove from the heat until the potatoes are done roasting.

When the sweet potatoes and onions are done roasting, mix in the ground lamb and apples to sweet potatoes and onions of the sheet tray. Return to the oven for 10 to 15 minutes until the apples are fork tender. Remove the rosemary and thyme sprigs before serving.

Optional: serve with eggs for a main dish or alone for a healthy hearty side dish. To cook the eggs with the hash, make 8 little wells in the hash with a spoon. Crack an egg into each well, season with salt and pepper and then finish cooking 10 to 15 minutes.
Notes
Whether you peel or don't peel the sweet potatoes is up to you! I prefer mine with the skin so they just get a real good scrub before dicing.
Nutrition
Calories:
349
kcal
|
Carbohydrates:
31
g
|
Protein:
12
g
|
Fat:
20
g
|
Saturated Fat:
7
g
|
Cholesterol:
41
mg
|
Sodium:
105
mg
|
Potassium:
609
mg
|
Fiber:
5
g
|
Sugar:
8
g
|
Vitamin A:
18114
IU
|
Vitamin C:
6
mg
|
Calcium:
54
mg
|
Iron:
2
mg