Tender, thin sliced lamb layered with fluffy eggs on soft mini naan flatbreads, slathered with cool and creamy avocado tzatziki. Flavors of spice, cucumber, garlic and fresh dill will make these breakfast lamb gyros the perfect meal any time of day!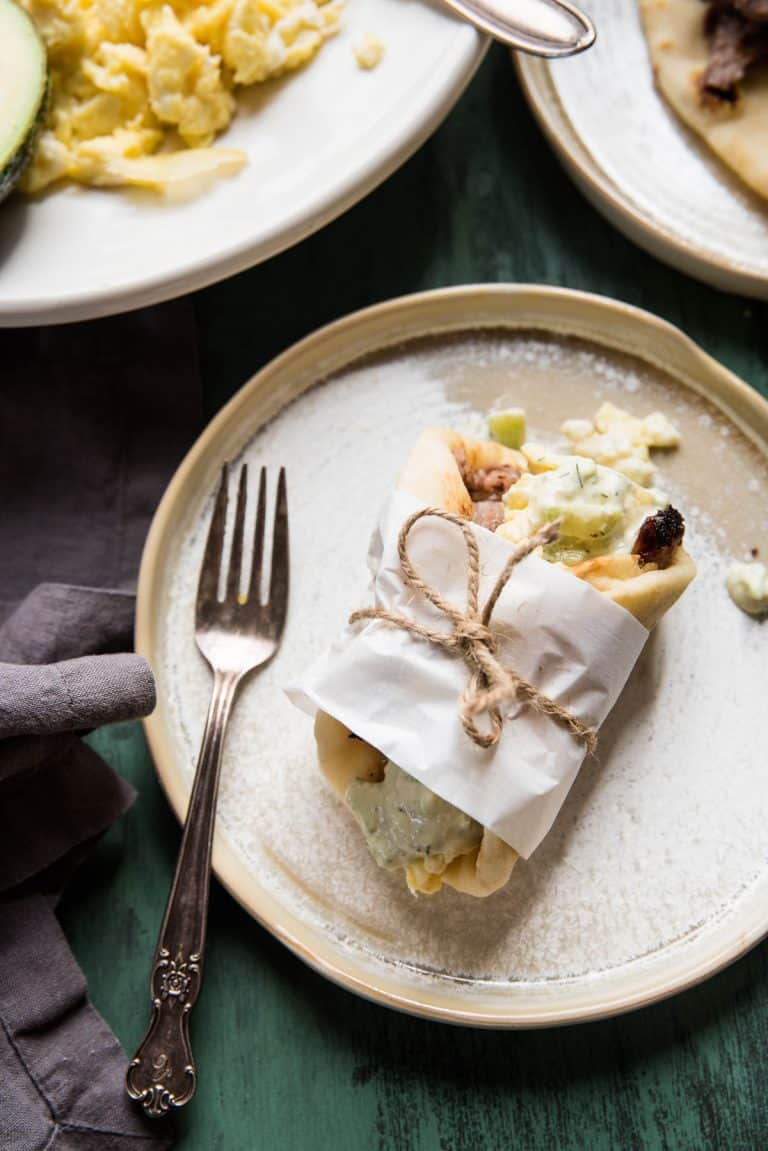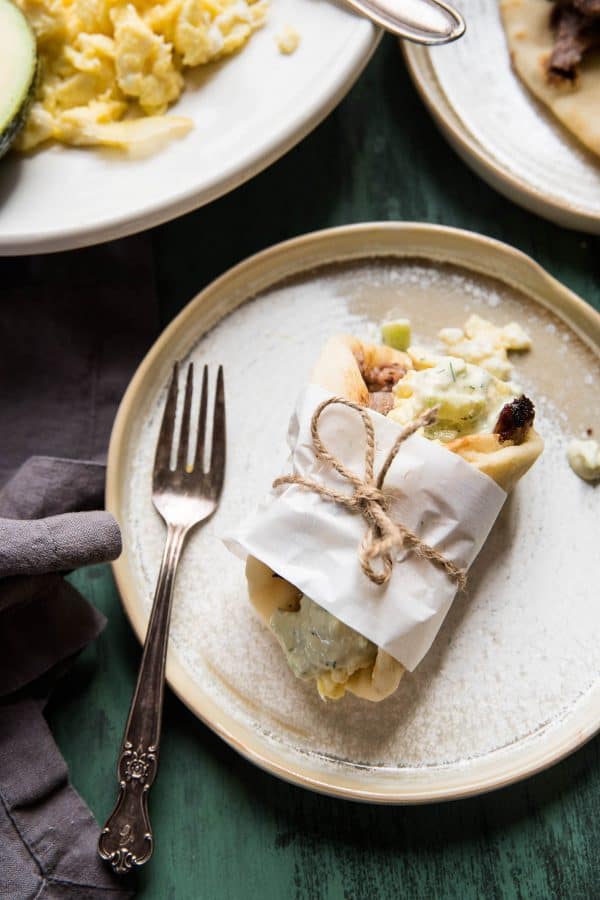 Lamb products for this recipe were gifted by American Lamb. All thoughts and opinions are my own.
Ready to switch up your boring breakfast sandwich go to?! We are currently OBSESSED with these breakfast gyros for several reasons:
easy to make
simple ingredients
perfect portions
make enough to serve a crowd or cut it back for just the family
mini naan - super cute, super tasty
we want to slather the Avocado Tzatziki on close to ev-er-y-thing
Planning a brunch get together with friends? Perfect. Need an easy to make breakfast. We're here for that. Breakfast for dinner? Sold.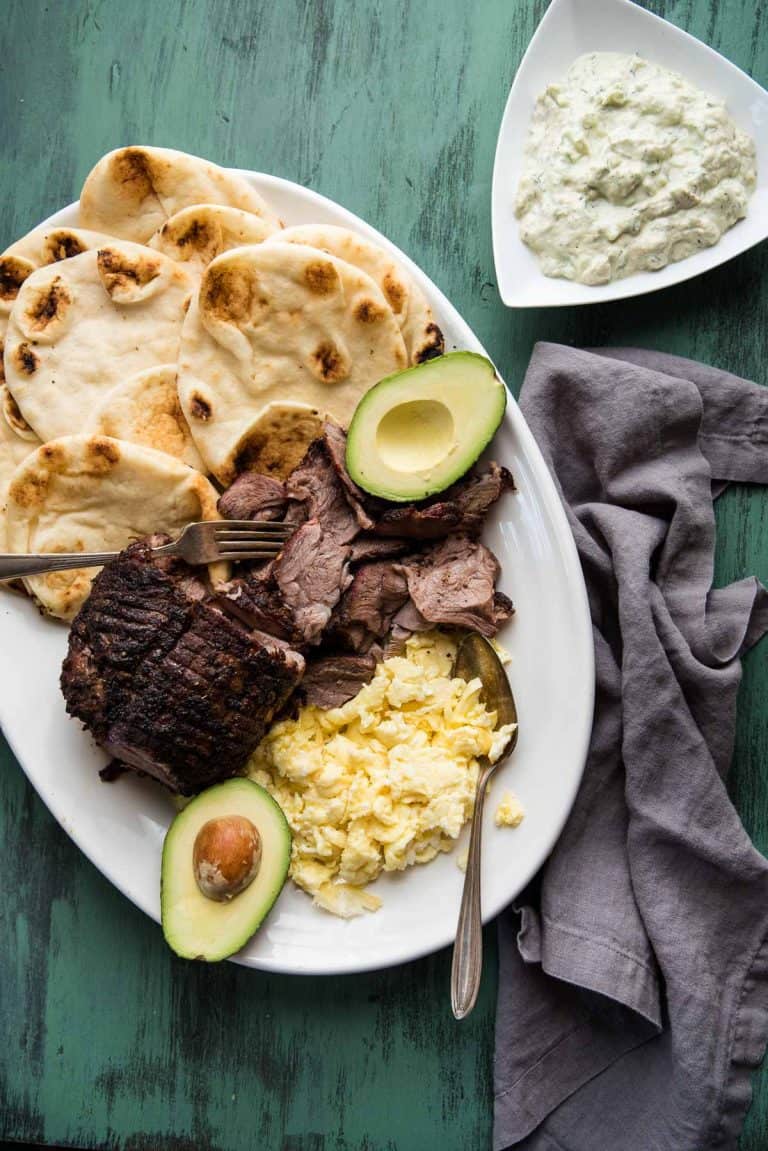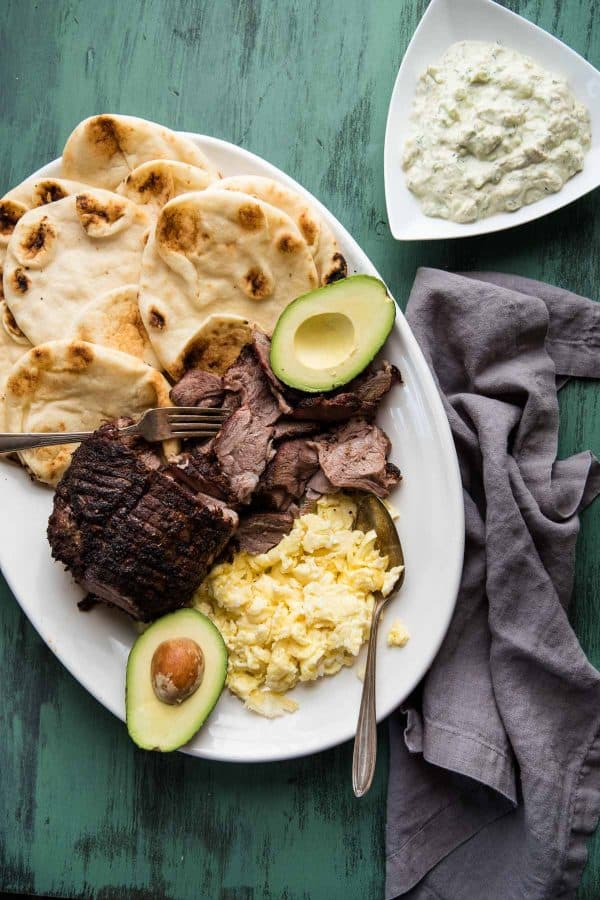 Simple, easy to find ingredients transformed into protein packed, flavor punching deliciousness without a whole lot of fuss. Let's do it.
What Lamb to Use for Gyros
Traditionally, gyros are made from a combination of beef and lamb. Many recipes use a combination of garlic and spices then forming a meatloaf of sorts that's roasted and sliced thin.
Because we're on team 'let's make it simple' we're going to dry rub a single cut of lamb and roast it, thinly slice it then be on our merry way to eating.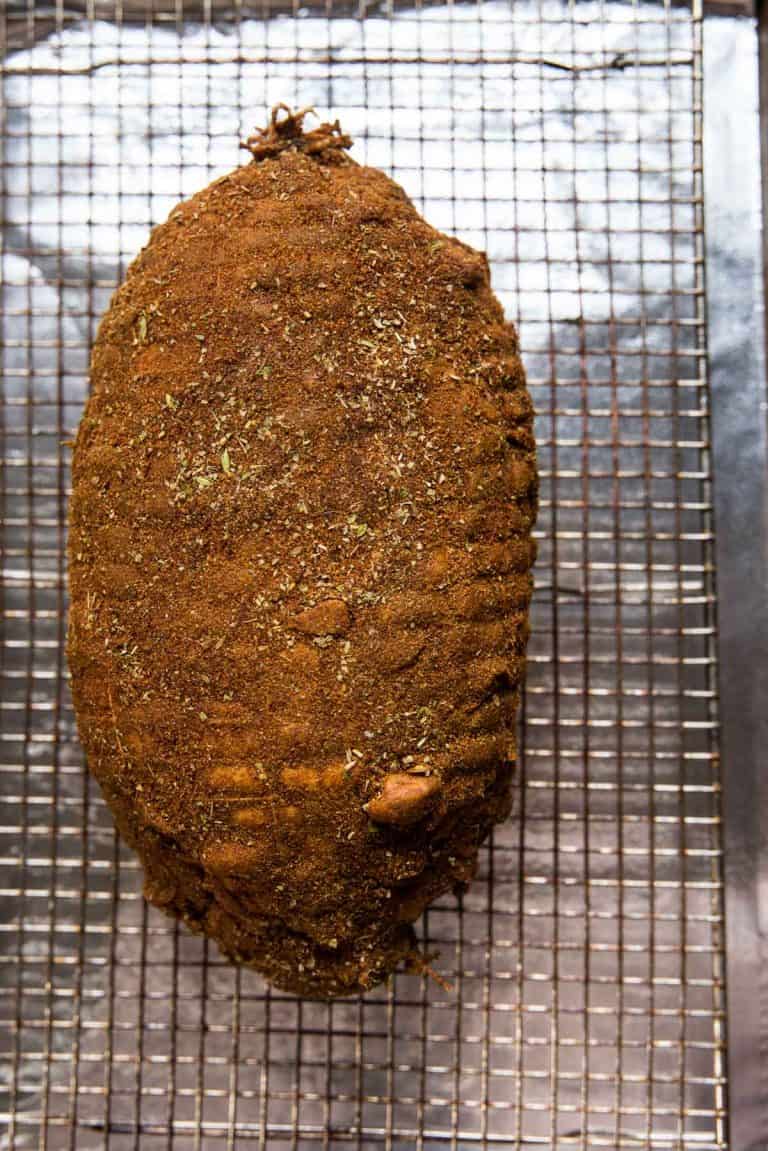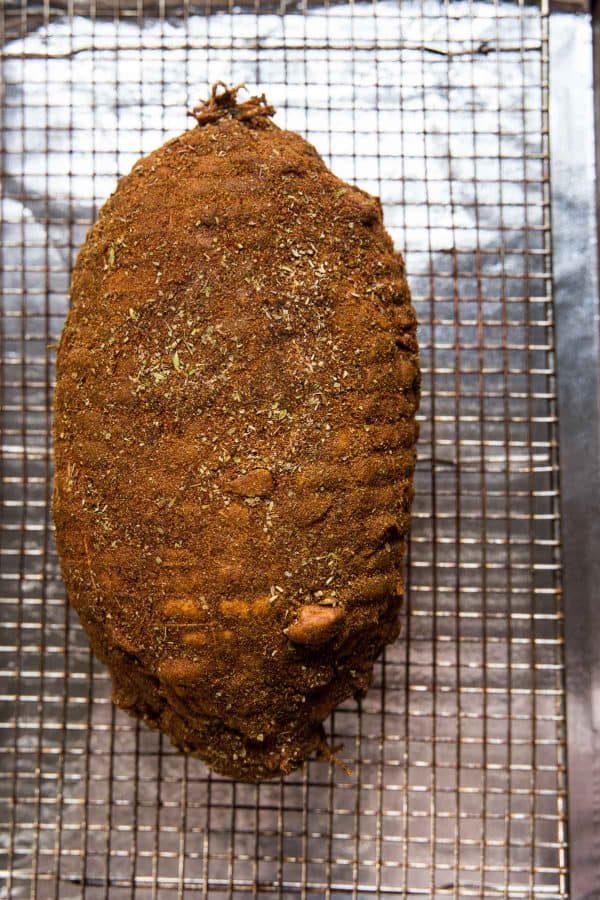 For these breakfast lamb gyros you can use either a boneless leg of lamb roast or a boneless shoulder roast, though I find the boneless leg cut easier to find and a smidge leaner.
HOW TO PREP LAMB FOR GYROS
Seriously simple. Grab all your spices and mix them in a bowl - we use the traditional spice rub from these gyros. The night before rub the roast all over with the spices very generously. If you can't do it the night before, don't sweat it you can do it before roasting but try to leave enough time to let the roast sit out at room temperature before putting it in the oven. This will give it time to let the salt work into the meat, pulling the spices with it.
Roast it at 375°F until the center of the roast reaches 160°F (medium) to 170°F (well done). Be sure to give it at least 15 minutes to rest before slicing.
Real life scenario - when slicing this roast for photos it rested for about 30 minutes and was still burning my fingers, so seriously don't sweat it if you're worried its going to get cold. You can always tent the roast with foil while it's resting and you're preparing the rest of the ingredients.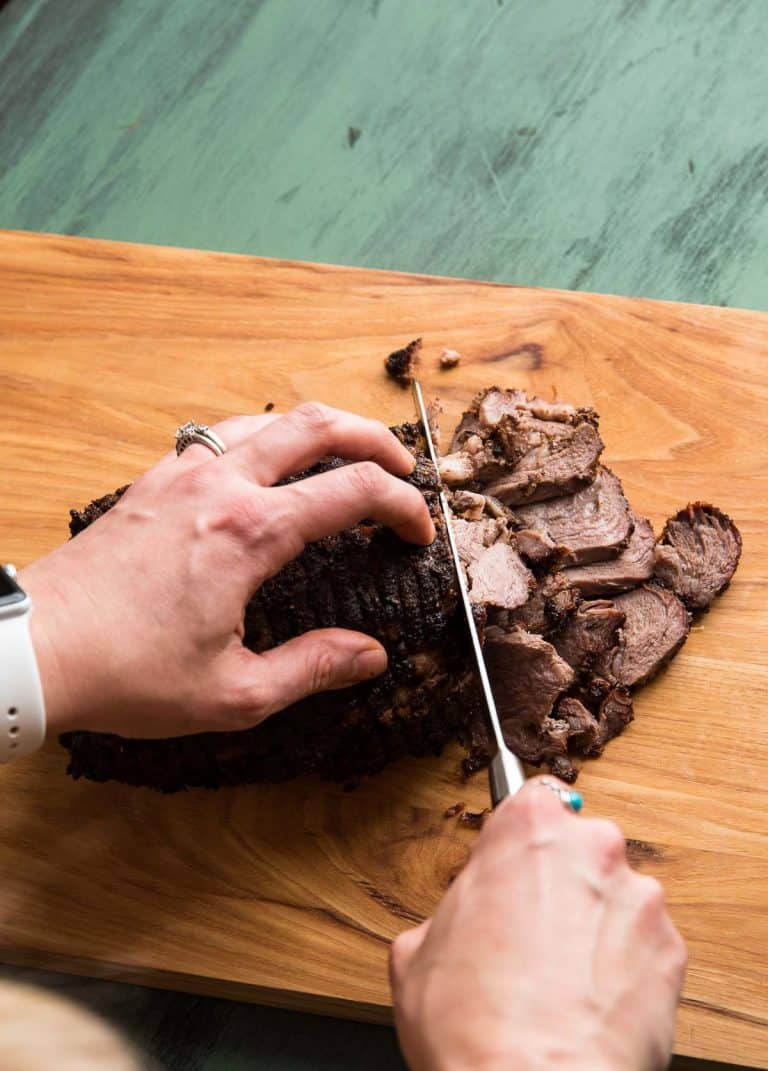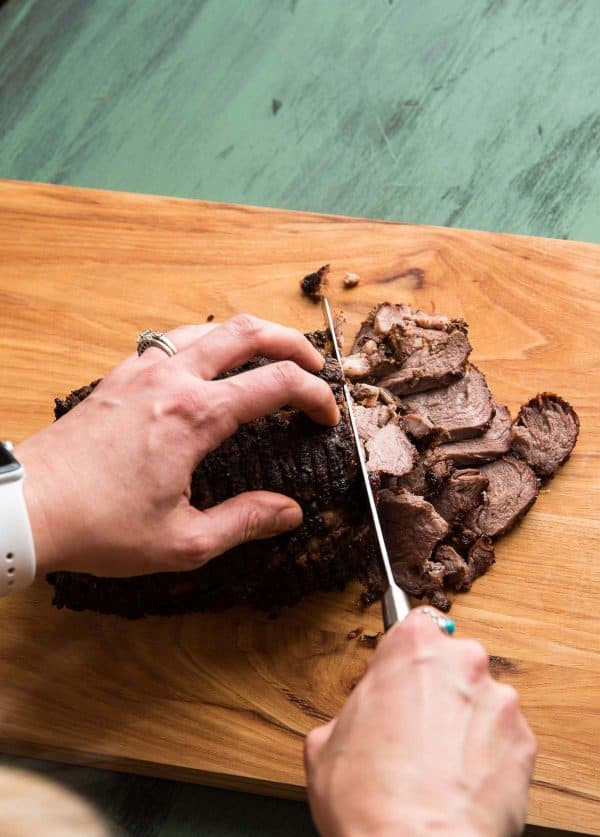 building your breakfast lamb gyros
Put your avocado toast on hold, because we're going to a full up grade. We're keeping the eggs and avocado, just adding them in different and surprising ways!
These Stonefire mini naan flatbreads are my new favorite thing and the perfect size for wrapping up our breakfast ingredients. They're tender but sturdy enough to not get soggy, and you can either warm them up in the oven or just pop them in the toaster - total bread bliss!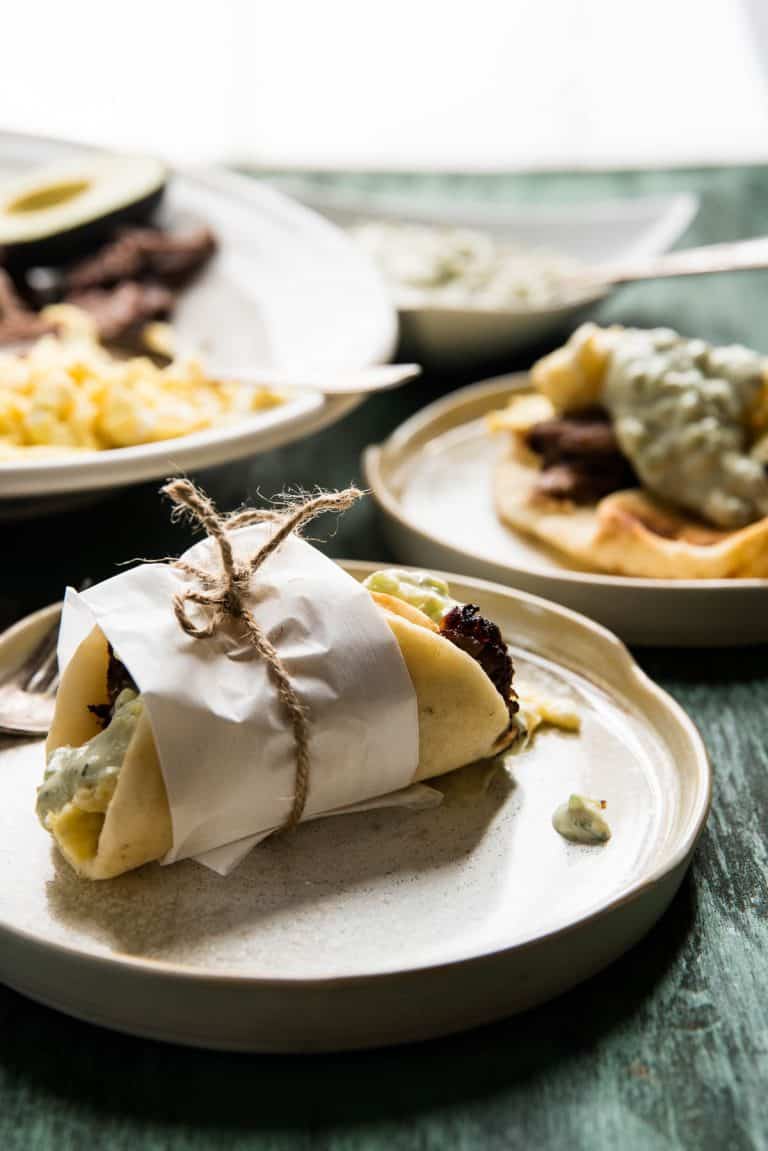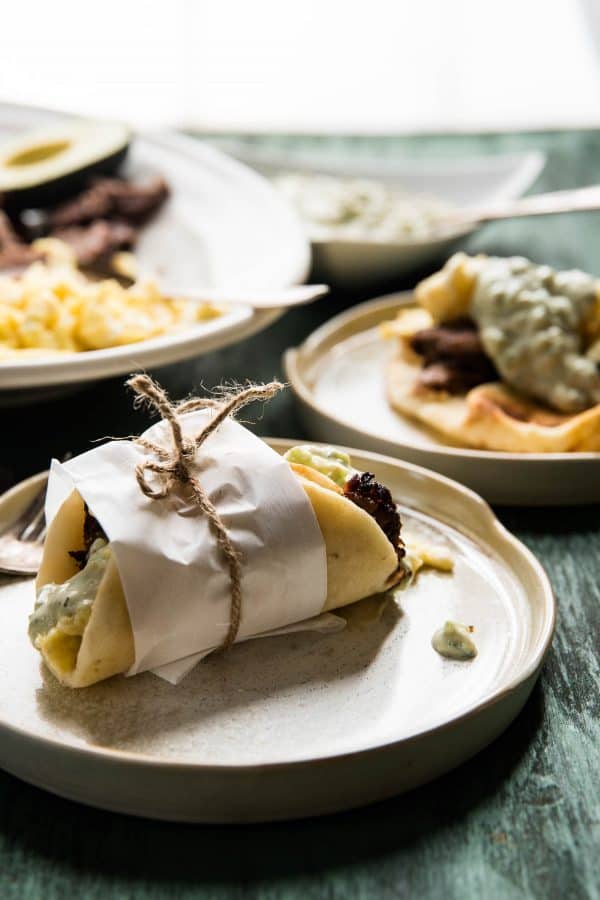 On top of the naan, layer up thin slices of our dry rubbed lamb roast, fluffly scrambled eggs and slather it with creamy avocado tzatziki.
Scrambled egg drama in your life? Here are some of my favorite go to tips for perfect eggs:
Medium to medium-low heat
Scramble with a whisk in a separate bowl first
Non stick skillet
Rubber spatula
Butter or butter substitute
One of the restaurants I used to work with would do family meal for breakfast before lunch service. Eggs are quick and inexpensive - we ate A LOT of eggs. But there were also a few people on staff with dairy allergies so we had one pan that were labeled "Flavor Eggs" and those had the butter. I think of this every single time I make scrambled eggs with butter and it makes me laugh. It also does make a difference, so for rich and fluffy 'flavor' eggs use some butter.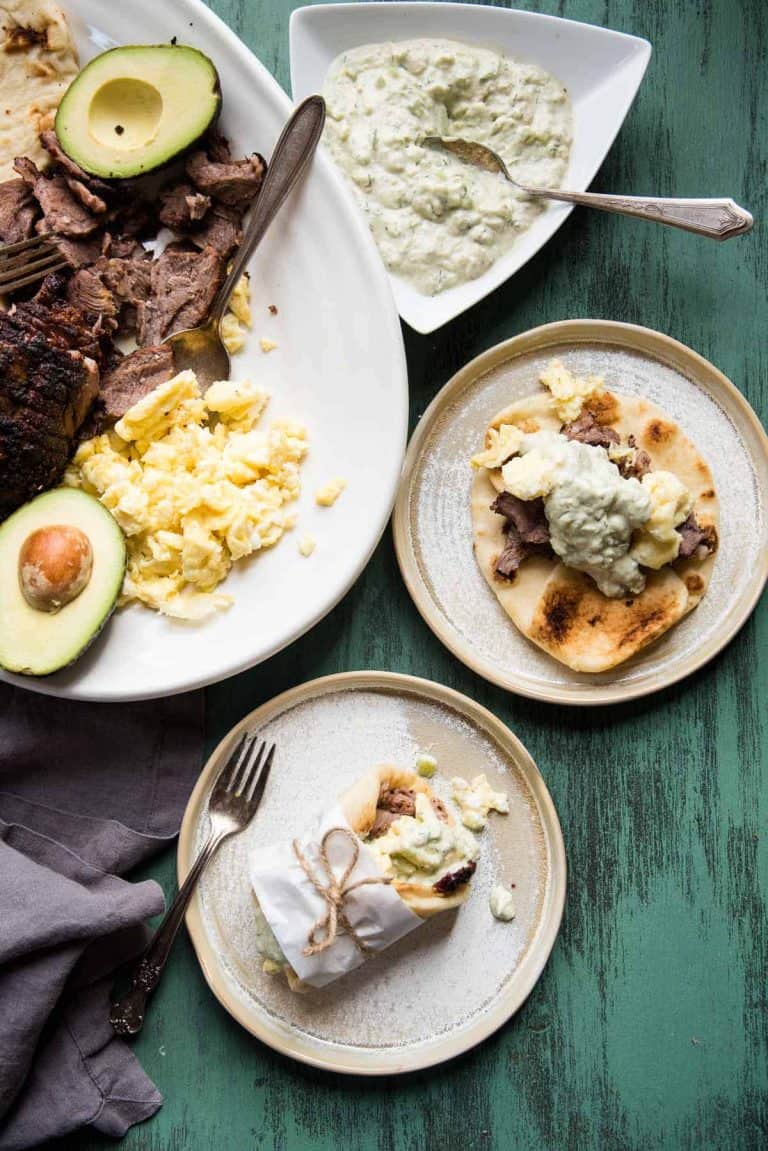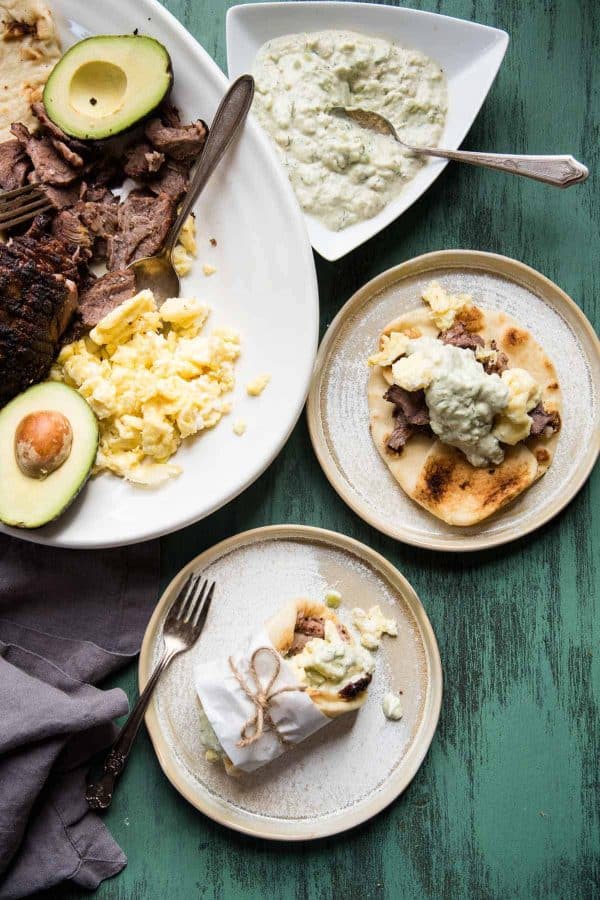 Creamy Avocado Tzatziki
It's not brunch if there's no avocado, right?? Tzatziki sauce is beautifully delicious on it's own, but adding mashed avocados is not only a great way to add an eye popping color, but extra creaminess as well.
WHAT IS TZATZIKI?
It's a Greek cucumber yogurt sauce prounouced tuh-zee-kee. There's a bit of an internet divide over whether dill or mint is the proper fresh herb for the sauce. This avocady tzatziki uses dill, but you can also add mint if its a flavor you love. Really, tzatziki is all about the garlic and cucumber for me, the herbs are just added bonus.
MAKING IT AVOCADO STYLE
So, you have two options here my friends. You can make this cucumber yogurt magic sauce from scratch, it's simple, the ingredients are easy to find and it can be made the night before. You can also 100% buy store bought tzatziki and add avocado.
If choosing the short cut of ready made tzatziki, mash the avocados first, transfer all the ingredients to a bowl and whisk together.
Prep ahead is a great option if entertaining the next day. You might need to give the sauce a whisk just to bring back the vibrant green color, then slather all. the. things. The combination of the finely minced garlic, cool and creamy yogurt, crunchy cucumber and subtle pop of acidic vinegar is so stinking tasty.
You can take my word for it or just plan a brunch with your favorites, pour the mimosas and assemble up some breakfast lamb gyros to see for yourself! Tell me how it goes in the comments!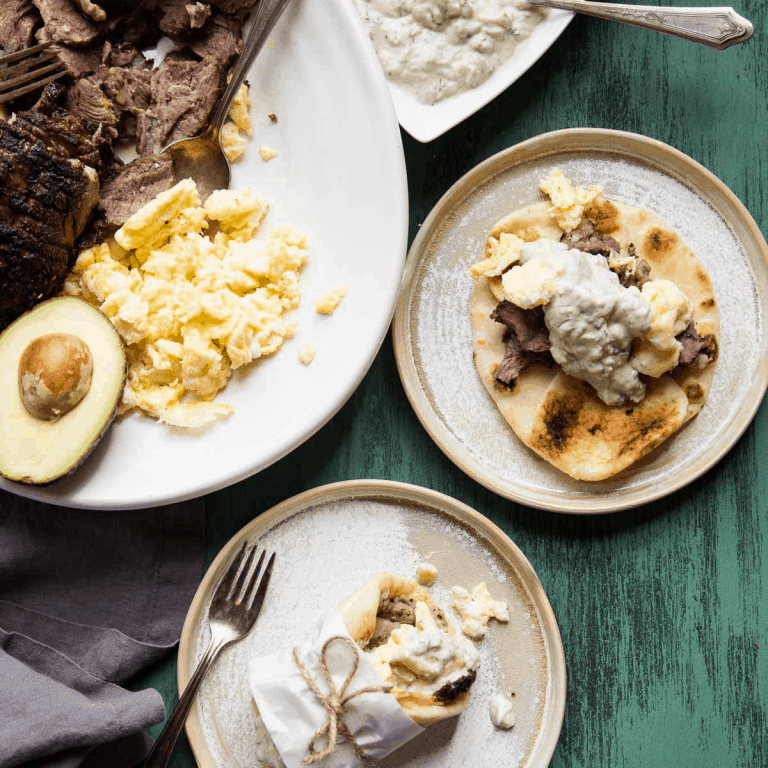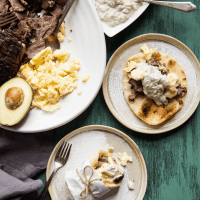 Breakfast Lamb Gyros with Avocado Tzatziki
Perfect for entertaining and switching up your go to breakfast sandwhich. Lamb roast dry rubbed with spices and roasted in the oven sliced thin and layered on warmed mini naan with fluffy scrambled eggs and creamy avocado tzatziki sauce.
Print
Pin
Rate
Ingredients
4

pound

boneless leg of lamb or shoulder roast

1

tablespoon

chili powder

1

tablespoon

ground coriander

1

tablespoon

cumin

1

tablespoon

kosher salt

2

teaspoon

paprika

2

teaspoon

garlic powder

1

teaspoon

dried marjoram

1

teaspoon

turmeric

1

tablespoon

dried parsley

1

teaspoon

dried thyme

1

teaspoon

dried oregano

2

packages

mini naan flatbreads

(see notes)

6

large eggs

2

tablespoons

salted butter
Avocado Tzatziki Sauce
2

avocados

1 ½

cups

whole milk Greek yogurt

4

cloves

garlic

(finely minced)

1

English cucumber

(peeled, deseeded, and finely chopped)

2

teaspoons

red wine vinegar

¼

teaspoon

salt

1

tablespoon

fresh dill

(finely chopped)
Instructions
Dry rubbed lamb roast: Season the lamb with the dry rub, preferably the night before to let the salt tenderize the roast, but it can be done the day of cooking as well. In a small bowl combine all spices. Remove the lamb from the packaging and pat dry with paper towels. Generously, rub the spice rub all over the roast. If preparing the night before, lightly cover with wrap and return to the fridge.

Preheat the oven to 375°F, while the oven preheats let the roast rest at room temperature. Line a baking sheet with foil and set a wire baking rack over the sheet pan. Place the dry rubbed lamb roast on top of the rack. Roast in the oven on the middle rack for 1 hour and 30 minutes to 1 hour and 45 minutes or until the center of the roast reaches 160°F. Remove from the oven and let rest for at least 15 minutes, up to 30 minutes.

After resting, remove any netting from the roast and slice as thinly as possible.

Avocado tzatziki sauce: In a large bowl, mash the avocado. Add the yogurt and whisk together vigorously until mostly smooth. Combine the garlic, cucumber, vinegar, salt and dill with the avocado yogurt mixture. Return to the fridge until everything is ready to serve.

Fluffy scrambled eggs: In a medium size bowl, beat the eggs with a whisk. Heat a non stick skillet over medium heat and melt the butter. Add the whisked eggs. As the eggs begin to cook "scrape" them from the bottom of the pan with a rubber spatula until fluffy and just cooked.

Assembling: Either in the oven or the microwave, warm the naan flatbread. Layer with slices of lamb, scrambled eggs and generous spoonful of avocado tzatziki. Serve immediately and enjoy!
Notes
For mini flatbreads, we like the Stonefire mini naan flatbreads but if those are unavailable you can substitute small pitas.
For best results, dry rub the lamb roast the night before and take out about an hour before cooking.
The lamb can be made in advance, reheat with a little beef stock so it doesn't dry out.
Nutrition
Calories:
836
kcal
|
Carbohydrates:
10
g
|
Protein:
48
g
|
Fat:
67
g
|
Saturated Fat:
27
g
|
Trans Fat:
1
g
|
Cholesterol:
298
mg
|
Sodium:
1189
mg
|
Potassium:
979
mg
|
Fiber:
5
g
|
Sugar:
3
g
|
Vitamin A:
743
IU
|
Vitamin C:
9
mg
|
Calcium:
138
mg
|
Iron:
6
mg