Bright flavors of lemon, botanical gin and a pop of fresh rosemary all laced with subtle sweet honey. A vibrant spin on the classic cocktail, Rosemary Bee's Knees is perfect for entertaining and super easy to make!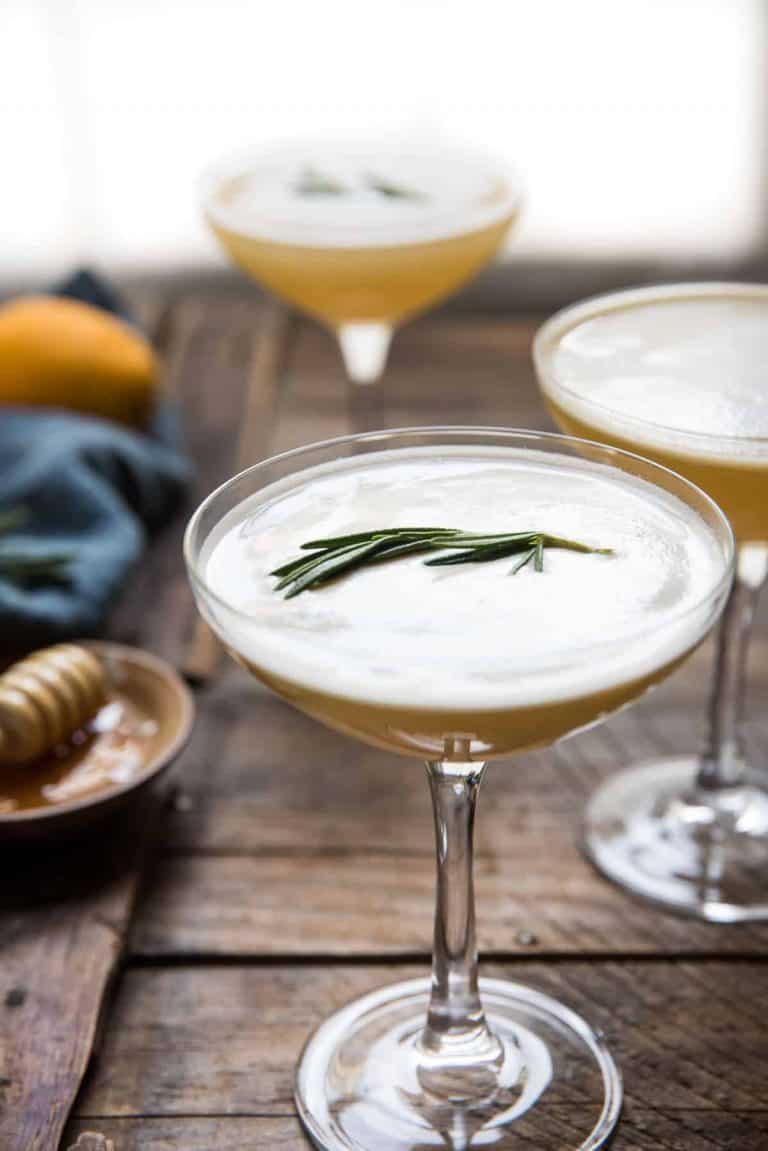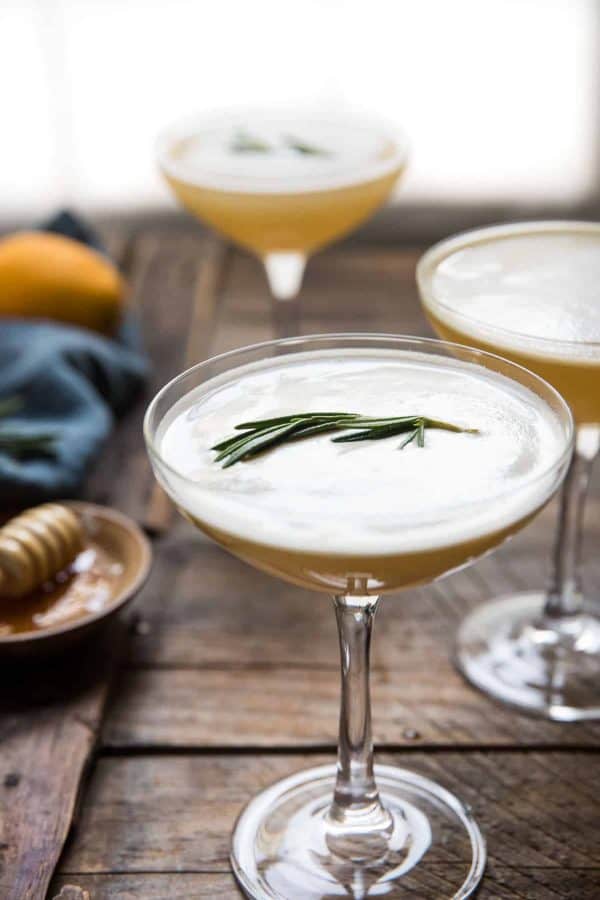 Looking for the perfect brunch cocktail? Entertaining a crowd? Attempting your first "I can adult" dinner party? This cocktail is going to be peeeeerrfect.
We're loving this for so many reason but here are the big ones:
Simple ingredients
Inexpensive
Looks fancy
Drinks easy
You don't have to be a gin drinker to enjoy it
A rosemary infused bee's knees cocktail is the perfect marriage of just sweet enough, well-balanced acidity, with a sneaky boozy punch that you can't even tell. Besides, 1920s throw backs are glamorous and fun and you can totally embrace the option of wearing your flapper costume while sipping on these.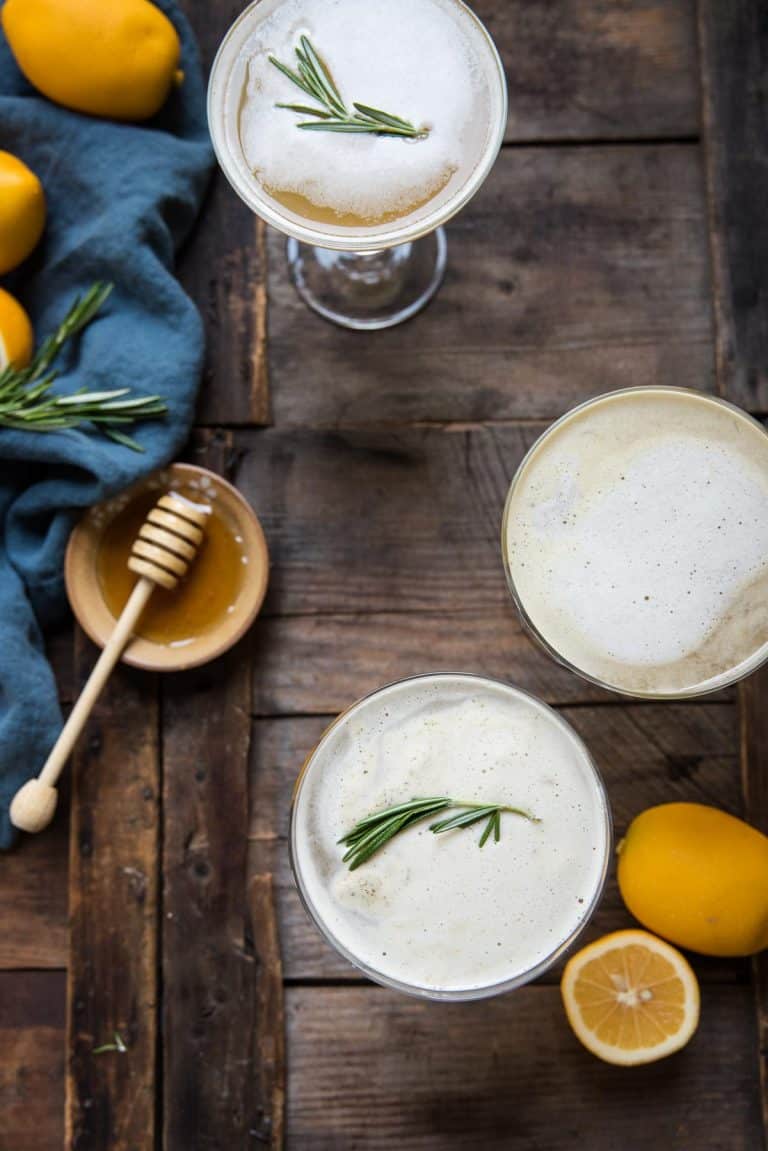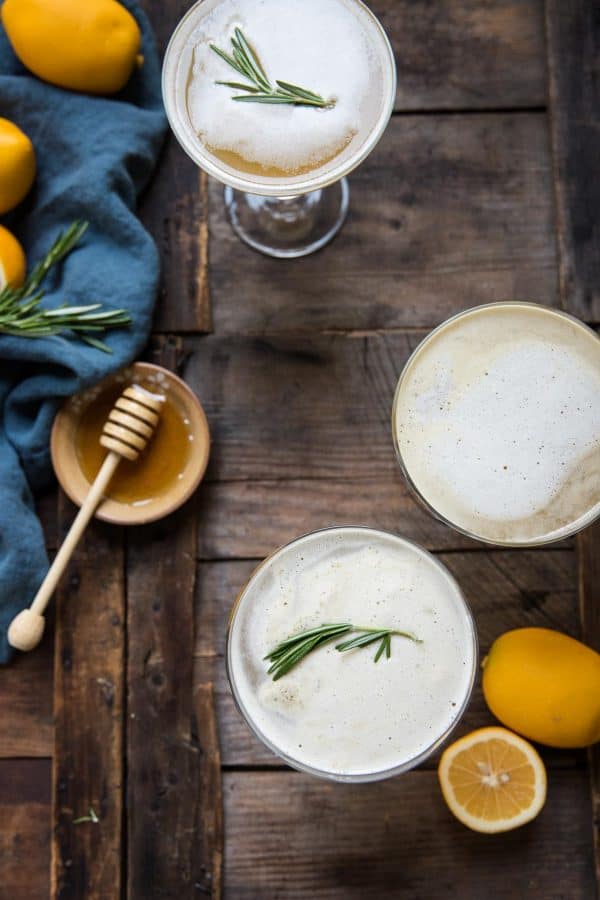 Wait...why are we talking about bee anatomy?
You. You are the bee's knees. Wait...what? Bee's have knees? Having bee knees is a good thing?
Well, yes! It's an expression originating sometime during the 1920s and it basically means that something is - excuse my Boston - but it means something is 'wicked good' or basically it's high quality and awesome.
It makes sense that it's also the name of this cocktail because a rosemary bees knees is super delicious and made with simple, easy ingredients.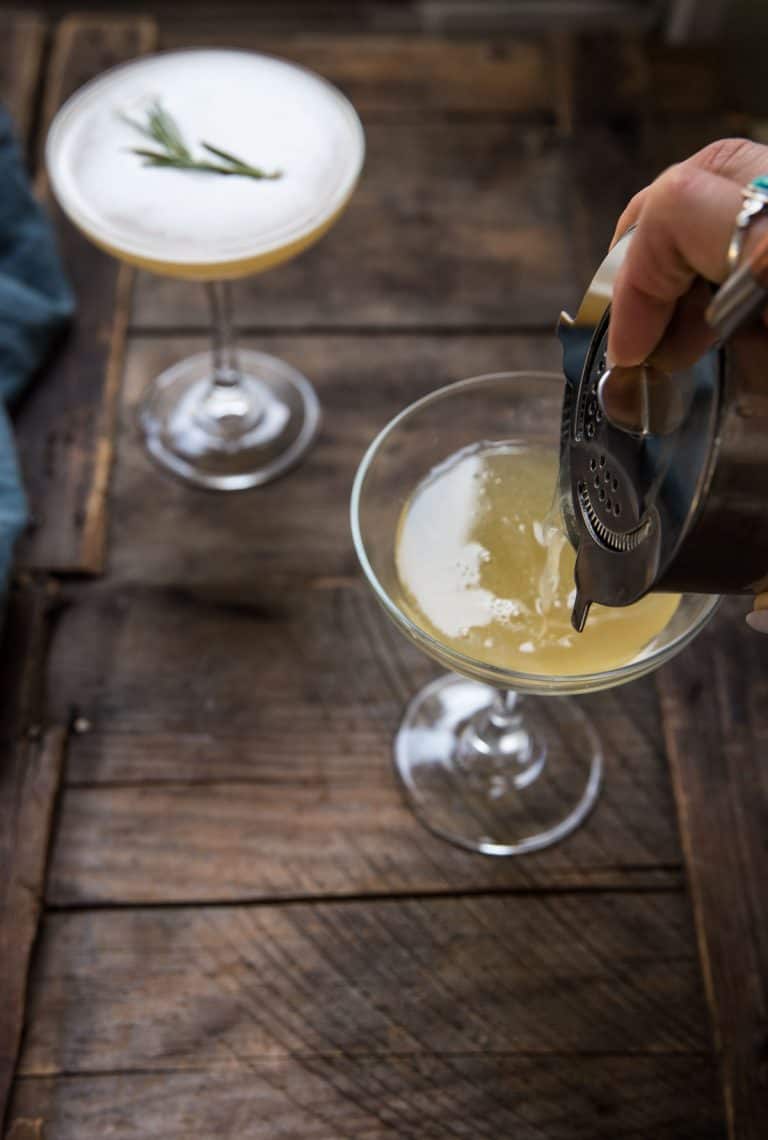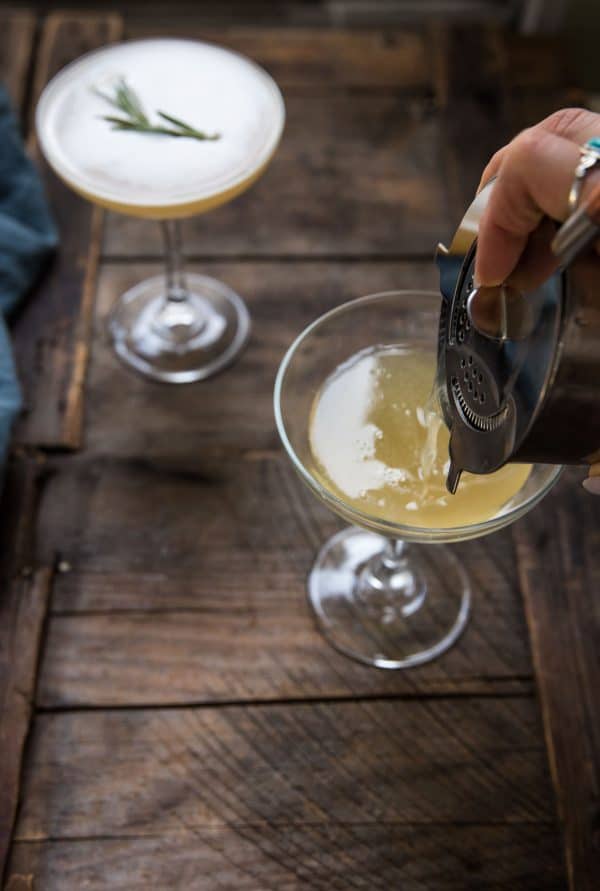 TRADITIONAL INGREDIENTS
The classic presentation of this cocktail is with lemon, honey and gin. Traditionally shaken with ice and strained into a martini, coupe or aperitif glass depending on the ratios.
For this drink, we are going to take the steps from the classic but put fall and winter vibe spin on it with fresh rosemary.
How to make a rosemary bee's knees cocktail
The 'most difficult' part of this cocktail is preparing the simple syrup, but I'm using quotes because it's really not difficult at all, just the most time consuming part.
If you're serving this up for an event, I'd recommend making the rosemary honey simple syrup in advance because stores easily and that's one less thing you have to do before your event.
To make the rosemary honey simple syrup you'll need equal parts honey and water along with several sprigs of rosemary. Bring it to just a boil, then remove it from the heat and let it steep.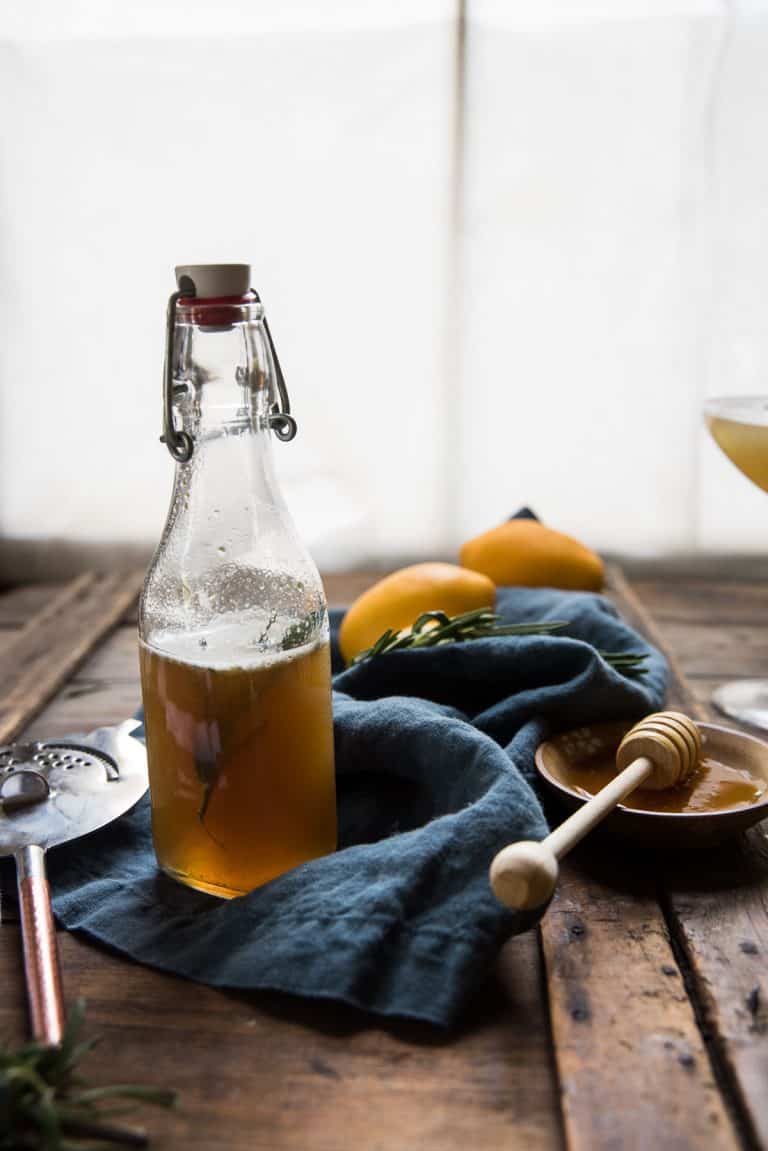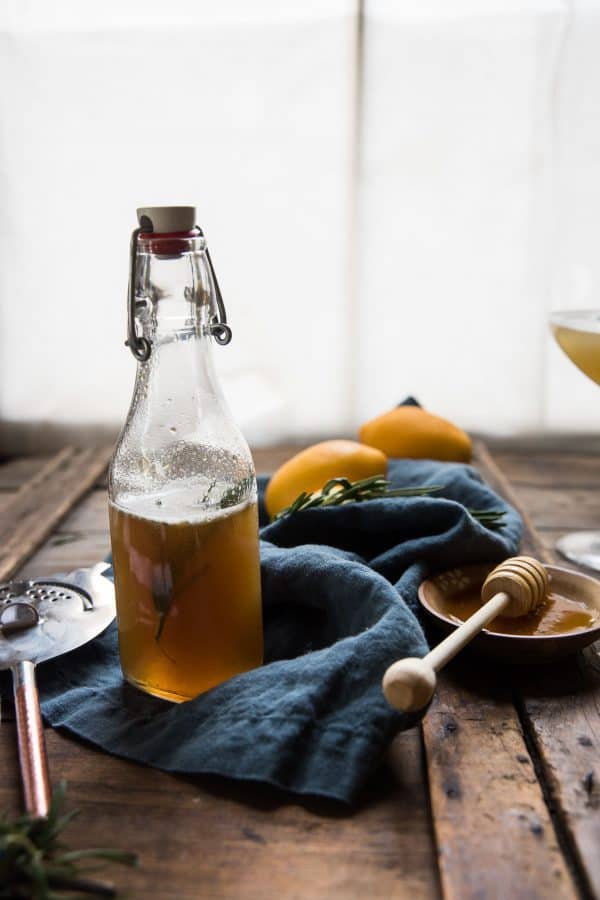 See? You got this.
Once the honey simple is cooled, remove the rosemary and build your cocktail. Equal parts gin, lemon and rosemary honey syrup. Shake it with plenty of ice in a martini shaker. A thorough shake in the mixing tin will help the honey to foam making that beautiful foam layer on top when you strain the cocktail into the glass.
HOW TO PRESENT YOUR ROSEMARY BEE'S KNEES
A few ides on how to present your perfect cocktail. A martini or coupe glass is perfect for sipping on these lemon and honey beauties. These cocktail pack a fair punch when it comes to alcohol content, so presenting it in a glass that visually gives a slow sipping cue is a great idea.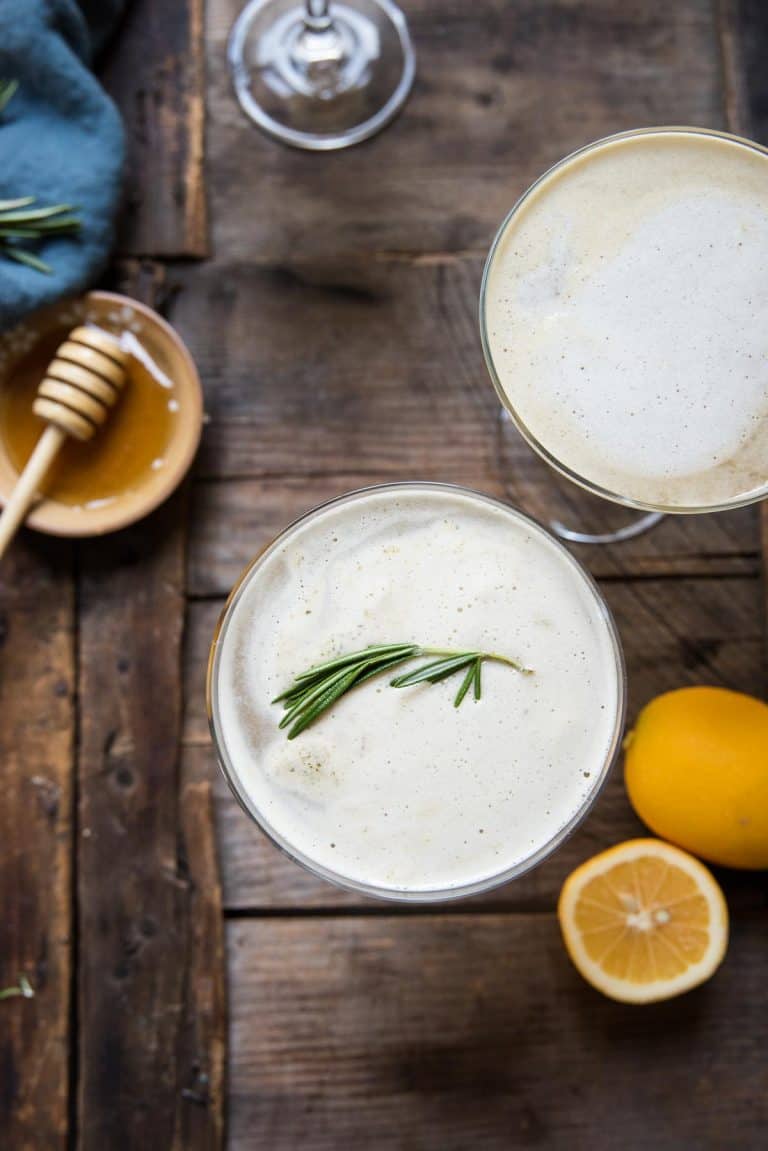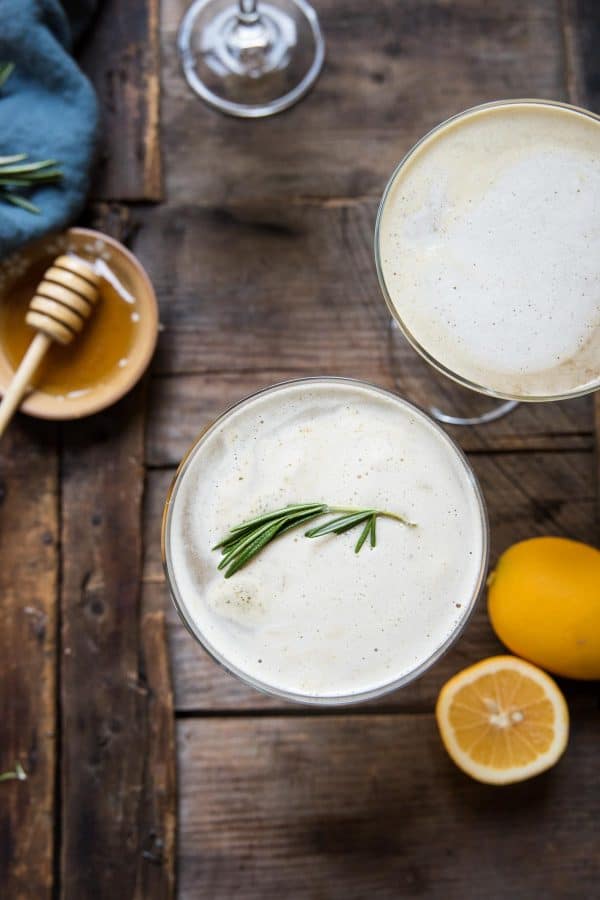 When it comes to garnish you can keep it simple or make bougie.
Simple garnish ideas:
nothing
lemon slice
rosemary spring
lemon twist
Bougie garnish ideas:
dehydrated lemon slice
singed rosemary spring (let the rosemary dry out over night and light it on fire before blowing out and placing on top)
fresh piece of honeycomb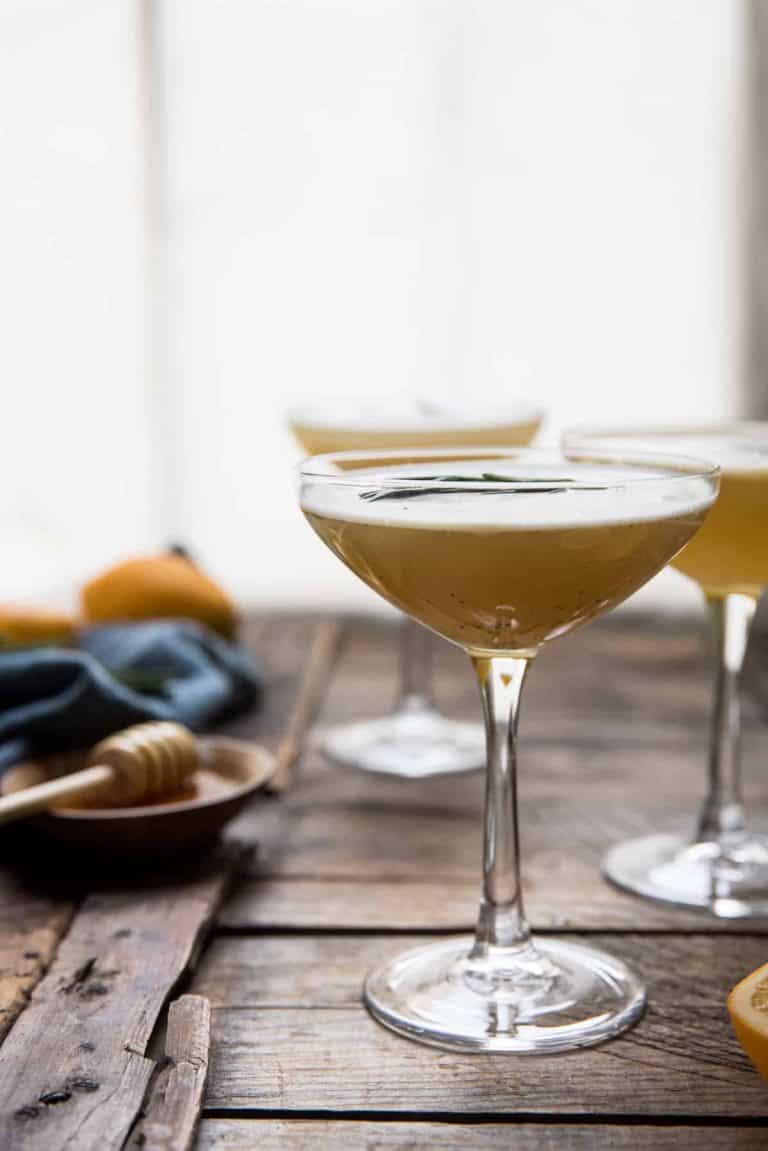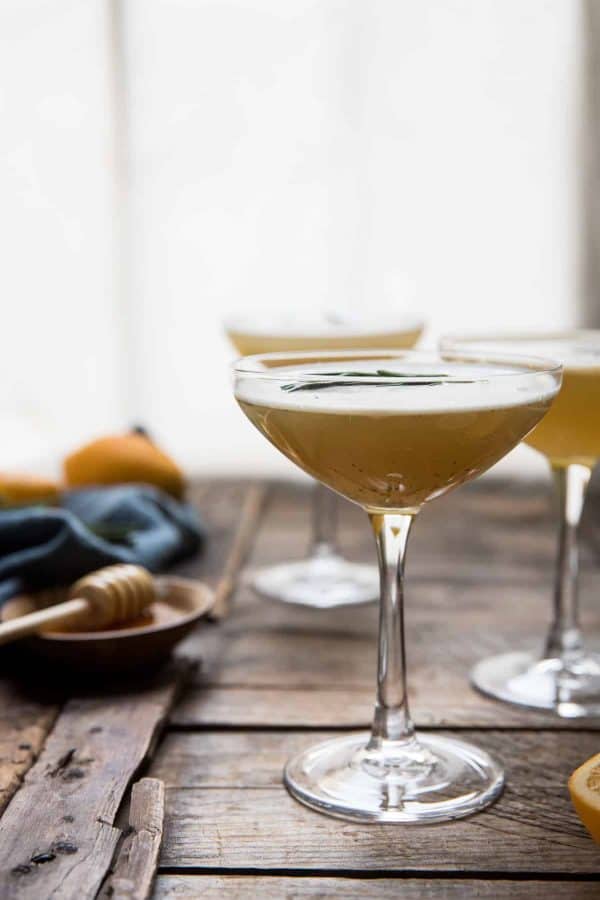 CAN YOU MAKE IT WITHOUT GIN?
You can create your cocktail however it suits your preferences. Technically a bee's knees uses gin, but if gin makes you feel bad things this cocktail is very easily adapted to other liquors. Vodka would be the closest substitute. Bourbon would be delicious and add a smokey vanilla flavor.
If you're not a huge gin lover I would still encourage you to give the recipe a try as is. The honey, lemon and rosemary are the front runners here and the normal herbaceousness of the gin blends perfectly with the other ingredients.
Let us know! Did you try it with gin? Is this cocktail the bee's knees? Let's bring back old school idioms one sip at a time!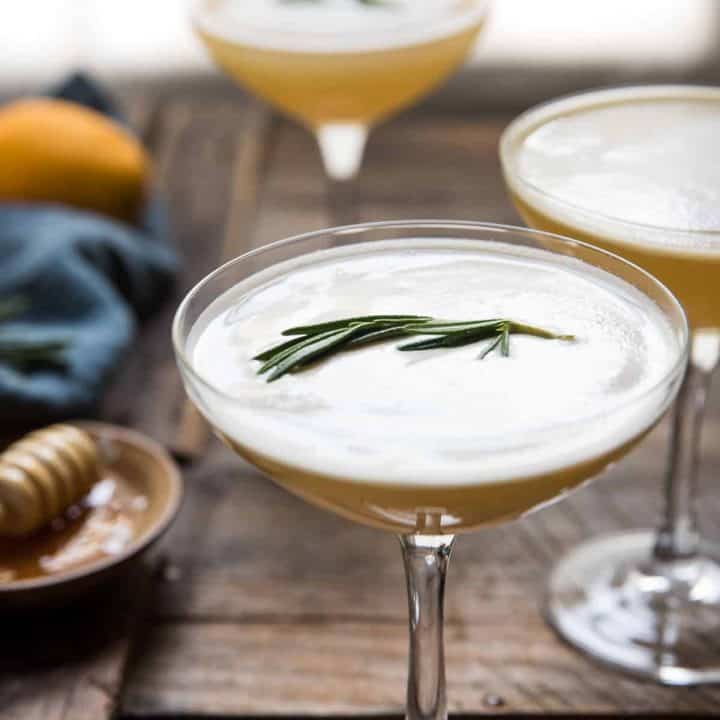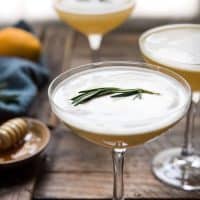 Rosemary Bee's Knees Cocktail
Dangerously easy to enjoy! Rosemary Bees Knees are great for entertaining and simple to make. Gin and fresh lemon shaken with rosemary infused honey syrup.
Print
Pin
Rate
Ingredients
Rosemary Honey Simple Syrup
1

cup

honey

1

cup

water

3

springs rosemary
Rosemary Bee's Knees Cocktail
2

ounces

rosemary honey simple syrup

2

ounces

fresh lemon juice

2

ounces

gin
Instructions
Prepare the rosemary honey simple syrup. In a medium sauce pan, combine the honey, water and rosemary. Bring to just a boil over medium heat. Remove from the heat and let the rosemary steep for 10 to 15 minutes until fragrant. Once cooled, strain into a container.

In a martini shaker, add the gin, lemon, and 2 ounces of the rosemary honey simple syrup. Fill with ice and shake vigorously for 10 to 15 seconds to develop the honey "foam" that will settle on top. Strain into a martini or coupe glass. Top with a rosemary sprig for garnish.
Notes
If serving this for a party or event, prepare the rosemary honey simple syrup in advance and store in the fridge. Leave out at room temperature for about 30 minutes before using.
There is a decent amount of booze in each cocktail, we recommend serving it in a martini or coupe or some glass that implies it's a cocktail for sipping.
Garnishes can be fancy or simple.

Simple garnish ideas: nothing, lemon slice, fresh rosemary sprig, lemon twist
Bougie garnish ideas: dehydrated lemon slice, singed rosemary spring (let the rosemary dry out over night and light it on fire before blowing out and placing on top), fresh piece of honeycomb
Nutrition
Calories:
210
kcal
|
Carbohydrates:
55
g
|
Protein:
1
g
|
Fat:
1
g
|
Saturated Fat:
1
g
|
Sodium:
41
mg
|
Potassium:
329
mg
|
Fiber:
1
g
|
Sugar:
44
g
|
Vitamin A:
3
IU
|
Vitamin C:
25
mg
|
Calcium:
20
mg
|
Iron:
2
mg