Fork tender beer braised beef short ribs, slow-cooked on the stovetop or in the slow cooker for a hearty, stout-laced comfort food classic. Slowly simmered pan drippings blend together for a ridiculous flavor popping sauce to serve over the short ribs.
These Guinness braised short ribs (or use any stout, porter, or dark beer) are rich and meaty and only 10 ingredients!
You will love how easy it is to make this restaurant-quality meal! Make them in the oven, the crock pot, or the Instant Pot you will love them!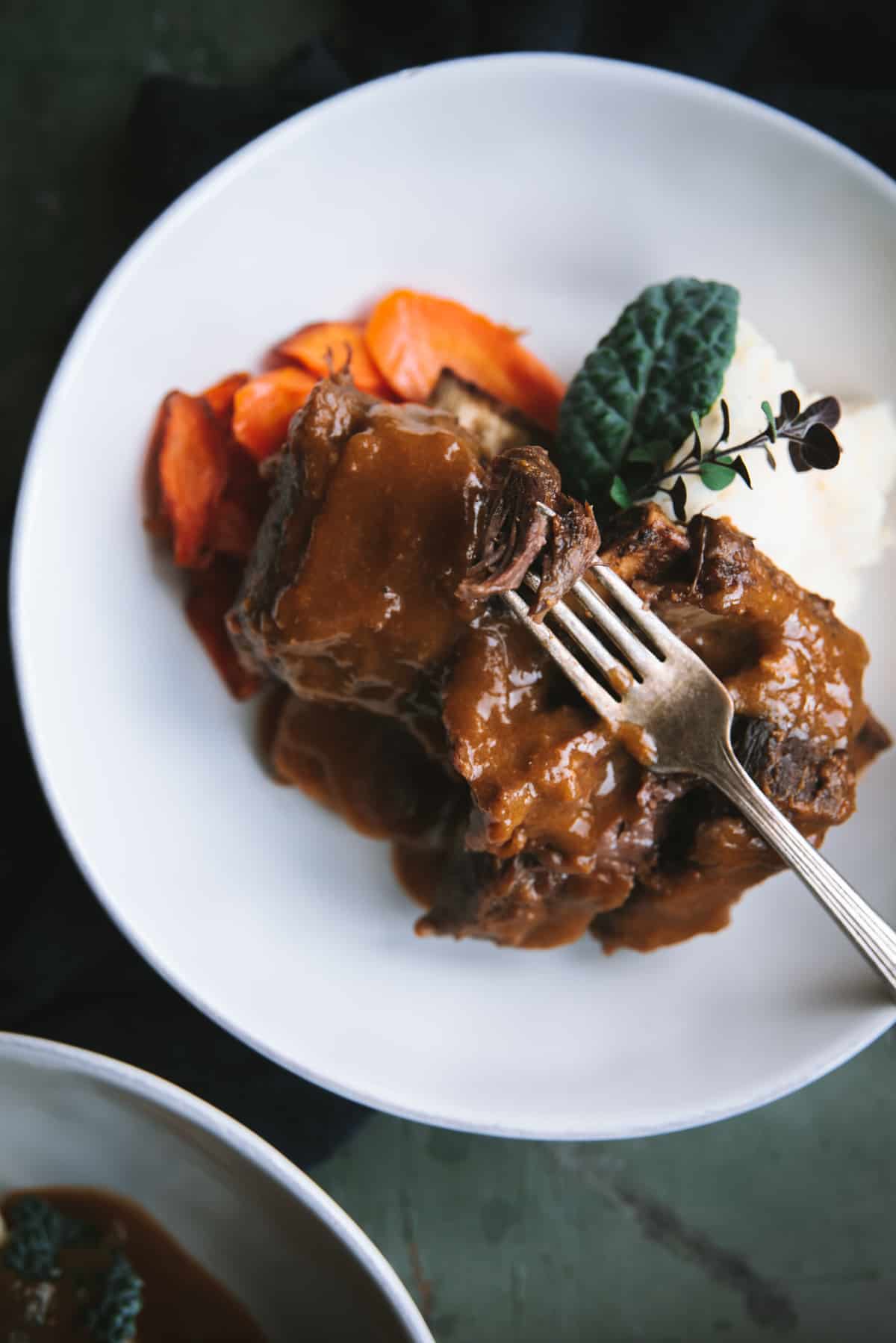 Why put on pants and go to the restaurant when you can bring the restaurant right to your dining room?
Seriously, though. You'll be chef-ing it up with these meaty beef ribs in no time and after some super simple prep, a low and slow simmer, they will be absolutely melting away in your mouth.
What you will love about these short ribs
Rich flavor, simple ingredients.
More than that, the prep is simple (a little flour, a little chopping veggies, and a quick sear).
You can make this recipe on the stove top + oven (my preferred method for flavor, texture, and ease!), just the stove top, slow cooker, or instant pot!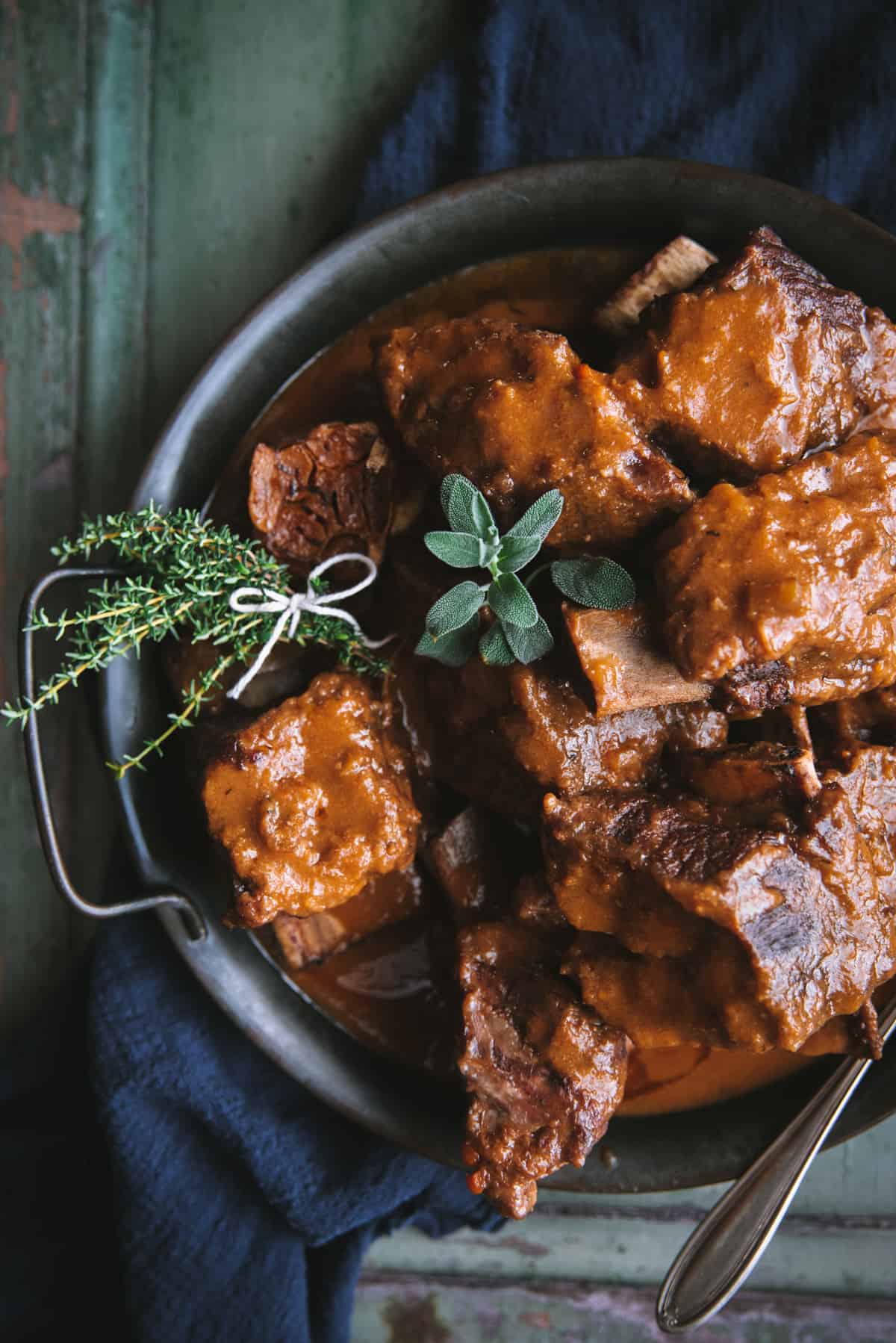 Short ribs are such a great dish because they're so versatile for when they can be served. Planning a dinner party? Sure. Cold weather comfort food? Absolutely. Date night in? You betcha. Leftovers turned into short ribs sandwich epicness? YUP.
And while you can serve these stout braised short rib beauties with a knife, you certainly don't have to. The hot sear followed by a slow braise is going to turn the meat into fork-tender, fall apart goodness.
What does beer braising do to meat?
Simply put....IT MAKES IT DELICIOUS.
We will use a dark-style beer like a stout or porter (I use Guinness). To make this style of beer the grains are well-toasted and that equals flavors of dark chocolate, coffee, and nuts. Those flavors are going to add to our beef ribs and the sauce.
The beer also helps breakdown muscle fibers in the meat - make it melt in your mouth good - while adding moisture and taste during the cooking process.
Ingredients & Substitutions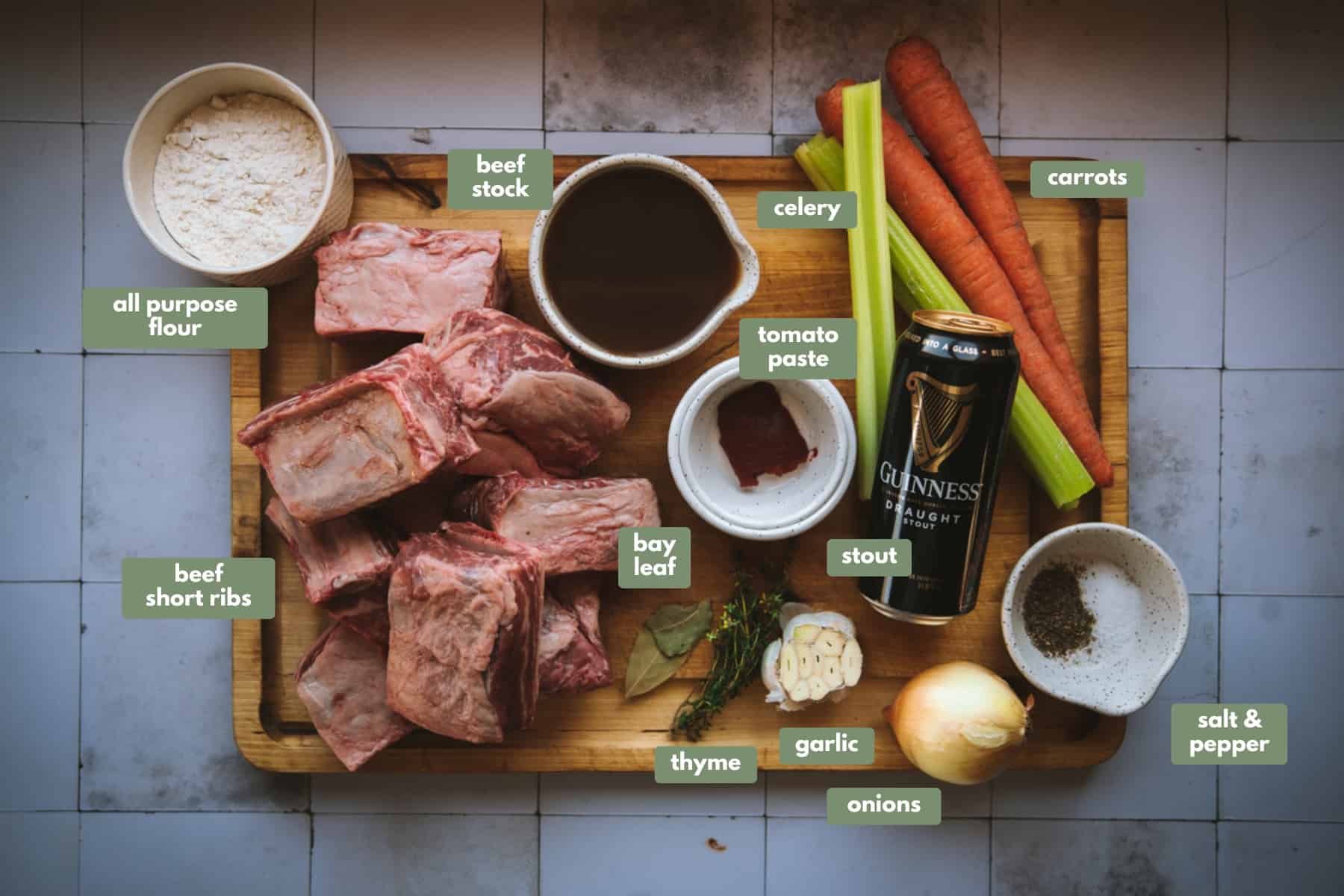 What you'll need for this recipe:
beef short ribs - flanken or english cut (English cut pictured above)
all purpose flour
beef stock
beer
canola oil
celery
onion
head of garlic
tomato paste
thyme
bay leaves (optional)
salt & pepper
Of course, substitutions are always a possibility. Here are some other ideas if you need to pivot for ingredients or dietary restrictions.
The Beef - while this is a short ribs recipe, you can substitute any cut of beef that requires a low and slow cooking process. The sauce for this would be beautiful for pot roast (chuck, top round, or eye round roast). You can also use boneless short ribs as well.
Flaken vs English Cut - both are short ribs, both are from the same part of the cow, just cut differently. English cut short ribs will have a single bone with the meat stacked on top of the bone, held on by connective tissue. Flanken short ribs are cut across the ribs so there are multiple, smaller, rib bones in the short rib topped with the meaty cut.
Flour or corn starch - if gluten allergies are a dietary restriction you need to consider, you can substitute the all purpose flour for cornstarch. You can also skip it all together if needed, however, it does act as a thickener.
Beef stock or beef consummé works great. You'll want fresh carrots, celery, and onion for your mirepoix.
The beer - I prefer to use a lower ABV stout, like Guinness. You can substitute any stout, porter, or lager. A lager will give a slightly different flavor to the sauce. You can also use a non-alcoholic beer!
Fresh herbs vs Dried - use what you have and isn't going to cause you stress! You can substitute a little granulated garlic, dried thyme, and bay leaves they just don't have a strong of a flavor pop as the fresh. The real star of this dish is going to be the beef, beef broth, and the beer - everything else is just a booster so don't stress.
Tomato paste - this recipe originally did not call for tomato paste but in more recent retests and really ads the perfect acidity and sweetness!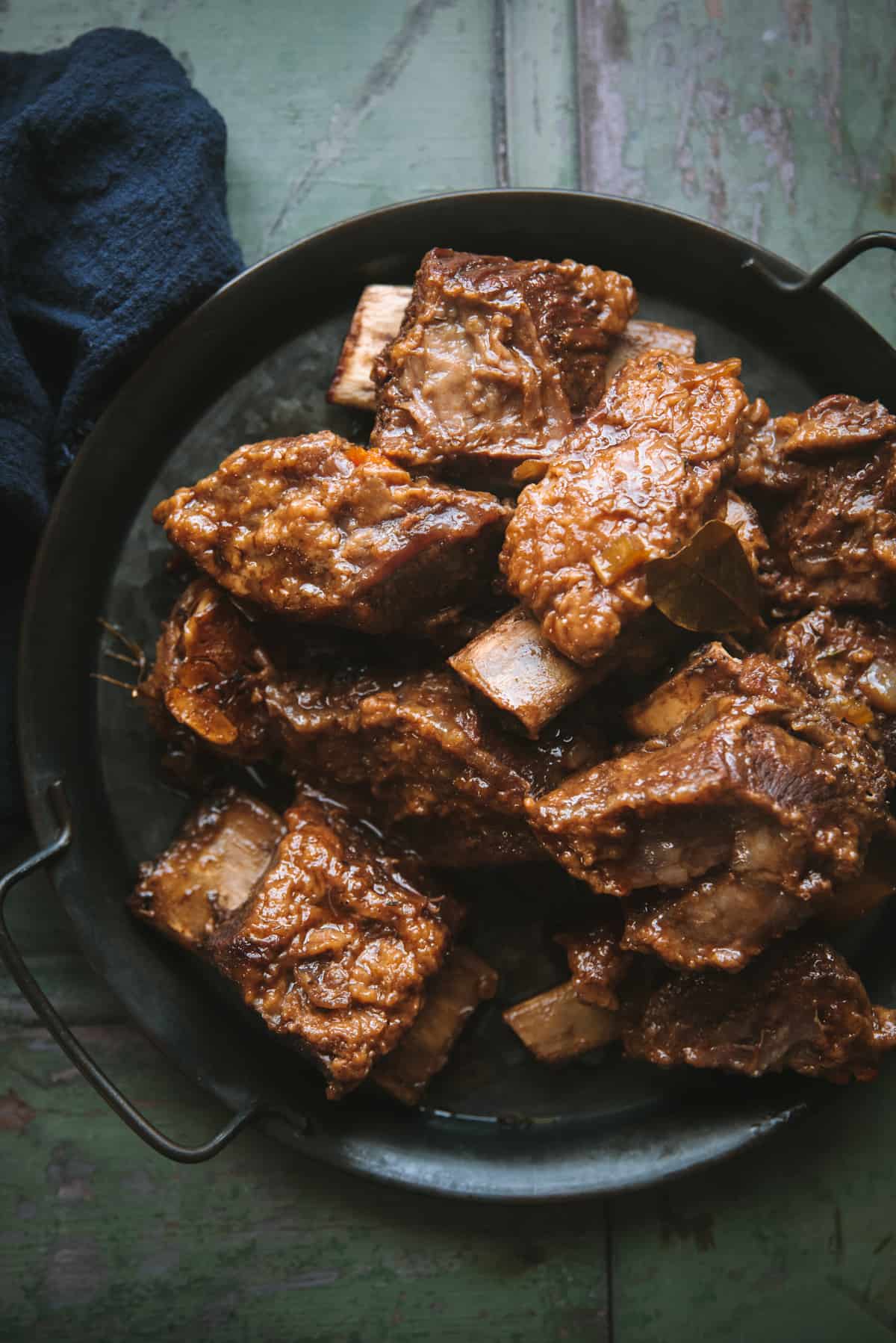 How to make beer braised short ribs
This recipe is one of my favorite comfort foods because one the prep is done you can just let the oven do all the work!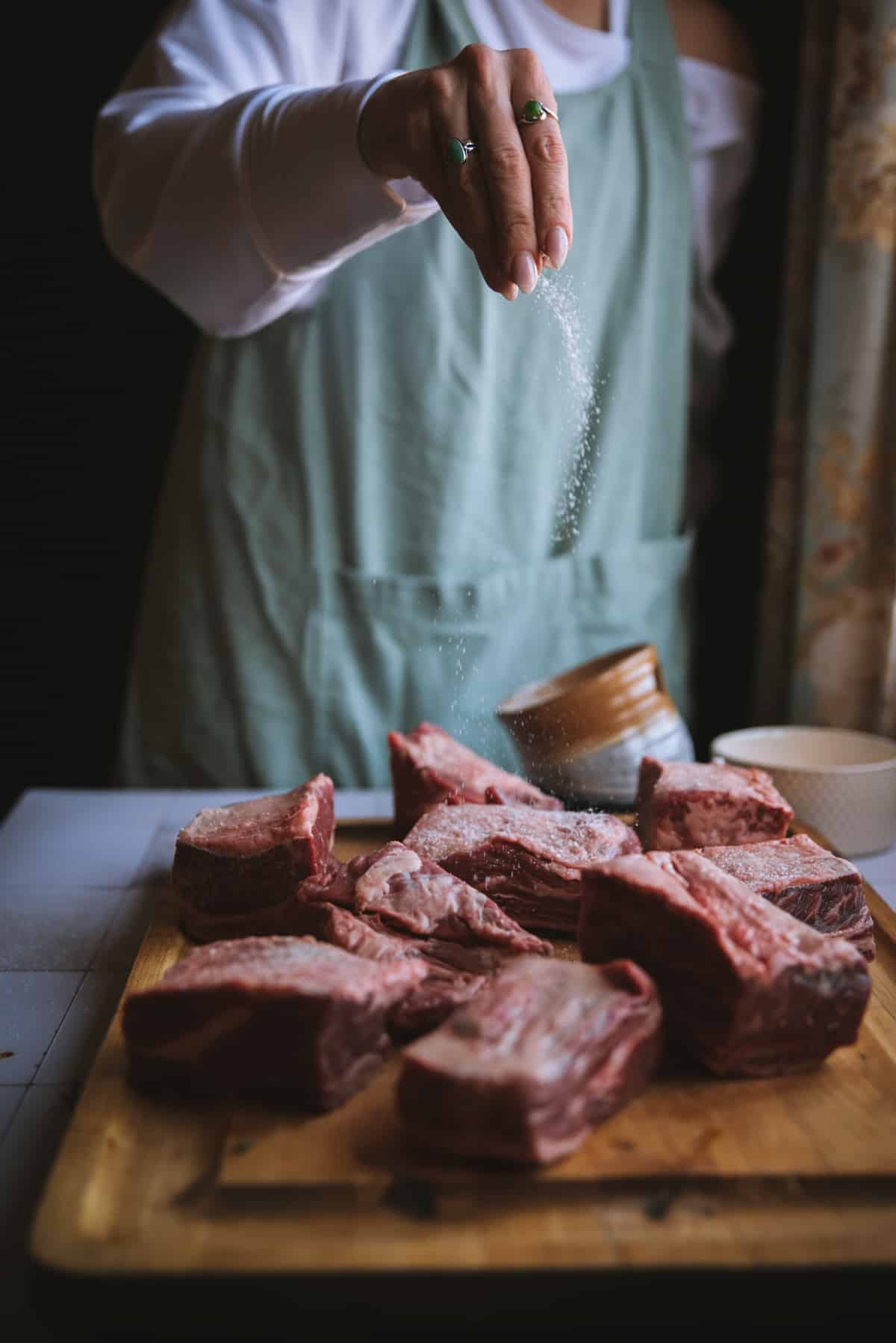 Season the short ribs on both sides with salt and pepper.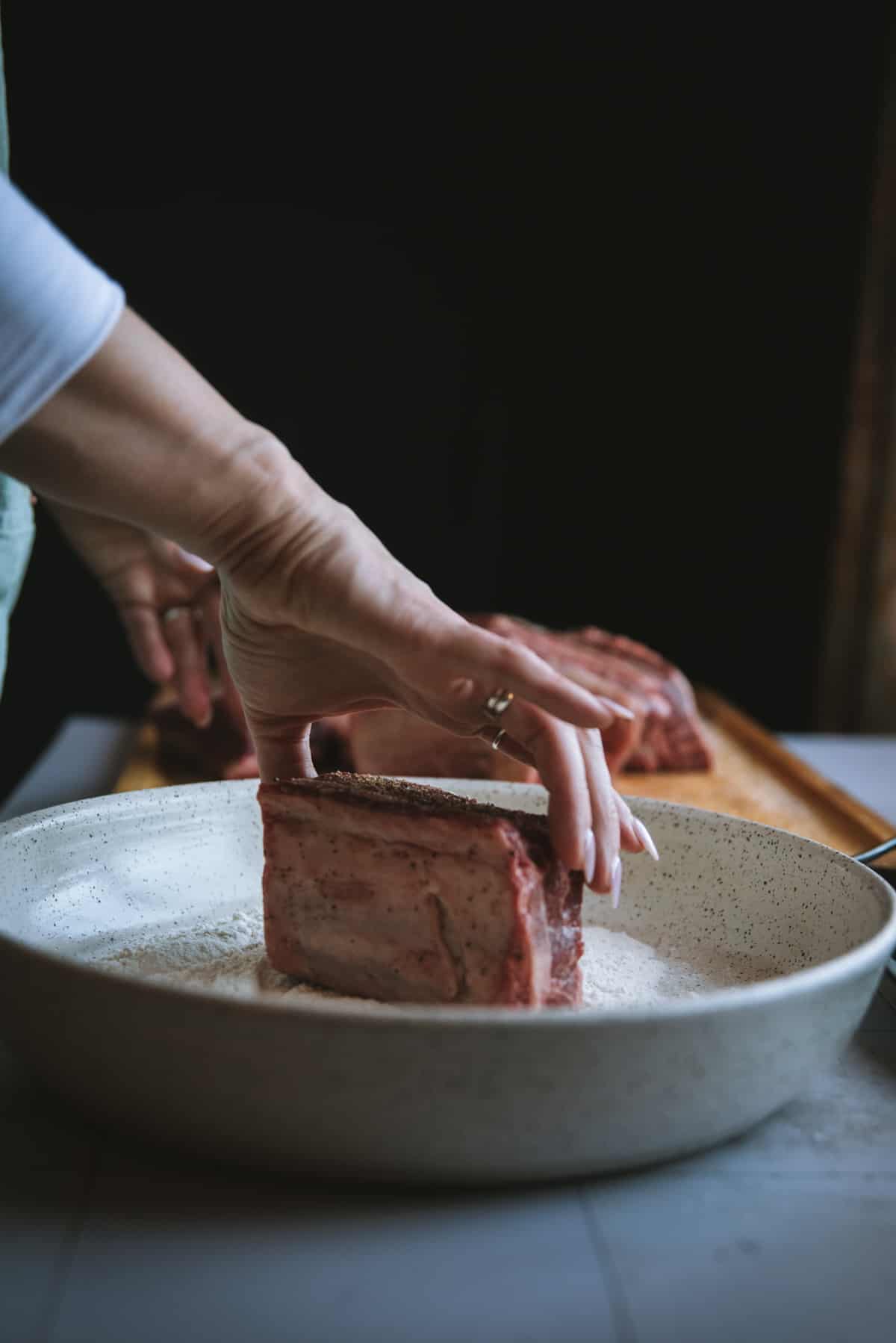 Spread the flour on a plate or large shallow bowl. Press each side of the short rib in the flour and shake off the excess.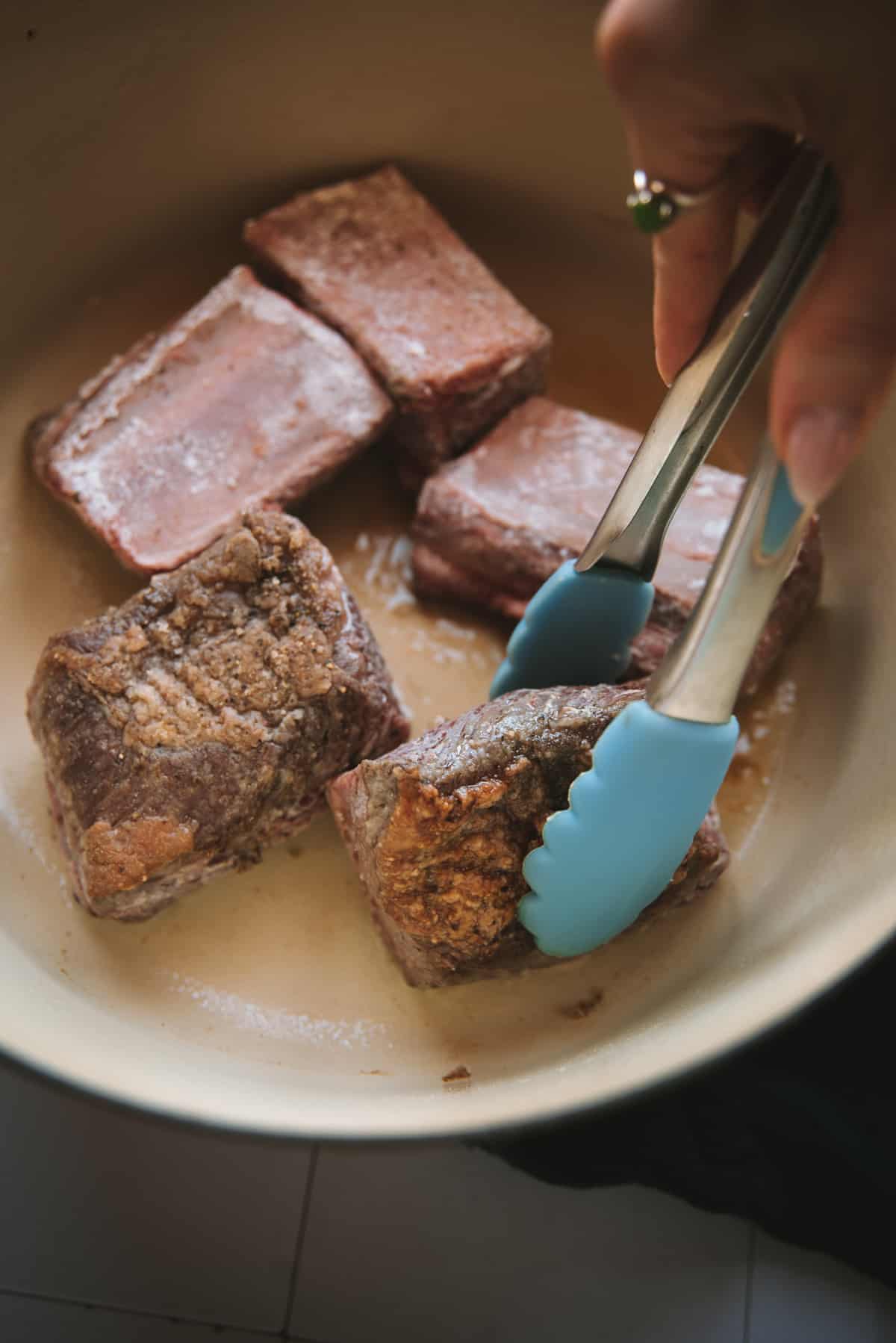 Heat a large, heavy bottom pan with a tight fitting lid - like a dutch oven - over heat heat. Once the oil shimmers, sear the short ribs 2 to 3 minutes on both sides or all four sides if the cuts are very thick. Work in two batches.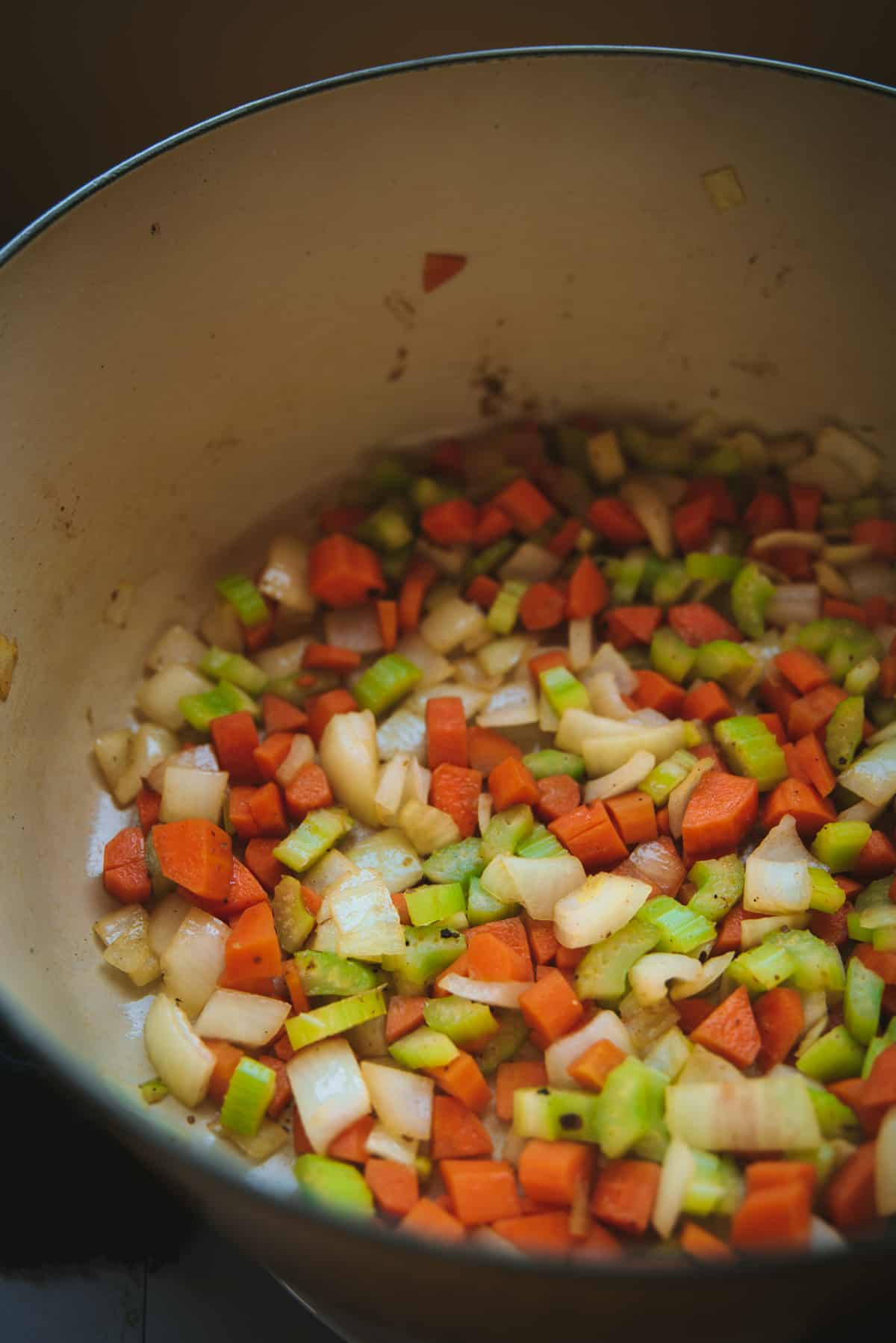 Remove the short ribs from the pan to a side plate. Add the onion, celery and carrots. Season with salt and pepper and cook for about 4 to 5 minutes.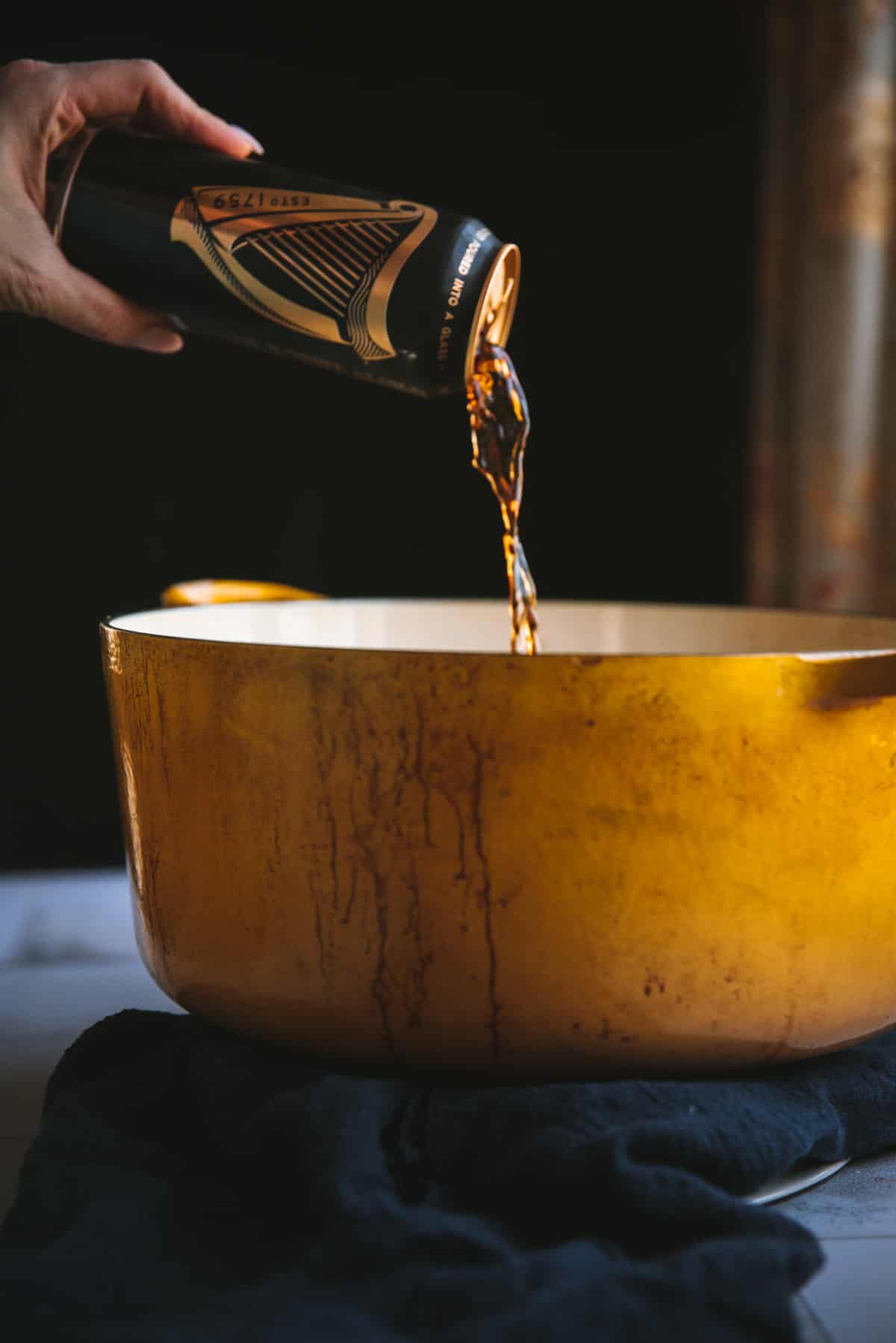 Pour in the beer, lightly scraping the bottom of the pan. Mix in the tomato paste and beef stock. Add the short ribs and any juice on the plate back to the pan with the meaty side down. Remove the thyme from the stems and add to the pan with the bay leaves and garlic.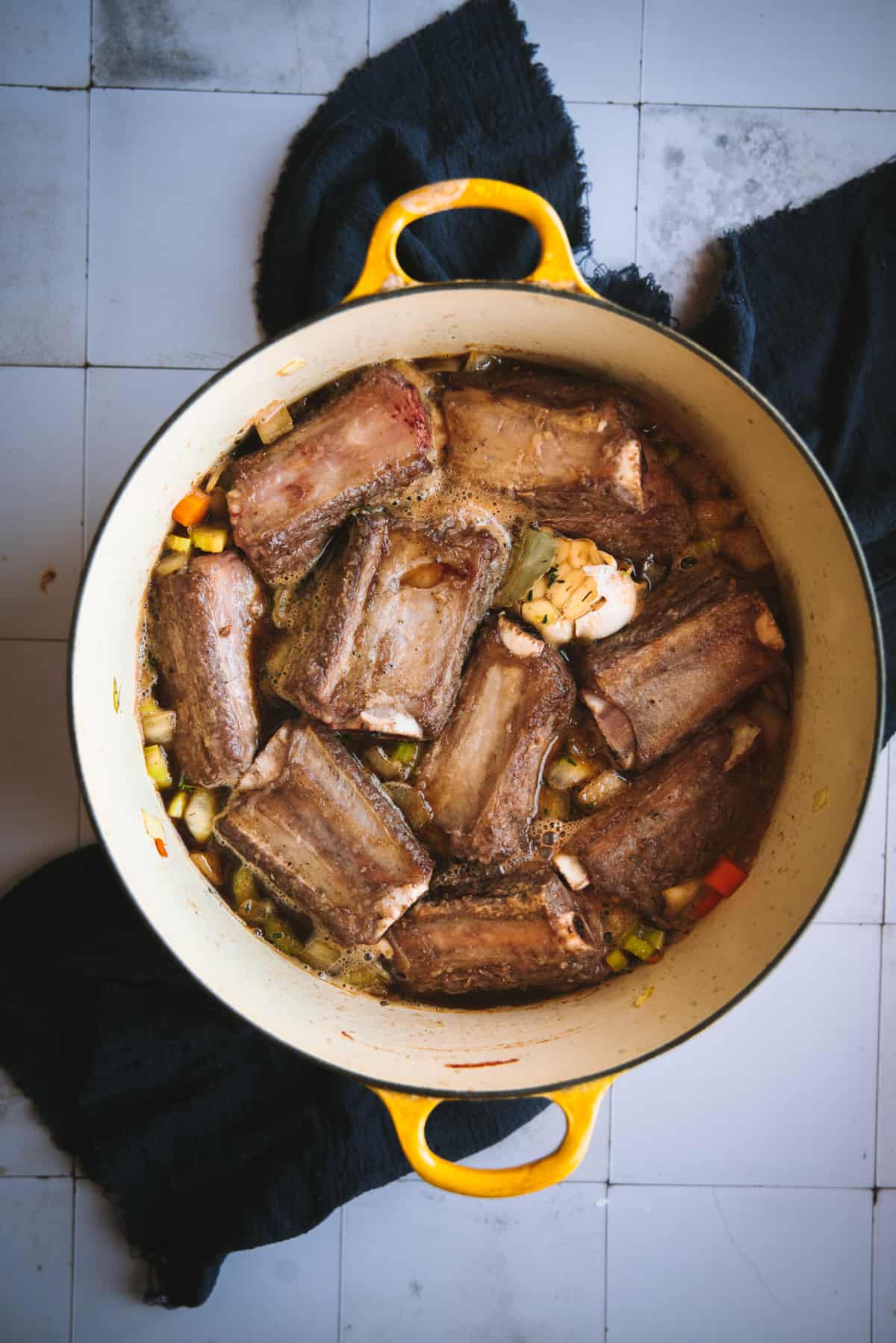 Cover the pan with the lid and cook in a 350°F oven for 2 and ½ hours.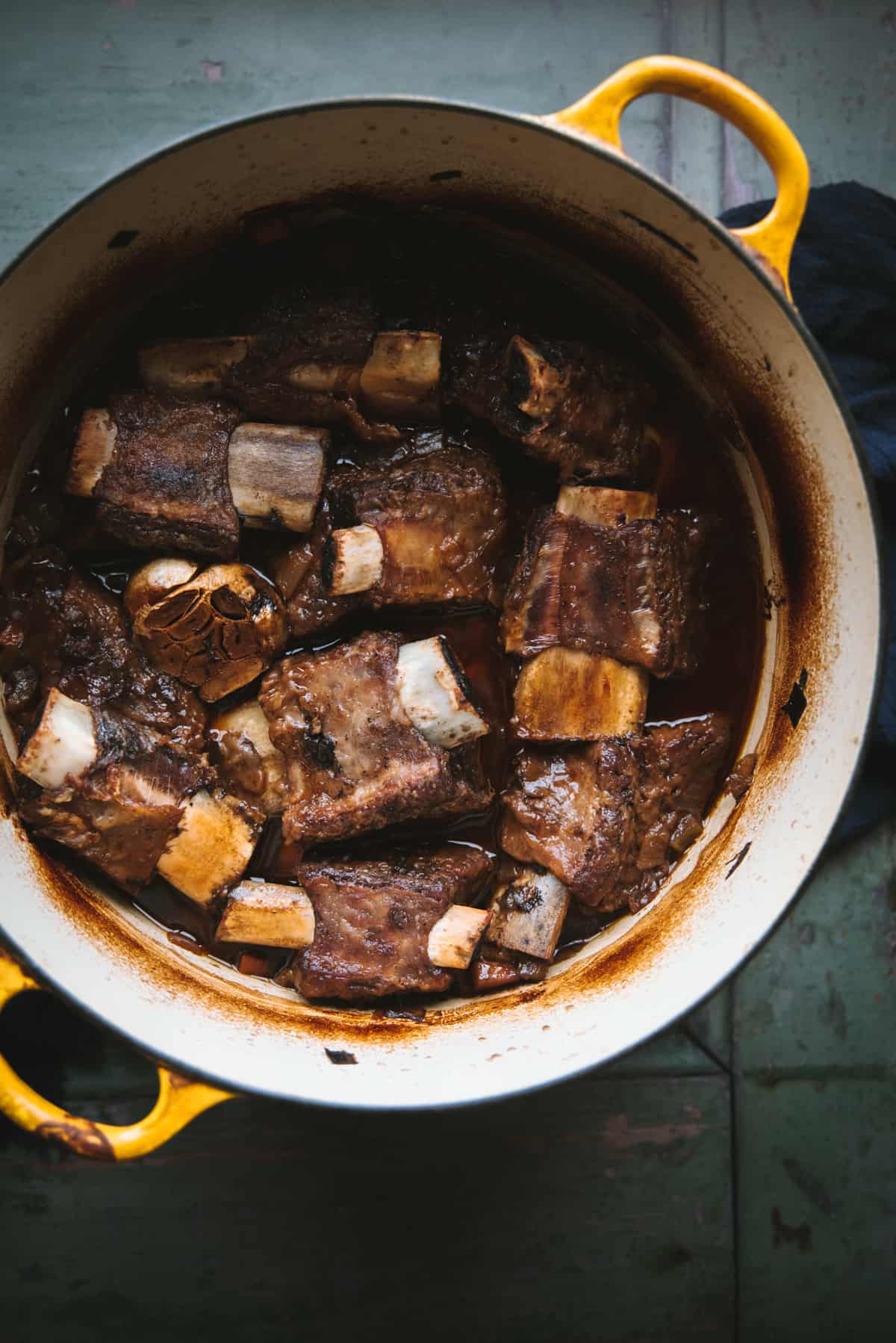 After cooking, test the short ribs by gently pulling at the meet with two forks. It should separate very easily. Remove the short ribs to a side plate and tent with foil.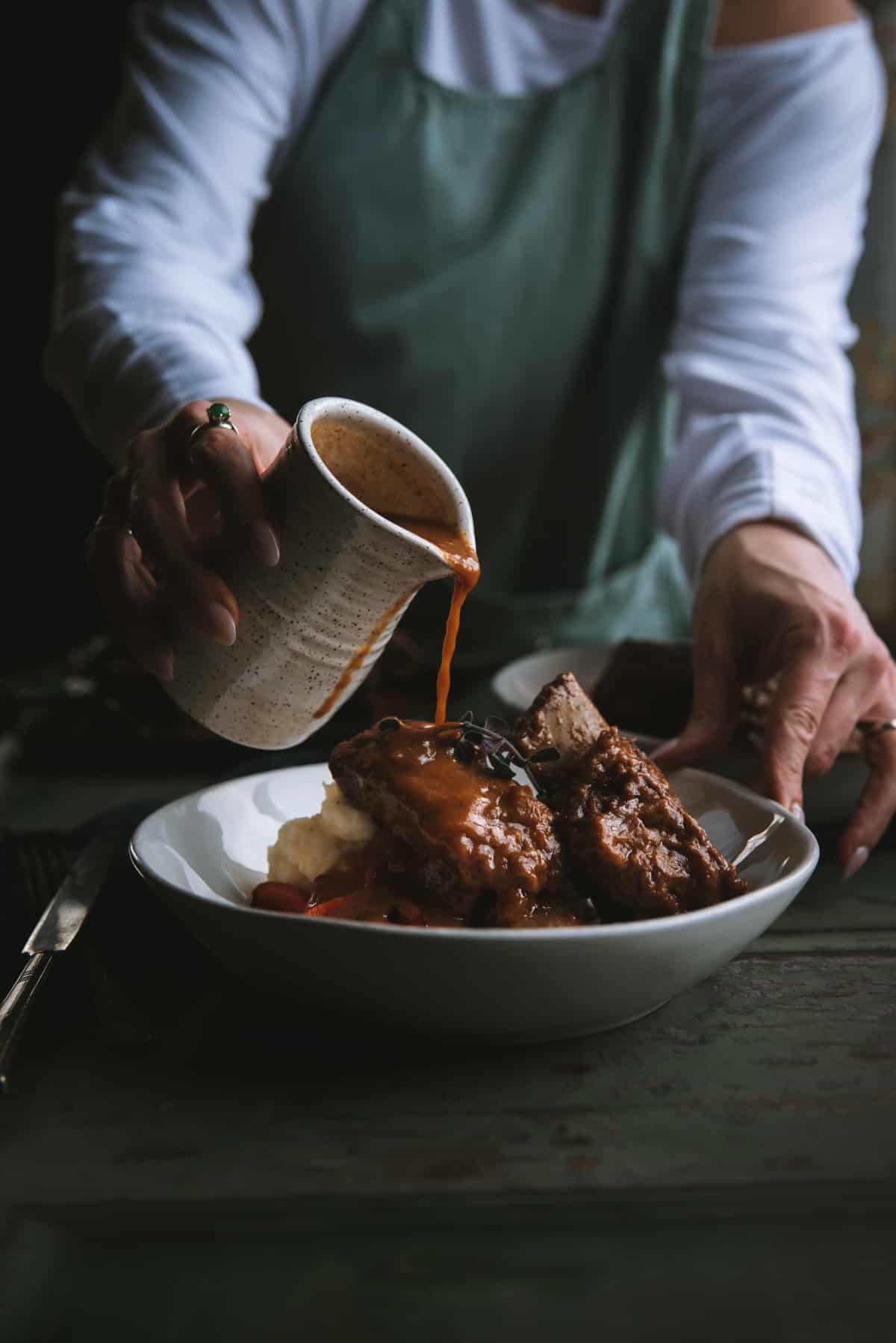 Remove the bay leaves and garlic. Using a hand blender or carefully with a standing mixer blend the vegetables into the sauce and stir in the remaining beef stock. Optional to leave the veggies whole and serve over the short ribs as is.
Why dredge the short ribs?
They are seasoned with salt and pepper, then dredged in flour. During the searing, this is going to do 2 important things. 1. Create a crust on the short ribs so while they will be fall off the bone, fork-tender, the actual meat won't fall apart while cooking. 2. Adds a thickening agent to the pan so that sauce is extra luscious at the end.
Tips for making braised short ribs
Traditionally short ribs are braised with red wine and mirepoix vegetables. By switching it up with a stout beer you're going to give those taste buds a pleasant surprise.
Here are some of my favorite tips:
Get thicker, less fatty cuts of short ribs or trim off as much fat as possible before cooking.
Plan for 1 ¼ pounds of short rib per person.
If planning to blend the veggies and liquid into a smooth sauce, you can cut them in a larger dice. For a more rustic (and less work) method, serve as is out of the pan but prep the veggies in a ¼ inch to ½ inch dice.
Make them in advance! These short ribs reheat beautifully and its a great way to skim some of the fat off the sauce be refrigerating overnight. Its a tip my mom taught me! I use it for this short rib chili.
These short ribs can be made in a slow cooker, pressure cooker or conventional oven. The conventional oven via a dutch oven is my go-to option every time. Dutch ovens are a kitchen workhorse because you braise on the stovetop and then cover and transfer to the oven for a one-pot dish.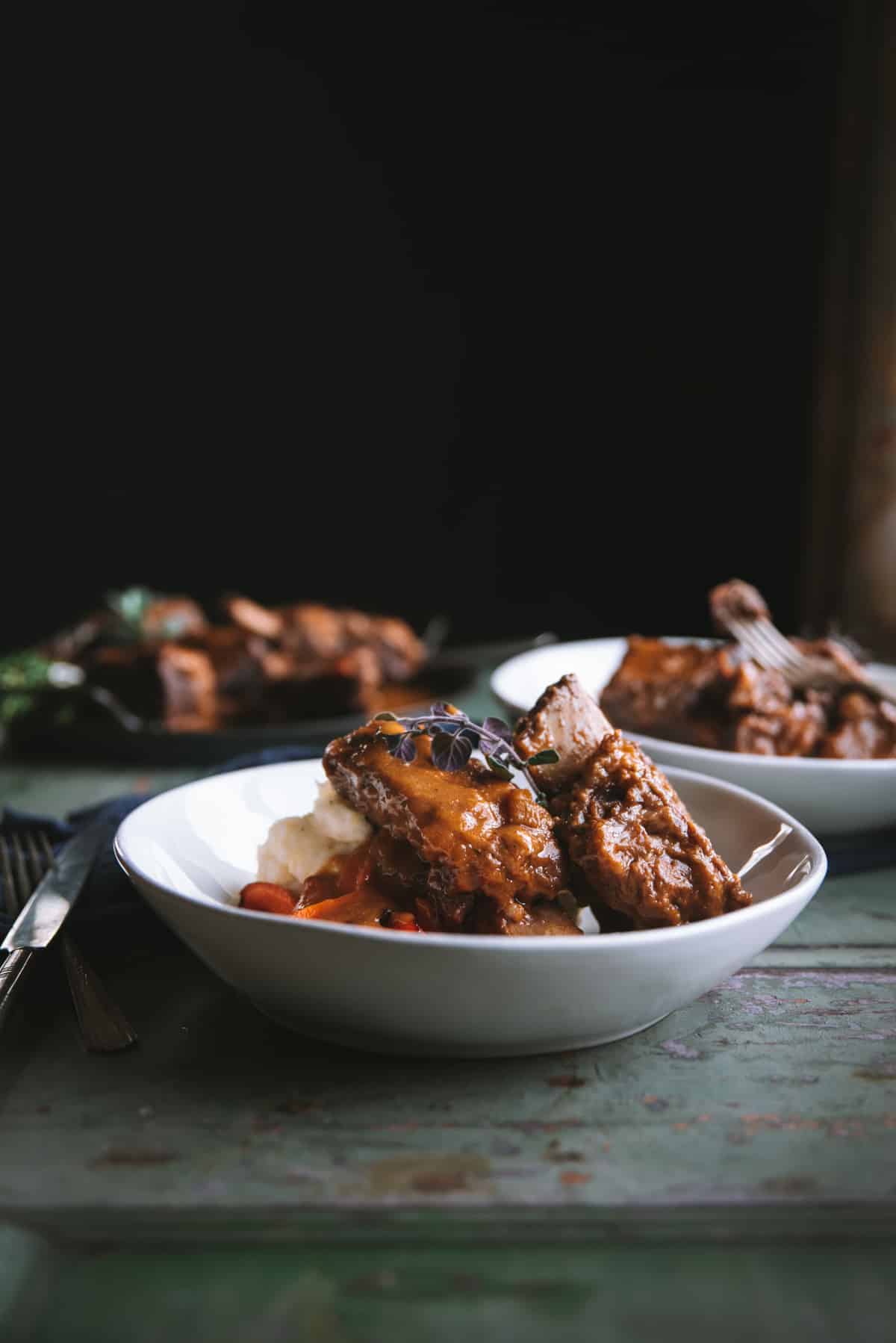 Finely dice mirepoix vegetables. Carrots, celery, and onion! Finely diced them so when it comes time to purée the sauce, it blends up nice and easy.
Invest in a hand blender! Great for emulsifying salad dressings, making smooth soups, and purées. When it comes time to blend all the rich, hard-earned drippings, sauce and vegetables into a beautiful sauce a hand blender makes this SO much easier. Just be sure the blades of the hand blender stay underneath the liquid so you don't splash super hot sauce on yourself. No one wants short ribs with a side of Urgent Care paperwork.
While you blend up your sauce, tent the short ribs with aluminum foil to keep them warm!
FAQs
What type of beer should you use for short ribs?
You should beer braise in a stout or porter for a rich, robust flavor. For a mild beer flavor, you can use a lager. This recipe works best with stout but you can truly use what you have on hand and get perfect results.
What type of beer do you pair with short ribs?
I'd recommend a lager or, personally, I love a milk stout. You could even do an imperial stout for a kick on the ABV and a little more sweetness from the grains. Likely though, I'm pairing this recipe with a glass of Napa cab.
Can you make the sauce less rich?
Yes! You can do this two ways. 1. Trim any fat cap off the cuts of beef before cooking. 2. Make this in advance, remove the short ribs to a plate, refrigerate overnight then skim the solidified fat off the sauce before reheating and blending.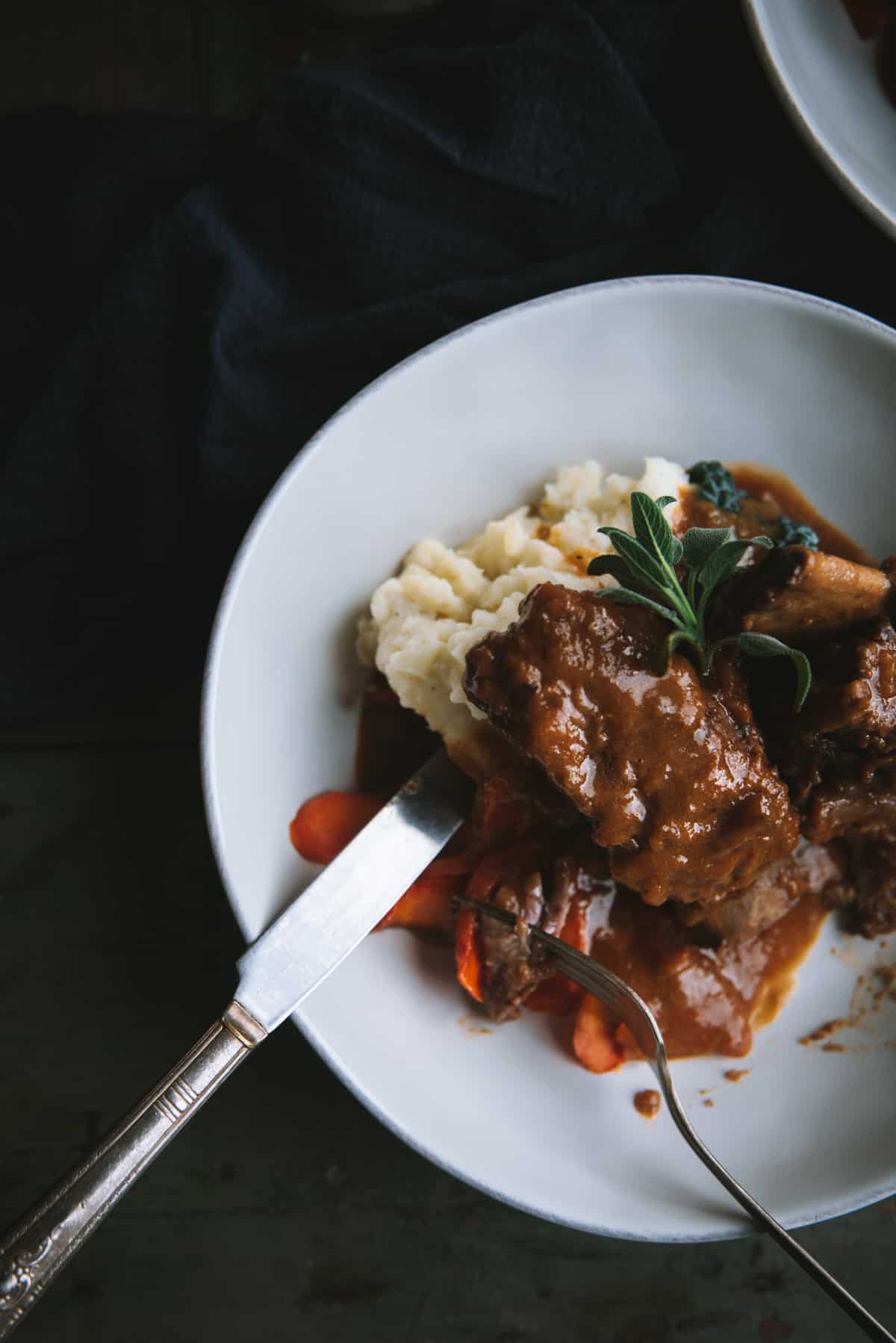 How to serve them
You put in the work. Now finish it with perfect sides.
Elizabeth's 3-ingredient mashed potatoes are a personal recommendation! Mashed potatoes or soft, creamy vegetables are the best for short ribs (IMHO) because that simmered sauce acts like gravy goodness for both the beef and the potatoes.
If looking to cut some carbs somewhere, substitute for these creamy parsnips. For all the bacon lovers out there pork belly brussels sprouts or pancetta braised kale are a real treat. But, you know, you can always keep it easy with simple sheet pan veggies.
My personal favorite to pull out all the stops is simple parmesan risotto and roasted carrots.
What tasty sides are you serving? What's your go to stout? Tell me in the comments! If you loved this recipe, please leave a 5 star rating in the recipe card below!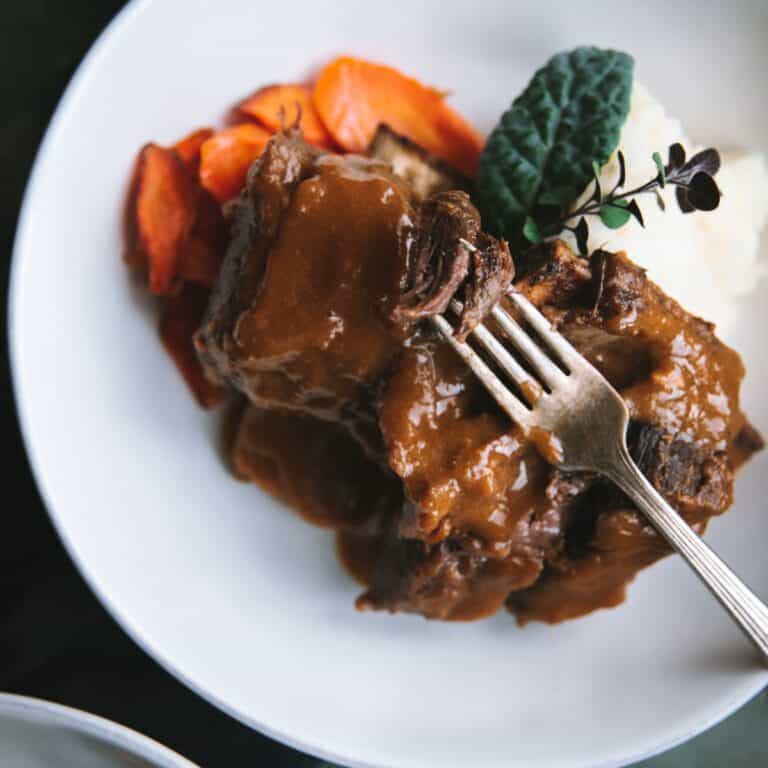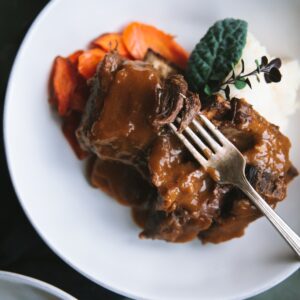 Beer Braised Short Ribs
Fork tender and hearty beer braised short ribs are a great beef recipe great for entertaining or when you just want a comfort food classic! You can make these stout braised short ribs in the dutch oven, slow cooker, or Instant pot.
Print
Pin
Rate
Equipment
dutch oven

alumnium foil

side plate or cutting board
Ingredients
5

pounds

6 to 8 pieces bone-in short ribs

(about 1¼ pounds per person)

½

cup

all purpose flour

3

tablespoons

canola oil

2

medium carrots

(diced)

3

celery ribs

(diced)

1

large yellow onion

(diced)

1

can

stout beer

(14.9 to 16 ounces)

2

cups

beef stock

(divided)

1

tablespoon

tomato paste

6

springs

thyme

2

bay leaves

½

head

garlic

(cut horizontally)
Instructions
Dutch Oven Instructions:
Let the short ribs sit at room temperature for 45 minutes to 1 hour. Preheat the oven to 350°F. Season the short ribs with salt and pepper on both sides. Add the flour to a plate or in a low sided shallow bowl, dredge all sides of the short ribs with flour, shaking off excess.

5 pounds 6 to 8 pieces bone-in short ribs,

½ cup all purpose flour

Heat a dutch oven over high heat on the stove top. Add oil, once the oil shimmers sear the short ribs on each side for about 2 minute or until browned, working in two batches to not overcrowd the pan. Remove the short ribs to a side plate or cutting board and reduce the heat to medium. Optional, drain the excess oil and fat from the pan until there's about 1 tablespoon left.

Sauté the carrots, celery and onion in the dutch oven for 4 to 5 minutes until the onions are translucent. Pour the beer over the vegetables, scraping the bottom of the pan with a spatula or wooden spoon to incorporate any 'bits' that stuck to the pan during braising. Stir in 1 cup of the beef stock and tomato paste. Remove the thyme from the stems. Place short ribs in the sauce, meaty side down, add the garlic and bay leaves. Cover the pan and transfer to the oven. Bake for 2 to 2 ½ hours until tender and falling off the bone.

2 medium carrots,

3 celery ribs,

1 large yellow onion,

1 can stout beer,

2 cups beef stock,

1 tablespoon tomato paste,

6 springs thyme,

2 bay leaves,

½ head garlic

Transfer the short ribs to a platter and tent with foil to keep warm. Remove the garlic and bay leaves. Using a hand blender, carefully blend the vegetables and liquid together into a smooth sauce. Alternatively, you can carefully transfer the hot liquid and vegetables to a blender and purée until smooth. Thin the sauce with the remaining beef stock. Taste the sauce to check seasoning, add salt and pepper, if needed. Pour the sauce over the short ribs and serve.
Slow Cooker Instructions:
Prep the short ribs with salt, pepper, and flour as directed above. Sear in oil in a skillet over high heat.

Transfer the short ribs to a slow cooker and add vegetables, beer, beef stock, tomato paste, thyme, bay leaves, and garlic.

Cook on low for 6 to 8 hours. Transfer the ribs to a plate and blend the remaining liquid into sauce.

Following the remaining instructions for finishing the sauce.
Instant Pot Instructions:
Prep the short ribs with salt, pepper, and flour as directed above. On the sauté setting, follow the same instructions for searing the short ribs, cooking the vegetables, and making the sauce.

Add the short ribs to the pressure cooker, cover, seal, and cook on high pressure for 50 minutes with a natural release.

Following the remaining instructions for finishing the sauce.
Notes
If using a blender to purée the sauce, be sure to check its ability to handle hot liquids first.
Trim any excess fat off the short ribs before cooking.
Any alcohol in the beer should cook off, non-alcoholic beer can be substituted.
Cornstarch can be substituted for flour for a gluten-free option.
Nutrition
Calories:
916
kcal
|
Carbohydrates:
21
g
|
Protein:
84
g
|
Fat:
53
g
|
Saturated Fat:
19
g
|
Polyunsaturated Fat:
5
g
|
Monounsaturated Fat:
25
g
|
Trans Fat:
0.04
g
|
Cholesterol:
244
mg
|
Sodium:
564
mg
|
Potassium:
1926
mg
|
Fiber:
2
g
|
Sugar:
4
g
|
Vitamin A:
5245
IU
|
Vitamin C:
8
mg
|
Calcium:
77
mg
|
Iron:
11
mg