Fork tender beef short ribs braised and slow-cooked in the dutch oven for a hearty, Guinness stout laced comfort food classic. Slowly simmered pan drippings blend together for a ridiculous flavor popping sauce to serve over the short ribs.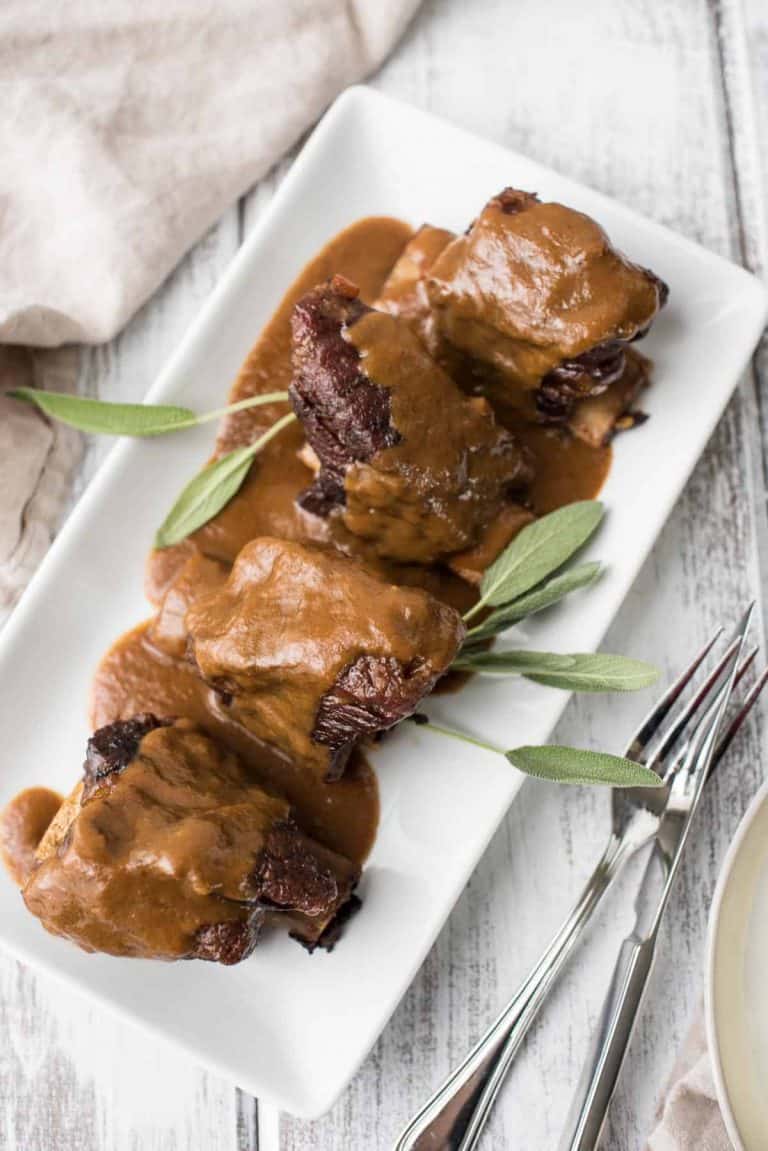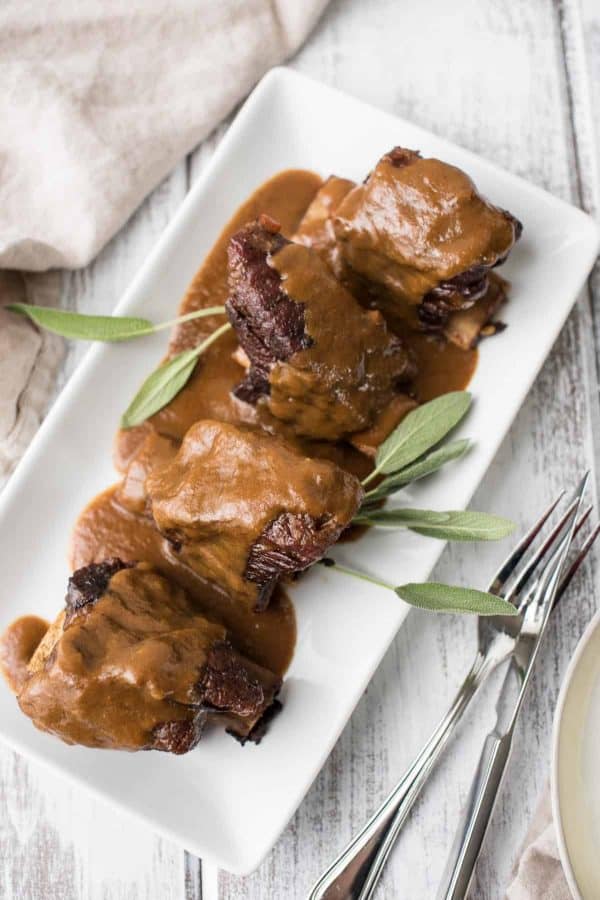 Just when you think you're there, something has got to pop up to keep you on your toes. What's life without a few surprises, right? Like an overnight snow forecast that gives you double the amount of snow. Oh, March, why you gotta play with our hearts like that?
But it's ok, we're going to find the balance between fresh spring salads and classic comfort foods like these tender, fall off the bone short ribs simmered in rich stout beer.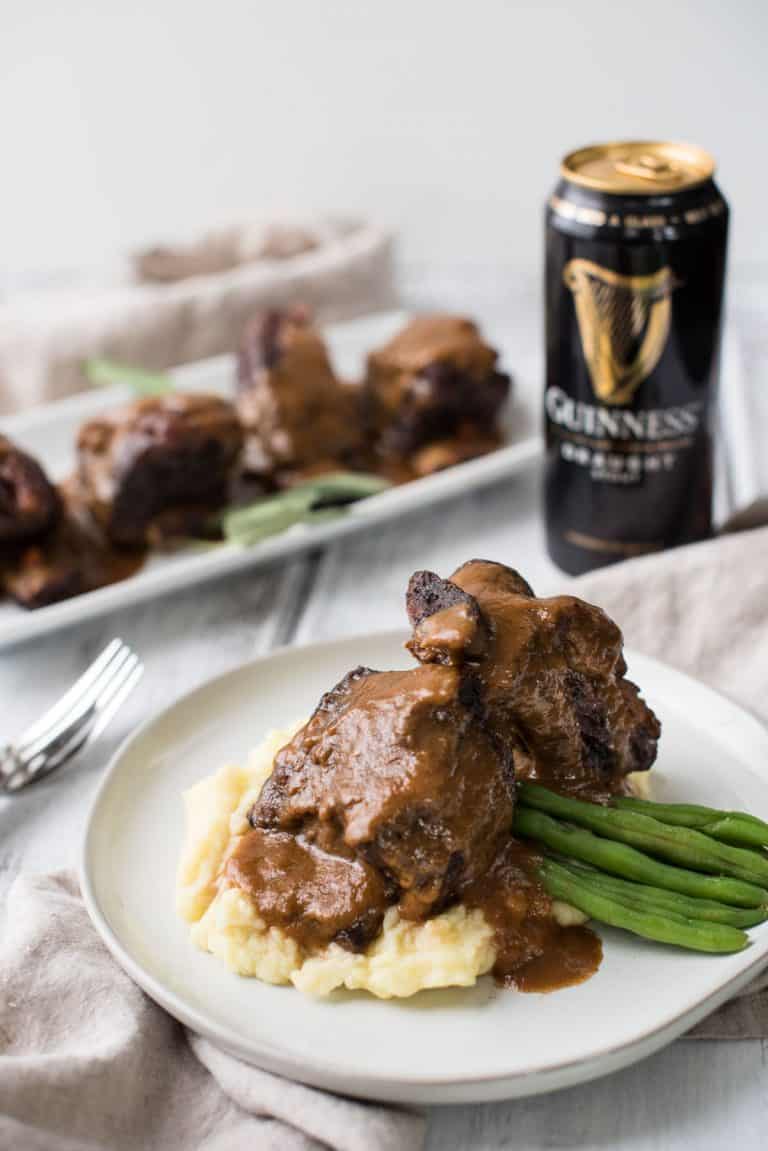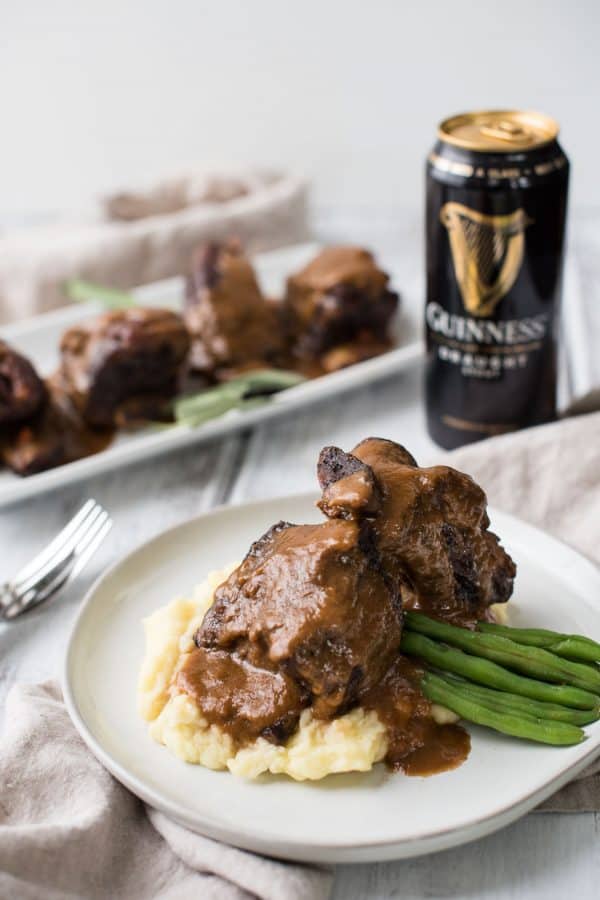 Something to look forward to after all that shoveling!
While we're surrounded in a world of white here in Boston, we can look forward to spreading a little cheery green as St. Patrick's Day approaches! And if you're not a huge fan of corned beef, these Guinness Braised Short Ribs are a ridiculously delicious and simple way to celebrate.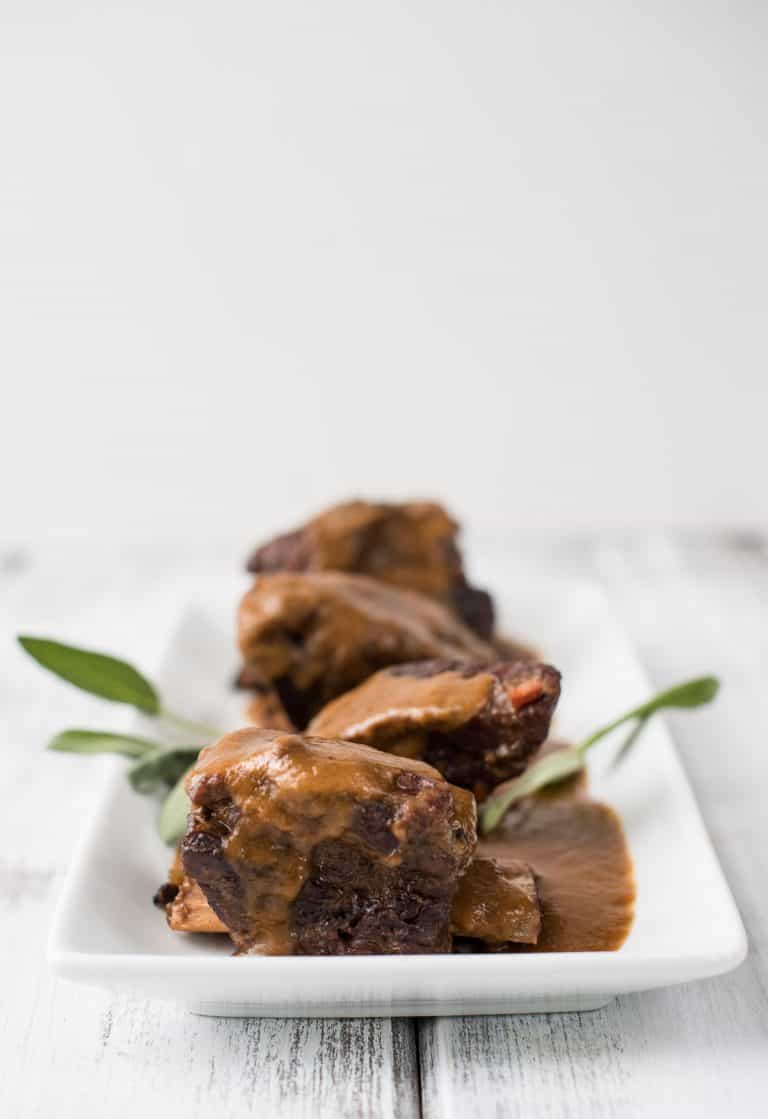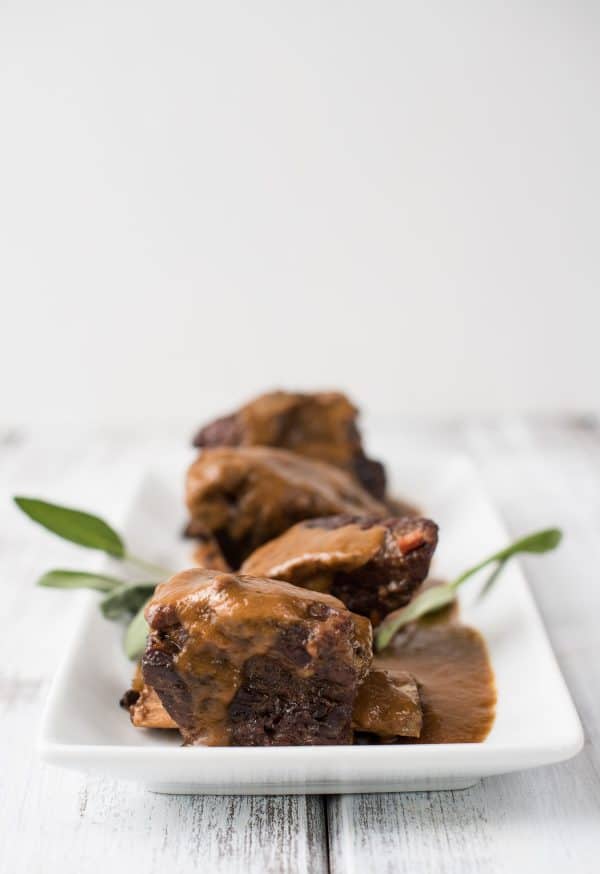 Tips for making braised short ribs
Short ribs are such a great dish because they're so versatile for when they can be served. Planning a dinner party? Sure. Cold weather comfort food? Absolutely. Date night in? You betcha. Leftovers turned into short ribs sandwich epicness? YUP.
And while you can serve these stout braised short rib beauties with a knife, you certainly don't have to. The hot sear followed by a slow braise is going to turn the meat into fork-tender, fall apart goodness.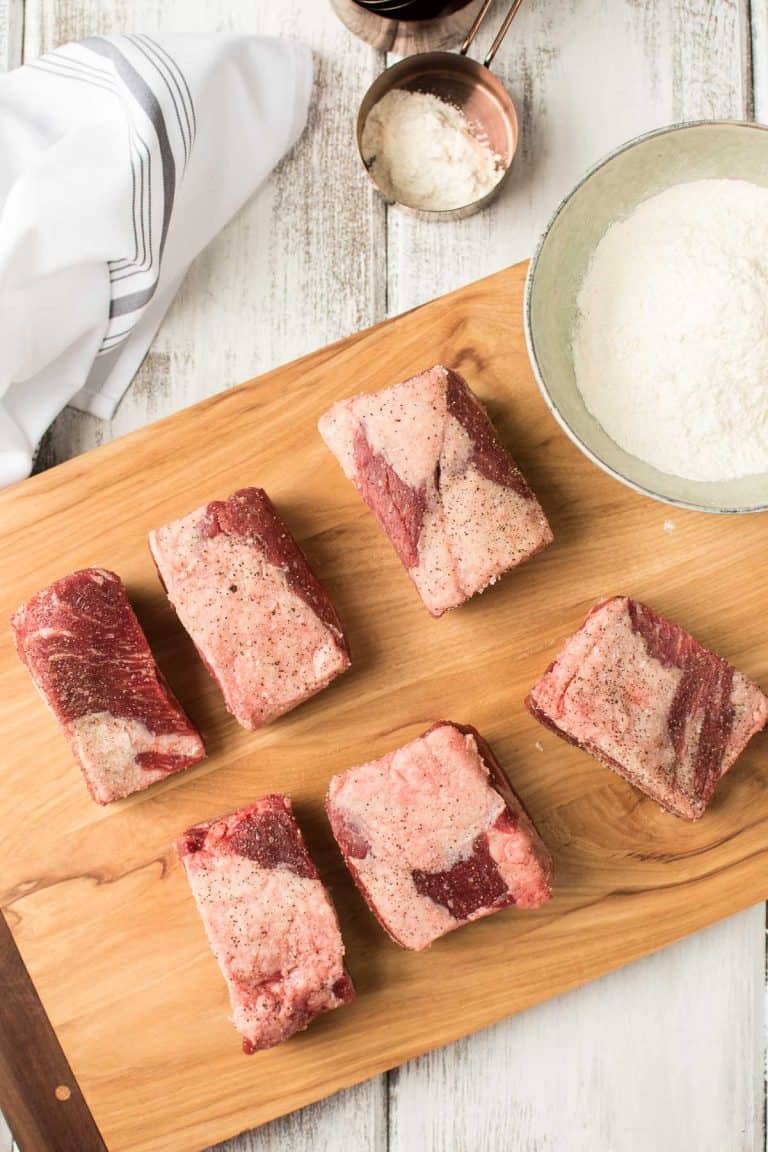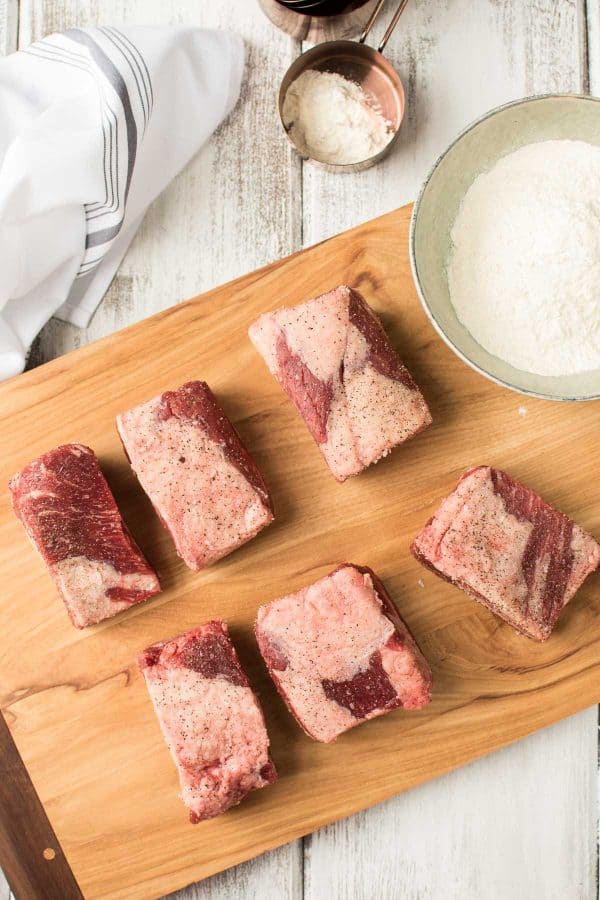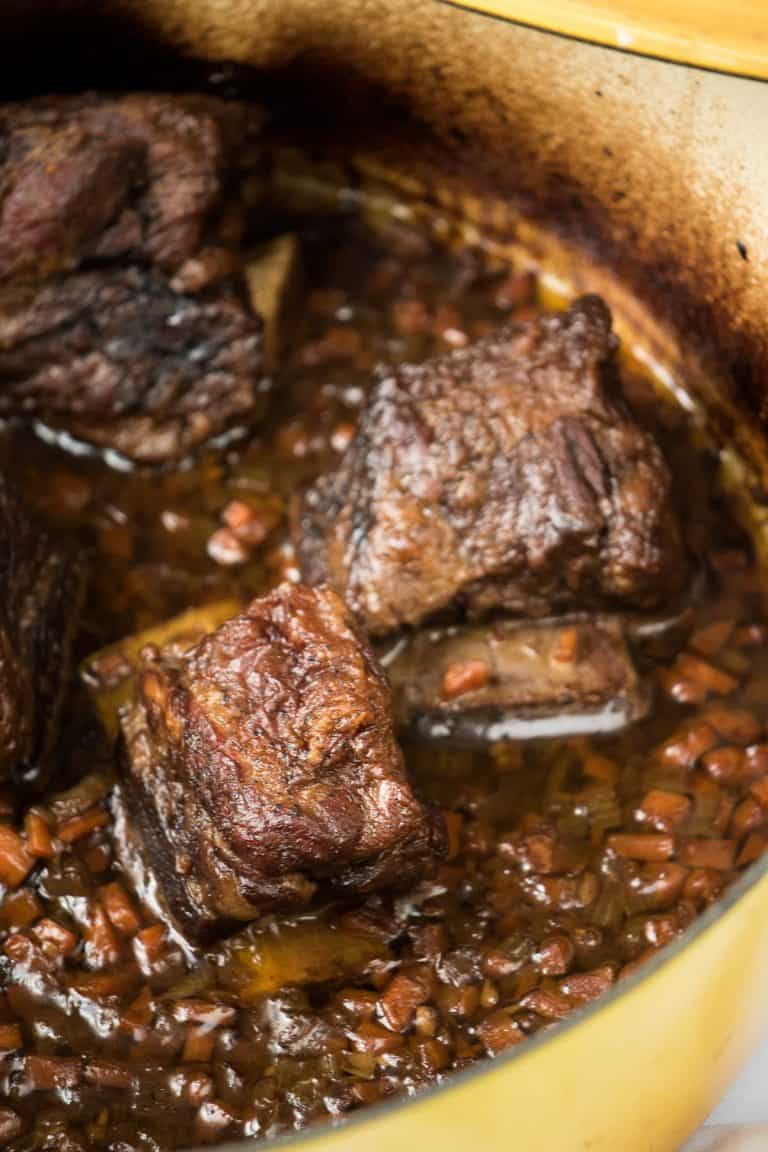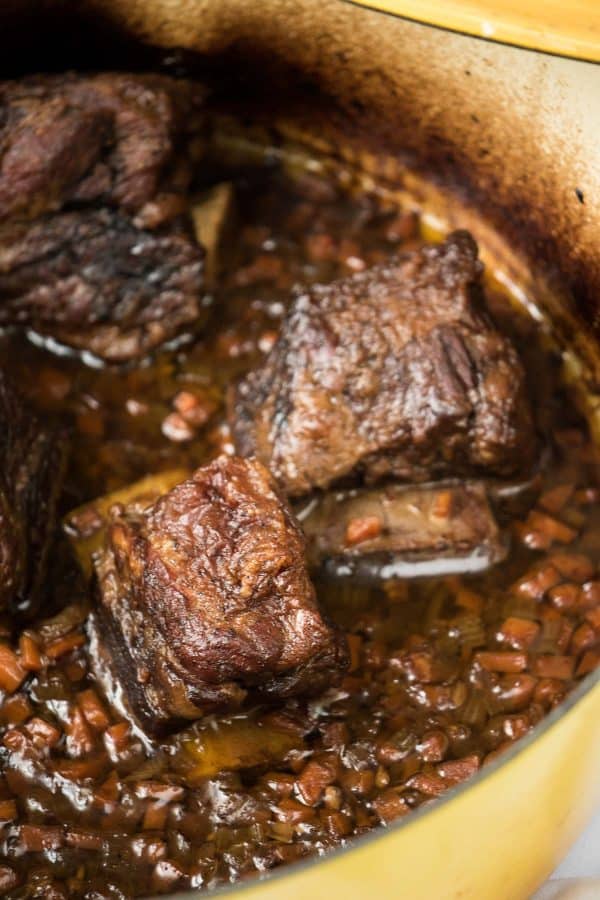 Traditionally short ribs are braised with red wine and mirepoix vegetables. By switching it up with a stout beer you're going to give those taste buds a pleasant surprise. You can certainly substitute your favorite style of stout beer, or even substitute a porter, but those well-toasted flavors of barley and with hints of coffee pack punch into the finished beef short ribs.
Here are some tips to ensure success:
Short ribs can be made in the slow cooker, pressure cooker or conventional oven. The conventional oven via a dutch oven is my go-to option every time. Dutch ovens are a kitchen workhorse because you braise on the stovetop and then cover and transfer to the oven for a one-pot dish.
Finely dice mirepoix vegetables. Carrots, celery, and onion! Finely diced them so when it comes time to purée the sauce, it blends up nice and easy.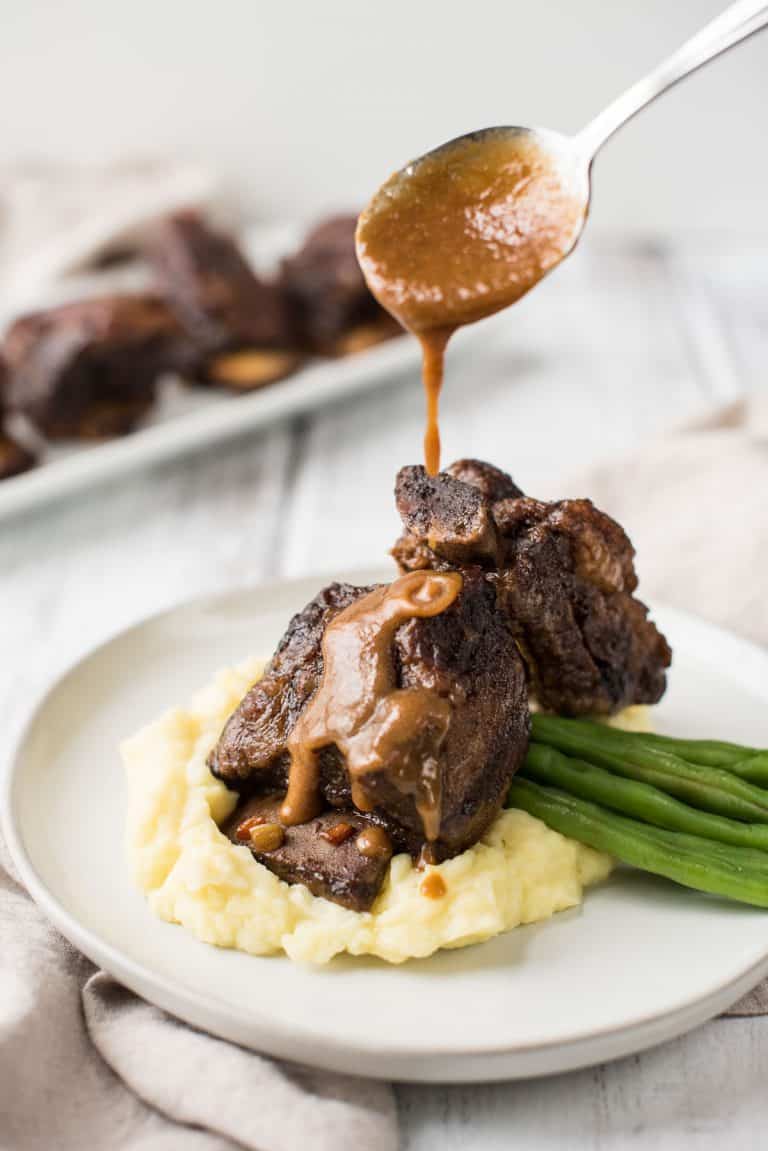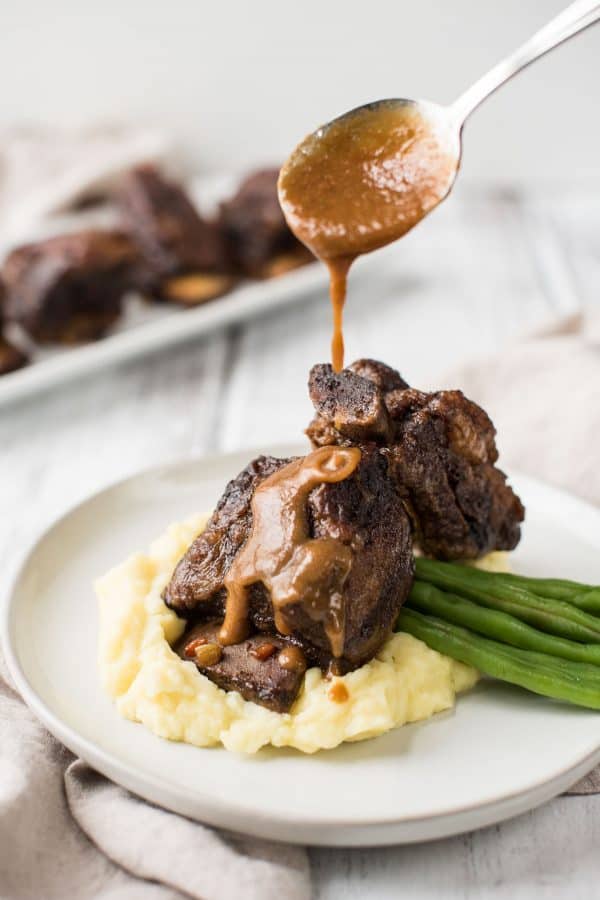 Invest in a hand blender! Great for emulsifying salad dressings, making smooth soups, and purées. When it comes time to blend all the rich, hard-earned drippings, sauce and vegetables into a beautiful sauce a hand blender makes this SO much easier. Just be sure the blades of the hand blender stay underneath the liquid so you don't splash super hot sauce on yourself. No one wants short ribs with a side of Urgent Care paperwork.
While you blend up your sauce, tent the short ribs with aluminum foil to keep them warm!
To dredge or not to dredge? These short ribs are seasoned with salt and pepper, then dredged in flour. During the searing, this is going to do 2 important things. 1. Create a crust on the short ribs so while they will be fall off the bone, fork-tender, the actual meat won't fall apart while cooking. 2. Adds a thickening agent to the pan so that sauce is extra luscious at the end.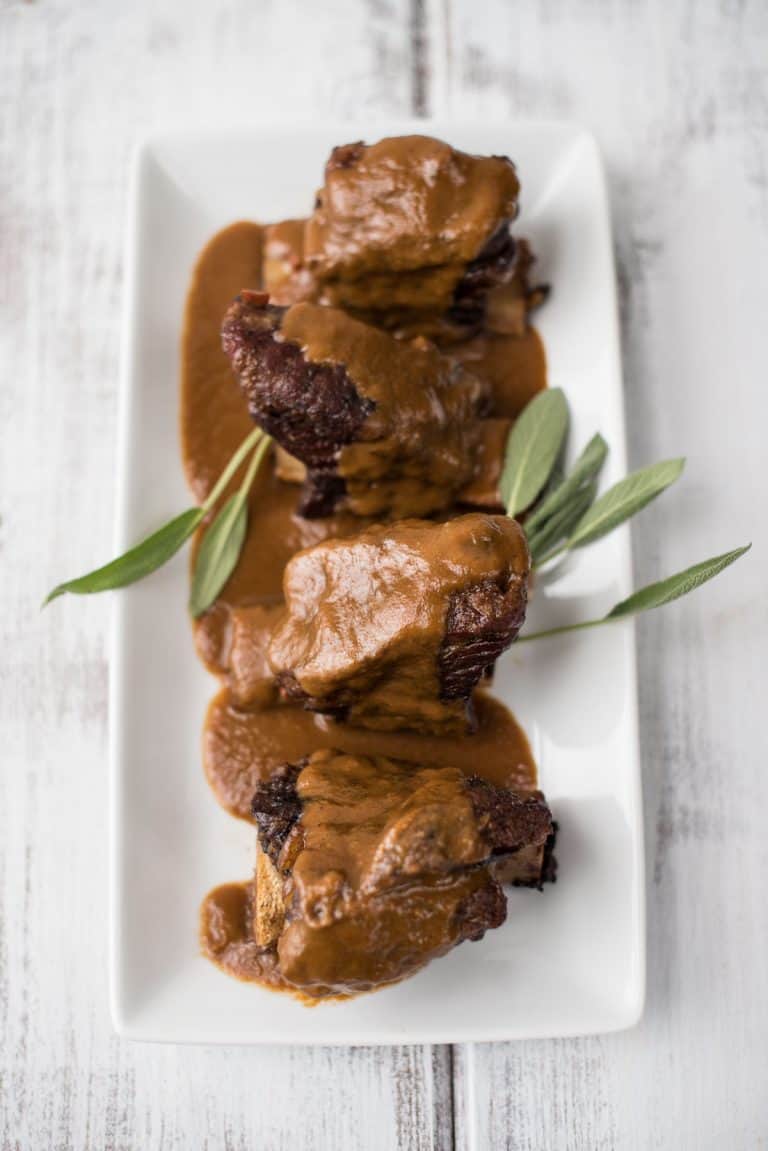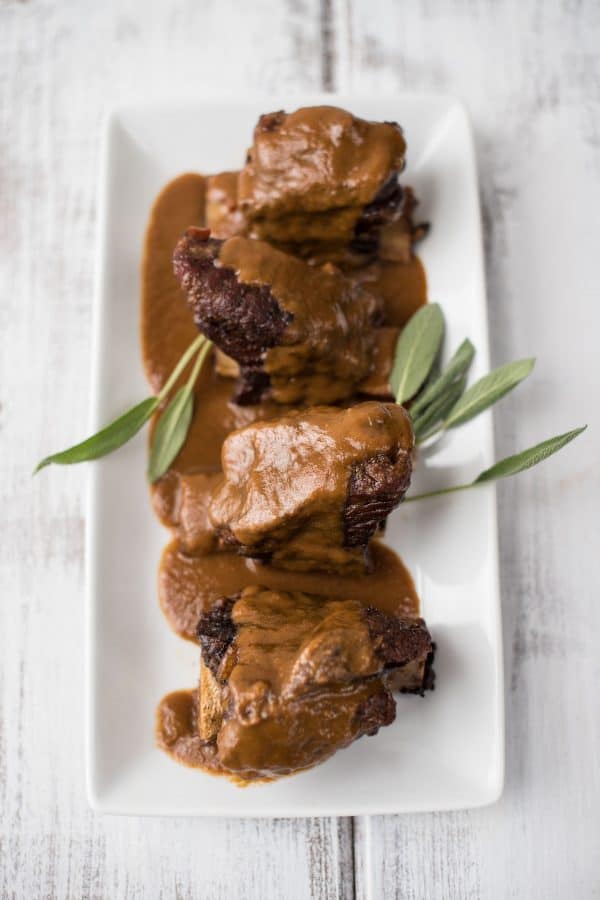 How to serve them
You put in the work. Now finish it with perfect sides.
Elizabeth's 3-ingredient mashed potatoes are a personal recommendation! Mashed potatoes or soft, creamy vegetables are the best for short ribs (IMHO) because that simmered sauce acts like gravy goodness for both the beef and the potatoes.
If looking to cut some carbs somewhere, sub in these creamy parsnips makes for a great potato substitute. For all the bacon lovers out there pork belly brussels sprouts or pancetta braised kale are a real treat. But, you know, you can always keep it easy with simple sheet pan veggies.
What other tasty treats do you make to celebrate St. Patrick's Day? Cupcake sweets and other green treats? Is corned beef on the menu? Tell me your favorites and go-tos in the comments!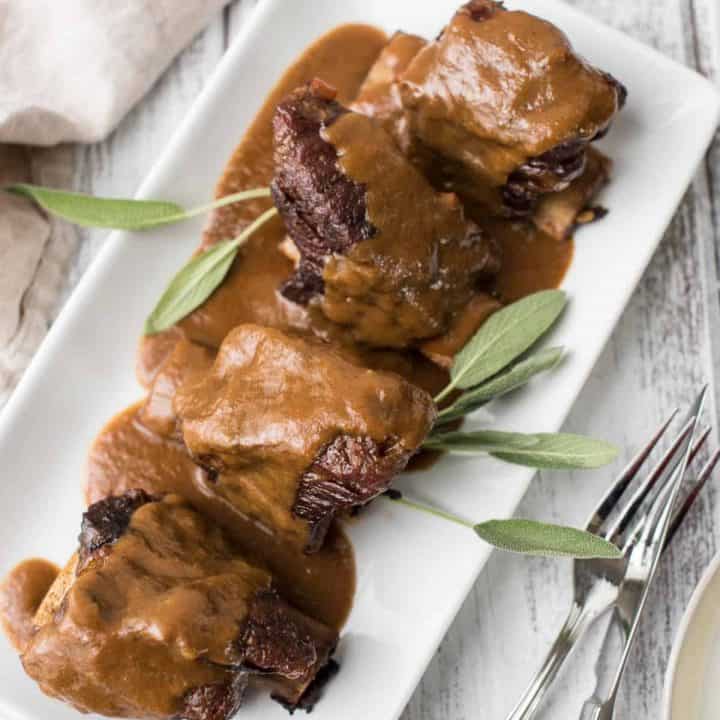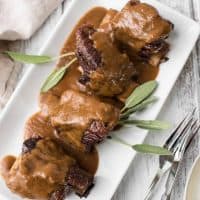 Guinness Braised Short Ribs
Fork tender, hearty, stout laced Guinness braised short ribs are a great beef recipe to celebrate St Patricks Day or anytime of year. Roasted in the dutch oven, slow braised short ribs are much easier than they look and full of toasty, caramelized flavors.
Print
Pin
Rate
Servings:
2
to 4 servings
Ingredients
3 to 4

pounds

6 to 8 pieces bone-in short ribs

½

cup

all purpose flour

3

tablespoons

extra virgin olive oil

2

medium carrots

(finely diced)

3

celery ribs

(finely diced)

1

large yellow onion

(finely diced)

3

cloves

garlic

8

ounces

Guinness or Irish stout beer

1

cup

beef stock
Instructions
Prep. Let the short ribs sit at room temperature for 45 minutes to 1 hour. Preheat the oven to 350°F. Season the short ribs with salt and pepper on both sides. Dredge all sides of the short ribs with flour.

Sear. Heat a dutch oven over high heat on the stove top. Add oil, once the oil shimmers braise the short ribs on each side for about 1 minute or until browned. Remove the short ribs to a plate and reduce the heat to medium.

Cook. Sauté the carrots, celery and onion in the dutch oven for 4 to 5 minutes until the onions are translucent. Add the garlic and cook for 1 minute until fragrant. Pour the Guinness over the vegetables, scraping the bottom of the pan with a spatula or wooden spoon to incorporate any 'bits' that stuck to the pan during braising. Stir in the beef stock, cover and transfer to the oven. Bake for 2 to 2 ½ hours until tender and falling off the bone.

Make the sauce. Transfer the short ribs to a platter and tent with foil to keep warm. Using a hand blender, carefully blend the vegetables and liquid together into a smooth sauce. Alternatively, you can carefully transfer the hot liquid and vegetables to a blender and purée until smooth. Taste the sauce to check seasoning, add salt and/or pepper if needed. Pour the sauce over the short ribs and serve.
Slow Cooker Instructions:
Prep the short ribs as directed above. Sear in oil in a skillet over high heat. Transfer to a slow cooker and add vegetables, garlic, stout and beef stock.

Cook for 6 to 8 hours. Transfer the ribs to a plate and blend the remaining liquid into sauce.
Notes
If using a blender to purée the sauce, be sure to check its ability to handle hot liquids first
Nutrition
Calories:
1269
kcal
|
Carbohydrates:
41
g
|
Protein:
102
g
|
Fat:
72
g
|
Saturated Fat:
25
g
|
Cholesterol:
293
mg
|
Sodium:
611
mg
|
Potassium:
2338
mg
|
Fiber:
4
g
|
Sugar:
6
g
|
Vitamin A:
10219
IU
|
Vitamin C:
9
mg
|
Calcium:
98
mg
|
Iron:
13
mg