This super easy, three-ingredient maple latte is the perfect combination of robust espresso, creamy milk, and sweet maple syrup. Enjoy this as your morning cup of joe or as an afternoon treat without over indulging in sweetness.
Does the ideal cold-weather coffee exist? Yes! It does!
I absolutely adore these easy maple lattes! Really, there's no wrong way to enjoy espresso, in my opinion, but the combination of ingredients with the simplicity of how to make it is just perfection!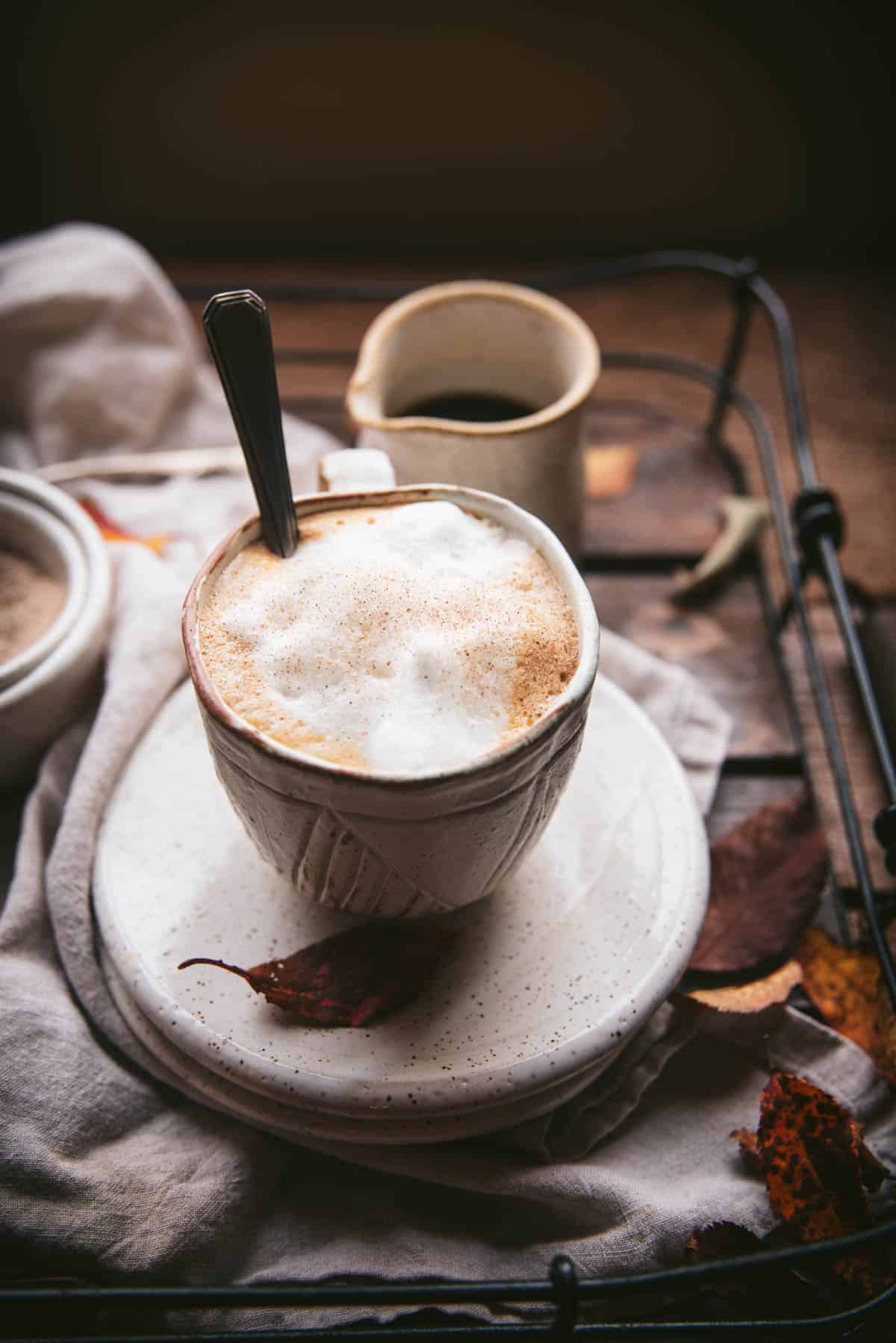 Ok, but what is a maple latte?
Simply, it is a traditional latte made with 2 shots of espresso combined with a small additional of pure maple syrup, topped with warmed, slightly frothed milk.
Enjoy this naturally sweetened bevy during the colder months to warm up and get a much needed caffeinated pick me up. If you're an always iced kind of coffee drinker, check out this Shaken Espresso Maple Latte instead!
Of course, you can always serve this over ice as is, but the shaken espresso is beautifully frothy, its worth checking out.
If you've been hanging around these parts for a while, you know how much I love a flavored latte. This gingerbread latte is one of my top recipes on the site - and you'll understand why after enjoying it!
But I'm also in love with these honey cinnamon oat milk lattes, a spicy dirty chai latte, and an iced lavender matcha latte.
So much caffeinated goodness, and so little time. (Or a desire to sleep, eventually.)
Jump to:
What you need
Three ingredients! That's it! What in the easy-peasy is that?!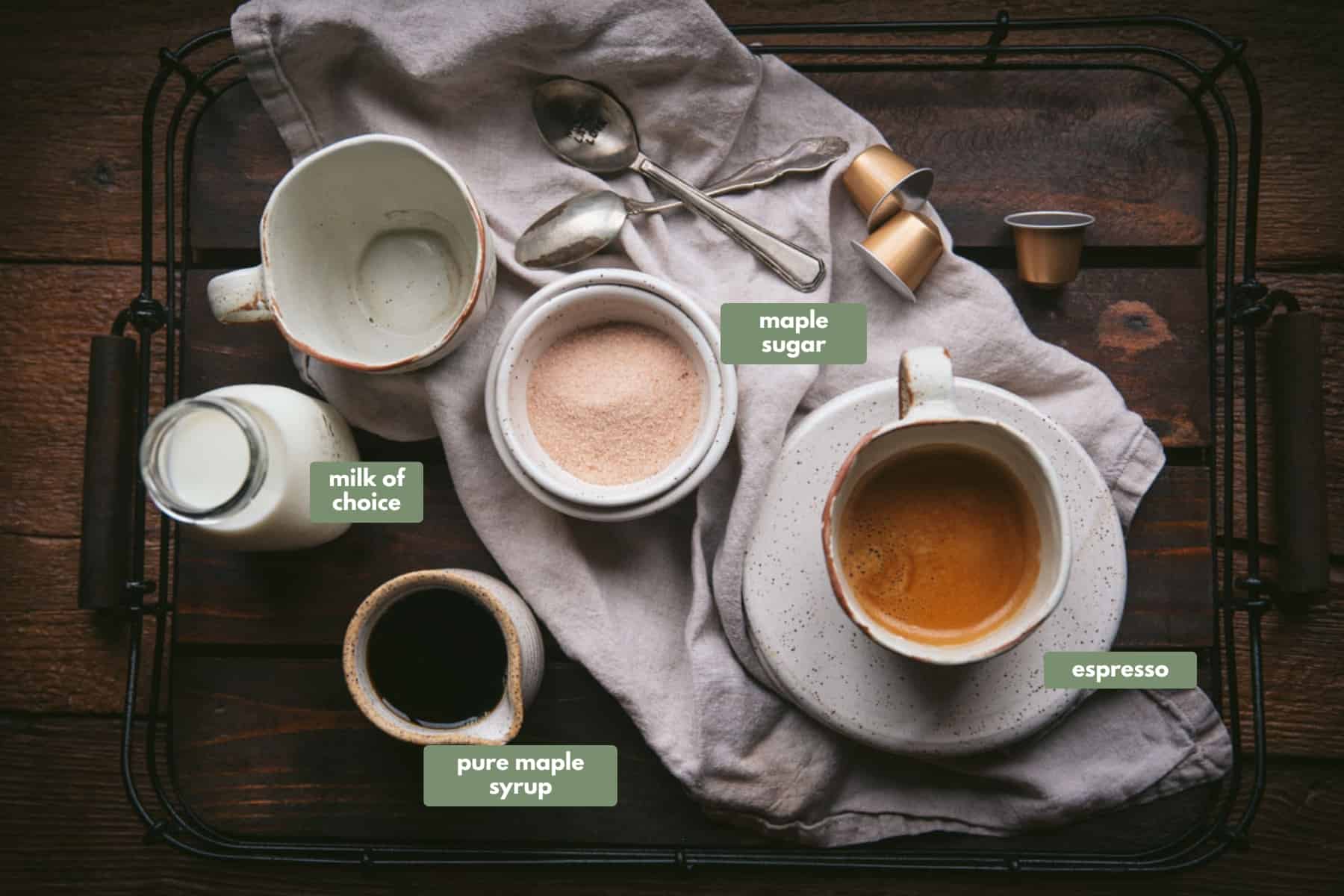 Espresso
Milk of choice
Pure Grade A Maple Syrup
Check out the recipe card below for exact quantities!
Substitutions
If you can't get your hands on espresso but love the idea of a maple-y coffee drink, you can definitely use any type of coffee. Drip coffee, cold brew, nitro, french press - whatever's available.
Milk - use your go to favorite for making lattes.
If you really love a solid froth, skim milk works best for me. I also really love oat milk if I'm in the mood for a dairy alternative milk. Its just so creamy!
Maple syrup - use the real stuff!
It's worth it and a little goes a long way! Plus you can use it for naturally sweetening other recipes like apple cider vinaigrette, maple miso dressing, or brown butter and maple roasted veggies!
How to make a Maple Latte
You are truly going to love how fast you can make a maple latte.
The only thing that might add extra time is if you don't have a milk frother readily available. You can still make frothy latte milk using a saute pan and whisk, it will just take a couple of minutes.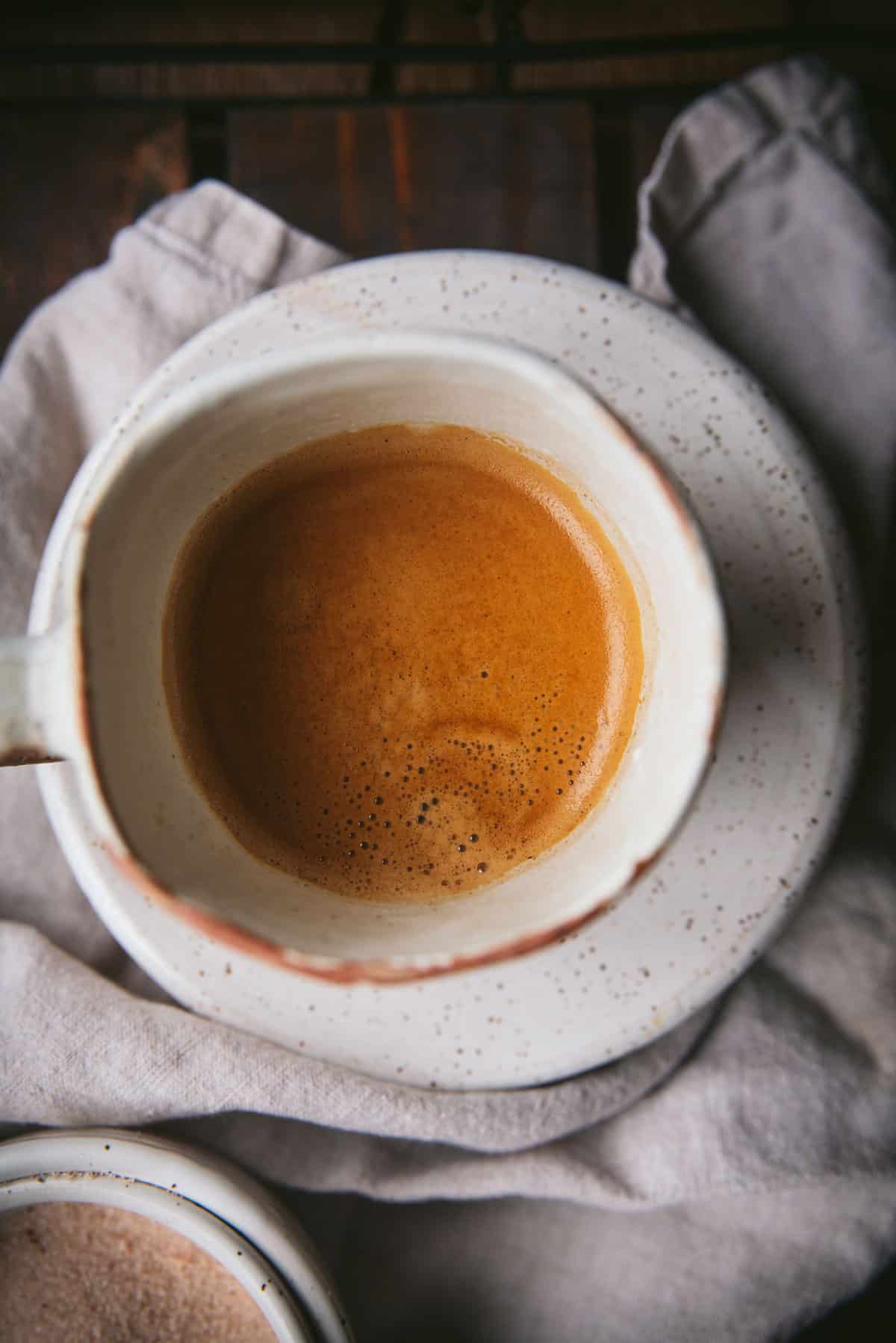 Brew your espresso.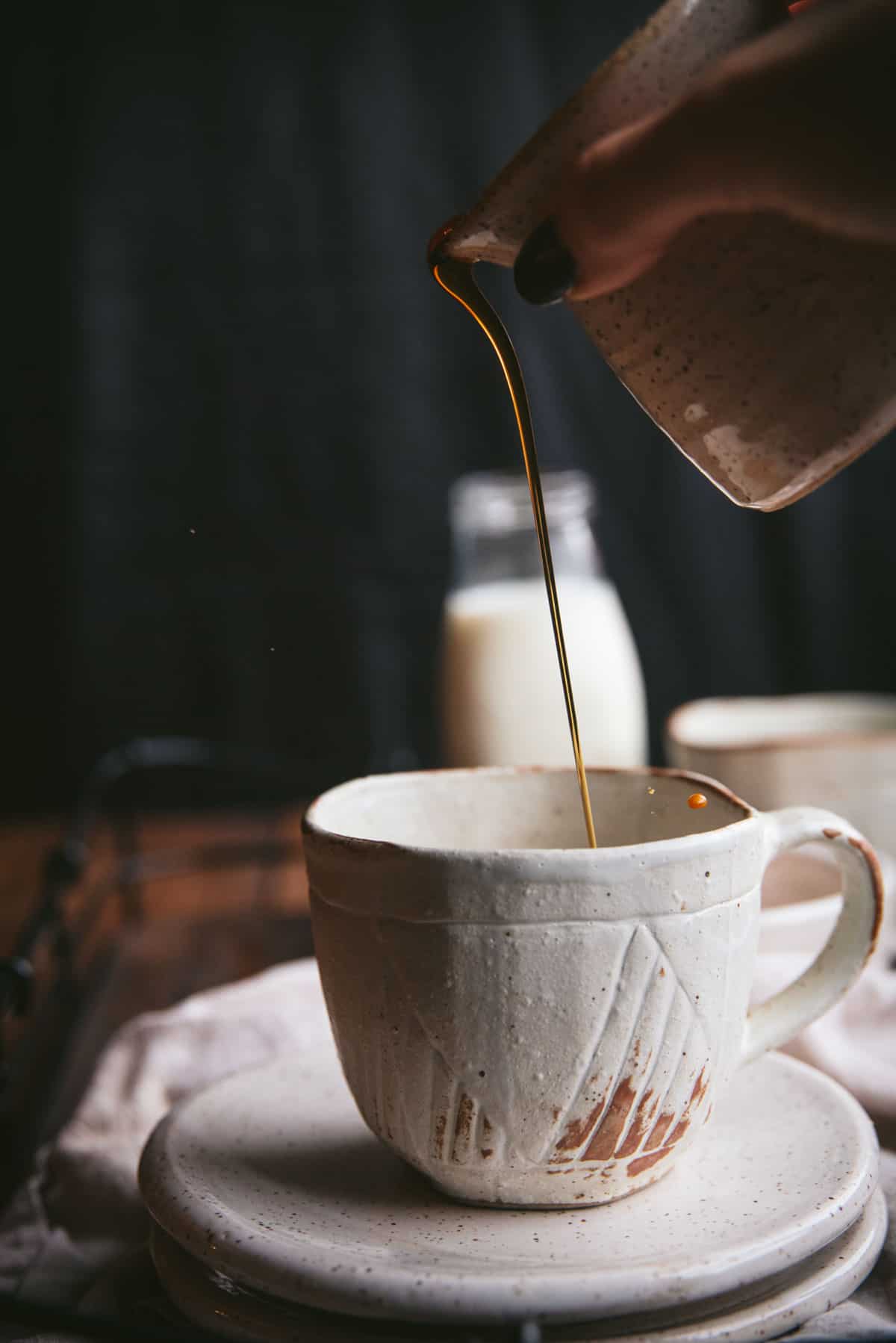 Mix with the maple syrup.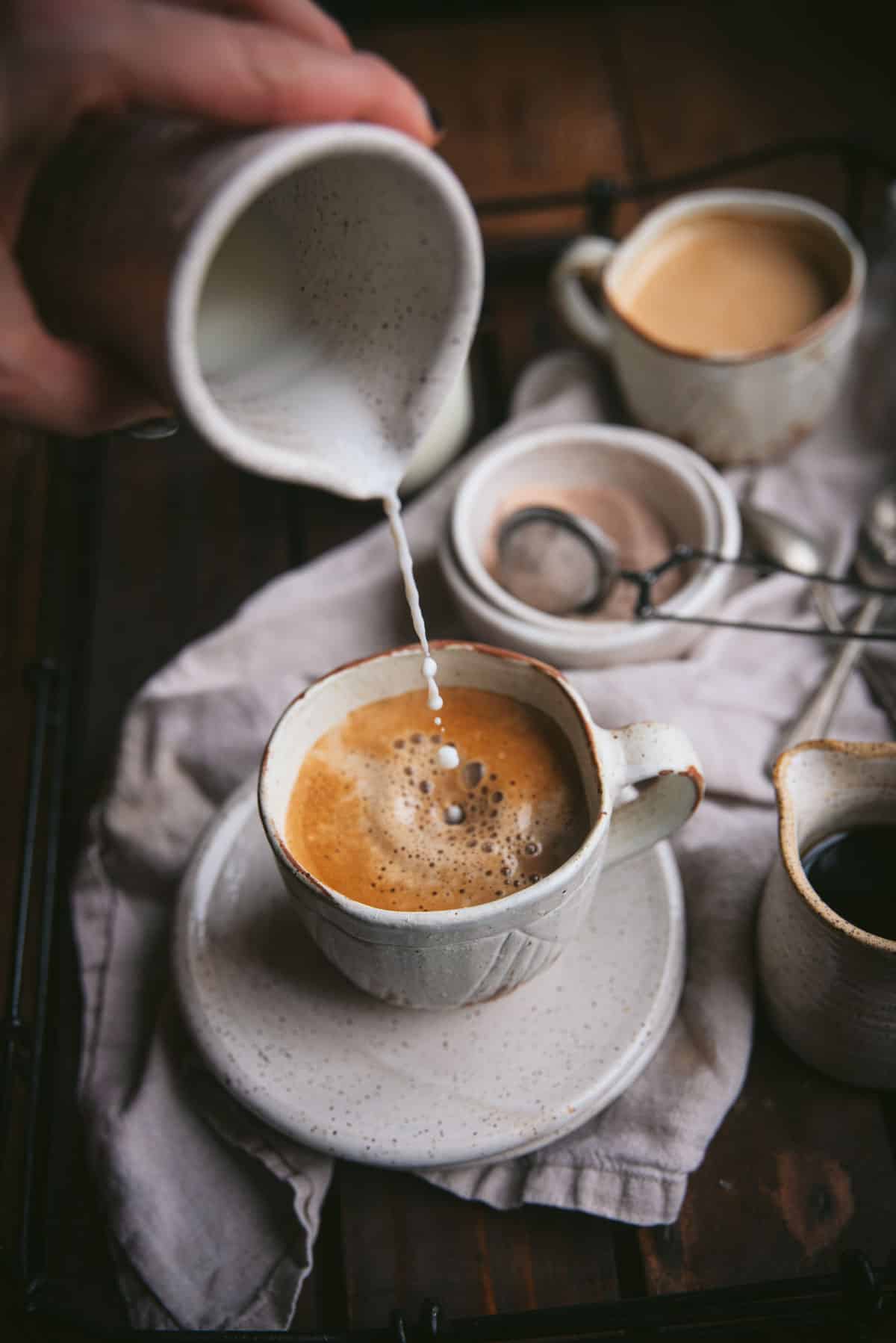 Heat or froth your milk of choice and pour the milk over the espresso and maple syrup
Spoon the foam on top if desired, enjoy!
Hint: If using a sauté pan and whisk to froth your milk, heat the milk over medium-low heat whisking until it just starts to steam.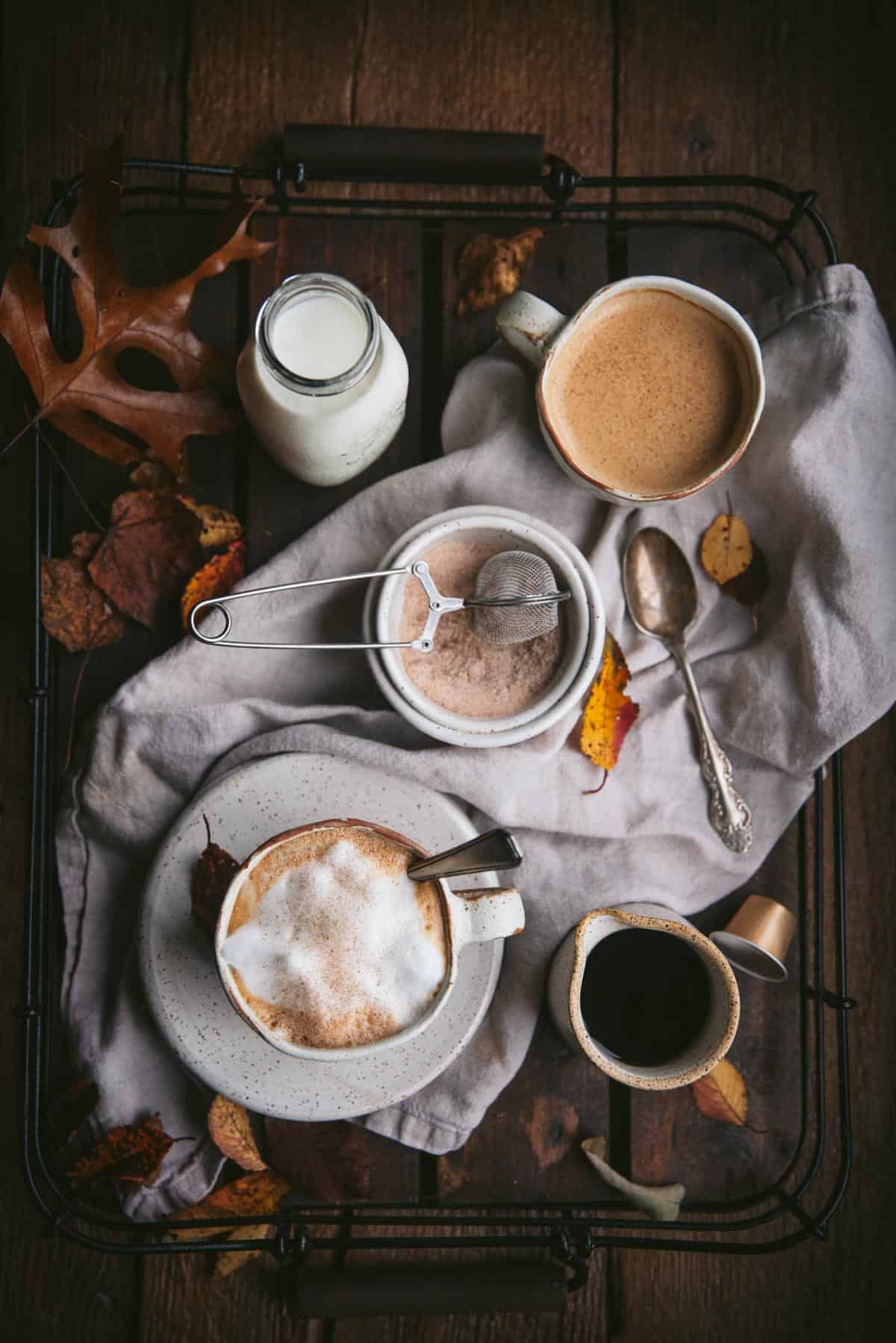 My go to tools for latte making
Coffee is clearly a passion for me. While I don't consider myself to be a crazy coffee expert, I know what I like and I drink plenty of it. These are my must have espresso equipment that is the perfect combo of easy to use and clean that drips out quality java.
Nespresso machine - she works extra hard! It's just so simple to pop in the pod and press the button. No grounds to clean up and you can recycle the pods. I have the old school version with the small pods, but the verturo version works great as well.
If I had the funds to splurge on a traditional machine, I'd go for the Breville espresso machine. I walk into my friend's house and pretend like its my own, it's delightful.
Nespresso milk frother - If you LOVE frothed milk on your coffee - with or without espresso - this is 100% worth the investment. You just pour the milk of choice into the container and press the button. Plus, it works for both hot and cold beverages.
If you're not looking to break the bank on maple-infused lattes, you can also use a french press to brew your espresso or buy instant espresso. This hand held frother is also a really great, inexpensive alternative.
FAQs
Will maple syrup go bad?
Yes! Pure maple syrup needs to be kept in the refrigerator to keep from spoiling or growing mold. I've learned this lesson the hard way myself.

Traditional, shelf-stable pancake syrup that can be kept at room temp as it's typically a combination of corn syrup and maple extract.
What's the difference between maple syrup and pancake syrup?
Real maple syrup is made by boiling the sap of a maple tree (along with a few other important steps but that's the main point). Pancake syrup is made using shelf-stable ingredients like corn syrup, maple flavoring, and other additives. It's still delicious, just made differently.

The flavor of real maple syrup is stronger, less cloyingly sweet, and with a thinner texture.
How do you make this a Starbucks Maple Pecan Latte?
This latte is so close to being a copycat recipe but needs a little extra love.

If you want to make a copycat of the Starbucks maple latte, add 1 teaspoon of pecan butter (finely ground pecans) and 1 teaspoon of brown sugar to this recipe. Whisk the extra ingredients into the hot espresso until the sugar melts and add in the maple syrup.
Can I make this in advance?
Absolutely! If I know I need to get out the door fast the next day I make my maple latte in advance. The next morning I zap it in the microwave or heat it up in the milk frother.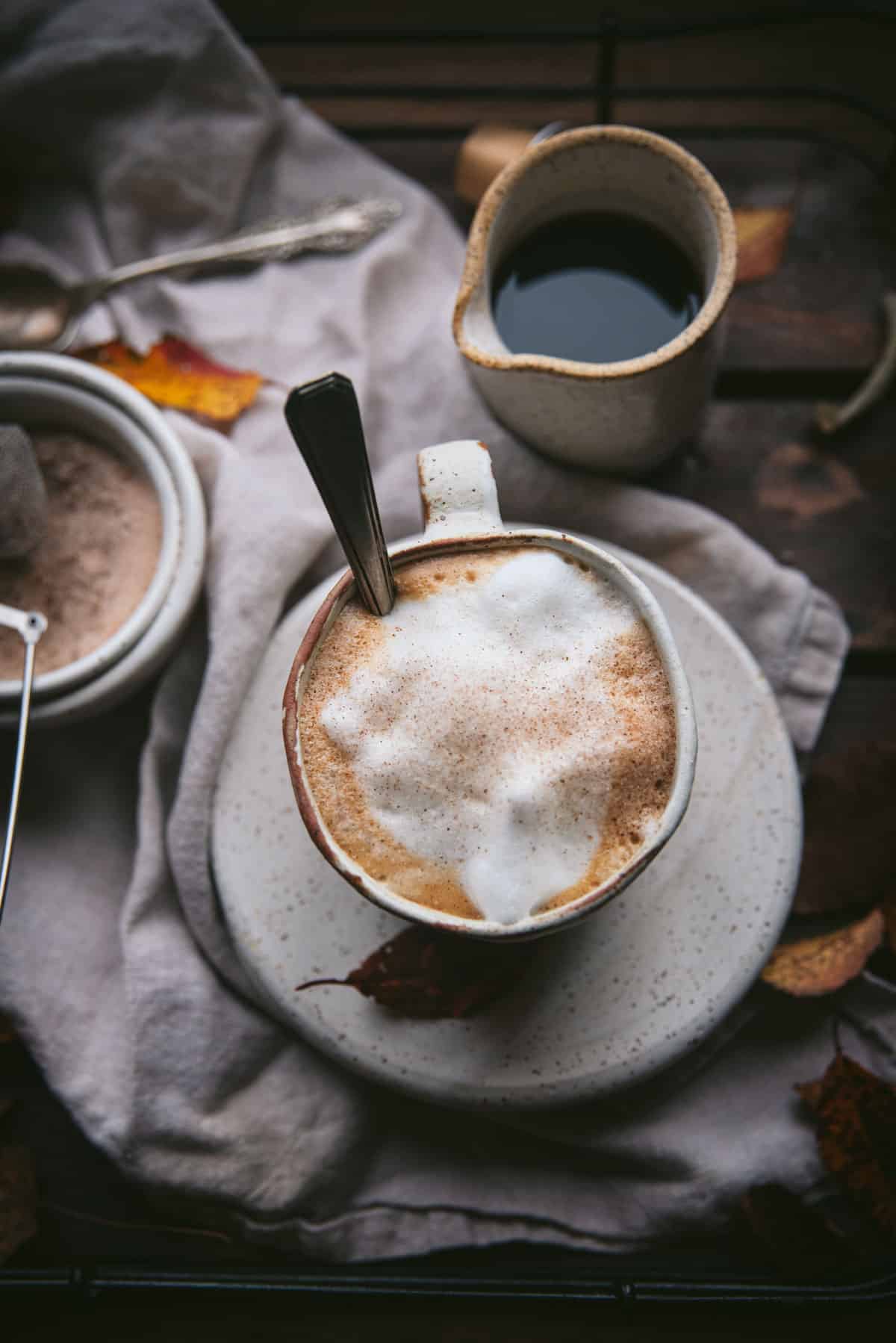 What to enjoy with your fresh Maple Latte
Nothing and yet also everything! Breakfast immediately comes to mind—something savory to pair up with the subtly sweet maple.
You need to try these breakfast lamb gyros if savory is your go-to breakfast.
If sweet is your style for breakfast or a snack to enjoy with coffee, try these healthy apple muffins. Naturally sweetened with dates and banana and made with whole wheat flour and old fashioned oats. My kids adore them! (No seriously, they do.)
If you want a more indulgent breky, you need a raspberry cheesecake french toast casserole. It tastes just like a raspberry danish! There are never leftovers when I bring this somewhere.
If you loved this recipe, please leave a star rating in the recipe card below! Be sure to tag @hungerthirstplay on social media so I can see your delicious creations!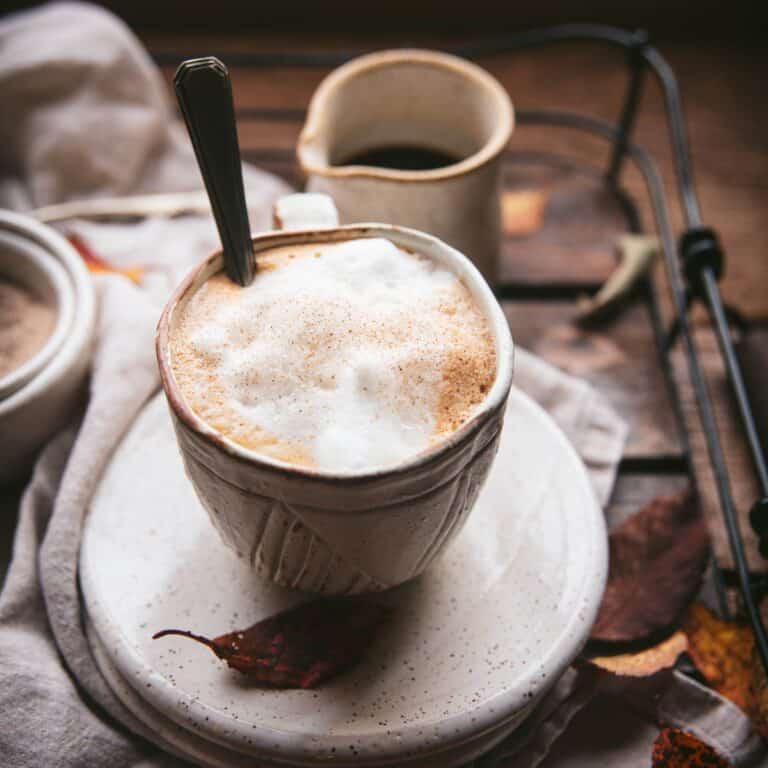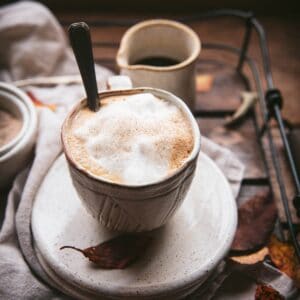 Maple Latte
Maple lattes are my favorite naturally flavored latte to enjoy when I'm in the mood for a slightly sweet latte but don't want to dish out for a coffee shop purchase. The perfect combination of espresso, milk, and just sweet enough maple syrup.
Print
Pin
Rate
Equipment
Espresso Machine

Milk Frother
Ingredients
2

shots

espresso

2

tablespoons

pure maple syrup

½

cup

milk of choice
Instructions
Mix the maple syrup into the hot espresso until combined.

Heat the milk using a milk frother. Alternatively, you can heat the milk in a saucepan over medium-low heat while whisking until the milk starts to steam.
Notes
Pancake syrup can be substituted for maple syrup. If using pancake syrup, start with 1 ½ tablespoons of syrup and taste before adding more.
Use any type of milk you like! The nutrition facts for this recipe have been calculated using skim milk.
This recipe is just as delicious using decaf espresso as it is with caffeinated espresso!
Nutrition
Calories:
160
kcal
|
Carbohydrates:
35
g
|
Protein:
4
g
|
Fat:
0.3
g
|
Saturated Fat:
0.2
g
|
Polyunsaturated Fat:
0.1
g
|
Monounsaturated Fat:
0.02
g
|
Cholesterol:
4
mg
|
Sodium:
70
mg
|
Potassium:
425
mg
|
Sugar:
30
g
|
Vitamin A:
250
IU
|
Vitamin C:
0.2
mg
|
Calcium:
208
mg
|
Iron:
0.2
mg