Basic vinaigrette meets fall flavors! This zesty apple cider vinaigrette is the dressing you need to keep stocked in the fridge at all times. It has just the right amount of sweet, savory, and tangy ingredients to pair with any salad!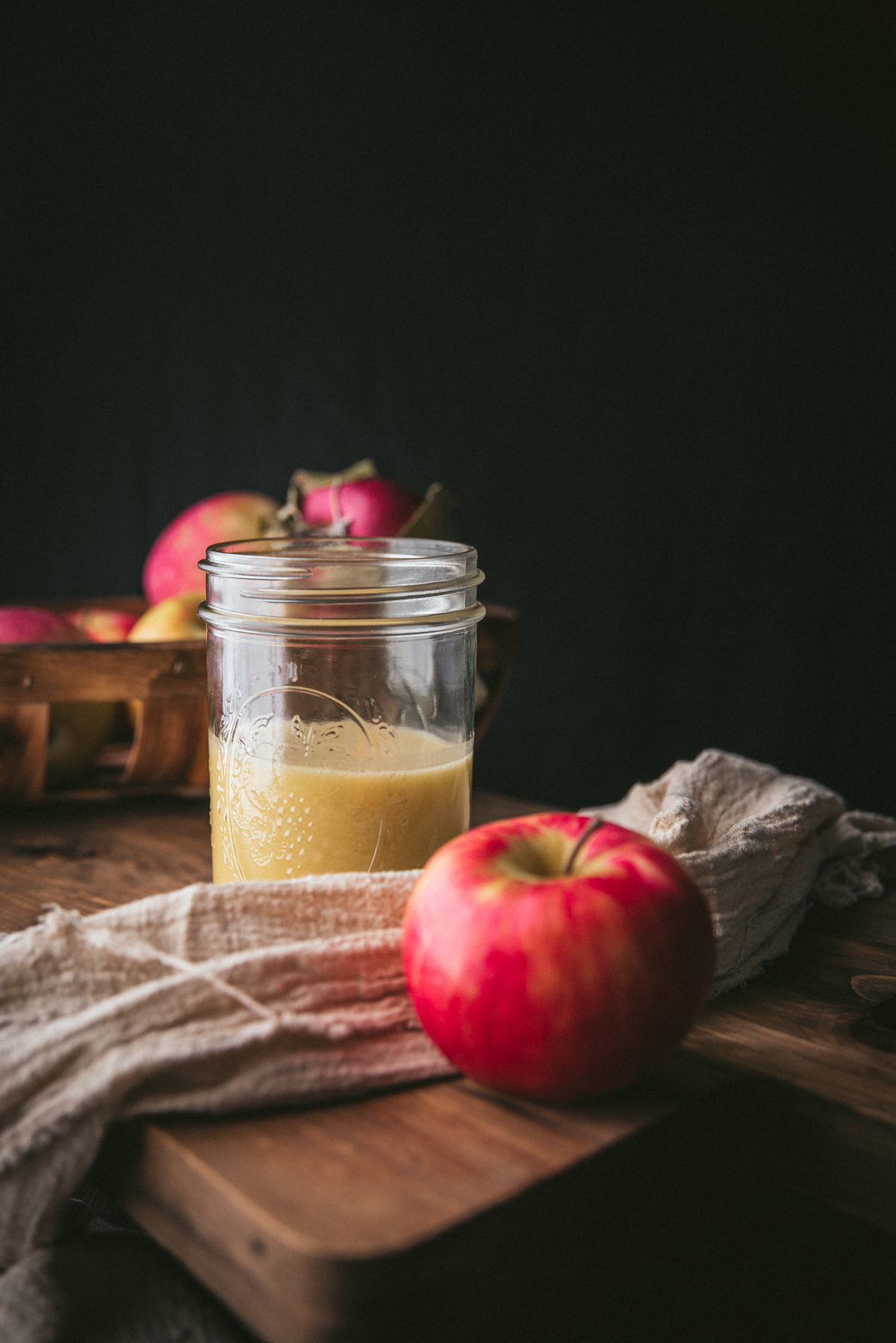 Just because summer is over doesn't mean we have to give up good salads! Apple cider vinaigrette is full of well-balanced tangy and robust ingredients that pair well with almost any salad.
It goes great on my Autumn Kale Salad, Pear and Cheddar Salad, and Winter Pomegranate and Blue Cheese Salad.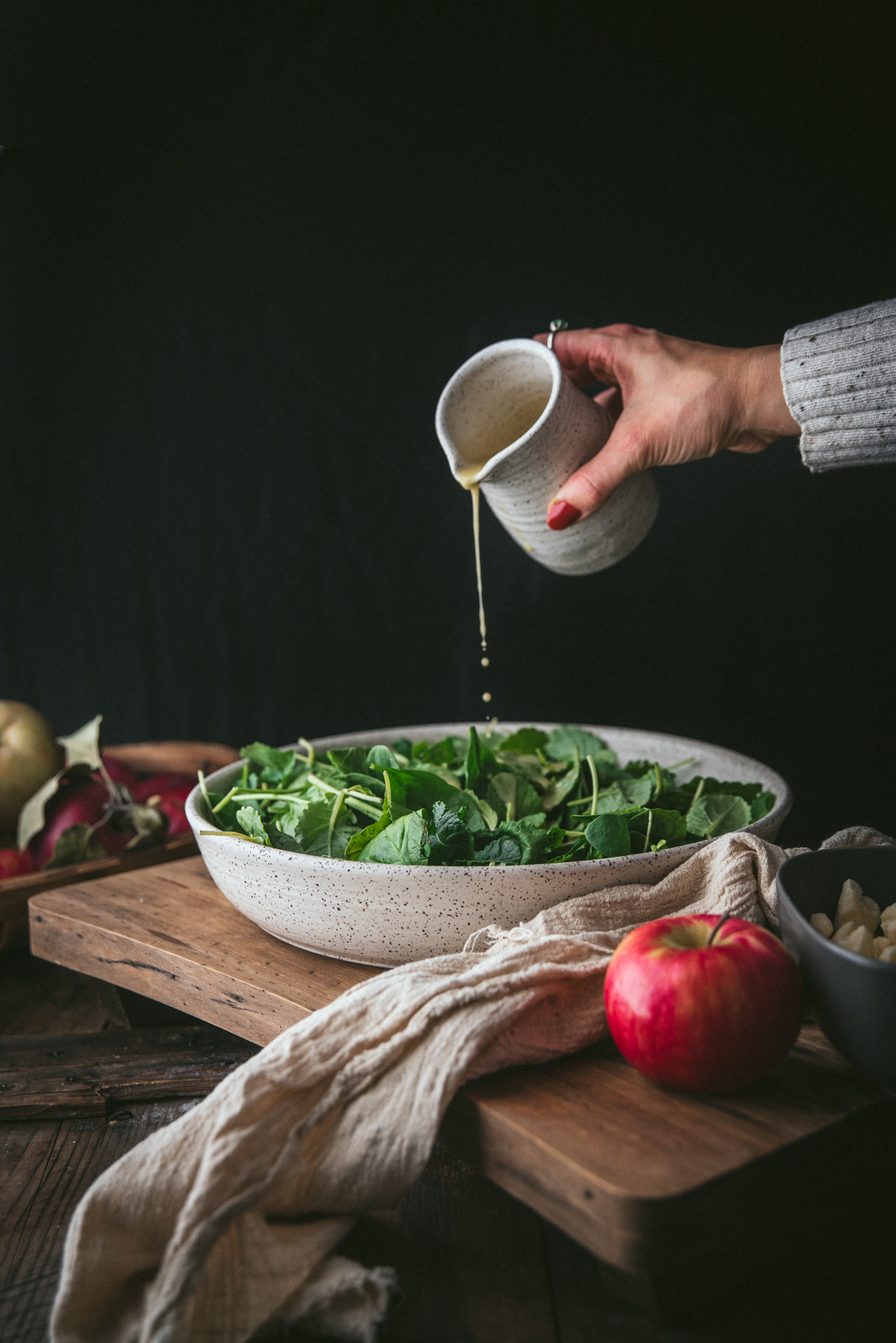 What is apple cider vinaigrette made of?
We're taking the building blocks of vinaigrette dressing and adding some sweet elements, keeping the whole process very simple.
apple cider vinegar
extra virgin olive oil
salt
pepper
garlic
dijon mustard
apple cider
maple syrup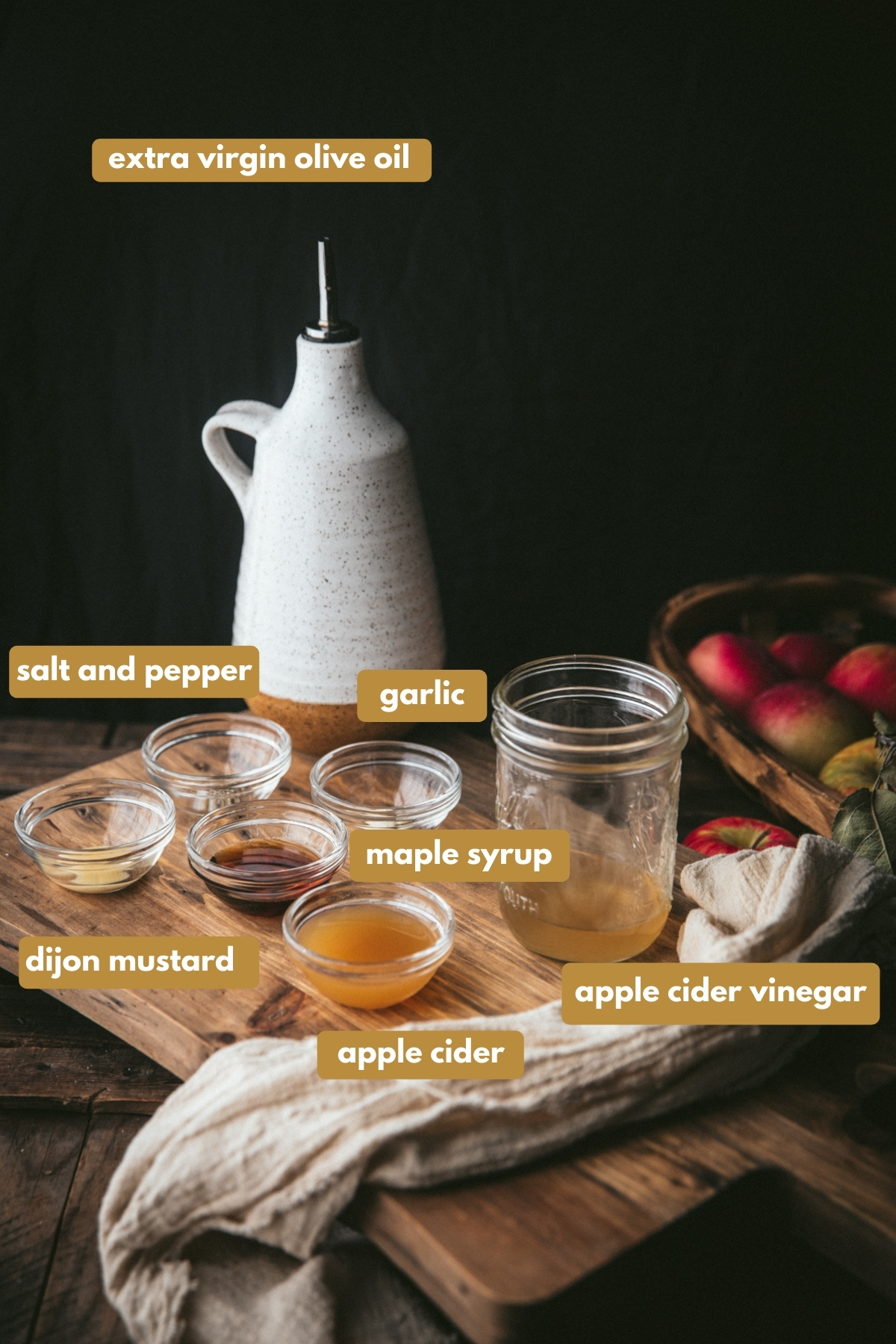 You can use raw (or not) apple cider vinegar. Both work great. Raw apple cider vinegar tends to be a little darker in color so the color of the dressing will be slightly darker brown but not much.
Do you have to add the maple syrup?
Of course not, you do you friend! In my opinion, it adds just enough sweet, fall flavor without being overpowering but if you're looking for a more savory dressing you can omit it.
You can also substitute honey for maple syrup.
Does it have to be dijon mustard?
Yes! It's more about getting the right tangy spice and yellow mustard just doesn't compare. Its a mild flavor so you shouldn't worry about the dressing being 'spicy' but it does balance out the flavors.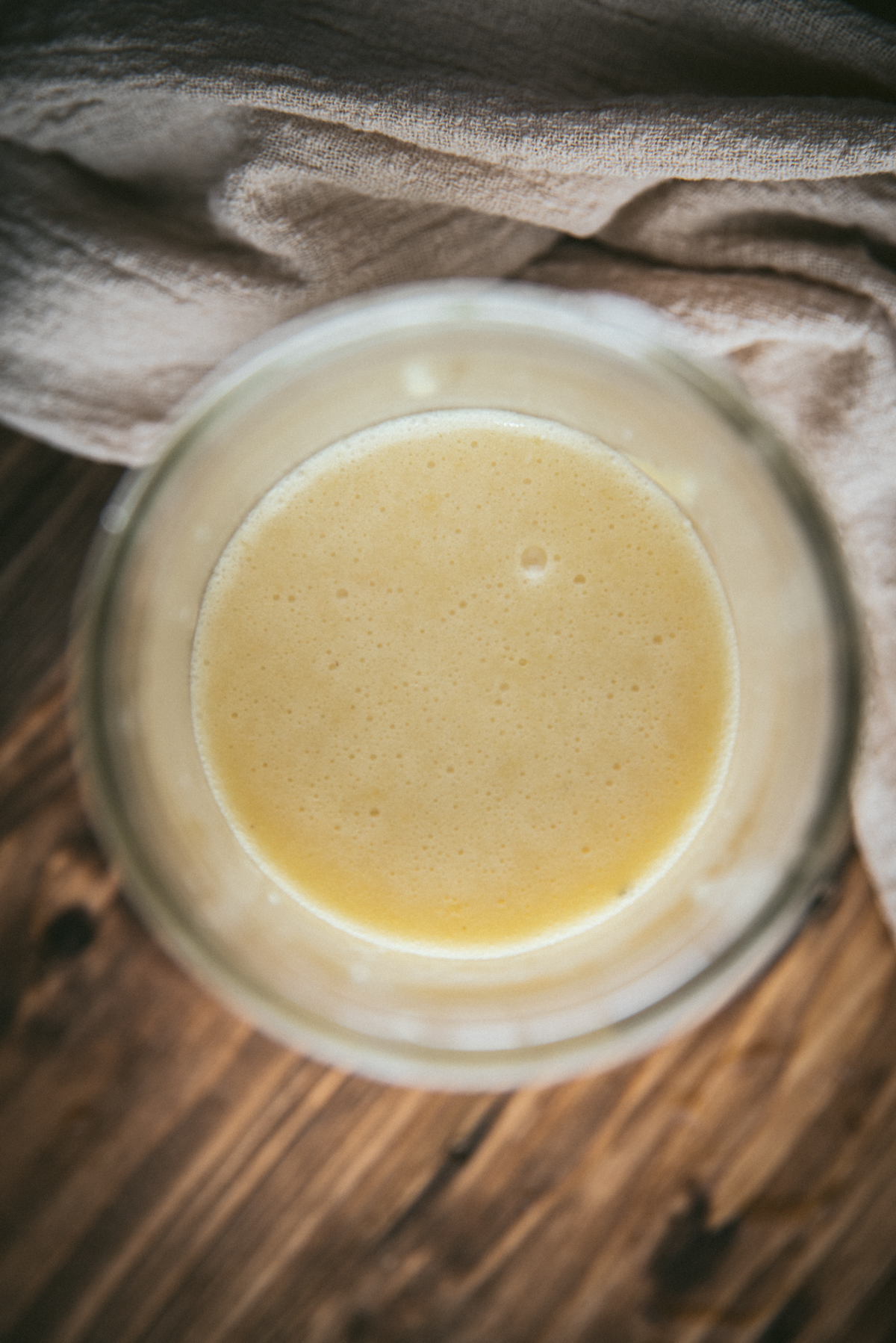 Can you make apple cider vinaigrette without the dijon mustard?
It will take out some of the savory/tangy flavor, but if you need to leave it out for dietary reasons it is still delicious without it!
How to make the dressing
There's two ways to make this dressing. Both of them are very very easy.
You can make an emulsified dressing - that means the oil and water based ingredients like vinegar are blended together so they don't separate. This method also thickens the dressing a little bit and requires an immersion blender.
Or you can make a simple whisked dressing by whisking the ingredients together. For this method you can also just throw all your ingredients in a mason jar, cover tightly, and shake it.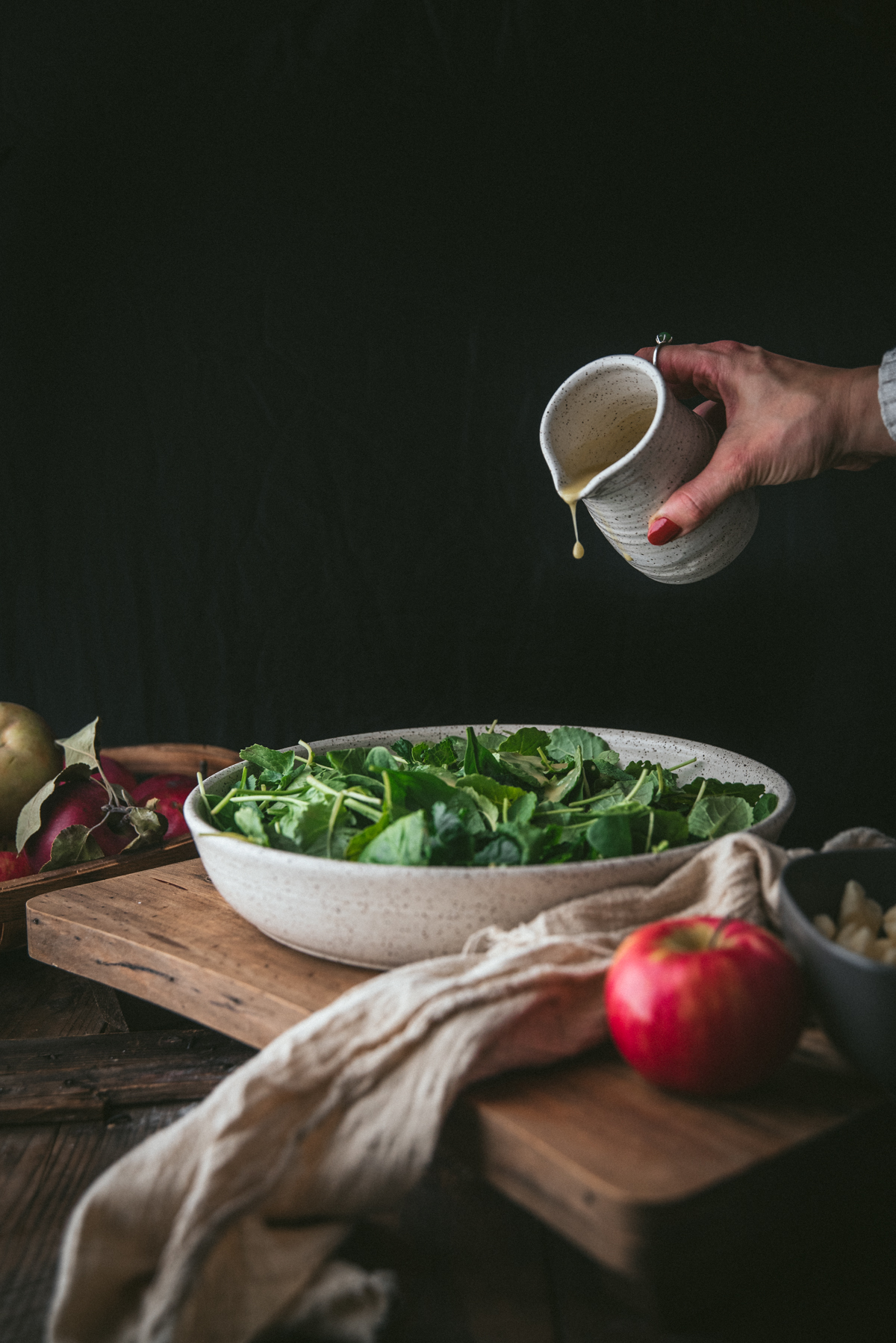 All of these methods work great and taste great and I personally flip flop between all of them depending on my mood and time, so here are a few tips:
If using an immersion blender you can just rough chop the garlic then just give the ingredients a few short pulses with the blender to chop them.
Slowly pour in the olive oil wether using an immersion blender or a whisk to help incorporate it with the vinegar and cider.
If whisking or shaking the ingredients together, make sure the garlic is finely chopped.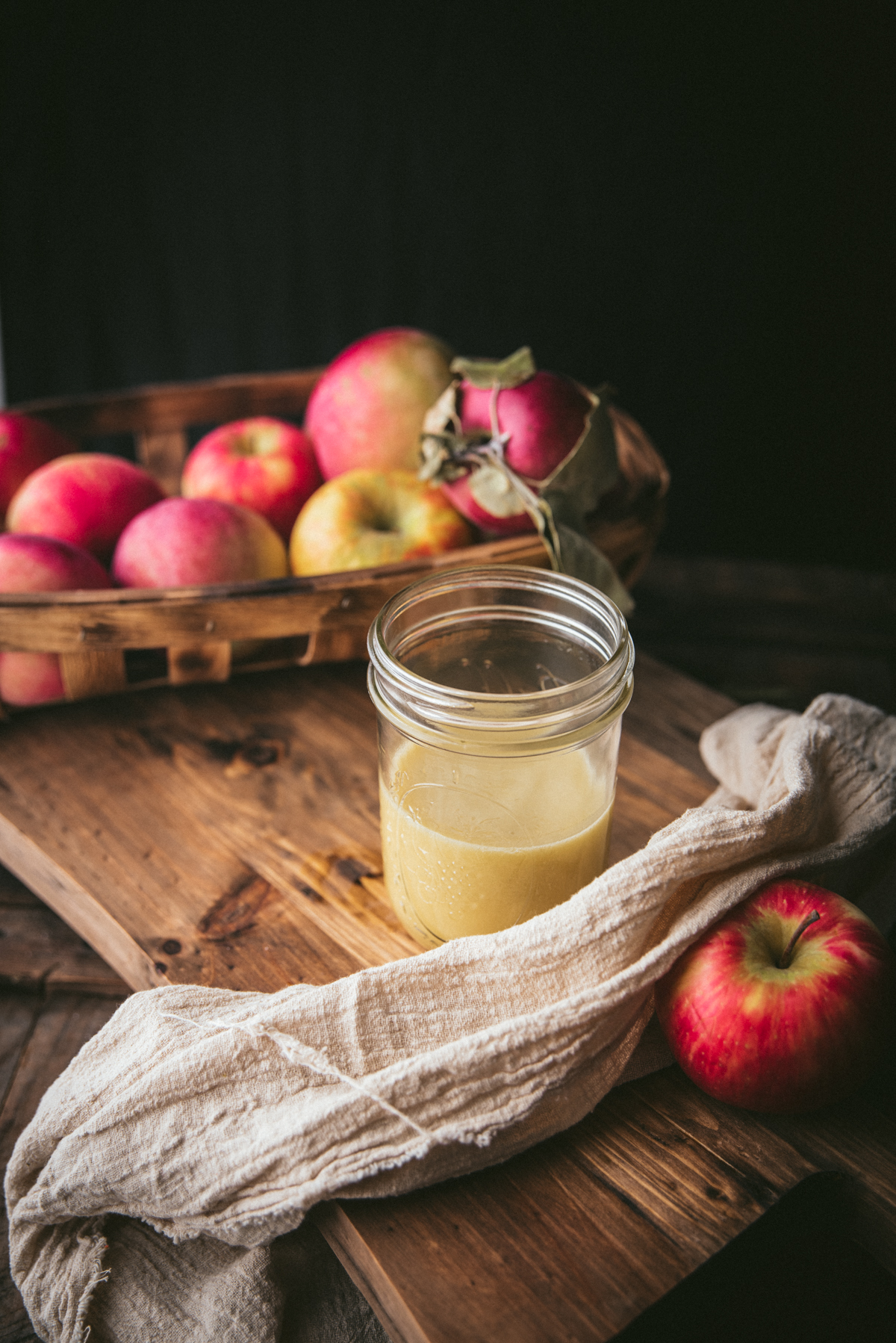 Does the vinaigrette need to be refrigerated?
Yes! It contains both real maple syrup and apple cider (which is not pasteurized) and should be refrigerated.
Just take your dressing out of the fridge about 20 minutes before using and let it come to room temp. You may need to shake or stir it a little bit before using.
You can also pop it in the microwave for 10 seconds intervals until the olive oil has warmed up.
Ways to enjoy apple cider vinaigrette
While this is my own personal favorite dressing, not just in the fall but pretty much any time of year, it also has over delicious uses!
I loooooove it as a marinade for chicken, pork, and fish.
It's also great for sweeter style slaws too! Just combine it with a little mayo and toss with your favorite bagged slaw ingredients. It's a similar flavor to the slaw on these pulled pork sliders and such a great contrast of flavors!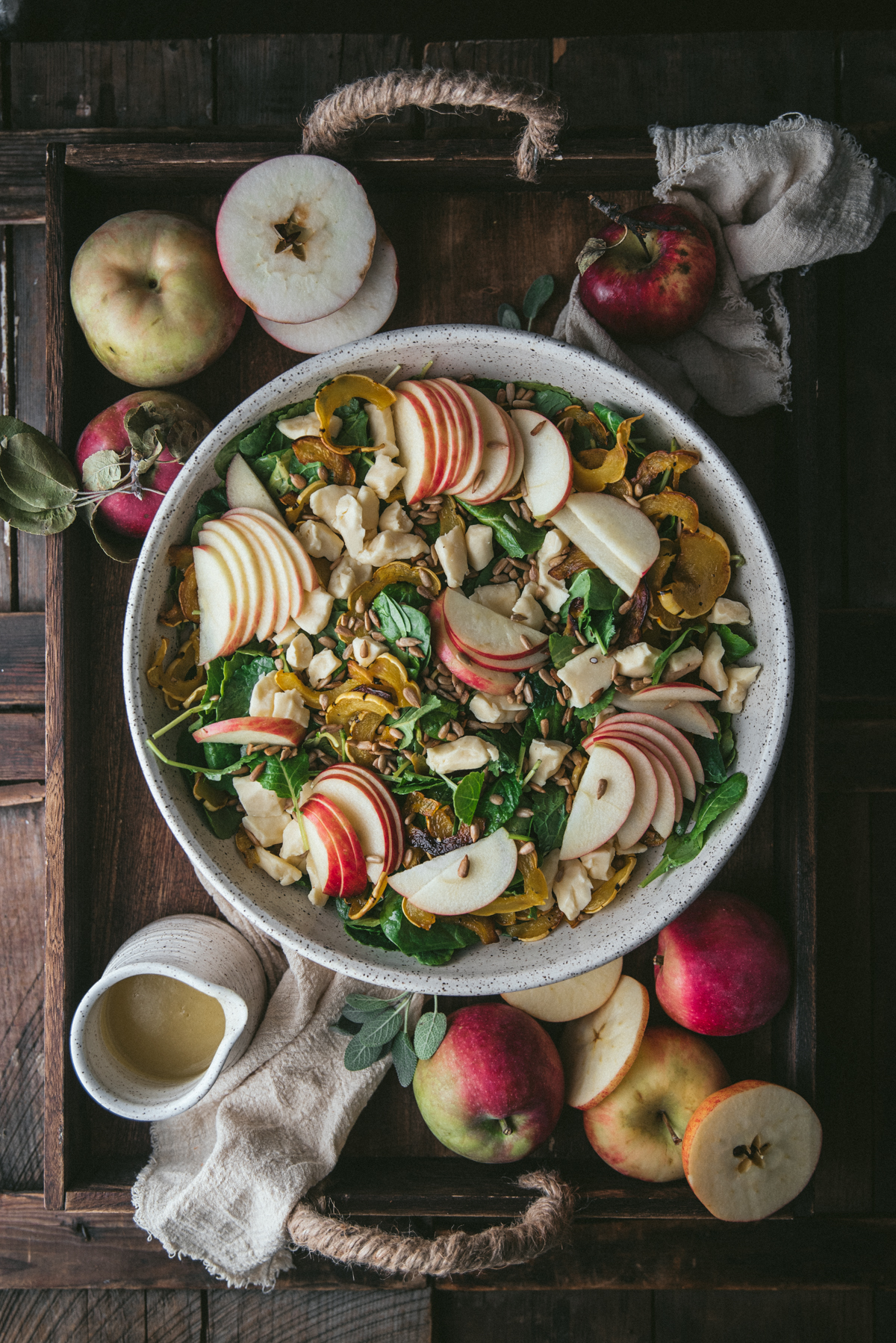 You can also use it for a fall inspired pasta salad too! Toss cooked pasta with roasted squash, dried cranberries, shallots and this apple cider vinaigrette! So delish!
Let me know how you're using your vinaigrette in the comments! If you made this, I would super appreciate a star rating in the recipe card below! Thanks for being here!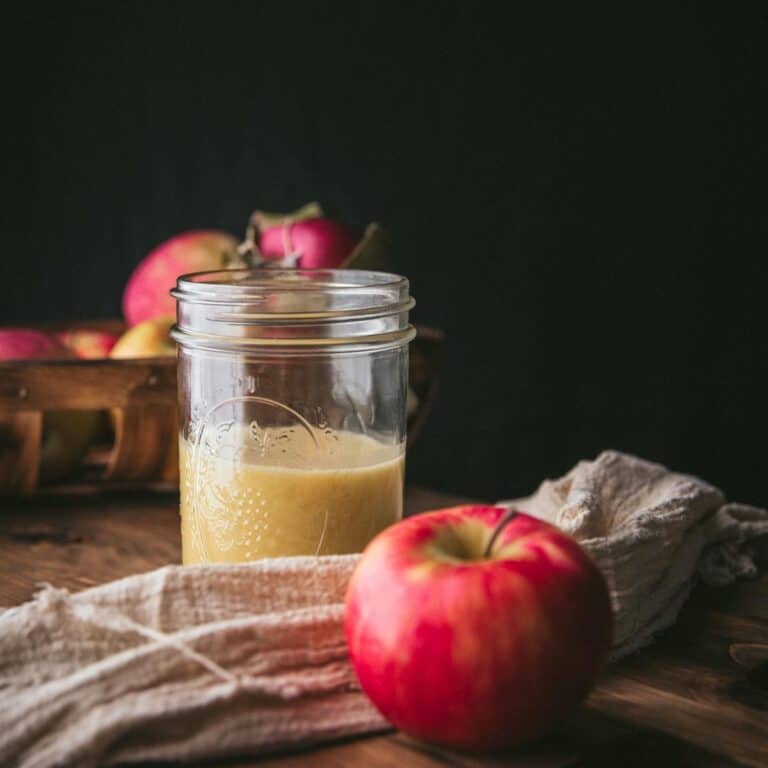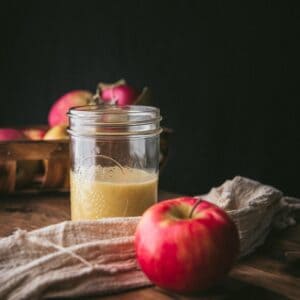 Apple Cider Vinaigrette Dressing
The BEST salad dressing recipe for any fall salads you're making. Fresh apple cider and apple cider vinegar whisked with just a touch of maple syrup and classic vinaigrette dressing ingredients. It's so good on greens and great as a marinade too!
Print
Pin
Rate
Equipment
Immersion blender or Whisk
Ingredients
¼

cup

apple cider vinegar

1

tablespoon

pure maple syrup

2

tablespoons

apple cider

1

teaspoon

dijon mustard

1

clove

garlic

(finely minced)

¼

teaspoon

salt

¼

teaspoon

black pepper

½

cup

extra virgin olive oil
Instructions
To Whisk: Combine all the ingredients except the oil in a medium bowl. While whisking vigorously, slowly pour the olive oil into the bowl. Whisking until the dressing comes together.

To Blend: In a high sided container like a wide mouth mason jar or large measuring cup, combine all the ingredients except the oil. Blend the ingredients with a few short pulses using an immersion blender and then slowly pour the olive oil in while the immersion blender is running. To thicken the dressing slightly, continue to blend for 1 to 2 minutes.

To Shake: Combine all the ingredients, including the olive oil in a mason jar. Cover tightly and shake vigrousously until combine. Using this method may require a reshake or stir before using as the olive oil and other ingredients are more likely to separate.
Notes
Using pure or grade A maple syrup is highly, highly recommended! The flavor and texture are much different than the imitation syrup.
You can blend, whisk, or shake the ingredients together to make this dressing.
Store leftover vinaigrette in the fridge for up to 2 weeks.
Apple cider vinaigrette can also be used as a marinade, in slaws, and more!
Nutrition
Calories:
696
kcal
|
Carbohydrates:
13
g
|
Protein:
1
g
|
Fat:
72
g
|
Saturated Fat:
10
g
|
Polyunsaturated Fat:
8
g
|
Monounsaturated Fat:
53
g
|
Sodium:
431
mg
|
Potassium:
97
mg
|
Fiber:
1
g
|
Sugar:
10
g
|
Vitamin A:
5
IU
|
Vitamin C:
1
mg
|
Calcium:
27
mg
|
Iron:
1
mg