Easy to make, super juicy with the perfect tang! Crock pot pulled pork sliders are slow cooked til tender with sweet and spicy barbecue sauce, crunchy granny smith apple and tangy, simple coleslaw.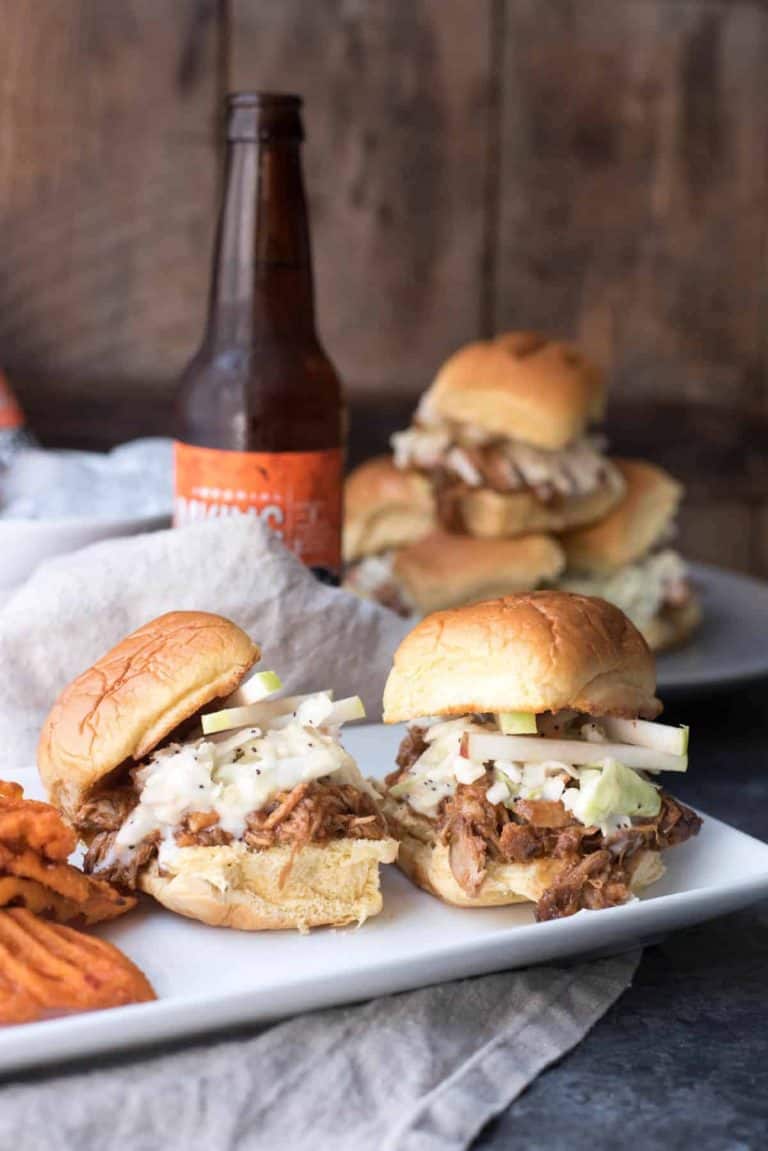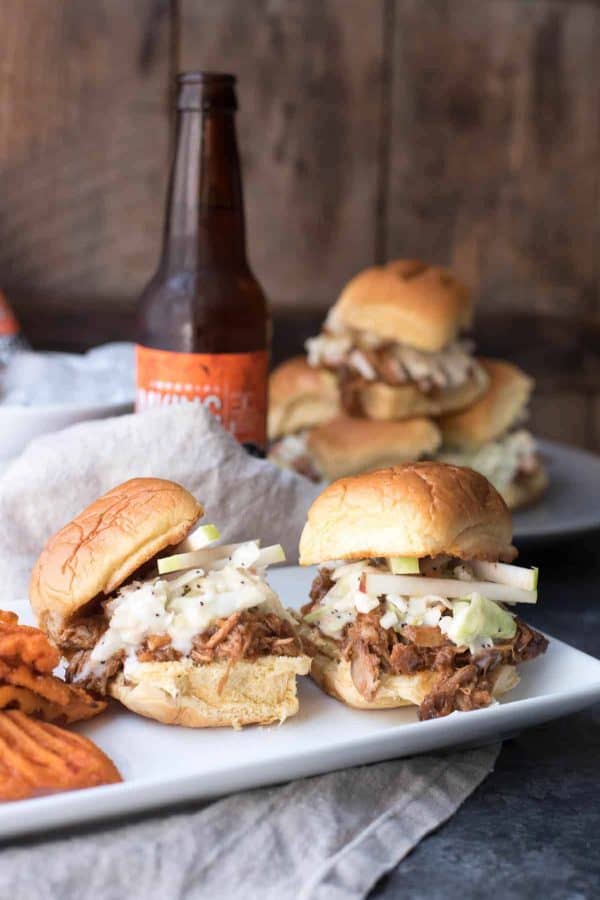 You know what the saddest part of fall and winter is? Less Barbecue. Smokey, juicy, tender pulled pork with a little spice and a little sweet. Let's turn that frown upside down with these super easy, extra tasty Crock Pot Pulled Pork Sliders.
When the weather turns colder, the prospect of hanging out all day in the yard with the smoker or barbecue going is far less appealing. To feed your need for some smoky sweet meat and allow you to go about your day as you please, I'd like you to meet my kitchen bestie - the crock pot.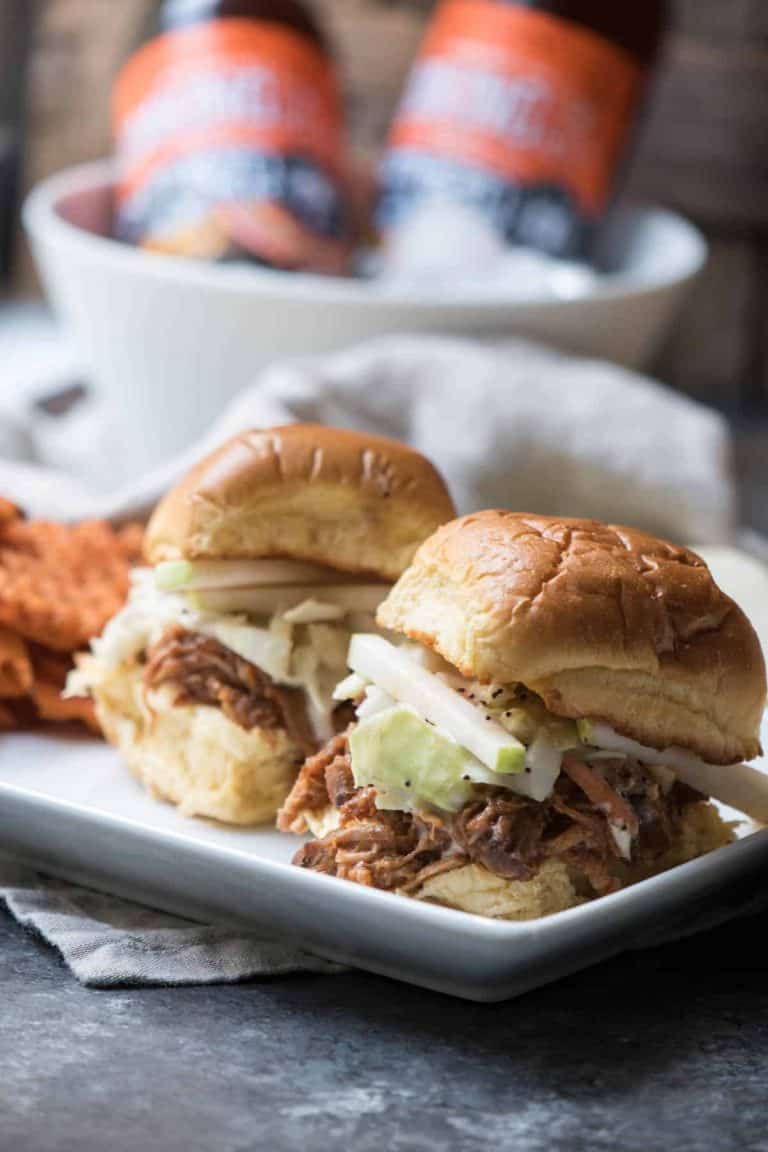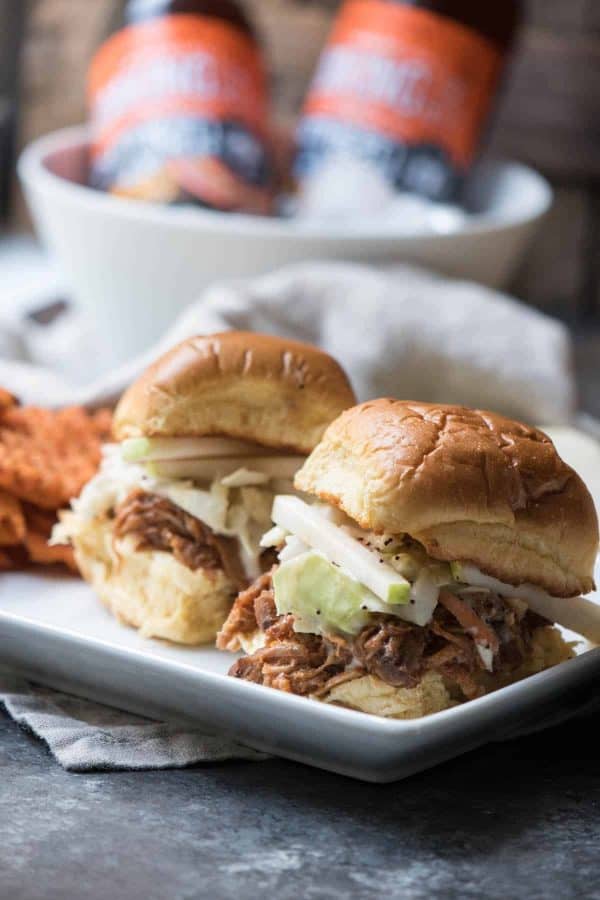 Crock Pot or Instant Pot, both will certainly get the trick done. Whip up some marvelously tender juicy pulled pork without having to worry about temps or smoke or silly things like pants.
The low and slow method of the crock pot will mimic that of a smoker resulting in fall apart with a fork pulled pork.
Crock Pot Pulled Pork Sliders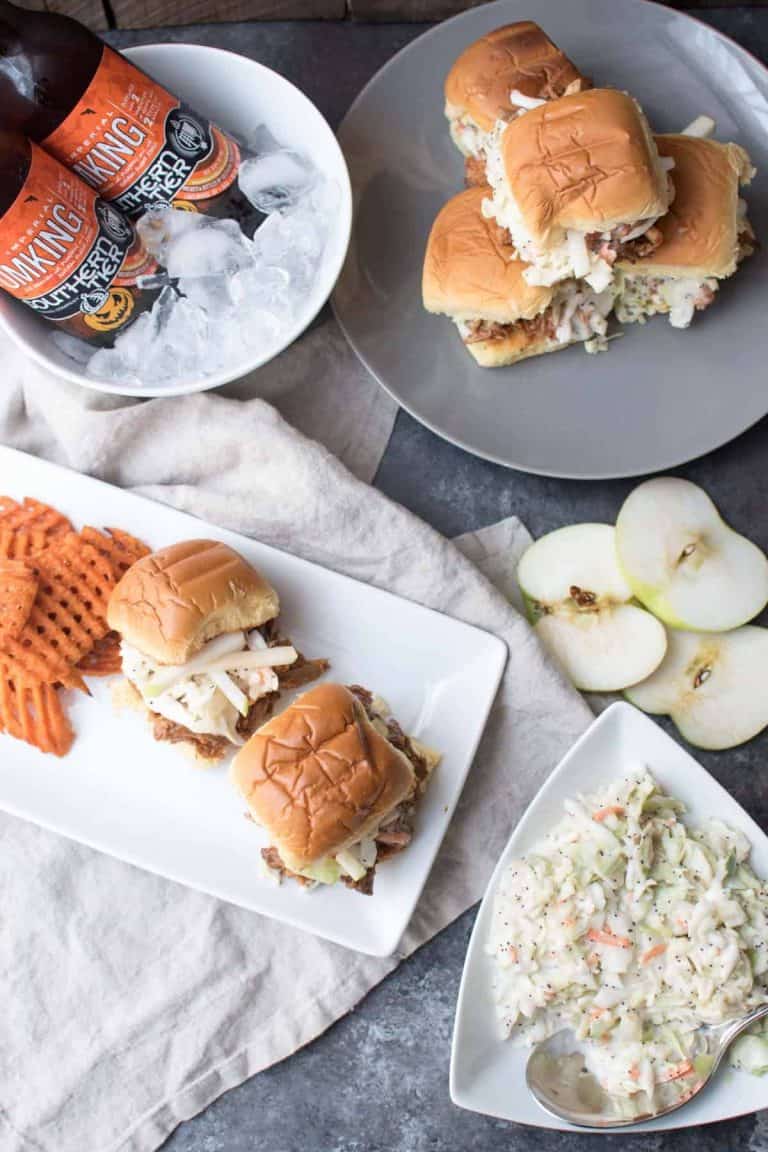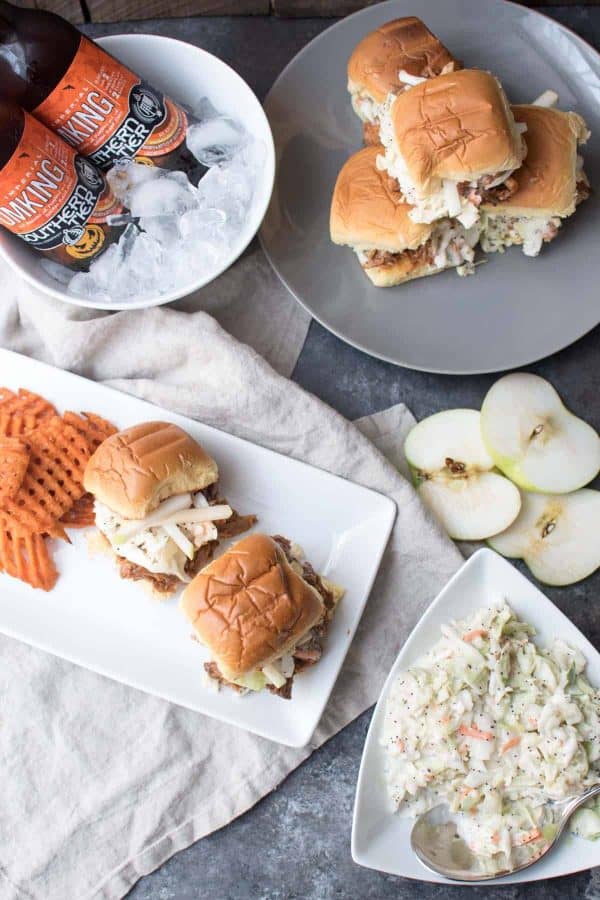 Pot lucks, parties, Wednesday night dinner - Crock Pot Pulled Pork Sliders to the rescue. Get that totally winning feeling when your party is about to start and you're not running around all stressed out and crazy.
THESE little flavor packed one hand wonders are going to get that done.
Easy enough to make in the morning, but also great as a next day reheat. The addition of pan juices to the pulled pork will keep this pulled pork full of juicy goodness. The crunchy, no fuss coleslaw is slightly sweet and brings the best flavor if it sits overnight to soak up the dressing.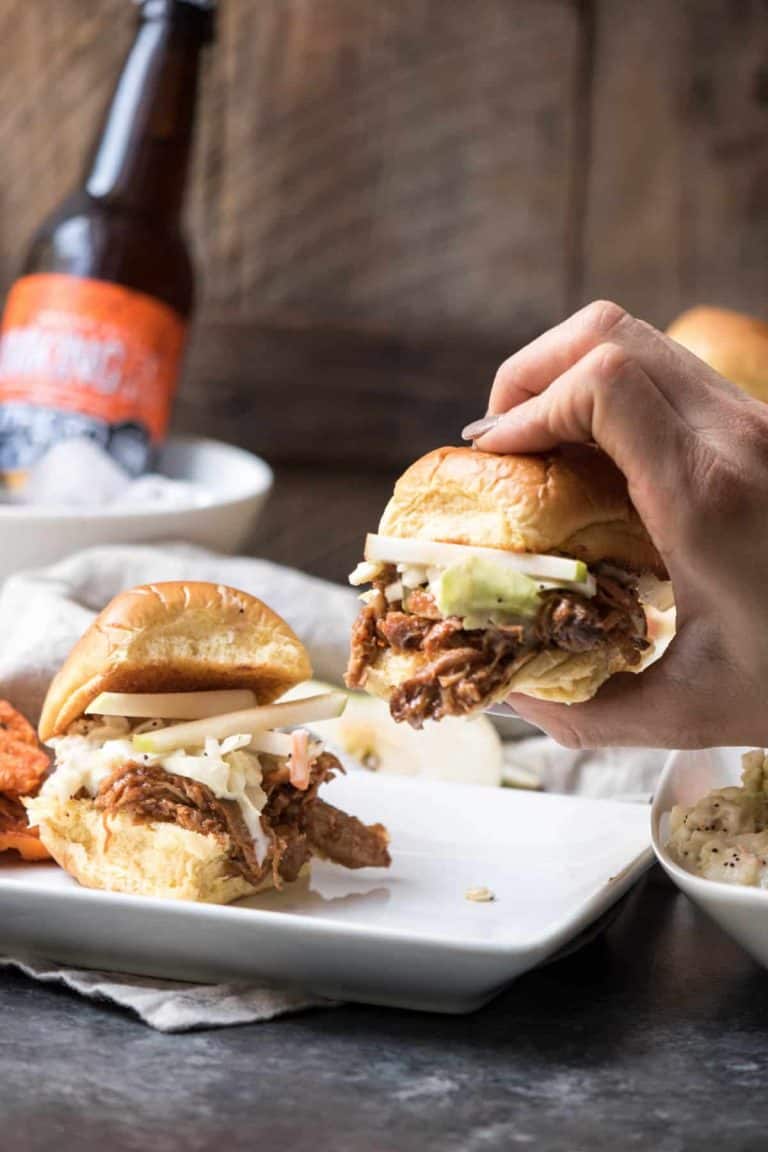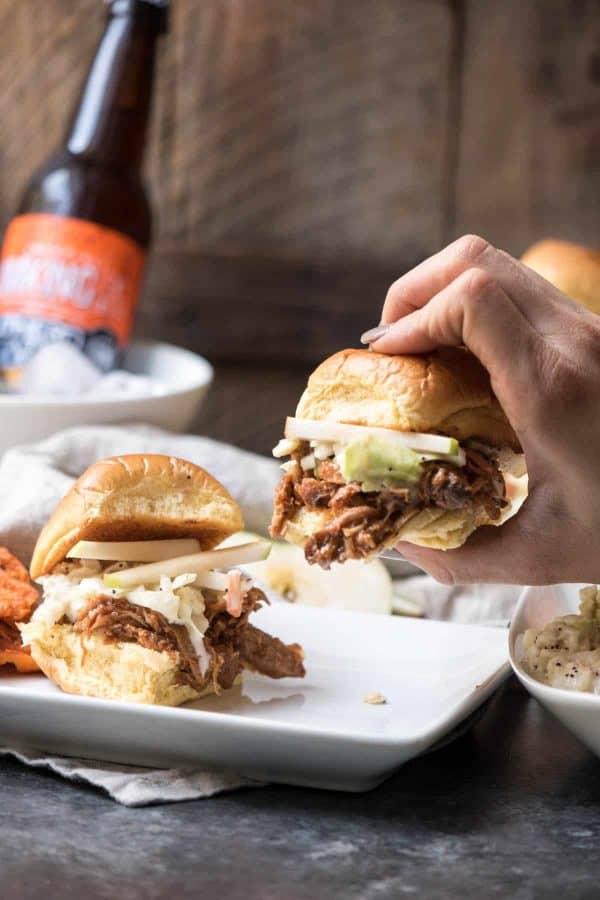 Pot Luck Magic
These pulled pork sliders are my absolute favorite for a pot luck. Small enough to still be appetizer size, smoky, sweet tastes of traditional barbecue with just a hint of beer in the juices. No quantum physics required to make these. And best of all, you will still have room to try a few other things thanks to the slider size.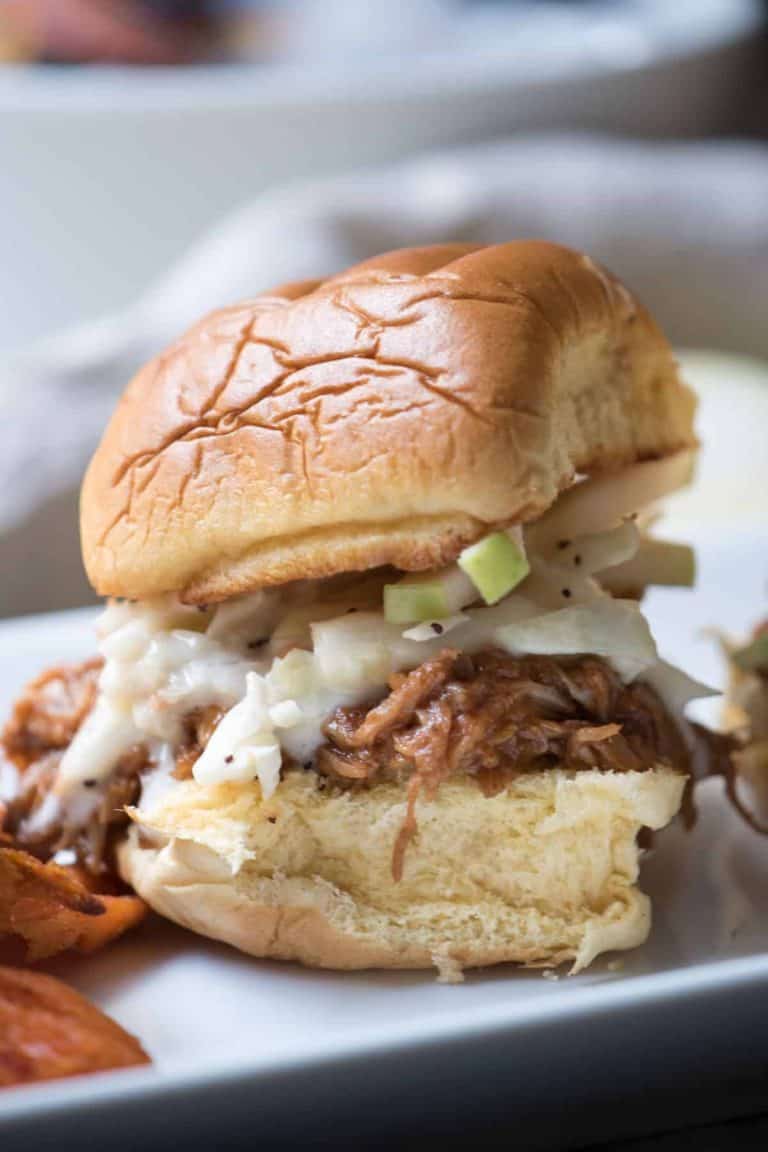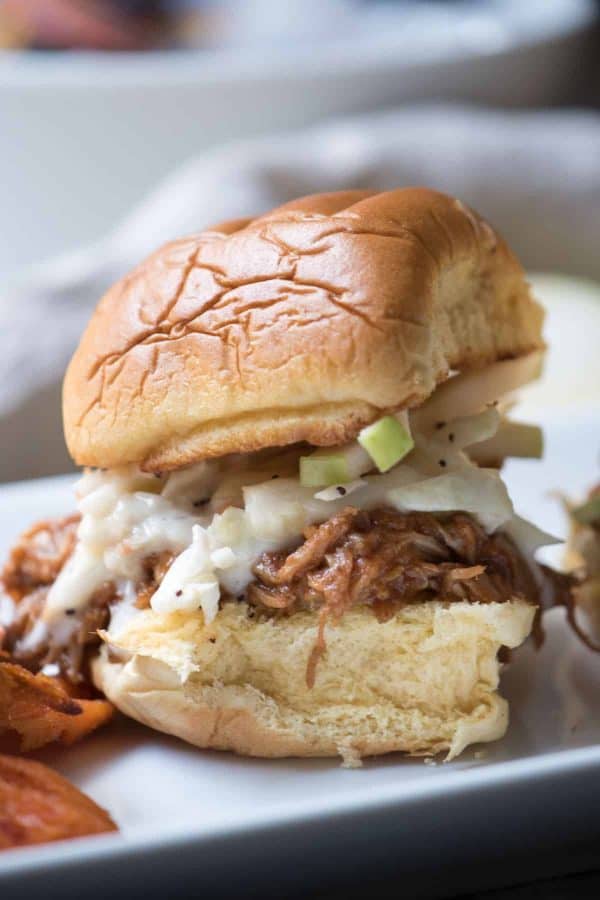 Topping your sliders
A sandwich is only as good as what you put on it right? Beyond the barbecue perfection you're about to whip up, the accouterments are equally important.
Coleslaw mix slides in for the win when it comes to toppings for Crock Pot Pulled Pork Sliders. All ready cut and mixed, we're going to coat it in slightly sweet Poppy Seed Dressing. The Newman's Own brand in always my go-to grab at the store. It's tangy, just a touch sweet - definitely not your typical coleslaw.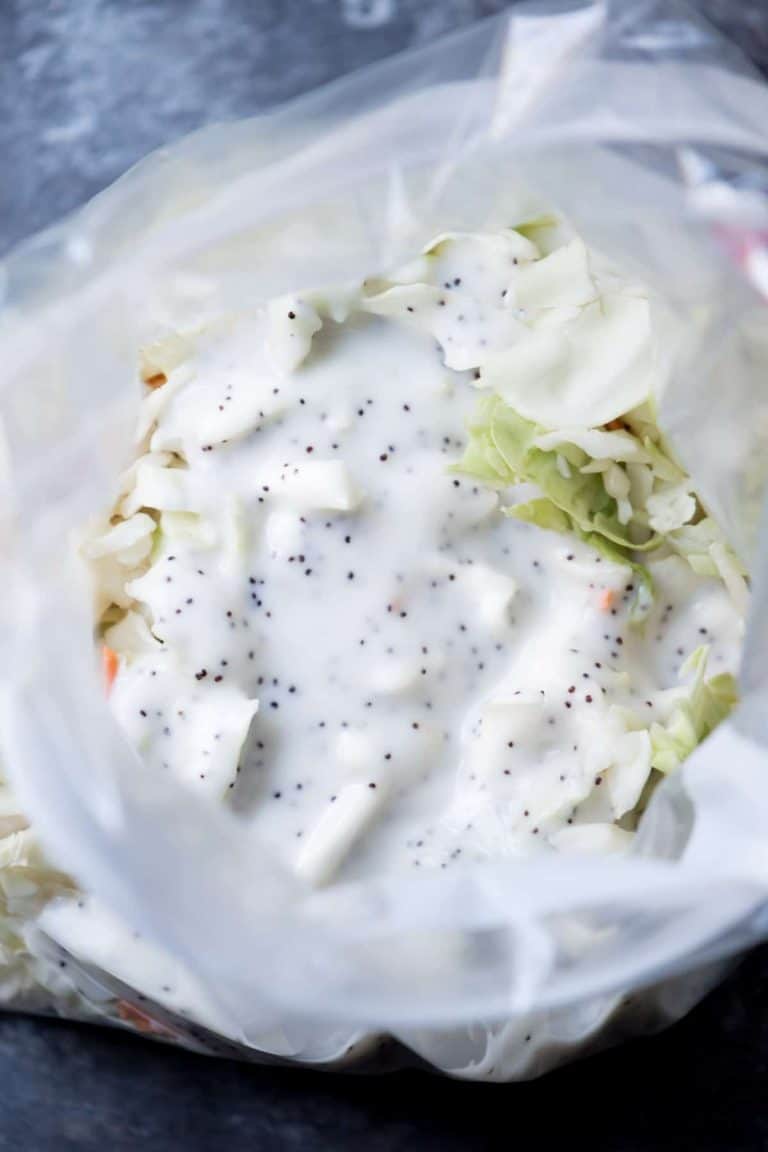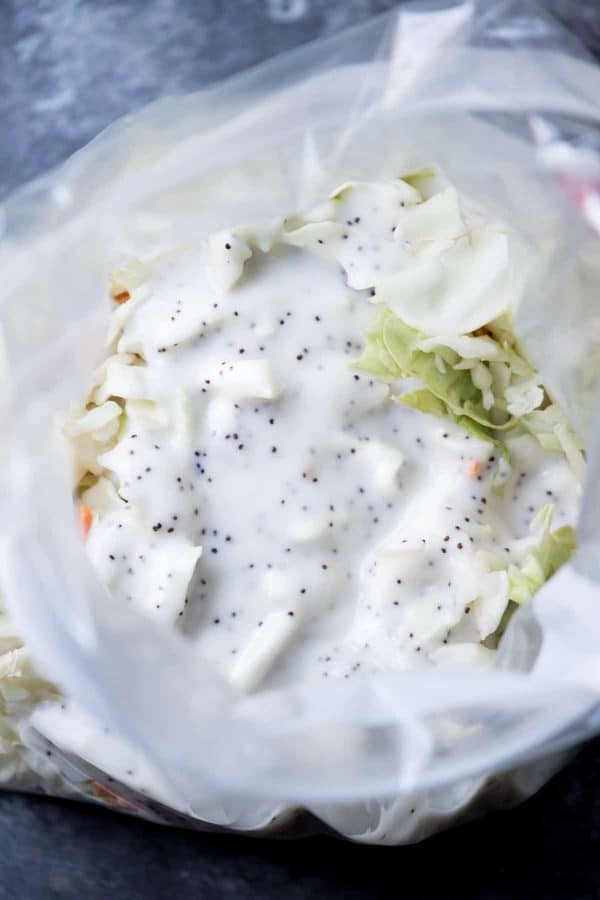 Our final surprise will be the burst of fresh, crunchy, tart Granny Smith apples. Cut in matchstick slices, almost hidden along with the colors of the coleslaw, the bright classic apple is going to add a pleasant surprise.
Besides the flavorful, tender pork, the zesty barbecue sauce and the creamy coleslaw...the apples and potato rolls are what really do me in for this dish. The potato rolls, just slightly sweet and oh so soft, will soak up a bit of the juices from the pork without completely falling apart.
What else are we going to dish up alongside these Crock Pot Pulled Pork Sliders? Broccoli salad is always a must for anytime barbecue sauce is involve, it's a no mayo twist on traditional broccoli salad. Or for a crispy treat, bring the restaurant home with parmesan truffle fries. No matter how you serve it up, these sliders will certainly satisfy that bbq craving!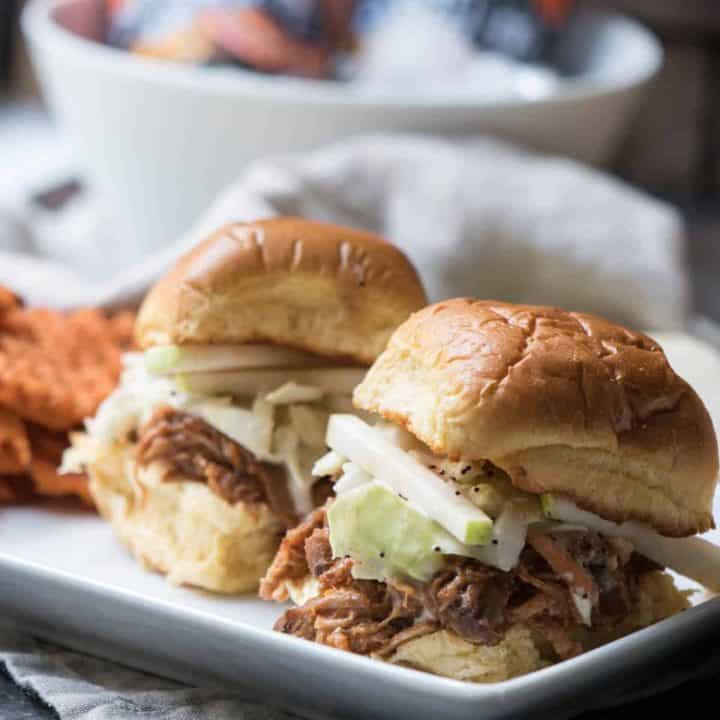 Crock Pot Pulled Pork Sliders
Delicious and easy to make crock pot pulled pork sliders are sure to win over your most devout BBQ friends!
Print
Pin
Rate
Ingredients
3

pounds

picnic roast or pork shoulder

5

tablespoons

canola oil

(for searing)

3

tablespoons

Barbecue Spice Rub or seasoning of choice

(see notes)

1

can of beer

(something to the effect of Budweiser)

½

cup

pan juices

¾

cup

Barbecue Sauce

1

16-ounce

package tri-color coleslaw

1 ¼

cup

Newman's Own poppy seed dressing

1

granny smith apple

(cut into matchstick slices)

1

package (24-pack) party potato rolls

(such as Martin's)
Instructions
For the Pork:
Rub the pork with spice rub or seasonings of choice

Heat a dutch oven, or deep sided skillet, over high heat. Add canola oil. Sear the pork on all sides until browned - about 8 to 10 minutes

Transfer to a crock pot, add the beer and cook on low for 8 hours. If using a dutch oven only, lower the heat as low as possible, letting the pan cool off before adding the beer. Add water if more liquid is needed.

Once pork is cooked, transfer to a cutting board. Remove any large pieces of fat and discard. Using two large forks or tongs, shred the meat - this should happen easily after the low and slow cooking process.

In a large bowl, add the shredded pork meat, ½ cup of pan juices from the crock pot, and the barbecue sauce. Toss to combine.
For the Coleslaw:
In a large bowl or sealable plastic bag, add the coleslaw and dressing and mix thoroughly so all of the coleslaw is coated.

Let sit for a few hours, overnight is best.
To assemble:
Toast the rolls in the oven or toaster oven for 5 to 7 minutes until slightly browned.

On a bun, layer ⅓ cup pulled pork, 3 tablespoons coleslaw and 4-5 pieces of the matchstick apples pieces.
Notes
For the Barbecue Spice Rub:
Nutrition
Calories:
273
kcal
|
Carbohydrates:
28
g
|
Protein:
11
g
|
Fat:
13
g
|
Saturated Fat:
2
g
|
Trans Fat:
1
g
|
Cholesterol:
27
mg
|
Sodium:
447
mg
|
Potassium:
214
mg
|
Fiber:
2
g
|
Sugar:
7
g
|
Vitamin A:
48
IU
|
Vitamin C:
1
mg
|
Calcium:
92
mg
|
Iron:
2
mg