Easy to make, super juicy, with the perfect tang! Pulled pork sliders are slow cooked until tender with sweet and spicy barbecue sauce, crunchy apples, and tangy, simple coleslaw.
This recipe originally focused on the slow cooker for cooking the pork to perfection, however, I have now added instructions for the instant pot, stove top, and oven!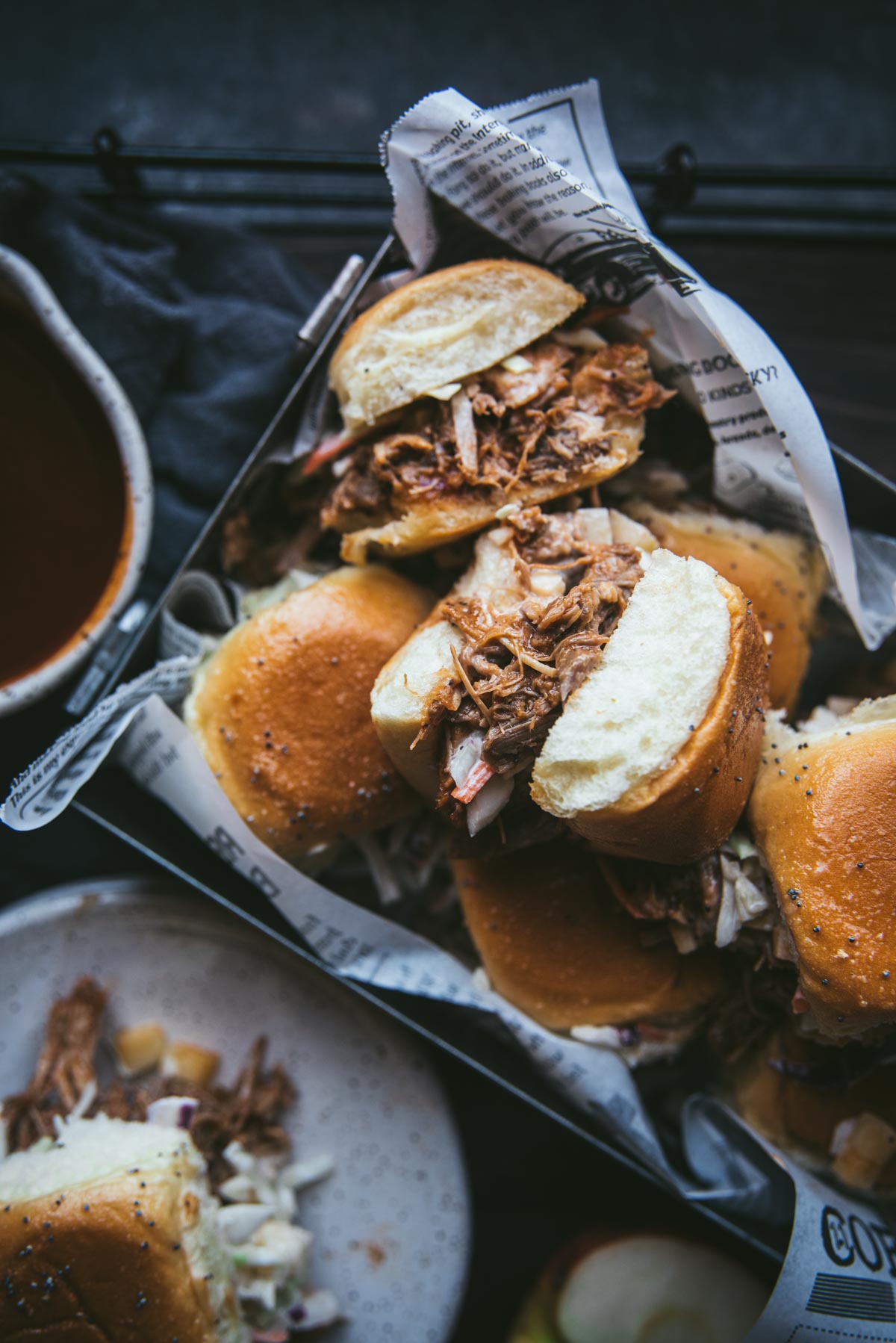 Why I Love These Sliders
You know what the saddest part of Fall and Winter is? Less time outside and less barbecue. Smokey, juicy, tender pulled pork with a little spice and a little bit of sweet. Let's turn that frown upside down with these super easy, extra tasty Pulled Pork Sliders.
When the weather turns colder, the prospect of hanging out all day in the yard with the smoker or barbecue going is less appealing. To feed your need for some smoky-sweet meat and allow you to go about your day as you please, I'd like you to meet my kitchen bestie - the crock pot.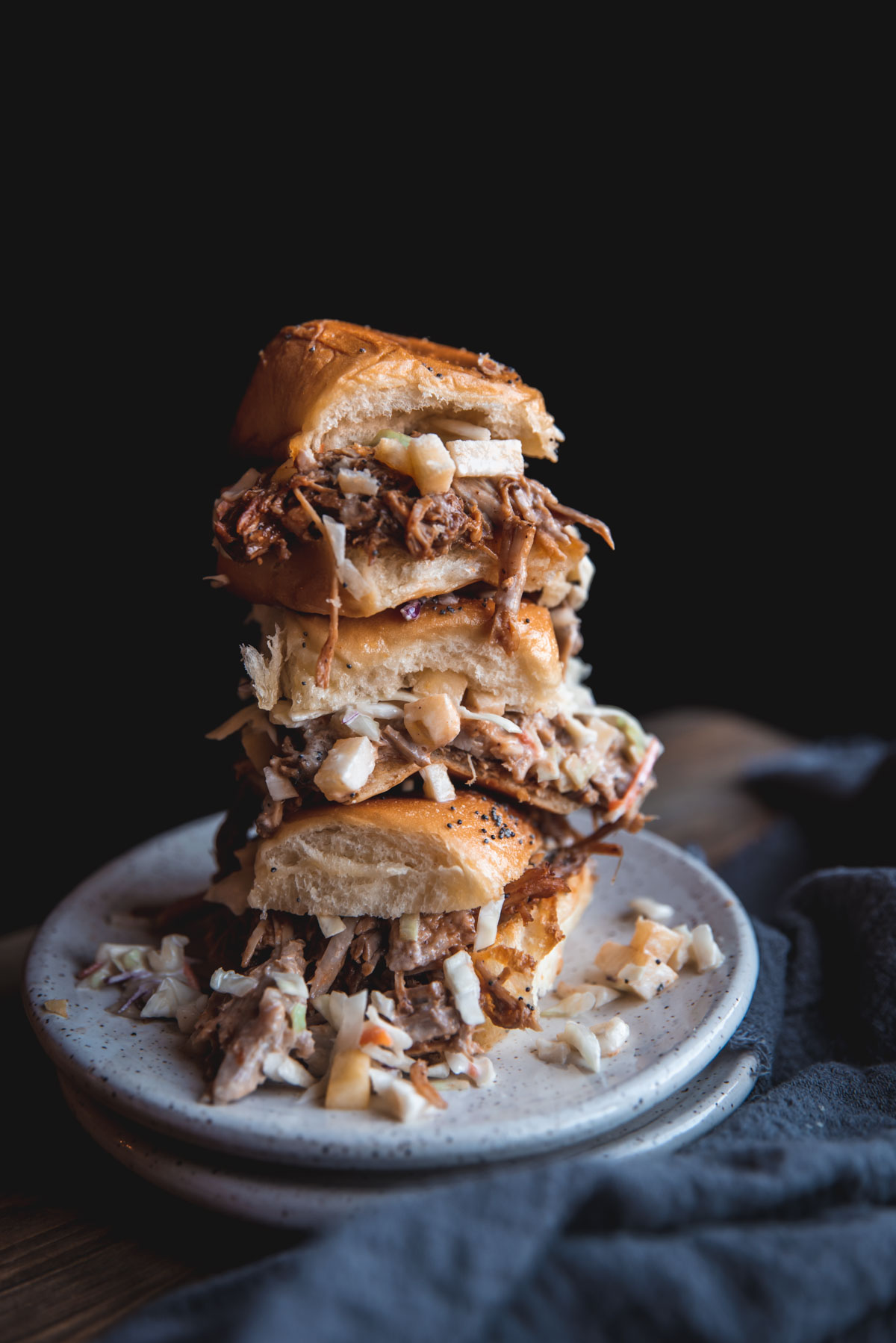 Crock Pot or Instant Pot (affiliate links) both will certainly get the trick done. Whip up some marvelously tender juicy pulled pork without having to worry about temps or smoke or silly things like pants.
The low and slow method of the crock pot will mimic that of a smoker resulting in fall-apart with a fork pulled pork. Best of all, using either of these cooking methods is as easy as setting it and forgetting it until it's done!
BUT! If you don't have a crock pot or instant pot you can still make your pulled pork in the oven or on the stove top.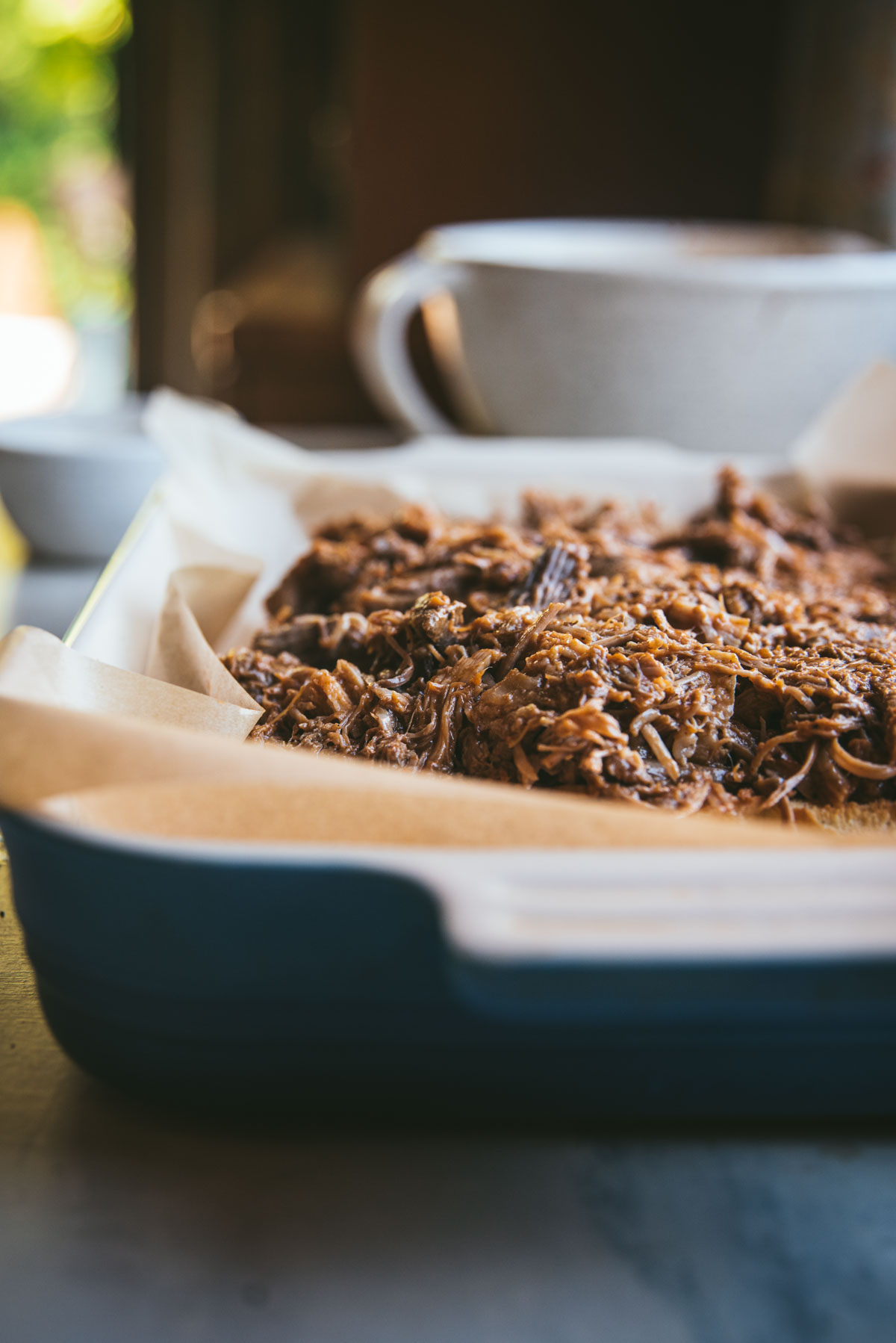 Pot lucks, parties, Wednesday night dinner - Pulled Pork Sliders to the rescue. Get that totally winning feeling when your party is about to start and you're not running around all stressed out and crazy.
THESE little flavor-packed one-hand wonders are going to get that done.
Easy enough to make in the morning, but also great as a next-day reheat.
The addition of spice rub and barbecue sauce to the pulled pork will keep this pulled pork full of juicy goodness. The crunchy, no-fuss coleslaw is slightly sweet and brings the best flavor if it sits overnight to soak up the dressing.
Ingredients and Substitutions
The ingredients to make the best Pulled Pork Sliders are pretty standard and not too fancy, so there shouldn't be many issues gathering what you need - it should all be available in your local grocery store!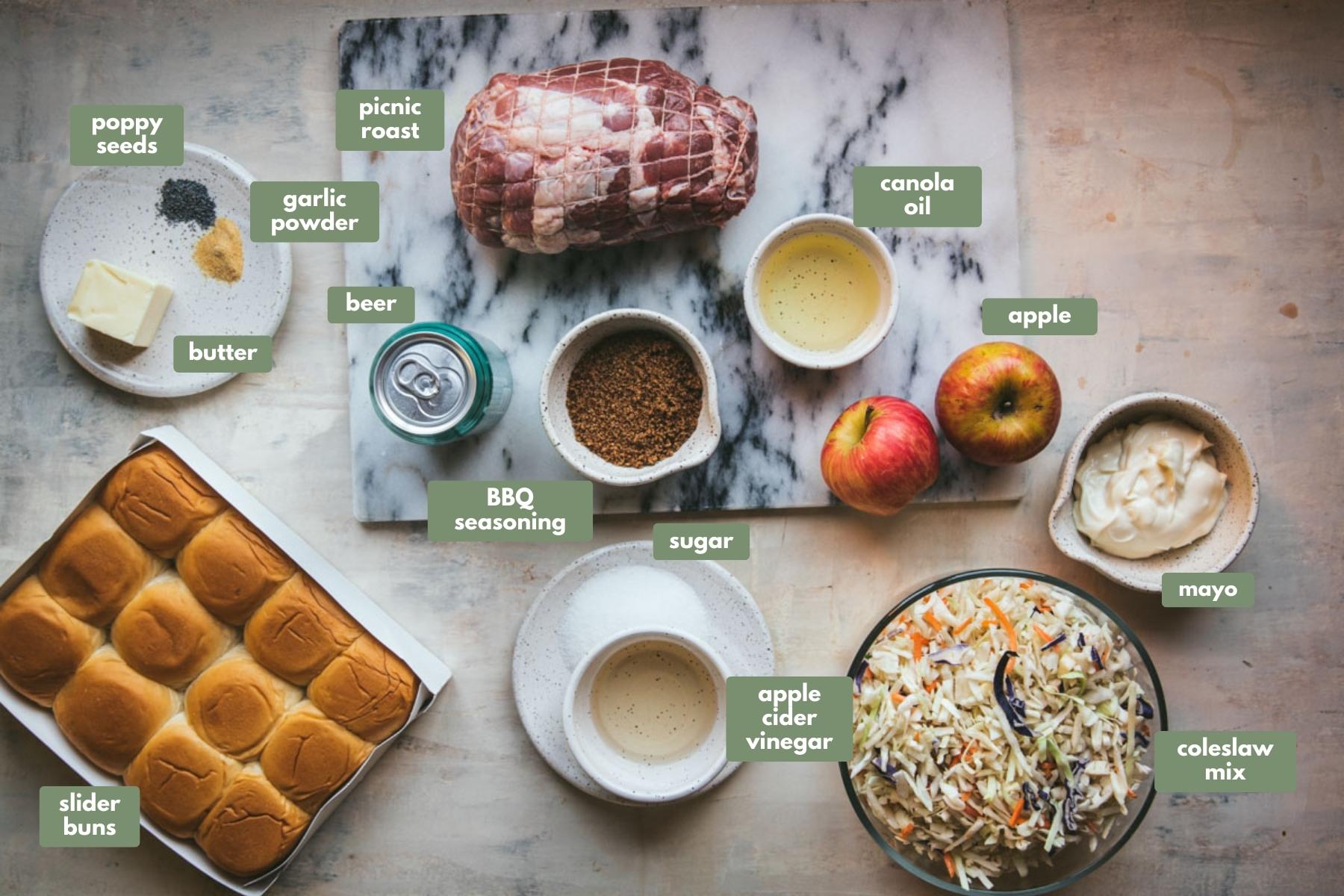 The cut of pork you chose is up to you, but I think that for best results, picnic or shoulder pork roast works best. You can get it in the store or even from your local BBQ restaurant!
The spice mix you use can be a selection of all your favorite spices or use my delicious BBQ spice rub.
You don't need to follow my coleslaw recipe if you have one you prefer! Mine is slightly sweet and tangy, but of course, you can also use store-bought.
If you don't like to cook with alcohol then no problem! Instead of beer for the braising liquid, veggie or chicken stock can be used.
For the apples - that part is totally optional! I love the crunch sweet and tart taste they add but if you're only into savory things try some french fried onions or pickles for a little crunch!
How to Make Easy Pulled Pork Sliders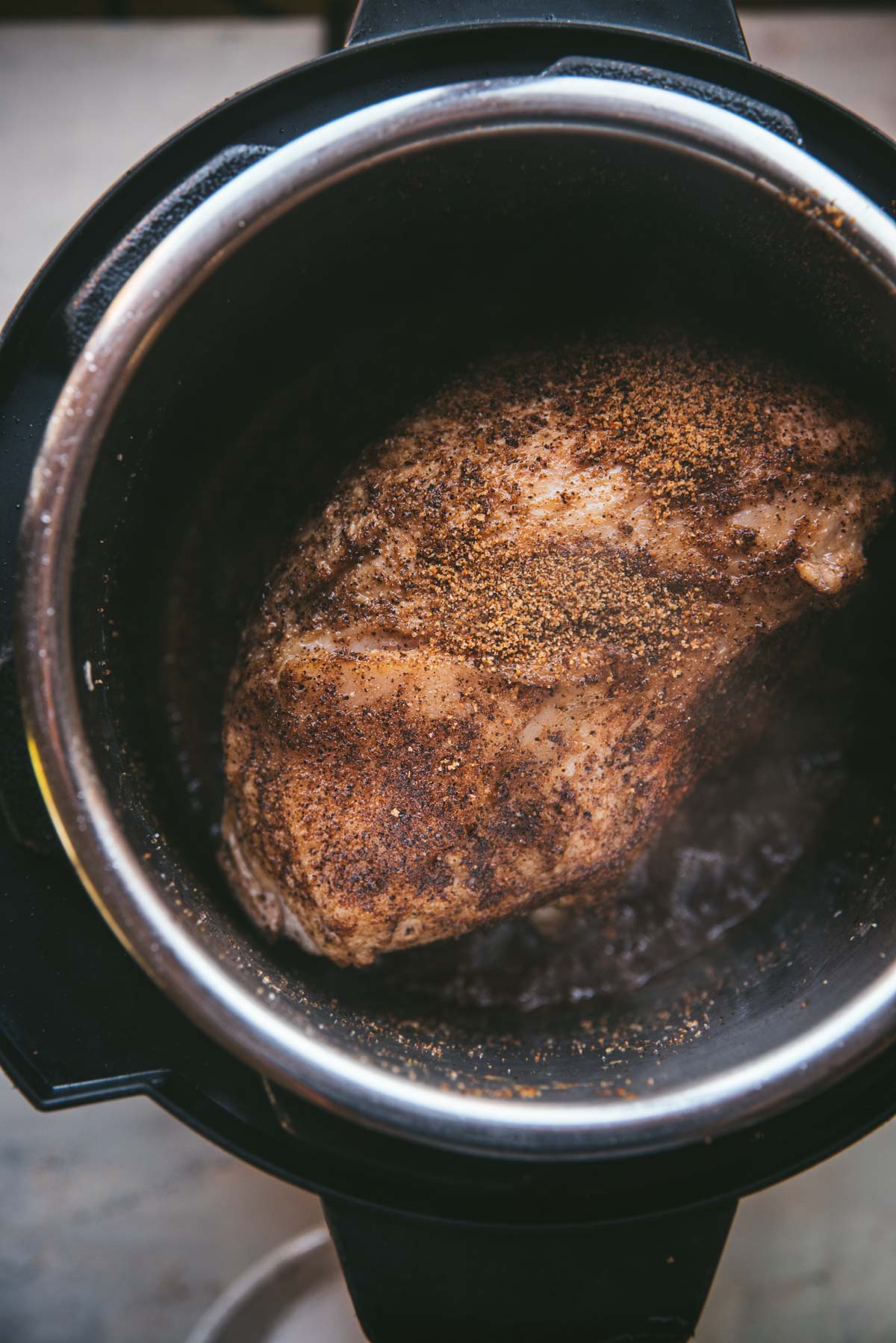 Make the pulled pork using the Slow cooker, Instant Pot, Stovetop, or Oven instructions below. You can also use pre-made pulled pork or grab some from your favorite barbecue restaurant!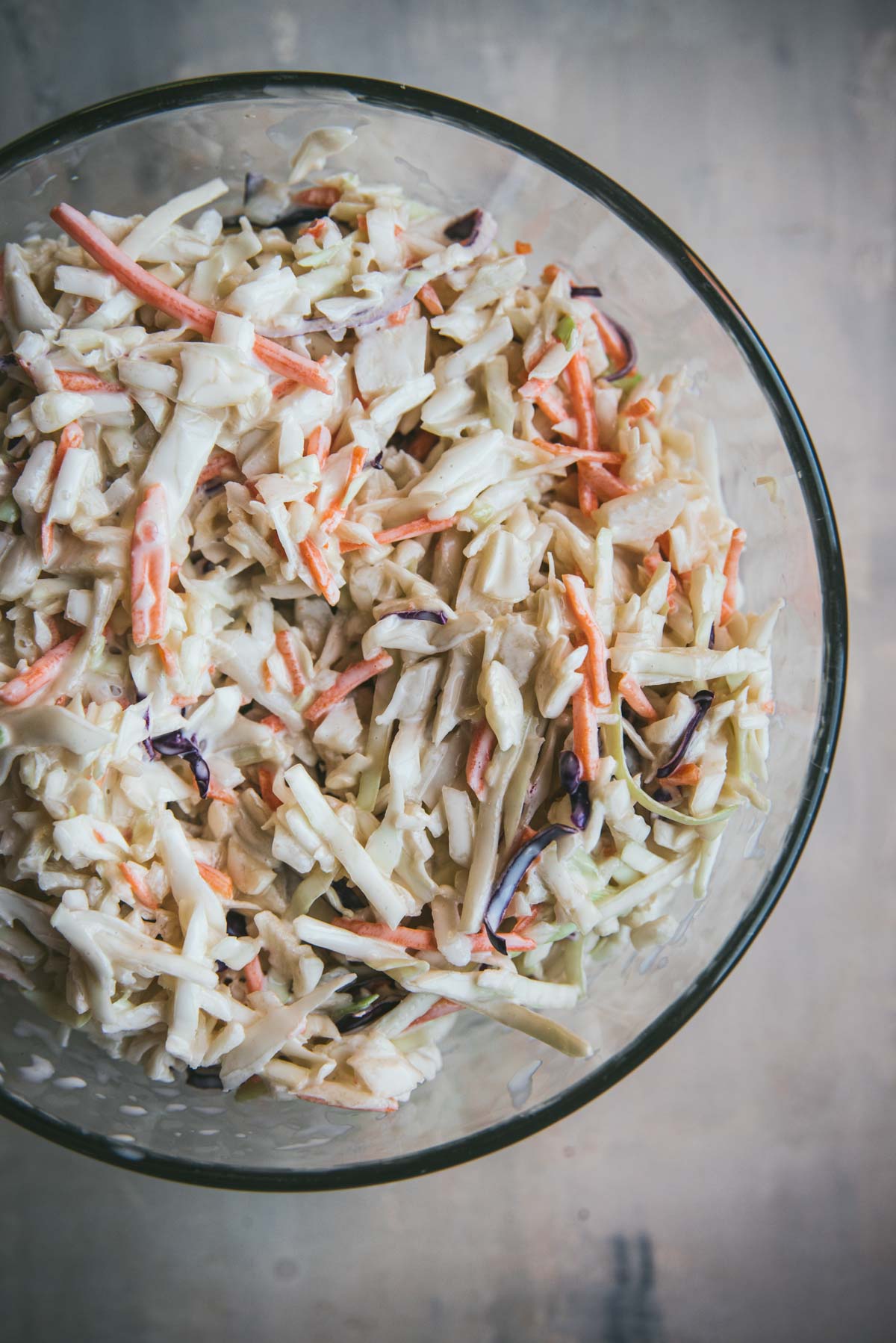 Whisk together the mayo, apple cider vinegar, and sugar. Mix with coleslaw mix and store in the fridge until ready to use.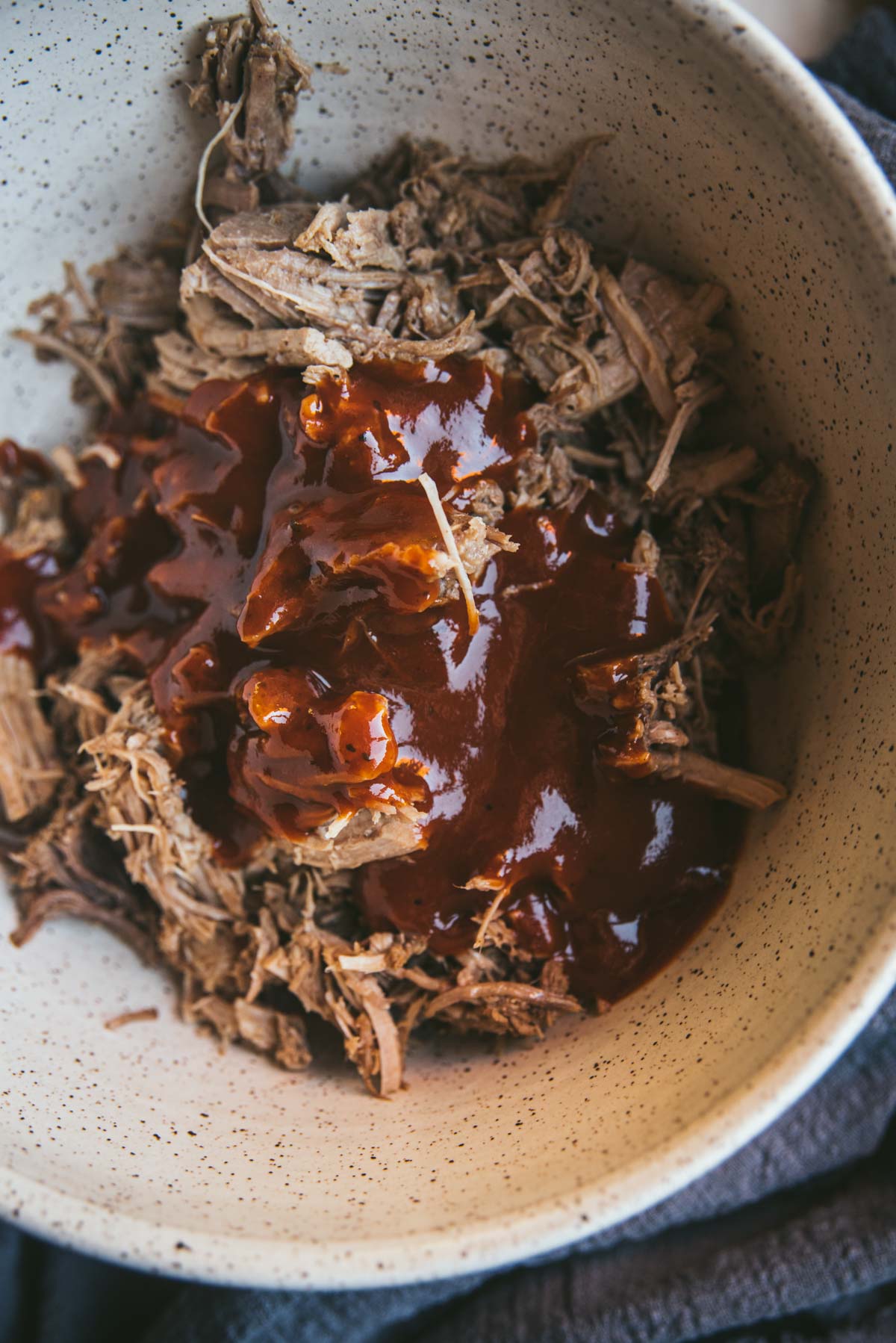 Preheat the oven to 375°F. Cut the buns horizontally and toast for 5 to 8 minutes. Mix the pulled pork with the barbecue sauce and layer on top of the bottom buns.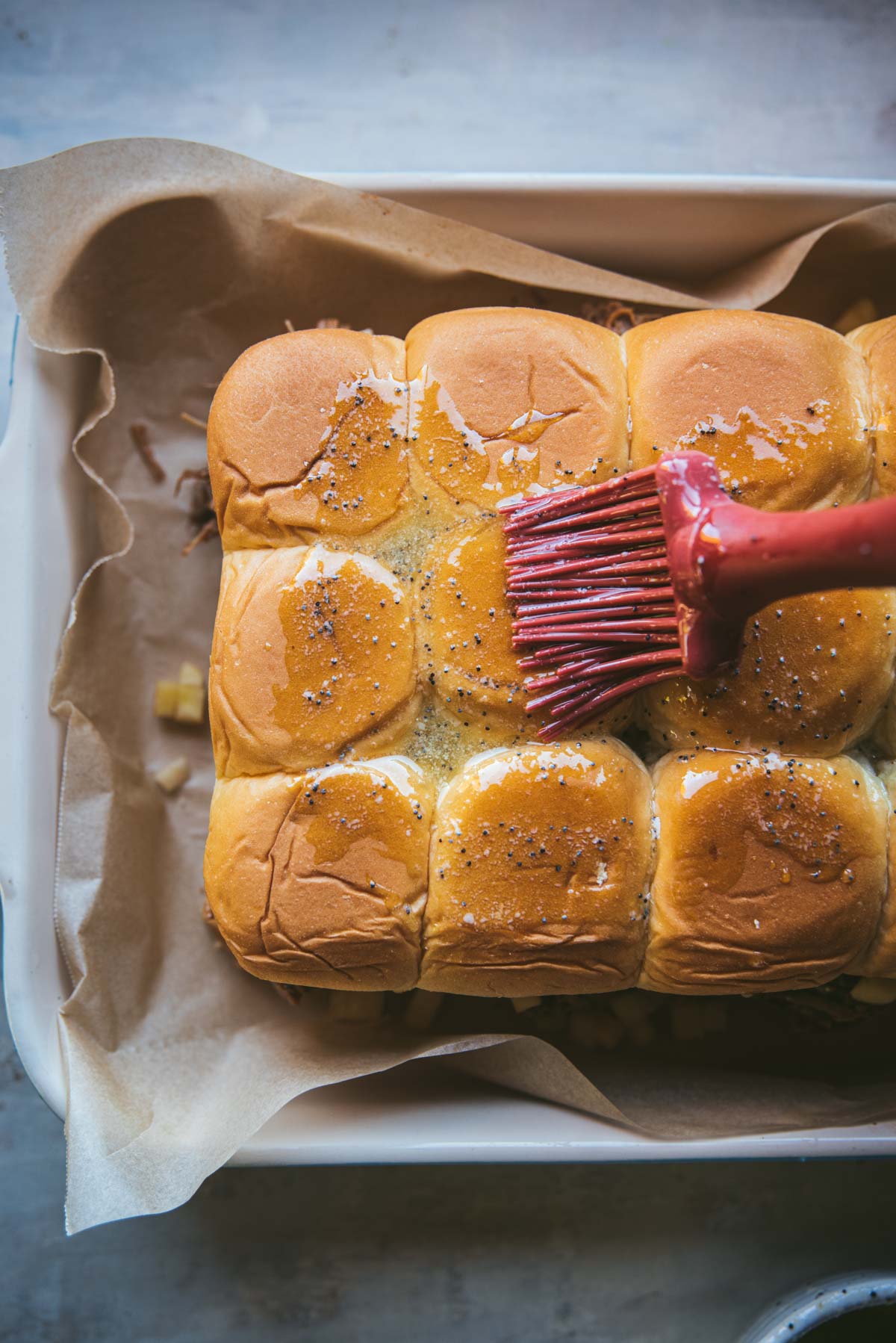 Top with diced apples (optional) then the top of the slider buns. Melt the butter and mix with poppy seeds and garlic powder. Brush very liberally over the top of the buns. Bake the sliders at 375°F for 10 minutes.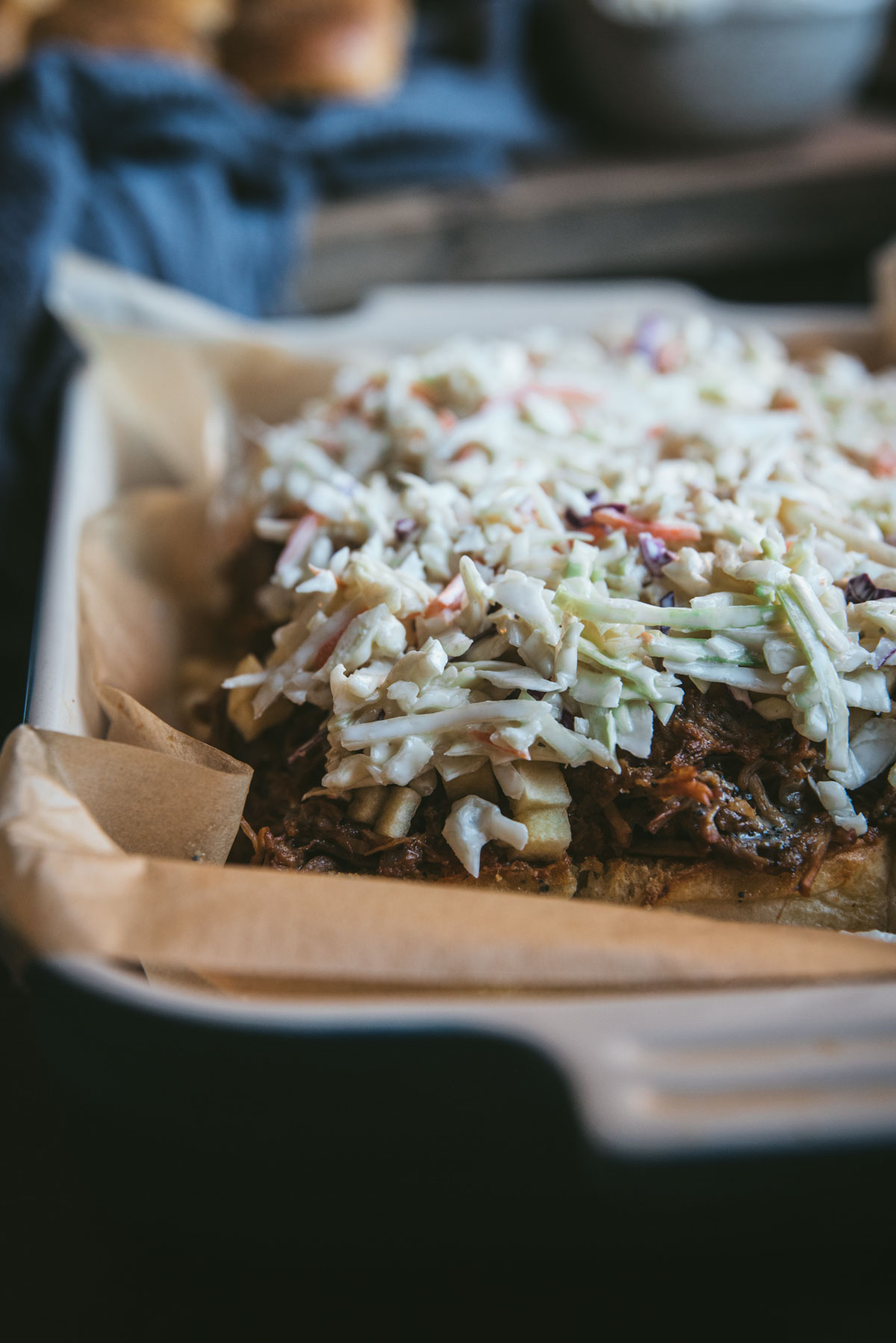 Carefully remove the top buns. Layer the coleslaw on top of the pulled pork. Replace the top buns.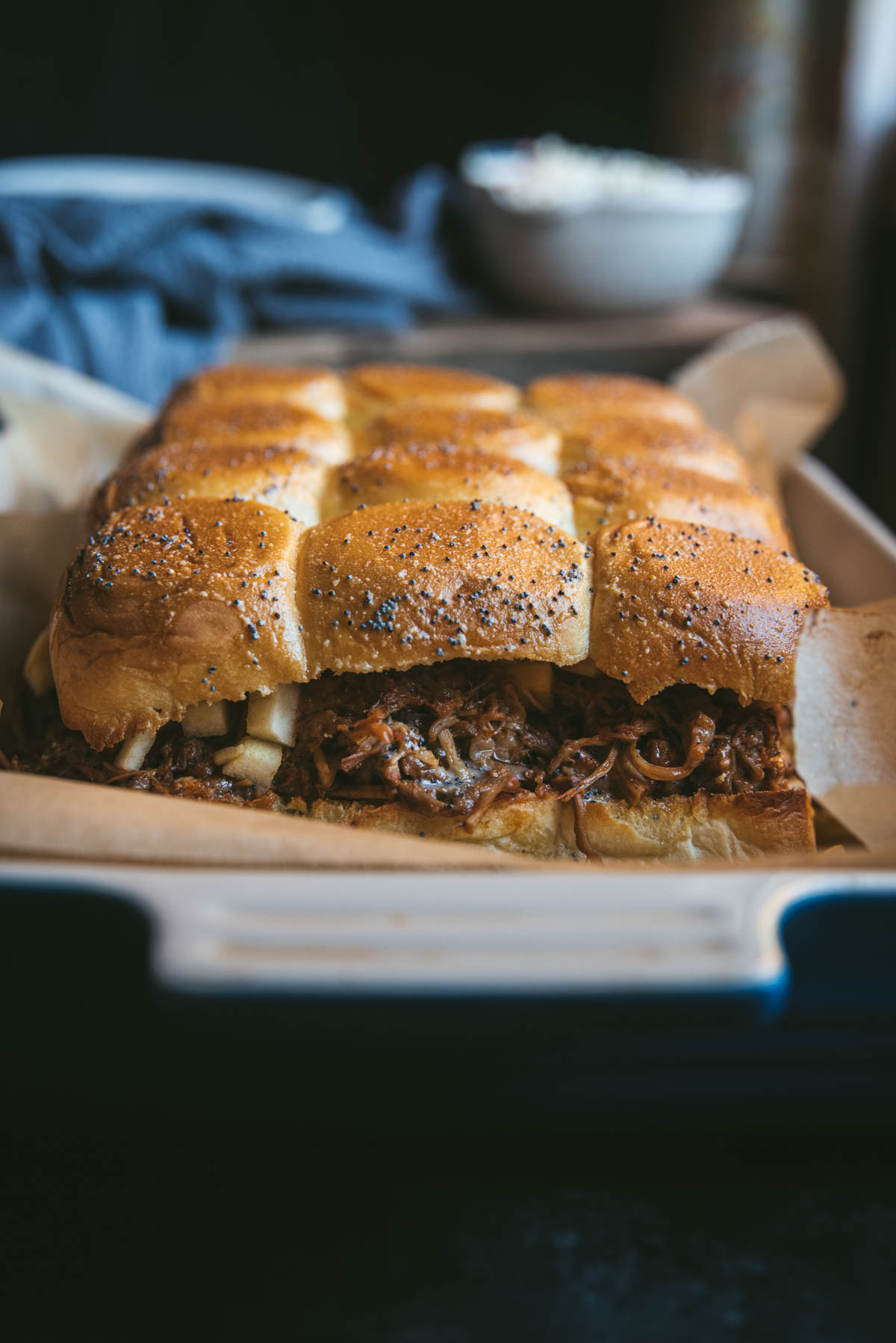 Slice and serve!
Pot Luck Magic
These pulled pork sliders are my absolute favorite for a pot-luck. Small enough to still be appetizer size, smoky, sweet tastes of traditional barbecue with just a hint of beer in the juices.
No quantum physics is required to make these. And best of all, you will still have room to try a few other things thanks to the slider size.
Pulled Pork Slider Toppings
A sandwich is only as good as what you put on it right? Beyond the barbecue perfection, you're about to whip up, the accouterments are equally important.
Coleslaw mix slides in for the win when it comes to toppings for these Pulled Pork Sliders. Already cut and mixed, we're going to coat it in a slightly sweet and easy combination of mayo, apple cider vinegar, and just a touch of sugar.
Our final surprise will be the burst of fresh, crunchy, tart Granny Smith apples - or whatever you have available! Cut in matchstick slices or just diced, almost hidden along with the colors of the coleslaw, the bright classic apple is going to add a pleasant surprise.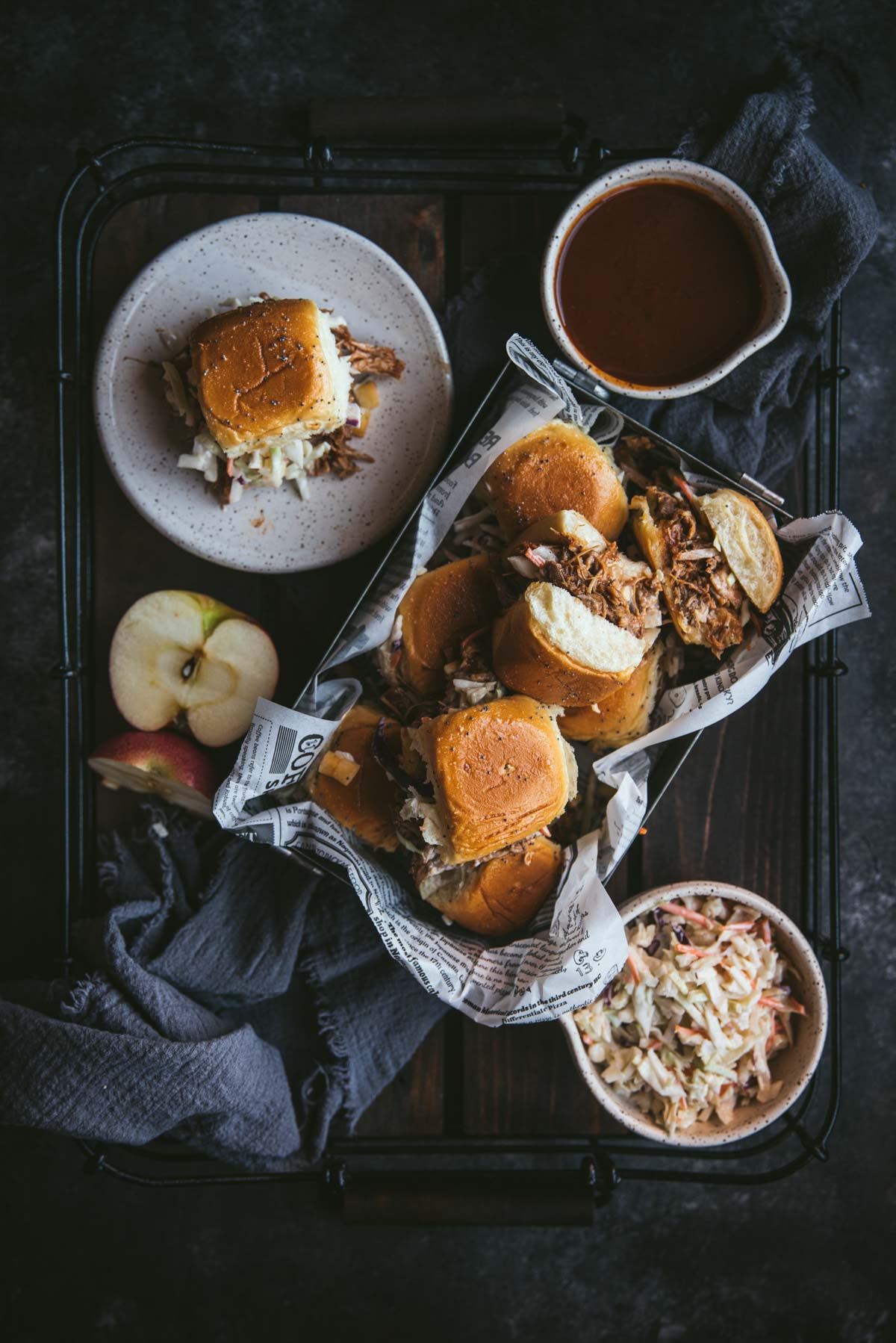 Besides the flavorful, tender pork, the zesty barbecue sauce and the creamy coleslaw...the apples and potato rolls are what really do me in for this dish. The potato rolls, just slightly sweet and oh-so soft, will soak up a bit of the juice from the pork without completely falling apart.
FAQs
How do I store any leftovers?
Once the Pulled Pork has cooled down a bit, put any leftovers into an airtight container in the fridge and you can store it for up to 4 days. It can also be frozen, but make sure it is defrosted fully before reheating.
Can I reheat cooked Pulled Pork?
Yes of course! My advice would be to do this in the oven at a low temperature. Freezing and refrigerating can dry the meat out a bit so I would advise adding a little moisture, like broth or beer to the tray and covering it with foil before reheating it.
Can I eat Pulled Pork if it's been left out overnight?
OK, I would be lying if I said I haven't been there...after a tiring day...you've forgotten you left food in the crock pot!! If you come downstairs in the morning to discover this and you can't guarantee the food stayed at a minimum of 135°F the whole time - it's best you say goodbye to the leftovers, it's not worth risking it!
What to serve with Pork Sliders and Slaw
What else are we going to dish up alongside these Pulled Pork Sliders?
If you are wanting some other fast and delicious recipes to add on top of your Pulled Pork buns, try adding some bright n bold easy Pickled Cabbage or Picked Onions. These are both simple recipes, with a flavor-packed punch to add to your sliders. The great thing with these pickled recipes is that they will last for weeks in your fridge so they can adorn the top of your sandwiches, tacos and wraps for weeks to come!
Parmesan truffle fries are a great crunchy side or for something greener try this Chipotle Chicken Cobb!
If you came down to this section to find another small appetizer that would be perfect to take to your next Pot-Luck Party, then try my favorite Pork Carnitas Tacos - they are literally my fave tacos ever - just do yourself a favor and check it out.
No matter how you serve it up, these sliders will certainly satisfy that bbq craving!
If you loved this recipe, please consider leaving a star rating and comment below! Don't forget to tag @hungerthirstplay when you post on Instagram and Facebook so I can see all your hard work!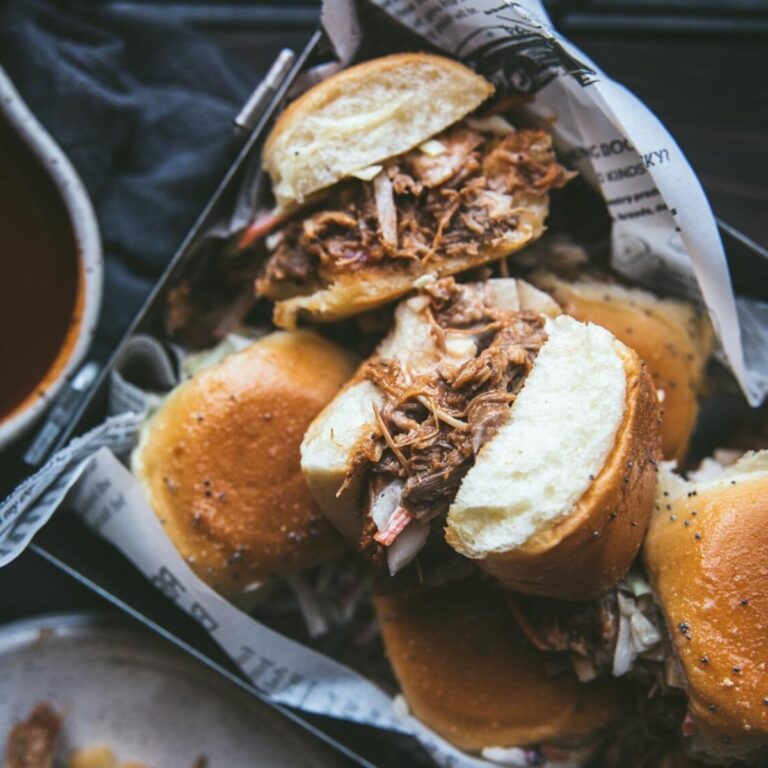 Pulled Pork Sliders
Delicious and easy to make Pulled Pork Sliders are sure to win over your most devout BBQ friends! With options to cook in the crock pot, instant pot, stovetop or oven, this recipe couldn't be more easy!
Print
Pin
Rate
Ingredients
Pulled Pork Sliders
1 ¼

pounds

pulled pork

12

pack

slider buns

½

cup

barbecue sauce

1½

cups

coleslaw

1

large

apple

(peeled and diced)

¼

cup

salted butter

½

teaspoon

poppy seeds

½

teaspoon

garlic powder
Coleslaw
16-ounce

package

coleslaw

½

cup

mayo

2

tablespoons

apple cider vinegar

1

tablespoon

sugar
Instructions
To assemble:
Preheat the oven to 375°F. Slice the slider buns horizontally and toast for 5 to 8 minutes with the inside of the rolls facing up. Transfer the buns to a sheet pan or an 8x13 baking dish lined with parchment paper (makes it easy for transferring to a serving platter!)

If using previously made pulled pork, heat in the microwave before using. Mix the pulled pork with the barbecue sauce. Layer the pork on the bottom buns. Top with diced apple and cover with the top side of the buns.

1 ¼ pounds pulled pork,

1 large apple,

½ cup barbecue sauce

In a small bowl, melt the butter and mix with poppy seeds and garlic powder. Spoon or liberally brush on the top of the buns. Bake for 10 minutes.

¼ cup salted butter,

½ teaspoon poppy seeds,

½ teaspoon garlic powder

Carefully remove the top buns and top with coleslaw. Replace the top buns, slice, and serve!
For the Coleslaw:
In a mixing bowl, whisk the mayo, apple cider vinegar, and sugar together. Add the coleslaw veggies and mix together. Store in the refrigerator until needed.

½ cup mayo,

2 tablespoons apple cider vinegar,

1 tablespoon sugar,

16-ounce package coleslaw
Easy Beer Braised Pulled Pork
Slow Cooker Instructions: Rub the pork with bbq spice rub or seasonings of choice. Heat a large pan over medium-high heat. Add the oil, once it starts to shimmer add the pork and sear for 1½ to 2 minutes on each side. Deglaze the pan with the beer, scraping the bottom of the pan. Transfer the pork to a slow cooker, cover and cook on low for 8 hours or high for 4 hours. Transfer the pork to cutting board and shred into pieces.

3 pounds picnic roast or pork shoulder,

3 tablespoons BBQ seasoning,

3 tablespoons canola oil,

12-ounce can beer

Instant Pot Instructions: Heat the instant pot on the 'sauté' setting and add the oil. Season the pork with the seasoning. Once the oil is hot, add the pork and sear for 2 minutes on each side. Carefully pour the beer into the pan and let simmer for about 3 to 4 minutes. Cover with the lid, seal, and set to high pressure for 35 minutes or the 'Meat/Stew' setting. Naturally release pressure after cooking. Transfer the pork to a cutting board and shred into pieces.

Stove Top Instructions: Season the pork. Heat a dutch oven over medium-high heat. Add the oil, once it shimmers add the seasoned pork and sear for 2 minutes on each side. Add the beer and scrape any bits off the bottom of the pan. Reduce the heat to low, add ½ cup of water, cover, and simmer for 4 hours until meat easily falls apart at the touch of a fork.

Oven Instructions: Preheat oven to 350°F. Season the pork. Heat a dutch oven over medium-high heat. Add the oil, once it shimmers add the seasoned pork and sear for 2 minutes on each side. Add the beer, ½ cup water, and cover. Bake at 350°F for 4 hours or until fork tender.
Notes
I always have a container of this Barbecue Spice Rub in the pantry, but I also really like any BBQ spice that's hickory based. It's just the right amount of sweetness. Too much brown sugar in the spice mix may burn when searing!
Veggie or chicken stock can be substituted for beer as a non-alcoholic option. Non-alcoholic beer can be substituted as well. Athletic brewing is a current favorite brand for that.
Picnic or shoulder roast is perfect for this style of pork. To cook faster, cut into smaller pieces.
Pork can be made in advance - or use store bought!
Nutrition
Calories:
184
kcal
|
Carbohydrates:
22
g
|
Protein:
7
g
|
Fat:
8
g
|
Saturated Fat:
4
g
|
Polyunsaturated Fat:
1
g
|
Monounsaturated Fat:
1
g
|
Trans Fat:
1
g
|
Cholesterol:
30
mg
|
Sodium:
560
mg
|
Potassium:
97
mg
|
Fiber:
1
g
|
Sugar:
17
g
|
Vitamin A:
261
IU
|
Vitamin C:
5
mg
|
Calcium:
40
mg
|
Iron:
1
mg