It's the centerpiece of the table, and not always the easiest to cook! Brining your Thanksgiving Day turkey is a great way to add flavor and moisture to this typically lean protein. Sweet cider, robust fresh herbs, and warm garlic soak into your turkey in this Apple Cider Brined Turkey.
Seriously flavorful and seriously easy...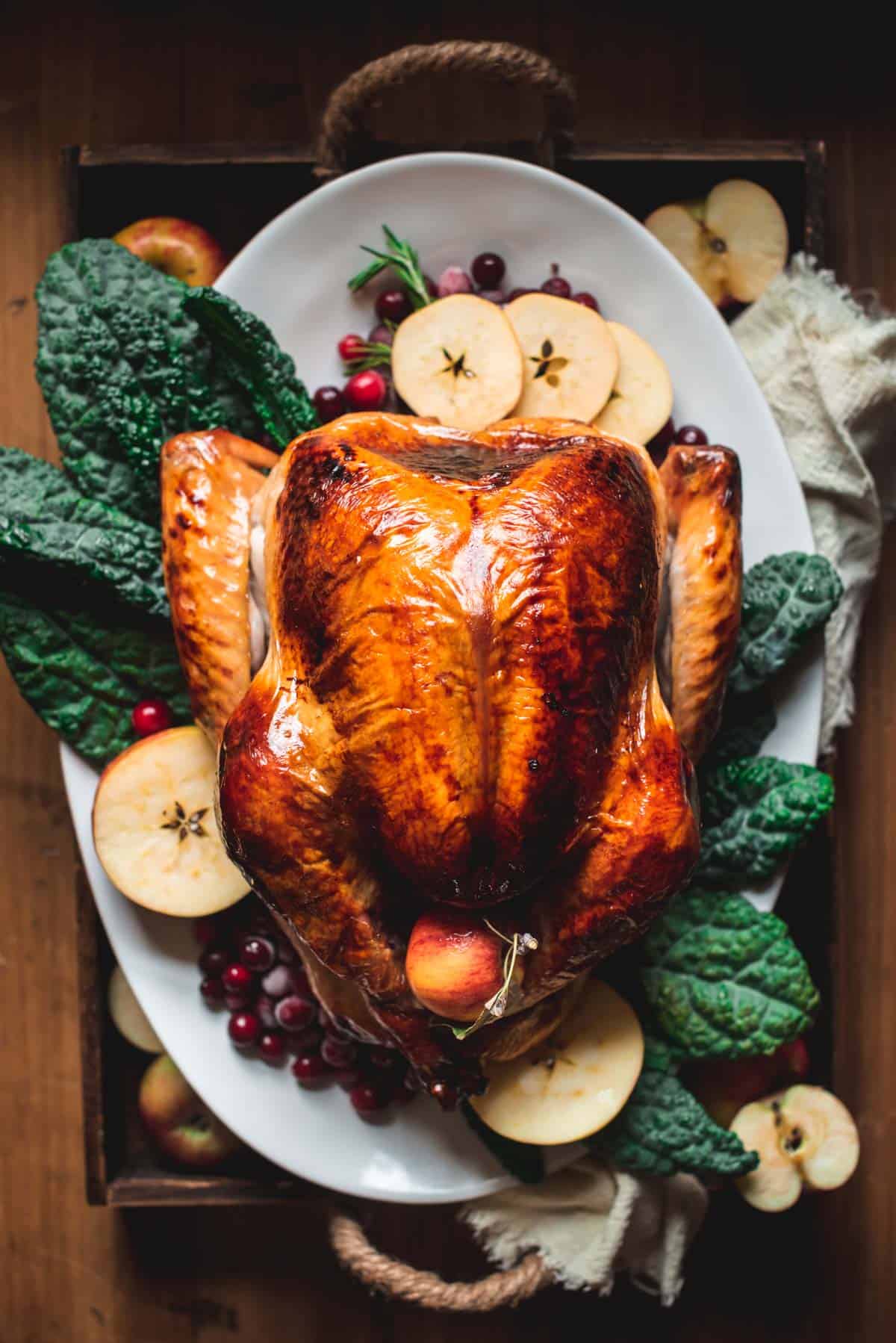 Why I Make This Brined Turkey Every Thanksgiving
It's easy as long as you're paying attention when that bag gets really full of brining liquid. That's about as hard as it gets. Not that I'm speaking from experience or anything. (My kitchen floor is totally side eye-ing me, I can feel it from inside the living room.)
Putting aside inanimate objects throwing shade and whatnot, let's hatch out this brining business. Shall we?
Brining your turkey this Thanksgiving is a simple and easy way to make sure your bird is the best, juiciest bird your family has ever tasted! Yep - I'm that confident!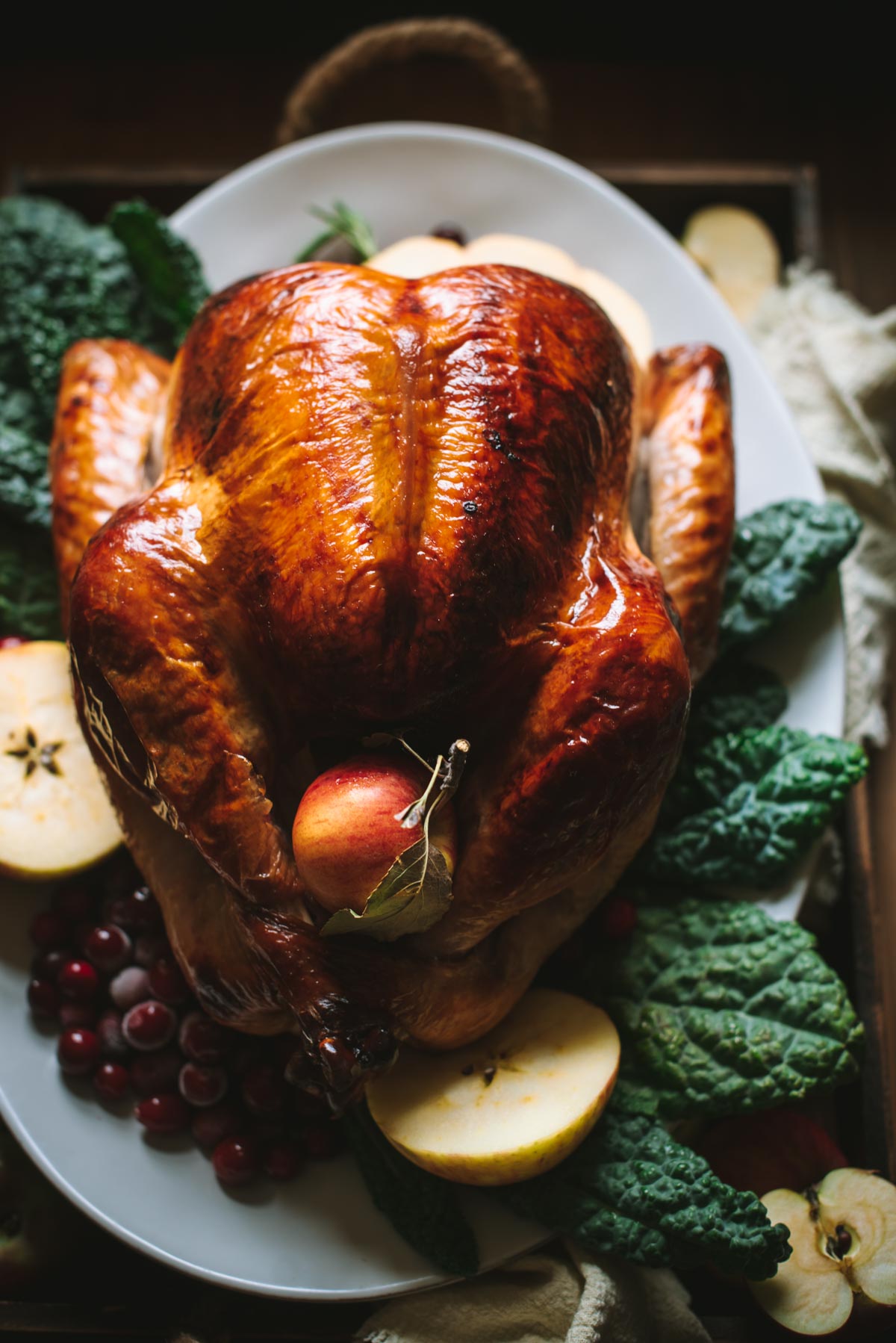 What is Brining?
Brining is like a sibling to marinade. Liquid + Salt (Optional: Herbs + Spices) = Brining. What you will need for a brine depends on what flavors you're going for.
Brining is a cooking technique typically used when the protein is really lean. This is perfect for a whole turkey or chicken because its a large roast and requires cooking for a long time but the cut doesn't have a lot of fat to naturally add moisture as it cooks.
Enter the brining method.
The high salt content in the brine will work to break down muscle fibers in the meat. The meat will also absorb the flavors in the brine. And lastly, as the muscle fibers break down, the water solution of the brine will work itself into the protein adding liquid to help keep the meat moist while it cooks!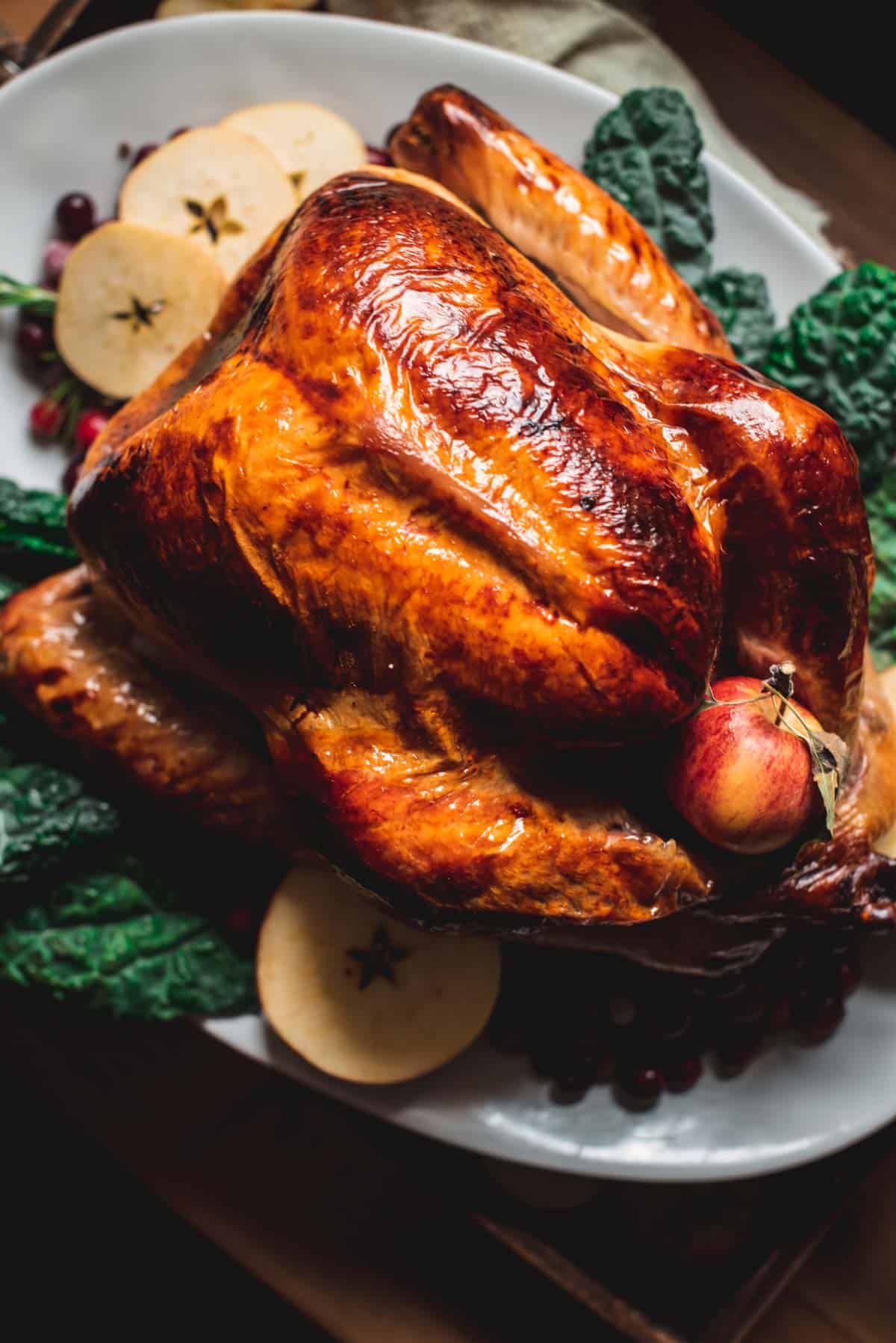 Brining Bags
Of course, you'll need a brining bag or bucket for your ingredients. Because I don't have my dream kitchen quite yet, and buckets are hard to fit in a full fridge, I opt for the bag tucked into a roasting pan.
Here's a link for the kind of brining bags
I love the most (affiliate link.) They're easy to close and hold a lot of liquid.
TIP: Set the bringing bag into a roasting pan. Place the turkey breast side down, then add the liquid. Move the ingredients around so all the aromatics are in the liquid.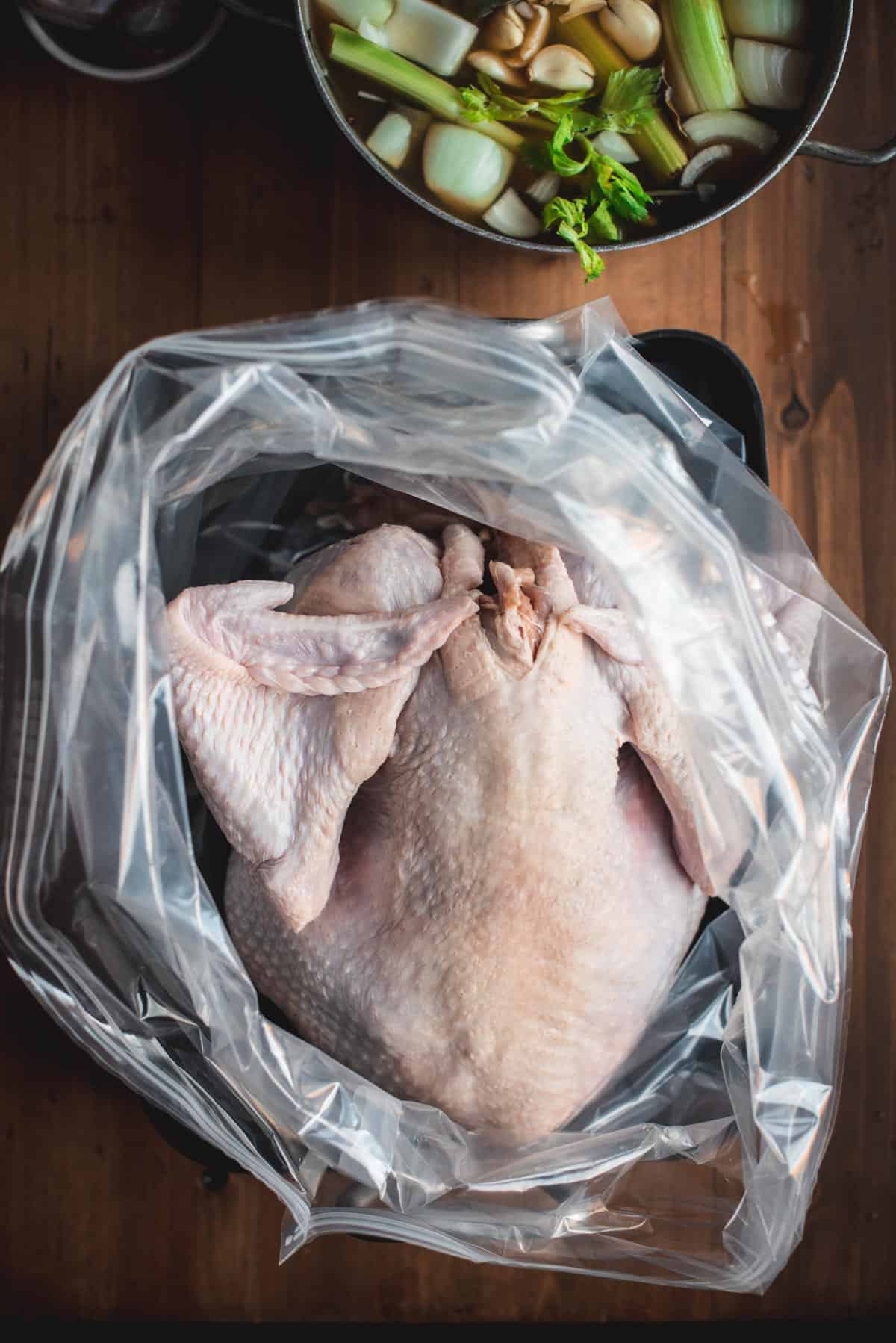 Why You Should Cider Brine Your Turkey
If you've never cooked a turkey before or maybe you have a tendency to overcook them, brining and adding apple cider to your brine is going to be your new best friend.
It's an easy way to effortlessly impart subtle flavors into the meat of your turkey and prep it for extra moisture goodness. Plus, its so simple!
The apple cider produces drool-worthy crisp apple sweetness exquisitely blended in there. The nuances of the fresh herbs and garlic are laced throughout each slice.
Apple Cider Brined Turkey in herbs will taunt your eyes with the juice running from each slice, while your nose picks up on the cider, herbs, and garlic wafting from each piece of succulent protein.
The texture of easy-to-eat turkey combined with the taste of subtle natural sweetness, earthy fragrant herbs, spicy warm garlic is an easy winner.
Mmm, roasted turkey. It tastes like laughter and wine with family and Friendsgiving. So come on over. Let's hang and laugh and drink wine and eat Apple Cider Brined Turkey.
Ingredients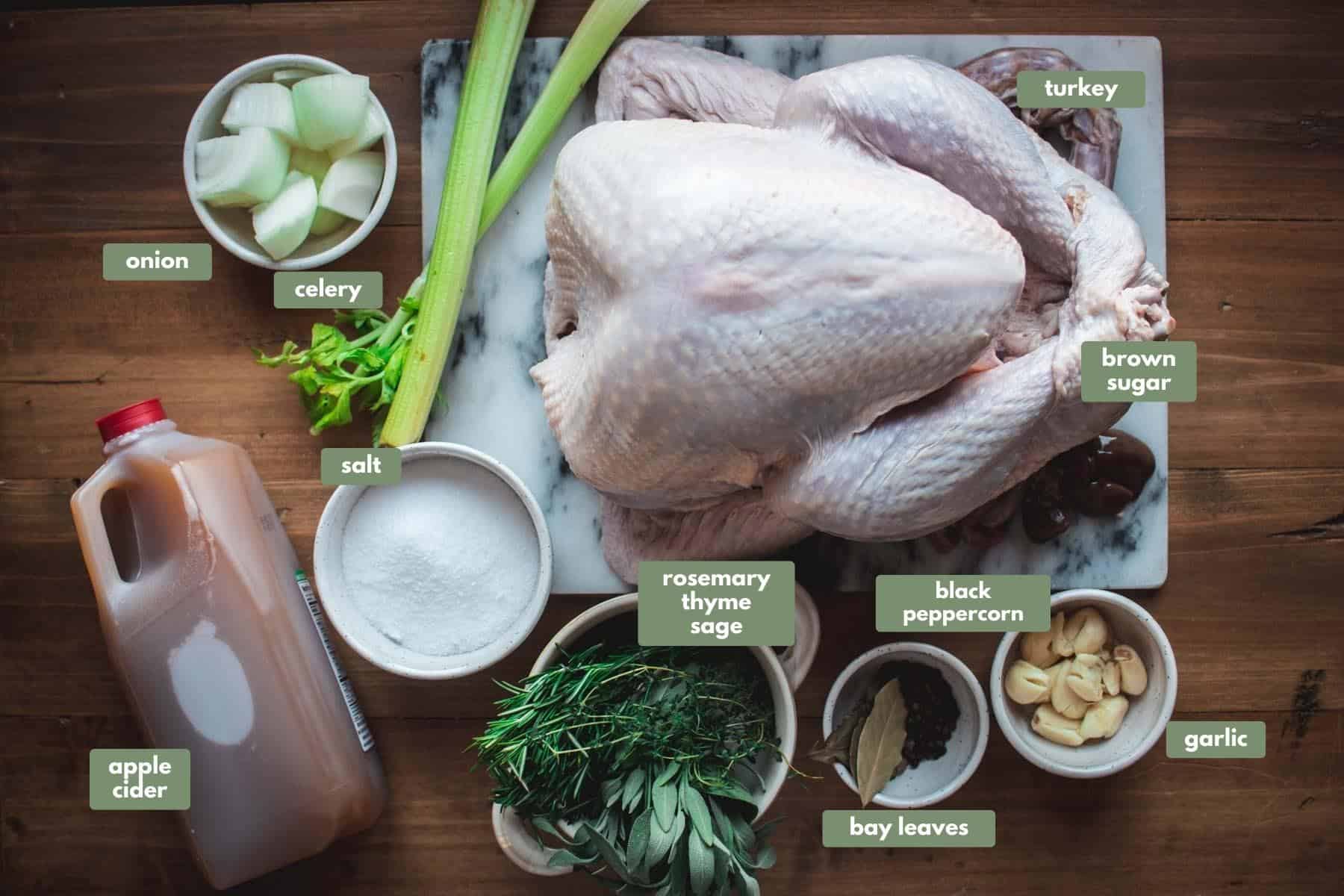 There aren't many ingredients to this recipe, in fact, the turkey will probably take the most time to acquire, but I do believe you will appreciate it!
Protein: This brining recipe is great for a whole turkey, turkey breast, and chicken. Really any lean cuts of meat that need a little help getting moisture since the fat content is so low.
Salt: Kosher salt! That's what you want to use. Diamond Crystal or Morton's are perfect.
Herbs: You can try using dry herbs but the fresh herbs really make the turkey super aromatic and flavorsome.
Apple Cider: People have asked me in the past if apple juice could be used but I'd really recommend using cider - its fresh, unfiltered, with more apple flavor.
Aromatics: Onions and celery are great, you could even add carrots. The garlic can be whole cloves or just slice a whole head in have and call it a day!
I hope you love my original recipe for apple cider brined turkey!
How to Apple Cider Brine a Turkey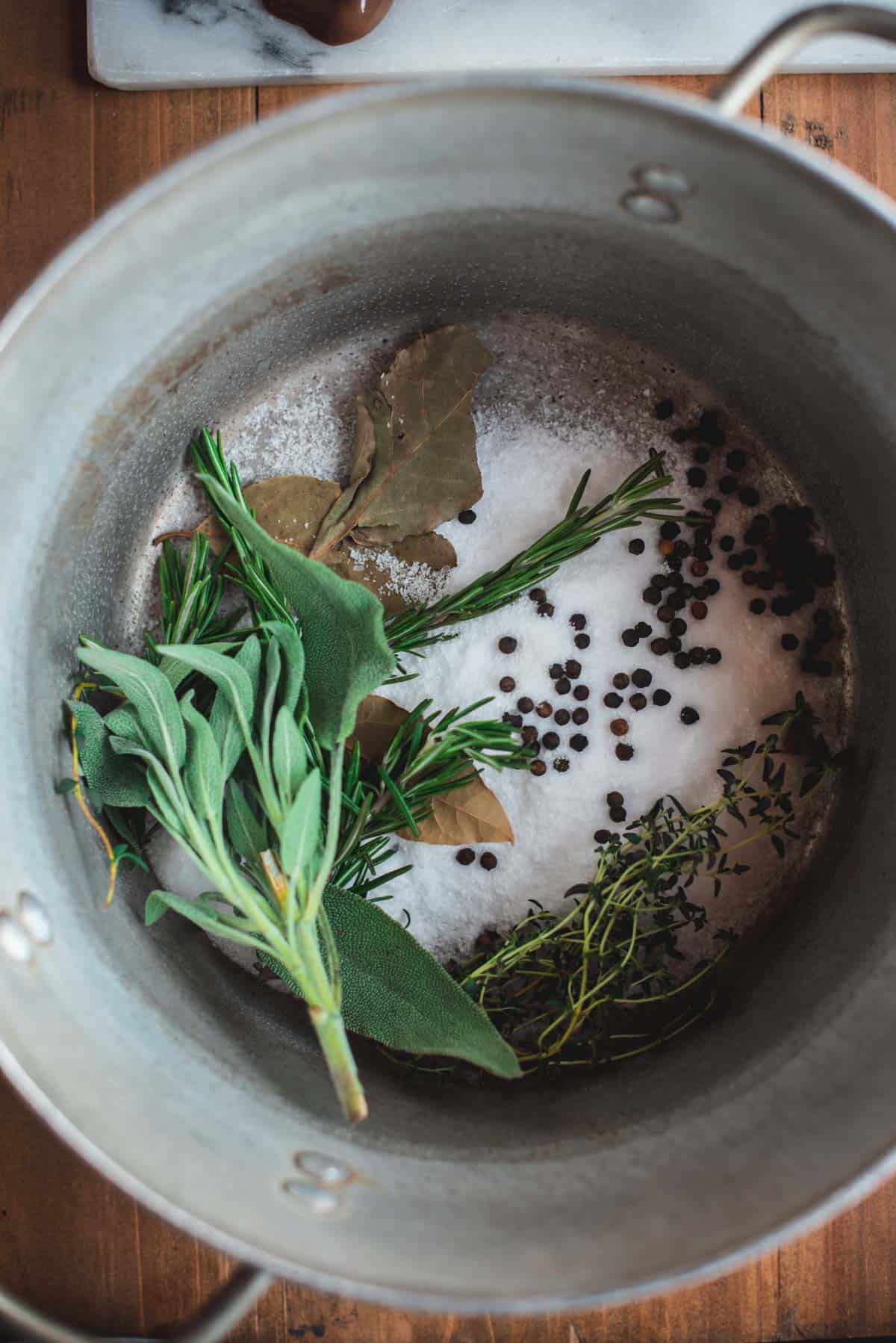 In a large stock pot, add salt, herbs, bay leaves and peppercorns. Toast over medium-high heat for 1 to 2 minutes just until fragrant.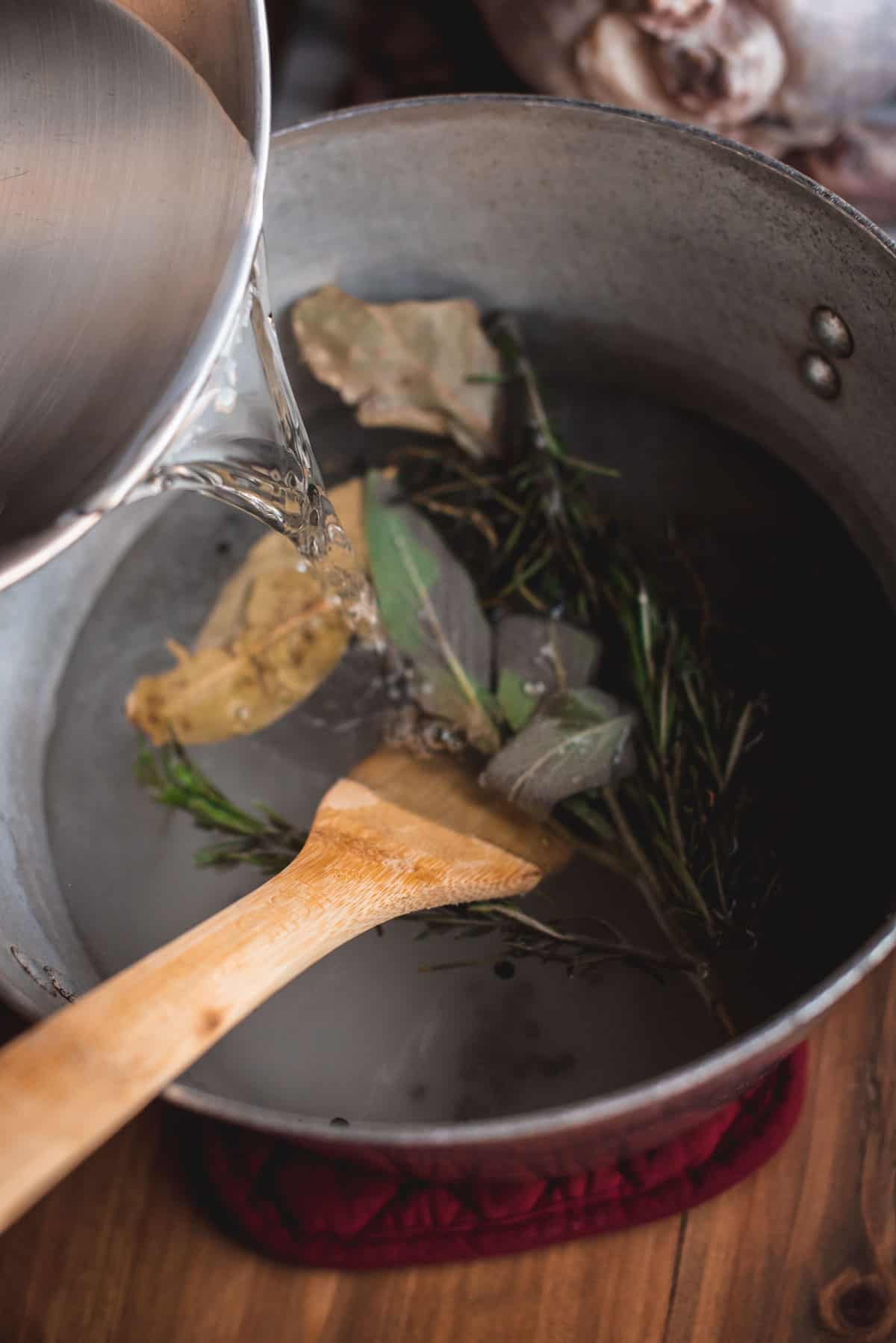 Carefully add 3 quarts of warm water. Water may steam and bubble when first added to the hot pan.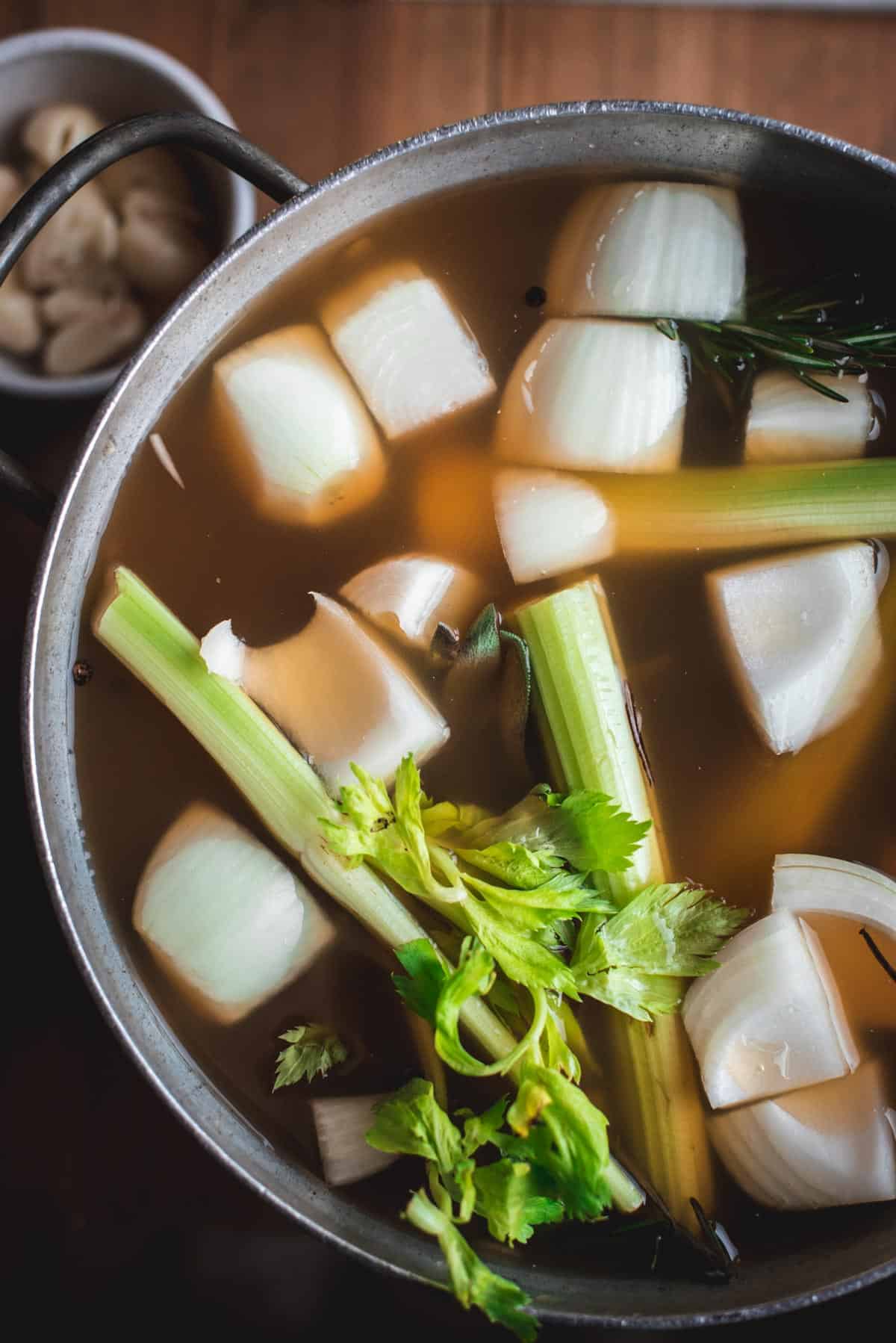 Add the apple cider, onion, garlic and celery to the brine mixture. Let cool before adding to the brining bag.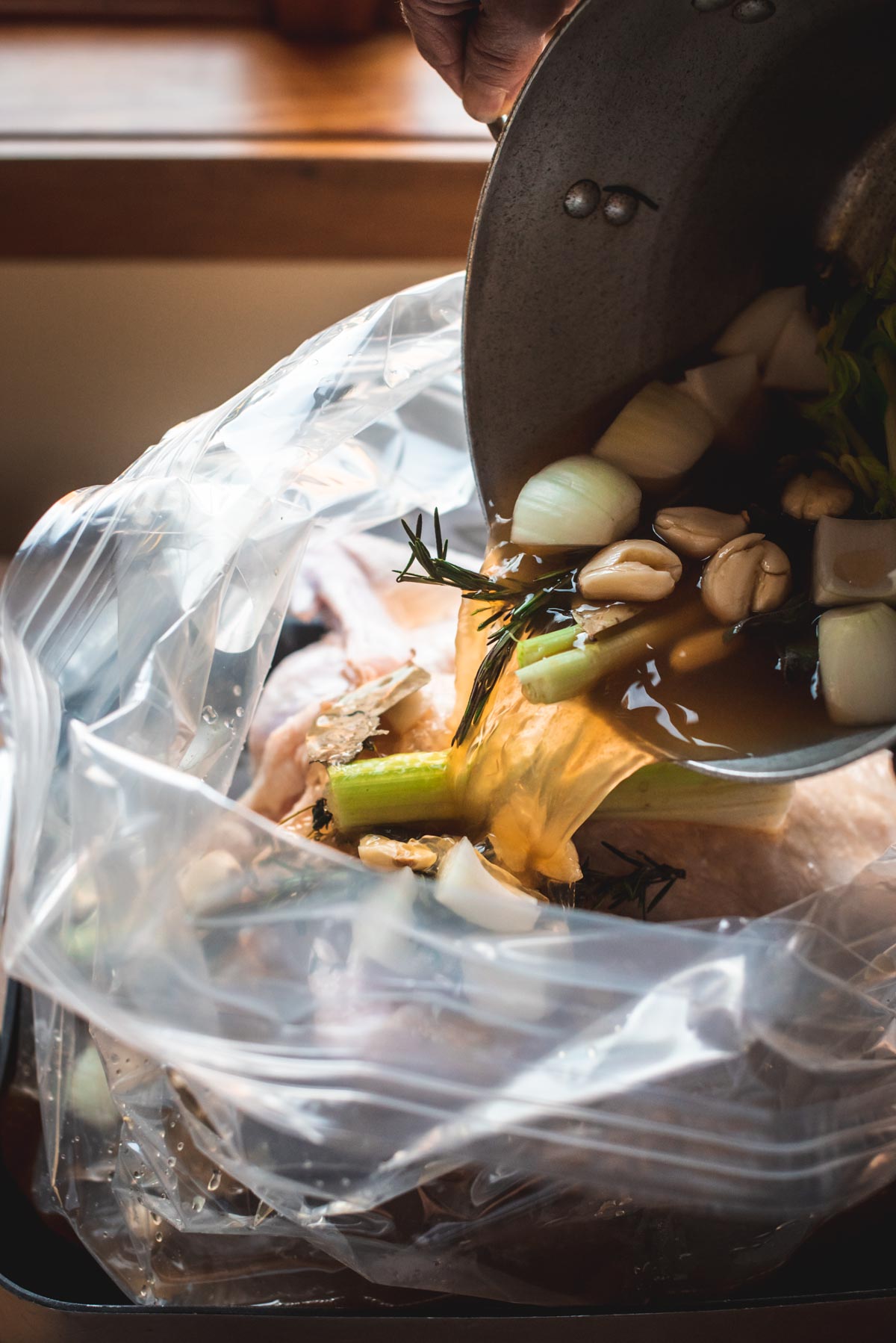 Place the turkey breast side down in the bag. Pour in the brining liquid and the remaining cold water. Close the bag and massage the liquid so the aromatic ingredients are evenly distributed.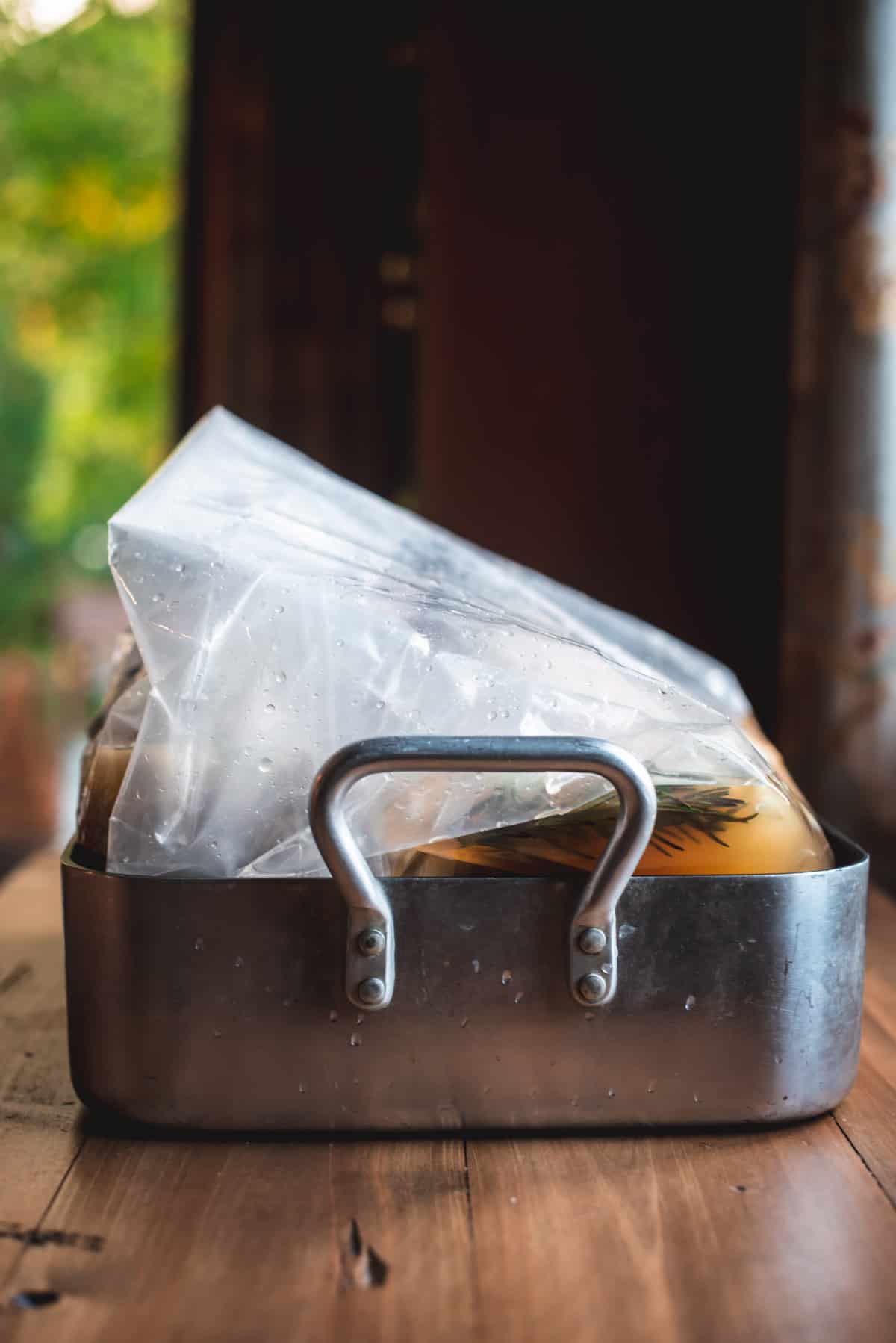 Let sit for 24 to 48 hours, refrigerated, in the brine.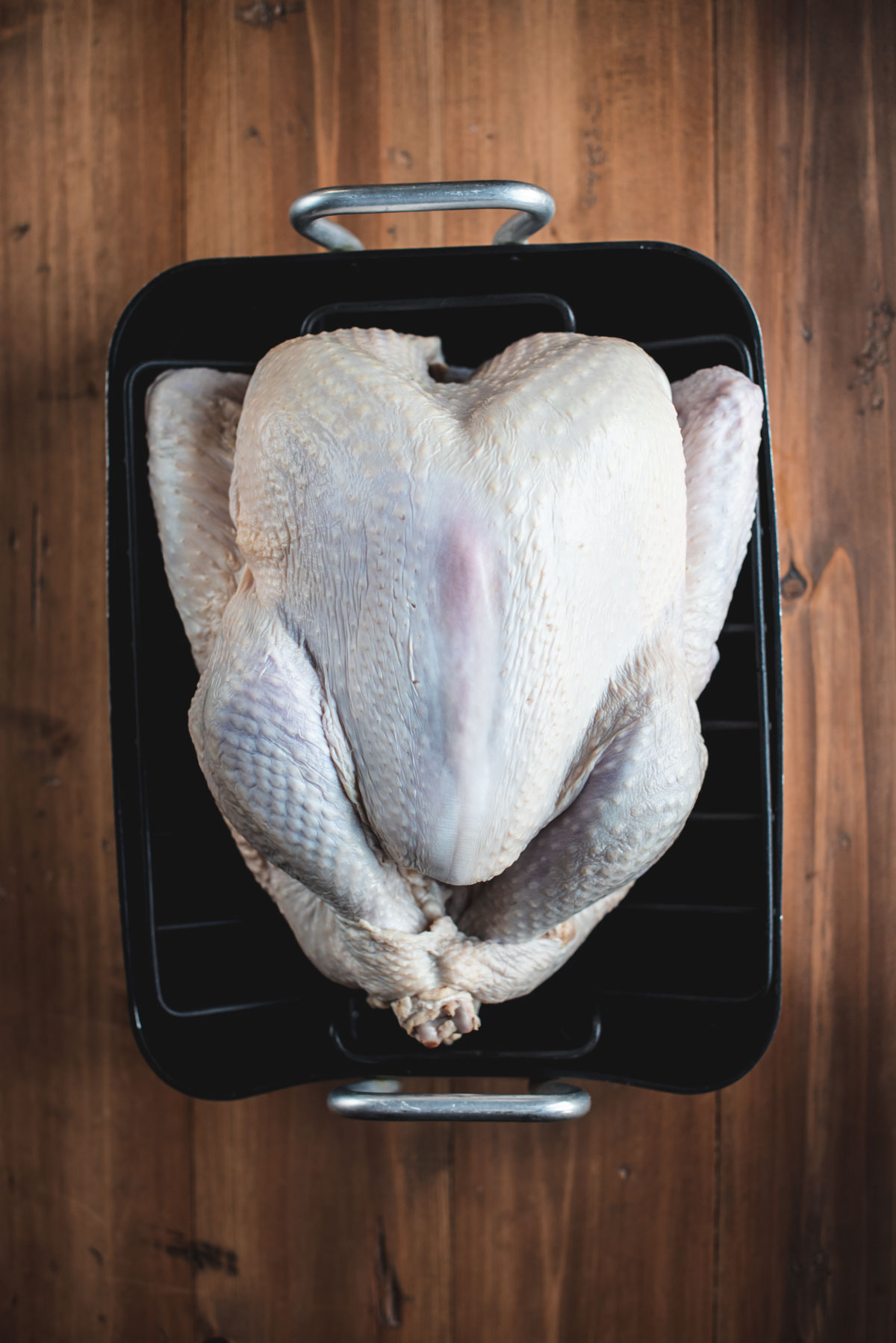 Remove the turkey from the brining liquid. Pat dry with paper towels. Season with salt and pepper and cook using your favorite method. This No-Baste Turkey Recipe is my go-to every time!
FAQs
How long should I bake my Turkey?
It completely depends on the size of the bird! I start with my oven at 450°F and then turn it down to 350°F. For specifics (and the best tips so you don't need to keep basting your bird) check out my post on how to cook your turkey.
How should I store the leftovers?
Who doesn't LOVE leftovers from Thanksgiving?! It makes all that cooking worthwhile knowing the fridge is stocked for a while. I like to rip as much Turkey off the bones as possible and store it in an airtight container inside the fridge so it doesn't go dry. It will stay fresh for about 3 to 4 days, so you have until Monday after Thanksgiving to incorporate Turkey into every meal you can think of!
Can I freeze leftover Turkey?
Yes! But make sure it is thoroughly defrosted before you heat it up again!
What should I do with my leftover Turkey?
There are SO many options! I personally am a huge fan of the good ol' Turkey and Trimmings sandwich, a little bit of everything in the fridge, sandwiched between 2 slices of fresh farmhouse bread. Bonus points if there's any gravy laying around for Ross Geller's 'moist maker'!
What to Serve with Apple Cider Turkey
Once you have your bird in the brine it's time to start prepping the sides. You can head over to the 'side dishes' portion of the blog for some ideas.
My personal favorites are this creamy, rich Rainbow Chard and Shallot Gratin. Or if you want to be extra boujee this year, try my Parmesan Truffle Tater Tots.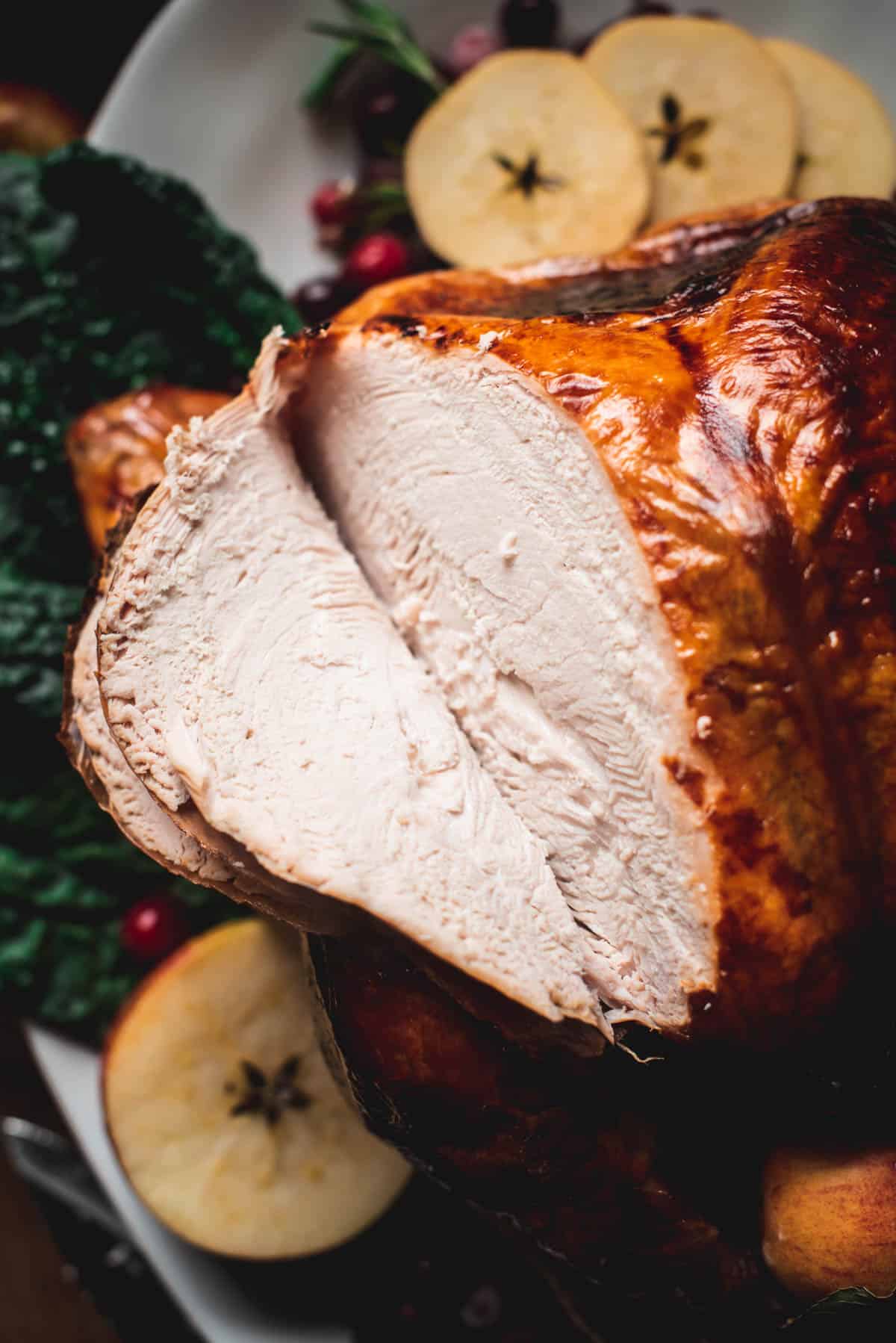 If you want to take your sauce game up a level this Thanksgiving, try this Homemade Cranberry Sauce, it has Grand Mariner and orange infused into it! It's zippy, tart and sweet all in one. Plus it has booze in it, so that's a win.
For most, Thanksgiving means lots of family time. While we can all be thankful for that, sometimes a little liquid libation makes a long day of cooking and conversation just a touch more enjoyable. I'll also be serving this crisp Whiskey Smash cocktail with an apple cinnamon spin on repeat this Thanksgiving.
However you roast the bird, prepare the sides, or what you serve after it, we can always be thankful to have family and/or friends at the table. And they'll be thankful to have this Apple Cider Brined Turkey on the table!
If you loved this Apple Cider Brined Turkey, please consider leaving a star rating and comment below! Don't forget to tag @hungerthirstplay when you post on Instagram and Facebook so I can see all your hard work!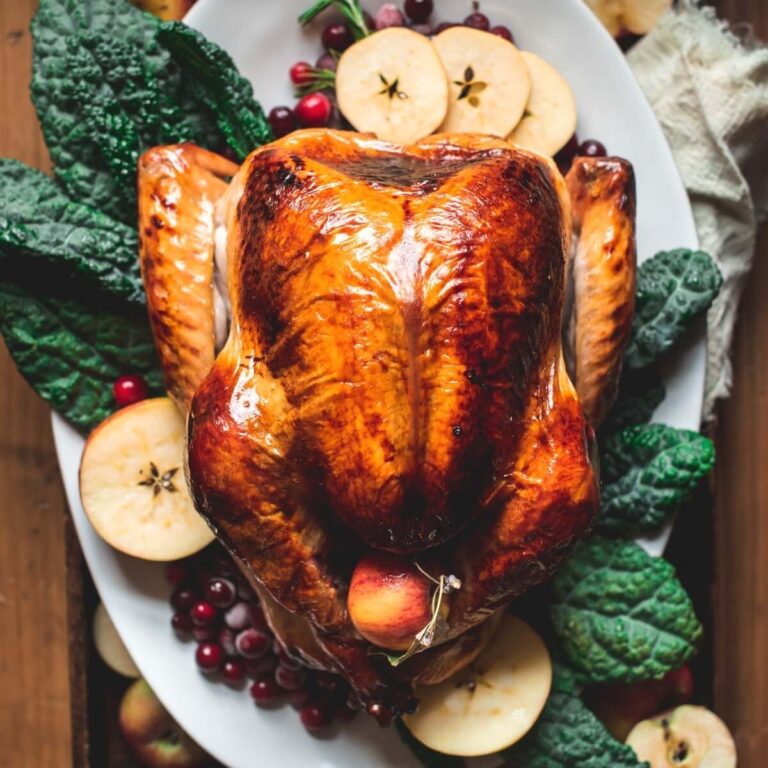 Apple Cider Brined Turkey
Apple Cider Brined Turkey will have subtle sweet apple flavor, robust herbs and hints of garlic laced in each juicy bite!
Print
Pin
Rate
Servings:
16
to 18 servings
Ingredients
16 to 20

pound

turkey

(fresh or frozen)

½

gallon

fresh apple cider

3

quarts

warm water

4

quarts

cold water

¾

cup

kosher salt

10

sprigs

fresh rosemary

10

large

sage leaves

5

sprigs

fresh thyme

4

bay leaves

2

teaspoons

whole black peppercorns

1

large onion

(roughly chop)

2

ribs celery

½

head of garlic

cut through equator (or 10 smashed garlic cloves)
Instructions
Remove the turkey from it's packaging and remove the giblets and neck from the cavity. See notes about what to do with the organ meat. Pat the skin dry and set aside.

In a large stock pot, add salt, herbs, bay leaves and peppercorns. Toast over medium-high heat for 1 to 2 minutes just until fragrant.

¾ cup kosher salt,

10 sprigs fresh rosemary,

10 large sage leaves,

5 sprigs fresh thyme,

4 bay leaves,

2 teaspoons whole black peppercorns

Carefully add the warm water. Water may steam and bubble when first added to the hot pan.

Stir continuously until salt dissolves. Remove from heat immediately to allow to cool.

Add apple cider, onion, celery, and garlic. Let cool for 15 minutes.

½ gallon fresh apple cider,

1 large onion,

2 ribs celery,

½ head of garlic cut through equator (or 10 smashed garlic cloves)

Set brining bag in a large roasting pan with top open wide (or inside a brining bucket.) Add the turkey breast side down and cover with the cooled brining liquid. Add the remaining cold water. Massage the liquid until all the ingredients are evenly distributed.

Let sit for 24 to 48 hours in the brine.
To prepare for cooking:
Remove turkey from the brine. Rinse thoroughly and pat completely dry. For crispy skin, let sit over night unwrapped in the refrigerator.
Notes
The neck and giblets can be added to the bottom of the roasting pan during the cooking process if desired. They add flavor and richness to the pan drippings. Because of this brining liquid, the pan drippings may end up a touch sweet thanks to the apple cider.
Don't worry if your turkey isn't fully thawed in the cavity, it will continue to thaw in the brine. At least one day of thawing before brining should be sufficient to remove the insides.
Pour the brining liquid into the bag slowly in case the liquid attempts to spill out. Setting the bag inside a roasting pan is usually the best option. Or to have a second pair of hands to hold the bag open.
Nutrition
Calories:
570
kcal
|
Carbohydrates:
15
g
|
Protein:
79
g
|
Fat:
21
g
|
Saturated Fat:
5
g
|
Trans Fat:
1
g
|
Cholesterol:
261
mg
|
Sodium:
5737
mg
|
Potassium:
953
mg
|
Fiber:
1
g
|
Sugar:
12
g
|
Vitamin A:
227
IU
|
Vitamin C:
2
mg
|
Calcium:
71
mg
|
Iron:
3
mg